Terletak rue st sauveur sangat dekat rue Montorgueil, apartemen studio ini menarik adalah beberapa menit dari Les Halles, di jantung daerah Montorgueil terkenal. Terletak rue st sauveur sangat dekat dengan rue Montorgueil, studio ini menarik adalah hanya beberapa menit dari Les Halles, di jantung distrik Montorgueil terkenal dengan pilihan yang luas dari kualitas makanan, restoran dan pub. Hal ini juga berdekatan dengan poin utama yang menarik seperti: The Louvre, Notre Dame, Ile de la Cité.
Terletak rue st sauveur sangat dekat rue Montorgueil, apartemen studio ini menarik adalah beberapa menit dari Les Halles, di jantung daerah Montorgueil terkenal dengan pilihan yang besar dari produk-produk makanan berkualitas, restoran dan pub. Hal ini juga dalam jarak berjalan kaki singkat dari poin utama bunga seperti: Le Louvre, Notre Dame, Ile de la Cité atau Ile Saint Louis. Anda akan memiliki seluruh apartemen untuk diri Anda ini bukan tidak berbagi Semua jalan-jalan di dekatnya tuan rumah banyak galeri yang bagus, toko-toko, penata ateliers, kafe, restoran, brasseries, museum tingkat wold dan tempat-tempat yang kurang dikenal, hanya ada bagi Anda untuk menemukan. Daerah ini penuh dengan restoran, kafe, bar dan klub, namun apartemen benar-benar bebas noise yang cukup mengejutkan di jantung kota. Anda dapat berjalan sepanjang hari serta malam hari seperti kabupaten cukup aman. Anda mungkin memenuhi santai aktor film, politisi, philosophs dan pemimpin pendapat. Studio ini di sebuah bangunan abad ke-17. Gerbang masuk dilindungi oleh sistem keamanan. Apartemen ini memiliki 17 m2 an studio fully furnished dengan aa tidur ganda. , Mandi, wastafel, 2 piring elektronik, sebuah microware, mesin cuci, besi, kulkas, pengering rambut, dan internet kecepatan tinggi dengan WI FI Anda akan menemukan semua yang anda butuhkan di tangan. Sebuah 10 -minute berjalan kaki dari Marais, 10 menit berjalan kaki dari Museum Louvre, dan 15 menit dari Katedral Notre-Dame ... Ada 3 stasiun metro "sentier", "Reaumur sebastopol" dan "les halles" dalam 5 menit berjalan termasuk Chatelet-Les Halles untuk perjalanan langsung ke bandara CDG dan Orly serta Eurodisney. Tidur ganda utama adalah pada mezzanine.I akan memberikan handuk dan sprei. Tinggal minimal adalah 2 hari tapi aku lebih suka tinggal terpanjang. komoditas lainnya termasuk TV, DVD, Stereo dan internet gratis, WI FI, dan panggilan telepon tak terbatas ke semua eropa dan Amerika Serikat (telepon fixed line). Semua Linen termasuk. Akan ada sprei segar dan handuk untuk Anda gunakan Saya telah dibuat untuk para tamu buku panduan khusus dengan saya alamat favorit (toko-toko, restoran dan bar) dan banyak informasi di Paris monumen. Jika Anda memiliki pertanyaan jangan ragu untuk bertanya kepada saya. Saya berharap untuk menyambut Anda segera!
Montorgueil hanya yang terbaik neigboorghood di Paris: hidup dan tradisional dengan semua toko dan pasar cerdas dan bergaya dengan semua kafe pinggul dan teras, restoran dan bar yang penuh dengan orang sepanjang tahun. Di toko-toko kelas atas dan galeri dan segala sesuatu yang lain dalam jarak berjalan kaki! Louvre, Beaubourg, Opera dan Galeries Lafayette, jalan-jalan besar dengan teater, La Bourse, Le Marais, St Michel dan Latin Quarter beberapa menit berjalan kaki. Menyeberangi Seine ..) Angkutan Anda tepat di pusat kota Paris, hanya 3 menit dari Châtelet Les Halles, transportasi hub utama dengan 3 baris RER, 7 jalur kereta bawah tanah, pusat perbelanjaan terbesar di Paris
Eric's place is in an awesome location, has so many amenities that were really useful for us (espresso, washer, WiFi) and made our 4 days in Paris a breeze. Thanks Eric! We would happily stay again, and were sad to leave.
Jon
2017-03-17T00:00:00Z
Very central location. Plenty of restaurants & pubs within a few minutes of the apartment. Apartment was small but clean & had everything we needed for our short stay. The only downside was the steep steps to the bed on the mezzanine
Karen
2017-02-05T00:00:00Z
Two of us stayed at Eric's apartment for 3 nights and I honestly could not have been happier with the experience. Eric was incredibly communicative and gave us detailed directions from Gare du Nord to his place, he also let the cleaner know we would be arriving early to drop off our bags. The place is definitely small, but for the two of us it was perfect. The bed is incredibly comfortable and the bottle of wine was such a nice touch. I would recommend this to anyone who wants a comfortable and clean place to stay but is planning to spend most of the time out and about in the city. Perfect place to hop on the Metro from or to walk to a lot of the sights!
Lisa
2017-02-27T00:00:00Z
Excellent apartment. Eric met us at the apartment and was very nice. The area is really wonderful. I highly recommend.
david
2017-01-10T00:00:00Z
A good location, central and within walking distance of so many great places. It's a lively area but the apartment itself is quiet as it is located as the back of a secluded courtyard. The apartment is small but feels spacious as it is a high room. The high bed is extremely comfortable. All in all an excellent place to stay to visit Paris for a few days.
Bella
2017-04-01T00:00:00Z
Eric's apartment was a good base for a classic short stay trip to Paris. Eric was good at communicating and replied within the hour, on arrival we were greeted by a friendly concierge who only speaks French, but is polite and understands what you mean. Eric had left a bottle of wine for us in the apartment which was a lovely extra touch to our stay. The bed is comfy, even with the slightly wobbly steps up to it! The apartment is located close to lots of lovely cafes and restaurants as well as small supermarkets located to the right of the apartment doors. The whole apartment is delightfully old and quirky, would definitely recommend! Merci beaucoup Erick!
Abigail
2017-02-16T00:00:00Z
Very very very central, this location made our trip. Very small bathroom, like when you sit on the toilet you have to turn to the side to fit without your knees hitting the wall but it's not really a big deal. :)
Aimee
2017-01-13T00:00:00Z
Eric was a fantastic host! The apartment was clean, well equipped, and located in a great area. Eric was very easy to communicate with and was always quick at replying to messages. He also gave us great directions and even left us a bottle of wine to enjoy during our stay. We would love to stay again next time we visit Paris!
Melissa
2017-01-27T00:00:00Z
Tipe Kamar
Seluruh rumah/apartemen
---
Tipe Properti
Apartemen
---
Mengakomodasi
2
---
Kamar tidur
Paris, Île-de-France, Prancis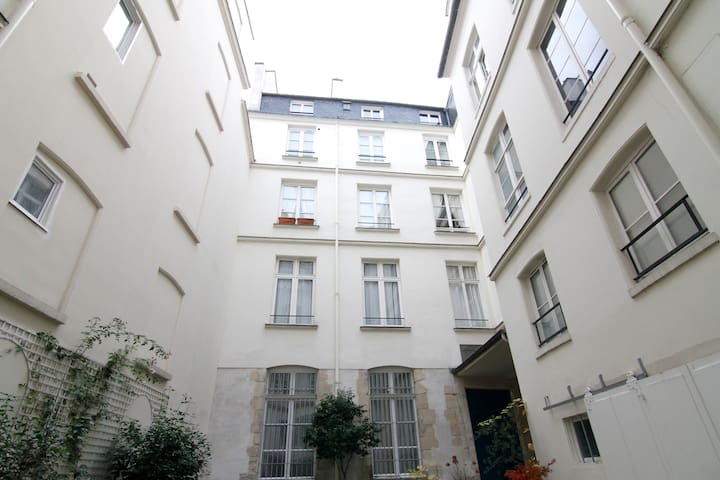 A very high ceiling cozy studio with a real loft, which includes everything you need to feel like in a small home in Paris. Including a comfortable bed two places, a bathroom with shower and toilet, kitchenette, TV
It's tiny but very charming in a great location. You can easily walk everywhere and it's got shops, restaurants and the Metro on the doorstep.
Nick
2016-11-29T00:00:00Z
Tony gave us perfect instructions for finding and entering the apartment. It was lovely and warm when we arrived and plenty of hot water. The location was perfect and the tiny "Petit Nid d'Amor " had everything that we required for our stay. There is a boulangerie very close and also the metro within 200 metres although we walked everywhere. We were able to leave our luggage before the check in time which was very helpful.
Claire
2016-04-02T00:00:00Z
We had a great stay. Communication was good, easy check-in. The apartment is clean, quiet and in a safe neighbourhood and though compact, has all that you need. The apartment is very convenient to transport, restaurants, sights - we explored the Marais (Place de Vosges, the museums, galleries, etc on foot). We walked to Note Dame and Isle de France. We packed heaps into our two days here. Thanks Tony.
Yvonne
2015-06-06T00:00:00Z
Great apartment. Really cool how cozy it was for the tiny size. Great location close to buses and trains. We walked to Notre dame cathedral in 25 min. Great option for restaurants and cafes. Will totally stay here again!
Malia
2014-12-05T00:00:00Z
Petit appartement pratique avec le confort nécessaire dans le centre de Paris. Très bon rapport qualité prix. Très calme. Horaires flexibles. Points négatifs : la fenêtre qui ne s'ouvre pas, il faut laisser la porte ouverte pour aérer. Lit moyennement confortable.
Azzedine
2015-08-11T00:00:00Z
Very nice place but small. Good for low budget travelers with medium expectations.
Ugo
2016-07-12T00:00:00Z
Le quartier est sympa et l'appartement aussi. Le seul bémol serait surement qu'on est pas pu voir le propriétaire.
Pierre loup
2014-08-14T00:00:00Z
Tony's apartment was perfect for the two of us. We felt extremely safe. It was tucked away nice and quite in amongst a busy street. It was neat and tidy, just the perfect amount of space to spread out for a few days. Close to metro. Wouldn't hesitate to come back :)
Kirra
2016-06-07T00:00:00Z
Tipe Kamar
Seluruh rumah/apartemen
---
Tipe Properti
Apartemen
---
Mengakomodasi
2
---
Kamar tidur
Paris, Île-de-France, Prancis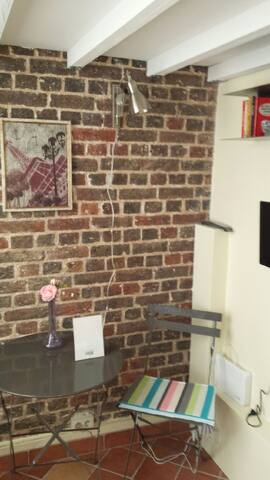 Přejete si zůstat v pohodlném soukromém pokoji v centru Paříže? Byl bych rád, vítám vás v mém krásném bytě! Chcete-li zažít francouzského hlavního města jako skutečný Pařížan, pak se jedná o ubytování budete potřebovat. Ve velmi živé a dobře dostupné okolí, v everchanging ulici bohaté restaurací, galerií a malých obchodech, budete objevovat Paříž, kde žiji, a který miluji již 20 let. Nevahejte ME kontaktovat! A bientot!
Hledáte pohodlné a útulné ložnice v centru Paříže? Nabízím vám jednu z místností svého bytu. Ten, s dřevěnými podlahami a trámy, má veškeré kouzlo starých bytů v Marais a staré Paříže. Budete mít radost ze své teplo a pohodlí. Můj byt se nachází hned vedle republiky v severním Marais 3. obvodu. Neexistuje žádná centrální a lepší spojení. Můžete si vybrat mezi 5 stanic metra do 5 minut chůze nebo méně a 5 linek metra. Byt měří 55 m², 3 pokoje, je vybaven 2 ložnice s koupelnou, kuchyní a velkým obývacím pokojem 25 m². Všechny tyto díly jsou k dispozici kromě svého pokoje. Místnost vás přivítá vás očaruje svou příjemné straně. Je vybaven značkou rozkládací pohovkou nové a velmi pohodlné pro 2 osoby. Můžete se také těšit knihovny a ukázat pokojů domů, jak se vám líbí knihy, komiksy a časopisy. Hosté mohou relaxovat ve vaně v koupelně nebo s využitím mém obývacím pokojem s velkou pohovkou. Budete mít vše po ruce vařit jako budete chtít: zbrusu nová kuchyňská linka, plně vybavená, supermarket dolů budovy a futures 10 min. Procházka. Mňam :) Aby se vaše návštěvy, můžete tak učinit mnoho věcí pěšky! Notre Dame a Ile de la Cité jsou 15 min. chodit např. Louvre je v docházkové vzdálenosti do 20/25 minut nebo 15 metrem. V bezprostřední blízkosti bytu, nenechte si ujít obchodů, restaurací a malých typických ulic Marais. Proč ne také vydat na procházku podél kanálu Saint Martin na druhé straně Place de la République? Budu rád poradí během vašeho pobytu!
Delphine's place was exactly the same as shown in the pictures and the location was good too considering multiple metro stations in the vicinity. We felt really good when she invited us for the Christmas dinner with her family. However, since we'd already had our food, we couldn't enjoy the delicious meal. However, there is a permanent odour in the house, which although sweet, can be done away with.
Shishir
2016-12-27T00:00:00Z
무엇보다 지하철이 근처에 많아서 타고싶은 (SENSITIVE CONTENTS HIDDEN)으로 도보이동이 용이했구요 숙소가있는곳은 조용하고 한적하지만 좀만 나가면 밤늦게하는 술집 밀집지역과 (막 위험한 그런곳은아니에용 ) KFC 까르푸 과일상점 마켓 두세군데 있어서 저녁에 놀기에도 적당했고 집바로 밑에 레스토랑 두군데 있는데는 맛있고 친절했구요 다만 단점은 집까지들어가는 복도에 불이 잘 안켜져서 저녁에 여자혼자는 무서울것 같았어요!
Yujeong
2017-02-18T00:00:00Z
The room was clean and there was a bottle of water standing ready for us. She was home and gave us her keys of the apartment and showed us around. We could use the kitchen so that was nice. She helped us around with some maps and whenever we had question she helped us around. Her English was very nice. Had a great time in Paris, the location was very nice you were in less than 10 minutes at two big metro stations. There was also some boulangerie's and supermarkets in the neighborhood.
Benjamin
2014-12-24T00:00:00Z
Awesome location, lovely accommodations. Highly recommend!
Sam
2016-12-11T00:00:00Z
Delphine's place is as described. Very cozy and clean. Quiet at night. Great location!!
Juli
2015-09-11T00:00:00Z
Die Unterkunft war sehr gut.
Petra
2015-11-15T00:00:00Z
Cosy, clean apartment in the heart of Paris! Highly recommended.
Piotr
2017-02-05T00:00:00Z
It really is a beautiful and cozy apartment! It is very well located and very reasonably priced. Although Delphine was not in town, she gave us lots of hints and tips. Highly recommend.
Michel
2017-01-23T00:00:00Z
Tipe Kamar
Kamar pribadi
---
Tipe Properti
Apartemen
---
Mengakomodasi
2
---
Kamar tidur
Paris, Île-de-France, Prancis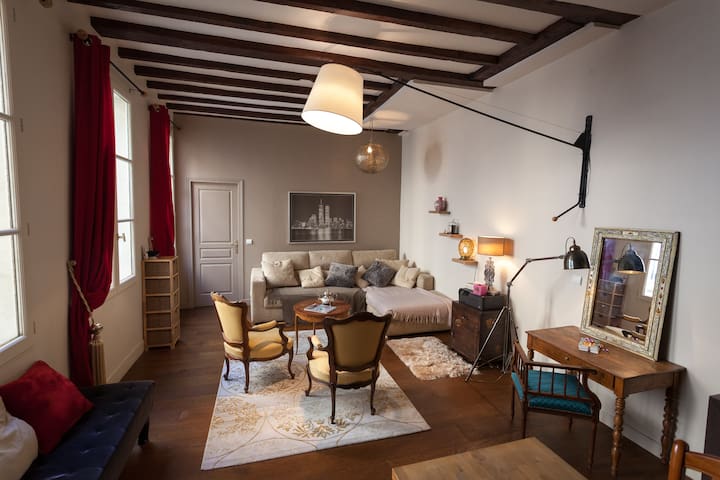 Pokoj se nachází v pestré byt, velmi světlý, dvojité expozice (sever a jih) s terasou. Pokoj s výhledem na nádvoří je velmi tichý. Vítejte v typické pařížské čtvrti v blízkosti mnoha atrakcí!
Dobrý den, vítejte do svého pokoje! K pronájmu pokoj (s manželskou postelí) v kouzelném světlé všechno zařízený byt (duplex) s terasou. Velmi klidné a jasné: nádvoří a výhled na ulici. Byt se nachází v 5. patře bez výtahu. Místnost Podává přehled nádvoří a hlavní místnost je na ulici. Otevřená kuchyně se vším, co potřebujete k snídani (není k dispozici vařit hosta): toustovače, trouba, atd ... V blízkosti Beaubourg (Centre Pompidou), Les Halles et République. Metro Strasbourg St Denis - ligne 3, 4, 8 et 9. Pak budete mít přímý přístup k mnoha kultovních míst v Paříži: Bastille, Place des Vosges Saint Michel, Odeon, Trocadero, Opera Garnier, Republique. Kvalitní restaurace a obchody s potravinami všude kolem. Ručníky, prostěradla, velmi dobře vybavená kuchyň, pračka, wifi internet atd ... I bude v mých silách, aby vám poskytl informace o tomto velkém městě, neváhejte se zeptat! Vítejte !
Nice stay, great location, Valerie is very nice !
Timothé
2016-10-30T00:00:00Z
Très bon accueil de Valérie, les 5 étages après le marathon étaient une expérience toute particulière. La douche et la possibilité de se reposer après la course un vrai bonheur. Merci Valérie.
Emmanuel
2016-04-04T00:00:00Z
Valérie es muy maja, simpática y tiene todo lo bueno que uno puede esperar de un buen anfitrión. La casa es muy bonita, acogedora y muy bien situada. Fue un placer. Muy recomendable.
José
2016-11-27T00:00:00Z
Valerie was very pleasant to chat with. We didn't see her very much but was very nice. Room is very small (Canadian standard) but is very sufficient and bed comfortable.
Jo-Ann
2012-04-22T00:00:00Z
Cozy clean flat. Very reasonable pricing. This is also an area for Ladies of the Evening. I did not once feel unsafe. Just took some getting used to for me. I'm not used to cohabitating with working women. Honestly, they were very helpful and friendly. I would suggest this to anyone looking for a reasonable place to stay in Paris.
Laura
2012-08-05T00:00:00Z
The location is near from Paris Est Station, and the host is very kind.
Keita
2015-04-01T00:00:00Z
Nous avons passé un excellent séjour à Paris et ce, en partie grâce à Valérie, qui nous accueillit agréablement, nous a laissé notre indépendance mais également était trés disponible pour nous aider! Son appartement est situé dans un quartier Saint-Denis, très sympa dans le centre!
Alexia
2014-02-10T00:00:00Z
It was okay.
Sungeun
2016-08-23T00:00:00Z
Tipe Kamar
Kamar pribadi
---
Tipe Properti
Apartemen
---
Mengakomodasi
2
---
Kamar tidur
Paris, Île-de-France, Prancis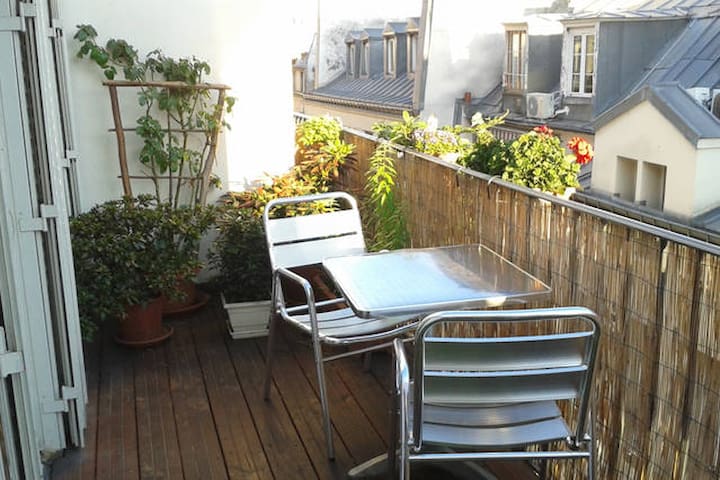 In the Marais, well located on the 2nd floor of an ancient building, overlooking a courtyard, very small room (7m2) ideal for one night. adjoining shower and toilet. Reads a comfortable place, a table and 2 chairs. Possibility to make coffee and tea.
Petite chambre idéalement située, confortable et bien équipée. Je n'ai pas rencontré Bénédicte mais aucun problème de communication. A recommander.
Françoise
2017-03-28T00:00:00Z
Great one person single room place to launch your adventures around Paris, I felt safe and secure right off a main shopping avenue. Close to many shops, metro, and taxis.
Eddy
2017-02-11T00:00:00Z
A small, comfortable room in an absolutely amazing quarter of the city with beautiful boutiques and cafés and the "best crepes in town" (la droguerie de Marais - I can only recommend to go and enjoy crepes made with love). I found everything easily and quick, thanks to Benedicte - she made a 24h check-in possible and explained everything understandable and easy going. The communication with Benedicte was very friendly and she helped me with my luggage the day of the departure, thanks for that! You can find a microwave, even shampoo and body lotion, and some books, including two Paris City Guides, which I find great. Thanks for making my time in Paris so nice, Benedicte, I'd love to return for the next time and highly recommend! :)
Alma
2017-02-17T00:00:00Z
The flat is in a great location of Paris. Walkable, good restaurants and shops nearby.
savannah
2017-03-07T00:00:00Z
Petit mais abordable et bien situé, le logement de Bénédicte est parfait pour une nuit à Paris à faire la fête et dormir ensuite confortablement. Benedicte est très arrangeante pour l'entrée/sortie des lieux et très sympa.
Morgane
2017-03-25T00:00:00Z
Cute. Small.compact. Perfect Location. quiet. Nice stay. Very self contained.
Lucy
2017-03-14T00:00:00Z
Great little apartment located RIGHT in the heart of everything. Checking in was a breeze and the room was exactly what it looked like from the pictures. Small but comfortable
Brett
2017-03-27T00:00:00Z
I recently stayed here for 4 nights and it was absolutely ideal! This little room offers the best location (close to metro stops, cafés, bakeries, markets, shopping, etc.) and the size is perfect for a solo traveler. I look forward to staying here again on my next trip to Paris.
Katarina
2017-03-19T00:00:00Z
Tipe Kamar
Seluruh rumah/apartemen
---
Tipe Properti
Apartemen
---
Mengakomodasi
1
---
Kamar tidur
Paris, Île-de-France, Prancis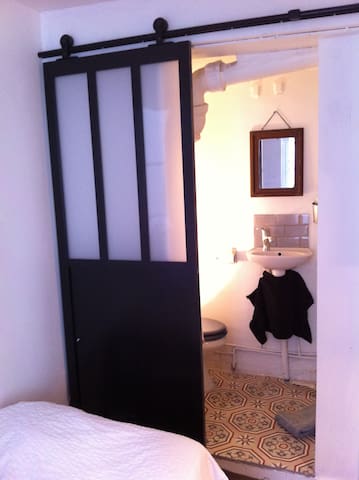 Ruhige und komfortable Zimmer in meiner Wohnung im Herzen von Le Marais. Ich lebe in dieser Wohnung so ich in der Lage sein wird, um Ihnen bei allen Fragen während Ihres Aufenthalts zu helfen. Die Wohnung wurde komplett ein gemütliches und komfortables Ort zu schaffen, renoviert. Die Gäste können einen regen Dusche genießen nach einem Tag voller Sightseeing in der Hauptstadt zu entspannen.
Das Gebäude befindet sich in einem historischen Viertel von Paris. Es wurde in den 1830er Jahren gebaut. Die Wohnung wurde im Juli 2015. Die Balken und der Kamin behalten den Charme des alten Gebäudes, während der Rest der Wohnung verfügen über eine moderne Dekoration und Komfort komplett renoviert.
Le Marais ist ein historischer Stadtteil von Paris. Früher von einer Bevölkerung von Handwerkern und Arbeitern besetzt, heute ist es in Richtung Kunst und Design orientiert. Es gibt mehrere Museen und viele Designer-Boutiquen. Die jüngste Renovierung des Carreau du Temple (ehemaligen Ledermarkt in eine Ausstellungshalle verwandelt) bringt eine neue Dynamik in den nördlichen Teil des Landkreises. Sie werden es lieben durch diese Gassen zum Bummeln Geschäfte Mode und Design zu entdecken. Food-Fans werden sich freuen zu dicover: Gebäck, Chocolatiers, Caterer, Käser, usw. Schließlich ist das Nachtleben mit vielen Bars und Restaurants ist sehr dynamisch.
摩根人很好,每次都会笑着冲你说话,早上起床或者上厕所你根本听不到任何声音。你完全不用考虑是否会被打扰。 房间非常干净、整洁,比图片上看到的感觉还要好。 地理位置不错,离地铁站就几分钟的路程。 旁边就有超市、邮局,餐馆,小店也很多,如果有时间附近转转都是不错的选择。 Perfect!
栋
2016-04-02T00:00:00Z
Parfait, calme, cosy, lumineux et convivial et extrêmement bien situé au coeur du marais, proche de plusieurs stations de métro permettant de choisir sa destination directe... idéal pour moi qui vient travailler et cherche un havre où me poser le soir. A recommander sans modération.
Sophie
2016-05-26T00:00:00Z
我在摩根家住了一個禮拜,之前會選擇住他家是因為我一人旅行,一方面非常擔心巴黎的治安,想要與人同住,然而我也只想擁有一位室友;另一方面,我的個性需要個人空間,不希望遇到過於健談熱情的人… 來住了之後: 1.語言-他的英文很好,完全不需要擔心溝通。 2.空間-臥室與小客廳都各自有門,關起來的時候各自都有空間,中間的共同空間是廚房與廁所,所有設施使用起很順手方便。 3.方便-樓下就是市場,超市;附近有很多小店可以逛,飲食和購物都很方便。 4.安全-治安良好,第二天起我就日日夜歸。 5.摩根的個性:他是一個很好相處的室友,會適度的關心,我感覺自己有私人空間,可是他就會在那,如果我需要他會協助我。 摩根是一個很有生活品味的人,以致於他的房子時髦又舒服,我在他家渡過了很棒的假期。 I have stayed at Morgan's flat for a week. before I came to Paris, I was worry about the safty cause I travel alone and I need someone who can give me my own space, not chatty. these are the reasons I choose him. After the stay: 1.Language: Morgan can speak very good English, easy to communicate with. 2.Space: the living room and the bedroom both with door, between the doors are kitchen and toilet. we can both have our space. 3.Convenience: Marche couvert des Enfants Rouges is just downstairs. also supermarkets and some shops. easy to get foods.(Also shopping) 4. Safty: its a very safe area for even just a single woman! I went back late everynight. 5.Morgan's personality: he is a very easygoing flatmate. I can feel that he cares abput me but still leave me for my own space, and when you need him, he is just there. He has good taste which makes his flat comfy and chic, its a wonderful experience to stay there!
Isis
2016-09-21T00:00:00Z
Morgan was a fantastic host. The apartment was spotlessly clean and well kept. Leading up to my stay Morgan provided clear instructions and was easy to communicate with. Located in a very vibrant neighborhood and within easy walking distance of many attractions.
John
2016-07-28T00:00:00Z
Je devais me rendre à Paris pour une formation d'une semaine et j'ai décidé de la passer chez Morgan. Après une bonne journée de travail, ça fait plaisir de retrouver un hôte toujours souriant et sympathique. Pour le reste, l'appartement est très propre et bien entretenu. Il est au calme et confortable. Je le recommande pour ceux et celles qui veulent passer une nuit paisible au coeur du Marais ;-)
Marie-Delphine et Stevens
2015-11-28T00:00:00Z
Morgan est un excellent hôte et la chambre est idéalement située, très central, dans Paris, dans un des plus beaux quartiers. L'appartement est impeccable, je recommande!
Thibaud
2015-08-28T00:00:00Z
Todo genial, la ubicación, la gente muy amables, lo recomiendo. Y está bien cerca de todo
Osvaldo
2016-07-12T00:00:00Z
Le logement correspond très bien à l'annonce, très propre, bien situé, calme, très agréable. Morgan est une personne très ouverte et généreuse et il a très bon goût sur la décoration de son logement. Il est très sympathique et met à l'aise. J'ai passé un super week-end. Merci Morgan.
Rose-Marie
2016-01-17T00:00:00Z
Tipe Kamar
Kamar pribadi
---
Tipe Properti
Apartemen
---
Mengakomodasi
1
---
Kamar tidur
Paris, France, Prancis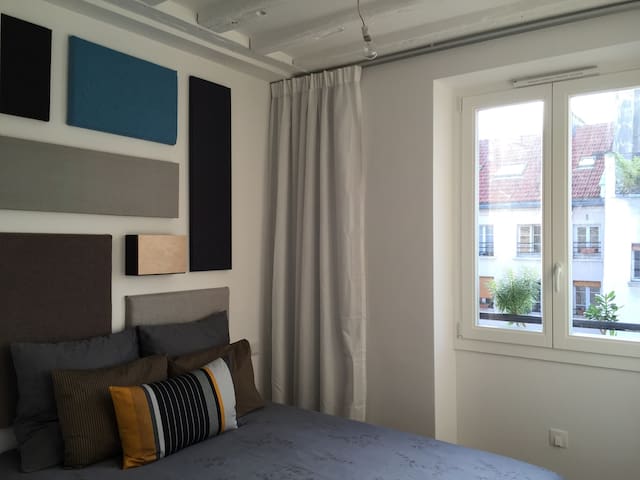 Enjoy in the charming center Pampidou and chatelet in 5minutes walking .the Marais area in the Paris 3th.,It's very well located,surrounded by supermarket,Bars and restaurant.The flat is at 6th floor,with 2 sofas,little kitchen,shower cabine.
You have 2 beds the first is for 2 personnes and second for 1..really is confortable
It's very well located,wich is just in the middle of the Arts et metiers,Rambuteau,Reamur Sebastopol,Etienne Marcel.Very close to everything,Opera,Louvre museum,Republique etc.surrounded by supermakets,bars,clubs and restaurants...
Small but lovely. James is a very kind person.
Fan
2016-07-14T00:00:00Z
L'accueil de James est parfait, trés ponctuel, prévenant dans nos attentes. l'appartement est vraiment au calme. un grand merci
clothilde
2017-04-08T00:00:00Z
This airbnb has a great location! It is right near a metro stop and the Marais area is very happening. James was a great communicator and helped us feel at home by greeting us with some snacks as we arrived. On the other hand this apartment is very small and you have to climb 6 flights of steep stairs to get to it. I do not think the photos were representative of the home, the couch and the chair that you see in the photo are the beds that pull out in the one room of the apartment. The bathroom is tiny, and the hot water was difficult to figure out. The linens smelled a little funky, and we only received a small sheet as a blanket. Overall it is a great location but the amenities are not up to par. If you plan on exploring Paris, don't care about having the most accommodating amenities, and want a low cost stay this is a good option.
Lauren
2017-04-05T00:00:00Z
Thanks for James' help,we had a great time in Paris. Good position and relaxed automosphere~And the long spiral stairs will leave a deep impression on you~
星园
2016-12-27T00:00:00Z
Great place and host! Welcoming and designed well for tourists.
Sarah
2017-03-29T00:00:00Z
it was a nice welcome of James and the flat is good located to Bars, restaurants and central
Jimi
2017-02-12T00:00:00Z
The room is small but located in the city centre. Centre Pompidou around the corner, Notre Dane easy walking distance. Free exercise with the stairs but love the Bohemian atmosphere! Small but clean and all is there. Nice restaurants in the neighbourhood.
Inge
2016-10-19T00:00:00Z
房源描述基本相同
Shuzi
2016-11-07T00:00:00Z
Tipe Kamar
Seluruh rumah/apartemen
---
Tipe Properti
Apartemen
---
Mengakomodasi
3
---
Kamar tidur
Paris-3E-Arrondissement, Île-de-France, Prancis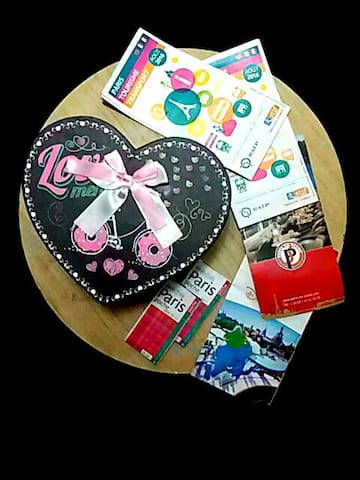 If you want to dive into the typical charm of a real Parisian studio, cozy and classy at the same time, which is in the most famous bohemian neighborhood, less than 15 minutes' walk from the Cathedral of Our Lady of Paris and City Hall, this announcement will be for you.
The apartment with an area of 37 square meters can accommodate 1 to 4 people. The space is organized around a living room with a loft bed, a kitchen and a separate bathroom. It has two large windows that make it very bright studio.
Parisian apartment in a nice area to live. Located in the heart of the Marais, between Republic, City Hall and Place des Vosges.
We had a great time in París at olga's appartment. Nice place and location, Just 2' walk from the metro station. It was very clean. We couldnt meet Olga un personaje but we kept in touch vía airbnb Messenger. She is very polite.
Kevin
2017-01-02T00:00:00Z
Olga's apartment was absolutely perfect for me. The apartment is very spacious and nicely decorated, and is in a great location for getting around town and reaching the Eurostar. Olga was also very helpful and left clear instructions on how to get into the flat and let me arrive/leave at whatever time suited me. I'd definitely recommend it or stay again if I can. Thanks again Olga!
Georgina
2015-04-26T00:00:00Z
The flat was very clean, and the ceilings very high! Perfect for 4 people or a couple! We had a great time in Olga's flat. Would definitely stay here again
Christopher
2015-05-12T00:00:00Z
I didn't get to meet Olga, but she gave very clear instructions of how to get into the flat. Over all is it good flat in an amazing part of Paris so the location is perfect. Exactly as it looks on the listing so no surprises and only good things to say. Thank you Olga
Timothy
2016-01-24T00:00:00Z
Mi familia y yo tuvimos una muy buena estancia en la casa de Olga. Es un lugar céntrico, grande, limpio y con buena conexión a wifi. Olga mediante (SENSITIVE CONTENTS HIDDEN) facilitó bastante nuestra llegada. Recomendaría este apartamento a cualquier otro usuario de airbnb.
Oscar
2016-10-16T00:00:00Z
Very nice flat, well located and clean!
Alice
2015-12-14T00:00:00Z
Alles ziemlich anonym! Mit Ausnahme vom ersten Telefongespräch das nett verlief, lief der Rest via Email . Persönlich finde ich angenehm jemand mindestens an der Stimme wahrzunehmen! Die Einrichtung ist in Ordnung aber der Service mangelhaft: kein Toilettenpapier vorhanden ( es ist nicht gerade das erste was man in Paris machen möchte Wc Papier erst besorgen). Bettlaken viel zu klein für das Doppelbett, Glühbirnen müssen gewechselt werden, weil sonst kein Licht ist. Die Tischlampe ( als einzige Lichtquelle im Raum ohne Schalter ( also muss aus/ eingesteckt werden und ist so mit einem Isolierband " repariert" wo ein Schalter sein sollte . Auf der Empore kein Licht. Schade!! wir haben trotzdem unser Paris Wochenende genossen, weil wir nur zum schlafen in der Wohnung waren aber .......ich hätte mir etwas anderes gewünscht und kann es somit auch nicht weiterempfehlen! Tut mir leid!
Sandra
2016-05-02T00:00:00Z
Nous avons loué cet appartement à 4. Olga était très sympathique et s'est même arrangée pour que nous puissions entrer avant 15h dans l'appartement. L'appartement en lui même est conforme à ce qui est indiqué sur le site, très lumineux, climatisé, bien placé au centre de paris et suffisamment silencieux pour nous. Équipé d'un lave vaisselle, lave linge, et d'un canapé convertible. Proches des magasins (même un magasin bio contenant des articles sans gluten se trouve à proximité, bio c' bon) et du métro. La seule petite remarque que je pourrais faire est l'équipement un peu spartiate niveau vaisselle et draps. De ce point de vue la, c'est plutôt prévu pour deux personnes que pour quatre. I rented this flat with 3 other persons. Flat is as advertised on the website, climatised, calm, well located in paris. You can find everything nearby, even an organic food shop that sells gluten free food if you need it. Only small downside is the kitchenware and the bedsheets who are a little minimalistic.
axelle
2015-08-07T00:00:00Z
Tipe Kamar
Seluruh rumah/apartemen
---
Tipe Properti
Apartemen
---
Mengakomodasi
4
---
Kamar tidur
Paris, Île-de-France, Prancis
Studio je útulný a pohodlný. Budete se cítit budete cestovat zpátky v 18. století s původními dřevěnými trámy! Ale veškeré vybavení je moderní a zcela nový ... V koupelně je velký. Vybral jsem pěkné dlaždice z Maroka, Španělska a dokonce Vietnamu (podívejte se na ryby !! ;-) Je ideální pro pár, kteří chtějí strávit romantickou čas v Paříži
Pokud půjdete na procházku v těsném sousedství, je to pěkné všude! Většina budov je z 18. století, je to "neznámé Marais '. Arts et métier (plus kostel) je krásná budova a velmi zajímavé muzeum. Spousta charakteru, dobré obrázky garantováno !!
Absolutely fantastic little apartment in a brilliant location, and Malik was a very attentive host. Honestly, couldn't ask for more! Would 100% stay here again next time I'm in Paris
James
2017-02-27T00:00:00Z
Great stay! Malik was ready and waiting when we arrived at the apartment and explained everything clearly. The apartment is small, but beautifully laid out and decorated - couldn't have asked for more. The location is also amazing, being a short walk away from Republique, Hotel de Ville and many more hotspots. Highly recommend.
Nicole
2015-12-17T00:00:00Z
Malik et Nathalie Je tenais à vous dire que j'ai passé un super séjour et votre hospitalité y a contribué ainsi que votre appartement! Il est d'un pratique ,tout y est, d'un calme … un vrai petit nid parisien , un bonheur!! De plus très bien situé et hyper tranquille. Je n'hésiterai pas à revenir vers vous pour une prochaine virée sur Paris tellement j'ai apprécié de vivre pour une semaine à arts et métiers. Anciennement parisienne , j'étais au coeur du sujet et j'ai pu faire tout Paris à pied( j'aime la marche), monuments,musée, expos, spectacles, ciné, restos, bars … En un mot …TOP!! En grand merci à vous et au plaisir Marie
Marie
2015-01-08T00:00:00Z
This was a return visit for me - and I was delighted. Super accommodation and location. Really helpful host. Would recommend to anyone wanting to stay in Paris.
Bridget
2017-01-04T00:00:00Z
Malik and Nathalie's instructions for getting to their apartment were extremely clear, and Malik greeted us once we arrived and was welcoming and extremely helpful. The apartment was cozy, but charming with lots of natural light from the windows. We loved having a small kitchen with plenty of pots and utensils, and cooked three of our dinners in the apartment to cut costs and enjoy the space (I highly recommend dining by candlelight here!). I was initially hesitant about staying at a place with a pull-out couch, but the bed was shockingly comfortable and easy to put together. Everything was extremely clean in the bathroom and the kitchen, and the wifi and tv worked flawlessly as well. Most importably, the location was superb, with great little cafes, markets, and patisseries right on the street and a wonderful local Parisian vibe. Using the subway to get around was so easy from this place, but we mostly loved the walks through this neighbourhood. I would highly recommend this place to anyone looking for a cosy apartment for a few days in Paris, and hope to return here myself one day.
Tahnee
2016-06-04T00:00:00Z
The apartment is great. Is just a ten minutes walk from Centre Pompidou at the edge of Le Marais. House and flat are typical Parisian style, wonderfully romantic and equipped beautifully by host Malik. You find everything you need in there. Despite of the fact that the house is located in the city centre, you can hear hardly any noise from the streets. Apartment host Malik is widely travelled and it's such fun to talk to him. No need to hesitate - have a wonderful time in Paris!
Jan
2014-08-26T00:00:00Z
Malik was a great host and always available for anything I needed. I stayed during two moths in the apartment and everything was great! Equiped kitchen, nice bathroom with a good shower, and the bed was very comfortable!!! The apartment is on a third floor by stairs and at first It seemed like a lot , but in three days I got used to it. The best thing about the apartment I think is the location. Safe neigbourhood, Many little bars and restaurants arround. Just a 10 min walk to Notre Dame, 3 min walk to Republic and lots of metro lines close that allowed me to get anywhere really fast. I would defenetly recomend this studio!!!
Maria Lucia
2014-10-27T00:00:00Z
The apartment is really well located, clean and functional. It's close to many stations and different lines of metro, which gives you more flexibility. The neighbourhood is awesome, you are close to brasseries, markets and night life. The instructions Malik gave were accurate and, despite he was not in Paris, his friend receptioned us. It's really easy to go from airport (CDG) there using RER and metro (€ 9,75). On the bottom line are just the stairs, because it's really hard to climb to fourth floor with heavy luggage. But it's something to consider only if you have any difficult of mobility. In fact, forget about it, the apartment is perfect!
Leandro
2015-01-01T00:00:00Z
Tipe Kamar
Seluruh rumah/apartemen
---
Tipe Properti
Apartemen
---
Mengakomodasi
2
---
Kamar tidur
Paris, Île-de-France, Prancis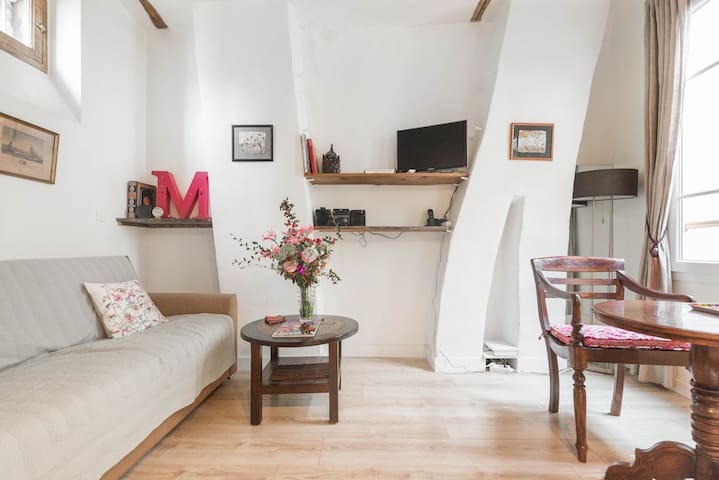 Das Hotel liegt in der Rue des Fontaines du Temple entre Fliesen Du Temple, Kunsthandwerk und der berühmten Rue de Bretagne.
Helle und ruhige Studio im ersten Stock eines historischen Gebäudes komplett renoviert Das Studio mit einem komfortablen Queen-Size-Bett und einem Schrank stand. Bettwäsche und Handtücher werden gestellt. Ein Bügeleisen und ein Bügelbrett sind ebenfalls vorhanden. Das Badezimmer verfügt über eine Dusche, WC, einen Handtuchwärmer und Haartrockner. Die Küche ist komplett ausgestattet: Kühlschrank, Glaskeramikplatte, Mikrowelle, Kaffeemaschine, Toaster, Geschirr und einen kleinen Tisch mit 2 Stühlen.
Le Marais mit seinen südlichen Bereich entlang der Seine, ist eines der ältesten Viertel von Paris. Da es im Zentrum der Stadt, zwischen dem Place de la Bastille, Hotel de Ville, dem Beaubourg Museum und Place de la République, werden Sie in der Lage sein, alle die schönsten Gegenden der Stadt leicht zu besuchen und zu Fuß. Jedoch ist das Marais mit sehr gut in Bezug auf öffentliche Verkehrsmittel mit seinem einfachen Zugang zur U-Bahn, die RER und die «Vélib» serviert. Le Marais ist ein sehr belebtes Viertel, wo Sie wollen, um wandern seine verschiedenen Restaurants und Cafés, Französisch Lebensmittelgeschäfte zu entdecken, sowie Bekleidungsgeschäfte im Bereich von bekannten Marken zu jungen Designern. Unser Studio ermöglicht es Ihnen, sich frei in der Stadt zu bewegen und entdecken ihre Geschichte, ihre Modernität, seine Kultur, seine Nichtigkeiten; in anderen Worten, «la vie parisienne», die Pariser Lebensart.
I really loved staying at your apartment. It was very safe, clean and spacious. Especially the terrace captured my mind. Location was good but can not use subway coz it's in the city area. (FYI, you can use tram no.8 near the house.) And there was a supermarket just next to the apartment. And Fabio (manager?) was very kind and pleasant. We would like to stay here if we visit Rome again. :)
SONGMI
2015-06-17T00:00:00Z
A wonderful place as advertised. Marc and Joel were very communicative and welcoming. A fresh baguette greeted us! Quiet but central location. Great stay!
jeremy
2017-02-13T00:00:00Z
The apartment was very nice! Well decorated, new and everything was very clean. Location is perfect! Nice area with many things to see and do within walking distance. We had a great time here.
Emma
2015-01-04T00:00:00Z
Très bon accueil, nous avons été sous le charme de ce charmant studio. L'emplacement est parfait, au cœur de Paris. Le descriptif était vraiment fidèle à la réalité. Hôte très sympathique et ayant très bon goût. En bref, très bonne prestation. Merci.
dominique
2014-11-30T00:00:00Z
Wonderful, beautiful studio! Marc ensured we were let in by the BnB sitter and all was well. Truly a great place, great host and would absolutely stay again. And the fresh baguette and jams- perfect!!
Dana
2015-09-09T00:00:00Z
Very clean and cosy studio apartment. Enjoyed our stay and would recommend the hosts! Central location, close to Metro. Very fast speed internet, fresh towels, appliances all in perfect order.
Aidar
2015-12-01T00:00:00Z
Lovely place in great location. My husband and I enjoyed ourselves and thought this was a great place for a short trip to Paris!
Karina
2017-04-02T00:00:00Z
Etienne and Marc's appartment is fantastic. The location is brilliant being a stones throw from Temple Subway station and really close to several others. There are loads of great places to eat nearby and lots of the main attractions are within walking distance. The apartment is really nice. It's not big but was perfect for our weekend in Paris. It's very well designed with a very comfy big bed and a good shower. The apartment building is really nice as well. The communication was great and was very easy to get the keys. Overall I'd highly recommend staying here and we will look to stay here again when we come back to Paris.
Guy
2017-02-26T00:00:00Z
Tipe Kamar
Seluruh rumah/apartemen
---
Tipe Properti
Apartemen
---
Mengakomodasi
2
---
Kamar tidur
Paris, Île-de-France, Prancis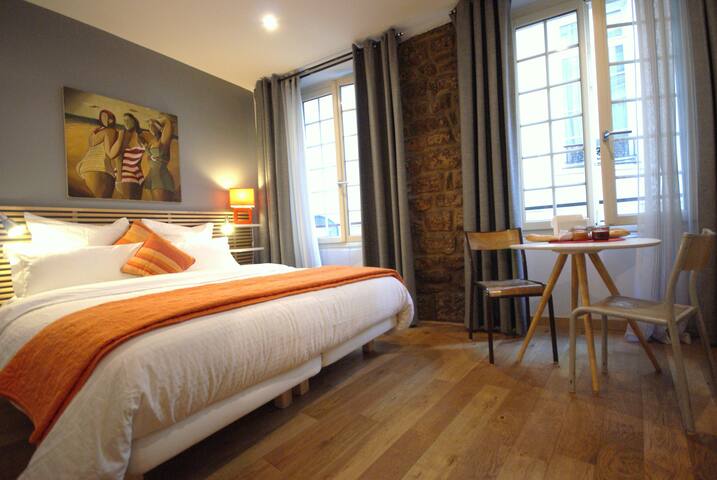 Vi giver en hyggelig, ren værelse med eget badeværelse og balkon. Vi er her for at give dig så mange oplysninger om vores område / by, som du har brug for. Hvis du er på udkig efter en udadvendt, tosproget, venlige par vi forsikre dit ophold vil være det værd.
Min mand og jeg glæder at dele vores appartement.Spacious 85m2 duplex i Marais. Vi har haft 4 års erfaring hosting på airbnb og vi vil gøre vores bedste for at guide dig rundt i byen med kort og give dig de bedste anbefalinger hele dit ophold-Vores værelser er på nederste etage af den flade og soveværelse og badeværelse for husleje er på øverste etage, så er meget privat fra resten af lejligheden. Stor stue / spisestue og åbent udstyret køkken i en cirkulær form, som shared space. Balkon strækker sig fra den ene side af lejligheden til den anden. Soveværelset har en komfortabel queensize sovesofa og lille skrivebord. Det private badeværelse har brusebad og toilet. Vi er en ung venlig udgående franco / amerikansk par søger en person ligesom os! Vi taler fransk og engelsk derhjemme flydende. Apt er meget godt beliggende, 5 min fra 6 metrolinjer ... tæt på mange turistattraktioner såsom Pompidou-centret, Picasso-museet, Arts et Métiers museum, hotel de ville, Notre Dame, osv ... Også du kan finde meget søde restauranter og barer. Dens ved siden af en meget trendy gademarked og butikker åbner syv dage om ugen, hvilket er sjældent for Paris! Hvis du har endnu til at besøge området er det et meget trendy sted. Masser af sjove steder at gå og steder at besøge! Tøv ikke med at kontakte mig for yderligere spørgsmål! Vi ser frem til at møde dig !!
meget centralt fantastiske restauranter store butikker gåafstand til alt (godt næsten)! nem adgang til mange metro, bus og RER-linjer
We stayed with Alex and her husband, Pierre for 6 days over this past holiday season. It was my first Air B&B and I have to say, I'm hooked! We had a lovely time, the room was quite comfortable, and Alex's home is perfectly situated for anyone wanting to see Paris. I highly recommend Alex for anyone visiting Paris!
Chris
2014-01-01T00:00:00Z
Alex and Pierre were great hosts, along with their 2 cats and 2 kids. They have a 2 story flat so playing with their kids is only if you want to, and we lived it. They are adorable. They all speak English and French, and will give you plenty of tips on where to go and what to do. The bedroom has a nice deck overlooking the city and a small park , very comfy bed, and a great shower. You will be very happy with this place.
Scott
2014-08-30T00:00:00Z
Pier and Alexandra are an irresistible couple, we lots of fun and felt very welcome in their home. The room is small but the bed is extremely comfortable and worth the loss in space to get a great nights sleep. The apartments location could not have been better and was so well apreciated on our first trip to Paris ☺. Alexandra is a busy young Mum with two young children and managed to still find time to give us plenty of attention and advice, this was a great Airbnb experience.
Kim
2015-08-29T00:00:00Z
Wonderful place. A room with a clean bathroom. The room is away from the rest of the apartment, which gives you a little more privacy. The family is nice and welcoming. The location is great with a nice cafe next door. It's close to the Paris Metro.
Brian
2016-06-03T00:00:00Z
The listing is exactly as describe. Alex and her family were gracious and welcoming from the moment I arrived. The room is on the first level of the home and was extremely clean, with a lovely little bathroom/shower and its own balcony. The room itself is a bit tiny, but the folding futon makes enough room for you to walk around during the day. The neighborhood is wonderful and has so many great cafes and bakeries--all in a short walking distance of the apartment. Alex made wonderful recommendations. My only regret is that I could not stay longer!
Joelle
2015-08-31T00:00:00Z
Alexandra m'attendait pour me donner les clés. Elle m'a fait visiter l'appartement et m'a expliqué le fonctionnement de certains objets ou particularités. L'appartement est très lumineux et bien placé, métro à côté.
séverine
2016-02-27T00:00:00Z
We (couple) had a nice stay in this well situated flat in Marais. Although we did not meet our hosts personally, everything was well organized. Communcation via Mail and telephone was easy. Alexandra even booked us a table at a lovely restaurant (Chez Janou) for New Years eve. The sleeping room is small, but because the family was on vacation we could use the whole flat for our own and shared the kitchen-living room only with their two friendly cats. Maybe because this was our first time with Airbnb it was not transparent for us that our hosts charge 16€ more per night because it was holiday/New Years and we had the apt to ourselves. This was the only and very little disappointment.
Klaus
2015-01-02T00:00:00Z
My girlfriend and I had a perfect time staying here. We did not meet Alexandra unfortunately, but we had great communication with her beforehand with regards to the key and amenities. the apartment was in great shape, cleaned by a maid just before we arrived with fresh towels, sheets, etc. The apartment is also in a great location for walking into central paris or easily taking the metro from the several nearby stations. We also enjoyed spending some time relaxing in the living room with the beautiful windows and friendly cats. I highly recommend staying here!
Johann
2014-04-22T00:00:00Z
Tipe Kamar
Kamar pribadi
---
Tipe Properti
Apartemen
---
Mengakomodasi
2
---
Kamar tidur
Paris, Île-de-France, Prancis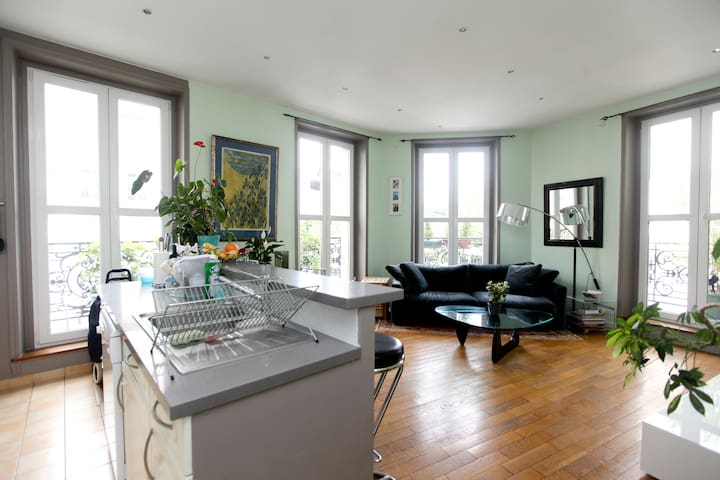 Byt je okouzlující 2 pokoje, plně zařízené a ideálně umístěn v samém srdci hlavního města. To se nachází ve 3. patře (bez výtahu) roztomilé budovy typické Paříže.
Jsem mladá maminka, která žije mezi Paříží a Nice. Tak jsem se najít přirozené přivítat turisty do svého útulného bytu, který je umístěné tak centra Paříže. Jeden z mých přátel, Diana, přivítá vás. Byt je okouzlující 2 pokoje, plně zařízené a ideálně situován v centru hlavního města. To se nachází ve 3. patře (bez výtahu) malé budovy. To je stará budova, která má velké kouzlo, ale z toho důvodu, budovy a bytu může zdát zastaralý či méně vhodné pro ty, kteří nejsou zvyklí na typické staré pařížské budov. Tento byt se nachází: -A pár minut chůze od několika stanic metra Strasbourg-Saint-Denis, Reaumur Sebastopol, umění a řemesel, Temple, République (linky (PHONE NUMBER HIDDEN) minut chůze od Chatelet, břehu řeky Seine, Beaubourg, radnice, Canal Saint-Martin -close na: obchody, bary, restaurace, supermarket, pekárna, lékárna ...
Poloha bytu je prostě perfektní, protože můžete chodit (5 až 15 minut), ve většině z nejlepších míst v Paříži (bažiny, ostrov město, Notre Dame, Louvre, Republic, kanál Saint-Martin, rue de Rivoli ...) Kromě toho, s linkami metra, které projdou straně (3, 4, 9, 11), můžete velmi rychle dostat na libovolné místo v Paříži. Ulice je velmi klidná, ale oblast je velmi živý. Budova stojí muzeum umění a řemesel a existuje velké množství restaurací, barů a obchodů velmi pěkné ... Ať už to vědí nebo ne Paříž, těžké najít lepší místo ...
位置很好,在一圈。去西岱岛、巴黎圣母院是可以步行的。厨房有足够的厨具和调料,在家做饭没问题,对中国人很重要哈。缺点就是房间不是很干净,沙发,床单什么的不干净,睡觉感觉很不舒服。
Jessica
2016-02-09T00:00:00Z
Appartement très bien situé, fonctionnel et très agréable. Diana et son ami ont été très disponible durant notre séjour et nous n'avons manqué de rien! Merci beaucoup !!
Mathilde
2016-10-20T00:00:00Z
The apartment was perfect for our stay in Paris. The neighborhood is wonderfully central and the metro was very close by. The apartment itself is bright, spacious, and comfortable. Diana stayed in contact with us throughout the stay and even helped us look for other places to stay when my friend considered extending her stay in Paris. We loved our stay and would recommend it highly.
Mikerra
2015-09-02T00:00:00Z
Everything was perfect, Diana since the begining made a good contact with us, in order to provide all needed information.
Tito
2015-06-13T00:00:00Z
Lovely appartment at a wonderful location. Instructions from Diana were clear and we felt at home the moment we entered the appartment. We will come back!
Pim
2016-05-06T00:00:00Z
The neighborhood of the apartment was great, close to metro station and some small shops bars/ bistros. We were a little bit late due of some traffic jam but that was no problem. We found an easy way to get the key of the apartment.
Maartje
2015-10-20T00:00:00Z
Wir haben uns super wohl gefühlt. Diana hat uns per (SENSITIVE CONTENTS HIDDEN) vor und während des Aufenthaltes prima mit Infos versorgt. Leider haben wir sie nicht kennengelernt, da unsere Flüge spät nachts und im Morgengrauen gingen. Die Lage ist perfekt. Man kann ganz Marais zu Fuß erkunden, bis zur Seine runter. Nette Bars und Restaurants in Laufnähe. Dank (SENSITIVE CONTENTS HIDDEN) maps haben wir auch immer wieder nach Hause gefunden :-) Die Wohnung ist super süß. Das Bett im Schlafzimmer ist aber deutlich besser als das quietschende Sofa im Wohnzimmer. Beide sind mit großen, französischen Decken ausgestattet. Für Paare sicher okay, für Freunde "geschmackssache"! Wir waren sehr zufrieden und würden die Wohnung auf jeden Fall weiterempfehlen! (Föhn ist übrigens vor Ort)
Elisabeth
2016-12-05T00:00:00Z
집이 예쁘고 구조도 좋음! 거실 난방이 잘 안됐지만 잘만 했고 따뜻한물이 금방 떨어질때도 있어서 조심. 위치는 놀러나가기 좋지만 흑인이 많은 동네라 조심해야함! 그리고 엘베없다 ㅜㅜ
Hye-seon
2016-02-29T00:00:00Z
Tipe Kamar
Seluruh rumah/apartemen
---
Tipe Properti
Apartemen
---
Mengakomodasi
4
---
Kamar tidur
Paris, Île-de-France, Prancis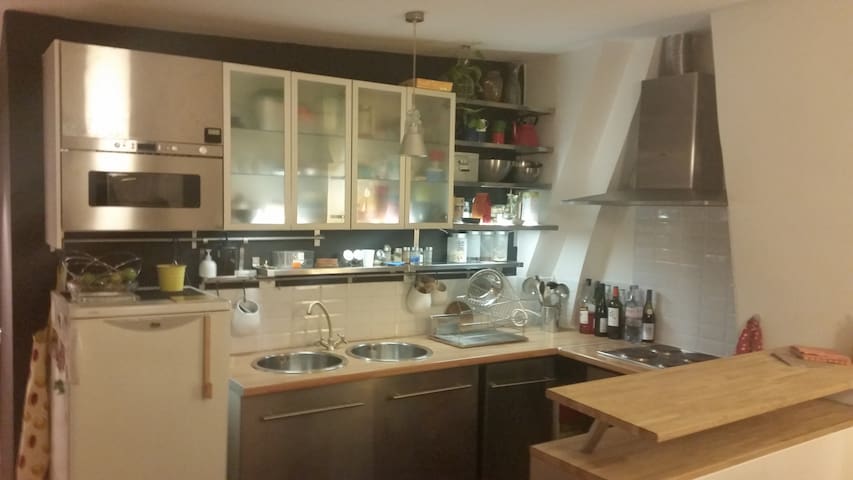 15m2 charming apartment on 1st floor of a short, very quiet. Ideal for short stay quiet in the city center, some minutes walk from the Centre Pompidou.
In an old Parisian building in the area of Arts and Crafts, this studio is located at 1st floor of a very short calm, far from the noise of the street and in a respectful environment.
The area is located on the Marais district, just minutes walk from the Pompidou Centre and Republic Square. The narrow streets of the neighborhood full of small shops and stores is also provided with several French and ethnic restaurants. Right next too, rue de Bretagne, trendy, with lots of restaurants and unique shops, and the red children Market, a former market that finds its place among the building's corner, filled with a very friendly atmosphere and local.
An absolutely perfect stay in the Marais! Rocco's apartment is incredibly situated and was perfectly outfitted to make my stay in Paris a comfortable and positive experience. Furthermore, Rocco was an incredibly gracious and helpful host, facilitating check-in time around my work schedule and helping me get quickly settled. I could not have asked for a better stay and I look forward to returning in the future.
Kate
2016-07-10T00:00:00Z
Appartement très bien situé et très très calme.
Marc
2016-10-21T00:00:00Z
Pour ma première expérience avec Airbnb, je n'ai pas été déçue. J'ai beaucoup apprécié mon séjour à Paris. Rocco est présent et attentionné. Le studio, petit, mais très fonctionnel, a répondu à mes attentes. La description faite correspondait à la réalité. La situation géographique centrale permettait de rayonner tout autour à pied ou autrement,puisqu'il y a une sortie de métro à quelques pas. Cafés, boutiques, pâtisseries, boulangeries, supermarchés etc. sont également à proximité. Des détails, tels la fourniture de papier, stylo, ciseaux, articles de premiers soins, quelques livres agrémentent et ajoutent aux fournitures habituelles. Quoique les lieux soient propres, l'état intérieur de la cuvette nécessiterait une attention particulière ou un remplacement. Ce serait un + à ce petit studio.
Francine
2015-09-24T00:00:00Z
Great little studio in a perfect location to explore Paris. The apartment is quite small, but it is clean and has everything you need if you're looking for a base to explore Paris. The location is excellent and communication with Rocco was very easy - he's a great host!
Lev
2016-10-31T00:00:00Z
The apartment was really gorgeous - I wish I would have sayed longer. It has a great and central location - I really loved my stay there. Marais is around the corner, the tube station is 2 minutes walking away and the Centre Pompidou is also not far. There are enough shopping opportunities and the place is also equipped for you to make your own food! Next time I am coming back to Paris - I would do it again! Stayed as One!
Daniel
2015-10-19T00:00:00Z
The place was very quaint and perfect for what I needed. I do recommend that if two people are staying here to be ready for some cramped times - much more comfy for one person. The neighborhood was fantastic though - much more of a local Parisian experience than a cliche tourist one. Lots of great cafes, shops, and super easy access to the metro. And you can walk to many fantastic Right Bank spots in 20 to 30 minutes. The host was very communicative and helpful leading up to arrival, and gave great insight about the recent flooding and Euro 2016 football goings on that we're happening during my stay. I never really had a need to get in touch with him during my stay, but presume he'd be pretty reachable if needed. The only "complaint" was that the bathroom needed some cleaning attention. Otherwise, the only other note is that the door to the unit was finicky - you really have to slam into it to open it. C'est la vie! Especially for the price, no big deal.
Preston
2016-07-03T00:00:00Z
I stayed here for a week close to Christmas-time. It's great for one person and it could work for two people, too. It's a good home base and has everything you need, even if it's not the fanciest flat in Paris. The bed (futon) is pretty comfortable and the host provides cozy blankets and sheets. The only real complaint I had was the heater was not strong enough against the cold, so it was a bit chilly (which was nice for sleeping). I recommend putting a towel as a doorstop at the front door, and also closing the bathroom door at night, as the vent in the shower was a direct line to the courtyard. You cannot hear the neighbors which is nice, but you are next to the first floor stairwell and you can plainly hear people stomping up and down the stairs. And drunk people at 4am. But all and all, pretty darn quiet....and NO street noise! The area is really nice (school just down the street, no bars on the street) and it's a good location. I walked most places from here in 20-30 minutes. I also felt safe always. I would suggest taking uber pools late at night if you are alone, just to exercise caution. They were always within 4-7 euros. Oh and he provides several umbrellas, so save room in your bags for more souvenirs :)
Amanda
2016-12-14T00:00:00Z
Très bon accueil de mon hôte. Quartier très vivant et agréable. Au coeur de Paris. Appartement petit mais très bien aménagé.
DELPHINE
2016-06-12T00:00:00Z
Tipe Kamar
Seluruh rumah/apartemen
---
Tipe Properti
Apartemen
---
Mengakomodasi
2
---
Kamar tidur
Paris, Île-de-France, Prancis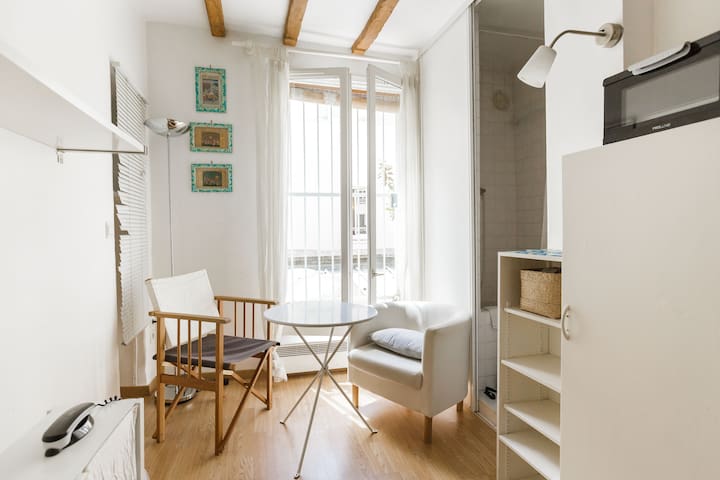 Die Garçonniere ist komplett renoviert. Es verfügt über alle neuen Möbel, sondern behält einen alten Charme mit Holzbalken und Ziegelstein. Das Studio mit Blick auf einen ruhigen Innenhof, die für einen erholsamen Schlaf. Dies ist Paris nach allem, eine Stadt, die für sein Nachtleben bekannt ist. Ein bequemes Bett sorgen für den Rest von Ihnen verdienen Sie Ihren Tag Abenteuer. Auf der anderen Seite, wenn Ihr Abenteuer gerade erst begonnen haben, wird das Studio in Ihre Erinnerungen hinzuzufügen! Das Studio ist für Nichtraucher. Die Garçonniere eine kleine Küchenzeile mit Kühlschrank, Mikrowelle, Wasserkocher und NESPRESSO Kaffeemaschine. Ein kleiner Essbereich können Sie Leckereien zum Frühstück aus dem nahe gelegenen Bäckereien oder örtlichen Supermarkt, nur auf der Straße gekauft genießen. Das Badezimmer verfügt über eine moderne Dusche, Waschbecken und Toilette. Es ist auch mit einem Haartrockner und frische Handtücher ausgestattet Der Hof steht Ihnen ein gutes Glas Wein zu genießen oder besser noch Champagner! Wireless Internet und einen TV mit mehr als 100 Kanäle zur Verfügung stehen kostenlos zur Verfügung.
Virginie m'a accueilli à la porte de son studio avec une grande sourire . elle m'explique tout ce que concerne le studio brièvement. le studio est localisé au milieu de Marais et très sympa. perfect studio centrally located, cosy and quiet.
Zakaria
2016-08-19T00:00:00Z
A lovely apartment in a great location. Virginie was very helpful in answering any questions we had. I would definitely stay there again next time I'm in Paris.
Emma
2016-07-24T00:00:00Z
It was a really nice stay in Paris. The location is perfect! La Garconniere is clean and cosy as Andre has promised. Pawel
PAWEL
2014-03-01T00:00:00Z
Andre's place was very small, but cozy. It was just big enough for the two of us--we were really only there to sleep. The place was clean, the small fridge was just big enough and the Nespresso machine was a godsend. The location is FANTASTIC. Easy access to the metro with lots of shops and restaurants. The only drawback for me was the very, very firm mattress. Highly recommended for 1 or 2 very close people!
Katy
2014-04-22T00:00:00Z
Virginie è stata molto gentile, ha risposto rapidamente alle nostre domande e ci ha sostituito subito il decoder della tv che non funzionava. Ci ha fornito indicazioni precise su come raggiungere casa. La casa è piccola ma ha tutto il necessario per trascorrere un bel soggiorno a Parigi
Micol
2015-02-10T00:00:00Z
We had a great visit to Paris and staying in Virginie's place. Although small, it had all the accommodations you'd want and a great neighborhood around it. Be sure to take a bottle of wine to the plaza of the Pompidou (just a few blocks down) to enjoy some excellent people watching. Merci pour tous!
Kayla
2016-05-29T00:00:00Z
We had a wonderful stay in Andre's studio. It's so perfectly located in Le Marais with fantastic bars, cafes and shops just minutes away. Description and photos were very accurate. And Andre was very communicative and helpful in arranging our arrival. Highly recommended!
Elly
2013-09-13T00:00:00Z
We loved our stay here for two nights. The apartment was small, as expected, but clean and matched the photos. The bed was comfortable and the location was excellent! Very safe and surrounded by luxury shops and cafes.
Sandy
2016-08-10T00:00:00Z
Tipe Kamar
Seluruh rumah/apartemen
---
Tipe Properti
Apartemen
---
Mengakomodasi
2
---
Kamar tidur
Paris, Île-de-France, Prancis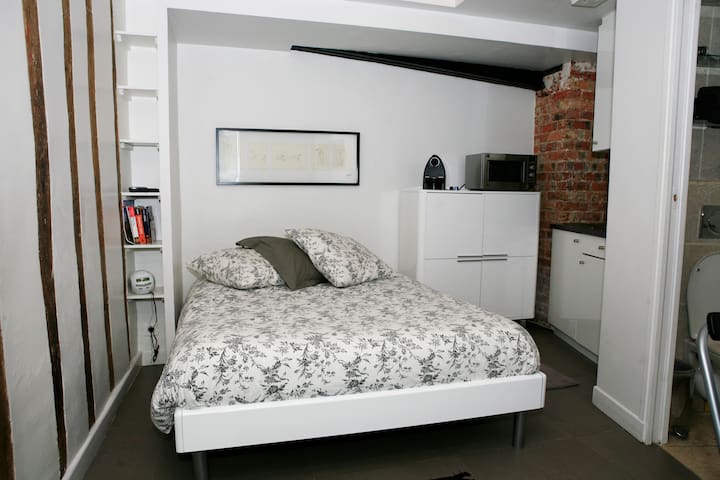 Marais, bygning fra det 17. århundrede. Oplev romantik i Paris i vores smagfuldt indrettede atelier apt. Store vist lige bag Pompidou Center i en sikker, charmerende gade med markeder, restauranter, gallerier, caféer, shopping; 5 min gang til Chatelet
Marais, 17. århundrede bygning: classé Monument historique. Oplev romantik i Paris i vores smagfuldt indrettede atelier apt. Store vist lige bag Pompidou Center i et pengeskab. Apt. fuldt møbleret (fremragende kvalitet dobbeltseng) og udstyret til korte ophold. Gratis high-speed internet, ubegrænset lokale og langdistance opkald. 2 sovepladser.
I hjertet af Paris, en historisk og meget maleriske. Quincampoix Street er en af de smukkeste gader i Paris. Lige foran vores bygning, som er en fredet bygning, er passagen Molière, gamle passage, hvor der var Molière teater, nu hjemsted for House of Poetry.
Very good experience with Valerie. The apartment is very nice and comfortable. Situated in the center of Paris near the Pompidou center. Recommend.
Niccolò
2015-01-13T00:00:00Z
Valérie was very helpful when arranging our arrival in Paris and gave us lots of information about how to get to the apartment. The apartment is exactly like the pictures, really cosy, clean and well equipped. It is also in an excellent, central location. We would definitely recommend staying there. Thank you Valérie!
Katharine
2016-02-29T00:00:00Z
Tasteful, elegant, intimate place. perched atop the roofs of the beaubourg neighborhood, with a view on the architecture of centre pompidou. unforgettable.
Stephan
2016-11-21T00:00:00Z
I had an amazing time in Paris with my boyfriend. We were right next to the Pompidou and were able to walk almost anywhere. Fun young community around the flat. Would highly recommend.
Adele
2015-08-11T00:00:00Z
Wonderful stay, loved the location and beautiful warm feeling in the apartment.
Jenni
2015-09-03T00:00:00Z
Really enjoyed meeting Valerie, apartment is well equipped,charming and close to everything. Didnt mind the steps, lots of character and ment I could eat more! Valerie recommended a few places, went to The Hangar, best meal.
Gina
2015-07-08T00:00:00Z
My girlfriend and I stayed in this little nest apartment for two nights. We would really recommend it to anyone! It is situated in a great location with all the amenities of Paris on its doorstep. We enjoyed it so much we can't wait to return!!
David
2015-03-18T00:00:00Z
This apartment is absolutely lovely. Valerie is a lovely and accommodating host- she put out an extra cot for my brother to sleep on.The building is beautiful and the apartment itself is charming and tasteful. The neighborhood- Le Marais- is lovely to explore and very central and accessible by metro. I highly recommend this apartment!
Maya
2015-06-04T00:00:00Z
Tipe Kamar
Seluruh rumah/apartemen
---
Tipe Properti
Apartemen
---
Mengakomodasi
2
---
Kamar tidur
Paris, Île-de-France, Prancis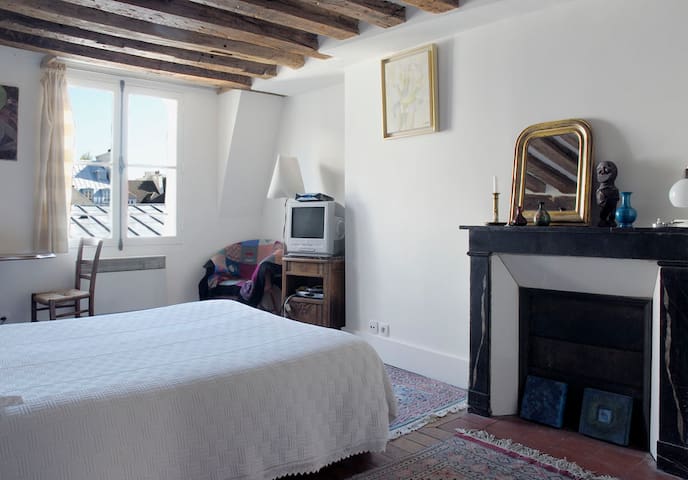 studio kecil di jantung kuartal Marais di depan Beaubourg Direnovasi tahun lalu, bisa menampung 1-2 orang untuk liburan Paris kecil dengan teman-teman atau kekasih.
Terletak di Marais, itu adalah sebaliknya Pompidou Centre Beaubourg!
Suasana Marais adalah manifold, baik budaya, meriah dan beragam. kesenangan adalah cemberut semua orang!
My wife and I stayed here for our first visit to Paris and it was such a great choice. It's in the middle of everything, such as bars and restaurants and walking distance to one of the best train stations in case you want to venture out. On top of all this her place is only walking distance from other amazing places like the Louvre! Salome always responded quickly to any questions I had. I highly recommend this place to others! Thanks Salome! :)
Daniel
2016-11-27T00:00:00Z
Salome ist sehr freundlich und unkompliziert. Die wohnung ist gemütlich und sauber. Wir kommen gerne wieder.
Anna
2015-06-22T00:00:00Z
A very stylish and cozy apartment in a great location! As the windows face the yard, nights are very quiet, what we really appreciated. Apart from the fact that we had to wait nearly an hour in front of the apartment before we could go in, everything was perfect! Salome was very friendly and the day of the check-out we were allowed to stay a little longer. We would definitely recommend this beautiful apartment to anyone who would like to spend a few days in Paris!
Miriam
2017-04-06T00:00:00Z
This is the second time I stayed here and I appreciated it as much as the first. Great place.
Jim
2016-11-29T00:00:00Z
Buona accoglienza di Salomè, è stata in orario e l'appartamento era pulito e in ordine. Molto tranquilla la zona, nonostante la vicinanza del Centre Pompidou e del quartiere Marais. L'immobile è tipico parigino, l'appartamento affaccia nel cortile e sia di giorno che di notte non vi sono rumori e si dorme benissimo!
NATHALIE
2016-03-15T00:00:00Z
The room was as described in the post. The location is excellent near the metro with plenty of excellent restaurants and energetic nightlife. I did not meet Salomé. The room did not have a closet to hang clothes and I had to make up the bed. It could have been cleaner, as there were used towels hanging from the curtain rod when I arrived and the sheets did not look clean. Other than that everything was very clean and nice.
Louis
2015-10-25T00:00:00Z
Bon séjour dans ce petit studio très bien situé en plein centre de Paris. Salomé est une hôte facilement joignable, disponible et sympathique. Le studio est conforme à l'annonce, pas de mauvaise surprise. L'espace est optimisé, bien pensé. Le studio donne sur une cour intérieur ce qui fait que les nuits y sont très calmes. La literie est très confortable. Je recommande ce logement et n'hésiterai pas à y retourner.
Karine
2016-06-23T00:00:00Z
This was a fabulous place, perfect for what I needed. Quiet, centrally located, distinctive, just perfect. Salome was very helpful. Would love to stay there again.
Jim
2016-10-20T00:00:00Z
Tipe Kamar
Seluruh rumah/apartemen
---
Tipe Properti
Apartemen
---
Mengakomodasi
2
---
Kamar tidur
Paris, IDF, Prancis
Neu neu gemacht (Renovierungsarbeiten abgeschlossen Januar 2016!), Luxushaussmann schönes Studio im Marais (das Herz von Paris), direkt neben dem Centre Pompidou und nur wenige Schritte vom Louvre und Notre Dame entfernt.
Luxus-Haussmann-Studio befindet sich im Herzen von Paris im Marais - neben dem Centre Pompidou und nur wenige Schritte vom Louvre und Notre Dame. Die es Französisch nennen: die "plein Zentrum" von Paris! Da die Wohnung unseren Hof mit Blick auf, erhalten Sie eine zentrale Lage in Ruhe, ohne von dem Lärm der Innenstadt! Die Wohnung ist 20 Quadratmeter, im 1. Stock, mit Sitzecke, Schlafzimmer Dachboden, Küchenecke und einem separaten neues Bad mit großer Dusche, Waschbecken und Toilette. Zwei kann schlafen auf dem luxuriösen Full-Size-Bett Dunlopillo (auf dem Dachboden erhöht), und eine dritte auf einem sehr komfortablen Schlafcouch unten schlafen kann. Beide sind positioniert, um den Flachbild-TV mit mehr als 200 Kanäle (einschließlich der BBC, France24 und SkyNews) zu beobachten. Es gibt genügend Stauraum für Gepäck, einen Raum, um Ihre Kleidung zu hängen, einen Schreibtisch und Schubladen Ihre Sachen zu verstauen. Es ist auch mit einem rotierenden Bodenventilator bestückt, so ist es immer ein angenehmer Schlaf (auch im Sommer :). Die Wohnung verfügt über eine voll ausgestattete Küchenecke für das Kochen (komplett mit Mini-Spülmaschine!). Es gibt auch eine Waschmaschine und Trockner, so fühlen sich frei, eine Ladung Wäsche zu tun! Bügeleisen und Bügelbrett sind auf der Hand im Schrank. High-Speed-Faser WiFi ist auch zugänglich in der gesamten Wohnung. Handtücher und Bettwäsche zur Verfügung gestellt. Zusätzliche Bettdecken zur Verfügung. Bei der Buchung, werde ich Ihnen eine umfangreiche Liste meiner Lieblingsplätze (Restaurants, Supermärkte, Shopping, etc.) in und um zu senden, so dass Sie viel haben zu Fuß zu erkunden direkt neben chez vous!
We loved the apartment - was in walking distance to main attractions and close to metro. The apartment was the perfect size for the two of us. Would highly recommend. Thanks Sophia & Alex!
Elizabeth
2017-02-06T00:00:00Z
Spotlessly clean, quiet apartment even though in a bustling area. Great location which made for a fab time.
Nick
2017-04-05T00:00:00Z
Amazing little apartment situated in the heart of le marais. We couldn't get over how close the apartment was to everything, 5 minutes from Notre Dame and 10 minutes from the Louvre. It is also very close to the metro station Chateau le Halles were it is so simple to get a train into Disneyland. Sophie let us check in earlier then expected even though she didn't have to, and I thought that was really nice of her. In conclusion; this is a really pretty quirky apartment in a great location and you'd be mad to not consider it for your stay in Paris.
Aoife
2017-04-09T00:00:00Z
The apartment's location cannot be beaten. It is wonderful. The apartment itself and the building is charming. But the shower and hot water are an issue. The host promised it would last two 20 min showers. Not even close. I showered first as fast as I could and closing the water while putting on shampoo etc. 5mins of water max. My husband then took the shower and water started going cold after 10mins. But the apartment's charm and location are worth it.
Sofia
2017-03-31T00:00:00Z
Was a lovely place to stay in. The accommodation is managed very well and by very friendly people. Only down sides we had was, the pillows. Sounds silly i know, but after hours of exploring Paris sights you are going to want a good nights sleep, so only suggestion is to invest in better pillows. Otherwise a good experience all round. Its in a lovely area and if you're looking to save money like we were by making your own food occasionally it works perfectly with local supermarkets on every corner. The neighborhood is lovely, with loads to do i the evenings, and if you are an art lover like me, you wont be disappointed.
Kaylor
2017-01-01T00:00:00Z
We had a great experience staying in this small but wonderfully located studio! It has all the amenities you could ask for and is within walking distance of several metro stations, bistros, and sites. Would highly recommend it for single travelers or a couple!
Sarah
2017-02-20T00:00:00Z
Super central and charming! Do not miss out on this amazing space in the heart of Le Marais!
Elisha
2017-02-26T00:00:00Z
We never actually met Alex. Brando welcomed us and was a wealth of knowledge about staying in Paris and what to do/see/eat. The apartment was extremely clean and in a perfect location in the city. It's literally steps from the Modern Museum of art and a short walk to distance to Notre Dame. 2 Metro lines within 5 minutes as well. There were two grocery stores on the surrounding blocks. Apartment was well equipped with amenities: washing machine, hair dryer, and iron were the ones most important to us. There were also lots of electrical plugs! The loft bed was comfy, but I don't recommend for anyone that has trouble with stairs or climbing. The apartment was very quiet, we couldn't hear any of the street noise even with the windows open. I would absolutely stay again if ever in Paris.
Andrea
2016-09-18T00:00:00Z
Tipe Kamar
Seluruh rumah/apartemen
---
Tipe Properti
Apartemen
---
Mengakomodasi
3
---
Kamar tidur
Paris, Île-de-France, Prancis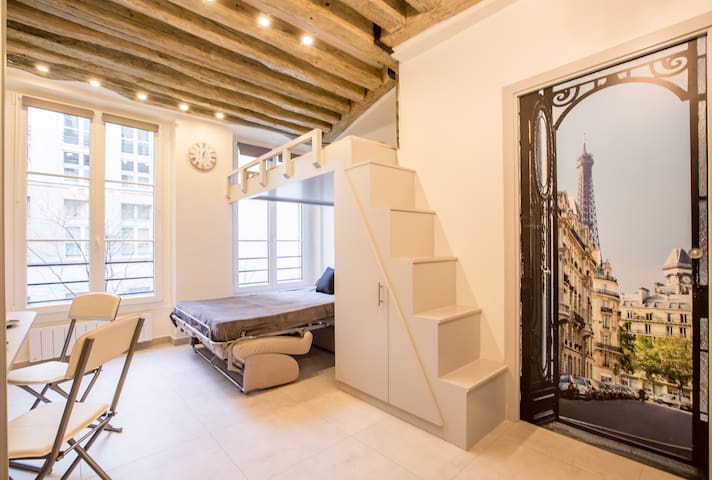 Ein authentisches ruhiges Schlafzimmer: real hexagonal alten Bodenfliesen & Design und antiken & handgefertigte Möbel. Zu Fuß von Notre Dame, Centre Pompidou große Auswahl an Restaurants, Bio-Lebensmittel und Design-Shops. Esszimmer, Küche und Bad teilen (Zugriff auf 30 qm) Was die Menschen in der Regel wie über meinen Platz in Paris, seine typische Seele, Mischtechnik, modernes Design, Jahrgang, einzigartigen, handgefertigten Möbelstücke seiner perfekten Lage ist.
Es ist ein schönes Schlafzimmer von 12 qm in einer 60 qm Wohnung in einem XVIIe Jahrhundert künstlerische Gebäude (Malkurs im Erdgeschoss, violonist im 3. Stock ...). Der Charme des Marais mit authentischen Materialien! Ideal für Reisende, die den ganzen Tag draußen zu wandern wollen. Sie können aber auch arbeiten, entspannen, kochen, einkaufen gehen, usw. Ich habe auch viele Führer über Paris und können Sie sich über weniger bekannte Spots beraten. Was die Menschen in der Regel wie etwa mein Platz ist seine Lage in einer lebendigen und zentralen Stadtteil von Paris, und seine Seele, Mischtechnik Werkzeuge, modernes Design und antiken Möbeln der Familie, handgemachte Möbel, brachte von meinen Reisen. Es schafft eine Bohême Atmosphäre. Das Gebäude verfügt über eine familiäre Atmosphäre. Es ist erforderlich, "bonjour" zu sagen und zu den Nachbarn lächeln. :) Wegen seiner historischen Natur, die Wohnungen 'Boden, Türen und Decken sind nicht vollständig gerade, und die drei Ebenen sind ohne Aufzug. Es ist ein Gebäude des 17. Jahrhunderts. Aber ich kann Ihnen mit dem Gepäck helfen! Das Zimmer ist ausgestattet mit: - Ein Doppelbett - Regale Ihre Kleidung weg zu setzen - ein Sessel - Ein Tisch und Stuhl.
Die Nachbarschaft ist eine der ältesten und schönsten sowie die meisten zentralen Bereich von Paris. (: Renzo Piano Architekt), der Fotografie Haus, das Picasso Museum Sie zu Fuß von der Place des Vosges, Centre Pompidou sein. Notre Dame. Sie werden von Le Louvre, Kunstgewerbemuseum, Orangerie und Paume Museen, Oper Bastille, Canal Saint-Martin, Latin quartier bei 3 U-Bahn-Stationen sein. Meine Straße ist sehr lebhaft: Terrassen überall, erstaunliche Lebensmittelgeschäfte (Pierre Hermé der Macarons, oder typisch Französisch Brot und Essen in 5 Minuten). Die Busse (einschließlich eines Bus-Boot) sind zu Fuß und führen Sie zu allen gute Plätze: Eiffelturm, Orsay, Architektur Cité, Tokyo Palais (das erstaunliche 21. Kunst Jahrhundert Museum von Paris). Sie werden in den besten Platz sein auch Kunstgalerien und Design-Shops (einschließlich der berühmten "Merci" shop) zu besuchen Bio Supermärkte, Märkte, Bäckereien in der Nähe (rue Rambuteau und Rue des Archives, das große "Au Pain Quotidien")
Camille is a wonderful hostess. She offered to cook me dinner and gave me a glass of wine when I arrived, and we had very nice conversations whenever we were both in the apartment together. The flat is very nice and just a few minutes walk to all the major tourist sites and the metro. I hope to stay with Camille again during my next say in Paris!
Kevin
2016-06-14T00:00:00Z
Perfect location and room was accurate to pictures. Camille was incredible warm and helped me find great galleries for a gift for my mother!
Janet
2016-07-05T00:00:00Z
Camille's flat was just authentic parisienne room :) . The room was cozy and I loved it! If you are solo traveler, just go for this room ! Only thing it was bit hard was that there's no elevator to the flat so it was tired but good walk for health :p What I love about the most was the location! Marais is such a wonderful place to eat,shop and feel the paris vibe :) And last, it was easy to contact with Camille, she's busy woman but very fast to the questions that i asked her. Also her relaxed personality really made me to stay in comfort.
SoJeong
2016-05-23T00:00:00Z
Incredible location in the middle of the beautiful Marais . Camille was very flexible with the arrival time and she allows a friend of mine to stay without extra-cost. Everything was very smooth. The room is spacious and quiet.
Stories of Lisbon
2016-10-19T00:00:00Z
Centrally located with a very friendly and helpful host.
Christopher
2017-03-05T00:00:00Z
I had a lovely stay with Camille. The room is spacious and has everything you need. Camille was a very gracious host, and helpful with pointing out the best attractions and places to eat. Her apartment is also ideally located, in a super area!
Jane
2016-04-15T00:00:00Z
Camille's apartment is fully equipped and conveniently located.
Hayley
2016-03-29T00:00:00Z
Camille is a wonderful host. She is so friendly and such a nice person. Her flat is charming and clean and the room I rented has a very good atmosphere. Camille gave me several great tips of what to do in Paris and in the neighbourhood. Because of a strike, my train was cancelled. Camille helped me a great deal with finding another arrangement for my trip to Sancerre. Thank you! Tu es super, Camille!
Siri
2016-06-05T00:00:00Z
Tipe Kamar
Kamar pribadi
---
Tipe Properti
Apartemen
---
Mengakomodasi
1
---
Kamar tidur
Paris, Île-de-France, Prancis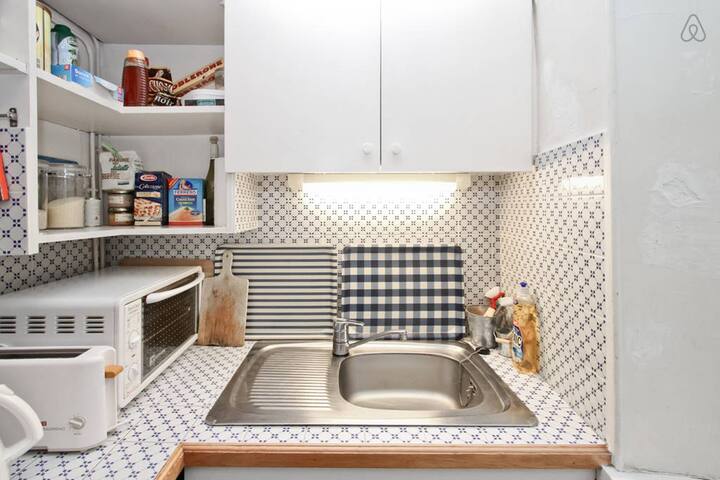 3rd arrondissement - Airbnb
:
Rata-rata

4.51

dari

5

bintang dari semua

2912

ulasan tamu
1

–

18

dari

300+ Sewa Tempat
Masukkan tanggal untuk melihat harga lengkap. Biaya tambahan berlaku. Mungkin dikenakan pajak.