Charmante Privatwohnung eingebettet in unter den Gummibäumen mit Terrasse und Pool-Bereich. Ein Schlafzimmer, Doppel-Bett mit TV. Wohnzimmer mit TV, dieser Raum kann aus einem Wohnzimmer mit zwei Einzelbetten umgewandelt werden. Kleine Kochnische Grundausstattung. Schöne ruhige Rückzug, Backing auf ein Buschland Reserve.
We loved our whole experience at Fiona's gorgeous little place! Would definitely come back and would highly recommend! Thank you :)
Jasmine
2016-11-08T00:00:00Z
Fee is a excellent host providing more than is required. The private flat is very comfortable with breakfast bar and easy access to swimming pool and creek. Great location to explore the surrounds of the peninsula.
Gareth
2016-02-29T00:00:00Z
We three stayed at Fiona's place for one night, and it's absolutely lovely and recommended. The house is clean, cosy, quiet, and provided everything you need. It also has a deck with great leafy views. Fiona is a very very kind host, gave us the clear direction before we check-in and also privacy when we stayed. The communication was great, and she was so nice that when we told her we lost one of the bath towels, she said 'don't worry at all'. Such a great host. I believe you will enjoy staying there as we did.
Haichen
2016-10-22T00:00:00Z
What a special little place! My partner & I were in great need of a comfortable & relaxing week, we found this & so much more at Fiona's little flat. An absolute hidden gem! The flat has been decorated, beautifully & stocked with all the items needed to let guests feel right at home! We were so very happy to arrive to warm blankets, breakfast, kitchen & bathroom items, gorgeous lamps & bedding & oh the linen blinds... absolutely gorgeous! It's all the little things that Fiona has put time & thought into including, that make it such a cosy place. Beautiful quality items, which I just loved! We felt a great sence of calm & privacy at this beautiful little place. The flat has its own private deck overlooking a serene landscape of bush. We woke to the sounds of birds chirping & chickens clucking. The sun blanketing the spacious veranda is bliss during the day & outdoor table with umbrella & fairy lights make this place feel magical in the evening. Fiona & her family are absolutely lovely. Friendly & warm people. Letting us know we were welcome to feel right at home & inviting us to let them know if we needed anything at all. This meant a lot to us & we really enjoyed sharing their place with them. Loved the conversations too. However, if it's privacy & quiet that you are seeking I think you would be more than welcome to have this at Fiona's place. It was a great relief to be able to bring our border collie to the property & Fiona let us know that we could feel right at home there with Charlie. Fiona brought her dogs down for us to meet (they are gorgeous!). Out dogs were let out to run & play together in the back bush & we were really glad for that too. We enjoyed a truly wonderful experience here & wouldn't hesitate to stay again(URL HIDDEN)
Renee
2016-03-18T00:00:00Z
My 1st time use AirBnb Thanks to Ms Fiona, the host, very nice & respond quick to any questions. The accommodation clean/tidy, a cozy/lovely place Coz we from Southeast Asia almost 365 days sunny, not used to the cold country, although the heater on we still felt freezing. I love to recommend this to anyone who want private getaway especially on summer seasons, the accommodation got small swimming pool, decking area, so nice for summer .
chau hui
2016-09-21T00:00:00Z
Communication excellent very welcoming and warm and homely. Loved the lighting and the welcoming approach to the flat. Inside also very welcoming and it was so nice to fall asleep in a lovely comfortable bed. Even though we were unable to enjoy the deck and pool it would be lovely to sit and enjoy a wine or two and watch the wildlife. Lovely and peaceful and such a delight to have breakfast supplied - totally unexpected. Would recommend to anyone that is looking for a lovely place to stay
Jenny
2017-02-13T00:00:00Z
It's a great place. We stayed briefly for a night, it's cozy and warm. We love it!
Eliza
2017-04-11T00:00:00Z
What a lovely place Fiona has. Wake up in tbe morning looking out over the private deck into the trees of thd adjacent sanctuary. Highly reccomended for two, as we were.
Jennifer
2016-04-20T00:00:00Z
Tipe Kamar
Seluruh rumah/apartemen
---
Tipe Properti
Bungalo
---
Mengakomodasi
4
---
Kamar tidur
Frankston South, Victoria, Australia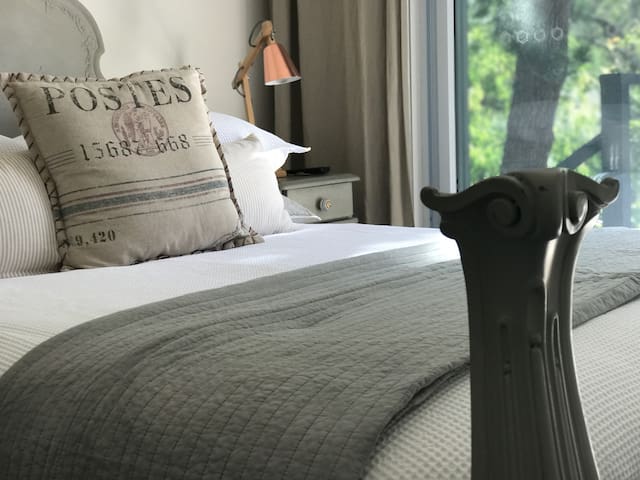 우리의 장소는 아름다운 모닝 턴 반도의 로컬 해변, 와인 농장, 그리고 다른 관광 명소 부근에 있습니다. 당신 때문에 사랑스러운 개인 전망의 우리의 작은 별장을 사랑합니다. 당신은 베란다에서 휴식을 취하며 새 청취하거나 공유 풀 영역 주위에 게으름 피우다와 수영 : 별장은 우리의 정원의 하단에 위치를 선호 수 있으며 그것은 우리의 부시 크릭 리저브에 걸쳐 얼굴과 멀리 할 수 있습니다 안채.
우리는 큰 집 블록, 조류와 좋은 산책이 많은 아름다운 잎이 부시 영역입니다 마운트 엘리자의 숲 지역에 살고있다. 그것은 집과 별장에서 아름다운 전망을 가능하게 합리적으로 구릉 지역이다. 당신이 게임을하는 경우도 좋은 자전거있게! 우리는 단 몇 분의 캐나다 베이 해변에서 차로 마운트 엘리자의 마을입니다. 마운트 엘리자 좋은 레스토랑, 카페, 신선한 농산물을 보유하고 있습니다. 10 분 거리에 드라이브 것은 요트 클럽을 통해 뻗어으로 레스토랑, 카페, 상점 메인 스트리트 (SENSITIVE CONTENTS HIDDEN) 모닝이다. 달빛 성소, 꿀 농장뿐만 아니라 멋진 시장이 많이 멀리하지 않습니다. 와이너리의 수십 모든 20-30분 드라이브와 유명한 반도 온천 내에있는 소렌토의 마을은 약 40 분 거리에 있습니다.
This place is perfect for a sea/ country getaway. The cottage as well equipped with some lovely personal touches such as fresh coffee, milk, eggs ect. We had a super relaxing stay . The pool is amazing and the garden is beautiful. We will definitely be back.
Mishane
2017-03-12T00:00:00Z
This little cottage is clean, comfortable, quiet and has almost everything you might need - from toileteries, extra toothbrushes, even dental floss! The kitchen is fully equipped and ready for guests to cook up a meal or two. It is also located in a nice and neat neighbourhood. We had a very pleasant stay here. Thanks Jen and Matt!
Jocelyn
2017-04-05T00:00:00Z
Jennifer and Matt are fabulous hosts. Their cottage is decorated for comfort & pleasure and every single detail has been considered.There were plenty of extra little things that made our stay even more enjoyable. We would like to keep it a secret but the place is just too nice not to share with others. We will certainly return. Marguerite & Russell
Marguerite
2017-03-18T00:00:00Z
Staying here with my two children was perfect! We all enjoyed the pool, spa, trampoline and lush surroundings. Couldn't get better value for money! And whilst the cottage is small it contained everything we needed. The bed was super comfy and Jennifer the host was welcoming & generous in providing us with fresh eggs from the chickens, milk and breakfast items. We will definitely be back!
Sabella
2017-03-10T00:00:00Z
Beautiful and relaxing bush setting and pool. Loved the attention to detail and extra goodies for breakfast.
Merrin
2017-03-25T00:00:00Z
Jen and her family were more than accommodating. When we arrived we were greated by Jen and she showed us around. Their cottage was super adorable and much more than we expected. The personal touches made us feel right at home. She provided us with fresh eggs from her chickens, milk and English muffins for breakfast. Perfect for a weekend get away as everything else is also very close. Falling asleep to the windchime was a special touch and waking up to the beautiful veiws through the glass ceiling was a fantasic way to start the day. Thank you so much Jen and fam for having us and making us feel special! Hope to stay again soon. :)
Sonya
2017-04-01T00:00:00Z
What a fantastic find. This place is a hidden gem. We had the warmest of hosts who couldn't have done enough for us and we loved getting to know them yet we felt completely secluded in little bush cottage. The attention to detail in the cottage was perfect and it was totally equipped with everything you could need. The pool was amazing and we spent one of our days there resting reading books by the pool. We cannot recommend this place enough and we thank Jen & family for such a wonderful stay. X
Karis
2017-03-03T00:00:00Z
The cottage was so beautiful! A perfect little space nestled amongst the trees. It was exactly what we needed! Jennifer had great communication and is a super-friendly, attentive host! She even provided a little basket of toys and books for our 11 month old daughter! The property itself is gorgeous, in an extremely scenic location! Would love to have made it to one of the local markets. We will have to come back. Thank you again, Jennifer! :) x
Taiyla
2017-03-04T00:00:00Z
Tipe Kamar
Seluruh rumah/apartemen
---
Tipe Properti
Rumah Tamu
---
Mengakomodasi
4
---
Kamar tidur
Mount Eliza, Victoria, Australia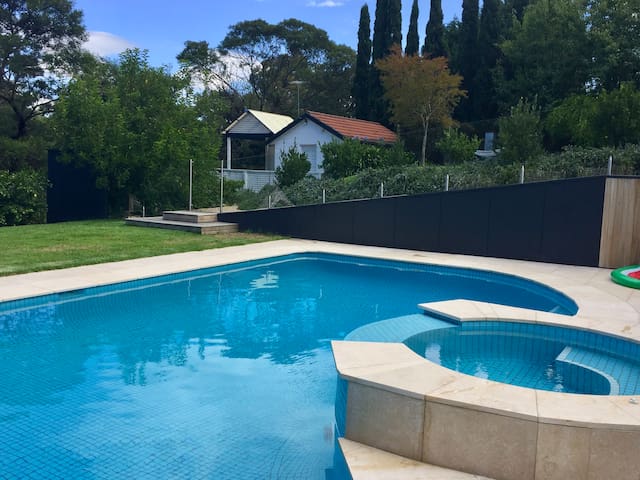 Tipe Kamar
Seluruh rumah/apartemen
---
Tipe Properti
Kabin
---
Mengakomodasi
2
---
Kamar tidur
Frankston South, Victoria, Australia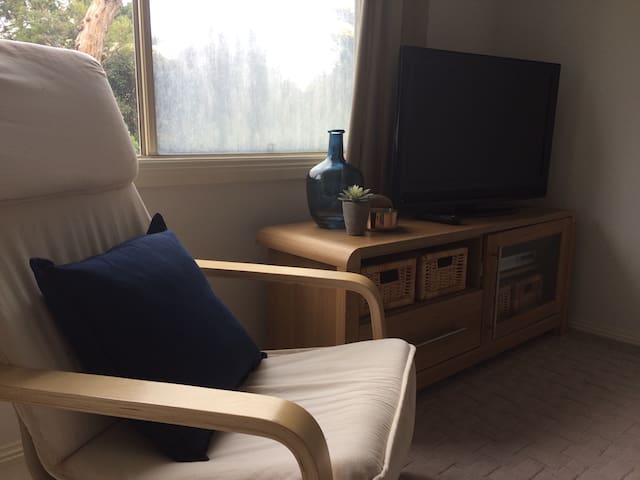 Unsere große private und geräumige Zimmer ist mit separatem Eingang und verfügt über ein eigenes Wohn- / Aufenthaltsraum und Esszimmer. In den Hügeln von Mount Eliza umgeben von hohen Gummen, üppigen tropischen Gärten und einen separaten Zugang zum Pool, große Terrasse, Grillplatz, und einen Tennisplatz. Ideal für das Paar (e) oder Familie, die von der Stadt, Lounge am sonnigen Pool entfliehen wollen, und mit den Klängen der Natur zu entspannen. 10 min Fahrt zum Mornington & Strand, 35 min zu Peninsula Hot Springs.
Eingebettet in die Hügel von Mount Eliza und umgeben von hohen Zahnfleisch ist es nicht ungewöhnlich ist zu erkennen Eulen nisten, Vögel singen und lachen kookaburras. Die Luft ist frisch und sauber, und Sie werden sich wohl, sobald Sie die Einfahrt rollen oben rechts fühlen.
Wir lieben unsere Nachbarschaft, werden wir von Häusern auf 2/3 Acres umgeben, die ein Gefühl des ländlichen Gebietes geben aber gleichzeitig Zeit, dass wir so nah an vielen Geschäften, Restaurants, Kaffeeflecken usw. Kurzer Fußweg von unserem Haus und wir betreten verschwenderischen Weg und Strom von wasser~~POS=TRUNC gibt Ihnen ein tolles Gefühl der Entspannung - Ort der Ruhe und Stille (der Weg von Freiwilligen gepflegt wird).
Everything is perfect!
yung hsuan
2017-03-20T00:00:00Z
She and her place were more than wonderful. Exactly the same with the picture and everything was perfect. I booked for the place after 1pm in the same day and arrived around 5pm but she welcomed us and provide all the things we need. If you hire a car, this place is nealy the most valuable option for money. Highly recommended.
Jayoung
2017-03-10T00:00:00Z
Very affordable. Beautiful garden setting with swimming pool and tennis court. Sat outside to eat breakfast. Private sitting area and toilet. Shower shared with host. Went to Peninsula Hot Springs - beautiful.
Catherine
2017-03-24T00:00:00Z
Lovely property and comfortable private space. Hosts were friendly but very respecting of our privacy. Great base for a weekend at the beach with our kids.
Alice
2017-03-18T00:00:00Z
This is a lovely place for anyone looking for a quiet, secluded location. The hosts were extra friendly and extremely hospitable. The room was very clean and all amenities were as advertised.
Sean
2017-03-08T00:00:00Z
Excellent accommodation, great people, big room and beautiful gardens. Elizabeth and Murray are very accommodating and even helped us out with our 4 month old baby, thanks very much. Highly recommended.
Simon
2017-03-12T00:00:00Z
Gorgeous hosts! The room is enormous, overlooking a lovely garden. Great location if you want to explore Mornington Peninsula
Sue
2017-04-03T00:00:00Z
Perfect airbnb de luxe! Where else can you find a tenniscourt and swimmingpool for you to enjoy! Great room too.
Caroline
2017-03-12T00:00:00Z
Tipe Kamar
Kamar pribadi
---
Tipe Properti
Rumah
---
Mengakomodasi
4
---
Kamar tidur
Mount Eliza, Victoria, Australia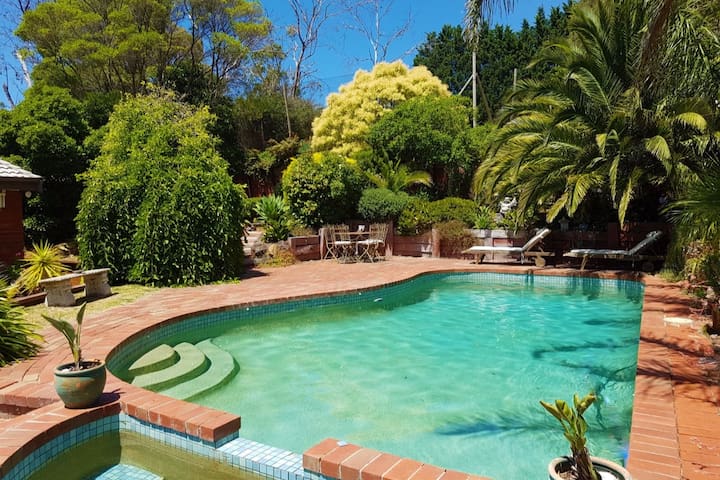 全新一张床的公寓,非常适合情侣与如果需要的家庭额外的空间。空间是现代化,清洁,新鲜和一个完全装备的厨房,用餐区,卧室和浴室。最近装修的面积是我们家的后甲板下面设有私人入口和庭院区。步行从公共交通到墨尔本或Mornington半岛山伊丽莎村仅50米的距离。让自己在家里安装伊丽莎。
我们住在我们家了2年,并于最近重新装修曾经是大作坊变成一居室公寓。
伊丽莎山有商店,咖啡馆和餐馆的范围。农夫在每月的最后一个星期日市场是一个伟大的地方,拿起一些当地特产,并煮了周日的盛宴!该村距离公寓都只有10分钟的步行路程。
Tipe Kamar
Seluruh rumah/apartemen
---
Tipe Properti
Apartemen
---
Mengakomodasi
2
---
Kamar tidur
Mount Eliza, Victoria, Australia
En smuk to etagers laden med en fyr klædt, lyse, privat mezzanin soveværelse cum stue og en rummelig lavere niveau med køkken / bad / spisestue / stue / anden seng og udendørs undercover område med chimnea. Kort gåtur til privat strand i herlige Mt Eliza, til cykler ride til landsbyen og alle de bedste lokale spisesteder, shopping, vingårde, barer, markeder og lokale begivenheder eller tage det roligt og slappe af i fred og ro i denne grønne og frodige forstad. Kun en time fra CBD.
Stunning renovated barn ("barn" hardly does this space justice) with a peaceful and romantic feel perfect for a relaxing getaway. Melanie is a gorgeous host and made sure we had everything from tips to get to the beach (walking distance across the road), to the wifi password and coffee & croissants in the morning! She has a beautiful home next door and it was exactly the right mix of secluded and having her nearby. I went with a close friend and we took young with us, Melanie made us very welcome but of course we did wish we could have enjoyed this beautiful peaceful space by ourselves! Thank you for a fantastic escape to the beach x
Katherine
2017-01-13T00:00:00Z
Really spacious and comfortable place to stay and really close to a nice secluded beach. Melanie provided us bikes to ride around which was a really fun activity to do in the area. Melanie was really helpful in suggesting places to go as well. Had an amazing time.
Roy
2017-01-09T00:00:00Z
Melanie was very welcoming and made us feel at home. She went out of her way and provided us with coffee and croissants after our first night. Would highly recommend this beautiful barn.
Kristie
2017-03-12T00:00:00Z
Private comfortable accommodation 2min drive into mt Eliza. Loved the 5 min walk to quiet beach. Melanie only too happy to please
Andy
2017-03-25T00:00:00Z
Melanie is a wonderful host. Prior to, and while staying, communication was maintained as Melanie attended to all contact immediately - ensuring we had everything we needed. The barn cottage was very comfortable and cozy. It is detached from the house so it is completely private. Downstairs features a bathroom and living/dinning area along with a little kitchenette with microwave, fridge, toaster and kettle. Melanie was kind enough to supply us with some breakfast items which was such a nice surprise! Upstairs is the master bedroom with a sitting area. We walked to/from the beach which is about 10 minutes away. Easy to get to local shops and restaurants also. We hope to stay with Melanie again in the future. Thank you for a great stay!!!
Andrew
2017-01-04T00:00:00Z
My friends and I booked Melanie's spacious barn for a quiet girls' relaxing weekend at the hot springs (30 minutes away). It was exactly what we needed. I would come back here with my partner for sure. Booking with Melanie was very easy. It's conveniently located close to Mt Eliza village where we got lunch and dinner from. My girlfriends shared the bed upstairs while I had the comfy sofa. Cheeky kookaburras woke us up in the morning which was novel. Melanie's barn also had undercover/off-street parking which we liked :) Thumbs up!
Mai
2017-02-25T00:00:00Z
A very nice space to spend time in, Melanie was a fine host.
Kevin
2017-01-26T00:00:00Z
We loved our stay at the barn, the place was perfect for our little getaway.
Clyde
2017-02-14T00:00:00Z
Tipe Kamar
Seluruh rumah/apartemen
---
Tipe Properti
Rumah
---
Mengakomodasi
6
---
Kamar tidur
Mount Eliza, Victoria, Australia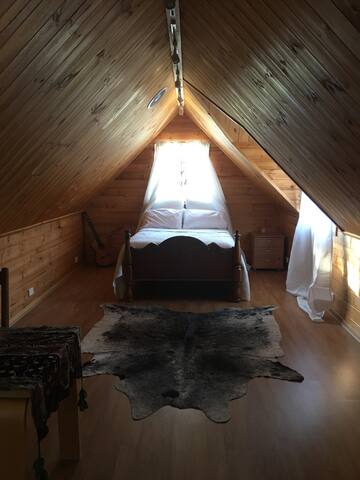 Un hermoso pedazo de cielo. lugar con encanto situado a 5 minutos en coche de la playa y el centro de la ciudad de Frankston. Mornington hipódromo, bodegas y campos de golf de primer nivel, Península de Hot Springs, galerías de arte, Vela. A una hora del aeropuerto.
Un entorno precioso jardín establecido, donde se puede disfrutar de "Comedor al aire libre" entre los árboles. Disfruto de todos los diferentes tipos de personas que me parecen interesantes. Me encanta vivir en la península de Mornington y estaría encantado de mostrarle los alrededores.
Cerca de la playa y de la puerta de entrada a la Península de Mornington
Great, quiet, private bungalow. Nicely located close to the main highway makes transit down to the Peninsula & up to the city very convenient. Great value & easy going host. Thanks
Mike
2016-12-27T00:00:00Z
Great location for mornington and portsea! Very homely and Carole is a great host.
Grace
2017-02-04T00:00:00Z
This room is best place to be relax ur mind cuz there is beautiful and romantic garden and cozy house to escape ur routine and hustle life and very close supermarket IGA to buy some food If I have a chance to visit Frankston, I will book again here.
Juhyeong
2017-01-24T00:00:00Z
Thanks Carole for a very comfortable stay! Lovely, clean and spacious studio with all the essentials.
Louise
2017-03-18T00:00:00Z
It was a very lovely stay in Carole's house. This place have everything you need. The garden is an extra bonus too. Would love to come back here when i have a chance :)
Van Khanh
2016-06-13T00:00:00Z
Had a lovley stay, place was really cosy, and much bigger and better than the photos make out! Came for a few nights getaway from the CBD and loved it :) Caroline put alot of effort in to make it feel homely and it was perfect!
Samantha
2016-05-20T00:00:00Z
Carole's place was so lovely and probably nicer than the photos depicted. She went out of her way to make arrangements for us to check in even thou we arrived at very late hours and even offered us her parking lot. Everything in the apartment was self sufficient with an attached ensuite and kitchen. The bed was comfortable with cable tv as well. Thank you so much for the stay Carole !
Colin
2016-03-17T00:00:00Z
Awsome just what i need Great place to stay Thanks
Jay
2015-11-24T00:00:00Z
Tipe Kamar
Seluruh rumah/apartemen
---
Tipe Properti
Bungalo
---
Mengakomodasi
2
---
Kamar tidur
Frankston South, Victoria, Australia
"Haven Monroe" adalah baru direnovasi satu kamar tidur tanah apartemen indah yang hanya 8 menit perjalanan singkat ke Frankston ini tepi / pantai, pusat perbelanjaan besar dan yang paling penting gateway untuk Mornington Peninsula yang indah.
FASILITAS LOKAL (1) Opposite langsung ini 33 kompleks apartemen di sepanjang jalan utama dari Culcairn Drive, Anda akan menemukan: • Rosie Kitchen Pantry (A nyaman gaya keluarga sarapan & makan siang café) • Take Away Fish atau Chicken & Chips Toko • Domino Pizza • sewa Toko Civic DVD • Cellarbrations Bottle Shop (2) 450m (atau 6 menit berjalan kaki) ke Tower Hill Community Belanja di mana Anda akan menemukan: • McDonald • stasiun BP Petrol. •Pusat Medis • Farmasi / Chemist • IGA Supermarket • Brumby Bakery • sbgai • Florist & Gift Shop •Kantor berita PUSAT PERBELANJAAN (1) Frankston Power Centre 111 Cranbourne - Frankston Rd, Frankston VIC 3199 2,3 km atau 4 menit berkendara, di mana Anda dapat menemukan beberapa pengecer Australia terkemuka di homewares, furnitur, barang-barang elektronik dan lainnya. • Adairs (peralatan rumah tangga) • Anaconda (Outdoor Superstore) • Bayi Bunting (Produk Bayi & Childrenswear) • Bunnings (Hardware & Garden) • Panggilan Karpet (Penutup Lantai) • Croc Play Centre (Children Indoor Putar Centre) • Berani Gallery (Home Furnishings) • Early Settler Kenangan (Home Furnishings) • Far Pavilions (Home Furnishings) • Fokus pada Furniture (Home Furnishings) • Kapok (Beds & Bedding) • Kebebasan (Furniture & peralatan rumah tangga) • Furniture Galore (Home Furnishings) • Godfrey (penyedot debu & Perlengkapan) • Harvey Norman (Home Listrik & Perabotan Rumah) • Hot Plate Bakery & Cafe (Takeaway Food) • Pilihan Gaya Hidup Sehat (Takeaway Food) • Nick Scali Furniture (Home Furnishings) • Pet Barn (Pet Supplies) • Plush (Home Furnishings) • RSEA (Alat Keselamatan) • Outlet Regal Mattress (Beds & Bedding) • Spotlight (Fabric Craft dan Home Interiors) • The Good Guys (Depan Listrik) (2) Bayside Shopping Centre 2 Olsen Jalan Frankston, VIC, 3199 4.1km atau 7 menit berkendara, di mana Anda akan menemukan pengecer terkemuka di Australia seperti Myer, Coles, Target, Kmart, Woolworths dan fasilitas hiburan seperti bioskop, bowling dan restoran. (Website tersembunyi) SPORT & REKREASI (1) Frankston Waterfront & Beach Frankston Visitor Information Centre 7N Pier Promenade, Frankston VIC 3199 3,5 km atau 8 menit berkendara. Di samping pantai adalah tempat bermain yang indah dengan fasilitas BBQ. Dekatnya lokasi ini adalah Fasilitas BBQ lanjut dekat dengan Kananook Creek. Pameran Sand Sculpting tahunan diadakan di cagar sebelah Information Centre Pengunjung. (Website tersembunyi) (2) Frankston Aquatic Centre Cnr Cranbourne Jalan & Olive Grove, Frankston, VIC 3199 2.3km atau 4 menit berkendara. (Website tersembunyi) (3) Semenanjung Negara Golf Club 211-279 Skye Road, Frankston VIC 3199 5.8km atau 10 menit berkendara (Website tersembunyi) (4) Peninsula Hot Springs 30 Springs Lane, Fingal VIC 3939 44km atau 40 menit berkendara (Website tersembunyi)
The apartment is damn awesome!!! My friends and I really love it. Simple and luxury look. It's provided with all you need in a home. Comfort bed, fully equipped kitchen, washer machine and dryer, etc. This home is very clean. But this apartment is located about 50km ++ from the city. It is not a big deal since we rent a car and our itinerary is suit with home location. However, I didn't manage to meet the owner. Thanks to owner/host by giving us a wonderful home. Recommended!!!
Nur Sofiayantie
2017-03-06T00:00:00Z
Good little apartment. 5 Min drive away from Frankston main town and useful shops just across the road. We enjoyed our stay and had all the necessities. Good communication with host. Thanks
Hainlyta
2017-04-01T00:00:00Z
Tipe Kamar
Seluruh rumah/apartemen
---
Tipe Properti
Apartemen
---
Mengakomodasi
4
---
Kamar tidur
Frankston South, Victoria, Australia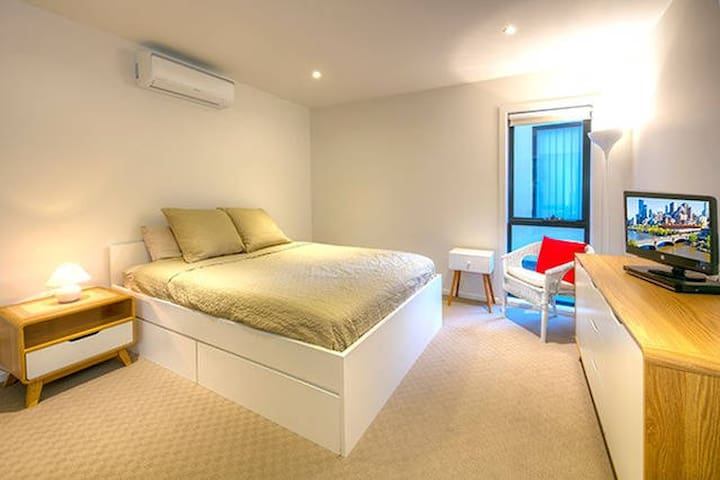 Innen: Das Gerät ist ein Studio, so gibt es keine Wände im Schlafzimmer trennt. Das Bett mit Blick auf die Lounge, die den Essbereich und Küche und Bad fließt. Die Küche verfügt über einen 4-Flammen-Gasherd, Mikrowelle, Kühlschrank, Sandwich-Presse und alle Küchenutensilien, Geschirr und Besteck. Wir haben ein tragbares Tischumluftofen, die Sie im Plug und verwenden können, wenn nötig. Esstisch und zwei Stühle (ein anderer kann für ein kleines Kind zur Verfügung gestellt werden, wenn gewünscht) Separate Dusche und WC. Alle Bettwäsche und Handtücher zur Verfügung gestellt. Bequeme Couch Queen-Size-Bett 2 bar Heizungen, die den Raum schön erwärmen. Portacot und andere Baby-Ausstattung zur Verfügung, wenn nötig. Wir fühlen uns der Raum könnte ein zusätzliches Baby oder Kleinkind aufzunehmen, aber leider nicht mehr. Wir freuen uns auch unser Sonnenschirm oder Sonnendach zu verleihen, zum Strand zu nehmen, falls gewünscht. Der Zugang zu Sweetwater Creek Nature Reserve und der Strand ist über den Garten. Folgen Sie dem Pfad mit dem Rückgate dann die Schritte herunternehmen. Biegen Sie links ab zum Strand und direkt für einen ruhigen Buschwanderung. Bitte beachten Sie, dass der Fernseher kein Antennenanschluss hat. Wir haben einen DVD-Player und eine Auswahl an DVDs, so dass Sie Filme anschauen können usw. Wir haben auch ein HDMI-Kabel, so dass Sie ein kompatibles Gerät anschließen aus dem Internet zu streamen. Wir haben gratis WiFi und NBN Verbindung, die Sie mit diesem zu helfen. Dies ist keine unbegrenzte so wenden Sie sich bitte dies berücksichtigen. Bitte beachten Sie auch, es gibt keine Klimaanlage. die Fenster öffnen zu lassen, in der Meeresbrise auch wirkt Wunder. Da es ein Studio im Erdgeschoss ist haben wir hatten nie ein Problem mit ihm zu heiß. Bitte beachten Sie auch, dass unser Haus ist ein älteres Landhausstil und als solche das heiße Wasser kann eine ungewöhnlich lange Zeit in Anspruch nehmen, um sich aufzuwärmen. Bitte schalten Sie das heiße Wasser ziemlich stark und warten auf eine Minute, bevor Sie das heiße Wasser aufnehmen kann. Wir haben eine kontinuierliche Warmwasser-System so, wenn es warm ist es keine Chance, davon knapp :-) Bitte beachten Sie, dass unsere Familie in der Hauptwohnung über dem Studio lebt. Wir haben einen 2-jährigen Sohn, der viel Spaß haben mag! Sie können einige allgemeine leben Lärm vom Studio hören aber wir unser Bestes tun, respektieren unsere Gäste zu sein. Über dem Studio ist eine obere Balkon Deck, die wir verwenden werden und ist für die Gäste nicht zugänglich. Wir werden den Hinterhof Raum teilen, sondern wenden Sie sich bitte auf den Rasen und Unterdeck zu genießen
Wir werden über Sweetwater Creek Nature Reserve Walking Track mit dem Strand zu Fuß auf Olivers Hills. Die Einheit mit Blick auf den üppigen Garten mit Treppen, die direkt auf der Rinne zum Bach Linie führen, wo es eine Promenade trifft. Biegen Sie links auf den Strand in nur wenigen Minuten zu schlagen. Der Badebereich des Strandes am nächsten an unserem Eigentum ist flach und die ruhigeren Ende machen es einfacher für junge Familien einen Platz auf dem Sand und perfekt zu finden. Die Nachbarschaft ist ruhig und entspannt. Wir haben schöne Nachbarn auf jeder Seite von uns und über die Straße. Es gibt einen einfachen Zugang zu öffentlichen Verkehrsmitteln mit einer Bushaltestelle am Ende der Straße (300 m), die Sie zum Bahnhof in 5-10min zu nehmen. Von hier aus Zugriff auf alle von Melbourne mit U-Bahn-Züge fahren alle 10 Minuten verlassen. Melbourne CBD ist etwa 1 Stunde mit dem Zug oder 45 Minuten mit dem Auto. Der berühmte Mornington Peninsula ist auch vor der Haustür. Weinkellereien und Surf-Stränden sind um 20-30 Minuten entfernt mit schöner Bucht Strände 10-15 Minuten entfernt. Portsea (die letzte Stadt am Ende der Halbinsel) etwa 45-60mins weg je nachdem, welchen Weg Sie nehmen.
Lovely scenery of beaches as far as the eye can see, cityscape and greenery. Very homely and user friendly, location and space meet the detailed description to the word! Highly recommend for relaxing trip, location is ideal for winery tours and pampering :)
Jacqui
2017-01-07T00:00:00Z
Really nice, thanks for all.
Louis
2017-03-26T00:00:00Z
It's a good choice for tourists who want to walk to the beach! Amazing place! My friend and I really want to live there next time.
cheng xin
2017-02-20T00:00:00Z
Even more beautiful than it appears! This lovely spot is right in the middle of an extensive creekside greenbelt, full of fragrances and bird song, and yet 5 minutes to town and a variety of shops and restaurants. It's a great choice for anyone wanting to explore the Mornington Peninsula.
Doug
2017-01-16T00:00:00Z
Great place to stay. Tahnee and Andrew left detailed instructions for self check in. Has everything you need for a private getaway. Heads up about the smoke alarm which does its job too well!
Lawrence
2017-03-08T00:00:00Z
what a great place. sitting at the table and looking out over the gully was magical, especially with Melbournes changing weather. was very clean and Tahnee and Andrew were great hosts. I'll stay again.
Dane
2016-10-11T00:00:00Z
Our host Tahnee met us on arrival for an easy/smooth check-in. The Studio is clean and neat with most of the facilities as advertised. There is a separate toilet & shower but no actual bathroom/vanity area. We found the bed very hard and uncomfortable. During our visit we were unable to access the Wifi as advertised and whilst we were aware there was no TV it was disappointing that the DVD player didn't work. Unfortunately during our visit Tahnee & Andrew weren't available and didn't respond to our phone calls requesting assistance. This could be an issue if a serious problem were to arise.
susan
2017-01-10T00:00:00Z
Great room in a lovely spot, with helpful and communicative hosts. Great value, we have no hesitation in recommending this place highly.
Dani
2017-03-20T00:00:00Z
Tipe Kamar
Seluruh rumah/apartemen
---
Tipe Properti
Apartemen
---
Mengakomodasi
2
---
Kamar tidur
Frankston South, Victoria, Australia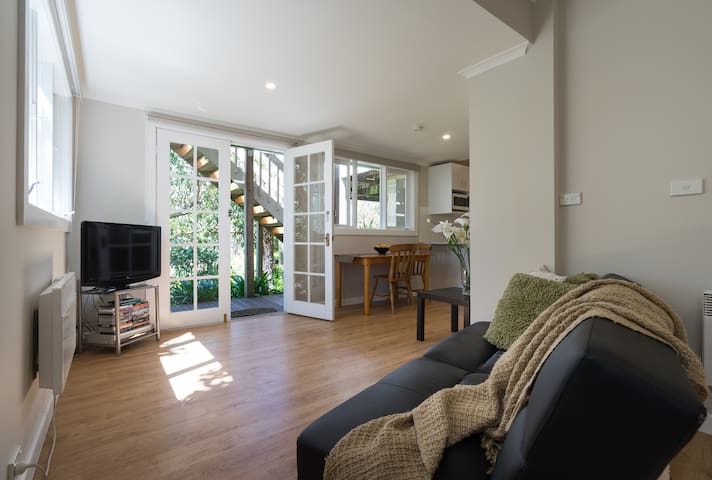 自己完結型、自然保護区への独自の専用デッキ&YARDbackingとSTUDIOマウントイライザと国境を接するが、この居心地の良いスイートには、クイーンサイズベッド、ミニキッチン、電子レンジ、冷蔵庫&すべての必要な電化製品、バスルーム/スパバス、無料のWiFi、テレビを持っていますブッシュ庭を見ているバーベキューと、DVD、ステレオ、CD、プライベートデッキ
これは、独自の入り口があります。それはweberQ BBQと自身のデッキを持っています。これは、大規模な裏庭や自然保護区への独自のアクセス権を持っています。あなたは家庭的な環境の一部であるだけでなく、あなたのプライバシーを持つことができます。 これは、冬に夏は涼しく、居心地の良いです大きなオープンルームです。 スパバス、シャワー、トイレ&洗面台付きの独立したバスルームがあります。 冷蔵庫、電子レンジ、ホットプレート、トースター、水差し、ポータブルグリル&小さなオーブンアプライアンスと簡易キッチンがあります。 だから、あなたが望むものは何でも調理できます。あなたが必要とするすべてがそこにあります。 ベッドはクイーンサイズと非常に快適です。 内側に椅子2脚とテーブル、屋外のテーブル甲板に設定するだけでなく、中に座って2快適な椅子があります。内部のワードローブスペース、快適なソファ&大きな椅子が十分にあります。無料のWiFi、テレビ、DVD、ステレオCDがあります。 私たちは余分な人と少数の成功した滞在を持っていました。 ソファは、シングルサイズのベッドに「ダウン風」です。 だから我々は今3人を許すが、それはseoerate浴室(&大デッキ)を持つ1つの大きな部屋だ覚えています
あなたはモーニントン半島へのアクセスをしたいが、まだ十分にメルボルンに近くなる場合には、南フランクストンは完璧な場所です。 サウス名前でフランクストン、私たちは本当に山の境界に位置していますイライザあなたは2主要都市に簡単にアクセスできます。 面積はグリーンベルトや野生生物に満ちています。 我々バックスウィートウォータークリーク&数分オリバー・ヒルのビーチで終わるトラックを歩くと小川の予備がある上に。 これは、5分は地元のお店に歩いて5分のミニ都市であるショッピングモール&フランクストンへは車またはバス乗車(30分徒歩)、ビーチにのみ徒歩15分です。 モーニントン半島のすべての活動はわずか数分です。
We had a great couple of nights here, the accommodation was extremely comfortable and our hosts John and Julie made us feel very welcome and were on hand to help us with anything when we needed it. The accommodation is in a very nice neighbourhood and is in a quiet part of town, with the local cafes, shops and beaches a short walk/drive away. We would highly recommend staying here and will definitely consider coming back if we are ever in this part of the peninsula again!
Martin
2015-06-08T00:00:00Z
This has been one of my favourite air bnb places ever! We received a warm friendly welcome and the spotless and attractive space is even nicer than the pictures show. It is wonderfully quiet and peaceful, and in the morning all you can hear is birds singing. I loved having a cuppa overlooking the garden and the bush. Everything we needed for a more than comfortable stay had been provided, the bed and pillows were really comfy, and the bathroom was great. It was in a great spot too, with the beaches, galleries and Mt Eliza village with its cafes all nearby. I wish we'd had longer to stay, and would definitely recommend.
Amanda ( Mandie)
2015-03-09T00:00:00Z
John and Julia was very welcoming, the house was very clean and tidy. All the amenities were available including fast with Fi :), highly recommended
Steven
2015-11-22T00:00:00Z
I was positively surprised by the sumize and the feel of this fully self-contained annex to Julia's & John's house. It was clean, bright and with a beautiful verandah to my sole use. I only can recommend staying there if you are looking for some privacy together with friendly hosts.
Bettina
2016-01-17T00:00:00Z
An absolutely beautiful apartment filled with good clear light, furnished in warm bright colours, supplied everything one could possibly need from towels to bath salts to maps of Mornington peninsula. The deck outside is, as I understand, constructed by the couple themselves. There's a charming little treehouse for kids to play in down the garden, and a friendly kookaburra who laughs outside the window in the mornings. We had a great stay with Julia and John and enjoyed some nice conversation and cuddles with their gorgeous cats. If only we could've stayed longer! Truly a Mornington Paradise.
Rachel
2016-04-06T00:00:00Z
We loved staying here! The apartment is beautiful overlooking a great garden. It's very private and has a beautiful deck. The bathroom has an awesome spa bath and everybody is very welcoming and helpful!
Karlijn & Stephan
2016-01-25T00:00:00Z
Julia and John were fantastic hosts, very accommodating and gave great advice for us exploring the peninsula. The accommodation is exceptionally clean and they have thought of everything, it is a fabulous set up with BBQ and sun loungers, truly relaxing. The accommodation is no more than a 30 minute drive from any of the local activities. I would highly recommend it and will be back :)
Daniel
2017-03-18T00:00:00Z
This is the second time I've stayed at Julia & John's place .... this is the second time that everything was perfect. Lovely people, very accommodating and helpful. Again, the property was immaculate and comfortable. Would highly recommend on all counts. Location is excellent, great access to beach, freeways, shops and more. I will be coming to stay again. Thank you !
Chris
2016-05-20T00:00:00Z
Tipe Kamar
Kamar pribadi
---
Tipe Properti
Rumah
---
Mengakomodasi
3
---
Kamar tidur
Frankston South, Victoria, Australia
Woodlands Tranquillity Beau cadre de brousse naturel. Seclusion, pourtant seulement 9 minutes de la plage. Unité indépendante, à 10 mètres de l'arrière de la maison principale.
Votre Logement Est séparée de la maison principale par une véranda, le feuillage et les écrans qui fournissent la vie privée pour votre unité et entoure extérieure immédiate jardin. Une terrasse privée extérieure bois surplombe boisés en pente à une crique ravin ci-dessous. Il n'y a pas de bâtiments surplombant environnantes. Composé de deux chambres à coucher, salle de bains et un grand séjour / cuisine. Wi-Fi est disponible. Il y a une machine à laver (vêtements) dans la salle de bains. Un barbecue à gaz d'infiltration est disponible dans une zone partagée. Le Mornington Peninsula - Activités Do. S'il vous plaît aller à visitmorningtonpeninsula pour une vitrine très complète de la diversité des endroits à visiter et de choses à faire. Le «Trip Planner 'est très utile. Certains de nos endroits préférés comprennent - Visiter les nombreux marchés d'artisanat disponibles, centre-ville historique de Sorrente, Peninsula Hot Springs, Frankston Waterfront, McClelland Sculpture Gallery, Mount Martha Village, Aigle Skylift à Arthurs Seat, les nombreuses plages de la baie et l'océan, marcher le littoral sentiers et parcs nationaux.
'The Mount Eliza Woodlands' - un endroit spécial, où les banlieues de Melbourne rencontrent la brousse, il a été dit. Un quartier à faible densité pleinement développée où la mère nature est à l'honneur. Les propriétés et les buissons coulent de façon transparente dans l'autre. Notre propriété est contiguë d'un réseau de méandres paisibles du ruisseau marche côté pistes. Un court 7 minutes en voiture vous emmène à l'intrigante Mount Eliza Village, ... .. shopping Boutique, une variété de restaurants et de restaurants. de route Un autre 2 minutes est au-delà de la magnifique baie du Canada, notre plus proche baie de Port Phillip Bay.
位置好,环境好,人好,早餐好,都好,推荐入住
振铎
2017-03-26T00:00:00Z
Lovely place to stay. Very roomy with everything you need and more. Lots of snacks and breakfast goodies. Very quiet bushland location with lovely gardens. This would be a perfect, central location for a longer stay on the Mornington Peninsula.
Stephen
2017-04-02T00:00:00Z
A great, neat place with a beautiful view in a quiet neighbourhood! Was perfect for a weekend getaway
Eileen
2017-01-28T00:00:00Z
Lindsay was a great host. He left a welcome letter with plenty of info. Beautiful bushy property. Comfortable beds. It would be good to stay longer than one night. Thanks for our stay.
Sue
2017-01-13T00:00:00Z
Lindsay was a fantastic host. Communication was absolutely brilliant and an absolutely gorgeous place to stay! Very beautiful and loved being within nature. We can't thank you enough for all your help and anyone who stays here won't be disappointed!
Melody
2017-03-03T00:00:00Z
Lindsay's place is extremely comfortable and clean. He has provided everything you need for an enjoyable stay. The house is nestled in foliage, its lovely to wake up to trees and birds out the window. It is very well furnished, and Lindsay is very welcoming. Our stay couldn't have been easier, I can't recommend highly enough.
Samuel
2017-01-03T00:00:00Z
Lindsay was very welcoming and our accomodation was lovely. The place accommodated my husband and I and 2 children. A lovely setting amongst the bush. Would stay again!
Lisa
2017-01-27T00:00:00Z
Lives up to the name. Beautiful home in stunning environment. Thanks a lot!
Sarah
2017-02-04T00:00:00Z
Tipe Kamar
Seluruh rumah/apartemen
---
Tipe Properti
Rumah
---
Mengakomodasi
4
---
Kamar tidur
Mount Eliza, Victoria, Australia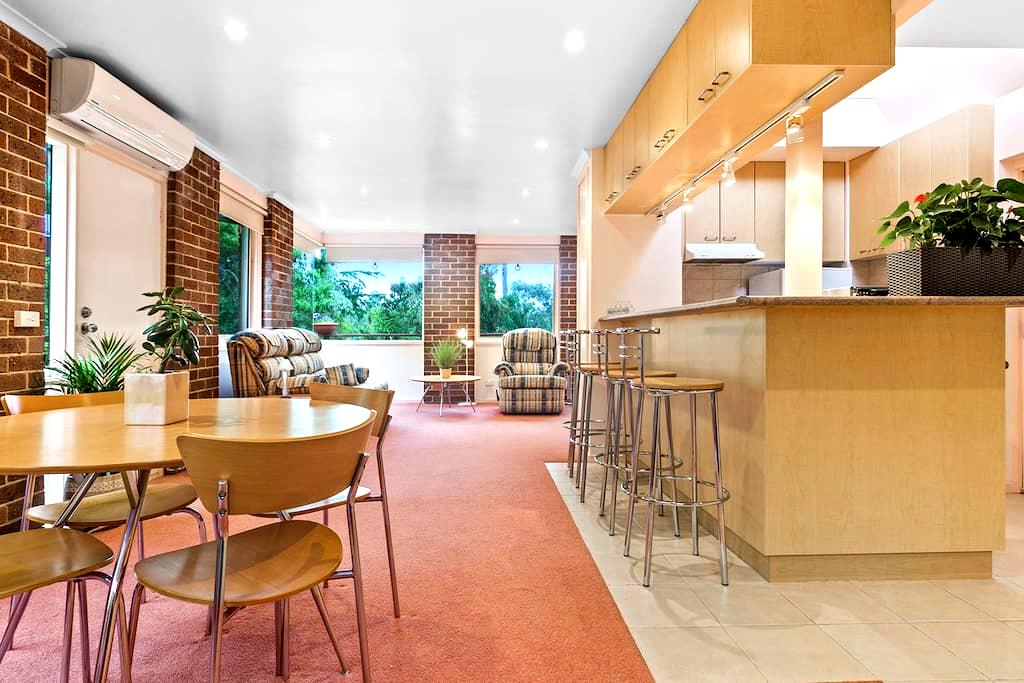 Nice poolhouse and amazing atmosphere and environment, so as the cute dog! Thank you Sally for the great time! Hope we can come back soon!
Sze Mun
2015-12-09T00:00:00Z
The poolhouse is an amazing place to stay! Sad I didn't get to go for a quick dip in the pool but the house itself is a lovely place for a getaway. Sally and Stephen were great hosts and the made my partner and I feel welcomed. Hope to visit again!
Isabell
2015-03-11T00:00:00Z
It was great staying in Steve and Sally's 'pool home'. It was a perfect location and a lovely stay - thank you!
Tori
2014-10-05T00:00:00Z
Spacious, warm, light, comfortable. A pleasure to come home to after a busy day. Sally is delightful host with just the right blend friendliness and reserve. We plan on staying again
Carmel
2016-05-26T00:00:00Z
Great location, comfortable and clean. Lots of space and perfect t to relax. Met Stephen in the morning and he was a really nice guy, would definitely stay here again and recommend the 1001 nights restaurant in mt Eliza town. Was already in their recommendations book! Thanks, ross and liz
Ross
2017-04-08T00:00:00Z
Due to our schedules not aligning on the day, we didn't get to meet Sally but regular texts and a phone call kept us connected on the day (she had a lovely warm personality and made us feel welcome). Also even tho' the weather turned bad, we were warmly greeted by her pooch and this beautiful little gem just instantly made us feel warm and comforted when we first stepped into its space. We were only at this listing overnight, but knew it would have been worth while to have stayed a few more days.
Ruka
2015-02-14T00:00:00Z
Had an amazing couple of nights in the pool house! Sally and Steve were terrific hosts and made me feel right at home. Can't recommend this experience enough!
Damon
2015-10-15T00:00:00Z
Great place to stay, nice and quiet with very comfortable bed, heating and Iiving spaces. Perfect for a quiet getaway! Thanks Sally!
Bernard
2015-08-23T00:00:00Z
Tipe Kamar
Seluruh rumah/apartemen
---
Tipe Properti
Bed & Breakfast
---
Mengakomodasi
2
---
Kamar tidur
Frankston South, Victoria, Australia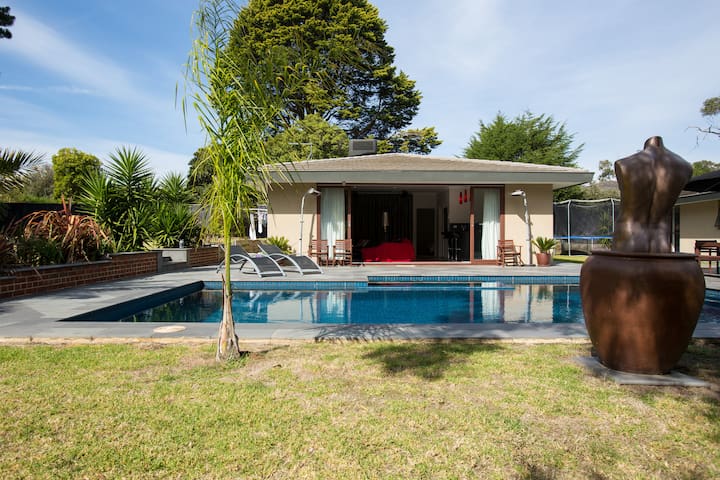 Spacieux moderne, autonome (privé) une chambre à coucher à plat avec une grande salle de bains. zone rurale tranquille avec vue sur les bois. Très bien situé pour les établissements vinicoles, des plages et au cœur de la péninsule de Mornington. Facile d'accès à la péninsule autoroute et Eastlink.
A une chambre appartement moderne, situé dans la colline avec une vue imprenable sur la crique et les forêts. Woodlands Lodge est entièrement équipée - lit queen, grande salle de bain, draps, serviettes, chauffage, réfrigérateur, micro-ondes, ventilateur, TV avec Foxtel et Wi-Fi.
lodge Woodlands est situé dans un endroit paisible. À distance de marche il y a quelques magasins - Milkbar, chip shop et une boulangerie. A quelques minutes des cafés boutiques, restaurants et boutiques de Mount Eliza et à 10 minutes en voiture de Mornington. Un lecteur de 30 minutes vous trouverez au cœur de la péninsule de Mornington - plein de caves, promenades, des plages et bien plus encore. Il y a un accès facile à l'autoroute Mornington et Eastlink.
A great little place!
Jess
2016-12-01T00:00:00Z
Beautiful cosie apartment/unit. Great feel and beautifully furnished
Macauley
2016-05-27T00:00:00Z
We had a short stay arriving at night and leaving reasonably early. The apartment was nicely furnished and comfortable. A very easy and enjoyable stay.
Alister
2016-06-26T00:00:00Z
We spent three weeks in Woodland lodge. It's situated in a quiet and attractive cul de sac a short car trip from Mount Eliza & Mornington. Sarah & Simon are very helpful yet allow guests perfect privacy. Modern space, comfy bed and great shower.
Brenda
2017-03-04T00:00:00Z
place was beautifully furnished but driving was essential to go to the local shops
Anahira
2016-12-22T00:00:00Z
Sarah's place is practical, clean, comfortable - perfect for a couple like us. It is quiet, residential, secluded. You will need a car to go to shops, restaurants, etc. We will definitely come back.
Dieter
2017-03-14T00:00:00Z
Sarah replies super quickly and was a great host! The location is ideal for exploring Mornington and the surrounding area makes for a very nice drive. The flat was clean and cosy, and did not feel hot even in the sweltering summer heat! Would recommend and hope to be back!
Cindy
2017-01-19T00:00:00Z
had great weekend at the lodge, the place was clean, cozy and value for money. would definitely stay again and highly recommend it to anyone staying in mornington.
Andres
2017-02-05T00:00:00Z
Tipe Kamar
Seluruh rumah/apartemen
---
Tipe Properti
Apartemen
---
Mengakomodasi
2
---
Kamar tidur
Mount Eliza, Victoria, Australia
HYTTA Hytta er fullt selvforsynt med 2 soverom, separat, men i tilknytning til vår familie hjemme på mer enn en acre av velstelte plenen og hager. EGENSKAPER Svømmebasseng og tennisbane Queen og dobbel seng med luksuriøst sengetøy Bad med walk-in dusj, håndklær og hårføner Fullt utstyrt kjøkken Kaffemaskin og utvalg av te Stille split system oppvarming og kjøling Nær halvøya vinprodusenter, golfbaner, Bayside og surfe strender, restauranter, spisesteder, utendørs markeder.
Hytta ligger i vår hage som er over ett mål. Hvert rom har utsikt. Det er privat og rolig og veldig lette og lyse. Vi har en mod gress tennisbane som er ofte besøkt av kookaburras. Vi har også et basseng med et basseng hus tilstøtende med en flatskjerm-TV, kjøkkenkrok, kjøleskap og toalettet.
Mount Eliza tilbyr en rekke vakre kafeer, barer og butikker. Vi er på dørstokken til Mornington-halvøya. Du kan utforske vakre vinprodusenter, strender, markeder og gården gate produserer selgere. Vi er bare 30 minutter fra halvøya Hot Springs, Ashcombe Maze og noen av de beste golfbanene i Victoria.
What a delightful place to stay! On a bit of a whirlwind trip, Julie couldn't have been more wonderful in terms of making some excellent suggestions for places to enjoy breakfast - Store 15 was amazing - and gourmet grocery shop with the local purveyor of fine food and fresh flowers surpassing my expectations. Whilst the weather was a bit wild, the cottage provided the perfect cosy retreat from the rain with excellent heating to cover the living areas and heated lights in the bathroom. Parking at the cottage's front door enabled easy access to and from and whilst I travelled solo so only had the chance to sleep in one of the two stylish beds, the mattress, bed linen and cushions of different firmness ensured a fantastic night's sleep. Would I stay here again? Absolutely! As much as I enjoyed the rugged coastline and seeing the brightly coloured Mt Martha bathing huts in the chill, with an on site pool and expansive garden area I can imagine a trip in the Summer to be even more beautiful.
Izzy
2017-03-30T00:00:00Z
Peter was the perfect host, and the Cottage is an ideal place to stay with many local attractions - the Penguin Parade, Peninsula Hot Springs etc all within easy driving distance. He and his wife really have thought of everything when it comes to providing things you might need. Worth a visit for the home baked treats alone!
Ashley
2016-10-22T00:00:00Z
The cottage is amazing, everything is new. & full equipment. there is beautiful garden around the house. cozy & quiet, Peter & Julie are so hospitality. I strongly recommend this place to stay. It's better than you think.
Zhang
2016-11-19T00:00:00Z
Our stay with Peter & Julie was great! Julie welcomed us, showed us where everything was and provided information on the local area, and the best places to eat. We don't think the photos provided here do the cottage justice, the accommodation was wonderful, (and especially the shower- amazing! :) ) and the property gardens- magnificent!! The baked goods that Julie cooked for us also, a very delicious surprise! Thanks again for having us stay in your cottage! :)
Mel
2016-10-03T00:00:00Z
My second stay at this property.. This time to have some quiet time with my adult family members. Although weather was unseasonably cool for February, we enjoyed the cosy, warmth of the cottage to unwind and eat and drink indoors, while enjoying the view of the gorgeous gardens and peacefulness was just what the Dr ordered. Thanks again Peter and Julie.. I will be back again! Kate
Katrina
2017-02-20T00:00:00Z
Wonderful experience and beautiful cottage set in a lovely garden with every small detail provided- the photo does not do it justice! Very helpful friendly hosts and great position and ease of access and central to so many activities. Home cooked extras a nice touch. Would definitely recommend!!
Neroli
2016-10-23T00:00:00Z
The cottage was like a peaceful retreat surrounded by beautiful gardens and sea breeze. Julie spolit us with scrumptious baked goods, fresh eggs and milk. The position is perfect as it is close to great food and good coffee. Julie was full of good places to eat. The cottage was light and spacious. It was very peaceful and tranquil. We wanted to swim however it wasn't quite hot enough, and Peter was more than happy to clean out a few leaves. We would recommend the cottage to anyone looking for a serene stay. Thank you Peter and Julie for making our stay perfect.
Veronica
2016-11-08T00:00:00Z
Such a beautiful Cottage and perfect for our needs for a friends wedding close by. The property made us feel like we were in the Hamptons, comfy beds, gorgeous furniture and styling, the homemade brownies, fruit toast and brioche all perfect for a quick something in the morning before we hit the road. Thanks Peter and Julie, we will definitely recommend and return!
Katrina
2016-11-26T00:00:00Z
Tipe Kamar
Seluruh rumah/apartemen
---
Tipe Properti
Apartemen
---
Mengakomodasi
4
---
Kamar tidur
Mount Eliza, Victoria, Australia
相当精美的大和,这间公寓坐落在一个大的绿树浓荫块的背面。清洗设施,游泳池(不加热,但(但良好的水肺潜水的做法)有48个的DVD,图书库,如果你只是需要阅读和放松。整体厨房,私人入口和停车场DVD库,写在通往莫宁顿半岛腹地,1分钟到东环线,超过30酒庄的,阿什科姆迷宫,画廊,市场和半岛温泉短的车程。
它有一间卧室,大客厅和厨房区,研究区,景色泳池一侧,大牙龈其他的。它有一个国际象棋棋盘设置,如果你玩,DVD和书籍。
(URL HIDDEN) (URL HIDDEN) 和许多艺术画廊和市场。
Perfect stay thank you very much Judy! We had a great time and the location was just right for us and our stay. Thank you for setting up the place in such a welcoming way it was nice and secluded and will recommend anyone looking in the area to stay with you! Great great great value for money Thanks again, Aydn & Jodie
Aydn
2017-02-04T00:00:00Z
It was a pleasurable stay at Judy's place. She was an excellent host and we had everything we needed. We loved the serenity and peaceful surrounds. We will definitely be back! Thanks Judy.
Ben
2017-03-13T00:00:00Z
Nice and quiet place with you need for relaxing stay.
Jaap
2017-04-09T00:00:00Z
I stayed at judy's for the weekend and had a really relaxing time. The place had everything we needed and was close to a lot of things as well. Everything was nice and neat and would stay here again. Thanks judy
Adrian
2017-02-18T00:00:00Z
We loved our stay at Judy's! Very peaceful, quiet, and we had everything we needed. Judy is very nice. She went above and beyond to help us. We would love to stay again.
Katelyn
2017-02-27T00:00:00Z
It was another pleasant stay at Judy's place! There was everything we needed and available including a kitchen and stovetop. In speaking with her, she made sure we settled in well and provided good advice on the surrounding suburbs and areas. As the place where we stayed is joined to the main house, it still felt it was private and peaceful. Thanks Judy!
Ben
2017-03-25T00:00:00Z
Tipe Kamar
Seluruh rumah/apartemen
---
Tipe Properti
Apartemen
---
Mengakomodasi
2
---
Kamar tidur
Frankston South, Victoria, Australia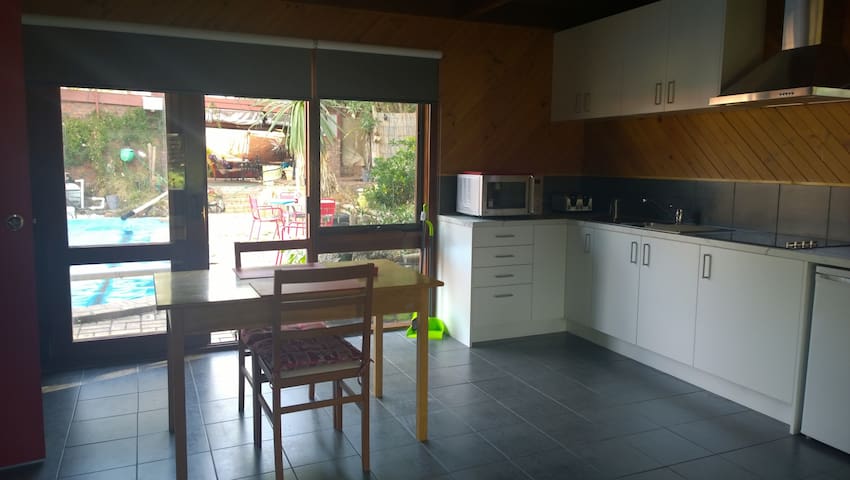 Tipe Kamar
Seluruh rumah/apartemen
---
Tipe Properti
Rumah
---
Mengakomodasi
6
---
Kamar tidur
Frankston South, Victoria, Australia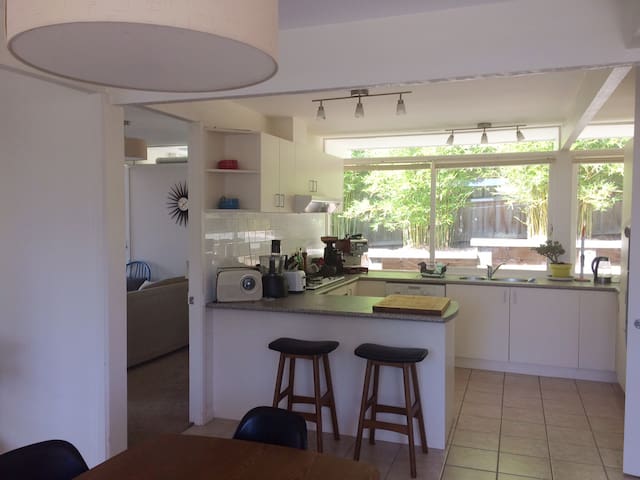 我們的房子了其在門前的台階上到莫寧頓半島的半島山莊莊園。這是一個五間臥室的房子,兩間臥室的可供出租。
臥室1:張大床長袍
那麼位於半島山莊房地產我們的家坐落在門口的莫寧頓半島。
Jasna and Danny were great! They were very friendly and went well beyond what we would expect from our hosts. The bedroom and facilities were as advertised. We would certainly go back. Thank you Jasna!
Bruce
2016-10-22T00:00:00Z
Super location, close to beach, 10 min drive, new travellers must visit Arthur seat ( eagles ) ropeway just 45 min drive from the location. Monash uni is 4 min drive. I enjoyed house dog , adorable golden retriever the most in my whole trip.
Saurabh
2017-02-04T00:00:00Z
Jasna, Dusan and Vlad were lovely hosts. Jasna was so friendly and welcoming, we felt very happy to be invited into their place. Staying here will make you feel like you are home, the house is beautiful and clean and the bedroom was cosy and comfortable! There was also great wifi and a well equipped kitchen for us to cook in. Great location, close to beaches, shops, restaurants and take-away. Also, the dog, Louis, is very friendly. Vielen Dank für Alles!
Thisari
2017-01-13T00:00:00Z
Jasna was a friendly and very warm host. We feel very comfortable and just like home after staying there for two nights.
Chen
2017-03-18T00:00:00Z
We were in the Mornington peninsula visiting friends for a weekend. Jasna and her family were very welcoming; they made us feel at home as soon as we arrived. The place was clean and quiet. We were welcome to use the kitchen. We loved playing with the very friendly dog, too.
Tony
2017-02-18T00:00:00Z
Jasna and Dusan were great hosts. We had to check in late due to work commitments but Jasna was very accommodating and welcomed us with some home made Quiche. The house was very clean with all the basic amenities. Jasna also prepared some home made Lasagna which was really delicious. We would highly recommend Jasna's place to whosoever visiting the area.
Rachit
2017-02-03T00:00:00Z
A decent place to stay for a couple of nights. Very clean and good value for money.
Vicky
2017-03-06T00:00:00Z
Jasna & her husband were wonderful hosts.They were very welcoming. Nothing was too much trouble in order to make our stay comfortable.They invited us to dinner with other guests & another time cooked a bbq for us.Louie the golden retriever was an added bonus.After a 6 wks stay we feel we have 2 new friends.Thank-you Jasna & Durcan(URL HIDDEN) stay we feel we have made
Margaret
2016-03-19T00:00:00Z
Tipe Kamar
Kamar pribadi
---
Tipe Properti
Rumah
---
Mengakomodasi
2
---
Kamar tidur
Frankston South, Victoria, Australia
Das neu renovierte, moderne Studio-Apartment: Einzel Ebene, voll möbliert. Kürzlich installierte super schnelle Fibre Internet Großbild-LED-TV mit verchromten Alu-Guss Der Zugang zum Pool & BBQ Das Hotel liegt am Mount Eliza, das Tor zum Mornington Peninsula. Kurze Fahrt zum Mt Eliza Village & Strand. Bluesto 48 ist getrennt von unserem Haus mit eigenem Eingang vom Pool. Unser Platz ist gut für Paare, Solo-Abenteurer, Geschäftsleute und Haustiere in Maßen von unserem Cavoodle ... Lulu zu begrüßen,
Es ist eine ruhige Gegend mit einem großen Garten. Der Zugang zum Mornington Peninsula können über die neue Peninsula Link-Autobahn und die Lage ist nur 40 Minuten nach Sorrent gemacht werden
The host's where lovely and made sure everything was perfect for our stay! They truely went above and beyond! The house itself was beautiful it was even better than what the photos showed! Overall it was an amazing place to stay and we will deffinatly be coming back
James
2016-11-12T00:00:00Z
Such a great place. Nice and quiet, has everything you need and also things you didn't know you needed... like Robyn and Bill. They're the best!
Brihony
2017-01-22T00:00:00Z
Lovely and beautifully designed and furnished apartment. Robyn was extremely welcoming and a pleasure to deal with. The complimentary snacks were much appreciated.
Lior
2017-01-27T00:00:00Z
Owen and I are really thank to Robyn and Bill for letting us have a lovely holiday in lovely studio. Everything they provided was very impressive, beautiful studio and yard, fully-equipped kitchen not to mention provided ingredients and foods. We definitely enjoyed and relaxed in their warm and lovely place. They both are the kindest, warmest hosts we've ever met, we really appreciate their kindness. We will definitely come back here and will recommend to our friends. Thanks again :)
Hyejin
2016-09-29T00:00:00Z
The place was as advertised. Lovely place, and warm welcome there. Breakfast was provided with very furnished kitchen! Cozy place to stay! Loved it there
Wing Yan
2017-03-25T00:00:00Z
My stay at Robyn and Bill's place was far beyond my expectations. A studio-like apartment with everything a couple or travelling business person wanting some time out could need. Their hospitality and warm welcome was exceptional. It was lovely to meet you new people yet feel like I had my own time and space. A fabulous pool that was big enough for everyone to share, a comfy bed, and the beautiful extras of a bottle of wine and delicious pantry/breakfast food was an unexpected surprise. There dog Lulu was just adorable. It was lovely and quiet but only a few minutes drive into a lovely shopping village with a fantastic small supermarket and nice boutique shops as well as plenty of places to eat. I am looking forward to my next visit and with it only being less than an hour's drive into Melbourne CBD, I think I will make a nice 'remote office'. Thank you Robyn and Bill!
Jessica
2017-01-07T00:00:00Z
Being my first time using Airbnb, I was not sure what to expect. Bill and Robyn are the best hosts that you can ever have. Their welcome was fantastic and the unit matched that. I enjoyed my time there and am looking forward to visiting again.
Mick
2017-03-20T00:00:00Z
I cannot speak highly enough of our wonderful 5 days in this beautiful studio. Robyn and Bill were fantastic hosts, making us feel very welcome from the start, provisioning us for our stay and keeping the fire burning all day to ensure our comfort. I highly recommend Bluestone for a relaxing stay on the beautiful Mornington Peninsula.
Mike
2016-09-04T00:00:00Z
Tipe Kamar
Seluruh rumah/apartemen
---
Tipe Properti
Apartemen
---
Mengakomodasi
2
---
Kamar tidur
Mount Eliza, Victoria, Australia