"Apartamentos el Tío Pablo" tres alojamientos rurales situados en Tresviso, pueblo de Cantabria enclavado íntegramente en el Parque Nacional de los Picos de Europa un paraje natural de gran hermosura. (URL HIDDEN)
Esta casa solariega fue construida a principios del siglo XX por Pablo Sánchez Vada (mi bisabuelo) destinada en su origen a cuadra y vivienda, se ha rehabilitado respetando los materiales nobles con los que fue construida piedra y madera, disponemos de tres apartamentos bautizados con el nombre de tres puntos enclave de la villa que son, Sobra la Raya y la Concha los cuales se han decorado con esmero para ofrecer a nuestros clientes el sabor del autentico Turismo Rural. Apartamento Sobra para 2 personas Apartamento La Concha para 4 personas Apartamento La Raya para 5 personas Cada apartamento dispone de entrada independiente sin tener que compartir zonas comunes.
Durante siglos, sus vecinos se dedicaron al pastoreo y la caza, así como también a la fabricación de quesos, una actividad complementaria a la ganadería que ya aparece documentada a comienzos del siglo XIV. El queso picón está elaborado con una mezcla de leche de oveja, cabra y vaca y su maduración se produce en cuevas naturales de caliza, a una altitud de 2.000 metros donde permanecen entre 3 y 4 meses. Y a día de hoy los pocos habitantes que aquí residen viven del ganado y la fabricación del queso Picón.
The apartment is lovely, modern, well equipped, yet rustic. The area is spellbindingly beautiful. Santa was a great host.
Christopher
2016-10-26T00:00:00Z
Het is een prachtig appartement in een oud huis in een werkelijk sprookjesdorp midden in de bergen. In tegenstelling tot eerder recensies, was het dorpje gemakkelijk te vinden. Het huis vinden was ene groter probleem, maar toen we aan het zoeken waren, kwam Santa ons al tegemoet. Ze is werkelijk heel erg vriendelijk en behulpzaam. Het appartement is schoon en stijlvol ingericht. Ik kan niets bedenken dat er niet was. Misschien dat een tuintafel met stoelen buiten geplaatst kunnen worden, zodat je er lekker kunt ontbijten of 's avonds van het geweldige uitzicht genieten. We hebben er een heerlijke tijd gehad.
Frans
2016-06-11T00:00:00Z
The house is situated in a small, quiet, very nice village . top floor apartment, where we stayed, has a fantastic view on the mountains. it is a 2BR apartment, all very new and very clean. well equipped. warning: the nearest supermarket is 45 min drive in Arenas so you need to plan your shopping carefully. the shop in Sotres, 20 min drive, sells just essentials like bread, cheese, dry meats. I was cold at night in the first 2 days and asked for a duvet - Santa gave me 2 ! how nice . Most of the time the other 2 apartments below us were not occupied, but when they are you hear other people.
Joanna
2016-10-08T00:00:00Z
Das Haus von Santa ist toll. Sehr schön renoviert und mit viel Liebe zum Detail eingerichtet. Santa ist eine hilfsbereite Gastgeberin. Das Dorf ist fantastisch und nur schon die Anfahrt eine Reise wert.
Daniel
2016-07-21T00:00:00Z
Agradezco no saber donde venía,a sido más especial todavía, Santa una maravilla y la gente del pueblo también, doy gracias por estos días.
noelia
2016-12-24T00:00:00Z
El pueblo es precioso y el apartamento calidad precio es inmejorable. El apartamento donde estuvimos no tenía chimenea interior pero estuvimos calentitos gracias a la calefacción. Santa muy amable nos recibió. Un lugar perfrcto para desconectar pero un poco alejado de todo si quieres hacer mucho turismo. Repetiremos
Andreia
2016-12-31T00:00:00Z
My Mom and I stayed here to do some walking and experience a small Spanish mountain town. It was a real treat. My Mom is 70 and had never seen such beautiful mountains. It's a small village way up in the mountains. Don't drive there at night as you would miss the incredible views but also you would want to know how deep the drop off is. We loved it. There is an incredible walk to Urdan from this house. It gets challenging so we did half (the easy half) and still thoroughly enjoyed it. The house is lovely. Cute and cosy. Our host Santa couldn't have been nicer. TIP: shop in Las Arenas for water, wine, snacks, coffee supplies etc before you get there. There is only one restaurant in town.
Breda
2017-03-29T00:00:00Z
El alojamiento genial! La casa es muy bonita en un entorno precioso si te gusta la naturaleza. 100% recomendado
Christian
2017-03-21T00:00:00Z
Tipe Kamar
Seluruh rumah/apartemen
---
Tipe Properti
Rumah
---
Mengakomodasi
12
---
Kamar tidur
Liébana, Cantabria, Spanyol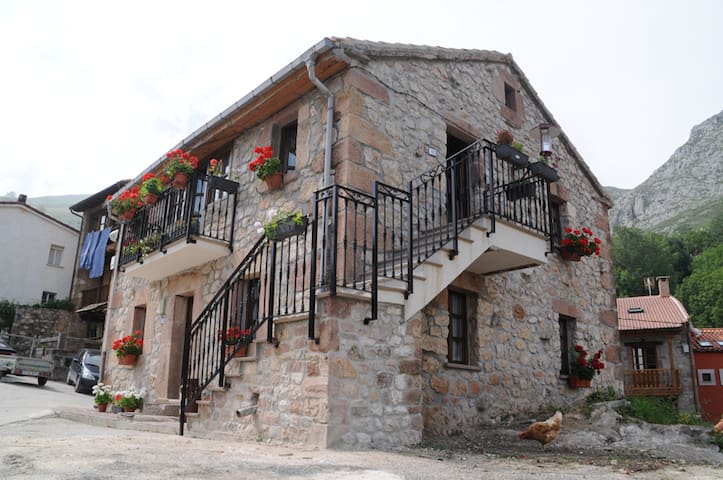 La casa tiene 4 habitaciones con cerradura y un baño en cada una de ellas. Existe la POSIBILIDAD de ALQUILAR POR HABITACIONES CON DERECHO A COCINA, en ese caso, CONSULTAR PRECIOS.
Situada en plenos Picos de Europa. Ideal para los amantes de la tranquilad y la naturaleza. A 21 Km de distancia de Potes y a 33 Km de la playa.
Wow, what a magical location! Beatriz was fantastic to communicate with before and during our trip. Check-in was easy, she graciously accommodated our early arrival. The apartment is comfortable, the rooms are all nicely sized and the kitchen is spacious. Beatriz helped make our trip unforgettable by arranging a visit to one of the cheese caves with her friend, and a member of our group was able to join her uncle to milk cows in the morning! We drove to Congas de Onís and Covadonga on one of our days, and spent another half day in Potes. We loved exploring the trails around Bejes, and the locals are all incredibly friendly and welcoming. The bar in town serves cold drinks and a few food items, there are also two queserias in town that are worth a stop. They will vacuum pack cheese for travel if needed, too! We are unsure when our travels will bring us back to this area, but when they do, we hope to stay in Beatriz' home again! Thank you, Beatriz!!
Brianna + Joey
2017-04-05T00:00:00Z
Fantastic place to stay if you're planning to visit Cantabria and Los Picos. The house is well located, comfortable and has some stunning views of the valley. Beatriz and her father were really great hosts. Hope to stay again soon.
Nat
2016-10-30T00:00:00Z
Newly refurbished appartment in a lovely village. Very clean with great views. Beatriz and her father were exceptionally hospitable. Kitchen with tv is the communal area.
Alistair
2015-08-16T00:00:00Z
La pasamos genial en casa de Beatriz. El lugar es muy bonito. La casa tiene todo lo necesario para disfrutar de una buena estancia. Tanto Beatriz como su padre nos recibieron y fueron muy amables. El pueblo y los alrededores de la casa, así como los senderos para caminar son muy bonitos. Queda relativamente cerca de Potes y a unos 40 min en carro hasta el teleférico de Fuente de, por lo que la ubicación también es buena. Definitivamente un buen lugar para conocer Picos de Europa. Recomendado 100%.
Luis Diego
2015-09-22T00:00:00Z
Bejes是一个藏在欧罗巴山的小村落,如果没有Beatriz的房子,我们根本不知道还有这样的地方。人们都超级热情,食物都很新鲜,不过没有车的话基本到不了这里的哦~当地的朋友们带我们去了山顶逛逛,这里的景色绝对是和别的地方不一样的呢!我们还去了生产Picon奶酪的地方,这边的蓝奶酪没有霉味,羊奶酪味道超级好吃也没有很厉害的羊味… Beatriz的叔叔有奶牛,还送了我们新鲜牛奶~真的很感谢Beatriz,让我们了解还有这么一个美丽的地方!
Jasmine
2016-12-07T00:00:00Z
One of my favorite Airbnb stays ever! Unbeatable location, just up the mountain from La Hermida (got coffee there every morning). It is a truly special little village where we got to know the locals over a couple of dinners by the fireplace. The home has amazing views, modern furnishings, hot showers, and Beatriz' dad left us fresh milk from his cows. Also Beatriz was the best host as far as communicating promptly, giving great directions and making sure all was good. Come to Bejes!
Aimee
2017-03-30T00:00:00Z
Our experience with Beatriz and the lovely home in Bejes was amazing! The town is quiet and lovely, with a gorgeous moody landscape. The home was clean, and Beatriz was so kind and wanted to ensure that our family was comfortable. We stayed three days, and wished we had more time. She and her dad had time and so they drive us up into the mountains. We've been traveling Europe all summer, and his was without a doubt a highlight.
Lindsay
2015-07-29T00:00:00Z
Tanto el pueblo como la casa son espectaculares, como también lo fue la hospitalidad de Beatriz y su madre. Sin duda volveremos y se lo recomendaremos a nuestros amigos.
Jesus
2015-08-23T00:00:00Z
Tipe Kamar
Seluruh rumah/apartemen
---
Tipe Properti
Rumah
---
Mengakomodasi
8
---
Kamar tidur
Bejes, Cantabria, Spanyol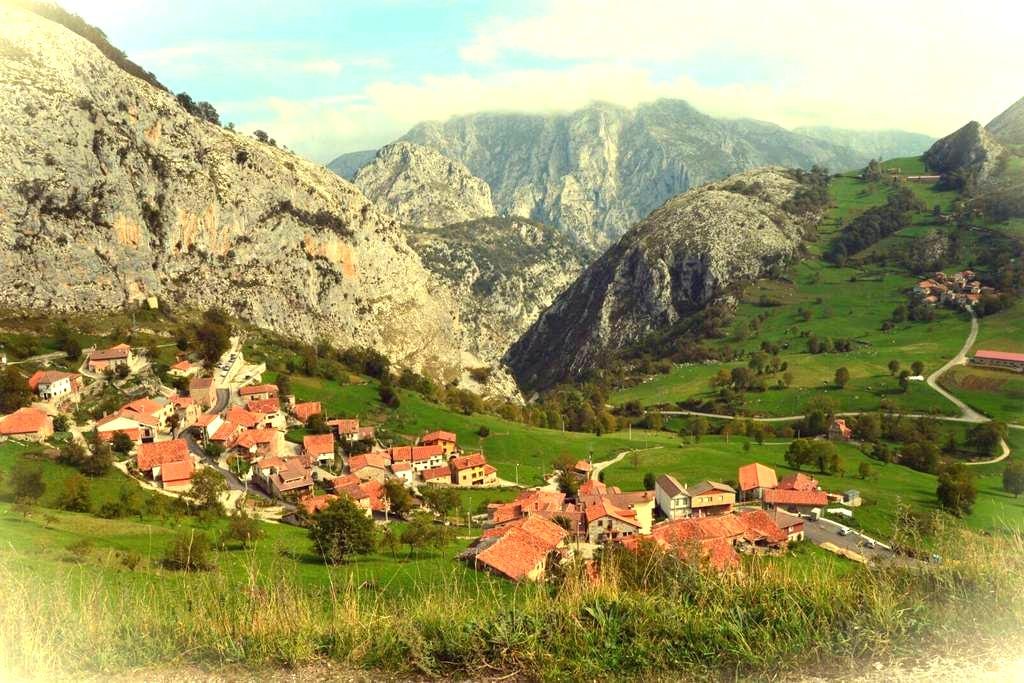 The house La Huera, is located in an exceptional place in the National Park Picos de Europa, 15km from pots, detached house with ground floor fully equipped kitchen, living room with a large plasma TV and a bathroom access to the terrace where there barbecue and all prepared to eat out, up three double bedrooms and a bathroom on the top floor and another bedroom with bathroom, the estate is closed and private parking. Fabulous views only nature and peace !!!
Tipe Kamar
Seluruh rumah/apartemen
---
Tipe Properti
Rumah
---
Mengakomodasi
10
---
Kamar tidur
Asturias, Asturias, Spanyol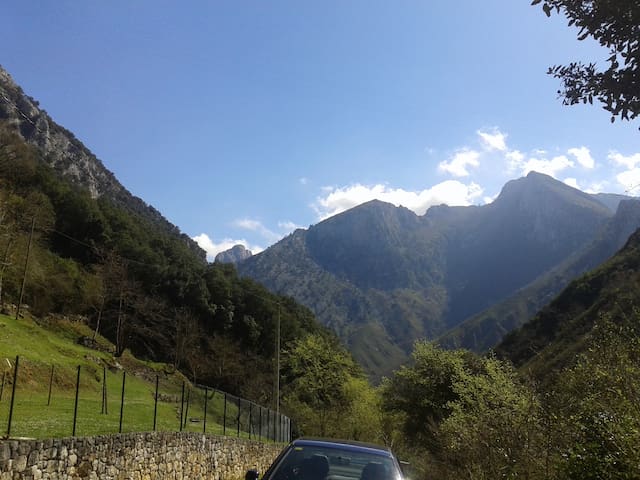 Amplia casa acogedora y amplia, con 7 habitaciones dobles, 6 baños completos con ducha y 2 aseos, cocina completamente equipada con zona comeor y abierta a una zona de estar con TV y sofás, comedor con cinco mesas, sofá y TV. Con vistas a la montaña y próxima a los Picos de Europa. Wifi gratis
Está en una situación inmejorable para visitar tanto la zona de Picos de Europa, como la provincia de Cantabria y Asturias. La carretera por la que se accede al pueblo se trazó en 1900 y es un recorrido único.
La Posada se encuentra en el pueblo de La Hermida, junto al río Deva y entre montañas, cerca de los Picos de Europa. Tenemos infinidad de rutas con varios niveles de dificultad en las cercanías, además de interesantes lugares para visitar (miradores, pueblos con encanto, playas naturales, museos, circuito termolúdico en balneario, actividades deportivas, realización de talleres....).
Tipe Kamar
Seluruh rumah/apartemen
---
Tipe Properti
Rumah
---
Mengakomodasi
14
---
Kamar tidur
La Hermida, Cantabria, Spanyol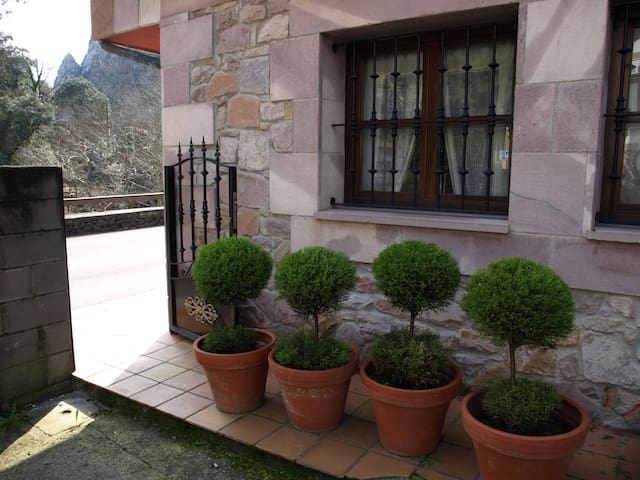 Old house in the National Park Picos de Europa. We have pool, Tibetan bridge , climbing wall and varity of routes for hiking .less than 20 minutos walking Over 50 climbing routes , ideal to get away to relax or train in the mountains .
Antigua casa reconvertida en albergue, con capacidad para 55 personas, en habitaciones de 4,6 y hasta 18 personas. Comedor amplio y acogedor con chimenea. Justo detrás de la casa está el parque nacional de los Picos de Europa. Para los amantes de la montaña, este es lugar ideal para tus escapadas, más de 50 vías de escalada a menos de 10 minutos andando, infinidad de senderos para realizar senderismo y parajes únicos si solo quieres relajarte.
Lugar perfecto para pasar unos de días en la montaña. En todo momento nos sentimos como en casa. Wences muy atento en todo. También comentar que es un buen lugar para ir con perro, Wences tiene una, muy maja que se lleva bien con todos. Resumiendo, que recomendamos este albergue, (hemos estado muy bien).
Aitor
2016-03-27T00:00:00Z
Beautiful remote location, host knows hiking trails well
Brock
2016-10-08T00:00:00Z
Wences fue muy atento y nos aconsejo sobre donde hacer excursiones en la zona. Las vistes des del Albergue son muy bonitas y el albergue es muy tranquilo y con Parking propio. El desayuno es correcto. Relación calidad precio muy aceptable. Hay carretera asfaltada des de La carretera que va hacia Potes para llegar al albergue.
Núria
2016-10-13T00:00:00Z
Wences nous a très bien accueilli dans son auberge. Nous avions un dortoir entier pour deux personnes, nous avons pu profiter de la piscine, Wences nous a proposé de faire de l'escalade, nous a conseillé un très bon restaurant à Potes, nous avons aussi pu utiliser la grande cuisine très bien équipée, en deux mots il nous a offert un très bon accueil, du sur mesure. Les environs sont aussi parfaits pour faire de la balade.
Laure
2016-09-02T00:00:00Z
I stayed at Wences amazing place for a night with my boyfriend. I completely recommend any nature/mountain loving person who's especially into hiking and climbing to stay at his bed and breakfast. We arrived in Potes, which is a close town and had a delicious typical lunch from the region by the fireplace at Wences' family run restaurant. He then advised us to go for a walk at Fuente Dé. You will definitely need a car to go around and to get to his place, but it's worth hiring one as we did at a very reasonable price from Asturias Airport. The bed and breakfast is a huge house and the last in the village marked by "Albergue" sign through out the tiny hilly roads. There is a big fireplace in the living room with a view to the mountains. The rooms are good sized and all have heaters in them. There's a shared bathroom equipped with shower/bathtub; a big industrial kitchen; a small swimming pool outside that would be in use in the summer. All as described. He has his beautiful dog living there as well. In the morning he served us an amazing breakfast, including the eggs fresh from his chickens, one of the best honey's we've had, fresh juice along other things. We had our second walk in the morning just around his place, a route which is about an hour before leaving. We would definitely like to go back to that area and stay at Wences' place and recommend it to others. Wences is a young easy going person with a wealth of knowledge about the area and the mountains. He speaks very good English and would be easy for a non-spanish speaking person to communicate easily with him. Thanks a lot for everything and hope to see you again Wences.
Negar
2016-02-08T00:00:00Z
Wences communication was good before we arrived, he quickly responded to our messages when we couldn't find the premises and gave us better directions. He wasn't able to be there to meet us as he was at college and sent a friend instead. Unfortunately his friend didn't really have a clue and we're fairly certain the room we were supposed to be in had already been given to someone else. We had booked a double room with private bathroom but ended up in bunk beds in a dormitory with a shared bathroom. When Wences eventually arrived later that night we explained what we had expected and he offered another room in another part of the building where we could push two beds together. We declined as we had already 'unpacked' etc and it wasn't really worth moving. The beds had no linen on them at all and some in our dorm had obviously been slept in recently without having been remade. We had to ask for clean bed linen and were given sheets only (no pillow cases). The beds all had woollen blankets. We ended up using our sleeping bags and camping pillows which we fortunately had with us. Wences is a nice guy and is obviously doing his best, trying to run the premises whilst studying to be a mountain guide at college locally. He gave us a decent breakfast of cereal, bread and jam with coffee and fruit juice in the morning. The location is fantastic - very rural, looking out across a valley. The building itself is interesting and has great potential as a B&B. In essence I feel that it is being run more as a hostel at the moment, which is fine if that's what you're expecting. If you want a B&B with clean sheets and a bathroom with towels, complimentary toiletries etc, then this probably isn't the right location for you right now. We wish Wences every luck for the future though.
Adam
2016-10-18T00:00:00Z
Mi estancia en el albergue de Cabañes ha sido de lo más gratificante. Tiene una situación inmejorable, unas vistas increíbles y una orientación perfecta sobretodo para invierno. Las habitaciones y salas comunes están dotadas de todo lo necesario, y con un ambiente muy bueno y acogedor. Además la zona es perfecta para caminar y conocer las inmediaciones del parque de los Picos de Europa. Wences, como anfitrión ha estado pendiente en todo momento y ha hecho todo muy agradable, haciéndome sentir absolutamente como en casa.
Felipe
2016-12-05T00:00:00Z
Tipe Kamar
Kamar bersama
---
Tipe Properti
Bed & Breakfast
---
Mengakomodasi
16
---
Kamar tidur
Cabañes, Cantabria, Spanyol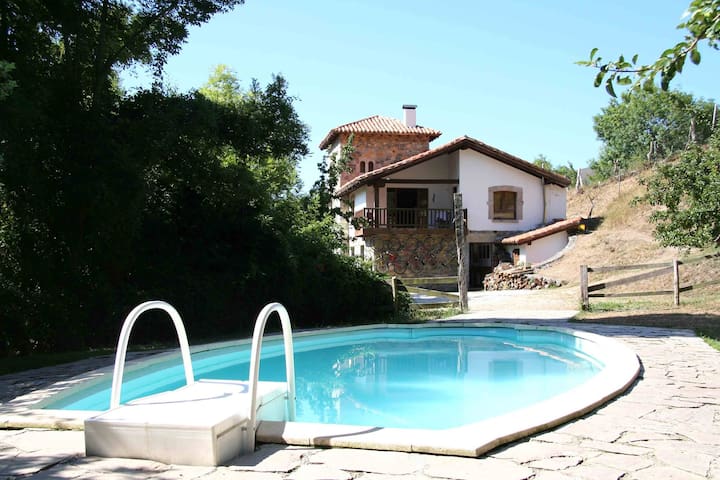 Liébana - Airbnb
:
Rata-rata

4.93

dari

5

bintang dari semua

48

ulasan tamu