Wir sind ein Ehepaar aus Belgien - Damme. Michel renoviert das Haus im Jahr 2015. Wir treten mit der Vermietung von einem brandneuen Zimmer mit eigenem Design Bad ab Februar 2016. Die Zimmer und die Wohnbereiche sind unzerbrechlich Meeresblick und die Reisfelder des Oliva Nationalpark ab.
es ist Standort
Anne and Michel made us feel incredibly welcome and are the loveliest hosts. Their home is beautiful! We loved how friendly they were and the tapas and cava upon arrival were delicious. The highlight of our stay were the amazing breakfasts with a unique view!! The bedroom was comfortable and peaceful and the swimming pool and garden are a dream. We will defintely be back as soon as we can!
Marta
2016-09-05T00:00:00Z
Merci à Michel pour ce très bon accueil ! Superbe maison, bien équipée et très bien décorée. La piscine à 30º à l'eau salée est top et l'apéritif dès l'arrivée est parfait ! Le petit déjeuner est digne d'un grand restaurant, copieux et varié. Merci encore pour ce moment et à très bientôt certainement. Une bonne adresse à faire découvrir !
Nicolas
2016-07-05T00:00:00Z
L'accueil et la convivialité de notre hôte nous ont enchantés ... La situation est splendide et la proximité des plages, de Dénia, etc, etc ... fait de ce lieu un point stratégique qui permet de sillonner la région. Le petit déjeuner était extra ! ... sans compter la maison et la piscine super agréables !!! Merci pour votre gentillesse et le bien-être que nous avons ressentis chez vous ! Nous avons passé un excellent séjour !
Marie-Catherine
2016-08-05T00:00:00Z
Wij voelden ons direct thuis. Vriendelijk en behulpzaam. Heel mooie inrichting, netjes en verschillende badkamerartiken, douchegel, shampoo, bodymilk, enz. Lekker ontbijt. Mooi zwembad. Leuke hond;-)
Katrien
2016-06-25T00:00:00Z
Just back from a really lovely break in the hot and sunny Montepego. I stayed here for a week and my 17 year old daughter joined me for 4 days. Even though I ended up arriving about 4 hours later than planned I was welcomed with a chilled glass of cava and lovely tapas. The B&B was exactly as described and the hosts were great. Breakfast was gorgeous each day and we had two sumptuous evening meals. The views are stunning and the nearby beaches are spectacular.
Celia
2016-07-18T00:00:00Z
Although our stay with Anne and Michael was only one night it was very memorable and lovely. Not only is their house in a stunning area in the hills of Spain with an incredible view, but they greeted us with smiles and champagne (!) and a beautiful clean room to stay in with everything we need. When we said we wanted to go to a nice beach and restaurant we were surprised with a map and directions they had printed when we went to leave and the restaurant turned out to be one of our best dining experiences in some time. On top of it all the bed was extremely comfortable and the shower was like a dream (which is rare in Spain in our experience!). In the morning Micheal had a delicious breakfast waiting that rivaled any hotel. Highly recommended and we would stay here again in a heartbeat.
John (and Alex)
2016-06-13T00:00:00Z
This was absolutely the best place we stayed in during our tour of spain! The house is beautiful and cured in every detail, and so was the room with a wonderful bathroom and every comfort, the view amazing, the host super kind welcomed us with cava and tapas and a very nice conversation..and prepared a great breakfast in the morning. If we ever come back in the area we will certainly book there! Thanks!
fabrizia
2016-08-11T00:00:00Z
Cet endroit est tout simplement magnifique! La maison a été décorée avec un goût exquis, la chambre est toute belle, la salle de bain superbe. La vue du living, de la chambre et de la terrasse autour de la piscine, est de toute beauté: des rizières et la mer, exceptionnelle! Nous avons été accueillis avec une gentillesse comme nous en avons rarement vue. Les hôtes - Anne et Michel - sont des personnes cultivées, très sympathiques et se coupent en 4 pour satisfaire vos attentes. Nous deviendrons certainement des habitués du" Temps de Vivre ". Merci Anne et Michel !
Peggy
2016-01-23T00:00:00Z
Tipe Kamar
Kamar pribadi
---
Tipe Properti
Rumah
---
Mengakomodasi
4
---
Kamar tidur
Pego, Comunidad Valenciana, Spanyol
Mein Platz ist gut für Paare, Solo-Abenteurer, Familien (mit Kindern) und pelzigen Freunde (Haustiere). Spanisch Villa in einer ruhigen Gegend, 6 Meilen außerhalb von Denia (El Verger Vorort) 5 Minuten zu Fuß vom Sandstrand mit Sonnenterrasse und Garten und 2 min zu Fuß zu 3 Restaurants und einen Supermarkt.
Wir haben einen privaten Parkplatz und eine gated geflieste Terrasse Garten an der Vorderseite des Bungalows, die für Kinder geeignet ist. Oben auf dem Dach finden Sie eine Sonnenterrasse. Im Inneren befindet sich eine komfortable und geschmackvoll eingerichtete Wohnzimmer mit Essbereich. Ein Holzofen für diejenigen außerhalb der Saison Nächte und eine Klimaanlage für heißere Wetter brennt. Das Layout ist offen eine schöne helle und luftige Atmosphäre zu geben. Die Küche ist gut ausgestattet für Ihren Aufenthalt und öffnet sich auf eine Terrasse und Sitzecke. Der Bungalow ist ideal für Paare, Familien und Golfer gleichermaßen. Wir haben keine WiFi im Haus aber so ziemlich jede Bar, Restaurant, Shop usw. gratis WiFi hat! In der Umgebung finden wir lieben, wie auch in der Höhe der Saison wirklich ist es nicht zu touristisch. Sie haben die Berge hinter und eine schöne Küste vor. Es gibt mehrere schöne Strände nur eine kurze Autofahrt entfernt. Denia ist ein einfach 15 Minuten Fahrt entlang der Küstenstraße. Denia ist eine schöne kosmopolitische Stadt mit einer Mischung aus spanischen Kultur und touristischen Attraktionen. Es verfügt über einen renommierten Yachthafen mit seinen wunderschönen erhöhten Promenade, die sehr hoch ist und kommen mit trendigen Bars und Restaurants (a Marbella / Monte-Carlo-Stimmung) Es gibt auch eine beeindruckende Baum Haupteinkaufsstraße und Firlefanz Stände mit vielen handgemachten arty Waren ausgekleidet sein aus dem nahe gelegenen Ibiza verkauft. Auch eine kurze Fahrt von der Villa ist das größte Einkaufszentrum an der Costa Blanca in Ondara die Mittagssonne für ein paar Stunden zu entkommen! Wenn Sie sich für einen Geschmack von England suchen, dann können Sie in der Nähe Havea oder 30 Minuten besuchen Süden auf der Autobahn finden Sie Benidorm! (Nicht für schwache Nerven!) Kurze Fahrt zum Olivia Nova Golf Resort und La Sella Golf Resort. Geradlinig 50 Minuten Fahrt von Alicante oder Valencia Flughafen.
Tipe Kamar
Seluruh rumah/apartemen
---
Tipe Properti
Rumah
---
Mengakomodasi
6
---
Kamar tidur
El Verger (near Denia), Comunidad Valenciana, Spanyol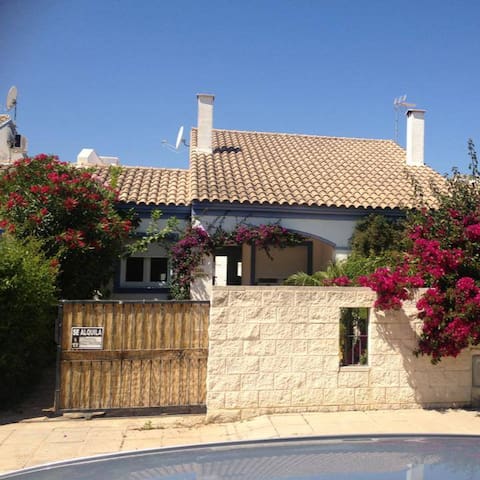 "Villa Perla", 4-room house west facing position.
Spacious, comfortable and cosy furnishings: living/dining room with open-hearth fireplace, TV and international TV channels (flat screen), air conditioning and forced-air heating. Exit to the terrace, to the swimming pool. 1 room with 1 french bed, air conditioning and forced-air heating. 1 room with 2 beds (90 cm, length 190 cm), air conditioning and forced-air heating. 1 room with 1 french bed, shower/WC, air conditioning and forced-air heating. Open kitchen (oven, dishwasher, 4 ceramic glass hob hotplates, microwave, freezer, electric coffee machine). Bath/bidet/WC. Barbecue, deck chairs (4). Marvellous panoramic view of the mountains and the countryside. Facilities: washing machine. Internet (WiFi, free). Please note: maximum 1 pet/ dog allowed. TV only GB, ES. AT-446128-A
Beautiful, cosy villa "Perla". In the district Monte Pego, in a quiet, sunny, elevated position residential area (villas), 500 m from the edge of the forest, 6 km from the sea, 6 km from the beach, west facing position. Private: large, beautiful terraced garden, swimming pool kidney shaped (4 x 8 m, depth 90 - 190 cm, 01.01.-31.12.). Outdoor shower. Room cleaning (included). Parking (for 4 cars). Supermarket 3 km, restaurant 300 m, bar 1 km. Golf course (18 hole) 8 km, tennis 1 km.
Tipe Kamar
Seluruh rumah/apartemen
---
Tipe Properti
Rumah
---
Mengakomodasi
6
---
Kamar tidur
Denia, Spanyol
La casa se encuentra a 200 m de la preciosa playa.
Hemos pasado una semana en la casa de El Vegel y ha sido una grata sorpresa ya que tanto la casa, la zona y la atencion de Elena han sido magnificas. Totalmente recomendable!!!!! gracias
Sergio
2015-08-08T00:00:00Z
House with quite big and clean, you can find in the house absolute everything you need for cooking. It's ideal place even for a long stay! We are enjoyed our stay here and warm welcome!
Maxim
2015-04-21T00:00:00Z
The reservation was canceled the day before arrival. This is an automated posting.
Dave
2014-12-30T00:00:00Z
We enjoyed the house - my husband and I even commented that we would enjoy retiring in a similar location and home. But we ran into some problems. The home is unoccupied during the year and the owners are in South America so there was no hot water because the heater had broken. The oven blew the electricity so we couldn't use it. There were few bed pillows, 2 blankets in the whole house, no microwave and we had to use the heat sparingly (once it was working) because there was only one tank of gas. The outside gate to enter the parking area was hard to open and close because it was rusted. We had to climb over the gate to find the keys that had been left under a rock because the lady taking care of the house couldn't be there. I had to wait around 2 times for half the day to wait for a repairman that never came. Finally, the lady came with a friend and they were able to get the water heater working. If this home were more equipped with bedding, had a microwave and the water heater worked well, our time would have been much more enjoyable in the house. It is a very quiet area and the beach is adequate. It was quite dirty yet because the town hadn't cleaned it up yet. It was more of a pebbly beach rather than fine sand. The upstairs TV was not hooked up either so it couldn't be used. We loved having a fire place and the back patio was warm and sunny and protected from the wind in the morning and the front garden area was a nice place to relax in the afternoon. We enjoyed being close to the beach but not being ON the beach, though this beach was very quiet. Our son enjoyed having the upstairs room to himself, especially since it had it's own outside staircase and entrance from the patio. When programming the GPS for your arrival, you need to put in El Verger and not El Vergel because it does not exist. We ran into some problems because of the confusion over the real name of the town. We enjoyed being close to Denia which has a castle to visit and quaint small town. Other than the challenges we ran into, we enjoyed the home and our stay there.
Jill
2015-04-04T00:00:00Z
La casa está muy bien situada para visitar la zona, ir a la playa.... Los anfitriones contestan muy rápido ante cualquier consulta.
Cruz
2014-12-09T00:00:00Z
Nous avons pu disposer de la maison entière et nous nous y sommes sentis très à l'aise (4 adultes) il y avait tout le nécessaire et surtout la plage à 10 mn. Une chouette location dans une allée de palmier qui donne envie de revenir
Olga
2015-09-13T00:00:00Z
Tipe Kamar
Seluruh rumah/apartemen
---
Tipe Properti
Rumah
---
Mengakomodasi
6
---
Kamar tidur
Vergel, Валенсия, Spanyol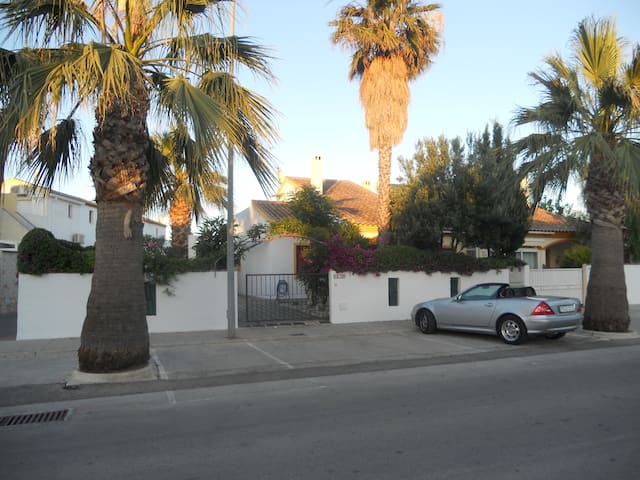 Úžasná vila s výhledem na moře a hory, vlastní bazén asi 10min jízdy na krásné písečné pláže. Vila je zařízena, dobře vybavené, 4 dobré velikosti ložnice, 3 koupelny, 2 prostorný obývací pokoj s krásným panoramatickým výhledem Mo
Michaels place is great with stunning view from terrace and pool. Villa has room for bigger groups and if needed downstairs is totally separated with own kitchen, bathroom etc. Pool is good and big enough for kids to play there.
Erno
2016-07-24T00:00:00Z
From day one our host has been there 24 hours a day to resolve any hiccup, we had one with the water heater and Michael moved mountains to sort out the problem. The house is perfectly located, sun on one terrace and shade on the other. Fully equipped kitchen, lovely indoor dining and lounge areas. Loads of beds, air conditioning and a gorgeous pool with a marvellous view of the countryside and coastline, the barbecue is well built and you won't bother any neighbours with smoke or smells. I've already recommended the hometown some friends in Bilbao. A Lovely touch is to find food, drinks, biscuits,coffee and teas awaiting you so as to make the first couple of meals after hours in a car, easy to prepare, no need to rush out and find a supermarket to nourish the hungry monsters
Armand
2015-08-30T00:00:00Z
Perfect place and a perfect host! Michael told us every hotspot in the area. If I had questions during the week we where there, he replied very quick. The house is great, with a lovely pool, beautiful view and near by the beach!!
Martijn
2015-09-27T00:00:00Z
Michael es un excelente anfitrion, nos dio toda la guia necesaria para llegar a la casa, execelente lugar, la direccion fue bien explicada por un empleado del bar la cova.
Raul
2016-05-26T00:00:00Z
The host canceled this reservation 15 days before arrival. This is an automated posting.
Elena
2015-12-16T00:00:00Z
1. Great spanish-style house in the mountains. It was romantic, the view was breathtaking and the air was very fresh. We found everything we needed for a pleasant stay. The house itself was hard to find, we got lost a little. But when we found it we understood that it was worth it. P.S. It takes a lot of courage and excellent driving skills to drive on the narrow roads of the mountains 2. It was very cosy, clean, neat and quiet. It is not far from the centre of the city where you can find all kinds of entertainment. But it takes quite long to go to the beach by foot.
RAIMEDAS
2015-10-16T00:00:00Z
La casa estaba muy bien, la piscina era fantástica y las vistas desde la casa eran espectaculares. Tuvimos ciertos problemas por las tormentas pero fueron cosas puntuales, que la mayoría se solucionaron y que no se pueden preveer. La única pega que podemos poner a la casa fue la presión del agua que era poca pero eso es debido a la situación de la casa. Michael se porto fenomenal con nosotros y estuvo pendiente de todas las cosas todos los días.
Ana
2015-08-15T00:00:00Z
Michael is the perfect host. We received tips before and during our vacation - local events, best beaches, seen worthy sights, driving suggestions etc. Every question were answered quickly and we felt a genuine interested. The house has everything one can ask for, super location, wonderful view and all necessary facilities for a relaxing vacation. Our best recommendations to Michael and Casa Yulia.
Charlotte
2015-07-26T00:00:00Z
Tipe Kamar
Seluruh rumah/apartemen
---
Tipe Properti
Rumah
---
Mengakomodasi
8
---
Kamar tidur
Pego, Comunidad Valenciana, Spanyol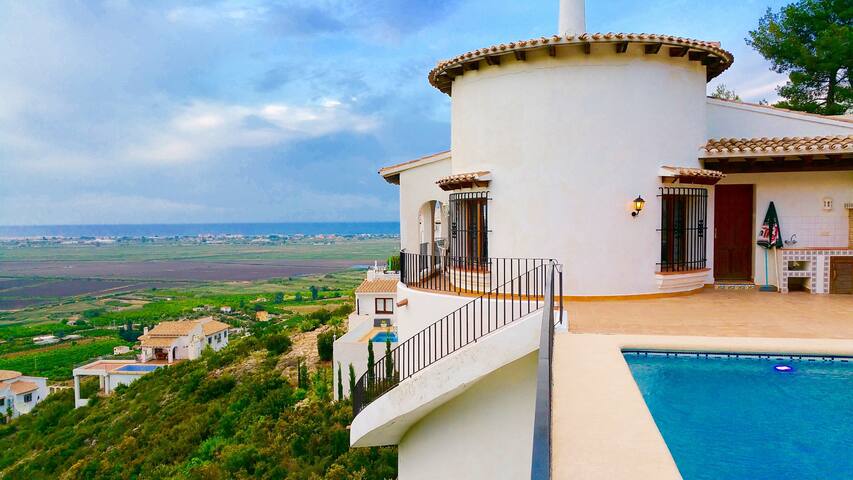 Beautiful villa with swimming pool Spanish style 3x4 with 4 terraces, beautiful garden with typical plants, a living room and an open kitchen with exit to the terrace, two bedrooms with double beds and kitchen cabinets. Individual access stairway to upstairs apartment with a bedroom with two beds and a bathroom. Private parking. Distance to play 5 minutes walk to Denia 15 km. Supermarket 5 min drive, 4 restaurants, Shopping Center La Marina 10 min drive.
Walking distance (5 min walk) to the sea with a wide beach. The peaceful setting. The comfortable and cozy home.
Tipe Kamar
Seluruh rumah/apartemen
---
Tipe Properti
Rumah
---
Mengakomodasi
6
---
Kamar tidur
El Verger, Valencian Community, Spanyol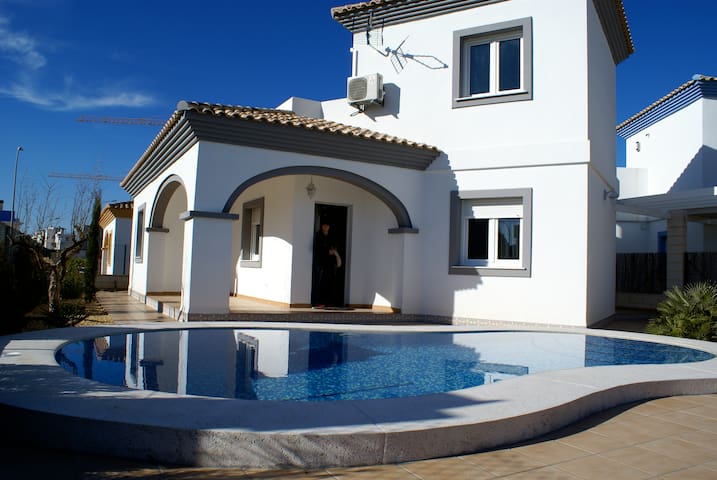 1 comfortable and attractive room. exceptional setting. With storage. Enjoy the little pool to relax and cool off. Access to the open kitchen + breakfast. IN option: energy healing, light therapy glasses audiocaments relax, ionic foot detox, etc. Beaches 10-15 min drive. Pego 10 min. Denia 20-25 min. Javea 30 min. Airports in 1h-1: 15. Priority will be given to persons wishing to benefit from wellness treatments. Care Package 3: 90 euros
exceptional setting. Sea views, mountain, nature. terrace facing east and south. nature. holiday destination for cyclists, bathing enthusiasts, relaxation. wellness care, almost equivalent effects to a SPA center! You will come to your room with full of energy, your relieved and relaxed tensions.
The view of the mountains and the sea. Quiet. Serenity. Good clean air. We are on a hill 150 meters above sea level with a magnificent view of the bay.
Tipe Kamar
Kamar pribadi
---
Tipe Properti
Rumah
---
Mengakomodasi
2
---
Kamar tidur
Pego, Comunidad Valenciana, Spanyol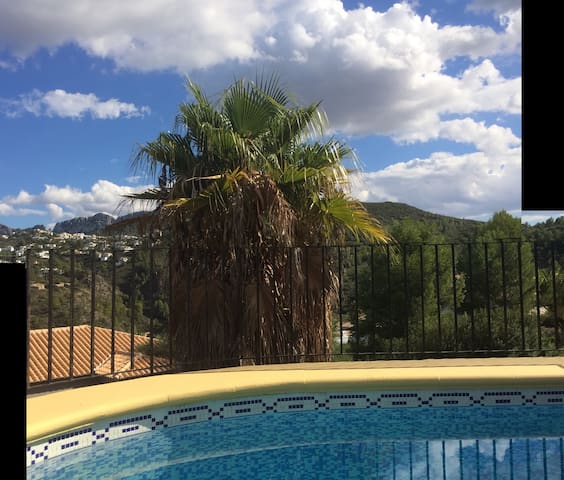 Ofertas especiales en Julio. Salón amplio abierto a la cocina.... Zona con juguetes para niños, 2 habitaciones en la parte de arriba donde hay dos baños. En la parte de arriba jardín con piscina, la piscina tiene hidromasaje.
Este pueblo es muy tranquilo y el mar esta a unos 10 o 12 km con lo cual estamos entre la montaña y la playa. Espectaculares atardeceres y luna llena. caminatas al monte o a la playa.
La casa es genial. Nos pilló una ola de calor y nos salvó el aire acondicionado. Muy acogedora y agradable. No echamos en falta nada necesario y si vas con peques hay un montón de juguetes. Hubo un problemilla con la piscina pero eso no nos impidió disfrutarla. Los baños a la luz de la luna (bien protegidos de los mosquitos) son impagables La playa genial para niños y a solo diez minutos en coche. El pueblo es tranquilisimo lo que es muy de agradecer... El restaurante de las piscinas es sencillamente exquisito. Raquel es un encanto y está a tu disposición a casi cualquier hora para solventar cualquier duda. Le doy un doce sobre diez
Emilio
2016-08-01T00:00:00Z
The house is very nice and well equipped. With the tasteful decoration we felt at home. The garden with the small pool is a nice place to cool down and relax. Raquel and her family welcomed us very friendly and she helps us to make this days perfect. It is a very good place to relax and a perfect base camp to explore this nice area. There are lots of beautiful beaches, and although we stayed in august, they are not as overcrowded as we expected. In the little village, within 200 meters there are a small bar and a very small food store for the daily needs. The next supermarket is less than 4 km and in this distance there are several restaurants. Raquel thanks for all, and we can unreservedly recommend your house our friends
Christoph
2016-08-26T00:00:00Z
Het huis was precies hoe het eruit zag op de foto's en we kregen een watermeloen voor welkom en we mochten wel alles gebruiken en de communicatie was ook goed, als er iets was kon ik ze mailen en ze proberen het direct op te lossen. Allen je hebt wel een auto nodig want de dichtbijzijne supermarkt is ongeveer 20 minuut rijden dat wastafel de enige minpuntje punt van de buurt.Als je voor je volledige rust gaat is Sagra ideaal voor je.
Laila
2015-08-12T00:00:00Z
Una casa extraordinaria, repleta de pequeños detalles. El jardín y la pequeña piscina son muy agradables tanto de día como de noche. Las habitaciones se encuentran en el piso de arriba. Dispone de un huerto encantador.muy tranquila, para dormir sin un ruido toda la noche. La playa a quince minutos en coche. Los dueńos te darán todo tipo de indicaciones útiles sobre sitios para comer, playas cercanas además de invitarte a que te sirvas del huerto para tus ensaladas y recibirte con un pastel de chocolate el día de tu llegada...finalmente,da gusto que una casa de veraneo tenga de todo, y todo funcione a la perfecciòn... Para repetir
covadonga
2016-08-09T00:00:00Z
Raquel et Dani nous ont accueilli de manière très chaleureuse afin que nous nous sentions vraiment chez nous, et ce fut un réel plaisir de faire leur connaissance. La maison est vraiment charmante et très cosy. Nous n'oublierons jamais notre séjour, et y retournerons avec grand plaisir. Un grand merci à vous deux, let's stay in touch!
Jean-Francois
2016-08-15T00:00:00Z
Tipe Kamar
Seluruh rumah/apartemen
---
Tipe Properti
Rumah
---
Mengakomodasi
5
---
Kamar tidur
Sagra, Comunidad Valenciana, Spanyol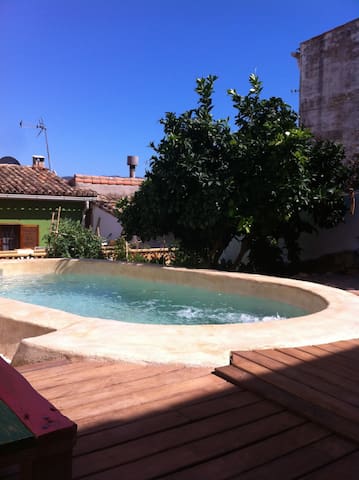 Das Haus befindet sich in einer exklusiven Gegend in Monte Pego mit Bars, Restaurants, Paddle-Tennis gelegen. Das Haus hat einen atemberaubenden Blick über die Berge, Zitrushainen, Reisfeldern und sea.It hat 4m Pool mit Abmessungen: 9M x mit Terrasse, wo Sie die Sonne genießen können und Essen im Freien, weil das Haus Sonnenliegen hat, Stühle, Grill und alles, was Sie brauchen.
Die einzigartigen Ansichten machen es zum idealen Ort, um zu entspannen und die Natur genießen
l'accueil a été parfait et très (URL HIDDEN) maison est idéalement située en hauteur , un vent rafraîchissant et une vue magnifique. Sa description correspond en tout point à la réalité. Juana est très réactive et souriante.
Isabelle
2016-09-01T00:00:00Z
La propietaria muy amable y atenta, si necesitas cualquier cosa enseguida te atiende. El chalet es muy bonito y súper tranquilo. Ideal para pasar unas buenas vacaciones en familia. Las vistas son muy buenas y la zona de la piscina también. Disfrutas de la tranquilidad de la montaña a un paso de las playas de Denia y Javea
Cristobal
2016-07-15T00:00:00Z
Tipe Kamar
Seluruh rumah/apartemen
---
Tipe Properti
Rumah
---
Mengakomodasi
5
---
Kamar tidur
Pego, Comunidad Valenciana, Spanyol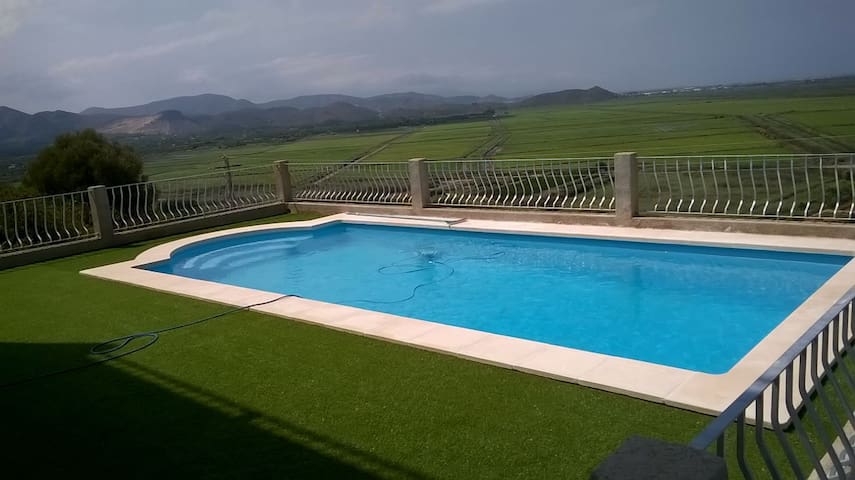 Ma place est à proximité des terres plage, montagne et orangers. Vous allez adorer ma place à cause de l'espace extérieur, la lumière, le quartier et le temps. Ma place est bonne pour les couples, les familles (avec enfants) et les grands groupes.
Tipe Kamar
Seluruh rumah/apartemen
---
Tipe Properti
Rumah
---
Mengakomodasi
9
---
Kamar tidur
Benimeli, Comunidad Valenciana, Spanyol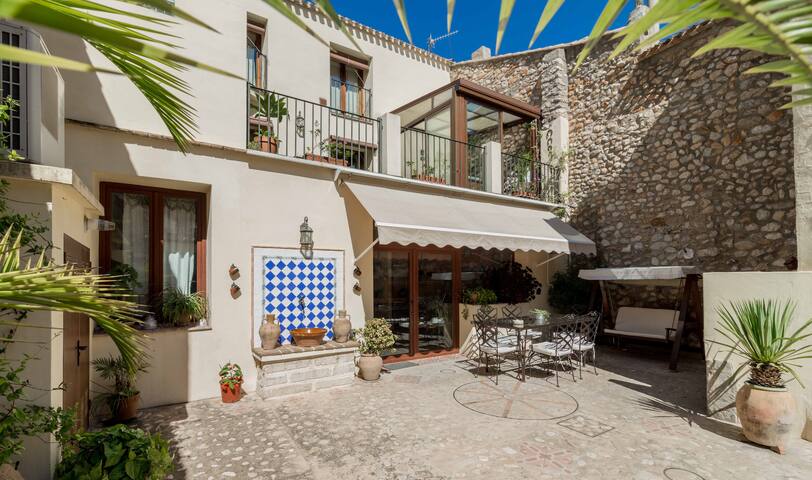 La suite está en el molino de un molino de harina reformado. Diseñado para parejas, cuenta con aparcamiento privado fuera de la carretera. A 1 km del pueblo, con bares, tiendas y bancos. Punto de partida ideal para caminar, montar en bicicleta y sólo 6 km de playas de arena fina.
La casa está situada a las afueras de un pequeño municipio con mucho encanto. Es muy acogedora. Se accede por una puerta independiente donde se dispone de habitación, salón-cocina y cuarto de baño con bañera y ducha. Los anfitriones nos dejaron muchos detalles, como té o cepillos de dientes y dentífrico, toallas, gel, etc. Está todo nuevo y muy limpio. Sharon y David son encantadores, se preocupan mucho por que todo esté perfecto y por el bienestar de los inquilinos. Una estancia muy recomendable.
Estela
2016-09-10T00:00:00Z
Tipe Kamar
Seluruh rumah/apartemen
---
Tipe Properti
Rumah
---
Mengakomodasi
2
---
Kamar tidur
Beniarbeig, Valencian Community, Spanyol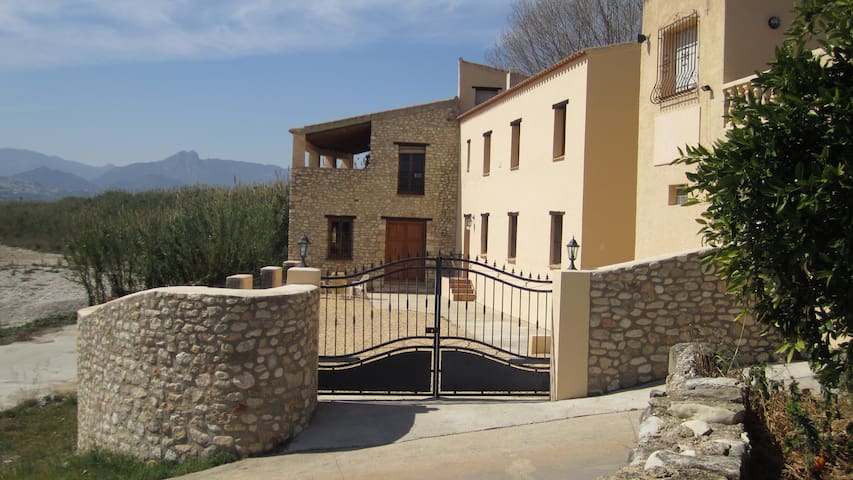 Maison dans un village à l'intérieur de la zone Denia dans le développement privé avec piscine communautaire. Il se trouve à 5 minutes en voiture des plus belles plages de Denia. Profitez de la tranquillité à proximité de la plage, à un prix raisonnable.
Maison à 5 minutes en voiture de meilleures plages de Denia. Profitez de toute la tranquillité près de la plage, à un prix raisonnable. De nouvelles installations pour 4 personnes. Il dispose de chambres avec lit double et un canapé-lit italien (montage facile et confort) pour 2 personnes nouvelles dans le salon. Idéal pour famille avec enfants.
urbanisation très calme.
English/We trully LOVE and very much this place! Carla, the onwner was very helpful from the very first moment we contacted her. She provided with all sort of information we needed regarding the renting and the area (she gave us a really amazing document with very useful information about what to do/visit/eat....) We didn´t manged to meet Carla but his brother and sister welcomed us into the house helping us very well in showing us the property and everything it was neccessary to know. The house was very cleaned and it has got everything you may need for a pleasent stay (kitchen utensils, towels, bedding, nice furniture....) The house is located in a trully magical setting, it is at the bottom of a very beautiful mountain (with a breathtaking view) and in a very quite and beautiful holiday state. The location is superb as you are very near of very good beaches and other interesting rural areas but you are not in the crowed area so you can enjoy a very restful and peaceful vacation. It is perfect for families with small kids or couples/friends looking for a quite location although at the same time the area is packed with many interesting places to visit and things to do so you can have some action also if you want. We trully recommend this place. We are comming back! Spanish/Nos ha encantado y muchismo este lugar. Carla, la dueña ha sido muy atenta desde el primer momento que la contactamos y nos ha facilitado todo tipo de informacion que pudieramos necesitar en relacion a la casita o al area, de hecho nos facilito una maravillosa casera guia turistica con cosas que hacer y visitar en el area. Los hermanos de Carla fueron los que nos recibieron y nos enseñaron todo lo que necesitabamos saber para nuestra estancia. La casita estaba muy limpia y los muebles en muy buen estado (y lindos tambien) y tiene todo lo necesario para tener una estancia placentera (cosas de cocina, sabanas, toallas....). La casa esta en un enclave magico, a los pies de una bella montaña y con unas vistas increibles a la montaña y esta en una urbanizacion muy tranquila y muy bonita. Estrategicamente es una pasada ya que estas situado cerca de increibles payas y enclaves rurales pero no estas en un lugar aglomerado si no todo lo contrario. Es perfecto para familias con niñ@s pequeñ@ o para parejas/amigos que buscan un lugar tranquilo para descansar. Por otra parte el area tiene un monton de opciones para actividades y lugares para visitar, asi que tambien hay opcion para ello si se desea. Nos hemos enamorado del lugar! Vamos a volver!
Paloma
2016-08-24T00:00:00Z
Tipe Kamar
Seluruh rumah/apartemen
---
Tipe Properti
Rumah
---
Mengakomodasi
3
---
Kamar tidur
Beniarbeig, Comunidad Valenciana, Spanyol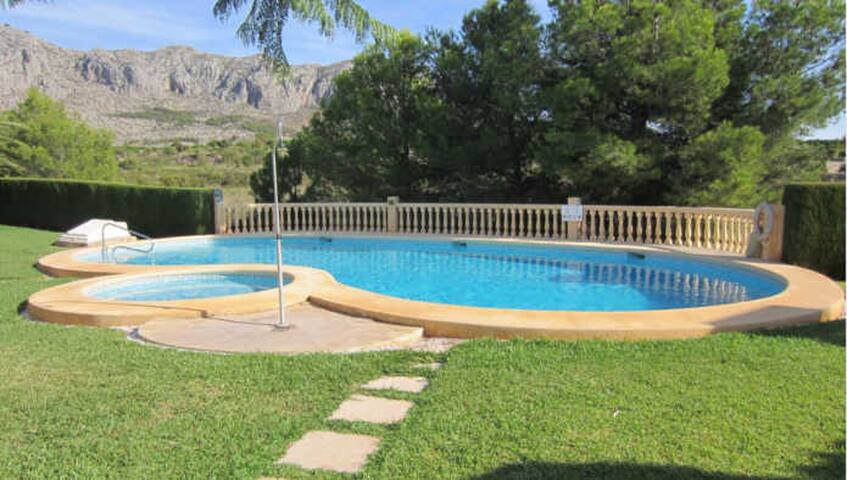 Belle villa, sur deux niveaux, sur terrain de 850m2, entourée d'un jardin méditerranéen en terrasse. Piscine de 4x8m,avec solarium; trois autres terrasses aménagées . Vue panoramique mer et montagne. Aucun vis à vis. Grandes plages et tous commerces à 10 minutes.
Aménagement tout confort: deux cuisines équipées dont une avec lave vaisselle;une buanderie avec lave linge et table à repasser. Les trois chambres sont équipées de vrais lits doubles de 160x200; literie récente en bon état. Télévision et radio par satellite (chaines françaises) + TNT chaines espagnoles. Lecteur DVD. Douche extérieure eau chaude / eau froide pour la piscine. Terrasses aménagées: transats, nombreux parasols, matériel de plage, tables et chaises, etc..... Trois salles d'eau avec trois WC inclus. La villa comporte deux niveaux dont un studio indépendant au 1er étage avec cuisine equipee, salle d'eau et terrasse face à la mer. L'autre niveau comporte un grand séjour, une cuisine équipée et deux chambres , deux salles d'eau avec wc dont une est en suite parentale. Linge de lit, linge de toilette, sèche cheveux fournis. Toutes les chambres sont équipées de moustiquaires. Ventilateur sur pied dans une des chambres plus un petit ventilateur. La cuisine de l'etage principal dispose d'un micro-ondes, d'une cafetiere, d'une bouilloire, d'un four a chaleur tournante,d'une plaque a cuisson gaz 4 feux, d'un lave- vaisselle 12 couverts, d'un refrigerateur congélateur , d'un robot, d'une friteuse, d'un presse agrumes , d'une batterie de cuisine complete , de la vaisselle suffisante.
C'est une urbanisation chic. La villa est entourée d'autres villas individuelles du même type.Excellent voisinage international (anglais, allemands français,espagnols, belges , venezueliens...).
La villa est encore plus jolie en vrai ! Elle est agréablement située entre mer et montagne. Au calme et sans aucun vis à vis! Nous avons passé un séjour fantastique. La mer est à 10-15 min en voiture et les plages en août sont relativement désertes. Entre 9h30 et 13h c'est vraiment agréable. Après on peut profiter de la piscine de la villa. Nous avons été très bien accueillis à notre arrivée. une belle expérience Airbnb
fabrine
2016-08-20T00:00:00Z
Nous avons passé un séjour tres agréable, la vu était magnifique. Le propriétaire a pensé à tout dans les moindre. Un propriétaire très disponible je lui est posé de nombreuses question avant le séjour il m'a toujours répondu rapidement. Je vous recommande la villa sans hésitation, nous pensons déjà à revenir.
KERLEO
2016-08-28T00:00:00Z
Très beau séjour chez Alain, nous avons pu échanger en amont du séjour pour avoir toutes les infos. Sur place un contact a pris le relais et nous à montrer le fonctionnement des lieux. L'emplacement : La maison est très bien située. En hauteur sur un flanc de colline la vue est dégagée sur la mer et les monts environnants. Même pendant les journées les plus chaudes nous n'avons pas souffert de la chaleur (ni la journée, ni la nuit), il y a beaucoup de vent et il est assez facile de faire passer des courants d'air dans la maison. Pas de vis à vis des voisins sur la piscine, on y est également à l'abris du regard des passants dans la rue. L'environnement est calme, il n'y a que des villas de vacances autour. Le centre commercial est à 15 minutes en voiture, la ville de Denia à environ 25 minutes. La villa : Tout confort avec un jardin paysager dessiné avec du goût. Il y avait largement la place pour garer nos deux véhicules, il y a de l'ombre dans l'allée en fin d'après midi ce qui permet d'éviter de retrouver un véhicule trop chaud. La piscine est très agréable, avec une vue sur la mer. En revanche il faut être vigilant vis à vis des enfants qui ne savent pas nager autour de la piscine. Petit plus : la douche de la piscine dispense eau chaude et eau froide. La maison : Tout l'équipement nécessaire était la, et même des petits plus comme les produits de première nécessité, des CD, des DVD (nous n'avons pas eu de jour de pluie pour regarder les DVD), et une attention de la part du propriétaire qui nous avait laissé une bouteille de rosé au frais! Le logement est conforme aux photos, on sent bien que c'est une résidence secondaire et pas un logement équipé en low cost pour des touristes. La véranda est bien étudiée : à tout moment de la journée il y fait bon. Il y a de l'air qui circule, on peut s'y reposer quand il fait trop chaud autour de la piscine. Aucun regret en ce qui concerne l'absence de climatisation, en aérant aux bons moments tout s'est bien passé. Au final nous sommes tous satisfait de notre séjour et nous remercions Alain. Les seules recommandations que nous ferions : attention à bien surveiller les enfants qui ne savent pas nager, et côté smartphone nous avions de la 3G avec nos puces FreeMobile mais pas trop avec nos puces Orange ou Bouygues.
Christophe
2016-08-12T00:00:00Z
Tipe Kamar
Seluruh rumah/apartemen
---
Tipe Properti
Rumah
---
Mengakomodasi
6
---
Kamar tidur
El Ràfol d'Almúnia, Comunidad Valenciana, Spanyol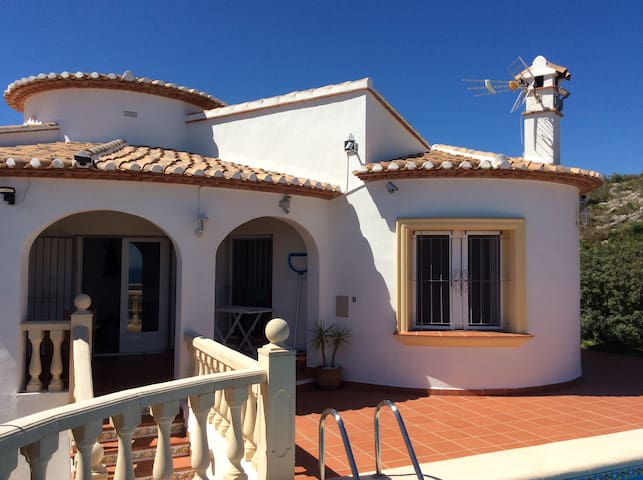 3-storey townhouse with 3 bedrooms, 3 bathrooms, 2 terraces, parking and spacious lounge: -Perfect for 6 people. Community pool and large common area. Beach 5 minutes walk, close to the supermarket and restaurants. All with air conditioning. There are 2 terraces and a patio with direct sunlight. The largest terrace of 25 m2 overlooking the common area and you can relax while watching children in the pool. The other terrace is in attic and gives you another loneliest environment. Supermarket and restaurants very close. Very quiet for families or rest. On foot you have everything you need to go to Denia drive better. adult pool, children, community garden, playground. Try to help in everything possible, they only have to ask and will be happy to lend a hand. But I'm not pushy, I prefer manterner balance, not to bother. Very quiet for families or rest. On foot you have everything you need to go to Denia drive better.
Bardzo cichy dla rodzin lub odpoczynku.
We stayed 6 days in this nice apartment. The owner is very nice person, the house is new,the location is good, not far from the sea, in front of big supermarket Lidl.I recommend it to everybody. Thank you very much!
Anna
2015-09-07T00:00:00Z
El apartemento es tal como aparece en las fotos. Muy amplio, limpio y acogedor. El aire acondiconado esta presente en todas las habitaciones y el salon y es muy agradable. Hay lavadora, lavavajillas y todo lo necesario en la cocina, salvo tal vez un microonda y un poco más de vajillas que con niños faltaba un poco. El Lidl al lado es muy practico. La playa esta un poco lejos a pie y de manera general hace falta el coche para moverse en la zona. Pero sin duda un apartamento perfecto para descansar.
Matthieu
2016-06-20T00:00:00Z
El apartamento es muy bonito y decorado con muy buen gusto. Zona muy tranquila, al lado de un Lidl. Lo único, en la zona no hay gran cosa, y hay un paseo hasta la playa, 1 km aprox.
inma
2016-09-19T00:00:00Z
La experiencia ha sido fabulosa. Todo muy limpio y José muy atento con nosotras. El supermercado lidl está justo enfrente. Repetiremos sin dudarlo.
Núria
2016-01-03T00:00:00Z
Todo genial, la casa de 10 y pudimos ir con mascota. Jose muy atento y nos dio toda la información necesaria. Volveriamos a repetir. Todas las habitaciones tienen aire y ventilador de techo.
Alejandro
2016-06-12T00:00:00Z
Good house. Everything is perfect. Jose very friendly. Thanks for good weekend.
Zakhar
2016-10-04T00:00:00Z
The reservation was canceled 36 days before arrival. This is an automated posting.
Judith
2015-02-27T00:00:00Z
El adosado de José en Denia nos ha encantado, la zona es muy tranquila y muy familiar. Hemos pasado unos días geniales lo recomendamos 100% Gracias por el trato recibido!
Nimi
2014-05-05T00:00:00Z
Tipe Kamar
Seluruh rumah/apartemen
---
Tipe Properti
Rumah
---
Mengakomodasi
7
---
Kamar tidur
El Verger, Valencian Community, Spanyol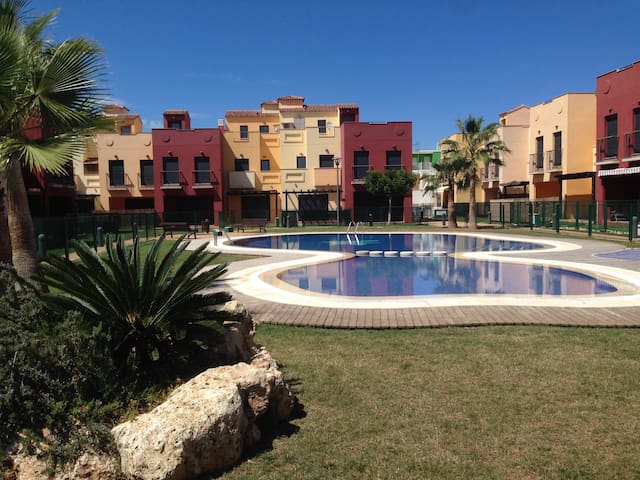 "Villa Maxey", 4-room villa 135 m² on 2 levels, south facing position.
Spacious and bright, very comfortable and modern furnishings: living/dining room with satellite TV and international TV channels (flat screen), DVD, air conditioning and forced-air heating. Exit to the terrace. 1 room with 1 french bed (180 cm), bath/shower/WC, air conditioning and forced-air heating. 1 room with 2 beds (90 cm), air conditioning and forced-air heating. Large, open kitchen (oven, dishwasher, 4 ceramic glass hob hotplates, microwave, freezer, electric coffee machine). Shower/WC. On the lower ground floor: 1 room with 1 french bed, shower/WC, air conditioning and forced-air heating. Exit to the terrace, to the swimming pool. Terrace furniture, barbecue, deck chairs (6). Marvellous panoramic view of the sea, the mountains, the swimming pool and the countryside. Facilities: washing machine, dryer. Internet (WiFi, free). Please note: non-smoking house. Smoke alarm. AT-447367-A
Monte Pego: Very beautiful, cosy, comfortable villa "Maxey", 2 storeys. In a quiet, sunny position on a slope, residential area (villas), area with little traffic, 7 km from the sea, 7 km from the beach, in the countryside, south facing position. Private: property, large terraced garden wildlife garden, swimming pool kidney shaped (4 x 8 m, depth 80 - 210 cm, 01.01.-31.12.). Room cleaning on request. Parking (for 3 cars). Please note: car recommended. Suitable for families.
Tipe Kamar
Seluruh rumah/apartemen
---
Tipe Properti
Rumah
---
Mengakomodasi
6
---
Kamar tidur
Denia, Spanyol
Villa with wonderful views of the mountains, orange plantations, rice fields and the sea, large private pool, outdoor shower hot / cold, several terraces where you can sit anywhere, eat and lie, can relax in the sun or shade, garden furniture, chairs, air conditioning , bed linen and towels are provided, small office with a desk and internet in the house, anywhere outside. Parking at the house.
The host canceled this reservation 179 days before arrival. This is an automated posting.
Jörg
2017-01-17T00:00:00Z
Tipe Kamar
Seluruh rumah/apartemen
---
Tipe Properti
Rumah
---
Mengakomodasi
5
---
Kamar tidur
Pego, Comunidad Valenciana, Spanyol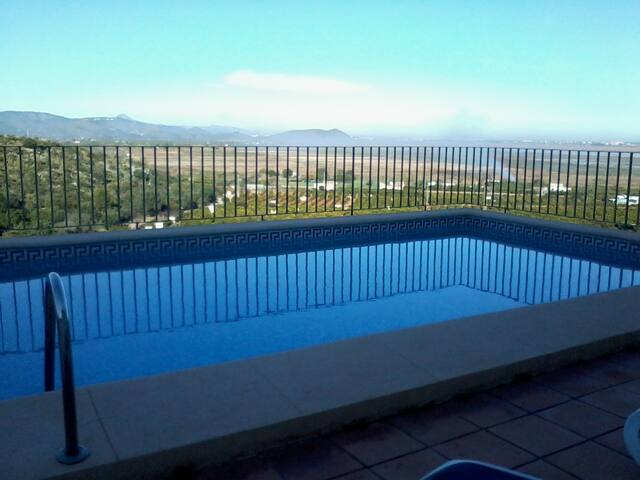 Casa mandala es un lugar diseñado para la relajación y la armonía, donde cada detalle es cuidadosamente pensado con el fin de proporcionar a las personas que lo habitan, una estancia tranquila y un sueño agradable. Para ello, han utilizado técnicas ancestrales como la radiestesia y conocimientos antiguos como el Feng Shui. Casa antigua completamente reformada pero respetando el estilo típico de la época. Piscina local. A 200 metros de la Casa Mandala
Tipe Kamar
Seluruh rumah/apartemen
---
Tipe Properti
Rumah
---
Mengakomodasi
6
---
Kamar tidur
Sanet i Els Negrals, Comunidad Valenciana, Spanyol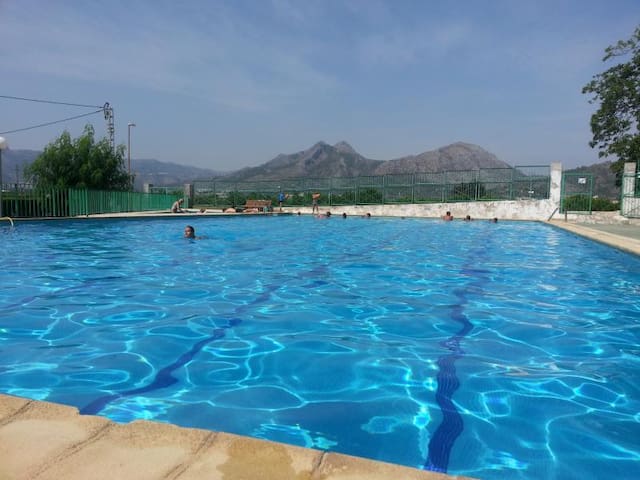 The decoration of the house in general is modern, the kitchen and the bathroom just be new, we have two patios, one with table and chairs to relax and barbecues
We have two small dogs breed, animals we like and I volunteer at an animal protection
We are in a village between the mountain and the sea, near the town of Denia and the nearest beach is 4 km, in this village, we have the Pensioners where you can taste many tapas, we also have very Gastrotaberna close together and an Italian Restaurant
Tipe Kamar
Kamar pribadi
---
Tipe Properti
Rumah
---
Mengakomodasi
4
---
Kamar tidur
Beniarbeig, Comunidad Valenciana, Spanyol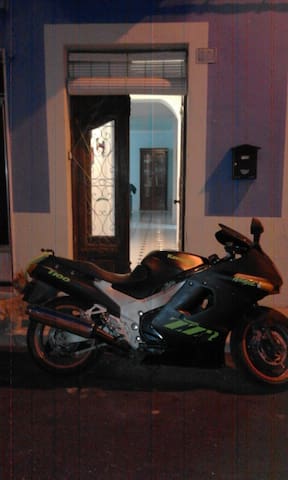 La Marina Alta - Airbnb
:
Rata-rata

4.24

dari

5

bintang dari semua

70

ulasan tamu
1

–

18

dari

90 Sewa Rumah
Masukkan tanggal untuk melihat harga lengkap. Biaya tambahan berlaku. Mungkin dikenakan pajak.