Tipe Kamar
Seluruh rumah/apartemen
---
Tipe Properti
Rumah
---
Mengakomodasi
6
---
Kamar tidur
Berne, New York, Amerika Serikat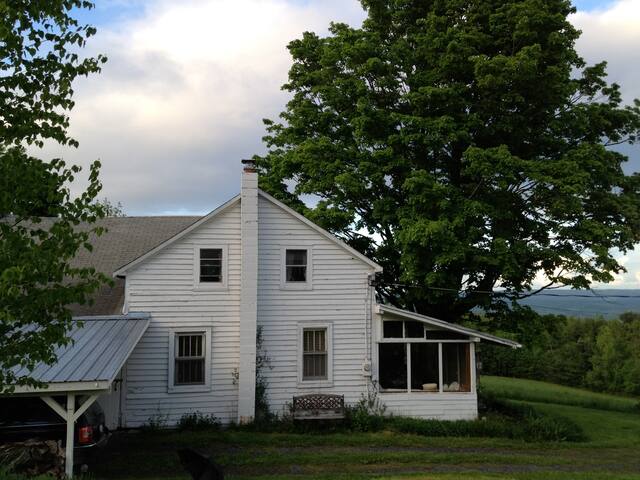 Our loving, comfortable family home is all you need for a good nights rest. We are on a quiet street, 5 mins away from the airport, with plenty of parking. Wake up to a healthy morning smoothie. Schedule a therapeutic massage while you are here. The world is your oyster! Welcome!
We have a bright, spacious, good energy home.
We have a quiet neighborhood. If the weather is nice, you are welcome to enjoy the deck outside or go for a walk. We are only 5 mins away from the airport by car, 15 mins to Amtrak trains and other bus stations.
This is an awesome place for proximity to the airport.
Sue
2017-02-04T00:00:00Z
Very cozy and comfortable. Hosts were very helpful.
Nick
2017-03-09T00:00:00Z
My 17 year old son traveled alone to Albany and Raya went above and beyond to make my son feel at home . In his own words (a text more verbal than his usual one word messages): "Her kids are fun to be around and she (Raya) is awesome" He said the bed was real comfy and he had a great sleep before traveling on to his school. A '5' star rating for sure!
Catherine
2016-11-27T00:00:00Z
Raya calmed my nerves about finding her house. The room was comfy and clean--and I so appreciate the use of natural cleaning products because I am chemical sensitivite and get Migrianes. Her home is a healthy oasis! The bfast smoothies were delicious! We enjoyed her super cute kids and the family atmosphere. We took advantage of her fine massage skills in the lovely room. She was kind to give health advice when I asked.
cynthia
2016-10-09T00:00:00Z
Tipe Kamar
Kamar pribadi
---
Tipe Properti
Rumah
---
Mengakomodasi
5
---
Kamar tidur
Latham, New York, Amerika Serikat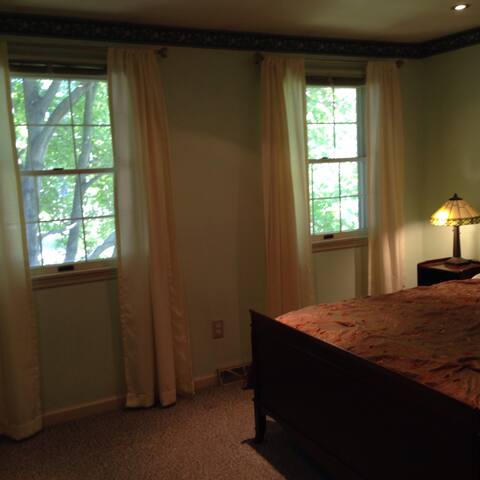 Upstate Refuge! Nous sommes parfaitement situé entre Albany et les Catskills. Nous sommes à 10 minutes de Rensselaerville, l'Institut Carey, et Huyck Preserve. Vous allez adorer cet espace isolé avec vue sur les montagnes, salle de bain, un décor propre et paisible avec de beaux planchers de bambou, une kitchenette, un lit de mousse de mémoire confortable et terrasse privée. Il est parfait pour une escapade de week-end ou une méditation prolongée ou en écrivant retraite. Cette suite est attaché à notre maison mais possède une entrée privée.
Nous sommes situés dans les montagnes Helderberg, à 10 minutes de Huyck Preserve en Rensselaerville qui a une belle chute d'eau, des sentiers de randonnée en circulation, et un lac pour le kayak / canoë. Windham est à 30 minutes, Hudson est à 35 minutes, Albany est à 40 minutes, et à Woodstock est à 45 minutes. La ville de Greenville est de 10 minutes et a une épicerie, cafés, restaurants, et de la pharmacie. La ville de Rensselaerville est de 10 minutes et offre Palmer House Restaurant ouvert Thur-Soleil, la Helderberg Brewery et le Hilltown Café. P & L épicerie est à Westerlo.
This place was an incredible find. The location is stunning and the room was lovely. There were squirrels and chipmunks running around and deer roaming on the range. Very quiet and tranquil. The view was beautiful as the sun set over the trees while I sipped a beer on my private balcony. The room is really a separate unit from the house with its own access so very private. It had everything I needed except kitchen stuff so Loretta kindly heated up my meal for me. Everything was spotless and very comfortable. Thoroughly recommended.
Colin
2016-09-23T00:00:00Z
Loretta's place is as described. Lovely property with great outdoor space. Nice view of windham mountains. The room and bathroom were clean. We had complete privacy. It's a perfect spot for a weekend getaway from the city for some quiet and pieceful time with nature.
Moahmed
2017-02-12T00:00:00Z
Loretta was a great host!
Joseph
2017-01-02T00:00:00Z
Loretta's home is PERFECT and located on a truly beautiful piece of land. It has everything: the woods with a cute stream, a pond, a big yard with fire pit and stunning view of the mountains. The guest suite was extremely neat and organized and Loretta (a fabulous host) responded super quickly to any questions I had. We had a great time during our brief stay and would love to return- there are so many beautiful parks to explore around Hilltown Haven we couldn't fit it all in! When we arrived, it was 60 degrees and sunny and by the next morning there were 4 inches of snow on the ground, so we had a pretty broad experience. LOVED IT.
Hannah
2016-11-20T00:00:00Z
Loretta was welcoming and responsive. A nice little getaway location.
Jack
2016-10-22T00:00:00Z
Loretta and Ted were very polite and welcoming. Regardless our short stay, we had a pleasant, peaceful, and nature-friendly time at their place. Very clean and private. I recommend it for a quiet weekend getaway!
Gineth
2017-02-20T00:00:00Z
Loretta's place was not only beautiful but also provided with all kind of details. It was incredibly clean and comfortable. Despite being located adjacent to their property, it is totally private even on the way you access to it. Perfect for a couple getaway and facing beautiful views. Communication was great and their suggestions for activities and places around really useful. We were really impressed by this place and Loretta and Ted's attention to details for their guests. Highly recommended
Laura
2016-11-06T00:00:00Z
Loretta was a wonderful host, gave us personalized tour of the place. The house was as described and the place we stayed was clean, up to date and nicely displayed. She had kitchenwares to be used while your stay there. One thing we felt voicing was that the air vent went off around 630am in the morning and my boyfriend and I were awoken by the noise. Luckily it went off and we were able to go back to sleep. otherwise, I highly recommend this place!!!
Jheesoo
2016-10-19T00:00:00Z
Tipe Kamar
Seluruh rumah/apartemen
---
Tipe Properti
Rumah
---
Mengakomodasi
2
---
Kamar tidur
Westerlo, New York, Amerika Serikat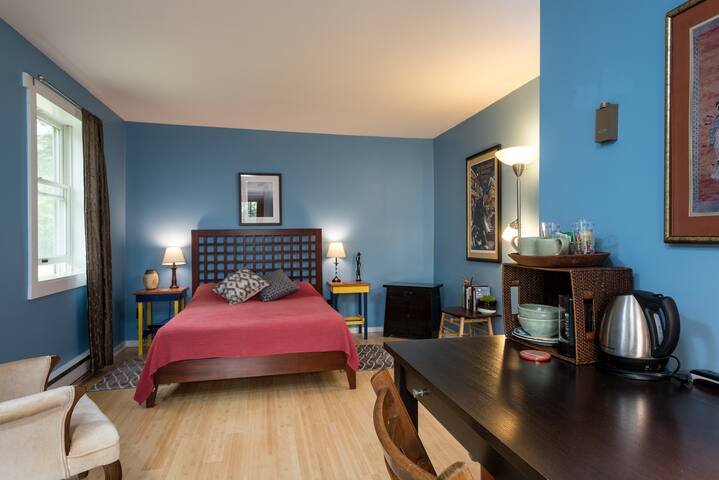 Tipe Kamar
Seluruh rumah/apartemen
---
Tipe Properti
Rumah
---
Mengakomodasi
6
---
Kamar tidur
Westerlo, New York, Amerika Serikat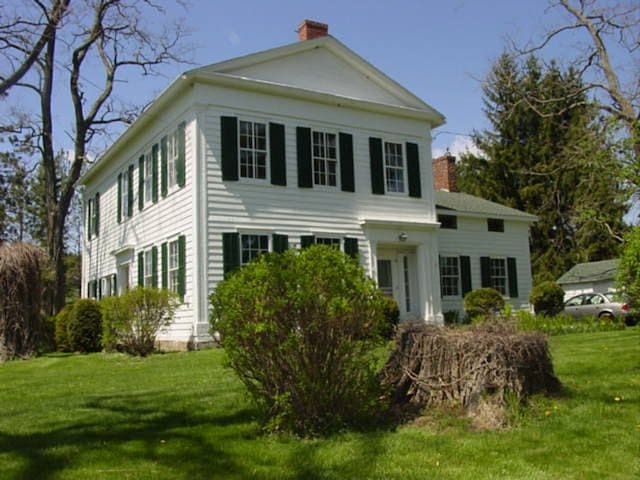 We had a wonderful time in this rustic cottage on picturesque lake Onderdonk. All the supplies and comforts of home were available for us to barbecue and entertain family yet still had access to WiFi. We would return to enjoy this property, thank you very much.
Judy
2015-08-16T00:00:00Z
Tipe Kamar
Seluruh rumah/apartemen
---
Tipe Properti
Rumah
---
Mengakomodasi
4
---
Kamar tidur
Westerlo, New York, Amerika Serikat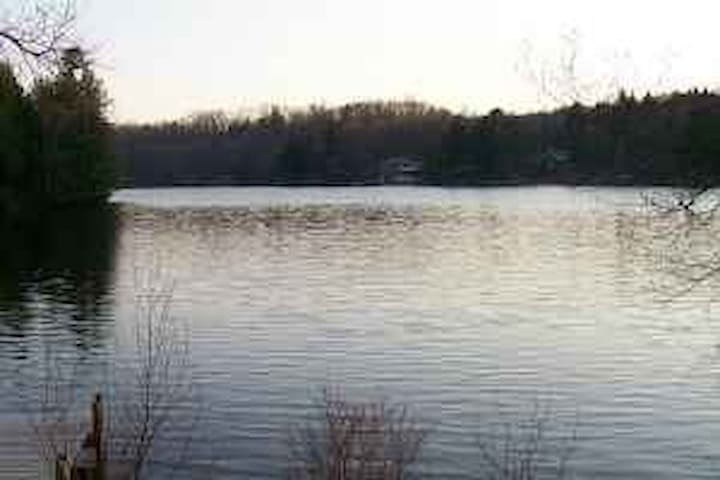 $39 two people two meals free ,full size bed Room is simple small standard clean if you have too much expectation don't prefer this room When you stay in room,2 meals free,breakfast or dinner or lunch and dinner or breakfast and lunch Internet High speed WiFi,
Cozy and safe Off street parking Bus stop front of home Queen mattress
One block to shop rite Two block away to co op Let you know some more details about cleaning I m physician so my guest health more important than room appearance I don't use chemical toxic cleaning stuff that reason for cancer with touch surface through inhalation,all of cleaning material contain chemical so has strong effect for remove dirty form surface ,many guest enjoy looking clean surface,i use just vinegar and baking powder mix (sodium bicarbonate )so not easy get clean every surface Second issue is dead bugs,same problem here too,i use green pesticide so bugs don't kill totally and abruptly they kills slowly so even i clean every 2 hours later new dead bug come in again. Before my guest check in i clean all surface and green insecticide but 2 hours later guest check in she/he can see new dead bug. Anyway,i prefer lose money or guest instead of give some health risk them,thus i feel better. Adam MD
My experience was excelent. Adam is a super host. Always pending. The room is very cleaning and just like the photo. The location is perfect and so close to public transportation. I highly recommend.
Maria
2016-11-02T00:00:00Z
Adam was very helpful and giving. We each received two meals each, one was packed to go. I was also able to pick a pair of homemade earrings for myself.
Lorraine
2016-10-21T00:00:00Z
Dr. Oz is a fantastic host. He was very nice and helpful. I was very comfortable during my stay.
Ginger
2016-11-01T00:00:00Z
Great host, thank you! Couldn't have asked for more for the price. Great value.
Amaraa
2016-07-09T00:00:00Z
Adams quick response & reply's were super helpful ... i had to wake up at sunrise to quickly get rolling again and Adam said no problem & had my breakfast right there on the table hot & ready for me !!
Kurt
2017-01-08T00:00:00Z
Adam is by far the best host you will ever meet! Great personality, always very attentive and cooks amazing dishes. Very few people left in the world who are as kind and welcoming as Adam. Will definitely recommend and stay again.
Yaroslav
2017-02-22T00:00:00Z
Adam was the perfect host and gentleman! He kindly waited up for me even though I arrived late at night. AND he got up only a few hours later, at 3:45am so he could help me back out. He even had a packed breakfast for me! Comfy bed and very convenient to the airport. Thank you so much, Adam!!
Ashley
2016-09-24T00:00:00Z
Adam was a great host. From the moment we pulled up in the car, he welcomed us and helped us -- directing us to the off-street parking spot, and enquiring about our dietary preferences. He did everything he could to make sure we had a great stay. Adam was flexible about meal times, and was able to create an amazing meal within 20 minutes! His food is great! The room was perfect for our needs. We basically just needed a place to sleep and shower. The 2 mattresses were comfortable. As Adam states in his description, the building is old. This wasn't a problem for us, but if you prefer new, efficient, and squeaky clean, this wouldn't be a good match for you. The room was very warm at night due to the hot weather. We are used to this from home. Again, if you are used to air conditioning, this might not be a good choice for you. The room was quiet, and we were not disturbed by any noise after 9pm either from within the building or from outside. There is a full kitchen with fridge, 4 burner stove, and sink, where you could prepare your own meals. Adam is very interesting and was happy to chat, but also left us alone when we needed that. It was also very nice to meet someone who is motivated by their goodness and belief rather than by money. Will definitely return!! Maraba, Adam!! :)
Liz
2016-07-25T00:00:00Z
Tipe Kamar
Kamar pribadi
---
Tipe Properti
Rumah
---
Mengakomodasi
2
---
Kamar tidur
Albany, New York, Amerika Serikat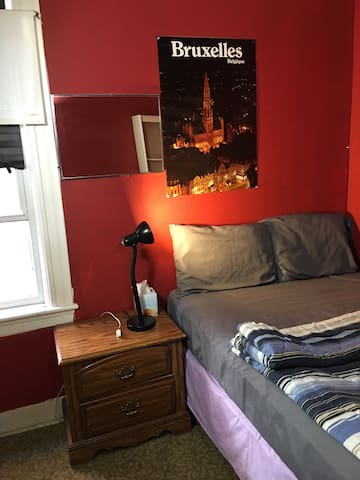 This is a very spacious bright room with full bath. Internet, wifi and smart/cable TV . Seasonable wood burning fireplace. Kitchen privileges in a very relaxing space in a brownstone.Gorgeous private deck with gas grill and views. Easy walk to the Capital, Palace Theater, Capital Rep, The Hilton . Empire Plaza.
The room is on the 2nd floor front. It has hardwood oak floors. Period mantle with wood burning working fireplace. Spacious and bright.Sometimes shared full bath, otherwise private.
Our neighborhood is full of things to enjoy. You can walk to the Capital buildings, the Palace Theater, Capital Repertory Theater, local restaurants and bars/ pub scene as well as some excellent brew pubs. Also the NYS Museum and the Empire Plaza. Also the Times Union Center is close by too! The Hudson River is a short 5 minute walk .
Very spacious and private room. Location is definitely a plus!
Paulo
2016-05-08T00:00:00Z
Gregg was very friendly and accommodating. He was eager to ensure I was comfortable and everything was ok. The room was clean and exactly as described. I would definitely stay again the next time I am in Albany.
Alfredo
2016-02-14T00:00:00Z
Gregg was very friendly and even offered me a cup of tea even though I arrived quite late (around 10:30 pm). He was very helpful. The room is exactly as described, spacious and clean. You have your own bathroom. The bed is comfortable. It is well located downtown. I walked to the Empire Plaza Convention Center in less than 10 min. I recommend both Gregg and the room to future travelers.
Gaëlle
2015-12-05T00:00:00Z
Wonderful place! I will be back again!
Marce
2017-01-21T00:00:00Z
Cozy room with AC, fridge, couch, mircrowave and nice bathroom
Peter
2016-09-08T00:00:00Z
Everything was as described, the room is super clean, towels etc. provided. Comfortable bed. There is also AC, very nice on hot days! The neighbourhood is perfect, several very nice bars/restaurants/terraces a couple of minutes by foot. Nice host!
Sebastian
2016-06-03T00:00:00Z
I had a great experience. Place was very clean and comfortable.
Santiago
2016-09-07T00:00:00Z
Good place, good location, It was super nice that Gregg "ate" the cost of my parking permit (without even boasting about it). Comfortable, clean, and Gregg is quickly responsive. There were a couple of minor baubles (he'd forgotten to put soap and shampoo in the shower both days - he felt badly when I mentioned it - and the keys didn't work - Gregg managed to get me better ones). I was well-satisfied, overall. One thing, though. I came in after midnight, went in the bathroom, and, hunting for the aforementioned soap, yanked at what looked like the door to a utility closet. Someone shrieked from the other side of the door: "GET OUT!". Yikes!!! I don't mind a shared bathroom (though perhaps a bit less so at $75/night). But it definitely should have been stated in the description. Also: the bathroom doors are secured only via a flimsy hook and eye bolt. That's a security issue. If I were a woman and all that was separating me from another AirBnB guest was a hook and eye bolt (in a non-disclosed shared bathroom), I'd be a little ticked. Gregg seems like a diligent, on-top-of-it dude, and I have no doubt he'll do the right thing and fix the room description and address the security issue. My apologies to whoever I freaked out in the other room. Again: yikes.
Jim
2016-04-23T00:00:00Z
Tipe Kamar
Kamar pribadi
---
Tipe Properti
Rumah
---
Mengakomodasi
2
---
Kamar tidur
Albany, New York, Amerika Serikat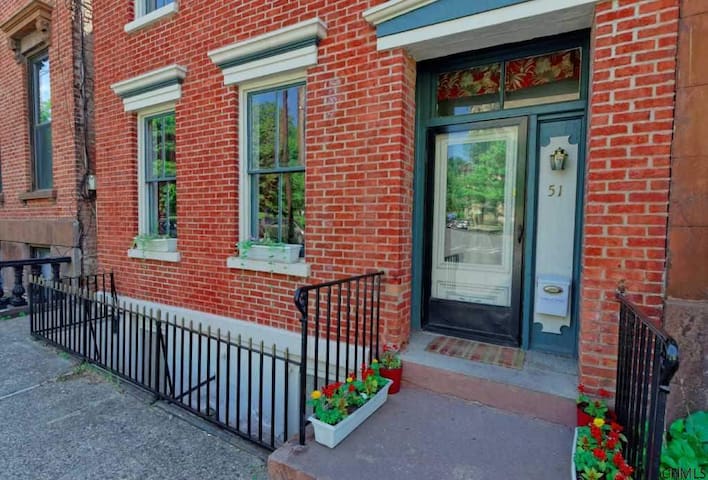 Private & Cozy room in a charming Town House. One single bed suited for one person. Full use of common areas including bathrooms and Kitchen. Very quiet neighborhood and quiet host. Close to Highways, Albany Medical Center, St. Peter's Hospital, Several Colleges, State Capitol & CDL school.
Single occupancy space in a Quaint Town house near Albany's capitol
John was lovely. Unfortunately for both of us, I ended up not sleeping in the house because I was too tired to leave my friend's place and slept there instead. But knowing I had a clean, safe place to stay, just in case, was satisfying. John was there when I went to pick up the key, and we had a nice chat.
Laura
2016-07-05T00:00:00Z
I've become a regular at John's and its consistently been great.
Shreedevi
2017-01-06T00:00:00Z
Great guy. No worries here! Very clean and great communication. John definitely goes the extra step to make sure you're comfortable. Great find! Thanks !
Kyle
2016-12-03T00:00:00Z
I was in town for an event and I cannot thank John and Tekeah enough for their hospitality. The room was neat, comfortable and cool at night for me to get excellent sleep. I was up every morning at 4:30 and it was great to step into a bathroom that felt like my home and not a sterile hotel! I will definitely stay here again if I find myself back in Albany.
Patrick
2016-05-30T00:00:00Z
Where should I start, as soon as I landed in NY Tekeah messaged the address which was total time saver. I have no idea how she did that, the timing was simply perfect. I arrived really late at night, John welcomed me and showed me the room. Room is really clean and as shown in the picture. Staying with Tekeah and John is like being with family. They are super friendly along with "the Denver" - I have never seen such a friendly cat in my life. They offered me breakfast and coffee. John and I watched the NFL play offs.. greenbay vs cardinals...sad that greenbay lost but Aaron was unbelievable, cool as cucumber during the final seconds. Amazing experience, would definitely stay with them again.
srikanth
2016-01-18T00:00:00Z
Listing was accurate. Nice room. Private & Quiet. Tekeah was easy to reach and communicate with regarding my arrival time. Bathroom was shared, but always available to me and very nice. Internet was available and helped me to catch up on work emails after a day of driving. I would definitely consider another stay in the Cozy Blue Room if I am traveling through Albany in the future. A great value.
Craig
2015-12-19T00:00:00Z
John was very nice and the room was just as described. He let me park in his driveway since the neighbors had parked where I would have normally parked. I'll be staying again in a few days - see you Friday, John.
David
2016-06-28T00:00:00Z
John's cat does give the epic welcome that everyone talks about, and John's a super chill, helpful, and friendly guy. Walking anywhere isn't really an attractive option from his place, but if you have a vehicle I found it easy and quick to access various points of the city. Overall a great experience and an excellent value.
Terry
2016-10-31T00:00:00Z
Tipe Kamar
Kamar pribadi
---
Tipe Properti
Rumah
---
Mengakomodasi
1
---
Kamar tidur
Albany, New York, Amerika Serikat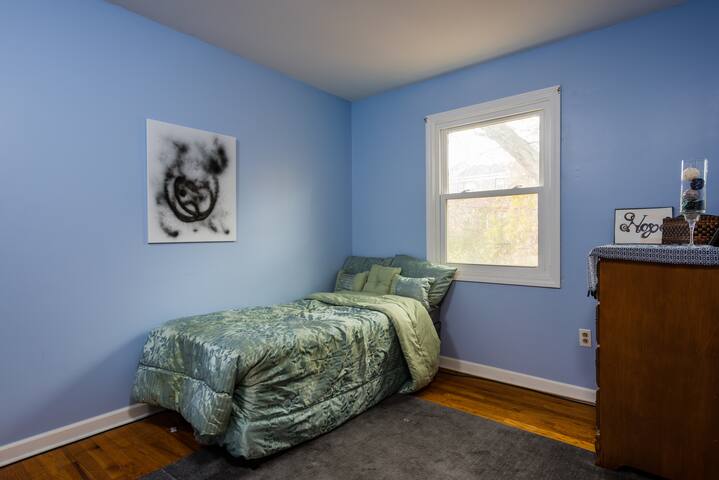 Our first 2 AirBnb's were so successful, we decided to add a 3rd! We're close to downtown Albany, Albany Med, nightlife, the airport, public transport, family-friendly activities, the city center, local bars, restaurants, . You'll love my place because of the comfy bed, , the outdoors space, , the neighborhood, the european feel, other AirBnb guests, off-street parking, my adorable dog Bella. My place is good for couples, solo adventurers, business travelers, and furry friends (pets).
This was a great place to stay! The location was great, it was very clean, Nick was so hospitable. He provided everything needed for a wonderful stay. Next time I'm in Albany I'll definitely stay there again.
Elizabeth
2017-04-01T00:00:00Z
Great place to stay. Accurate, friendly, close to everything. Great host.
Sas
2017-03-22T00:00:00Z
Nick and Liz's place is comfortable and welcoming. Nick communicated well before and during my stay, check-in was a snap, and the house had everything I needed -- microwave, teapot, fridge, good wifi, hot water with good pressure. The other guest I met was welcoming and friendly. Everything was very clean. The dog, Bella, is energetic and affectionate. One thing I would pass on -- and it's a delicate matter and a structural characteristic of the house, not anyone's fault -- is that the stairwell going up to the bedrooms is very, very narrow. I am a thin person and handled it fine, but if I were an obese person I might not have been able to fit in that staircase.
Tatiana
2017-03-15T00:00:00Z
Great place!
Sas
2017-04-05T00:00:00Z
Tipe Kamar
Kamar pribadi
---
Tipe Properti
Rumah
---
Mengakomodasi
2
---
Kamar tidur
Albany, New York, Amerika Serikat
My place is good for solo adventurers, business travelers, and furry friends (pets).
I am offering a private room with a comfy full-sized bed. I have a dog but he is well-behaved.
Quiet. Dead-end street. Walking distance to trail along the Mohawk River. Five minutes to supermarkets. 20 minutes to Global Foundries. 30 minutes to Saratoga Springs and downtown Albany. 10 minutes to GE and downtown Schenectady.
This is the kind of accommodation that brings me back to AirBnB again and again. Helen was very welcoming. The listing explains the room, location and everything I needed to know. Their home has a beautiful location above the Mohawk River. I definitely would stay there again.
Bruce
2017-02-05T00:00:00Z
Helen and Jim were great hosts!
Andrew
2017-01-06T00:00:00Z
Helen and Jim are great hosts. Even though I just stayed there for one night, we had a very good conversation and become friends:) Helen made very delicious cookies and shared with me. The room is very clean and the bed is awesome!
Bo
2017-03-31T00:00:00Z
Great place, accommodated me very last minute. Hosts were incredibly kind and attentive. I regret not being able to spend more time getting to know them better!
Michael
2016-12-04T00:00:00Z
Helen and Jim's home was great, with cozy private room upstairs, a big comfortable shared living room and kitchen, and a back deck overlooking the river. Helen and Jim were both delightful to talk to and made me feel very much at home. Their dog Harvey loves playing fetch from the deck down to the river probably more than I will ever love any activity. I had a lovely and peaceful 4 days at their home!
Danny
2016-12-03T00:00:00Z
Helen & Jim were wonderful hosts. We got there in the afternoon just as they were coming in from waterskiing on the lovely river right at their backyard. If the weather is nice bringing your bathing suit would be a wise choice as you can enjoy the river to the fullest. The views are incredible. Their dog Harvey is very friendly and playful. We spent some time chatting as Helen would throw a stick into the river and Harvey would play fetch. The home is clean and the bed very comfortable. And the neighborhood seems safe. In the morning Jim recommended a great local breakfast spot. I would definitely consider staying here again if I am ever in the area.
Andrea
2016-10-17T00:00:00Z
Very nice place! Looking forward to have a BBQ at the backyard!
Di
2017-04-02T00:00:00Z
Helen's place is great! The room and bed are very comfortable, and Helen and her dog Harvey are so sweet. She even made me a cup of coffee in the morning! I fully recommend staying at Helen's. Great value!
Claire
2017-02-16T00:00:00Z
Tipe Kamar
Kamar pribadi
---
Tipe Properti
Rumah
---
Mengakomodasi
1
---
Kamar tidur
Rexford, New York, Amerika Serikat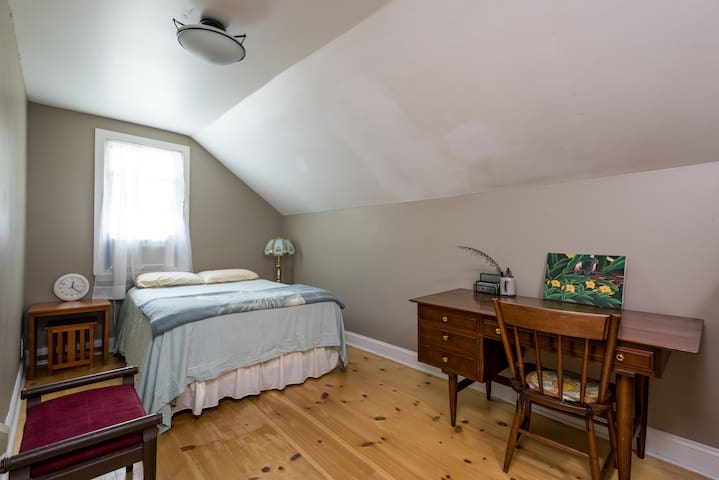 Comfortable twin bed in light filled bedroom on first floor of Classic 1920's Arts & Craft home in Delaware Avenue neighborhood of Albany. Easy commute by foot, bus or car to great restaurants, movies, Capitol, downtown & Albany Med/Albany Law. Cabs easy from train & airport.
The bedroom is on the first floor and next to the shared bathroom.
The Delaware Avenue neighborhood of Albany - also recently dubbed DelSo - is a great place to live and visit. Great restaurants like New World Bistro Bar, Thai restaurant, Emack & Bolio Ice-cream, and the Spectrum Movie Theater are great draws to the neighborhood. Visit the Normanskill Farm in the city at the other end for hiking. It's very close to downtown and the NYS Capital and Legislature - 7 minute bus ride or 20 minute walk. And walking distance to Albany Medical Center/College, Albany Law School, & Albany Academy.
Great hosts, very comfortable room, safe neighborhood.
Rowan
2017-01-24T00:00:00Z
Lovely people, large private room right next to the bathroom. Great location near restaurants and parks. They happened to be around in the am and made me delicious strong coffee. I would definitely stay again!
Rachel
2016-11-23T00:00:00Z
The room is just as described. It's light filled and comfortable, and very clean. As is the rest of the house which is very lovely. The street is very pleasant and quite close to downtown. Parking on their street was totally easy. And the hosts are friendly and generous. I went on a tour of the Capitol Building and it's spectacular. So if you're interested in architecture I highly recommend it. I can't believe it's taken me so long to see it. I also went to Troy which is kindof a nice little town.
Susan
2016-07-06T00:00:00Z
A very comfortable and friendly stay. I'll definitely recommend this place. Thanks Elissa!
Naila
2016-04-26T00:00:00Z
I only stayed at Elissa and Lynn´s place for a night but it was already enough to feel super welcomed! The house is no as close to commercial centers as I thought, but not far as well, you would need to take a cab or a bus to get to coffee shops and places like that. Lynn was super sweet offering to pick some flowers to my friend whom I wanted to gift as the whole purpose of being in Albany was her wedding. Lynn gently picked beautiful flowers from the garden and made a beautiful bouquet. They were very caring and helpful, thanks a lot Elissa and Lynn
Fabiana
2016-07-17T00:00:00Z
Remarkable home with amazing hosts! Very helpful. Room clean. Even had some shoe polish! Highly recommend.
Vikas
2016-11-20T00:00:00Z
I had a great time here. Good location , super clean, very welcoming, and just an overall good experience. I would definitely stay here again if I ever come back to Albany.
Christine
2017-02-24T00:00:00Z
Excellent host. Very comfortable room and bed.
Mike
2016-12-04T00:00:00Z
Tipe Kamar
Kamar pribadi
---
Tipe Properti
Rumah
---
Mengakomodasi
1
---
Kamar tidur
Albany, New York, Amerika Serikat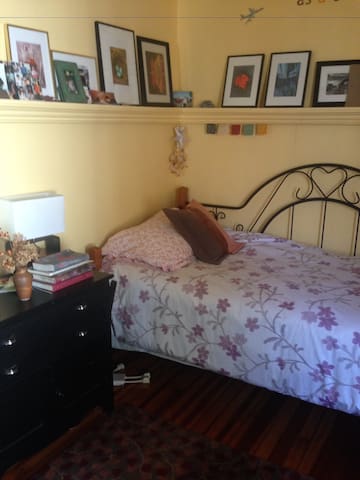 The space is very open and bright. It has a single size bed and shared full bath. WIFI and shared kitchen space and TV in the living room
Nice and clean, private
Great historic neighborhood within walking distance to fine dining, bars, live theater. The Capital is a ten minute walk
Gregg is a fantastic host. The neighborhood is very safe. It's exactly what you need for a one night stay. The only downside is the way the room is setup, it does not seem very secure, as it's an easy space to break into (not from the outside but from other tenants living in the building). I doubt that anything would happen, but it certainly can. The bed does need a better box spring. All in all, good short term solution.
Hassan
2017-01-06T00:00:00Z
Great and affordable place in a nice location.
Timi
2017-01-31T00:00:00Z
A fantastic host and a brilliant person overall. Gregg was my host in the days leading up to the NY bar. He went out of his way to make sure that I had a comfortable stay. If you're planning a trip to Albany, I highly recommend staying at Gregg's.
Nigel
2016-02-26T00:00:00Z
I was only there for a night but the place was great, very convenient for getting around Albany.
John
2016-11-02T00:00:00Z
This was a very last minute set up for me but Gregg was very accommodating. He got back to me right away and provided me with specific information on my stay. I was able to park right outside and see my car from my window! The room was very big and spacious and the bed was comfortable. I really only had time to sleep there but it was a very restful one.
Angelica
2016-06-02T00:00:00Z
Gregg was helpful each step of the way. All coordination was taken care of in advance of my arrival and nothing was left to chance. Room was large and well-lit, and the surrounding areas were clean and in great shape.
Padraic
2016-03-07T00:00:00Z
Gregge place was just as described, clean bright and well appointed. I would stay again if in Albany again.
Kimon
2016-03-27T00:00:00Z
Centrally located, very convenient. Good communication. Good value when you are traveling to Albany!
Marit
2016-12-01T00:00:00Z
Tipe Kamar
Kamar pribadi
---
Tipe Properti
Rumah
---
Mengakomodasi
1
---
Kamar tidur
Albany, New York, Amerika Serikat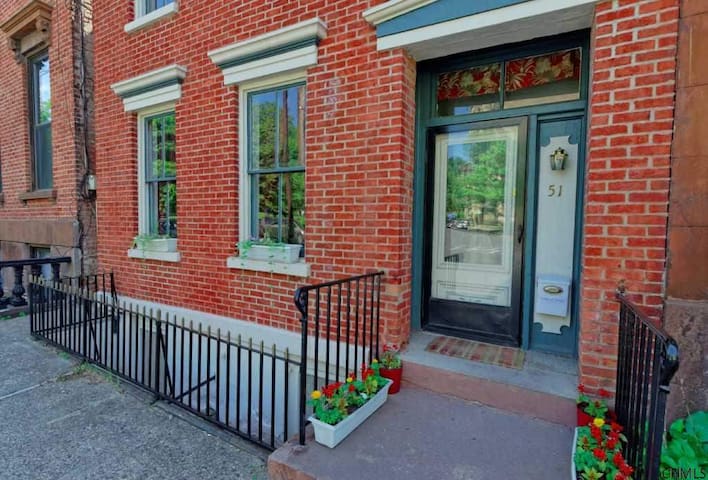 Guest room in a 2 bedroom 1200 square foot home on a quiet, sidewalk lined street in Albany. Walking distance or short bus ride to restaurants, bars, convenience stores, libraries and hospitals. Close to highways and parks. Easy cab ride to State Capital and Amtrak station. Full use of kitchen, bathroom, living space and yard. Off or on-street parking available.
Dogs are permitted if they get along with other dogs, are house trained and are picked up after. A young basset hound mix who loves guests and meeting new canine friends lives here also.
Gr8!!!
Corey
2017-04-02T00:00:00Z
Thanks for being a great host. Such great communication! Very comfortable bed, had candies, towel, and snacks in the morning for us. Place was very clean and Keturah made us feel at home!!
Danielle
2017-04-01T00:00:00Z
Tipe Kamar
Kamar pribadi
---
Tipe Properti
Rumah
---
Mengakomodasi
2
---
Kamar tidur
Albany, New York, Amerika Serikat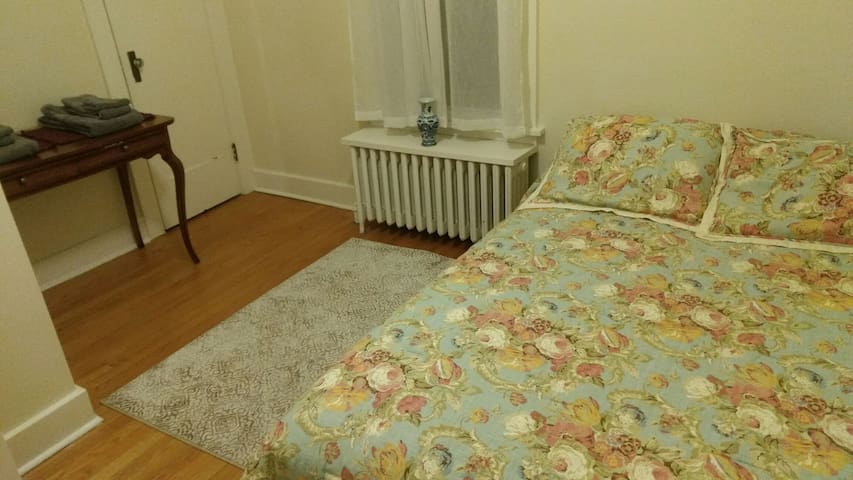 Spacious warm studio in 1840 house close to hospitals and downtown. Own bath flat screen cable tv wireless internet ground floor. Double bed coffee tea fridge microwave and parking. Suit 1. On park walk to post office cvs Chinese sports bar. Comfortable and decorated with taste. Irish host
Elizabeth is great and communicates well. I was a last minute booking and it went off without a hitch. Elizabeth was great and helpful and very knowledgable about the history of the area. The neighborhood is fantastic. Off street parking is nice too.
John
2016-02-05T00:00:00Z
Great stay, wonderful atmosphere!
natalya
2017-01-22T00:00:00Z
Usually when I imagine taking a trip by myself, I imagine having a luxurious room in which to relax--and then the reality is disappointing because I'm too cheap to get anything but the least expensive hotel room. This was the exception. Elizabeth's studio is entirely charming and quite spacious. The bed was soft and cozy, and the photos on Airbnb do not do justice to how adorable the place is. It's in a quiet residential area of rather stately houses but walking distance to a CVS and Dunkin' Donuts and a 10-15 drive to downtown Albany. I would definitely return if I was coming back to Albany.
Anne
2016-10-29T00:00:00Z
The accommodations are easily accessible. I like to come and go as I please, and this location worked well. The neighborhood is quiet and has sidewalks for anyone looking to take a walk. Off street parking is a plus.
Debra
2016-10-23T00:00:00Z
The space was lovely and well decorated. It was homey. However, I could not get any sleep! The bed is so uncomfortable and I kept waking up.
Shreedevi
2016-12-10T00:00:00Z
Liz was the ultimate host. The unit was extremely comfortable and conveniently located. I arrived at 1am and the bed was already warm for me!!!! Liz activated the heated blanket prior to my arrival. It is extremely cold here...18 degrees when I arrived so that was truly thoughtful of her. Nice sized, cable TV that literally watched me was also available. LOL....I was exhausted. I'll always stay here if I'm near Albany!
Regina
2017-03-04T00:00:00Z
Wonderful place, and great host! Very generous, comfortable and perfect for an over night stay.
Alon
2017-01-24T00:00:00Z
Liz's house was wonderful. It was quiet, cozy and warm, and I had a great time there.
Adi
2017-02-22T00:00:00Z
Tipe Kamar
Seluruh rumah/apartemen
---
Tipe Properti
Rumah
---
Mengakomodasi
1
---
Kamar tidur
Albany, New York, Amerika Serikat
Private & Cozy room in a charming Town (URL HIDDEN) single bed suited for one person. Full use of common areas including bathrooms and Kitchen. Very quiet neighborhood and quiet host. Close to Highways, Albany Medical Center, St. Peter's Hospital, Several Colleges, State Capitol & CDL school.
Single occupancy space in a Quaint Town house near Albany's capitol
Close to highways but VERY quiet!
Very accommodating and clean! Would highly recommend to anyone
Aneil
2017-01-17T00:00:00Z
Great stay. The space is as described. Exactly what I needed for my short visit to Albany.
Maya
2017-02-22T00:00:00Z
I really enjoy the stay! It is a quite place! Feeling freedom when staying.
xingbang
2017-02-19T00:00:00Z
This was my second stay at John's home. The stay was extremely comfortable and good. His house is very neat, well decorated and quite cosy with good free coffee and tea. The house is in a very good neighborhood. This time I got to meet John. He is a very warm and friendly host. Unfortunately, I had to cut my stay short due to a medical emergency. John was quite understanding with this. Very friendly and warm place to stay.
Naveen
2017-01-21T00:00:00Z
Great place, worth the stay
Shreedevi
2017-01-25T00:00:00Z
John was a great host. He was very helpful when I arrived late from the airport, communicating with me in the app to ensure my arrival and stay went smoothly. I parked on the street with no problems. The neighborhood was safe, well lit & quiet. The rooms and home are as pictured. Overall an excellent value. I would stay here again.
Inez
2016-10-24T00:00:00Z
Nice and clean. John was really helpful. Thank you.
Mandy
2017-02-16T00:00:00Z
Tekeah offers a great Air B&B. She communicates well and is attentive to guests; the room has toiletry articles as well as towels. There is breakfast food and coffee available for the morning. One's comfort is her concern. The internet is perfect. The house is spotless. It is truly a great place to stay. I felt very relaxed.
Jennifer
2015-12-03T00:00:00Z
Tipe Kamar
Kamar pribadi
---
Tipe Properti
Rumah
---
Mengakomodasi
1
---
Kamar tidur
Albany, New York, Amerika Serikat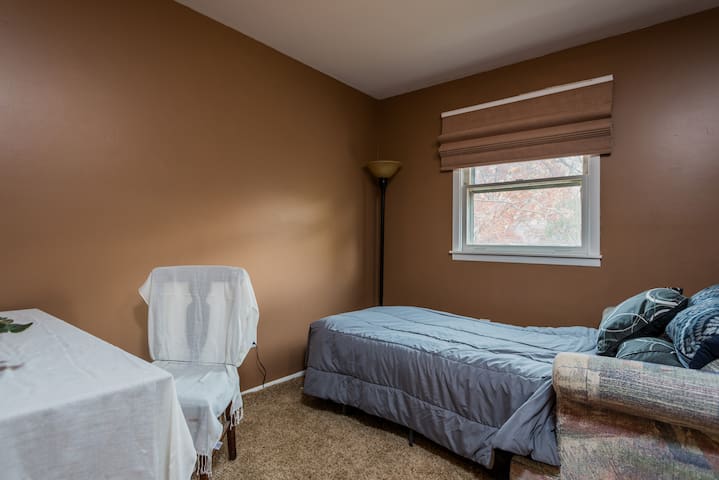 3 meals free,free laundry service high speed internet
Tipe Kamar
Kamar pribadi
---
Tipe Properti
Rumah
---
Mengakomodasi
1
---
Kamar tidur
Albany, New York, Amerika Serikat
Great location, free parking, nice and pleasant. Comfort, quiet, and convenience are hallmarks of this space and setting. Situated in one of the Capital Region's finest suburbs; plus getting to local/regional points of interest is very easy.
This is comfortable two-level living at its best in an upscale Albany suburb. Upstairs bedroom suite includes private bedroom with premier queen-size bed (in-room tea & coffee service, snacks in room); bathrobes for your easy comfort; closet with luggage rack; adjacent private bathroom with tub and shower (bath supplies and hair dryer available); reading area on upstairs landing with eclectic collection of books; WiFi; smart television; and window air conditioner; along with desk and seating area in bedroom. Breakfast is included in the fully stocked main level kitchen with dining nook (serve yourself at your convenience); half bath near kitchen; and daily home delivery of "The New York Times" newspaper.
This location is super-conveniently located in a charming and safe residential area; on Osborne Road, near Route 9, directly across the street from the Loudonville Elementary School. Neighborhood communities are Siena College (1 mile) and Corporate Woods Executive Park (2 miles). The University at Albany, SEMATECH, and the College of Nanoscale Science and Engineering (CNSE) are ~10 minutes driving distance. My house is mid-way between the Albany International Airport and the Rensselaer Amtrak station (10 minutes each way).
Nice room and very friendly host. Anita did everything to make us feel comfortable
Tom
2014-11-09T00:00:00Z
Anita bent over backwards to accommodate me, and was very welcoming and attentive throughout my stay. She has that wonderful combination of being attentive yet leaving you to your own as needed. I had a problem with being too hot, and we figured out ways to turn the heat down and open windows that really helped. The area is safe and the house easy to find. Anita left great organic food for me to cook, and I had the respite stay while I worked that helps me do all this traveling for work.
Curry
2014-12-04T00:00:00Z
The stay was such a lovely experience. Anita is so sweet and her house felt like home. She gave me plums from her garden as a snack and they were delicious! The location is very central in the capital region so all in all it was a perfect stay.
Trish & Mark
2015-08-21T00:00:00Z
Anita is a warm and welcoming hostess. The rooms are clean and comfortable. It met our needs exactly. She has a well stocked kitchen with just about anything you would want to make for breakfast as well as a set up for coffee or tea in your room and great snacks. We would recommend staying at Anita's and we would stay at her home again.
Edward
2014-10-11T00:00:00Z
Anita was so kind and generous! When I arrived she walked me through her home and showed me where I'd be sleeping. She set me up with coffee and some toast in the morning for breakfast, which is what I Love for breakfast. Her house is clean and feels like home! I enjoyed breakfast outside on the little porch on a warm, early September morning. Anita recommended a great spot to me for dinner. Her home is only about 15 minutes to the airport, which made the beginning of my travel day very simple and stress-free. Anita is an expert communicator! I had a rental car so that made getting around very convenient.
Derek
2016-09-09T00:00:00Z
Anita is such welcoming and easy going. She is very sweet and even prepared breakfast for us (we had to catch a flight at 5am)..Thank you, Anita!
Khar
2017-01-07T00:00:00Z
Anita is a very kind, attentive and gracious host, whose house with its lovely garden is a true definition of beauty, peace and serenity. The house is very tastefully decorated and is spotlessly clean. My room was very spacious, yet very cozy. I had everything I could possibly need and more - from a large selection of teas and snacks to very plush towels and even a robe! And books, so many books - truly a reader's heaven. During my short stay I enjoyed many talks with Anita - over breakfast, which she prepared for me (a completely unexpected surprise!) or an evening cup of tea. She is a very vibrant and an absolutely lovely person who made me feel welcome and at home. Staying here felt like staying at the house of a dear friend - warm, comfortable, intellectually stimulating. I hope to stay with Anita and her very sweet kitty many more times in the future.
Anna
2016-05-16T00:00:00Z
Anita is the most gracious host. I spent a week with my husband at her lovely home, and would highly recommended it. The listing is accurate, but the experience was so much more. Anita provided guidebooks and helpful tips to get around Albany. We had delicious meals based on her recommendations. Check out her recoomendations!
Craig & Amy
2015-04-03T00:00:00Z
Tipe Kamar
Kamar pribadi
---
Tipe Properti
Rumah
---
Mengakomodasi
2
---
Kamar tidur
Albany, New York, Amerika Serikat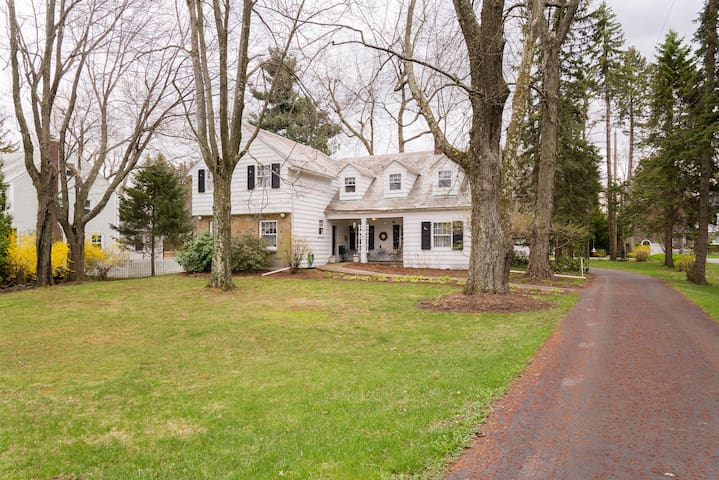 Charming bungalow in quiet, sidewalk lined neighborhood in Albany. Walking distance to restaurants, bars, convenient stores, and both area hospitals. One mile from beautiful Washington Park. Perfect area for young professionals and new families.
Open living room/dining room area. 3 bedrooms, 1 updated Bathroom. Plenty of cabinet space in kitchen. Storage room available in basement, attic, and detached garage. Cute backyard with brick paver patio and firepit! Off street parking for multiple vehicles.
Walking distance to many hip restaurants and bars in upcoming area. Quick drive to Lark Street and Downtown Albany. One mile to Washington Park. This street is close to many area colleges, such as Sage, Albany Law, Albany Med, Albany Pharmacy, and St. Rose. Perfect for graduate students, young professionals, corporate rentals, short term rentals, families that are in between houses, young families.
Valerie is very gracious and responsive as a host.
Anne
2017-02-04T00:00:00Z
We enjoyed the cute cozy house and walking to market, restaurants and thru interesting neighborhoods to the park. the beds were super comfy.
Sue
2016-12-11T00:00:00Z
We loved staying at Valerie's house. She made sure that we felt at home and welcome. This is a great place for families. Valerie was very open to our inquiry of having our Wirefox Terrier stay with us which made our kids very happy since we couldn't find any dog sitters in the area. Our dog enjoyed the backyard and the walks around the parks nearby. The house has a nice porche to relax in the evenings. The neighborhood is centrally located and felt very safe.
Valeria
2016-08-20T00:00:00Z
Yes this is a cute house nicely located but we didn't have a good 1st impression as the kitchen and bathroom weren't very clean. (Also very dusty and stuffy ) It seemed as the host was in a rush to clean it. ( I sent her a message right away to notify her) however beds were very comfy and living room is spacious. Host was very efficient in answering any questions at all times and even helped us figure out a Tv situation House is well located. Not to far away from Albany and the malls.
Natasha
2016-08-15T00:00:00Z
非常安静和温馨的房子,也足够容纳八个人,住的很舒服。
Xinyi
2016-08-29T00:00:00Z
I recommend this house for the small family or for work purpose. Great place in a safe environment with everything available.
Niels Bech
2016-11-17T00:00:00Z
This home was a perfect location and ideal set up for our family. We would definitely stay again!
Adrean
2017-03-07T00:00:00Z
Our stay was excellent. The description is completely accurate and Valerie is a wonderful host! If we're in the Albany area again, I wouldn't think twice about staying here.
Andrew
2016-08-07T00:00:00Z
Tipe Kamar
Seluruh rumah/apartemen
---
Tipe Properti
Rumah
---
Mengakomodasi
6
---
Kamar tidur
Albany, New York, Amerika Serikat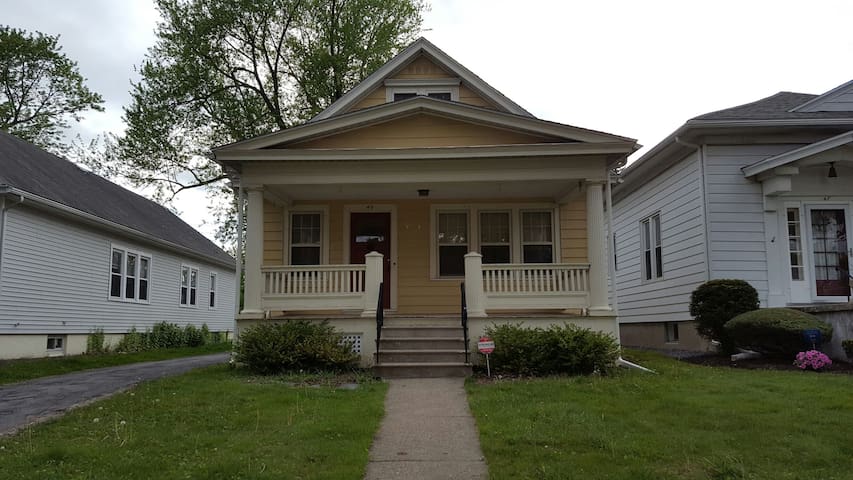 1

–

18

dari

182 Sewa Rumah
Masukkan tanggal untuk melihat harga lengkap. Biaya tambahan berlaku. Mungkin dikenakan pajak.