B & B luxury cottages (40 and 25 m2), stunning 180 ° sea and mountain - Luxury Cottages with walk-in shower, private terrace, pool .all completely renovated with sea and mountain views. located in Sayalonga (8km from the coast) Resting along the pool or starting point to visit Cordoba, Seville, Malaga, Granada, Ronda. The owners also offer the 4x4 trips or water sports like water skiing, banana, fishing or picnic sea with their boats.
Tipe Kamar
Kamar pribadi
---
Tipe Properti
Rumah Tamu
---
Mengakomodasi
3
---
Kamar tidur
Carraspite, Andalusia, Spanyol

Útulná soukromá vila s vlastním bazénem 8 mx 4 m, zahrada, terasa a grilování, na 4 km. od Algarrobo. To má obývací pokoj s krbem. Nádherný výhled na Středozemní moře a hory.
- 4 (5) lidé - 2 ložnice - Kuchyně - obývací pokoj / večeře pokoj - 2 koupelny - Satelitní televize - Pračka - WI-FI
- V regionu Axarquia leží na východním pobřeží Costa del Sol (Španělsko), na pouhých 55 km od mezinárodního letiště Malaga. - Jedná se o oblast s jedním z nejvíce pestrou krajinou Andalusie. Zde najdete moře, pláže, hory, údolí, tradiční bílé vesnice, dva národní parky a Costa del Sol! - Sahá od města Rincon de la Victoria Nerja-Maro. Up-zemi, přírodní park Sierras de Tejeda, Alhama a Almijara tvoří přirozenou hranici. - Každý z jeho 31 obcí má svůj zvláštní kulturní a gastronomické dědictví, aby se těšil ve všech ročních obdobích. - Středomořské podnebí s mírnými zimami a teplými léty, přilákat mezinárodní návštěvníky po celý rok.
What a beautiful villa in a peaceful tranquil private location with stunning views, it's exactly as described and wouldn't hesitate to stay again or recommend to anyone else, the views were picturesque I was mesmerised everyday only been home a day and miss them
bradley
2016-05-16T00:00:00Z
Zeer goede informatie vooraf. Op de dag van aankomst zouden winkels gesloten zijn en er werd aangeboden boodschappen voor ons te doen. Omdat het huis lastig te vinden is werden we de eerste keer begeleid vanaf de ontmoetingsplek bij de snelwegafrit. Prima huis, in goede staat. Schoon zwembad.
Ad
2015-10-19T00:00:00Z
Ich war eine Woche mit 4 Freunden in der Casa Herrera. Das Haus bestand aus 2 Schlafzimmern (Doppelbett, 3 Bettzimmer), 2 Badezimmern mit Dusche, einer Küche mit Theke und einem Wohnzimmer. Das Haus war sauber und gepflegt. Die Gartenanlage und der Pool waren ebenfalls Sauber und gepflegt. Das Haus hat einen wunderschönen Ausblick und eine Wunderbare ruhige Umgebung, die zum Ausschalten und Entspannen einlädt. Jedoch wird diese Lage durch eine durchaus abenteuerliche Anfahrt bezahlt. An die man sich nach mehreren Fahrten jedoch gewöhnt. Jedoch sollte man dies bei der Autoauswahl berücksichtigen. Wir hatten leider einen Tag keinen Strom, da dieser in der ganzen Region ausgefallen war. Dies wurde uns, jedoch gut erklärt und es wurde für Wiedergutmachung gesorgt. Am Haus wurden wir von Garry begrüßt, der uns sehr freundlich und engagiert über die örtlichen Begebenheiten informierte und auch Tipps zu der Region wusste. Ich kann sagen, dass wenn jemand einen ruhigen und wunderschönen Fleck Erde sucht, um sich vom Alltag zu erholen und dies nicht unbedingt in Mitten von hunderten Touristen tun möchte, hier an der richtigen Stelle ist. Ich kann es nur empfehlen. Einen Tipp habe ich noch: Man sollte an Mückenschutz denke.:)
Simon
2016-06-08T00:00:00Z
De verhuurder heeft mij aangeboden om mij te assisteren bij het vinden van de woning. Ik heb dat afgewezen want ik dacht dat ik het zelf wel zou vinden. Dat viel erg tegen. De weg naar de woning is namelijk een onverharde weg. Je hebt het idee dat je niet goed rijdt en dat deze weg eindigt in een niemandsland. Voor lokale bevolking normaal, maar voor Nederlanders een behoorlijke onderneming. De woning zelf is eenvoudig, maar volstaat. Het uitzicht is prachtig en je kunt in de omgeving fantastisch wandelen. Het duurt 15 minuten om de woning te bereiken boven op de berg.
Haye
2016-05-08T00:00:00Z
Kun majoittaja saapui huvilalle, esitteli hän kohteen perin pohjin. Hän myös suositteli lähistön ravintoloita, kun kysyimme missä kannattaa käydä syömässä. Oikein lämmin vastaanotto.
Olli
2016-10-09T00:00:00Z
Das Haus und die Umgebung haben uns sehr gut gefallen. Die tolle Aussicht ist allerdings mit einer gewöhnungsbedürftigen Anfahrt erkauft, an die man sich allerdings nach ein paar Tagen gewöhnt. Der Service war sehr gut und sehr freundlich. Wir hatten einen überaus erholsamen Urlaub.
Tilman
2016-04-08T00:00:00Z
We had an wonderfull time in Casa Herrera. The view is stunning and the villa very comfortable. We stayed with 4 and had 2 bathrooms. There are beautifull gardens surrounding the villa. The costa tropical is very special and the people very friendly. Highly recommended!
Ingeborg
2016-04-24T00:00:00Z
Tipe Kamar
Seluruh rumah/apartemen
---
Tipe Properti
Rumah
---
Mengakomodasi
4
---
Kamar tidur
Arenas, Andalusia, Spanyol
En charmerende villa med alle de bekvemmeligheder og ro, du søger at komme sig fra hverdagen. Indenfor korte afstande alle berømte vartegn i Andalusien er let tilgængelige.
Din udsigt fra terrassen fejer over Majestic bugten Málaga førende dine øjne til bjergene i dejlig natur. På kun 15 km kan man enten være på kanten af Middelhavet eller op i alpin stil bjerge.
Fra landsbyen Sayalonga drevet er kun 1,1 km på asfalteret vej.
Great house with a splendid view. We found everything we needed in this house. It was a perfect relaxing week!
Axelle
2016-09-10T00:00:00Z
We lived in this villa in one week and used it as a base for mountain bike trips. The house was very clean, modern and well equipped. The view over the mountains is fantastic and we enjoyed the sunny terrace in the mornings before starting our trips. The location was great for our purpose, but would also be really suitable for hiking or just exploring this part of Andalusia by car, while still having a quiet and undisturbed place to retreat to. Bernd was very helpful all the way and offered basic shopping before we arrived as well as pointing out interesting routes for our mountain biking and other sightings. He had also brought coffee, fruits and even some great wine for us when we arrived. I will definitely recommend this place.
Arni Westh
2015-04-21T00:00:00Z
Bernd met us in the village to lead us to the house. Necessary because the road is a bit difficult the first time. When you get used it is alright. The house is exactly like it shows on the pictures. Beautifull and with a splendid view and sunsets over the golf of Malaga. It is very quiet and everything you could wish for from salt to coffee and sugar and perfect wifi is there to use. Bernd also received us with two bottles of lovely wine and fresh oranges to eat from the tree. So in one word a superb place to spend the holidays. In the village Sayalonga nearby are three good restaurants.
Niek
2015-12-26T00:00:00Z
Bernd hat uns in Sayalonga abgeholt und uns bis zum Haus hinbegleitet wo er sich als überaus Gastfreundlich und verbindlich erklärte. Das Domizil ist fantastisch und der Blick ist atemberaubend. Auch die Ruhe ist hier Oben vorzüglich und man kann sich richtig entspannen. Problematisch ist die schwierige Strecke zum Domizil für ungeübte Fahrer. Wir bedanken und Herzlich bei Bernd. Beste Grüsse, Nikola und Familie
Nikola
2015-09-25T00:00:00Z
Bernd was very helpful before our arrival, sorting out a hire car and shopping for us as we arrived on a Sunday when the shops were closed. Bernd is very efficient at responding to any requests. The views from the villa are incredible. The images on AirBnB are accurate.
Polly
2016-08-29T00:00:00Z
We had a fantastic nice holliday in the "Casa Déja Vu" house of Patricia & Bernd !! We found more than the description described on airbnb !! From the first meeting with Bernd it feld all okay , warm and friendly !! We arrived 2 hrs before we could enter the house but he sended us a message that the house was ready so we could enter it earlier !! He picked us up from Sayalonga and showed us the way (950 mtrs) to the house Thanks for that Bernd ;-) We also had a couple of questions during our stay wich all were answered right away. The villa is really big , clean and breathtaking even as the view from the terrace. Unbelievable view over and between the hills , we could watch the sea and the city Algarrobo from the terrace :-) wich is 10 km's away !! The road to the house is a little small but if you have driven it 2-3 times you can do it with your eyes closed. The swimming pool is absolute fantastic , the wind wich comes between the hills from the sea makes it like a kind of refeshment when its hot !! We had fantastic wheater with temps between 30-47 degrees. In the house you find everything you need. In fact you only need some clothes and croceries. A car is needed over there , we rented a car at the airport. The house is near Sayalonga , Algarrobo , Torrox , Torre del Mar and Nerja , all within 25 km's from the house. In those city's are more than 350 restaurants so choice enough. There are beaches as far as your eyes can reach. Its very quiet also , so if you like a quiet space this village is the place to be. The garden arround the house is also very nice , as Bernd told us its a life's work. Also the Wifi was working top !!! The best wifi till now for us. Airco was also icecold :-) Also the wildlife is nice , Dragonflies in all kinds of colors , salamanders , birds , butterflies etc. We had a very relaxing time........ we said we are totally rested out after 2 weeks. We also went to Benalmadena (60km) to make a ride in the cablecars wich take you up to 850 mtrs. Also a good experience. Shortly said , we had a really fantastic time and we will come back to this wonderfull almost fairytail looking place !! Thanks again Bernd & Patricia for letting us rent your great House. I hope you want us back there in the future.........................;-) Best regards René , Mirella , Maik & Isa from Sneek
Rene
2016-08-21T00:00:00Z
Perfect communication with the host. Due to our flight schedule we arrived after midnight and despite the late hour were warmly welcome. Good location between beaches and large hiking opportunities, close to Sayalonga, Competa and other charming Axarquía white villages, Nerja cave, Malaga, Granada. Clean, cosy house and terrace with a nice view. Well-equipped kitchen. Beautiful garden. Fast Internet. Thank you, we loved it.
Peteris
2016-10-27T00:00:00Z
Tipe Kamar
Seluruh rumah/apartemen
---
Tipe Properti
Rumah
---
Mengakomodasi
4
---
Kamar tidur
Sayalonga, Andalusia, Spanyol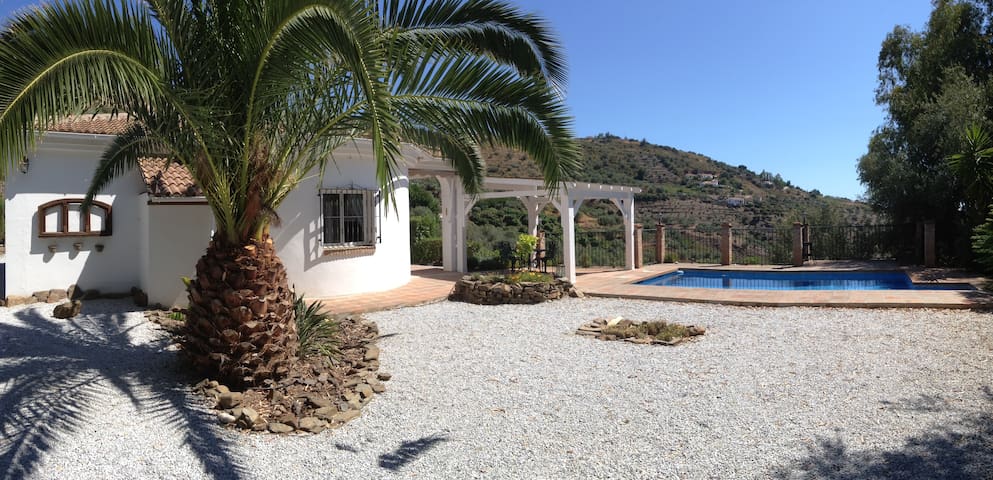 Your vacation home is located approximately 3 km from the small white mountain village Sayalonga away. Your vacation property with old, well-kept Moorish terraces offering peace and quiet away from the stress in a small, cozy holiday home of high quality. For this, and for the exploration of the typical Andalusia, we have an excellent location in an exclusive small complex with two apartments and a small restaurant and 360 degree sea and mountain views.
Our small holiday village near the white village of Sayalonga is in a prominent position with a superb view of the Mediterranean Sea and the mountains. On clear days the view goes up to the African mountains. On the property are located next to the two apartments and a small, cozy and quiet Bodega with outdoor patios. There you can enjoy a variety of red, rosé and white wines, various beers, spirits and soft drinks. For your hunger are a number of selected dishes at your disposal. The sparkling pool is open from March to November. After a refreshing swim can be enjoyed under ancient olive the sun or the shade on our deck chairs. We have placed great emphasis on the preservation of the ancient Moorish terraces and ancient olive trees. These are constantly being extended, maintained and offer thus many homely cozy places with sun or shade.
Tipe Kamar
Seluruh rumah/apartemen
---
Tipe Properti
Apartemen
---
Mengakomodasi
2
---
Kamar tidur
Sayalonga, Andalusia, Spanyol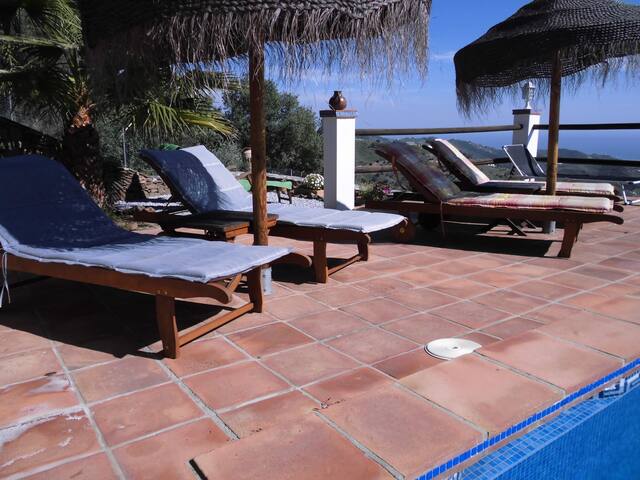 My accommodation is good for couples, adventurers, families (with children), and pets. (I.e. It is in the high part of a beautiful Andalusian village, where all you see through the windows are the mountains opposite :-))
My space is a house apartment in a typical Andalusian village surrounded by mountains and only 3 kms from the beach, the decoration is very neat and modern..the environment is magnificent as it overlooks the mountain with no neighbors in front ... a small river Pass the opposite, and you hear the passing of the water, and the village is a cute, very typical Andalusian ... has the best fresh fish bar with 1/2 servings at 3.50 euros popular in the villages and surrounding coast ... in addition to giving a tapa with the drink ... The village has bakeries, supermarkets, pharmacy, tobacconist, banks, etc ... and everything in an atmosphere and treatment relaxed, close, and friendly :-)) )
It is very quiet and has everything you need ... the people here are very quiet and friendly. One of the bars of the Algarrobo village is very famous for its prices and the quality of its super-fresh fish, 3.50 euros 1/2 servings and abundant ... even comes people and foreigners from other places to eat at this bar, me too I was surprised when I discovered it, and also give for free the tapa with the drink :-). This bar is very near to the house... just the corner ;-))
Tipe Kamar
Seluruh rumah/apartemen
---
Tipe Properti
Rumah
---
Mengakomodasi
4
---
Kamar tidur
Algarrobo, Andalusia, Spanyol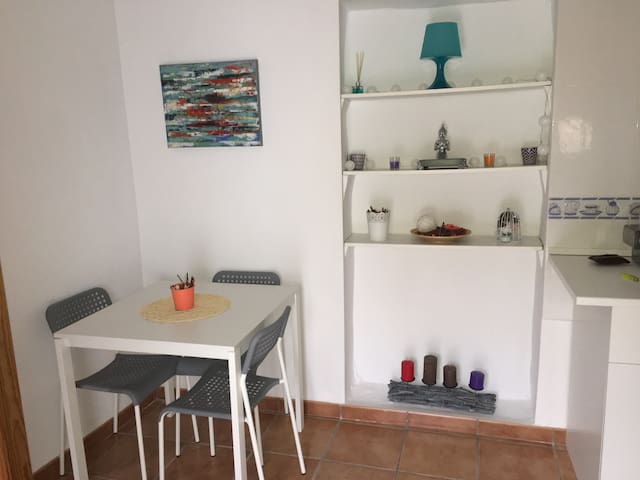 Charmante Charakter Finca, 2 Schlafzimmer, 2 Badezimmer, Küche / Essbereich, ein eigenes Wasserpool. Beuatiful Meer und Blick ins Tal. Südausrichtung. Sonnige und schattige Terrassen. Ältere bewässerten Garten und Obstgarten. Gute Parkmöglichkeiten. Breitband Internet.
Das Anwesen besteht aus dem Haupthaus in L-Form und ein Studio mit separatem Eingang. Das Haupthaus verfügt über ein Schlafzimmer, wie das Studio tut. Es gibt ein Badezimmer im Haupthaus und ein Badezimmer (mit Waschmaschine) im Studio. Es ist ein Schlafsofa im Wohnzimmer mit Platz für 2 weitere Personen schlafen.
Das Haus liegt in den Hügeln von Carraspite entfernt. Man muss berücksichtigen, dass es 10 bis 15 Minuten Fahrt vom Dorf Sayalonga über eine kleine Strecke nimmt. Am Ziel werden Sie einen ruhigen Ort und schöne Aussichten.
What to say about Wim's fabulous Finca... first of all the pictures don't really do the place justice. We stayed for 2 weeks - my wife and two children - and loved every minute of it. First let me say we are the not the type of people who are looking to pack our days with activities. We pretty much bunkered down in the Finca for the entire time with excursions every now and then for food... and booze. It had everything we needed. The kids LOVED the swimming pool. We LOVED the outside shaded terrace with BBQ. The view was to die for looking down the campo out in the sea. The place was super quiet and yet there were no issues if we wanted to make noise. There was airconditioning in case it got too hot and the interior is decorated tastefully. All in all it was a family holiday we will never forget. Thanks to Wim, Caroline and Malcolm!
Nathan
2016-09-01T00:00:00Z
merci à Wim pour sa maison et à malcom pour son accueil. on a passé un superbe séjour dans le calme. Très belle vue et la maison très bien ( fonctionnelle et bien équipée ) on se sent comme à la maison. pour l'accès , il est un peu long mais la tranquillité ainsi que la vue se méritent et cela vaux le coup (du stress pour ma femme mais des fous rire pour mes filles et moi). nous recommandons cette location et qui sait peut êtres à une prochaine.
David
2016-07-07T00:00:00Z
Wat een prachthuis is het. De omgeving is heerlijk rustig. Het huis zelf is mooi en heel smaakvol ingericht. Een genot voor het oog. De tuin is prachtig met alles wat er groeit en bloeit en goed verzorgd ook. Het zwembad is zalig. Alles is goed verzorgd en schoon. Het uitzicht is prachtig. Wim heeft ons goed geïnformeerd en geadviseerd. De overdracht met de mensen daar in Spanje verliep soepel. Echt een aanrader dit huis.
Barbera
2015-07-22T00:00:00Z
We had an absolutely wonderful time at Wim's finca. The house is so charming, the view is stunning and we would hope to get the chance to come back some time! The communication with Wim and Caroline was also very easy, they are super nice, friendly and helpful. Definately recommended!
Ingeborg
2016-06-18T00:00:00Z
Ook al was het maar een vierdaags verblijf inclusief werkbezoek aan Málaga: we hebben genoten van het uitzicht, de buitenkeuken, het zwembad en zelfs ook van de avontuurlijke ritjes langs steile smalle kronkelweggetjes van en naar de finca. Veel complimenten voor de smaakvolle inrichting: werkelijk alles is aanwezig op een simpele, chique manier. Vakantievieren en werken (via wifi) tegelijk was ideaal in deze combinatie van eenvoudige luxe, vrijheid en privacy in de authentieke omgeving van Spaanse wijngaarden en witte dorpjes.
anja
2016-07-12T00:00:00Z
Great place! The house had everything necessary to have a wonderful time. The view, the silence, the nature and the sunny days made our experience unforgettable! ( we still miss it - very much-) Sayalonga is perfect if you want a quiet place but also to explore the beautiful towns and cities around (Frigiliana especially). All info provided by Wim was accurate and very helpful, he also arranged a baby bed for our 1.5 year old son. The reception by Malcolm was great and the house a 10/10 (excellent taste!) THANKS and without a doubt we will repeat this experience! Gts Dani & Santi (+Louie)
Daniela
2015-09-19T00:00:00Z
A charming house in a beautiful setting. Stunning views and great access to nearby beaches, bodegas, and more. We loved the pool and the outdoor kitchen and those views! If you are looking to completely switch off for a week or so then it is the place to go.
Drew
2015-09-05T00:00:00Z
Beautifully renovated finca with amazing views. Although the road to get there can be a bit tricky if you're driving a large car (like we were) it's well worth it. Wim arranged for Caroline to meet and introduce us to the house on the first day. She was very helpful and friendly and gave us some nice tips about the area. We were very unlucky with the weather this time (7 days of rain) but will definitely be coming back again in the near future.
Sujin
2016-05-15T00:00:00Z
Tipe Kamar
Seluruh rumah/apartemen
---
Tipe Properti
Rumah
---
Mengakomodasi
6
---
Kamar tidur
Sayalonga, Andalusia, Spanyol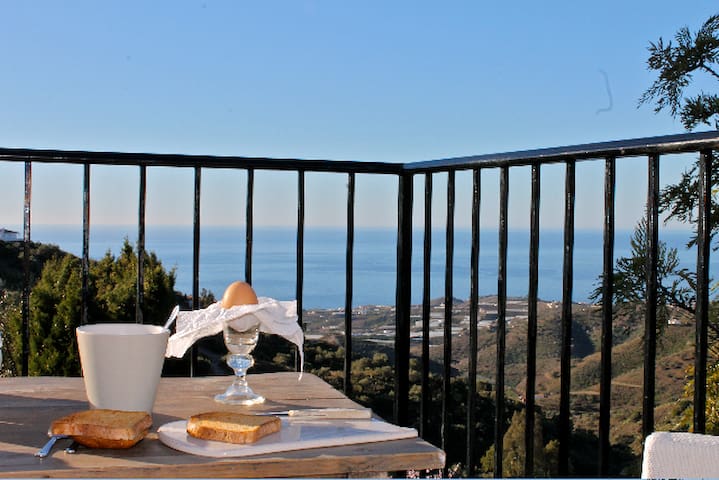 Campo Agave er en lille skala boutique B & B og Glamping, beliggende på en rolig og solrig bakke side tæt på de andalusiske strande, Nerja, Malaga og Granada. Til rådighed, er 4 aircondition værelser med eget badeværelse og balkon, og 3 fuldt møbleret safari telte med fælles bad og udendørs køkken, alle med betagende havudsigt. Gæsterne kan bruge den god størrelse pool, lounge og udendørs køkken med BBQ faciliteter. Morgenmad er inkluderet i prisen.
På Casa Campo Agave finder du alt det bedste, at denne del af Andalusien kan tilbyde: sol, hav, natur og kultur. Værelserne og safaritelte tilbyde dig et sted at slappe af og udforske de smukke omgivelser. Den hvide landsby Sayalonga er i gåafstand. Alle værelser og safari telte har deres egen balkon eller terrasse med udsigt hele vejen ned til Middelhavet. De B & B værelser har dobbelt eller singe senge og gå med eget badeværelse og balkon, safari telte har en privat terrasse med havudsigt og et fælles badeværelse på terrænet. For familier med børn en B & B enhed med 2 værelser og en familie safari telt er til rådighed. Hvis ønskede vi kan oprette en ekstra telt til børnene udover safari telt. Fra Campo Agave du har nem adgang til Malaga lufthavn (50 min.), Nerja (25 min.), Strandene (20 min.) Og Granada (1 H.15 min).
• 12 km fra Naturpark af Tejeda og Almijara • 50 km fra Malaga lufthavn • 7 km fra den nærmeste strand • Mange vandrestier • Hav kano, svømning og dykning i naturparken Cerro Gordo • Cykeludlejning •Ridning • Golf (8 km) • Kulturelle besøg til Malaga, Granada, Cordoba eller en 'Pueblo Blanco' nær ved
Tipe Kamar
Kamar pribadi
---
Tipe Properti
Bed & Breakfast
---
Mengakomodasi
2
---
Kamar tidur
Sayalonga, Andalusia, Spanyol
Holiday, relaxation and spa La Finca Esperanza is in climatically best region of Spain, the Axarqia, overlooking the Mediterranean Sea and the mountains. Our section of the crowds of tourists, located on the coast of Malaga
It is a very quiet for those who want to relax or unwind from day to day and see the beautiful views of the mountains and the sea accommodation.
HAVE A GOOD VIEW TO THE MOUNTAIN AND BEACH IS A quiet and relaxing.
Tipe Kamar
Kamar pribadi
---
Tipe Properti
Apartemen
---
Mengakomodasi
3
---
Kamar tidur
Carraspite, Andalusia, Spanyol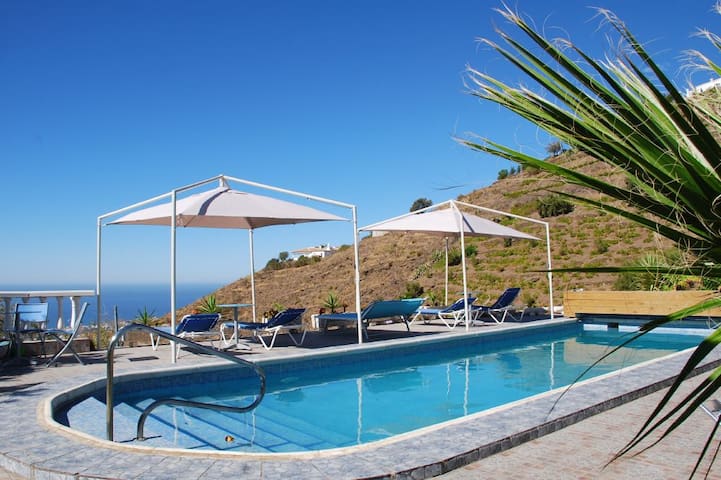 Villa indépendante sur un grand jardin avec piscine privé 8X4. Vue panoramique sur la mer et les montagnes La maison très ensoleillée avec 2 terrasses couvertes. La villa est composée de 2 grandes chambres avec des lits de 180cm x 200cm, deux salles de bain, une cuisine entièrement équipée (four, plaques vitro, lave vaisselle, congélateur, réfrigérateur) ouvrant sur une salle à manger (table pour 6 personnes) et le salon (cheminée,TV LCD, DVD, HIFI, 2 canapés).
Tipe Kamar
Seluruh rumah/apartemen
---
Tipe Properti
Rumah
---
Mengakomodasi
6
---
Kamar tidur
Algarrobo, Andalusia, Spanyol
Králík Ranch Byt se nachází v přestavěné zemědělské budovy a nachází se v oblasti přírodních krás, v blízkosti obce Sayalonga. Nemovitost se nachází v blízkosti znamení vyslán procházky trasu. Interiér je v moderním tématem i mimo ni je k dispozici zahradní terasa s výhledem na řeku a hory. To je ideálním místem pro ty, kteří se chtějí dostat pryč od davů, ale zároveň je to jen 15 minut jízdy autem až do pobřežních měst, moře a pláže.
V přední části bytu jsou balkonové dveře se otevírají na zahradě / terasou, zahradním stolem a židlemi pro el pod širým nebem, tato oblast je cca 12 m2.
Obec Sayalonga je typická španělská bílo-mytí vesnice, tam jsou 2000 Španělské obyvatel v obci a dalších 2000 cizí obyvatelé, kteří žijí v okolních kopcích. Sayalonga má 3 nebo 4 dobrá restaurace / bary, několik malých supermarketů, týdenní pouliční trh a pošta.
Tipe Kamar
Kamar pribadi
---
Tipe Properti
Pondok alam
---
Mengakomodasi
2
---
Kamar tidur
Sayalonga, Andalusia, Spanyol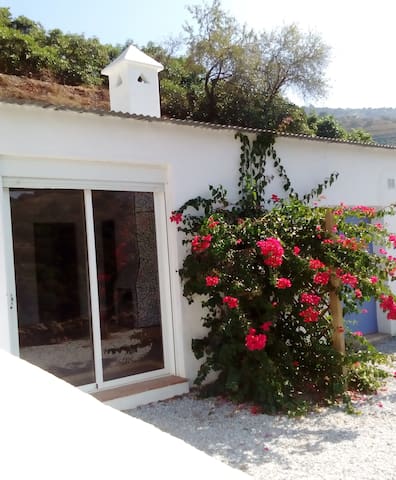 Renoviert im Jahr 2015, befindet sich in der malerischen Stadt Sayalonga, fantastische Aussicht von der Dachterrasse ist ein perfekter Ort, um Wein und Essen nach einem Tag zum Wandern, Radfahren und Strand Gang. Nur 15 Minuten vom Strand von Algoroba Costa.
Unser Haus mit drei Schlafzimmern wurde im Jahr 2015, ganz neu Etage auf einer ersten Stock, neue Wasser-Heizung, Bad komplett erneuert, neue Fenster renoviert. Das Haus wird bequem schlafen zwei bis vier Personen. Die Mahlzeiten können in der voll ausgestatteten, Wohnküche, mit Gasherd, Mikrowelle und Kühlschrank mit Gefrierfach, hergestellt werden. Neue Warmwasserheizung im Oktober 2015, im ersten Stock neu gefliest im Dezember 2015. Das Wohnzimmer verfügt über einen SAT-TV installiert wurde, sowie eine Klimaanlage / Heizung. Reisen auf die Marmortreppe, umgeben von traditionellen andalusischen Fliesen, sind die Schlafzimmer und neu neu gemacht Bad mit Wanne und Dusche. Schließlich, nach einer weiteren Treppe, ist der Zugang zu einer Küchenzeile mit einem Mini-Kühlschrank, Spüle, Tisch und Stühle, sowie eine Waschmaschine. Von der Küche ist der Zugang zum fantastischen, Fliesenböden, Dachterrasse - mit Panoramablick auf die umliegenden Berge und die Stadt. Eine Terrasse Tisch mit Sonnenschirm Regenschirm ist bereit für Ihren Einsatz in genießen Restaurants, die sich draußen entspannt, sehen Sonnenaufgänge und Sonnenuntergänge oder den Sternenhimmel zu beobachten. Ausreichend kostenlose Parkplätze innerhalb einer sehr kurzen Spaziergang den Hügel hinunter von der geschmackvoll gated und beleuchtet vor dem Eingang / Foyer zu unserem Haus zur Verfügung.
Unter den ausgezeichneten, lokalen, Sayalonga Restaurants sind Jocavi an der Plaza Don Raphael, Casa Mari und Cafe Marisco. Es gibt mehr als ein Dutzend weitere Restaurants in der Nähe der Stadt Competa. Competa ist eine 20-minütige Fahrt von Sayalonga und verfügt über verschiedene Geschäfte und Märkte. Soweit Supermärkte gibt es mehrere lokale Märkte in der Stadt, ein Lebensmittelgenossenschaft und einen Wochenmarkt Tag auf der Plaza.
Marina a great hostess. The house is an excellent The house was for us wine and appetizer The house is in a beautiful location Neighbors from the nearest house is very pleasant and sociable people Noelа & Javier
Vitaly
2015-10-27T00:00:00Z
Wir hatten im Juli 2015 zu zweit sehr schöne 4 Wochen Ferien im Haus von Marina in Sayalonga, einem typischen andalusischen "Pueblo Blanco". Alle inserierten Angaben entsprachen der Realität. Das 3-geschossige Haus mit der schönen Dachterrasse mit Ausblick in die umliegenden Berge bietet alles was man benötigt. Im Sommer - wenn rundherum in den engen malerischen Gassen überall die Fenster geöffnet sind - kann man sich am intensiven spanischen Familienleben der Nachbarn erfreuen. Da wir auch spanisch sprechen, konnten wir etliche schöne Kontakte mit der lokalen Bevölkerung pflegen. Die Leute im Dorf sind sehr freundlichen und man grüsst sich gegenseitig im vorbeigehen. Die Preise in den drei Restaurants/Bars Jocavi, Casa Mari und Morisco sind sehr günstig und es wird immer reichlich aufgetischt. Wir genossen das lokale 3-Tage-Fest der Ferias wie auch den Flamenco-Abend auf dem Dorfplatz. Allerdings sollte man während dieser Zeit etwas lärmresistent sein, denn die Jungen erfreuen sich am ständigen Loslassen von Knallkörpern tagsüber und auch spät in der Nacht. Um zur Küste und zu den Badestränden zu gelangen ist es natürlich sinnvoll, wenn man über ein Auto verfügt. Algorrobo und Algorrobo Costa, die ersten Orte unten an der Küste, bieten touristisch nicht viel, aber mit dem Auto ist es z.B. nach Nerja, Torrox oder nach Malaga nicht sehr weit, falls man mal etwas Stadtluft schnuppern möchte. Auch sonst hat es in der Umgebung schöne und lohnenswerte Ausflugsziele, aber eben, am besten ist es, wenn man motorisiert ist. Der Mietpreis für 4 Wochen Aufenthalt empfanden wir als sehr günstig und fair. Die Kommunikation mit Marina verlief sehr speditiv und immer innerhalb sehr kurzen Zeit. Noch etwas Wichtiges wenn man die sonstigen Verhältnisse in Spanien kennt: Das Leitungswasser in Sayalonga ist sauber und gut trinkbar. Also kein regelmässiges und mühsames Anschleppen von Trinkwasser aus dem Laden. Auch wenn die Luft-Temperatur hoch ist, z.B. tagsüber im Juli meistens 28 bis 34°C., so empfindet man das im Haus nicht so hoch und auf der Dachterrasse weht fast immer ein angenehmer kühlender Wind. Alles in allem ein sehr empfehlenswerter Ort in freundlicher Umgebung, wo man sich gut ausruhen und erholen kann. Werner Rusterholz
Werner
2015-07-28T00:00:00Z
We really enjoyed our stay at the Gorgeous newly renovated house of Marina and John. We were welcomed by Deborah who was hired by Marina and John to host us during our stay. We were glad that she was a English speaking person as well as Marina and John. This made the communication very easy. The house was really clean and very big. It had three levels. The first level was the living room (with AC) and a big kitchen with a big fridge and freezer. The second level had 1 small bedroom with two separate beds for children and a master bedroom with a really comfortable 2-pers. bed. Another small walk-in closet room and the bathroom were on this level. The third level had a very nice rooftop terrace with almost a 360 view at the mountains and a small kitchen with a washing machine. Sayalonga is a really nice typically Andalusian village with white houses. In just 5 minutes walk there is a public swimming pool for just 2 euro p/day. And in 10 minutes you get to the village square where you can have a cheap diner, but really good food. We rented a small car at Helle Hollis Malaga airport. With the car it took us 10 minutes to get to the supermarket Lidl down the mountain at Algarobbo beach. This place is the perfect stay to relax without being bothered by mass tourism, which can be found everywhere at the costa del sol coast. Marina and John were really nice and were very vast in communicating with us. We appreciated that very much.
Rosanne
2014-08-26T00:00:00Z
Our feedback can only be limited, since we didn't come for holidays but mainly for a wedding. The apartment was fine, though smaller than it looked like in the photos. People should have a good physical condition because the street is very steep and the stairs inside are wide apart, which makes it a bit tricky to go upstairs. And the geyser should be replaced. Everything was clean and the terrace on the roof very pleasant and quiet. Communication with the owner was good.
Hetty
2015-10-07T00:00:00Z
We spent many hours on the roof terrace with uninterrupted views of the mountains and quite a few bottles of the local moscatel. Wi-Fi reaches the roof terrace without a hitch. Plenty of nearby villages to explore and only 15 minutes from the coast. Sayalonga is the idyllic picturesque Spanish village and we were made to feel very welcome by both the local Spanish and English inhabitants. Restaurants are inexpensive and food is good. Lots of space, we only needed the one bedroom but the house could easily accommodate many more. My wife wasn't too keen on the drive to the house which says more about my driving than the location. Only non-positive comment I can make is the kitchen would benefit from an oven but that is good excuse to eat out more!
ROY
2016-08-24T00:00:00Z
Nous avons apprécié Sayalonga et la maison,merci a Marina pour son ouverture.
Guay
2015-09-28T00:00:00Z
We had a short stay at this property. Lots of room for 2-4 people. Property had the essentials that you needed. The village was very quiet and it was a little difficult to navigate and park within the village as the roads are narrow and steep in places. Terrace was lovely. Good place for a couple of nights to get away from it all. TV had the main UK channels as well. The host was away when we stayed but her friend was at the end of phone if needed and the host herself checked in with us to make sure all was ok.
Patrick
2014-08-30T00:00:00Z
Sayalonga est un très joli village typiquement andalou. Nous avons passés une semaine très agréable dans cette charmante maison. Le village est très calme, les habitants très sympathiques. Cependant, il est difficile de se retrouver et se garer dans le village car les routes sont étroites et escarpées par endroits. (Il vaut mieux arriver en pleine journée) Une très belle terrasse avec un magnifique panorama sur les montagnes. C'est un endroit idéal pour les amateurs de randonnées et pour se détendre sans être dérangé.
redg
2015-01-04T00:00:00Z
Tipe Kamar
Seluruh rumah/apartemen
---
Tipe Properti
Rumah
---
Mengakomodasi
4
---
Kamar tidur
Sayalonga, Andalusia, Spanyol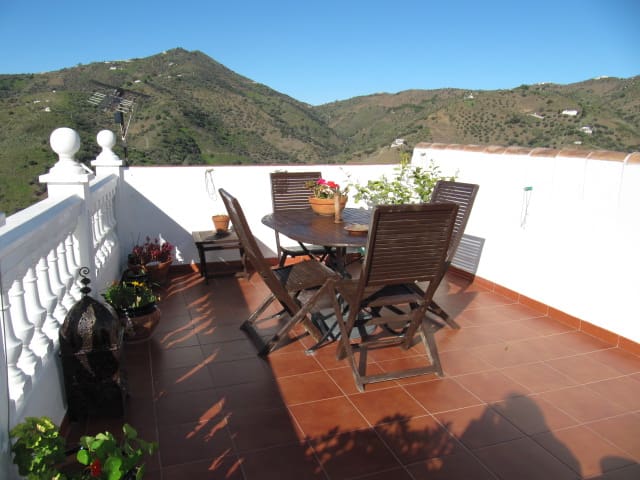 Overlooking the Mediterranean down to the coast of Torre del Mar (Costa del Sol) - on clear days across to Africa, dreamy and romantic sunsets.
The nearest sandy beaches you drive about 15 minutes, in the next place good 5 minutes. Betonierte way up almost to the front door, so enough a normal car hire. A wonderful and very well maintained house with beautiful garden - ideal for the recreation-seeking vacationers. The house is located at about 340 m above sea level, has an area of about 120 square meters and stands on a 9,800 square meter plot. From the international airport in Malaga you drive about 50 minutes to your holiday house and from the historical center of Málaga is just under 45 minutes. A car is however absolutely necessary, since there no public transportation here - therefore rest, rest, rest. Villa Cascada is cleaned and passed with fresh linens and fresh towels and has to leave broom clean on departure day. There are 2 bedrooms and two bathrooms, a living room with dining area, a fully equipped kitchen, ample seating and sun loungers. The house is for max. 4 people oriented. Bedroom 1: Double bed Bedroom 2: double bed Kitchen: dishwasher, large refrigerator with separate freezer, stove, oven, microwave, toaster, coffee maker, plenty of cutlery and crockery ... Living room: comfortable sofa, air conditioning, Flat screen, Internet (for a fee of 4, - Euro per day), German Astra programs, Pay TV with Bunde League, Spanish League, ... They are brought to your cottage personally and sent to the specifics; Jorge or Peter speak English, Spanish and German. Approximately 7 km from the nearest sandy beaches in Algarrobo Costa and Torrox Costa, 3 km to the next town to Algarrobo, about 12 km to the nearest golf course (Baviera Golf or Anoreta Golf), 20 km to Nerja For the disabled, this great cottage is unfortunately not suitable. Pets are unfortunately not welcome.
Tipe Kamar
Seluruh rumah/apartemen
---
Tipe Properti
Rumah
---
Mengakomodasi
4
---
Kamar tidur
Sayalonga, Andalusia, Spanyol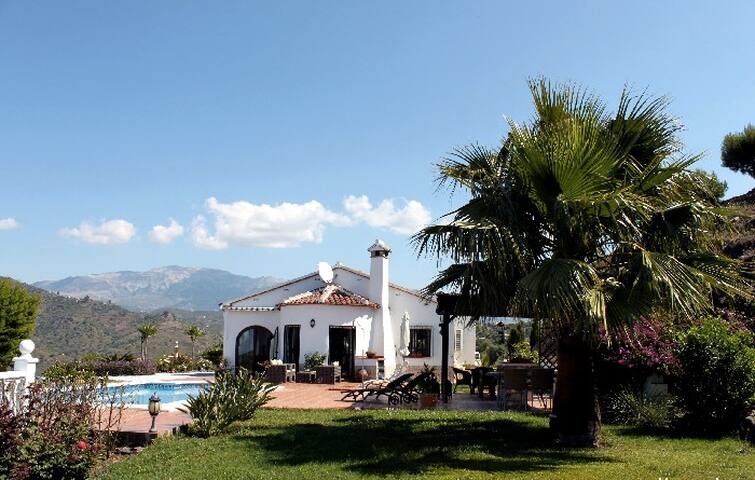 Tipe Kamar
Kamar pribadi
---
Tipe Properti
Rumah Tamu
---
Mengakomodasi
2
---
Kamar tidur
Sayalonga, Andalusia, Spanyol

Villa El  Pajarero bevindt zich in het gebied El Jaral, dat gelegen is rond een heuveltop  tussen Vélez Malaga en Torre Del Mar. De villa ligt op een hoogte van 500 meter boven de zeespiegel en beschikt over twee kamers. reservering min. 3 nachten.
Tipe Kamar
Kamar pribadi
---
Tipe Properti
Bed & Breakfast
---
Mengakomodasi
2
---
Kamar tidur
Torre del Mar, Andalusia, Spanyol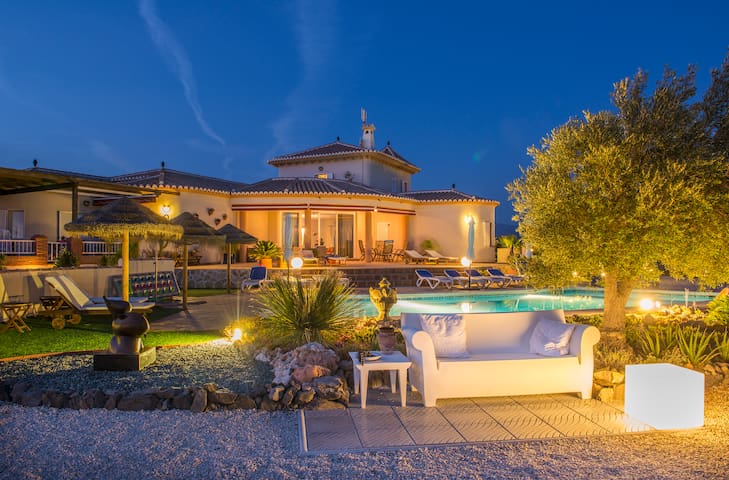 Spacious caravan set in its own secluded area of our finca, located just a few km from Algarrobo village. The place is perfect for couples with up to two children under 12, being only approx 8 km from the beach at Algarrobo Costa, where there are plenty of bars, restaurants and supermarkets. Your own driveway, leads you to your accommodation nestled in an Almond and Olive grove. There is your private 457 x 91 intex swimming pool for you to cool off in or relax by whilst the kids play safely
The accommodation is at the end of our finca and accessed by its own drive 100 meters from the main electric gates. The accommodation is private and secluded and only a ten minute drive from the coast. The roads in this area are all steep and windy, and therefore, we do not recommend it for nervous drivers or people with vertigo. I will personally meet you in the village of Algarrobo and lead you up to the Finca. On the Finca, we have 3 pgymy goats, a mother with her twin girls! 2 ducks, and some chickens. All very friendly if the children want to meet them and hand feed them.
Tipe Kamar
Seluruh rumah/apartemen
---
Tipe Properti
Lainnya
---
Mengakomodasi
2
---
Kamar tidur
Algarrobo, Andalusia, Spanyol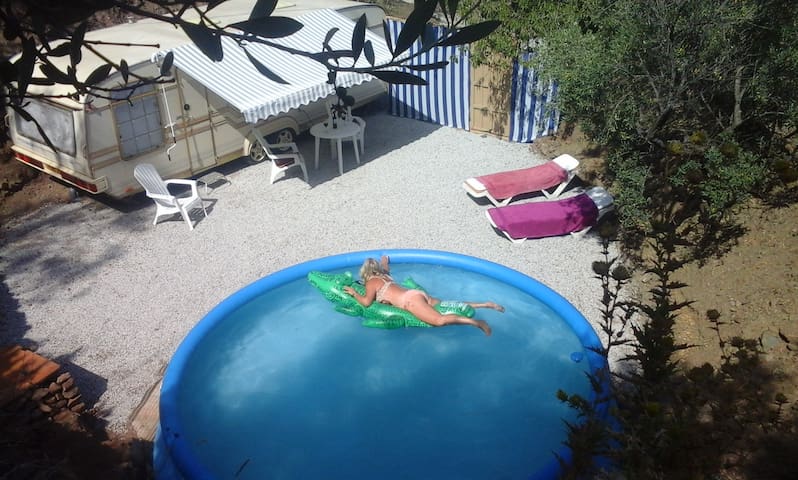 Luxury villa in the mountains between Sayalonga and Costa del Sol. Ideally situated for the perfect mix between sea and mountains, to relax away from the crowds.
Luxury 3 bedroom villa located between Alarrobbo and Sayalonga. Ideally situated for the perfect mix between sea and mountains, to relax away from the crowds. The villa is located in the idyllyc Axarquia mountain area in the sunny Costa del Sol with stunning sea and mountain views. It has 3 bedrooms: two master bedrooms with kingsized beds and 1 further bedroom with a single bed. There is a well equiped kitchen inside, bbq area outside and dining space. The villa is a holiday home. Guests are given the keys and will have access to everything in the house. All linen, utilities and pre- and post-cleaning is provided at a small fee per stay. Guests are free to use the private, large pool (approx. 9x4,5 meter) The area has everything one could wish for. Beautiful and quiet nature with great walking trails, beaches just 15 minutes away, historical Moore villages, shopping and golf. But just staying in the house and intensely relax while soaking up the sun and enjoying the stunning views is of course also an option. Approx. 40 minutes drive to Malaga, Approx. 15 minutes drive to beaches of Torre del Mar, Approx. 25 minutes to Nerja
Wij voelden ons zeer welkom. Wij werden persoonlijk ontvangen door de vriendelijke eigenaren. Na een rondleiding door het huis, bleek er ook nog een welkomstpakket in de koelkast te staan. De routebeschrijving om bij het huis te komen is zeer goed. Het huis is prachtig en staat op een heuvel met een mooi uitzicht op zee. Hierdoor is het er wat koeler en veel rustiger dan aan de kust. Het heeft een overdekte veranda waar je goed in de schaduw kunt zitten als het er warm is. Het zwembad is mooi en van daar uit heb je ook een prachtig uitzicht over de zee. Verder is het een mooi, comfortabel huis van alle gemakken voorzien. Met de auto sta je in 10 minuten je aan het strand of ben je op de snelweg naar Malaga of Motril. Wij hebben er een heerlijke vakantie gehad. Wij vinden dit huis een aanrader!!
Evert Jan de
2015-07-26T00:00:00Z
We went to Malaga with 2 adults and 3 young kids. Beautiful house on the mountain top which provides a great view. Swimming pool at the owner's house is nice and deep. We used it daily. Nice breeze in the evening and morning. The side road leading to the house is not suitable for people who are not used to driving on mountains or not good drivers because it is very steep. Nearest beach, Algarrobo Costa is unfortunately not a nice beach. Best is to drive a bit and visit Playa El Canuela. The house is close to one of the beautiful white village, Competa which is definitely worth visiting. We drove there at night which made finding the house more difficult. The house lies between Algarrobo Peublo and Sayalonga. When driving up the mountain on A-7206 from Malaga Airport, it starts with 13km. It is a board with green sign showing 13km. Sign 12km is on the right side but sign 11km is on the left side and you need to turn right up the side road immediately. So watch carefully for the sign.
Christine
2016-08-13T00:00:00Z
Mooie locatie Mooie uitzicht Mooie villa
Younes
2016-07-18T00:00:00Z
Tipe Kamar
Seluruh rumah/apartemen
---
Tipe Properti
Vila
---
Mengakomodasi
7
---
Kamar tidur
Algarrobo, AL, Spanyol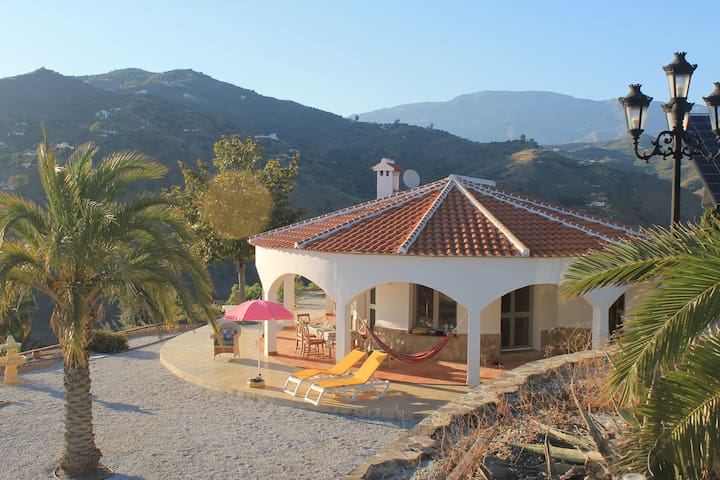 This holiday villa with private pool is located only 50 minutes from Malaga airport, about 15 min. From the beach and has stunning views over the Mediterranean Sea and the coast of the Costa del Sol at Torre del Mar. The house has total privacy and is equipped with all comforts and luxury.
Bedroom downstairs 3:50 X 3:00 (Children's) bedroom 3.90 X 3:50 Living room (PHONE NUMBER HIDDEN) kitchen X 2.70 Pantry 2.90 X 3:20 Upstairs (bedroom) 7.00 X 5:00 Dressing 2:00 X 3:40 Balcony 7:00 X 2:00
Het strand Torre del Mar Nerja Malaga Marbella
De vakantievilla is geweldig als je op zoek bent naar rust, ruimte en een fantastisch uitzicht. De eerste paar keer is de route naar boven avontuurlijk te noemen met de smalle en soms steile wegen maar dit went snel. De villa is netjes en makkelijk te onderhouden. Er is genoeg ruimte rondom het huis om twee auto's te parkeren. Het zwembad is perfect en zorgt voor een lekkere verkoeling op hete dagen. Het uitzicht is adembenemend vooral op heldere dagen en avonden en met het welkomstcadeau is het op het terras echt genieten. De villa is een aanrader en zeer geschikt voor mensen die de rust op willen zoeken. De route bergopwaarts naar de villa duurt 10-15 minuten naar het is absoluut de moeite waard!
Karin
2016-08-23T00:00:00Z
Prachtige plek, mooi in de bergen uitkijkend over de zee. Hemel op aarde. De rit vanuit het 'dal' naar het, van alle gemakken voorzien, huis is best pittig. Volg de goede routebeschrijving. Huis prima geschikt voor families en stellen. Strand op 15 min rijden. Lidl idem. Malaga 30 minuten.
Joost
2016-09-21T00:00:00Z
We had a really great time at Joffrys house. It's big, clean and very well equipped. Note that the bedroom on the second floor doesn't have doors so sounds from the living room on the first floor go straight up and vice versa. The beds were good and all rooms perfectly air conditioned. The outside area is really nice for sunbathing, swimming, lunch and dinner. Always sunny, but also possible to sit in the shade and cool of. The views towards the sea are spectacular both by day and night. The drive up to the house is somewhat an adventure, very steep and narrow, but not a problem. Joffry was very easy to communicate with although we never met. We had some warm water issues but they were solved during a couple of days, he also left us a welcoming gift and generally made us feel very welcome. Thank you Joffry!
Martin
2016-07-19T00:00:00Z
Such an amazing place!!! This villa was all we could ask for: a quiet property with an outstanding view to enjoy our holiday with our 3 months old baby. The kitchen has just everything that you need and we really enjoyed the use of a barbecue to grill the fresh fish we bought at the market. Swimming in our own private pool was such a pleasure, the little one was having so much fun:-) Joffrey was very accomodating and gave us a lot of helpful instructions. Malaga is only half an hour away and also the Siërra Nevada, which is such a beautiful surrounding, with the beautiful city of Granada within 1,5 hour drive. Thank you Joffrey for letting us into your home: we enjoyed every minute!
Wietske
2016-09-06T00:00:00Z
Tipe Kamar
Seluruh rumah/apartemen
---
Tipe Properti
Vila
---
Mengakomodasi
6
---
Kamar tidur
Arenas, Andalusia, Spanyol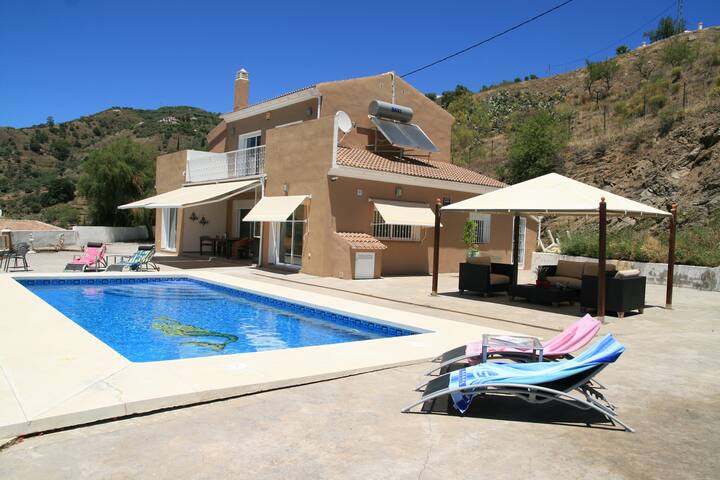 1

–

18

dari

300+ Sewa Tempat
Masukkan tanggal untuk melihat harga lengkap. Biaya tambahan berlaku. Mungkin dikenakan pajak.