It's irresistibly cosy, with a stove, books, and records. It's a 4 minute walk from the beach, and a 9 minute walk to the nearest pint.
Check-in: After 3 pm if we've had someone leave that morning Check-out: 11 am if another guest is due to arrive that day. Otherwise we're easy. The Acorn is a self-contained apartment attached to a family home on the Dingle Peninsula. It is a four minute walk to one of many stunning, unspoiled beaches. The Acorn is an intimate open-plan hideaway with a kitchen, living space, double bed and work desk. It has a bathroom with an electric shower. Linen and towels are provided. It has a large selection of books, DVDs and vinyl but there is no TV. There is internet access. There is a safe parking space. Surfboards and wetsuits are available on request. We have just installed a stove in the space, so it will be proper cosy now! Guests will be left to their own devices but we work from home so are usually here to offer help with travel plans or share our local knowledge. Nestled between sea and mountains, the Acorn is on 3/4 of an acre, surrounded by mature trees. It is situated on the outskirts of Castlegregory village which is known for its fishing, water sports, surfing, hill-walking, and white sandy beaches, so much so it is known as the Gold Coast. It is also part of the Wild Atlantic Way, Ireland's first long-distance touring route. There are a number of fine eateries and pubs servicing the area, especially during the Summer season. There are two grocery shops, a pharmacy, a post office, a hairdresser's, beautician's, butcher's, laundrette and a gift shop. There is a practically non-existent bus service (passes once a week!), so own transport is unfortunately mandatory! Unless you are alright hitching. Michael is, and never waits longer than 25 minutes for a lift. The Acorn is a superb base from which to explore this incredible peninsula but it's also a great little space to enjoy some serious down time. No public transport. :(
Séjour très agréable chez Ailbhe et Mickael, adorable petite maison, décorée avec goût et hôtes très sympathiques et très accueillants. Le confort assez rudimentaire : se chauffer à la tourbe, faire la vaisselle à la bouilloire fait partie du charme, tout comme faire tourner le vieux tourne- disque en découvrant des trésors de musique et en feuilletant des livres de toutes sortes...nous nous sommes reposés, avons pris le temps, l'irlande de ce côté est superbe en automne. A conseiller ! Anne et Fred
anne
2015-11-01T00:00:00Z
Un peu rustique mais tres sympa. Super accueil de Michael avec un pain maison excellent et quelques attentions sympathiques. Le coin est très calme, à côté d'une plage et pas très loin d'un petit village tranquille. Le studio est bien équipé et les hôtes habitent la maison mitoyenne en cas de besoin. Un tres bon souvenir, et une bonne option pour quelques jours tranquilles sur la péninsule.
Laurent
2016-08-15T00:00:00Z
We had a fantastic time at the Acorn. It is a lovely and comfy place, and Ailbhe and her family are warm and attentive hosts. We would go back any time and can highly recommend it. Not only the house itself, the setting and surroundings are wonderful as well: A beautiful beach, ideal for strolls, as well as hiking routes are just around the corner.
Barbara
2015-08-18T00:00:00Z
A lovely peaceful place to get away from it all. Ailbhe and Michael made us feel very welcome without being intrusive. The homemade bread and breakfast bits and bobs were a homely touch and much appreciated. A cosy little base to explore a wonderful part of Ireland.
lisa
2015-05-08T00:00:00Z
Had a perfect stay at Ailbhe and Michael's. A perfect, cozy place, couldn't ask for more, absolutely charming.
Aileen
2013-12-17T00:00:00Z
This place was just great! As we travelled a lot before we came to Acorn - we enjoyed ourselfes going trough the great bookshell and their venyl collection. The little house is really made with a lot of love and is perfectly situated near (2 min) the wonderful beach of Tralee Bay. Ailbhe and Michael where very friendly and caring. We would visit this place any time again!
Michèle
2014-09-07T00:00:00Z
Thank you so much for a fantastic night. The location is great, the place comfortable and tidy. Michael and Ailbhe are very welcoming. We enjoyed fresh warm home made bread after a walk along the long deserted nearby beach and a pint in the pub up the road. We loved the records and spent a blissful evening in vinyl heaven enjoying a bottle of wine listening to the wind and rain howling around us outside. And I nearly forgot to mention the amazing bath! You'll just have to visit to appreciate it. Be warned Michael, we'll be back again once the stove is installed and may not leave!
Ian
2013-11-04T00:00:00Z
Everything was fine! The house was clean, the fireplace very nice, the shower hot and that there was everything there for breakfast was a really nice extra (especially the home made bread and marmalade!). Thank you!
Katharina
2015-02-12T00:00:00Z
Tipe Kamar
Seluruh rumah/apartemen
---
Tipe Properti
Apartemen
---
Mengakomodasi
2
---
Kamar tidur
Camp, Kerry, Irlandia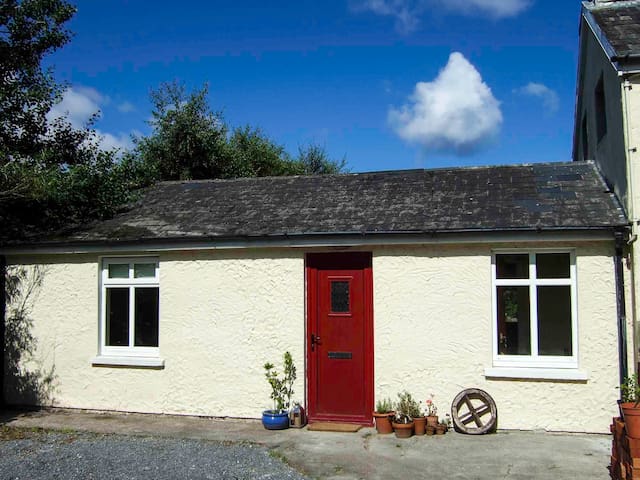 1 Bed Studio apartment on The Maharees, near Castlegregory. Sunset & sea views 1 min from the beach. Double bed, fully equipped kitchenette, ensuite. private entrance. Secure parking and secluded garden.5 min walk to Spillane's Bar & Restaurant.
Private space, perfect getaway.
Das Appartement war aufgrund der ausführlichen Beschreibung von Rose gut zu finden. Es war sehr gemütlich und schön gelegen. Der Strand ist nur einen Katzensprung entfernt. Rose's Bar ist genial und wir wurden dort herzlich von ihr begrüßt und sehr gut bewirtet! Ihre Familie und die Hündin waren ebenfalls liebenswert. Wir hatten einen sehr schönen Aufenthalt auf der Halbinsel und werden dies nie vergessen. Vielen Dank noch mal!!!
Sandra
2016-07-27T00:00:00Z
This is a beautiful room with everything you could possibly need in the kitchenette. The views are amazing and the bed is so comfortable. This place has no TV and is an ideal getaway to clear the mind and get back to the beauty of nature with stunning views of the mountains and the beach which is only a short walk away (where we went for a fabulous horse-ride!) I didn't meet Rose but she had everything we needed for an easy stay. I would recommend Rose's place to anyone travelling to this part of Kerry and in need of some rest and relaxation.
Amanda
2016-07-13T00:00:00Z
Rose's place and the Castlegregory area were perfect for a relaxing stay - there's beautiful beaches a short walk away and it's also easy access to the rest of the Dingle peninsula, which is spectacular. The apartment had everything I needed and the hosts were on hand if needed.
Peter
2016-07-10T00:00:00Z
Great location. Private quarters. Comfortable room. Easy parking. Right by beach.
Matt
2016-07-04T00:00:00Z
Apartamento perfecto para una escapada por el precioso Dingle! Nos encanto tanto los paisajes que vas viendo hasta conseguir llegar al alojamiento como la playa que esta a dos minutos y medio. Muy recomendable =)
Flor
2016-10-02T00:00:00Z
everything correct
Josean
2016-08-30T00:00:00Z
We had a super time at Rose and Rob's. The self contained Studio was lovely, stylish and very well equipped with everything you would need. The bed was very comfy and the shower extremely good. The view and location was brilliant and we spent most of the time surfing, walking, having pints in the green room and eating fresh fish in the fabulous Spillanes. So a big thumbs up and will definitely be back. Roisin and Mick.
Roisin
2016-08-14T00:00:00Z
We arrived close to midnight and did not meet Rose. She was very responsive to messages we sent late as we had a couple of questions after we got settled in. It was a little bit difficult to find the exact driveway at night in somewhat stormy conditions. Her directions were good, visibility wasn't-could not spot the ribbon that was supposed to help identify it. Not a big deal as the GPS coordinates led us to the exact spot.
Kyle
2016-10-03T00:00:00Z
Tipe Kamar
Seluruh rumah/apartemen
---
Tipe Properti
Apartemen
---
Mengakomodasi
2
---
Kamar tidur
Castlegregory, Kerry, Irlandia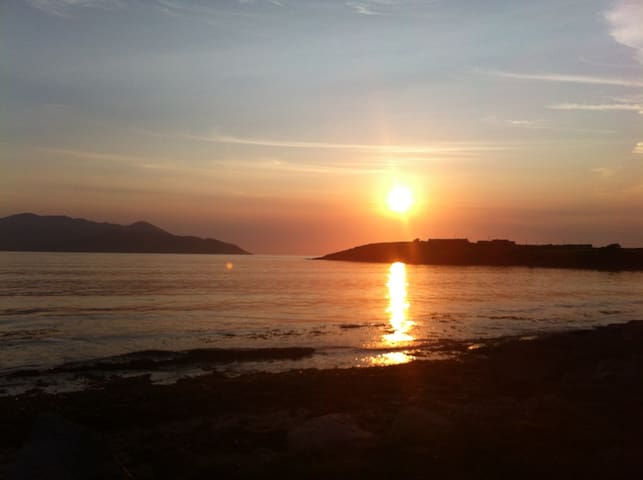 Set in a great location on the beautiful Dingle Peninsula, this apartment is a great base to explore all of Kerry, without being too far from the amenities of Tralee town at only 5 miles away. You can easily access mountain walks and beach is located just 3 kms. The apartment is set on the mountain overlooking Tralee Bay and Sea. EXPLORE : 1. Dingle Peninsula 2.Ring of Kerry as a day trip, 3.Killarney National Parks (30 mins drive) 4. Cork or Limerick as day trips. 5. North Kerry
Private and Scenic Location. You will be booking the entire apartment giving you and your travelling partner(s) complete privacy. Private side entrance ensuring privacy & separate accommodation from our family home, with private car parking. Cosy and compact, this apartment sleeps 4 persons sharing this 2 bed apartment at a budget price! 1x Double room and 1x twin room, with shower room. This is the perfect base to explore all of County Kerry and the Dingle Peninsula. We live next door so we can be on hand with any local information or suggestions to help you plan your trip. Tea /coffee /cake / cereals made available.
The property is located up a dead end lane with no traffic passing by. Neighbourhood is quiet and hidden from view. But the views are spectacular. Nearest shop 7 kms. Nearest bar 4 kms. nearest beach 3 kms. Mountain walks immediate vicinity. Tralee town (which has excellent amenities) 9 kms. Plenty of wet weather activities in Tralee and the county. We have a full information folder in the apartment with ideas of what to see and do, along with our favourite recommendations. The dingle peninsula itself is spectacular scenery at every turn.
Jayne was warm and welcoming and checked to see that we had everything that we required and then left us on our own. Perfect. We had the whole apartment (attached to the main house) to ourselves. Two bedrooms up as well as a bath and a lounge and kitchen down. Lovely views and glimpses of the sea. We did not have a cooked breakfast but there was cereal, toast and the like provided as self-serve. We had a lovely visit in the morning. Great, quiet place on the way to the Dingle Peninsula. She recommended a super dinner place, too.
Virginia
2016-09-26T00:00:00Z
Welcome was very nice, eventhough we came way to early.
Cvilak
2016-04-30T00:00:00Z
What a wonderful host! So glad we were told about the beautiful Conner pass, in fact we drove it twice, once in the morning fog and again when we could see the beauty.
diana
2016-09-10T00:00:00Z
Jayne was so welcoming and friendly. Our children plays together and it was a great experience for them ! The place is easy to find and very closed to Dingle which was a marvelous place to go : We see fungi the Dolphin and the spectacular seaside and landscape !!! The flat is well equipped for a family of 4 people as we can take our diner here. Thank you Jayne.
Perrine
2016-04-25T00:00:00Z
We were planning to gather at the Dublin airport and then drive to the Jane's apartment. I had very slight idea of our arrival time, but Jane arranged our accomodation the best way from the very start and all the way through. On our way we were texted of the secret place to find the keys, adn the description was so detailed and clear that we found the house and the key (with a very warm welcome note in Russian!) easily. The house turned out to be as good and cosy as expected, everything we needed was at hand, fully functional and convenient. The cooker, the fridge, the washing machine as well as all bathroom facilities were clean, easy to use and quite as we needed. (Looking at the photos, over 2 weeks after our departure, I still feel that warmth and comfort, and wish I get back to Edenbrook again!) Jayne is a young beautilful lady. She is very polite, though witty and lovely at the same time, ready to help in every little thing, welcoming to bother her any time we needed (though we didn't actually - everything had been served the best already). We are always ready to chat and like to spend time in a company, especially with such a lovely host, but Jayne appeared only once to ask if we needed anything and to talk just a bit. She briught us as much comfort as could be imagined. Jayne's family lives in a cosy and big enough house with her family, in the very heart of the stunningly beautiful surroundings. The rooms we took are in a separate wing with the separate entrance, so we could afford to leave at any time and return as late as we needed. The parking and the lane are convenient and quite enough for even a bigger car, so we had no problem at all. The place is situated at the very 'foot' of Dingle peninsula, all the places we went were rather easy to reach: some 10-15 minutes to Tralee, about half an hour to the westmost parts of Dingle penn, about half an hour to Killarney etc. So I'd 100% recommend the place to stay for 2 to 4 persons to have a very good and comfort time there. Hope we treated the appartment well and left it as it was before us. A billion thanks to Jayne!
Vasily
2015-07-03T00:00:00Z
If you have a car and you want to visit Dingle Peninsula, it's a good place to stay. It's quiet and near Tralee. Kind and welcoming host.
Andre
2016-07-09T00:00:00Z
This place is why we love Airbnb. Jayne welcomed us with a smile, her listing was exactly as described. We've told all our family and friends to check out this listing if they find themselves in Ireland! You won't be disappointed!! Thanks Jayne for helping us make memories on our Ireland adventure. Killarney National Park took our breath away, we probably wouldn't have gone had you not suggested it. Thank you a million times over !
Sidra & Frank
2016-11-22T00:00:00Z
La situation est idéale pour visiter la péninsule de dingle et le ring of Kerry. Jayne nous a bien accueillis et nous a présenté le logement qui correspondait à la description.
Gilles
2016-06-12T00:00:00Z
Tipe Kamar
Seluruh rumah/apartemen
---
Tipe Properti
Apartemen
---
Mengakomodasi
4
---
Kamar tidur
Tralee, Kerry, Irlandia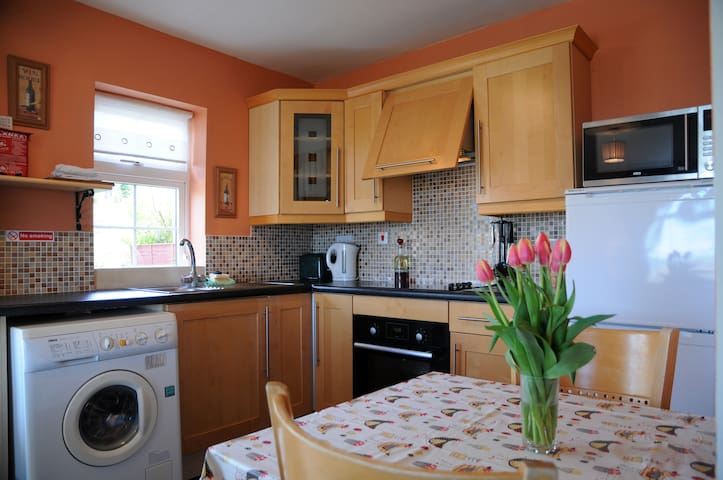 River Lodge ist ein Neubau, hell, geräumig und wohnlich ein Bett Wohnung in Annascaul und ist ideal für ein Paar oder eine kleine Familie. Es ist komplett eingerichtet und verfügt über einen privaten Garten. Es ist ein nur 5 Minuten zu Fuß zur Hauptstraße von Annascaul.
Es liegt in der Nähe der Hauptstraße in Annascaul mit einem 5 min zu Fuß zu allen Annehmlichkeiten dieses wunderbaren Ort wie Restaurants zu bieten hat, Bars, Geschäfte und eine blaue Flagge Strand nur 5 Fahr unnötig Minute, um die Landschaft zu sagen, ist Atem mit der Einnahme endlose Spaziergänge, Bergsteigen und Mountainbiken. Der berühmte Fischerdorf Dingle ist eine 15-minütige Fahrt mit einem aufregenden Nachtleben und traditionelle Musik. Killarney National Park ist eine 45-minütige Fahrt entlang einer Küstenstraße werden Sie nicht vergessen.
Es ist eine schöne und ruhige Umgebung.
We had a brilliant stay at Anna's place. Location was great and it was a lovely cosy house.
Ruth&Rory
2016-12-05T00:00:00Z
We were met by Paul and a very docile guard dog. Paul told us all we needed to know about the house and the area and then left us alone. It was a really good base for touring the Dingle Peninsula and access to golf courses. House was clean, tidy and comfortable for the few days that we had in Annascaul.
Fiona
2016-08-29T00:00:00Z
We had a great time at the River Lodge. Paul was super welcoming and helpful and it is such a cozy, clean, private and perfectly equipped place. We didn't miss anything and enjoyed being there as well as in the beautiful area of Dingle Peninsula. Thank you very much!
Patrick
2017-01-06T00:00:00Z
Anna's mother in law Margaret welcomed us on arrival and had the flat sparkling. She kindly gave us information on the locality: walks, restaurants etc. It was exactly as advertised, clean, spacious, comfortable and with everything you would need for a pleasant stay. The kitchen was well equipped with full cooker and plenty of utensils, and we cooked a couple of evenings. It is located a few minutes walk from the Main Street in Annascaul and is an ideal base for walking, cycling or touring the Dingle Penninsula and further afield. The area is very safe and quiet and while the flat itself is next to the family home, it is very private, fenced off with its own little garden. I have no hesitation in recommending it. Mary.
Mary
2016-06-26T00:00:00Z
Our holidays in Annascaul were amazing! Anna and Paul are great hosts and provided us with everything we needed during our stay (towels, bed linen, ...). We were welcomed by Paul and a huge but very friendly dog. Paul showed and explained us everything about the flat. The flat (actually it is a small house which stands separately on the property) was very lovely! The heating of rooms and water is electric. Costs for our 2-person-4-days stay were about 16€. The interior is new and clean. We really liked it :) The flat serves as a perfect base to explore the dingle peninsula by car and for visiting sights like the Killarney National Park. In the village Annascaul you can find a few pubs, a post office and a small supermarket where you get everything you need for cooking. Moreover there is a Lidl in Dingle, which you can reach within 15 minutes by car.
Eike Theresa
2015-05-08T00:00:00Z
Anna´s place was very nice and tidy. Her husband Paul told us about the secret spots around Annascaul and we had a great stay there. Wifi has problems sometimes, but we came along. We would recommend staying there.
Sonja
2016-09-12T00:00:00Z
Das Haus ist wunderschön gelegen. Die Einrichtung ist liebevoll, die Dusche wirklich gigantisch. Die Küche ist sehr gut eingerichtet. Die Gastgeber sind bezaubernd und sehr zuvorkommend. Man spürt, dass man dort willkommen ist. In Annascaul ist das berühmte South Pole Inn, in dem man alles über die Geschichte von Tom Crean erfährt, der dort geboren wurde. Außerdem findet man dort die Ashes Black Pudding Co., die wirklich den besten Black Pudding macht. Nach Dingle ist es nicht weit, dort ist die junge aber sehr bekannte Dingle Whiskey Brennerei Zuhause und natürlich Funghie der Delfin, man findet dort diverse Pubs und Supermärkte aber auch die Umgebung von Annascaul ist sehr sehenswert. Nach Tralee und zum nächsten Tesco sind es 34km. Kleiner Tipp: Wenn du richtig kochen möchtest, dann bring dir deine eigenen Kochmesser und einen Sparschäler mit. Es sind Kochmesser vorhanden und auch ausreichendes Besteck und Geschirr, aber ein gutes Messer ist beim Schneiden von Gemüse und Fleisch ja Gold wert, oder? :-D Wir sind sehr sehr gerne Gäste von Anna und ihrem Mann gewesen und würden dort jederzeit wieder hinfahren.
Christine
2017-04-05T00:00:00Z
Private, quiet, and spacious home in a perfect location for exploring Kerry! Great for walks, a short drive to Dingle, and less than an hour to Killarney. Home included nice pamphlets of activities to do in the area and DVD player w/ some DVD's. Unfortunately the internet was quite weak/ mostly absent (we had to go into town to check our email). Host was genuinely concerned about this and even called the provider.
Emily
2016-03-23T00:00:00Z
Tipe Kamar
Seluruh rumah/apartemen
---
Tipe Properti
Apartemen
---
Mengakomodasi
3
---
Kamar tidur
Annascaul, Kerry, Irlandia
Set in the heart of a working dairy farm and located between the mountains and the sea on the Dingle Peninsula - this is the perfect base for a quiet getaway, family holiday or activity filled stay. See the cows being milked, and bring home fresh milk every morning! - our happy hens will provide you with fresh eggs too! Very spacious 2 bedroom self-contained apartment adjoining an original Victorian farmhouse. Get a real taste of farm life, and explore the stunning Wild Atlantic Way!
Just 5 minutes walk will bring you to a long sandy beach - safe for swimming in summer, and wild windy and exhilarating in the winter! Lovely for long walks and so secluded it's almost private. The apartment is on a working dairy farm, so, green fields, beach, and mountains, all on your doorstep Views from bedrooms are onto our family orchard, and beyond to the mountains.....often with the cows happily grazing close by. This area is a renowned hiking destination - we have information and booklets on many of the trails, and we are happy to drop or collect you at one end, if your hike isn't a "loop"!
We are situated between Tralee (16km) and Dingle (30km) on the Wild Atlantic Way (2,500km of stunning coastline - check it out!) and within close proximity to Castlegregory and the Maharees - known throughout the world for the wonderful Surf. Other pursuits to be enjoyed include golf, hillwalking (we are on the Dingle Way for the walkers amongst you!), horse trekking, fishing (fresh and seawater) and extensive watersports. We can provide maps, info and local knowledge on most of these amenities. We have abundant information on local hikes, and will drop or collect you to/from your hike, should you require. The unique town of Dingle - rich with history, culture, stunning scenery, great pubs and restaurants...and of course Fungi the famous Dingle Dolphin - is approximately 35km - via the breathtaking scenery of the Connor Pass. To the east, is Tralee, with world famous links Golf Course, Aquadome, Wetlands Centre, Paintballing, and plenty of other activities for children, great shopping, and famous of course for "The Rose of Tralee". 30 minutes drive beyond Tralee is Killarney, breathtakingly beautiful, packed full with things to do and a great day trip from Meenascorthy.
A very comfortable, quiet and private part of a large farm house. With a nice sunroom that makes you feel and live the beauty of irish weather changes. We enjoyed the fireplace in the living room and kitchen is fully equiped. Jill and Andrew are great hosts and the Dingle area has landscape and beaches that will please your eyes.
Marie-Claude
2015-09-06T00:00:00Z
A fantastic stay! Everything as advertised and more! My husband and I would definitively recommend Jill and Andrew's place. Coming up with the right words to describe the experience is difficult. What a wonderful place - and yes, the secluded beach across the street is true....Wow! The location is perfect to visit both the Dingle Peninsula & the Ring of Kerry. Book now before you miss out on the opportunity to do so! Chantal (& Randy)
Chantal
2015-05-12T00:00:00Z
Fantastic stay from start to finish.. From the warm welcome we received the moment we arrived to the friendly chats we had with Jill and Andrew throughout our stay.. The house is in a ideal spot, right in the middle of all the tourist spots you need to visit while in the beautiful countryside of Kerry... Felt like home from home and the kids absolutely loved it too.. 10/10 would definitely return..
Deborah
2016-06-27T00:00:00Z
Jill och Andrew har varit måna om att allt skulle fungera så bra som möjligt. Vi blev mottagna med nybakat bröd, hemgjord marmelad, ny plockade blommar m.m. Fantastiskt! Huset låg väldigt fint på landet med djur kring huset och gångväg ner till en jättefin strand. Huset var väldigt rymligt och det fanns allt som man kan tänkas behöva och det var väldigt rent och trivsamt. Vi var mycket, mycket nöjda och skulle gärna komma tillbaka. Rekommenderas varmt!!!
Annette
2015-06-25T00:00:00Z
Andrew and Jill sounded very friendly and helpful from their messages prior to our stay. They greeted us warmly on arrival and were very forgiving when I accidentally walked around the apartment with muddy feet! Our first impression was that we'd made a great choice. The apartment was comfortable, well equipped and lovingly decorated, and the fresh flowers dotted around the place and the basket of lovely homemade treats were a real bonus. The apartment is in a nice peaceful setting, convenient for the beach. We could easily have stayed longer and would recommend it highly.
Helen
2015-07-21T00:00:00Z
As the description mentions, the Meenascorthy Farm is a family-owned working dairy farm but it is also truly a wonderful place to stay. Though the guest portion of the home is connected to the main, it truly feels as if you are staying in a separate house. Jill and Andrew were warm and wonderful hosts and kindly answered our many questions about the cows and life on the farm. Fresh-laid eggs and homemade brown bread and apple juice were there for us when we arrived. The little bouquets of fresh-picked flowers around the house were another lovely and thoughtful welcome. Many fun activities close to the house include morning and evening walks in the pasture to watch the sheepdogs round up the cows to come home and be milked (be sure to wear shoes that clean up easily), watching the milking operation of 104 cows, going to the beach at the end of their property, hiking way up in the hills, and relaxing in the sun room. This area of Ireland is exceptionally beautiful. We hope we can come back again one day. We know exactly where we'd stay!
Abby
2015-07-27T00:00:00Z
We had a wonderful time with Andrew and Jill who welcomed us very kindly. The house was perfect for our family of three, situated in a lovely countryside beside the sea. Our son had a lot of pleasure in the farm, with the animals and his new hero Andrew. Thank you very much for these moments, Lise, Jean-Pascal and Marius
lise
2015-08-16T00:00:00Z
We really enjoyed our stay with Jill and Andrew. They were thoughtful and kind hosts with good advice on local eating and visits. The apartment was great for a family of four. The house was very well located in a beautiful spot that was. Very convenient to everything but away from the tourist hustle and bustle. Perfect location for visiting all of the beaches and Dingle. The beach very close to their home is very beautiful and definitely worth a visit. The kids LOVED a go pedal operated cart that Jill and Andrew's kids had used. We appreciated the kindness and also all of the fresh eggs, tomatoes, plums, bread and milk that were given to us! Thank you for a very memorable trip. Best wishes!
Jenny
2016-08-10T00:00:00Z
Tipe Kamar
Seluruh rumah/apartemen
---
Tipe Properti
Apartemen
---
Mengakomodasi
4
---
Kamar tidur
Camp, Castlegregory, Co. Kerry, Irlandia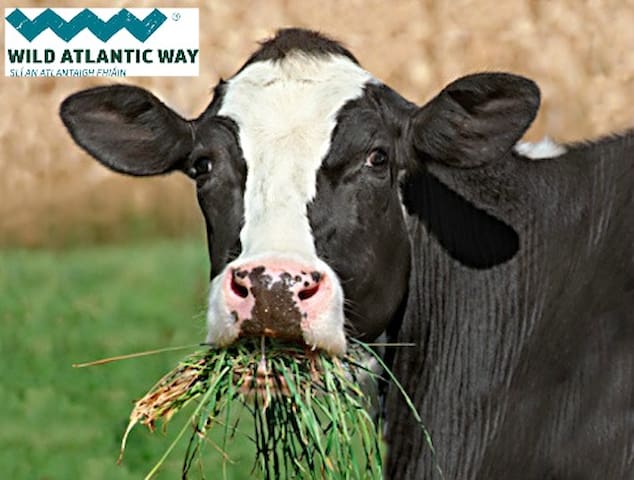 Geräumige Ein-Zimmer-Hütte in landschaftlich reizvollen Gegend auf der Halbinsel Dingle gesetzt nah an allen Annehmlichkeiten wie Geschäften, Restaurants und Pubs. Das Anwesen liegt in der Nähe einer Reihe von Stränden, einschließlich Zoll Strand und dem Bergtouren für Meilen weitergehen!
Das Haus ist gemütlich und einladend. Es ist ideal für ein Paar oder eine Familie von drei mit einer offenen Küche und Wohnbereich. Das private Schlafzimmer mit herrlichem Blick befindet sich im Obergeschoss.
Das Haus befindet sich in einer ruhigen und friedlichen sind mit einer atemberaubenden Aussicht.
Wir hatten eine sehr schöne Zeit bei Margaret, die gleich nebenan wohnt. Sie ist eine sehr freundliche und offenherzige Gastgeberin, die alles tut, damit man sich wohl fühlt. Das Haus bietet alles, was man für einen Selbstversorger-Urlaub braucht, ist geräumig und gemütlich, falls es regnet. Die ruhige Lage ist perfekt für Wanderer. Es gibt überall Wanderwege, die auch für Tagestrips geeignet sind. Ein kleines Dorf (Annascaul) mit Laden, Post und Pub ist gleich in der Nähe. Die Städte Dingle und Tralee sind mit dem Auto ebenfalls gut zu erreichen, auch der Inch Beach zum Surfen oder Spazieren ist nicht weit. Uns hat es sehr gut gefallen. We had a great stay at Margaret's cottage. She's a wonderful host who does everything to let you feel at home. The cottage is ideal for self catering holidays and cosy if it rains. It's perfect for walkers. There are lots of walking trails. A little village (Annascaul) with a pub, a post office and a little supermarket is in the neighbourhood, Dingle and Tralee are also very easy to reach if you have a car. Inch Beach for surfing or wakling is even easy to find. We liked it an we were very sad to leave.
Julius
2015-06-12T00:00:00Z
Everything is as described on website and reviews. Warm hosts and cozy house in a stunning location. There is a well-stocked convenient store in the village centre. Many thanks Margaret and John. We hope to return :)
San
2016-01-01T00:00:00Z
You will definitely enjoy your stay. I would highly recommend this cottage
Brooke
2017-04-02T00:00:00Z
We had a great stay at Anagap! Perfect location to get away, close enough to local attractions, hiking and pub grub. Love the atmosphere at South Pole Inn.
Michelle
2017-03-20T00:00:00Z
We loved everything about this great little cottage: the views, the location, the layout. Anna was there to greet us and to tell us how everything worked. This cottage is very cosy, it has all you need, ideal for couples. The village is a 5 minute walk away, but not for people who have trouble walking, because it's a very steep hill. There are a number of pubs in the village, a post office and 2 little shops. All in all a nice place to stay, highly recommended.
Michael & Mieke
2016-10-04T00:00:00Z
The Annascaul cottage is a wonderful place to stay. It is quite comfortable and has a beautiful mountain view. Margaret is a very friendly, helpful and attentive host. We really enjoyed our stay. Thank you!
Tanja
2016-08-13T00:00:00Z
Margaret was extremely welcoming, pleasant and accommodating. The cottage was all and more than we expected, set in gorgeous surroundings with easy access to this beautiful location. Thank you Margaret.
Victoria Anne
2016-11-02T00:00:00Z
nous recherchions un cadre en pleine nature, ce qui a été le cas. Le village d'Anascaul est très sympa notamment les pubs avec musique irlandaise. Margaret nous a donné des conseils de balades alentours.
therese
2016-08-31T00:00:00Z
Tipe Kamar
Seluruh rumah/apartemen
---
Tipe Properti
Apartemen
---
Mengakomodasi
3
---
Kamar tidur
Annascaul, Kerry, Irlandia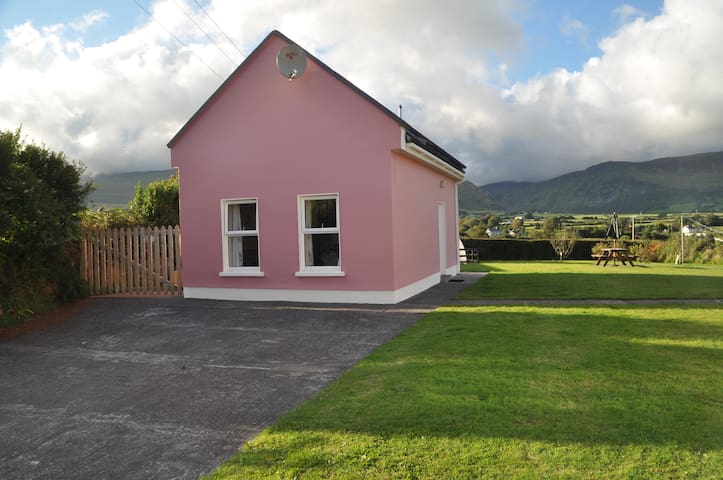 2-2 Schlafzimmer mit Bad Apartments Jede bietet Platz für 5 Personen .Alle Komfort. Das Hotel liegt in einer wunderschönen Umgebung am Strand mit Blick auf Brandon Bay, gegenüber Spillanes Bar / Restaurant Mindestaufenthalt von 1 Woche in der Hochsaison Juli und August
Meerblick aus jedem Fenster, die auf Strand
Schön
Great location, apartment and host..couldn't more highly recommend this for a family, group or couples holidays. Cosy apartment with lovely stove and great kitchen facilities, right on the beach. Will be back!
Maeve
2016-09-05T00:00:00Z
Tipe Kamar
Seluruh rumah/apartemen
---
Tipe Properti
Apartemen
---
Mengakomodasi
4
---
Kamar tidur
Maharees, Castlegregory, Irlandia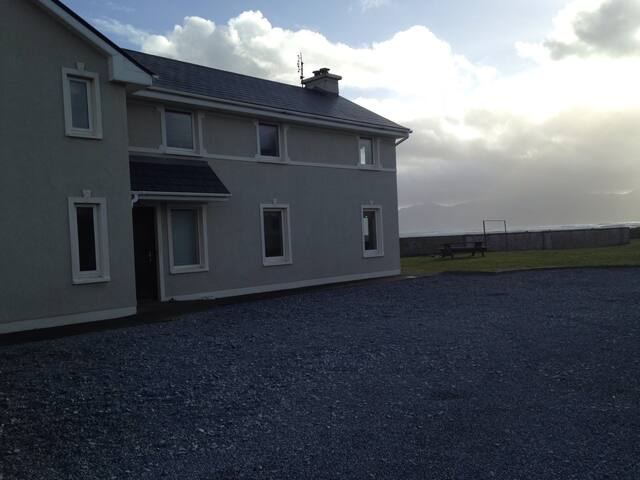 The Little Sanctuary est niché dans un bois verdoyant à l'embouchure de Macha na vallée de Bo, le moment où vous tournez la petite ruelle pittoresque au pied du col Conor vous savez que vous êtes quelque part très spécial. Comme quelque chose d'un roman de Tolkien.
The Little Sanctuary est niché dans un bois verdoyant à l'embouchure de Macha na vallée de Bo, le moment où vous tournez la petite ruelle pittoresque au pied du col Conor vous savez que vous êtes quelque part très spécial. Comme quelque chose d'un roman de Tolkien, la paroi abrupte de la vallée augmente de façon spectaculaire dans les eaux cristallines de la rivière Owenmore. Ce loft appartement d'une chambre est une maison de ferme restaurée avec amour plein de détails authentiques et des recoins insolites. L'espace de vie principal est au premier étage, il est ouverte avec une cuisine, un salon, une table à manger et poêle à bois. Cette retraite paisible est complètement privé et peut être loué avec le sanctuaire de dormir huit. propose des chambres Chambres1 Capacité d'accueil: 2 Adresse: Glennahoo, péninsule de Dingle Salon Le salon principal est au premier étage avec vue sur le jardin et la vallée. Il y a des fenêtres velux qui donnent beaucoup de lumière à cet espace ouvert. Avec une table à manger, poêle à bois et cuisine entièrement équipée. Chambre Il y a une chambre double en bas avec placards et une grande fenêtre donnant sur les jardins verdoyants. Salle de bain Il y a deux salles de bains avec douche, lavabo et toilettes. un en bas hors de la salle et un au large de la zone d'habitation principale à l'étage. Le Petit Sanctuaire a une grande allée avec un parking privé, des jardins luxuriants et de votre porte il suffit de suivre la rivière Glennahoo à travers la vallée et plus au lac Annascaul, juste un des nombreux superbes promenades. La région immédiate autour de la ferme est à couper le souffle. Installations Machine à laver, four avec plaques de cuisson à gaz, réfrigérateur / congélateur, cafetierre, bouilloire, grille-pain, sèche-cheveux, fer et planche à repasser. Divertissement Il y a une télévision avec pas de chaînes, mais un lecteur de DVD, beaucoup de livres, des jeux et un paradis pour les randonneurs à votre porte. espace extérieur Le Petit Sanctuaire a une grande allée avec un parking privé, des jardins luxuriants et de votre porte il suffit de suivre la rivière Glennahoo à travers la vallée et plus au lac Annascaul, juste un des nombreux superbes promenades. La région immédiate autour de la ferme est à couper le souffle.
Le Petit Sanctuaire a une grande allée avec un parking privé, des jardins luxuriants et de votre porte il suffit de suivre la rivière Glennahoo à travers la vallée et plus au lac Annascaul, juste un des nombreux superbes promenades. La région immédiate autour de la ferme est à couper le souffle. Mont Brandon domine les villages de Cloghane et Brandon, une communauté accueillante avec un riche héritage de la musique, la langue, et la danse. Il y a de nombreuses promenades dans les lacs, des cascades, des criques, des plages, falaise promenades et bien sûr la promenade inoubliable / monter le mont Brandon. Cloghane a deux grands bars / restaurants servant O'connors et O'Donnells alimentaires pub. Brandon est centré autour des activités de la jetée, la natation, la pêche, boire, manger, observation des dauphins, la socialisation. Il est un endroit très spécial et dans les mois d'été plein d'activité avec les enfants et les adultes parfois sautant du quai, les bateaux d'embauche, Curragh d'aviron de (bateaux traditionnels irlandais en toile épaisse et le goudron). bar Murphys est sur la jetée surplombant la baie, il y a aussi le bar de Mullalies et Cathy autour du coin. Mullally de sert la nourriture toute l'année tous les jours.
Tipe Kamar
Seluruh rumah/apartemen
---
Tipe Properti
Apartemen
---
Mengakomodasi
4
---
Kamar tidur
Glennahoo, Dingle Peninsula
A top floor seaside apartment with amazing views of the beach and mountains situated in camp on the wild Atlantic way , ideal base for touring Dingle peninsula, ring of Kerry ect. private parking
Tipe Kamar
Seluruh rumah/apartemen
---
Tipe Properti
Apartemen
---
Mengakomodasi
4
---
Kamar tidur
Tralee, Co. Kerry, Irlandia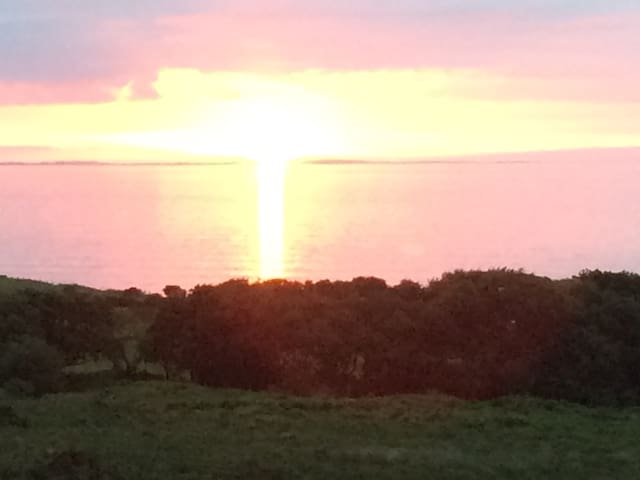 1 bedroom apartment with bedroom and bathroom upstairs and a separate kitchen, living area and bathroom downstairs. it is 5 minute walk from beach and 3 km from the local village.
Valerie was a very friendly and helpful host . She provided a French press and salt and pepper when we requested them, and she gave us tips about a beautiful lake walk and a historic pub. The cottage is spacious, modern and very clean. (It is bigger than the description. Three people could sleep in the two beds upstairs, and two on the futon bed downstairs.) There's a pool room with games and books and comfortable chairs (we were glad to find a walking guide for the Dingle peninsula). It is a quiet spot and we slept well. There was everything we needed to make coffee and tea, and even digestive chocolate bars! There's a nice yard with pretty flowers and a little fountain. Nice place!
laura
2015-06-29T00:00:00Z
We stayed here for just one night between exploring Killarney and the Dingle peninsula. Valerie was helpful and understanding when we arranged our arrival, and Anthony gave us a warm welcome when we got there. The little apartment blew us away, extremely quaint and clean and perfect for our stay. A lot more accommodating than we imagined - it would be perfect for two couples or a group of friends if you don't mind being a little cosey. Lots of nice touches with decor and little tea and coffee stations. Anthony was a really welcoming host, he insisted on dropping us up at the local pubs and even picking us up once we'd had a few!! He left the door to the pool room off the Bed and Breakfast next to our apartment open so that we could enjoy a few games, and he even gave us a pot of local honey to take home with us. I would definitely recommend staying here, the local pubs had a nice friendly atmosphere and there was plenty to do and explore in the surrounding areas. The Dingle peninsula is beautiful, even in the rain, but fortunately we were very lucky with the weather for the time of year. I will definitely be going back!
Sarah
2015-11-08T00:00:00Z
Tipe Kamar
Seluruh rumah/apartemen
---
Tipe Properti
Apartemen
---
Mengakomodasi
2
---
Kamar tidur
Tralee, Kerry, Irlandia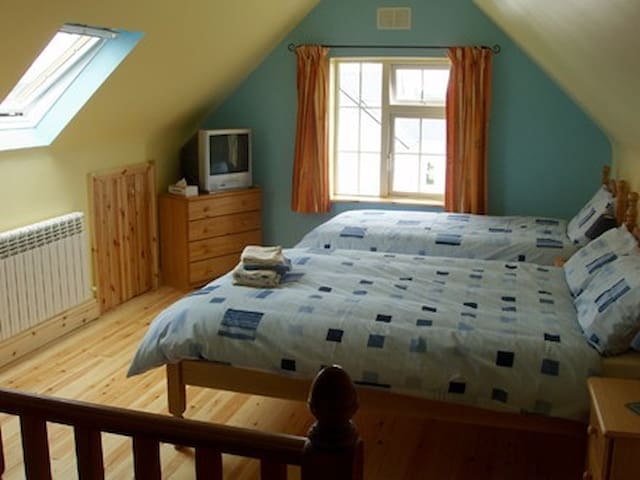 A beautiful and very sweet, self contained, one bed modern apartment on the Wild Atlantic Way. Newly decorated and well equipped with own separate entrance. A warm welcome awaits. Set in a rural location with many popular attractions nearby, * Banna Strand 5 km * Ballyroe Heights Hotel 3 km * Ardfert Village and Cathedral 2 km * Tralee Golf Club 9 km * Tralee Town 7 km * Ring of Kerry * Dingle 50 km * Killarney 40 km Within a short drive you'll find restaurants, pubs, deli, shops.
Tipe Kamar
Seluruh rumah/apartemen
---
Tipe Properti
Apartemen
---
Mengakomodasi
2
---
Kamar tidur
Kerry, County Kerry, Irlandia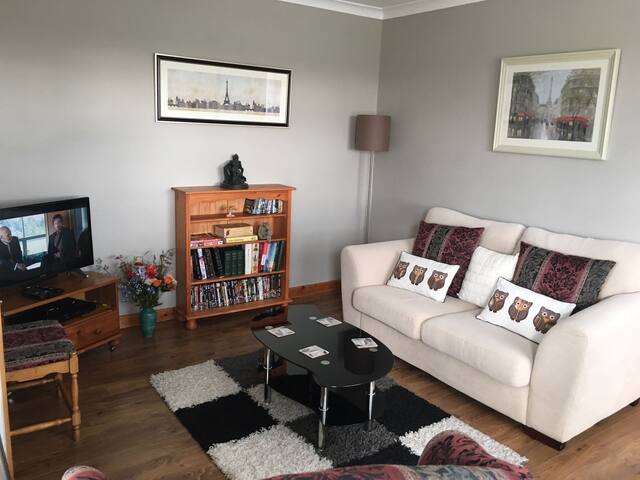 My place is 10 minute drive on the Western outskirts of Tralee, with fabulous beaches, golf course, Siamsa theatre, cinema, aqua dome nearby and only 30 minutes to the airport. . You'll love my place because of the views, ambiance and quiet location. The apartment has been newly refurbished to a high standard, ensuring a warm, very comfortable and cosy place to stay. My place is good for couples, solo adventurers, business travellers, and small families.
Bright, airy, peaceful and very comfortable apartment with own parking, and outdoor sitting/eating area. Rural setting. From the front of house, you look out onto our fields which reach down to Tralee Bay and the Slieve Mish Mountains beyond. An ever changing picture of beauty!!
With Tralee Bay and the Slieve Mish Mountains beyond, any walk is amazing. We have Cockleshell road and beach nearby, from where you can turn left and walk to Blennerville and into Tralee,along the canal, or turn right and walk along the bay to The Spa! There's also the Dingle Way, and Mt. Brandon for serious walkers.
The apartment was beatiful and cosy, all new and very clean and comfortable. On our arrival there was already fresh bread and eggs and all other things for breakfast in the kitchen. The location is beatiful situated and if you have a car it is a short drive to Tralee and not far from the Dingle Peninsula. We enjoyed our stay very much and would recommend it highly. Thanks Annette for the beatiful accommodation.
Alex
2016-12-25T00:00:00Z
Annette's place is very comfortable, clean and tidy. It has everything you need for a pleasant stay I highly recommend it.
Shelley
2017-03-30T00:00:00Z
Annette's place is extraordinary. Well equipped kitchen, cozy bed, nice big shower and most important: a very calm and marvellous environment. You feel like a local immediately. Tralee by the way is a sweet little town/city where all people are kind and helpful. Love the irish. Thank you for a great vacation.
Philip
2017-01-01T00:00:00Z
Annette was very welcome, we had the chance to have homemade bread and granola etc.. Delicious !! The house is very confortable, looks brand new and quiet. Perfect location to discover this wonderful part of Ireland: ring of kerry, Dingle peninsula etc..
La Paire de Cerises
2017-03-15T00:00:00Z
If you're looking for a beautiful place with a beautiful view, Annette's place is where you should stay. We enjoyed our stay very much, and Annette was very accommodating and sweet. If we return to Ireland, we will for sure stay here again!!
Taylorann
2017-03-23T00:00:00Z
Annette's place is very very clean and well appointed. She left fresh eggs, tomatoes, mushrooms, milk, butter, homebaked brown bread, rashers & sausage for us to make our own breakfast. She even offered her husband to make for us, if we decided not to cook. She had some great recommendations and info for us. Easy, clean, lovely, great location.
sarah
2017-01-15T00:00:00Z
This is as good as you will find. Very lovely accomodation. Beautiful comfy bed and terrific bathroom, kitchen and lounge. Quality fittings, great hosts and super location. Highly recommended.
Geoffrey
2017-02-26T00:00:00Z
Nice modern stay in a secluded/rural countryside of Ireland. It was cool to not be in a city for a night, and would recommend to those looking for the same thing.
James
2017-04-06T00:00:00Z
Tipe Kamar
Seluruh rumah/apartemen
---
Tipe Properti
Apartemen
---
Mengakomodasi
2
---
Kamar tidur
The Kerries, County Kerry, Irlandia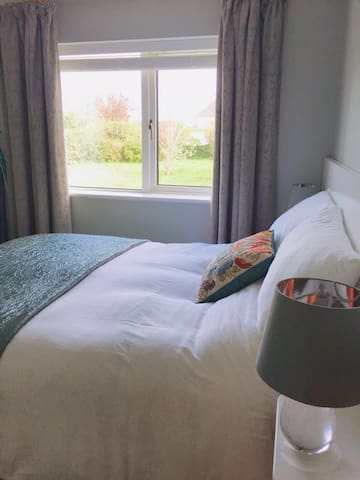 Cead Mile Fáilte ! We are new to Airbnb as of March 17 but not to the pleasure of hosting! Visitors from around the world have been holidaying in our apartment for over 18 years. Our guests have consistently complimented us on a comfortable and a memorable stay! Cockleshell Road is a five minute drive, 20-25 minute walk from Tralee town, quietly set in the countryside and a 5 minute country-road walk to the secluded Cockleshell beach.
•Self Contained Apartment • Private entrance • Safe and secure parking •Wi-Fi •We also offer Free landline calls to Australia, Austria, Belgium, Canada,(including calls to cell/mobile)Czech Republic, Denmark, France, Germany, Greece, Hungary, Italy, (including Vatican City) Luxembourg, Netherlands, New Zealand, Norway, Spain,( including Canary Islands) Sweden, Switzerland, United Kingdom and last but not least, the United States,(Including cell/mobile phones). •Sky+ Includes movie channels, Irish and International news stations, discovery, documentaries, sitcoms, kids,music, etc, (pay per view is extra). • Room 1: Warm and cozy, double bed with dresser and wardrobe/closet. • Room 2: Separate living/sitting area includes a two recliner leather sofa, end tables, coffee table, 32"HD flat screen, double floor air mattress with comfort toppers to accommodate two. •Room 3:Kitchen includes fridge/freezer, stove with oven, microwave oven,sink, kettle, glassware, utensils, washer and dryer laundry facilities is shared with myself,one load of washing is included per day and other loads at a nominal fee. •Room 4: Bathroom shower,hot water always available. • South facing deck: table,chairs and sun lounges. • Front Garden for croquet, thinking about a horseshoe pit. • We will be taking reservations for the summer, so send an email requesting dates and I will supply rates etc and I will unblock dates for you to book if you wish if available.
Cockleshell Road is an area of outstanding scenic beauty and abundant wildlife. Walkers, joggers, cyclists will enjoy the trails at the end of our road with surrounding mountains and stunning sea views that lead to Blennerville or the Spa.
We loved our stay at Siobhan and Paul's. The unit is very clean and beautiful and it was really nice to wake up to the views of the mountains. They are in a great location with many popular towns close by. We appreciate the effort you guys went to for us. Highly recommend.
Ellie
2017-03-31T00:00:00Z
We had a great time with Siobhan and Paul. We didn't have a car and they were gracious enough to take us out to Banna beach and to see the sights nearby. The space is attached to their home but has a private entrance and its own deck. The dogs are lovely and the house is a 5 minute walk from the water. It has a beautiful view of the mountains and is a lovely escape for the weekend! Very clean, as advertised. Wonderful hosts.
Juliana
2017-03-26T00:00:00Z
Siobhan and Paul were fantastic hosts. It felt like we were staying in a family member's home, as they treated us like their own sons and daughters. There isn't a more beautiful view than the view from the back porch. Paul and Siobhan convinced us to go to Dingle and mapped out a special route that was definitely my favorite drive of our Ireland tour. They sent us on the road with a hot breakfast and rested feet.
Nick
2017-04-08T00:00:00Z
Siobhan and her husband were very welcoming and accommodating, providing even more than what was offered in their listing. Their place is in a beautiful area near the water and we were able to take a lovely jog along the beach. I would certainly recommend it!
Margo
2017-03-21T00:00:00Z
Simply superb! Such friendly and welcoming hosts! Visiting in our honeymoon we were welcomed with a bottle of champagne, card and fruit bowl. Candle lit brekkie with everything you can imagine and helpful advice on where to drive on the way to Galway. Highly recommended! Lovely homely stay- hope to return again!
Lisa
2017-03-20T00:00:00Z
We thoroughly enjoyed our stay in Siobhan's place. The house is situated on a lovely scenic road near Cockleshell beach. Siobhan and Paul were very friendly and welcoming, even offered us a lift to town in the evening which was a lovely gesture. We slept like logs because the bed was so comfortable. Siobhan gave us a fabulous full Irish breakfast the following morning and we would definitely stay again. A home from home experience and Highly recommended!
Denis
2017-03-19T00:00:00Z
Great place and a great host! The house was very clean, modern and the location was better than we expected, with an amazing view of the mountains and the ocean. We felt very welcome at the house and the breakfast was lovely. Would recommend to anyone!
Marcin
2017-04-09T00:00:00Z
Tipe Kamar
Seluruh rumah/apartemen
---
Tipe Properti
Apartemen
---
Mengakomodasi
4
---
Kamar tidur
The Kerries, Tralee County Kerry, Irlandia
Self-catering,boutique apartment accommodation. WiFi. The flat includes bedroom, with double bed, bathroom with shower, living room/ kitchen. Sofa/bed in sitting room also. March through June is the lambing season. Great views and walks!
Stay on a working sheep farm in a private accommodation. The flat includes bedroom, with double bed, bathroom with shower, living room/ kitchen. The sitting room also has a fold out sofa/bed that will sleep two. Entrance is private, and off the deck. The sitting room allows views of the surrounding fields with sheep grazing below. Spend an evening on the deck and bar-b-que some local beef or fish. On a clear night the stars are spectacular. If it is raining, then light the fire in the solid fuel stove in the living room. The apartment has a flat screen TV (Irish channels) and WiFi. Parking is at the rear of the house just beside the stairs to the deck. Laundry facilities are not on site, but are there are two service laundries in Dingle. Dingle Town is about 3 1/2 miles from our front door. We are located just off the Slea Head Drive, possibly one of the most scenic drives in Ireland. In Dingle you will find shopping, dining and pubs. Dingle is a harbor village with a bustling night life. It is nice to be close to Town, but also nice to have the peaceful quite nights on the farm. Take a harbor boat ride out to meet Fungie, Dingle's resident dolphin. He has made Dingle his home for over 30 years now. You have a chance of getting up close and personal with him if you book a kayak. Horseback riding, hiking the Dingle Way, and clean beaches are all just minutes away. Meanwhile, down on the farm . . . March through May is the lambing season, and so very busy on the farm. You can participate as much as you like. You may be able to assist with lambing, or bottle feed a lamb. Pregnant women are not recommended to come into contact with newly born lambs. The fields of our farm are yours for the roaming. We have spare wellies and farm coats on hand, so you don't have to dirty your own clothes, should you be out on the farm. Note: The house is brown with a blue door. It is the only brown house with a blue door on this lane. Please - No small children under the age of seven. We are farmers, so we are early to bed and early to rise. The apartment is directly over our bedroom, so if you life style means you don't know night from day, then booking our accommodation, might not be suitable. We hope to see you soon in Glin South Dingle Co. Kerry. Pricing is based on two people sharing, additional people can be accommodated at an addition fee.
Close to Dingle Town, but far enough out to be peaceful and quiet. On the Wild Atlantic Way. (URL HIDDEN)
This flat is quite lovely and is even more beautiful than the website pictures represent it. It's also larger than I expected. 4 of us fit there quite comfortably. The space is very efficiently used and I took lots of pictures to give me ideas for future home projects back in the States. The location is far enough away from Dingle to feel that you are in the Irish countryside but close enough to scoot back to town for meals, sightseeing, etc. It took us less than 10 minutes to drive back to town. We were very excited to be staying on a working farm, and the sheep provided endless entertainment while we were relaxing in the flat. There are a lot of windows in the common area so you can easily keep an eye on the lambs and their antics while eating a meal, reading, or just relaxing in the rocking chair by the large windows. The flat was very clean. We were met by Janet and Seamus upon our arrival and quickly settled in after a long day of sightseeing at the Ring of Kerry. We appreciated the change of pace from the more crowded town of Dingle, and enjoyed the peace and quiet of the country. We all slept very soundly, and left the flat feeling rejuvenated, exactly what we were hoping for from this vacation. I highly recommend this rental!
Mary
2016-06-20T00:00:00Z
We had an absolutely wonderful time staying in this beautiful apartment. It was comfortable, warm and clean. It really felt like home from home! The hosts, Janet and Seamus, were so welcoming. We even had the opportunity to help out on the farm! We loved our stay and will be back for a return visit. No hesitation recommending this Air B&B.
Amy
2016-03-25T00:00:00Z
The accomodation was great. We arrived late but found the house ok with the directions Janet provided. The apartment in the roof had good hot water & water pressure with a combustion fire we used each night.
Peter
2014-10-15T00:00:00Z
Had a great stay with Janet and Seamus. They were happy to show us the farm and provide some recommendations for restaurants in town. The apt. was brand new and very clean. Would happily stay again and/or recommend to a friend.
Brian
2014-05-15T00:00:00Z
Jan and Seamus were incredible hosts and we loved our time at their farm. Jan sent great instructions ahead of time and went the extra mile to make sure we were comfortable. The apartment was just as pictured, very clean, and included many nice little extras (milk in the fridge, information on the town, etc.) to help us feel at home. It's a short drive into the town of Dingle and there's a spectacular view off of the deck. The bed and pull out couch bed were both extremely comfortable. Seamus went above and beyond and changed our flat tire for us and Jan showed off some of her amazing harmonica skills to our daughters who love to play. They also got to help feed the sheep and the ducks. My favorite part was sitting inside at breakfast and watching the sheep right out of our window. I would highly recommend staying here.
Makeba
2014-08-15T00:00:00Z
We had the most amazing time in Dingle staying with Janet and Seamus. The apartment is so comfortable and cosy and everything you need is right there.
Sarah M
2015-05-26T00:00:00Z
Janet and Seamus were great hosts and the place was awesome. Great place to make a fire and relax for a bit. You can go on great hikes and see sheep/lambs right out their backdoor. Would definitely go back if I were in Dingle area again.
Clare and Tim
2014-03-21T00:00:00Z
Janet and Seamus were lovely hosts. We thoroughly enjoyed our stay on their beautiful farm. The apartment is clean and well outfitted- very comfortable. The wifi worked well. We used both the double bed and the pullout couch and everyone was very comfortable. We enjoyed being on the farm and feeding the lambs with Janet. The Dingle peninsula was gorgeous. We would love to return and stay again.
Julie
2014-07-02T00:00:00Z
Tipe Kamar
Seluruh rumah/apartemen
---
Tipe Properti
Apartemen
---
Mengakomodasi
4
---
Kamar tidur
Dingle, Kerry, Irlandia
Our cool and comfortable two bed apartment has a true rustic vibe. It comfortably fits four people and is located in a beautifully scenic part of the countryside of Ballyheigueour local taxi service conveniently situated 200 metres away. A modern kitchen leading onto a large decking area offers breathtaking views of Ballyheigue Bay.
Continental breakfast is included in your price, also I like to leave baked homemade bread or scones for our visitors as I can imagine people like something wholesome in the morning. Tea, coffee, sugar, milk and butter provided. This space has a very relaxing and chilled vibe , it's almost impossible not to feel at home here Our rooms a cosy but with lovely light in the mornings (black out blinds are also fitted to accommodate a lie in ). There is a sink in each room for old fashioned convenience. Everything that you need to rustle up some food in is the kitchen with a two ring Hob, three tiered electric steamer, microwave and large George Foreman grill. Loads of ware , wine glasses , kitchen utensils.we do not have an oven but everything you need to rustle up some dinner is present in the kitchen. The sitting room area has a very comfy sofa , flat screen Tv with plenty of channels to choose from ,wifi and a music system which pipes music to each room. There are also some books , if you fancy a read !!! All towels supplied , shampoo and conditioner , hand wash at each basin also supplied.
Here in Ballyheigue we get a lot of people cycling as we are situated on the kerry head cycle course, a lot of people training for the ring of kerry would practice out here as the terrain is very like that of the ring of Kerry. Our apartment is the ideal base for anyone looking to get some cycling experience. Walkways The North Kerry Way is a 48 kilometre linear walking route through the northern part of County Kerry in the south west of Ireland, starting in the county town of Tralee and ending in the town of Ballyheigue. While not as well known as the Iveragh or Dingle Peninsulas of the same county, North Kerry has much to offer, including spectacular seascapes, the finest beaches in Ireland and a multitude of ancient sites, churches and field monuments. The route heads out of Tralee with the Dingle Way to Blennerville with its fine traditional windmill: there the routes part and the North Kerry Way heads north west along a sea wall at the back of Tralee Bay. From the village of Spa it goes cross country onto the white sands of Banna Strand to reach the village of Ballyheige and the beginning of a scenic mountainous area on Kerry Head, which it loops around before finishing at Ballyheigue. The terrain consists of mainly quiet country roads, firm beach sand (except at high tide), tracks, bog roads and field paths. The route is flat except for the last 18 kilometres where there are some short ascents, with an aggregate climb of 370 metres. There are some short loop walks which link with the main route of the North Kerry Way. Fun runs/marathons The Half on the Head course map and elevation is outlined in our photograph section, here are some details ; The Half on the Head follows a wonderfully scenic course from Ballyheigue Village right around the Kerryhead loop before ending up back at the start point. The first half of the course meanders gradually uphill before levelling out at the point of Kerryhead and then beginning a steeper decent back towards the village. Stunning views can be experienced the whole way around if you have the energy to enjoy them. If not you can expect a warm welcome at the finish and at the Race Bar-B-Que that evening. North Kerry – rural bliss, stunning beaches, famous links, historical icons, family fun & the literary giants! It is only when visitors to North Kerry wonder at our countryside and lifestyle, do stop to reflect a little on what we have! Idyllic country lanes, vibrant rural communities, fascinating heritage towns, stunning golden beaches, world famous links courses, great literary feats and the natural storytelling gifts of North Kerry locals. For planning your route just follow the link to AA Roadwatch, this will make it easier for you to get here the quickest way possible where ever your coming from. Arriving to Kerry through Tarbert sets the scene! The Killimer ferry offers you the opportunity to dolphin watch en-route s to Dingle to see their greatest resident Fungi the dolphin. Heading towards Listowel, see Moyvane's Nature Trail and Village Walk. Listowel is the "Literary Capital of Ireland". World famous writers such as John B. Keane, Bryan McMahon and George Fitzmaurice are the foundation stones for Listowel Writer's Week. A designated Heritage Town, Listowel displays wonderful architecture on the Heritage Trail. Take in the "Big Bridge" and the "Garden of Europe" that contains more than 2,500 trees and shrubs from European countries. Heading towards Ballybunion, enjoy the rural countryside of North Kerry passing through Lisselton. Stop at the Thatch Bar and fill up on ancient local knowledge from people who have been there all their lives. Enjoy great food and drinks while you travel. Or you can take the coast road from Tarbert, and you can visit Ballylongford, birthplace of one of Ireland's finest poets, Brendan Kennelly. Carrigafoyle Castle, a listed National Monument is found on Carrigafoyle Island. Built between 1490 and 1500, it features a 104 step spiral staircase that visitors can climb. Standing 30 meters high, it has stunning views from its battlements. Ballybunion is truly a great seaside town. Blue Flag beaches, seaweed baths, buckets and spades, sandcastles, picnics, periwinkles, candy floss and blue Atlantic waves with sea breezes full of salty air! Not forgetting the Bromore Cliffs, their beauty is truly a great sight to be seen and admired. Along with the magnificant beaches and cliff's Ballybunion hosts one of the world's most popular golf course's ranking in the top 10 most visited every year. One visitor is former president Bill Clinton. If you're looking for a guided walking tour or a cycle around the town and surrounding area then EcoTrek is your place to go. The man behind it Danny Houlihan is a man with vast knowledge and history of Ballybunion and the North Kerry area. So for a day full of history and fun then Danny's your man for all of that. Enjoy Ballyduff, a village successful in both Gaelic Football and Hurling. Close to the village at Rattoo, a round tower reaches a height of 28 meters. It's the only complete round tower in Kerry and it dates from the late 10th or early 11th century. "An Tóchar", Causeway, is Old Irish for "the road". The village was founded by a group of settled travellers on an ancient Celtic road. The road originated in Ballyheigue and was reputed to have ended in Tara, seat of the High-Kings of Ireland.Take time for the gorgeous circular drive around the Kerry Head Peninsula with spectacular panoramas overlooking the Atlantic Ocean, Dingle Peninsula and Clare coast. Ballyheigue village has miles of beach and is overlooked by the ruins of a castle built in 1812. It is the site of Ballyheigue's scenic 9 hole Golf Club. With stunning views of the Atlantic Ocean, Ballyheigue is popular with swimmers and walkers. Banna Strand extends from Ballyheigue Beach at the Black Rock to Barrow Beach. Its sand dunes can rise up to 40 feet. Ardfert parish includes Ardfert and Kilmoyley. Ardfert village grew up around the ancient church of St. Brendan, Ardfert Cathedral. Founded in the 6th Century, it is now a National Monument and hosts an Interpretive Centre. The Ardfert Friary is a National Monument founded circa 1253. This little village was once the capital of the county.On the northern shores of Tralee Bay, lies Fenit, Europe's most westerly commercial port. The harbour is important for fishing and its 136-berth marina adds a leisurely atmosphere to the village with its beautiful views of Tralee Bay. and Fenit Castle. Fenit Castle is a tower house built in the 16th century to protect the entrance to Barrow Harbour. Tralee Golf Club, the famous Arnold Palmer designed course is across the straits of Barrow Harbour. North of Tralee and on the north side of the Shannow river, Kilflynn is part of the parish of Abbeydorney. Places to visit are St Columba's Heritage Centre, Kilflynn; St. Bernard's Church, Abbeydorney; St Mary's Church, Kilflynn; and the old railway station in Abbeydorney. Lixnaw was once the seat of the Earls of Kerry and one of its descendants, Lord Lansdowne, born in Dublin but largely reared in Lixnaw, became British Prime Minister in 1782. Visit the Korean War Memorial, St. Michael's Church and the Holy Wells of St Michael and St Senan. Halfway between Listowel and Castleisland, the heather clad hills of Lyreacrompane lie in the Stacks Mountains. Take time to explore its wonderful lanes and country roads and for hikers, the new Loop Walk is magical and full of the character of this special place.Tralee offers indoor and outdoor attractions and activities and there is something for all the family making it a real family friendly place to be. For a rural market town Tralee offers amazing shopping with boutiques, bookshops, antiques and craft shops tucked away in old lanes and stylish new arcades. From the Christmas Lights to the Rose of Tralee Festival, there is a buzz and bustle to the town all year round.The North Kerry Way stretches from Tralee town to Tarbert taking in the idyllic scenic coastline of North Kerry. Blennerville has been an important lynchpin connecting east and west by the Tralee and Dingle Light Railway ((PHONE NUMBER HIDDEN)) and the Jeanie Johnston emigrant ship. The Tralee & Dingle Light Railway was one of the world's most famous narrow gauge railways and the Jeannie Johnston emigrant ship was built here carrying over 2,500 emigrants to a new life in the USA with no crew or passengers lost. Visit its famous Windmill. This unique 201-year-old restored windmill houses an acclaimed exhibition of Irish milling history and features working millstones. A selection of exhibitions on the region is also on show here. Did You Know? That the father of famous American outlaw Jessie James was from Asdee.That the Lartigue Monorail is the only one of its kind in the World. That in March 1919 the voice of W.T. Ditcham an engineer with the Marconi Wireless Telegraphy Company was projected from Ballybunion to a receiving station in Cape Breton, Novia Scotia. These were the first words clearly spoken by human voice from East to West.That on June 24th 1834 a race meeting on Ballyeigh Beach turned in to one of Ireland's worst ever faction fights involving over 3000 people. The race meeting was banned and transferred to Listowel and is now known as the Listowel Harvest Race Festival. Things to see and do Activities The North Kerry Way Heritage, Beach & Cliff Walks Golf Pitch and Putt Sailing Blue Flag Beaches Surfing Swimming Angling Dolphin Watching Cycling Horse Riding Tennis Kerry Head Peninsula Drive Things to see. The Bridewell The Lartigue Monorail Farmers Markets Kerry Writer's Museum The "Garden of Europe" St. John's Theatre and Arts Centre Carrigafoyle Castle Tinteán Theatre Seaweed Baths Ballybunion Health & Leisure Club Rattoo Round Tower Ardfert Cathedral & Interpretive Centre Ardfert Friary Ardfert Retreat Centre St. Brendan's Sculpture Tralee Bay Sailing School St Columba's Heritage Centre Korean War Memorial St. Michael's & St. Senan's Holy Wells
Caitriona's apartment was perfect! She was very accommodating and recommended a great restaurant for dinner and provided scones, eggs, tea, and milk in the apartment for breakfast.
Matt
2017-03-22T00:00:00Z
Very nice and comfortable apartment. We especially liked the built in radio system, the welcome food and beer in the fridge and Caitriona's hospitality
Mario
2017-03-19T00:00:00Z
We really enjoyed our cosy stay at Caitriona's beautiful home! It was a well needed oasis after a long days travel!
Rebecca
2017-03-23T00:00:00Z
This was a lovely spot in the low hills over looking Ballyheigue Bay, with some fantastic views of the ocean the mountains . Our hosts were very helpful and left fresh home made bread, eggs and milk for arrival (much appreciated). Ballyheigue is lovely seaside village, with a beautiful beach and a few bars and shops. I would highly recommend the area for a family or couple get away.
Aaron
2017-03-26T00:00:00Z
Our stay at Caitriona's cottage was lovely, she pays great attention to detail, always answered to messages straight away and made sure we were very comfortable! She recommended a great place for dinner and helped us out with anything we needed, even had some lovely fresh baked bread for us! It's a very quiet and beautiful area, I'd recommend it to anyone who is doing the Wild Atlantic Way and wants a cozy place to stay for the night!
Sarah
2017-03-21T00:00:00Z
Tipe Kamar
Seluruh rumah/apartemen
---
Tipe Properti
Apartemen
---
Mengakomodasi
4
---
Kamar tidur
Ballyheigue , County Kerry, Irlandia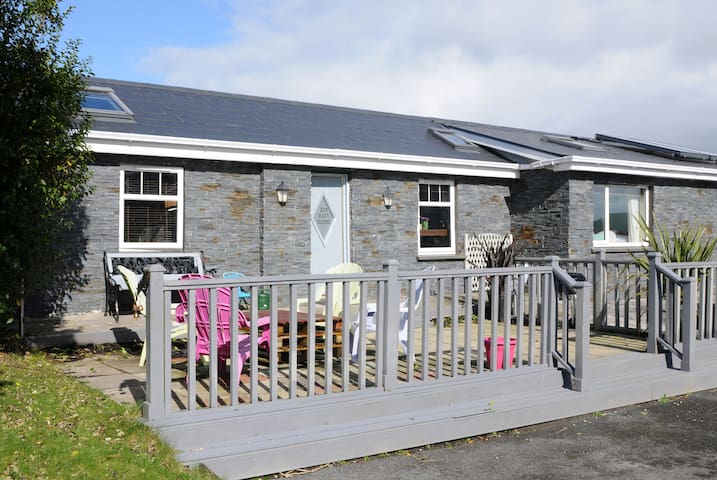 Schöne neue Wohnung im Erdgeschoss im Zentrum von Ardfert Dorf. Neben Geschäften, Kneipen, Restaurants und alle Annehmlichkeiten Dorf. Banna (gestimmt Irelands no 1 Strand auf Trip Advisor) 3km. Tralee (große Einkaufsstadt) 8 km. Tralee Golfplatz (Arnold Palmer Links-Course) 4km. Ardfert ist eine große belebten mittelalterlichen Dorf und ist ein idealer Ausgangspunkt für Touren in Dingle, Killarney, Ring of Kerry, Ballybunion, Listowel & viele schöne Strände und Dörfer in unmittelbarer Nähe.
Unser Raum ist warm, gemütlich, sauber und komfortabel. Es verfügt über 2 Einzelbetten, Kühlschrank, Wasserkocher, Toaster, elektrische Dusche, TV, gratis WiFi und kostenlose Parkplätze. Unsere Lage ist ausgezeichnet.
The Snug ist eine gemütliche kleine Unterkunft in Adfert was ca. 15 Minuten mit dem Auto von Tralee entdernt ist. Sie ist ausgestattet mit allem was man braucht. Die Betten waren die bequemsten die ich in meinem Urlaub hatte. Die kleine Küche hat allerdings keine Herdplatte oder ähnliches. Würde jederzeit wieder hier übernachten. Tracy war eine super Gastgeberin welche immer für Fragen und Anregungen offen war.
Rene
2017-03-03T00:00:00Z
Tipe Kamar
Seluruh rumah/apartemen
---
Tipe Properti
Apartemen
---
Mengakomodasi
2
---
Kamar tidur
Ardfert, County Kerry, Irlandia
Ideally situated just outside Dingle town, Our cosy one bedroom stone cottage is perfect for a relaxing getaway. Sleeps two and is just a 3 min drive to Dingle town . Our cottage has its own bar, decking and BBQ area surrounded by stunning views!
We take pride in our little cottage, and love to share it with others, as we feel it is an amazing and special little space, so unique and is a true piece of Irish culture. The cottage is ideally situated to the east of Dingle Town. This property is a 150+ year old traditional Irish old stone cottage and it is perfect for a relaxing and rustic getaway! It is just a 3 min drive or 15/20 minute walk to Dingle Town. Our unique old stone Irish cottage has its own authentic Irish síbín (shebeen) which is an old Irish word for bar, it also has a wood burning / solid fuel stove perfect for those stormy winter nights in, small kitchenette, bathroom with shower, outside decking area at the back door with stunning views and there is also a BBQ area to the front of the cottage. Our lofted cottage contains an extremely comfortable double bed (with electric blanket for those extra cold winter nights) in the loft/ mezzanine area and it sleeps two comfortably. Bikes are available at request. Our cottage is an Ideal location for hill walkers. Fresh clean towels are provided on arrival. Parking is available. The property is animal friendly and we have 2 super friendly dogs on site who live in the main house, they are called Cleo (sheep dog) and Scruffy (Glen of Imaal Terrier). They have been a big hit with previous guests and they look forward to welcoming our future guests!
Ballinvounig where our cottage is situated is a small rural village / parish just east of Dingle Town. When you come out of the cottage and onto the road, go right to head for Dingle Town which is just a quick 3 minute drive or 15/20 minute walk. From here you can head on a tour out west around our beautiful Slea Head drive and take in the breathtakingly beautiful scenery. or alternatively if you feel like a leisurely stroll, take a left and stroll along the country roads where you will find Garfinny Bridge which is reputedly the oldest surviving bridge in Ireland. It is a medieval bridge and has been recently restored. It is the only bridge to be declared a national monument of Ireland. It may have been standing in 1580 when, according to local legend, Lord Deputy Grey and 800 troops passed over it.
The stone cottage was a special and nice place to stay. We had a car but the host picked us up in Dingle city to be sure we get the right direction. The cottage is very cosy, have all you need and a very good bed. The kitchen is not the biggest we have seen and you have to look around to find all the stuff. Funny place to stay, special the bar. Dingle is a very friendly and the area around is very beautiful. We steyed for only two days. Next time we will have some more time. We than love to stay in the stone cottage again.
alf
2015-04-25T00:00:00Z
The host canceled this reservation 116 days before arrival. This is an automated posting.
Cian
2015-12-28T00:00:00Z
My girlfriend and I had an absolutely amazing time here. The cottage is beautiful and our hosts Adam, Liz and Shawn were fantastic. I prearranged a suprise for my girlfriend with Adam before visiting and it was no problem for him and his mum Liz to arrange. It worked too ;) The cottage has every amenity you could want, the weather was fairly kind to us too and Dingle is such a beautiful place. I would not hesitate to recommend this airbnb to anyone. My girlfriend and I will certainly be back. Thank you to Adam and his family for an awesome experience.
Christopher
2015-02-18T00:00:00Z
The stone cottage is even better than the pictures suggest, it's really unique, clean and full of charming details. Adam and his father are very welcoming and always available to help in any way possible when needed , but very discreet the rest of the time . Great base to explore the picturesque Slea Head . Charlie and Cleo are super friendly and welcoming dogs, impossible not to love them !
Glenda
2014-08-26T00:00:00Z
Quaint cottage with the rustic experience we were seeking. Adam was very efficient but Liz, his mom, was superb. She went out of her way to light the wood/coal burning stove, while we weathered out the gale. Also helped with drying our laundry and always had the biggest smile. If you want rustic with a modern, hot shower it's a great stay and stands out among the others. Ilona & Fred Bell
Ilona
2015-07-12T00:00:00Z
Sean (Adam's dad) couldn't have been more friendly. The cottage has a few quirks but is a whole lot of fun to stay in. The location is great - far enough out of town for some peace but close enough to easily get in on the action .
Kylie
2014-09-15T00:00:00Z
Our stay here was just so wonderful. The house is cosy and quaint and we spent most of our time looking at the wonderful decorations and items in the house! The bed was so comfortable and cosy and the log fire a real bonus. The hosts were so warm and welcoming and ensured we had everything we needed for our stay. They even offered to drop us into the town! Dingle is my favourite place in the world so it was even nicer to stay here and be welcomed to stay! I wouldn't hesitate to go back for a nice romantic break or as a cosy retreat to explore all that Dingle has to offer.
Jean
2014-12-29T00:00:00Z
Wonderful cottage! This adorable cottage is the perfect space for a couple in Dingle. It is nestled a kilometer from town (can walk there but should take a cab home) so it is quiet, yet convenient. Our hosts were very friendly and even gave us a ride into town one evening. Unique and fun space! Staying in a stone cottage in Ireland is a once in a lifetime experience!
Tim & Desi
2014-09-21T00:00:00Z
Tipe Kamar
Seluruh rumah/apartemen
---
Tipe Properti
Apartemen
---
Mengakomodasi
2
---
Kamar tidur
Dingle, Kerry, Irlandia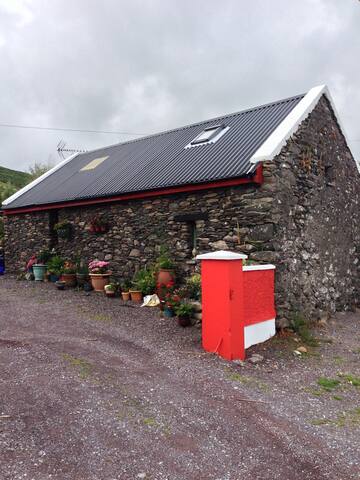 Cosy 3 bed Apt with kitchenette and private entrance. Overlooking our forest and situated on a working farm.
The apartment has it's own private entrance, with private car parking. A fully equipped kitchenette (with a fridge/frezer, toaster, kettle and microwave), seating for five, with a coffee table and a large comfy sofa. There is a large flat screen tv and excellent WiFi connection. There is a spacious family bathroom, with an electric shower. There are two large bedrooms, one with a double bed and the second with a double bed and one single bed. Also a travel cot is available on request. The apartment is adjacent to one family home, which is on a working farm and overlooking our 24 acre forest (where Milltown river run's through it).
Located a five minute drive outside Dingle (an easy taxi ride). Very clean and comfortable (everything seemed new), friendly hosts. We didn't realise there was not oven in the kitchenette (microwave only), but that was from not reading the description thoroughly! Overall a great place, and really great value.
Ralph
2016-12-04T00:00:00Z
Had a lovely stay in Michelle's place. The apartment was very comfortable and perfectly located to get to and from dingle town. Our hosts were really helpful, giving us numbers for taxis and even offering a lift into the town. Would highly recommend.
Cian
2017-02-26T00:00:00Z
The apartment was perfect. Private, quiet and comfortable. There was coffee and Brownbread waiting for me upon my arrival. The hills were full of sheep and a great pine forest right across the street. I had a wonderful stay with Michelle and her husband. He spent a good while sharing his passion for honey bees! Fascinating ! You will love this place.
Douglas
2016-11-19T00:00:00Z
Michelle and her husband are so incredibly nice! Their farm is beautiful and their home is lovely. They truly want their guests to feel at home. Be sure to say hey to all their sheep and lambs!
Shannon
2017-03-15T00:00:00Z
Spacious, clean accommodation conveniently located near Dingle. We wish we could have stayed longer, but arrived after dark in dense fog and had to leave first thing in the morning. Great place to stay for exploring the Dingle Peninsula.
Karen
2017-01-07T00:00:00Z
Great location, just a few mins from Dingle. The apartment was perfect and warm, very comfortable. Highly recommend!
Myf
2017-02-05T00:00:00Z
We had a lovely stay at Michelle's house. Her husband was so kind to show us around the same. Location was super close to town and the private apartment was really nice. All in all a great time.
Matthew
2017-01-26T00:00:00Z
I really enjoyed my stay. The house was just right for me. It's roomy and comfortable. The area around the home is beautiful. It's only a few minute drive to Dingle. Their horse Honey is sooo cool! I even got her some apples, she loved them. I learned some about bees (which I was interested in to begin with, so bonus!). The bathroom is large with a nice shower. I would recommend this home.
Julie
2017-02-21T00:00:00Z
Tipe Kamar
Seluruh rumah/apartemen
---
Tipe Properti
Apartemen
---
Mengakomodasi
5
---
Kamar tidur
Dingle, County Kerry, Irlandia
Castlegregory - Airbnb
:
Rata-rata

4.96

dari

5

bintang dari semua

659

ulasan tamu
1

–

18

dari

68 Sewa Apartemen
Masukkan tanggal untuk melihat harga lengkap. Biaya tambahan berlaku. Mungkin dikenakan pajak.