A specious double room in a listed 200 year old house. Located in a nice area between the 12th century St Martins Church and the Green. Our house is 10-15 minutes away from Heathrow by bus. The bus stops just around the corner from our house. We are also 30-40 minutes away from center of London by train. The train station is 10 min walk away.
A specious double room in a listed 200 year old small house. Located in a nice area between the 12th century St Martins Church and the Green.
The Green, surrounded by trees, leads to the Southlands Art Centre and to the large recreational park with an open air gym and free tennis courts. There is a lovely canal side pub only a short wander down the nearby picturesque Grand Union Canal. The Grand Union canal is an essential part of British Industrial heritage now maintained for leisure use. It is a popular area for boating, fishing or just ambling along the towpath enjoying the wildlife and scenery. Defiantly worth a visit.
Ekaterina is a lovely host. The house is nice and cute. We didn't have any problem during our stay. Appreciate the breakfast too!
Alexaneal
2016-10-09T00:00:00Z
Pleasant room, and great to have a breakfast included. Super convenient location if you're looking to catch a flight in the morning!
Kane
2016-01-02T00:00:00Z
Great little unit to stay in, cozy with a good shower. Ekaterina and her husband are very friendly, and she even offered breakfast. Bed was really really comfortable, with a kettle and tea provided next to it. The only trouble I had was with finding the actual unit, however Ekaterina gave me a message with directions shortly before I arrived.
Alex
2017-01-29T00:00:00Z
I had a good night's sleep before my flight the next day. I booked relatively last-minute after another host had to cancel so I was lucky to get a reasonably priced room around the corner from the bus to the airport, and with a cooked breakfast too. Thanks! :)
Alex
2016-03-15T00:00:00Z
Fantastic experience with great hosts. My first Airbnb and it was more comfortable than the corporate hotels I'm used to. Will return!!
Carl
2016-01-22T00:00:00Z
Excellent clean and tidy accommodation. Very private. Ekaterina is very discrete and polite. Nothing seemed to be an issue and I was welcomed to her home. I ate out in the evening at the waters edge restaurant and had some good lamb. It was quite there; however very scenic by the water. Ekaterina made a cooked breakfast in the morning of Sausages, Poached Egg and Beans with Toast. Fresh orange juice and fresh coffee was served with the breakfast. I would recommend this accommodation for travellers to this area. Wayne Clatworthy Safetech LTD CEO
Wayne and Angela
2016-05-26T00:00:00Z
A lovely experience in every way possible. Ekaterina and her husband were great and welcoming (nice chats with both of them too!), their house was in immaculate condition, and the breakfast was superb. Also super convenient for access to Heathrow - just a short bus journey away. Would definitely consider staying again!
Fredy
2016-06-15T00:00:00Z
The place was lovely! Very clean and quaint and the bed was SO comfy. Breakfast was also really a treat. Great bathroom and kind host
Mina
2016-08-16T00:00:00Z
Tipe Kamar
Kamar pribadi
---
Tipe Properti
Rumah
---
Mengakomodasi
3
---
Kamar tidur
West Drayton, Inggris
Απολαύστε ένα άνετο δωμάτιο σε ένα ζεστό και φιλόξενο σπίτι, που διευθύνεται από έναν συγγραφέα, ομιλητή και φωτογραφικό καλλιτέχνη, και η μητέρα με δύο γιους. Προσφέρουμε μια χαλαρή και χαλαρή διαμονή στην καρδιά της βικτωριανής Windsor, με εύκολη πρόσβαση στο ιδιαίτερα επιθυμητή πόλη
Questo è un piccolo angolo di perfetta sul retro della casa; ha una bella atmosfera, tranquillo e confortevole, con un tetto spiovente e una luce cielo quindi è molto luminoso e arioso; accanto alla doccia e con vista sul giardino sul retro, proprio nel cuore del centro storico il centro di Windsor. La vostra camera ha un comodo letto singolo, una scrivania e sedia, cassettiera, e armadio; vi è una spina convertitore internazionale con hub USB, un asciugamano è fornito, e asciugacapelli, una fornitura di emergenza di articoli da toeletta e di un ferro da stiro è disponibile! C'è tutto WiFi importante
Η γειτονιά είναι ασφαλή, ήσυχο και φιλικό, είναι επίσης 5 λεπτά με τα πόδια από το κέντρο της πόλης. Είναι ένας τουριστικός προορισμός και γι 'αυτό είναι μια πολύ επιθυμητή πόλη.
This was my first airbnb booking and - once I got through the registration process, which took ages - I was very impressed. Melanie gave me a warm welcome when I arrived late at night, and showed me to the room, which was comfortable and ideal for a single traveller. She has recently published a fascinating book called "Walking with Angels" documenting her experience of a 33-day walk, along the Camino Trail in the Pyrenees, Spain, with her young sons. aged 12 & 16. The book was on the bedside table, among other literature, so I read it before sleeping. No need for an alarm clock in the morning - that close to Heathrow (which is why I picked this location) the approaching planes are quite loud, from the crack of dawn! I enjoyed an all too brief conversation with Melanie at breakfast before heading off to catch my flight. I would highly recommend this as perfect for the single traveller. The experience was far richer than checking into a commercial hotel - and cost me far less! Wishing only the best for Melanie and her family, who I think of as new friends, to be revisited.
Susan
2015-10-13T00:00:00Z
A lovely room, I felt very at home.
Bernadeta
2016-11-20T00:00:00Z
A beautiful room in a great town, with an excellent host who really strives for perfection.
Warwick
2015-10-14T00:00:00Z
An excellent base for exploring Windsor and London. Melanie was very helpful, friendly and happy to answer my questions. Great value for money, I wouldn't hesitate to stay again, and recommend it to all of my friends!
Annie
2016-04-13T00:00:00Z
I can hardly put this property into words. Mel was was a beautiful host, i got a warm welcome on my arrival to the house. the house was just AMAZING!... attention to detail can be felt everwhere in the home, from the living room to the bedrooms to the bathroom.
Orji
2016-07-15T00:00:00Z
Melanie was very accommodating with my last minute request. Unfortunately I could only stay one night which was a shame because I'm positive I would have enjoyed myself if I had stayed longer. Great conversation, great locations, great room, great everything. If I'm ever in the area again, I'll be staying with Melanie. And Leo the puppy is one of the cutest things on the planet.
Melissa
2015-12-02T00:00:00Z
Fantasitic experience
丹阳
2016-11-26T00:00:00Z
Thanks Melanie - very convenient, comfortable, easy and welcoming stay. Joe
Joe
2016-11-08T00:00:00Z
Tipe Kamar
Kamar pribadi
---
Tipe Properti
Rumah
---
Mengakomodasi
1
---
Kamar tidur
Windsor, Inggris
Tenim un bonic petit hostal del nostre jardí amb la seva pròpia entrada des de la part posterior de la casa. El seu espai privat relaxant, tranquil i verd té un llit doble. Equipat amb tots els elements bàsics: nevera, bullidor d'aigua, te i cafè. No hi ha instal·lacions per cuinar però haurà de proporciona esmorzar continental. Vostè també té la seva pròpia sala de bany / dutxa complet amb articles de tocador i tovalloles assecador. Wi Fi 24/7 aparcament gratuït a la part davantera de la casa. Estem situats en una zona tranquil·la, a uns 10 minuts a peu de les botigues locals. Gimnàs i piscina coberta: 7 minuts a peu. Ben comunicat de transport des de casa nostra: Més propera estació de metro Northolt és 5 minuts a peu. Centre de Londres és a 30 minuts -Central London: Notting Hill és 20 min de l'estació de Northolt en la línia central. Big Ben, el Parlament, Picadilly, Trafalgar Square, museus i totes les atraccions principals són 40 minuts de distància. En arribar des dels aeroports Tenir en compte: Aeroport de la Ciutat i Heathrow són realment els aeroports de Londres. Stansted, Gatwick i Luton, usat per aerolínies de baix cost no estan a LONDRES SON RESPECTIVAMENT -80 quilòmetres, 66 quilòmetres i 50 km de la city.You poden utilitzar els autobusos i trens per arribar a Londres, i només del que utilitzarà subterrani. - L'aeroport de Heathrow: OPCIONS: 140 autobús prendrà 40 minuts. línia Piccadilly del Sud Harrow- 1 hora, Taxi es durà a 15-20 minuts a casa nostra -Gatwick Aeroport: Gatwick Express el portarà a l'estació de Victoria (30 min) i del que necessita 20 minuts en el tub per arribar a nosaltres en Northolt -Stanstead-si es pren el tren fins al carrer de Liverpool, necessitarà 50 minuts en el tub per arribar fins a nosaltres. Segona opció: es pot agafar un autobús que el portarà a Marble Arch o Victòria, (en 75 minuts) on es pot agafar el metro per arribar aquí (30min en cercle i que la línia central). Luton- pot utilitzar pre entrenador reservat (70 min) i el tub de Victòria (40 min) Bé viatjat família li farà sentir com a casa. Esperem donar-li la benvinguda!
Merci pour tout! Nous avons passé un très bon séjour chez Karmen et Tomislav qui sont très accueillants! Leur logement convient parfaitement aux amoureux qui souhaiterais passer un weekend à Londres. Sa situation géographique est aussi plaisante (quartier tranquille-calme) mais quand même proche du centre-ville.
Camille
2017-03-12T00:00:00Z
We had a really lovely stay and couldn't recommend this home more. Karmen is a beautiful soul who went out of her way to ensure that we were happy. We were really surprised that she provided us lots of different things for breakfast and allowed us to stay later the next day. Thank you so much :)
Alicia
2016-12-04T00:00:00Z
Karmen is wonderful and energetic and an excellent conversationalist. The accommodation was cosy and perfect. The choice of having breakfast either cooked for you in her conservatory or delivered outside your doorstep to be had at your own leisure was a nice touch. Would highly recommend this place, and we will be back to stay again.
Jared
2016-09-22T00:00:00Z
We just had a fantastic weekend in London. Karmen and Tom were great hosts - they made us feel very welcome and the accomodation was great. It's got everything you would need including cooking facilities (which we didn't use - too busy!) We had a great breakfast both days, cooked to order by Karmen - delicious too! The Tube station is only a 5 minute walk away and that takes you straight into central london in around 30 minutes , depending on where you are going. Overall, it is great accommodation in a convenient location for a fantastic price compared to central London. We would not hesitate to book with Karmen and Tom for our next visit to London!
lorna
2012-08-06T00:00:00Z
Karmen and Tom were the perfect hosts. Really interesting characters and loved chatting to them, while the room was brilliant too. Very happy and would definitely stay again and wouldn't hesitate to recommend to the place to anyone. We had a great time.
Gareth
2013-10-21T00:00:00Z
Stay here if visiting London! Karmen was waiting for us in front of our bus stop despite taking longer than we thought in Heathrow. She was so wonderful showing us how to use everything, every morning she asked what we would like for breakfast and cook us something up including stocking our fridge with snacks like yoghurt, fruit, cheese, cereal. She told us to leave all our dishes in a black box and she would take them inside, clean and return them. Replies to out messages within 2 minutes! The place itself is great, heated floors on a timr to take the chill off when you wake up, very clean. The neighborhood is great, a gym 5 minute walk and a wonderful pub for cheap meals. Train station 5min walk also. The only thing is it is 20-25min out of London, which wasn't a problem at all only I found we were topping up our oyster card frequently so. Traveling outside of peak times and using an oyester card helps ALOT in reducing transpirt costs. Thanks Karmen we will definitely come back ❤❤❤ Bec and Kalle
Bec
2017-03-20T00:00:00Z
Karmen is a wonderful host and their accommodation is amazing! Such a lovely set up, cosy and beautifully decorated. Karmen couldn't have done more for us, even leaving breakfast pastries as I had to leave for work without having a cooked breakfast. The under floor heating is dreamy and it's easy to access from the back without disturbing the hosts. It's only a short walk from Northolt station, which made getting into central very easy. I would definitely recommend this place to anyone who wants a cosy night away.
Kirsten
2016-12-22T00:00:00Z
不動産はすてきな、非常に静かな住宅の近所に位置している。 素晴らしい庭。 中央ロンドンへの速い、そして容易なアクセス。 絶対的に素晴らしい朝食。 素晴らしい家族と一緒の正真正銘にヨーロッパのB&B。 我々は世界的にこのホストファミリーを推薦する。 Das Eigentum befindet sich in nett, sehr stille Wohnnachbarschaft. Schöner Garten. Schneller und leichter Zugang zu zentralem London. Völlig fantastisches Frühstück. Wirklich europäischer B&B bei wunderbarer Familie. Wir empfehlen diese Gastgeberfamilie weltweit. La proprietà è localizzata nel bel, molto quieto quartiere residenziale. Bel giardino. Accesso veloce e facile a Londra centrale. Colazione assolutamente fantastica. B&B sinceramente europeo con famiglia meravigliosa. Noi raccomandiamo questa famiglia di oste mondiale. La propiedad está ubicada en el vecindario residencial bonito y muy silencioso. Jardín encantador. Acceso rápido y fácil para Londres central. Desayuno completamente fantástico. Pensión realmente europea con familia estupenda. Recomendamos esta familia del anfitrión mundialmente. La propriété est localisée dans voisinage résidentiel agréable, très tranquille. Beau jardin. Accès rapide et facile à Londres central. Petit déjeuner absolument fantastique. B&B sincèrement européen avec famille merveilleuse. Nous recommandons cette famille d'accueil mondialement. The property is located in nice, very quiet residential neighbourhood. Lovely garden. Fast and easy access to central London. Absolutely fantastic breakfast. Genuinely European B&B with wonderful family. We recommend this host family worldwide.
Alexander
2012-04-06T00:00:00Z
Tipe Kamar
Seluruh rumah/apartemen
---
Tipe Properti
Rumah
---
Mengakomodasi
2
---
Kamar tidur
Northolt, England, Inggris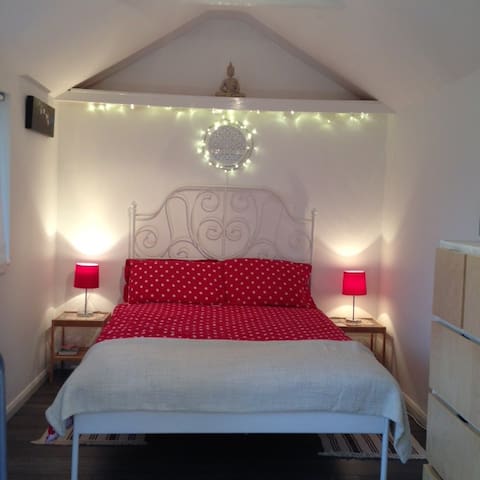 Fabulous dvoulůžko, paměť pěnové matrace + povlečení z egyptské bavlny. HD TV, DVB-T + postavena v roce DVD. Čaj / kávy, sušenky + čerstvé mléko. Měkké bavlněné osušky + ručníky. Toaletní stolek, zásuvky a závěsné prostor. Možnost využití velké, moderní koupelnou - sprchou a vanou. Přístup do velké kuchyně, oddělené lednice / mrazák pro hosty. Volný vstup do vířivku v zahradě !!! Krásný, viktoriánský dům v Bushey - 5 minut chůze od nádraží, 17 minut rychlík přímo do Londýna Euston.
Jsme se nachází na okraji Londýna s rychlým, přímým vlakem přímo do Londýna Euston - Northern, Victoria, Hammersmith a město, kruh a okresní linek. Pohodlnější než pobyt v samotném Londýně, kde jsou ceny vyšší a doba cesta do centra může být mnohem delší. Rychlíky odjíždějí každou půlhodinu se pět minut chůze od stanice - Oyster karty k dispozici pro použití a jízdní řády dodaných. Docházkové vzdálenosti do obchodů, restaurací, obří Tesco Extra a velkého nákupního centra. Nákupní centrum Harlequin je deset minut jízdy autem / patnáct minut chůze, s tradičním mixu velkých obchodních domů, včetně John Lewis M & S, Zara, BHS, River Island a Primark abychom jmenovali jen několik. Do 10 minut po Warner Harry Potter Studios. Bushey je krásná obec v Watford s vlaky do Londýna, pohodlnější a hezčí, než zůstat v blízkosti Watford Junction. Jsme 25 minut od letiště Luton a 35 minut od letiště Heathrow.
Klidné, listové ulice s velkými edvardovských domů a dostatkem parkování zdarma v rámci pět minut chůze od stanice.
Great hosts and a perfect room , very nice house only 2 min walk to the train and 15min to central London A perfect stay
Jason
2015-09-26T00:00:00Z
We stayed at Philippa's home for about 4 nights and truly loved it! First of all her home felt like a home away from home; the bed was so soft, pillows were so fluffy and comfortable. On top of that she served cereals for breakfast! She is so helpful with everything, even helped us with our laundry. Also, sharing the bathroom was also not a problem, it was always tidy. Another plus were the dogs. They were so sweet and quiet! Would definitely recommend this place :) Thank you Philippa!:)
Tippy
2016-10-11T00:00:00Z
Lovely place to stay. Everyone was so welcoming and accommodating. We had time to ourselves as well as feeling free enough to walk around the house at our leasure. Location to both Wembley and central London couldn't have been more convenient with less than a 5 minute walk to the station. Both hosts were very helpful with essential local knowledge and a fully laid out continental breakfast- felt like we were staying in a hotel. Couldn't recommend enough. Thanks Philipa
Mignon
2015-10-05T00:00:00Z
It said exactly what it said on the tin..."luxury" and more! We walked in well aware we were at someone house, being the first time we used this service we were very shocked at how welcoming philippa was and hot drinks in the bedroom was an added bonus we didn't expect. Breakfast was also on offer which was a lovely surprise. I would expect to pay a lot more for the service we received! I will be recommending philippa to all my friends and family and I will be using her the next time I go to London 100%.
Priya
2015-10-10T00:00:00Z
Our stay and Philippa's was short but sweet. Her family were so welcoming and they provided everything we needed including towels and breakfast! The dogs were adorable and friendly, and we would definitely recommend a stay here.
Cat
2016-11-10T00:00:00Z
Philippa is such a wonderful host. Everything was as described and even more than we can think of! The train station is really super close by and it's so convenient to go to London since it's an express train (15min!). We only stayed one night but we'll definitely come back there! Philippa reply really quick and she's always helpful and really makes us feel at home. Her house is really well organized and beautiful. She really is a 5 star host!
Solange
2016-03-08T00:00:00Z
Fantastic house and host. Perfect for popping into London. Very comfy room and a wonderful warm welcome. Highly recommend.
Mark
2016-11-29T00:00:00Z
Our experience in London and our first experience with Airbnb were both fantastic. Philippa and her family were lovely and welcoming, her home was beautiful and tidy, and our room was comfortable and private. All in all, we could not have asked for a better stay.
Andra
2015-10-24T00:00:00Z
Tipe Kamar
Kamar pribadi
---
Tipe Properti
Rumah
---
Mengakomodasi
2
---
Kamar tidur
Watford, Hertfordshire, Inggris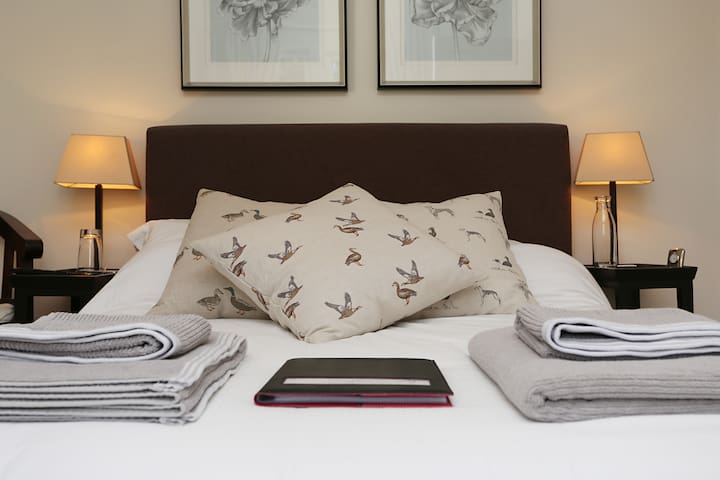 Nah an Harry Potter-Welt in den Leavesden Studios und zugänglich zu London, das ist ein Doppelzimmer in einer günstigen Lage. Die Wohnung ist sauber und ordentlich und verfügt über eine moderne Küche und Dusche. Die Paare sind auch willkommen zu bleiben.
Booked with Chris for two weeks while completing a course at Croxley Green business park. Chris is a cool guy. Made me felt very welcome from the moment I got there. Had some good laughs about our previous employment as it came to light we had worked in the same industry. The apartment is kept to an immaculate condition and Chris puts his heart into it. Looking forward to my second week of studying there.
robert
2016-02-05T00:00:00Z
Exactly as described. A nice clean room in North London, with everything you need for a nice and comfortable nights stay. Chris was accommodating to my anti-social arrival time and was there to meet me and show me round the property. Very welcoming. Would use (URL HIDDEN) the extent that I am, next week!
Dave
2015-09-07T00:00:00Z
It is a very lovely and cosy flat, tidy and clean, with beautiful decoration and convenient location. I really like it! Chris is very helpful. I would strongly recommend this place if live in watford
Yitian
2016-03-17T00:00:00Z
Chris welcomed me appropiately to his home without any feeling me been a stranger. He's a very nice host and he got all the knowledge about the area. He gave me all the informations how to get in to his flat as I was using the public transportation.
buddika
2015-12-06T00:00:00Z
Chris is an amazing person! I only stayed in Watford for one night and he helped me very much with everything I needed. Very comfortable room next to many shops, restaurants, cash machines,...perfect place to stay and perfect friend!
Isa
2016-07-27T00:00:00Z
After some initial difficulty making contact, Chris was friendly and helpful. Above a row of shops and restaurants, the entrance is not easy to find and not particularly inviting. The flat is fairly basic but provided me with a bed for the night... Bed very comfortable, wifi excellent! Parking is possible on the street nearby.
Chris
2015-06-23T00:00:00Z
Perfect hospitality, thank you so much !! ,, The address on !!
Attila
2016-02-14T00:00:00Z
Chris was very welcoming - down-to-earth and easy-going. His place is very comfortable, well located and very tastefully decorated. I would recommend staying here.
Steve
2016-06-17T00:00:00Z
Tipe Kamar
Kamar pribadi
---
Tipe Properti
Apartemen
---
Mengakomodasi
2
---
Kamar tidur
Watford, Inggris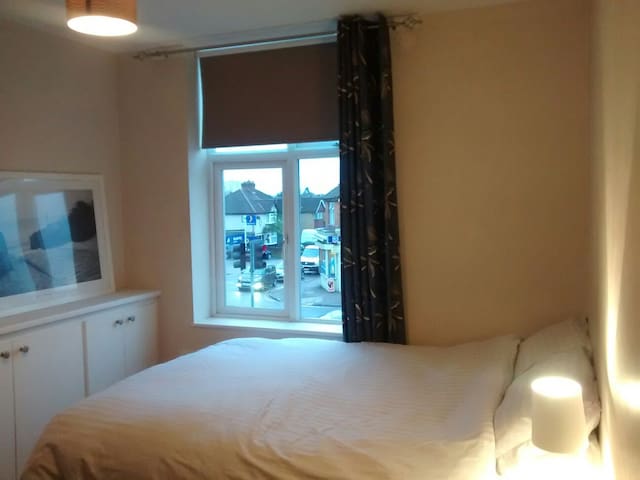 We are placed on a beautiful residential mooring on the Grand Union Canal. The boat is fully equipped and ready for your holiday, including private car park. Easy reach to London, Oxford and Heathrow airport via tube-train or bus.
""" OWN CARPARK SPACE WITH DIRECT ACCESS TO BOAT ;-) """ This Dutch Barge is a self catering holiday home suitable for up to 2 guests. The Vessel has been decorated and refurbished providing everything you would expect in a holiday home, yet keeping the character of the boat. The Kitchen is fully equipped with basic essentials provided. The boat has Freeview TV /DVD player and Wireless Internet. Bed linen, towels and standard essentials are all supplied.
As soon as you come over the bridge onto Benbow moorings, you are entering a very special, secluded and relaxed area in which to enjoy your stay.
Lovely time on the boat, warm welcome, well organised, nicely set up with thoughtful extras like tea and coffee. We would recommend to others.
Catriona
2016-02-11T00:00:00Z
It was great! Really easy and comfortable public transportation in all directions. We are from Germany and visited London and Oxford. Friendly neighbors, all you need was on board. Manuela and Richard were available and helpfully, if needed. We were in April, and the weather was cold, but by the heaters on board it was warm and cozy. It was a great time!
Liane
2016-04-24T00:00:00Z
We arrived and met the owner, he showed us about and gave us some great suggestions for food and places to look. We instantly felt comfortable and relaxed, then after settling in ventured to a local pub 'the malt and shovel' which had a great and affordable menu - after a sort walk home, fell asleep in a very comfortable bed! After breakfast in the morning we gathered our things and said goodbye!
Mike
2015-09-24T00:00:00Z
Very nice journey, and welcome by customers. the Dutch barge is very nice and has all the confort we need for a fey days. Thanks to Manuela and Richard for this trip.
Mickael
2016-04-02T00:00:00Z
Great hosts + Great venue = Great experience
Joseph
2015-12-22T00:00:00Z
The boat was easy to find, and communication with Richard and Manuela was excellent. They were flexible on our check in time, as we got married that day, so needed to get in a little earlier, which they were fine with (in this case, anyway). Our stay aboard the boat was beautiful. When we got in from our reception we were greeted by a lovely home made card, and bottle of prosecco (that we had for breakfast
Hayley
2016-04-11T00:00:00Z
Manuela is the perfect host who might have been equally as excited to have me as a guest as I was of staying on her boat. The boat was roomy for me and not cramped in the slightest. It had a cozy and updated feel with all of the comforts of a 21st century home. 5 minutes walking distance from public transportation and a Tescos, but the location was very quiet. Manuela had plenty of tourist information on hand and was always available through AirBnB chat in case I had any questions. After just 5 days staying here, I felt myself an instant member of the Canal Life subculture. If I am fortunate enough to visit again, Manuela is the first person I am contacting. Will definitely stay here again.
Stuart
2015-10-25T00:00:00Z
We wanted something a little different to the average hotel room and stumbled upon The Lovely Dutch Barge, and we're so glad we did. Its a perfect location in a quiet wilderness yet easily accessed from Heathrow - like entering your own private retreat. Manuela and Richard are the perfect hosts - thanks guys!
New
2016-05-12T00:00:00Z
Tipe Kamar
Seluruh rumah/apartemen
---
Tipe Properti
Kapal
---
Mengakomodasi
2
---
Kamar tidur
Uxbridge, Inggris
Beautiful luxury wooden chalet with mezzanine floor set in beautiful Gerrards Cross with lots to see and do in close vicinity but also access to central London in 20 minutes.
Double bedroom downstairs and additional low ceiling bedroom upstairs in mezzanine area that holds two single beds. Living room with double sofa bed. Separate toilet and shower, as well as own kitchenette. Note that chalet does not have a full kitchen. It has a kitchenette shown in the pictures, which contains fridge/freezer, microwave, double hob cooktop. There's no sink in the kitchen, however, there is a dishwasher. It's really like a nice hotel suite with a few extras (microwave etc), suitable for someone looking to use microwave or to do some simple cooking. Guests have separate entrance from main gates into the garden and chalet Note that the chalet is set at the bottom of the garden, quite far apart from the main property. Also has a separate entrance hate and therefore is quite private. Interaction with guests is During check in, and should they need further information and tips about the area. We're happy to provide any further items you may need during your stay from the main property if we have them (e.g. bigger pot..) Gerrards Cross is a beautiful, green and very affluent part of the country. There's a large selection of restaurants, pubs and cafes in Gerrards Cross, Chalfont St Peter and nearby Beaconsfield. At very short walking distance (2-3 mins walk) you have access to Chalfont St Peter high street which has a selection of cafes, restaurants, pubs, supermarkets, bakeries, banks. Also within close walking distance are massive green fields (ideal for a picnic, weather permitting), play area for kids, golf club. Car recommended. Gerrards Cross overground train station is 1.8 miles away. From the station you can take a fast train that gets you into central London (Marylebone station) in 20 minutes. Daily travel card which will also include all your travel in London on tubes and buses is £17.60. Walking access to Chalfont St Peter high street for a selection of restaurants and pubs, banks and parks. We do also offer following optional services at extra charge should you require them: - if you're here for a longer stay, a weekly clean of chalet, change of sheets and towels. - filling up fridge in advance with basics before you arrive. We have choice of a 'Get-Me-Started hamper' supplying the basics for breakfast, wine, fruit, etc. And a 'Luxury hamper' providing basics as well as luxury items such as champagne, selection of french cheese and other delights. - washing and ironing clothes during your stay
Gerrards Cross is a beautiful, green and very affluent part of the country. There's a large selection of restaurants, pubs and cafes in Gerrards Cross, Chalfont St Peter and nearby Beaconsfield. At very short walking distance (2-3 mins walk) you have access to Chalfont St Peter high street which has a selection of cafes, restaurants, pubs, supermarkets, bakeries, banks. Also within close walking distance are massive green fields (ideal for a picnic, weather permitting), play area for kids, golf club.
The chalet at Chalfont St Peter was everything we needed for our stay in the area. We enjoyed our stay very much and the place helped a lot for ensuring we got a good night sleep and rest, since it was so cozy and quiet, with all amenities we needed. It is really a full-fledged guest house with enough room for an entire family. We liked it a lot and would recommend it to anyone. Shirin was a great host, making us feel very welcome while at the same time trying to not be intrusive, she provided a complete welcome pack with all the information needed to make our stay a great one. I would definitely recommend Shirin as a host and her place to anyone.
Emilian
2016-03-16T00:00:00Z
We really enjoyed our time at your chalet and would recommend it to anyone also the food at the Greyhound Inn was also extremely good.The only bad thing was the weather it rained almost all the way home but that's not your fault.
Frank
2015-09-01T00:00:00Z
Just stay one night on the way back to London,wireless is weak but the location is near to Windsor Castle,since we book the house one night before,so total facility beyond our exception
Maria
2015-02-22T00:00:00Z
Nice chalet
Kieran
2016-01-21T00:00:00Z
Lovely cosy quiet chalet in beautiful surroundings. Shirin left useful tips and recommendations for us and left us to ourselves for a much needed relax! Weather wasn't hot when we went but the heaters in the chalet heated the whole place in minutes. A* hoster!
Rob
2016-04-19T00:00:00Z
Lovely little chalet in a great location. easy travel to London, Harry Potter tour and legoland.
Joseph
2016-09-22T00:00:00Z
The host is not around during our visit, but she had made proper arrangement prior our visit, ensure we are able to get the location and enter to the chalet during her absence. The chalet is clean but it need some maintenance on the bathroom area. The bathroom door can not be totally shut, window curtain can be seen through from outside at nite. The attic is too low for my adult kid to sleep. They practically need to crawl to the bed . They eventually have to sleep on the sofa bed, but it was very soft for 2 persons. We cover the sofa bed with comforters (from bed on attic). On the last day, our daughters have some bug bite marks around their necks. We like the little host's dog. She has been aggressive coming to our chalet but we don't really mind because it is obedient and playful. It did cheer us up after our daily exhaustive outdoor outing.
Chris
2015-06-29T00:00:00Z
Really lovely little chalet in a peaceful but convenient spot. I spent 1 night there with my duaghter and baby grandson when visiting my elderly mother who lives in Chalfont St Peter. Parking was easy and we were made to feel very welcome by Shirin's nanny when we arrived quite late after a long car journey from Yorkshire. There was everything we needed there and and it was very clean and tidy. We'll definitely be visiting again and I will be recommending it to other relatives who visit Chalfont due to our family connection there
Geraldine
2015-09-06T00:00:00Z
Tipe Kamar
Seluruh rumah/apartemen
---
Tipe Properti
Rumah
---
Mengakomodasi
6
---
Kamar tidur
Chalfont St Peter, England, Inggris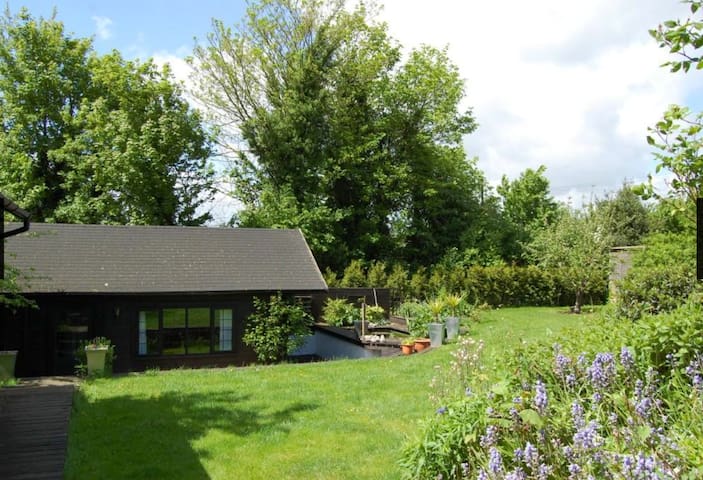 At over a hundred years old and one of the oldest cottages in Seer Green, Corner Cottage occupies a central place in the Village, situated opposite the Post Office and a stone's throw from two fabulous pubs, The Jolly Cricketers and The Three Horseshoes. Completely renovated in the last couple of years and boasting 3 bedrooms (Sleeps up to 5 people), Log burning stove, bespoke kitchen and luxury bathroom plus the usual TV, Internet ect - we have everything you would want in a holiday cottage!
A traditional Brick and Flint cottage, with large south facing windows for the lacemakers at the front of the house and access for the chair makers at the back, Corner Cottage is one of the oldest buildings in Seer Green. The cottage obviously has its own access via front door, but it also has a lovely enclosed courtyard garden to the rear, with access via the kitchen door. Living Room is a beautiful front room with Log burning stove and plenty of seating. A flatscreen TV, DVD player and selection of DVDs are available for your use, Sky TV is also available for a small extra charge. Kitchen is a recently completed bespoke painted wood kitchen with Corian worktops. There is an Electric Oven, 5 Burner Gas Hobs, full size Fridge Freezer, washing machine, dryer and dishwasher. There is also an extendable table with seating for up to six people. Bedroom One is a lovely double aspect room and has a fabulous Kingsize Tempur Bed. Cozy and relaxing, it also boasts large wardrobes and plenty of drawer storage space. Decorated with Suzie Watkins material and soft furnishings, this is a tranquil and luxurious room. Bedroom two is the loft bedroom and can be configured one of three ways, a king size bed, two singles or just one single (all with memory foam mattresses and stunning bed linen) Light and bright it is a relaxing and quiet space away from the rest of the house. Bedroom Three is a Single bedroom and again has plenty of storage, antique furniture is plentiful in this room with a very comfortable bed! Decorated in soft pinks and blues, the room fells very restful and comfortable. The new Bathroom has also been recently completed and is a lovely warm room with it's underfloor heating and has a top of the line finish with its oak furniture, Hansgrohe thermostatic shower (with adjustable massage shower head!) and heated towel rail. A pleasure to use!
Seer Green is beautiful, green and a brilliant location to enjoy a holiday in the Chilterns or business trip. There are two fabulous pubs within the Village itself or a large selection of restaurants, pubs and cafes in Gerrards Cross, Chalfont St Peter and nearby Beaconsfield. Two Pubs are... The Jolly Cricketers Pub in Seer Green, which is an exceptional place to eat and drink. A traditional pub with a fabulous Gastropub menu, it is great for a lazy afternoon or a smart dinner. The Three Horseshoes is a great family pub, with home cooked food and a relaxed bar, it is a perfect compliment to the village. Also within close walking distance are the post office, convenience shop, butchers and dog parlour! Add to this the massive green fields (ideal for a picnic, weather permitting), brilliant play area for kids and golf clubs (two!) you have a recipe for a happy stay.
We really loved our time at Gemma's cottage. It's a beautiful, cosy place where you feel relaxed and at home immediately. The dog also gave an immediate thumbs up curling up by the wood burner after a forage around the local woods which are on the doorstep. There's a great pub over the road too! Wouldn't hesitate to recommend to others. Thanks Gemma!
Oliver
2017-03-01T00:00:00Z
We spent the weekend at Gemma's cottage and we were not disappointed! The house is beautiful and in a great location in seer green village. Gemma was waiting at the cottage when we arrived and made us feel very welcome There are two local pubs which both serve food and are both within walking distance from the cottage. I honestly couldn't recommend this place more and will definitely be booking again!! x x
Katie
2017-03-05T00:00:00Z
Tipe Kamar
Seluruh rumah/apartemen
---
Tipe Properti
Rumah
---
Mengakomodasi
5
---
Kamar tidur
Seer Green, England, Inggris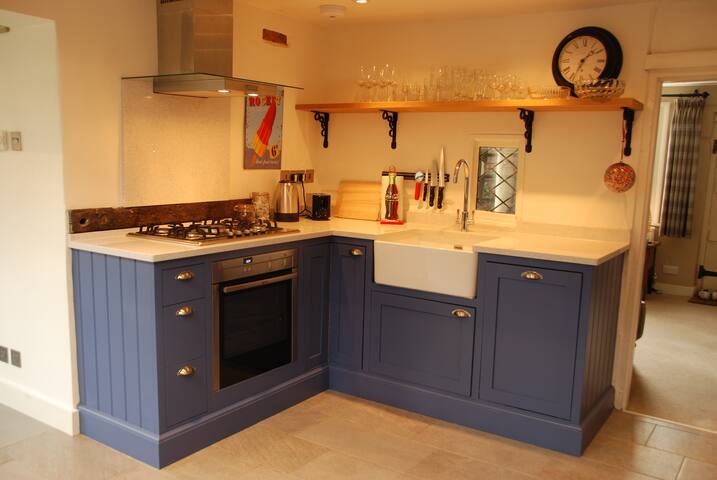 Ο δρόμος μου είναι ένα πολύ ήσυχο δρόμο με κατοικίες. Όχι πολύ μέσω της κυκλοφορίας. Οι γείτονές μου είναι ηλικιωμένοι. Είστε λίγο πολύ εγγυημένη μια ειρηνική ήσυχο βραδινό ύπνο ή να μείνω εδώ. Έχω κάνει Airbnb για πάνω από ένα χρόνο τώρα, και έχω έρθει για να συνειδητοποιήσουμε ότι είμαι το είδος της υποδοχής που θα σας αφήσει με τις δικές σας lol.
Great place, Gemma is very friendly. Room is very clean and peaceful.
Louise
2017-03-22T00:00:00Z
Gemma was a great host and I had a really lovely stay in the cosy room!
Deborah
2017-03-11T00:00:00Z
Gemma was great and chatted to m on arrival and offered me a tea and coffee. Everything was very clean and the shower was great. Will return when needing to get into work very early.
Sue
2017-03-14T00:00:00Z
Super clean and comfy room which offers a good value stay. I didn't get much chance to chat to Gemma but she was extremely friendly and helpful upon checking in.
Jason
2017-03-02T00:00:00Z
Gemma is a great host, very welcoming. The house is clean and tidy, the room was ideal and Harry the dog is the best!
Ollie
2016-03-16T00:00:00Z
Excellent as always
Jo
2016-03-19T00:00:00Z
Gemma is a really lovely, sweet host. She offered me a cuppa tea as soon as I arrived (which is always a winner). Communication was great, house and room were very clean. Very powerful nice shower and comfortable bed. Thanks for having me!
Annie-Marie
2016-06-08T00:00:00Z
Gemma is lovely, very welcoming. She let me use her ironing board and iron when I arrived and made me a cup of tea while I ironed my shirt. The new room is small but very comfortable, warm, and the bathroom is directly next door. Very quiet neighbourhood, ample off-street parking, in easy reach of the station to London and the motorway. Highly recommended!
David
2016-02-17T00:00:00Z
Tipe Kamar
Kamar pribadi
---
Tipe Properti
Rumah
---
Mengakomodasi
1
---
Kamar tidur
Chalfont Saint Peter, Buckinghamshire, Inggris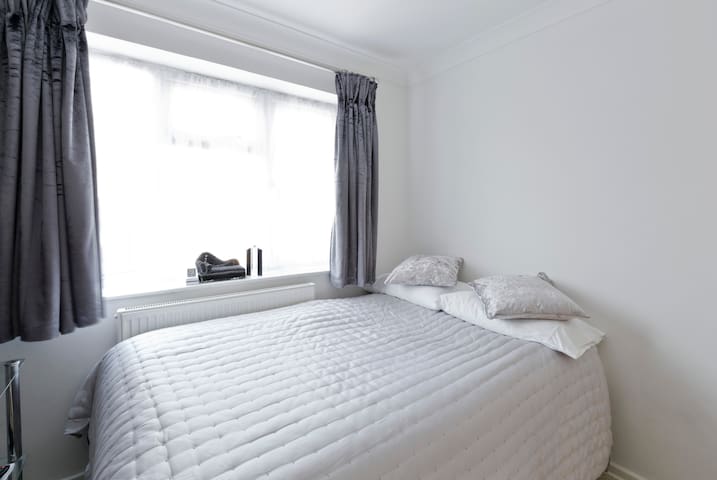 Davy a facilité notre séjour en répondant a toutes nos question. ne l'ayant pas rencontrer directement il nous a donné toutes les information pour l'accès au logement et ses renseigner pour savoir si l'ont était bien arrivé et installé.
Michel
2016-08-09T00:00:00Z
I stayed at Davey's place over a weekend with the wife and kids and two dogs , was a perfect base to visit friends. The apartment was perfect, cleaned impeccable before our arrival and had everything and more that we could of needed. Communication was fast and effective. A great place to stay and I'm sure we will be back. Thanks Jon and Emma X
Jonathan
2016-08-16T00:00:00Z
My friends and I had a really nice trip in this place, really quiet town, some store just next to the appartement. Davy let us some DVD and give us a lot of advice for have a good trip in London.
william
2017-01-02T00:00:00Z
The apartment was in a great location, very clean and as described. Davy always answered any questions I had within an hour or two and sent emails to ensure everything was ok, if staying in gerrards cross again, I would book with Davy
Andy
2016-08-03T00:00:00Z
Bit of a military operation getting in to the apartment but after that all was perfect. It was great for myself and my partner who I came to visit for a long weekend. Will be using again when I'm down in the future! Thanks again Davy!
munish
2017-02-20T00:00:00Z
A wonderful property and fantastic host. Gerard's Cross is a delightful place with every amenity you could wish for and so close to central London. Thanks for a great stay!
Kathy
2016-12-12T00:00:00Z
This apartment really is five star. The only tip I would give is that it's surprisingly convenient for train transport to London - a family return including travel card can be (EMAIL HIDDEN) for just over £35.00
Michael
2017-03-26T00:00:00Z
Great apartment in a great location close to amenities. Very handy having an allocated parking slot. Thanks Davy!
Sash
2017-02-25T00:00:00Z
Tipe Kamar
Seluruh rumah/apartemen
---
Tipe Properti
Apartemen
---
Mengakomodasi
4
---
Kamar tidur
Gerrards Cross, Inggris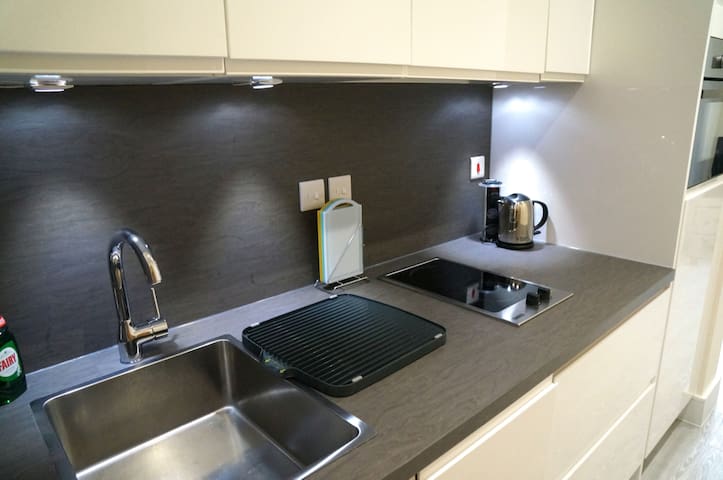 The room was nice and quiet and just as it appeared in the photos. The bed was very comfortable. Tina was an excellent host, very accommodating and welcoming.
Tricia
2016-12-12T00:00:00Z
Warm, cosy and clean. Perfect place to stay for buisness
Sian
2017-02-26T00:00:00Z
I can't recommend enough Tina's place. Quiet and beautiful area. She is a great host and the room is amazing.
Leo & Pati
2016-06-24T00:00:00Z
Tina's place is clean and comfortable and Tina is a charming host.
Louise
2017-03-03T00:00:00Z
Cosy, warm , clean and friendly
Sian
2017-03-19T00:00:00Z
Tina is warm and friendly and the house is very clean and tidy with everything you need
Sian
2016-12-04T00:00:00Z
I had a lovely peaceful night's stay in Tina's beautiful house. She made everything very simple and straightforward. The room is clean and comfortable and an easy 'help yourself' breakfast was available. The only challenge is finding the property in the dark. However, I highly recommend this as a lovely place to stay.
Geraldine
2017-03-02T00:00:00Z
Great host, lovley warm house and comfy bed
Sian
2016-11-06T00:00:00Z
Tipe Kamar
Kamar pribadi
---
Tipe Properti
Rumah
---
Mengakomodasi
1
---
Kamar tidur
Chalfont Saint Peter, Inggris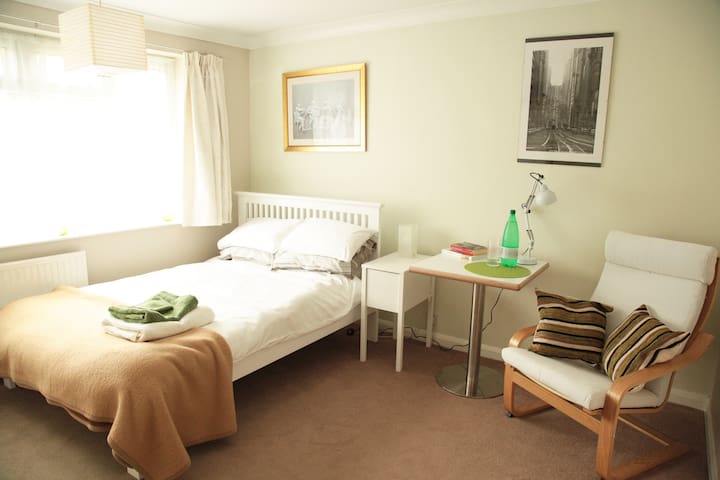 Ewok Lodge is an ideal travel base. It is near enough to get around, whilst at the same time set in a peaceful rural location. It is suitable for all types of traveller - couples, families with older children, solo adventurers, through to business travellers. Although it is part of the estate, the lodges have their own separate access area and parking. Once you enter through the lodge front door, we hope you will feel right at home and enjoy your stay.
The lodge is a really cosy space. It can sleep up to 4 people. As you enter you are in the main living space, with its welcoming parquet flooring and neutral colours, there is a cosy corner sofa that converts into a double bed. For your entertainment, there is a large flat screen TV and a few board games to keep you busy. For your comfort there is a compact log burner to snuggle up and keep warm. Down a few steps you are in the fully fitted cosy kitchen, complete with full size fridge freezer, 4 ring induction hob, a combination microwave oven and all the crockery and cutlery tools you should need. Off the kitchen is the stylish shower room, consisting of a large screened shower, built in toilet and sink unit. There is plenty of surface and storage space for all your toiletries. There are fresh towels for each guest -one large bath towel and a small hand towel for each. From the main living space, there is a carpeted staircase to a glass panelled mezzanine level, with a comfy double bed and lots of storage space to put things away. There is also a desk and a chair for those who need to work or like to write. Due to the staircase and internal step layout, we cannot accept families with children under 6 years of age.
Set in a tranquil corner of Hertfordshire, West Hyde is a peaceful hamlet located between Maple Cross and Denham. The lodge is located in a little corner surrounded by fields. And although a quiet location, we are near to major routes of the M25, M40 and A40, meaning most places are very accessible. It's very close to Rickmansworth, Denham and Uxbridge. Central London is only 20 miles away and can be reached by train from either Denham or Rickmansworth in less than 30 mins.
fantastic place with everything you need for comfortable stay.
Peter
2017-02-17T00:00:00Z
This is a great place to stay. George and Steph were fantastic hosts and the lodge is completely self contained, clean and very cosy with very comfy beds and a really great shower and kitchen, I'd definitely highly recommend this place. And there's a spa next door!
Jessica
2017-02-24T00:00:00Z
Tipe Kamar
Seluruh rumah/apartemen
---
Tipe Properti
Bungalo
---
Mengakomodasi
2
---
Kamar tidur
Maple Cross, England, Inggris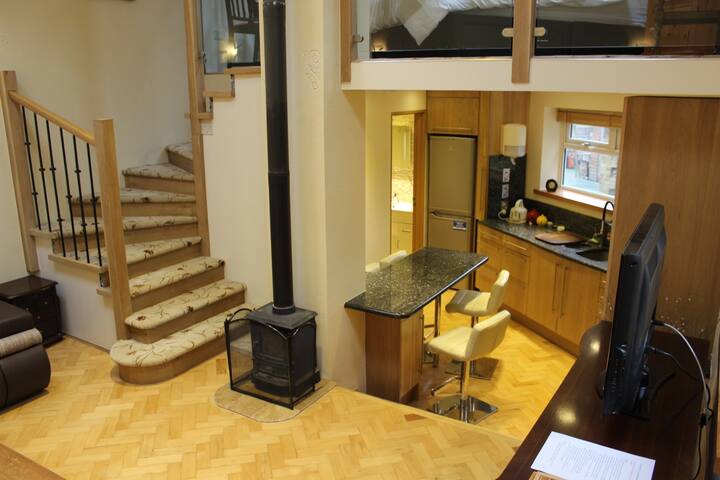 Triple bunk beds for children where the bottom bunk converts into a safe baby and toddler cot. A comfy kingsize bed for the grown-ups that can be converted into a dinette area for cosy meal times. Fully stocked kitchenette. Toilet room with luxurious electric flush toilet, spacious vanity cabinet for all your holiday toiletries, sink and water tap and running water. Beautiful duvets, comfy pillows and warm baby sleeping bags will be provided. PLEASE NOTE GUESTS HAVE TO BOOK THEIR OWN CAMPSITE.
The Vintage Caravan Hotel is a Boutique Caravan and the perfect solution if you need extra accommodation for a family or a group of up to 5-6 people. She can be hired out for weddings, parties, childrens sleepover parties, a holiday home at a campsite, festivals or even a temporary home during house renovations to escape the builders. Our Vintage Caravan Hotel can also be hired for photo shoots and film sets. We are based in Chalfont St. Giles in beautiful Buckinghamshire and very close to London (30min by train from London Marylebone). Other attractions close by are Legoland Windsor, Windsor Castle, Henley-on-Thames, Marlow, Harry Potter Studios and Pinewood Studios just to name a few. If you would like to stay in our beautiful Chiltern village of Chalfont St. Giles we can highly recommend Highclere farm campsite (URL HIDDEN) which offer fantastic facilities for families with its large playground, football field and beautiful surrounding countryside.
Attractions close by are Legoland Windsor, Windsor Castle, Henley-on-Thames, Marlow, Harry Potter Studios and Pinewood Studios just to name a few and of course our local Buckinghamshire countryside. London is a short train ride -25/30min.
Tipe Kamar
Seluruh rumah/apartemen
---
Tipe Properti
Lainnya
---
Mengakomodasi
5
---
Kamar tidur
Chalfont Saint Giles, England, Inggris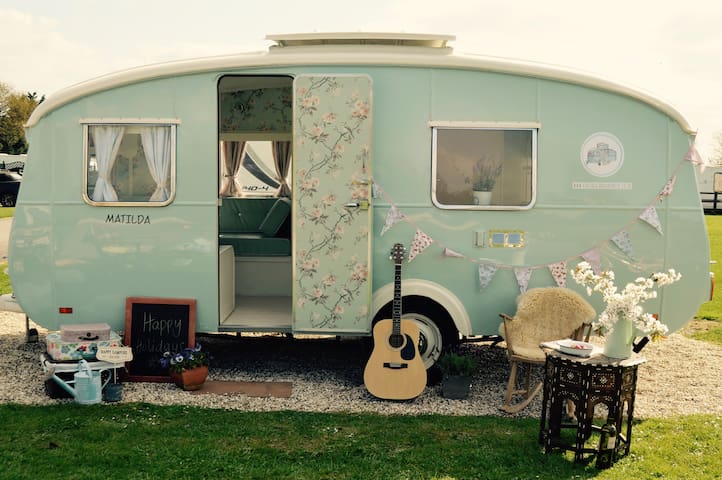 Una camera singola situata nel centro di un occupato, villaggio inglese. Situato in posizione strategica a 15 minuti dall'aeroporto di Heathrow, a 15 minuti da studi di Pinewood e 5 minuti di auto per un trainline diretto nel centro di Londra. Perfetto per i viaggiatori d'affari e una posizione ideale per visitare Londra. parcheggio gratuito a disposizione e accesso al patio.
Chalfont St Peter è un bellissimo villaggio circondato da fama mondiale località turistiche come Londra, Windsor e St Albans.
Welcoming hosts and great location. During my business trip, getting into London during my stay was easy and the commute was fairly straightforward. The room was exactly how I expected from the listing, clean and comfortable. The host's were really friendly and polite which made my stay all the better. Would recommend Chalfont and Anita's listing to anyone.
Elliot
2017-03-15T00:00:00Z
I had a slight problem finding the correct door (round the back with some outside steps), but was welcomed kindly, found the room clean and comfortable, with a very nice bathroom. It was perfect for my need to stay in Chalfont St Peter for my cousin's birthday party, and I would enjoy staying here again.
Gill
2016-08-22T00:00:00Z
Anita and John were so welcoming. The room and bathroom were spotlessly clean. The bed was very comfortable and the bathroom really well appointed. I was visiting a relative and will definitely book again.
Rick
2017-04-06T00:00:00Z
The room is very clean and cosy. It's very nice and warm, which I love but you can turn the radiator off! The bed is extremely comfortable. I liked the fact that the room and bathroom are divided from the rest of the house by a door. I also liked the convenience of being right in the very centre of the village. The host was very pleasant and helpful. All in all, it was good value for money and I would certainly stay there again and wouldn't hesitate to recommend it.
Ann
2017-03-12T00:00:00Z
Tipe Kamar
Kamar pribadi
---
Tipe Properti
Apartemen
---
Mengakomodasi
1
---
Kamar tidur
Chalfont Saint Peter, England, Inggris
Nuestro recientemente renovado, acogedora, tranquila cabaña se encuentra en el campo a las afueras de Londres. A sólo 5 minutos de la M25 sin embargo, a poca distancia de la Chiltern. A 15 minutos a pie de la estación le lleva a Marylebone en 25 minutos. 5 huéspedes pueden quedarse uso de la cama de matrimonio y una individual en el dormitorio y 2 en un sofá cama en el salón. La cocina totalmente equipada y el salón luminoso y acogedor, da a los huéspedes con cocina independiente un hogar del hogar.
Esta casa se encuentra en la parte inferior de nuestro jardín de 1 acre con los campos de al lado y la vida silvestre en abundancia. La casa está construida con los más altos estándares de aislamiento y se calienta con radiadores y una acogedora estufa de leña. Para aquellos clientes que busquen una estancia más larga que tiene todas las comodidades de su propia casa con cocina totalmente equipada, TV, Wi Fi y servicio de lavandería. La habitación es espaciosa y tiene una cama doble y una cama individual. El salón tiene un sofá-cama que se saca en una cama doble muy grande.
Chorleywood es una zona preciosa y tenemos Chorleywood común en nuestra puerta. A 10 minutos a pie a través de ella que tiene en el centro del pueblo o de la estación de tren. El pueblo cuenta con todos los servicios - tiendas, supermercados, restaurantes. Londres está a 25 minutos en el tren. Harry Potter Mundial está a sólo 15 minutos en coche. Además, el famoso Grove Hotel, que se celebran eventos como el Golf Master también está a sólo 15 minutos de distancia. Con Windsor menos de media hora hay un sinfín de oportunidades para las excursiones.
A really lovely host and property. Its such a cosy little place and it was beautifully clean. Jo made sure we had everything that we needed and was really welcoming. Thanks for a lovely stay!
Charlotte
2016-11-04T00:00:00Z
The host canceled this reservation 47 days before arrival. This is an automated posting.
Fiona
2016-12-05T00:00:00Z
Jo was amazing! she was very attentive, friendly and helpful. The cottage is exactly as described very cosy, especially as we arrived to a log fire already roaring. Perhaps a torch would be useful as it is a fair walk down the garden. We will 100% be returning and will recommend to other friends and colleagues.
Craig
2016-11-12T00:00:00Z
Tipe Kamar
Seluruh rumah/apartemen
---
Tipe Properti
Bungalo
---
Mengakomodasi
5
---
Kamar tidur
Chorleywood, England, Inggris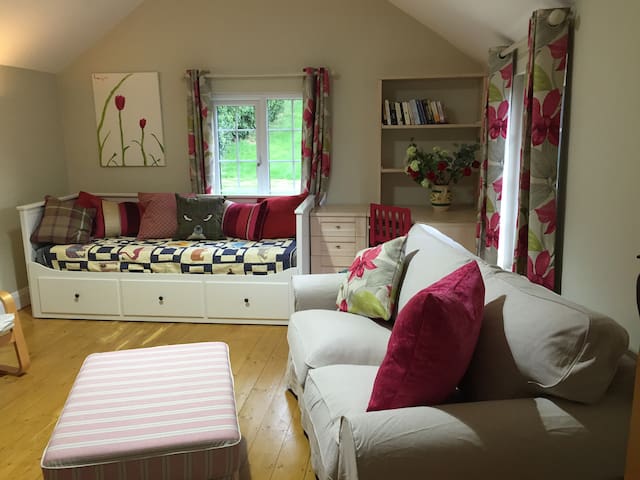 Ma maison est proche de toutes les commodités, pubs locaux / restaurants à moins de 10 minutes à pied. Les transports en commun, un arrêt de bus à moins de 5 minutes à pied, plus Overground / stations de métro à 3 miles. Nous sommes à 5 minutes en voiture de la M40 / M25. 20 minutes de l'aéroport d'Heathrow. Vous allez adorer ma place en raison de son emplacement, la maison est seulement quelques années et se trouve dans son propre terrain et offre un environnement sécurisé gated. Tous sont les bienvenus. Thé / café et la pleine utilisation de la maison / cuisine.
J'ai 2 chambres doubles séparées qui sont disponibles, la chambre rose et la chambre jaune. chacun est individuellement répertoriés. Ils ont tous deux lits doubles, grandes armoires coulissantes et des zones d'espace de travail. Ils partagent une grande salle d'eau avec WC, lavabo et un grand miroir selon les photos. Thé / café disponibles gratuitement, ainsi que l'utilisation de la maison et le terrain.
Je suis proche du village Denham et Gerrards Cross, mais vivent dans un quartier résidentiel assez calme.
Great Location, Great Host, Great Place - will stay again.
Mark
2017-03-23T00:00:00Z
Tipe Kamar
Kamar pribadi
---
Tipe Properti
Bungalo
---
Mengakomodasi
2
---
Kamar tidur
Denham, England, Inggris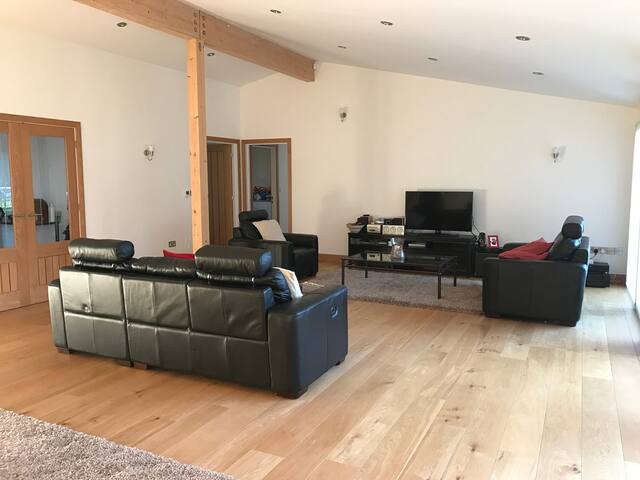 This place is amazing.
Jessica
2017-04-09T00:00:00Z
We had the most wonderful stay at The Lawns, everything was perfect. The house was really a home from home and one of the most comfortable places we have ever stayed. Cathy met us on arrival and could not have been more welcoming. Our 3 year old grandson thoroughly enjoyed feeding the chickens, collecting the eggs from the hen house, and picking fruit from the kitchen garden. We also had the company of 2 friendly cats. The indoor pool was a delightful extra which we all enjoyed using from my 88 year old mother to our littlest one. Could not fault our stay.
Sally
2016-08-02T00:00:00Z
We spent 3 days here with family and friends, had a lovely time. House and grounds are beautiful, couldn't have wanted for anything more. Hard to believe we were only half an hour's drive from our home in London!
Christian
2016-10-29T00:00:00Z
Such a treat! We had a wonderful weekend at Simon's house. It's just as pictured, if not better. Highly recommend for a getaway with friends!
Dani
2016-08-07T00:00:00Z
We had a great stay. Thank you. The house and gardens are very spacious, we loved feeding the chickens, the fish and the cats, the children loved the playground and trampoline, and we enjoyed some fantastic days out locally (model village, country walks, R Dahl museum). I wouldn't hesitate to recommend it.
Claire
2016-08-22T00:00:00Z
Great house. Everything you want and need. Loved it!
Matthew
2016-10-24T00:00:00Z
Tipe Kamar
Seluruh rumah/apartemen
---
Tipe Properti
Rumah
---
Mengakomodasi
12
---
Kamar tidur
Buckinghamshire, Inggris
1

–

18

dari

300+ Sewa Tempat
Masukkan tanggal untuk melihat harga lengkap. Biaya tambahan berlaku. Mungkin dikenakan pajak.