The Sedgwick Antique Inn has 14 bedrooms available in the historic bank building. Our guests tell us this is a wonderful place to stay. Please stay with us as long as you wish.
Lots of space and lots of room to let your imaginations flow.
We walk the streets at night. You will be safe in our friendly little town. We have the Jumbo Reservoir 5 miles west of us. Fishing and hunting is abundant in our area. Keep in mind we are a small town with a bar and a dispensary across the street.
A very unique and pleasant place to stay. Lupe was great.
Zack
2016-08-12T00:00:00Z
This place is really cool, it's almost a hundred year old building that's full of antiques. The town is really small and full of friendly people. There is a restaurant called Lucy's Place a couple miles away that makes great Buffalo burgers. Oh, and there is a dispensary across the street and a smoke shack next door, for those interested. Lupe was a wonderful host, very kind and welcoming, full of information about the history of the town and the buildings.
Orion
2016-07-22T00:00:00Z
This was one of the most interesting and unique stays i have ever had. It is an abandoned bank converted into a quaint little B&B. There are antiques everywhere and the decor is like stepping back in time. Guests are even allowed to explore the basement of the building where the bank vault is and the host captured the history of the era with her thousands of antiques and decor. I am not a big antique person, but we were blown away and spent hours just checking the place out. This is a place to go if you are into adventure, a place with character and you are not what i would refer to as a "hotel snob". Its imperfections are what makes it so special. Your room is private, locked with a little latch and there are several bathrooms that are shared by guests. The real wood floors creak and its everything you would expect of a place thats from a century ago and we absolutely loved it. Everything was clean and the host was more than accomodating. She even has a little breakfast nook where u can grab a cookie whenever you want or breakfast in the morning with lots of options. For the price, the experience, this place is a definite must and quite memorable. My only caution would be that if you are offended by marijuana, keep in mind its legal here and you will catch a whif here and there although no smoking is allowed inside.
Sherry
2015-09-08T00:00:00Z
Lupe was extremely helpful and gave a tour of the inn while explaining everything. I had the hit the road early in the morning, so I didn't get to try out the breakfast area downstairs as much as I would have liked to another time. Comfy bed. Bathrooms down the hall.
Brian
2016-05-31T00:00:00Z
Wonderful experience again, worked with me when I had to change my dates. Great place for my dog too
Lynn
2016-10-12T00:00:00Z
Sedgwick's about to blow away, but I enjoyed my stay in this neat little town. At the Inn, Tracy made Rugby and me feel at home. That's really wild about you being Leslie's sister. Small world.
Scott
2016-03-31T00:00:00Z
I had a great time. It was a very peaceful and welcoming atmosphere!
Alex
2016-05-17T00:00:00Z
The funniest little town I've ever been to. Amazing hospitality and the locals are a riot. I loved the short time I spent here.
Jeremy
2016-06-05T00:00:00Z
Tipe Kamar
Kamar pribadi
---
Tipe Properti
Lainnya
---
Mengakomodasi
16
---
Kamar tidur
Sedgwick, Colorado 80749, Amerika Serikat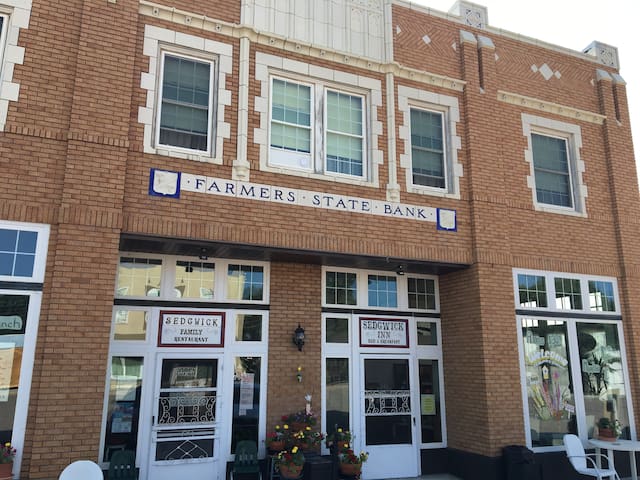 Masukkan tanggal untuk melihat harga lengkap. Biaya tambahan berlaku. Mungkin dikenakan pajak.