A top floor flat, zone 3, within a short walk from Crofton Park station. This is a home from home, a generous one bedroom flat, comfortable for one or a great place to gather with family and friends, where you can cook, eat, drink and laugh. We want you to enjoy yourselves. Experience the areas, order delicious local takeaways, watch movies, spread out in the space. Here you have a fully equipped flat with pretty much everything you need in the best city in the world.
The flat is a quarter of a semi-detached Victorian house that dates from around 1900. Retaining lots of its original features, it has a neutral but eclectic interior (including a novelty life size telephone box print). The double bedroom has a spacious built in wardrobe, black out curtains and can fit an extra mattress for a child and/or a travel cot. We can provide these on request. The bedside tables have cordless chargers and internal USB ports. In the sitting room there is a comfy double sofa bed as well as a piano, television, bluetooth speaker, USB ports, some games, a jigsaw and lots of books and piano music. The bathroom has a strong shower with nice fluffy towels, soap, shampoo, conditioner and hairdryer all supplied. The kitchen area sits 4, but extra stools are possible. There's everything you need to cook with and enjoy a meal. The flat has central heating throughout. Car parking is free in the street outside and surrounding areas.
Crofton Park and Brockley have established themselves as mainstays of the South East London scene. The area is a hub of creativity and fun, an eclectic mix of artists, designers, photographers, scientists, writers and musicians of all ages. With a mix of restaurants and bars 5 minutes away as well as Co-op and Budgens supermarkets you can cook for yourself, or go out to eat delicious Malaysian, Caribbean, Thai, Indian cooking as well as enjoying food from a couple of delicatessens, greasy spoon cafes and pubs. The Rivoli Ballroom, London's only intact 1950s ballroom, hosts regular dance and musical nights. And the vibrant night life of Peckham and New Cross are a short bus ride away. Start your day with coffee and fresh croissants from nearby Abel and Cole, munch on delicious burgers from The Beer Dispensary for lunch or platters at The Gantry, and later have a gastronomic dinner delight at Le Querce (Italian) or Babur (Indian). Brockley Market, a Saturday farmers market, is a 20 minute walk away. Local parks include Hilly Fields and Blythe Hill with brilliant views of the city and Brockley & Ladywell Cemetery an ancient overgrown fairytale place to wander around and get lost in.
Our first airbnb experience was a full success. The flat was very nicely decorated, very well equiped, very clean and comfy. We felt straight away like we found a new home in London. Karen was very helpful during our stay. We would highly recommend this place for family London trips.
Tahiana
2016-07-05T00:00:00Z
My uncles had a great experience staying in this flat. The flat is a beautiful 1 bedroom Victorian flat located in a great area. Karen has been managing the booking in a professional manner.
Olivier
2016-09-30T00:00:00Z
The location of the flat is as described. In a quiet residential neighborhood with good transport via train and bus. Shops and cafes are very close by. Very walkable. The flat has a good size bedroom with a very comfortable bed. The lounge is spacious as well. The bathroom is on the small side as far as the sink and mirror are concerned, but the tub and shower work quite nicely. The kitchen is nicely updated with a small table and chairs. The flat was clean and there was no dampness! Overall a good stay and a convenient location.
Mike
2017-03-26T00:00:00Z
The flat was just as described and very well decorated. There is an excellent library spread across the three rooms in cleverly placed bookshelves. The location was ideal for catching trains or exploring Brockley and the surrounding area. Karen was an excellent host and responsive to all queries.
Ian
2016-07-09T00:00:00Z
The flat was clean and tidy. Nice feel to the place. Beer in the fridge as we were the first guests was a nice touch. The guy who handed over the keys was friendly and helpful.
Felicity
2016-06-13T00:00:00Z
Clean and very quiet despite close railway line, great location if you need to be in the area, lovely place to stay and still handy for central London too - Crofton Park and Brockkey stations within easy reach which means you are within 40mins of the centre
Peggy
2016-12-28T00:00:00Z
Stayed here to be close to our son who recently moved to Brockley , spacious and a home from home feel , short walk to public transport and suited our needs perfectly
Nalan
2016-12-04T00:00:00Z
This is a quiet and conveniently located flat in Brockley, perfect for a short break. I live locally and only stayed while I had builders in. But for visitors it's near trains into central & east London - or the Kent countryside, with a good selection of bars and coffee shops nearby.
David
2017-01-27T00:00:00Z
Tipe Kamar
Seluruh rumah/apartemen
---
Tipe Properti
Apartemen
---
Mengakomodasi
4
---
Kamar tidur
London, Inggris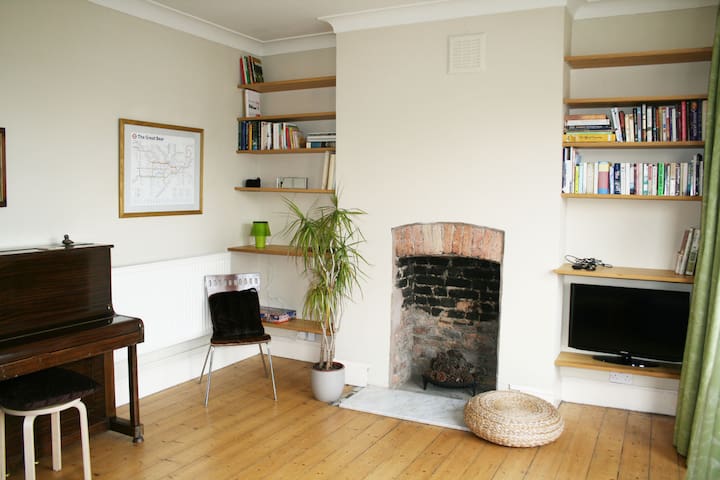 Hi, I have 2 rooms available in my 3 bedroom Victorian House. This listing is for the lovely peaceful single room with plenty of space overlooking the garden and not overlooked by other buildings. Although it is a single room, it has a double bed. It is quiet a small room. It has a TV, 2 bedside cabinetschair, airining cupboard (for drying clothes) and a mirrored wardrobe. It is suitable for long and short stays. The room is newly decorated. Bed linen and towels are provided. The room is at the back of the house and not overlooked by other buildings so it is very quiet. It looks onto our small garden and trees. My husband and I are usually out of the house early, before 8am, so guests will have full use of the bathroom in the mornings. Guests will be sharing the house with me and my husband. There is one shared bathroom with a bath and shower. Guests are welcome to use the kitchen, and I can provide you with some space in the fridge and freezer, as well as storage for food. We also have a washing machine. Amenities -Parking available outside -Bed linen and towels provided -Wifi -TV in the bedroom Transport Close to all public transport with good links into Central London. - There are two 24 hour buses. The 171 bus goes to Holborn (50 mins). The 172 bus to St Pauls (40 mins). They also go via Elephant & Castle tube station (zone 1/2). - It is a 10 minute walk to Honor Oak train station. Trains are every 10 minutes and go into London Bridge. The train journey takes 10-15 minutes, so it is 20-25 minutes door to door. - There is another train station a 2 minute walk away. Trains from here go into Elephant & Castle (underground) and Blackfriars (15 minutes). Location There are 2 supermarkets, lots of takeaways and a handful of pubs and wine bars. easy bus ride to busier area, like elephant and castle Airbnb professional photos coming soon...
The room has everything you need and the bed is very comfortable, plus I also liked the view out of the window. Both the bedroom and bathroom were very clean and I could always use the kitchen and the refrigiator, which I appreciated. Janet and her family were very nice and always tried to help when I had questions or needed anything. Nevertheless they kept it very impersonal which I was a bit dissapointed about as I was travelling alone and was looking for a bit of company now and then. The house is located a bit outside the city, but you get there really fast by train. I also enjoyed the rather long (about 60 mins) bus ride in one of the typical london busses into the city. There are also a few nice pubs, a supermarket and a post office near the house.
Jana
2016-01-09T00:00:00Z
Janet's place was very nice, clean and comfortable and as listed. She was very nice in helping me adjust and was available for questions. She was also very kind when I had trouble figuring out the tricky locks at her place. The location is very central to the trains and they run fairly frequently! Always got to london on time. Would Recommend.
Melanie
2016-04-22T00:00:00Z
Whatever could go wrong, went wrong! I stayed with Janet for almost 2 months in the small room from late February. Cold showers became a regular occurrence late at night as the hot water had run out. The heating was lost for 4 consecutive days, the washing machine broken for 3 days but not always available as the host family used it as a dirty clothes basket and did not like their clothes removed, The water was cut off for 2 days while broken pipes were repaired. Bucket water was eventually available for the toilet but no hand sanitisers were provided for the bathroom nor was drinking water provided. For half the period the toilet did not always flush. The hot water was lost another morning. The lock on the bathroom was not secure as a repairman burst through it on one occasion. Repairs were made to all but the bathroom lock and there were no disasters during the last few weeks. It was advertised that only Janet and her husband occupied the house but their 7 to 8 year old grandson and his mother lived in the house sleeping in the living rooms causing extra strain on facilities and a lot of noise. It was a busy household with Janet understandably stressed. The bed was squeaky but comfortable.
NOELENE
2015-04-15T00:00:00Z
C'était ma première visite à Londres. Avec du recul, je pense que c'est un peu loin. Il faut dire que je viens déjà de très loin donc il me fallait gérer le décalage horaire. Mais sinon tout a été correct. Je recommande ce logement si vous ne voulez pas dépensez trop d'argent dans le logement. Je remercie mes hôtes pour tout. :)
Corinne
2016-06-03T00:00:00Z
Everything is just as described. Good bus access just 1 block away. Save on 'zone' fees by catching bus 171 or 172 to Brockley Train Station (zone 2) then head into the city. Try out the pub near the train station. They've got quite a varied menu. The room at Janet's is very comfortable. Sufficient storage, comfy bed, and very quiet.
Poka
2015-10-26T00:00:00Z
Janet's home is beautiful, its cosy yet colorful! Its near to trains and buses, and yet surprisingly quiet. My room was very comfortable, and i appreciated having the wifi there. There's also a TV, though I didn't have time to watch it! Janet was very welcoming, despite my chaotic travel plans, and she happily accomodated my arrival and departure times. I would definitely stay there again.
Hilary
2012-12-17T00:00:00Z
I had a fantastic stay with Janet; she was welcoming, friendly and made me feel like part of the family. I was able to get into Central London really easily and enjoyed coming back to a comfortable and relaxing room. I would not hesitate to stay here again.
Manuela
2013-07-02T00:00:00Z
I spent 8 nights in Brockley with Janet and Paul and both were fabulous hosts. I felt very much at home and the room was perfect. The house is clean and tidy. Highly recommended!
Fabricio
2013-07-23T00:00:00Z
Tipe Kamar
Kamar pribadi
---
Tipe Properti
Rumah
---
Mengakomodasi
1
---
Kamar tidur
London, Brockley, United Kingdom, Inggris
This cosy bedroom is in a Victorian terraced house in south east London close to 2 railway stations (Crofton Park and Honor Oak Park) It's a quiet road with good local amenities and easy access to central London.
Rose was amazing! She was so helpful made me feel right at home. She showed me all around her house and how to use the internet and where to find things for breakfast. It was so lovely. Her listing was exactly as it was described on this website. The pictures are accurate and the house was so beautiful. The town is so cute and really close to central London. She was so helpful with directions and tips on places to try. I felt like I could as her questions and she was accurate with her information. It was a lovely stay! I would recommend her house and Rosie to anyone who wants an easy and pleasant stay in London!
Olivia
2015-08-14T00:00:00Z
Rosie has created a really lovely home. The bedroom is nice, spacious and comfortable, with good linens. I didn't see Rosie much during my stay, but she left homemade bread and tea for breakfast.
Adele
2014-12-21T00:00:00Z
She was very kind and helpful and I would recommend her to anyone :)
Simon
2015-01-05T00:00:00Z
Quiet area, pleasant stay
bogdana
2015-01-31T00:00:00Z
Le cartier très sympa l'accueil de Rosie et sa fille (URL HIDDEN) maison très cosy. Bonne adresse. Merci à Rosie
jacques
2015-11-16T00:00:00Z
The host canceled this reservation 279 days before arrival. This is an automated posting.
Carmen
2015-12-25T00:00:00Z
I had a fantastic extended (2 weeks) stay with Rosie. The room and house are very tidy and comfortable, and Rosie with a gracious and accommodating host who struck the perfect balance between engaging with me and giving me space. The cats and tiny dog are friendly, loving guys - though they are kept downstairs and out of the room if you are not the pet type. This was my first time staying in an Air B&B "private room in shared house," and I would highly recommend Rosie's place! The house is extremely close to the Crofton Park overground station, which is a quick (~20 minutes) and easy way to get Downtown and near many tourist destinations. Her home is also quite close to bus lines, which are quick ways to several other overground stations, Ladywell shops (also walkable), the Horniman museum, Brixton, Dulwich, Lewisham shops, and other fun spots. In addition, Brockley shops are very nearby for easy coffee or drinks, dining and take away, and groceries. I most enjoyed Mr Lawrence's Wine Bar and Arlo & Moes.
Sarah
2015-07-03T00:00:00Z
Rosie greeted me with a warm welcome. Her home is beautiful. The bedroom was fantastic and bathroom along with rest of the house fantastic with a decent shower. definitely recommend to anyone.
Vanessa
2015-03-18T00:00:00Z
Tipe Kamar
Kamar pribadi
---
Tipe Properti
Rumah
---
Mengakomodasi
1
---
Kamar tidur
London, Inggris
Very spacious double bedroom in loft area with sofa bed for up to 2 children. Own exclusive bathroom with shower and comfortable sitting area with TV & good Wifi. Friendly family house, only 3 minutes walk to local station offering frequent trains to central London in 20 minutes. Other excellent transport links. Owners have extensive knowledge of London and their friendly neighbourhood so can provide recommendations for many cafe/bars/restaurant and city sights.
The whole of the loft area is exclusive to you during your stay so includes a very large bedroom, bathroom and sitting area.
We live in an amazing friendly community with lots of cafes/bars/restaurants only 5 minutes walk from the house. I can pass on lots of recommendations. There are many parks/green spaces within walking distance from the house.
We had a lovely time. Very cosy top floor room with a comfy bed. The room had fantastic rooftop views over london. Well connected to the museums and art gallerys in the centre via a short train journey. Good conversation and film reviews to top it off!
neneh
2017-01-29T00:00:00Z
Fourth stay, good trip as usual. All as advertised.
Erica
2017-01-26T00:00:00Z
Nice stay and all as advertised
Erica
2016-11-03T00:00:00Z
Stayed many times and as usual all great.
Erica
2017-03-23T00:00:00Z
Our stay at Jane's went perfectly well. Jane and and her husband Eamon met us at the Crofton Park train station and even if not obliged to do that, their gesture made us feel immediately at home. Crofton Park where they live is ideally located just 4 stops on the train from central London and Blackfriars station. They are so lovely and smiling and their welcome of my friend and myself was more than warm. Back home at their lovely house, they immediately offered us a cup of tea and a glass of wine, which was exactly what we needed after the travel. Their house isamazing, and upstairs the Airbandb guests dispose of the whole 2nd floor. Nice, clean and very confortable. They give us some very helpful hints to our visits of the days in London, and on Saturday night we joined them in such a funny singer evening with all their friends. Such fun. Jane and Eamon thanks so much again for giving us such a happy and lovely stay. We'll be back for sure.
Pia
2016-09-26T00:00:00Z
This place is beautiful, comfortable, clean and tidy. Her husband and Jane were a great, helpful and sweet host. The bedroom was beautiful as the pictures look. The breakfast was delicious. The neighborhood felt safe and was quite close to train station. Definitely interested in either returning or visiting another one of his properties! Great experience. 10/10! A acomodação é confortável, limpo, organizado. O quarto é igual a foto e a vizinhança é segura, quieta e próxima a estação de trem. Jane e seu esposo são muito atenciosos e nos fizeram sentir em (URL HIDDEN) certeza, ficaríamos novamente nessa acomodação. Excelente experiência. Nota 1.000 para eles e a acomodação.
Cinthia
2016-10-17T00:00:00Z
One of the best stays we've ever had! Lovely room, house, hosts - own bathroom & TV (even a DVD selection ;-)) and great breakfast (coffee/tea, bread, muesli, milk, butter,...) Nice, quiet and safe neighbourhood! Good connection to city centre (train to Blackfriars). The description and photos are absolutely accurate! Thanks so much for making this an amazing stay for us, Jane & Eamon :)
Verena
2016-11-27T00:00:00Z
I love so many things about this place - big, warm and comfortable bed, private bathroom, so much space to relax, read a book or work on a laptop... I had an entire 2nd floor to myself! Breakfast was indeed generous. I had cereals, bread, butter, marmalade... All free to choose and to combine. :) Bus and train stations are just a few minutes' walk, and Jane and Eamon are eager to share their recommendations for sightseeing, food, etc. Overall, I found this place to be spacious, cozy and clean, neighbourhood safe and peaceful, and its hosts most welcoming and helpful. tl;dr 10/10 Would come again!
Lucija
2016-11-22T00:00:00Z
Tipe Kamar
Kamar pribadi
---
Tipe Properti
Rumah
---
Mengakomodasi
2
---
Kamar tidur
London, Inggris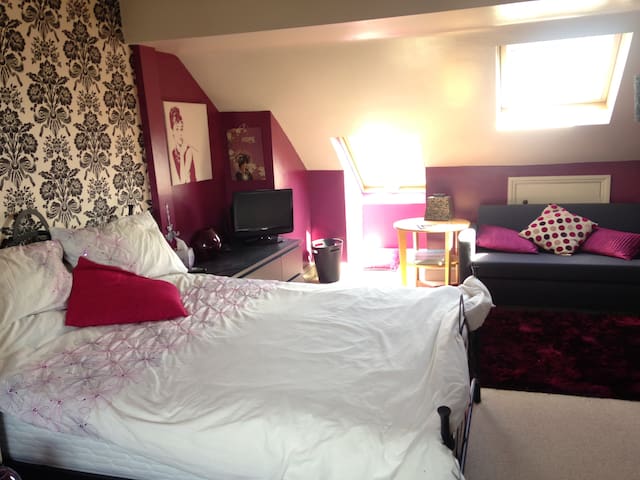 Newly refurbished large family home spread over 4 floors. Wonderful locals coffee shops nearby as well as Deptford Market. Good transport links to get you in and out of London along with off street parking
Tipe Kamar
Seluruh rumah/apartemen
---
Tipe Properti
Rumah
---
Mengakomodasi
8
---
Kamar tidur
London, England, Inggris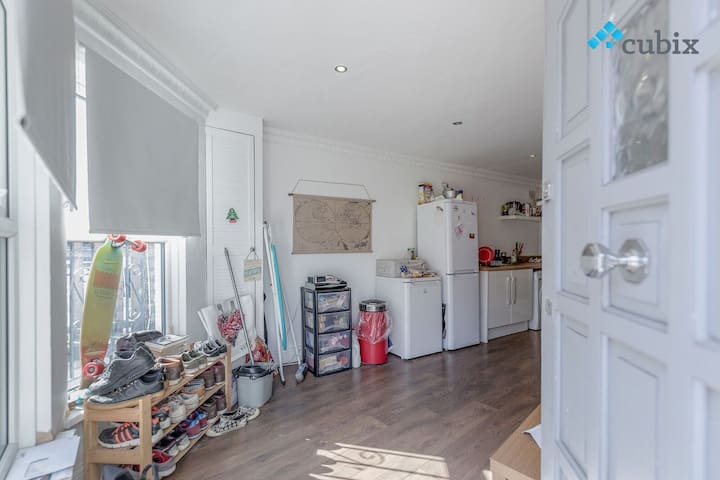 Beristirahat kepala Anda di kami baru saja direnovasi datar, sebelah stasiun di ramah Brockley (Zona 2). Jelajahi 'desa London' dengan tukang kopi, Deli organik & taman yang indah, atau pop ke pusat kota London dalam waktu kurang dari 30 menit.
Dalam bangunan tahun 1930-an, datar penuh karakter dan gaya, dengan lantai parket reklamasi dan desainer furnitur. Ini adalah tempat yang sempurna untuk bersantai setelah hari yang sibuk menjelajahi. Ruang yang ditawarkan adalah kecil, namun sempurna terbentuk. Cocok untuk satu atau dua orang. Ukuran tempat tidur UK kecil-ganda.
Brockley adalah saku santai South East London. Restoran independen sorot, termasuk Masala Wala (India), The Pantry (Perancis) dan The Orchard. Taman di Telegraph Hill tenang dengan pemandangan indah langit London.
Rowan,Joey 둘다 너무나 친절하고 좋은 호스트였다. 그덕분에 편하게지낼수있었고, 좋은추억을 많이 만들고왔다 역과 가까운곳에위치하고있어서 이동하기도편했고, 역앞에있는 카페는꼭한번 가볼만하다!
은기
2017-02-18T00:00:00Z
The place is perfect, clean, near the station and a food places, shops etc . Very Nice
Gaudiosi
2017-01-29T00:00:00Z
Rowan and Joey are well organized and brockley is easy to find, less than 10 min from london bridge. I recommend it
Gaëtan
2017-02-11T00:00:00Z
Lovely appartment, lovely people lovely city. The best weekend I have ever had since months. Even tho it is 25 minutes far from the center it is easy to get there. Its really quiet there, and the bed is cozy. Rowan and his friend where sooo nice and lovely, I wish I could come back over and over again!
Freya
2017-02-06T00:00:00Z
Great location right next to the overground and next door to Sainsbury's. Very clean, lovely shower, and great host.
Rachel
2017-03-06T00:00:00Z
We hebben een heel fijn verblijf gehad. De verhuurder was er zelf niet maar voorafgaand hebben wij een duidelijke route beschrijving en uitleg ontvangen. Ook is de locatie van het appartement erg goed! Het appartement is dichtbij station Brockley gelegen en dus makkelijk bereikbaar met het openbaar vervoer. Een super goede ervaring gehad!
Ilse
2015-10-27T00:00:00Z
Rowan et son ami nous ont très bien accueillis. L'appartement était niquel et conforme aux photos! On recommande!
Thomas
2017-02-27T00:00:00Z
Joey and Rowan are really nice hosts! This was my first airbnb experience, and I loved it! Thanks guys!
Sarah
2017-03-04T00:00:00Z
Tipe Kamar
Kamar pribadi
---
Tipe Properti
Apartemen
---
Mengakomodasi
2
---
Kamar tidur
London, Inggris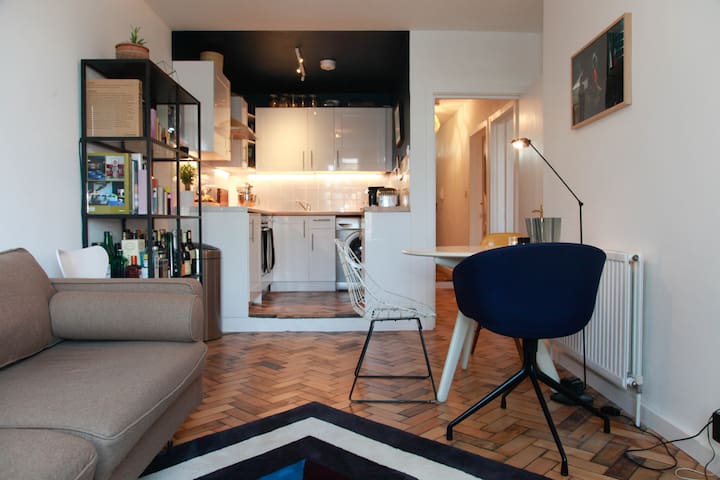 Victorian period one bedroom flat which sits proudly in a quiet residential area of south east London. Private entire flat with; double bed, kitchen with fridge, hob, microwave, seperate lounge living area with sofa-bed, bathroom with bath and shower and private odd street parking space. London Bridge - 12 mins by train NEAREST TRAIN STATIONS Brockley - 0.3 miles Nunhead - 0.47 miles Crofton Park - 0.65 miles Peckham Rye - 1.1 miles
Victorian Conversion  Top 1st floor  Off street parking to rear  Large double bedroom  Separate kitchen  Excellent transport links   Excellent one bedroom Victorian top floor flat set within a double fronted detached house with excellent transport links and close to all amenities. Accommodation comprises of entrance hall, reception room, fitted kitchen, large double bedroom and bathroom. Further benefits include double glazing, private off road parking to rear.
The property is situated in the neighbourhood area of Brockley and on the corner of Nunhead, Peckham and New Cross. Telegraph Hill Park is a one minute walk away. The area is in Zone 2, 12 minutes by train to Zone 1. Telegraph hill has fantastic views of London and boasts two parks, a community run hill station (coffee and food) and a wonderful local pub called the Telegraph. The area was somewhat unknown to the wider population of London until 4 years ago when it was connected to the overground rail (12 minutes to London Bridge / 16 minutes to Shoreditch) but this is what still makes the area unique. Frequented by a large population of artists, musicians, families and diverse range cultures; from Afro-Caribbean, to Chinese, to Indian and Pakistani, the area is both vibrant and up and coming. Brockley has attractive cafés, enough restaurants to have a choice for a night out, award-winning chippy Brockley's Rock, seminal music venues such as Rivoli Ballroom, craft beer, and Brockley Market, one of south London's busiest and best food markets in the car park of Lewisham College. Peckham is the grass roots upstart of the creative scene; the Copeland Estate houses galleries, roof top bars, furniture designers, ceramic studio, restaurants and artist gatherings. 15 minutes walk from the apartment is Nunhead Highstreet which features; a bakers, fishmongers, coffee shops and craft brewery shop along with 2 other pubs (Londoners love a pub). At the east side of of Telegraph hill you have New Cross and Deptford which are both areas undergoing rapid change. Famous Goldsmith University (where I studied) in New Cross keeps the area both lively and ever changing. Beyond Deptford you have pretty Greenwich Village which is worth a visit to discover both the Cutty Sark and the birth place of Greenwich Meantime.
Tipe Kamar
Seluruh rumah/apartemen
---
Tipe Properti
Apartemen
---
Mengakomodasi
2
---
Kamar tidur
London, England, Inggris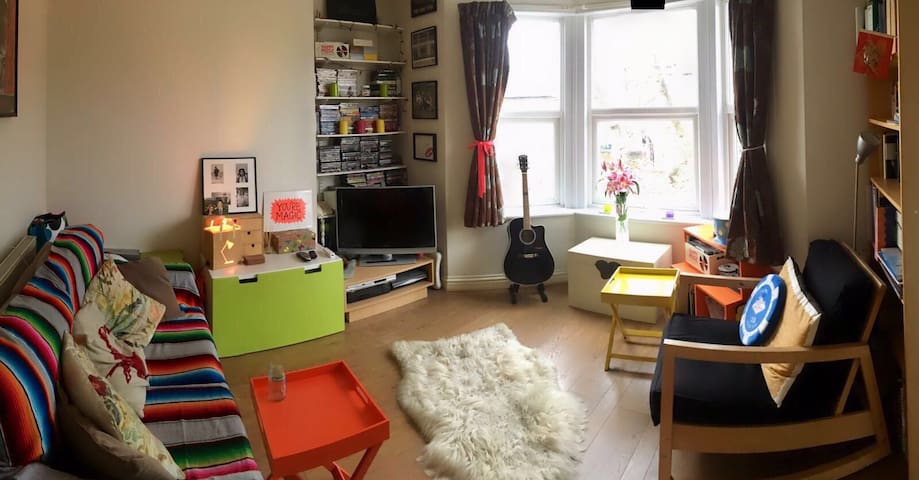 My house is in leafy Brockley, with its many delis, cafes and bars, and is just over 5 minutes walk to Brockley Station, where you can travel to central London within 15 minutes. I will sometimes be away from the house during your stay.
My house is comfortable shabby chic. It is in an area that is safe, quiet and leafy. You will wake to the sound of birdsong! The room has a double bed, sofa, desk, big, south-facing window, wardrobe and cupboard space, etc. Shops, bars and Hilly Fields park are all within 5 minutes' walk, and the station is 7 mins' walk away. I write for a couple of theatre companies and also lecture in theatre and performance. The house has a shower and bath and an additional toilet in the scullery. There is no TV.
Everyone loves Brockley. It's cosy, funky, arty, has foxes, squirrels and bats, and is very well connected.
Cathy was a great host! She has a beautiful home and a really cool garden in the back yard. The location is about a 5 minute walk to Brockley station and allows for quick and easy access to the city centre. The room was very quiet and comfortable. I would definitely recommend staying here!
Josh
2015-07-19T00:00:00Z
I had a really lovely time at Cathy's. Her place is in a great location, close to Brockley station and to many shops. She has an amazing garden, a friendly cat and very nice housemate. The room was really comfy, bright and HUGE! I would stay again and highly recommend it!
Diana
2015-08-17T00:00:00Z
Had a wonderful stay at Cathy's. The house is warm and welcoming; the room quiet and bright; and Cathy is a wonderful host. As such, my stay was full of lovely conversation and tea! I will certainly be staying again.
Mike
2015-06-18T00:00:00Z
Fantastic host. Cathy will help you out during your stay from walking to the train station to even carrying your suitcase. We had nice chats having a cup of coffee and she told me everything about the area which I needed to know to look for a place for my uni. You cannot find a better host and I will definitely be recommending this. Plus the room is massive, clean and the house is in a nice leafy area.
Thin
2015-08-12T00:00:00Z
Cathy made me very welcome in her lovely home, which was great after a long journey. It was nice to have a cup of tea and chat with her in her garden, she was helpful on giving me tips and transport info as I was on a bit of a tight schedule. I was very well looked after.
Matthew
2015-07-06T00:00:00Z
Cathy nous a proposé une pizza à l'arrivée et c'etait très sympa. Elle mets à l'aise et respectueuse de l'environnement ou on vit. On se sent vraiment comme à la maison.
Olessia
2015-07-30T00:00:00Z
Cathy was so warm and welcoming and the room was perfect - everything provided as per the listing. The suburb was friendly and quiet and Cathy was kind enough to walk me down to the pub and give me a mini tour. Loved my time in Brockley, thank you!
Ella
2015-07-13T00:00:00Z
This was my first time in london, and I couldn't have been more happy that I stayed with Cathy. An incredibly welcoming and sweet person, Cathy will make you feel right at home even though you are in a different country. Whether she's making dinner for you in the garden, chatting with you about the city or life or simply pointing you in the right direction of where to go in London, Cathy's listing is a must if your in the london area.
Idean
2015-08-14T00:00:00Z
Tipe Kamar
Kamar pribadi
---
Tipe Properti
Rumah
---
Mengakomodasi
2
---
Kamar tidur
London, Inggris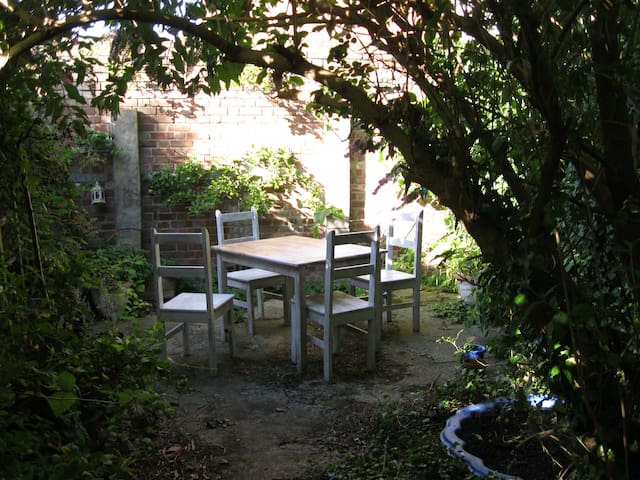 Modern 2 bed upper floor flat available in Brockley (zone 2). Located just off the high street which includes bars and places to eat. The flat is 5 minutes walk to Brockley station which will get you to London Bridge in 10 minutes.
This flat was super comfortable. The location was nearly train station which direct me to the central very easy and directly. me and my friends had a great stay at this flat. it feel like home and its so cosy. We love it so much :) btw David is a nice guy XD.
julia
2016-06-13T00:00:00Z
The host canceled this reservation 28 days before arrival. This is an automated posting.
Donovan
2016-04-08T00:00:00Z
All good
Mark
2017-02-27T00:00:00Z
Zona muy tranquila, el piso muy bonito y acogedor. Lo único malo es que el metro en zona 2 está a unos 15 minutos a paso rápido andando, tiene a unos 3 minutos andando un tren de zona 3, terminamos cambiando la oyster para poder usar el tren en vez de caminar hasta el metro todos los días.
Vanessa
2016-09-24T00:00:00Z
Gran anfitrión, estaba para todo aquello que nos hizo falta antes y durante la estancia. La casa muy agradable y exactamente igual que en las fotos. Cocina bien equipada, baño en buen estado, camas cómodas y un gran saĺom comedor. Sin duda repetiremos cuando volvamos a Londres, un barrio muy tranquilo y una muy buena opción para recorrer Londres.
Marcos Antonio
2016-07-19T00:00:00Z
Airbnb trés sympatique! David a été disponible pour répondre à nos questions et s'est arrangé pour que nous n'ayons besoin de rien. Situé dans un quartier calme, le logement est trés confortable, propre et chaleureux, rien à redire! Merci beaucoup pour ce séjour :)
Marie
2016-05-17T00:00:00Z
Comfortable stay in a conveniently located flat.
sarah
2016-06-21T00:00:00Z
Amazing flat, very clean and cosy. It is well located so it's easy to go to central London. David was a nice host ! We spent a great trip in his flat !
Raphaël
2016-05-21T00:00:00Z
Tipe Kamar
Seluruh rumah/apartemen
---
Tipe Properti
Apartemen
---
Mengakomodasi
4
---
Kamar tidur
London, Inggris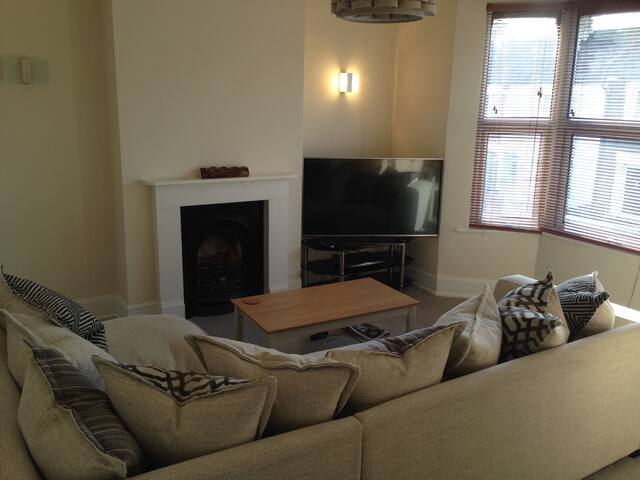 Our flat is huge and the bedroom would easily be fit for a couple. It has on demand and Now TV in my bedroom, full working sky down stairs and very fast WIFI internet all through the flat. The Flat is a 5 min walk from Crofton park station with direct train links into Blackfriars, City Thames Link, Farringdon and Kings cross, and an 8 min walk from Brockley station which has direct links into London Bridge (10 mins), Canada Water and Highbury and Islington. There are plenty of bars near too!
Brockley is a lovely suburb with plenty of fantastic restaurants and bars, all within walking distance.
Tipe Kamar
Kamar pribadi
---
Tipe Properti
Apartemen
---
Mengakomodasi
2
---
Kamar tidur
London, Inggris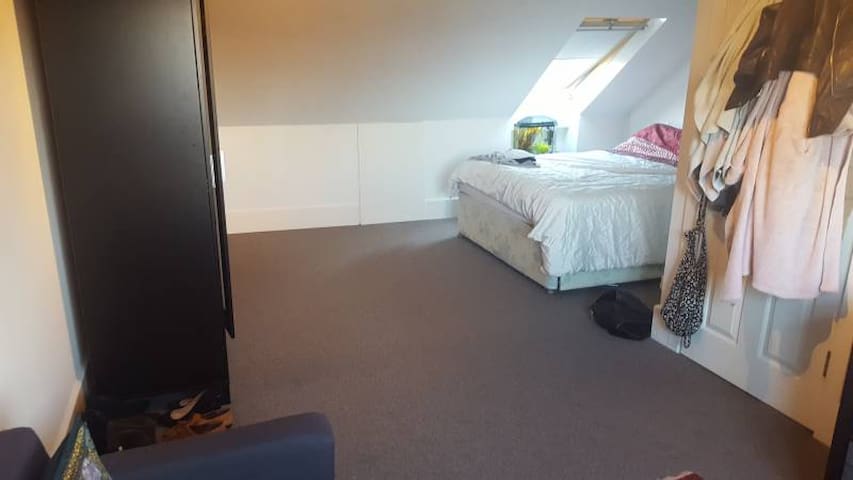 Comfy, bright double room located in South East London, zone 2. The location is 8 minutes walk to Brockley overground (15mins to London Bridge) and Crofton Park (30mins to Kings Cross). Kitchen, living room and bathroom shared with two friendly creative men in their early 30s- Sam is a documentary film maker and Dane is a contemporary art curator. I am also a freelance curator and find myself away quite a bit for work and staying with my partner in Helsinki, leaving my room needlessly empty.
The host canceled this reservation 12 days before arrival. This is an automated posting.
Naylani
2017-04-02T00:00:00Z
Tipe Kamar
Kamar pribadi
---
Tipe Properti
Apartemen
---
Mengakomodasi
2
---
Kamar tidur
London, England, Inggris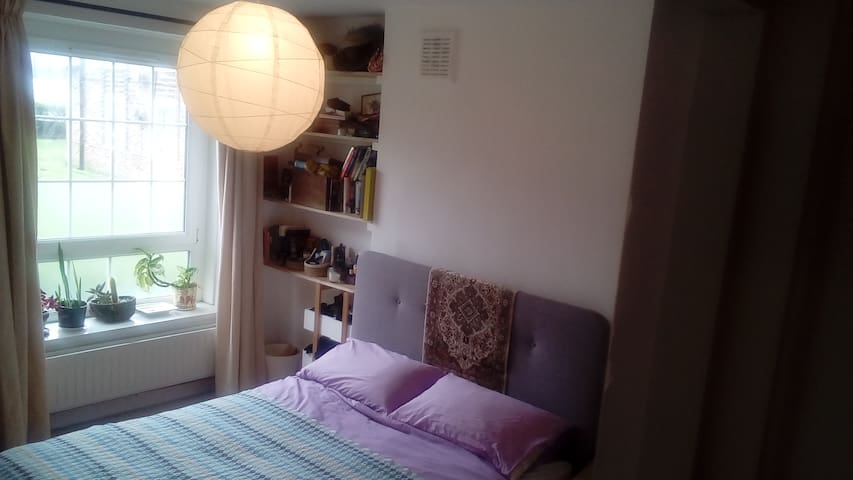 Double room with ensuite, tv and free wifi
Tipe Kamar
Kamar pribadi
---
Tipe Properti
Lainnya
---
Mengakomodasi
2
---
Kamar tidur
London, England, Inggris
A modern apartment recently built to high energy efficiency specification. Top floor of a private block with local shops and restaurants, its a quiet and secure apartment. It's close to Brockley station which is ten minutes from London Bridge, Waterloo & Charing Cross stations. Close to Greenwich Ideal as a base for visiting London for up to five adults and children with a single sofa bed futon in addition to the main bed and lounge double sofa.
Great local shops, bars and restaurants.
Hi, our stay at Patsys was amazing!! Her flat his so close the the overgroundstation to get into the city! The flat is perfect for up two four persons, nice and clean! You're feeling a warm welcome there
Patrick
2017-03-12T00:00:00Z
Fab apartment, Patsy made us feel so welcome. Great train link to city.
Pauline
2017-04-09T00:00:00Z
What an amazing place to stay! Completely updated, super clean, fabulous hostess, really close to the train line. Extremely secure!!! Patsy was super, quick to respond and had excellent recommendations for things-to-do. HIGHLY RECOMMEND
Kelly
2017-03-20T00:00:00Z
Tipe Kamar
Seluruh rumah/apartemen
---
Tipe Properti
Apartemen
---
Mengakomodasi
4
---
Kamar tidur
London, England, Inggris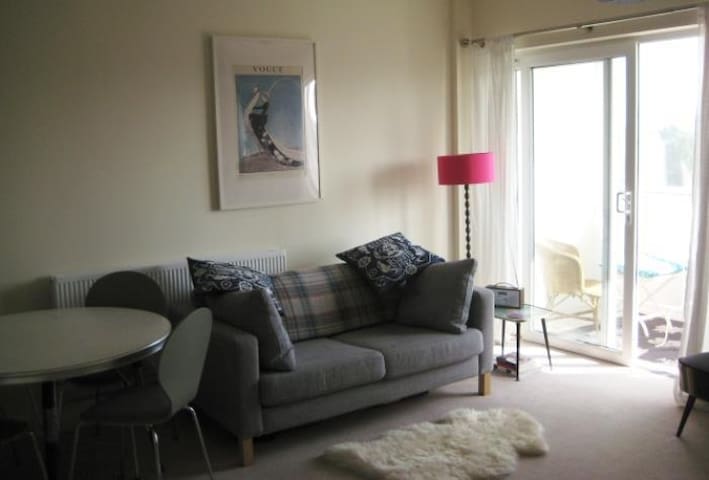 This cozy and eco friendly little flat is a 4 minute walk from Crofton Park Station, and a 15 minute walk from Brockley Station. With a cute cafe and an organic green grocer around the corner , this is a perfect base for anyone looking to discover London.
Filled with plants and books, this little gem is great to come back to after a long day exploring the city! It is a typical small London flat, at 32sq meters its idea for a couple but the sofa bed allows an extra guest to squeeze in. The bedroom is small but equipped with a double bed, and is separated from the living room by a curtain, so the flat is ideal for one or two people. However the large pullout sofa is available for a third guest if necessary.
Brockley is a great neighborhood, close enough to enjoy central London while still maintaining a friendly close knitted community feel. there are many cafes, restaurants, independent shops and pubs to enjoy, and we will leave with you a map of the surrounding area and places you might want to visit.
Lovely apartment, awesome host.
nicholas
2017-03-09T00:00:00Z
Jade's home was lovely and sweet, it was well decorated and the area was super good, especially in terms of transport. We had trouble with the hot water (shower) during early hours of the morning but otherwise everything went well.
Aimen
2017-02-27T00:00:00Z
Appartement très agréable et chaleureux !
Charles
2017-02-06T00:00:00Z
L'Appartement de Jade correspond parfaitement à la description, très bien agencé avec tout le confort nécessaire. La gare est toute proche et de nombreux trains partent régulièrement vers le centre de Londres .
Sabine
2017-02-18T00:00:00Z
Tipe Kamar
Seluruh rumah/apartemen
---
Tipe Properti
Apartemen
---
Mengakomodasi
3
---
Kamar tidur
London, England, Inggris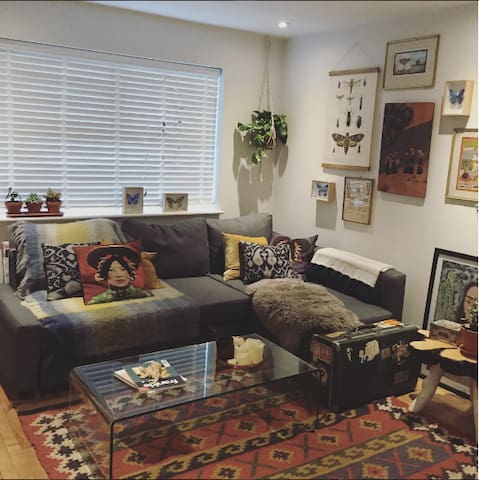 Our place is close to lots of lovely green open space and three train stations including Brockley on the Overground.. You'll love it because of the delightful garden, huge airy kitchen and wooden floors throughout. The neighbourhood is really friendly and full of great bars and cafes.. Our place is good for couples, solo adventurers, and families (with kids).
Tipe Kamar
Seluruh rumah/apartemen
---
Tipe Properti
Apartemen
---
Mengakomodasi
4
---
Kamar tidur
London, England, Inggris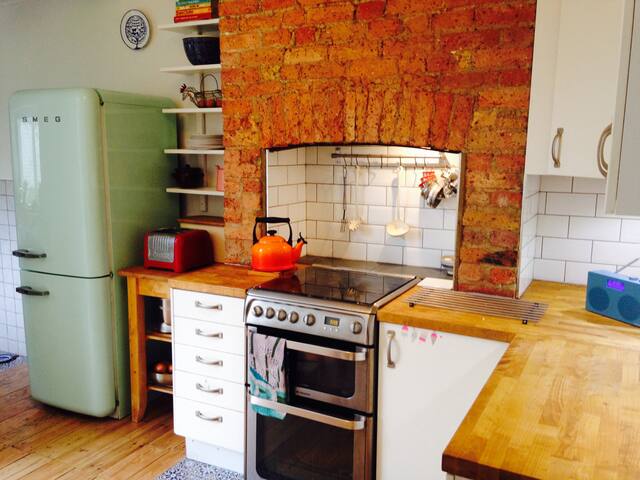 Double furnished room. Use of modern bathroom and kitchen for tea/coffee/toast/microwave/fridge. Wireless broadband. 40 foot garden mostly decked. Smoking in the garden only. Location: Brockley SE4. Hidden residential gem of the south east, zone 2. Down to earth and easy going. My interests include art, design, gardening. Languages: English, French. Looking for similar person. Ideally travelling/working. Short term let available, please email me with your requirements. Excellent transport links.
Quiet residential area with 2 Sainsbury's, bars plus eateries
Tipe Kamar
Kamar pribadi
---
Tipe Properti
Rumah
---
Mengakomodasi
1
---
Kamar tidur
London, England, Inggris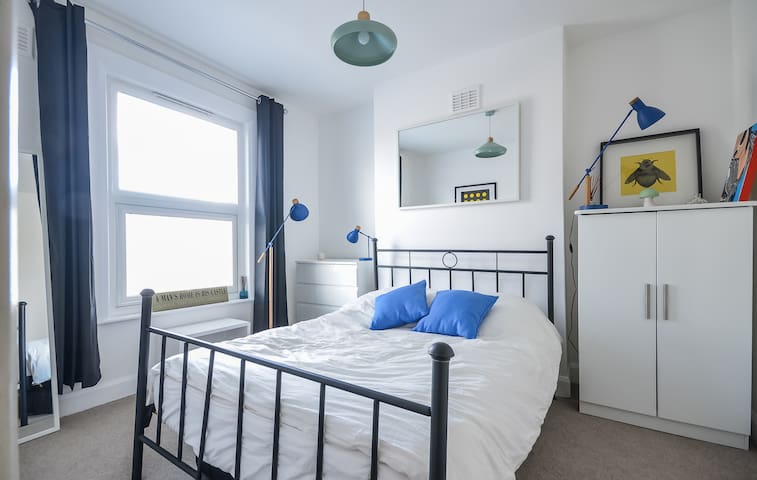 Designed beautifully and gorgeously styled, this family home comfortably sleeps up to four adults and a child. There is also a cot! Beautifully chosen furniture and personal touches give the space a really homely feel and relaxing atmosphere. Natural light floods the home through the large windows in the living room and fresh air circulates freely thanks to the private decking area leading from the kitchen. This truly is a fabulous space for families and couples alike.
Boasting plenty of room for four adults, a child and a baby, this home offers a fantastic space to stay whilst in London. Artwork lines the walls and style oozes from floor to floor. The home is located on a tree-lined, residential street meaning noise is always kept to a minimum and provides a much needed oasis of calm after the hustle and bustle of London. Once inside, the hallway leads to the modern and spacious kitchen, fully-equipped for all one's needs. Double doors open out to the private, decked terrace area offering a delightful place to relax and with the advantage of allowing natural light to stream in. Next door is a large living area complete with dining table, providing a comfortable and relaxing space. Upstairs are two double bedrooms and a child's room with a small single bed and cot. Our cleaners place fresh, hotel quality linen on the bed just before your arrival. If you wish to use the cot, please bring your own bedding. The bathroom is new, clean and modern. For a delightful, homely place to stay in London, look no further!
New Cross is one of London's hottest neighbourhoods thanks to its proximity just four miles from Charing Cross, its urban vibe and its period housing stock. It has even been touted as south London's answer to Shoreditch. Bordered by Deptford, Peckham and Nunhead, it's a lovely place to stay with fantastic transport links into the city!
We spent a couple of nights at Ivo and Jessie (and one/two children ?)'s house while our Brockley house was being redecorated. It was a beautiful, welcoming, clean place. All four of us (and sometimes five) had space to eat, sleep, play and chill out. And to park right outside to unload a family's worth of stuff and sleeping baby! It is brilliantly located (better than our own house): really close to the station and excellent corner shops, cafes and bars and bus routes for both school runs, one of them out to Peckham Rye Park (a beautiful green space for peace and quiet just before the hustle of Peckham). The house is really thoughtfully furnished, with really practical living solutions and fun and interesting art to look at and colourful touches. I loved Ivo and Jessie's taste in kitchen ware! It's the little things :) One major pitfall for us was that there was a problem with the wifi which meant we had no internet access for our entire stay, but Ivo and his airbnb company did try to sort it right from the moment I mentioned it to them on our first night. There is no TV either, so if you want to catch up on your latest box set/ film / whatever, just double check before you book that the engineer has sorted it. I did notice that I got a refund from Airbnb on the day we left, so I think that would have been as recompense for the fact the wifi was missing for our stay. // Thanks Ivo and Jessie and your lucky, generous children, for everything.
Anna
2017-01-18T00:00:00Z
What a wonderful home! Thank you so much for sharing it with us. It was perfect for our first trip back to Brockley after leaving a year ago. The child-friendliness was a godsend, and we would love to return next time we visit Brockley.
Myles
2017-02-20T00:00:00Z
Wonderful house and very responsive house. Perfect, calm space for us to stay during a house renovation.
Rosie
2017-03-02T00:00:00Z
Ivo and Jessie's place was perfect for us as a family of 5. It was exactly as depicted in the photos and so we were delighted with this lovely house. Parking was easy and free (perk of south-east London). It is located very close to Sainsburys and the Overground Tube on the East London Line as well as the train line to London Bridge. We had a great stay.
Jenny
2017-02-15T00:00:00Z
Tipe Kamar
Seluruh rumah/apartemen
---
Tipe Properti
Rumah
---
Mengakomodasi
5
---
Kamar tidur
London, England, Inggris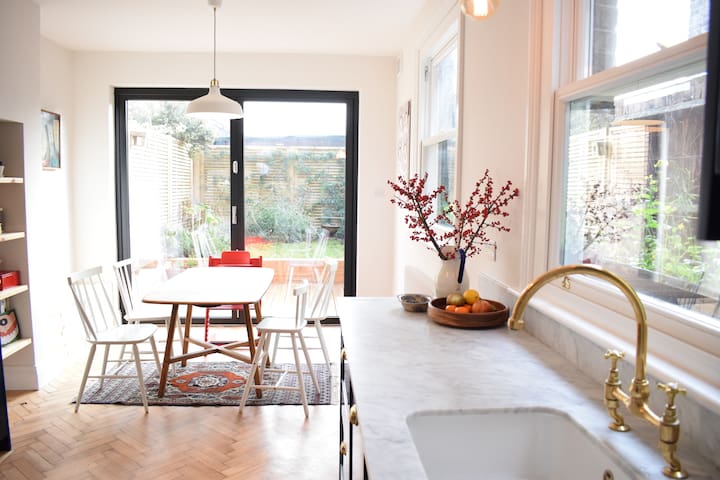 My place is close to Brockley Rock, Hilly Fields Park, and The Brockley Mess. You'll love my place because of the location and the people. My place is good for business travellers and big groups.
Very good placy to stay if you want to make some sightseeing. Nice and friendly atmosphere
Ewa
2017-01-24T00:00:00Z
Me and my 3 friends were living in Yvonne's apartment with her family for 3,5 days in Brockley, which is a little outside of the inner city of London. Yvonne welcomed us warmly and showed us our small room for the following days. The size of the room was no problem as we were most of the time out and about exploring the city of London and also Brockley. As described in the advert, Yvonne prepared our room with towels, a hair dryer and gave us the wifi password. She also had a lot of juice, coffee, tea and toast for breakfast for us. We only had to buy some special groceries that we needed at one of the nearby supermarkets like Sainsbury or Spar. The only thing we didn't like as much were the badly soundproofed walls. Sometimes it was pretty loud from patter of feet or the upstairs TV. Altogether it was a nice accommodation for a short holiday in London. Thanks to Yvonne and family.
Maria
2017-03-12T00:00:00Z
Yvonne is very friendly, she helped us to find good restaurant. The house is near the overground station and supermarket. We enjoy our travel ! Thanks Yvonne !
Marie
2017-02-21T00:00:00Z
It was an amazing time at Yvonnes home! She and her family were always very helpful and friendly. We totally recommend to stay at Yvonnes home! Have a good time Yvonne and thank you for everything!!
Christiane
2017-02-11T00:00:00Z
The host canceled this reservation 19 days before arrival. This is an automated posting.
Susanne
2017-03-23T00:00:00Z
Tipe Kamar
Kamar pribadi
---
Tipe Properti
Rumah
---
Mengakomodasi
4
---
Kamar tidur
London, England, Inggris