Huset er perfekt til Sommer takket være pool! Om vinteren er det en ren afslapning efter vintersport grund af spabad, sauna og fitness-område. Det tager 1,5 time til ski løber og 30min til Zürich. Den nærmeste langrendsløjpe run er 25 min væk.
Tre soveværelser er på øverste etage. 2 soveværelser med en 180x200 cm seng og 1 soveværelse med 140x200 cm seng. Den fjerde soveværelse med 2 senge (en seng sofa 140x200 cm og en 180x200 cm) er i kælderen. Vi kan tilbyde en barneseng også. 8 voksne og 2 børn får lov at bo (+ en baby). De vises på Airbnb priser er gældende for 8 gæster eller mindre. I tilfælde af mere end 8 gæster, hver yderligere gæst betaler CHF 45 .- / nat.
Meget, meget helt og sikkert område. Ingen trafik! Perfekt til børn og kæledyr.
The host wasn't there, but it left precise instructions on how to reach the house, and some detailed manuals on the house, surroundings and nearby attractions: The house is extremely big and the amenities are wonderful, you have literally everything you could need. It was a great experience
Davide
2016-06-19T00:00:00Z
Great house with fantastic facilities/ Whirlpool / Sauna - pool / big garden- simpmy great.
Alexander
2016-10-10T00:00:00Z
Es war der hammer! alles hat perfekt gepasst, Kommunikation war spitze und Kristina sowie Predrag sind beide sehr lieb. Merci vielmal, würde es jedem empfehlen.
Raphael
2017-03-10T00:00:00Z
We had a very nice stay in this outstanding and spacious villa. Everything worked to perfection and was easy to operate. The hosts were very pleasant and made us feel very welcome. The swimming pool and jacuzzi were great - top standard and the pool long enough to exercise by swimming. The area was very peaceful but still close to shops and supermarkets that could be reached by foot (via the path) in just 5-7 minutes.
Jesper Holm
2015-07-29T00:00:00Z
Hat alles bestens funktioniert. Sehr empfehlenswert. Danke
Andy
2017-03-24T00:00:00Z
We had a gala time at your place . The villa was well equipped , nicely maintained and location was excellent . Though we couldn't meet the hosts ..they guided us perfectly . The manual with all the instructions was so very helpful . Will recommend highly this place to all ..
Sushant
2016-04-26T00:00:00Z
We are very happy with our stay in Dottikon. It was the perfect location for us close to our relatives and an easy drive to Luzern, Zurich and Appenzell. The house is huge and is in a quiet neighborhood. There is a very detailed manual for everything in the house and the owners left a Swiss parking disk that was very useful. Thank-you for having us !
Nathalie
2015-07-04T00:00:00Z
Es war super! Einfach perfekt. Wir waren zwar alle kapputt, aber mit Freude in die Betten gefallen.
Venance Gwladys
2016-11-21T00:00:00Z
Tipe Kamar
Seluruh rumah/apartemen
---
Tipe Properti
Rumah
---
Mengakomodasi
10
---
Kamar tidur
Dottikon, Aargau, Swiss
Cheap flat share in Villmergen with private toilet, near Hallwilersee, very quiet. Shopping and bus stop in 8 minutes on foot, good train service to Zurich 40min, 60 min Luzern, Aarau 25min. For A2: 9 km. Cute Family, uncomplicated
Quiet location in the countryside, 30km to Zurich-City, 70 km to Basel-City. Peace, mindfulness and appreciation is important to us in our Urbanization. For a small extra charge there is certainly a nice breakfast with us.
If you stand under the shower, you can write to a beautiful orchard with cows see.
Gerd und seine Frau sind zwei äußerst nette Menschen, ich habe mich bei ihnen sofort zu Hause gefühlt. Das Haus und das Zimmer sind sehr schön und gemütlich, die Wohnlage sehr ruhig. Meine erste Erfahrung bei Airbnb konnte nicht besser sein. Sehr empfehlenswert mit einem fairen, günstigen Preis.
Alberto
2016-06-13T00:00:00Z
This stay with Bigi & Gerd was super. They are very kind and lovely couple I could ever imagine. It was my birthday on the Sunday. They prepared a surprise birthday breakfast for me which was too sweet!!!!besides this, the house is in a very peaceful village. I love their flowery garden!They did their best to make my stay very happy & comfortable. I am sure I will choose to stay with them next time I go Switzerland . I recommend them to everyone!
vicki
2016-07-13T00:00:00Z
Gerd & biggi were the perfect hosts. We stayed up late watching the Euros listening to music and shared a wonderful breakfast. Dragi their almost adopted daughter is also friendly and charming.
Christian
2016-06-20T00:00:00Z
This is a beautiful home. Very quiet and peaceful. Gerd and his wife are so helpful and made everything so easy.
Adam
2016-06-05T00:00:00Z
Eine sehr schöne Unterkunft und eine sehr sympathische Gastgeberin , alles sehr zu empfehlen immer wieder gerne zurück in das Paradies
Markus
2016-09-08T00:00:00Z
War alles perfekt! Ich habe hier eine Nacht übernachtet. Das Zimmer mit Bad war bequem und sauber. Ich empfehle Bigi und Gerd's Zimmer. Dankeschön :)
Donatella
2017-03-28T00:00:00Z
Gerd und seine Frau waren wunderbare Gastgeber. Ich habe mich wie zu Hause gefühlt. Als ich ankam durfte ich direkt mit zu Abend essen und auch sonst habe ich die Gespräche und die herzliche Atmosphäre genossen. Vielen Dank! :)
Dilara
2016-05-25T00:00:00Z
Excellent hosts.Fast and friendly communication.Thank you.
Tsvetan
2016-01-26T00:00:00Z
Tipe Kamar
Kamar pribadi
---
Tipe Properti
Rumah
---
Mengakomodasi
1
---
Kamar tidur
Villmergen, Aargau, Swiss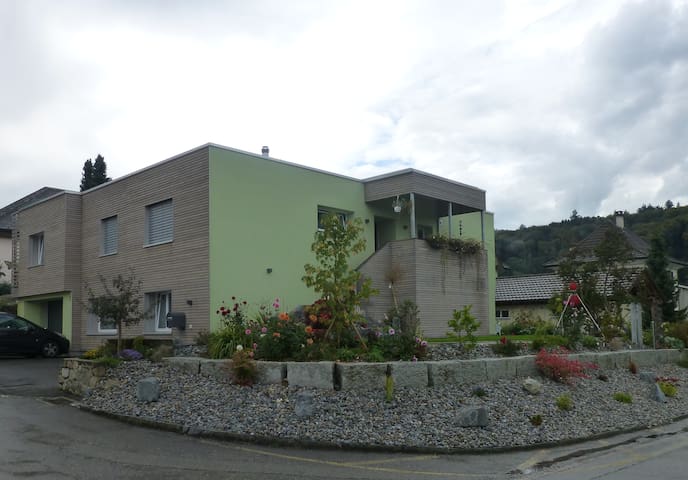 Mein Platz ist in der Nähe von öffentlichen Verkehrsmitteln, dem Stadtzentrum von Baden, Zürich Flughafen. Sie werden meinen Platz wegen der Atmosphäre, der großen Terrasse oder in der gemütlichen Kamin lieben.
Ich durfte eine Nacht in Renates schönen Heim verbringen und fühlte mich nach einem herzlichen Empfang sehr wohl, was bei nur einer Übernachtung nicht überall üblich ist. Danke Renate, ich komme wieder wenn ich darf.
Heinz
2016-11-09T00:00:00Z
The experience was wonderful and Ranate was a very inviting host. She had a lovely place and the best two nights of sleep in 14 days.
Gail
2016-11-02T00:00:00Z
位置好,周围很安静,偶有汽车呼啸而过,但这不影响休息。房间超级干净、舒适,有大厨房和大壁炉,虽然我们呆的那两天并没有用壁炉。 擦厨房的时候不小心把抹布烧了一个洞,对自己的大意和粗鲁感到很抱歉,走时也忘记当面跟房东说这事了……我还把自己的箱套落下了……很抱歉。 总的来说,房东超级热情,我们到达苏黎世时她亲自到车站来接我们。从苏黎世火车站到Baden 16分钟高铁,转乘15分钟左右的公车到达民宿,交通几乎准时、换乘方便,性价比很高,推荐入住!
penny
2017-01-02T00:00:00Z
I've rented Renate's room for my parents and they were delighted. Renate is very friendly and welcoming. Lovely apartment and very clean. I would definitely recommend the apartment and Renate as a host!
Gabrielle
2017-01-29T00:00:00Z
I have been twice already by Renate, the place if very nice and Renate very kind and helpful.
Hernan
2017-01-05T00:00:00Z
We had an absolutely fantastic stay at Renate's. She is a wonderful host and her house is very welcoming. Sitting on a hill, the flat overlooks Swiss mountains and is located in a very peaceful area near Zurich. The room is bright and spacious and we had one of the most relaxing stays ever. I definitely recommend staying with Renate to experience Switzerland at its best.
Egle
2017-02-19T00:00:00Z
Renate's place is excellent! It is clean, spaceous and quiet. I strongly recommend it for those whom wish to stay in a calm and relaxing accommodation.
André
2017-01-11T00:00:00Z
Very clean and nice room! Renate gave us a very warm welcome.
Paul
2016-11-27T00:00:00Z
Tipe Kamar
Kamar pribadi
---
Tipe Properti
Rumah
---
Mengakomodasi
2
---
Kamar tidur
Oberrohrdorf, Aargau, Swiss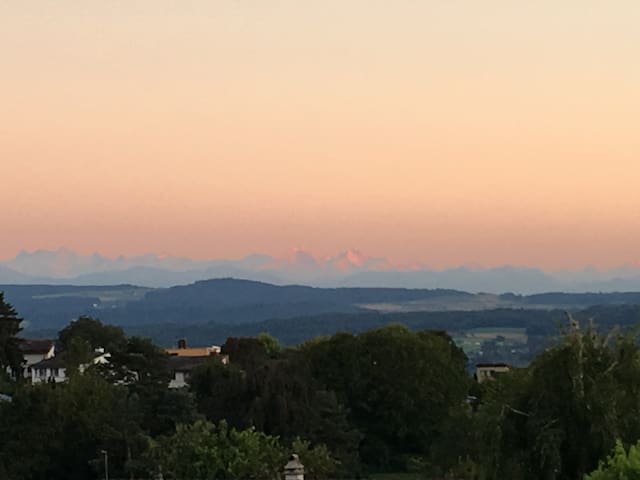 Du wirst meine einfache Unterkunft lieben, weil du ein Frühstücksei von unseren eigenen Hühnern bekommst, wegen unserer Hängematte im Garten, am Dorfrand gelegen. Restaurant mit Pizzeria, Dorfladen Volg, Hofladen Rüti in 10min. Öffentlicher Verkehr in 7 min. (Ca. 50 min nach Zürich, 20min Aarau) Meine Unterkunft ist gut für Paare, Alleinreisende Abenteurer und (kleine) Familien (mit Kind) Stell dein Zelt im Garten auf = Sonderpreis. English, Espanyol, Italiano, Francais
Einfaches chaotisches liebevolles altes Bauernhäuschen. Alles geteilte Räume, KEIN speziell eingerichtetes Gästezimmer.
nice host yes I recommend her House
Veena
2016-10-14T00:00:00Z
Anemone is truly a great host! Nice and cosy old swiss farmers house.
Nicklas
2016-10-10T00:00:00Z
Tipe Kamar
Kamar bersama
---
Tipe Properti
Rumah
---
Mengakomodasi
2
---
Kamar tidur
Hägglingen, Aargau, Swiss
Venha desfrutar de uns dias tranquilos em uma casa pequena e aconchegante com jardim. Zurique fica a apenas 30 km de distância. Quando você gosta de cores que você vai se sentir em casa no meu quarto do arco-íris. Ônibus e supermercado estão ao virar da esquina.
Um quarto colorido de púrpura e ouro para até 2 pessoas. O quarto tem uma pequena varanda com vista no pequeno jardim (e os jardins dos vizinhos). Se vier de carro, há um estacionamento para nenhum custo adicional. Wifi é gratuito.
Vivemos no país, por isso é bastante tranquila, mas ainda assim central. Há um restaurante e algumas lojas a apenas 100 m próximas. Mais restaurantes podem ser encontrados a uma curta distância. Se você gosta de caminhar, existem áreas agradáveis para caminhar até a partir daqui. Zurique, Lucerna, Basileia pode ser alcançado em apenas uma hora de carro. E desde que eu recebo esta pergunta muito: Zurique é cerca de 30 quilómetros de distância do meu lugar.
Sabine was the best Airbnb host I have had so far. She was so helpful in finding our way to the house, and gave us recommendations of where to go. She also provided us with breakfast both days, and it was so delicious. Overall, the place is very homey and she was just so kind. I would absolutely recommend staying here
Sami
2016-03-06T00:00:00Z
Sabine und Ihr Sohn sind sehr liebenswürdige Gastgeber, das Zimmer ist schön ruhig und sauber. Insgesamt alles Bestens zum weiter Empfehlen. Nochmals vielen Dank und liebe Grüsse Max
Max
2015-03-02T00:00:00Z
Sabine was a great host. We had some difficulty finding the exact location and she came out and walked us to her home. The room was excellent and whole house was very clean and well decorated. We had a very nice stay in this little town. It had a nice grocery store rite across from the room and its just half hour to zurich. Overall this place is a great value .
vijay
2016-08-21T00:00:00Z
Der Aufenthalt bei Sabine war äußerst angenehm. Er hat meine Erwartungen bei weitem ubertroffen. Sabine war im Vorfeld bereits sehr entgegenkommend und hilfsbereit. Sie war eine tolle Gastgeberin. Man kann sie nur weiterempfehlen.
Rolf
2014-09-05T00:00:00Z
This is my pleasure to write this review for Sabine, and about Rainbow room, where me and my wife stayed. When we come, Sabine was very glad to see us, so we feel like we came to our closest relatives home! The room is decorated with such a big love, that our eyes enjoyed every part of room. From the room it is possible to step into the balcony and to enjoy the best view of Mellingen. Table and wifi allowed to do some routin work in the morning easy. We also had a chance to have a nice walk with Sabine around the Mellingen. So, at this moment you understand, that communication is the most important part in our life. I want to say that it was one of the best days in my life, and great thank you to Sabine, making this day and atmosphere around so amazing. I wish to Sabine all the best in this airbnb project and ask everyone to take care of this amazing Rainbow room and to have more best days in the life!
Андрей
2014-08-25T00:00:00Z
Oraya gittiğinizde her konuda çok yardımcı ve güleryüzlü bir ev sahibi ile karşılaşacaksınız. oda temiz ve düzenli. her şey fotoğraflardaki gibiydi. beraber lezzetli bir kahvaltı yapıp, çay içip, sohbet ettik, tatlı kitty ile oynadık. Sabine' i tanımaktan çok mutlu oldum. onu mutlaka tekrar görmek isterim, teşekkürler.
Zeynep
2016-05-31T00:00:00Z
My sister and I stayed at Sabine's place for two nights, and we love it. She was very friendly and we feel welcomed. The house is nice and clean, the neighbourhood is lovely, and public transport is easy (both bus and train). Thank you, Sabine!
Catherine
2016-06-21T00:00:00Z
Sabine was wonderful so lovely and friendly, she really made me feel at home.
Laura
2016-08-06T00:00:00Z
Tipe Kamar
Kamar pribadi
---
Tipe Properti
Rumah
---
Mengakomodasi
2
---
Kamar tidur
Mellingen, Aargau, Swiss
Large family home with a big fenced garden. Quiet location in a small village, half an hour from the heart of Zurich by car or train. Big reception area. The house sleeps 10 people. 1 master bedroom and 4 double bedrooms. 2 baths and 1 guest toilet.
Experience the way of life in a large family home in the countryside near Zurich. Land is very scarce and large homes with spacious gardens are hard to come by.
The house has good vibes and is very quiet. You will sleep very well there. From the masterbedroom you can step out into the garden. It is located in a small village, easily accessed by car and commuter rail. The local supermarket is only 2 minutes walking distance away. Nature lovers will discover lovely walks in the nearby forest. From spring to fall you can enjoy our boat on Lake Hallwil, 21 km away. That's always a major highlight for all the kids of my friends and family. For more information please have a look at the guidebook. Thank you!
Nachdem wir den Gastgeber, Jakob, kennenlernen durften, stellte sich die Frage, wie er an all die positiven Bewertungen gekommen ist nicht mehr: Die Kommunikation war von Anfang an leicht und unkompliziert, er hat uns unaufgefordert am ersten Morgen frisches Brot/Brötchen aus dem Nachbardorf gebracht (sehr, sehr lecker!) und uns am Ende unseres Aufenthalt sogar zum Bahnhof gefahren. Wenn wir die Zeit gehabt hätten, wären wir gerne noch länger geblieben, einfach nur um mit ihm zu plaudern...! Das Haus war perfekt für ein paar entspannte Tage und trotz schlechten Wetters hat man sich drinnen vor dem Kamin sofort total wohl gefühlt. Super ausgestattete Küche, sehr bequeme Betten! Alles in allem: einen besseren Gastgeber und ein angenehmeres Haus hätte man sich kaum wünschen können!
Josephine
2016-05-16T00:00:00Z
Die Unterkunft war sehr gemütlich. Die Kommunikation war besonders angenehm. Jakob hat stets sofort geantwortet, war immer erreichbar und sehr unkompliziert. Die Unterkunft eignet sich besonders für Familien und Gruppen, da das Haus sehr geräumig ist. Würde jederzeit wieder bei Jakob anfragen. Nichts zu beanstanden.
Franziska Sonder
2016-11-19T00:00:00Z
Ein tolles, grosszügiges Haus mit super Ausstattung. Jakob war extrem hilfsbereit und freundliche - und sein spanischer Wein im Weinkeller ist sehr zu empfehlen ;) Wir kommen definitiv wieder wenn wir in der Nähe sind!
Marc
2014-12-03T00:00:00Z
Jakob was very helpful, he had help to settled us in upon arrival despite his busy schedule, very lovely and nice place with lot of rooms to move about. Great for families and friends to gather. Children loved the backyard where they can play freely. Fully equipped house, kitchen was large, beds were comfy and bathrooms were sparkly clean. The place looks better than the picture shown. Will definitely stay in Jakob place if we've the opportunity to visit Zurich again.
Yeo
2015-06-20T00:00:00Z
We had a very memorable stay , the place has excellent view and it walking distance to station or bus stop The host Mr Jacob is a very good host and is always there to guide us Overall it is a beautiful place to stay We enjoyed very much and have already informed several friends and relative about it Highly recommended
Chirag
2016-06-04T00:00:00Z
Host was there to greet us , stocked up on bread and other essentials - little touches that were much appreciated. The area is residential but perfectly suited.
Anita
2016-03-19T00:00:00Z
We arrived very late, Jacob was waiting for us at home, and despite the late hour, he explained to us in detail about the house and made us feel very comfortable. Jacob was in touch with us throughout the visit and was very helpful with any questions we had. One day, Jacob took us to the nearest lake and allowed us to use his motor boat. It was a great day! The home was exatly what we expected, very large and comfortable, in a quiet and friendly neighborhood. In addition, the house is a very short distance from the highway.
Ilja
2015-08-16T00:00:00Z
Jacob is one of the super duper extremely nicest people i ever met. Thank you for all the bread, chocolate you offered. He got a nice house close to the supermarket. Our experience is really good and we will definitely go back again.
Fahad
2016-07-04T00:00:00Z
Tipe Kamar
Seluruh rumah/apartemen
---
Tipe Properti
Rumah
---
Mengakomodasi
10
---
Kamar tidur
Othmarsingen, Aargau, Swiss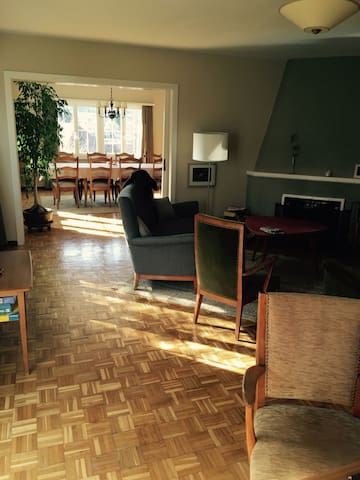 Aparcamiento gratuito, Wifi gratuito tamaño de la reina sofá-cama - 196cm x 160cm (77in X 63in) Su propio cuarto de baño / WC 5 minutos a pie de la estación de autobuses 20km Zurich en coche / 30min aprox a Zurich por Bus + Tren barrio tranquilo Cerca de la naturaleza
Podemos proporcionar una cama de verdad para 1 persona en una habitación separada, o la cama-sofá para dos personas. La habitación con la cama del sofá está en la planta baja.
The house is located in a good area and Philipp also recommended visit Baden. It is a small and quite town but very beautiful to spend the morning and the visit Zurich for the whole day.
Gustavo
2016-10-04T00:00:00Z
Es war genau so, wie wir es uns gewünscht haben. Unkomplizierte Leute, sehr nett, schönes Zimmer, sauberes Bad. Alles Top! Danke nochmals und bis ein anderes mal.
Benjamin
2016-01-17T00:00:00Z
Philipp was the perfect host. I felt right at home in his lovely backyard eating my breakfast, to hanging out with his sweet dog Annie, to sampling his homemade beer.
Anna-Maria
2016-08-27T00:00:00Z
Everything was like visible on the pictures. Philipp was very nice and he prepared everything perfectly prior to my arrival. He even put a sheet into the room which showed the WIFI password, some places of interest close to his house (fuel station , MC Donalds, bakery etc.) and all what I can use in the house like e. g. fridge, washing machine, iron etc.. Also towels he gave me directly and a carafe filled with water waited for me with a glass in the room. The bathroom I used was reserved for me (there are more bathrooms in the house) so I did not have to wait until someone was finished there. The bed I had was quite big and there was also a wardrobe in the room where I could put my suits as well as shirts. Great was also to have a desk with an office chair in the room which enabled to more perfectly with my laptop. Even an adapter for the power supply waited in my room since he knew that I came from abroad. I forgot to mention that I parked my car directly in front of the house on their private parking space. Philipp and his family were very nice to me and I can highly recommend him and his family; they were very friendly and polite towards me. Thanks Philipp (also to your family) for making my first Airbnb experience so good.
Christoph
2015-10-28T00:00:00Z
We drove there and we liked the suburban neighbourhood and the house. It's very quiet, room is of good size overlooking a beautiful garden. The living room and kitchen are spacious and with classy modern fittings reflecting the high standard of Swiss people. Though we hadn't talked for long but we felt that Philippe was nice and friendly. We actually had more interesting chat with his brother at the breakfast table. Overall a very nice experience. A lot of privacy. We enjoy it very much. Thank you for hosting us Philippe.
Tianchun
2016-09-28T00:00:00Z
I could not think of a better place to stay in around Zurich. Peaceful, great surrounding, clean room, all equipped with anything you might need. Stay at Philip's place was wonderful. Though we could not meet but he was always available via mails to tell us anything we should know. We met his brother and also his mother, they were really friendly to us. His brother helped us with places that we can visit in our short time period of stay. We were even offered breakfast in the morning which was really sweet of them. We were also allowed to check in early and also check out late. Thank you so much for hosting us, and would definitely contact you accommodation for our next trip :) Highly recommended.
Divya
2016-09-14T00:00:00Z
Tipe Kamar
Kamar pribadi
---
Tipe Properti
Rumah
---
Mengakomodasi
2
---
Kamar tidur
Fislisbach, Aargau, Swiss
We rent a furnished room in a villa with garden. Rooms with balcony, 20m2, generously furnished. Room for single use only. Kitchen and bathroom for common use. We have pets, please only guests with grosssen heart for animals.
The host canceled this reservation the day before arrival. This is an automated posting.
Gerold
2016-10-04T00:00:00Z
Tipe Kamar
Kamar pribadi
---
Tipe Properti
Rumah
---
Mengakomodasi
1
---
Kamar tidur
Mägenwil, Aargau, Swiss
400m to the nearest bus station Wohlen Station (7 min.). You'll love my property because of the comfort, the view and the quiet location. My accommodation is good for couples, solo travelers and business travelers. For a third person another small room is provided with a single bed available.
Fue una gran experiencia, Daniel es un muy buen anfitrión, la casa está bien ubicada y es comoda, el barrio es muy tranquilo
German
2016-12-17T00:00:00Z
Unser Aufenthalt bei Daniel war tiptop! Das alte Bauernhaus wurde toll umgebaut und versprüht viel Charme. Daniel empfanden wir als angenehmen und interessanten Gastgeber. Gerne wieder! :-)
Béatrice
2016-09-04T00:00:00Z
Schon der erste Email-Kontakt war sympatisch. Daniel hat das alte Bauernhaus fantstisch umgebaut - die Seele des Gebäudes ist erhalten geblieben, dabei waren viele der wichtigen Einrichtungen total modern. Die Zimmer waren geräumig und wohnlich eingerichtet. Obwohl, wie aus der Beschreibung bekannt war, kein Frühstück dabei war, liess mich Daniel am Morgen in der Küche einen Kaffee kochen. Er tat auch sonst alles, um unseren Aufenthalt angenehm zu gestalten. Mit dem WiFi klappte es auf Anhieb. Daniel erwies sich als überaus weitgereister und spannender Gesprächspartner. Das Preis-Leistungsverhältnis ist super!
Hans
2016-11-10T00:00:00Z
A good place where to be! I enjoyed to be there, even if it was a business trip and I was back home only for sleeping. I enjoyed Daniel company and the long chats we had about life and the world. The house is wonderful, and it's a quiet place to relax and disconnect from everything. Thanks Daniel for the good stay!
Marco
2017-01-09T00:00:00Z
Der Aufenthalt bei Daniel war sehr unkompliziert. Das Haus, das Zimmer, Garten und Umgebung sind wirklich toll. Ich durfte für die Zeit meines Aufenthaltes Daniels Fahrrad ausleihen, das war super gemütlich. Vielen Dank :) Liebe Grüße Johanna
Johanna
2016-09-24T00:00:00Z
Daniel is an amazing host. Nothing can describle how i was happy to stay there... like my sweet home. We had a very good time than ever. Thank you Daniel and wish you the best..
DIEU LINH
2016-09-17T00:00:00Z
Sehr stilvoll renoviertes Haus mit grosszügigen Platzverhältnissen. Ich würde jederzeit wieder bei Daniel übernachten.
Benedikt
2017-02-23T00:00:00Z
Tipe Kamar
Kamar pribadi
---
Tipe Properti
Rumah
---
Mengakomodasi
3
---
Kamar tidur
Villmergen, Aargau, Swiss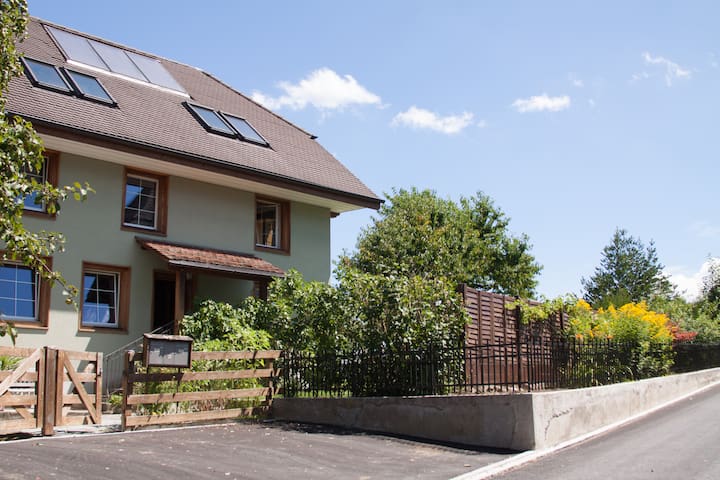 Located in a private, small house, independent of the host, with a beautiful view. The house is very quiet and yet centrally located. By bus you are in 15 min. In Baden and in a further 15 min. In Zurich.
Set in its own small house, independent of the host. Besides the house there is free parking available. The house is very quiet and surrounded by a wildly romantic garden. Different cozy places invite you to linger. Observe birds of prey such as Milan and buzzards, which are circling in the sky. Fall asleep at Kuhglockengläute, you wake up the sound of birds. The views of the Reuss valley is fantastic. In certain weather conditions you can see to the Alps - Eiger, Mönch, Jungfrau, Pilatus rise majestically in the distance. The kitchen you are welcome to use. WC / shower are shared with other guests. The Esszimer is furnished with local wood. Swiss stone pine is soothing and the scent of this wood flows through the whole house. Two lovingly furnished bedrooms await you. On wish we serve a fine breakfast - with or without operator - Fr. 10:00 to Fr. 15.00 Room "Weide" double 'Hüsler Nest (URL HIDDEN) 160cm x 200cm, two single mattresses. In the same house I rent a second double room, which can be found on another advertisement. Room "Birch" double 'Hüsler Nest' 180 x 200cm, two single mattresses
Discover nearby the beauties of nature. The Rüsler who Heitersberg and the various wetlands invite you to walk. The medieval town of Baden is worth the trip. Culturally it is of great importance - it regularly hosts concerts and exhibitions of international importance.
Wir haben 6 wunderbare Tage im Haus von Susanne verbrachte. Die geschützte und ruhige Terrasse mit einem herrlichen Ausblick war das Paradies. Die Einrichtung ist sehr komplett mit viel Liebe zum Detail. Eine Platte mit Obst, Kaffee und Tee und ein Päckchen Kekse standen zur Verfügung. Was wir ein bisschen vermisst haben, war ein bequemes Sofa um am Abend ein Buch zu lesen, aber alles in allem können wir dies sehr empfehlen
Irene (en Dolf)
2016-09-22T00:00:00Z
Susanne ist eine prima Gastgeberin. Ich habe mich von Anfang an sehr wohlgefühlt. Alles entspricht genau der Beschreibung. Naturnahes Wohnen in der Nähe von Zürich. Sehr empfehlenswert für Leute, die dem Trubel der Stadt Zürich entfliehen möchten.
Klaus
2015-06-13T00:00:00Z
Kann man nur weiterempfehlen, sehr angenehmer Host und ein tolles Häuschen in einer schönen Gegend. Exzellent
Tomas
2016-05-14T00:00:00Z
Tipe Kamar
Kamar pribadi
---
Tipe Properti
Rumah
---
Mengakomodasi
2
---
Kamar tidur
Oberrohrdorf, Aargau, Swiss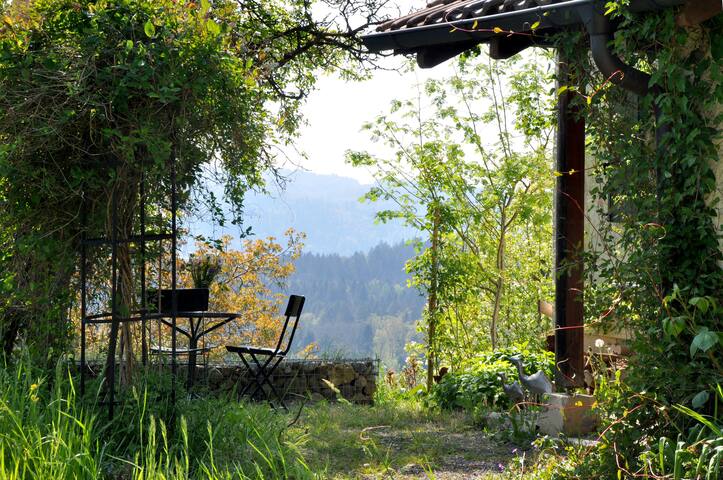 Well maintained, quiet 2 bedroom apartment is available, incl. Parking, rural location. It lies between Zurich and Baden, 20 min. To the airport Kloten. The bus station is 5 min. A large garden may like used who
2 quiet, clean room with separate entrance There are 4 beds (+ 1 sofa bed) available
Centrally located and yet surrounded by nature
La Signora Heidi disponibile e gentile, la stanza immersa nel verde e come nella foto, pulizia ottima! Grazie Heidi
Paola
2016-09-09T00:00:00Z
Frau Heidi Förster kann ich nur empfehlen. Sie hat uns gastfreundlich empfangen, die Wohnung sehr geräumig und alles war sauber hergerichtet.
Rene
2014-08-20T00:00:00Z
The host canceled this reservation 2 days before arrival. This is an automated posting.
Manu
2016-03-17T00:00:00Z
Da wir spät in der Nacht gekommen sind, haben wir den Schlüssel am Nachmittag abgeholt. Das hat alles sehr gut geklappt. Das Zimmer war sauber und der anschliessende Wohnbereich geräumig. Es war auch ruhig, deshalb konnten wir auch gut schlafen. Heidi hat uns am morgen noch frische Brötchen auf die Treppe gestellt, das fanden wir toll.
Beat
2014-07-07T00:00:00Z
Tipe Kamar
Seluruh rumah/apartemen
---
Tipe Properti
Rumah
---
Mengakomodasi
4
---
Kamar tidur
Niederwil, Aargau, Swiss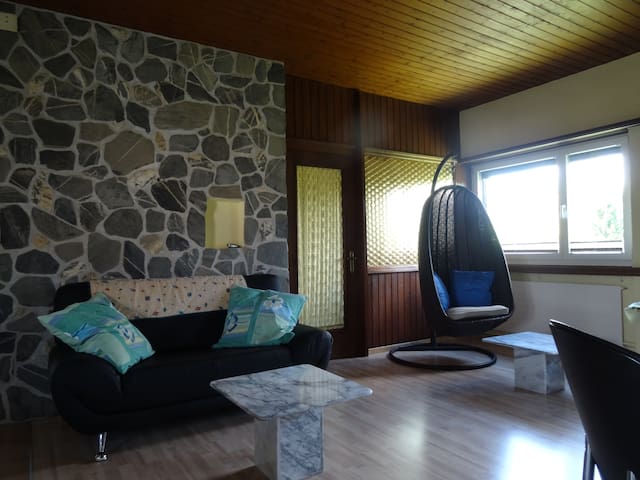 Light flooded room on top floor with a huge terrace. Own bath room. Good connections to Zürich and Baden.
Spacious, modern, bright, 3 levels, private level for guests on top floor, private toilette and bathroom
Quiet location close to Zürich and Baden. Relaxing terrace with a view to mountains and Jura valleys. Great mountainbiking and hiking trails nearby. Mountainbike at your disposal on request. Beautyful meandering river with many small islands close to home.
Beat ist ein super Gastgeber und man fühlt sich sofort sehr wohl. Die Wohnung ist ein Traum und das Zimmer ist wie beschrieben wunderbar. Die Aussicht ist unbezahlbar und die Terrasse lädt zum verweilen ein. Immer wieder gerne!
Gregor
2016-08-11T00:00:00Z
Our stay at Beat was simply great. The apartment is fantastic, very nice decorated with a contemporary look, warm and very clean. Our room had a gorgeous terrace where we spent the evenings enjoying the nice surroundings. On top of all these, Beat proved to be the best airbnb host we had so far, he is a social and friendly person, helped us a lot with our "Swiss research" and even gave us a lift to the airport as outside was raining cats and dogs. Merci vilmal, Beat!
Alecsandra
2016-06-09T00:00:00Z
Beat wohnt in einem wundervollen Appartment auf 3 Ebenen, die oberste Ebene, das Penthouse, habe ich als Gast für mich zur Verfügung gehabt, in der mittleren Ebene ist Küche und Wohn- Esszimmer zur Mitbenutzung, die untere Ebene bewohnt Beat. Das Appartment ist geschmackvoll eingerichtet, alles blitzblank, Dusche und WC hatte ich für mich allein. Beat ist ein sympathischer und interessanter Gesprächspartner, wir hatten etliche Themen über die wir uns austauschen konnten. An einem Abend hat Beat gekocht weil er Besuch erwartete und mich spontan zum Essen eingeladen, ich empfand das sehr angenehm. Ich habe mich bei Beat sehr wohl gefühlt und gleich den nächsten Termin gebucht.
Peter
2016-04-29T00:00:00Z
It was a great stay! Beat was very caring from the very beginning to the very end. Prior to the arrival I even received the series of pictures of every turn I would have to make on the way to his place (which I eventually did not need cause Beat met me on the station!). He shared his cheeses and wine with me, we had some nice conversations, he even took me out once and on my last day he prepared a wonderful raclette lunch! The room is exactly like on the pictures, very clean and the whole house is stylishly decorated. You have to be aware that there is no actual door between the room and the living room/kitchen downstairs, so everything happening there is very well heard upstairs. There is, however, not much happening there, since Beat was always really quiet :) In fact, most of the time I had the whole living room to myself as well. The shower is also one floor below, and the toilet with the sink you have on both floors, just for yourself (very luxurious:) Overall, I had a great stay and would highly recommend this penthouse!
Anna
2016-06-06T00:00:00Z
Beat is a great host and the place is just as described and more! The places looks better in person, it's supper clean and aesthetically appealing. Beat met us in the train station to provide directions to his place and have us keys to get in. Location is in a very nice quiet neighborhood near bus stop. He has water and cups for the both of us along with the welcome note pad. That was a nice touch. He also provided clean towels in the bathroom which was fantastic. Since the next day was Sunday, most of everything was closed and he offered us toast/cheese/cereals/etc from his kitchen. Later we had some tea together and he helped us recommending some places to hit in Zurich. Later that night, we came back to the place early to pack and had about 2 hours conversations about our travels and work. I love the balcony and the whole upstairs to ourselves. Even though short, I had a lovely time and Beat was a great host!
Hongvan
2016-06-14T00:00:00Z
Hi we stayed to Beat house 2 days Beat was very hospital we spend sone hours talking he gave some suggestions about visiting zurich The house was very clean good location quite Definitely i could stay there again
Daniela
2016-11-03T00:00:00Z
Alles top!
Philip
2016-09-22T00:00:00Z
Very nice place and host!it is even better in the pictures than in reality..the place is very clean and spacios.Beat is very friendly and he also gaved us info about Zurich.We will come back to his place!!!
Elena
2016-09-03T00:00:00Z
Tipe Kamar
Kamar pribadi
---
Tipe Properti
Rumah
---
Mengakomodasi
2
---
Kamar tidur
Niederrohrdorf, Aktiengesellschaft, Swiss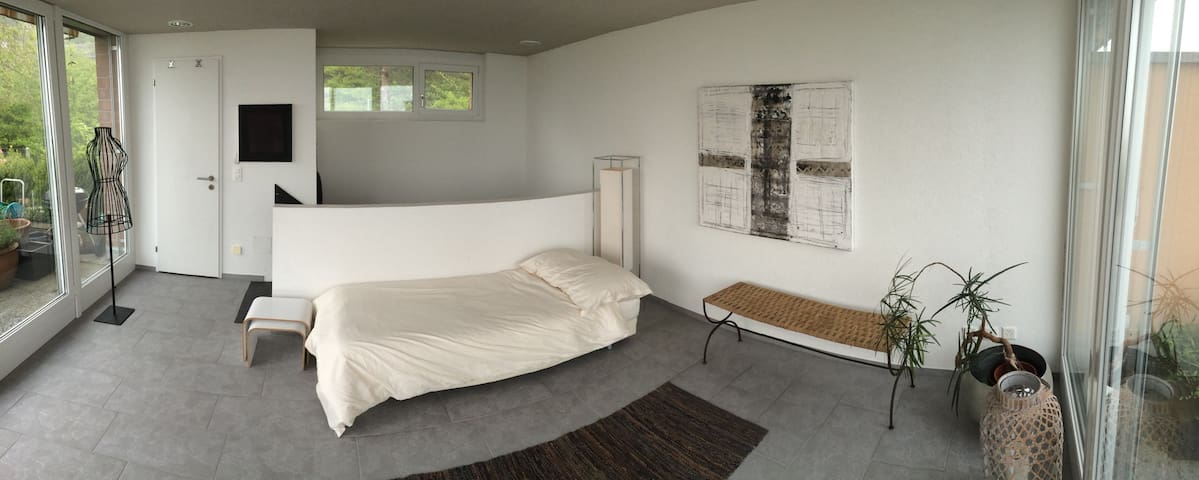 Dog friendly house with big garden and nice pool. The house has a beautiful view to the swiss mountains and City of Baden.
Tipe Kamar
Kamar pribadi
---
Tipe Properti
Rumah
---
Mengakomodasi
1
---
Kamar tidur
Busslingen, Aargau, Swiss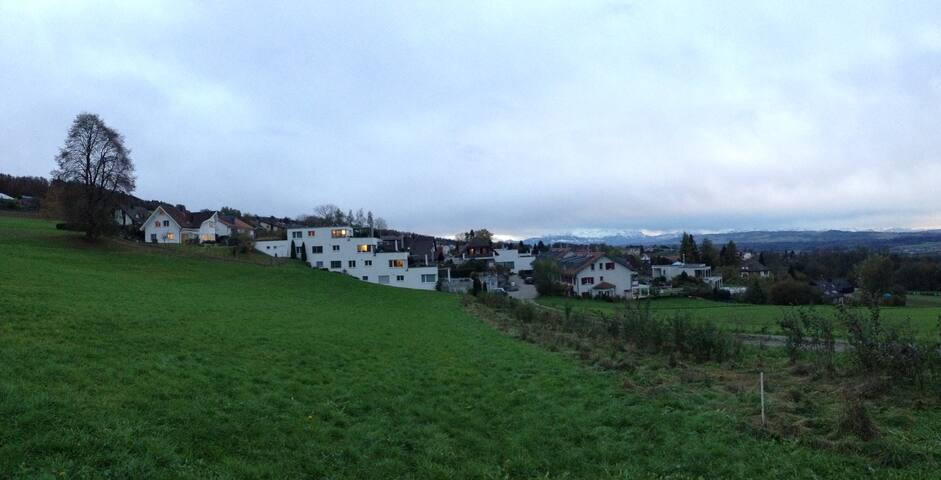 Your luxurious accommodation, if you want something special. Beautiful panoramic view from the Black Forest over the Jura to the Alps. Modern equipped Interior: Open kitchen with cooking island, WiFi / WLAN and 2 garages complete the offer. 3 bedrooms
Fantastic house with 190 square meters (incl. Living room in the basement). A large living / dining area adjoins the modern kitchen. Externally, there is access to the large panoramic terrace with electrically verschattbarem glass roof. Here you can fully enjoy the panoramic view and the quiet. In house 3 bedrooms, 2 bathrooms and 2 guest toilets are available. Everything is in top condition (built in 2005). In the basement you have a washer / dryer room. All windows can be timed shade. Heating is by underfloor heating and environmentally friendly geothermal probes heat pump. For your vehicles are 2 parking spaces and 2-3 outdoor parking spaces available. TV in the living room and the master bedroom as well as cable TV and internet / WiFi / WLAN are also available. The house is located in a highly exclusive residential street with beautiful villas in the neighborhood.
Fantastic panoramic view, pleasant neighborhood, excellent transport links.
We had wonderful 2,5 months stay in Andreas and Cornelia`s house. House has a simple furniture, but all in good condition and clean, and really all that we needed for a long stay from basic things to smallest details like kitchen filling etc. And the view from all rooms is magnificent. Andreas and Cornelia are very nice, helpful and benevolent hosts, all questions we have had during our stay were answered or resolved in fast and friendly way. Remetschwill itself is small and quiet, around are pictorial cottages and villas. 10 min walk from house there is a forest with beautiful paths through the woods. Nearest Coop is ca 5 km on the way to Zurich. But we liked much more farmers market in Baden open every Saturday morning from 8 am till 11 am - healthy and really tasty regional eco products: vegetables, fruits, dairy produce, home made cheese and pastry. To Zurich centre is ca 30 min by car.
Juliana
2015-11-29T00:00:00Z
Andreas und Cornelia sind sehr zuvorkommend und hilfsbereit. Die ganze Buchung verlief trotz sehr kurzfristiger Anfrage sehr unkompliziert und problemlos. Das Haus wurde in sehr sauberem Zustand übernommen. Es fehlte an nichts. Auch die Abgabe verlief schnell und unkompliziert. Ich kann die beiden nur empfehlen!
Martial
2015-12-13T00:00:00Z
- Unkomplizierte Übergabe der gereinigten Villa. - Es war alles vorhanden. - Die Villa entsprach exakt dem Angebot (Bilder und Beschreibung). - Die Nachbarn waren informiert, dass wir das Haus für 7 Wochen gemietet haben. - Wir würden diese Haus bei Bedarf jederzeit wieder mieten.
Werner
2014-12-12T00:00:00Z
Tipe Kamar
Seluruh rumah/apartemen
---
Tipe Properti
Rumah
---
Mengakomodasi
4
---
Kamar tidur
Remetschwil, Aargau, Swiss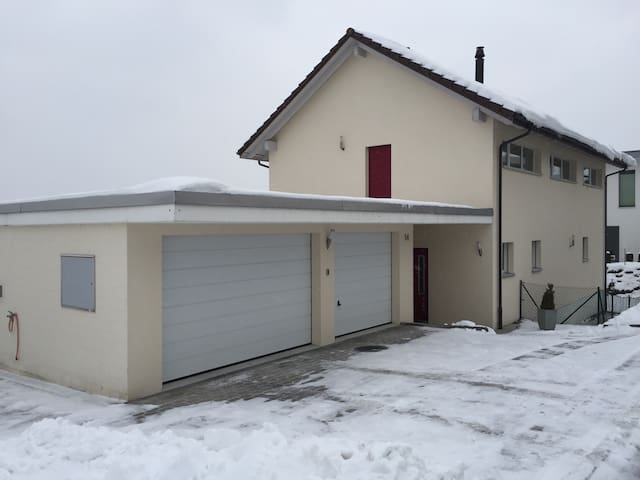 furnished room, 20m2, with a balcony in a villa for rent with large garden. Since we have dogs we want guests with a big heart for animals
Tipe Kamar
Kamar pribadi
---
Tipe Properti
Rumah
---
Mengakomodasi
2
---
Kamar tidur
Mägenwil, Aargau, Swiss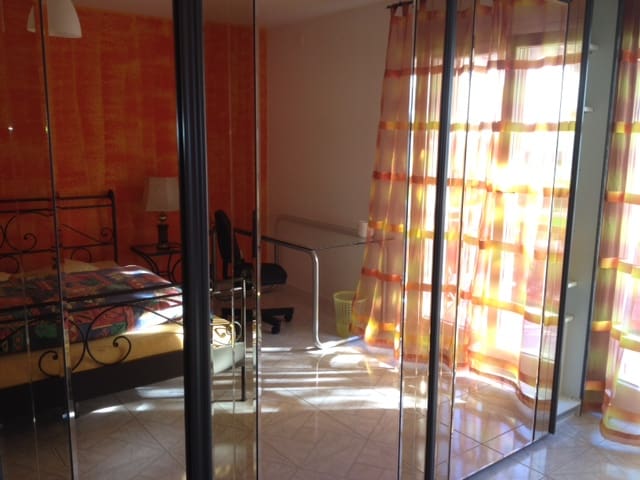 Jürgen's home was big and beautiful. Everything was nice and clean. Guestroom and especially the guest bed was very comfortable. They also have a lovely community in theirs neighborhood. Jürgen and his girlfriend were very nice and helpful. We didn't have a many plans on our trip, but luckily they gave as a few nice ideas. We really can recommend this accommodation for everyone!
Heleen
2015-09-09T00:00:00Z
Tipe Kamar
Kamar pribadi
---
Tipe Properti
Rumah
---
Mengakomodasi
2
---
Kamar tidur
Scherz, Aargau, Swiss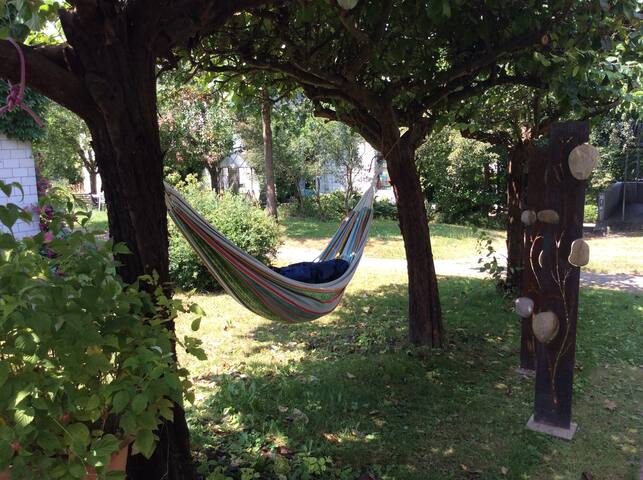 Hello Airbnb Users A very warm welcome to the 1819 Swiss House. The 1819 Swiss House located in a beautiful nature protected area is just 25 minutes away from Zürich. Maximum capacity for accommodation: 7 people The house has in total: 3 Double bedrooms 1 Bedroom for childern 3 Bathrooms -Living room -Free wireless -Flat screens with Playstation -Harman Kardon sound system -Chilled basement -Garden Lounge -Kitchen Bussstop is just 12 minutes away. 25 minutes to Zurich 45 minutes to Luzern The village offers a lot of activities such as: white-water rafting, hiking, biking, swimming and more. The perfect location to chill out an have a great time in Switzerland. Hope to hear from you ;) Thanks Cedric
Cedric's swiss house was perfect for my family, everything was clean and we really had a good time there. the neighborhood is calm and the view is amazing. I strongly recommend!
Reema
2015-08-10T00:00:00Z
房子在苏黎世周边的小镇,非常安静舒适。我和我的朋友们都很满意。
teresa
2015-05-31T00:00:00Z
Cedric's house was perfect! everything was clean and as it described in the announcement. It takes 25 minutes from Zurich but it is worth because of the house, the neighborhood and the landscape.
Javier
2015-07-20T00:00:00Z
Beautiful house, lovely countryside with animals, quiet and peaceful and only 25min from downtown zurich. Service was amazing, Cedric has a hotel background and it can been seen in the way he set up the house and helps the guests.
tim
2014-07-08T00:00:00Z
I have stayed at Cedric's place with my family, (7 people) for two nights, the place is amazing and the village is beautiful we had a great time, all the facilities are good the beds are comfortable great heating fire place and amazing facilities. The place is above anything you can imagine, I strongly recommend cedric's place.
Meshy
2014-08-19T00:00:00Z
Cedric's home is very pretty. the rooms are furnished with care. everything was clean and all facilities were present. the welcome of Cedric was very friendly. the little village is perfect for walking and in the winter the landscape is beautiful. We were three families and we recommend this house.
Tiziana
2015-01-02T00:00:00Z
We rented from Cedric for approx 6-7 weeks while working in the area and the experience was incredible. The rental was also significantly better than the photos. The communication with Cedric prior to renting to make sure this was a good fit for our team was quick, he was very helpful in accommodating to our needs and questions. Highly reccomend this rental to anyone visiting or working in the area.
Whitney
2016-11-18T00:00:00Z
It's unique ancient house! Strongly recommend!
William
2015-08-03T00:00:00Z
Tipe Kamar
Kamar pribadi
---
Tipe Properti
Rumah
---
Mengakomodasi
7
---
Kamar tidur
Künten, Aargau, Swiss