My place is in a beautiful and quiet neighborhood. Close to Northwell (Franklin) Hospital, Valley Stream State Park, 10 mins from JFK airport & 25 to LaGuardia Airport. Near bus & Long Island Rail Road transportation (45 mins to Manhattan.) You'll love my place because it's very clean and organized. It has its own private entrance. Includes: flat screen TV, free Wi-Fi, free parking and office/work space. My place is good for couples, solo adventurers and business travelers.
We loved Alexandra's place! It was very clean and well equipped. Definitely one of the cutest places ive been to. The check in and communication with Alexandra was easy. Highly recommend!
Sana
2017-01-08T00:00:00Z
We really enjoyed our stay. Was a little noisy at times but nothing unexpected from being in a basement. Comfortable and cozy. Convenient location.
Shasta
2017-01-22T00:00:00Z
Warm, Comfortable and clean staying here reminded me of one of my old bachelor pads from my old college days, But 110% Cleaner ( I'm actually a neat freak.) I plan to TRY to book here every time I come to New York, But I have to be realistic, It will probably won't be available because I am sure Everyone who has stayed here feels the same as I do, They are very accommodating and that It's Home away from home!
Danny
2017-01-12T00:00:00Z
The apartment was perfect for me as it is close to the airport. It was clean and even has a small office. I didn't meet Alexandra in person but her nephew greeted me and was very nice. You can hear what goes on upstairs if it's busy as it is a basement apartment but I do recommend it 100%
Deborah
2016-12-29T00:00:00Z
The host canceled this reservation 11 days before arrival. This is an automated posting.
Sid
2017-02-19T00:00:00Z
Was exactly as all he reviewers stated, clean, cozy and comfortable. Very private and when we needed towels, Alexandria brought them to us almost immediately. Would definitely stay again!
Rich
2017-01-31T00:00:00Z
This is a great place to stay and very convenient to many things. It is down a dead end road so it is very quiet. The apartment is so cute and decorated so nicely. It has everything you could possibly need!
Jennifer
2017-01-15T00:00:00Z
Very clean and nice little apartment. Perfect for 3 people. Also nice neighborhood and people. Would definitely stay there again if needed
Emiliano
2016-12-24T00:00:00Z
Tipe Kamar
Seluruh rumah/apartemen
---
Tipe Properti
Rumah
---
Mengakomodasi
3
---
Kamar tidur
Valley Stream, New York, Amerika Serikat
Cozy, quiet neighborhood. There are 2 full comfortable beds and a closet with plenty of space left to feel relaxed. 10 minutes from the train and 5 minutes from the bus.
Its quaint, homey, quiet, a great place to rest the weary bones after a long day of walking & shopping around Times Square and Central Park. Your room is on the 2nd floor.
Quiet, beautiful, family-friendly. Safe neighborhood.
Les hôtes étaient très conviviale.
Martin
2015-05-03T00:00:00Z
Although we weren't in the house often, my family and I loved staying here. Alex was very communicative even before we booked our stay. We were able to come and sit down before check in, and we never once felt unwelcome. Alex was also extremely helpful in aspect of having guides and schedules for the train and attractions. I highly recommend him, and I would not hesitate to book with him on my next visit.
Elizabeth
2016-11-27T00:00:00Z
Alex and Sonia were extremely warm and welcoming. Great people to stay with.
Imad
2017-02-22T00:00:00Z
Alex nous a très bien accueillies, ma fille et moi et ce, malgré l'heure tardive. Endroit très sympathique dans un quartier résidentiel. On s'y est senties très à l'aise! Pratique: près de l'aéroport JFk.
Hélène
2016-04-16T00:00:00Z
Гостеприимные хозяева, отличный спокойный район недалеко от поезда. Удобно добираться до центра - 40 мин. До остановки пешком 10-15 мин., но нас подвозили добрые хозяева. Единственный минус - в доме есть еще комнаты для гостей - а ванная одна на всех.
Юлия
2015-07-13T00:00:00Z
Alex was very accommodating, especially since our arrival was quite late. Welcomed into the place by Alex's mom. Who was so friendly and warm. Room was as pictured, comfortable enough to get a good rest. 15 minutes drive to the airport with no traffic.
Michelle
2015-10-16T00:00:00Z
This is an efficient, economical place to stay in nice neighborhood with good proximity to JFK and LIRR. We didn't meet our hosts, but Alex communicated effectively via text. Note that there are two rooms, which are let separately, and the bathroom is shared among all guests.
Jeff
2015-08-16T00:00:00Z
The host made me feel extremely welcome. The neighborhood is nice and well described by the host.
Rashif
2016-03-11T00:00:00Z
Tipe Kamar
Kamar pribadi
---
Tipe Properti
Rumah
---
Mengakomodasi
4
---
Kamar tidur
Valley Stream, New York, Amerika Serikat
My room with a twin bed it's very charming. And comfortable. Private . It's on the second floor . Close to JFK . Public transportation, LIRR. Supermarket, restaurants, green acres mall . You will feel home
Very close to JFK , it's just For one person... Tiny , cute and cozy.
My neighborhood it's safe . Walking distance to public transportation, restaurants and shoppings. Easy to go to Manhattan .
Great place to stay! Farah and her son were quite warm and welcoming! Would definitely stay here again!
Louis
2017-02-28T00:00:00Z
It was so nice! I just arrived from JFK airport and although i checked in at midnight she waited for me and helped. Also the room was very cozy and clean and bathroom was clean too. I had a good night sleep after my long flight thank you.
Juyeon
2016-06-26T00:00:00Z
The room is as advertised. I stayed there for one month, and even though the room is small, it was fine because I just needed a place to sleep. Having air conditioning in the summer was a major plus. You share the house with a few other people, so you may have to move your car (if you have one) to let people in or out of the driveway. There is a dog there too, and he is very nice once he meets you and gets to know you. Overall, this room was cheaper than most other places in the area, so if you want to save money, this place would be a good option.
Erik
2016-09-23T00:00:00Z
Frah is very nice lady, I felt like I was at home. She helped us to find train station. The room was small but cozy.
Olga
2016-05-14T00:00:00Z
Good room for one night stay. I stayed one night. Room is 1 mile away from the valley stream LIRR station. Bus stop is also slight away. So anyway you have to walk if you are come by using public transport. Farah is great host, polite and caring. Area is safe .
Kanhaiya
2016-06-13T00:00:00Z
Farah is nice and helpful, everything is exactly like in the pictures.
Mateusz
2016-08-28T00:00:00Z
Farah was a very accommodating host, her place worked well for my trip. She made it easy to come and go even though I was out late during my visit.
Larry and Nancy
2016-11-13T00:00:00Z
Farah's place was lovely. The room was clean and prepared, the bed was very comfortable and best of all it was hot all night. Big thank you to Aaron (one of the hosts) who personally let me in even after 2 hours in Immigration at JFK and a dodgy Uber driver who didn't know the way to go and took me to Queens first then had to double back. Would definitely stay there again.
Ferg
2017-01-06T00:00:00Z
Tipe Kamar
Kamar pribadi
---
Tipe Properti
Rumah
---
Mengakomodasi
1
---
Kamar tidur
Valley Stream, New York, Amerika Serikat
Calm private room in beautiful side of Valley Stream, 10 mins away from the airport, malls, and restaurants. the neighborhood is calm and nice to relax. Very silent area full of trees and green grace. Guest are welcome to come and discover it.
Tipe Kamar
Kamar pribadi
---
Tipe Properti
Rumah
---
Mengakomodasi
1
---
Kamar tidur
Valley Stream, New York, Amerika Serikat
Lovely furnished home immediately available. Seeking short-term or long-term rental. Wooden and tile floors 2 bedrooms. Lots of space and lovely furniture. Well decorated. Near public transportation and only 10 minute ride to JFK airport. Near all houses of worship. Near shopping. Utilities Internet cable all included in the price. 1 mile from LIRR.
Large home near the airport and near public transportation directly to Manhattan. NO PARTIES ALLOWED!!!
We are near parks, malls shopping and water ducks and swans.
Booking confirmation response was very prompt. Check in coordination was great. Safe and convenient to groceries and JFK.
Dominic
2017-03-12T00:00:00Z
Very responsive host both before we arrived and while we were there. The location is good for any of a number of activities desired for the area. The neighborhood was mainly quiet though planes could be heard going overhead (it is near the airport after all). The house was not as clean as we would have liked, but overall it worked for our needs.
Nancy
2017-03-18T00:00:00Z
Tipe Kamar
Seluruh rumah/apartemen
---
Tipe Properti
Rumah
---
Mengakomodasi
4
---
Kamar tidur
Valley Stream, New York, Amerika Serikat

Comfy, clean, studio living w/1 bdrm attached for addl space located on a quiet street. Close to parks & mall. Easy access from JFK & other airports, LIRR (Long Island Railroad) express service to Manhattan. Relax & enjoy the home style feel.
Cozy, private and spacious studio ideal for a small family, perfect for couples and great for long stay business travelers. (addl. attached bdrm avail. for booking) -Totally Private (no sharing) - Very clean and organized - Separate dining area - Own kitchen area w/stocked fridge - Light cooking ok - Offers 2 closet spaces - Lots of drawers for clothing - Easy parking ***Laundry access available to long stay guests.
I love my beautiful neighborhood. It is close to gyms, stores, dance lounge, lots of dining, 5 mins to shopping mall Valley stream state park and only 10 mins from The Resort World Casino of New York City. All easily accessible.
Words would fall short. She was awesome. From communication to making sure the place had everything necessary. Very pleasant . I most likely will be back here. I felt right at home. Very private. The pictures doesn't do the place justice.
Ornella
2017-03-27T00:00:00Z
Best AirBNB experience ever! Jae's home was IMMACULATE so much space and had everything I needed. Looks just like, even BETTER than the pictures. She was super friendly and helpful.
Oladoyin
2016-12-31T00:00:00Z
Very clean and comfortable and spacious, even better than a hotel. She doesn't have to provide snacks, and fresh food but she does. Communication is frequent and easy. Absolutely would stay here again!
Safiyah
2017-04-09T00:00:00Z
Jae's home was amazing. The pictures do the home NO justice.. it is so nice in person. EVERYTHING was immaculate, very clean, and she was so sweet and accommodating. I got all the rest and relaxation I needed with my fiancé. Out of the other homes I have been a guest at, this one trumps them all. I am very satisfied and I honestly didn't want to leave. She provided the essentials, and food just in case I needed them. Thank you Jae! You're a gem!
Sade
2017-01-22T00:00:00Z
Jae's place was by far the best Airbnb I've had and she was the best host. Upon arrival there were medium refreshments and snacks and even some things in the fridge! Everything was the cleanest I've ever seen. Throughout our stay she was very reliable and would even check on us every morning. We lost a bracelet and she even went as far as checking to see if we had ever found it. Her place looks even better than the pictures depict and the neighborhood is beautiful as well. Between the location, apartment and Jae's amazing hospitality, I was amazed! I will definitely be looking to stay here next time I come to NYC. Thanks Jae!
Shaquille
2017-03-21T00:00:00Z
Off the back, great host and service. Everything was new, clean and fresh upon arrival. Took the time and effort to serve us with anything and everything. So far the friendliest and opened host I've ever met.
Min Hye
2016-12-28T00:00:00Z
Jae is an awesome host . Her place is exactly like the pictures although once your inside it is so beautiful and very cozy .The communication leading to the booking was very clear and prompt. If your looking for a getaway from anything and even stay in the city she has the perfect place. it is quiet and very relaxing . My boyfriend and I really enjoyed our stay a Jae and would love to go back again . Thank you Jae
Widad
2017-04-02T00:00:00Z
I had an amazing stay. The pictures do not do the place justice. I was really impressed by the amount of space and comfort the place offered. Jae was an amazing host, and checked in regularly to make sure everything was okay. I would highly recommend Jae's place for anyone looking in this area. I plan to stay here again on future trips.
Aryeh
2017-02-14T00:00:00Z
Tipe Kamar
Seluruh rumah/apartemen
---
Tipe Properti
Rumah
---
Mengakomodasi
2
---
Kamar tidur
Valley Stream, New York, Amerika Serikat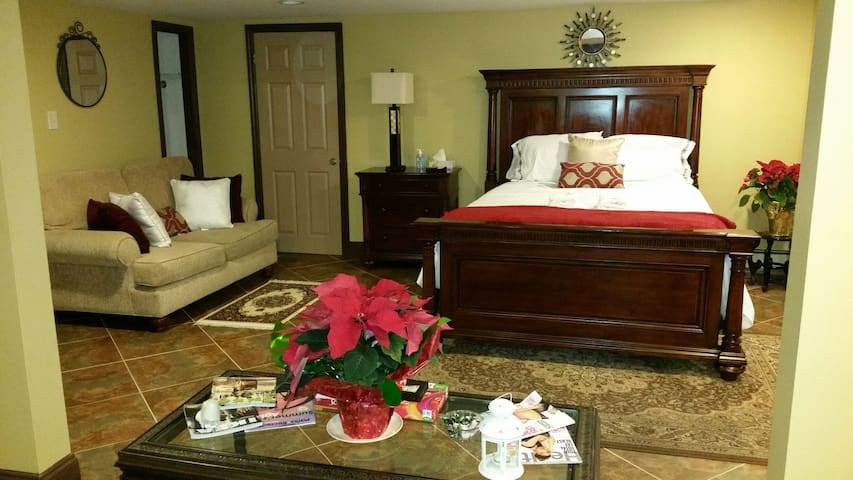 Number 19 Kalmia Lane houses Paradise Rooms. It is located in a beautiful neighborhood of South Valley Stream, very close to Green Acres shopping mall. It is less than 10 minutes to JFK Airport and about 30 minutes to Laguardia airport. It is a suitable vacation paradise for travelers and guests, families and couples. There are 3 private rooms with 2 shared living rooms, a lounge, a kitchen, a bathroom and an access to a modern laundry.
Great place! Perfect for my needs. Conveniently located. Room was nice. Month was a great host.
Michael
2017-04-10T00:00:00Z
Tipe Kamar
Kamar pribadi
---
Tipe Properti
Rumah
---
Mengakomodasi
2
---
Kamar tidur
Valley Stream, New York, Amerika Serikat
My place is close to JFK airport and train station. Quick and painless 35-45 min train ride will take you to the heart of Manhattan. 15 min train ride will take you to JFK. You'll also love my house for the comfy beds, the outdoors space and upgraded kitchen. It's good for couples, solo adventurers, business travelers, families (with kids), and big groups.
The host canceled this reservation 26 days before arrival. This is an automated posting.
Brian
2016-12-04T00:00:00Z
Tipe Kamar
Seluruh rumah/apartemen
---
Tipe Properti
Rumah
---
Mengakomodasi
7
---
Kamar tidur
Valley Stream, New York, Amerika Serikat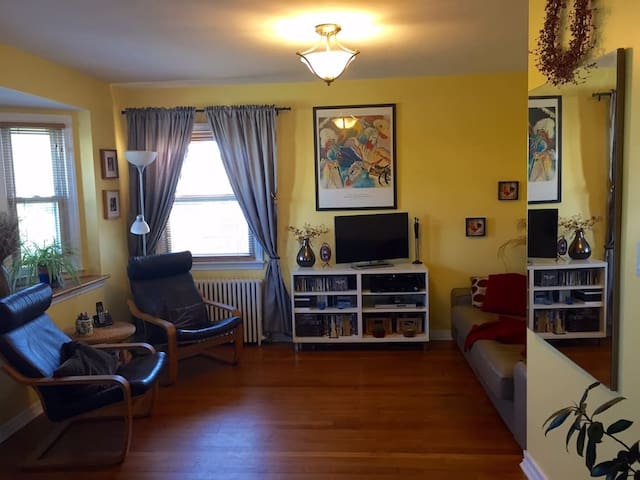 Cozy private one bedroom near Green Acres Mall and JFK, will make you feel like home. located near shoppings , restaurants, LIRR easily acces all New York City.
Close, green acres mall, restaurants, supermarket.
Nice little room in the attic. Small fridge and water boiler were provided. Bathroom is one floor lower and you share. Worth the price for the location. No overnight street parking. Near the mall and grocery stores. Would stay again.
Jaison
2017-02-03T00:00:00Z
주인이 친절하게 맞이 해주었습니다. 정말 시설도 좋은 편이었습니다. 하지만 아쉬운점은 뉴욕 맨하탄과 거리가 먼점이 불편한 점이었습니다.
SUNGJIK
2016-08-08T00:00:00Z
Farah is really friendly. And you can ask her everything. If i will come back to New York, for sure i gonna stay at Farah place.
Nick
2016-06-11T00:00:00Z
Overall a nice stay. a cozzy room as described. Carron was very helpful during my stay and kindly offered me a drive to nearby train station.
Huang
2016-09-13T00:00:00Z
Farah is very nice & welcoming! We had a great stay.
Sanam
2016-12-01T00:00:00Z
Great value and nice place! Room is comfortable and neat.
James
2016-12-10T00:00:00Z
My flight was delayed and I didn't arrive until after midnight. Farah was very gracious about the late hour, and she and her daughter were still up when I arrived to show me to the room. I appreciated that the house was so close to the airport after a long day. I was also grateful for a window air conditioner, as it was a hot day. I think the room itself is probably a better fit for someone younger (I am 59). It is up two very steep flights of stairs, and the bathroom is on the floor below, making middle of the night trips to the bathroom rather hazardous.
Laura
2016-07-10T00:00:00Z
Practicamente ella nos entrego la llave de la casa nos tuvo confianza ,en cuanto a la habitacion es igual como lo indica la foto, el lugar si es seguro y tranquilo,tiene un perro muy amigable. Farah casi no pasa en la casa es asi que el último dia que salimos y queriamos entregarle las llaves ella no estubo y la dejamos en la habitacion con una nota de agradecimiento.
Rosa
2016-10-10T00:00:00Z
Tipe Kamar
Kamar pribadi
---
Tipe Properti
Rumah
---
Mengakomodasi
2
---
Kamar tidur
Valley Stream, New York, Amerika Serikat
Basically a very comfortable house and very accessible for everything. A great place to stay in. Avery enjoyable and relax private room.
Tipe Kamar
Kamar pribadi
---
Tipe Properti
Rumah
---
Mengakomodasi
1
---
Kamar tidur
Valley Stream, New York, Amerika Serikat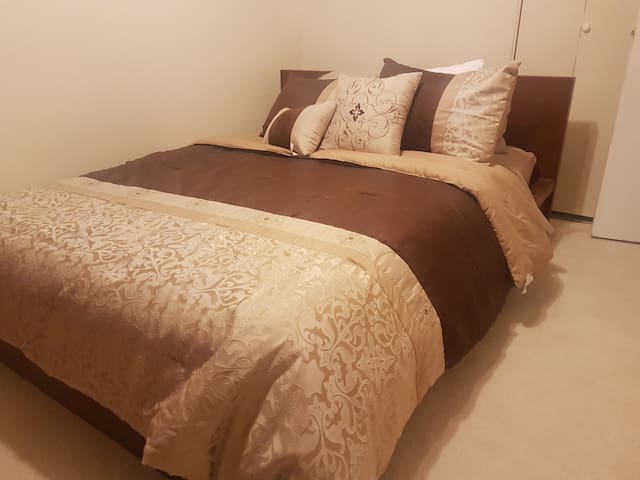 My place is close to restaurants and dining, the beach, public transport, jfk airport, nightlife, family-friendly activities. You'll love my place because of the location, the people, the views, and the outdoors space. My place is good for couples, solo adventurers, and business travelers.
What makes my space unique is the calmness of the neighborhood and the closeness to several activities spot
My neighborhood is very quiet. There is a bus stop at the corner of my block that takes you to the nearest train station. It's close to major malls and beaches.
Kun was by far the best host , very friendly and approachable ! Absolutely loved my stay and would strongly recommend :)
hinduja
2017-01-05T00:00:00Z
Kun was an excellent host. Warm, hospitable. The accommodations were good and I'd recommend you give him a look when booking near the airport JFK
Khalid
2016-08-29T00:00:00Z
Excellent host. Very easy to deal with and also gave fruits and water as freebies. Would definitely recommend!
Allan Christopher Michael
2016-09-25T00:00:00Z
Tipe Kamar
Kamar pribadi
---
Tipe Properti
Rumah
---
Mengakomodasi
2
---
Kamar tidur
Valley Stream, New York, Amerika Serikat
Private and cozy room in a safe family home is available for student taking the Uslme gold review .5 minute ride This offer includes free wifi with the occasional breakfast and transportation to classes pick up and off to and from the airport can be arranged for a Nominal fee.
5 minutes from classes 1:5 ml driving 24 minutes walking
My area is safe and quiet, we have a small yorkiepoo
Hermie was very kind! Even woke up at the ungodly hour I left just to make me a cup of coffee. Room and bed was cozy and comfortable. She has a dog who can be a bit noisy at night, but otherwise perfect stay
Elle
2015-11-06T00:00:00Z
Hi all, I'm not gonna talk to much, I just wanted to say that this place is a 7 stars. Clean lines, lovely, quite, with a greatest breakfast I ever eat. Specially for USMLEgold.... guys go a head ...you will have a great place ever. Very very cheap. .. Hermie very nice girl....outstanding. Room very clean. ..the bathroom amazing. Good luck
Fawaz
2016-12-12T00:00:00Z
Hermie is really nice. She offered to pick me up in the airport and gave me a ride to the place for the USMLE course. And she made wonderful breakfast. Love the eggs! The room is actually better than what it looks like in the photo. There's a mirror, a TV, a closet, and a very cozy chair. There's a lot of space and privacy. The shower is clean.
Hongyi
2016-01-26T00:00:00Z
Thank you very much Hermie for your sweet kindness and hospitality I felt I have a sister over there in NY, you were so keen and very supportive! I wish you all the best!
Shaimaa
2017-03-12T00:00:00Z
hermi was really a good hust she behaves me like one of her family member , even she ride us every day from home to class , she made us breakfast every morning , even she took a good party dinner for us , her family were all nice to me , the place is very calm and safe neighbourhood in valley stream , the home is clean , and full of love and friendship , i found a new family in this home , thanks to hermie and her very kind and nice family , i highly recommend this place specially for students who want to take usmle courses , it is near to airport , and from my start of trip she followed me and guide me , thank you again
Siamak
2016-06-02T00:00:00Z
Thank you for such an awesome experience during our stay at NY for the Gold USMLE workshop. I can't think of a single thing that Hermie won't do to make you feel invited in her family. She went above and beyond to ensure that we were comfortable at all times. This includes pickup from LGA airport( which is 30-60 minutes depending on traffic), pick up and drop-off at workshop and late dinner arrangements, early morning home cooked breakfast, etc.. Super safe neighborhood at affordable price and convenient location.
Nikhil
2017-01-16T00:00:00Z
I enjoyed my stay at Hermie's. I arrived on a day where there was a blizzard but my room was warm and comfortable. Breakfast was delicious. Hermie and her daughter offered me rides to my review in the morning which i thought was very nice of them. The bathroom was very clean and their dog was really cute and friendly. I highly recommend this place.
Karina
2017-02-12T00:00:00Z
Hermie is a very nice person , she is always there for you whenever and whatever you needed , when you meet her you feel like you know her long time ago because she is so friendly .Thank you Hermie
MAITHAM
2017-04-03T00:00:00Z
Tipe Kamar
Kamar pribadi
---
Tipe Properti
Rumah
---
Mengakomodasi
2
---
Kamar tidur
Valley Stream, New York, Amerika Serikat
1 bedroom located 5 minutes from USMLE Gold Review. quiet neighborhood of Valley Stream, Ny. Close to major highways, parks, amenities and mass transportation Lots of natural light, Plenty of on-street parking ..washer, dryer, bathroom & kitchen included. . 10 minutes from JFK airport. 30 minutes to NYC
Cozy and warm, we have a small Yorkiepoo.
It very quiet
My stay at Hermie's place was wonderful. She is such a sweet lady. She made sure I had no issues with anything and went out of the way to help me out from providing a home cooked nice and healthy breakfast every morning and dropping me off to class and helping me get appropriate communication means to giving me her umbrella when it was required. The room is very comfortable, clean, has two big windows with blinds and a TV. I slept like a zen baby in there. The bathroom is very clean and has a nice shower with good flow. They have a small cute dog (Champ) who loves to play and means well. He adds an energetic vibe whenever he meets you on the way in or out. There's absolutely nothing bad about this place. You'll love Hermie, her family and her place. Thank you for having me, Hermie :) I'll see you soon.
Eshan
2016-10-25T00:00:00Z
I stayed with Ms. Hermie for one week from May 25 - June 1 while taking Gold USMLE Review. It was such a wonderful stay. The bedroom and bathroom were comfortable and clean and the neighborhood felt very safe. Ms. Hermie offered to pick me up from the airport and even had her daughter take me to the airport when I left despite having to leave the house at 4 AM in the morning. I flew in from LaGuardia which was ~30 minutes away but JFK is even closer. Ms. Hermie also provided breakfast every morning and even brought me to class on time every single day. Gold Review is ~7 minutes away and cost $8 on Uber for the way home. I would highly recommend this place to anyone, especially those reviewing with Gold. The cost is way cheaper than getting a hotel, the room is exactly what you need, and the host has a wonderful soul and a caring nature about her that is a rarity these days. By the end of the week, it truly felt like I was staying with family.
Jo Marie
2016-06-02T00:00:00Z
Hermie was an amazing host. She let me know ways to get around the city and treated me as a member of her family instead of just a guest. I will definitely try and book with her again if possible.
Chris
2015-10-13T00:00:00Z
I really enjoyed my stay at Ms. Hermie's house. She was a perfect host and very kind. We had no issues during my stay.The room itself was very nice and clean. The house is located in a quiet suburban area with plenty of parking. And I can't forget her adorable little dog who was super friendly and always happy to see me. Thank you very much Ms. Hermie!!
Pratick
2015-10-03T00:00:00Z
Mieux que je ne pouvais l'imaginer. J'ai été agréablement surprise par son hospitalité. Elle m'a récupérée à l'aéroport et m'a déposé au retour. Elle m'a aidée dans toutes les courses; en me montrant les meilleures adresses; les meilleures offres. Elle m'a très souvent déposée les matin en partant au boulot et est repassée me récupérer le soir en rentrant. Au pire des cas elle m'a appelé un taxi avec sa carte pour jouer sur le tarif et m'a même prêté sa carte de bus. Après 1 semaine elle m'a proposé de laver mon linge avec sa machine à laver. La maison est propre et parfumée, et les toilettes en permanence. La cuisine dispose de toutes les commodités. chambre est aérée avec deux fenêtres qui donnent sur le jardin et sur la rue. Et le lit est douillet. Le quartier est très calme et sécurisant. Je nai pas eu de difficultés à consommer halal puisqu'il y a beaucoup de musulmans dans les parages; même une mosquée et un musée d'art islamic. Je compte bien maintenir le contact. C'est une expérience à renouveler et je la recommanderai à mes amis en rentrant.
Anta
2016-09-30T00:00:00Z
Hermie was very nice to welcome me to her home and show me to my room. Room was upstairs. Stair case was narrow but manageable. She has a medium size dog who's very cute and friendly but also very hyper. He's not trouble at all. The room is good size with queen size bed, chairs, dresser and a TV (which is a plus). The bedding was average. She provided a set of towels also with medium softness but a bit on the small side. The bed was fine, just a little squeaky. Bathroom counter was a bit small but it's clean. Shower pressure was average but shower was clean. Hermie was very accommodating. She offered airport rides if possible. Her home is very close to JFK so it's convenient for traveling. She offer her kitchen utilities as well and laundry. Overall, it's a good stay for the price in NYC.
Delandy
2015-11-20T00:00:00Z
It was the best place to go to GOLD USMLE review. 空港までの送り迎えと毎日のGOLD USMLE への送り迎えもして頂けました。GOLD USMLE へ公共の交通機関を使って行くのは多分無理なので、車が無い場合はここに滞在させて頂くのが一番だと思います。
Yuriko
2017-03-13T00:00:00Z
Hermie is the most genuine, beautiful, wonderful host ever. This gracious lady picked me up from the airport after my flight which was due at 9.00 p.m and delayed for 4 hours. She made two trips after not initially finding me. Immediately I felt her warmth when we met and I was at ease. She made me feel welcome and a part of her family, even making me breakfast. The neighbourhood was extremely safe and the one neighbour I met from another street gave me a map one day when I was lost. The room was nice enough with a comfortable bed. The shared bathroom was always well kept. Hermie made my experience a memorable one. Always making herself available to take me shopping once she was not at work. She was full of great advice and even took me to work with her so I wouldn't be lonely. I honestly felt like I knew her forever. I originally had planned to pack a barrel to send back home but after that fell true Hermie came to my rescue. She offered me an alternative and let me borrow her suitcase while she shipped me the other stuff. She also took me back to the airport when I was leaving and didn't leave til I checked in. Awesome right? I could go on forever lol. You can be sure anytime I visit New York this will be my host of choice.
Tarisha
2015-09-25T00:00:00Z
Tipe Kamar
Kamar pribadi
---
Tipe Properti
Rumah
---
Mengakomodasi
1
---
Kamar tidur
Valley Stream, New York, Amerika Serikat
My place is conveniently located in close proximity to all activities and away from noise on a quiet suburb block. It's minutes away from the NYC. Close to Public transport, shopping and dining, parks, and the airport. You'll love my place because of the coziness, the location, and the people.
Family friendly and close to everything
Tipe Kamar
Kamar pribadi
---
Tipe Properti
Rumah
---
Mengakomodasi
4
---
Kamar tidur
Valley Stream, New York, Amerika Serikat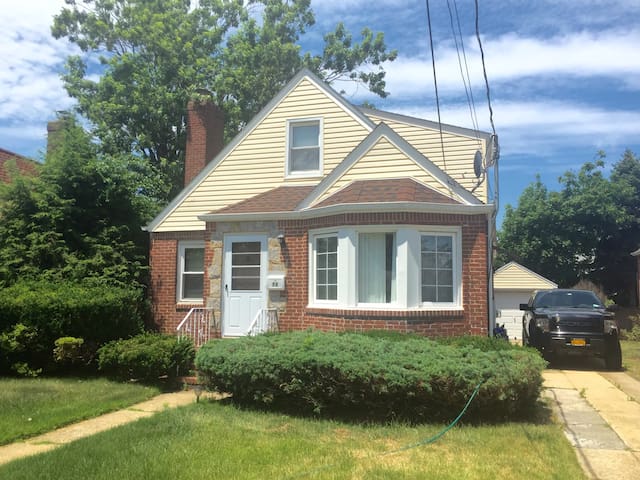 Bedroom near USMLE, green acres mall, manhattan . Cozy quiet neighborhood not far from NYC Attractions . We we have a small yorkiepoo, who is full of energy and very loving. Our family is very welcoming & we would love for you to spend your time with us ! See you soon !
Cozy
Quiet well kept neighborhood
Tipe Kamar
Kamar pribadi
---
Tipe Properti
Rumah
---
Mengakomodasi
1
---
Kamar tidur
Valley Stream, New York, Amerika Serikat
Virkelig fantastisk sted at bo i New York. Hele lejligheden w masser af plads til at slappe af og ingen deling. I nærheden af tog, butikker og 10 minutter fra stranden, indkøbscenter. Dejlig sikkert område, nem adgang til restauranter, købmand. 15 minutter fra JFK international og LaGuardia lufthavn.
Dette er en privat og komplet lejlighed med stort soveværelse, bad, stue / spisestue, fuldt udstyret køkken - ingen deling - hele rummet er privat. Aircondition og varme eller mange vinduer, der giver kølige friske briser. Køkkenet har komfur, køleskab, mikroovn, brødrister, kaffemaskine. Masser af vinduer overalt og masser af skabsplads. Placering er på øverste niveau en kort flyvetur op bred trappe, der er ikke stejle.
Kvarteret er stille med stor parkeringsplads til rådighed. Masser af træer, blomster, velplejede græsplæner. Let kørsel til Long Beach, Lido Strand og Jones Beach. En lige drev ned Long Beach Rd og i et par minutter, du er på den smukke strandpromenade eller på stranden. Også nær Hofstra University, South Nassau Fællesskabers hospital, Long Island Jewish hospital. Også, Stony Brook University & hospital er ca 20 min kørsel. Roosevelt mall, US Marine Academy og 30 minutter fra Manhattan / New York. Også det er en kort tur på Belt Parkway til Brooklyn og blot et par miles til Queens og hurtig og nem adgang til Belmont Park Racetrack, US Open placering og akvædukten racerbane.
Sharon and Mel were both very gracious hosts. The apartment was very modern and well kept. Location was close to both Lido and Long Beach. Easy and private access in and out of house. Would certainly stay here again.
Moises
2014-07-14T00:00:00Z
It was my first Airbnb experience and Sharon and Mel made it easy. Their place was very clean, comfortable and private. During the week we had several questions and they were always helpful.
Cynthia
2016-06-26T00:00:00Z
Sharon & Mel's home was a lovely stay. The apartment was cozy and the refrigerator was stocked with the essentials, thank you! Shannon was very accommodating!
Danielle
2016-10-02T00:00:00Z
This was our second time staying here. Sharon and Mel really have their guest's satisfaction in mind. It's all the little things like stocking the fridge with bottled water, bread, eggs, and coffee. They even have extra toothbrushes, toothpaste, and bar soap in case you forgot to pack it. They checked in on us via text to make sure everything was OK. I would highly recommend staying here.
sophia
2015-10-15T00:00:00Z
The space is very confortable, and it has all you need to stay and relax .. they has all information about places you Will need... the are very nice person and you will feel like your home..
Joharlen
2016-12-17T00:00:00Z
This is an excellent space. We had room to relax and everything we needed for the weekend. I'm impressed by the level of detail with everything from the keyless entry, to the (fully stocked) kitchen and the clean, organized bathroom. Everything was modern and well-maintained. Parking was easy - right in the driveway. Sharon and Mel made us feel comfortable and welcomed in their home.
Femeia
2016-10-30T00:00:00Z
Sharon and her husband are hands down the most gracious hosts I've ever met. The apartment was unbelievable clean and welcoming. It was stocked with yummy goodies and Sharon even brought us soup after we came in from the cold. I wish I could give them 100 stars.
Stacy-Ann
2015-02-22T00:00:00Z
Wonderful apartment, private entrance, great atmosphere, and lovely host.
Joel
2015-07-15T00:00:00Z
Tipe Kamar
Seluruh rumah/apartemen
---
Tipe Properti
Rumah
---
Mengakomodasi
5
---
Kamar tidur
Baldwin, New York, Amerika Serikat
Prostor se nachází v přízemí úrovni jeho asi 600 čtverečních stop. Nejlepší na tom je její právo vedle Podlahová bazénu. Bazén je 4-9 stop hluboké s obývacím prostorem. V přízemí máme bar, kuchyň, sezení pro 6-8 osob osob, malý jídelní stůl, televizí s plochou obrazovkou, sekční pohovka, a plná koupelna. V ložnici ve spodním patře je asi 600 sqft. V ložnici najdete dva queen size paměťové pěny postele s horní linie prádlo.
Je to docela velmi pohodlné a útulné. Nemluvě o tom, že bazén je skvělý. Jsme také 10 do 15 minut dojezdové vzdálenosti do tří pláží.
Jsem rád, že můj blok je velmi tichý. Máme obrovský parku jen pár bloků dál. Můžete jít na procházku, nebo Běh kolem pole baseballu. Mají asi 6 tenisových kurtů, basketbalové hřiště, hokej, skateboarding parku, fotbalové hřiště, a dvě velké prolézačky.
First of all, this house is even CUTER in person! It is so beautiful, and the beds are the most comfortable beds you would ever sleep in in your life! Jessenia and her family were super welcoming. They left me a personalized typewritten note to say welcome and to congratulate me on my graduation, and I thought that was the sweetest thing ever. The house is VERY clean, spacious, and everything is in great condition. The TV is humongous, the wifi is really fast, and the pool is great! There's a Stop & Shop and CVS just 7 mins from the house (walking), and it's a really short drive from the Baldwin LIRR station. If you're thinking about booking this house, DO IT! Thanks so much again, Jessenia!
Chioma
2016-05-25T00:00:00Z
The host canceled this reservation 5 days before arrival. This is an automated posting.
Elisha
2016-12-18T00:00:00Z
Very nice people and place! All amenities are perfect and just as they are listed. Excellent communication between the hosts and ourselves if we had any questions. One thing to note for future travelers is this is this is not renting out an entire house - but rather a section of the house. It does, however function like its own place. It is completely secluded from the part of the house they live in - zero sharing of any of the rooms or amenities and the areas are completely blocked off from each other. I had zero issues, but still important to note. Great reviews from me! Thanks for everything!
Olivia
2016-12-01T00:00:00Z
Our stay at Jessenia & Steven's place was wonderful from beginning to end! Jess made sure she was there to greet us upon our arrival and showed us everything we needed to know. The house is located on a very nice cul de sac in an excellent quiet location but yet just minutes away from anything you might need. The place is spacious, bright, nicely decorated and very clean and the beds were super comfortable!!! The backyard and pool were awesome. The kids especially loved the pool. Jess & Steve both made my family feel very comfortable and welcome and they were always available to answer any questions. I would highly recommend staying at Jessenia & Steven's place if you get the chance. You won't be disappointed!!
Elise
2016-08-20T00:00:00Z
Several of my friends and I were in town for a couple of nights and Jessenia's place was perfect for the five of us. Very clean and lots of room for five people.
Andre
2017-02-25T00:00:00Z
Great place, great host. Would stay again. Place was just as pictured and described
Collene
2017-03-19T00:00:00Z
Great place to stay. The pictures represent exactly what you're getting. There is no door to the bedroom, but the bedroom area is down a few steps and it really didn't cause any issues for us or our toddler, as we spent most of our time near the pool. Great hosts. We had a great time!
Lynne
2016-09-06T00:00:00Z
We arrived late owing to a delayed flight and Jess waited up for us. We are grateful for that. Everything was very clean and comfortable. We didn't get chance to use the pool but it did look very inviting. Very comfortable beds. We enjoyed our short stay very much.
Ian
2016-08-02T00:00:00Z
Tipe Kamar
Seluruh rumah/apartemen
---
Tipe Properti
Rumah
---
Mengakomodasi
6
---
Kamar tidur
Baldwin, New York, Amerika Serikat
SÉCURITÉ VOISINAGE TÉLÉVISION PAR CÂBLE L'INTERNET BLANCHISSERIE PARKING service de limousine disponible à des tarifs raisonnables Aucun client de moins de 24 ans et aucun couple s'il vous plaît
NETTOYER sûr silencieux bien situé sur les îles longues sud shore.20 minutes de l'aéroport JFK 30 minutes de l'aéroport de LaGuardia.
SILENCIEUX SÛR TREE Backyard DOUBLÉ
Everything was great, in a nice quiet area of Baldwin. You can walk to the LIRR to restaurants on Merrick Rd.
Alex
2017-03-04T00:00:00Z
Excellent, quiet, clean. Joe gives you everything you need. Laudry in basement. Everything is easily accessible, parking is easy. LIRR close by to get to manhattan.
Max
2016-09-09T00:00:00Z
Joe is very welcoming and helpful. He knows the area very well, and is more than willing to share. He gave me good tips on where to eat and gave directions for anywhere I wanted to go.. The home is in a quiet area away from the hubbub and traffic. It's a charming neighbourhood with easy access to Baldwin, Jones Beach, Oceanside, and Hempstead among others. Street parking is plentiful, unlike in the city. The room I stayed in was quite nice. There is a large tv with great choice of channels. The bed is very comfortable, with new linens. Joe also provided new towels, soap, and shampoo. The bedroom door doesn't lock. There is no air conditioning, but the airflow in the room is plenty to keep in from getting too hot. Though sharing the house, I hardly noticed anyone else was there. The pet cats stayed downstairs in the 'public' part of the house, and were no problem at all. I will note that people wear shoes in the house, so wearing just socks or going barefoot isn't a good idea. If you carry slippers in your bag like I do, no problem! (And if you stay somewhere with cold tile floors you'll want them there too!)
Chris
2016-05-31T00:00:00Z
Joe is a terrific host that is very welcoming, gracious and immediately makes you feel comfortable like it's your own home. He led me upstairs through a few beautiful cats to a room with an efficient A/C unit, fresh bedding and plenty of channels to surf. He will make sure you have everything you and didn't seem to mind if you needed to arrive late.
Scott
2016-09-10T00:00:00Z
Very nice location. Great value for money. Joe is an excellent host and saw to all the needs.
Pradipta
2016-06-22T00:00:00Z
Joe was awesome , very welcoming , what and assured me if I needed anything to just ask , really cool guy .
Michelle
2016-10-15T00:00:00Z
Joe gave me a friendly greeting and showed me around. Lovely place, nice and quiet- slept like a rock. He also gave me an open invitation for arrival and departing, which was key because I had to change my flight. I came and went as if the place was mine and was late one night which was no problem. Joe's Great!
Chris
2016-11-20T00:00:00Z
Tipe Kamar
Kamar pribadi
---
Tipe Properti
Rumah
---
Mengakomodasi
1
---
Kamar tidur
Baldwin, New York, Amerika Serikat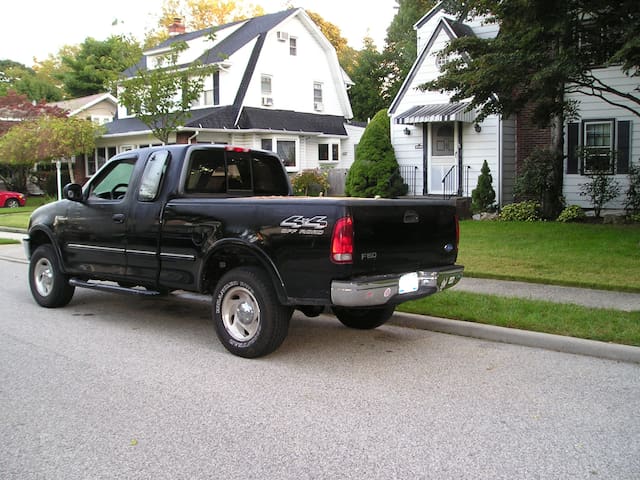 East Rockaway - Airbnb
:
Rata-rata

4.72

dari

5

bintang dari semua

461

ulasan tamu
1

–

18

dari

210 Sewa Rumah
Masukkan tanggal untuk melihat harga lengkap. Biaya tambahan berlaku. Mungkin dikenakan pajak.