Ático muy luminoso, con terraza y totalmente equipado, de 40m2, enclavado en una casa de tres plantas y sótano. Entrada compartida con acceso mediante escaleras a la tercera planta. Situado en pleno parque natural de la Dehesa, junto a la Albufera de Valencia, en uno de los parajes más espectaculares de la geografía levantina. A tan solo 14km del centro de la ciudad, posibilidad de uso de transporte público, mediante línea de autobús a menos de 150m de la casa.
Todo genial! Un sitio muy acogedor, entre pinos, con piscina y playa cerca...tranquilidad absoluta, justo lo que buscabamos! Juan y su familia muy agradables, con detalles que nos hicieron muy comoda la estancia. Recomendado 100%
Javier
2015-08-27T00:00:00Z
Hola! Amigos yo y mi mujer Hemos pasado unos dias maravillosos en El Ático bosque playa del saler apartamento maravilloso! Con todo lo nesesario para estar bien y en comodidad! Es un lugar donde reina la tranquilidad, perfecto para quien busca un lugar donde refugiarse para descansar! Esta cerca de la playa y bien comunicado con Valencia el autobús a pocos pasos de la casa!!y Juan es un amigo no un simple buen anfitrión con el se puede contar para lo que sea y esta siempre pendiente de todo gracias de corazón por tanta amabilidad al igual que María Fantastica la tia bien cevere y sus hijas fue muy bello conocerles!!!! Absolutamente recomiendo este lugar!! Amigos les deceo lo mejor de este mundo!!
Rodolfo
2012-08-11T00:00:00Z
Just awesome! Juan is a great host. I definitely recommend to stay here!
Oscar
2015-11-17T00:00:00Z
This is a wonderful place for repose: warm sea, fresh air, pines. Thera are a lot of interest places for walks and excursions. Nearby are situated good supermarket and restaurant. Owner is friendly and responsive on all our requests. We would like to rest more here.
Anna
2015-07-08T00:00:00Z
Juan's listing was perfect for us. We had the entire top floor to ourselves, which came with all basic needs. The location is right outside Valencia, near a lake which we watched the most beautiful sunset. It is also close to the beach and has a pool. Juan was a great host. He was very easy to communicate with. Any questions we had, he would answer right away and help in any way he could. We truly felt welcome and at home during our stay. And if you prefer somewhere closer to Valencia city center, he has other listings as well. Hope to come back soon! :)
Jeana
2014-07-17T00:00:00Z
We were staying at Juan's habitation for 37 days in June/July of 2013. We liked it very much!!! Habitation itself was in real life exactly like at the photo: stylish, clean and comfortable. It is situated in a very green and pleasant place (Albufera), where you can walk in the evenings or have a boat trip over the lake. It is not far from a beautiful town - Valencia, where it is not only picturesque (the old town and the park in the drawn river) but also very interesting (BioPartk, Oceanographik, Museum of Science and others). There is a very clean swimming pool near the house. It is very cool! My son learned to dive there!!! BUT all of these advantages are nothing to the members of Juan's family!!! They are so kind, so responsive!!! When the child got cold they suggested that they should go to Valencia to buy medicine for us. Thanks them a lot! Once Juan drived us to Valencia for excursion absolutely free. Juan's sister, Rosa with her friends took us for a boat trip over the Albufera Lake. My son liked the trip very much!!! Unfortunately, we didn't have enough time to go there for the second time, so... we'll have to do it next time)))) I shall never hesitate to recommend this habitation, Juan and his family to my friends or whoever!!! Thank you, Juan, Maria, Rosa, Marina (I remember about "pavo";)), Paz for our wonderful staying at your place!!! I hope it won't be the last!!!))) Kate, Artem and Zhenya
Artem
2013-08-08T00:00:00Z
Como escribió Leon, el "penthouse" nos gustó mucho por su privacidad, preciosas vistas, equipamiento estilo moderno y muy cómodo. Estuvimos mi mujer Natalia y yo varios días. Disfrutamos del mar, bosque, lago, y cuando no pudimos bañarnos en la playa aprovechamos la piscina rodeada de verdor. Los anfitriones fueron muy generosos y Maria nos preparó un pan recien hecho y algunas otros detalles. Juan fué muy atento y cordial. Deseamos que otros huespedes la pasen bien, como nosotros. Seguro que volveremos.
Ruben
2012-09-02T00:00:00Z
Дом замечательный!все необходимое есть,рядом супермаркет и автобусная остановка.До моря немного далеко идти,но пляжи просто волшебны.Хуан очень отзывчивый,дружелюбный и любезный хозяин. The house is wonderful! All you need is there, next to a supermarket and a bus stop. The sea is a bit far to go, but the beaches are simply magical. Juan is very helpful and friendly host.
Olga
2016-09-28T00:00:00Z
Tipe Kamar
Kamar pribadi
---
Tipe Properti
Rumah
---
Mengakomodasi
3
---
Kamar tidur
Valencia, Valencia 46012, Spanyol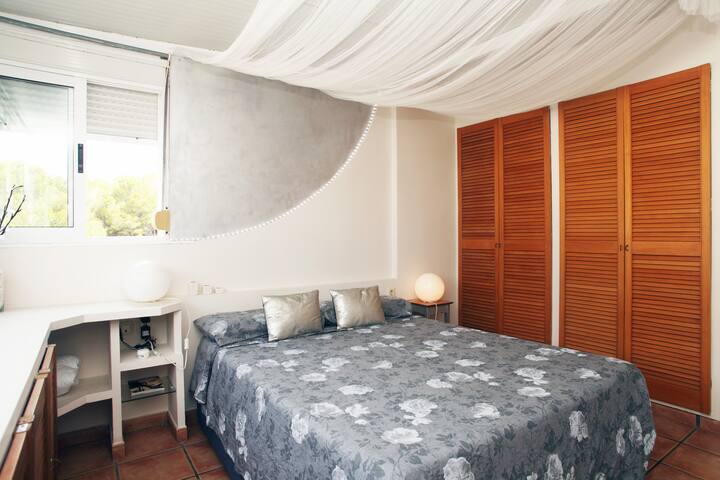 Masukkan tanggal untuk melihat harga lengkap. Biaya tambahan berlaku. Mungkin dikenakan pajak.