The studio is 45m and it has a bedroom with two beds (one double and one single), a wardrobe and a dresser, it also has an open space for a kitchen fully equipped with a fridge, cooker with gas and dining room and a single bed that you can use it as a sofa too, finally it has a bathroom.
The house is next to Krios beach and only a few steps from the beginning E4 path. The house is located in a large farm of 10 acres of olive trees, which enables visitors to discover the beauty of nature.
The house is unique because it is next to one of the most beautiful and clean beaches. At the same time the visitor has the opportunity to come close to nature with only a walk on the farm and see our chickens and our coats.
Very good, the location is excellent, We have great time there. Niki was very nice to us
Jan
2016-09-19T00:00:00Z
Five stars are not enough for Niki's hosting :( Her place is like paradise, slightly away from the town but if you like me enjoy being in the silence of nature, this is the spot that you have to choose in southern Crete. The apartment is inside a farm, big, with good furniture and inside a wonderful farm just on the beach. Niki went out of her way and picked me up with her car, gave me their amazing local products and always checked if everything was ok. If it was not already clear, really recommended!
Stefano
2016-07-19T00:00:00Z
De deux nuits nous sommes passé à 4 nuits tellement ce séjour a été magique ! La ferme dans laquelle se trouve le studio est typique de la Crète. Nous étions entourées de la nature et de la mer à perte de vue. 20m à faire pour aller se baigner à Krios Beach, une plage de galet magnifique et quasi déserte. Chaque matin les troupeaux de chèvres et moutons vous rappellent à quel point cet endroit est unique. Studio propre et bien équipé, petite terrasse extérieure pour profiter des étoiles. Niki et sa famille sont des gens fabuleux et incroyablement humains. Nous avons partager de très bon moments ! La mère de Niki est adorable et cuisine divinement bien leurs produits maison. Je recommande vivement ce petit paradis !
Charlotte
2016-07-28T00:00:00Z
Mein Freund und ich haben ein paar tolle Tage bei Niki verbracht! Das Apartment ist sehr groß und sauber und wirklich nahe am Strand gelegen. Nicht weit von der Unterkunft entfernt findet man einen traumhaften, sehr ruhigen Strand. Niki und ihre Familie waren die ganzen Tage über äußerst nett und hilfreich und haben uns immer wieder mit Köstlichkeiten verwöhnt. Ich kann einen Aufenthalt bei Niki wirklich nur empfehlen.
Madeleine
2016-09-04T00:00:00Z
Un de nos meilleurs séjours (30 sept-10 oct). Une mer chaude, le ciel toujours bleu et le soleil qui chauffe juste ce qu'il faut (30°c) en milieu de journée, des nuits douces et merveilleusement étoilées et à peine une dizaine de touristes par jour venus de Paléochora pour ce petit bout du monde où Niki et sa famille nous ont très bien accueillis. L'appartement permet d'être très indépendants et tranquilles. Nous n'avions que l'obligation de nous-même et quand l'envie nous prenait d'un petit resto, nous étions à Paléochora en 25'. Le retour à vélo, tranquilles, le nez dans le vent chaud et face au soleil couchant furent parmi nos meilleurs souvenirs. Aucun moustique, une autre belle plage derrière la montagne à 20' de marche mais quelques aboiements de chiens la nuit
Patrick
2016-10-10T00:00:00Z
Niki est la personne la plus charmante qu'on ai rencontré en Crète,ainsi que son père.Nous n'avions jamais senti être aussi bien accueillis.Ses conseils ont été précieux ,et avisés. Nous cherchions un endroit,simple,authentique, sauvage,calme,loin des foules,la mer a deux pas,nous avons eu cela,car son lieu est vraiment a 30 M de la mer!On était comme chez nous.On c'est senti accueilli avec beaucoup de chaleur!Connaitre Niki,c'est vivre une rencontre humaine qui fait beaucoup de bien!merci beaucoup a elle.on l'embrasse très fort,merci pour ses attentions si délicates,l'huile d'olive de son papa,le miel,de Niki,excellent!Nous n'avons pas pu prendre la bouteille d'huile que son père nous avait préparé,a cause de l'avion mais on reviendra pour ça,promis.grâce a eux,nous avons un souvenir de la Crète unique et fort.
Pierre et martine
2016-07-17T00:00:00Z
L'appartamento è dotato di ogni confort, molto pulito e di fronte alla splendida spiaggia di Krios, ad una decina di km dal paese di Paleochora. Ma la cosa piú spettacolare di tutta l'esperienza è stata l'accoglienza di Niki e della sua famiglia: ci siamo sentiti come a casa, coccolati e assistiti in ogni nostra esigenza! La mamma di Niki ci ha anche preparato dei deliziosi sformati di formaggio, oltre al fatto che in casa abbiamo trovato olio e miele prodotti da loro! Il giorno prima della nostra partenza, Niki ci ha regalato un pò dei loro prodotti e due saponette locali per portarci a casa un dolce ricordo di Creta! Altamente consigliato, anche perchè Niki è davvero simpatica!!! Torneremo sicuramente...
Cristina
2016-08-27T00:00:00Z
Great place to enjoy the beach or to hike to Elafonissi beach ! Niki and her family were very nice with us. As we hadn't a car, Niki come to take us with her car. It can be a good place to stay in family too.
Edouard
2016-08-21T00:00:00Z
Tipe Kamar
Seluruh rumah/apartemen
---
Tipe Properti
Rumah
---
Mengakomodasi
4
---
Kamar tidur
Chania, Crete, Yunani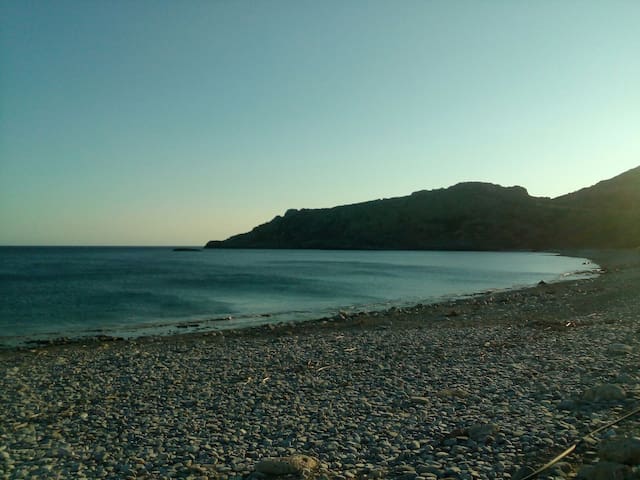 ΣΤΗΝ ΚΡΗΤΙΚΗ ΕΝΔΟΧΩΡΑ, 15 ΛΕΠΤΑ ΑΠΟ ΤΙΣ ΟΜΟΡΦΟΤΕΡΕΣ ΠΑΡΑΛΙΕΣ ΤΟΥ ΝΗΣΙΟΥ, ΣΑΣ ΠΕΡΙΜΕΝΕΙ ΕΝΑ ΠΑΛΙΟ ΤΟΥΡΚΙΚΟ ΚΟΝΑΚΙ, ΜΕΣΑ ΣΤΑ ΠΕΡΒΟΛΙΑ ΚΑΙ ΤΟΥΣ ΕΛΑΙΩΝΕΣ ΤΟΥ. ΕΝΑ ΜΕΡΟΣ ΠΟΥ ΘΑ ΣΑΣ ΤΑΞΙΔΕΨΕΙ ΠΙΣΩ ΣΤΟΝ ΧΡΟΝΟ ΚΑΙ ΘΑ ΣΑΣ ΦΕΡΕΙ ΣΕ ΕΠΑΦΗ ΜΕ ΤΗΝ ΚΡΗΤΙΚΗ ΦΥΣΗ.
Η ΑΓΡΟΙΚΙΑ ΕΧΕΙ ΠΕΝΤΕ ΥΠΝΟΔΩΜΑΤΙΑ (ΠΑΛΙΟΙ ΟΝΤΑΔΕΣ) ΔΥΟ ΚΟΥΖΙΝΕΣ ΚΑΙ ΤΡΙΑ ΜΠΑΝΙΑ. ΕΠΙΣΗΣ ΥΠΑΡΧΕΙ Η ΔΥΝΑΤΟΤΗΤΑ ΝΑ ΧΡΗΣΙΜΟΠΟΙΗΘΕΙ ΤΟ ΥΠΟΣΚΑΦΟ ΣΠΙΤΑΚΙ ΤΟΥ ΠΕΡΒΟΛΙΟΥ ΚΑΘΩΣ ΕΠΙΣΗΣ ΚΑΙ ΤΑ ΠΕΡΒΟΛΙΑ Ή ΤΑ ΔΕΝΤΡΟΣΠΙΤΑ ΜΕ ΣΚΗΝΕΣ. Η ΚΑΘΗΜΕΡΙΝΗ ΔΙΑΜΟΝΗ ΣΑΣ ΘΑ ΓΙΝΕΤΑΙ ΣΤΙΣ ΑΥΛΕΣ ΚΑΙ ΣΤΑ ΚΑΘΙΣΤΙΚΑ ΤΩΝ ΠΕΡΒΟΛΙΩΝ. Η ΑΙΣΘΗΣΗ ΣΑΣ ΘΑ ΕΙΝΑΙ ΟΤΙ ΖΕΙΤΕ ΜΕΣΑ ΣΤΗΝ ΦΥΣΗ. ΠΟΛΥ ΧΡΟΝΟ ΘΑ ΠΕΡΑΣΕΤΕ ΚΑΙ ΣΤΗΝ ΠΑΛΙΑ ΠΟΤΙΣΤΙΚΗ ΣΤΕΡΝΑ ΜΕ ΤΟ ΚΡΥΟ ΤΡΕΧΟΥΜΕΝΟ ΝΕΡΟ ΤΗΣ ΑΠΟ ΠΑΝΩ ΠΗΓΗΣ.
Η ΤΟΠΟΘΕΣΙΑ ΕΙΝΑΙ ΜΟΝΑΔΙΚΗ. Η ΑΓΡΟΙΚΙΑ ΒΡΙΣΚΕΤΑΙ ΣΤΗΝ ΠΛΑΓΙΑ ΕΝΟΣ ΒΟΥΝΟΥ ΜΕ ΝΟΤΙΟ ΠΡΟΣΑΝΑΤΟΛΙΣΜΟ ΚΑΙ ΜΕ ΘΕΑ ΣΤΗΝ ΚΟΙΛΑΔΑ. ΤΟ ΧΩΡΙΟ ΒΟΥΤΑΣ ΒΡΙΣΚΕΤΑΙ ΣΤΑ 700 ΜΕΤΡΑ ΑΠΟ ΤΗΝ ΑΓΡΟΙΚΙΑ (5 ΛΕΠΤΑ ΜΕ ΤΑ ΠΟΔΙΑ). ΕΚΕΙ ΘΑ ΒΡΕΙΤΕ ΝΤΟΠΙΑ ΠΑΡΑΔΟΣΙΑΚΑ ΠΡΟΙΟΝΤΑ. ΕΠΙΣΗΣ ΥΠΑΡΧΟΥΝ 2-3 ΤΑΒΕΡΝΕΣ ΓΙΑ ΦΑΓΗΤΟ ΜΕ ΝΤΟΠΙΑ ΚΟΥΖΙΝΑ ΟΙ ΟΠΟΙΕΣ ΛΕΙΤΟΥΡΓΟΥΝ ΚΑΙ ΩΣ ΚΑΦΕ. ΣΤΑ 15 ΛΕΠΤΑ ΑΠΟ ΤΗΝ ΑΓΡΟΙΚΙΑ ΒΡΙΣΚΕΤΑΙ Η ΠΑΛΑΙΟΧΩΡΑ ΕΝΑ ΠΟΛΥ ΤΟΥΡΙΣΤΙΚΟ ΜΕΡΟΣ ΟΠΟΥ ΘΑ ΒΡΕΙΤΕ ΟΤΙ ΧΡΕΙΑΖΕΣΤΕ. ΥΠΑΡΧΟΥΝ ΠΟΛΛΕΣ ΤΑΒΕΡΝΕΣ, ΚΑΦΕ, ΜΠΑΡ, ΣΙΝΕΜΑ, ΓΙΑ ΟΛΕΣ ΤΙΣ ΩΡΕΣ ΚΑΙ ΟΛΕΣ ΤΙΣ ΔΙΑΘΕΣΕΙΣ. ΟΣΟ ΓΙΑ ΘΑΛΛΑΣΑ, ΣΕ ΑΠΟΣΤΑΣΗ 15-30 ΛΕΠΤΩΝ ΣΑΣ ΠΕΡΙΜΕΝΟΥΝ ΟΙ ΟΜΟΡΦΟΤΕΡΕΣ ΠΑΡΑΛΙΕΣ ΤΙΣ ΝΟΤΙΑΣ ΚΡΗΤΗΣ. Η ΜΕΓΑΛΗ ΑΜΜΟΥΔΙΑ ΤΗΣ ΠΑΛΑΙΟΧΩΡΑΣ, ΤΟ ΓΙΑΝΥΣΚΑΡΙ, ΤΟ ΓΡΑΜΜΕΝΟ, Ο ΚΡΙΟΣ ΚΑΙ ΠΑΡΑ ΠΟΛΛΕΣ ΑΛΛΕΣ ΜΙΚΡΟΤΕΡΕΣ ΠΑΡΑΛΙΕΣ. ΣΕ ΑΠΟΣΤΑΣΗ 45-60 ΛΕΠΤΩΝ ΜΕΣΑ ΑΠΟ ΟΜΟΡΦΕΣ ΔΙΑΔΡΟΜΕΣ, ΒΡΙΣΚΟΝΤΑΙ Ο ΠΑΡΑΛΙΕΣ ΤΗΣ ΕΛΑΦΟΝΗΣΟΥ, ΤΟΥ ΚΕΔΡΟΔΑΣΟΥΣ ΚΑΙ ΤΗΣ ΣΟΥΓΙΑΣ. ΕΑΝ ΣΑΣ ΕΝΔΙΑΦΕΡΕΙ Η ΦΥΣΗ, ΜΠΟΡΕΙΤΑΙ ΝΑ ΠΕΡΠΑΤΗΣΕΤΕ ΤΟΣΟ ΣΤΗΝ ΠΕΡΙΟΧΗ ΤΗΣ ΑΓΡΟΙΚΙΑΣ (ΠΟΤΑΜΙ, ΠΗΓΗ, ΚΟΝΤΙΝΕΣ ΔΙΑΔΡΟΜΕΣ ΣΕ ΕΓΚΑΤΕΛΕΙΜΕΝΑ ΧΩΡΙΑ), ΟΣΟ ΚΑΙ ΣΤΗΝ ΕΥΡΥΤΕΡΗ ΠΕΡΙΟΧΗ (ΜΟΝΟΠΑΤΙ Ε4, ΦΑΡΑΓΓΙ ΑΝΥΔΡΩΝ). ΓΙΑ ΟΛΑ ΑΥΤΑ ΘΑ ΣΑΣ ΔΩΣΟΥΜΕ ΚΑΙ ΠΙΟ ΑΝΑΛΥΤΙΚΕΣ ΠΛΗΡΟΦΟΡΙΕΣ, ΤΟΣΟ ΕΜΕΙΣ ΟΣΟ ΚΑΙ Ο ΥΠΕΥΘΥΝΟΣ ΤΟΥ ΚΤΗΜΑΤΟΣ.
Nous sommes revenu depuis très peu de temps de notre voyage et nous sommes revenu enchantés. La maison est fabuleuse avec son bassin ,ou coule une source ,et ses cabanes dans les oliviers ,elle est même protégée du vent. elle est très confortable mais reste authentique avec tous ses recoins plus charmants les uns que les autres. on à adoré touts les meubles fabriqués à la main et tous les petits objets charmants disposés ici et là. tout ça nous à plongé dans une ambiance très poétique . pour tout ça encore un grand merci à Spyros et Miriam pour votre acceuil. Merci aussi à Aladin (le gardien qui habite dans un village à côté) et sa famille qui ont vraiment veillé à ce qu'on ne manque de rien et avec qui on à passé de très beaux moments. Le village de Voutas est génial et il est à côté (on y allait à (URL HIDDEN) y à une rue principale avec un restaurant à chaque bout (qui font une cuisine tout à fait fabuleuse et pour un prix très très raisonnable). il y à aussi une épicerie/bar bien achalandé qui à une très bonne connexion internet. les gens du village ont aussi été très accueillants. la région est fabuleuse , il y à tellement de choses à voir ! et en plus pas trop touristique. à très bientôt et encore merci pour ce séjour fabuleux! Manu,Gizoo et Louise We are back since very little of our trip and we are delighted income. The house is fabulous with its basin, sink or source, and huts in the trees, it is even protected from the wind. it is very comfortable but still authentic with its most charming corners as each other. we loved to touts furniture handcrafted and all the little charming objects placed here and there. all this to us immersed in a very poetic atmosphere. for all this still a big thank you to Spyros and Miriam for your Home. also thank you for Aladin (the caretaker who lives in a village nearby) and his family who really made sure that we lack nothing and with whom we spent in beautiful moments. Voutas village is awesome and it is next (we walked in) .there to a main street with a restaurant at each end (that make a kitchen just fabulous and for a very reasonable price). there also at a grocery store / bar well stocked with a good internet connection. the villagers were also very welcoming. the region is fabulous, there so much to see! and in addition not too touristy. see you soon and thank you again for this fabulous stay! Manu Gizoo and Louise
Gisoo Et Manu
2016-06-19T00:00:00Z
It was a fantastic house with all what we need! Thank you Myriam and Spiros for all! You have a little paradise and we would like to return one day ;) Thanks to Aladin and Suzanna, the housekeepers near the house, very kind people, and really helping! We are very happy to spend time in Voutas and in the magic house ;) Vénussia & Basile (and co!)
Vénus
2016-07-23T00:00:00Z
Tipe Kamar
Seluruh rumah/apartemen
---
Tipe Properti
Rumah
---
Mengakomodasi
16
---
Kamar tidur
Chania, Yunani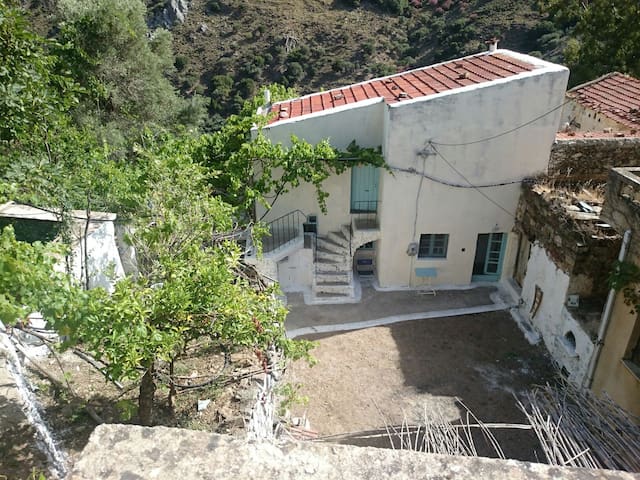 Our recently renovated old house in a "secret" village offers 100% relaxation. It is ideal for nature lovers and since no-one actually lives there, you can enjoy privacy,nature and find yourself on the beautiful beaches of south Crete in just 15-20'.
Faleriana is an old village, close to Paleohora (about 15Km away), with no permanent residents. Therefore, peace of mind is guaranteed there. The house is recently renovated, with all the amenities and a double bed on the loft. It is decorated with thing from grandma's old house.
The place there is ideal for trekking lovers, since there are many nice trails where you will see plants of many kinds as well as many herbs that they grow in a totally natural way. You can also enjoy many kinds of fruits, oranges, apples, pears, and other seasonal fruits and of course many many olive trees! There is a spring of natural water there and chestnuts around it. In Faleriana, you can fully relax by listening only to the sounds of nature.
We had a spectacular and restorative time at Oddysseus' mountain sanctuary. The cabin is surprisingly modern with all the amenities you could need. It gets hot at night (in the summer months I assume) and the fan is a great addition for that reason. The views are amazing and you are very much away from it all, the location feels like miles and miles from anywhere - but Paleohora is not too far away (40 mins approx) and there are many great tavernas there plus a good supermarket so you can head down there if you need supplies or for a swim. A beautiful outdoor courtyard means you can eat outside looking at the mountains and there are goats ambling not far away. Odysseus was an excellent host providing us with Cretan treats upon arrival including fresh eggs from his hens, olive oil from his olives and home grown grapes. He also gave us some raki later on. He is very helpful - thank you Odysseus! Sarah & Adrian
Sarah
2016-09-11T00:00:00Z
Odysseas was very friendly and welcoming to us from the moment we arrived. He met us at the bottom of the lane and gave us gifts of grapes, homemade olive oil and raki when we arrived at the house. His cabin is in a very safe, rural and peaceful location and perfect for anyone who wants to get away and be surrounded by nature. The pictures don't do justice! We had a wonderful 8 day stay there.
Valeriy
2016-10-16T00:00:00Z
Nous avons été très bien accueillis par Odysseas qui est très sympathique, généreux et prévenant, l'endroit est vraiment merveilleux pour ceux qui aime calme et nature. Nous sommes vraiment très content de notre séjour. Il vaut mieux avoir un véhicule tout chemin pour louer cette petite maison entièrement refaite à neuf.
denis
2014-11-05T00:00:00Z
Als je op zoek bent naar een stukje authentiek Kreta, een serene rust en weg wilt van alle drukte is dit de ideale gelegenheid. We hebben genoten van het uitzicht en de omgeving, Odesseus is een zeer vriendelijke en behulpzame man, de streek is erg mooi met heel veel natuur. In september zijn de druiven rijp, niets is zo fijn als je huisje uitlopen en deze direct van de tros te plukken, verser is niet mogelijk! In het dorpje Voutas zit een klein (net geopend) restaurantje (Anna's House) waar Anna een eenvoudige maar heerlijke en betaalbare maaltijd bereid wat zeker ook de moeite waard is. Het is zeer te adviseren om een auto te huren om de omgeving te verkennen, Paleochora is een 45 minuten rijden en een gezellig dorpje om de boodschappen te halen. Een rit naar Elafonissi met het wereldberoemde strand is bijna een must, maar neem de tijd voor de rit en geniet van de omgeving. (en als je een parasol wilt, zorg dat je op tijd bent!) Wij hebben in 1 week meer dan 500 km gereden en vonden ons bezoek aan Miria, een klein dorpje met huisjes gebouwd volgens de oude Kretaanse bouwwijze, zeker een bezoek waard. Al met al is het een perfecte uitvalsbasis om west Kreta te ontdekken.
Marc
2015-09-14T00:00:00Z
Ce petit passage sur les terres d'Odysseas fut un vrai bonheur. Simplicité, authenticité, belle hospitalité et grande discrétion. Une petite immersion dans l'univers agricole et montagneux d'une Crète essentielle, hors des sentiers courus et très paisible. Merci Odysseas.
sophie
2015-10-18T00:00:00Z
Fantastic! Ideal place to rest and discover the South West of Creta. Quiet, beautiful, and a welcoming host with a big heart. The place is fully equipped. Perfect for a couple. And a nice view on the mountains.
clément
2016-07-22T00:00:00Z
The house in that small village is beautiful and awesome at the same time. We had the calm and peace we wanted! People around are really kind and you have to do a little hiking in the mountains to see this great view. It has everyting there you need to spend a nice RELAXING time. Just rent a 4x4 for the 2 km in the dirt/rocks road, so you don't have to walk 20 minutes to the house. Otherwise, the walk in that dirt/rocks road is totally beautiful as well, it gives time to enjoy the place. Thanks again, we loved it!!!
Marc-Antoine
2014-06-25T00:00:00Z
A very special place in the mountains, 15 km from Paleochora. Quietness, olive trees, goats, sheep, birds. A good place for loners. Very simple, basic living. A nice view. Odysseas welcomes you friendly. A car is needed. We had only a Fiat Panda, but a 4x4 is preferred. We also stayed at Odysseas' house at Paleochora. That's the opposite: also quiet, but more luxurious and spacious, with a nice german shepherd and chickens as company. It's build on a hill and you can see the Lybian sea. Here you find a very good bed, shower and kitchen. We were very happy to stay at both places!
David
2015-05-19T00:00:00Z
Tipe Kamar
Seluruh rumah/apartemen
---
Tipe Properti
Rumah
---
Mengakomodasi
2
---
Kamar tidur
Palaiochora, Crete, Yunani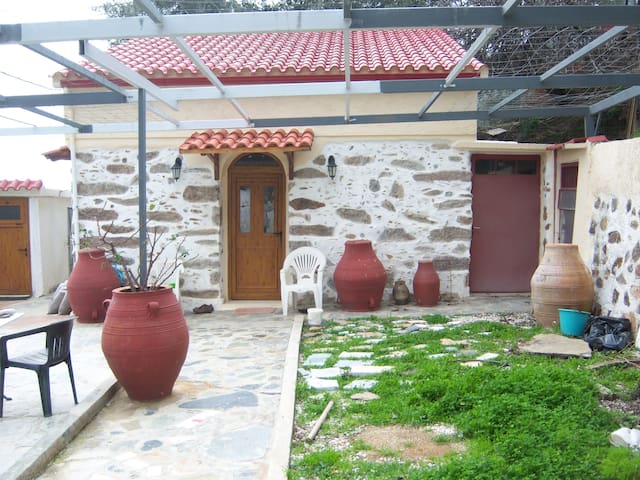 A large family home, fully equipped with gorgeous view of the sea and minutes away from beaches of Paliochora, able to accommodate 6 people in beds and 2 extra on couches. Fully airconditioned with fast wi-fi, fully equipped kitchen, large gardens and open spaces, barbecue facilities and 2 bathrooms
Our large home is perfect for families or large groups of friends who want to spend their summer vacations in beautiful Palaiochora. This is a 200 sq. m. 2storey house with a large private garden plot, beautiful views, verandas and barbecue facilities located at a few minutes of driving distance to Paliochora village and the numerous famous beaches of the region. Our home is fully equipped offering all needed modern amenities for spending some days of quality vacations under the hot Cretan summer sun and the beautiful beaches of South of Crete. • Kitchen A fully equipped kitchen with a fridge/freezer, cooker/oven, dishwasher for preparing your own meals. Full sets of pans and pots, glasses, plates, cutlery and various essentials. • Bedrooms There are four bedrooms in the house. On the ground floor, there is a bedroom with a double bed, equipped with its own closet and window views. On the upper floor, three more bedrooms can be found. A large bedroom with a single bed, a master large bedroom with a king sized bed and private veranda with beautiful views to Grammeno beach and another bedroom with a single bed and a sofa bed that can sleep one or two more people. • Bathrooms There are two Bathrooms in the house. The ground floor has a large bathroom/WC and upper floor a smaller shower/WC space. • Outdoors Large open lawn paved spaces and fields of olive groves surround the property. Barbecue facilities are present for you to use. List of amenities and equipment present in the house • Aircondition in all rooms • Wifi free and fast • TV, Sattelite channels • Fully equipped kitchen: fridge/freezer, pans/pots, glasses, plates etc • Kettle, Espresso coffee maker, Toaster, Dishwasher, Outdoor barbecue facilities • Linens and Towels provided, Washing Machine • Iron & Hair Dryer
Paleochora is a big village in south-west Crete. Located on a small peninsula it has been a popular place for many years because of its good beaches and pleasant surroundings.
Nikos war sehr freundlich und hilfsbereit, sogar alle extrawünsche wurden umgehend (!) aufgegriffen und erfüllt. Wir hatten eine herrliche Zeit in einem freundlichen haus mit unbezahlberer Aussicht. Vielen dank.
Alexandra
2016-10-21T00:00:00Z
We stayed here in September for a week and had such an enjoyable time. We were four females age 80, 53, and 2 x 19 year olds. The home is very spacious (which is what I was looking for given the age range), exceptionally clean, bright, airy, peaceful and safe. The photos are a true reflection of the property. There are beautiful unspoilt beaches within walking distance and several amazing Tavernas with delicious food. We hired a car which I believe is a good idea as it makes exploring and trips to Paleochora (about 7 minutes easy drive) much easier. For us we loved the fact of being slightly out of a town and in a small community where you could take a walk round small agricultural roads, experience a different side of life and become a local. Communication with Nikos was very easy and Antonis the local man was incredibly helpful. Our stay was thoroughly enjoyable for all, young and old, and highly recommended and I hope to return in the not too distant future as I really love this area of Crete and the Cretan food.
Louise
2016-09-19T00:00:00Z
Tipe Kamar
Seluruh rumah/apartemen
---
Tipe Properti
Rumah
---
Mengakomodasi
8
---
Kamar tidur
Paleochora, Yunani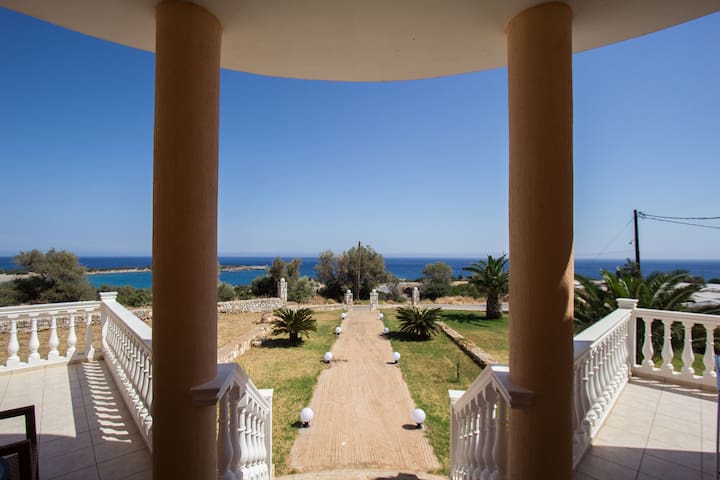 The house is close to the wonderful sea, with spectacular views, quietness, green. This is a house which has infinite views of the Libyan Sea, very close to beautiful beaches in Elafonisos, in the village of Paleochora. It is a stone house, 200 years of the Turkish occupation, it was completely renovated in 1985 and until today the house constantly updated. It is 160 square meters, with 5 bedrooms, 1 large bathroom, 2 kitchens, with upper floor and basement, fireplace, stove, parking.
Tipe Kamar
Seluruh rumah/apartemen
---
Tipe Properti
Rumah
---
Mengakomodasi
6
---
Kamar tidur
Σκλαβοπούλα, Νομός Χανίων, Yunani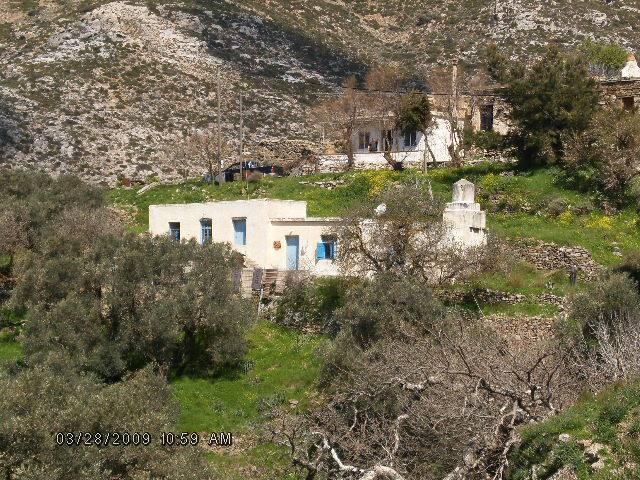 Small house located just 5 klm from the famous beach of elafonisi. With nice views over the village of chrysoskalitissa and the amazing sunset at the Libyan sea.
Nikos was absolutely fantastic. My friend and I had been driving around the island for five days and were looking forward to some restful time on the beach and great food. Nikos' flat was spotless, and when we mentioned a little technical issue, he fixed it within the hour. We ate every meal at his restaurant (make sure to visit!) and followed his instructions to a more secluded beach... It was paradise! Five stars experience Nikos, many thanks!
Susana
2016-07-10T00:00:00Z
Tipe Kamar
Seluruh rumah/apartemen
---
Tipe Properti
Rumah
---
Mengakomodasi
3
---
Kamar tidur
Moni Chrisoskalitissis, Yunani