casaBARTHEL is a perfect place for a vacation and an artist residency, immersed in the Tuscan landscape only 15' from the Duomo and 30' from Siena. Come and live with us; enjoy our olive trees, the kitchen garden and our family life style away from the working rhythm. By providing wifi only in the communal courtyard we suggest our guests to utilize internet only when is really needed. Taking a break from been connected with elsewhere and enjoy the 'here and now' could be our best present to you!
casaBARTHEL is a perfect place for a vacation and an artist residency, immersed in the Tuscan landscape only twenty minutes' from the Duomo and one hour from Siena. Come and live with us: enjoy our olive trees, the kitchen garden, the tennis court and the small swimming pool. The TREEhouse is a romantic room immersed in the pine trees with fire place for the winter and AC for the summer. It offers a bedroom with a queen size bed, a small kitchenette with stove and fridge; a bathroom with shower, and a private outdoor terrace. And a fantastic view towards the Tuscan landscape! And if you want to see and know more about our passion for the interior design, the arts and crafts, and antiques you should come visit our design and make shop 'Riccardo Barthel' in Via dei Serragli n. 234 r, in the Santo Spirito district of Florence! At the beginning of the 1980 our family moved into the 'Poggio Secco' (Dry Hill) farmhouse, just outside Florence city center, in front of the Certosa dell'Ema. The compound had a big stone villa surrounded by olive trees, a compost hub, a pigeon house, a barn, a tall cypress tree and an old German shepherd dog. Everything in the farm was placed around a large terracotta courtyard, a sort of public square. Thirty years later the 'Dry Hill' is still our home and a small community. We all live here sharing the same love for the countryside, its olive oil, good food and the family lifestyle! The rent includes the use of the communal swimming pool and the tennis court; the dining porch with the BBQ and the wooden oven; dryer and washer; table tennis and football table, plus a car parking inside the property. We are glad to interact with our guests; you will be part of our large family! Galluzzo is a nice small village with everything you need:crocery stores and a nice farmers market open every day. The certosa monastery is a must. Le Corbusier was there to learn! There are public busses in Galluzzo to go to the city center and to go to Siena. But to get to our house and to enjoy the surrounding you should come by car!
Galluzzo is a nice small village with everything you need:crocery stores and a nice farmers market open every day. The certosa monastery is a must. Le Corbusier was there to learn!
Elena is a treasure. Her family property is even better. My wife and I had traveled 20 hours from Idaho and Elena made sure everything was perfect and ready when we arrived. She directed us to a fantastic meal less than 1 mile away. We enjoyed a bottle of wine in the Treehouse while enjoying a Tuscan sunset. Highly recommend to anyone looking for ultimate relaxation and professional service.
josh
2015-09-02T00:00:00Z
Unfortunately, there were some last minute changes which hindered me from going to Italy at the beginning of December - however, I asked my friends who could experience Elena's amazing treehouse to write a review: "Thank you so much for hosting us. It really was a pleasure for everyone to staying with you. Elena was a great host. Although we arrived late in the evening, Elena was super welcoming and showed us the place. It is huge. It includes many many olive trees, a tennis court, a swimming pool and everyone you meet is welcoming you by heart. The Treehouse is just as it is shown on the pictures. It really is a unique place to stay. Everything we needed was prepared for us: Fresh Water and Coffee underneath the Pergola, tennis equipment, essentials and all kitchen (URL HIDDEN) these two days we were invited to join the family life on Poggio Secco. Thank you, Elena and also a big THANKS to your mum Daniela, for this amazing experience." :-) Elena, thank you very much for being such an amazing host!
Heike
2014-12-10T00:00:00Z
soggiornare in una casa sull'albero???semplicemente fantastico...romantico...rilassante! Daniela ed Elena accoglienti sorridenti..impeccabili. Un posto veramente incantevole!
aurora
2015-06-08T00:00:00Z
第一次住树屋,非常棒的体验!不租车打车前往的费用单程是30欧。返程时因为不好打车工作人员将我们送到了Galluzzo(车程8分钟),那里有bus可以回市区(bus20分钟)不足之处:树屋区域没有Wi-Fi,在树屋十米外的区域才有。 Great stay!Great design and nice surrounding. Teressa is very helpful. we took taxi here from the town ($30). The only inconvenience is the tree house doesnt have Wi-Fi,you can only access 10 meters away.
Yanan
2015-10-14T00:00:00Z
Ricorda un posto fiabesco..
michele
2014-10-13T00:00:00Z
We had a lovely time at Casa Barthel. The estate is stunning and the hosts are friendly and helpful. Recommended.
Taavi
2015-08-07T00:00:00Z
This place was amazing. One of the most beautiful spots I've ever been. Highly recommended!
Spencer
2015-10-17T00:00:00Z
Una delizia per lo spirito e un incanto, un vero ricordo da collezione
Still
2016-09-02T00:00:00Z
Tipe Kamar
Seluruh rumah/apartemen
---
Tipe Properti
Lainnya
---
Mengakomodasi
2
---
Kamar tidur
Florence, Tuscany, Italia
Tipica casa fiorentina su 2 piani, ristrutturata mantenendo tutti i canoni del suo periodo storico, non adatta a chi desidera una casa moderna con ascensore.Nel prezzo è inclusa la tassa di soggiorno
La casa è disposta su 2 piani, la parte inferiore (del 400)camera da letto corridoio bagno, 5 scalini portano alla parte superiore grande stanza con camino tipico toscano con piano cottura soffitto a cassettone pavimento in cotto danno una calda sensazione di accoglienza.Nella ristrutturazione è stato conservato tutto cio che appartiene alla storia della casa, quindi non adatta a chi ama gli ambienti moderni anche per l'arredamento i mobili sono qusi tutti 800 primi 900 autentici, spero possano piacere .
A dieci metri dalle Cappelle medicee, a cinquanta metri da Piazza Duomo, nel cuore di Firenze, vicino a tutto quello che vi può offrire la nostra città. Siamo nel quartiere di San Lorenzo, dove si trova il più grande mercato ortofrutticolo e di prodotti tipici toscani di Firenze. Garage a pagamento a dieci metri dall'appartamento.
The House is great en clean. The living environment is very central and secure. Florence is a great city. Everything within walking distance. Teresa is very nice. There was a welcome tray waiting for us. Very very sweet of Teresa. My experience is that Teresa answers quick to questions (through the mail).
Dusty
2016-02-01T00:00:00Z
Very good location, near train station n have few restaurants nearby. The house is lovely n the host is very friendly
Akiane
2015-12-04T00:00:00Z
L'accueil était plus que bien, plateau de fruits, muffins et bouteille de vin. L'appartement est vieillot mais très sympa. Le charme de la vieille Italie. Tout le nécessaire pour un beau séjour à Florence. le quartier est à proximité de tout.
Hélène
2015-09-13T00:00:00Z
Sólo podemos dar las gracias a Teresa por tu amabilidad y el cálido recibimiento que tuvimos, fue el inicio de unos días muy felices en esta preciosa ciudad. El apartamento de Teresa es precioso, aún más bonito y amplio de lo que se ve en las fotos, estuvimos muy cómodos, como en casa. Todo súper limpio. Teresa tuvo el detalle de comprarles unos súper huevos de Pascua a nuestros hijos y además nos dejo zumo, vino, magdalenas, nueces, fruta, caramelo tos y bombones, ¿qué más se puede pedir? El apartamento está en una ubicación inmejorable, a un paso de la estación de tren y de autobús y de todo el centro histórico, además en la misma calle hay un completisimo supermercado que viene genial para las compras que surjan. Resumiendo: un 10 para Teresa y otro 10 para su apartamento. Esperamos regresar a Florencia y poder volver a este apartamento.
Raquel
2016-03-25T00:00:00Z
Teresa was a great host! The house was very clean and she also left some goodies on the kitchen table for us to enjoy :) Ideal location for trains and sights, Irish Pub across the road also provided a good service if your looking for somewhere to eat.
Jade
2015-10-09T00:00:00Z
위치도 좋고 깨끗한 아기자기한 예쁜 집입니다. 친절하시고 주스 과일 아이가 좋아하는 킨더 초콜렛도 준비해주시는 자상함까지.. 감사인사를 직접 드리지 못해 아쉬웠어요.. 기차역과 두오모 모두 가까운 위치에요~
이예림
2015-10-24T00:00:00Z
Teresa was incredibly nice and she had wine, cheese, coffee and other Italian goodies waiting for us on arrival. The apartment was pretty much exactly as described aside from the AC. It got very hot on the summer nights. However, one night we locked our one key inside the apartment, and that is when we had an issue. Very easy to do as the door locks automatically and she only gave us the one. She comes to let us back in and is as always incredibly nice to us. Her husband/boyfriend came with her and was very drunk. She opened the door and he barged in and stated looking around the place. He was yelling at us in Italian because we were four boys living in a small apartment. He left yelling then came back later banging on the door. He continued to yell at us in Italian with a look in his eye like he wanted to fight us. He then gave us the throat slit gesture with his hands, which we interpreted as "I'm going to kill you." Later that night we found him at the pub across the way and had a nice gentleman interpret for us. He wrongfully assumed we were getting drunk and using drugs in the apartment (we absolutely were not, we did leave clothes around because we are guys). We straightened everything out but without the interpreter we all would have been left terrified by this guy not knowing if he was going to make good on his throat slit gesture.
Dave
2014-06-11T00:00:00Z
Florencia es bella, pero es mucho más bella gracias a Teresa. Un ser hermoso que nos recibió muy acogedoramente. El departamento supero nuestras espectativas. Y Teresa es un sol humano. Si vuelvo a Firenze iré a su casa y la pienso recomendar con todos los que viajen allí. Feliz de conocerla.
Roxana
2014-09-06T00:00:00Z
Tipe Kamar
Seluruh rumah/apartemen
---
Tipe Properti
Apartemen
---
Mengakomodasi
4
---
Kamar tidur
Florence, Tuscany, Italia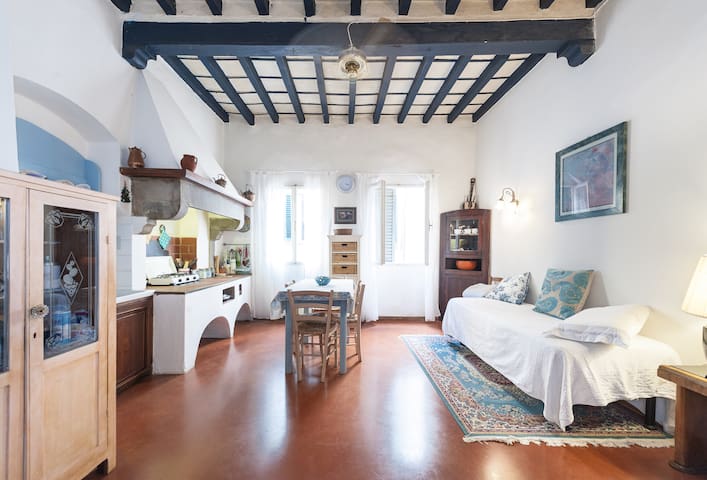 The apartment is part of a Monastery dated back XII century and it's under the Fine Art of Florence. The room is located on the first floor and it's composed by a gorgeous bedroom with original beamed ceiling and bathroom with walk-in shower.
The apt is part of a Monastery dated XII century and it still preserve the original structure in fact we still are under the Fine Art of Florence. You could still see original column as well portal and capitals. We offer the entire first floor, divided by stairs and a beautiful sliding barn door, it is composed by a kingsize bed with private bath and walking shower and with an amazing beamed ceiling (where you could still see a car paw). The bedroom has 2 windows and the bathroom has a window too. We provide a dock station in the room and DVDs player with a wide selection of movies.
The area is the perfect location if you wish to be surronded by gardens, in fact, Settignano and the hill of Fiesole are just next to us. I'm used to go work in the city center by bike and it's about 15 - 20 minutes of ride from the main attraction: the Duomo, the Uffizi Gallery and the Accademia Gallery.
We had a delighted 2-night stay at Maria and Alessio's family home. Felt very homey, enjoyed the garden and the cleanliness of the place. Maria is a great, easy going and experienced host. Only takes about 20min by bus (1.2e/ticket) to reach Piazza San Marco and it's nice to get out of the busy centre in the evening. One advice but just the same as everywhere in Tuscany, beware of mosquitos :) Grazie Maria!!
Karim
2016-06-23T00:00:00Z
We stayed here for 3 nights over Christmas. What a wonderful family. Fell in love with them and their lovely cat. Nice location with easy bus transport into the old city in less than 20 minutes. Great Pizza place just a short walk away. Ask Maria Rita for directions!
Laurie
2014-12-24T00:00:00Z
I really enjoyed my stay at Maria Rita's. Her home is beautiful, and her family made me feel like I was at home. They were kind enough to let me join them for dinner. I only wish I could have spoken better Italian so I could have talked to her husband more! Great place to stay.
Cathi
2014-09-26T00:00:00Z
Maria's home is a stunning ex monastery, it is so beautifully finished like a work of art! Maria and her family were so kind and welcoming. We had a wonderful stay in their home and would recommend it to anyone who want to visit Florence. We loved Maria's giant cat, and wished we could have taken him on the rest of our trip.
Beth
2014-05-28T00:00:00Z
Beautiful and quiet. Maria Rita's home is impeccably designed and organized. In a suburb of Florence's core, the house is a short 5 min walk from many bus stops. A simple 10-15 min bus ride brings you directly into the downtown. The AirBnB suite is a bedroom and bathroom located upstairs in this young family's home, making it quite safe feeling. It is worth noting that the family is quite kind and open, though their schedule does restrict use to common spaces such as the kitchen and living room. Wifi connection is weak in the upper suite. So cooking and wifi access are restricted to daytime hours when the family is at work and school. Overall, a lovely, quiet place to stay while in Florence.
Monica
2014-07-24T00:00:00Z
Maria's family was lovely and we felt welcome as soon as we arrived at first day. The interior of house is bright and lovely as well. Despite that the place is a bit away from city center, but with bus connection it is very easy to reach. Highly recommend.
Chungyen
2015-12-28T00:00:00Z
Il nostro soggiorno da Maria Rita & famiglia non poteva essere più piacevole!la casa è stupenda e in una zona molto tranquilla da dove comunque è molto semplice raggiungere il centro della città. La stanza con bagno privato è eccezionale sotto tutti i punti di vista, accogliente e funzionale. Maria Rita e la sua simpatica famiglia sono ospiti impeccabili, disponibilissimi e squisiti. Ci siamo sentiti davvero come a casa nostra, un peccato rimanerci per sole due notti..
Alessandra
2016-03-23T00:00:00Z
My stay in Florence was fantastic. Maria Rita's place is beautiful and as described. My wife and I were warmly welcomed on the first day we arrived and was shown around the place. The next following days, it seemed we own the place and felt comfortable. I would highly recommend this Maria Rita's place if anyone looking for a place to stay in Florence.
Joseph
2015-07-18T00:00:00Z
Tipe Kamar
Kamar pribadi
---
Tipe Properti
Vila
---
Mengakomodasi
2
---
Kamar tidur
Florence, Tuscany, Italia
Beautiful apartment for 4 people, with all the ceilings covered by original frescos in the centre of Florence, in a calm street. The apartment has two bedrooms; one with a double bed and one with a very comfortable double sofa bed. The apartment is located close to the main attractions: Duomo, Palazzo Vecchio, Galleria Accademia etc. It has also a very nice private little garden.
Tuscanyflorence is located right in the historical centre of Florence, just 900 meters from the Duomo. You will be hosted in a very charming apartment, with the whole ceiling covered by original frescos, located in a prestigious house dating back to 1500! You will find a warm welcome at your arrival and we will try to satisfy all your needs during your stay. The apartment has two bedrooms and two bathrooms, a kitchen and a fantastic dining hall. Wi-Fi free, sat tv and hairdryer are provided. Our apartment has also a little courtyard facing the Gardens of La Gherardesca. This provides a calm and quiet atmosphere and it is really nice to have such an option being in the centre of the city!
The central location and charming accomodation of Tuscanyflorence will make your holiday in Florence unforgettable. Just next door is the prestigious Four Seasons Hotel where you will find one of the most famous Restaurants in Italy (one Michelin star) and you could also have access to their Spa and swimming pool. Many other trattorias or little restaurants are walking distance from our apartment and we'll give you all the tips. A few meters from TuscanyFlorence you will find one of the most beautiful squares in Florence: Piazza SS Annunziata and in front of us you will find the most ancient botanic garden in the world!
Lovely well equipped apartment in a quiet neighborhood. Modern bathroom. Beautiful frescos. Highly recommend this apartment for a comfortable stay in Florence.
Megan
2015-04-25T00:00:00Z
The apartment is located about a 10 minute or less walk from the Duomo and the cathedral's dome can be seen from the sidewalk in front of the door. The apartment itself is beautiful, with exquisite ceiling frescos throughout. We particularly appreciated the garden courtyard, where we enjoyed breakfasts. The flat was very spacious and with two bathrooms, felt almost like we were staying at a private home. Cristina left us a bottle of wine, which was a lovely touch and the apartment had great wi-fi in the front half, which I utilized frequently for uploading photos. It was also nice having the washing machine and a drying rack to hang our clothes on. I felt like a princess waking up in the canopy bed and looking up at the beautiful ceilings. Cristina's friendly property manager was there waiting when we arrived and spent ample time with us giving us recommendations and left us his cell phone number should we need anything at any time. Cristina was excellent at communication and checked in with us during our stay (since she could not be there to personally greet us). Her husband stopped by on check out day to replenish supplies and he was very friendly and gracious, as well. I would not hesitate to return any time and I recommend it to anyone looking for a good value and a beautiful apartment in Florence!!!
Sasha
2016-09-21T00:00:00Z
Wonderful location. We could walk to the most important sites. Location was very safe next to the University of Florence. Cafes were conveniently located, grocery store down the street. Would definitely stay there again. Giuseppe and Cristina were extremely responsive and did everything as promised.
Joanne
2016-09-29T00:00:00Z
This was our first AirBnB stay, and we absolutely loved it. Cristina met us at the apartment and was very helpful in providing information about the area, and answering any questions we had. And she left us with a bottle of wine and other goodies to start off our week. The apartment is outstanding. It is very well decorated, and the frescos are fantastic. We walked to the apartment from the train station on our arrival to Florence, left the apartment by foot each morning to explore the city, and returned to the train station on foot when we left the city. We never once hopped in a taxi, as the main part of Florence is small enough and the apartment close enough to it all. But we like to walk. We plan on returning to stay at this apartment if possible, as well as checking out Cristina's other apartment in the country.
Michael
2015-04-03T00:00:00Z
We had a great time in Florence and though Christina couldn't welcome us on the first day she made sure we were satisfied. Great location (next to the four seaons), wonderful ceilings and clean. Highly recommended. Thanks!
André
2015-04-13T00:00:00Z
Cristina è gentile e cordiale. L'appartamento è in un'ottima posizione, a due passi dal Duomo; inoltre è piacevole e ben tenuto. Abbiamo trascorso un bellissimo fine settimana. Torneremmo molto volentieri!
Marco Maria
2013-07-09T00:00:00Z
This centrally located classically Florentine apartment is frankly everything you could imagine! When we arrived we had the rush of "Oh my God - this is so beautiful" - and "look at the painted ceilings!!" Yes the ceilings are covered in detailed hand painted scenes - a kind of Trompe l'oeil overhead. The walls have a variety of sketches and drawings and there's even a shelf of small primitive sculptures if you need reminding, that you're in the city of Michelangelo and Botticelli. The space is large with sofas, natural light, a long tiled hallway and two bathrooms with a small but cozy garden nook at the back of the apartment for a morning tea, coffee and toast with the scent of night blooming jasmine in the air. This - along with a well-equipped kitchen, five star hotel towels, comfortable queen bed and a location so ideal the Four Season's have their villa hotel a half block away - which makes it easier to find cabs -- promises you will love your stay and feel like you're coming home each night. Plus the the owner Cristina and the apartment manager Giuseppe was a great help and always responsive to our calls. We had a wonderful time!! You will too!!!
Sue
2015-05-31T00:00:00Z
Giorgia and Cristina were very welcoming and accommodating to us when we visited their place in Florence. The luxurious and artful apartment comes fully stocked with all the amenities including ironing board, a kitchen and stove, fast wifi internet and more. The apartment stayed nice and cool even on hot days, and we felt very secure on a peaceful street. Giorgia was so kind in helping us get set up, showing us how to use everything and even taught us how to make Italian-style stovetop coffee! We were presented a welcome paper with recommended restaurants, everyone's contact information, and suggested places to go. Of all the places we visited in Europe, this one was the most welcoming and home-like. We were so glad we selected this place and would definitely return here when we come back to Florence! Thank you Giorgia and Cristina!
Ankur
2013-09-27T00:00:00Z
Tipe Kamar
Seluruh rumah/apartemen
---
Tipe Properti
Apartemen
---
Mengakomodasi
4
---
Kamar tidur
Florence, Tuscany, Italia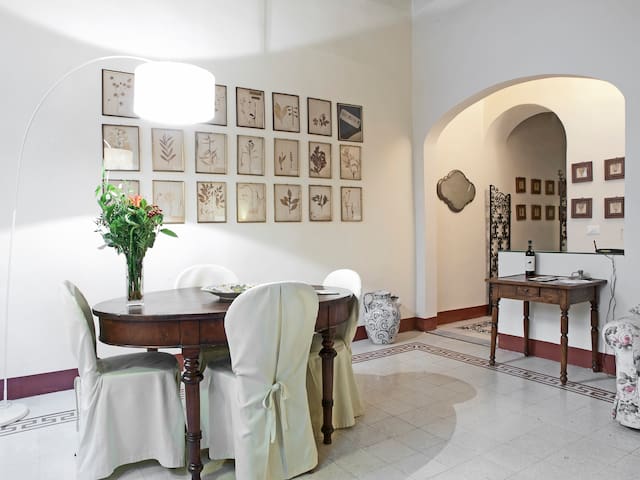 Our home has a perfect Tuscan feeling with its exposed brickwork and glass door facing onto a beautiful garden. Located in the heart of Florence but in a very quiet area, a few steps from the Duomo, train station, Fortezza da Basso & the main bus
Our home has a very Tuscan feeling! We are in the central San Lorenzo district, the most historical in Florence, popular for the Leather market and the Central market where you can buy and taste all of our best products. A very typical area! If you are here for vacation or business, our location is the ideal solution for sightseeing or partecipate in trade exhibitions and events. Our house has been recently renovated. It is very quiet thanks to the historic building dating back to 1300, and is comprised of : -a lovely and very quite double room facing on the garden, -a nice bathroom with shower, -a big open living space with kitchen and dining area (sofa bed for 2 people) -a charming private garden with table and umbrella where in the summer it is fantastic to have breakfast, lunch or a relaxing aperitif at the sunset.
Chiaras home was absolutely adorable, we loved staying there! Extremely welcoming and tidy. She was beyond helpful with recommendations on where to go and what to see. Highly recommended staying at her flat!
Michaela
2015-10-15T00:00:00Z
Chiara was superbly attentive and helpful. When a lightbulb burnt out, she zipped home immediately to replace it. The flat is lovely and how fun it was to sip a coffee in the garden.
Mateo
2015-08-05T00:00:00Z
Alles bestens, die Unterkunft war genauso schön wie auf den Fotos und die Vermieterin sehr nett. Die Wohnung ist ideal gelegen und der kleine Garten toll. Nur zu empfehlen!
Babette
2016-09-12T00:00:00Z
Good communication prior to arrival, and met by our host who showed us around. Food provisions thoughtfully set out made us feel welcome. Great location in easy walking distance from main railway station, but also close to all the things you want to see in Florence. A high quality apartment, and we would definitely stay again.
Mark
2015-05-03T00:00:00Z
Appartamento accogliente a due passi da tutto. Chira disponibilissima e simpaticissima... Ci siamo sentiti a casa..ottimo
Marina
2015-01-05T00:00:00Z
We had a great time, Chiara was very accommodating, especially since we had a baby. Location was perfect for us and the trattoria nearby was delicious! Will book again soon
Nicolas
2017-01-22T00:00:00Z
This place is a gem and Chiara couldn't have been a better host. The great reviews this place has speak for themselves. It's a great location, beautiful apartment, a wonderful little outside space, and very comfy. I would recommend time and time again.
Lorna
2016-10-14T00:00:00Z
Unfortunately I only had the pleasure of staying one day in Florence at Chiara's apartment; however, all I required was a few moments to fall in love with the charming and perfectly laid out furniture, stone walls and cosy atmosphere it brought. Chiara was efficient and the amenities available and presented were of a high standard. The area is perfectly placed just a few minutes walk from the action with a terrace to die for. All in all, I look forward to having the privilege of returning very soon!
Rally
2015-07-19T00:00:00Z
Tipe Kamar
Seluruh rumah/apartemen
---
Tipe Properti
Apartemen
---
Mengakomodasi
4
---
Kamar tidur
Florence, Tuscany, Italia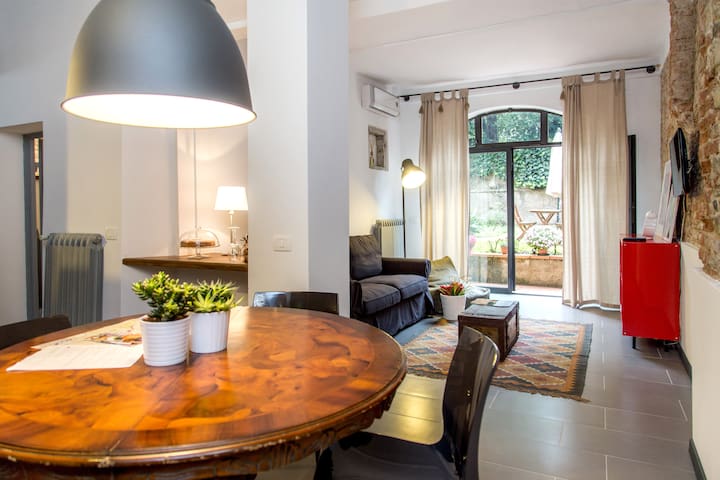 Located in the historic centre of Florence lies La Magione, a haven of peace in the midst of a monumental garden, apparently miles away from the noise and the crowds Open-planned, luminous, cozy, stylish bohemian garden apartment on 2 levels, 1 double bedroom, open-space en-suite bathroom (with bath tub -if looking for a shower this is not the right place!) on the mezzanine level, living room with fire place. Kitchen, private garden, car space for a small car (fiat 500 panda and so on, entrance to the garden with car is narrow and tricky) The guests welcome includes: a house book with local information about the city, a list of favourite restaurants and food shops, and a bottle of our best vintages. The appartment is now equipped with WyFy connection! The train station is only 5 minutes away and the city attractions are all within walking distance. no worries about pubbblic transport! Guests coming to this appartment seldom look forward to their next destination without wishing they could plan a longer stay.
My husband and I really enjoyed our stay in the Sabina's Garden Loft. The property is exactly as it is shown in the photos although we enjoyed learning and discovering its quirks and exploring the large garden. The location of the property is very convenient for exploring Florence. It was less than a 10 minute walk from the train station (and easy to do lugging suitcases) and and easy walk to the river and into the more touristy sections of the city. We only used transportation (other than our feet) once. Sabina was a lovely host. After checking us in, she left us with tips for restaurants & a brief write up of the history of her family (fascinating.) While we didn't need any assistance during our stay, she was completely accessible. If you're looking for a unique stay in Florence, this is the place to be.
Jay
2014-04-18T00:00:00Z
Tout à fait conforme à l'annonce, c'est un ravissant loft et le jardin à la belle saison doit être formidable pour sa fraicheur. C'est calme, reposant dans une demeure vivante. On peut tout faire à pied: 15 mn du centre, 8 de la gare, 4 de l'entrée d'un grand parc pour promenades ou running et marché le mardi. Hôtesse charmante, discrète nous a donné de bons conseils. C'est une adresse à recommander et où l'on souhaite revenir, d'autant que Florence est inépuisable tant il y a à voir. Merci pour avoir contribué à un si bon séjour. Daniel et Véronique d'Ile de France
daniel
2014-02-28T00:00:00Z
Had such a fantastic time here! Sabina was really welcoming and the apartment is beautiful. Lots of space and a really lovely place to come back to after a day in the centre. Gardens were amazing too, tortoises, terrapins and all! Would (and will) recommend!
Barney
2015-04-05T00:00:00Z
A lovely apartment with a beautiful garden just a10 minute walk from the centre and 5 minutes from the train station.
Emily
2014-05-26T00:00:00Z
We had a wonderful stay at Sabina's apartment. It is beautiful, clean, bright and inviting. We felt very comfortable and were touched by the effort she made to make us feel at home -- fresh flowers, recommendations for restaurants etc, food for breakfast, a little chocolate Easter bunny for the holiday etc. She greeted us when we arrived and left. This is a great spot in the city if you are traveling by train as it takes under 10 minutes walking.
Theresa
2013-03-31T00:00:00Z
Located a short walk from the historic sites, Sabina's home is a magical oasis in the already beautiful city of Florence. Sabina provided a very helpful handbook with fantastic recommendations of restaurants, shops, important numbers (such as how to call for a Taxi) as well as a brief history of the Corsini family/property (loved this!!!). We wish we had more time to spend in the stunning gardens with the turtles, the dogs, the lemon trees... It was like a dream. Will definitely return.
Lauren
2016-06-05T00:00:00Z
Lovely and homey house plus the beyond expectation garden. It's a really amazing experience. Love the collection of travel and art books there. Sabina and her neighbour are very warm and welcoming.
Stephanie
2014-07-24T00:00:00Z
A truely unique experience set behind a large stone walled garden, thus providing tranquility and privicy from the hustle and bustle of Florence. Rustic in its style, but still very elegant, Casa del Corsini looks over a magnificant garden with stone statues and lemon trees (if not in the grand lemon house for winter storage) and the loft apartment is nestled in the opposite corner of the main Corsini Manor. Fully equipped for a lovely cosy stay, Sabina was always on standby should you need help during your stay as well as supporting us in finding this gem of hers! We loved it, Ben & Georgie.
Ben
2016-03-11T00:00:00Z
Tipe Kamar
Seluruh rumah/apartemen
---
Tipe Properti
Apartemen
---
Mengakomodasi
2
---
Kamar tidur
Florence, Tuscany, Italia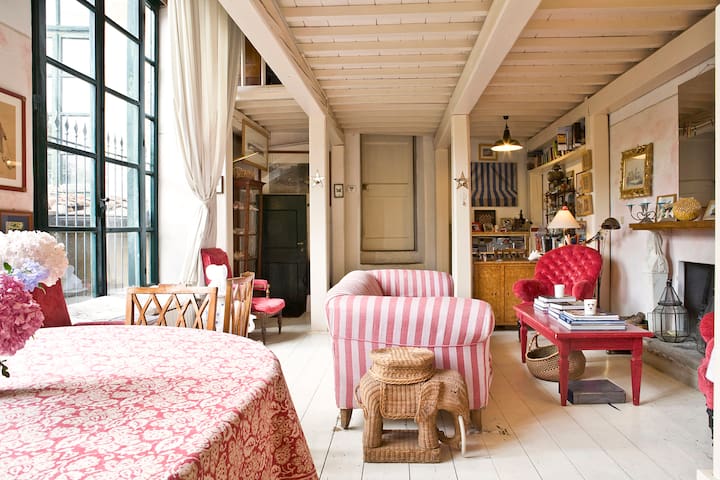 Welcome to this spacious studio apartment located in the historical city centre, only two steps from the Duomo cathedral, which you can admire from our gorgeous terrace.
Our quiet nest is located on the top floor of a historic building (without elevator). All the major sights of the city such as Gli Uffizi, Ponte Vecchio, the Duomo and Galleria dell'Accademia are at walking distance and there are several restaurants, shops and grocery stores in the surrounding area. The train station Santa Maria Novella is only 10-15 minutes by foot. The apartment has a spacious newly renovated kitchen, a dining area, a living room/bedroom, one newly renovated bathroom with shower and a beautiful terrace that is kissed by the sun from noon until sunset - perfect for lunch, aperitivo and dinner. The apartment is on the 5th floor and please note that there is no lift available in the building.
Via dei Servi and piazza Santa Annunziata is a lovely and vivid area. Right across the street you have Robiglio, one of Florence best pastry shops, and around the corner you'll find no one less than David...yes, that David. The hip neighborhood Sant' Ambrogio, with its local food market and authentic restaurants Bistro Gilda and Trattoria Cibrèo, is only 10 minutes by foot. If you go the opposite direction, towards the central train station you'll find another must-visit food market, il Mercato Centrale, the popular restaurant ZaZa and the newly opened concept space La Menagere which includes a restaurant, jazz bar, coffee shop, flower and decor shop. We could continue with tips of restaurants and other hidden gems but we'll keep that for when we meet...
Room was as described, host communication was prompt. It was very cold on our last night there so the heater wasn't quite to our liking. Host provided suggestions on what to do
Nancy
2016-11-29T00:00:00Z
This apartment was great, very centrally located and we were able to stop by often for quick breaks during our exploration of Florence. It was decorated very beautifully, and we enjoyed having our own private balcony where we could watch the sunset. Definitely had the best water pressure for showering out of all the Airbnb's we have stayed in Italy, too. It's a climb to the top floor, about five flights, but if you don't mind that then it is all good!
Emily
2016-05-24T00:00:00Z
Jennifer made an extra effort to meet us and hand the key early. Her apartment is spacious and tasteful, located smack next to the duomo and walking distance to every attraction in Florence. Very convenient. We also used the produce from the "mercato" to cook and enjoyed the terrace in the evening. The apartment is at the top of the building so one needs to be ok with what comes with that.
Arkadiusz
2016-06-09T00:00:00Z
Jennifer was a great host and kindly came to meet us as the apartment and show us round even though we arrived late at night. The apartment was as described and as appeared in the photos. We would definitely stay again if visiting Florence.
Emily
2016-09-03T00:00:00Z
Our stay at Jennifer's apartment was great. She was very attentive and helpful with any questions we had. The place was exactly as described and pictured and had a great terrace. Thanks for a great stay!
Travis
2016-11-17T00:00:00Z
This place was amazing!!!!! We had such a good time in Florence!!!! And it was particular in part of Jennifer's place and her detailed itinerary. The place is really close to restaurants and the Duomo. Very close to a lot of stuff. We walked everywhere. The terrace was simply stunning! Great view! We definitely spent 2 nights on the terrace with wine and cheese. What was also great was that Jennifer had an itinerary of what to do. Sometimes it's hard to decide what to do, and it was so easy with her suggestions!!! Definitely eat at the restaurants she recommended! RECOMMEND!!!!!!
Del
2016-05-22T00:00:00Z
Wir hatten eine wunderbare Woche in Jennifers Apartment, dass nicht nur durch die herrliche Terrasse und die geschmackvolle Einrichtung, sondern auch durch die ideale zentrale Lage in Domnähe besticht. Besonders schön war der erste Kaffee am Morgen begleitet von den Klängen eines Klaviers oder einer Sängerstimme vom benachbarten Musikkonservatorium. Die Lage im 5. Stock belohnt mit Helligkeit und Ruhe. Wir fühlten uns dort sehr wohl und willkommen durch Jennifers und Nicolas' Gastfreundschaft.
Doris
2017-04-07T00:00:00Z
Jennifer is an amazing hostess. The place is beautiful, quiet, and very clean. List of recommended places was a nice touch! Didn't have much time to hit all the places but the ones I did see were great. Bookmarked this apartment so next time in florence I can try and stay here again! Had an amazing time.
Jenny
2016-04-23T00:00:00Z
Tipe Kamar
Seluruh rumah/apartemen
---
Tipe Properti
Apartemen
---
Mengakomodasi
2
---
Kamar tidur
Florence, Toscana, Italia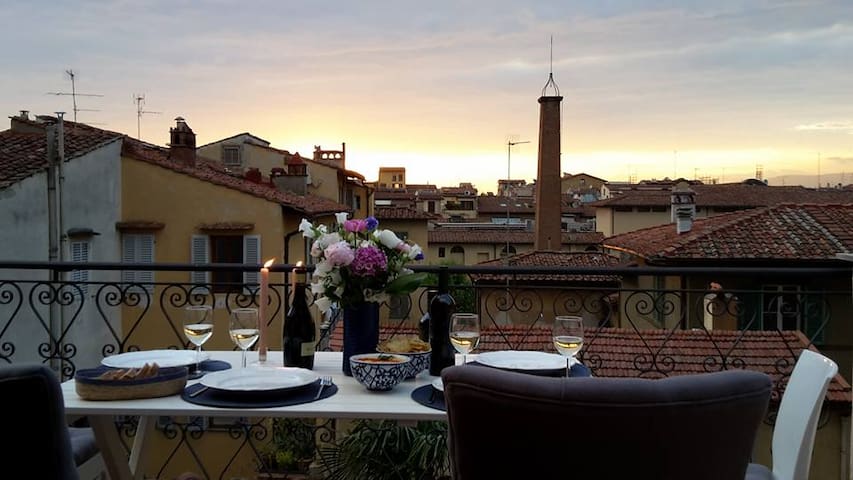 THE DAILY ROOM RATE FOR 2 PEOPLE IS 76 EUROS [2 PEOPLE SHARING] WE HAVE 6/7 ROOMS AND THE CALENDAR GETS BLOCKED AT THE FIRST BOOKING, IT IS THE LIMIT OF THE AIRBNB SYSTEM. WE HAVE CREATED VARIOUS LISTINGS FOR EACH ROOM AND SO YOU CAN BOOK FROM THE OTHER LISTINGS. YOU CANNOT BOOK MULTIPLE ROOMS FROM HERE UNLESS WE SEND YOU A SPECIAL OFFER. PLS CONTACT US
The old stone house is near the town of Vinci where Leonardo Da Vinci was born. Located on the slopes of Montalbano in the heart of Tuscany [Montalbano del Chianti road] ... delicious wine and olive oil! We have 6 en suite double rooms available. This 4-level-house with a common kitchen and lounge is decorated with art from all over the world and has warm colours: a perfect place for art lovers! The new swimming pool is ready together with a lovely terrace with an amazing view on the valley, ideal for breakfast, cocktails and dinners. The location is perfect; you can reach Florence within 40 mins and towns like Lucca and Pisa within an hour and only 20 mins from Pistoia, A new parking area was recently finalized.
We spend 10 wonderfull days in the old stone house owned by Giacomo. We used it as a base to explore tuscany and it was the best place to relax and recharge the bateries for another day of wonders in tuscany. The only regret we have is that we waited for the last night to meet the dogs :) afgan's that are simply superb. We loved it and we hope to return and spend some more days in this wonderfull location
Catalin
2012-08-31T00:00:00Z
What a change from the other European destinations on our trip. This place was breathtaking and Giacomo and Rolly were very welcoming. The old stone cottage allows forints guests to socialise with each other with the many communal areas. A real home away from home feeling to this place. Highly recommended!
Betty
2013-05-11T00:00:00Z
the house lies above a small road between lamporecchio and san baronto and has a fantastic view all around the valley of lamporecchio. the house looks like seen on the pictures, old but absolutely well maintained tuscan stone house. the garden is beautiful and the terrace invites to sit an enjoy a glass of wine at the end of the day together with other guests. the interior is stuffed with art pieces and carefully and intently selected furniture. there is a lounge with wifi and a kitchen, where we prepared meals and breakfast by our selves and together with other guests, equipment is not high quality but worked for a week. because of weather conditions (it was raining several times during night) humidity inside the rooms raised and we had to take care, that enough ventilation nevertheless dried our towels. probably it would have been better to start heating. giacomo was not there during our stay but other guests gave us a warm welcome and later on there was rolly who was in charge. all together we enjoyed and had a really good and relaxing time at giacomos place! if you keep in mind that it is not a anonymous hotel but a tiny and lively hostel where you get in touch with international guests and you are kind of self sustaining, it is one of the most beautiful places! have a good trip and time at giacomos place!
Mark
2013-05-25T00:00:00Z
Giacomo was a lovely man who was helpful when he was there. The grounds were lovely, the home was perfect, the pool was refreshing. Everything was really great. One of our favorite stays in Italy.
Susan
2014-06-11T00:00:00Z
We had perfect stay at giacomo and rollys cosy little home. Its definitely one of the nicest bnb places we have been to. The interior, the surroundings and the view from the poolside are just amazing. Vinci is close, you can even walk there. giacomo and rolly are really hearty people, always helpful and friendly. We will definitely be back some day.
Tobi Kehl
2015-03-27T00:00:00Z
Giacomo's house is lovely. It is set high on the hill with beautiful views. We found it reasonably easy to find with a GPS. The town of Vinci is not far away and we stopped there for lunch before checking in.We had use of a kitchen and sitting area (with wi-fi) to share with other guests. Each room has its own bathroom. Our room was quite comfortable. The bed was good quality, the linen and bathroom clean. Apart from the shower head that was difficult to stand under if you didn't want to wet your hair, we had everything we needed. Also the views are superb! Unfortunately we didn't get to meet Giacomo and Rolly as they were unavoidably away. We were well taken care of by their friends David and Nina who made us feel very welcome and gave us directions and advice about the area. It is conveniently located and we did separate day trips to Lucca, Pistoia and Sienna.
Sharon
2012-10-09T00:00:00Z
What a charming and romantic retreat. Rolly and Giacomo certainly have put a lot of hard work and talent into the house. Rolly was our host and he was very friendly and gracious. The art was amazing and I was fascinated by how even the functional aspects of the house were artistic. We took daily excursions to Chianti and Siena via a driver we hired (about a 2 hour drive to each). We didn't have a car of our own, so the restaurant that was within walking distance worked out well. We ate there twice and both dinners were very tasty. The service was great. We made a couple of meals/snacks (well my cousins did!) in the house kitchen, which was fun and allowed us to enjoy the relaxing atmosphere of the house. The outside covered patio and its view are just as idyllic as the photos show. The landscaping is lovingly cared for. Fresh herbs are everywhere. Prior posts mention limited supplies in the kitchen and a remedy would be determining your menu and checking out the supplies (pots, pans, can opener, etc.) to be sure you have what you specifically need to make everything before going to the market/coop. We would return again during warm summer months to take advantage of the pool and explore the town more rather than leave for excursions.
Terri
2013-06-02T00:00:00Z
The location is beautiful, scenic and tranquil and the views from the property are breathtaking. We didn't get to meet Giacomo but Rolly was there to welcome us. It is a shame we couldn't stay there longer. Just one thing to keep in mind if you are planning to drive, the house is on the hills and the drive is steep. We were relying on our phone GPS and we lost signal when were 10-15 mins away. However, the directions provided by Giacomo are quite detailed and helped us get there eventually. But it a hilly road and if you take the wrong exit or drive further, taking a U-turn may be extremely difficult, just something to keep in mind. All in all, if you want to experience a real Tuscan life, this is a great place to be. Do not miss visiting Vinci, the birth place of Leonardo which is only a few miles away.You can visit a musem dedicated to Leonardo's work and Leonardo's birth place, it is also a great place to grab a nice lunch.
Ami
2015-04-27T00:00:00Z
Tipe Kamar
Kamar pribadi
---
Tipe Properti
Rumah
---
Mengakomodasi
12
---
Kamar tidur
Lamporecchio, Tuscany, Italia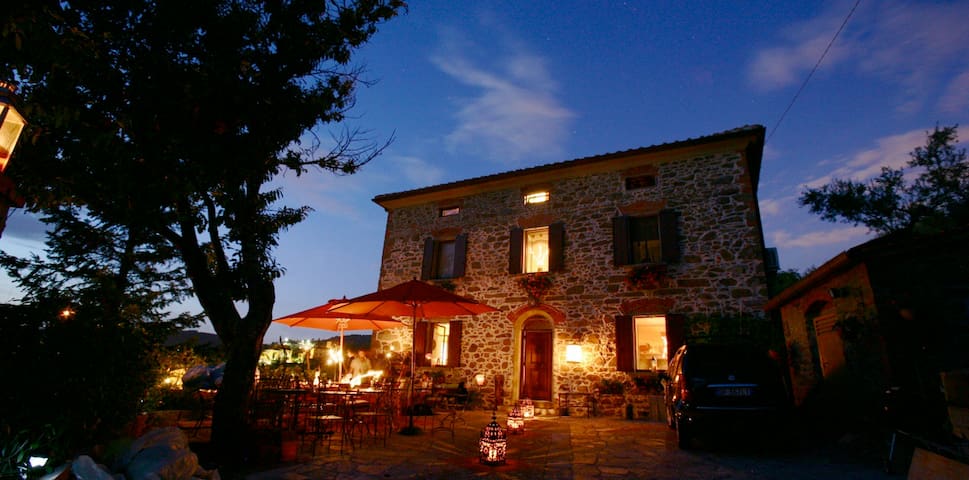 The "Charm" of stone walls meets the "Comfort" for up to 5 people. A luxury suite with a complete kitchenette. The patio, surrounded by nature, will give you privacy and relax. Your holiday house will be in Lunigiana, a region still genuine, with a rich food tradition, away from the touristy beaten path. Still, it's an ideal base for day trips to many points of interest: Cinque Terre, Portovenere, Lerici, Carrara, Pisa e Lucca, Parma, Genova...
The apartment has its own entrance and it consists of a large living room, a bedroom, a bathroom, a kitchenette and a large patio connected to a little garden. It can comfortably accommodate up to five people in its romantic and charming atmosphere. Free parking is a few meters away. EQUIPMENT You will find a nice kitchenette, complete with appliances (fridge, microwave, dishwasher) and all you need to prepare breakfast: mocha espresso maker, american coffee-maker, kettle and toaster. There's a desk in the living room. WIFI connection is available all over the apartment and in the patio. The bathroom has a shower with hydromassage. Washing machine, hairdryer, iron, linen and towels: we want you to be sure you'll find anything you'll need at any time of the day. In the patio you will find a complete garden set, ideal to enjoy, in a panoramic and secluded corner, the sun and the peace of the Lunigianese forest. BBQ in a an open-air stone oven available. BEDS The main bed is a very comfortable queen-size with orthopedic memory foam mattress and there are two single regular beds: one in the antichamber and one in the living room. The fifth guest can be accomodated on a deluxe air mattress or in a folding baby bed. Linens are provided and changed, upon request, every 7 days.
We chose Lunigiana for its strategic location with easy reach of many of the most beautiful places in Tuscany, Liguria and Emilia Romagna. We are at an hour drive from the airports of Pisa, Parma and Genoa and one hour and half from Florence's. The place is wonderful if you want a a romantic getaway to enjoy your free time in total relax, but it's also perfect if you're looking for a base for your excursions. In five minutes you can reach the train station of Aulla where you can catch trains that will allow you to comfortably visit the wonderful "Cinque Terre" in as little as 36 minutes. In less than half an hour you can reach Lerici and the Gulf of Poets, or the sandy beaches of Marina di Carrara. In forty minutes you can hit Portovenere at northwest, Forte dei Marmi and the Versilia coast at south or visit the marble quarries of Carrara, in the southeast.
Il nostro soggiorno a casa di Silvia e Fabio è durato sette giorni. Avevamo bisogno di una pausa rilassante dal lavoro, abbiamo quindi cercato una casa che potesse accoglierci e ospitarci durante le vacanze invernali. La scelta è stata azzeccatissima! La Casa: la casa è un gioiellino. Corrisponde perfettamente alle immagini. Per due persone è perfetta secondo noi. è attrezzata di tutto, dalla cucina (con lavastoviglie), al bagno (bagnoschiuma, sapone, dischetti struccanti, lavatrice: tutto). Un plus è la rete wi-fi. Gli host: Silvia e Fabio sono gli host che tutti vorrebbero incontrare su Airbnb. Molto gentili e disponibili, senza mai risultare invadenti (abitano nella casa sopra all'appartamento, ma è come se non ci fossero). Hanno una grossa qualità, che è quella di voler per prima cosa far sentire a casa i propri ospiti, e dedicano molta attenzione ai dettagli e all'accoglienza (ringraziamo per il pandoro e la bottiglia di prosecco che ci hanno accolto!!). La cura con cui forniscono informazioni utili sul territorio, sui ristoranti, e sulle attività è il miglior modo per far diventare indimenticabile il soggiorno nella loro casa. Il territorio: la casa è a Fornoli, un mini paesino nell'alta toscana che abbiamo scoperto essere praticamente in una posizione perfetta per visitare tantissime mete. Nella nostra settimana "relax" siamo comunque riusciti a visitare Pisa, Colonnata, le Cinque Terre, Sarzana, Pontremoli. Ma le mete raggiungibili con un'ora e mezza di macchina sono veramente moltissime, e in generale la Lunigiana è una terra stupenda. Il plus di Fornoli è sicuramente il fascino dei piccoli paesi di collina e il silenzio assoluto della natura che lo circonda. Speriamo di poter tornare presto da Silvia e Fabio per "finire" di visitare la loro splendida terra e consigliamo veramente a chiunque di andarli a trovare.
alberto
2016-01-03T00:00:00Z
Fabio and Silvia's place was very nice. We stayed with our 2 kids (7 and 9 years old) Fabio and Silvia were a wealth of knowledge about things to see and do in the area- coming up with fun ideas to do with the kids. They were very friendly and accommodating hosts. The apartment has everything you will need. The kitchen was well equipped. We enjoyed nice quiet dinners on the back patio. The town is very small but my husband was able to find a tiny bar to watch soccer matches. Thank you for providing a very nice place to stay.
Megan
2014-04-11T00:00:00Z
All we can say is 'wow!' Silvia and Fabio should be running a resort of their own- their attention to detail, hospitality, helpfulness and overall warmth make staying at their home a complete experience to remember! We loved the spacious and picturesque apartment- so did our nearly 2 year old daughter Brooklynne. Silvia is a wealth of information and is so willing to help with any and all questions- no matter what they are. We stayed in three other air bnb properties on this trip and this was by far the most personal and enjoyable.
Jaime
2016-05-02T00:00:00Z
Silvia & Fabio are amazing owners!!! Their hospitality and really effective. We would recommend booking their place to anyone. Beautiful, cozy apartment looks like a medieval castle. Thank you for making us feel so welcome in your house! Look forward to seeing you again!
Mikhail
2015-04-11T00:00:00Z
Great place near Cinque Terre ( perfect by train). Wonderful welcome from Silvia and Fabio who make the best to have their guests feel at home! Thank you!
Marie-Claude
2015-07-27T00:00:00Z
abbiamo trascorso un week end in questa bellissima casa in totale relax. la casa è proprio come in foto e completa di tutto il necessario. unica pecca il fatto che il telefono in casa non prenda (entrambi vodafone io e mio marito). c'è il wifi che funziona sul cellulare ma ho avuto problemi ad usarlo sul computer. se si vuole trascorrere un week end di puro relax, è il posto giusto
eleonora
2016-07-10T00:00:00Z
Having stayed at a lot of Bed & Breakfasts in my life - I honestly can tell you this was the best one EVER!!! Sylvia & Fabio were perfect hosts and the apartment is gorgeous. The pictures on AirBnb are great but can only be fully appreciated in real life. The views from the terrace are amazing and this Medieval Village is so quaint. We walked to a gorgeous waterfall and historic bridge mere steps away from the apartment which also has a beautiful trail circling the village that takes about 1 hour and was fully enjoyed by my whole family. If traveling in Lunigianna do not miss this airbnb location. Since I have already described the location as picture perfect I must tell you Sylvia and Fabio make their guests feel at home. They were the nicest couple in all of Italy and the only regret we had was that we did not stay an entire week. They thought of everything and the apartment was supplied with all we needed to have a magical 2 days in their village. Dont miss this place!!!!!!!
David
2015-04-15T00:00:00Z
The North Tuscany stone apartment was awesome and Silvia and Fabio were absolutely super people! If we go back to Italy we will definitely stay there again. We had to cancel one night and Silvia and Fabio could not have been more understanding. They even took us out to dinner to provide us with additional knowledge of the Italian dining experience. I left one shoe behind and Silvia was nice enough to make certain that I got it at one of other airbnb locations. We would not go back to Italy without staying there again! Thank you for a great visit!!!!
nancy
2015-05-03T00:00:00Z
Tipe Kamar
Seluruh rumah/apartemen
---
Tipe Properti
Suite tamu
---
Mengakomodasi
5
---
Kamar tidur
Fornoli, Tuscany, Italia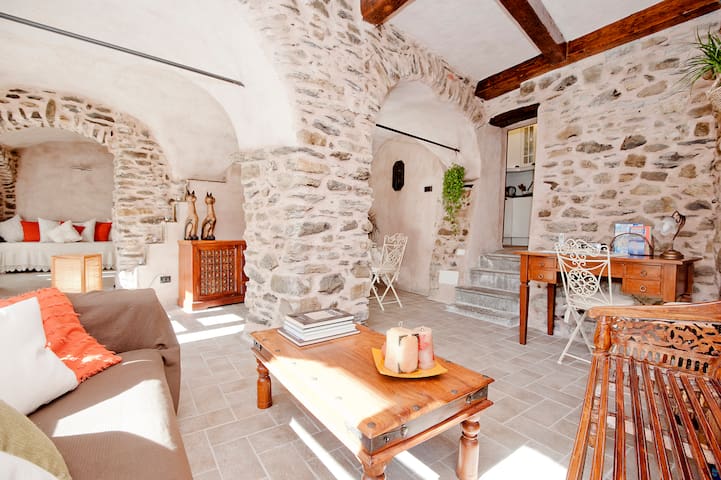 Beautiful Small Apartment, ideal for 3/4 people in the historic center of Florence, consisting of a main room with a double bed loft with a single bed, a kitchenette and an electric refrigerator, a closet with a single bed.
A new mini Flat in the Heart of Florence! 4th floor ( no elevator / lift) in a very central and secure building in via del Corso only 2 mints walking from Piazza Repubblica, Piazza Duomo, and Piazza Signoria. main room with a double bed and a retractable electric kitchen ( furnished for 3 people with a fridge ) , a single bed in a small private seperated room and a small loft with a 4th single bed. the bathroom is big and new, with a big window and a big shower box. The flat is all new, clean and sunny. Wireless internet connection available for free 24/24 , a heater and air condition also available. Staying at my apartment means to be in the heart of the historic center of Florence. it's really close to all main museums and tourists attractions ( 100-500 metes) : Galleria degli Uffizi, Accademia Gallery, Medici Chapels, Bargello, Opera del Duomo, Palazzo Pitti, Palazzo Vecchio, Palazzo Medici-Riccardi, Strozzi Palace, Ponte Vecchio and Santa Croce. Parking: In agreement with a private garage just 2 blocks from the flat , for € 26.00, including entrance fees and ZTL cancellation of the plate system of the municipal police. It will be a pleasure to guide you and make your stay relaxed and unforgettable.
The neighborhood is the best in the city. just 2 minutes walking from the Duomo, Piazza della Repubblica and Piazza della Signoria / Palazzo Vecchio and Ponte Vecchio. supermarkets, leather markets and shopping streets are within 2 minutes walking.
Perfect! Great apartment, super location and very helpful host.
Kerry
2016-09-23T00:00:00Z
Located close to the duomo in the heart of Florence, Samuel and Matteo apartment is perfect for experiencing everything Florence has to offer. Getting upstairs could be a challenge if you have heavy bags. The bed is comfortable and the room is exactly as shown. We enjoyed our stay there very much.
Lona
2015-09-10T00:00:00Z
Absolutely perfect apartment exactly where you want to be your first or hundredth time in Florence. Short walk to and from train station. Short walk to anywhere in the city. Remarkable.
Spencer
2016-08-11T00:00:00Z
We would highly recommend this flat for a stay in Florence. Perfectly sized with everything we need. And a wonderful location in a historically beautiful apartment block.
Anna
2016-08-03T00:00:00Z
Samuel was great, he helped us from the beginning of our arrival to Florence since we were arriving by car and we needed a parking close by. He was present at the moment to explain us everything about the apartment. The apartment was great, amazing view of Palazzo Vecchio. Location wise the apartment was perfect. I would definitely recommend it.
Camilo
2016-04-29T00:00:00Z
Great location and lovely little flat. Nice comfy bed with nice pillows. What more do you want. Not one for people who are unfit tho as there are some stairs to climb, but this didn't bother us and helps to work of the steak and pasta. Overall a great place to stay and would recommend highly.
Darren
2016-05-10T00:00:00Z
Genial lugar en el centro de Firenze cerca de las mejores plazas. Un lugar perfecto.
Gerardo
2016-07-15T00:00:00Z
The apartment in the heart of Florence, which is full of really narrow streets, with most of Florence's attractions within a 5-10 minute walk away. The unit is on the top floor (4 flights), which may be a problem if you have really heavy luggage, or if someone in your party has trouble climbing stairs. But if you're young and traveling light, this should be no problem at all. Samuel was prompt at answering the phone before we got there, and even helped us bring up one of our suitcases. This is a nice spot if you want to be in the midst of the action.
Raghu
2012-09-24T00:00:00Z
Tipe Kamar
Seluruh rumah/apartemen
---
Tipe Properti
Apartemen
---
Mengakomodasi
3
---
Kamar tidur
Florence, Toscana, Italia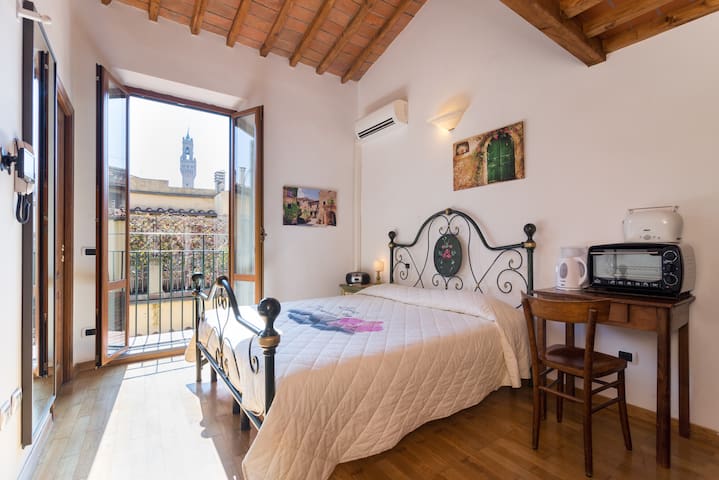 Our house is a small piece of countryside in the middle of the city. In fact, the neighborhood of St. Nicholas is one of the most charming and characteristic of Florence. The house is located below piazzale Michelangelo and very close to one of the most beautiful churches in Florence: San Miniato. Our house is two minutes from the embankment, five minutes from Old Bridge, 10 minutes from the Duomo. From the train station you can easily reach us with the bus 23. In the district, there are very nice and well attended galleries, fine restaurants, bars, night clubs. This is a quiet neighborhood between the river Arno and the green hills. In the near by area there is one of the most beautiful gardens with a special view of Florence called garden roses with an interesting permanent exhibition of Folon. We offer a bright room with views of San Miniato, guest bathroom and separate entrance, kitchen and the opportunity to share with us the living space. In the garden there is a beautiful dining table and many corners to relax especially in good weather. We have wireless and there is the possibility to use the washing machine. if you have your car there is a free parking near our home, at your convenience. Also lives with us two beautiful and very sweet dogs: Lana and Poldo. we wait for youuuuuuuuu !!!!
This is one of the best places we have stayed in through AirBnb. The location is near enough to walk to the main sites, but far enough to feel away from the tourist and on a real neighborhood. Nice quiet garden, perfect sized room with a good closet, good mattress, enough pillows, desk, private bathroom. The kitchen has everything you need to cook, and the living room is well lighted and cozy. We didn't see Edi enough because she was away on the weekend, but her friend and then herself made sure plates and glasses were waiting for us in the morning for breakfast, a small detailed that was very much appretiated. Staying with lovely Edi will help you make your stay in Firenze even better.
Pedro
2013-03-20T00:00:00Z
We had such a warm and friendly welcome that we felt at ease right away at Edi's place. We were invited to use the kitchen, living room and the beatiful garden to our convenience, and we really enjoyed being able to relax in this quiet place after a day visiting busy Florence. It is close (walking distance) to major tourist attractions yet very quiet. We really enjoyed our stay and would recommend this place any time.
Regis
2015-05-12T00:00:00Z
My boyfriend and I visited Edi's place in Florence for 2 days in January, and we both loved it. Edi's home has a very relaxing atmosphere, and Edi herself is one of the most welcoming people I have met. The room and house are identical to the pictures, and are clean and well-kept. Besides the room, we had access to a small private bathroom, and Edi invited us to use the kitchen and living room whenever we wanted. She even saved us one of the shelves in the fridge. The best parts of our stay at Edi's were to meet Edi herself (and the dog!), the beautiful location of the house in a very green inner garden, close to the city center, and the delicious breakfast Edi left for us every morning. We would definitely recommend everyone to stay here, and we hope to be able to return one day for a longer stay!
Liesbeth
2016-01-07T00:00:00Z
ottima accoglienza e posizione meravigliosa, poco lontana dal centro e nelle vicinanze parecchi ristoranti, bar ...4 giorni di puro relax ... Edi fantastica, simpatica, estroversa, attenta al dettaglio, una padrona di casa tranquilla e accogliente, e come non menzionare Poldo....mai visto un cane così tranquillo e dolce.... grazie di tutto ancora!!!
Alessandra
2016-02-11T00:00:00Z
I had another fantastic stay with Edi and Ale and Lana. Every day was full of happiness for me, and Florence has truly captured my heart, mostly because of the wonderful people there. I loved having my own room and bathroom, and Edi and Ale were very gracious in sharing their kitchen, living space and garden with me. Thank you for everything!
Polly
2012-10-09T00:00:00Z
LOS DIAS VIVIDOS EN FLORENCIA FUERON MUY BUENOS. RESPECTO AL HOSPEDAJE SI BIEN EN LOS ASPECTOS FORMALES SE CUMPLIO A CABALIDAD, NOS HUBIERA GUSTADO TENER MAS INSTANCIAS DE INTERCAMBIO CON NUESTROS ANFITRIONES Y QUE NOS AYUDARAN MAS A OBTENER INFORMACION SOBRE LA CIUDAD.
Martín
2012-06-02T00:00:00Z
We had a great time in Firenze staying in Edi's little cottage. A brilliant location in a really funky area with lots of cool bars and cafes and a local park with a bar and live music at the weekend in August when we were there. Edi was there to welcome us but left later that day for the (URL HIDDEN) did her housemate who we didn't meet..but Edi was very warm and welcoming and gave us a few tips to get around before we went out. The house was clean and quirky. The bedroom was cosy and the tiny bathroom takes a bit of working around but everything was great...including the food she left for our breakfast. We would definitely stay at Edi's City retreat (URL HIDDEN) was like an escape from the madness of the crowds of tourists in peak season...highly recommended.
Rachel
2015-08-11T00:00:00Z
By driving through Italy we had a nice experience in Florence in Edi and Ale's place. Although it's hard to find a parking lot on such a steep way the room and the surrounding garden is impressive. So close to the center such an oase from busy streets. Kitchen and bathroom are small but so lovely furnished that you feel home soon. Definetly a recommended place to be. Edi and Ale just came back from vacation so that we were quite lucky to meet them. Unfortunately we didn't get to meet the dog cause she was home at families place to avoid the heat. All over we had a very good experience.
Patricia
2012-08-06T00:00:00Z
Tipe Kamar
Kamar pribadi
---
Tipe Properti
Rumah
---
Mengakomodasi
2
---
Kamar tidur
Florence, Tuscany, Italia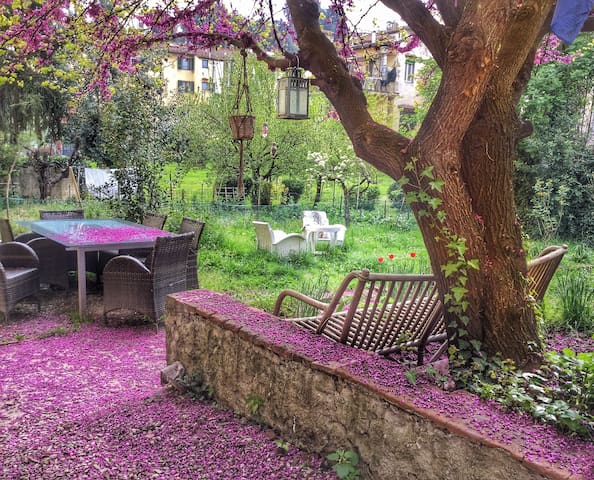 A LARGE STUDIO IN THE HEART OF HISTORICAL FLORENCE - close to all the most important sites, 10 minutes away from the railway station. Entirely renewed, a new flat in an ancient and historical building near Piazza Ognissanti.
A LARGE STUDIO IN THE HEART OF HISTORICAL FLORENCE - close to all the most important sites, 10 minutes away from the railway station A large Studio flat in an historical building from the 16th century, located in the city's historical center near Piazza Ognissanti, one of the city's most elegant squares. Just a few steps away from Ponte Vecchio, Museo degli Uffizi, and the famous Via Tornabuoni, the best for shopping in Florence. Borgo Ognissanti is a very lively street, with cafés, shops, restaurants and a small supermarket at hand. Access: - Plane: Firenze Peretola Airport, then shuttle bus to Santa Maria Novella Railway Station - Train: Just a 5 minutes walk from Santa Maria Novella Station. - Car: Private parking available 300 m from the house (25€ / day) or public parking 600 m from the house (18€ / day). Car-Rental available nearby: EuropCar (50 m) and many more. The apt and the building have been restored in 2010-11 and everything is brand new -- except the walls and foundations. Amenities: wireless internet, 32" LED-TV, air conditioning, washing-machine, dishwasher.
Gian was extremely quick at replying and although he was unable to meet us on arrival (during the day), he was great in providing instructions for us to pick up the keys and also to find the apartment. The apartment is in a great location, about 10 mins walk from the train station and about 5-10 mins to Ponte Vecchio and about 10 mins to the Duomo. The apartment is exactly as described, it's renovated and comfortable and has great amenities. My husband and I really enjoyed our stay at Gian's apartment and would absolutely recommend it. Gian was great to deal with as well, helpful and super quick to respond.
Claudia
2016-09-11T00:00:00Z
Gian's studio in Firenze is gorgeous! We loved having our own large space, comfy bed, A/C during the hot & humid summer weather, and a great central location. Awesome that it's near the train station. About a 15 minute walk into the heart of city! The kitchen was almost fully stocked (minus food), so wish we had been able to use it but we went out to dinner every night.
Amber
2012-06-28T00:00:00Z
Gian's studio is large, well-equipped and beautifully furnished. We spent three nights there and found it a perfect (and much better) alternative to an overpriced Florence hotel. The bed is large and very comfortable, kitchen and bathroom are both wonderful and the whole place has been furnished and decorated to a very high standard. Gian was quick to respond to all emails and check in/out was hassle-free. The apartment is located in a great spot within walking distance of all major tourist sites. We will be back!
Ryan
2013-11-07T00:00:00Z
I cannot say enough great things about my experience here. For starters, the apartment is clean, beautiful (amazing furniture and a great kitchen), and in a very convenient location. I could walk to absolutely everything I needed to see, but felt removed enough from the main areas that I could get some peace and quiet. There are plenty of shops/restaurants/bars nearby, so if you want to be nearby at the end of the night, that's very easy. Gian and his daughter were some of the kindest, most welcoming and helpful people I interacted with during my multi-city trip to Italy, and I am already dying to return and stay here again.
Samantha
2014-01-31T00:00:00Z
Bellissimo locale a due passi dal centro. Tutto perfetto!!
Luca
2016-08-13T00:00:00Z
位子超棒的,從火車站走過來大概10分鐘,對面就是警察局,旁邊是兩間超五星級飯店。晚上我們從Piazza Michaelangelo 坐13號公車下來時,公車站有一站停在橋對岸,走路5分鐘就到了。而且他家就在橋邊,都是大馬路,晚上路燈很多,感覺很安全。我媽聽歌劇回來都11點了,都不會感到不舒服。房子對面有超市,樓下也有餐廳,過橋則是La Carraia 一間很紅很好吃的Gelato 名店。還有就是Gian家是開放式格局,感覺很大很寬敞,在房間都小小的歐洲真的很珍貴。
Diane
2016-06-14T00:00:00Z
Gian met us and was very friendly and helpful. The apartment was perfect for what we wanted - good location, very comfortable. Gian kindly brought us a lighter duvet very promptly. Thanks Gian, we had a lovely time in Florence. Phil & Trish
phillip
2016-06-05T00:00:00Z
Mi paso por Florencia fue muy rápida, Gian aunque no lo conocí fue muy atento; el lugar es cómodo, fácil de llegar a la estación y centro de la ciudad, moderno y limpio.
Amelia
2015-05-08T00:00:00Z
Tipe Kamar
Seluruh rumah/apartemen
---
Tipe Properti
Apartemen
---
Mengakomodasi
2
---
Kamar tidur
Florence, Tuscany, Italia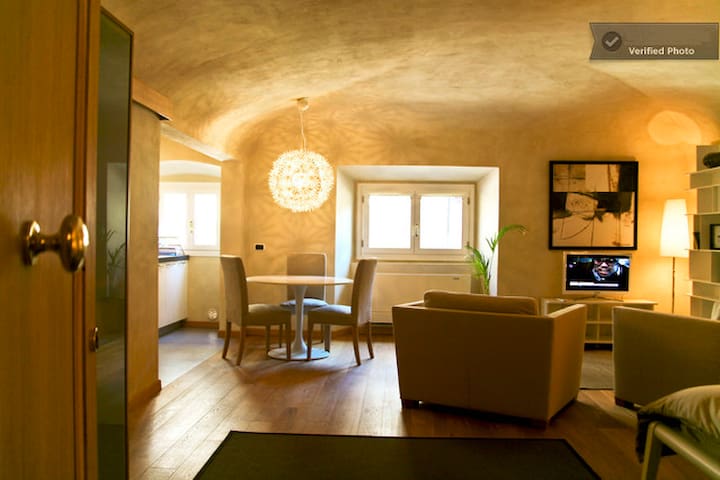 Our beautiful ancient House, peaceful, decorated with style, with a lovely Garden and splash Pool, is at the end of a small medieval village, between Lucca and the sea side. It is also lovely and very romantic in low season, stove on, quiet landscape, long walks, books and a piano
Our house is very ancient,made out of stone at the end of a medieval village of ten houses. It is surrounded by olive Groves and Lavandas, Fruit Trees and Chestnut Woods. The Garden is quiet, mediterranean plants make it colorful and refreshing, perfect to relax, read a book, contemplate the view. You can taste and use all our Mediterranean herbs (Rosemary, sage, bay, Thime, etc) in the private kitchen and enjoy your meals outside in the shade of the vine pergola. Among all the roses you can have a dip in our lovely splash pool (3x2,5m) while over looking the stunning view of the Lucca valley. The bedrooms are very special retreats. All walls are decorated with paintings, special objects, many books and good furniture. Every corner is full of inspiration and creativity. The bathrooms are big: one with a shower, many books, and a lovely view over the garden and valley, the other one has a bath. The kitchen is fully equipped with pots and pans and basic food (olive oil, salt pepper, milk, pasta). The red living room is very cosy, here you can find books and maps about Lucca and its surroundings. The main living space is a open kitchen, living room, with direct access to the garden and a lovely view.On one side of the house is the totally private garden with the lovely splash pool, on the other side the quiet village. You can have endless walks into the hills or woods or olive groves. Or just relax in a totally magical environment, gazing at the lovely flowers, roses , herbs of the garden. The house has free wi-fi. On walking distance there is a lovely little restaurant with a beautiful terrace overlooking the hills where you can have a local dinner in a very friendly ambiance. The beautiful town of Lucca is 15min. far and the beaches are 20min. far. We can also advise you some amazing rivers you can go too, to have a refreshing wild swim in ponds carved in rocks or marble stones... Pisa, Florence, Siena, Cinque Terre are all reachable for day trips. We offer both b&b option or weekly rent. When rented weekly, we do not serve breakfast. Our breakfast is lovely and fresh: fruits, yogurt, jam and ham, cheese, fresh bread, muesli, juice, coffee and tea, that you can have outside in the garden if sunny, in our lovely kitchen if rainy. if you want we can advise you trips, visits, restaurants, or some cooking receipts. But if you just would like to rest in the garden and absorb the lovely sun light, you can have all the silence and privacy you just wish for. know it sounds funny, but we happen to live in the most beautiful surroundings ever. As painter everyday I am amazed how beautiful the landscape, the woods, the olive groves, the villages, the towns, the nature, people and above all light are here. you can just sit and look around and never get bored. Or if you like to walk you can take endless walks into nature, every path you take is beautiful. We live on a hill in Tuscany, this means there is no bus service and you need to have a car or a bike if you are very fit. It is not possible to move around without, and you would be missing so much of it. In winter period we have an additional central heating cost: please ask if you are interested. Wood for the stove is included in the price.
What makes Tuscany so famous in the world is it's perfect combination of small ancient villages, beautiful country side and amazing life style: this is our neighbourhood.
Damema and her family provided the perfect location in the Lucca area. It was quiet and peaceful, and the views were beautiful. It was exactly what we needed to decompress after visiting Rome and Naples. The place was exactly as described, but even more beautiful than we imagined! She anticipated any needs we would have, and was available for any questions we had, or to give directions for our local excursions. The place is half way between Lucca and Via Reggio, as well as close to Pisa. Damema provided a delicious and scenic breakfast on the hillside of the property. She lives right next door, but our stay was also very private. We will go back to the US knowing that we will be sure to stay here again when we return to Tuscany.
Jason
2015-05-06T00:00:00Z
We enjoyed our quick stay at Damema's house. It is a very large private apartment attached to her remote home. We wished we had planned to stay more than one night. It is out of the way in the lucca area, but we liked being way up in the hills. Apartment was comfortable and much bigger than we thought based on pictures. Damema prepares breakfast for guests. Great experience here.
Emily
2015-05-20T00:00:00Z
Our stay at Damema's house was the highlight of our trip! Her house is the perfect oasis. Loved the little swimming pool & the house is so clean, cute, and comfortable. We loved talking to her and her husband. They are interesting and friendly and gave us insights into Italian culture as well as excellent recommendations for travel in the area. We can't wait to stay with them again! Oh and breakfast was lovely. Only regret is that we could only stay one night.
Julie
2015-06-06T00:00:00Z
We had a fantastic time at Damemas house.great place to relax!Damema is a wonderful host and her family is lovely. The house is very warm and very comfortable. The neighbours and the nature is amazing. Don't forget to visit the delicious restaurant Il Barbagiani!GREAT FOOD! from damemas house you can easily reach pisa and florence and the beach...we come back soon...thank you for having us
Raja
2014-05-24T00:00:00Z
A wonderfull charming and typically Italian country cottage experience. It was very well equipped and Damema and Wes made us feel very welcome. They even lent us provisions when we first arrived which was so appreciated until we found the local shop. We loved the location because of the spectacular views but the winding road up the hill takes a bit of getting used to. Luca is a beautiful city which is only a 20 min drive away and great to visit Cinque Terre and Florence. We were very glad of the wood burner in the evening,with it being October, which heated the whole cottage and plenty of free logs too.
Jackie
2014-10-19T00:00:00Z
Very special house with everything you need. Lovely hosts, amazing little garden, plentiful and yummy breakfast. Great place to base yourself if you want to do day trips to Lucca, Pisa, Florence etc and start and end your day with peace and nature. Would highly recommend.
Juliet
2015-08-30T00:00:00Z
We had a wonderful 3 night stay at Damema's house. It was a perfect start to our holiday in beautiful countryside, lovely surroundings, and Damema kindly brought us delicious breakfast each morning. We could easily have stayed all week. Thank you very much for having us Damema at your lovely house. Very highly recommended.
Al
2016-05-18T00:00:00Z
Damema was very welcoming and hospitable. Breakfast in the garden was lovely and the view just gorgeous.
linda
2015-06-23T00:00:00Z
Tipe Kamar
Seluruh rumah/apartemen
---
Tipe Properti
Rumah
---
Mengakomodasi
7
---
Kamar tidur
Pescaglia, Tuscany, Italia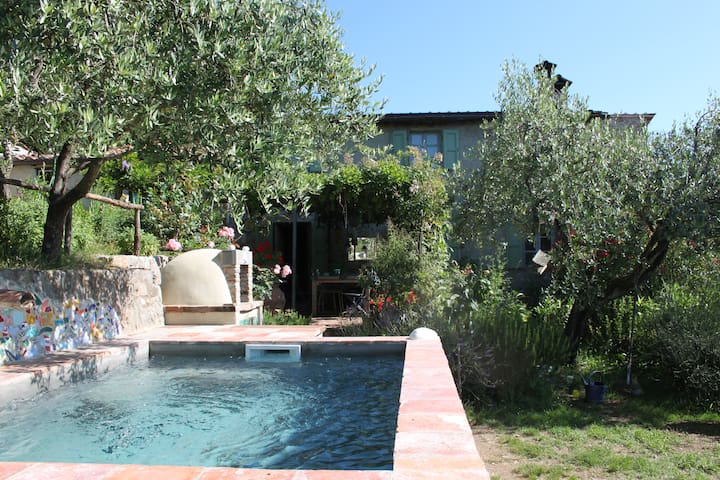 L'appartment est au 1er étage d'une maison traditionnelle entièrement rénovée. La maison est composée de 3 appartements individuels. Vous pourrez profiter d'une magnifique piscine avec une splendide vue panoramique sur le village et la région.
La vità è bellà est un appartement avec 2 chambres doubles et 1 chambre avec un lit superposée dans une maison traditionnelle en pierre entièrement rénovée. La maison est composée de 3 appartements disponibles sur airbnb aux adresses suivantes: https://fr.airbnb.com/rooms/(PHONE NUMBER HIDDEN) ; https://fr.airbnb.com/rooms/(PHONE NUMBER HIDDEN). La cuisine est entièrement équipée (frigo, lave-vaisselle, etc.). Vous pourrez également profitez du barbecue sur la terrasse!!
Depuis la maison, il vous faudra passer entre les vignes pour accéder à notre restaurant "Il Castello". A partir de 3 nuits réservées vous êtes invités à venir manger une pizza avec l'ensemble de vos ami.es ou famille. La région se prête particulièrement bien à faire des balades (parc naturel), vous pourrez même partir depuis la maison vers le village de San Pellegrino.
An absolutely amazing property and an equally amazing view and location . A must do experience
Lovetto
2015-10-20T00:00:00Z
If you are looking for a quaint, quiet place in Tuscany, where many of the people don't speak English, this is your place! It is off the beaten path, but the property is great. We wish we would have had more time to enjoy the pool. The staff was very friendly and the flat was very spacious. The castle in town was fun to explore.
Carolyn
2016-07-03T00:00:00Z
Fantastic place in a beautifull setting. The apartments are spacious, clean and kitchen is fully equiped. I can definitly recommend!
Barry
2015-05-19T00:00:00Z
Appartement immense logé au cœur de cette jolie montagne l'eau de la piscine était un peu fraîche en la saison cette courte halte d 1 nuit était sympa l'appart est très propre Raphaël est très réactif aux messages merci pour tout
Freddy
2016-09-24T00:00:00Z
Raphael was a wonderful host. We arrived late at night and were greeted with a bottle of Prosaco and were allowed additional time to check out the next afternoon. The home and neighborhood were so charming and exactly what we were looking for. We took a long walk and enjoyed the gorgeous views and sweet mountain air. Thank goodness we listened to his recommendation to enjoy lunch at his restaurant, it was one of our best meals in Italy...which says a lot! We hope to come back again and stay longer.
Anna
2015-09-30T00:00:00Z
We are thankful for a wonderful stay at Raphaels house. It's very clean and comfortable. The majestic nature, the adorable Castiglione, the luxurious pool... This fine mixture made us feel very happy and privileged. Thanks for an unforgettable holiday... We will come back.
Pierre
2016-08-24T00:00:00Z
Rafael was very nice to us ,the apartment is very clean and well organized there was nothing missing .we enjoyed our time in a beautiful neighborhood and with a great host ! Recommended !
Liron
2016-04-12T00:00:00Z
It's an amazing place in very beautiful small village in Toscana. Only one disappointment from my stay in this place, is that it was toooooo short. Next time I'll go here for at least a week.
Eugene
2016-05-30T00:00:00Z
Tipe Kamar
Seluruh rumah/apartemen
---
Tipe Properti
Apartemen
---
Mengakomodasi
6
---
Kamar tidur
Castiglione di Garfagnana, Tuscany, Italia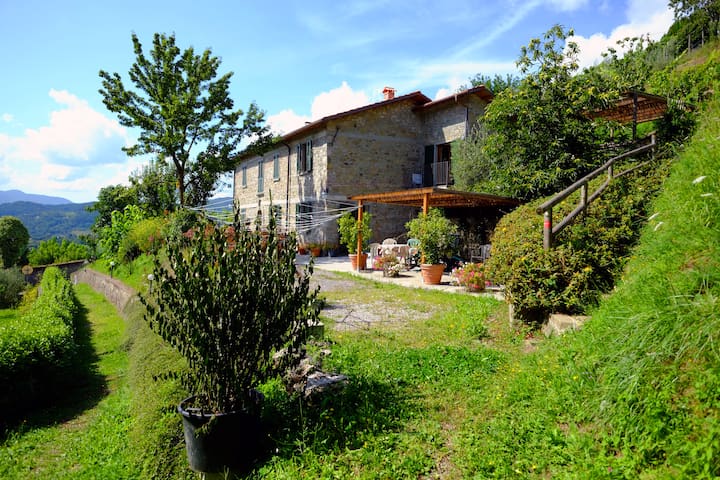 Perched on top of a hill in the countryside of Bologna, the B&B is the perfect location if you are looking for a peaceful place, with panoramic views, very good restaurants (& wine makers) in the nearbies. You can book from 1 up to 4 rooms. Welcome! (ps please note: you need a car to reach us)
****PLEASE ALWAYS INQUIRE US BEFORE BOOKING IF YOU ARE MORE THAN 2 PEOPLE (OR IF YOU NEED MORE THAN 1 ROOM) thank you**** Hello and welcome! THE HOUSE / B&B The house is a bed and breakfast with four bright double rooms all with en-suite bathroom, air conditioning, flat screen tv and and a view on the surrounding hills and countryside. Every room has a double bed (size is 160x195 centimeters) with high quality foam mattress. Two rooms open on a terrace overlooking the valley. The shared areas include a big hall/lounge room, a spacious garden patio, the kitchen and of course the garden. Parking is freely available in our safe dead end street. Being a B&B, breakfasts are included in the room rate. We are very happy to host vegetarian/vegan guests so please tell us in advance if you have any kind of diet requirement, we'll be happy to serve a breakfast that suites your needs. On the other hand, if you would like not to have breakfast or if you think you'd like to cater yourself breakfast please let me know, I'll reduce the room rate accordingly. Our kitchen is available for guests who need to use it for preparing their own meals, but it's nevertheless true that the area is full of very good traditional restaurants (we are more than happy to give recommendations about it) , local traditional trattorias are one the most appealing reason to stay in our area! WHAT YOU ARE ABOUT TO BOOK (1 ROOM OR THE WHOLE HOUSE?) Airbnb listings are usually set for 1 room or 1 whole house. Since we have both options on this listing we would kindly ask you please to read carefully in order to avoid any possible misunderstanding. When you book for 7/8 people (4 rooms) as a matter of fact you'll get the whole house (no other guests will be staying here while you're here). When you book for 1 to 6 people you book for 1 to 3 rooms (so in this second case other guests might be staying at the B&B when you're here). Rates change accordingly to the number of guests you book for. Usually we consider 2 guests are staying in 1 room, 4 in 2 rooms and so on. If you need to use rooms as single rooms (for example 3 guests in 3 rooms) please let me know, I'll try to give you the best quote for this option. So, just to be clear, usually you are not booking the "whole house" unless we agree this or unless you are 7/8 people. AIRBNB CALENDAR We keep airbnb calendar updated, but since our guests can book 1 room or the whole house, calendar can be misleading. For istance It could show a night as unavailable when a couple reserves a room on airbnb; but having 4 rooms, 3 could be still availble despite no availability shown; on the other hand, calendar could show one night as available and we could have one (or more) rooms booked through another website (we are not only listed on airbnb). So our calendar could show availability but we could only have some of the 4 rooms avaiable. This is why we kindly ask to always enquire when you are more than 2 people (or you need more than 1 room). Besides this, we would suggest to contact us even if you see that the rooms are shown as not available for the period you're interested: most likely there are availabilities. WHERE WE ARE We are 15 minutes drive from the main Bologna motorway exit of Casalecchio and from Bologna city center. We are located in the peaceful countryside on the gentle panoramic hills above the noise and heat of the city. You can reach Modena in an half an hour; Ferrara, Ravenna, Florence are daytrip you might consider using our place as a base; Venice is at about 1 hr and half from Bologna (both by car or by train). We are in the middle of the hilly countryside. If you need a bank, a supermarket, a gelateria, a bar you have to go to the closest village, 4 kilometers from our place. A wide range of gorgeous restaurants are at a few minutes drive (between 2 minutes and 15 minutes) HOW TO REACH US Basically you need a car (a vehicle) to reach us, public transport not being at a walkable distance (buses and suburban trains are at 4 or 8 kilometers from the house and on sunday service is very weak). This said , we might be able to offer a free pick-up service from the train station or the airport. If you are interested in using this service, please contact us in advance to ensure we are available on the days you plan to be here. Thanks for looking and welcome to Cherry Cat B&B!!!
LA ZONA ---------------------------- E' una zona di viticoltori e in generale di produttori agricoli ma soprattutto di ristorazione. La cucina bolognese trova su queste colline un infinità di trattorie e agriturismi di qualità e tradizione.
เป็นประสบการณ์การพักที่ดีที่สุดที่เคยไปเที่ยวที่อิตาลีมาหลายๆครั้ง. บ้านใหญ่ สะอาด และสะดวกสบายมาก. host ดูแลใกล้ชิดและช่วยเหลือดีมาก วิวสวยที่สุดครับ
Tong
2016-04-17T00:00:00Z
Simply Fantastic. Andrea always went the extra mile to ensure we had a comfortable and relaxing stay. His breakfast is of amazing quality whilst playing some great music to create a lovely atmosphere. Room was very clean and updated with great furnishings throughout the entire property. Truly a home away from home.
David
2016-10-16T00:00:00Z
We are travelling through Italy and thought of having a stop over. We found this BnB and booked online for one night. Big Mistake! WE SHOULD HAVE STAYED LONGER :) Andrea's home (BnB) is one of the best spots we have stayed in. His villa is even nicer than what you see in the pictures. It has been refurbished with taste. The views are Amazing (if available, ask for the room with the balcony that opens to an amazing view). The living area is tastefully decorated with serene music playing in the background. The coffee he serves along with the breakfast is super yummy. And most important of all, Andrea was a pleasure to chat with. He is such a wonderful man who clearly takes pride in taking care of his guests. And oh, when you are there, ask him about the secret restaurant hidden in a small village. Andrea will book you a table there. Just ask him. You're welcome ;)
Kevin
2016-04-25T00:00:00Z
The place and the views were absolutely amazing, accommodations were top-notch bedrooms and showers very nice. Internet access was not good to say the least. Great breakfast spread by the host every morning. really great recommendations from the host. It's a little strange that he is always around. But it would not stop me from booking here again.
Matt
2015-06-17T00:00:00Z
We cannot speak highly enough of Andrea and his beautiful home! As a host Andrea is so kind and welcoming, with great recommendations of places to see and where to eat at local restaurants. He was so accommodating to our every need, and the cooking class he organised with Signora Franca was a real highlight. The house is beautifully furnished and as soon as you walk in the door it feels like home - from the moment of walking down to breakfast every morning to seeing in the sunset with a glass of wine... Just perfect! Thank you Andrea, we hope to stay with you again next time we are in Italy.
Ellen
2015-04-14T00:00:00Z
What an unbelievable experience! Our Family of 7 was hosted by Andrea in an impeccable manner! The property, facilities and amenities were fantastic! Breakfasts surpassed any expectations! Andrea is a wonderful host. We would stay again, just longer next time! By the way, This property is positioned in the heart of Italian culinary excellence. Don't miss a tour at the a local caseificio to see how Parmiggiano Reggiano is produced!
Marino
2015-07-10T00:00:00Z
Andrea è stato disponibile e accogliente. Penso che i brani scelti durante la colazione (abbondante e bio) fossero davvero intonati con l'ambiente circostante, caldo, semplice ma interessante. Splendida collezione di riviste di arredamento e libri noleggiabili.
Davide
2016-03-14T00:00:00Z
Andrea is the perfect host. He made ourselves feel like we were at home in his beautiful house. The house is truly beautiful.
Ludovic
2015-08-08T00:00:00Z
Tipe Kamar
Seluruh rumah/apartemen
---
Tipe Properti
Bed & Breakfast
---
Mengakomodasi
8
---
Kamar tidur
Monte San Pietro, Emilia-Romagna, Italia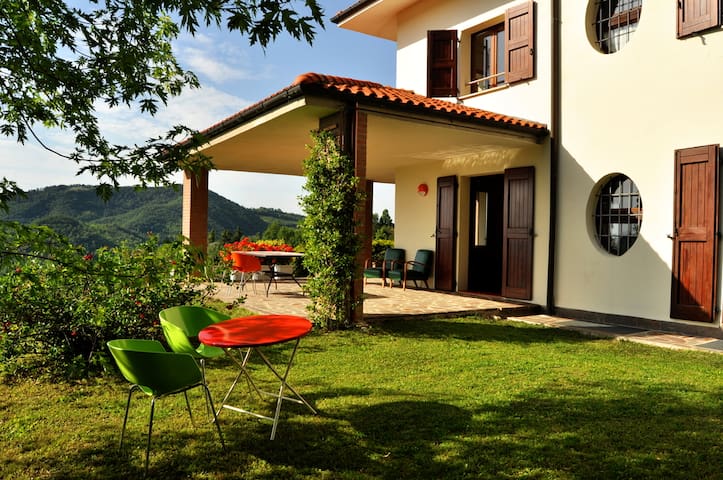 Near to Barberino di Mugello, deep in the green Tuscan hills, rise up an ancient farmhouse of the '500 with a wonderful view on the Bilancino's lake. Perfect for who loves the nature, peace and the sincere hospitality of the rural culture.
The property is located at about 15 minutes by car from the toll booth and about 35 minutes from Florence. The Bed & Breakfast's flats are two, the first with a double room and a wide living room, the second has 3 double rooms and a wide living room too. In both the flats there are also a bathroom and a kitchen. The furniture are rustic, typical of the Tuscan country, as well as the food that the family produce in biological way. The farmhouse is surrounded by 44 hectares of greenery, ideal for walk in wood in total serenity. Open all the year, available also for dinners or parties. Price: 20,00€/night for person, with breakfast included.
Elena was great with communication. Very helpful. Staying at this place was a cultural and life experience I will never forget. Finding the place, and the road to get there was a bit challenging however it was well worth it. We were greeted by Angelo was was kind and hospitable. He made us a delicious outstanding dinner complete with a bottle of wine. We were also given milk, eggs, and jam for next mornings breakfast. What a treat. We loved the animals on the property as well. They really added to the experience. The next morning Angelo made us a cake for breakfast to add to our food. We were so well cared for. Angelo and family were such great hosts. I recommend this place for someone wanting to truly have an Italian farmhouse experience. It was incredible.
Brian
2016-08-04T00:00:00Z
Totally amazing place -- a wonderful stay. We will be back!
Orlando
2015-04-14T00:00:00Z
Where do I begin? We absolutely loved our stay at Il Sartino! If we ever make it back to Italy, we will definitely be coming back here! Angelo was such a great host! He showed us around the property and helped us choose fresh veggies from the garden, as well as supplied fresh eggs from the chickens. The property is idyllic and serene, you can't beat the views! The farm dogs are so friendly and one will follow you on your walks like a good tour guide. When we weren't out driving around the Tuscan countryside, we were perfectly content at the B&B, sitting outside enjoying the view, walking through the fields, or just relaxing inside after cooking a great meal. There were even fireflies at night! We also saw a giant red deer on the road leading to the property and heard a fox barking in the woods. This is a rustic setting and involves a farm, so you will have some flies outside, but we are not city dwellers, so it didn't bother us. Also, previous reviewers mentioned trouble getting onto the gravel road. We rented an Alfa Romeo, which has a pretty low clearance, and we made it just fine. The trick is to turn around just past the turnoff for the gravel road and approach it from the left side slowly. That way you can easily make it in and miss the dip in the road. I recommend this property to anyone looking to get away from the noise and traffic of the city, and folks who want a peaceful, tranquil retreat in the countryside. Ps there's a great swimming lake nearby. Look up Bahia Cafe for directions to the beachfront which has a bar, cafe and beach loungers you can rent cheaply. The water is warm and feels wonderful on a hot day!
Tsuki
2016-06-24T00:00:00Z
elena was so nice and friendly. we were so sad that we could not use her accomodation, cause we get lost on the way to her. we really wish to come there one day, elena was really very very helpful.
sylvia
2015-09-01T00:00:00Z
Quite an exciting stay! Having got lost trying to find this place without a satnav we were glad to arrive and be offered some bread, ham and cheese to fill up. Not a luxurious place but full of character and with an authentic rustic feel. Lovely fresh eggs and honey. Good value.
Jemima
2015-05-26T00:00:00Z
We could only stay one night in this beautiful home, but could have easily stayed a week or more. Comfortable beds, a full kitchen, and serene setting. The host, Angelo, was very sincere and welcoming.
Julie
2016-06-01T00:00:00Z
I had a great time here. Everything is so rustic and open. It was beautiful and very comfortable. Elena's father, Angel picked my friend and I at the bus stop and took us to the farm. I loved Ciro, an adorable dog that loves to play. Anything that we need they were happy to provide and breakfast was included. I would love to return again.
Gabriela
2016-04-11T00:00:00Z
a beautiful stay!! far location in italy. perfect for a relaxing peaceful stay. nice farm with animals and nature. the host picked us up from the bus stop and drove us to all the stations!! very nice people. thank you so much
Sorah
2016-11-03T00:00:00Z
Tipe Kamar
Seluruh rumah/apartemen
---
Tipe Properti
Bed & Breakfast
---
Mengakomodasi
10
---
Kamar tidur
Barberino di Mugello, Tuscany, Italia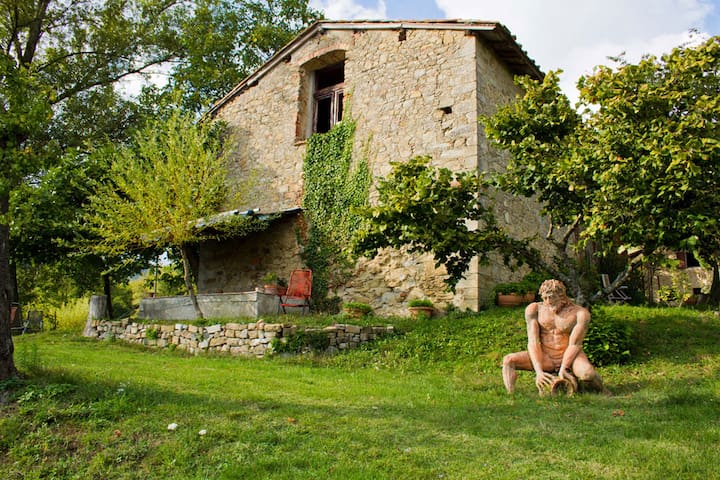 Appartamento sito tra il meraviglioso e antico centro storico di Rimini e il suo frizzante lungomare. Ben servito dai mezzi, sopratutto per la Fiera e a 10 minuti a piedi dal palacongressi! Il quartiere é uno dei più tranquilli e verdi della cittá!
Our '20 style apartment is located close to the beach, 15 minutes by walk (from beach number 39 of Rimini), only 5 minutes by walk from the city center, where you can have a trip around the beautiful roman archaeological sites (Arco d'Augusto, Domus del chirurgo, Ponte di Tiberio..) and only 1 minute from the bicycle track in the park that connects the city center with the (URL HIDDEN) a very quiet and secure district. In our street there is a lot of space for your car.The apartment is 45mq + balcony ( for dinnering outside in the evening ) of 15mq. ADSL for free and air conditioning. The apartment is composed of a spacious main room with a big table and a double sofa/bed; a very comfortable double bedroom with frescoed ceiling and a mezzanine.The bathroom has a box shower and a washing machine to clean all your clothes. Also it has frescoed wall.The kitchen has a fridge-freezer, a dishwasher and all that you need for cooking like oven, stoves and all the cooking stuff . There's all the basics like tea and coffee etc.Service on request:-On the main balcony that connect our house with yours, my parents, who are painter, organize courses of painting and clay. -Babysitting service-Brioches and bread in the morning-BycicleThe price is negotiable if rent for long period, weekly or monthly. I'm glad to take bookings on the same day or months in advance. Me and my family will be there at your arrive to give you the apartament keys and to help you with Rimini and his amusing places. If you need a tourist guide, for small price Alice (me), can offer you little trip all around the city and the beautiful country!
Siamo stati solo una notte, per un viaggio di lavoro, ed è stata una scelta ottima, piccola ma accogliente e caratteristica, pulita e sistemata con ogni confort, molto gentile ed accogliente la proprietaria, posto centrale e ben collegato. Consigliatissima!
Łógigi
2016-11-09T00:00:00Z
What a beautiful welcome from Alicia and her lovely Mum and Dad. Not only did they give is a warm welcome, but Alicia's mum had baked us a beautiful cake, which we did enjoy. The apartment is very beautiful with a full kitchen and everything you would need, even for a long term stay. It is close to the city centre, supermarkets, café and restaurants. Alicia gave great recommendations on places to eat and drink and had full maps with details marked ready for us to explore. Highly recommend to any traveller.
Julie
2015-09-14T00:00:00Z
Eine tolle gemütliche Wohnung, mit allem was man benötigt und sehr nette Gastgeber. Zur Begrüßung gab es ein wahnsinnslecker Kuchen ( vielen Dank nochmal) und Milch für uns. Es war immer jemand da als Ansprechpartner und dann auch hilfsbereit. Wir wünschen Alice und Ihrer Familie und Hund alles Gute und bis zum nächsten Mal.
Jennifer
2015-09-11T00:00:00Z
Our stay in Rimini at Alice's apartment was perfect. In an excellent position to reach both the city centre and the seaside. The apartment is nice, cozy and comfortable. The reception of mum Raffaella was friendly. She give us a delicious cake. Host absolutely recommend.
lorella
2014-06-17T00:00:00Z
Alice was very kind, and the flat was very clean and beautiful. Perfect to stay in rimini
Max
2016-05-30T00:00:00Z
Sono stata a casa di Alice per un week end lungo. Ad accoglierci c'è stata la mamma, con un'ottima torta fatta in casa che abbiamo spazzolato in brevissimo tempo. La casa è così come appare nelle foto, spaziosa, luminosa e accessoriata di tutto. Decisamente un'ottimo alloggio per due persone, o per due persone con due bambini in quanto la camera matrimoniale è molto spaziosa e ha anche due lettini.
Sara
2014-12-08T00:00:00Z
Ci siamo trovati benissimo. .. I genitori di alice due persone meravigliose e premurose. ..che devo assolutamente ringraziare per avermi messo la rete fuori dal balcone per la mia piccola chihuhua !! Settimana di assoluto relax...mare...mare...mare....fantastica notte rosa... La casa ha tutto quello che è necessario... la consiglio a tutti! ! Ah mi dimenticavo del buonissimooo giambellone della mamma di alice....davvero eccezionale per colazione e merenda....che abbiamo apprezzato tantissimo. ..soprattutto le mie bimbe...che mi hanno detto di chiederle la ricetta! !! Grazie mille per tutto! !! Ci ritorneremo sicuramente! !
Emanuela
2016-07-03T00:00:00Z
I thoroughly enjoyed my stay in this lovely Rimini apartment fantastically located just up from the sea (10 mins walking). Alice couldn't have been more welcoming and instantly made me feel at home offering me the use of he lounge and terrace to kick back and relax on the day before my convention and speech which was just what was needed. I couldn't recommend this B&B by the sea more and will definitely return again.
Francesco
2016-03-18T00:00:00Z
Tipe Kamar
Seluruh rumah/apartemen
---
Tipe Properti
Apartemen
---
Mengakomodasi
6
---
Kamar tidur
Rimini, Emilia-Romagna, Italia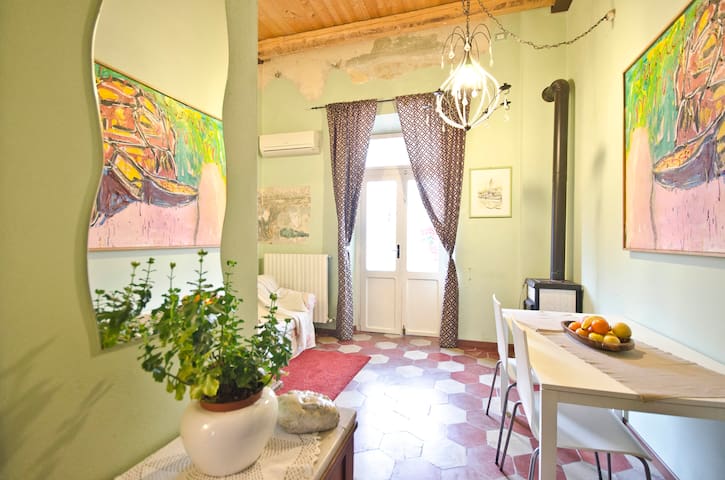 un bilocale con possibilità di altri 2 posti letto su richiesta ... la famiglia è titolare di azienda agricola biologica
double room, light walls have exposed stone
the village of Pitelli is known for its tradition of hospitality and peace, it will be easy to make friends, drinking a coffee at the bar or enjoying the "focaccia "
Ottima accoglienza, casa molto bella in borgo suggestivo. Consigliato vivamente.
Giacomo
2016-06-06T00:00:00Z
Dire Che siamo state bene é dire poco! Bellissimo il paesino - Pitelli - e l'appartamento, curato nel dettaglio e con una vista pazzesca; un gioiellino insomma! Federico e la sua famiglia ci hanno fatto sentire a casa e sono stati gentilissimi e disponibilissimi! E poi che dire delle loro marmellate?? Esperienza da 10+!! Peccato solo aver perso la festa di paese..
Elena
2015-08-07T00:00:00Z
Apartamento acogedor, cómodo y moderno, con aparcamiento privado reservado.
Alfredo
2016-09-24T00:00:00Z
Perfectisimo. El apartamento es pequeñito pero está impecable. Nuevo, la cama es increíblemente cómoda, te daban ganas de quedarte durmiendo toda la mañana. Todo estaba muy limpio, el baño, las toallas, todos los detalles muy cuidados. La vista del apartamento es genial, se duerme tranquilisimo ya que no hay ruidos... En fin, perfecto, la pena es que solo pudimos quedarnos una noche porque ya terminábamos las vacaciones, pero muy muy recomendable! En el desayuno nos habian dejado varias cosas, entre ellas mermeladas y miel casera que estaban buenisimas, y unos yogures biologicos que nos encantaron. La hermana de Federico fue extremadamente amable y nos explicó muy bien qué hacer, nos recomendó visitar Porto Venere y fue un acierto. También nos consiguieron aparcamiento ya que era difícil aparcar en el pueblito. Muchisimas gracias por todo!
Clara
2015-10-27T00:00:00Z
Frederico's family is very friendly and lovely. His cousin and father gave us the key and his cousin informed us about the neighborhood. The communication with Frederico was quite easy.
Yohan
2016-07-30T00:00:00Z
Federico's sister welcomed us, and the place was very comfortable: nice beds and linens, a very nice bathroom and shower, and a spot for eating the light breakfast treats they provide which included honey from their local farm. I would describe the location as follows: about 2 minutes walk from a small town/village not far from La Spezia, with a local pizzeria, a market, etc. Easy to drive to, and easy access to drive to La Spezia and catch a train to the Cinque Terre towns along the coast. Meeting Federico and seeing their family farm, and getting a short tour of the immediate neighborhood was really fun. A very friendly family. One thing to note about the apartment -- the eating area is not a kitchen by any means. It does have a small refrigerator (which was stocked with nice, small breakfast items) and a microwave, but there's room for just two people to sit and maybe 1-2 more to stand at the tall table. And the only sink is in the bathroom. But it all worked well for us. One other note is that the stairs up one story to the apartment are a bit steep (with a had a hand railing).
Randy
2015-10-10T00:00:00Z
Una estancia ideal!
Edelva
2016-11-01T00:00:00Z
Absolutely perfect. Wonderful place, well furnished, great location. Really appreciated the small kitchen area and provided homemade jams, breakfast etc. Thank you!
Simon
2016-09-15T00:00:00Z
Tipe Kamar
Seluruh rumah/apartemen
---
Tipe Properti
Bed & Breakfast
---
Mengakomodasi
4
---
Kamar tidur
Pitelli, Liguria, Italia
1

–

18

dari

300+ Sewa Tempat
Masukkan tanggal untuk melihat harga lengkap. Biaya tambahan berlaku. Mungkin dikenakan pajak.