My accommodation is close to uzerche small town 14km. You will enjoy it for outdoor spaces and calm. It is ideal for couples, solo travelers, business travelers and families (with children).
Martine et son mari sont famuleux. La chambre est magnifique. Je recommande vivement ces hotes. Je reviendrais.
Stéphane
2017-03-30T00:00:00Z
Tipe Kamar
Kamar pribadi
---
Tipe Properti
Rumah
---
Mengakomodasi
4
---
Kamar tidur
Meilhards, Nouvelle-Aquitaine, Prancis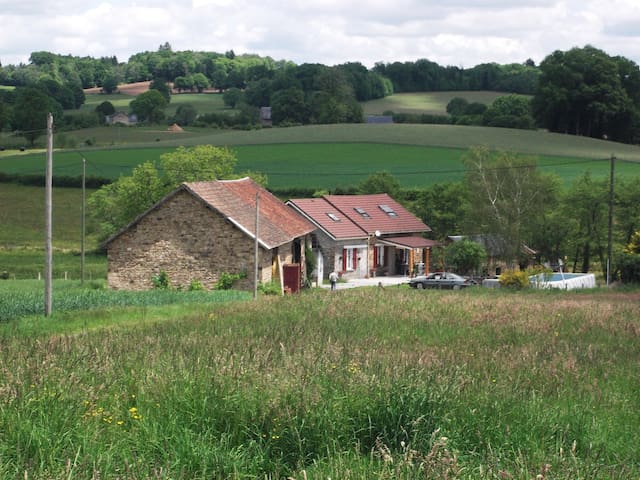 You want to relax in Correze? You want to discover the region, its attractions and gastronomy? You are passing in Correze? I am happy to welcome you for a simple stay, genuine, and friendly. Conveniently located between the main roads, you can easily radiate throughout the region.
FURNISHED AND EQUIPPED HOUSE. I am happy to welcome you in a typical Corrézienne country house. While keeping its authenticity, it was renovated and put to contemporary taste. Organized in duplex as follows: a large living room on the ground floor with fireplace, bathroom, separate WC, kitchen and lounge with TV. Upstairs, a large bedroom with a bed 2 people and a bed 1 person. Possibility of 5 beds with the sofa bed in the lounge. The Bed linen is 10 euros for all the beds maison.Les beds will be made upon arrival. - Bathroom with shower. - Living room with fireplace (the "inglenook") - Kitchen with dishwasher, fridge, microwave, stove, coffee maker ... - Living room with TV / TNT - Electric heating / Wood. Once the cold is felt you can take full advantage of a warm fireplace! (Wood is provided free of course).
Charmante maison, idéale pour se ressourcer au calme. Delphine avait réservé une bouteille de cidre que nous avons dégustée auprès du doux crépitement de la cheminée feu de bois. Les enfants apprécieront la présence des ânes présents sur le terrain et ramassé des châtaignes en bordure du chemin départemental. Merci Delphine pour son accueil et sa disponibilité.
Freddy
2016-11-13T00:00:00Z
Petite maison très agréable un jolie sommeil bien profond grâce a un calme rivalisant avec la bonne humeur et l"attention de Delphine;merci pour cette bonne bouteille de vin a mon arriver,a bientot peut être(URL HIDDEN) Marc
Marc Agnes
2015-10-24T00:00:00Z
La maison est conforme à la description. Accessible et très chaleureuse, vous pouvez aller les yeux fermés chez Delphine qui réserve à ses hôtes un très bel accueil. Nous avons passé un très bon séjour en Corrèze. Une petite pensée pour nos amis les ânes (discrets) de la part des enfants !
cécile
2017-01-02T00:00:00Z
Maison conforme à la description, et voire même plus grande que l'impression donnée par les photos! Delphine est prévenante et attentionnée! En été on peut en effet trouver le bruit des voitures genant, mais pour l'hiver, près du feu, c'était très bien et aucunement genant!
Lea
2016-12-25T00:00:00Z
Un séjour formidable dans une maison typique de la région Accueil irréprochable de Delphine Même le soleil était au rdv !
Steve
2016-11-01T00:00:00Z
Nous avons passé 2 semaines chez Delphine dans une maison très chaleureuse à seulement quelques kilomètres d'Uzerche, très belle ville . Delphine nous a reçu avec beaucoup de gentillesse, la maison est agréable, chambre et salle de bain très bien entretenue et un jardin agréable avec des ânes pour voisins. A notre une bouteille de vin et de limonade de la région nous attendait. Nous recommandons cette maison.
dominique
2015-08-22T00:00:00Z
Formidable accueil de Delphine, qui a pris le temps de bien nous orienter, avait préparé un feu très agréable et une bouteille de cidre du Limousin que nous avons dégusté en famille. Beaucoup de documentation sur la région et les lieux à visiter. Nous avons pu faire griller des châtaignes ramassées sur la propriété :) La maison est très agréable, joliment décorée, très cosy, authentique avec une véritable histoire et avec tout ce qu'il faut pour passer un bon moment. 1ère expérience airbnb réussie ! Nous recommandons chaudement la location de cette maison :)
Katia
2016-10-28T00:00:00Z
L'accueil à été très agréable et parfaitement adapté, malgré notre retard notre hôte étais disponible. il y avait également dans le frigo de l'eau fraîche des glaçons et une bouteille de rosé. Pour nous rafraîchir après un voyage laborieux en ce mois d'août. De plus Delphine nous a fourni des informations touristiques appropriées, ainsi que des guides et autres documentations.
Yannick
2016-08-14T00:00:00Z
Tipe Kamar
Seluruh rumah/apartemen
---
Tipe Properti
Rumah
---
Mengakomodasi
5
---
Kamar tidur
Saint-Jal, Limousin, Prancis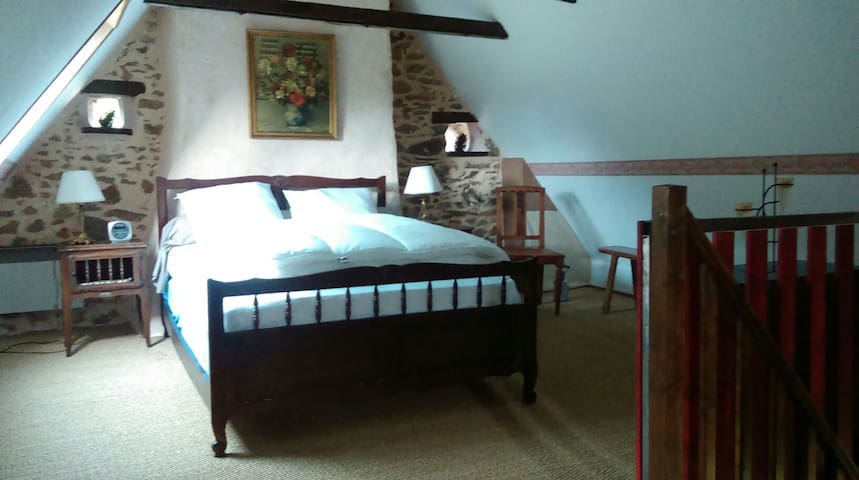 Our house is ideal for weekends with friends or family. The framework will allow you to relax in the company of your loved ones. Usability is the key word in that old barn limousine. Read a book, have a drink by the fire, our house is designed for everyone to live the relaxing time he wants. Volumes will not leave you indifferent. Perfect for couples, families, large groups and four-legged.
Un magnifique séjour dans un corps de ferme magnifiquement restauré. Très bonne communication avec notre hôte.
Fantine
2017-03-26T00:00:00Z
très belle maison. très spacieuse avec tous les équipements nécessaires.
chloé
2017-02-05T00:00:00Z
Très belle maison et un grand terrain, vous avez tout pour bien vous reposer.
Arthur
2016-12-18T00:00:00Z
Belle maison, idéale pour Week-end entre amis. Présence de nombreux couchages de qualité. Maison très propre et fonctionnelle (3 douches, grande cuisine!). Présence d'un vidéoprojecteur très apprécié. Je recommande chaudement !
Florian
2017-02-26T00:00:00Z
Superbe endroit, très aéré et bien décoré.
Gregory
2017-03-12T00:00:00Z
Tipe Kamar
Seluruh rumah/apartemen
---
Tipe Properti
Rumah
---
Mengakomodasi
12
---
Kamar tidur
Rilhac-Treignac, Aquitaine-Limousin-Poitou-Charentes, Prancis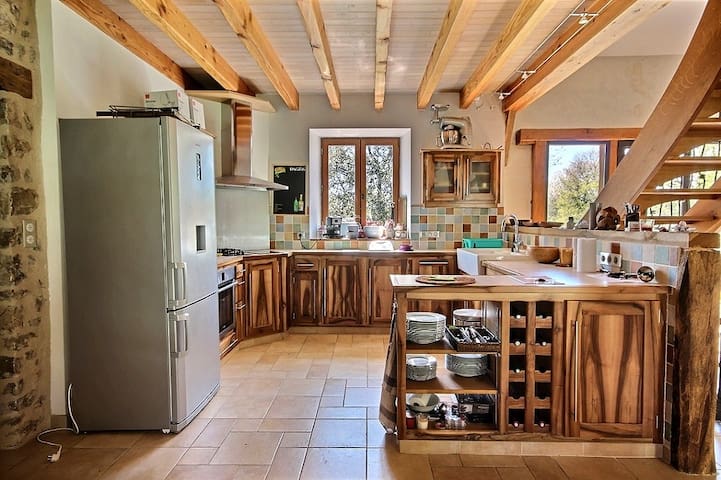 You will love the beautiful furniture, comfort, the calm of the green Corrèze. The starry skies are beautiful because we are far from light pollution. My accommodation is perfect for those seeking a relaxing yet very close to major attractions of the Limousin / Perigord, as Uzerche Pompadour, Sarlat, Collonges Red (classified village), Turenne, Curemonte, Padirac, Rocamadour. ... A private pond delight lovers of fishing.
The garden, all fans of barbecue, and allows moments of rest in an ornate frame on the sun loungers. Beautiful surrounding nature, streams, beautiful walks in the woods ... ATV tours from the holiday cottage.
The small hamlet with 3 houses, it is a haven of peace. We can taste the local cuisine with organic products without breaking the bank. Corrèze The food is simple but very tasty. But there are two starred restaurants for a romantic dinner in the immediate vicinity.
Une maison telle que sur les photos, parfaitement équipée et dans un environnement très calme. Sa localisation reste proche de tous les sites intéressants de la région. En résumé, nous avons beaucoup apprécié ce séjour.
Denis
2016-08-28T00:00:00Z
Tipe Kamar
Seluruh rumah/apartemen
---
Tipe Properti
Rumah
---
Mengakomodasi
4
---
Kamar tidur
Saint-Jal, Aquitaine Limousin Poitou-Charentes, Prancis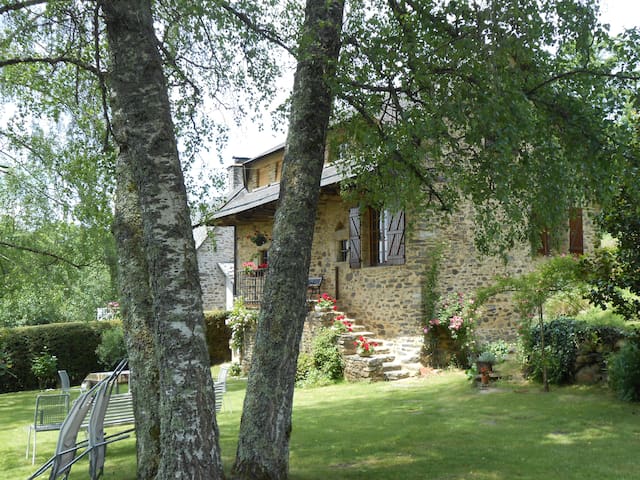 Located in the town of Saint-Jal 19700, place called Le Puy the Forks. Renovated farm, on a paddock of 2000m², in a green setting. Is located 18 km from the A89 exit 20 and 9 km from the A20 exit N ° 45, water level of Seilhac 5km.
Description: Sleeps 6 people A dining room area (sofa and chair) equipped with a kitchen (fridge, oven, electric hob, dishwasher, microwave) TV and TNT as its inglenook fireplace. Two bedrooms with 140 bed, wardrobe, bedside table and chair. A room with 2 beds of 90, dresser and chairs. A bathroom with large shower, basin, towel dryer and washing machine. A toilet with a washbasin. A large cellar Possibility of parking for several vehicles. Outdoor facilities, garden furniture, parasol and barbecue. Bread oven Bedding: Are not provided duvet covers, fitted sheets, pillow and pillowcase bolster case. Each bed comforter and blanket are provided All cooking facilities are provisions (pots, pans, casserole, covered blender, plates etc ...) Heating installation and wood stove in the inglenook fireplace. (Wood provided) During the lease period from 15 September to 15 May, for electricity a fee of 150 kilowatts is included in the rent, beyond the kw / additional consumption will be charged € 0.17. Our pets are accepted Tourist tax to be paid in addition to the rent, or 0.30 € per person over 18 years
Séjour très agréable. Logement au calme, bien équipé. Parfait pour un séjour familial ou entre copain au calme. Le poële à bois a été très apprécié.
Isabelle
2016-12-25T00:00:00Z
The host canceled this reservation 2 days before arrival. This is an automated posting.
Isis
2016-05-04T00:00:00Z
Un grand merci à Alain pour son accueil chaleureux et sa flexibilité dans les horaires. Charmante ferme perdue au milieu de nulle part, calme garanti. Parfait pour se ressourcer le temps d'un weekend! Cuisine parfaitement équipée, salle de bain spacieuse et chambres confortables... Bref, une vieille maison très bien rénovée et entretenue.
Hélène
2015-11-08T00:00:00Z
Nous avons passé une semaine très agréable dans ce gite propre et très bien équipé ! Celui-ci est situé au calme le long d'une petite route avec très peu de passage. Alain nous a chaleureusement accueilli et nous le savions disponible en cas de besoin.
Cloé
2015-08-22T00:00:00Z
Logement spacieux et très calme. Idéal pour un moment de repos et de détente dans un endroit à la campagne.
Herve
2017-03-05T00:00:00Z
Tipe Kamar
Seluruh rumah/apartemen
---
Tipe Properti
Rumah
---
Mengakomodasi
6
---
Kamar tidur
Saint-Jal, Limousin, Prancis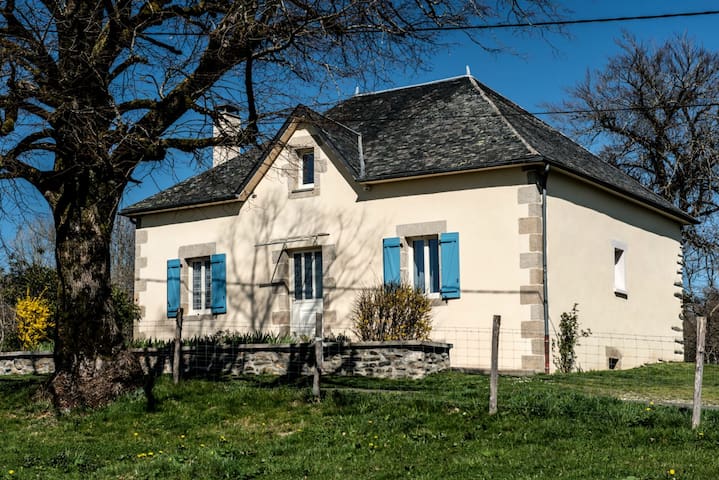 Villa à 600 m d'altitude, vue et coucher de soleil sur les montagnes, à 1 km du village médiéval de Treignac réputé pour ses "sports nature" (canoë-kayak, randonnées, pêche…), son tourisme vert, son lac aménagé (plage et aqua-parc), son patrimoine architectural.
Holiday home looking onto the unforgettable Monédières mounts, sunset and starry sky, situated at an altitude of 500 m, at 1 km of the medieval village of Treignac (Limousin region, quite in the center of France) well-considered for his " sports nature " (canoeing, excursion, climbing, archery, fishing…), its green tourism, its architectural heritage and its gastronomy (picking of mushrooms and blueberries), close to a lake fitted out with a beach. Two rooms (one big chamber and one smaller, with wardrobes), a room of shower, a fully-equipped kitchen, a living room with TV, CD drive and DVD, garden-terrace and parking lot. Ideally for 4 persons. Assured tranquillity, shops and supermarket in the neighbouring village.
Tranquillité, air pur et ciels étoilés assurés. Beaux couchers de soleil depuis la terrasse avec vue sur les montagnes limousines à l'horizon.
On retrouve dans le chalet l'atmosphère paisible et chaleureuse qui se dégage des photos mises en ligne. Le logement est lumineux, très propre, bien aménagé: on y trouve même tout le nécessaire pour cuisiner (ingrédients de base, nombreux ustensiles de cuisine, barbecue), ce qui est rare en location. Le chalet se situe dans un village de vacances très calme, à l'ambiance familiale. Nous avons été très bien accueillis. La propriétaire est remarquablement disponible, sympathique et honnête. Excellent séjour et excellente adresse: nous y reviendrions avec plaisir.
Anna
2014-08-08T00:00:00Z
The little house is comfortable with easy access to town by car. We enjoyed our stay very much and felt welcomed by our hosts.
Doan
2017-03-28T00:00:00Z
L'amie de notre hôte nous a très bien reçu, un véritable guide touristique. Encore un grand merci pour ses conseils. Une maison agréable et conforme aux photos, la chambre parentale est très spacieuse; nous avons su apprécié le calme de l'endroit.
Alexandre
2014-08-19T00:00:00Z
Séjour agréable au calme.
Dominique
2016-07-18T00:00:00Z
Fabulous little cottage..perfect size for our family of 3.large bedroom for us with lovely furniture.plenty of storage space...great person to show us to the cottage..although her English was minimal! My french should be better! Lovely neighbour...very friendly.perfect location for the town and beach...2 minutes drive to town 5 to beach- ideal... All kitchen equipment you could need- 2 hobs, combi microwave etc etc... Lovely extras like scrabble, spare table cloths....homemade jam on arrival! We would definately stay there again....thank you Michele
Sally
2015-07-18T00:00:00Z
A beautiful house full of comodities in a perfect enviorment. Michèle has a nice and lovely place in a village full of history. A perfect house to relax and disconnect from the rutine. Amazing!
Aniol
2015-08-27T00:00:00Z
Er werd gelijk een kachel voor ons bij gezet,daarna was t heerlijk warm
Ina
2016-10-18T00:00:00Z
Logement très agréable, bien équipé, calme. Idéal pour un séjour de vacances. Accueil sympathique de Nathalie aussi bien à l'arrivée qu'au départ.
Michel
2016-08-09T00:00:00Z
Tipe Kamar
Seluruh rumah/apartemen
---
Tipe Properti
Rumah
---
Mengakomodasi
4
---
Kamar tidur
Treignac, Aquitaine-Limousin-Poitou-Charentes, Prancis
Face au massif des Monédières, sans aucun vis a vis, dans un cadre calme et apaisé, notre ferme dispose de 4 chambres et 2 salles de bain. Le terrain de 1800 m² comporte une piscine chauffée (pompe à chaleur), une grange, un four à pain et un puits.
Je n'ai pas eu l'occasion de voir nos hôtes en direct mais ils ont su rester disponible à distance. La maison est confortable et les terrasses très agréable pour prendre nos repas. Nous avons profité de la piscine juste à côté des vaches ! La maison est au calme. Idéal pour être tranquille. Et la région est magnifique.
Jenny
2016-08-07T00:00:00Z
Nous avons passé un excellent séjour dans cette maison très agréable et confortable. Très beau jardin.
Mathilde
2016-07-31T00:00:00Z
Nous avons passé une semaine avec nos deux enfants de 2 ans et demi et 8 ans qui tout comme nous ont été complètement séduits par le charme de cette ancienne ferme rénovée avec beaucoup goût ainsi que la vue du jardin et de la piscine.Nous avons adoré notre séjour au calme avec les veaux au bord de la piscine dont on peut reguler la (URL HIDDEN) maison est spacieuse et très confortable...Nicolas est hôte très attentionné.Merci encore
Audrey
2016-07-24T00:00:00Z
Tipe Kamar
Seluruh rumah/apartemen
---
Tipe Properti
Rumah
---
Mengakomodasi
11
---
Kamar tidur
Chamboulive, Aquitaine Limousin Poitou-Charentes, Prancis
Large land with a wooded hectare, quiet without close neighbors house with large common area, dining table for 14 guests, large open fireplace, library, bedroom downstairs and 3 upstairs, large bathroom with shower, 2 terraces .
Exterior wooded, large trampoline and table tennis are available. A treehouse can allow teenagers to isolate themselves to play them. A barbecue is available on the terrace.
Un grand merci!!! Une maison très grande avec la belle générosité de pouvoir se chauffer au feu de bois
Perrine
2016-10-06T00:00:00Z
maison isolée et extrêmement fonctionnelle. beaucoup de places pour chacun et un maximum de services. Au top
ARNAUD
2016-08-29T00:00:00Z
Nous avons passé un court sejour , mais nous avons été superbement accueilli pars nos deux hotes , tres gentils et conviviaux. Maison tres spacieuse, agreable et au frais . Nous y retournerons sans problèmes
Fabien
2016-07-17T00:00:00Z
Nous avons séjourné 1 nuit sur notre retour de vacances. La maison est spacieuse et ne manque de rien, simple et sans chichi. Belle pièce de vie dans un esprit "campagne/relais de chasse" qui a bien plu à mon mari. Environnement calme et verdoyant où les enfants ont pu se détendre, surtout sur le trampoline. Nous avons pu goûter quelques bonnes cerises du jardin. Merci pour ce moment.
Tatiana
2016-07-28T00:00:00Z
Jean-Pierre et Marie ont assuré à tous les niveaux. Excellent accueil malgré mon arrivée tardive. La maison est calme en pleine campagne proche de l'A20. Idéal pour faire escale et se ressourcer entre Andorre et Paris. Le jardin est agréable avec ses arbres fruitiers bio. La région est pleine de surprises avec ses jolis villages et ses nombreuses activités telles le kayak sur la Vézère. Merci encore !
Rodolphe
2016-08-22T00:00:00Z
Superbe accueil, logement conforme au descriptif. Très bon séjour
Bénédicte
2016-11-06T00:00:00Z
maison en campagne tres agreable.merci a vous pour l'acceuil qui a ete super cordial et tres instructifs pour des gens de la ville comme nous.
Djilali
2016-06-24T00:00:00Z
Bonjour avec plaisir laisser un Grand merci à j pierre pour son accueil sa maison très agréable trouver un refuge pour ma famille encore merci beaucoup familles Cordero
Alberto
2016-07-11T00:00:00Z
Tipe Kamar
Seluruh rumah/apartemen
---
Tipe Properti
Rumah
---
Mengakomodasi
8
---
Kamar tidur
Saint-Ybard, Aquitaine Limousin Poitou-Charentes, Prancis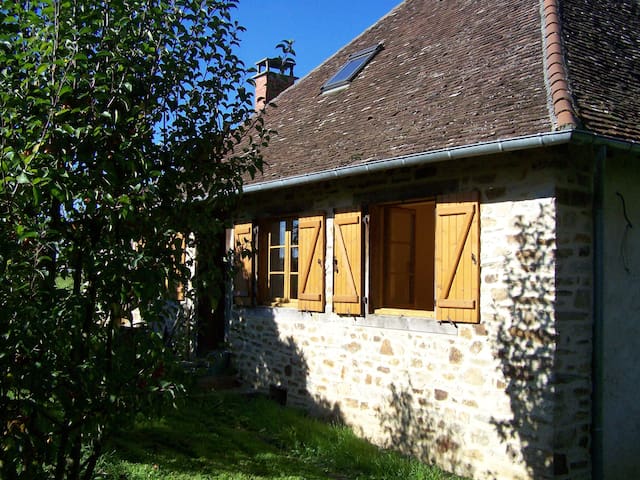 This lovely cottage is set in the beautiful village of Vigeois. There is a patio, and a garden with stunning view onto the river Vezere and the roman bridge. Pets welcome!
Lovely and cosy renovated (2015) cottage, 2 bedrooms with double beds and a showroom. Living/Kitchen with wood burner.
The village of Vigeois is 5 min. away, where you will find a supermarket, boulangerie, cafe, traiteur and bar/tabac. 10 minutes by car you have Lac Poncheral.
Très bon Week-end dans la maison du vieux pont! Calme, nature et repos. Maison très accueillante, très propre, tout ce qu'il faut pour une famille avec des enfants! je recommande vivement ! Merci encore à Simone
Léa
2016-10-16T00:00:00Z
Superbe séjour ressourçant et très agréable. Le cottage est très beau, les hôtes ont pensé à tout, je ne peux que recommander d'y aller !
Céline
2016-04-16T00:00:00Z
Séjour sympathique tout comme Simone qui a toujours été facilement joignable par mail. Nous avons été replongés à l'époque de nos grands-parents et nous avons passé un agréable séjour dans une région que nous apprécions tout particulièrement.
rachel
2016-10-26T00:00:00Z
Très agréable séjour dans une maison charmante et confortable. Repos assuré. Pas de télé en français dommage
Elissa
2017-03-19T00:00:00Z
What a fantastic stay we had at the Quirky Cottage. Simone and Peter are fabulous hosts and the house is very comfortable. Simone was able to help with any questions we had and even popped in to get the TV working for us. Vigeios is a quiet town but just what we were after. The abbey is spectacular and a walk around the lake is a must (it is beautiful in winter). There is so much to discover and in our 6 days we still didn't do it all. If you stay, a trip to Pompadour, just 20 mins down the road, to see the chateau is recommended, just remember to go after 2pm. Thank you Simone and Peter. We highly recommend your place.
Kerri
2016-12-09T00:00:00Z
We were looking for a base from which to explore Limousin and the Dordogne, and this cottage was perfect for that and so much more. The cottage is beautifully decorated, clean, quiet and with everything you need for a comfortable stay. Simone and Peter were exceptional hosts, from the moment we booked - providing a really useful house manual and offering to answer any questions we had - to a lovely note and gift upon arrival, and great communications when we opted to stay an extra night towards the end of the trip (purely on the basis of how much we were enjoying the cottage and local area!) Considering how reasonable the price is, we had assumed it would be a fairly small place - or set back from the main views of the village but we couldn't have been more wrong: really spacious (there were 4 of us) with loads of outdoor space and amazing views down onto the river and across the gorgeous rooftops of Vigeois. Thanks so much to Simone and Peter for having us, and we hope to come back again in the future.
Haley
2016-07-01T00:00:00Z
Simone and Peter were excellent hosts and I was delighted to meet them both and their lovely dog Ruby. The Cottage is really nicely renovated with some lovely quirky features such as the low wooden beams. Having a wood fire is wonderful and the woodshed is fully stocked. There's a lovely view of Vigeois. The Village also has a SNCF station where there are 5 trains a day to both Limoges and Brive.
Chris
2016-10-08T00:00:00Z
Super séjour chez Simone, ce cottage offre une vue magnifique sur Vigeois, très charmant village. Malgré les basses températures nous avons passés un excellent séjour, notamment grâce au poêle!
Prisc
2017-03-26T00:00:00Z
Tipe Kamar
Seluruh rumah/apartemen
---
Tipe Properti
Rumah
---
Mengakomodasi
4
---
Kamar tidur
Vigeois, Limousin, Prancis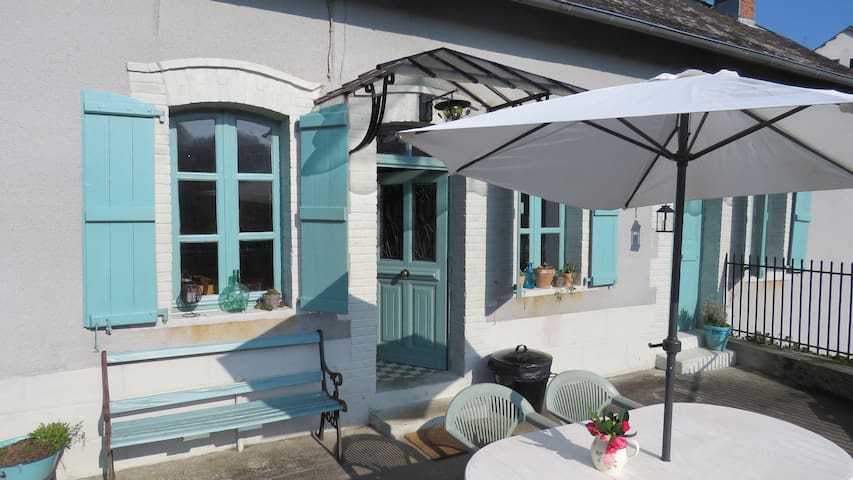 Maison individuelle spacieuse située au coeur des paturages, a la limite du village charmant de Saint Salvadour. Des chambres elegantes et confortables vous attendent, au sein d'une maison chaleureuse. Vous pouvez vous rechauffer devant la cheminee au salon/salle a manger en hiver, ou boire un verre sur le balcon orinte plein sud en ete. Venez profiter de la nature dans un cadre resposant et idyllique, et reveillez-vous au son des piverts dans les bois autours!
Je vous propose deux chambres lumineuses avec lit double (1ere et 2e etage) et une grande chambre avec lits jumeaux (possibilite de mettre un 3e lit). Il y a aussi une espace de couchage sur le pallier du 2e etage avec un lit simple (escalier ferme), qui conviendrait a un enfant ou jeune personne. La maison comprend 2 salles d'eau, 3 wcs, une cuisine, un salon/salle a manger avec cheminee et balcon. Un jardin clos entoure la maison avec de nombreux arbres fruitiers. 1.5 hectares de terrain agricole appartienent a la maison. Le jardin et le terrain autour sont a flanc de coline, ce qui pourrait poser des problemes d'acces pour des personnes a mobilite reduite.
This is a farming neighbourhood. There are Limousin cattle and woodlands. In the winter, there is hunting. NB If you are out walking in the woodlands during the hunting season only, you MUST wear something orange for safety. Your dog must wear an orange collar. There is no hunting on my land. In the summer no problems
Un nouveau séjour très agréable chez Julie
Franck
2017-02-03T00:00:00Z
Julie est très accueillante. Logement très calme. Conforme à la description.
Franck
2017-01-06T00:00:00Z
Julie est très gentille et très accueillante.
Franck
2017-01-11T00:00:00Z
Julie est toujours aussi accueillante, c'est un plaisir de revenir chez elle.
Franck
2017-01-12T00:00:00Z
Tipe Kamar
Kamar pribadi
---
Tipe Properti
Rumah
---
Mengakomodasi
5
---
Kamar tidur
Saint-Salvadour, Aquitaine-Limousin-Poitou-Charentes, Prancis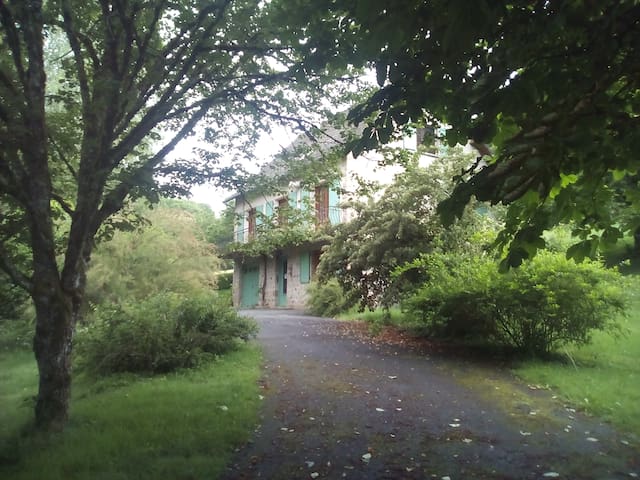 Sleeps 6. The house located in the heart of Uzerche is on three levels (garage & cellar on the ground floor), living room, kitchen and bathroom on 1st floor, 3 good size bedrooms and separate toilet on the 2nd floor. Bedroom 1 has a double bed, bedroom 2 has two single beds and bedroom 3 a set of bunk beds. The kitchen is fully equipped with fridge/freezer, electric oven, dishwasher, microwave, kettle, cafeteria, crockery & cutlery and good selection of cooking utensils. Vacuum cleaner, ironing board, iron and clothes airer, washing machine and some cleaning materials are also provided. A cot and high chair are available for use. Full garage in the basement allows secure storage of bikes, canoes etc. Even though the house is on the main road through Uzerche, there is private parking directly outside and additional parking in a free car park directly opposite. It is within easy access of the A20 motorway and the international airports of Limoges and Brive are approximately an hours drive from Uzerche. Uzerche has plenty to offer - restaurants, shops, cinema, canoeing, riverside walks, a weekly market and in summer, it's own Producer Fair. Visit the towns of Sarlat, Rocamadour, the famous Lascaux caves, take a trip on an underground river at the Gouffre de Padriac or enjoy a day trip to the Auvergne mountains. If it's shopping you want, try Brive or Tulle or one of the many markets, such as at Objat. The Limousin is one of the most sparsely populated areas of France, so for a relaxing holiday look no further. For those of you who have a love of sports then the Base de la Minoterie in Uzerche offer a range of canoeing/kayaking, rafting and climbing. If you are house hunting in the Limousin then the property is ideally placed, being centrally situated and with easy access to the major road network. Please note that the house is not suitable for anyone with mobility problems due to the number of stairs.
nous avons été bien reçu et bien conseille
marine
2016-08-29T00:00:00Z
The house was centrally located in Uzerche, with easy parking. There was plenty of space for our group. Only downside if you are a bigger group is that the hot water runs out quite quickly!
Rachel
2016-04-25T00:00:00Z
Disappointed
jessica
2013-08-19T00:00:00Z
Helen n'était pas en France pour nous accueillir mais tout était prêt pour que nous ayons accès à sa jolie maison où les chambres avaient été préparées. Située à l'entrée de la magnifique ville d'Uzerche avec un petit parking juste en face.
Vivien
2016-02-01T00:00:00Z
Bon accueil de la part d'Helen. Le logement est spacieux et situé à 5 minutes à pied du centre historique d'Uzerche même si le logement est situé sur un axe passant et donc bruyant. Juste en face du logement, il y a un parking gratuit, ce qui est bien pratique.
christel
2016-08-21T00:00:00Z
Helen est accueillante et le logement comporte tout le nécessaire. Un parking gratuit permet un accès facile. Toutefois, je suis venue en novembre et j'ai trouvé le logement extrêmement froid et humide. Les draps avaient une très forte odeur d'humidité. Je ne reviendrai pas.
elise
2016-11-24T00:00:00Z
Logement utile pour dépanner.
François
2017-01-02T00:00:00Z
Uzerche est une ville très agréable et la maison est idéalement située. Les équipements (lave-vaisselle, machine à laver) sont en très bon état et la maison est fonctionnelle.
Christelle
2016-08-09T00:00:00Z
Tipe Kamar
Seluruh rumah/apartemen
---
Tipe Properti
Rumah
---
Mengakomodasi
6
---
Kamar tidur
Uzerche, Limousin, Prancis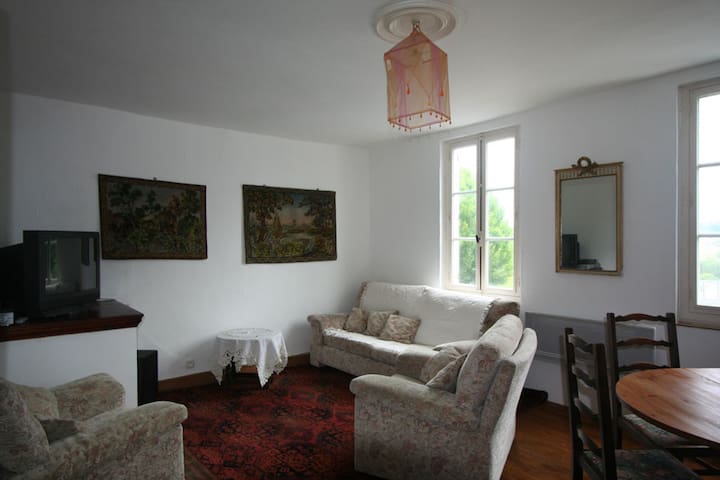 Unique, this charming residence is located south of Corrèze, in the Périgord doors; It is at the heart of an 8 hectare park and offers a quiet, 2 rivers, lakes and waterfalls and all comforts.
Tipe Kamar
Seluruh rumah/apartemen
---
Tipe Properti
Rumah
---
Mengakomodasi
10
---
Kamar tidur
Uzerche, Limousin, Prancis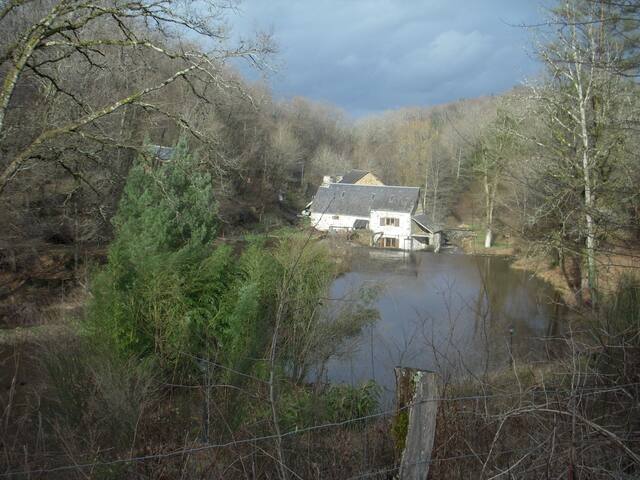 Located in a hamlet 3km from all amenities A few kilometers from the A20 and A89 motorways Traditional stone house in the green countryside Corrézienne ideal to rest and recharge, large fenced and shaded
calm
bien reçus , ponctuels , cette maison un peu isolée correspondait à notre recherche . et agréablement surpris , car la maison est plus agréable dans la réalité que sur la photo de présentation .
benoit
2016-04-10T00:00:00Z
Tipe Kamar
Seluruh rumah/apartemen
---
Tipe Properti
Rumah
---
Mengakomodasi
6
---
Kamar tidur
Lagraulière, Limousin, Prancis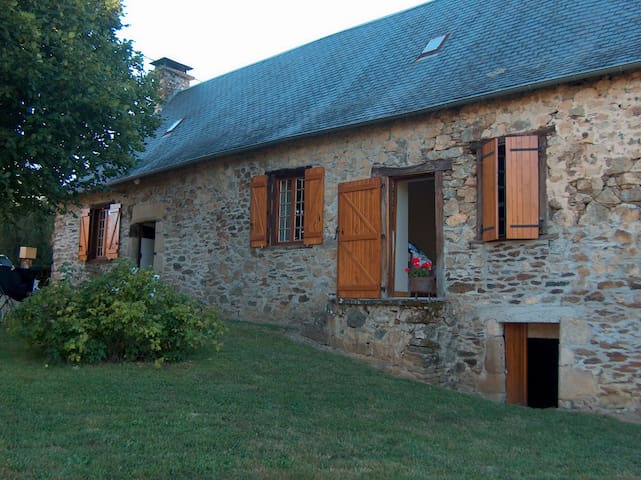 Welcome to Clare's cottage, lovingly restored and completed in 2015. A charming 2 bedroom rustic cottage. Briefy comprising an open plan kitchen/dining/lounge area, 2 bedrooms and bathroom. Original wood flooring, exposed beams and stone walls.
Guests have full access including the rear terraced gardens and cellar. An xbox 360 with various games and DVDs is also available.
A beautiful rural French village . The village centre is a ten minute walk away, here you will find a , bar, supermarket, petrol station and restaurant and a beautiful medieval church. Also don't forget to visit the tree in Rue de l'If in Vigeois, it is over 14000 years old. There are 2 beautiful lakes nearby in Vigeois and Seilhac.The walking trails are amazing. This area is great for fishing, swimming, hiking and canoeing.
Très bon séjour me gîte et complet et très accueillent
Theo
2016-10-14T00:00:00Z
Séjour agréable en Corrèze dans cette ancienne maison rénovée, un poêle à bois nous a bien réchauffé le soir et l'électroménager de cuisine était tout à fait disponible et fonctionnel. Maison bien préparée pour nous accueillir dans son ensemble malgré la distance des propriaitaires. Il faut juste prévoir un duvet en plus pour les frileux! Merci et bonne continuation a Clare!
marie
2016-09-22T00:00:00Z
We rocked up in Vigeois hoping for a relaxed rural getaway from city life and it totally met all our expectations. What a beautiful village and amazing cottage. This cottage is much bigger than it looks in photos - lovely big open living space but also very cosy with fire lit and red wine being consumed. It has been beautifully renovated. The location is great with 2 little bars in the village and a patisserie/boulangerie/butchers and the Spar shop that Claire has mentioned. Also on Tuesday nights a pizza van drives into town and you can order pizza's and eat them at the bar. amazing! We enjoyed the wonderful walks in the area, we accidently walked to Uzere and back which is actually a 20km walk but definitely worth it, If you are looking to do more than walking and eating then a car will be needed, but we didn't have one and loved it. Easy to get into house and no problems - well equipped. Enjoy meeting lots of lovely neighbours who may well chat away in French to you, even if you have no idea of the language ;-) We definitely hope to return to this wonderful hidden gem. Thanks Clare and Rob.
Kate
2016-10-07T00:00:00Z
Lieu de paix et de repos....maison de village au charme de l ancien...savoir que la télé ne joue que des chaînes anglaises..!)...
philippe
2016-10-09T00:00:00Z
Notre séjour s'est très bien passé, le cottage est très charmant, propre et fonctionnel, il ne manquait rien. Le petit bout de jardin au dessus des toits est appréciable. Nous recommandons cet endroit pour les amoureux de la nature.
sandra
2016-07-19T00:00:00Z
Logement idéal pour les amoureux de la nature. Bon point de départ pour visiter la Corrèze Logement joliment décoré avec goût et soin. Pour l'hiver il faut alimenter le poêle à bois sinon frileux s'abstenir. La cuisine est bien équipé.
ariane
2017-01-02T00:00:00Z
très bon séjour malgré un aléat en arrivant car les fusibles ont sauté ! mais l'hôte est vite intervenu ; il faut savoir parler anglais malgré tout pour la communication , mon conjoint parlait anglais donc nous étions sauvés. Après le coin est très agréable avec des visites touristiques très sympas
sabine
2016-11-07T00:00:00Z
When we walked into Clare's cottage, we absolutely fell in love! The cottage had the 'French country cottage' feel we were looking for and the description in the listing was very accurate. The cottage was very clean, and we would happily rent this location again.
Colleen
2016-04-26T00:00:00Z
Tipe Kamar
Seluruh rumah/apartemen
---
Tipe Properti
Rumah
---
Mengakomodasi
4
---
Kamar tidur
Vigeois, Limousin, Prancis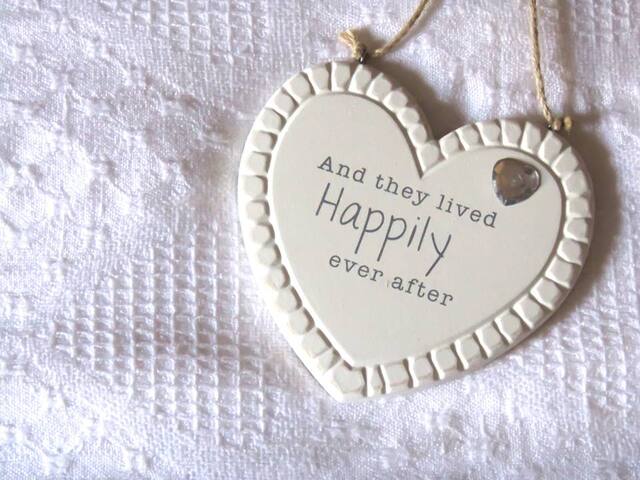 cette maison de campagne récemment rénovée peut accueillir jusqu'à 8 personnes. D'accès facile, elle vous permettra de découvrir la jolie région Limousin et le Périgord vous pourrez également vous relaxer au bord de sa piscine ou de son étang
Absolutely perfect! Clean, well stocked. A proper home from home. The views are beautiful. Hoping to go again !! Thankyou sandrine.
tracy
2015-06-04T00:00:00Z
Nous avons passé un agréable 31 janvier et séjour dans cette maison retapée avec beaucoup de goûts. Que dire à part qu'il fut dur de partir même sous la grisaille !! À refaire durant l'été pour pouvoir profiter plus en détail des extérieurs, de la piscine et du cadre vraiment tranquille. Le petit plus sympa avec les animaux présents pour les enfants c'est toujours bien.
Jonathan
2016-01-05T00:00:00Z
Séjour très agréable, gîte très confortable et décoré avec goût. Le temps magnifique nous a permis de profiter du salon de jardin avec la vue très reposante. La prochaine fois, nous espérons pouvoir profiter de la piscine. Nous recommandons ce gîte dans lequel nous étions 8 adultes qui ont tous été ravi de ce séjour! A bientôt :-)
Harmonie
2014-11-03T00:00:00Z
Sandrine's cottage is very nice. It was clean and tidy on our arrival. Sandrine communicated well. Lovely views.
mandy
2016-06-26T00:00:00Z
Cette location est très agréable, une belle rénovation avec des matériaux nobles et beaucoup de goût. De l exterieur la maison semblait petite, mais lorsque nous y sommes rentrés, nous avons été agréablement surpris. La piece a vivre est très bien pensée et l espace y est agréable. Quant aux chambres elles sont d un beau volume et la literie de très belle qualité. Nous avons passé un week end très agréable dans cette jolie maison. Nous regrettons qu elle soit déjà victime de son succès car cela nous oblige à attendre des disponibilités pour y revenir avec plaisir, et pouvoir profiter un peu plus de l exterieur (piscine, terrasse et espaces verts...).
nadine
2014-05-26T00:00:00Z
Nous étions 6 adultes, 2 enfants et 2 bébé. La maison est très agréable et très bien aménagée. Les enfants ont beaucoup aimé la balade en barque sur l'étang. Je recommande cette location !
Elodie
2014-10-14T00:00:00Z
nous avons passé un très agréable séjour en famille. le gite est très bien situé : la vue est superbe . l'implantation et la décoration sont très réussies.
Patrick
2015-11-12T00:00:00Z
Super séjour en Corrèze chez Sandrine! Très bon accueil, gîte chaleureux, convivial et confortable. Parfaitement équipé, nous nous sommes vraiment sentis comme chez nous. Très bon rapport qualité/prix.
David
2014-11-07T00:00:00Z
Tipe Kamar
Seluruh rumah/apartemen
---
Tipe Properti
Rumah
---
Mengakomodasi
8
---
Kamar tidur
Saint-Ybard, Limousin, Prancis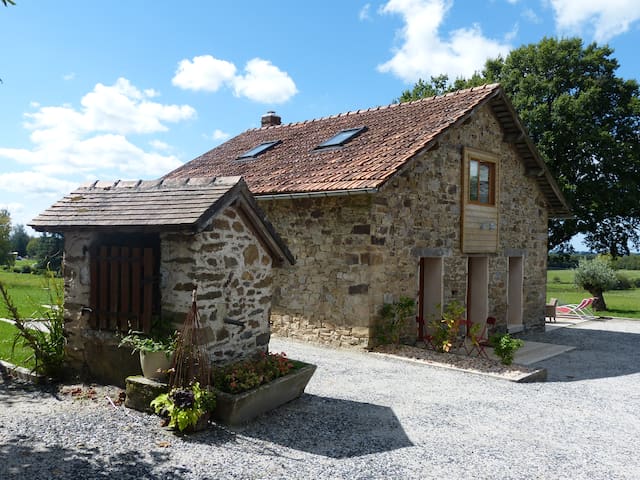 "3 Star rated" recently renovated fully furnished 3 bed gite situated in charming rural France. The ground floor is a large open plan living area with fireplace and wood burner(wood supplied in winter months), well equipped dine in kitchen, downstairs bathroom with bath. Upstairs are 3 bedrooms-2 double and 1 single, additional bathroom with enclosed shower.Mature gardens,private terrace for al fresco dining-bbq and outdoor furniture supplied Close by to local amenities,beach and restaurants.
A tv monitor and dvd player along with a selection of dvds is provided-(Please note, there is no aeriel or satellite connection) A welcome pack is provided along with essential bathroom items.
Limoges airport -1hr 20 minutes Brive airport ( summer flights from stansted)-1 hour Local lake,beach,restaurant and shops -10 minutes Ski area in Cantal and Massif Central - 1 hour 30 minutes
Tipe Kamar
Seluruh rumah/apartemen
---
Tipe Properti
Rumah
---
Mengakomodasi
5
---
Kamar tidur
Affieux, New Aquitaine, Prancis
Mon logement est parfait pour les couples, les familles (avec enfants) et les compagnons à quatre pattes.
Tipe Kamar
Seluruh rumah/apartemen
---
Tipe Properti
Rumah
---
Mengakomodasi
4
---
Kamar tidur
Rilhac-Treignac, Aquitaine Limousin Poitou-Charentes, Prancis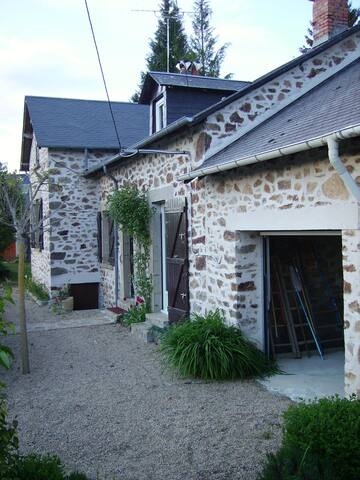 Maison neuve entièrement équipée ( wifi, climatisation, cuisine équipée) 1 Chambre avec lit bebe et table à langer. Gde Sdb avec baign jacuzzi Terrain de 4260 m2 en cours d'aménagement. Mini ferme avec des chevres, poules et lapins. 2 BBQ. four A 900m du centre du village. A 20 min d'Aix.
La nature et le calme
Tipe Kamar
Seluruh rumah/apartemen
---
Tipe Properti
Rumah
---
Mengakomodasi
4
---
Kamar tidur
Rognes, Bouches du Rhône, Prancis
Eyburie - Airbnb
:
Rata-rata

4.43

dari

5

bintang dari semua

144

ulasan tamu
1

–

18

dari

76 Sewa Rumah
Masukkan tanggal untuk melihat harga lengkap. Biaya tambahan berlaku. Mungkin dikenakan pajak.