La casa con 3 dormitorios y 2 baños está situado en un pueblo a unos 20 minutos a las afueras de Múnich ya 5 km de la sede de Starnberg. El Sbahn a Múnich se encuentra a 4 km de la casa. En coche se tarda 35 minutos para llegar a las pistas de esquí más cercanas.
Hay 3 camas dobles en la casa. 2 son de 140 cm y 1 es de 180. También hay una cama individual que se puede utilizar. 6 personas pueden cómoda estancia aquí.
la naturaleza bávara hermosa! Cerca de lagos y montañas.
The house was exactly how it looked with the pictures. The house was beautifully designed and everything was very nice.
Julie
2016-06-21T00:00:00Z
Fantastic house - beautifully made and designed - and supremely well insulated - essential when it is -18C outside! We had a lovely white Christmas in the house and feel very lucky to have found such a wonderful house. Good location - 10 minutes to Starnberg and 25mins to Munich - but quiet and calm. We wouldn't hesitate to recommend this to our friends and family in the future
Tim
2014-12-27T00:00:00Z
What a wonderful property. Lisa was a very good host and available to answer questions. The home was outstanding and we would highly recommend this property to everyone.
Carey
2014-06-22T00:00:00Z
We really enjoyed our time a lot . the villa was fabulous and very luxurious, the design was amazing and very sophisticated. The owner was very nice, friendly and cooperative. she provided a very gentle and accommodating service. I highly recommend the villa for a family a good time. Thanks again to the villa owner. Hosam
hosam
2014-08-10T00:00:00Z
Prima contact vooraf en uitleg over de route ivm vrij nieuwe wijk. Nette schone woning, ruim en modern.
Paul
2016-06-24T00:00:00Z
Lisa has been very helpful during our stay. Lisa's house has all the amenities of a modern house. We enjoyed staying with Lisa.
Pavel
2014-06-03T00:00:00Z
The house is really beautiful and well-equipped, everything in there is really top-notch. It is conventiently located between Munic and the Alps, near the lake. Lisa is a very sympathetic host with good tips, and lent us her bike (and helped rent others). Cycling at Lake Starnberg is very nice, also shorter trips with smaller children are possible (Hohenrain - Ammerlhan - Berg; stop at the seehotel there). It may occurs that Lisa stays in the house at well, though then her presence is not noticable as she sticks to her room-- in our case she was there just two nights out of two weeks, as she is traveling a lot anyway.
Peter
2014-07-27T00:00:00Z
It was a wonderful and memorable experience being able to stay at Lisa's home in Bavaria. It was one of the highlights of my family's trip and made that portion of the vacation spectacular. The home is perfectly located in nature with stunning views all around and with a large amount of day trip potential. Lisa was the consummate host ensuring everything was well planned and offering helpful tips. When we are able to return to Bavaria, we would happily stay here again.
Rachel
2015-10-04T00:00:00Z
Tipe Kamar
Seluruh rumah/apartemen
---
Tipe Properti
Rumah
---
Mengakomodasi
6
---
Kamar tidur
Berg, Bavaria, Jerman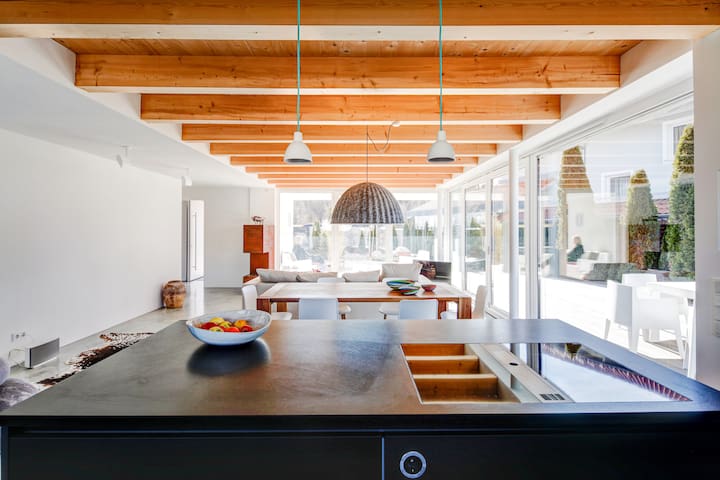 Il bungalow si trova a 5 minuti a piedi dal lago di Starnberg ea 20 minuti a piedi dalla Possenhofener Park (Castello Sissis). Avrete l'accesso esclusivamente ad un beachpond privato a 10 minuti a piedi. Intorno al lago si possono trovare molti bavaresi Biergarten. Al centro di Starnberg (5 min auto), Monaco di Baviera 20 min, MUC aeroporto 45 minuti di auto. Animali (cani) ammessi su richiesta.
Airy Bungalow avec 1 chambre à coucher (lit king size) et 1 lit d'appoint dans le salon. Babybed sur demande. 1 salle de bain avec baignoire et WC, 1 WC. Magnifique jardin.
La situation est un quartier résidentiel privilégié et calme. De là, vous pouvez commencer les visites fantastiques en vélo. Le bord du lac est quelques pas de là et la forêt pour promener le chien ou le jogging est un 10 minutes de marche.
Tipe Kamar
Seluruh rumah/apartemen
---
Tipe Properti
Rumah
---
Mengakomodasi
4
---
Kamar tidur
Pöcking, Bayern, Jerman
Beautiful, spacious studio on the top floor, where you enjoy spending time with comfortable sofa for reading or relaxing. The covered balcony is towards evening sun. The studio is a beautiful, bright bathrooms come with a bathtub that her best, tells you with the guest in the second attic room. Otherwise there there is complete silence. Breakfast is included in our rate.
Well maintained large family house with a garden and terrace, where our guests have enough space and retreat.
Susanne ist eine sehr offene und nette Gastgeberin, man fühlt sich direkt wie zuhause. Sofern ich wieder in der Gegend bin, kommt es definitiv zu einem Wiedersehen. Bis bald :-).
Marco
2016-11-11T00:00:00Z
Tipe Kamar
Kamar pribadi
---
Tipe Properti
Rumah
---
Mengakomodasi
2
---
Kamar tidur
Berg, Bayern, Jerman
La propriété est située sur une Seemoos réserve naturelle sur les pentes au-dessus du Pilsensee. Le Pilsensee est Nachbarsee de Ammersee à Fuenfseenland 30 km de Munich.
Vous vivez avec nous dans une communauté. Nous avons plusieurs maisons sur la succession. Vous pouvez dormir dehors et la cuisine. Vous pourrez vous détendre dans le hamac avec vue sur le lac. Vous pouvez boire de sa propre eau de source. Vous pouvez vous baigner dans le lac à la jetée. Nous pouvons nous asseoir par le feu la nuit et regarder les étoiles. Bienvenue au paradis.
Vielen Dank für diese einmalige Unterkunft der etwas anderen Art. Naturverbunden, rustikal, urig, viel Platz. Es war ganz nach unserem Geschmack und wir hatten eine großartige Zeit.
Melanie
2016-09-23T00:00:00Z
Mario ist ein exzellenter Gastgeber und sehr interessanter Mensch!!! Das Anwesen mit Seezugang ist ein perfekter Ort um eine Auszeit vom Alltag zu nehmen und die Natur zu genießen, gerne wieder:)
Marina
2015-08-24T00:00:00Z
Ich war für ein Wochenende mit meinem Freund in Herrsching und wir haben es sehr genossen. Man lebt mitten in der Natur in einem ganz individuellen Holzhaus und hat direktem Zugang zum wunderschönen See. Es war eine tolle Zeit, wir kommen bestimmt wieder. Mario ist echt entspannt und unkompliziert. Absolut empfehlenswert, für alle die Lust auf Natur haben!
Cecilia
2016-08-29T00:00:00Z
-Natur Paradies - ideal zum entschleunigen - schöner Wohnraum, sehr natürlich und angenehm. -es gibt keinen Mülleimer , alles wir verwertet, absoluter +++Punkte, fanden wir sehr gut. - das Bad ist nichts für zartbesaitete Frauen die jeden Tag Duschen müssen. Uns hat es gereicht. - absolut ruhig und schön gelegen mit Blick auf den Ammersee. - Mario der Vermieter hat uns sehr nett Empfangen und uns alles wunderbar erklärt. - wir würden es weiter empfehlen und auf jeden Fall wieder hingehen..
Stefanie
2017-03-12T00:00:00Z
This was a perfect weekend getaway. The main house has a cozy fireplace but it may be too cold in winter for people who feel the cold a lot. Mario is a great host and he kindly collected me from the station the day I arrived. There is also a bus stop about 12 minutes walk away - the bus goes during the week - and so I used the bus to go back to the station. I hope to go back soon.
Jane
2015-09-09T00:00:00Z
We spent 3 great days at Marios little garden paradise. It is stunning. Mario was very welcoming and uncomplicated. Also our little Sami liked the nature very much. Hope to see you again!!! Thank you for everything and take care.
Christoph
2015-08-01T00:00:00Z
Mario hat uns sehr nett empfangen. Das Haus hat eine traumhafte Lage, mit wunderschönem Blick auf den Pilsensee und eigener Quelle. Der Ofen ist sehr gemütlich. Wir haben uns sehr wohl gefühlt und die Anreise war unkompliziert.
Stephanie
2015-12-14T00:00:00Z
Ein malerischer Ort. Es gibt Orte die man verlässt und Orte, die einen nicht loslassen. das Naturparadies mit Seeblick ein solcher Ort. Geht hin und seht selbst.
Ronny
2015-08-22T00:00:00Z
Tipe Kamar
Kamar bersama
---
Tipe Properti
Rumah
---
Mengakomodasi
4
---
Kamar tidur
Herrsching, Bayern, Jerman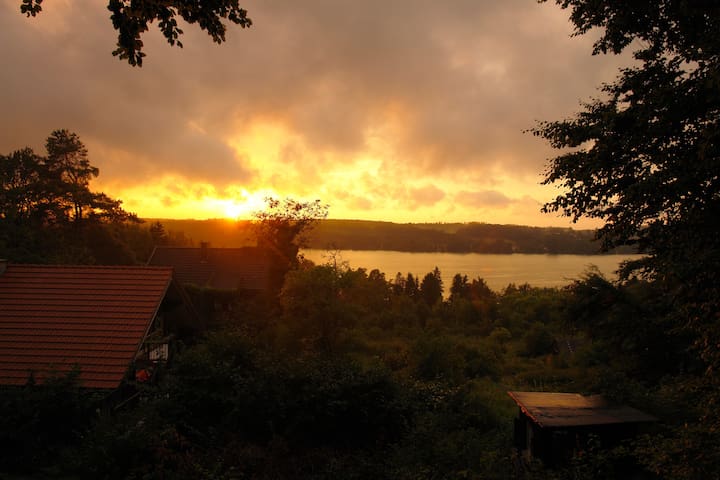 This charming 1-Bedroom Cottage is situated in the pretty Village of Pähl, between the lakes of Ammersee and Starnbergersee The Property is located in an idyllic location.
Situated in open countryside, quiet location, ideal for walking holiday or relaxed rest
Schloss Neuschwanstein, Schloss Linderhof, Garmisch-Partenkirchen Zugspitze, Tegelberg, Legoland, Skyline Park, Märchenwald, Sommerrodelbahn, Kloster Andechs, Hoher Peißenberg, Bernried Buchheim Museum, Murnau Kandinski Haus, Dießen Töpfermarkt.
Nous avons passé un très bon séjour dans le logement de Viktor et Angelika, qui est fonctionnel, calme et très bien placé pour découvrir à la fois Munich, les lacs et les Alpes allemandes.
Claire
2016-08-07T00:00:00Z
La casa muy bien , mis compañeros estuvieron muy contentos y tranquilos. Es un lugar y un entorno precioso. Gracias por todo. Si podemos volveros a su casa cuando podamos.
MARIA
2016-04-21T00:00:00Z
Très agréable séjour dans cette belle et grande maison très fonctionnelle! Tres bon point de chute pour visiter le sud de la Bavière!
David
2016-08-25T00:00:00Z
Great experience to be in Pahl, both Viktor and Angelika were very attentive and nice, they responded to our needs in a short time, this house is located in a beautiful peaceful town and is kept in good conditions.
Greg
2016-07-16T00:00:00Z
We spent fantastic days at Angelika places, she was very requests and kind. The apartment is big and confortable, the kitchen is also good, you can make your meals. We rent a car to visit duchau concentration camp, oktoberfest and the Neuschwanstein castle.
Davi
2016-10-05T00:00:00Z
Tipe Kamar
Seluruh rumah/apartemen
---
Tipe Properti
Rumah
---
Mengakomodasi
6
---
Kamar tidur
Pähl, Bayern, Jerman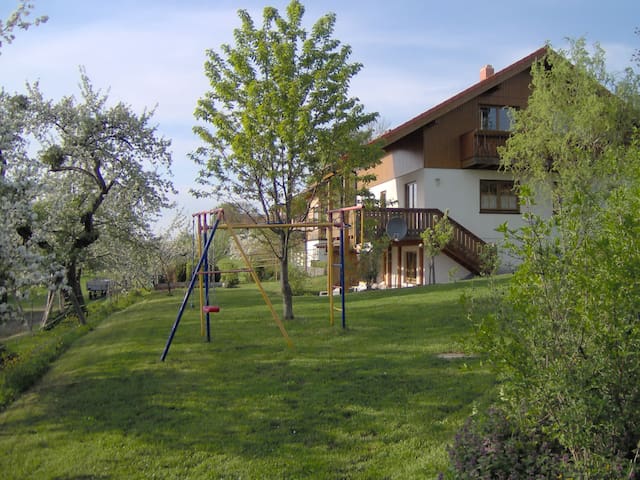 Stay in a house completly made from wood in a confortable atmosphere! Your room with own bathroom is located in the cellar of the house and is appointed with a small kitchen. Bus station near the house (10 min. by bus to the train station and lake). From here you can explore Munich and the beautiful landscape and sights between the bavarian city and the Alps.
The house completly built from wood offers a comfortable, warm atmosphere. Your room is locatet in the cellar, appointet whith big windows, bed (1,40x2m), table, cupboard and small kitchen. From your room, you can get diectly into the bathroom. Arriving by car, you can park directly in front of the house. Arriving by train at the trainstation "Starnberg" (not "Starnberg Nord") you will get a great view over the lake. From there you can easily reach my House by bus (driving about ten minutes).
quiet residentioal neighborhood.
Great and warm hosting! Andrea was wiiling to help us with everything we needed. Comfortable to get from munich with a nice and quiet room.
Yaron
2016-09-21T00:00:00Z
Loved staying at Andrea's for a few days while visiting Germany! The room was super clean, cozy, and private (and the private bathroom is incredible!)! It is a little bit further away from Munich than we originally thought (about 30 minutes to Munich's center by public transportation), however, the train system is not difficult to navigate and Starnberg is a beautiful place to stay in. Overall, I would definitely stay with Andrea again if I get the chance!
Lauren
2016-10-23T00:00:00Z
The host Andrea is a very lovely, friendly person, and in short a perfect host. She made me feel very welcome, she was very attentive and I felt wonderful there. She offered me to use the kitchen and living area including the garden and to feel at home. One experiences the Bavarian hospitality there. It is a perfect get-away place for a relaxing vacation in the beautiful Bavarian landscape. One easily can use the public transportation very close to her house and, if wanted, one can rent a bike for a minimum pay. I recommend her place very highly.
Angelika
2016-08-26T00:00:00Z
Andrea's house is very nice! The room is big, and the private bathroom also! She leaves some teas, an electric kettle and some other thing's in the room. The heater also works perfectly. Starnberg is a very beautiful place, and well near Munich. Everything is very nice. Thank you Andrea!
EDUARDO
2016-12-23T00:00:00Z
Très bon séjour chez Andrea. Un accueil sympathique, une chambre cosy. Un très bon rapport qualité prix ! !
cassandre
2016-08-12T00:00:00Z
Ich hatte während meiner Weiterbildung in München 10 wunderbare Übernachtungen im gemütlichen Holzhaus bei Andrea. Die Kommunikation und das Ankommen haben perfekt geklappt – Andrea hat alles super vorbereitet. Der Raum ist gemütlich eingerichtet mit Wasserkocher und Tee, das Badezimmer ist wie neu und ich hatte die Möglichkeit in Andreas Küche zu kochen. Das Haus liegt sehr ruhig und innerhalb kurzer Zeit ist man am Starnberger See. Tolles Preis-Leistungsverhältnis - ich komme sehr gerne wieder!
Susanne
2016-11-13T00:00:00Z
As the reviews before said it is a nice place to stay. Munich reachable by train. The nearby places are very beautiful and attractive to visit, too. Only one detail I would like to see improved: the shower as hardly any water makes it out of the shower head.
Steve
2016-12-12T00:00:00Z
Andrea's home is so lovely. It was easily the nicest place we stayed on our tour of Europe. She was always welcoming, ready to address any concerns, and very easy to talk to. The pictures do not do it justice, the bedroom is so nice, and the bathroom is like a resort. It was very clean, which is big for me. She provided a tea pot, and matches in the room, which was a nice romantic touch. She could easily rent this room for much more, than the current price.
Joshua
2016-09-17T00:00:00Z
Tipe Kamar
Kamar pribadi
---
Tipe Properti
Rumah
---
Mengakomodasi
2
---
Kamar tidur
Starnberg, Bayern, Jerman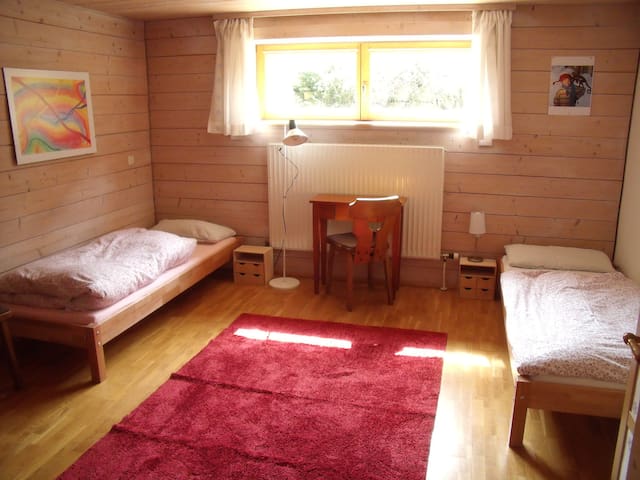 Our villa is located in Andechs-Frieding in Starnberg Five Lake District. The house is quiet and in the countryside, 35 min. From Munich and 5 min. From Herrsching away. We rent our small, cozy room in the basement. You have your own terrace with morning sun and our shared kitchen and a part of the garden. Andechs is located just 4 km away and around the corner there is a cozy tavern with a beer garden and for a cozy atmosphere.
Our family house is located in Andechs-Frieding, a small community in Starnberg Five Lake District. The house is quiet and in the countryside, 35 min. By car from Munich and 5 min. By Mr. Ching and the lake. We rent our small, cozy room in the basement (see pictures). Through the windows comes only little daylight, but one sleeps there the better :) Otherwise, you have everything you need for a comfortable stay: a new shower room with window, double bed (width: 1.60m), small TV, desk, Wi-Fi. Of course you are able to share our kitchen. Outside the kitchen is a dining table in the garden, where you can enjoy a wonderful breakfast in the morning sun in the summer. Coffee and tea are naturally always available. Breakfast we are happy to prepare you on prior request for € 8, - per person before. You can also use our sauna on request for a surcharge of € 15, - use exclusively / day.
Andechs Monastery or "The Holy Mountain" called, is located just 4 km away. One can from us in about 30-45 min. On beautiful trails partly overlooking the mountains there again hike and the famous beer garden "Andechser" beer and enjoy Bavarian specialties. Right in town (about 200m away) there is a cozy tavern with beer garden, while for dinner because of the good food and cozy atmosphere even Munich. The lakes are also located in close proximity: Distances by car: Herrsching / Ammersee: about 5 minutes Starnberg / Lake Starnberg: about 20 minutes Seefeld / Pilsensee: about 3 minutes Steinebach / Wörthsee: about 15 minutes Munich: about 35 minutes Airport: 50 minutes Garmisch-Partenkirchen: 50 minutes Weilheim: about 25 minutes Even in the mountains for skiing, there are only about 60 minutes (depending on the resort)
Wir fühlten uns bei der liebevollen Familie sehr wohl. Das Haus ist sehr schön und die Umgebung auch sehr toll. Wir würden auf jeden Fall wiederkommen.
Alexander
2017-01-04T00:00:00Z
Wir wurden von Katharina und Tobias sehr herzlich empfangen. Die Ausstattung ist sehr gemütlich und sauber. Man kann sich richtig wohl fühlen. Hier kann man in herrlicher Umgebung entspannen und Urlaub machen. Wasser, Kaffee, Obst und ein paar Kleinigkeiten waren schon vorbereitet. Wir kommen sehr gerne wieder.
Oliver
2016-11-20T00:00:00Z
Wir hatten einen angenehmen Aufenthalt. Ganz lecker Frühstück!
Detlef
2017-03-05T00:00:00Z
Katharina und Ihre Familie sind sehr herzlich und sehr nett. Wir haben uns vom ersten Moment an wohlgefühlt. Es hat alles gepasst und wir können die Unterkunft nur weiterempfehlen.
Waltraud
2017-03-26T00:00:00Z
Ich bin sehr beeindruckt wie freundlichen ich empfangen wurde und mir an nichts gefehlt hat. Wasser, Schokolade und Obst wurde mir aufs Zimmer gestellt.
Ana
2016-10-16T00:00:00Z
Ich habe mich bei Katharina und Tobi sehr wohl gefühlt und empfehle diese Unterkunft ohne Einschränkungen weiter. Schon vor Anreise gab es einen kurzen Austausch zur Ankunft, was ich als sehr aufmerksam empfand. Ich bin sehr herzlich empfangen worden und habe die kurzzeitige Aufnahme in die Familie sehr genossen. Das Zimmer und das angrenzende Bad kann ich als sehr gemütlich und sauber beschreiben. Alles in Allem ein schöner Aufenthalt bei wirklich freundlichen und fröhlichen Menschen.
Ralf
2017-01-25T00:00:00Z
Tipe Kamar
Kamar pribadi
---
Tipe Properti
Rumah
---
Mengakomodasi
2
---
Kamar tidur
Andechs, Bayern, Jerman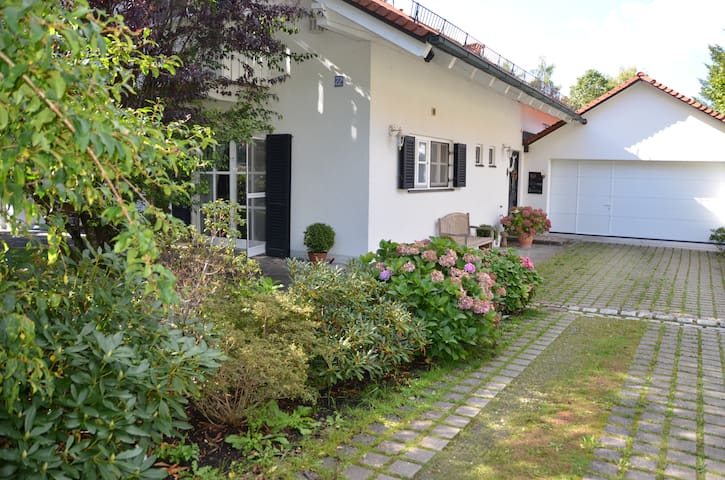 This adorable spacious 1-room apartment offers all the necessities of a cozy home. Enjoy the quiet and peaceful surroundings of Starnberg- the top suburb of Munich! Guest has full and separate access to the apartment, spacious living area (ca. 40 m²), private bath room, kitchen, Internet, cable tv and kitchen. Enjoy the apartments own patio (15m²)!
Enjoy the quiet and peaceful surroundings of Starnberg- the top suburb of Munich. This adorable spacious 1-room apartment offers all the necessities of a cozy home: spacious living area, private bath, Internet, cable tv and kitchen. Enjoy the apartments own patio! The luxurious apartment comes equipped with a Queen Size bed fitted with bed sheets and cover. It also has an antique décor, parquet with floor heating.
The beautiful Starnberg Lake is reachable by foot in 10 minutes. There are two super-markets and bakeries within 5-minute walking distance. Plenty of restaurants, bars, and shopping opportunities within 1 kilometer. Our place is situated in a private community where parking is abundant and secure. Take walks around Starnberg town and Starnberg Lake, beautiful during every season.
Eine tolle Wohnung mit 15 min Fussweg zum Starnbergersee/S-Bahn in ruhige Lage. Wohnung voll ausgestattet und Vermieter kúmmert sich um die Bequemlichkeit. Man kann im Sommer im Garten sitzen und einfach ein Buch oder Gesselschaft von Vermierter mit gutem Wein geniessen. Man kann nur empfehlen, besonders fuer arbeitende in Muenchen und Umgebung.
Lukas
2016-09-01T00:00:00Z
The apartment is large, well equipped and has it´s own kitchen and bathroom, thus it is perfectly suitable for both short and long term accommodation. And you can enter the garden directly from the appartment as well! I was very warmly welcomed by my hosts and invited for a glass of very good wein. It was a pleasure to meet such friendly, helpful and nice people. I enjoyed my stay very much and would fully recommend it. Thanks a lot, my dear hosts!
Lucie
2016-10-26T00:00:00Z
Tipe Kamar
Seluruh rumah/apartemen
---
Tipe Properti
Rumah
---
Mengakomodasi
2
---
Kamar tidur
Starnberg, Bayern, Jerman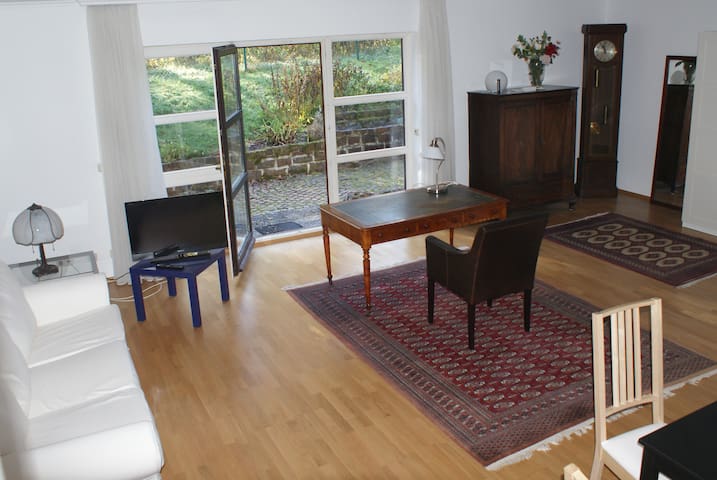 Enjoy Bavarian hospitality in our quiet apartment (kitchen, bathroom, double bedroom / 1,60x 2 m, very large living room with bed for 3rd guest, balcony, parking lot). Bernried is on the railway line Munich-Kochel.
From Bernried one can reach both Munich and Garmisch-Partenkirchen well. The area is suitable for walkers, cyclists, sailors, those interested in culture and for lounging.
We are about 800 meters from Lake Starnberg and the Bernrieder Park with its ancient trees. There are some very nice monasteries and churches in the vicinity. A trip to Munich, in the mountains, to Bad Toelz or a boat trip etc. is always worthwhile.
We loved staying in that place. Environment is residential. It's leafy and very close to the lake. The appartment itself is very quiet and peaceful, beautifully decorated, with plenty of great details everywhere. Fresh fruits, tourist informations ready at our arrival etc.... Christine is nice, discreete and also responsive. Great stay...Thanks a lot to share your environment in a so sereene way !
Véronique
2016-05-13T00:00:00Z
The appartement is extra neat spacious, well located, with lots of natural light. The balcony is really enjoyable!
alice
2015-12-20T00:00:00Z
Superb up-stairs apartment . Gorgeous peaceful location . Delighted to visit again .
Lorena
2016-10-31T00:00:00Z
Christine was very kindness. It's very comfortable to stay room. We could enjoy our own time. I wanna stay again. Thank you very much!
Tomohiro
2017-01-07T00:00:00Z
Netter Kontakt, unkomplizierter Empfang am Abend, sehr schöne, gemütliche, saubere Ferienwohnung. Top ausgestattet und es gab sogar Orangensaft und einige weitere Frühstücksutensilien. Empfehlenswert! Vielen Dank!
Charlotte
2016-05-17T00:00:00Z
Christine und Michael waren sehr herzliche, aufmerksame und zuvorkommende Gastgeber. Die Unterkunft ist sehr sauber, toll geschnitten und liebevoll eingerichtet. Wir haben uns wohl gefühlt und empfehlen dieses schöne Domizil zum Ausspannen wie auch Auftanken gerne weiter!
Romy
2016-01-24T00:00:00Z
Very nice flat in an interesting location between Munich and the southern mountain areas. Herr and Frau Hoffman were the kindest hosts and made everything pleasant and enjoyable! They even left me a small cake and bottle of wine for my birthday!
Adam
2016-03-26T00:00:00Z
We stayed at Christine's & Michael's home a few nights and we had such a great time as their home is so amazing & very spacious. The city of Bernried may be quite far from Munich, but it was perfect for what we needed - a countryside getaway & closer to the castles of Neuschwanstein & Hohenschwangau. The scenic drive was already beautiful with the season of autumn but it was extra special when it snowed the day we scheduled the castle visit. Our daughter felt like a princess because aside from the snow & castle, she had treats everyday from our hosts - the special tub for bathing, the stuffed bear on the bed, the gingerbread & lollipop cookie. These may be small gestures but they made our stay even more memorable. They were so helpful with all our requests. Quite simply, they were the best & kindest hosts and we will never forget them. We wish them all the best & good health. I highly recommend their listing if you want to experience life in a Bavarian countryside & meet the most wonderful of hosts! Nookie
Jose Arnaldo
2016-11-15T00:00:00Z
Tipe Kamar
Seluruh rumah/apartemen
---
Tipe Properti
Rumah
---
Mengakomodasi
3
---
Kamar tidur
Bernried am Starnberger See, Bayern, Jerman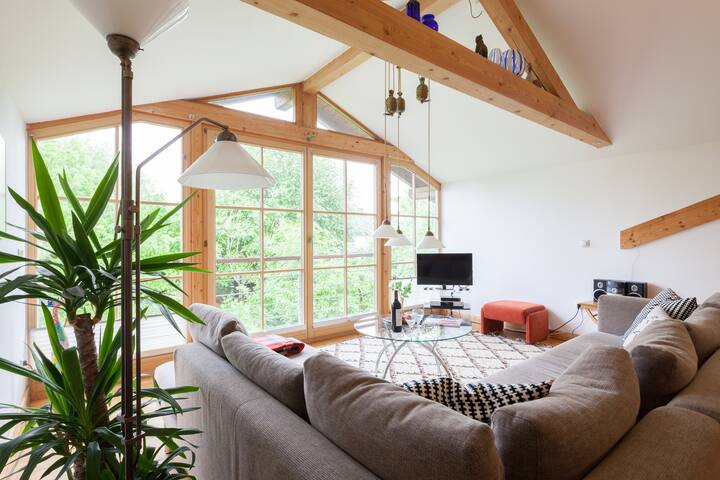 The proliferation combines originality with design and comfort. You can make your time in the sprawl completely independently or be pampered. Enjoy the tranquility in the beautiful garden or spend the day at the lake.
The B & B consists of a main house, the adjoining gallery Suite and the Garden Cottage. Surrounded by the Bavarian countryside, the sprawl is on a 2600m2 plot. The combination of tradition and modernity make this a special place and many details give the sprawl his soul. The green around the house creates privacy, the great natural garden provides space to relax. In ancient teahouse some artists have found their inspiration. Whether in freestanding Garden Cottage or in the connected to the main house Gallery Suite. They lack anything here! Both apartments are bright and modern and fully equipped. High beamed ceilings and wooden floors and originality, large windows provide bright rooms and a sense of spaciousness, natural materials like wood and stone warmth and intimacy, special elements give the certain luxury. The perfect blend of design and home! garden Cottage This beautiful, 80m2 large Garden Cottage is located across from the main house and is accessible completely separately. The entrance area features lots of light and high ceilings. The ground floor consists of a large room where the fully equipped kitchen with dining area and living room have their place. Two steps lead up to the beautiful spa: with a large rain shower, freestanding bath and plenty of space to relax. A wooden staircase leads from the living room up to the sleeping area. The cozy bedroom under the old roof beams has a double bed - in the vestibule on the mezzanine, a sofa bed for two more sleeps to be used. Ideal for a family with children. The private wooden deck in front of the house is adjacent to the spacious garden. So if one has no desire for activity is enough space to simply enjoy the tranquility here.
Wildwuchs lies in fabulous town of Bernried at Lake Starnberg. Situated on the west side of the lake, Bernried is among the oldest settlements in the region and certainly one of the most beautiful localities in all of Bavaria. Bernried unites tradition, culture and nature and delights with its Bavarian authenticity and the special conveniences of Lake Starnberg. Wildwuchs is located only ten minutes walking distance to the lake. By car, it can be reached in a matter of minutes. Should you not find everything you are looking for here, it's just a short drive to the neighboring towns of Seehaupt, Tutzing or Starnberg. Even Munich is easily reachable from Wildwuchs by car (approximately 45 minutes) or by train from Bernried in just thirty-three minutes.
Ein wunderschönes helles Cottage geschmackvoll mit liebevollen Details im sommerlichen Seehaus-Stil erwartete uns in Bernried und eine tolle Gastgeberin,die uns jeden Morgen ein phantastisches Frühstück aufdeckte, bei dem kein Wunsch offen blieb: Ofenfrisches, frisch gepresster Saft, Tartelletes, Yoghurt- Geschichtetes, Rührei, frische warme Brötchen, leckerer Aufschnitt und frisches Obst. Alice bereitete uns durch ihre offene klare symphatische Art einen sehr schönen Aufenthalt in "Wildwuchs". Haupthaus, Cottage und Suite auf einem herrlichen Grundstück mit Hängematte, Terassen, Liegestühlen, Pavillion und fussläufig der Starnberger See mit kleinen einsamen Buchten...einfach zum Wohlfühlen einladend. Schon das Chocolat-Praesent auf unseren Kopfkissen aus Bernrieder Manufactur machte Lust auf mehr. Ganz zu schweigen von der Wellness-Badewanne, die zur abendlichen Entspannung zuhause einlud, nachdem man noch ein Glas Wein auf der Terasse genossen hatte. Vielen Dank für die schöne Zeit im Wildwuchs Cottage. Wir kommen gerne wieder!
sarah
2014-08-10T00:00:00Z
Wir waren mit unserer kleinen Tochter (6 Monate) für ein Wochenende in dem wahnsinnig geschmackvoll eingerichteten Cottage zu Gast und haben uns mehr als wohlgefühlt. Alice ist eine tolle Gastgeberin, die es schafft, dass man sich absolut sorglos fühlt ohne einem die gewünschte Privatsphäre zu nehmen. Vor allem das liebevolle und super leckere Frühstück werden wir sehr vermissen. Danke Alice. Wir kommen sicher wieder!
Christoph
2014-06-16T00:00:00Z
Alice ist eine tolle Gastgeberin. Wir haben eine sehr super Zeit im Cottage verbracht. Alles ist sehr sauber und stilvoll eingerichtet. Es fehlt wirklich an nichts. Eine grosse Badewanne und die moderne Dusche machen das grosszügige Bad zur Wellnessoase. Ein Kaminofen sorgt im Wohnzimmer für gemütliche Stimmung, während man auf dem komfortablen Sofa liegt. Auch das Schlafzimmer im ersten Stock in der Dachschräge ist sehr romantisch. Die sehr kreativen und üppigen Frühstückskreationen von Alice lassen auch keine Wünsche offen. Wenn man den Bauch vollgeschlagen hat kann man es sich in der Hängematte vor dem Cottage unter den Bäumen gemütlich machen. Es war grossartig und wir danken Alice noch einmal für die wundervolle Zeit in Bernried.
Markus
2014-06-30T00:00:00Z
Alice ist eine sehr aufmerksame Gastgeberin. Alles perfekt vom Feuer über leckeren Kuchen, Prosecco und individuelles Frühstück. Gerne wieder... im Sommer ....
Claudia
2015-12-01T00:00:00Z
Ein wunderschönes Haus. Detailverliebt, gepflegt und sehr entspannend.
Felix
2014-09-30T00:00:00Z
Wir hatten in der wildwuchs cottage ein wunderschönes Wochenende. Alice hat uns mit einem leckeren selbst gebackenen Kuchen begrüßt. Morgens hat sie uns mit einem selbst zubereitetem Frühstück verwöhnt. Sie ließ keine Wünsche offen. Auch sonst war sie immer da, wenn wir etwas brauchten, sonst waren wir aber in der garden cottage ganz für uns. Die cottage selbst ist wie beschrieben und perfekt für zwei Personen, großzügig und offen gestaltet, liebevoll mit vielen schönen Details eingerichtet. Wir kommen gerne mal wieder!
Claudia
2015-09-07T00:00:00Z
Unsere vier Tage im Cottage waren wunderbar. Cottage, Anwesen, Garten sind sehr gepflegt und laden zum Wohlfühlen ein. Alles war genau wie beschrieben und eigentlich noch viel schöner! Hohe, helle Räume mit viel Liebe zum Detail eingerichtet. Es gibt überall was zu entdecken, seien es die vielen Bücher oder das großzügige Badezimmer. Wir haben uns größtenteils selbst versorgt, was gar kein Problem war. Töpfe etc. war alles vorhanden. Für wohlige Wärme sorgte der Holzofen, den wir fleißig nutzten. Besonders gefreut haben wir uns über den frisch gebackenen Kuchen bei unserer Ankunft. Gastgeberin Alice war total herzlich, für alle Fragen offen und immer da, wenn wir etwas brauchten. Wir hatten eine wunderschöne Zeit im Wildwuchs Cottage und kommen bestimmt wieder!
Kathrin
2015-09-23T00:00:00Z
Sehr freundlich antwortete Alice auf Fragen und gab uns eine genaue Beschreibung. Wir haben uns schnell wohlgefühlt. Im Haus gab es zum Glück viele hilfreiche Informationen zur Umgebung und wir haben uns aus der Vielfalt das Passende ausgesucht. Das Haus liegt sehr idyllisch, nebenan weiden Pferde, der schöne Garten ist einladend gestaltet. Das Haus bietet viele schöne, besondere Plätzchen zum Lesen, Schreiben, Ausruhen. Auch das kleine Dorf hat Charme, der große Park und das Museum haben uns prima gefallen. Danke, wir kommen gerne wieder!
Anke
2016-08-07T00:00:00Z
Tipe Kamar
Seluruh rumah/apartemen
---
Tipe Properti
Rumah
---
Mengakomodasi
2
---
Kamar tidur
Bernried am Starnberger See, Bavaria, Jerman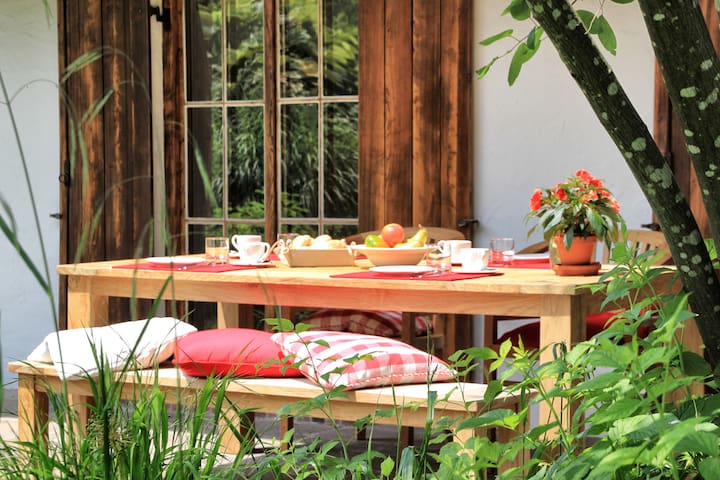 The house is 40km away from Munich and is located in a beautiful holiday region between Lake Starnberg and Ammersee. Half-hourly bus connection to the Munich S-Bahn. There is a supermarket with its own bakery, a Biohofladen and a pharmacy. In the large, sunny garden is a covered terrace. In the house live two friendly cats siblings who walk independently in the garden, so no litter box is needed. Cat food is provided by the landlord.
Tipe Kamar
Seluruh rumah/apartemen
---
Tipe Properti
Rumah
---
Mengakomodasi
4
---
Kamar tidur
Andechs, Bayern, Jerman
Aivan keskellä meidän kiireinen ranta, suuri omakotitalo on meidän huoneissa on suuri, katettu parveke, jossa voit nauttia ilta-auringosta. Ja katsoo alas puutarhaan, jos grilli on jo. Olemme suhteellisen lähellä järveä (800m), täydellinen lähtökohta monien vaellus, pyöräily järvelle ja vuorille!
Teen vieraille herkullisen aamiaisen, ja jättää onnellinen pää päivän viinilasillisen takan.
500 metrin päässä täältä on viehättävä pieni paikka, hyvin klassinen ruokalappu suurella kirkon ja majatalon. JA: henkeäsalpaavat vuoristomaisemat, varsinkin hiustenkuivaaja. Kyseisessä paikassa voit myös ostaa kaiken mitä tarvitset elää. Parhaassa pieni supermarket maailmassa, joka käynnillä on kuin matka kabaree ...
Das verlängerte Wochenende bei Susanne war wunderschön. Das Zimmer ist sauber und total gemütlich eingerichtet. Das Frühstück ist mit Liebe und auf die persönlichen Wünsche zubereitet. Die schönen Gespräche und das Glas Wein am Abend im Garten haben den Aufenthalt abgerundet. Hier fühle ich mich herzlich willkommen und gut untergebracht. Danke, liebe Susanne, für Deine Gastfreundschaft und Herzlichkeit. Ich habe mich sehr wohl bei Euch gefühlt. Gerne komme ich jederzeit wieder. Ulrike
Ulrike
2016-07-12T00:00:00Z
Ich habe mich nach der Ankunft bereits sehr wohl gefühlt und wurde wie ein Familienmitglied aufgenommen.
Siegbert
2016-10-17T00:00:00Z
Liebe Susanne, Du bist eine sehr liebenswerte Gastgeberin. Ich danke Dir für Dein herzliches Entgegenkommen. Ich habe mich sehr zu Hause gefühlt. Ich habe auch sehr gut geschlafen. Und die Badsituation war sehr vorteilhaft gelöst. Ich wünsche Dir weiterhin nur sehr gute Erfahrungen.
Bert
2016-11-11T00:00:00Z
Sehr herzliche Gastgeberin, die mich aufgenommen hat wie ein Familienmitglied. Sie war sehr hilfsbereit und hat uns trotz Umstände immer zur Fortbildung hingebracht und abgeholt. Zudem hat sie mich, als ich mir die Grippe geholt habe. Ich wurde mit Medikamenten und allen weiteren Sachen versorgt, als ich krank war. Ich kann froh sein, dass ich Susannes Gastfreundschaft genießen durfte. Zudem macht sie tolles und gesundes Frühstück und kocht abends auch gerne mal äußerst schmackhafte Gerichte. Immer gerne wieder. Es war eine schöne Zeit :)
Maarten
2017-03-12T00:00:00Z
Susanne hat mich bei meiner Ankunft sehr herzlich empfangen. Zur Begrüßung gab es noch ein schönes Abendbrot. Das Zimmer war hell und sehr gut hergerichtet. Ein Bad zu alleinigen Nutzung war inklusive. Es war alles vorhanden, sogar ein Wasserkocher stand auf dem Zimmer zur Verfügung. Susanne hat mich, obwohl ich jeden Tag relativ früh zur Arbeit gefahren bin, mit einem leckeren Frühstück versorgt. Um halb sieben war alles schon vorbereitet. Sie ist eine sehr nette und super Gastgeberin. Ich fühlte mich auf Anhieb schon fast wie Zuhause. Genau das Richtige, was man bei einem Berufswechsel (neuer Job, neue Stadt) braucht, um nicht gleich wieder Heimweh zu bekommen. Ich hatte auch noch Glück gehabt, bei einer Geburtstagsfeier dabei sein zu dürfen. Einfach eine sehr nette Familie. Kann ich nur weiterempfehlen. Vielen lieben Dank Susanne!
Ste
2017-01-13T00:00:00Z
Tipe Kamar
Kamar pribadi
---
Tipe Properti
Rumah
---
Mengakomodasi
1
---
Kamar tidur
Berg, BY, Jerman
Sehr ruhige, lichtdurchflutete und großzügig geschnittene 3 Zimmerwohnung mit riesiger Dachterasse inklusive BBQ Grill in Starnberg (15min von München). Die voll ausgestattete Küche und der nahe Waldrand (2min) bietet viele Freizeitmöglichkeiten.
Kostenlose Parkplätze vor dem Haus
Es ist eine besonders ruhige Lage in einer Villengegend und doch verkehrsgünstig gelegen.
Nous avons été merveilleusement reçus par Barbara et son mari. Très grande gentillesse. Le logement est très bien équipé, la grande terrasse superbe. L'ensemble est dans un endroit très calme. Le lac est à 5mn en voiture, ainsi que la gare qui permet de se rendre à Munich centre en 30 mn. Nous avons passé un excellent moment.
Arnaud
2015-08-13T00:00:00Z
Sehr schöne Unterkunft. Es ist alles vorhanden, was man benötigt und sogar der Kühlschrank war mit deiversen Dingen gefüllt worden. Wurden sehr herzlich empfangen und mit allen Informationen versorgt, die wir wissen wollten. Sehr ruhige Lage, große Terrasse mit Liegestühlen und Tisch und Stühlen. Leider war das Wetter sehr bescheiden. Hatten einen sehr schönen Aufenthalt.
Claudia
2016-05-17T00:00:00Z
Barbara ist eine fantastische Gastgeberin. Die Wohnung ist charmant und gemütlich.
Roman
2016-10-07T00:00:00Z
Bei Barbara ist es wunderschön. Wir haben die Ruhe in zwei Schlafzimmern genossen - keiner hat den anderen gestört. Die Küche war perfekt eingerichtet und das Wohnzimmer haben wir - dank des schönen Wetters - nach draußen verlegt. Barbara hat eine riesige Dachterrasse und sobald die Temperatur es erlaubt, waren wir draußen. Die Akkustik war wunderbar - keiner hat etwas vom anderen gehört. Die Dachterrasse war herrlich mit Blumen bestückt, man kam sich vor wie in einem Garten. Wir haben uns so wohl gefühlt, dass wir nur jedem empfehlen können, diese Wohnung zu mieten. Sie ist wunderschön und man hat seine Ruhe. Barbara und ihr Mann sind sehr tolerant und freundlich und wir haben einen guten Kontakt und sind in gutem Einvernehmen auseinandergegangen. Ich kann jedem diese Wohnung nur empfehlen.
Karin
2016-09-02T00:00:00Z
Wir 4 aus dem hohen Norden möchten uns herzlich für den angenehmen Aufenthalt und den herzlichen Empfang bedanken. Eine sehr nette Geste war der gut gefüllte Kühlschrank, mit allem, was man für ein gutes Frühstück braucht. Die großzügige Ferienwohnung entspricht der Beschreibung und den Fotos. Sie ist sehr gut ausgestattet.Die Terrasse ist sonnig gelegen und nicht von außen einsehbar. Barbara ist eine sehr nette Gastgeberin, die unsere Fragen gern und umfassend beantwortet hat. Wir haben uns sehr wohl gefühlt und kommen gerne wieder.
Iris
2014-10-16T00:00:00Z
Barbara and Henrick were incredible hosts and their apartment was absolutely awesome! We were two couples and we stayed for 3 nights, and we had everything we could need for a very comfortable stay. Barbara had all the essentials (plus some extras!) in the fridge for us, which was so lovely, and she was very friendly and helpful. Henrick too! It rained the whole time we were there, but I can just imagine how lovely the terrace would be on a sunny day. We hired a car and found it very easy to get around, and public transport into Starnberg and Munich is easy too. We would definitely recommend staying here, you won't find better! Thank you Barbara and Henrick.
Kara
2016-09-21T00:00:00Z
Barbara's place was great because it was clean and well-equipped for a cosy stay. Barbara and her husband was very welcoming as well!
Brielle
2016-04-22T00:00:00Z
Thanks to Barbara and her husband the accomodation was a highlite of our stay in Stanberg. Not only is accommodation close to Munic but from the time you arrive to the time you leave you feel most welcomed. The accomodation is immaculate and having some of the essencials in the fridge after a long trip is much appreciated. The chocolates were a nice touch. The beds are really comfortable. No wonder why Barbara is a highly rated host. Thanks from Ivan Vikki Kaleb and Jade.
IVAN
2015-10-02T00:00:00Z
Tipe Kamar
Seluruh rumah/apartemen
---
Tipe Properti
Rumah
---
Mengakomodasi
4
---
Kamar tidur
Starnberg, Bavaria, Jerman
Our home is locate on the castel hill with view on lake and mountains. Only 350m walking (6min) and you reach the lake.
Wunderschöne Seerundfahrten: (URL HIDDEN) Wanderung durch die Meisinger Schlucht zum Meisinger See mit Super Biergarten
Tipe Kamar
Kamar pribadi
---
Tipe Properti
Rumah
---
Mengakomodasi
1
---
Kamar tidur
Starnberg, Bayern, Jerman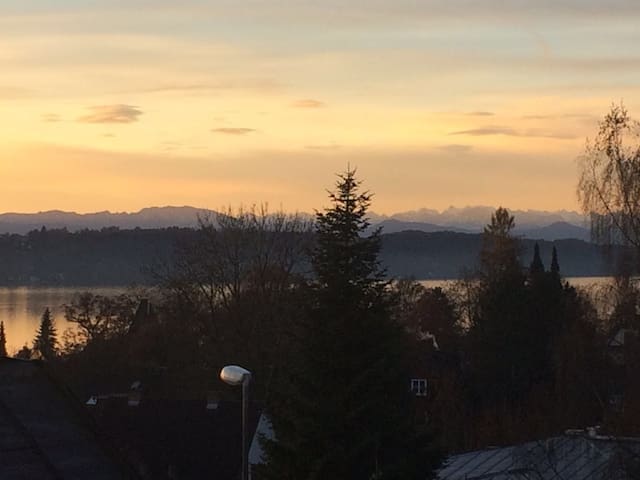 - Open spacious house close to the Starnberg lake In great scenery but still close to Munich - Newly renovated architect house from the 70s - Fully equipped open kitchen and large living room - go swimming or hiking or just enjoy the view on the alps
We love our house and have recently renovated the interior. We have fitted top quality appliances and bathrooms. We live in it with two young kids and prefer families to enjoy our place while we are traveling.
An amazing house at an amazing location. Beautiful and fully equipped place ideal for a family with children. The small walk to the lake with its fantastic scenery is a very special bonus. Starnberg is within waling distance and Munich a 30 minute ride. Which makes this place ideal to explore the area. Highly recommended
Mark
2016-08-11T00:00:00Z
A great place to stay if you are a larger group with access to a rental car to ferry you to the public transport for getting into the city. Quiet and relaxing.
Stefan
2016-10-04T00:00:00Z
Our stay was absolutely wonderful! Although we did not get to meet Hannes, he left a great list of everything we would need to know including places to eat and how to get from place to place. The home is a very short drive or bus ride to Munich and the surrounding sites in Bavaria. Everything you need to cook is provided in their beautiful kitchen and there was plenty of room for my parents and I during our stay. I wish we had allowed more time to explore Starnberg because it was so charming. Thank you for such a great stay and we can't wait to come back to Germany again!
Veronica
2016-09-24T00:00:00Z
Tipe Kamar
Seluruh rumah/apartemen
---
Tipe Properti
Rumah
---
Mengakomodasi
6
---
Kamar tidur
Pöcking, Bayern, Jerman
Stay in a house completly made from wood in a confortable atmosphere! Your light room, appointed whith kitchen and own bathroom, is located at the ground floor. Bus station near the house (10 min. by bus to the train station and lake). From here you can explore Munich and the beautiful landscape and sights between the bavarian city and the Alps.
The house completly built from wood offers a comfortable, warm atmosphere. Your room is locatet at the ground floor, appointet whith bed (1,40x2m), table, cupboard and kitchen (cooker, sink, fridge). From your room, you can get diectly into the bathroom (shower, toilett). Arriving by car, you can park directly in front of the house. Arriving by train at the trainstation "Starnberg" (not "Starnberg Nord") you will get a great view over the lake. From there you can easily reach my House by bus (driving about ten minutes).
quiet residentioal neighborhood.
Отдыхали с другом неделю у Андреа. Очень добрая, гостеприимная женщина. Встреча прошла радушно, не смотря, на то, что она работает, выбрала 10 минут, подъехала к дому, все нам рассказала, объяснила. Очень хороший, уютный домик. Красивый дворик, где можно посидеть вечерком попить пива. Расположение очень удачное, рядом автобусная остановка, 15 мин до вокзала и 20 мин на поезде до Октоберфест. Сам город очень красивый, есть где погулять и что посмотреть. Ещё раз очень благодарен Андреа.
Валерий
2016-10-05T00:00:00Z
Es war toll. Ruhig gelegen, ideal zum entspannen und für sich zu sein. Buchung war sehr unkompliziert. Die Gastgeberin ist sehr flexibel in den Anreisezeiten. Kann ich empfehlen.
Ivo
2017-02-05T00:00:00Z
Äußerst gemütliches und ruhiges Zimmer, in dem es an nichts fehlt. Aufgrund der guten Busanbindung in die Stadt und der eigenen Kochnische auch sehr zu empfehlen für Geschäftsreisende, die nicht jeden Tag essen gehen, sondern auch mal selbst kochen wollen. Gerne wieder!
Simon
2017-01-12T00:00:00Z
Super! Hier gibt es noch den ursprünglichen Airbnb-Geist von Mensch zu Mensch. Das Zimmer bzw das ganze Haus ist mit unbehandeltem Holz gebaut. Ruhige Lage. Andrea ist eine sympathische Gastgeberin, die bei Fragen und Wünschen gerne weiter hilft. Vermutlich komme ich im September wieder...
Matthias
2017-04-02T00:00:00Z
Schöne, kleine Wohnung mit Küche und Bad, alles was man braucht:-).
Katrin
2017-01-29T00:00:00Z
Andrea ist eine sehr nette Gastgeberin, die Unterkunft ist super gelegen, Bus und Bahnverbindungen waren auch gut, für diejenigen die viel unterwegs sind oder viel sehen möchten, jederzeit wieder :)
Angelique
2017-04-10T00:00:00Z
Wir hatten eine super Zeit bei Andrea. Alles verlief problemlos und unkompliziert, sodass wir eine entspannte Zeit hatten. Das Zimmer ist sehr gemütlich und die kleine Küche und das private Badezimmer sind klasse. Wir kommen gerne wieder!
Basti
2017-02-10T00:00:00Z
War wieder alles gut. Kann man uneingeschränkt weiterempfehlen!
Simon
2017-01-19T00:00:00Z
Tipe Kamar
Kamar pribadi
---
Tipe Properti
Rumah
---
Mengakomodasi
2
---
Kamar tidur
Starnberg, Bayern, Jerman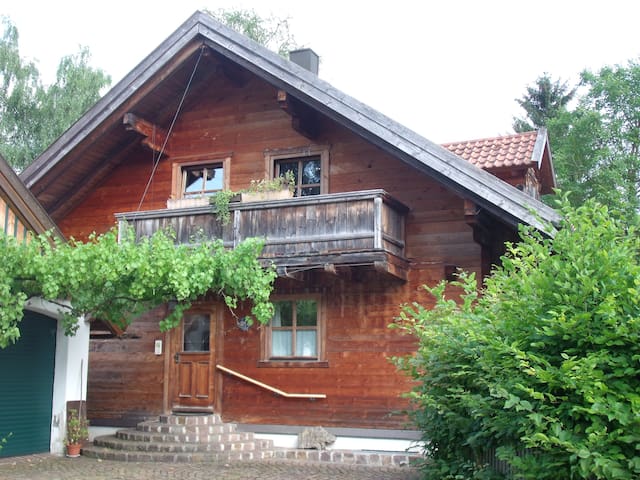 Schönes Haus mit Garten. Seezugang über einen Kanal, der zum Grundstück führt. Unmittelbare Nachbarschaft zu Yachthafen und Starnberger See. Kajak, SUP, Fahrräder können genutzt werden. STA Zentrum und S-Bahn-Anschluss in 10 min zu Fuß erreichbar.
Estupenda casa en inmejorable localización con salida directa al impresionante Lago Starnberg. Destacando la excelente atención y organización de los propietarios, así como la comunicación con ellos, haciendo nuestra estancia fácil y agradable. Muy recomendable!
Elena
2016-09-04T00:00:00Z
Wir wurden herzlich empfangen und fühlten uns gleich wohl. Eine wunderbare Unterkunft, die genauso war, wie beschrieben. Das Haus ist sehr schön, liegt in einer grünen und ruhigen Nachbarschaft. Alles sehr sauber, schön und modern eingerichtet. Wir haben uns sehr wohlgefühlt, alles hat super geklappt. Sehr zu empfehlen!
Michael
2016-08-20T00:00:00Z
Tipe Kamar
Seluruh rumah/apartemen
---
Tipe Properti
Rumah
---
Mengakomodasi
4
---
Kamar tidur
Starnberg, Bayern, Jerman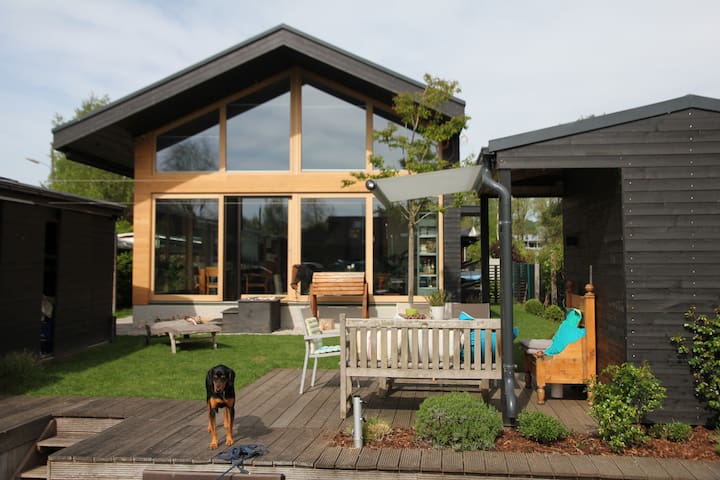 Feldafing - Airbnb
:
Rata-rata

4.69

dari

5

bintang dari semua

211

ulasan tamu