Boheemi asunto vanhassa puutalossa. Vain 500m supermarket, kahvila, deli-kauppa, posti, kirjasto, terveyskeskukseen ja apteekki. Very nice hiekkaranta meritse 1500 m, vierassatama 1700 m. Neljä km matka Pittoresque ruukin. Koko asunto tai ainakin huoneeseen käytössä - kysy mahdollisuuksia. HUOMAUTUS: asunto on puhdas standardien mielestäni on ok ja liveables. Löydät joitakin vikoja puhtaus jos todella haluat :)
Asunto oli siisti, ja hurmaava. Hyvät kulkuyhteydet tarpeisiimme. Tulisimme toistekin! Yhteydenpito sujui mainiosti. Kiitos!
Mikko
2016-08-08T00:00:00Z
Tommi oli erittäin ystävällinen ja joustava isäntä, asiointi ja saapuminen sujuivat joustavasti ja mukavasti. Hinta oli edullinen, mutta huoneet olisivat kaivanneet imurointia.
Riikka
2016-07-04T00:00:00Z
Tommi responded very fast to all questions, and it was easy to coordinate the stay. Me and my friend stayed for one night, and it was great. The neighbourhood is very quite, and the apartment was as described. I totally recommend Tommi as a host.
Victor
2016-04-25T00:00:00Z
Tommi was very helpful and let us come to the apartment quite late in the evening. The location was good. The apartment wasn't very tidy but it was very affordable.
Laura
2016-07-16T00:00:00Z
The apartment is clean, warm and comfortable, communication with Tommi was clear and easy. The area is absolutely stunning! I wouldn't hesitate to recommend the apartment.
Tim
2016-04-29T00:00:00Z
Kiva, siisti ja kotoisa asunto. Ystävällinen vastaanotto.
Tuija
2016-08-04T00:00:00Z
We got this very cozy and lovely apartment for our use for one night and everything ran smoothly with the host who was very communicative and gave good tips for the surrounding area. The apartment was clean and had everything you need and the area was relaxing and peaceful. I can warmly recommend this apartment for anyone looking for a nice break at the beautiful Finnish countryside :)
Minttu
2016-07-25T00:00:00Z
The apartment is cozy and nice in the very calm place. Very good combination of price and quality.
Глеб
2016-05-03T00:00:00Z
Tipe Kamar
Kamar pribadi
---
Tipe Properti
Apartemen
---
Mengakomodasi
3
---
Kamar tidur
Fiskars, Uusimaa, Finlandia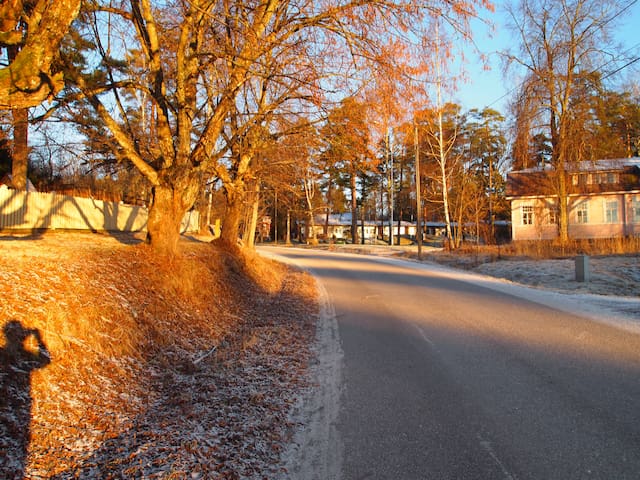 Ihana loft Nordcenterin golfkenttien kupeessa. Loft sopii mahtavasti vapaa-ajan viettoon. Tila on suunniteltu kierrätysidealla sisustussuunnittelijan toimesta. Kun astut sisään loftiin alkaa rauha ja hyvä fiilis! Parasta rentoilua koko alueella.
Vanhan puutalon yläkerrassa korkeaa tilaa ja kivat parvet oleilulle tai vaikka leffailloille. Täysin varusteltu moderni koti toimii tukipisteenä, rentoutumispaikkana tai aktiivisena yhdessäolon sijana. Fiskarsin idyllinen kylä 10 minuutin päässä, Billnäsin historiallinen ruukki 5 min ja Nordcenterin golfkeskus sekä sen ravintola- ja muut palvelut kävelyetäisyydellä. Pohjan palvelut (kauppa, kirjasto, pankki, apteekki) 6 km sekä Karjaan keskusta (juna-asema, ravintolat, elokuvateatteri, kirppikset ja erikoisliikkeet) 12 km. Pääset junalla Karjaalle tai bussilla Fiskarisintien varteen. Asunnon pihalla kolme polkupyörää vieraiden käytettävissä. Ja autolla saavutat tietysti muutkin lähialueen mielenkiintoiset paikat ja kokemukset, vaikkapa Mustion linnan, Tammisaaren kauniin kaupungin tai Hangon merellisen ympäristön.
Beautiful place, super relaxing and cozy. highly recommended.
sabrina
2016-02-21T00:00:00Z
Wonderful place and beautifully decorated. We were looking for a nice place to spend new years with some friends and cook good food and we were definitely not disappointed.
Henrik
2017-01-01T00:00:00Z
Maarit vastasi nopeasti ennen saapumista lähettämiini kysymyksiin. Asunto oli yhtä upea kuin kuvissakin, todella uniikisti ja tyylikkäästi sisustettu. Vaikka ensimmäisenä päivänä satoi emmekä sen takia vielä tutustuneet ympäristöön, asunnossa viihtyi todella hyvin kokaten ja saunoen. Vierailimme Hangossa, Fiskarsissa ja Billnäsin ruukilla. Asunnon sijainti on siis hyvä: sieltä pääsee autolla helposti tutustumaan alueen nähtävyyksiin. Kaiken kaikkiaan erinomainen kokemus.
Johanna
2016-07-31T00:00:00Z
Place was perfect for relaxing, cooking and just generally "enjoying life". (And to play golf, of course.) Very nice and interesting apartment. Equipment was top, kitchen is pro! Maarit was very nice host and made us feel like home immediately. I higly recommend this apartment! Thank you!
Aino
2015-06-21T00:00:00Z
100/100! Maarit is very accomodating and flexible! She welcomed us by taking initiative to ask if we needed any info before arriving! When we arrived, she gave us info on what is there to do and basically help us plan our itinerary! We visited all the places she wrote for us and the villages around are so different. for example, we loved Fiskars as it reminds us so much of a english cottage. Now on to the house.. Maarit has GREAT taste. the place is like a willy wonka land for normal people as she has a lot of antiques and books and music and DVDs for you to spend your time exploring at the villa. Also, everything is exquisitely made. The DVDs are blue-ray, her music collection is vinyl (no kidding), the kitchen is good enough for Gordon Ramsey with all kinds of apparatus, ovens, gadgets whatnot. The house looks exactly like it is in the picture and it is a big house. if you have kids, no problem too. Did i mention there are his and hers showers, basins and even toilet? location wise it is about 1 hour from Helsinki airport. There arent much shops around so if you like lounging around and dont mind driving to explore, this is the one for you! or if you visit in the summer, there is a golf course! Thank you Maarit!
Janice
2015-12-06T00:00:00Z
Formidable logement. Aussi beau en vrai que sur photo (voire mieux d'ailleurs!). C'est accueillant, chaleureux et décoré avec beaucoup de goût. La cuisine contient tout le nécessaire pour très bien cuisiner. Le sauna et les douches sont très propres et agréables. Le golf est à deux pas. Seul l'environnement immédiat de la maison est un peu moins bien, mais c'est un très bonne base pour rayonner sur la côte.
GRAFTIEAUX
2016-05-01T00:00:00Z
Vi hade en fantastisk vistelse i denna underbara lägenhet på vår semester i södra Finland. Lägenheten är stor och mycket väl utrustad med alla tänkbara bekvämligheter, och är ännu vackrare inredd och designad än vad man ser på bilderna. Maarit är en otrolig värd som både innan och vid ankomsten gjorde allt för att vi skulle känna oss välkomna och få ut så mycket som möjligt av vistelsen. Mycket smidig och omtänksam! Området är vackert med Pojoviken och Nordcenter Golf på ett stenkasts avstånd, och ligger väldigt centralt i Nyland vilket är perfekt om man vill bekanta sig med södra Svenskfinland (Ingå/Karis/Ekenäs/Hangö) samt Helsingfors och Åbo. Dock är de närmsta affärerna och kommunikationerna ca sex kilometer bort, precis som Maarit återger i sin beskrivning, vilket innebär att man behöver ha bil för att ta sig runt. Vi var två vuxna och tre barn (9-12 år) som bodde i lägenheten i tio nätter och hade lätt kunnat stanna en vecka till. Själv cyklade, löptränade och simtränade jag varje dag under vistelsen och hittade varje gång nya rutter och stränder i närheten. Jag rekommenderar Maarit som värd och hennes lägenhet mycket varmt!
Leif
2016-07-26T00:00:00Z
We spent a weekend here in this amazing loft apartment, everything about it I can highly recommend! (the piano was slightly out of tune but incredibly charming, major thumbs up). Everything in the apartment basically makes you relax, especially the sauna. We will visit again.
Dennis
2017-01-30T00:00:00Z
Tipe Kamar
Seluruh rumah/apartemen
---
Tipe Properti
Apartemen
---
Mengakomodasi
6
---
Kamar tidur
Raseborg, Finlandia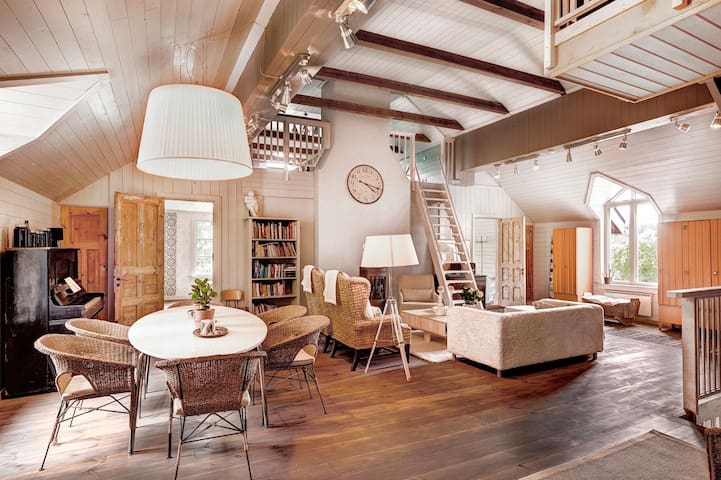 1 bedroom in a 2-room apartment located in the center of town. Shared bathroom with shower & a shared, cozy little kitchen. Bed accommodates 2 but accommodation for 3-4 people may be possible. Storage & closet available. Pets and children welcome.
The space available for guests is a quite simple and cozy bedroom with a 120 cm wide comfortable bed, nightstand drawer, bookshelf, table and a couple of chairs. This means a lot of room for the things you may want to bring with you, and you'll also have access to closet space and storage if needed. Additional chairs and table available! The room is part of a 43m2 apartment with 2 rooms, a bathroom and a small kitchen. The apartment is located on the second floor and overlooks the street. From the bedroom, one door leads into the kitchen and another to the foyer where the bathroom also is located. Guests are welcome to use the bathroom and kitchen freely. Should you wish to book your stay at a time when I'm not staying at home (guests will get their own key) you may use the whole apartment freely.
The host canceled this reservation 3 days before arrival. This is an automated posting.
Jennie
2016-07-27T00:00:00Z
The host canceled this reservation 7 days before arrival. This is an automated posting.
Maixent
2016-07-14T00:00:00Z
Tipe Kamar
Kamar pribadi
---
Tipe Properti
Apartemen
---
Mengakomodasi
2
---
Kamar tidur
Raseborg, Finlandia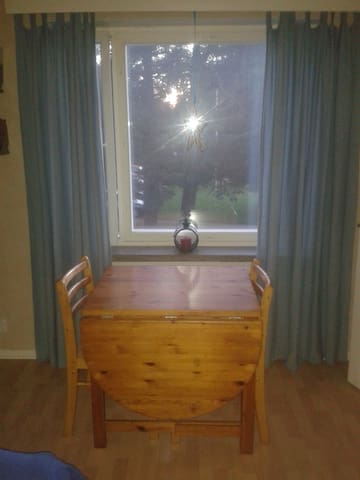 The apartment, with one room and separate kitchen and balcony is on the 2nd floor of a small three-storey building, with elevator. It is located in the center of Karjaa. Fiskars is 12,6 km away. The historical surroundings of Billnäs is within walking distance. The railway station is 0,7 km away, The bus station is 0,5 km away . Helsinki and Turku is only an hour by train. Tammisaari and Hanko is nice to visit in the summer and can also be reached by railcar or bus.
We had to last minute cancel our trip, so we never even saw the place. Agneta, however, was incredibly friendly and understanding, and we are definitely booking with her next time were headed for Karjaa. Highly recommended!
Danielle
2017-04-02T00:00:00Z
The apartment was lovely and had an amazing atmosphere. Everything went smoothly with Agneta, she really wanted to make sure that we enjoyed our stay. I would recommend this place for anyone! :)
Linnea
2017-02-12T00:00:00Z
Tipe Kamar
Seluruh rumah/apartemen
---
Tipe Properti
Apartemen
---
Mengakomodasi
2
---
Kamar tidur
Raasepori, Finlandia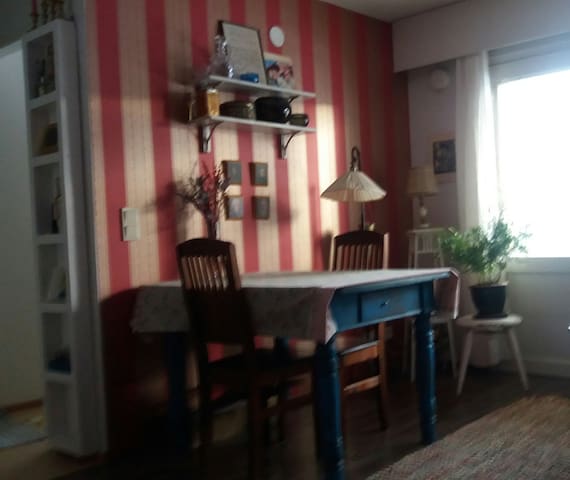 This seaside apartment is located in the heart of the small and idyllic town Ekenäs just an hour away from Helsinki. The sea, restaurants and bars and of course the beach is really just seconds away. The apartment is about 180m2 and divided into three floors, with four bedrooms. We do have a handicap-friendly elevator you can use if needed. The house has two bathrooms and is also equipped with a bubble bath and a sauna, of course. We'd love to tell you more - so don't hesitate to contact us!
We have been renting out appartments for over a decade, so you don't have to worry - we have got a lot of experience! We have lowered our price because of the fact that they are building a new house in the neighbourhood. This is however nothing that really bothers the stay, but we thought you should know if someone out there is sensitive to dust. Our seaside house is a very unique one. The interior is all design - with paintings from local painters and furniture from designers from around the globe. The house itself is built in the 1920's when it was a part of a factory, but fully refurbished in 2007. We have decided not to remove our cutlery or other necessities so we can assure you have the best stay possible. Therefore you have got access to wine-glasses, bowls and pretty much everything else you could need when making food or dining at home. The lower balcony makes a perfect place to dine on, where we also have got a small charcoal-BBQ for you to use. The apartment is fully eqiupped - dishwasher, washing machine and tumble dryer, AC in the whole house, microwave, oven etc. If you need something particular let us know in advance and we'll try to make sure you have it upon arrival.
During summer our house really is in the heart of the town. The noise-level is not high at all though. People tend to come to the harbour to have a few drinks and maybe eat at a restaurant or take their children to the big park - so they often leave their car somewhere else and walk. The locals are very friendly and the neighborhood very safe - as the rest of the town really is. 50 m from the house you find a big playground for kids, the beach, restaurants and bars, minigolf and other activities. 200 m from the house you can find the old town with its beautiful, wooden houses and also the church. The supermarket with a liquor store is about 300 m from the house. On July 29th 2017 there will be a big concert in Stallörsparken no further than 50m from the house. The main artist is going to be TOTO.
Extremely sweet experience , Sixtens big fancy house will amaze you for sure! Must try it, you will never regret it!!
Kitty
2016-08-23T00:00:00Z
Omistaja piti huolen ennen matkaa ja majoittumisen aikana, että seurueellamme oli kaikki varmasti hyvin. Perille päästyämme yllätyimme kuinka hienosta talosta ja miljööstä olikaan kysymys. Talo on erittäin siisti ja sisustukseltaan todellista luksusta, niin kuin oli luvattu. Varustelutaso kohteessa oli kaikin puolin hyvä. Talon sijaitsi loistavalla paikalla Tammisaaren pienvenesatamassa ja merinäköala parvekkeelta oli todella kaunis. Voin lämpimästi suositella kaikille majoittumista Sixtenin luona.
Lauri
2016-07-10T00:00:00Z
We had a great experience in Ekenas the house is just a Treat the Style the Space the View are worth seeing and we had three perfect days with our family visiting the surroundings Nathalia and Sixteen have an acute sense of hospitablility They do want you to enjoy their house i will warmly recommend the place "don't think just come(URL HIDDEN)
Isabelle
2016-08-11T00:00:00Z
Vår familj bestående av fem personer från tre generationer fick en fantastisk julvistelse i denna underbara design lägenhet. Lägenheten är stor, i tre våningar och utrustad med hiss som kom väl till användning då vår gamle golden retriever inte längre kan gå i trappor. Bostaden är mycket väl utrustad med alla tänkbara bekvämligheter och ännu vackrare inredd än vad bilderna ger rätta för. Värdarna var otroligt fina, kommunikationen var lätt och smidig och de gjorde allt för att vi skulle känna oss välkomna och ha en mysig jul. Oss väntade t.ex en god kaka och en juldoft, som spred sig från en färdigt uppvärmd bastu när vi anlände. Bostaden ligger vid stranden och mitt emot småbåtshamnen i Ekenäs, ett läge som är ypperligt särskilt på sommaren. S-marketen och Alko ligger inte långt i från. Vi kan verkligen rekommendera varmt Sixten som värd och denna unika lägenhet.
Jane
2016-12-26T00:00:00Z
The host canceled this reservation 101 days before arrival. This is an automated posting.
Kylli
2017-03-13T00:00:00Z
This place is amazing! And I don't say that lightly. I will dare say the pictures don't even do it justice. The decor is all very tasteful and works well together in person. The house manages to feel like a luxurious vacation home, while still feeling very comfortable and inviting. There is an elevator, 4 balconies/porches, 4 bedroom areas, 2 full baths (one has a sauna), all the comfortable amenities you could want and a different feel to each room you enter, with so many choices for places to relax and enjoy yourself all around the house. The apartment is just at the edge of a bustling part of town. You are a stone's throw from lots of activity (bars/restaurants, a fabulous playground, a great beach, ice cream stands, the harbor, etc) and you are very close to the little town's tourist/shopping district. I cannot imagine a finer town, location, or home for a satisfying vacation. And while we did not meet Sixten in person, he made the stay very easy and comfortable. We felt very welcomed and he checked on us a few times to make sure everything was going well. He was very enthusiastic and accommodating. We will be happy to come back here!
Alyce
2016-07-24T00:00:00Z
Hra 16 oli äärimmäisen ystävällinen ja piti tärkeänä, että seurueemma tuntee olonsa hyväksi. Asunto on todella persoonallinen ja viihtyisä. Se soveltuu hyvin isommallekin seurueelle. Sijainti on hyvä merellisissä maisemissa.
Harri
2016-06-27T00:00:00Z
Dmitry
2017-01-11T00:00:00Z
Tipe Kamar
Seluruh rumah/apartemen
---
Tipe Properti
Apartemen
---
Mengakomodasi
7
---
Kamar tidur
Raasepori, Finlandia
Studio moderni arkkitehtuuri ja Suomen arkiestetiikka (n. 25m2) 1-2 henkilöä ympäröi pieni metsä puutarha Espoon kuluessa vain 25-30 minuutin päässä vilkkaasta Helsingin keskustasta. Perinteinen puulämmitteinen sauna puutarhassa.
Ainutlaatuinen moderni ja tilava studio kylpyhuone (suihku, pesukone, wc), keittiö (liesi, jääkaappi, pesuallas, kahvinkeitin ja vedenkeitin, leivänpaahdin, mikro). Lakanat ja pyyhkeet sisältyvät. Koristeltu Suomen arkiestetiikka. Terrass puutarha tuolit antaa pieni metsissä ja pelloilla. Noin 1 km hyvin varusteltu supermarket, 400 m kylään muotoilu Storessa kesäkahvila. Perinteinen, melko Kauklahden kylän keskustaan 2 km (leipomo, kahvila / ravintola, kauppoja, posti, sisustusliike, Lumene muodostavat tehtaanmyymälä ja kirpputori), 1,9 km päässä hiekkarannasta Kallvik ja meri, helposti että Nuuksion. Erinomainen ulkona mahdollisuuksia lenkkeily, golf, vaellus, pyöräily, kuntosali, uima jne Saat molemmat kaupungin elämää ja maan elämään yhdessä paketissa: helppo pääsy sykkivässä Helsinki bussilla tai autolla, asuntojen rauhallinen ja vihreä metsä puutarha ystävällinen naapuruston - joskus saatat nähdä villi peuroja ja kaneja vaeltaa puutarhassa! Puutalo on 3 huonetta / pientä studiota jokaisella on oma sisäänkäynti, ja vuokra studio on suurin niistä, toisessa päässä talon.
Meidän naapurustossa on vihreä ja turvallinen esikaupunkiseudulle yksityiskoteihin ja suuri puutarha, jossa ystävällisiä ja avuliaita ihmisiä. Lähellä ostosalueille, helposti Nuuksion bussilla / junalla.
Unnas studio is the perfect place to enjoy the nature in Finland. It is very well equipped and has a very good bus connection to the city. The area of Espoo has also a lot of other activities to offer. I do recommend the studio to other travelers!
Hanne
2017-02-17T00:00:00Z
As easy and nice as usually at Unnas place.
Jussi
2017-03-02T00:00:00Z
Very charming and peaceful place inside a calm neighborhood near the forest and not far from Helsinki (30 minutes by bus). It's possible to walk to the sea, and also go to the beautiful Nuuksio Park (around one hour and one hour and a half by bus/train/bus) but if you don't like to walk you will need a car :) And we really enjoyed the sauna, especially in the evening!
Dimitra
2017-03-06T00:00:00Z
We had a great time at Unnas Studio. A small but very cozy place full of silence and relaxation. We really enjoyed our time there and had a refreshing and long sleep every day :) The Studio has everything you need. A small but absolutely sufficient bathroom, a well equipped kitchen and a beautiful view on the forest! I'ts close to Helsinki, just about 30 minutes drive away (by car). In the studio are many brochures with tips about Espoo and Finland. Very helpful to explore the area of Espoo. We reccomend it!
Marie Sophie
2016-01-28T00:00:00Z
We had a beautiful, nice and amazing time in Finland. It was really nice to stay at the design studio. The bed slept really good! I never slept so good on holiday! It is a cozy and nice apartment to stay. We had much privacy and the surroundings are quiet (even in the evening). However, the internet didn't use very well. I had to go outside to use it. Besides, the last two days it didn't work at all. We also would like to use the sauna but it couldn't because they were leaving. A tip: maybe it is an option that people, who are staying in the design studio, can use the sauna by themselves.
Lysanne
2016-07-24T00:00:00Z
Sehr schön eingerichtete Unterkunft mit allem was man braucht in einer ruhigen Gegend. Von hier 30 schnelle Minuten mit Auto in die Mitte von Helsinki. Supermarkt in der Nähe vorhanden. Sehr netter und immer verfügbarer Kontakt mit Unna und Hilfe bei allen Fragen.
Daniel
2016-10-16T00:00:00Z
Unna and Joonas are the most warm welcoming and nice people we ever met. Everything exceeded our expectations. Studio is located in the suburban area of Espoo. It took us about 15 minutes to get to the Helsinki center by car. The apartment is clean and comfortable and has everything you need.It is is located in quiet and beautiful natural forest surrounding. We saw squirrels in the morning and a beautiful sunset in the evening. Don't miss a chance to visit sauna ) It is a old style sauna warmed with firewood. It has its own charm.
Simon
2015-11-08T00:00:00Z
Kiitos Unna ja Joonas sydämellisestä vastaanotosta, tunsimme olevamme todella tervetulleita teidän ihanaan studioon. Meitä erityisesti miellytti rakennuksen moderni arkkitehtuuri isoine ikkunoineen, terasseineen ja kaikkine yksityiskohtineen ja väreineen. Studion sisustus oli hyvällä maulla valittu käyttäen suomalaista muotoilua. Sopii erinomaisesti matkailijoille, jotka ovat kiinnostuneita suomalaisesta muotoilusta ja arkkitehtuurista! Ympäristö oli rauhallinen omakotitaloalue ja puutarhassa saattoi törmätä metsän eläimiin. Omalla autolla liikkuvalle paikka on erinomainen: ilmainen parkki pihalla ja autolla pääsee helposti nauttimaan pääkaupunkiseudun matkailutarjonnasta. Vielä erityiskiitos majoittajille joustavasta palvelusta ja studion erinomaisesta siisteydestä! Tulemme mielellämme uudestaan!
Tiina
2014-09-08T00:00:00Z
Tipe Kamar
Seluruh rumah/apartemen
---
Tipe Properti
Apartemen
---
Mengakomodasi
2
---
Kamar tidur
Espoo, Uusimaa, Finlandia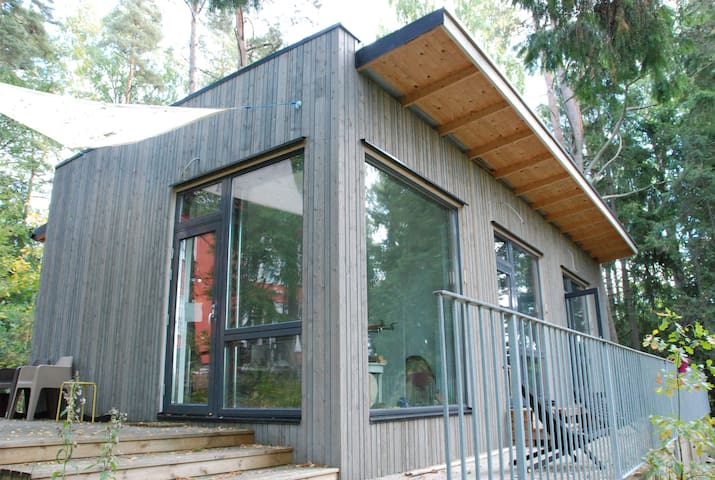 In a quiet studio apartment in a new age in the house for over a year with great balconies and private parking place. Abundant Kauklahti connections by train and busilla the center of Helsinki. A pair of ten-minute car ride to the airport. next to the K-Market.
In the vicinity of excellent fish shop Max's fish, and already more than 110 years served as Halme bakery / cafe.
In a quiet suburban environment, Grocers 100m
Siisti ja erinomaisessa kunnossa oleva huoneisto. Erittäin hyvä varustelu, viihdyttiin todella.
Tommi
2017-02-23T00:00:00Z
The appartment was awsome! Better than at the pictures! Nice place to stay and have a rest. Many thanks!
Darya
2016-11-19T00:00:00Z
Pekka oli aivan erinomainen majoittaja! Hän oli hyvin tarkka ja joustava, vastoi nopeasti viesteihin ja luovutti henkilökohtaisesti avaimet. Asunto oli hyvin siisti ja moderni, kaikki tarvittava oli saatavilla. Lyhyt matka juna-asemalle ja lähikauppa aivan vieressä. Kaikki sujui hyvin ja iso kiitos.
Navda
2016-10-25T00:00:00Z
Отличное место по разумной цене. Всё было замечательно!
Alex
2016-11-06T00:00:00Z
The flat, or I'd rather say a studio, is situated in a very quiet Helsinki suburbs. The building itself is very new as well as the inside of the studio. It's equipped with everything you need to feel comfortable. There's a huge balcony there and it's a great advantage in summer. There's a big and very comfortable double bed in the bedroom part. The bathroom is very spacious too. In front of the house there's a free parking lot where you can leave your vehicle. Next to the house there's a nice supermarket. The train station is not far away so the area is easily connected with the capital city, in case you don't travel by car.
Сергей
2017-02-06T00:00:00Z
Тихий район. Малоэтажная застройка. Бесплатная парковка перед домом. Рядом с домом продуктовый магазин, спортивная и детские площадки. В квартире есть всё необходимое. Чисто. Легко договорились о встрече с хозяином квартиры в нужное время.
Alexander
2017-01-05T00:00:00Z
Everything went quite good, even I have a late check in time, and Pekka was really flexible with that.
Nam
2017-02-19T00:00:00Z
Suosittelen kaikille. Paikka oli tosi siisti.
Seija
2017-02-12T00:00:00Z
Tipe Kamar
Seluruh rumah/apartemen
---
Tipe Properti
Apartemen
---
Mengakomodasi
2
---
Kamar tidur
Espoo, Uusimaa, Finlandia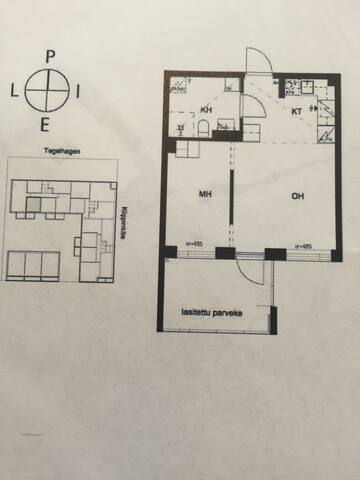 A stylish and artistic apartment in a historical building in the center of Hanko. Nearest beaches only 300 meters away. The apartment has a terrace facing morning sun, living room and two bedrooms. Ceiling height 3, 50 meters. Modern kitchen and washing machine, even a small sauna! Free private parking in front of the house. Free wi-fi. The building is peacefully located behind a courtyard on the Boulevard, the main street of old Hanko leading to a seaside park.
In this charming apartment you can still feel the touch of history! The tile and wooden building used to serve as the famous "Emigrant Hotel" where families stayed while waiting their ocean steamers to leave for America. Totally renovated now and in a good location, it is a perfect spot to reach the best of Hanko. The apartment is a holiday home of a poet and a journalist, not a hotel. We wish you welcome and hope you enjoy it as much as we do!
You can easily reach Vuorikatu, the Hanko pedestrian street with its shops and cafes. The picturesque East Port with its seafood restaurants and sailing boats is almost behind the corner. A few steps away there is also a small market place, where you can buy your fresh fish and vegetables.
The accommodation was very nice and everything went as expected. Lovely old building with character and interesting history and great location. We enjoyed our stay in Hanko very much!
Anna
2016-07-12T00:00:00Z
Koska kaupunki oli meille entuudestaan tuttu emme tarvinneet paljoa apua Kirsiltä, mutta kaikki tarpeellinen yhteydenpito toimi hyvin ja nopeasti. Asunto on hyvin keskeisellä paikalla Hangossa ja se oli tilavampi kuin odotin. Asunto on todella kaunis. Iloinen yllätys oli kaksi polkupyörää jotka oli jätetty käytettäviksi. Suosittelen tätä asuntoa Hangossa vieraileville.
Lilli
2016-06-25T00:00:00Z
Asunnon sijainti on ihanteellinen; kaikki on lähellä, ja vuokrahintaan kuuluvat kaksi pyörää ovat todella mukava lisäluxus. Asunto on kodikas ja kauniisti sisustettu sekä tilava ja avara - ihastuimme siihen ensisilmäyksellä! Ja saunassa oli hyvät löylyt :). Suosittelen lämpimästi!
Marja
2016-08-08T00:00:00Z
Kohde oli kuvauksen mukainen ja sisäänkirjautuminen hoitui joustavasti. Polkupyörät oli mukava lisä.
Antti
2016-06-27T00:00:00Z
Kauniit korkeat huoneet ja sisään tulviva valo saivat asunnon näyttämään ihanalta kesäkodilta. Naapurit olivat hiljaisia, eivätkä häirinneet millään tavalla. Askeettinen mutta suojaisa ja tilava parveke jäi melko vähälle käytölle.
Niina
2016-07-18T00:00:00Z
Huippupaikalla ihanan tilava ja valoisa kolmio. Fillarit olivat kiva lisä.
Katja
2016-08-15T00:00:00Z
kaunis, valoisa ja tunnelmallinen asunto näin talvellakin, sijainti loistava
anne
2016-11-06T00:00:00Z
Tipe Kamar
Seluruh rumah/apartemen
---
Tipe Properti
Apartemen
---
Mengakomodasi
6
---
Kamar tidur
Hanko, Finlandia
My home is a two bed room apartment which is situated 24 minutes walk away from the Salo city centre. the nearest bus station is about 200 metres away and there is access to railways and buses station to all parts of Finland.
My space is unique because it has a lot of harmony, arts, space, warm and comfortable atmosphere. The location is an amazing one. It is suitable for families, couples, individuals, children and anyone looking to have a wonderful experience
My neighbourhood is a very peaceful calm area. It is pretty close to the city centre where there is access to shopping centres, gym and fitnesses, restaurants, cafes and all others. It is also not far from the industrial areas and Salo as you may know is the original city of Nokia currently Microsoft. There is a lot to fall in love with.
Kaikki toimi hienosti
Martti
2017-03-22T00:00:00Z
Homma pelaa hienosti. SUOSITTELEN!
Martti
2017-03-10T00:00:00Z
Kaikki toimi hienosti
Martti
2017-03-24T00:00:00Z
Kaikki toimi hienosti
Martti
2017-03-16T00:00:00Z
Kaikki kuten sovittiin suosittelen!
Martti
2017-03-29T00:00:00Z
Asiallinen siisti, kaikki toimi sovitusti. Suosittelen
Martti
2017-02-24T00:00:00Z
Homma ok.
Martti
2017-03-03T00:00:00Z
Rivera Scandic
2017-02-12T00:00:00Z
Tipe Kamar
Kamar pribadi
---
Tipe Properti
Apartemen
---
Mengakomodasi
3
---
Kamar tidur
Salo, Finlandia
Stylish, fully renovated apartment in a private house funkkistyylisessä. Private entrance, park-like courtyard, quiet place. The apartment has a spacious bathroom, comprehensive kitchen facilities and stylish interior design. The space is completed in 2017.
The apartment is located in a quiet residential area. The plot is large and peaceful.
Tipe Kamar
Seluruh rumah/apartemen
---
Tipe Properti
Apartemen
---
Mengakomodasi
3
---
Kamar tidur
Paimio, Finlandia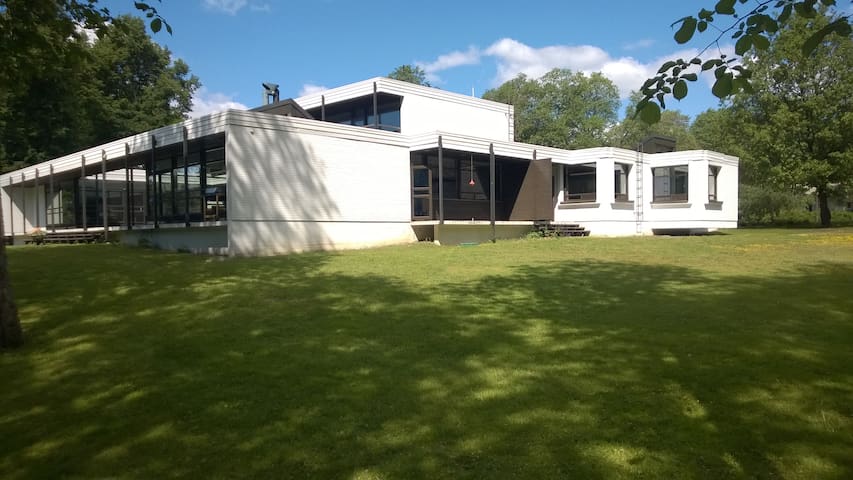 My place is close to All amenities, parks, city market. My place is good for couples, solo adventurers, business travelers, and furry friends (pets).
The host canceled this reservation 9 days before arrival. This is an automated posting.
Laurie
2016-12-23T00:00:00Z
Tipe Kamar
Seluruh rumah/apartemen
---
Tipe Properti
Apartemen
---
Mengakomodasi
2
---
Kamar tidur
Lohja, Finlandia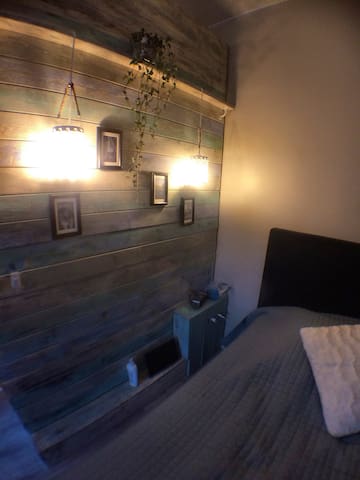 Newly renovated, modern Scandinavian design apartment in one of best villa areas in Espoo. Very calm, clean and green area. Within 20-25 min taxi/car ride from all Helsinki main attractions. Also bus stop to Helsinki centre 50 m from the house. Sleeps four guests. Simple breakfast package also included in price (coffee, tea, oatmeal), full cooking possibilities and walking distance to good grocery store.
500 m from nice walking paths in the woods and a small shop + library. 1,5 km from sandy beach in Kivenlahti and the sea, where you can also take the municipal archipelago cruise boats (cost ca 5 EUR). Easy access to the Nuuksio National Park. Excellent outdoor possibilities for jogging, golf, hiking, biking, gym, swimming etc. You get both Helsinki city life and calm Espoo life in one package: easy access to the vibrant Helsinki by bus or car, housing in a peaceful, green and friendly neighborhood - you can often follow squirrels, birds and rabbits in the garden! Our neighborhood is a green and safe suburb area with private homes and large gardens, with friendly and helpful people. Close proximity to shopping areas, easy access to Nuuksio National Park by bus/train. Easy access to Helsinki city center within 25-30 minutes. The bus stop is just next to the house. From the Helsinki airport you can also take a taxi (either regular taxi or Airport taxi), which takes you to our house in 30 minutes. From the Airport, another (and more inexpensive) option would be to take the Airport bus/train to downtown Helsinki, and from there take the bus. Minimum stay 1 night. Ask for a special price if you stay more than 5 days. Check in time at 3 pm, check out time 12am - ask for flexibility.
Ystävällinen vastaanotto. Todella siisti ja kodikas kellariasunto. Kaikki toimi hyvin. Suosittelen lämpimästi!
Maria
2016-11-06T00:00:00Z
Loistava sijainti lähellä pääkaupunkiseudun palveluita, mutta rauhallisella omakotialueella. Avuliaat isännät sekä siisti ja yksinkertainen majoitustila peruskeittiötarvikkein tarjosivat mukavan vierailun.
Mira
2016-09-04T00:00:00Z
Linda was very nice host, she welcomed me and two of my little boys. She even gave my boys a boxful of toy cars and made them very happy. Linda and Martin answered messages quickly. Place was clean, new and kitchen was pretty good. The laundry machine was the best with two little guys. It is located in a quiet neighbourhood, bus stops are very near. Only negative things were wifi, which was very bad and did't worked almost at all and very weak cell phone signal because the apartment is located in the basement. But considering the price, it was very good.
Perttu
2016-11-13T00:00:00Z
Nice place, very clean and cozy (especially if you love Ikea=). In the apartment we've found just what we needed.
Vadim
2017-03-10T00:00:00Z
Linda and Martin provided us with a pleasant stay and support during our visit. We were traveling with our baby and found the location quite convenient with nice outdoor areas close by.
Kari
2016-07-15T00:00:00Z
Me and my boyfriend enjoyed our stay at this nice, white and clean apartment, in the peaceful green area close to the beautiful seaside.
Ekaterina
2016-08-22T00:00:00Z
Linda and Martin's apartment was exactly as seen in the pictures.....welcoming and spic & span. Linda was always a phone call away to guide us. Stay in the apartment was extremely comfortable...the surroundings serene, the bus stop was barely 100m away, connectivity to the city centre was great and the overall experience has been outstanding. Kudos to Linda and Martin.....this place is strongly recommended for stays in Helsinki/Espoo.
Utpal
2017-03-23T00:00:00Z
Nukuimme hyvin! Bussipysäkki lähellä.
Raija
2017-02-28T00:00:00Z
Tipe Kamar
Seluruh rumah/apartemen
---
Tipe Properti
Apartemen
---
Mengakomodasi
4
---
Kamar tidur
Espoo, Finlandia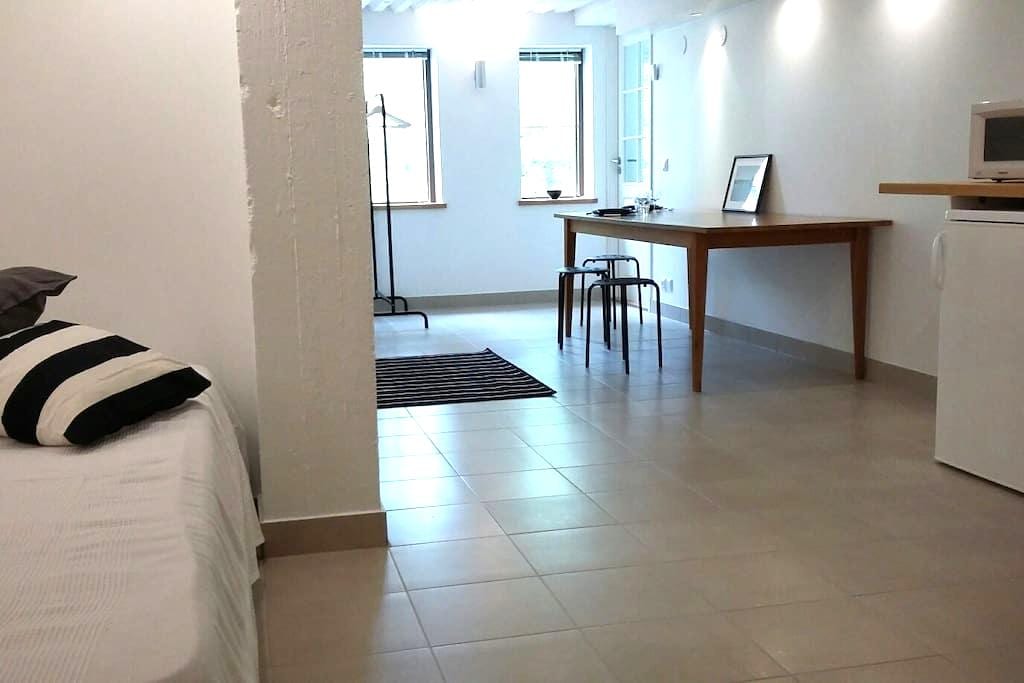 Five minutes from the closest shop, 5 minutes from bus stop and 8 minutes from the train station
The host canceled this reservation the day before arrival. This is an automated posting.
Екатерина
2017-04-06T00:00:00Z
Тихий район в городе-спутнике Хельсинки. Квартира чистая, все необходимое есть. Есть небольшие проблемы с пароковкой: 3 гостевых места у дома и формально там только 4 часа можно стоять.
Petr
2016-09-27T00:00:00Z
All okey, we got a relaxing holiday. The apartment has everything you need. Comfortable bed, towels, bed. No parking problems. With the landlord easy to communicate. Thank you for the weekend.
Наташа
2016-05-03T00:00:00Z
it is great apartments,i will come back =) суперское жилье,обязательно вернусь väga hea korter,tulen ikka veel =)
viktor
2017-03-25T00:00:00Z
Very nice apartment, clean and quiet neighborhood! Thank you
Bogdan
2016-11-19T00:00:00Z
The host canceled this reservation 3 days before arrival. This is an automated posting.
Nicu
2016-04-01T00:00:00Z
Потрясающая квартира, замечательный хозяин! Чисто, комфортно, есть все для комфортного пребывания! Рекомендую!
Elizabeth
2017-03-08T00:00:00Z
We really liked it because is in walking distance from Tuomarila train station.
Dezsö
2017-04-01T00:00:00Z
Tipe Kamar
Seluruh rumah/apartemen
---
Tipe Properti
Apartemen
---
Mengakomodasi
2
---
Kamar tidur
Espoo, Finlandia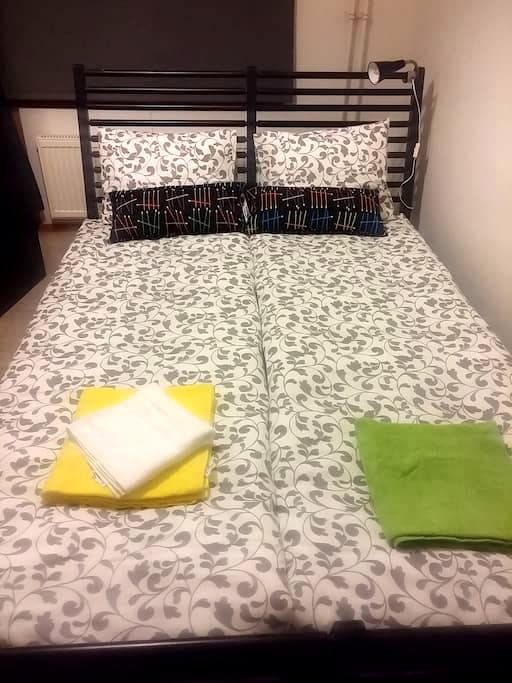 Cozy couch available in my sitting room, suitable for younger guests or students. My apartment is located between Espoon asema and Tuomarilan asema, both stations have trains heading to helsinki city center. There are also four bustops within 200 meters range, with buses passing every few minutes.
Tipe Kamar
Kamar bersama
---
Tipe Properti
Apartemen
---
Mengakomodasi
1
---
Kamar tidur
Espoo, Finlandia
Hear the voices of the sea - not only see it -. Second floor just above the sea. Two rooms, two bathrooms, balcony and sauna. A Large seaside terasse in the first floor and big grilling area. !0 km long seaside promenade. 25 minutes from Helsinki.
Мы останавливались семьёй с маленькими детьми на три дня. Квартира находится в высотном доме на берегу залива, окрестности красивые, есть тропинки для прогулок, небольшая набережная, красивый вид с балкона, под окном у нас были лебеди! Удобно останавливаться, если вы на машине. Элла отзывчивая хозяйка, всегда была на связи, особенно, когда у нас вечером накануне отъезда случайно захлопнулась дверь, а ключи остались внутри, Элла быстро спасла нас, прислав дочку с другими ключами. Мы очень признательны за помощь! Квартира соответствует описанию и фотографиям. В целом мы остались довольны, спасибо!
Анастасия
2016-08-05T00:00:00Z
Kaikki sujui jouhevasti. Asunto oli viihtyisä ja sijainti erinomainen. Aivan pihasta lähti kaunis luontopolku joka kulki merenrannan tuntumassa. Meille sattui lisäksi elokuun kaunein viikonloppu. Meressä oli kiva käydä uimassa. Suosittelen.
Carita
2016-08-22T00:00:00Z
Все отлично, красивое место, есть сауна, парковка и отличный вид)
Алексей
2017-01-04T00:00:00Z
Шикарный вид на залив! Прекрасная квартира! На фото Ella похожа на "строгую училку", а на самом деле очень приятный и добрый человек))
Yaroslav
2016-11-06T00:00:00Z
Vastaanotto järjestyi sovitusti. Naapurusto rauhallinen ja kuvatut palvelut löytyi uimarantaa myöten.
Matti
2016-07-04T00:00:00Z
The apartment is very nice, much better than in the pictures. Very cosy and with lots of little things that make it a home (decorations, carpets, dishes). Sauna is just wonderful! The sea is right beneaf the balcony, beautiful view to sea lagoon. Parking, grilling place, children playground - everything we needed. Ella was very helpful and friendly. Thank you so much and sorry we got late.
Christina
2016-05-30T00:00:00Z
Asunto oli viihtyisä.Uimaankin pääsi tosi kätevästi.Sisään-ja uloskirjautuminen oli joustavaa.Saatiin hyvä esittely kaikesta tarvittavasta.
Reijo
2016-08-07T00:00:00Z
Avaimen saimme ajallaan ja Ellalta pikakurssin asunnon/autopaikan käyttöön. Kaikki toimi hyvin ja kaikki tarpeellinen meille oli asunnossa. Nautimme lasten kanssa upeasta maisemasta ja rauhallisesta ympäristöstä. Ruokakauppaan on hieman matkaa, mutta autoilevalle se on kuitenkin lähellä. Tämä on oikea helmi kohteiden joukossa!
Marika
2016-10-29T00:00:00Z
Tipe Kamar
Seluruh rumah/apartemen
---
Tipe Properti
Apartemen
---
Mengakomodasi
4
---
Kamar tidur
Espoo, Finlandia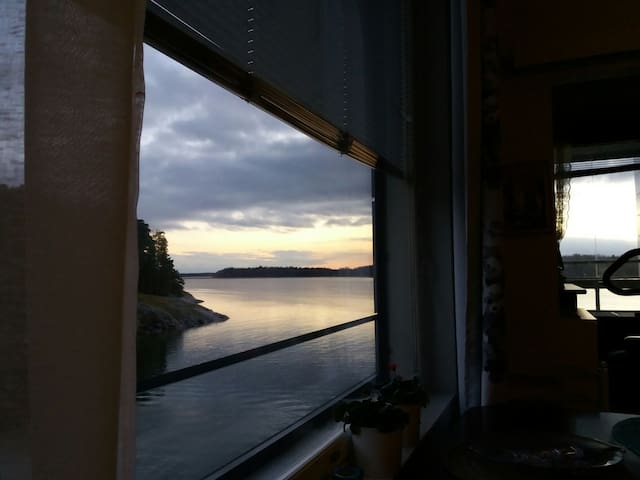 Cozy bohemian apartment in old charming wooden house in absolute center of Tammisaari/Ekenäs. Library, supermarket, the seashore - everything at hand around the corner. You can expect a relaxed and playfully artistic vibe.
The yellow wooden house is more than a hundred years old and a laid back oasis in the centre of the city. There is a wooden stove in the kitchen - but we dont normally use it for cooking. Unfortunately the apartment suffers from some dreadful 90's renovation styles, but the authentic vibe is still present in the creaky floors, carved wooden details and high ceilings.
There are a lot of old people in this town. If you can catch one that speaks english, german or any other language you speak - i would recommend you to interview them for stories about the town! Everything is close. From the Tourist Office you can lend the key to the old watertower above my house to climb to the top and view the town from above. Visitors tend to appreciate the protected nature areas with a timeless feel.
Kontaktade Emma och fick genast svar. Kommunikationen löpte perfekt. Boendet just som det beskriva "Bohemian chic" och lugn och skön atmosfär. Perfekt läge mitt i Ekenäs, nära till allt. Jag och min kompis kände oss välkomna och sov gott. Rekommenderar detta trevliga, vänliga hem med trevliga, vänliga människor!
Maria
2016-01-28T00:00:00Z
Everything was perfect at Emma's home. She is very kind and we really had a good time. I highly recommend the place :-)
David
2015-06-26T00:00:00Z
Cosy flat with creative vibe to it :-) Emma was very nice and welcoming as a host. Go there!
Petra
2015-07-12T00:00:00Z
Emma's apartment was very cozy and comfortable. Its location is ideal - the grocery store, parks and the waterfront are all an easy walk away. Would definitely recommend the stay.
Erin
2016-08-11T00:00:00Z
We stayed at Emma's for a night after a wedding, and despite our schedule, there was no problems and everything went smoothly. We enjoyed our stay.
Danielle
2015-08-29T00:00:00Z
Emma étant absente durant notre séjour, nous avons pu vivre dans son logement entier tel qu'il est décrit dans son annonce: bohémien avec une âme d'artiste, original avec plein d'objets, loin d'un univers aseptisé et monotone d'une chambre d'hôtel. Bien qu'absente, Emma était disponible par messages pour trouver la clef de son appartement. Nous avons ainsi pu visiter cette charmante ville d'Ekenas.
Jean-Michel et Pascale
2015-08-13T00:00:00Z
I stayed at Emma home for 1 night during my working trip. This is a pleasant host with both a comfortable and creative atmosphere. Emma is very positive nice girl, creates an aureole of good mood around herself, with her would be interesting to talk. Unfortunately, we haven't a time to talking because of my busy. Night was calm and serene, I had sleep enough. Thank you and good luck on your lifeway!
Vadim
2015-09-25T00:00:00Z
Emma var jätte trevlig och vi kom bra överrens direkt. Hennes boende var även väldigt mysigt!
Josefin
2017-02-26T00:00:00Z
Tipe Kamar
Kamar pribadi
---
Tipe Properti
Apartemen
---
Mengakomodasi
2
---
Kamar tidur
Ekenäs, Raasepori, Finlandia
Cozy, quite, top floor, 2 room flat with nice garden view from the balcony. Garden has a barbecue place. There is a supermarket, pizzeria and pub around the corner. Beach and big shopping mall within 5 min walk or bus. Correct address is Iivisniemenkuja 4C, which is inside the yard.
quite, top floor, 45 m2, 2 rooms plus kitchen, fully equipped, parking, TV, WiFi (requires USB port to access the modem), 500 m from the Baltic see, shop and pub next door, 20 min by bus to Helsinki centre.
The beach is only 500 m walk. Nice jogging along the coastline. Groceries are in the same block. There is also a barbeque place in the yard for all tenants.
We spent a nice week and felt comfortable in the appartment of Cord Hoppe and we enjoyed the quiet and calm area outside Helsinki.
Kirsten
2012-08-16T00:00:00Z
The apartment is cozy and accessible. Located in a nice area with a supermarket, pizza place and a bar for all my needs. Very cheap price when taking in consideration it's in central Espoo where buses can take you anywhere. Cord was helpful and arranged things for me when I needed help. Recommended!
Sergio
2013-01-07T00:00:00Z
The apartment is on the 4th floor, and fully complies with the pictures. Apartment is completely in line with what I expected. Contacting the Helsinki center is excellent. Buses 145 and 143 shall bring you to the Kamppi within 30 minutes. You'll have to go back to find the bus station No.49 in the same Kamppi. Easy! I was traveling by car as well. It was quite difficult to find an empty parking space, although quite close to the house is Iiviniementie 24h P, but the area devoted to K Market's clients has always been an opportunity to park per night. Large and free of charge P you can to find near the school on the very end of Iivisniementie. We spent 10 days in nice and comfortable apartment. Thank you Cord and Tyko Hoppe !!!
Irena
2016-09-27T00:00:00Z
We enjoyed the time in Espoo so much. The flat was very good and the neighborhood nice and quiet. The supermarket and the bus stop next to the flat. We hope to come back next year! :)
Cindy
2016-07-10T00:00:00Z
The flat is well equipped and located in a very green area close to Helsinki (only 25 minutes by bus). Cord is a nice and helpful guy, hence minor problems (with the washing machine) could be solved quickly. I can absolutely recommend the place as well as the host.
Manuel
2012-09-06T00:00:00Z
Me and my roommate had a good time at Cords place. Its about 20 min away from the inner city and lays in the middle of green nature, lakes and the coast. I liked it a lot. We found everything we needed to cook and clean. A supermarket and pizza place is near by and it's just 4min walk to the bus station. We chose a good place and a nice location. Thanks for having us!
Marthe
2015-12-14T00:00:00Z
Huoneisto sijaitsee pienessä, rauhallisessa Iivisniemen lähiössä, jossa talojen keskelle jäävät sisäpihat ovat suuria ja viihtyisiä. Isot puistoalueet ovat aivan vieressä ja merenrantaankin on lyhyt matka. Parkkipaikkakin löytyi aina kadulta tai läheisen koulun takaa. Bussillä pääsee hyvin Helsingin keskustaan. Huoneistossa on olohuone keittokomeroineen, makuuhuone ja wc/kylpyhuone ja siinä majoittuu ainakin neljä henkilöä. Naapurit ovat rauhallista väkeä, mitä nyt kiivaammat keskustelut kantautuvat ilmanvaihtokanavaa pitkin keittokomeroon ja kylpyhuoneeseen. Cordin kanssa on helppo kommunikoida ja hän on joustava ja miellyttävä kaveri. Kehittämiskohteena on asunnon siisteys. Pintapuolisesti kaikki on siistiä mutta puistoon katselisi mielummin puhtaiden ikkunoiden läpi ja keittokomerossa ja kylpyhuoneessa oli vähän outo tuoksu. Ymmärrän, että miehet eivät ole näistä asioista niin tarkkoja. Kiitos vuokrauksesta, Cord !
Anssi
2015-09-19T00:00:00Z
We have spent 3 months by Cord's apartment and we loved many things, among them: - the location is wonderful, very quiet and relaxing, - the forest is all around the apartment and the sea is only 10 minutes walk from the flat, - buses to Helsinki are very frequent and it only takes 15-20 minutes to reach the capital of Finland. The apartment is very comfortable: there is one double bed, the kitchen is well equipped, the bathroom is tiny but you will find everything you need, there is even another room with a terrasse from where you can admire trees, squirrels and listen to silence. Cord was very kind with us!
Carolina
2015-04-09T00:00:00Z
Tipe Kamar
Seluruh rumah/apartemen
---
Tipe Properti
Apartemen
---
Mengakomodasi
3
---
Kamar tidur
Espoo, Uusimaa, Finlandia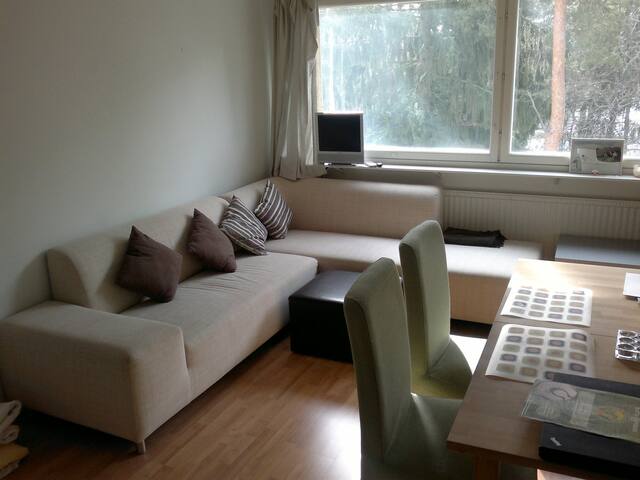 An apartment in detached house. 400 meters to closest beach. 2 terraces, sea scenery. Scandinavian style furniture. Much light all day. 2 levels, 2 bedrooms downstairs. Upstairs open living room + kitchen.
Существует приморский маршрут весь путь до Хельсинки с впечатляющими красивыми пейзажами. Идеальная среда для прогулок или езды на велосипеде. Отлично подходит для наблюдения за птицами на море.
Hele's house was very convenient, comfortable, and good. I could know how finnish people lived in there own houses. Also I could know there culture. There were some differences from Korean houses so my family could experience finnish cultures. It was interesting. Hele was very kind and polite. The view was great. My family were lucky to meet Hele.
시형
2016-08-05T00:00:00Z
Very nice location. Comfortable and well equipped with a very nice personal touch. The owner was very flexible in terms of early check-in.
Max
2016-08-16T00:00:00Z
Emäntä oli henk.koht.vastassa ja kyseli loman aikanakin kuulumisia
Miia
2016-08-02T00:00:00Z
Vietimme lyhyen viikonlopun kohteessa Espoo ja majoituimme Espoonlahden rannalla olevaan kaksitasoiseen rivitaloasuntoon ja majoitus vastasi täysin odotuksiamme. Ulkoilu veden äärellä hyvien lenkkimaastojen varrella oli mukavaa koiran kanssa. Lyhyellä etäisyydellä oli kaikki tarvittava, kaupat, ravintolat yms. Suosittelen lämpimästi kaikille.
Sini
2016-08-08T00:00:00Z
Hele is all that is good about Airbnb She made us feel very welcome in her beautiful home. Hele is a lovely person and made great effort to make sure we had a fabulous holiday. Thank you Hele
Nora
2016-08-12T00:00:00Z
The host canceled this reservation 17 days before arrival. This is an automated posting.
Vilja
2016-06-16T00:00:00Z
Hele est très accueillante et sensible à notre confort. Elle considère nos objectifs de voyage pour nous diriger au mieux. C'est une belle personne.
Leila
2016-08-24T00:00:00Z
Sijainti loistava, meri ja palvelut lähellä!
Miia
2016-06-15T00:00:00Z
Tipe Kamar
Seluruh rumah/apartemen
---
Tipe Properti
Apartemen
---
Mengakomodasi
4
---
Kamar tidur
Espoo, Finlandia