Our cozy and comfortable, yet spacious master suite, is only minutes away from fine dining, shopping, antiques, agriculture, and an hour or so from many popular tourist areas including Lancaster and Philadelphia. Center city Reading and the affordable Santander venues are less than 10 minutes away by car. Great accommodations for both couples and business travelers alike. Quaint and charming best describes your private three-rooms and bath. Fireplace, porch, Wi-Fi and flat screen viewings.
Three large rooms with comfortable lounging, eat-in breakfast nook, kitchenette and private bath. Plenty of room during the day with various seating and sleeping options. Privacy by day, and night, with generous relaxing areas indoors or outdoors. Many of the furnishings are those borrowed from the existing Oley Valley operation. The feel is strikingly similar to the Mill Stone Bed and Breakfast.
The Mt Penn area was once a historic bedroom community and recreational area for eastern Berks County. Nearby Oley Valley is known for its beauty, history and covered bridges. This hidden treasure in located in the heart of Pennsylvania Dutch Country. Only minutes away from the annual Kutztown Folk Festival, Oley Fair, Philadelphia Premium Outlets and many West Reading eateries and shopping.
Tipe Kamar
Seluruh rumah/apartemen
---
Tipe Properti
Apartemen
---
Mengakomodasi
4
---
Kamar tidur
Mount Penn, Pennsylvania, Amerika Serikat
Our quiet space in the country is 3 miles from the base of Hawk Mountain and approximately 6 miles from the Appalachian trail head in Port Clinton. Our charming little studio type apartment offers warm and rustic accommodations ideal for hikers, bikers, couples, and outdoor enthusiasts. Our little space is built into our barn and is situated on our 35 acres. Your only real neighbors would be our chickens! We offer a complimentary half-dozen of our farm fresh, organic eggs.
We have bunk beds and a sofa bed single. The kitchenette is stocked with glasses, pots, plates, utensils, a coffeemaker, microwave, toaster oven and double hotplate. Running water is accessed through the bathroom, however. There is a full refrigerator, a lovely propane fireplace to keep you warm, or an overhead fan to cool you off. We also have electric heat or air conditioning if needed. Our TV is not connected to cable, but we do have a variety of DVD's for your enjoyment. Outside there is a grill for you to cook on and a picnic table. It's a great, functional, "no-frills" space. Positively no smoking is permitted in our apartment.
Tipe Kamar
Seluruh rumah/apartemen
---
Tipe Properti
Apartemen
---
Mengakomodasi
3
---
Kamar tidur
Orwigsburg, Pennsylvania, Amerika Serikat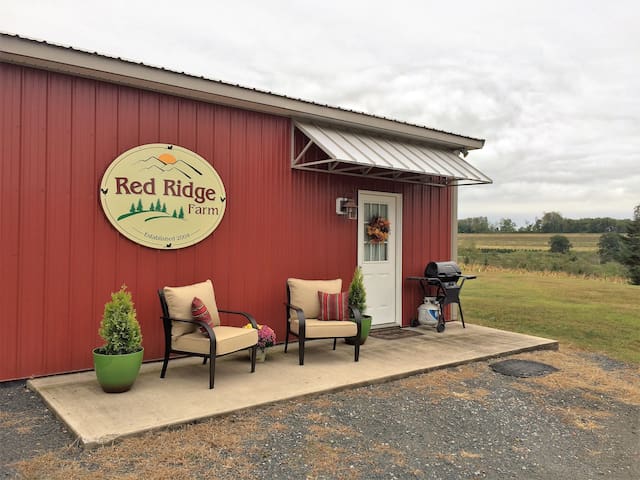 Looking for a quiet getaway? If you like hiking, sking, nature and eclectic charm...Look no more! Great place for couples, business travelers, adventures, and families. Stay & explore all that the area has to offer on 2 acres at the base of Hawk Mt.
Our place is nestled on 2 acres located at the base of Hawk Mountain. It is a one bedroom that is attached to the main house built in 1800's, with it's own personal entrance. Along with the hard wood floors, the unique coziness, and serene atmosphere you are welcomed into a one bedroom with a full size bed. The next room offers a kitchen along one wall, a dining table and a daybed/couch that sleeps one. The bathroom has a shower - no tub. There is a closet that has an additional single cot, as well as your main household necessities (aka: iron/ ironing board, flashlight, broom/dustpan, etc...) There is currently no wifi, internet and cable available. This is the perfect place for a relaxing getaway. You are welcome to the pantry items in the kitchen and are there to help make your stay easier
A tranquil country setting awaits you here. There are many surrounding community events thru out the year. Shopping and restaurants are within 10 minutes from our house. Around 30 miles from ski resorts.
Willow's place was a lovely way to spend a weekend. It was quit, clean, and had a great outdoor area for taking picnics. We really enjoyed our stay!
Annemarie
2017-02-20T00:00:00Z
Willow's place was beautiful, comfortable, and cozy. Right next to gorgeous Hawk Mountain. She is very responsive with any communication, although we had everything we needed. Secluded, but close enough to run a ten minute errand to grab any essentials. Props on the 1950's fridge and the Murder She Wrote book collection.
Tim
2016-11-26T00:00:00Z
This was a cozy apartment with old style charm! We had total privacy in our own apartment. Willow was great with communication and recommendations! They were able to be flexible with a late check in. The place was clean and bed was comfy! Wish we had more time to explore Hawk Mountain. I would recommend staying here!
shannon
2017-02-12T00:00:00Z
Willow's place is cozy and gorgeous! Having no wifi or cable for a weekend was a much needed break and the apartment is so quiet and peaceful! My only hesitancy to give 5 stars was that I found our checkout instructions a bit odd. We were told to strip the bed, put all of the linens/towels used in a hamper and clean/wipe down the stove oven. I've never stayed in an Airbnb that requires this and found it a bit odd since Airbnb charges a cleaning fee too. But despite that we had a wonderful time and would definitely recommend to friends!
Bridget
2017-01-15T00:00:00Z
Great location if you want to go hiking or take in some of Pennsylvania's beautiful scenery.
Carol
2017-01-01T00:00:00Z
Perfect place to relax after a day full of hiking!
Matt
2017-03-05T00:00:00Z
It's hard to stay closer to Hawk Mountain, and impossible for the price.
Scott
2017-02-27T00:00:00Z
Willow was very accommodating, and her mom Odile was so friendly! We had a very nice stay in the room. Everything was perfectly clean.
Sara
2016-10-02T00:00:00Z
Tipe Kamar
Seluruh rumah/apartemen
---
Tipe Properti
Apartemen
---
Mengakomodasi
4
---
Kamar tidur
Orwigsburg, Pennsylvania, Amerika Serikat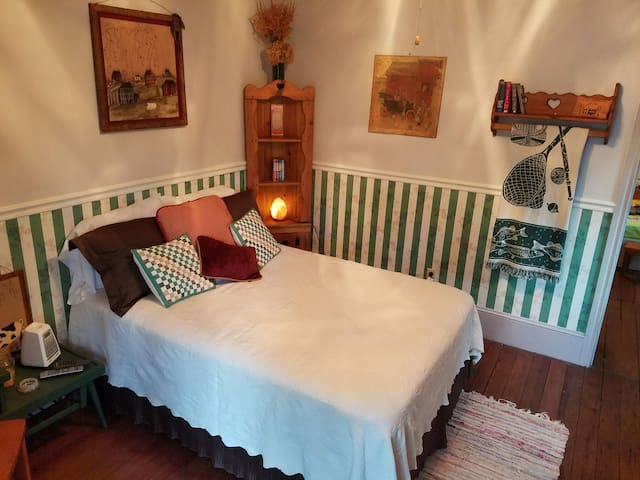 The apartment has a mountain lodge feeling! 1,100 sq ft, hardwood floors, high wooden ceilings, stone walls, gas fireplace, WiFi, Cable, wash machine, cedar closet, granite top counters. Beautiful country farm w/goats, chickens, donkeys, and gardens! Participate in live music in the music room! Evening campfires weather permitting! Meet the animals!
Private one-floor studio apartment with living room suit, queen-sized bedroom suit, pine bunk beds, TV, gas fireplace, central air, kitchen use w microwave, all dishes & utensils. Amenities include soaps, shampoos, clothes washing soap, linens and towels.
Frush Farm is located on 6.5 acres of beautiful farmland. We are surrounded by other homes, but the neighborhood is quiet and peaceful. There are many restaurants, shopping areas, and other activities nearby including a major Antique center. Lots to do - all seasons! Check out our website for more info.
My friends and I stayed at Nancy's beautiful and spacious farm studio apartment while we were in town for the full moon wolf tour at the Wolf Sanctuary of PA (definitely worth checking out!). It was the perfect place to stay to disconnect from the city, enjoy nature, and recharge. I can't wait to come back and stay again soon! Nancy and her husband were wonderful, warm hosts. They really went out of their way to make us feel welcome, even introducing us to the goats, donkeys, and chickens! When we arrived, they made sure we got oriented and knew where to find everything we might need. The gas stove made for a cozy evening of catching up and playing music with instruments borrowed for our hosts well-stocked music room. There were comfortable sleeping arrangements for everyone. In the morning, Nancy served us an absolutely delicious breakfast of quiche, sausage, fresh veggies and fruit, and homemade kaffir. One thing to note is that the kitchen stove in the studio cannot be used due to bed and breakfast regulations. Nancy explained this to us upon arrival. It wasn't a problem as there are plenty of food options available nearby, just good to know ahead of time so you don't plan on cooking.
Corinne
2016-02-22T00:00:00Z
This was the most relaxing weekend I have had in a very long time. The property is GORGEOUS and the breakfast was WONDERFUL. Nancy and her husband, Rich, were great company and made us feel right at home. The apartment had everything we needed and was so nice. We will be returning for sure.
Jennifer
2016-05-16T00:00:00Z
My family of four had a wonderful stay at the lovely B&B apartment. Nancy and Richard are generous and kind hosts. They made our stay very pleasant and relaxing. The breakfasts were healthy and deslucidos and Nancy was very knowledgeable about the area, which helped us plan our days. I wholeheartedly recommend staying at the Frush Farms B&B!
Avivit
2016-10-11T00:00:00Z
Nancy certainly made axe us feel very welcome! Frush farms is absolutely wonderful, the animals on property, fresh produce (which you can purchase in the market!)- the whole property made for a wonderful girls weekend away. The loft is precisely as pictured- if not better- high ceilings and plenty of space!
Brianna
2016-10-02T00:00:00Z
What can I say? Nancy and her husband Richard are the most genuine, kind, life loving people you can ask to meet. Their home and property are gorgeous, and they are more than happy to teach guests about farm life, while sharing the greatest stories you will ever hear. They also respect guests privacy and never overstepp any bounds. If you choose to be a recluse, they will let you be. The apartment above the market is absolutely beautiful and modern with all amenities. Very clean, and superbly decorated. We had no problem making ourselves at home. Nancy and Richard also prepare a 5 star fresh farm breakfast In the morning which i highly recommend you do not miss if you have the pleasure of staying there. Thank me later. Overall, the Frush's are great people and generously share their pristine property with guests. I would absolutely recommend this B&B to anyone planning on staying in the Lancaster area. Thank you for sharing your home with us! Sincerely, The Windsors
Chadwick
2016-05-09T00:00:00Z
Amazingly, warm-hearted couple who went out of their way to ensure our stay was a memorable one. Perfect, super-relaxing location away from all the hustle and bustle. Nevertheless, lots to do and see in the area! 5 STARS!!! TRUST ME!!!
Ahsan
2016-11-06T00:00:00Z
What an amazing BNB experience! Nancy, Richard and family welcomed us to their farm with open arms. The apartment was spotless, comfortable, and large enough to easily accommodate our family of five. Let's talk about Nancy's fresh farm breakfast each morning : homemade waffles, pancakes, quiche, jellies, veggies, homemade whip cream, kefir, milk, eggs and fresh berries all ingredients courtesy of her farm! We will be back again to enjoy the warmth and care of staying with Nancy and family. Can't recommend this BNB with any higher praise!
Tracy
2016-07-02T00:00:00Z
We had such a great time at Frush Farm!! Nancy and Richard were so kind and accommodating to us. They took us on a tour of the farm and got to know the animals. The loft was clean and comfortable and it had everything we needed! During our stay we went to the wolf sanctuary, wilburs chocolate, and walked through the town of Lititz. We definitely plan on visiting again in the spring !
Gia
2017-01-01T00:00:00Z
Tipe Kamar
Seluruh rumah/apartemen
---
Tipe Properti
Apartemen
---
Mengakomodasi
6
---
Kamar tidur
Reinholds, Pennsylvania, Amerika Serikat
Looking for an escape? Find serenity in this modern, quiet, wooded retreat. Your host will provide freshly baked bread and a bottle of wine in your private apartment. Spend time hiking, fishing, reading...away from the hustle and bustle of daily activity. Host lives in separate home on property. Only an hour from Philadelphia, 30 minutes to Lancaster, 25 minutes to Lititz, 15 minutes to Reading.
This secluded property features eclectic artwork, ponds and woods.
Tipe Kamar
Seluruh rumah/apartemen
---
Tipe Properti
Apartemen
---
Mengakomodasi
2
---
Kamar tidur
Reinholds, Pennsylvania, Amerika Serikat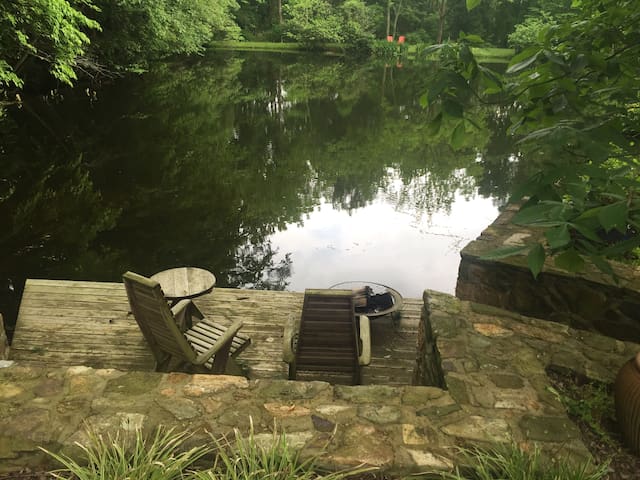 Come stay at our convenient and affordable Allentown vacation home, nearby many great places, historical sites: the famous Allentown arena, PPL Center, worldwide famous restaurants, Allentown Art Museum, America on Wheels for our car lovers.
The apartment was very clean and comfortable, and within easy walking distance of J. Birney Crum Stadium. Adriano was very responsive, made checking in and out super easy, and overall did a fantastic job with everything.
Ian
2016-08-08T00:00:00Z
This is a great location, the area is quiet and the parking was manageable. The host was available and the neighbors are nice. I stayed for one night (Saturday-Sunday) because I was in town for a half marathon which was Sunday morning at 6am... I really enjoy this place, it was clean and safe! My only complaint would have to be that whoever lives right above the apartment has heavy feet, maybe a few kids or must have had company. I went to bed at 10:30pm but had difficulty falling and staying asleep throughout the night due to noises coming from above... this lasted till about 4am.
Muriel
2016-10-02T00:00:00Z
Great place, very comfortable, lots of space.
Akshay
2016-09-26T00:00:00Z
It's definitely great for a couple to just be away from it all. Unfortunately, I was very cold during my stay because the host did not tell me where the thermostat was and the heat turned on only once randomly. The host also seemed irate and confused by me calling him about the key situation. Luckily, we weren't in the house very often but that's something to consider if you'll be staying there. Also the tv is impossible to see from the bedroom. Other than that, the place was very clean (bring your own bottle opener) and was very nice and serene.
Justin
2016-11-26T00:00:00Z
great little apartment, close to all of the attractions of downtown Allentown. Clean and neat, with some water bottles in the fridge :) the only thing I would have liked is if the kitchen was a bit more "stocked." There was no wine opener, salt/pepper, olive oil, etc. and no soap or shampoo in bathroom. Regardless, everything was nice and Almonte was very easy to communicate with.
Mallory
2016-11-12T00:00:00Z
The host canceled this reservation 11 days before arrival. This is an automated posting.
Benjamin
2016-06-08T00:00:00Z
When I arrived there was fresh fruit and cold beer waiting for me!! The apartment was very big and I still can't believe the price. Great deal and so close to everything.
David
2016-07-31T00:00:00Z
We stayed here for 9 days while working in the Allentown area. We enjoyed our stay very much. The one bedroom studio apartment had everything we needed to enjoy our time away from home.
Daniel
2016-06-01T00:00:00Z
Tipe Kamar
Seluruh rumah/apartemen
---
Tipe Properti
Apartemen
---
Mengakomodasi
2
---
Kamar tidur
Allentown, Pennsylvania, Amerika Serikat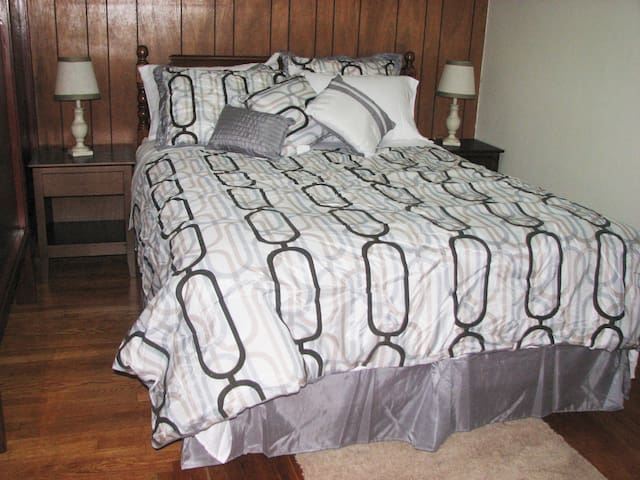 We are close to the town center of Macungie and within walking distance to MAC Trucks, Macungie Memorial Park, restaurants and Turkey Hill, routes 78 and 22. The apt has a private bdrm and private bath. There is a gym (very small, but doable), tv in the family room, kitchen and laundry (in the apartment). The apartment has a small patio deck to enjoy your morning coffee or have a drink at the end of the day. Our dog, Sigmund Freud lives with us. We look forward to hosting you!
The apartment is located near the town center of Macungie. Most everything is walking distance. It's a 2 bedroom, 3 bath apartment. We host for one of the private bed/baths while we live in the other. It is a small apartment (one main family room, eating area, kitchen and 2 bedrooms and 2 bathrooms). But it's very doable for guests looking for a nice, warm and friendly place to stay. The apartment complex has plenty of parking and a very small gym and business center with computers and Internet.
A lot going on in Macungie for a teeny tiny town! We are also close to South Mountain Preserve if you like to hike/walk in the woods.
Tracy was very nice host. She showed us the neighborhood and gave us directions to where we needed to go. We communicated pretty well and she was very hospitable throughout our stay. The room was cozy and bed was very comfortable.
alicja
2016-09-26T00:00:00Z
I came to Tracy's place to find a private place to stay the nights in Macungie, PA. From the beginning Tracy was very responsive and ensured the move-in process was smooth. Her place was very clean and Freud was very friendly. The room came with private bathroom that was both spacious and clean. The area is very safe and close to gas stations and other convenience stores. Personally I found Tracy intellectual with a fun personality and I hope to see her more in my future trips.
Shahriar
2016-08-15T00:00:00Z
Very cordial and accomodating.
Jeffrey
2016-08-25T00:00:00Z
Tipe Kamar
Kamar pribadi
---
Tipe Properti
Apartemen
---
Mengakomodasi
2
---
Kamar tidur
Macungie, Pennsylvania, Amerika Serikat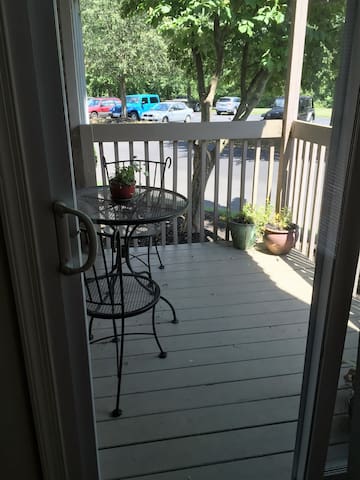 This property is a 100+ year old stone farm style house that was formerly the Station Master's House for the Geigertown stop on the Reading Railroad. We are located in a small village in Pennsylvania one hour West of Philadelphia and 45 minutes East of Lancaster. We are within a stones throw of French Creek State Park where there are many wonderful hiking and biking trails, and historic Hopewell Village an early iron making community. Shopping and highways are convenient for travelers.
This apartment has second floor living space and the second bedroom is on the third floor. Note: Updated photos not added yet showing beds, etc.
Tipe Kamar
Seluruh rumah/apartemen
---
Tipe Properti
Apartemen
---
Mengakomodasi
4
---
Kamar tidur
Birdsboro, Pennsylvania, Amerika Serikat
Spare bedroom best for only one person, big apartment, great location access to the kitchen quiet location. Great place for young professional in town for business for one night or one month. Way better than any hotel in town at a fraction of the price.
The bedroom is small but there apartment is 2 floors and so easy to share with me and have private space. Great place for a week stay for business trip.
It's the safest in the area, and it has charm!
The host canceled this reservation the day before arrival. This is an automated posting.
Thomas
2016-08-04T00:00:00Z
Clean place and a great location. I will definitely stay here again.
Yuriy
2017-01-27T00:00:00Z
Tipe Kamar
Kamar pribadi
---
Tipe Properti
Apartemen
---
Mengakomodasi
1
---
Kamar tidur
Allentown, Pennsylvania, Amerika Serikat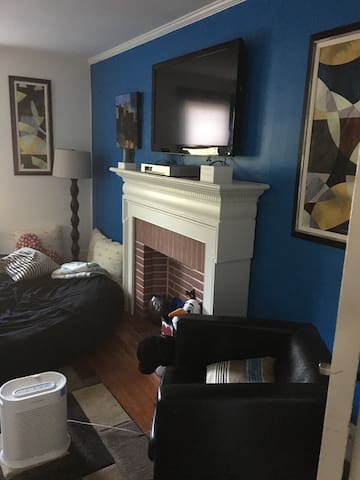 Fully Furnished 2 bedroom apartment. Internet, cable and free laundry included. No deposit, no cleaning fee.
The listing was accurate, and the host was incredibly helpful. Jamie was easy to communicate with quickly and effectively. She was constantly responsive and and accommodating - despite it being new years eve and day. The location itself is welcoming and functional. Almost everything we could have asked for was either already available or a text message away. I highly recommend this location and host!
Aran
2017-01-02T00:00:00Z
Unfortunately I was not able to make the trip to Allentown because of inclimate weather where I was traveling from. However, up until the point I had to cancel; Jamie effectively communicated with me to assure I would have a smooth arrival. She made sure things were in order and that I had all of her information in case I needed her. When I had to cancel Jamie told me that she completely understood the situation and issued my refund within minutes. So even though I didn't actually get to stay the interaction with Jamie as a host was very pleasant and professional.
Oscar
2017-01-07T00:00:00Z
Jamie was wonderful and she helped make our trip to Allentown a great experience
Derek
2016-11-12T00:00:00Z
There were some plumbing issues and Jamie was wonderful to deal with. She accommodated us at a hotel nearby and was in contact the whole time.
Lissette
2016-11-27T00:00:00Z
Jamie was super quick to respond to all communications, the room apartment was HUGE, super clean, and very comfortable. The neighborhood is pleasant and quiet, and the area is very convenient. We would love to stay here again sometime!
Maximilian
2016-08-21T00:00:00Z
Comfortable but somewhat dated apartment in a very safe, quiet and convenient location. Basic amenities provided. Mild residual smoke smell may bother some. Host very accommodating and communicative.
Barbara
2016-08-20T00:00:00Z
Loved everything about our stay, couldn't have asked for a better host!
Marc
2016-10-15T00:00:00Z
it was great and cozy place to stay. we have seven people in there, and it's very clean space. highly recommend!
Yvonne
2016-08-22T00:00:00Z
Tipe Kamar
Seluruh rumah/apartemen
---
Tipe Properti
Apartemen
---
Mengakomodasi
8
---
Kamar tidur
Allentown, Pennsylvania, Amerika Serikat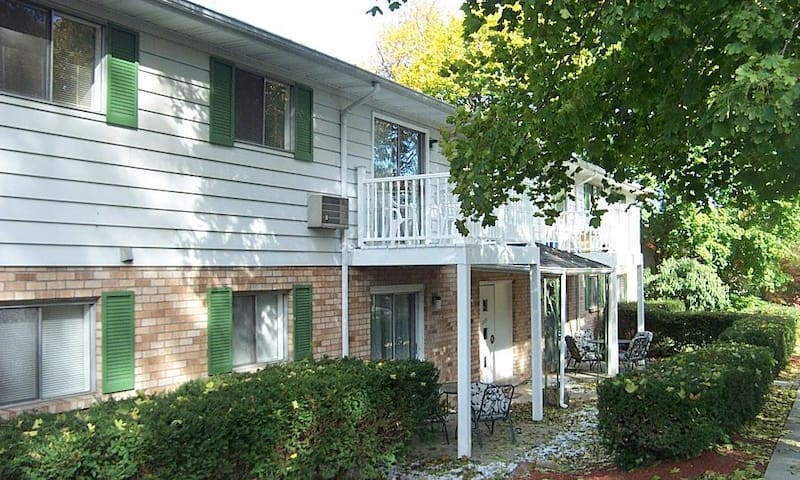 Relax in this clean, modern 1st floor 2 BR, 1.5 bath unit w/ patio and off-street parking. Why stay in a hotel when you can escape to your own private apartment with all amenities provided including wireless internet and HD cable TV. Safe and quiet family neighborhood in suburbs and only minutes from downtown Reading & major highways. Good for couples, adventurers, business travelers, and families.
2 BR each w/ queen beds. Open floor plan w/ island kitchen. All amenities provided. Wireless internet and HD cable TV. Kitchen w/ stove/microwave/ semi-stocked fridge/cooking utensils & DW. Washer/Dryer/Iron & board. 1.5 baths stocked with toiletries.
Easy access to highways and turnpike from this Philadelphia bedroom community. Safe suburban neighborhood convenient to shopping, pubs & restaurants.
Tipe Kamar
Seluruh rumah/apartemen
---
Tipe Properti
Apartemen
---
Mengakomodasi
4
---
Kamar tidur
Sinking Spring, Pennsylvania, Amerika Serikat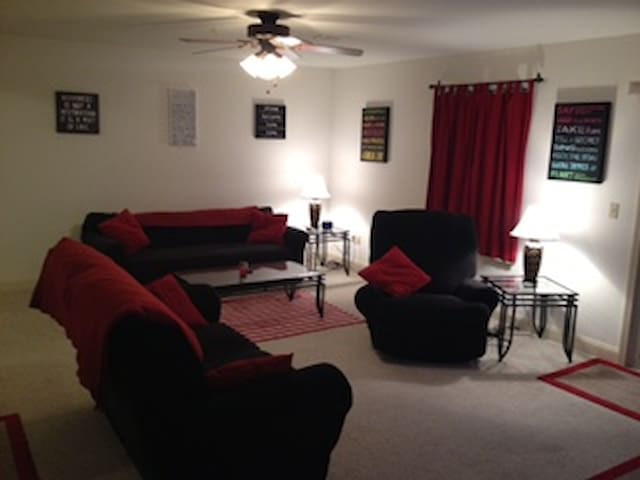 Your own level including a private suite with large BR & King bed. Available to families are two twin air mattresses for two children. Lovely, casual LR plus Dining area with Micro, small Fridge & Keurig. NOTE: No Kitchen or Laundry facilities.
Yours is a spacious 2 room Suite on a beautiful, private first level. Cable TV. Free WiFi. Separately zoned Central Heating / Cooling controlled by you alone. We enjoy hosting family, friends & guests and welcome the opportunity to share our home with you. We look forward to sharing daily complimentary breakfasts with you in our cozy breakfast room.
Ours is a diverse neighborhood of Upscale Townhouses located within the premiere Parkland School District. We are not within a 55 plus nor condominium development. Neighbors are of varying ages. Many families live here in a town-like extremely quiet area. Local favorites include walking to WEGMAN's Market & PUB, Ruby Tuesday's and 5 Guys Burgers. (Only a ten minute leisurely walk). Our Townhouse is situate along a walking path to Trexler Park, the jewel of the Allentown Park system. Just beyond is the beautiful Rose garden with a walking path around Muhlenberg lake.
Best Experience Ever!
Mariadonna
2015-11-16T00:00:00Z
Carol and Rick are lovely hosts. The pictures do not do justice to the gorgouse property with the walk to nearby Trexler Park. Carol and I went to yoga together on Saturday morning and that was a wonderful bonus. We really enjoyed getting to know them during their lovely breakfasts. They are very welcoming, attentive and caring. The space is beautifully appointed and extremely clean. We really enjoyed our visit to Allentown. Great dinner at the Pub at Wegmans and fabulous free concert in the Steel Stacks in Bethlehem. Highly recommend the Liberty Suite.
Janine
2016-07-04T00:00:00Z
Rick and Carol were gracious and thoughtful hosts. They made you feel like you were a guest in their home. It was a warm and welcoming environment. We enjoyed it so much that we need to go to the Lehigh Valley in a few weeks and we're booking with them. And breakfast was really good!
Roberta
2015-12-27T00:00:00Z
My boyfriend and I had vacation and we stayed at Rick and Carol's house. It was an amazing experience of Airbnb. Everything was very clean, neat and cozy. The apartment is beautiful and has everything you need. Special part is breakfast with Rick and Carol, which means delicious food and enjoyable conversation. Rick and Carol are very nice people, once our breakfast took two hours because we couldn't stop talking. They have adorable pets also. Our last day Carol drove us to Ice Cream World and bus terminal, which was very sweet. We had wonderful time staying in Allentown with Rick and Carol. And I'm sure we will come back.
Anna
2016-09-05T00:00:00Z
Beautiful location with an expansive yard and great amenities. Loved it
Steve
2016-08-22T00:00:00Z
Classic Airbnb A+ Experience! Mr. Rick has been so kind to keep in good contact with us prior to arrival, and the day of arrival. Personal meeting upon arrival with a tour of the suite. We were very pleased with the enchanting private entry way and its view of the gorgeous green landscaping view. In the clean well maintained suite we found a nice personal touch of charm and well organized furnishings. The fridge, microwave and kurig really made it just right for the warm moments. The bedroom was arranged with very nice character and perfect setting for the a/c controls. My personal favorite was the outdoor setting. It has a cute swinging bench that you can sit and enjoy the cobblestone floor view with the huge greenery landscape view. There is nothing more important to me than a warm greeting from Rick and Carol. I recommend the Liberty Suite to everyone & will be back again!
Isaac
2016-08-01T00:00:00Z
We felt so welcomed the first time that when we came back to the area we immediately booked with Rick and Carol. As before, they were gracious hosts, offering area advice and information.
Roberta
2016-03-01T00:00:00Z
The Liberty Suite is spacious, bright, and comfortable. The neighborhood is quiet and secluded yet close to stores and conveniences. Host Rick greeted and showed us around patiently. Hostess Carol presented us with cheese and fruit snack in the afternoon, and a delicious breakfast the next morning. Both are friendly, warm, and welcoming. We had a very rested one night lay over on our way to the Poconos and a nice chat with our hosts before getting on the road again. Highly recommend.
KATHY
2015-11-27T00:00:00Z
Tipe Kamar
Seluruh rumah/apartemen
---
Tipe Properti
Apartemen
---
Mengakomodasi
2
---
Kamar tidur
Allentown, Pennsylvania, Amerika Serikat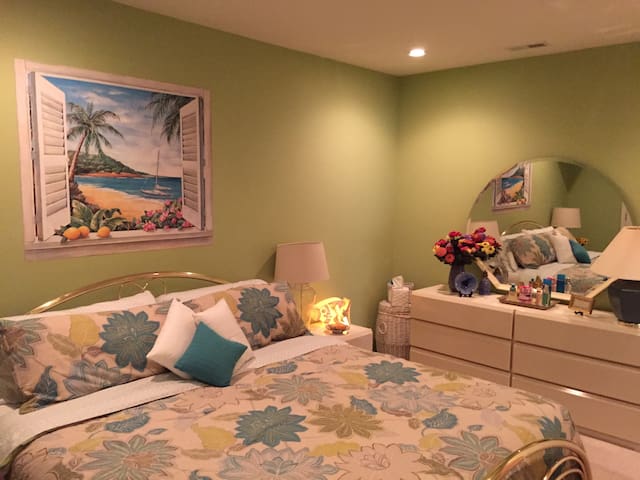 Great location great apartment plenty of space very quiet easy access best location in Allentown.
It's my apartment and I go out out of town when I get a rental. I'm retired so I can go away on short notice and Airbnb rentals pays for my trip. The apartment so it's really well taken care and as cozy as can be.
The neighborhood is in the best school district in the county great police very safe also very charming neighborhood with trees and older homes a lot of brick homes awesome location near some great restaurants. 10 times better than any hotel if you're bringing your children The family will just love the place
Nice stay. Didn't meet Terry in-person but he was very available and considerate.
Mike
2016-10-16T00:00:00Z
Perfect for those staying a night or two. Terry's spot has everything you need and he was a communicative host.
Zackary
2016-09-26T00:00:00Z
We loved staying at Terry's place. For the price you can't beat it. It's only a few blocks from Dorney Park and in a nice neighborhood with plenty of shopping centers and resturants nearby. It was easy to get into the house and the communication was very easy with Terry although we didn't need to ask for much the things I did ask for he responded quickly
Joshua
2016-08-23T00:00:00Z
Terry was awesome. Great with communication and a pleasure to meet. We had a great time staying at his place.
Max
2016-08-07T00:00:00Z
We stayed here for a ski trip. It is very close to Blue Mountain, and Terry is so helpful and friendly. It was a very nice airbnb experience for us.
Hui
2017-01-02T00:00:00Z
The listing description was pretty accurate with the exception of the two bedrooms have a twin and a queen bed. Really sleeps 3. We made it work with 4 people. The location was perfect for where we needed to be.
molly
2016-12-28T00:00:00Z
Two story apartment reached up a flight of stairs on the side of a house, with living room, dining room, bathroom, and kitchen downstairs and two bedrooms upstairs. Twin mattress in small bedroom, double mattress in master bedroom. About 5 minute drive to Muhlenberg College. Great having access to washer and dryer, which are located in a closet in the living room. Downstairs decorated with great artwork, comfortable sofas. Even though the house is in a residential area, it's on a busy street, so traffic noises can be loud--we had earplugs so it didn't bother us. The owner lives in the apartment and goes elsewhere when he rents it out; in our case, he might have been in a rush because he hadn't put away his personal belongings/clothes/toiletries, floors weren't swept (we found glass on the bedroom floor), and a trash can wasn't emptied. In general, kitchen appliances and tub were not clean.
Yvonne
2017-02-15T00:00:00Z
Terry's home was perfect for our 2-night getaway. It's a charming set-up, perfect for my husband and I, and our son. It's centrally located to great attractions and so much better than staying in a hotel. Terry was very responsive to questions both before we arrived and while in his home.
Amy
2017-02-19T00:00:00Z
Tipe Kamar
Seluruh rumah/apartemen
---
Tipe Properti
Apartemen
---
Mengakomodasi
5
---
Kamar tidur
Allentown, Pennsylvania, Amerika Serikat
Tipe Kamar
Kamar pribadi
---
Tipe Properti
Apartemen
---
Mengakomodasi
4
---
Kamar tidur
Allentown, Pennsylvania, Amerika Serikat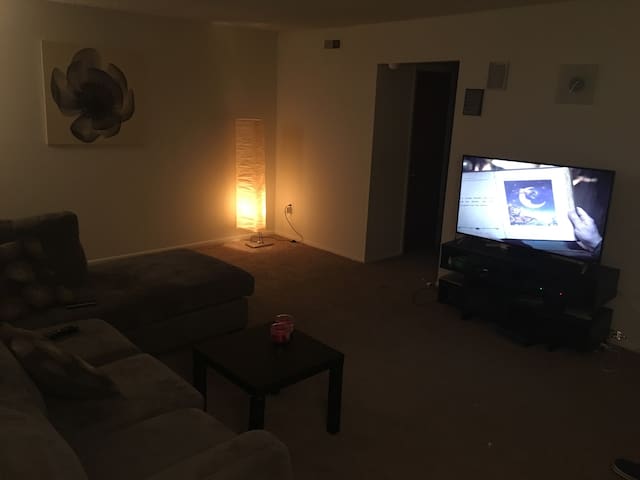 Fully furnished. High Speed Internet, Cable and free laundry included. No cleaning fee or deposit required.
Jamie was an AMAZING host!!! About 3 or so hours from when we were going to arrive, I got a text saying there was an issue with the apartment, but that it was working on getting fixed asap. About an hour later, Jamie told us that it wouldn't be fixed in time and that she would put us up at a hotel at no additional cost. The service and care Jamie gave us was amazing and unexpected! She went above and beyond what was expected! I would love to visit again!
Charissa
2017-03-05T00:00:00Z
Jamie was an incredibly friendly host, she made sure we had everything we needed at the house. The location is on a lovely quiet street. The apartment is clean, spacious, and we were even allowed to bring our husky. I would be more than happy to stay here again!
Tara
2017-01-01T00:00:00Z
Jamie was a very good host! My friends and I had such a good night...
Angel
2017-01-08T00:00:00Z
Jamie's place is clean and comfortable.
Olivia
2016-12-27T00:00:00Z
Jamie was incredibly responsive and went above and beyond to help my family accommodate for all of us. The space was beautiful and nice, great for a short or even an extended stay.
Samson
2016-10-23T00:00:00Z
My stay in Allentown was great. Apartment was a 10 minute car ride from the Hamilton District where all the night life was. Jamie was very responsive and accommodating.
John
2016-11-13T00:00:00Z
The apartment was just what I needed for a temporary home while something more permanent was arranged. Jamie was flexible with dates and times and helped me make sure my first Airbnb experience went smoothly. My large dog was allowed to stay with me which was also very convenient and accommodating of Jamie. The area is a safe and friendly neighborhood that is close to a lot that Allentown has to offer.
Hanna
2016-09-11T00:00:00Z
Tipe Kamar
Seluruh rumah/apartemen
---
Tipe Properti
Apartemen
---
Mengakomodasi
8
---
Kamar tidur
Allentown, Pennsylvania, Amerika Serikat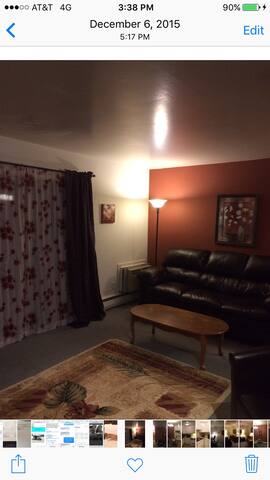 Quiet and cozy located west side of Allentown. Great place to relax and for the fitness minded. Access to gym equipment and bike. Small park near by to relax. In this building resides residence 50+ who are very quiet as well as me. Private laundry as well.
Very clean, quiet and easy access to (PHONE NUMBER HIDDEN)
Small neighborhood feel with parks and easy access to everything and shopping.
Eric was a wonderful host with a beautiful condo. We really enjoyed getting to know him, and it was a very enjoyable weekend. Everything you want in a host.
Christopher
2016-09-11T00:00:00Z
Tipe Kamar
Kamar pribadi
---
Tipe Properti
Apartemen
---
Mengakomodasi
2
---
Kamar tidur
Allentown, Pennsylvania, Amerika Serikat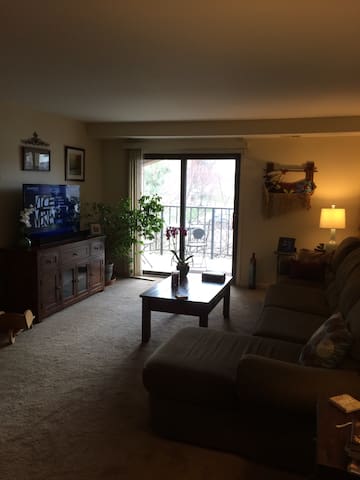 Fully Furnished 2 Bedroom apartment. No deposit. No extra fees. Laundry room. Machines are free.
Jamie was very communicative throughout our stay. The apartment was as described & pictured. The building itself needs attention.
Jane
2016-09-12T00:00:00Z
Tipe Kamar
Seluruh rumah/apartemen
---
Tipe Properti
Apartemen
---
Mengakomodasi
8
---
Kamar tidur
Allentown, Pennsylvania, Amerika Serikat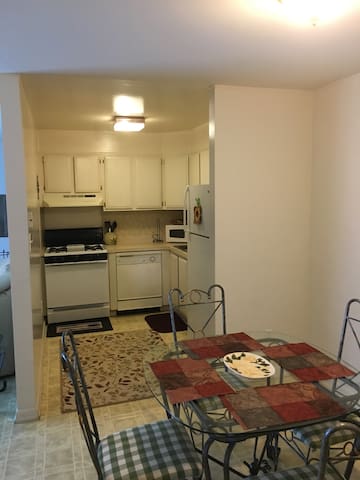 Fully Furnished 2BedroomApartment in the West End of Allentown 2 blocks from Cedar Beech Park. All necessary living amenities included. Sleeps 4-6 (depending on the apartment). We have a 1bedroom and a two bedroom apartment available. ABCorporateHousing All utilities,cable-internet included. Laundry on site. Near shopping and restaurants.
Jamie was a pleasure to work with, she was quick to respond to communications and was very helpful. The apartment was very spacious and clean, and located in an awesome neighborhood. We could detect a faint underlying smell of cigarette smoke; I tend to be sensitive to this kind of thing, not everyone is. Lots of greenery around, and it was nice to have a balcony. Thanks Jamie!
rob
2016-07-12T00:00:00Z
Jamie and David were incredibly responsive! In fact, the day before we arrived they checked in to see if we needed anything. Having stayed in a few airbnb's we know that respecting the space is paramount so we had plenty of questions (recycling, linens, etc) once we got there and upon checking out; Jamie and David were so laid back and flexible! The apartment was great and pretty spacious. There's only 1 tv in the living room so if traveling with kids be mindful of that. Not a problem for us but worth noting if that kind of thing matters to you. There's a balcony off the living room with a table and 2 chairs - it was too hot for us to enjoy but lovely to have. There's an oyster bar right up the street, a hot dog king, a park and plenty of pokespots for the kids (we even caught a Pikachu!). We really enjoyed our stay and would stay there again. Thanks again Jamie and David!
Serena
2016-08-29T00:00:00Z
Great safe and quiet neighborhood with easy and free parking out front. Jamie was very helpful and responsive.
Brad
2016-10-16T00:00:00Z
Jamie was an amazing host even though we only communicated virtually. The place was clean and comfortable. Would definitely come back!
amy
2016-08-23T00:00:00Z
Great safe and comfortable with easy street parking and easy access the the charming neighborhood. I've been there twice now and fully recommend it,
David
2016-10-14T00:00:00Z
Tipe Kamar
Seluruh rumah/apartemen
---
Tipe Properti
Apartemen
---
Mengakomodasi
6
---
Kamar tidur
Allentown, Pennsylvania, Amerika Serikat
Fleetwood - Airbnb
:
Rata-rata

4.54

dari

5

bintang dari semua

92

ulasan tamu
1

–

18

dari

20 Sewa Apartemen
Masukkan tanggal untuk melihat harga lengkap. Biaya tambahan berlaku. Mungkin dikenakan pajak.