Come visit our beautiful country home, in a quiet neighborhood. Located just 2.5 miles from Hwy 99 and 15 minutes South of Fresno. Less than 2 hours away from Yosemite, Sequoia and King's Canyon National Parks!
Comfortable room with Tempurpedic mattress and television. Private bathroom and separate bathroom with shower access. Breakfast and coffee provided.
Darle, the mother of Ashley, gave me a great welcome. Being in the spa outside in the garden at night under the stars was fantastic. I even swam at night in the beautiful pool. Great breakfast. Good talks. The day after we hanged out in the garden. Nicest i ve ever seen. Darle is a great host and warm person. I had a fantastic stay.
birger
2015-07-30T00:00:00Z
StoneHaven couldn't be any easier or more comfortable! Want to be treated like a king by the most gracious and attentive hosts imaginable ? ... stay there !
Bryan
2015-12-11T00:00:00Z
I was welcomed with open arms. Ashley's mom was very kind and occomidating. I felt like I was at a resort.
David
2016-07-24T00:00:00Z
Couldn't feel more welcome nor more comfortable.
Bryan
2015-11-23T00:00:00Z
Awesome place ... Excellent hosts ! This is my "Go-to" place in the South Valley.
Bryan
2015-09-24T00:00:00Z
This is an amazing place! I was so glad I found Stonehaven, and am thankful for the relaxing time I had during my quick trip through California. Ashley and her mom were great hosts! The place is huge. Clean. Quiet. Relaxing. Just like a spa. Speaking of spa, the HUGE hot tub was a bonus! If you're ever coming through the Central Valley, this is the place to stay!
Conrad & Jodi
2016-02-26T00:00:00Z
This gorgeous estate, located less than five minutes off the freeway, is hosted by two lovely women, who made us feel welcome from our arrival. If you want a stunning place to stay amidst miles of vineyard, look no further! The back yard has a natural pool and spa, a pond, and some emus and even an ostrich! These are grounds that beg a wedding or stellar event on them; Stonehaven will "wow" you from first sight. We arrived road weary and stressed, but our stress melted right away in the spa, where we could unwind in quiet, beautiful surroundings. I cannot say enough about the hospitality. Even though we only stayed one night, the hosts were so accommodating and friendly, we felt we were leaving friends when we had to go. We will definitely be back! There were a few little extra surprises that I won't reveal; I'll let you find out for yourself! The room is elegant and well appointed, with a tempurpedic mattress and luxurious bedding. The private bathroom has a spa tub that looks out into a tiny private garden complete with a water feature. The care and love poured into creating a luxurious and relaxing space shows everywhere you look at Stonehaven. The pictures don't do it justice. We have stayed at airbnb places before, but we really felt we lucked out when we booked here. What a gem! Thank you thank you, Ashley and Darl. We know we will see you again!
Jamie & Cindy
2015-07-24T00:00:00Z
Ashley was not around this week but Darle her mom was and was very helpful and welcoming.
David
2016-08-06T00:00:00Z
Tipe Kamar
Kamar pribadi
---
Tipe Properti
---
Mengakomodasi
2
---
Kamar tidur
Fowler, California 93625, Amerika Serikat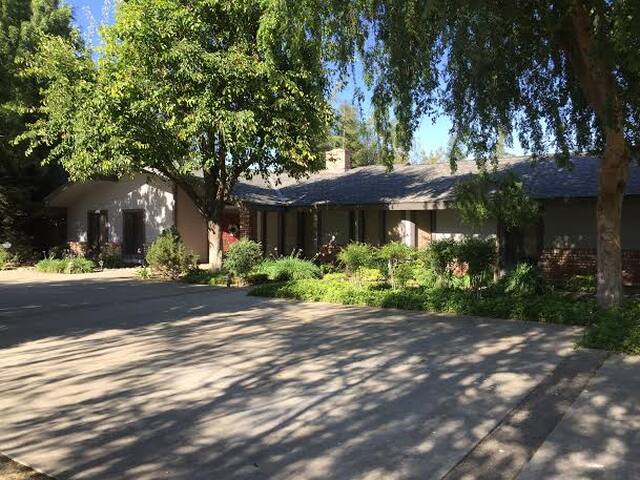 Quiet country home surrounded by orchards and vineyards but only 3 miles from the freeway. Less than two hours from King's Canyon, Sequoia and Yosemite National Parks! We are just 15 minutes south of Fresno, CA. Meet our gentle alpacas. We have 11 right now They love carrots if you happen to bring some! Cozy room with private bathroom and shower. Wireless, plenty of parking space. Swimming pool. Small towns nearby with good restaurants and stores. We are just "bed and breakfast" (i.e. we have jobs) with check-in any time after 6 p.m. and check-out time 10:30 a.m. If you stay more than one night we can certainly be more flexible on times. Beware, we have very friendly dogs........... We love meeting people from all over the world and we'd love to meet you! Barb and Charis
My time here, all too short, was delightful. Their ranch is out in the country amid orchards and fields. The bedding, or was it the room, smelled nice. My hosts were knowledgeable about the area and even printed out instructions for my next destination. If I hadn't been so tired, I would have liked to get to know them better. The alpacas made the visit! Sweet-natured, beautiful creatures. They almost, but not quite, invite petting.
Mar
2015-05-05T00:00:00Z
SUCH wonderful hosts: we felt like we were staying with family and very welcome. The alpacas were so cool too! Highly recommend this great experience!
Ben
2015-06-06T00:00:00Z
We had a great experience. Barb and Charis graciously introduced us to the alpacas and answered all questions. The room was great.
Alec
2015-05-28T00:00:00Z
An animals lovers paradise! Dogs, cats and... Alpacas! Such cute animals! The absolute ideal location if you are heading down south after visiting Yosemite. Barb and Charis were lovely and welcoming hosts. Guestroom and bathroom were great and the bed very comfy. Breakfast was really brilliant! Amazing value.
Nicoletta
2015-04-12T00:00:00Z
The place is easy to find, and the pictures due it justice. Perfect place for an overnight stay on the drive to or from LA. I arrived late and left early but they were very hospitable and accommodating. I brought my two dogs with me who stayed with me in the room in their crate. Very easy to Their dogs are super nice as well. I would consider staying there again (I didn't get to meet the alpacas since i had to leave early).
Robin
2014-12-20T00:00:00Z
Barb was such a wonderful host. Each morning began with a sit down breakfast with Barb and Karis-we have doen alot of airbnb and this is first time we had a sit down with host- really nice ! After breakfast Barb took us out back yard to feed the Alpacas-so fun and they so cute :)
Joseph
2015-10-05T00:00:00Z
Barb and Charis welcomed us in their home with open arms. These ladies are just the sweetest! The room was as listed: clean, cozy and at the back of the house so very tranquil. In the morning we enjoyed an amazing breakfast with all-natural products. The homemade granola was just delicious! Being animal lovers we enjoyed the enthusiastic greeting by their pack of little dogs. Meeting the alpacas is an absolute bonus, they are such fun inquisitive animals. We definitely recommend staying with Barb and Charis!
Caroline
2015-05-19T00:00:00Z
I truly enjoyed a peaceful afternoon, overnight and morning with Barb and her alpacas in Fowler The house was clean and welcoming and borders along farmland so you feel that you are in the countryside, with the opportunity to take long walks among the orchards. I had a lovely large bedroom with a private bathroom, and super comfortable king size bed. Barb and her partner were super hospitable, showing me their Alpaca barn and making me a hot cup of coffee after my drive from San Francisco. Their two chihuahuas got along very well with my little beagle, Zacky, and there is a large enclosed yard for four legged guests. A great value for a country experience close to Yosemite and halfway between San Francisco and LA.
Joyce
2012-02-20T00:00:00Z
Tipe Kamar
Kamar pribadi
---
Tipe Properti
---
Mengakomodasi
2
---
Kamar tidur
Fowler, California 93625, Amerika Serikat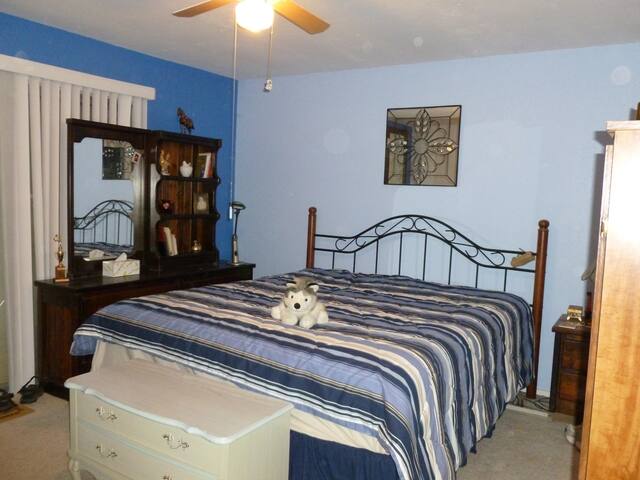 This is a two bedroom (URL HIDDEN) have your own (URL HIDDEN) Internet is available 24 hours of the day,tv is available to your (URL HIDDEN) (URL HIDDEN) only alone with my two year old daughter.
I had a good stay at Reuben's place. He was very friendly and made sure I had what I needed. It was nice having a fridge in my room too! Would definitely recommend staying here for the traveller on a budget.
Dubya
2016-08-25T00:00:00Z
Reuben responded quickly to my last minute request. He had to work and made sure his cousin greeted me and showed me where everything was. The bed was comfortable; I slept well.
Tama
2016-06-13T00:00:00Z
Reuben was *incredibly* flexible and kind. I can't thank him enough for his accommodation! I came in much later than expected and Reuben not only waited for me, he refused to make me feel bad for it!
Alejandro
2016-10-13T00:00:00Z
Great place to stay!
Andy
2016-12-09T00:00:00Z
Ruben made me feel right at home. He is a very gracious host and I recommend anybody going to Fresno that is on a budget to stay at Ruben's
gary
2016-09-11T00:00:00Z
Quiet host and such a gentleman. Ruben helped me carry all of my things upstairs. I work the graveyard shift so I sleep during the day, therefore I shouldnt have to express the importance of staying in a place where I can get rest during the daytime hours. I didn't see Ruben much since he goes to school but when I did it was only for a brief moment. Thanks Ruben I enjoyed my stay.
Meticia
2016-07-25T00:00:00Z
One of the most hospitable and generous hosts I've ever met on Air B&B! Could be a little better with his communication though
Ryan
2016-12-03T00:00:00Z
Rueban is a very special person, loved my stay and the location was perfect for me. Thank you for putting car in secured gated area, although it would of been ok on street.
sheri
2016-11-10T00:00:00Z
Tipe Kamar
Kamar pribadi
---
Tipe Properti
---
Mengakomodasi
1
---
Kamar tidur
Fresno, California 93727, Amerika Serikat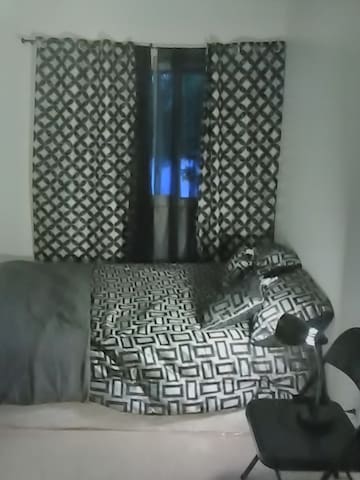 My place is close to public transport and the airport. You'll love my place because of the coziness and the location. My place is good for solo traveler nurses and respiratory therapists and furry friends (pets). Only.
You will have your own bathroom and walking closet..
Is very family oriented and gated community.. quiet and great neighbors.
Alicia kept in touch during my commute to her house. The rainy weather delayed arrival. She adjusted her schedule to be at the home to greet and assisted with moving my stuff into home. Her home is lovely in a quiet neighborhood - easy in and out, access to all main hwys including airport. Very helpful to direct when GPS is wacky! Easy to talk to. Son is a young gentleman with a welcome smile. Highly recommend to hang out for short or long stay.
Lydia
2016-11-20T00:00:00Z
Tipe Kamar
Kamar pribadi
---
Tipe Properti
---
Mengakomodasi
1
---
Kamar tidur
Fresno, California 93725, Amerika Serikat
Tipe Kamar
Seluruh rumah/apartemen
---
Tipe Properti
---
Mengakomodasi
2
---
Kamar tidur
Fresno, California 93706, Amerika Serikat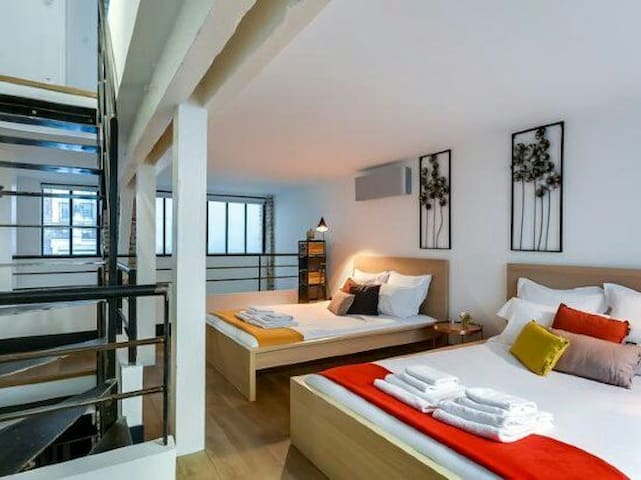 Masukkan tanggal untuk melihat harga lengkap. Biaya tambahan berlaku. Mungkin dikenakan pajak.