Ashdod has the most beautiful beaches of Israel. Bars and restaurants. New apartment located 5 minutes walk from the beach in the area youd alef, the best area of the city, air-conditioned, comfortable,wi-fi, fully equipped kitchen, close to the cultural center and all the shops. 1 room in a high-rise building on the 9th floor
Tipe Kamar
Seluruh rumah/apartemen
---
Tipe Properti
Apartemen
---
Mengakomodasi
2
---
Kamar tidur
Ashdod, South District, Israel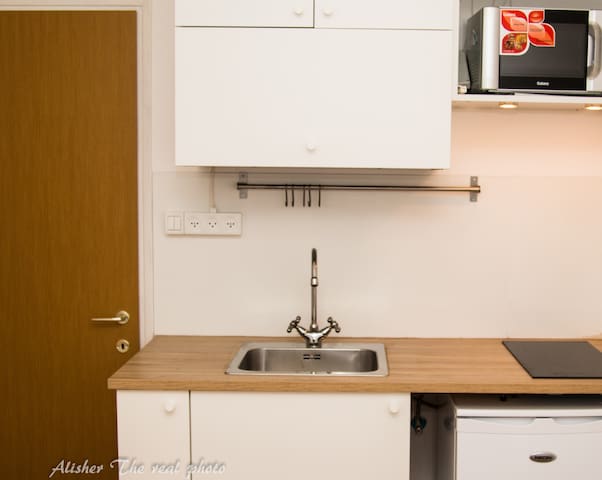 A perfect location appartment in front of the sea included a full equipted house in the center of all the city beach malls and the main ashdod park everthing for a perfect vacation The appartment will be free between 5.4.17 untill 31.8.17 for rent at least for 1 month...not a day here day there ty all Vacance sur la plage...location saisonniere a ashdod a 2mn de la plage ..4 pieces 2 chambres a coucher ..+ 2 salles de bain ...+ cuisine + salon+ clim vue sur la mer
Tipe Kamar
Seluruh rumah/apartemen
---
Tipe Properti
Apartemen
---
Mengakomodasi
5
---
Kamar tidur
Ashdod, South District, Israel
This very cute apartment comfortably fits two and is located on a quite street just five minutes by car from the beach. Enjoy a roof access, view, local restaurants and the Med Sea.
Roof access, gorgeous view, quite street. Great for a couple.
Less then 10 minutes by car to a big shopping mall and to the beach (2.5 km walk). Just in 5 minutes walk is place a local trading center with a post office, pharmacy, gym and a variety of shops and a grocery. Green-groceries have always rich selection of the freshest fruit and vegetables.
The terrace was great. Overall the place was ok but can improve on cleaning and maintenance.
Vlad
2017-03-03T00:00:00Z
Unterkunft war sehr gut. Schlafzimmer hat bequeme Doppelbett mit Fernesehen mit vielen Sprachen. Küche sehr gut ausgestattet: Mikrowelle, Kühlschrank, Wasserkocher und Schränke. Netterweise gibt's Salz, Zucker, Tee, Seife zum Spühlen und sonstige wichtige Wohnsachen. Wohnbereich: Tisch, Kleiderschrank WLAN: schnell und zuverlässig Balkon: riesen Balkon mit sehr schönen Blick zu Ashdod. Toilette: warmes Wasser, Seife steht auch zur Verfügung. Michael fand ich ganz nette Person und die Kommunikation mit ihm war wunderbar und einwandfrei.
Wajde
2016-12-10T00:00:00Z
Очень хорошие впечатления. Чисто, уютно. Вся техника исправна, всё новое, чистое, всё работает. Много электрических розеток, что удобно. Тихо. Выход на крышу, довольно просторную, - приятный и полезный бонус.
PAVEL
2016-01-21T00:00:00Z
Все понравилось. Квартира неплохая, аккуратная, отличный вариант для двоих. Из квартиры есть выход прямо на крышу :) Хозяин гостеприимный, русскоговорящий. Из минусов: В квартире плохая шумоизоляция, особенно слышен звук лифта. В остальном все понравилось.
Артем
2014-11-07T00:00:00Z
Excellent stay in Ashdod- great host no issues- clean apartment and nice rooftop terrace -very well located in the city
Edward
2015-04-09T00:00:00Z
Very good and clean apartment ! Highly recommend it ! Good location! Cozy and comfy! Great place!
Shani
2015-12-14T00:00:00Z
Всё как в описании. Качество соответствует цене.
Simon
2016-10-11T00:00:00Z
Cute and simple apartment with a large sunny roof top. Some food shops close to the flat.
François
2015-06-19T00:00:00Z
Tipe Kamar
Seluruh rumah/apartemen
---
Tipe Properti
Apartemen
---
Mengakomodasi
2
---
Kamar tidur
Ashdod, Israel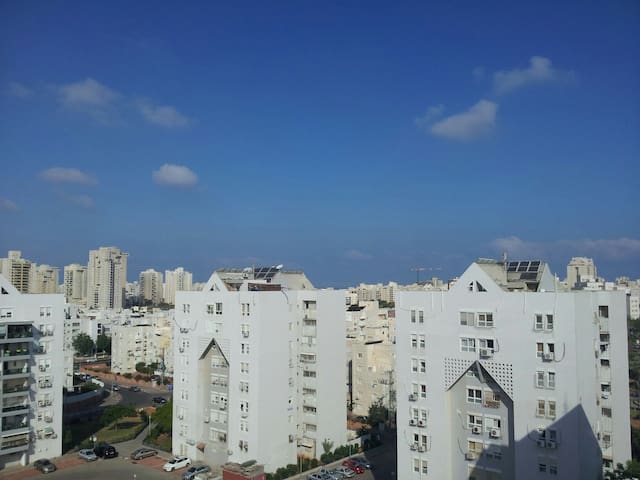 מקום יפיפיה בלב המושבה גן יבנה. חצר מרווחת ונוף לגינה ציבורית. חניה ללא תשלום במקום
nice and quiet place. close to the stores and highway
Yulia
2017-01-18T00:00:00Z
Tipe Kamar
Seluruh rumah/apartemen
---
Tipe Properti
Apartemen
---
Mengakomodasi
3
---
Kamar tidur
גן יבנה, מחוז המרכז, Israel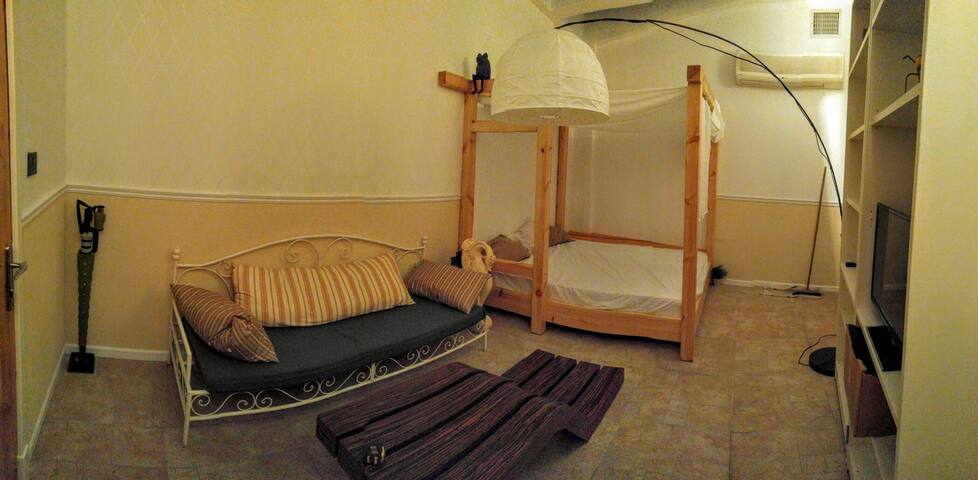 Salon avec salle à manger familiale et balcon, 3 chambres dont une suite parentale avec SDB, 2 chambres avec 2 lits + 1 lit bébé. Une salle de bain avec baignoire + buanderie avec lave-linge. Cuisine équipée. Climatisation.minuterie.Wifi.Parking gratuit places libres.
Situé au cœur de la ville d'Ashdod dans un immeuble récent au 3eme étage avec 2 ascenseurs l'appartement de 120m² est climatisé. il est composé d'une suite parentale avec salle de bain et wc .1 chambre avec 2 lits en 80cm + un lit bébé, et une troisième chambre avec 2 lits en 80cm. une 2eme salle de bain avec baignoire, au salon une télé écran plat. Balcon .Cuisine équipée. L'appartement est équipé d'une minuterie shabbat, d'une connexion wifi, télé par câbles.
Proximité des commodités, des plages, du centre d'activités de la ville.
Nice place, center of the Ashdod city, good wi-fi signal, air conditioning, water heating system.
Alexander
2015-12-13T00:00:00Z
James & Karen ont été de très bons hôtes! Très à l'écoute lorsque nous avions des questions pratiques. L'appartement est très bien situé et correspond exactement aux photos sans aucune mauvaise surprise. Je recommande! Candice
CANDICE
2016-01-24T00:00:00Z
great stay! large apartment and a great location in a nice neighborhood. very good wifi network.
Raphael Amram
2015-12-29T00:00:00Z
Bonjour Nous étions très content de la location il était exactement comme sur les photos le seul petit bémol a était la literie Nous étions satisfait sur tout les points
Johana
2015-08-23T00:00:00Z
James' apartment is a comfortable, spacious place with everything I needed for a satisfying stay. The building is fairly new with a modern architecture and conveniences. There are shops, pubs, banks, produce markets, and food of many choices within eyesight of the apartment and an indoor shopping mall is only a few blocks away on foot. The location is great for staying in Ashdod or for using the apartment as a base from which to get out to other parts of the country's central or Negev areas--a major north-south highway and train station are only a kilometer away.
Hillel
2016-07-21T00:00:00Z
Очень гостеприимный и уважительный
Andrej
2016-04-02T00:00:00Z
Good location, close to public transport
רעיה
2017-03-31T00:00:00Z
Notre première expérience avec Airbnb et nous en sommes ravis. Bon emplacement, propre, spacieux et proche de toutes commodités. Bon rapport qualité/prix. Nous avons été très bien accueili par Karen qui à toujours été très disponible et à l'écoute en cas de besoin.
Ilan
2015-05-27T00:00:00Z
Tipe Kamar
Seluruh rumah/apartemen
---
Tipe Properti
Apartemen
---
Mengakomodasi
6
---
Kamar tidur
Ashdod, South District, Israel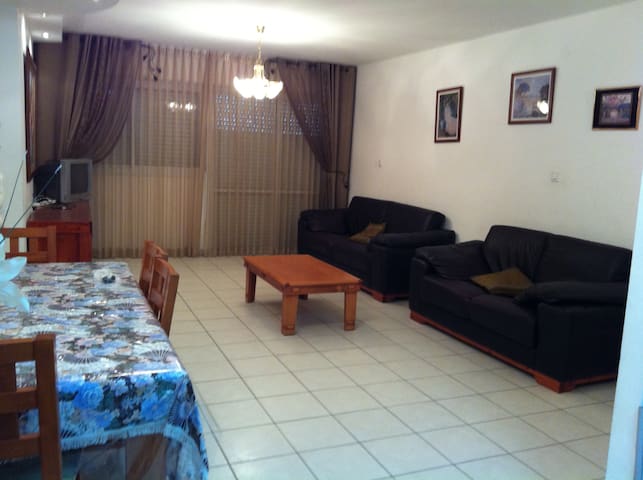 Ashdod has the most beautiful beaches of Israel. Bars and restaurants. New apartment 1300ft located 5 minutes walk from the beach in the area youd Alef, 3 bedrooms, 7 sleeps, air-conditioned, comfortable, fully equipped kitchen, shops nearby.
Maximum of 7 guests , 3 bedrooms including a master suite with bathroom and private toilet, an additionnel bath room and an separate toilet , a full kitchen with all confort , a balcon with sea view, in the 9th floor, with shabbat lift , Flat TV with English & French channels , WI-FI , very quiet area , 5 mns from Marina, with shops nearby. 5 minutes walk from beach. The fees for the electricity will be charge in the end ( between checkin and checkout ) in base of 0.7 Israeli shekels by 1 KW.
Green space and sports facilities throughout the beach near the apartment
Appartement très récent, bien aménagé avec terasse et bien équipé. L'hôte Daniel est chaleureux, très disponible et parle le français. C'est notre première location Airbnb et une très belle expérience. Belle adresse sur Ashdod
Laurence
2016-10-23T00:00:00Z
It was awesome experience. The apartments are spacious, modern, cozy and have everything you need for a relaxing stay. It looks even better than on photos. The view is just amazing. Daniel was very welcoming. Also Wi-Fi is really good. We watched videos online and did all work (it was important for us). I really hope to come back some day.
Dilya
2015-05-26T00:00:00Z
Located right next to Ashdod beach with a balcony semi overlooking the Sea. Modern kitchen and bathrooms.
Eric
2016-09-19T00:00:00Z
We stayed for 3 nights at this modern apartment. Brand new building with beautiful ocean views, it had everything we could possibly need for our stay. Our host Daniel was very friendly and welcoming and everything was arranged with ease. Highly recommend booking this apartment for couples or families! Thanks Daniel for a great stay :)
Tamara
2014-06-13T00:00:00Z
Daniel is the best host ever) The apartment is big, light and clean, with everything you need. Perfect see view from the balcony, quiet district, new building. I'll highly recommend to stay here
Ksenia
2016-11-17T00:00:00Z
Great place. It was a clean, large, beautiful apt in a nice area. The host was excellent and provided great info and service
Allen
2016-11-15T00:00:00Z
The apartment is greatly located, modernly furnished, spacious and quiet. Daniel is a wonderful host, very easy to reach and comes with an answer for any little issue. He helped us with all our questions and needs.
Sandrine
2016-05-24T00:00:00Z
Daniel was so helpful and accommodating - he even gave us very reduced fares in his taxi and took us on all our trips. The apartment was great just as is described in the website and that together with having such a helpful host made it an apartment we'd recommend for everyone!
leah
2016-09-01T00:00:00Z
Tipe Kamar
Seluruh rumah/apartemen
---
Tipe Properti
Apartemen
---
Mengakomodasi
7
---
Kamar tidur
Ashdod, Israel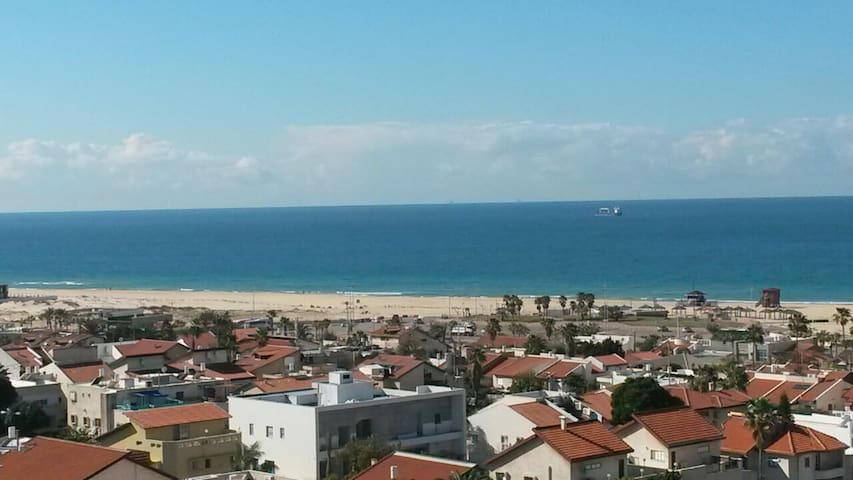 In one of the most quit and charming streets of Ashdod, in a nice villa, we rent one of our apartments who has a private back garden. it is 10 min walking distance from the beach and it is close to the city center.
The apartment feels like a real home, with great atmosphere, a lot of light and in an amazing location. you will find everything you need for enjoying your vacation, and if you are lacking anything we are supper easy to reach and attentive. the garden is a big plus to enjoy Israel sun and weather.
It is one of the most beautiful neighborhoods in Ashdod, quit and clean. 10 min walk from the beach (we can see it from upstairs) and very close to the city center, public transportation, parks, cafe's and the marina.
it was a very comfortable and peacefull experience for me. first i stayed in some hotels but they were so expensive and useless.then i found this beautiful flat and lovely family which saved my work trip in Ashdod. Thank you for everything, i totally recommend this place for all!! ❤️
Umut
2016-09-06T00:00:00Z
Very friendly hosts, always helpful and with immediate reaction when we contacted them. Very friendly people and a great flat, good value for money!
Maria
2017-01-02T00:00:00Z
Ce logement est idéal pour les familles qui aime le calme et la proximité de tout : les commerces, la plage, le souk le mercredi le musée d'art moderne... les propriétaires parlent français et sont adorables ! Ils sont au petits soins et d'une gentillesse déconcertante. Il est inconcevable de payer une petite chambre d'hôtel alors que ce logement est spacieux très bien équipé. A tester sans hésitation et a refaire absolument en ce qui nous concerne...
Laurent
2017-02-11T00:00:00Z
Everything as described + really nice quiet neighborhood, tasteful decoration and a really nice garden to hang around. If you, like me, prefer staying in a villa to a condo in a high-rise or to a standard hotel I recommend this property very much. It is a short walk to beach, as expected. Pleasant hosts, communication was good. One small minus was some construction of the villa next door. It only woke me up one morning out of 7, though. I'd guess the construction may continue for a couple of months.
Eugene
2014-06-09T00:00:00Z
My parents, my boyfriend and I stayed at this place for three nights. Lior's parents are adorable hosts, they checked us in and out in person, showed the apartment and gave some advices about Ashdod. The apartment itself is clean, has enough space to accommodate four people and corresponds well to the listing. All rooms, including bathroom, have heating. Kitchen is well equipped. There is a nice garden terrace with lemon and olive trees. The wifi was not stable but we had a mobile internet so we used it during the stay. Beautiful beaches just near the house are a wonderful place to visit even in winter time. The location in general is good for travelling in central Israel though there's quite a lot of traffic going in and out of Ashdod. All in all we loved the stay and recommend these hosts to other travellers.
Dina
2017-01-05T00:00:00Z
This was my first AirBNB and what a great experience it was! The apartment suited our party of 3 adults great. Having a backyard garden area was really nice and we could even see the beach from the backyard. Being a short walk to the water was great. The neighborhood is quiet but just a short drive to anything you might need with a supermarket right up the road. Cable and wifi was good. Place was equipped with all necessities. Great kitchen area we made use of. And the best part by far were the hosts, Liors parents. They were so friendly and helpful with anything we needed. Great value and a great experience all around. עזור מקסים, שקט, קרוב למים. מארחים נהדרים!!
Naomi
2017-01-25T00:00:00Z
Très bon accueil et très accessible pendant mon séjour. Appartement est conforme à la description. seul bémol, une wiffi qui n'est pas assez puissante pour pouvoir connecter 2 iPad et regarder la TV via internet. Mais l'information est passé et devrait être réglé dans les prochains jours. Merci encore. Very welcoming and very accessible while there. Apartment is consistent with the description. you can watch the french TV channels on TV. Only downside, a wiffi not powerful enough to connect 2 iPad and watch TV via the Internet. But the information is passed and should be resolved in the coming days. Thank again.
Sandra
2016-10-28T00:00:00Z
Très bon accueil, l'appartement est confortable et spacieux. Nous avons passé un agréable séjour.
joanne
2016-09-01T00:00:00Z
Tipe Kamar
Seluruh rumah/apartemen
---
Tipe Properti
Apartemen
---
Mengakomodasi
4
---
Kamar tidur
Ashdod, Israel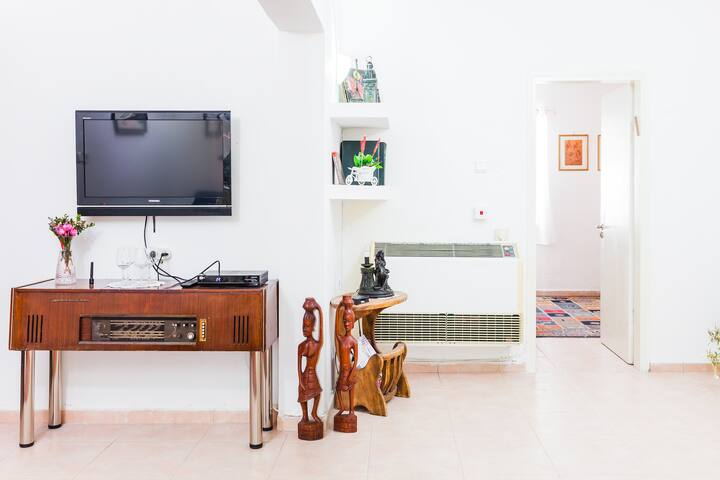 Beautiful new building, this 1400 sqf Apartment (130m²) 3 bedrooms, offers a wide open floor plan with oversized living areas and high ceilings.
Beautiful new building, this 1400 sqf Apartment (130m²) 3 bedrooms, offers a wide open floor plan with oversized living areas and high ceilings. Modern layout, very quiet and has direct beach access across the street. Partial water view from the oversized balcony. Located within walking distance of downtown Ashdod, shops and malls. This Apartment can accommodate up to 6 people, > 3 bedrooms, the master offers a queen bed, the 2 other bedrooms offer one double-bed each. > 2 full baths, Open-plan kitchen, fully stocked Outdoor facilities, a large 320sqf (30m²) balcony , with long chairs and Table > Private parking space & Fitness center. This building has a shabbat elevator. Location [Map] Waterfront building | Vibrant neighborhood White sand beaches | 4th Floor / 6 Indoor facilities Central Air Conditioning & Heat | Cooking stove Fridge & Freezer | Laundry machine | Vacuum cleaner Iron & Ironing board | Microwave | TV | Internet WIFI Bedding & Bath Cookware, Dinerware, Flatware ; Bed sheets and towels are included Walking Distance Downtown | Marina | Bus & Taxi | Malls Travel Distances Tel Aviv, 30min (25Mi) | Ashkelon, 15min (14Mi) Jerusalem, 50min (48Mi) | Eilat, 3h30 (190Mi)
Logement conforme à la description. Chambres très spacieuses avec vue sur la mer. 2 salles de bain et WC très appréciable pour les familles avec enfant. Appartement calme et moderne (accès au WIFI, TV). petit bémol : attention à la propreté du linge de maison et au nettoyage des meubles (armoires, ..) A recommander !
Bruno
2016-03-01T00:00:00Z
Très bon logement . Tout est parfait a 2 pat de la mer et de tout . L'appartement est grand et propre .
Chloe
2017-03-18T00:00:00Z
Un lgt tout a fait comme indiqué Bonne équipement A 5mn de la mer et de belleq plages Un grand parc juste a côté Vue sur la mer depuis un immense balcon bien ensoleillé
Jean Pierre
2017-02-19T00:00:00Z
Location ... location ... location ... you can't go wrong with this location in Ashdod: nice marina breeze, park right at the corner, walking distance to all you need. David and Serge are very approachable and easy to communicate with, what is much appreciated. It's a nice quite place where you can relax after a busy day. I have suggested some minor improvements regarding the cleaningness which, I am sure, will be easy to incorporate. Thank you David and Serge!
Nataliya
2017-02-05T00:00:00Z
The place was clean /great location/big/nice/comfortable . Across from the beach Near houses of worship parks. Bus station Really enjoyable!
Martin
2017-01-16T00:00:00Z
Давид приятнейший человек, как и его брат Серж, очень общительные и услужливые. Квартира большая, все в точности как на фото. Три спальни с двухместными кроватями (в дальней спальне дополнительно стоит детская кроватка), одна из них так называемая "безопасная комната" с железной дверью (на случай военных действий). Две ванных комнаты, одна с ванной, одна с душем. Единственный минус - перебои с горячей водой, поэтому заранее убедитесь у владельца, что неполадка устранена. Кухня со всем необходимым: газовая плита, вытяжка, духовка, раковина, холодильник, микроволновка, вся посуда, приборы и сковородки-кастрюли. Даже несколько штопоров на выбор:) гостиная с большим led-телевизором (местные каналы, среди них был один русский, несколько английских. Есть провод для флешки, так что записывайте фильмы с собой и смотрите). Журнальный стол, два дивана и большое кресло. Обеденный стол на 6 персон и уличный стол на балконе так же на 6 персон. Балкон с видом на парк с одной стороны, на море с другой стороны. Сам город очень красивый и удобный - все близко. До пляжа 5 минут прогулочным шагом, много магазинов и заправок, несколько больших супермаркетов (от себя порекомендую супермаркет в пром-зоне около универмага BIG). Мы приехали во время шаббата, но никаких проблем не было ни с получением ключей от квартиры, нашли работающие супермаркеты и ресторанчики. До Иерусалима 60км, до Тель Авива около 40км. Прямо у дома парковка на закрытой территории. Apartment owner David and his cousin Serge are very nice, communicative and helpful. Big nice flat, three bedrooms with double beds, one baby bed, two bedrooms (one with bath, one with shower). Full-complicated kitchen, everything what is needed. Living room with two sofas and led-tv. Two dining tables for 6 person (one in living room, another outside on the balcony). Balcony is big, great view on a park and sea. 5min walking to the beach. A lot of shops and supermarkets around (which are working even in Shabbat). Free parking on closed territory.
Veronika
2016-12-02T00:00:00Z
Very nice building, mattresses should be replaced, over all good stay
Mitchell
2017-02-10T00:00:00Z
Très bel appartement complètement conforme à la description , très bien placé. Hôtes très agréables , David est quelqu'un de très disponible qui a répondu à toutes nos questions très rapidement , et Serge à été adorable et très accueillant. Je recommande !!!
Eva
2016-04-18T00:00:00Z
Tipe Kamar
Seluruh rumah/apartemen
---
Tipe Properti
Apartemen
---
Mengakomodasi
6
---
Kamar tidur
Ashdod, Israel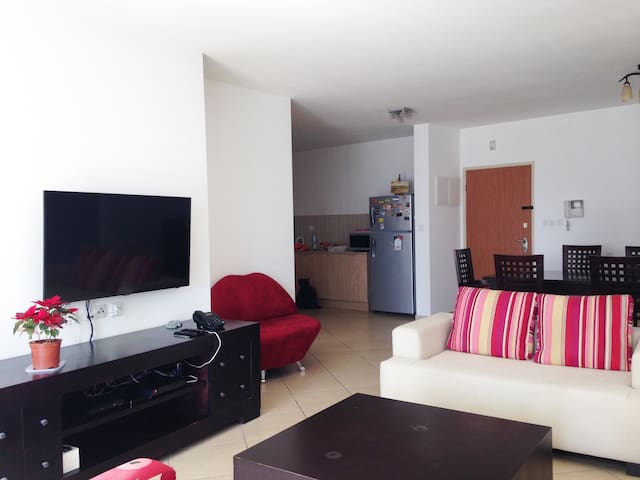 2-х комнатная квартира находится на первой линии средиземного моря,из окон потрясающий вид на море,рядом торг.центры.В квартире есть все электро-товары,кухонные принадлежности,постельное бельё и полотенца,созданы все условия для комфортного отдыха.
Идеальное расположение квартиры для гостей,которые хотят максимально находится на море.
The host canceled this reservation 13 days before arrival. This is an automated posting.
Denis
2016-12-14T00:00:00Z
Elena's cozy apartment is in a very convenient location. There is plenty of free off-street parking if you are renting a car, but if you're there to enjoy the beach and nightlife you can't ask for a better place. The apartment is across the street from the beach at the start of the Hof Ashdod Tayelet ("boardwalk"). The front of the building on the ground floor are excellent restaurants and bars. Very popular on weekends. If you have business outside of Ashdod the location is perfect for getting in and out of the city without going through the center of town. Shopping for anything is a 5-minute drive. A public bus line also runs directly along the street in front of the building. With one bathroom and a small water heater, I would recommend Elena's apartment for 1 or 2 people sharing a bed. It would not be ideal to have additional guests except, perhaps, a young child.
Hillel
2017-02-16T00:00:00Z
Очень душевный приём, отличное месторасположение,удобная квартира. Спасибо большое, все очень понравилось!
Oksana
2016-11-11T00:00:00Z
The apartment is cozy and cool to be in. It looks like at first the building was made to be the hotel, but after the second thought the rooms were combined to make sweet apartments to live in. There is even a pool with no water and sleeping cats on the roof of the ground floor. The view from the window is marvelous—the sea is right there, you feel like you can touch it with your hand, you can smell it, though at first you'd prefer to keep your windows shut because of the sound of the working fans of the restaurants on the ground floor. Though we got used to it in a couple of days. The beach is really huge with good kids playground, so you'll spend a lot of time there even if you visit at November, when it's not so comfortable to swim. We found not much places to go nearby except for the beach. There is only one line of public transport with stops right next to the building, but the buses get you where you need, including huge shopping mall nearby (about 1,5 km). There is also a little shop on the ground floor, but the prices there are about one and a half times higher than in regular shops. There is a set of restaurants on the ground floor, facing the sea and the road. I'd recommend visiting Pabela (or Favela, you never know with Hebrew) for a cocktail and Aladin for a good fresh fish dish. There is also a sweet part nearby (next to the West hotel on the left). And don't miss Wednesday market on the other side of the road from the West hotel. Most of the neighbors are Russian speaking but you don't have to communicate with them. I've got microwave burned because it got crazy, and actually it did burn all my food inside ;) Though Elena charged a fair price for the microwave, so the experience with that is good as well.
Genn
2016-12-04T00:00:00Z
Квартира комфортная, удобно расположена. Первая линия у моря, шаговая доступность магазинов, кафе, транспорта. Хозяева внимательны к гостям и оказывают помощь во всех вопросах.
Natalie
2017-03-04T00:00:00Z
Квартира у моря из окна виден пляж, квартира просторная все необходимое есть, хозяйка отзывчивая. Море было прозрачным и теплым, правда спасатели перекрывают 70% пляжа из-за чего люди скапливаются в узких секторах (спасателям лень следить за более широкой полосой )
Натали
2015-08-18T00:00:00Z
Квартира прекрасна во всем. Побывав в разных частях Ашдода, мы поняли что месторасположение лучшее. Море в нескольких метрах. Все магазины и рестораны доступны пешеходно. Прямо под домом магазин и ревторан работающий 24/7. Квартира полностью укомплектована. Я ездила с родителями, у них была двойная кровать /очень удобная и комфортнаая/, у меня был двойной удобный футон. Еще есть раскладная кровать на 1 человека но мы не пользовалась. 4 взрослым и ребенку будет очень хорошо. 2 телевизора, полный холодильник, вся нужная кухонная утварь. 2 кондиционера. Полотенца и даже подстилка для пляжа. Стиральная машина. Мы прекрасно прожили 9 дней. Мы ездили на 5 экскурсий на целый день - автобус останавливался прямо около дома. Мы каждый день купались, продукты покупали в Елисеевском и в маленьком магазинчике под домом. У нас была машина и мы ездили на мертвое море и в Кесарию сами, но вообщем то машина не нужна. Рядом остановки автобусов и такси работают без перебоя. Лена и Миша - чудесные хозяева. Они сделали всё, чтобы у нас был прекрасный отдых. Они организвали нам экскурсии, показали все нужные "точки" и помогали с каждым вопросом какой бы не возникал. Мы обязательно приедем опять в Израиль и обязательно остановимся у Лены. Спасибо Вам за всё!
yulia
2016-10-11T00:00:00Z
Ещё задолго до нашего поезда Елена постоянно была на связи, ответила на все вопросы, встретила вовремя, квартира была готова, все это было приятно. Квартира удобная, чистая и расположена у моря. Внизу рестораны, кстати, очень хорошие, и магазинчик. Район тихий. Так что выбор апартаментов порадовал.
Виктор
2015-11-08T00:00:00Z
Tipe Kamar
Seluruh rumah/apartemen
---
Tipe Properti
Apartemen
---
Mengakomodasi
4
---
Kamar tidur
Ashdod, South District, Israel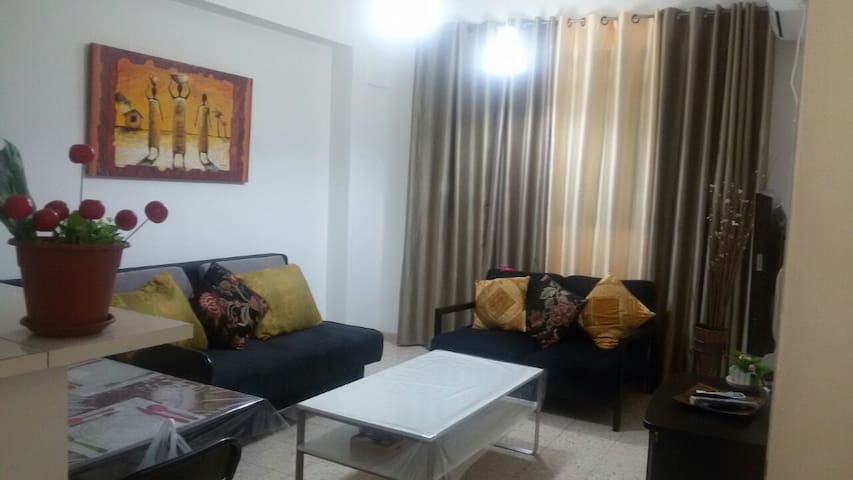 A few minutes walk from the city center close to public transport Enjoy my accommodation for the location , outdoor areas and ambience . Great for couples , solo travelers , business travelers and families This apartment can accommodate families 5 peoples. WiF, LCD TV's, cable, air conditioner , private parking
This apartment can accommodate families 5 peoples. Free WiFi at the apartment, LCD TV's, cable, an air conditioner More amenities: ★ WIFI - Internet ★ Air Conditioners ★ Washing Machine ★ Wardrobes ★ Led TV's with cable ★ Refrigerator ★ Toaster ★ Microwave and oven combined ★ Electric Stove ★ Kitchenware ★ Dining Table ★ Towels and Sheets ★ Hairdrier ★ Iron with Board ★ Vacuum Cleaner
Neighborhood Yod bet supermarket , ATM , stores , synaguogues , mikve , children's park
Tipe Kamar
Seluruh rumah/apartemen
---
Tipe Properti
Apartemen
---
Mengakomodasi
5
---
Kamar tidur
Ashdod, South District, Israel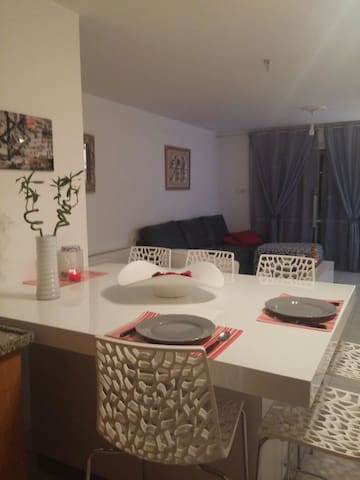 Elegant and modern 3 bedroom apartment with a huge balcony in Ashdod, Israel. The apartment is furnished with a new furniture and equipped with all household appliances: air conditioning, washer, stove , microwave, refrigerator, TV, free Internet Wi-Fi connection, bed linen & towels, fully equipped kitchen with all kitchenware and appliances. Just a short distance from the shops, restaurants, cafes, bus stops. The apartment perfectly suitable for up to 6-8 persons.
Квартира расположена в самом новом районе Ашдода, в 15 минутах ходьбы от моря.
Tipe Kamar
Seluruh rumah/apartemen
---
Tipe Properti
Apartemen
---
Mengakomodasi
7
---
Kamar tidur
Ashdod, South District, Israel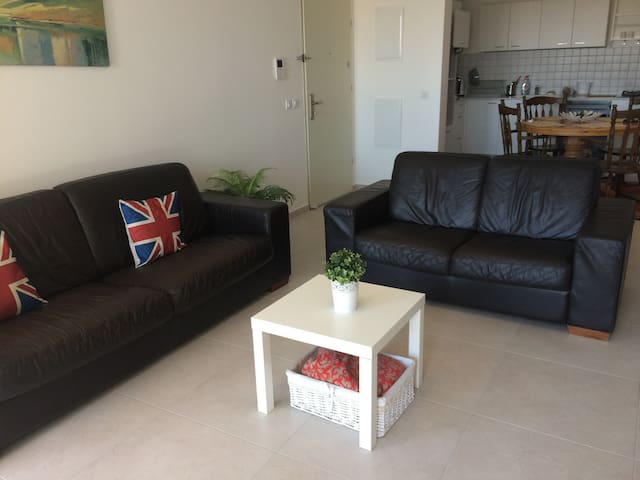 Comfortable apartment, 4 bedrooms, 1 living room, 2 bathrooms, 2 toilets, 1 balconie, 1 fully equiped kitchen, T.V. Wifi, parking. 1.5 km from the beach. Located on a quiet street. Easy access to commercial center and public transportation.
Our stay was great at Ashers. The house was very clean and exactly how it looks in the pictures. Him and his wife were very nice and met us when was convenient for us to give us the key and return the key for the apartment. It is a very nice area, and conveniently located. It is also right next to a grocery store which was nice. Its about a 15 minute walk to the beach. I would definitely recommend staying here and would stay there again!
Seri
2015-07-30T00:00:00Z
דירה נהדרת היה ממש כיף אשר היקר, תודה רבה
Noam
2016-02-22T00:00:00Z
Acher et sa femme nous ont reçu admirablement bien; ills nous ont même conseillé quelques restaurants L'appartement est très fonctionnel. nous étions 5 dont un ado et avons eu une chambre pour chacun des adultes. Rien à redire sur la propreté et sur le fait que chaque chambre avait un jeu de serviettes pour la douche. De plus le quartier semble récent et l'architecture est moderne. A conseiller sans restriction. Michel DRAY
Michel
2016-02-27T00:00:00Z
Acher and his wife were very nice and convenient with us. We find the apartment very clean. Same as the pictures. Overall we are happy to spent our time in it.
Ortal
2015-07-08T00:00:00Z
Tipe Kamar
Seluruh rumah/apartemen
---
Tipe Properti
Apartemen
---
Mengakomodasi
8
---
Kamar tidur
Ashdod, South District, Israel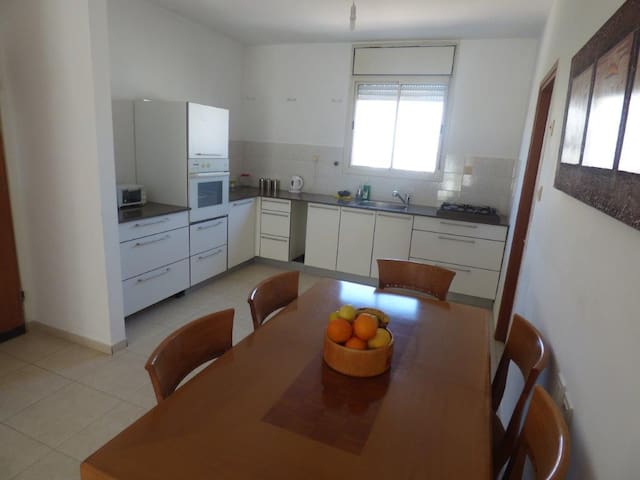 Mon logement est a proximité de la plage, distance a pieds..., Nombreux grands parcs environnants, sport sur la promenade de la plage, , l'art et la culture sont présents a Ashdod avec le grand Théâtre MONART.... Mon logement est parfait pour les couples, les voyageurs en solo et les familles (avec enfants). Parking Disponible au pied de l'immeuble.
Toutes commodités. Cuisine très bien équipée. Vue imprenable depuis la terrasse sur laquelle vous pourrez prendre vos repas....
Tipe Kamar
Seluruh rumah/apartemen
---
Tipe Properti
Apartemen
---
Mengakomodasi
4
---
Kamar tidur
Ashdod, South District, Israel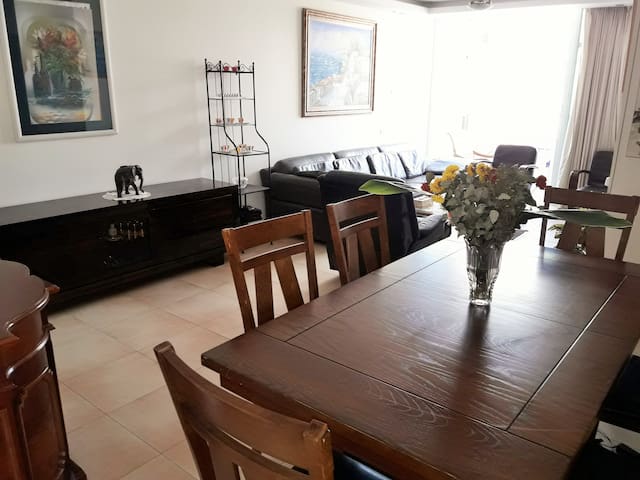 3 bedrooms with 3 doble beds and 2 bathrooms on the sixth floor . The balcony has a beautiful view to the beach. 5 minutes walk to the beach.
Very close to the beach. 2min walk to a 10km long promenade. 5min walk to a small mall with many shops. Great sea view from all rooms.
Tipe Kamar
Seluruh rumah/apartemen
---
Tipe Properti
Apartemen
---
Mengakomodasi
6
---
Kamar tidur
Ashdod, Israel, Israel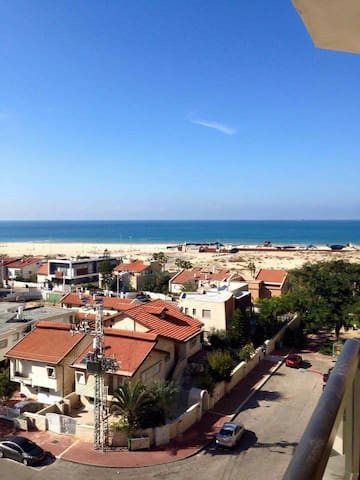 Mon logement est un appartement de 4 pièces, vu sur la mer, avec ascenseur proche de la Tayalette, au centre d'Ashdod. Wifi disponible et télé française. 1 beau salon, salle à manger sur cuisine ouverte, 3 Chambres avec 3 lits doubles, 2 salles de bains avec douches et 2 toilettes. 1 cuisine équipée avec lave vaisselle, lave linge et sèche linge. Parking disponible
Tipe Kamar
Seluruh rumah/apartemen
---
Tipe Properti
Apartemen
---
Mengakomodasi
6
---
Kamar tidur
Ashdod, South District, Israel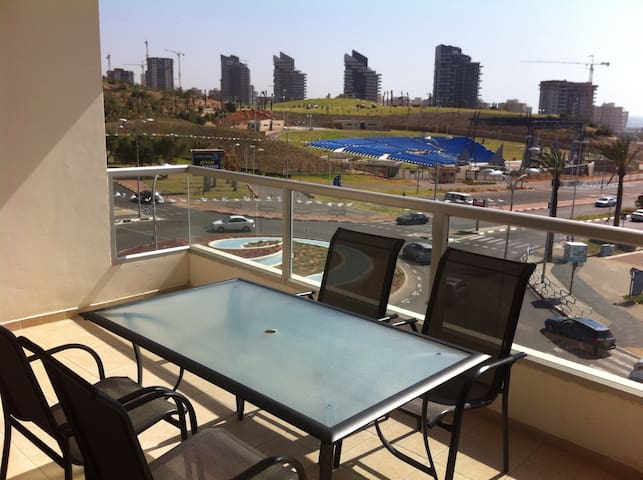 Au 7ème étage d'un immeuble récent au quartier Alef, Avec 2 ascenseurs dont un shabbatique, proche de la plage à pieds, de l'hôtel West suite, des restaurants et de la Mamounia, Joli T2, 52m2, confortablement agencé comprenant: Séjour avec baies vitrées donnant accès à un balcon vue mer et port cuisine avec coin repas. Sofa convertible en grand lit confortable 1 chambre avec un grand lit pour 2 personnes 1 salle de bain avec baignoire Pour à un couple ou 4pers. max. respectueux du bien d'autrui
Il y a la télé au salon et dans la chambre à coucher. La literie est excellente. Le salon est en cuir blanc, il s'ouvre en grand lit confortable Climatisation centrale Cuisine bien équipée
Quartier rénové et branché. Proche de la plage , de plusieurs restaurants et du port d'Ashdod.
Tipe Kamar
Seluruh rumah/apartemen
---
Tipe Properti
Apartemen
---
Mengakomodasi
4
---
Kamar tidur
Ashdod, South District, Israel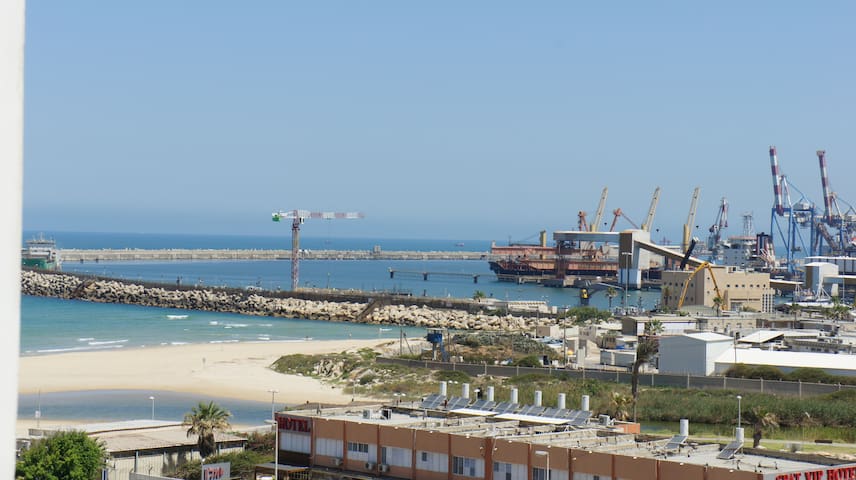 My place is close to Other central cities, , public transport, , parks, the airport. You'll love my place because of the location, the outdoors space. My place is good for couples, solo adventurers, business travelers, families (with kids), and furry friends (pets).
A lovely two room apartment + small kitchen, comfortably furnished. The apartment includes a Smart TV, free internet + WIFI, a pool and tanning spots, a private parking spot. A massage room is available where one can enjoy a massage treatment. The apartment is a near 10-minute drive away from the beach of Ashdod and 25 minutes from Tel Aviv. There is an option to have different medical treatments and guided tours across Israel.
המקום מרווח, נקי ונעים. עמד בציפיות שלנו והתאים בדיוק למה שהיינו צריכים. ממוקם בקומה שמתחת לבית, מה שמאפשר פרטיות.
Jeremy
2017-02-11T00:00:00Z
This apartment was exactly what we needed for our quick stay in southern Israel. Our host was responsible and the place was nice. There was a nice pool, but it was winter so we didn't use it. The house is located in a residential upscale Israeli neighborhood, we were close to the highway and less than 30 minutes away from Ashdod, Ashkelon, and metro Tel Aviv. The house was very spacious, comfortable but not deluxe. Pictures were truthful. Price was right.
David
2016-12-06T00:00:00Z
Tipe Kamar
Seluruh rumah/apartemen
---
Tipe Properti
Apartemen
---
Mengakomodasi
3
---
Kamar tidur
Gedera, Distrik Tengah, Israel
2 pièces meublés immeuble silencieux à 30 mètres de la plage peut accueillir jusqu'à 4 personnes restaurant,bar ambiance et transports en bas de l'immeuble.
Tipe Kamar
Seluruh rumah/apartemen
---
Tipe Properti
Apartemen
---
Mengakomodasi
4
---
Kamar tidur
Ashdod, South District, Israel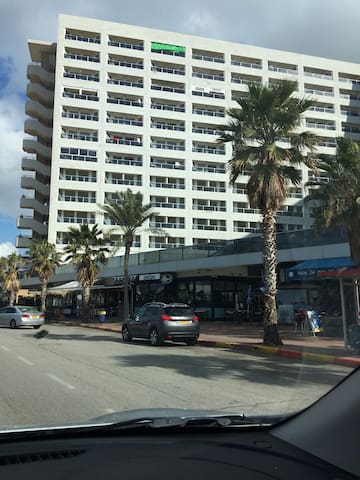 1

–

18

dari

149 Sewa Apartemen
Masukkan tanggal untuk melihat harga lengkap. Biaya tambahan berlaku. Mungkin dikenakan pajak.