Two story, two bedroom, 1.5 bath condo on South Sound Road. Quiet area just minutes south of the "Waterfront" area and Seven Mile Beach. RIGHT across the street from the ocean. Unobstructed views and access to the ocean.
Very roomy. Has everything you need for a nice stay. One bedroom has a queen size bed and the other a twin.
The host canceled this reservation 122 days before arrival. This is an automated posting.
Silvia
2017-04-02T00:00:00Z
Tipe Kamar
Seluruh rumah/apartemen
---
Tipe Properti
Kondominium
---
Mengakomodasi
3
---
Kamar tidur
George Town, George Town, Kepulauan Kayman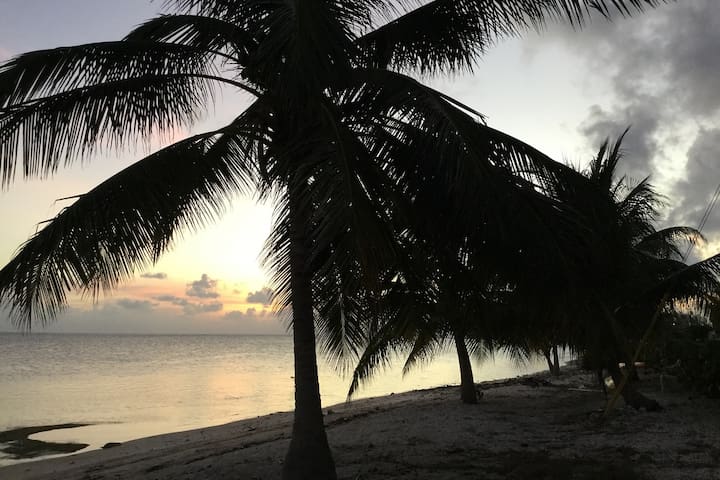 Feel relaxed and comfortable during your stay in our lovely, 2-bed, 2-bath condo near Seven Mile Beach and George Town! Enjoy local shopping, diving, entertainment & great restaurants and bars. We love having guests stay in our home, and we will help make this your BEST vacation ever!
Great 2 bedroom condo in the heart of Grand Cayman - located between George Town, Seven Mile Beach, and Camana Bay. The condo is tastefully decorated and has everything you need for your stay. Enjoy two Queen-sized bedrooms, two bathrooms, a full kitchen with washer and dryer, and a living area with TV and DVD. The condo is minutes from downtown, the grocery store, the beach, and Camana Bay, which is full of restaurants, shopping, and entertainment. We are from the US, and have lived in Grand Cayman for over 7 years! We know the island very well, so please ask us for suggestions on the BEST places to go or any questions that you may have about Grand Cayman. Check out some of these great restaurants in Cayman on your visit: The Wharf for Best Waterfront Dining Edoardo's for Best Italian Food Casanova's By the Sea for Best Waterfront Italian Food Yoshi for Best Sushi Agua for Best Brunch
I love the location of our Cayman condo! As soon as I arrive on island, I typically drive or walk over to Kirk's Supermarket (there is a direct walk path behind the condo), and we stock up on fresh fruits and snacks to enjoy in the condo. Of course, you can also walk a few more block to the famous Seven Mile Beach, and it's nice to spend some time just relaxing around the pool, which is only steps from the front door of our condo. There are several excellent restaurants in the area, and Camana Bay is full of restaurants, boutiques, a bookstore, movie theater, and spas- it's a great place to sit outside on the waterfront to relax and enjoy the fresh Caribbean breeze!
My wife, 16 month old daughter and I had a great overall trip back to Cayman. We used to live there and this was our first trip back since leaving in '07. We decided save a few bucks and rent a condo rather than a hotel. Our experience with Carrie and her condo were good overall, with a few complaints regarding cleanliness of the unit. First, the good - Carrie was an excellent host. Any messages I sent her with questions prior to our trip were answered quickly and thouroughly. Upon arrival, the sinks, tubs, toilets and linens were clean. The location was great, close to everything. The wifi wasn't working when we arrived, but I sent Carrie an email and she added credit to get it back up and running within an hour. When I mentioned the dirty walls/doors/cupboards etc (see below), she offered to have someone come and clean the place the next day. As our young daughter naps once or twice during the day, we declined as we didn't want someone in the unit cleaning while we were putting her down for a nap, but it was nice she offered. In short, Carrie was great. The not-so-good - the photos on the Airbnb website must be old photos. The condo looks to be in tip-top shape from the pics. However, while the stuff we slept in, bathed in, or otherwise touched and used were clean, the place felt dirty overall. The doors, walls, trim, and cupboard doors were very grimey, like someone had been living there for an extended period and didn't wash thier hands the whole time they were there. There were greasy finger smudges on most of the vertical surfaces. I had to scrub some caked on food off a couple of door handles when we first arrived. The dresser drawers had a lot of debris in them, and when I crawled under the bed several times to retrieve my daughter's soother, it was very dirty under there (I am not one to normally check underneath beds, but I had no choice). We probably spent more time in the unit than a lot of people would, as we were back there once or twice a day for our daughter's naps, so we may have noticed these things more than others, but they are things I would want to be made aware of before shelling out my winter travel budget. Also, while the wifi "worked", I was only able to send basic text messages and emails using it. I could not email photos, nor upload pics to (SENSITIVE CONTENTS HIDDEN), nor watch a Netfilx movie on my iPad, the speed was very slow, though this is no fault of Carrie's. In summary, we had a good experience overall, and Carrie was great. The condo just needs a very deep clean and paint job. If I was assured these things were done prior to coming back, I would definately stay there again.
Steve
2015-02-19T00:00:00Z
Nous avons loué l'appartement pour 2 semaines. Logement confortable, spacieux et bien équipé (serviettes et draps de rechange). Nous étions 2 plongeurs et nous avons apprécié les 2 salles de bains avec baignoire, l'air conditionné et les machines à laver. Le Wifi était excellent, (SENSITIVE CONTENTS HIDDEN) vers Europe marchait sans problème. La situation était centrale, proche de l'aéroport (10-15 minutes par voiture) et situé entre Georgetown et Seven Mile Beach (restaurants et magasins à 5-10 minutes en voiture). La place de parking réservée se situe au pied de l'immeuble, très pratique. Carrie était toujours à disposition via mail, très pratique.
yvan
2016-04-17T00:00:00Z
Carrie was great. She was very responsive, and provided all of the information I needed before I even had to ask. The apartment was great for what I needed (a quick trip!). Centrally located, easily accessible, and comfortable. I hope to have the opportunity to book with Carrie again the next time my travels bring me to Grand Cayman.
Brooke
2016-06-01T00:00:00Z
Great location.
Darcie
2016-03-22T00:00:00Z
Great location and great host! The apartment was exactly as described and in very good shape. The complex itself is also nice and in walkable distance to Seven Mile Beach (however I would recommend to get a car). Carrie was a great host and always responsive when we had questions.
Julian
2016-01-06T00:00:00Z
Carrie was an awesome host! What we liked most is that she was always in reach whenever we had a question and quickly responsive. We would highly recommend Carrie's Cayman Condo. Condo was clean! spacious! comfortable living amenities! and a great central location! Would recommend renting a car as there is so much to see on the island. Would definitley come back to stay at Carrie's condo again!
Pauline
2016-02-25T00:00:00Z
The location is fantastic! Just minutes from Camana Bay, 7-mile Beach and downtown by car. Literally anything you could need (grocery, pharmacy, cafés, restaurants, etc) is less than a 5 minute drive. While you would want to drive to the beach, you are close enough that it would just be a few minutes away. The apartment was quiet and very clean, well-stocked with cooking utensils, towels, detergent, cleaning products, etc. Great options for long-stay guests -- we didn't want to leave!
Melissa
2016-09-10T00:00:00Z
Carrie was an excellent host and the property is exactly what we were looking for. The walk to the beach is about 15 minutes. We really enjoyed the public beach next to The Wharf restaurant. Other reveiwers had mentioned the smell of "the dump" We were there for 6 days and only smelled it on one of those days but you can not smell it from inside the condo at all. Internet was fast and cable was good. Highly recommend this place. Carrie was in constant communication before and during our stay to make sure we didn't need anything and she gave us some excellent recommendations for restaurants and beaches.
James
2016-01-19T00:00:00Z
Tipe Kamar
Seluruh rumah/apartemen
---
Tipe Properti
Kondominium
---
Mengakomodasi
6
---
Kamar tidur
George Town, Grand Cayman, Kepulauan Kayman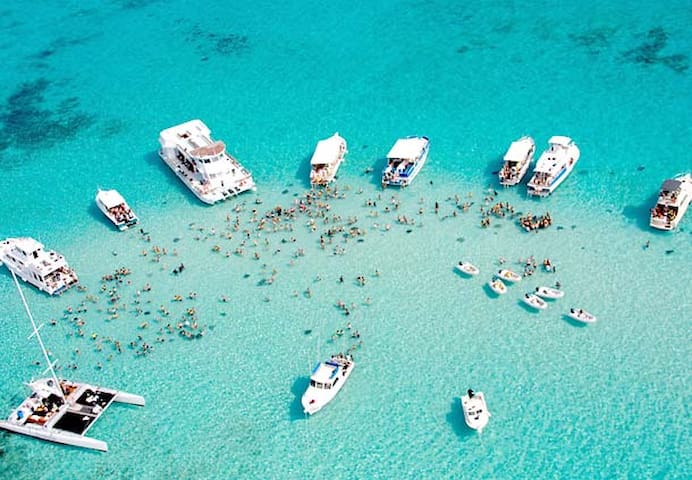 The place is spacious ,very relaxing 5 mins from the airport ,also five mins from the shopping centers. Its the perfect place for relaxation and business. One minute away from the hospital just in case of any emergency.
Karma's place is a good value place in Cayman. It was clean and the AC was great and Karma was great.
Lucy
2017-03-29T00:00:00Z
The host canceled this reservation 34 days before arrival. This is an automated posting.
Robin
2017-02-10T00:00:00Z
Karma is a very pleasant host! Communication was very easy and accommodating. Very spacious and clean place to stay!
Pio
2017-04-03T00:00:00Z
The host canceled this reservation 49 days before arrival. This is an automated posting.
Görkem
2017-02-23T00:00:00Z
Karma was a great host. Her place is about a twelve minute walk from George Town. It is well insulated from the sound of air traffic and numerous roosters about.
Kevin
2017-02-06T00:00:00Z
Tipe Kamar
Kamar pribadi
---
Tipe Properti
Apartemen
---
Mengakomodasi
2
---
Kamar tidur
George Town, George Town, Kepulauan Kayman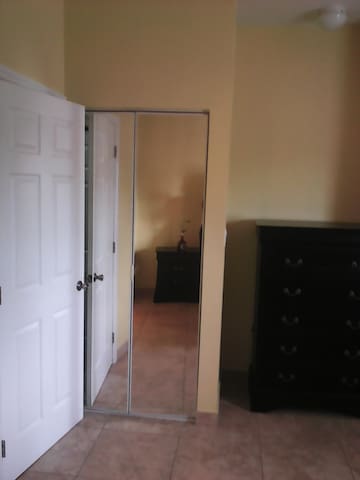 This condo is perfect for you and your friends/family who want to experience the jewel of the Caribbean that is Grand Cayman. Come and enjoy our little piece of the Island, all your home comforts in Paradise. Your here to relax!!!
The condo is ideally located in the heart of 7 Mile Beach 2 bedroom sleeps 4. Condo was renovated in 2015 with new floors, new furniture, new electronics. The Works!!! WIFI is fast!!! The beach and pool are on the condo grounds literally a 30 second walk from the front door. ITs equipped with everything you will need for your stay including some beach toys for kids and adults.
Seven Mile Beach is one of the unique places in the world where you can walk the beach without being bothered. The sand is amazingly white, the sunsets are unbelievable, the scuba diving is amazing, the food is great. You and your family and friends will be spoiled and create memories that are timeless.
The condo was perfect and we enjoyed our stay very much. The kitchen is beautiful and we cooked a few nights to save some money. Heather's husband checked in on us to make sure everything was ok. We really did enjoy the condo and definitely would stay there again.
Kristen
2016-08-16T00:00:00Z
Perfekt beliggenhet
Ansh
2016-11-18T00:00:00Z
We spent about 6 weeks there and three of those weeks I think were at Heather's condo at Seven Mile Beach. The internet is super fast which is rare for Cayman. The entire condo is setup well. The location is great with only taking a minute walk to arrive to the beach passing the pool on the way. There is a club nearby which we actually liked as it brought a little energy to the area. The noise dies down very quickly at night so it was never an issue. Many restaurants and other commercial establishments are very close. I'd recommend a car and fortunately car rentals are very cheap in the Caymans. It's a great place to stay!
Jeremiah
2016-11-04T00:00:00Z
They were very attentive, checking to make sure things were going well. The location was perfect - just a few steps from the beach, with nearby restaurants & night life, if so desired. Two outdoor sitting areas were very nice to sit/visit or hang out wet towels, etc.
Jill
2017-01-04T00:00:00Z
We really enjoyed our stay in Cayman. The apartment is in a fantastic location and Heather was very quick to respond to any of our questions.
SJ
2016-11-30T00:00:00Z
Great location on 7 mile beach. We liked having a condo to have breakfast and lunch, groceries are expensive, the condo is nicely equipped
Loralie
2017-01-18T00:00:00Z
The host canceled this reservation 225 days before arrival. This is an automated posting.
Tricia
2016-06-29T00:00:00Z
My friends and I enjoyed the wonderful accommodation and ameneties that were provided by Heather. The villa was well-stocked and beautifully cared for, which made for a wonderful stay. The location is directly on Sevin Mile Beach and quite accessible to many places (shops, eateries, hotels, etc) and less than a fifteen minute drive to/from the airport. I would highly recommend this location.
Patrice
2016-07-18T00:00:00Z
Tipe Kamar
Seluruh rumah/apartemen
---
Tipe Properti
Apartemen
---
Mengakomodasi
4
---
Kamar tidur
George Town, George Town, Kepulauan Kayman
This luxury penthouse condo has everything for your perfect vacation. Enjoy stunning views of the sun setting over the Caribbean Sea from your private balcony. Located in a resort style complex with a great amenities.
This recently renovated top floor unit offers stunning views of both the Caribbean Sea from your substantial private balcony and the pool area from the balcony or the side window. This unit has been professionally finished with luxury and elegance, including therapeutic walk-in shower, high end appliances and zoned air conditioning. The modern kitchen has stone counters, wood cabinetry, professional series Frigidaire kitchen appliances. Includes induction stove, french door refrigerator with water filter and ice maker, dishwasher, Nespresso coffee machine, toaster, electric kettle and all the cookware necessary to make a gourmet meal. We provide towels, beach towels, extra pillows and linens, shampoo and soap. The unit has been decked out with a great entertainment system including a 60" flat screen television, sound system, fiber optic cable / internet circuit with HD and premium channels and Wi-Fi coverage. There is a second television in the guest room with a DVD player. We've also have a library of some family and children's DVDs.
My place is ideally located on Seven Mile beach which is the hub for entertainment, restaurants and activities in Grand Cayman. We are situated within walking distance to Camana Bay, Georgetown, the top restaurants, a large grocery store, tour operators and several dive shops nearby and of course the beach.
Our host was outstanding! He was attentive and helpful to every issue that our family encountered. All requests were were dealt with in a very courteous manner. The vacation was significantly enhanced by the quality of the condo and it's setting. The facility was very clean and modern.
Gregg
2016-01-10T00:00:00Z
We can't rave enough about Bill's gorgeous condo! The place is stunning, very comfortable, meticulously cared for, and stocked with everything one could possibly need on a beach vacation. Bill was such a pleasure to work with as he was available for questions, great with advice, and so very helpful. We don't usually go to the same spot for vacations, but we have booked again for the Spring in large part because of this lovely condo and setting.
terry
2016-06-11T00:00:00Z
Bill was a wonderful host and his condo unit was perfect for our family. It is newly renovated with everything you would ever need to be comfortable! The beach is great and the location is convenient for whatever plans you have during your stay. Bill was great in sharing information with us and quickly helped us with a need we had. In our opinion you would have a hard time finding a better option for your trip to the Caymans.
Tom
2016-03-15T00:00:00Z
This condo is beautiful! What you see is what you get and more. Owner Bill is great and very hospitable. Everything is very clean, kitchen has everything you could want or need, groceries and restaurants all with in a 10-15 minute walk maximum, there are bikes, beach toys, and snorkeling equipment. The beach is secluded from the rest of seven mile, but there is a little stone walking path through the water to the larger part of seven mile beach. It was only under water once late at night and it was a rough day on the water, otherwise the walkway is dry and easy to walk. It allows this area of the beach to be quiet and secluded with the option to still walk and be a part of the larger beach. If you are looking for a relaxing really pretty beach vacation this is for you. The pool is great and has a swim up bar!
Sue
2017-01-23T00:00:00Z
Bill was a very helpful host, trying to make our vacation as care-free as possible. The condo is beautifully done with attention paid to every detail to make you feel pampered. The location is ideal. You can't go wrong renting this property!
Annamaria
2015-11-20T00:00:00Z
This third-floor unit has a brand-new feel, offering a great view of the beach with comfort and style. Bill responded quickly to a couple of minor questions, and we thoroughly enjoyed our stay. If we return to Grand Cayman, we would definitely stay here again.
Tipp
2015-11-25T00:00:00Z
Bill was a wonderful host from beginning to end! The apartment was beautiful, modern and extremely user friendly. The location on seven mile beach made it so easy to access terrific restaurants, but we did rent a jeep for our entire stay and there is plenty of parking at the condo complex. The apartment is well stocked and every detail is well thought through to make our stay that much more enjoyable. The beach has incredible snorkeling and the kids loved the pool!
Juliana
2016-04-09T00:00:00Z
Bill was an outstanding host who went above and beyond the average condo owners provisions in this beautifully remodeled property! We loved the decor, the special touches such as the computer/printer access, the pool and beach supplies and the kitchen extras! We've stayed in many condos and this was above and beyond!
Amy
2016-09-21T00:00:00Z
Tipe Kamar
Seluruh rumah/apartemen
---
Tipe Properti
Kondominium
---
Mengakomodasi
6
---
Kamar tidur
George town, Grand Cayman, Kepulauan Kayman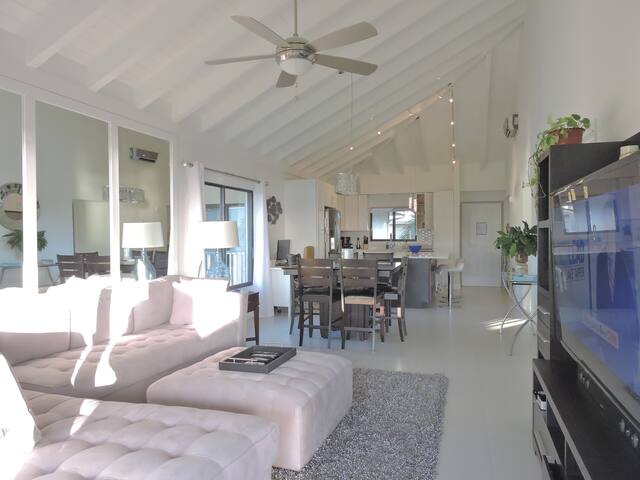 2bed 2.5 bath condo on South Sound Road, 100ft from the water and halfway between Hurley's and Smith's Barcadere - best swimming spot on the island! Easy to get to from the airport and a short drive west to George Town Waterfront or east to Spotts.
Clean, comfortable and spacious condo in a great location. Awesome restaurants, shopping, beaches, swimming spots, airport, tours all within a short drive of the house. Fully-equipped kitchen, separate living/dining room, outdoor patio and barbecue make it a great place to relax and entertain after a long day out in the sun!
South sound is a very relaxing spot to spend your Cayman vacation! Close to town but far enough away not to be bothered by crowds, noise or parties, and the condo is close to some awesome swimming and watersports beaches like Smith's and Spotts. Fellow residents are friendly year-rounders with a good mix of Caymanians and Expats.
It is a beautiful town home that is located right next to the beach. So close in fact that I was able to make dinner and serve a sunset picnic right there. It is also extremely convienant in the fact it's 5 min from the shopping areas, 15 min from 7 mile beach, 2 min to the grocery/liquor store, and I personally am now looking at buying in that complex! Although the cleaning crew had a lapse in our arrival, Mike was in full communication with me about it and was helpful. Not to mention there was a washer and dryer in his home. I highly recommend staying here and I will do so in the future.
Adam
2016-06-21T00:00:00Z
It was a pleasure dealing with Michael from the moment we booked our stay back in March 2016...and then we arrived. Michael was not on island to greet us, but advised us that his colleague Joe would be available if we had any questions or concerns. As I lived on island, I knew that the location of Michael's property was perfect for our stay, or anyone else's. It's centrally located in South Sound and a few minutes ride from my favorite local market, restaurants and gas stations. There was no info sheet in the condo to welcome guests. It would have been lovely to have a quick note with suggestions for visitors not familiar with the island on where to grocery shop, dine, have the WIFI password clearly marked, etc.! As our travels were delayed, we literally dropped off our bags and went to grab lunch and meet with friends. By the time we returned late in the evening and were ready to fall into bed, I had a surprise waiting. As I went to move pillows on the bed, I found a used Band-Aid, Band-Aid wrappers and medication! The condo was not well cleaned and upon further inspection, there were dirty fingerprints on the tub in the master bathroom. The remainder of the condo was "acceptable" but not perfect. Michael took a bit to respond due to a time change with his travels. He told us that the cleaners were there during the week and offered to have them come out again during the middle of our stay. As we were on holiday and did not want to waste our time staying home while the cleaners were in the condo, we did not have them come back. We did the best we could and made do with the sparsely outfitted kitchen. Michael indicated that he would refund the cleaning fee via AirBnB. I also inquired about beach chairs and towels, and was told that there should be some chairs in a closet on the outside deck. I told Michael that there were no beach chairs and we did locate one beach type towel. He indicated that he had not been back to the condo since sometime in April and that previous guests could have misplaced them. We ended up purchasing a lime green floating noodle and left it as a parting gift for future visitors. Additionally, we had issues with the hot water heater. Joe did come out to address the issue but it still wasn't working as its intended to. Fortunately for us, friends decided to join us on island at the last minute and rented a place on Seven Mile Beach. We ended up using their shower and kitchen frequently. Overall the condo is lacking in personal touches and the interior and its content are well used. There is tremendous potential. If you're looking for a great location, this WILL be an excellent choice once the issues are addressed.
Debra
2016-07-18T00:00:00Z
Very nice condo, had a blast! Peaceful, safe, and relaxing location!
Jillian
2017-01-18T00:00:00Z
This gem is the right distance away from everything if you have a rental car. Spots and Smith's are two public beach accesses that are close and recommended.
Chase
2017-02-05T00:00:00Z
I booked this place for a dive trip. Great location to stay for diving as its centrally located (having a rental car is essential for the island). Shortly before we arrived I received a fairly extensive email from Michael highlighting the best beaches, restaurants, etc. Apartment was clean and just I was looking for. Thanks.
jameson
2017-02-12T00:00:00Z
Once driving around we realized that the location was prefect. Close to two of our favorite beaches (Spotts for turtles & Smith Cove). We always had the pool to ourselves and everyone is super friendly. Communication with Michael was always easy.
Kelly
2017-03-30T00:00:00Z
Quick and clear communication. Very simple check in/ check out process. Everything was as stated, no surprises.
anita
2017-02-26T00:00:00Z
We loved our time in Grand Cayman, and the South Sound condo was great for us. The best surprise: A tree outside the back porch that is full of iguanas all day, every day! There are also turtles and birds in abundance. Our only complaints would be that the showers don't drain well, and the stove only has two working burners. However, if you are planning to mostly eat out (the food is incredible) than this shouldn't be an issue.
Jordana
2017-01-02T00:00:00Z
Tipe Kamar
Seluruh rumah/apartemen
---
Tipe Properti
Kondominium
---
Mengakomodasi
6
---
Kamar tidur
George Town, George Town, Kepulauan Kayman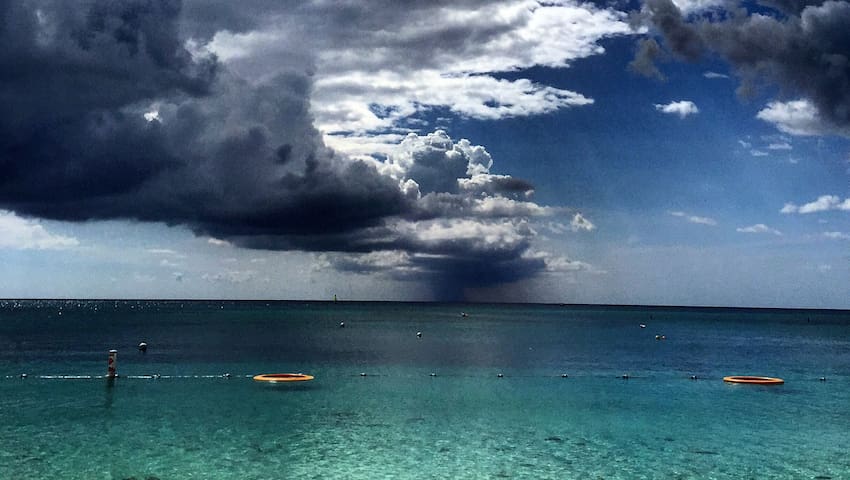 A cute and cozy 1 bedroom/1 bathroom condo in Seagull Condos in the heart of Seven Mile Beach will be your new favorite! It's very well-stocked with everything you need on vacation. Steps away from the most perfect white sand beach! It's professionally cleaned and has great AC, small balcony for a cup of coffee alfresco and cozy living area inside.
It's a one bedroom, one bathroom condo on the second floor of a small condo complex. It's located in the building second from the West Bay Road and two buildings away from the beach. You can access the beach through the unlocked gate [turn the door handle left!] and use any of the loungers, tables and chairs provided by the building management. No pool but you are steps away from the most pristine part of Seven Mile Beach! Jump right in! The kitchen is very well stocked with new toaster, drip and French press coffee maker, microwave, electric kettle, waffle maker, rice maker, pots, pans, tea towels, dishes and knives. Large flat screen with Cable TV, fast internet and a selection of books offer diversion when you are done with the beach. Washer and dryer to keep the laundry in check. Iron and ironing board if you need to keep wrinkles in control. Hair dryer and stocked bathroom make it feel like home away from home! It's a quiet complex and building and you will definitely get a good nights sleep with the blackout curtains provided too! Small balcony allows you to get some fresh air and dry your beach towels easily.
You will love being able to walk on the beach or West Bay Road to grocery, shops, restaurants, bars and more! So convenient!! Royal Palms is two doors down! Close enough to walk to the party but far enough to not battle the noise! Camana Bay and all it's shops and outdoor town center space is just a 5 minute walk away. This condo at Seagull is an older but established and safe complex. Nice neighbours! Chicken Chicken is a great roast chicken cafe with all the fixings and is cheap! They sell beer too! Right across the street in the pink plaza. Liquor store is in the pink plaza too. Poster's grocery store is north about 7 blocks. Both are closed on Sundays. You can rent from the Red Sail desk at Marriott for jetski, paddle board or kayaks.
Graham
2017-03-21T00:00:00Z
Awesome place in a great location. Super easy, very clean and modern.
Chris
2016-12-23T00:00:00Z
This location is perfect for guests looking to be central to resort life, but also private and homey. The designated beach area is clean, full of nice chairs, umbrellas, a BBQ and from our experience very nice locals. It's directly next door to the Palms beach club and just down the beach from the Marriott, which was convenient for the ability to walk the beach for a drink or dinner, watch holiday fireworks, and rent boats! Ann was wonderful, very responsive and her home is lovely. Highly recommended!
Scott
2017-01-04T00:00:00Z
This condo is in a perfect location along seven mile beach. Along the shore is a private beach with lounge chairs, umbrellas and a grill. bring your own snorkel gear and walk to cemetary beach or in front of the Marriott and dive in! This unit is in the first building closest to the street. The balcony overlooks another building, but it is sunny and big enough for coffee and cards. A car was very helpful for grocery shopping, dinners out, and driving to west bay, rum point, and Georgetown. Get a tiny car and zip around the island! Perfect size for two people. This is a basic unit, efficient and clean but not fancy.
Claudia
2017-03-03T00:00:00Z
This place was perfect for a getaway from our busy lives. It's a spotlessly clean place and very well appointed. Easy walking distance to pretty much anything you might need. We can't wait come back!
Dustin&Jill
2017-02-20T00:00:00Z
This condo is on the south end of SMB. It is exactly as advertised. Perfect for spending a lot of beach time. We took the bus to Georgetown for shopping and eating. We walked to Camana Bay (15 min) twice for dining and upscale shopping. Cute restaurant at the intersection to the south, Cimboco with great breakfast ($5 M-F) The beach area is great for swiming and fabulous for walking. Lounge chairs and umbrellas for all condo guests to use. Next door is Royal Palms Beach Club where a lot of cruise people come for the day, while it did add noise and people, we enjoyed the convenience of lunch and drinks on the beach. Ann is a great hostess and was responsive to our questions. Loved that she provided beach towels and floats. Definitely a great option for us!
Cheryl
2017-01-29T00:00:00Z
Nice, clean, quiet, place. Bed was really comfy! Close to beach and dining! We really liked watching the sunset on the beach each night!
Sara
2017-03-11T00:00:00Z
Great 1 bed condo. Close to beach, shops and restaurants. Clean and well equipped. Recommended.
Anthony
2016-12-04T00:00:00Z
Tipe Kamar
Seluruh rumah/apartemen
---
Tipe Properti
Apartemen
---
Mengakomodasi
3
---
Kamar tidur
George Town, Grand Cayman, Kepulauan Kayman
Renovated 3 bedroom Coastal Chic Condo on Seven Mile Beach - 30 steps to the pool & sand. Modern kitchen with a large island to accommodate 8 people for dinner or eat on the patio and watch the sunsets every nights. You have ocean views from every room.
The condo is an open floor plan to entertain family and friends, bar stools that surround the island. Or on a large patio overlooking the sea. Since the condo is in the heart of Seven Mile Beach you can walk to all the hot spots.
The complex is very friendly, there are 28 owners, and you can interact with the other guests or have quiet time on the screened in patio. The pool and beach is never busy so no need to save beach chairs.
Beautiful location and very convenient! Excellent snorkeling right off the beach in front of condo. We enjoyed playing cards by the pool and walking 7 mile beach. Never a problem getting an unbrella with chairs (unlike the Marriott which was jam packed with people.) Coconut Joe's is at end of the drive - good food and an easy walk.
Tonia
2017-03-11T00:00:00Z
This is a very clean and modern condo on the second floor with multiple oceanfront and sandy beach views. It has one of the best equipped kitchens you will find in a rental, down to the coffee grinder, cutlery, dishes and high end fridge/freezer. WiFI and both large screen TV's had many cable channels. The location is great and the Marriott is just a one minute walk down the beach! I've been renting in Grand Cayman for many years and was very impressed with this unit. Heidi and her husband were wonderful hosts and available if needed. It was high season and the most people I saw on the beach and in the water was at one time 10. The hotels were mobbed
Paul
2016-03-18T00:00:00Z
Beautiful condo, amazing location and a wonderful host. I will definitely be staying here again.
Timothy
2016-03-08T00:00:00Z
This condo is beautiful and has lots of space for six people or so. Great view of the pool and ocean. Much better than any hotel for the price.
Josh
2017-01-25T00:00:00Z
Great place. Beautiful interior. Clean, maintained and well appointed. Steps from the beach and great places to eat. Heidi is so friendly and helpful.
Jamieson
2016-01-18T00:00:00Z
Heidi was exceptional. Immediate and thorough communicator and went out of her way to make the stay great. Thank you.
Mark
2016-03-01T00:00:00Z
Had a wonderful time at the condo. It was a great space and very close to the beach. We had no problem getting a chair and a spot to enjoy the beauty of Seven Mile Beach. Thanks so much Heidi for having us at the condo, it was a lovely stay and we hope to return again soon!
Inge
2016-03-24T00:00:00Z
Heidi was very easy to communicate with and her condo was clean and perfect for our group of friends vacationing.
Amelia
2016-03-15T00:00:00Z
Tipe Kamar
Seluruh rumah/apartemen
---
Tipe Properti
Kondominium
---
Mengakomodasi
6
---
Kamar tidur
George Town, George Town, Kepulauan Kayman
Front position in the complex, overlooks the pool, the beach and the sea, sunsets every night from the balcony. In the centre of many activities, right next to the main social hotspot (yet still quiet) and lots of amenities close to hand.
Breakfast on the balcony overlooking Seven Mile Beach over the Caribbean Sea. What a great way to start the day. The 'Space' consists of the apartment itself (more later) as well as the facilities offered by the complex (including a freshwater pool, BBQ etc.). Our neighbouring complex also allows us to use their beach loungers when not otherwise in use (paying guest of theirs do have priority) so we do supply some beach furniture for you to use just in case. Inside Open concept living area with sliding doors leading onto the balcony - great views over the beach and sea - especially at sunset. Definitely one of the highlights of our location. Large screen TV, free wifi allows you to stay in touch with the rest of the world - optional of course, enjoy the island and your vacation. Fully equipped kitchen allows you the space to prepare your food and to eat in comfort. Two bedrooms - one bedroom is at the rear, substantial size to stretch out. The second bedroom is a loft space - look over the half-wall down to the living area (it's not an enclosed room, please note this). We are planning to have heavy curtains to offer more privacy if you wish. Complex facilities Washing facilities are located just outside the apartment (paid laundromat) but we will provide detergent for you. Freshwater pool, great for the kids - and the young at heart. A dip in the warm Caribbean Sea, a dip in the pool - choices, choices, choices! Pool side loungers available. Also on site is a Barbecue area (brick), hammock, reading nooks - a relaxed area to 'chill' and relax through the day. Close by Seven Mile Beach Seven Mile Beach Seven Mile Beach So good it deserves more than one mention :). Seriously, it's 5.5 miles long, white sand, well maintained and manicured, one of the worlds best beaches. You look right over it. Best location you can get. Nearest supermarket is located just up the road in Camana Bay. Only a 5 minute walk. Camana Bay is a great hangout area, very kid friendly and also great for adults. Lots of restaurants and shopping opportunities. Often some activities going on that you can enjoy. Cinema as well. The whole area is very well landscaped with interesting features all over the place. Great place to wander aimlessly for an evening. We are located on West Bay Road, one of the main access roads to the rest of the island. Lots of public transport available to get to the various attractions. Rental car companies fairly close by if you wish to occasionally rent. Island Pine Villas has a great deal of parking available to it. Right next door to Island Pine Villas is Royal Palms. It is an outdoor bar right on the beach. It's one of the main social hubs of the islands for tourists and locals alike. If you need more information - feel free to ask us. We know the area and the islands pretty well and are happy to help.
Right on Seven Mile Beach. Open the curtains in the morning and that's the first thing you see. Close them at night and it's the last thing you see. What a great way to start and end the day. Great location for the beach and water based activities. Great location for access around the island. Great location for social life up and down Seven Mile Beach. We provide an amenities map showing all the main shopping, gas, eateries within half a mile or so - easy walking distance. We can also advise on what else there is on offer on the island.
Was awesome!
Geoff
2016-07-04T00:00:00Z
Fantastic experience! Graham was there to welcome us - even though we were unexpectedly very late arriving - he was extremely kind, knowledgeable about the area and couldn't have been more accommodating. (Thank you!) The Condo was as described and perfect for us - well equipped and cosy. Lovely view and excellent location, especially since it was off season. We hope to return! THANK YOU!
andrew
2016-09-30T00:00:00Z
The condo was as described. Clean with a nice view of the beach. Great location right on the beach near nightlife. Graham was extremely helpful and knowledgeable. Available to pass by within minutes for anything we needed.
Steven
2016-01-28T00:00:00Z
This place is amazing. The location and views are excellent - sitting on the balcony to watch the sunset was breathtaking. The place has everything you need, is very clean and has a very attentive host. Graham is there to help with anything you need. It's a no brainer to get so much more than a hotel can provide for so much less. If you are thinking about booking this place, just do it. You will not be disappointed!
Chris
2016-04-01T00:00:00Z
You won't find a better location than this! The only thing separating you from the beach is the pool. Easy walking distance to restaurants, shops, and groceries. Public buses run past the location constantly if you want to venture further. The place it self was cozy, comfortable, and quiet. Graham was a great host, providing valuable information via email before the trip and even more information at check in. Graham made you feel like you could contact him with anything you may need or any questions you may have. We're already trying to figure out when we can come back!
JEREMIAH
2016-03-06T00:00:00Z
This was my 3rd time staying with this host and the stay was incredible as always. It is just like the pictures. Right next to Royal Palms which is an awesome spot and gets busy at night time so you have something to do. The apartment is stocked with everything you'd ever need including towels, beach chairs, cooler, etc.
George
2016-10-03T00:00:00Z
Your message The condo was great with the exception of a) the toilet was broken and had to be fashioned with a coat hanger to flush, and b) the air conditioner was broken in the master bedroom. Graham was wonderful and tried to have someone come fix the problems the bathroom and air after the first day, and was willing to refund 100.00 US (or half of one night) since half of condo was not working properly. However, the repairs were not made during our stay. The location was wonderful and it would have been a perfect stay if not for these issues. The location is perfect.
Anthony
2016-09-17T00:00:00Z
Great location next to party central. To be honest, I was looking for a quiet shady place to read. This was not it, but it worked out great. The thing to be aware of is that royal palms next door is noisy, but it is also a fun place to hang out. Beautiful views from the condo. The condo is clean and well appointed. Graham, our host, was wonderful and picked us up from our hotel when we decided to bail at the last minute due to crazy construction noise (be careful of the Westin!) and also gave us a ride to the airport on our way out. I won't bother with a hotel booking if I go back to cayman. This is definitely the way to go. By the way, graham is an official PhD doctor. Legit - from Britain. If you are riding around in his van, just be aware - this guy is legit! (I am an MD doctor and once I heard I was in the care of a phd in chemistry, I felt suitably intimidated.) I highly recommend the accommodations.
Courtney
2016-12-13T00:00:00Z
Tipe Kamar
Seluruh rumah/apartemen
---
Tipe Properti
Apartemen
---
Mengakomodasi
6
---
Kamar tidur
George Town, George Town, Kepulauan Kayman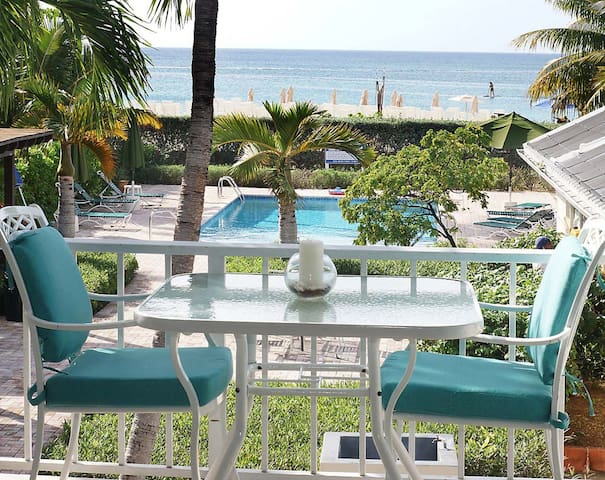 Spacious and Modern 3 story condo across the road from the Beach in a quiet waterfront Residential area. 5 minute walk to South Sound Beach . 10 minute drive to Georgetown, 7 Mile Beach and Airport. Beautiful, Safe and Quiet area in the Best location possible. The large bedroom with King Size Bed and walk-in closet ensuite bathroom. All on quiet third floor. Shared access to living area with 2 professionals that work a lot. Good for couples, solo adventurers, and business travellers..
Had a great time staying here. Danny and Tammy were very accommodating. The place was absolutely beautiful with a big bed and ensuite bathroom. Beach access was right across the road. The area was nice as it was close to town but far enough away that it was quiet and relaxing.
natascha
2017-01-05T00:00:00Z
Danny is very friendly and even picked us up from the airport and took us to a couple of stops along the way. The apartment is very nice but pretty far away from any bus stops so without a car, its kind of hard to navigate from here. The good thing is people are super nice here so it was easy hitch-hiking a ride to the center to get the bus! The room is very big and nice but it was a bit weird kicking Danny and his girlfriend out of their own room.
Julee
2017-01-26T00:00:00Z
Tipe Kamar
Kamar pribadi
---
Tipe Properti
Kondominium
---
Mengakomodasi
2
---
Kamar tidur
George Town, George Town, Kepulauan Kayman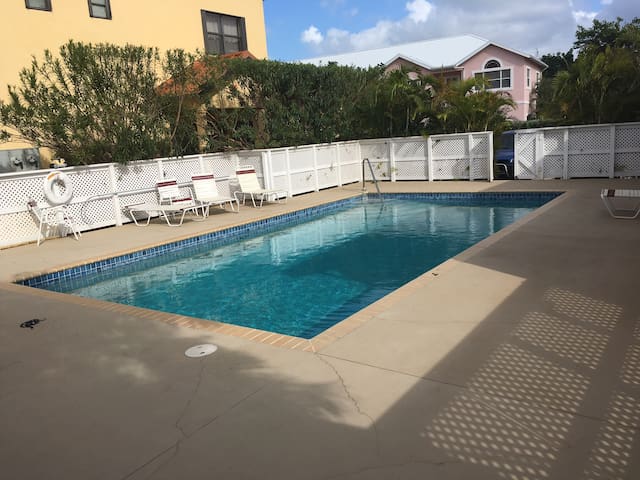 Recently built (2105) 3-story townhouse in very popular and family oriented complex. Beautiful pool right outside your door, 2 tennis courts and gym. Short drive to town and beach. Grand Cayman is home to beautiful beaches, spectacular diving and an abundance of amazing restaurants. Seven Mile Beach was just rated 12th best beach in the WORLD on Tripadvisor!!!
Gated community with 3 phases and 3 beautiful pools for your use. One of which is right outside your back door. The pool also has a great area for toddlers, which is about 1.5 feet deep. The complex also has 2 tennis courts and a well-equipped gym. Our house is located south of town and Seven Mile beach. We are 1 mile to the nearest white sand beach (Smith Barcadere), 1.25 miles from the nearest dive operator and restaurant (sunset House). 5-8 minutes from downtown and 15 minutes from Seven Mile beach corridor. We are also 2 miles from the western hemisphere's biggest skate park (The Black Pearl). We highly recommend booking a boat excursion to stingray city. The house has beds for 7 and air mattresses if you need more. Master bedroom – En-suite bathroom, king sleep number bed, flat screen TV with cable and Roku with Netflix. Bedroom 2 – 1 twin with room for a twin air mattress Bedroom 3 – trundle bed with 2 twins Bedroom 4 – on 3rd floor, king size bed, en-suite bathroom, flat screen TV with Roku and Netflix. Living room – 65 inch flat screen TV with cable, Roku and Netflix All the comforts of home and very well equipped kitchen! For use during your stay we have beach chairs, beach umbrella, beach toys, 2 kids bikes (up to age 7), 2 kids scooters, skate board, pool floats, charcoal grill, tennis racquets and balls. Front door is keyless entry. Housekeeper can be arranged during your visit for $15/hr.
Tipe Kamar
Seluruh rumah/apartemen
---
Tipe Properti
Townhouse
---
Mengakomodasi
7
---
Kamar tidur
George Town, George Town, Kepulauan Kayman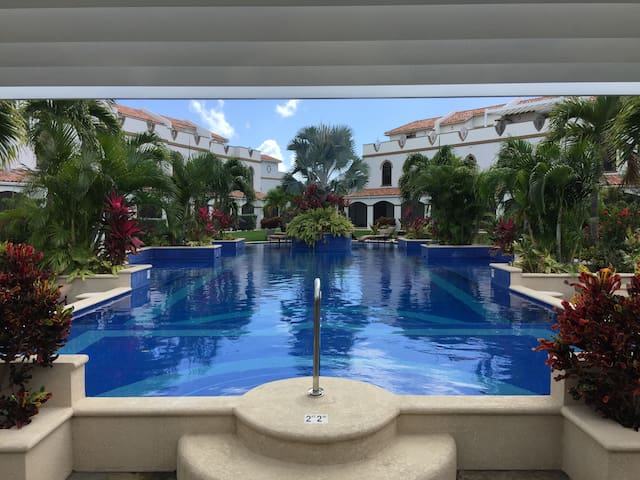 3 bedroom 2 bath (access to two bedrooms and 1 bath), ground floor apartment with an amazing patio back onto beach and view of the ocean. Situated in a central location at the south end of the famous Seven Mile Beach right next to Marriott Resort...you won't even need a car!
Wake up to the ocean waves crashing upon the shore. Our unit provides one of the greatest views you will find on island. The first bedroom contains a queen sized bed, while the second bedroom has two twin beds.
Seven Mile Beach (SMB) is a long crescent of coral-sand beach on the western end of Grand Cayman island. It is known for its beauty, receiving the honor of "The Caribbean's Best Beach" from Caribbean Travel and Life Magazine in 2015. There are a number of restaurants within walking distance.
Alvin was great and met me at the condo and was very helpful. The view from the back is exactly like the pic you see. Good pool area with food and drink and a swim up bar. The property blends in with the new Margaritaville that is being renovated and you have access to the bar and food they offer. Good location and a good price.
Stanley
2017-02-12T00:00:00Z
Great location, great host. Will be back
Barry
2017-03-24T00:00:00Z
This is a great place to stay for families. The pictures are spot on and you cannot stay closer to the beach anywhere else on the island.
Teri
2017-02-23T00:00:00Z
This condo is absolutely incredible! You cannot beat the location. Me and my family stayed for about a week. Everyone had there own room which gave us plenty of space. Walking out to the beach was literally steps away. The pool bar was about a 2 minute walk, if that! Also the location on 7 mile made it easy for us to go try lots of new places for dinner! Would recommend this condo to anyone visiting cayman! Thanks Alvin and Celina!
Athena
2017-03-30T00:00:00Z
Tipe Kamar
Seluruh rumah/apartemen
---
Tipe Properti
Apartemen
---
Mengakomodasi
4
---
Kamar tidur
George Town, Grand Cayman, Kepulauan Kayman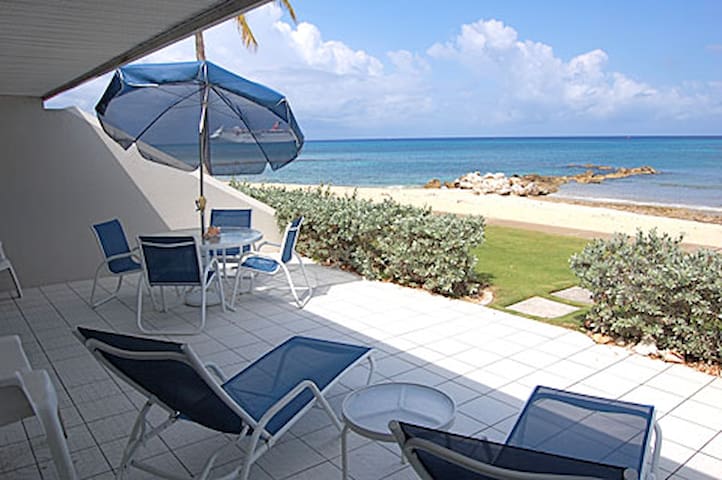 Suite Escape is centrally located in a residential neighbourhood just 8 minutes drive from the airport. Close to picturesque Smiths Cove Beach and within short walking distance of a number of waterfront restaurants, shopping and diving.
Awesome place, great location, very nice and helpful hosts. Will stay again.
Roman
2016-11-10T00:00:00Z
We stayed here for our dive vacation. We were very happy with the location, a short walk to our dive shop and downtown (Georgetown). The apartment itself is as pictured, with a cozy patio outside the entrance door. Would recommend and stay again :)
Ying
2016-11-19T00:00:00Z
This listing is a duplex with small, private deck. You'll see small geckos! Paige and Nicole have everything there that you'll need, and a Brit water filter to refill your jugs. Walk in closet with iron, drying wrack, beach towels, beach mat. Walk in tile shower. Comfortable bed, nicely decorated. Don't leave food out(grease ants). There are dogs next door but they never barked at night. This place was just what I like!!!
C.
2017-04-06T00:00:00Z
Everything smooth. Nice property and private. Good location if you need to be near Georgetown itself.
Han
2016-12-05T00:00:00Z
Endroit charmant, très propre et calme. Les photos sur le site sont fidèles à la réalité. C'est un coquet appartement où un couple y trouve son compte. Les hôtesses ont fait preuve d'indulgence et les communications avec elles étaient rapide, respectueuses et efficaces. Nous avons loué une voiture et ça nous a permis de faire le tour de l'endroit. Fabuleux endroit. Coups de cœur, la Seven Miles Beach et les couchés de soleil. Retourner aux Îles Caïmans, nous n'hésiterions pas à retourner chez Paige. Merci.
Jacques
2017-03-08T00:00:00Z
Nicole was incredibly helpful, and she even got a friend to drive us to the location since we were coming from Westbay. She gave us information about activities to do on the island during our stay, and was very kind! She really made our stay much easier since we didn't know the area at all. I would highly recommend staying with them, although the location is not the best unless you plan on renting a car. The buses didn't seem to run in that area so we walked everywhere, Smiths cove is a 15-20 min walk and the grocery store is 30 mins. We loved walking around Georgetown but for those who don't want a lot of walking be mindful of this before booking. We had such a lovely stay, the apartment is very cute and supplied with everything you need! We would definitely stay here again, especially for a diving trip.
Natalie
2017-02-28T00:00:00Z
This is a great place to stay in the Cayman's. The apartment is a 5 min walk to a good restaurant and dive centre. Its a 10 min walk into the centre of George Town and to a lovely quiet beach the other way. The apartment was ideal and had everything we needed. We used the well equipped kitchen often as eating out can be quite expensive. We really enjoyed our stay here and would recommend it to anyone.
Keith
2017-02-21T00:00:00Z
Sejour très bien passé, Paige et Nicole sont des hôtes très disponible si necessaire. L'appartement joliment décoré comme sur les photos avec une jolie petite terrasse. Un grand merci encore à toutes les 2 pour voter aide dans nos demarches de Norte adventure. A bientôt on l'espere pour fêter ça!!
Sébastien
2017-01-06T00:00:00Z
Tipe Kamar
Seluruh rumah/apartemen
---
Tipe Properti
Apartemen
---
Mengakomodasi
2
---
Kamar tidur
George Town, George Town, Kepulauan Kayman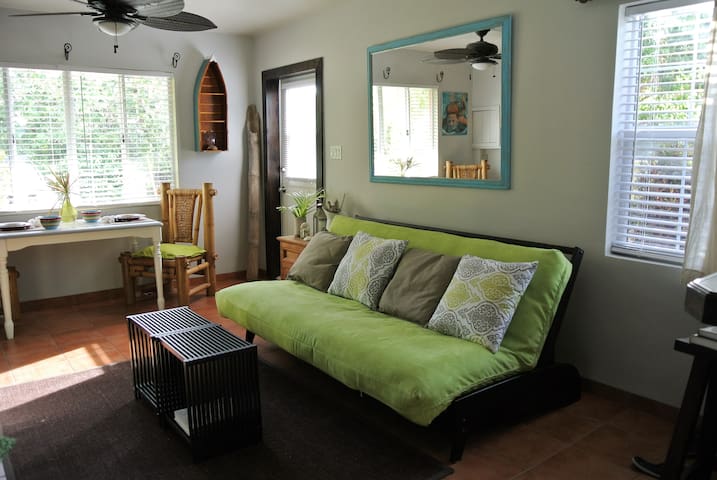 The newly-renovated garden-view townhouse is located in a family-friendly complex which is conveniently (and centrally) located on world famous Seven Mile Beach that is walking distance to bars, restaurants, shopping, and most importantly, BEACH!
Island Pine Villas is your home away from home in Grand Cayman. The newly renovated 2 bedroom 2 bathroom unit features multiple dining areas, stainless steel appliances, a designated reading area, two full bathrooms and self contained full sized washer and dryer. Unlike most other 2 floor "loft" units in the Island Pine Villas complex our second floor bedroom is fully enclosed with it's own private bathroom and shower.
Island Pine Villas is located in the most desirable stretch of Seven Mile Beach just steps away from some of the finest restaurants in Grand Cayman, shopping at Camana Bay, night clubs, bars, and of course the beach. It is also one of the safest neighbourhoods in Grand Cayman however we do ask that our guests exercise common sense when considering late night walks on the beach.
Wonderful place so close to the beach with pool on the complex. Very quiet and well stocked apartment. Next door neighbors were great and welcoming - told us everything to do, places to eat etc. Will return!
james
2016-06-25T00:00:00Z
Highly recommend Reno & Agata's place! We were a family of grandparents, daughter and husband, and 5yr old granddaughter. The condo is on the most pristine slice of beach, yet private, quiet, and comfortable. There is a lovely pool also that we had almost to ourselves. The condo is stocked with everything you need to cook. We walked to the IGA several times. We walked, took cabs, or caught the bus in front of the condo. Very easy to get about. The place was great and relaxing. We are working on reservations for next year! Thank you to our awesome Cayman hosts.
Mary Lou
2017-02-04T00:00:00Z
Great location, wonderful villa, terrific hosts!
Laura
2017-02-19T00:00:00Z
Great location, beach and sweet condo with everything you could need. I really enjoyed the central loaction and the beach bar next door.
Maureen
2017-01-28T00:00:00Z
We had a great time at Reno and Agata's place. Awesome location right on the beach; walking distance to tons of restaurants. Just a great place to sit back and relax. And Reno and Agata responded immediately to any question we had. Very accomodating. We would certainly, highly recommend this place to our friends and family.
Bryan
2016-09-07T00:00:00Z
Agata is fantastic! The place was perfect for our family of 4 (two boys 11 & 13). The location was perfect: easy access from airport, right on the beach (without a beach view but close enough), walking distance to high end or fast and easy restaurants plus the grocery store. The condo was clean and had everything we would need. I highly recommend this location.
Pam
2016-11-28T00:00:00Z
Reno and Agata were great hosts! Reno met us on our first night and gave us a tour along with lots of helpful information. The house was perfect, just as described, comfortably slept 4 people and came stocked with everything we could possibly need, i.e. beach towels and snorkel gear included. The house is less than a 2 minute walk to the most beautiful beach and right next door to a really fun bar and restaurant, it's located right off the main road with easy access to shops and grocery stores and a 10 minute ride to the airport. We rented a car for easier access and parking at the house was never an issue. I would definitely stay here again the next time I visit the Caymans and would recommend my friends and family stay here as well.
Chanie
2016-05-02T00:00:00Z
This home away from home is meticulous and having the beach at our door step was amazing. The neighbors have a wonderful little inviting community. We chose this home because we could walk to several of our favorite restaurants and the yoga studio. We will reserve again on our future visits to Cayman.
Helen
2016-12-29T00:00:00Z
Tipe Kamar
Seluruh rumah/apartemen
---
Tipe Properti
Townhouse
---
Mengakomodasi
4
---
Kamar tidur
George Town, George Town, Kepulauan Kayman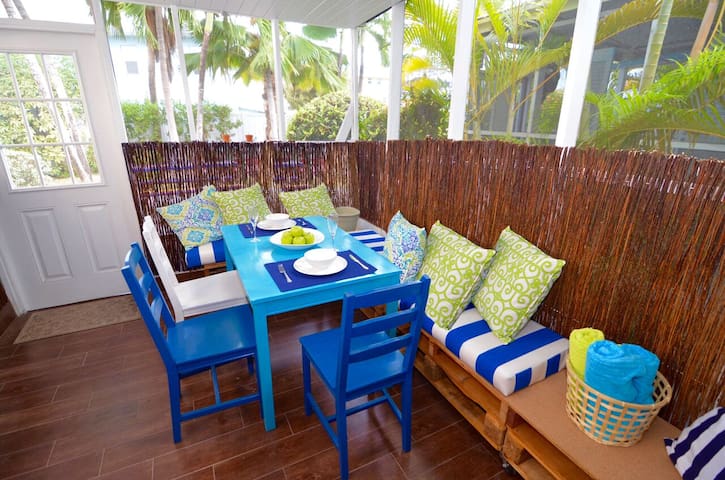 Quality 2Bed/2Bath Condo at Sunset Cove on world famous Seven Mile Beach complete with discounted boat charters!
Relax in our comfortable two bedroom, two bathroom condo on stunning Seven Mile Beach. The condo is located on the ground floor for easy wheelchair access and there is a walk-in shower in the master bathroom. The master bedroom has a queen size bed and an ensuite bathroom. The second bedroom has two twin beds. There is a sofa sleeper in the living room. The kitchen and bathrooms are well stocked and the condo has a washer and dryer. Free WiFi and cable is included and discounted boat charters are available to complete the package. The amenities of Sunset Cove are similar to a resort hotel. We have the largest freshwater pool on Seven Mile Beach with a swim-up snack and cocktail bar. The complex also has a wading pool for toddlers and a whirlpool hot tub for the big kids. There is great snorkeling right off the beach and numerous shops, bars and restaurants are within walking distance. Let us help to make your vacation a memorable one!
A guest book including information on popular restaurants, nightclubs, bars, shopping and attractions is available in the condo.
Michele and Leslie's condo fit our needs perfectly. Our family of 3 with a 2 year old was in town for a friend's wedding. The wedding and all festivities were held at the Marriott, which was a short walking distance. Having the condo allowed us privacy away from the hustle and bustle. The private beach/cove and the pool were awesome. The swim-up bar/grill was a real treat. I would highly recommend this unit to anyone visiting Grand Cayman. It is centrally located to West Bay and the hosts are gracious!!!
Jason
2015-11-16T00:00:00Z
We had such a wonderful stay at Michele and Leslie's place. It's exactly as pictured just steps away from a wonderful little cove on Seven Mile Beach. It is conveniently located, and having access to a swimming pool with a swim up pool bar and jacuzzi was an added plus! Leslie was also a wonderful host and took us to Sting Ray City on his charter boat. We had a blast that day, and were grateful to him for taking us out in the middle of the Caribbean to a sandbar to swim with and feed stingrays!
Elizabeth
2016-02-04T00:00:00Z
Michelle and Leslie were great with communication and follow up before and during the visit. The "resort" amenities within the condo complex were terrific - the pool, pool bar and restaurant, the beach, etc. We ended up eating lunch several days at the pool bar and had dinner or appetizers there a couple of evenings as well. The staff was friendly, the food was good and the prices were reasonable. I would consider this one of the highlights of this property. The location is very convenient on the south end of Seven Mile beach but realize the beach is not connected to the main Seven mile beach. The condo itself was as described and while not "luxurious" was very comfortable and well equipped. We had a great time and enjoyed our stay!
Tom
2016-07-04T00:00:00Z
We only have compliments about the house, everything was clean a organized. The condo location is great, close to restaurants, night life, shops and supermarket. Thank you Leslie for your attention and for taking care of us! Greetings from Brazil!! Carolina, Bruno, Isabel and Egas.
Carolina
2017-02-06T00:00:00Z
From the first contact, Michelle was fantastic! They have a beautiful condo in a complex that is right on the beach! It was wonderful! It had all of the amenities that we could ever want. My friends and I had a bit of time to kill before checking in, and Michelle made it super convenient for us, and we were even met while having a quick drink at the swim up bar to check us in! Overall, our stay was amazing! I wish we could have stayed a few more days! Thank you again!! I would highly recommend staying here!
Todd
2015-11-19T00:00:00Z
This was an amazing vacation for my family consisting of my 6 and 4 year old and grandparents, one who has Parkinsons. We all felt very welcome by Michelle and Leslie. When we arrived he was there and helped us bring in our luggage. We flew in via Cayman Airlines which allows us to check 2 pieces of luggage for free, so we were able to bring two suitcases of food as we knew ahead of time going out to eat can be very expensive. Their kitchen was a dream that had everything there to cook full meals and allowed us to bake cookies daily. The unit was very spacious for 4 adults and 2 kids and the master with the walk in showed was perfect for my dad with Parkinsons. Our kids loved playing in their backyard grass, and within a few steps you are at the beach and the pool. The location is perfect at the top of seven mile beach and close enough to walk to a grocery store. We recommend to pack your snorkel equipment because their beach had the highest volume of fish on this coast. The only minor issue that we had with the unit is that the master bath lost its hot temperature. Michele and Leslie were extremely responsive and the issue was resolved the same day. Leslie is also the captain of 'Just FishN.' He has a beautiful Grady White boat and served as a great tour guide to take us to Star fish point and Sting Ray City. This was one of the highlights of our trip, a must do!! He handled the boat so safely as we had kids from 7 down to 1 years old and he made us all feel safe and sound(URL HIDDEN) This resort has a swim up pool bar with great food and drinks (at a reasonable price), plenty of lounge chairs on the beach to use, and a great patio to sit outside to enjoy the grass backyard and beautiful palm trees and flowers. I recommend to pack bug spray as they come out sometimes during the sunrise and sunset. On Mondays the complex is serviced with leaf blowers so if you are sensitive to noise, plan on getting out and about that day. We highly recommend this unit to anyone who wants to go to Cayman Islands!
Peter
2016-04-17T00:00:00Z
The host canceled this reservation 100 days before arrival. This is an automated posting.
Alicia
2016-08-16T00:00:00Z
My family of five (wife and 3 adult children) stayed here March 19-26, 2016. The owners (Michele and Leslie) and daughter Jessica met us at the condo upon arrival and showed us around. They were terrific. They even drove us to the grocery store right away to buy food for the next few days. This condo lived up to our expectations. The pool and swim-up bar were magnificent. The bar/grill had excellent food as well. The grounds around the condo association were well-groomed and looked great. The beach was clean and well maintained. The enclosed cove provided a quiet beach front that would be great for smaller children. The condo is located on the south end of 7-mile beach. Given its location, the condo's beach gets vary little pedestrian traffic. In contrast, certain parts of 7-mile beach can get very crowded, especially when the cruise ships come in. However, we were able to walk several miles along the beautiful beach each day without any trouble. There are plenty of restaurants and bars within walking distance. The nearest grocery store was about 3/4 mile away, but still a manageable walk. The grocery store (Kirk's) was very clean and provided a wide variety of foods. Note that grocery stores are closed on Sundays. The condo provided plenty of room for our family. The private patio in back was perfect for morning coffee and evening "happy hours". The large TV was perfect for watching March Madness basketball. We would definitely stay here again.
Paul
2016-03-26T00:00:00Z
Tipe Kamar
Seluruh rumah/apartemen
---
Tipe Properti
Kondominium
---
Mengakomodasi
6
---
Kamar tidur
George Town, Kepulauan Kayman
We are situated in a private and secluded small condominium complex on Seven Mile Beach, close to George Town, and walking distance from grocery store, bars, restaurants, coffee shop, pharmacy, doctors, gym and much more. #8 is right on the water overlooking the beach and magnificent Caribbean Sea. The sun sets directly off the verandah and happy hour at sunset will never be forgotten!
The unit is fully airconditioned with a large covered verandah, hammock, fans, outdoor dining and couches. The kitchen is fully stocked with everything you need although with so many wonderful restaurants in walking distance - you may want to take a holiday from cooking too! Master bedroom with en suite bathroom has a king bed and glass enclosed shower. The 2nd bedroom has a queen bed and a single bed. The unit sleeps 5 comfortably. The 2nd bathroom has a bath with shower.
The reason we chose Cocoplum to call our home is the unique Caribbean charm and island style character it has. Unlike other newer complexes, this is a large piece of property with few residences so we have lovely open wide spaces and being situated at one end of the main strip give us wonderful privacy from the "crowds". We are walking distance to everything so you can be a part of the action as much or as little as you wish!
The beach home was beautiful, clean and very spacious for the three of us. We really enjoyed the space and view every morning. There is great snorkeling right off the beach and a shipwreck roughly ~100 feet from the property (with parrot fish, yellowtail damsel fish, a puffer fish, and lots of other caribbean fish). The shore is pretty rocky but Sue was nice enough to provide water shoes for comfort. We brought our own snorkel gear but she has some provided for guests, including beach towels and sunblock. We arrived to a beautiful boutique of flowers and a lovely personalized note. Sue was very responsive to an AC issue we had, sending a repair guy the same day and returning the next. The seven mile beach we expected in travel pictures was roughly 2-3 blocks away but overall the space was wonderful. We had a great time relaxing and enjoying the sun!
Brandi
2016-07-04T00:00:00Z
Tipe Kamar
Seluruh rumah/apartemen
---
Tipe Properti
Kondominium
---
Mengakomodasi
5
---
Kamar tidur
George Town, George Town, Kepulauan Kayman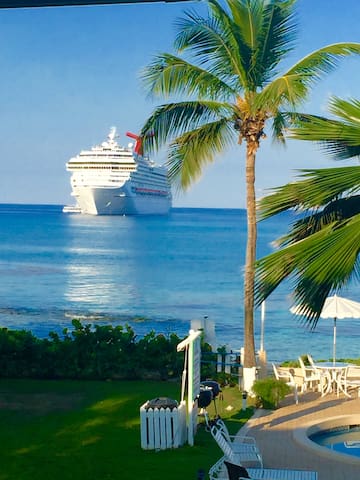 Recently and fully renovated townhome located in great neighborhood of George Town and minutes away from the beaches. Nicked named Flip Flop Villa is nestled in a quiet community that has pool, playground large garden and gazebo. Clean comfortable, with new furniture and appliances is a perfect home away from home getaway in Grand Cayman.
This condo is perfect for the traveler who is budget minded or has kids. You are a very short drive the from everything. The grocery store is less than a mile away and the airport is even closer. Beaches are very nearby so the location is perfect. We were here during high season looking for a house so we can relocate to the island. This little slice of heaven was perfect for two adults and a 14 year old. Our hostess even had some welcoming fruit and cheese and juice waiting on us upon arrival. The house has all the necessities and even a dedicated parking space. We really enjoyed our time here and although we are looking forward to our move, we will either bring relatives back or highly recommend this place for other travelers.
Lisa
2017-04-09T00:00:00Z
Tipe Kamar
Seluruh rumah/apartemen
---
Tipe Properti
Townhouse
---
Mengakomodasi
4
---
Kamar tidur
George Town, George Town, Kepulauan Kayman
This beautiful duplex condo is located on Seven Mile Beach. The condo had two double bedrooms with a large open plan kitchen/living room area. The complex contains a pool, tennis court and private beach.
The unit had all the amenities we wanted, was in a good location and very quiet. We found it odd that there were no curtains to block the light, no blankets on the beds and no washcloths. Plenty of towels though and a fully equipped kitchen. It was clean too. The only issue was an unexpected electrical problem with the stove which knocked out power to the entire unit within 30 minutes of arriving. We had no international phone so a neighbor helped us. Once it was clear we had no way of solving the problem, we had to find other accommodations. This was extremely stressful. The host was out of the country at the time which made it difficult to communicate. Once we were able to return to the unit the next day, we had no way to cook for the remainder of our stay. This was disappointing because we have food allergies and prep our own food to eat safely. The host was very apologetic and took the initiative to refund the one nights stay. This was greatly appreciated. Everyone we met was very kind. Do note, that this is an individuals apartment that we found out was not supposed to be sub-leased. The friend who brought us the key was nice but unable to help us. I would recommend staying here though. While we encountered issues that were stressful and we were disappointed in some respects, I think most other travelers would be fine.
Jacky
2016-11-14T00:00:00Z
The host canceled this reservation 22 days before arrival. This is an automated posting.
Emily
2016-10-27T00:00:00Z
Tipe Kamar
Seluruh rumah/apartemen
---
Tipe Properti
Apartemen
---
Mengakomodasi
6
---
Kamar tidur
George Town, Grand Cayman, Kepulauan Kayman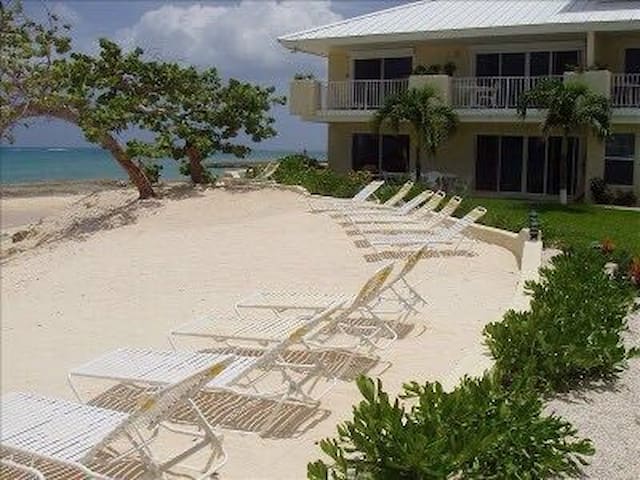 Masukkan tanggal untuk melihat harga lengkap. Biaya tambahan berlaku. Mungkin dikenakan pajak.