Ho una stanza in soffitta che può ospitare 1 o 2 persone, la camera matrimoniale ed un divano letto in soggiorno con cucina e bagno condiviso, disto circa 30 km dal Lago di Garda, ho la connessione ad internet, il parcheggio vicino e abito in un paesino molto carino V ivo con la mia cagnolina Sono a 5 minuti dall'uscita autostradale di Manerbio Nelle vicinanze ci sono posti di interesse culturale e di divertimento Brescia, Padova, Cremona, Soncino , Montichiari, Lonato del Garda, Peschiera del Garda, Desenzano ,Salò, Gardone Riviera La casa si trova nel centro storico, nelle vicinanze ci sono Bar, Banca,Panificio, Supermercato, Farmacia, Pizzeria da asporto, Pizzeria/Ristorante C'è un collegamento comodo per Brescia da dove si raggiungono facilmente località come Milano, Venezia E' una casetta in un posto tranquillo,silenzioso, ma centrale.
ottima host, alloggio pulito e gradevole
Flo
2014-01-23T00:00:00Z
Carla è stata molto accogliente. L'appartamento è a 2 passi dal centro di Leno, quindi comodissimo per prendere il bus extraurbano.
Silvana
2016-02-17T00:00:00Z
Hi. Dear people. Better than this place can't yuo not find it. Very good. Very rustic. If is possible more availability for younger people. La signora Carla è fantastica. Onestamente tra me e lei perfavore faccia delle riparazioni è un peccato vedere un casa molto tipica e piena di cultura italiana . spero di essere capito. Una cosa sola non mi è piaciuto la muffa in bagno e la doccia con poca acqua. Il resto era da immortale sensazione. Infatti tornerò ancora se non questo anno il prossimo di sicuro. Per gente più anziano è un posto favoloso per potessi rilassare. Leno è bellissima. Culturale e sociale. Tante conoscenze fatte ne sentirà parlare di noi tanto in paese .Non si scorderai facilmente. Grazie di cuore. E da siculo personalmente si fidi di me . Come la nostra amicizia sia. Le voglio bene come un figlio. ..come sempre. Grazie dal più profondo del nostro cuore. Eravamo veramente come a casa nostra...soltanto che in Olanda non si mangia così come da voi. La soffitta era un schianto. Venderei la mia casa in Olanda per affitto da te ciao .anche se qualcuno la pensa inaspettata diversamente. Mazzel
Daniel
2015-06-16T00:00:00Z
Tipe Kamar
Kamar pribadi
---
Tipe Properti
Rumah
---
Mengakomodasi
6
---
Kamar tidur
Leno, Lombardy, Italia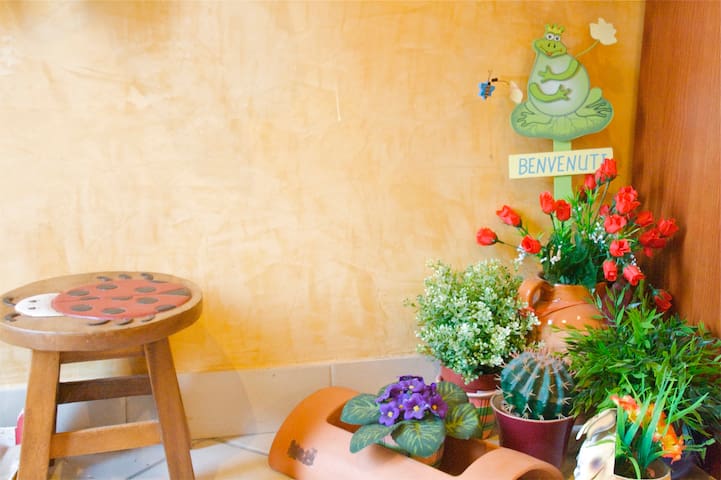 Room with private bathroom, in quiet rural countryside but very near to Desenzano del Garda and the beaches. It is surrounded by greenery and tranquility of the moraine hills of Lonato del Garda just 1.8 km from the exit of Desenzano, but convenient to all services.
The large private room is on the first floor area, there are placed a double bed and a single bed (free for children up to 5 years). The room has a private bathroom. There is a hot tub. L 'use of the kitchen is included to prepare breakfast (not included) or for the children's feeding bottles. The accommodation is quiet because it is located in the countryside in the middle of the hills, but convenient to all services, such as the Lion Shopping Center distant 700 mt. and about 4 km from the center of Desenzano and about 2 km from the highway. I can provide you with tourist information as requested because I've always lived on Lake Garda. The nearest beaches are the Bremen beach in Sirmione, beach in Lugana of Sirmione Lido delle Bionde Sirmione, Lido di Lonato with Coco beach and Madai. The village is located 4 km from the center of Lonato and the center of Desenzano del Garda, so it is recommended the car or motorcycle. There are two restaurants at a few meters. mountain bikes Council for beautiful hikes in the woods, there is also a nearby lake on the hill for great picnic with the family. There is private parking in the courtyard, free of charge. There are bus stops nearby. I will provide the number of taxi and NCC (rent with coducente) for necessary travel.
The village is located 4 km from the center so it is recommended the car or motorcycle. There are two restaurants at a few meters. Council mountain bikes for beautiful excursions in the woods, there is also a little lake on the hill for great picnic with the family.
La stanza è bella ed ampia , anche il bagno ampio e pulito. Meglio seguire le indicazioni di Achille per arrivare è più semplice. Il tutto è ubicato in campagna, luogo silenzioso vicino al lago, ottima posizione. Achille è disponibile per richiedere informazioni , è gentile e socievole.
Patrizia
2016-04-24T00:00:00Z
Achille è stato molto gentile e disponibile, ci ha fornito tutte le informazioni necessarie e anche qualcosa di più - un ottimo agriturismo dove andare a mangiare :) . Il posto è appartato nella bella campagna bresciana ma molto vicino all'autostrada e quindi molto comodo. Pulito e accogliente. Grazie Achille, alla prossima!
Marta
2016-06-25T00:00:00Z
We had a great stay at Achille's house. The room is big and well-equipped. The house is near from the Lake, about 10 minutes by car, in the countryside but in a very quiet area. Achille's was very nice with us. I recommended that place!
Claire
2016-07-03T00:00:00Z
Achi è davvero un host squisito. Ho chiamato più volte per avere indicazioni e l'ho trovato sempre gentile e disponibile. La camera è ampia, ben arredata e il bagno interno è spazioso, il letto molto comodo e tutto è molto pulito. Preciso che la casa è in aperta campagna e non ci sono negozi intorno, quindi non è adatta a chi deve avere sempre il bar e la farmacia sottocasa, per il resto non è così fuori mano come potrebbe sembrare all'inizio, in 5 minuti si arriva al centro commerciale il Leone e da lì al raccordo autostradale.
Cesare
2015-08-11T00:00:00Z
Achille è un host molto gentile, sempre disponibile e una persona di compagnia. La casa corrisponde alla descrizione, molto bella, ben arredata, pulita; la camera singola con bagno privato è ottima, comoda , spaziosa e funzionale. Consiglio caldamente questa soluzione a chiunque debba passare del tempo da quelle parti.
marta
2015-09-18T00:00:00Z
I would totally recommend Achille's house! The house is situated in a really calm and quite area, really close to the shopping center (open 7days/week till 10 pm) and a highway. It takes 15 minutes to get to Desenzano and about 20 minutes to Sirmione by car. It's out of the city, but getting everywhere is really easy. You just need to have a car. And it's located in the center of the lake, so it's perfect to go from there to both east and west side of the lake. The room was clean and beautiful, with a big ancient wardrobe, bathroom with a tube and big window. I really love it. You can use fridge and kitchen to prepare breakfast. Achille is really kind and helpful. We met his daughters. He told us about places, we haven't read about before! (You have to go to Manerba and find a small island you can get to by your foot through the water, it is so little depth!) He also give us recommendations about restaurants (one of them is 3 minutes from the house! And it's REALLY cheap). And he help us to find money exchange, which wasn't easy! Getting to the house was a little bit tricky. We didn't see the number of the house, which was on the right side of the gate, maybe because it was dark. And it's better to put the address in your navigation.
Marta
2016-09-11T00:00:00Z
L'accoglienza di Achille è stata perfetta. Mi ha guidato telefonicamente fino al suo alloggio. La stanza è risultata molto confortevole,pulita e silenziosa.Proprio una bella sistemazione per chi ha l'esigenza, come la nostra, di soggiornare vicino al lago di Garda.
Nico
2016-04-26T00:00:00Z
Achi is a very nice host and we really enjoyed our stay. We didn't see him very often but right as we arrived he welcomed us friendly and gave us advices for our stay at Lake Garda. The room was very clean and comfy and the location of the house is also perfect. We would definitely return to Achi!
Emilia
2015-08-30T00:00:00Z
Tipe Kamar
Kamar pribadi
---
Tipe Properti
Rumah
---
Mengakomodasi
3
---
Kamar tidur
Lonato del Garda, Lombardia, Italia
Large stylish italian 3 storey House near the Lake Garda area in the center of the traditional village of Lonato. The house is only 5 minutes to Desenzano and 10 to Sirmione, by car , 15 by bus. 1 hour to Verona, Brescia, Mantua and Sabbioneta, 1.5 to Milan, 2 h to Venice by train. Fast connection to internet and wifi from March. Outside the living room a peaceful garden for breakfast (with erbs) against the Walls of the Visconti Castle and with a second access directly to the main street.
The house is near the train station to reach world famous cities like romantic Verona, fashionable Milan and scenic Venice. The A4 highway is just at 5 minutes, and the bus stop to Desenzano and Sirmione on the lake is out of the door. Three bedrooms, 3 bathrooms, 2 cars parking inside, kitchen + high bar table, one spacious living room facing a charming rock garden with barbeque and nice place for sunbathing, and just in front of the medieval walls leading to the Visconti's Castle. Lonato is the right starting point to visit both the east and the west coast of the lake. Mountains with their biking tracks and beaches are near. Cableway from the lake level of Malcesine to 1800 metres of Montebaldo, with extraordinary panorama. The house, very spacious, provides maps of the town and region, guides of main historic cities, books of italian interiors and design, and is decorated with traditional and conceptual works of art.
Pizzeria and Vinery outside the door. A big park near the Castle of Lonato can be reached by walk. A big supermaket is near, and a gas station with the best price of the area. All the city shops are at 5' by walk, with prices not bound to tourism trend. Experience some family restaurants for a full slow lunch and local cuisine on the south hills around the lake (Valeggio sul Mincio & Borghetto)
Я хочу облагодарить Lorenzo за отличное гостериимство! Домик находится в чудесном городке, туристов мало. В старом городе есть несколько досторимечательностей ,которые стоит посетить. Дом просторный и чистый, из гостинной выход в частный садик. Кухня полностью оборудованна. Расположение удобное для путешествия по достопримечательностям озера. Подходит для семьи с детьми. Мы остались очень довольны!
Anna
2016-07-24T00:00:00Z
A perfect location to visit both the Gardalake and cities like Brescia, Verona and Mantova. The Lonato centre is just around the corner, supermarket, bars and restaurants are all nearby. Lorenzo and his wife are very helpful and friendly hosts.
Margreet
2016-05-08T00:00:00Z
Lorenzo and his wife a very nice and friendly. we enjoyed our stay there, its a very big house and for the price has it everthing u need. thank u for a nice welcome and all the best!
caro
2014-08-20T00:00:00Z
Sehr großes, geräumiges Haus. Leckere Pizzeria vis a via. Einkaufsmöglichkeiten, Stadtmitte und Wochenmarkt bequem zu Fuß zu erreichen. Zum Badestrand ca. 10 Min. mit dem Auto. Sehr freundliche und hilfsbereite Gastgeber.
Rene
2015-09-03T00:00:00Z
Хозяин бы гостеприимен и отзывчив, жилье просторное и красивое в очень удобном месте. Удобная личная стоянка и замечательный садик.
Tatiana
2015-09-10T00:00:00Z
Excellent hosts.
Povl
2014-08-11T00:00:00Z
Very big house. Nice location, close to many attractions, and you need a car to move around. I strongly recommend the nearby pizza place and also the restaurant on top of the hill - Contessa place. Lorenzo and his wife were vey helpful and worked hard to address all our concerns and were flexible with the check-in.
Mihail
2015-06-14T00:00:00Z
Lorenzo and his wife were waiting to us when we arrived. They showed us the house and explained how everything works. The pictures of the house are good and do justice. There was 5 of us so three bedrooms were nice to have. The only disappointment for kids was that there was no wifi, only slow internet connection. The weather was really hot during our stay so we could not do everything we wanted. We are looking forward going back when it is cooler.
Eeva
2015-07-25T00:00:00Z
Tipe Kamar
Seluruh rumah/apartemen
---
Tipe Properti
Rumah
---
Mengakomodasi
6
---
Kamar tidur
Lonato del Garda, Lombardy, Italia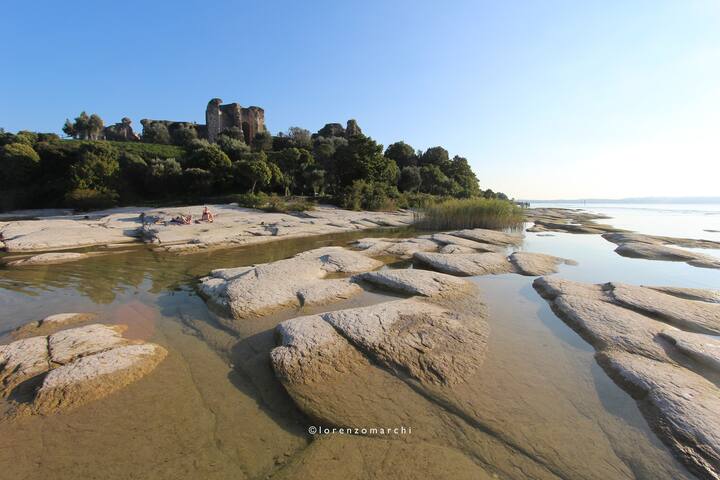 Maison Iris rappresenta un raffinato ed affascinante mix tra un'autentica maison de campagne e un moderno ed ampio spazio dove potere godere della tranquillità e relax. Maison Iris è circondata dalla bella campagna e dalla natura, poco distante dal centro cittadino e da ogni centro di interesse. La struttura della casa è tale da consentire agli ospiti di godere a pieno della tranquillità del luogo, del panorama e della esperienza di autenticità. Una bella veranda a disposizione
Tipe Kamar
Seluruh rumah/apartemen
---
Tipe Properti
Rumah
---
Mengakomodasi
3
---
Kamar tidur
Lonato del Garda, Italia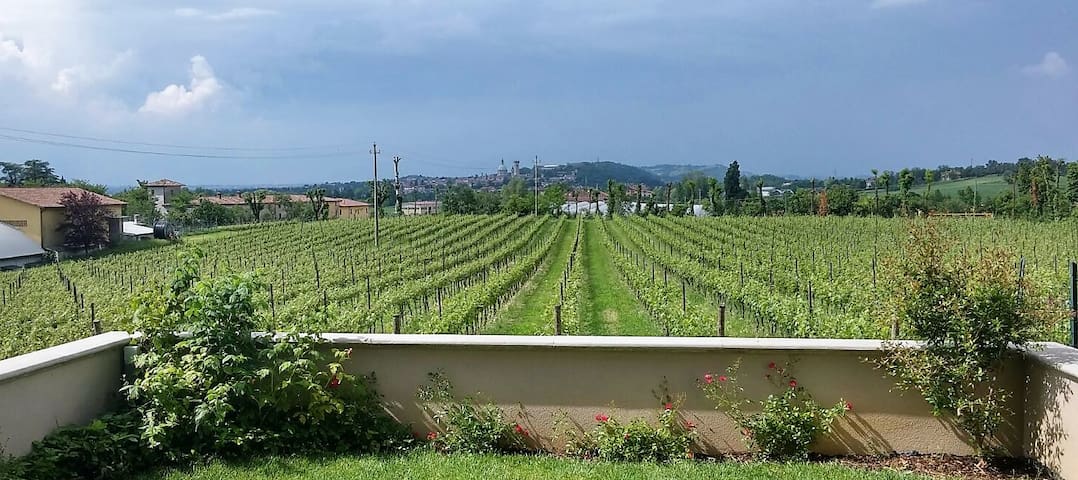 The private room is on the first floor of the house, there are place up to 3 beds, on request, individual., Or one double and one single. It has a private balcony for pleasant reading overlooking the inner courtyard in the total silence of the moraine hills. The room has a private bathroom where access is just front of the room itself. There is a shower and a washing machine. E 'can also enjoy the terrace of the house and the kitchen for breakfast
The accommodation is quiet because it is located in the countryside in the middle of the hills, but convenient to all services.
The village is located 4 km from the center of Lonato and the center of Desenzano del Garda, so it is recommended the car or motorcycle. There are two restaurants at a few meters. Council mountain bikes for wonderful excursions into the woods, there is also a little lake on the hill for great picnic with the family.
Achille is a good host! The house is extremely modern and very beautiful. Achille offered us a lot of space in the fridge and the freezer which was great! We met his 8 & 10 year old daughters - they are lovely too :) The location seems to be far out, but it's easy to reach a big shopping mall, the beach, coastal towns etc within minutes. I would highly recommend Achilles apartment - thank you :)
Isa
2016-08-13T00:00:00Z
Everything was perfect!
Eneken
2016-07-24T00:00:00Z
casa grandissima ed accogliente a due passi dal lago in ambiente rilassante. L'host? una persona fantastica e disponibile. grazie di tutto
luigi
2015-08-17T00:00:00Z
Siamo stati molto bene, Achille è una persona molto accogliente, ha come casa un gioiello immersa nel silenzio, comoda, pulita e spaziosa. Due bambine fantastiche. Ci ritorneremo con tanto piacere. GRAZIE DI TUTTO
fabio
2016-06-27T00:00:00Z
Casa molto accogliente e tenuta bene, tutti i servizi elencati in descrizione sono stati rispettati inoltre 10 punti per la possibilità di fare colazione. Giudizio generale molto buono.
Stefano
2015-08-24T00:00:00Z
Good value for money. I didn't meet Achille but he provided me with the necessary information how to come to his place. I will come back .
Andrea
2016-09-05T00:00:00Z
La casa de Achille fue bastante difícil de encontrar pero nos vino a buscar. Es una persona amable y simpática me ayudo a resolver un problema que tuve.
Marie-Cecile
2015-09-05T00:00:00Z
We enjoyed our stay at Achille's place. It was clean and quiet, just as promised. Achille himself was very kind. He even helped us find a mechanic when our car broke down. The only trouble we had was with cell reception at the house, which made it hard to contact Achille on our arrival. But as we later found out, it's enough to walk a few houses down the road and the reception gets better.
Kuba
2016-08-22T00:00:00Z
Tipe Kamar
Kamar pribadi
---
Tipe Properti
Rumah
---
Mengakomodasi
3
---
Kamar tidur
Lonato del Garda, Lombardia, Italia
A renewed "cascina" about 4 km from the lake and near Rocca di Lonato with malls, bus and rail station in 10 minutes walking. 3 bedrooms with panorama of lake and terrace facing the vineyard and Rocca of Lonato.
Hour villa is a renewed farm house on the top of a little hill with a beautiful panorama between Garda Lake and Rocca of Lonato. Garden with a little Vineyard and some olives. Only 4 km to the lake (water is clear and you can swim Garda lake during summer)
The old center of Lonato (Rocca, Basilica, Torre, Biblioteca Fondazione Ugo da Como) and Desenzano on the Lake
Ci siamo trovati bene per il soggiorno che abbiamo fatto e i proprietari sono stati molto disponibili e cortesi. Posto tranquillo.
Ilaria
2015-01-04T00:00:00Z
Wir verbrachten eine schöne Woche im Countryhouse. Das Haus ist sehr sauber und alles stand zur Verfügung. Die Gastgeber sind sehr freundlich und zuvorkommend. Die Unterkunft ist empfehlenswert uns hat es sehr gefallen.
Stefan
2016-07-18T00:00:00Z
Grazie a Sasa per la splendida casa che ci ha messo a disposizione, ottima per gruppi di amici o famiglie. Offre spazi interni ed esterni fantastici da vivere in pieno relax. La casa è situata in zona strategica per raggiungere le varie località del Garda. Grazie
Pier
2016-07-27T00:00:00Z
Wir hatten wunderschöne Tage im Countryhouse am Gardasee. Die Lage ist paradiesisch schön zwischen Weinstöcken, mehrere grosse Terrassen, viel Natur, Aussicht bis zum Gardasee und den westlichen Bergen. Keine Nachbarn im Umkreis von 500 m. Das Haus ist toll ländlich eingerichtet, zum Wohlfühlen. Uns hat es an nichts gemangelt und wir fanden es wunderschön dort zu sein. Eine große Empfehlung! Auch die Betreuung, die Kontakte waren sehr gut, alles ruhig, diskret aber informativ und vertrauensvoll. Vielen herzlichen Dank, dass wir kommen durften.
Hans-Christoph
2015-08-20T00:00:00Z
Tipe Kamar
Seluruh rumah/apartemen
---
Tipe Properti
Rumah
---
Mengakomodasi
6
---
Kamar tidur
Lonato del Garda, Lombardia, Italia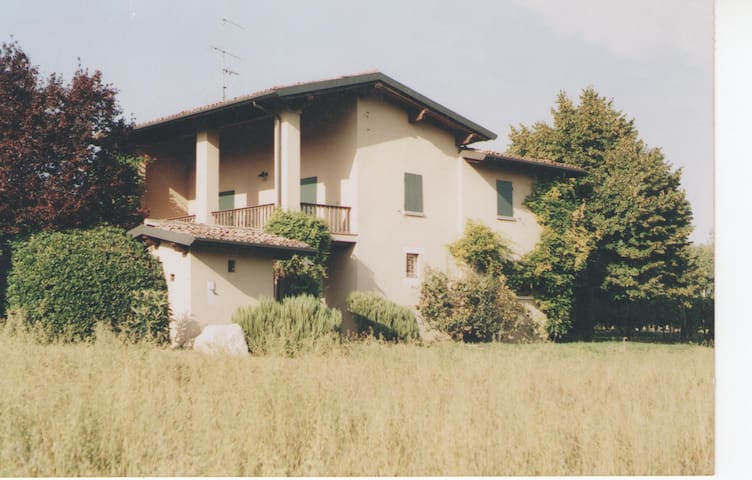 Charming studio apartment in farmhouse of the XVI century, near Desenzano del Garda. The house is located in the quiet countryside of the monastic abbey town of Maguzzano, just 5 minutes by car from Desenzano City Center.
The apartment is composed by a large room with a cooking space, one double bed and a sofa bed. The ceiling is made by the original vaults from the 16th century.
Our home is in the countryside, there are many fields around us. With a car, in few minutes you can get to Desenzano del Garda and Lonato. Also the highway (Milano-Venezia) and the tangential road (Brescia-Peschiera-Affi). Our neighbours are really enjoyable.
Paikka oli maaseudulla lähellä kaupunkia. Olimme karting-matkalla, sijainti rataan nähden oli loistava. Autolle oli ilmainen ja erittäin hyvä pysäköintipaikka. Marisa ja hänen miehensä olivat todella ystävällisiä ja vieraanvaraisia.
Sami
2016-12-11T00:00:00Z
Comunicazione ottima e veloce, check-in a notte inoltrata senza problemi. La casa è pulita e confortevole. La consiglio vivamente. A 5-10 minuti dalla stazione di Desenzano.
Giuliano
2016-12-18T00:00:00Z
Siamo stati benissimo nell'appartamento di Marisa. La casa è ben fornita: c'è tutto quello che serve. Comoda per 4 persone (2 adulti e 2 bimbi). Marisa e la sua famiglia sono persone squisite e disponibili. Abbiamo potuto sfruttare anche il giardinetto per fare colazione. La posizione è eccellente per chi ama la tranquillità ma anche la comodità di essere a 5 minuti di macchina da un centro come Desenzano. Torneremo sicuramente!
rosalba
2016-06-06T00:00:00Z
Мы впервые воспользовались таким видом проживания. Были приятно удивлены гостеприимными хозяевами. Очень радушно нас встретили. Было ощущение, что мы приехали к родным, которых давно не видели. Мариса и её супруг замечательные люди. Готовы всегда помочь если необходимо. Рекомендую побывать в этом тихом и уютном месте. Насладиться домашним уютом, заботой хозяевов, и свежим воздухом Италии! Спасибо за гостеприимство!
Елена
2016-04-15T00:00:00Z
De hartelijkheid en vriendelijkheid waarmee Marisa maar ook haar gezin mij ontving was zo intens. Je voelde je onmiddellijk thuis in hun omgeving. De mailcontacten waren ook erg direct en vlot. De omgeving van huis is een rustige,landelijke natuur,erg gewaardeerd na een drukke dag van verkenning van het Gardameer en zijn zovele stadjes,die zeer druk toeristisch zijn. Sirmione bv. is bijna niet meer aangenaam te bezoeken wegens te veel toeristen, te veel wagens, te veel platte commercie. En dan is het echt een verademing om in het huis van Marisa thuis te komen. Het heeft prachtige oude gemetselde gewelven. En is met alle comfort ingericht. De mogelijkheid om met een van hun fietsen de buurt te verkennen was voor mij echt een pluspunt.Een echte aanrader dus.
José
2016-09-19T00:00:00Z
This was the best Airbnb experience we had so far! The apartement is awesome, even better as you can see in the pictures. There is a small corridor, a bathroom with a shower, a bidet and bathtub and the sleeping and livingroom with a tiny kitchenette. We were welcomed by fresh fruits on the desk. The whole apartment was very clean. Marisa provided us with towels and a hairdryer. Furthermore you have access to the garden where you will be welcomed by Bella, their wonderful dog. Bella is such a nice, cuddly and lovely dog who didn't want to let you go once you started to stroke her. However much better than the apartment itself were Marisa and Galdino. They were so friendly and caring, just the perfect hosts! We felt so comfortable during our whole stay, just like at home. They gave us numerous tips and also allowed us to use their bikes. We had a rental car and could therefore explore the environment easily. The gardalake and the surrounding nature is beautiful and unique. You can also reach Desenzano by bike without difficulty in 15 minutes (back to the apartment a little bit longer as you have to cycle uphill). We can highly recommend this apartment to everyone. Marisa and Galdino, thank you so much for this special experience. We are looking forward to visit you again in the future :)! Das war die beste Airbnb Erfahrung, die wir bisher gemacht haben! Die Unterkunft ist toll, noch viel besser als wie man es auf den Bildern erkennen kann. Es gibt einen kleinen Flur, ein Bad mit Dusche, Bidet und Badewanne und den Schlaf- und Wohnraum mit einer kleinen Küchenzeile. Auf dem Tisch begrüßte uns frisches Obst. Die ganze Wohnung war sehr sauber. Handtücher und Fön hat uns Marisa ebenfalls zur Verfügung gestellt. Außerdem hat man Zugang zum Garten und wird dort jedesmal voller Freude von der Hündin Bella begrüßt. Sie ist eine ganz verschmuste und liebe Hündin, die einen jedes Mal am liebsten nicht mehr gehen lassen wollte :). Viel besser als die Unterkunft selber waren allerdings Marisa und Galdino. Sie waren so freundlich und fürsorglich, einfach die perfekten Gastgeber! Wir haben uns so wohl gefühlt, als ob wir Zuhause wären. Sie haben uns zahlreiche Tipps gegeben und uns auch ihre Fahrräder zur Verfügung gestellt. Wir hatten einen Mietwagen und konnten so ganz entspannt die gesamte Umgebung erkunden. Die Umgebung ist mit ihrer wunderbaren Natur und dem schönen Gardasee einmalig. Desenzano ist aber auch ohne Auto problemlos mit Fahrrad in ca. 10-20 Minuten (zurück zu etwas länger da bergauf) zu erreichen. Wir können die Unterkunft wirklich jedem wärmstens weiterempfehlen. Marisa und Galdino, vielen Dank für diese einzigartige Unterkunft und Zeit, wir freuen uns schon euch in der Zukunft wieder zu besuchen :)!
Sarah
2016-08-27T00:00:00Z
Wonderful house with best hosts ever!!! The house is situated in a very good picturesque place, which is very well located for visiting Verona, Brescia, Bergamo, Mantua and of course Garda Lake. The house itself is even better then on the pictures! Everything is new, clean, very-very cosy and comfortable. Marisa and her husband are wonderful soulful people, ready to help and advise! It was a real pleasure to stay with them! And we absolutely fell in love with their puppy dog Bella! Strongly recommend this house and looking forward to coming back!
Tanya
2016-05-15T00:00:00Z
The appartment was very clean and nice. Also the hostfamily was friendly and did the best that we felt really comfortable and welcome! We had a wonderful time and Marisa and her family was always available when we needed anything. We really recommend this appartment for anyone who wants to have a great time in a quiet area close by Desenzano city and the beautiful lake Garda! :-)
Janina
2016-07-18T00:00:00Z
Tipe Kamar
Seluruh rumah/apartemen
---
Tipe Properti
Rumah
---
Mengakomodasi
4
---
Kamar tidur
Desenzano del Garda, Lombardia, Italia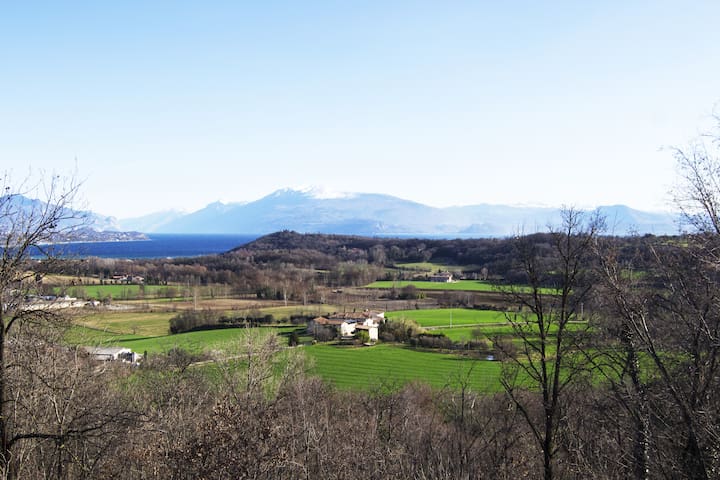 Panna & Fragola è un delizioso quadrilocale da poco ristrutturato nel cuore di Rivoltella del Garda. La casa è disposta su due livelli. Al piano terra il soggiorno e una cucina a vista attrezzata; al primo piano due camere confortevoli e un piccolo bagno con doccia.
La casa di 70mq ristrutturata nell'agosto 2015 e' calda e confortevole, nei toni del bianco e del rosso. È' molto luminosa, grazie all'esposizione diretta al sole ma allo stesso tempo è fresca. All'arrivo vi accoglierà un salottino e la cucina a vista attrezzata, invece al piano superiore potrete usufruire di due comode camere e un piccolo bagno. Grazie alle due camere può ospitare comodamente 4 persone.PREZZO COMPRENSIVO DI BIANCHERIA. The house is 70mq, restored in august 2015, is confortable and it is Red and white. It is bright!! The house is two floors: ground floor there are living room and kitchen and in the first floor there are two bedrooms and one small bathroom. The prize inclusive towels for each people.
Il quartiere è tranquillo. La casa si trova a pochi passi dal centro e a 150 m dalla spiaggia. Inoltre nel centro del paese si possono trovare banche, ristoranti, pub, negozi, supermercati, posta,ecc. The zone is quiet. Near the house there are the center of Rivoltella and 150 m to beach. Also in the center of Rivoltella there apre bank, restaurant, shop, supermarket, ecc..
Alice is the best host we have ever met. Helped us with a nice house with historic atmosphere and many recommendations what we must to visit. Wish to visit the house again. Thanks Alice!
Ruslan
2015-10-19T00:00:00Z
That's a nice house , with a nice alice , we are enjoy in you house !
Jamie
2015-10-13T00:00:00Z
Alice is a perfect host!!! Apartment is very beautiful and clean. The apartment is located near beach and restaurants. Near is bus stop. Ideal for family's. Perfetto:)! Alice jest doskonałym gospodarzem, zawsze służy pomocą, pomaga w zakwaterowaniu nawet w środku nocy. Doskonały kontakt sms. Mieszkanie zgodne z opisem, dwie wygodne sypialnie, na piętrze, na parterze salon z kuchnią. Sprzęt kuchenny nowy, wszystko sprawne. Lokalizacja bardzo dobra, do plaży 5 minut spacerem, w pobliżu kilka miejsc z jedzeniem. Blisko mieszkania jest supermarket Conad i Penny, trochę dalej Simply (do wszystkich można spokojnie dojść na piechotę). Bardzo dobra baza wypadowa do zwiedzania i wypoczynku.
Piotr
2016-07-15T00:00:00Z
l'appartamento di Alice è molto grazioso, pratico e funzionale. Un ottima base per esplorare il lago (desenzano e sirmione) e per raggiungere senza problemi gardaland! L'appartamento è Fedele alle fotografie, pulito e comodo. Alice è stata molto disponibile e simpatica. Assolutamente da consigliare
Federica
2016-07-02T00:00:00Z
Alice was an amazing host! Easy to communicate with prior to arrival and during our stay for any questions she was quick to respond when we had a slight problem with our water on the last day! Alice picked us up from the train station and was flexible with arranging a time for this which was so helpful. The house itself is lovely, very spacious and everything you need is there. Supermarket five minutes walk and a couple of minutes to bars and places to eat as well as the main promenade. Everything is easily reachable from the house. Thank you so much Alice for a great air B and B experience, we hope to meet again and revisit the area some more :)
Caroline
2016-04-27T00:00:00Z
Alice is a wonderful hostess! She waited for us for an extra two hours when we put the wrong address in the sat nav!! She was very accommodating to us with many helpful recommendations for activities always with an immediate reply. Rivoltella is a great base for exploring the area. I loved Sirmione, the cobbled streets, the castle, the spa. A scenic drive to Lake Garda is only 45 minutes. And we also drove to Venice for the day (1.5 hours). The house itself is very sweet and delicately decorated. It has a modernised feel and equipped well for a very comfortable stay. The shower is small, no washing machine or dishwasher but excellent value for this area. The local shops in the town are very sweet and restaurants looked nice. Alice kindly added wifi the day we arrived too which really helped us for planning our holiday. Gracie Mille Alice!
Mala
2015-10-31T00:00:00Z
Très bon accueil, petite maison très sympa, quartier typique, à 2 pas du lac.
Laetitia
2016-08-16T00:00:00Z
Alice , la proprietaria, è una persona davvero gentile e molto disponibile. La posizione è perfetta.( zona molto tranquilla ) La casa è vicina a tutto , negozi , ristoranti e al lago , e in più è vicina ad un parcheggio grande e (URL HIDDEN) casa è particolare , però è accogliente e pulita ed è perfetta per 4 persone.
Lanita
2017-01-02T00:00:00Z
Tipe Kamar
Seluruh rumah/apartemen
---
Tipe Properti
Rumah
---
Mengakomodasi
4
---
Kamar tidur
Desenzano del Garda , Brescia, Italia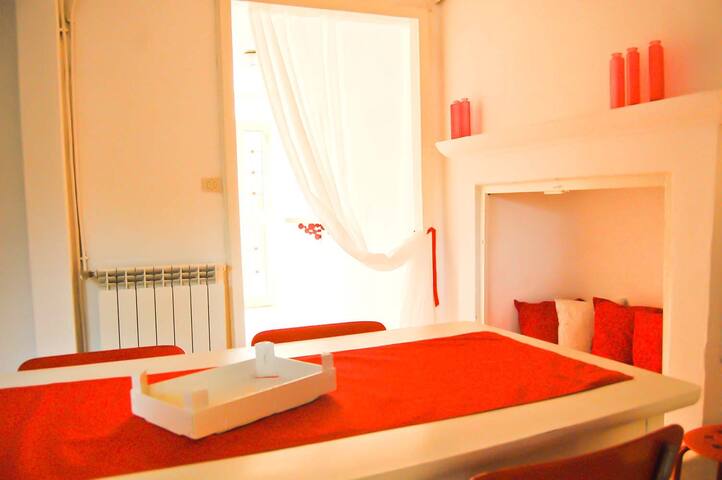 Graziosa villetta anni '60 recentemente ristrutturata, con 2 camere matrimoniali, 1 bagno, 1 salotto, 1 cucina accessoriata, piccolo disimpegno. Terrazzo con affaccio sul giardino, ingresso indipendente, posto auto recintato.
A richiesta, a pagamento, si può provvedere a far trovare la spesa al vostro arrivo.
Der Urlaub bei Loredana war wunderschön. Die Unterkunft kann man nur weiterempfehlen. Sie liegt in einer super-ruhigen Seitenstraße, von der man aber auch in 5 Minuten zu Fuß im Zentrum von Rivoltella ist, heißt Bäcker, Metzger und Supermarkt sehr gut zu Fuß zu erreichen. Zum Strand sind es 5 Gehminuten und nach Desenzano Zentrum kann man gemütlich in ca 30 Minuten am Strand entlangschlendern. Loredana ist sehr sehr nett, sie war für uns immer erreichbar ( wenn Sie nicht zu Hause war, per Handy ), hat alle Fragen sofort beantwortet und uns immer mit Tips bei Ausflügen unterstützt. Die Unterkunft ist zwar nicht neu, aber sehr geschmackvoll eingerichtet. Und sehr sauber. Wir waren zu viert (unsere Töchter sind 15 und 17 Jahre alt) und hatten ausreichend Platz, die Küche ist auch entsprechend bestückt, dass man gut kochen kann. Wir mussten auch die Heizung ausprobieren ( da es nachts kalt war ) und sie hat super funktionert. Die Park-Situation ist aufgrund der schmalen Seitenstraße etwas gewöhnungsbedürftig, aber wir konnten mit unserem Mercedes- Vito-Bus gut im Grundstück parken. Der öffentliche Parkplatz ist ca 100m weg, kostenfrei und man findet dort eigentlich immer einen Stellplatz, wenn man nicht rangieren will. Kurzum wir können die Unterkunft nur weiterempfehlen, sowohl aus Haus, wie Loredana, wie die Lage... alles perfekt
Nicole
2016-05-24T00:00:00Z
Very nice and quiet place! Apartment is clean,spacious with everything you need to spend Your Holiday. Loredana was really good host,comunication was exellent.She was availabale all the time for any information and help. Definititely,recommendation for all future guests!
josko
2015-10-04T00:00:00Z
Loredana is a very lovely lady. She and her friend made us feel welcome. Loredana has a beautifull appartement, we had a very good time here..
Francis
2015-07-15T00:00:00Z
Het verblijf bij Loredana was perfect. Het was een leuk appartement en alles was mooi en schoon. Zeker een aanrader!
Bertien
2016-09-20T00:00:00Z
Unser Aufenthalt in Loredana's Haus war wunderbar. In einer ruhigen Wohngegend zwischen Desenzano und Sirmione gelegen, wurden wir herzlich im Appartement empfangen. Grundstück sehr gepflegt. Die Einrichtung der Räume fanden wir grandios und stilvoll. Betten waren sehr bequem, Jalousine halfen die Zimmer auch für die Kinder richtig abzudunkeln. Heizung funktioniert, WLAN super. Ausstattung perfekt, alles da. Für Fragen stand uns Lory's Freundin Miriam immer sofort mit Empfehlungen zur Seite, während Lory arbeiten war. Fußläufig in Zentrum von Desenzano (30min) und an den Gardasee (10min). Würden wir jederzeit weiterempfehlen, auch für Familien.
Liane
2016-04-29T00:00:00Z
Very nice and cosy house!!! There are everything you need. Loredana is very hospitable ! We really enjoyed staying at this place!!!
Ekaterina
2016-01-08T00:00:00Z
Loredana was very hospitable, and the house was beautiful. It is the best variant for visiting Lago di Garda!
Alex
2016-09-24T00:00:00Z
Loredana war bei unserer Ankunft leider nicht anwesend, da Sie noch arbeiten musste, aber Sie sorgte dafür, dass wir sehr freundlich empfangen wurden. Sie versäumte es aber nicht uns noch einmal persönlich zu begrüßen und brachte uns sogar einige Tomaten aus Ihrem Garten. Das eigene Auto kann man im Hof hinter einem Tor sicher abstellen. Das Haus sieht von innen wie von außen gepflegt aus und die Zimmer waren sehr hübsch eingerichtet. Das WiFi reichte im Wohnzimmer auch, um abends mal eine Folge der Lieblingsserie zu schauen. Desenzano ist ein guter Ausgangspunkt für Ausflüge aller Art. Flyer für einige der Sehenswürdigkeiten und Attraktionen der Umgebung, liegen sogar im Wohnzimmer aus. Den Strand und einen Supermarkt erreicht man Fußläufig in max. 10 Minuten.
Oskar
2015-08-27T00:00:00Z
Tipe Kamar
Seluruh rumah/apartemen
---
Tipe Properti
Rumah
---
Mengakomodasi
4
---
Kamar tidur
Desenzano del Garda, Lombardia, Italia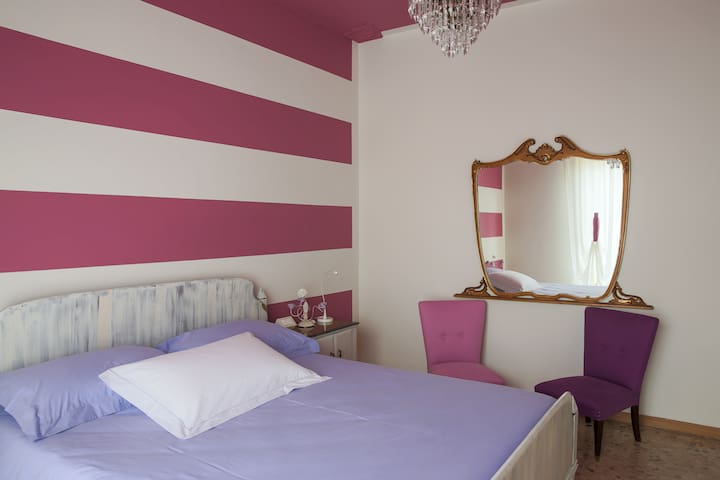 "The Dream Apt." Modern Penthouse located in an elegant and tranquil setting just a short walk from the lake and from all services. Apartment with three bedrooms, a bathroom, and internal living room with loggia.
"The Dream Apt." is located in an old renovated farmhouse in a residential setting within walking distance of all the amenities the area has to offer. The apartment is equipped with various comforts: 3 LCD TV, Air conditioning, coffee machine, water kettle, hairdryer. The living area is characterized by a sliding door that allows you to enjoy the open floor plan with the kitchen. Both overlook the charming and characteristic loggia ideal for tasting the wines of the Garda. Complete the apartment, two double bedrooms with LCD TV and a single room. The bathroom has designer furniture. bath tub and large shower. The furnishings characterize the atmosphere of The Dream Apt. It's admitted the use of swimming pool.
Very quiet area, strategically located a few meters from RIVOLTELLA ring road, 5 km from Sirmione, 3 km from Desenzano and beaches within easy reach. The area also offers more services: Bar Tobacconist, Pastry, Pizzeria Take Away, Post, Super Market, Tobacco 24 h. At 40 Km there is the Magic Verona of Romeo and Juliet, A 120 Km we have the Only Venice and La Scala Fashion Di Milano.
CI SI SENTE SUBITO A CASA! Abbiamo trascorso in 2 uno splendido weekend presso The Dream Apt. L'appartamento è stupendo, dotato di tutti i comfort necessari (forse anche di più)! Lo consiglio a chi è alla ricerca di tranquillità o semplicente a chi vuole evadere dalla propria routine sentendo comunque il calore di casa. Complice anche Paolo: un super host! Una persona davvero disponibile oltre che dinamica e molto carismatica! L'appartamento è situato in una posizione comoda e strategica per raggiungere sia Desenzano che Sirmione (entrambe a 10 minuti in macchina dall'alloggio). Torneremo sicuramente!
Maria
2017-04-02T00:00:00Z
paolo was very very nice. he help me to find the foods. he take us to our client office. very helpful . thanks paolo. the house is also very very nice.
学诚 rey
2017-03-21T00:00:00Z
Paolo è un host davvero gentile e attento alle esigenze dei suoi ospiti; ci ha fornito informazioni dettagliate su dove poter trascorrere una serata davvero piacevole. L'appartamento è meraviglioso: pulito e ben curato nei minimi dettagli; facilissimo da raggiungere e ben collegato a tutte le vie principali e all'autostrada. Splendida la loggia esterna, dove ci siamo rilassati con un buon bicchiere di vino locale. L'appartamento è veramente bello come appare nelle foto: finemente arredato, ampi spazi e camere comodissime; per non parlare dello splendido bagno. Ambiente molto accogliente e raffinato; rapporto qualità prezzo decisamente ottimo. In tutto l'appartamento si respira una piacevolissima atmosfera etnico-moderna, risultato dei numerosi viaggi fatti dal proprietario. Non si può andare sul lago di Garda e non fermarsi a dormire da Paolo. Torneremo sicuramente, ancora complimenti.
Alessandra
2017-01-22T00:00:00Z
Paolos Apartment ist wirklich ein Traumappartment. Geschmackvoll und exklusiv, schön dekoriert, er hat an alles gedacht! Pläne von der Umgebung, eine Mappe mehrsprachig mit wichtigen Einzelheiten... Die Bushaltestelle zum Bahnhof befindet sich gleich in der Nähe... Es hat alles wunderbar gepasst. Ein großes Dankeschön an Paolo! Super Preis-Leistungsverhältnis!!
Andrea
2017-04-07T00:00:00Z
ottimo appartamento con mille confort da vivere con rispetto per il grande lavoro che Paolo svolge per rendere il soggiorno piu' che confortevole. consigliato
marco
2017-03-27T00:00:00Z
L'appartamento è molto bello e confortevole, con ottimi arredamenti e curato nei minimi dettagli, molto pulito e ordinato. La gentilezza e la disponibilità di Paolo rendono il soggiorno davvero speciale. Introvabile una soluzione con queste caratteristiche con un prezzo così. Veramente consigliatissimo. Ritorneremo sicuramente quanto prima. The apartment is very amazing and comfortable, with good furniture and nice in details, very clean and tidy. The friendliness and availability of Paolo makes the stay special. It is not easy to find out a solution same as this one according to this rate. Really highly recommended. We will certainly return as soon as possible.
Lorenzo
2017-01-29T00:00:00Z
The DREAM apt.. Un titolo corrispondente a ciò che si è vissuto! Appartamento bellissimo, spazi ampi, ben arredato, pulitissimo e confortevole. Paolo é stato un Host impeccabile gentile e sempre disponibile. Le sue informazioni sono state preziose per rendere ancora più piacevole il soggiorno. Consiglio vivamente di soggiornare da Paolo.
Cesare
2017-03-17T00:00:00Z
Paolo was a great host to us! He kept asking if we were doing fine and had a lot of tipps and suggestions for our stay. We were really happy staying at his place. The flat was bigger than we expected and perfectly clean! Absolutely modern and made all of us feel really warm and kind of home. It was a great experience and a really nice stay. We will come back next time we're in the area.
Niklas
2017-03-11T00:00:00Z
Tipe Kamar
Seluruh rumah/apartemen
---
Tipe Properti
Rumah
---
Mengakomodasi
5
---
Kamar tidur
Desenzano del Garda, Lombardia, Italia
Garden è un bellissimo appartamento situato in un'ala indipendente della casa . Chi ha soggiornato qui ha goduto di una tranquillità e privacy impagabili , con la certezza di avere noi proprietari a disposizione per qualsiasi evenienza. La vetrata nella zona giorno si affaccia sul verde giardino!
L'appartamento "Garden" e' molto particolare, funzionale, perfetto come punto di partenza per le numerose attrazioni che il Lago di Garda offre in ogni stagione dell'anno . Circondato dal verde , con accesso privato , parcheggio custodito all'interno della proprietà , Ping pong , zone relax in giardino , wi-fi , televisione . A piano terra abbiamo una cucina/soggiorno con angolo cottura (frigorifero, forno ) il bagno. Al piano superiore una grande stanza con letto matrimoniale , letto ospite e spazio per eventuale lettino ( non fornito) o altra brandina ! Completa l'ambiente un terrazzino coperto con tavolino e sedie . The "Garden" apartment 'very special, functional, perfect as a starting point for the many attractions that Lake Garda offers all year round. Surrounded by greenery, with private access, secure parking inside the property, Table tennis, relaxation areas in the garden, wi-fi, television. On the ground floor there is a kitchen / living room with kitchenette (fridge, oven) bathroom. Upstairs a large room with double bed, guest bed and space for possible cot (not supplied) or another camp bed! Full environment a covered terrace with table and chairs.
Casa Marzia e' a Rivoltella , una frazione di Desenzano del Garda , esattamente a metà strada tra quest'ultimo e la bellissima Sirmione , raggiungibili entrambi a piedi . A poca distanza 800metri / 1 km si raggiunge comodamente il porto di Rivoltella , completamente rinnovato con area lettini, bar, ristoranti, pizzerie. Vicinissimo a casa troviamo un piccolo centro con pasticceria ( brioches da sogno ) pizzeria d'asporto , ottica e altri utili negozi , supermercati , ipermercati è un grande centro commerciale Il Leone . Ogni tipo di sport può essere praticato grazie alla presenza sul territorio di una grande piscina comunale, tiro con l'arco davanti a casa, numerosi campi da golf di eccezionale bellezza, campi da tennis , beach volley, surf , noleggio barche , noleggio bici . Sarà comunque nostra premura dotare l'appartamento di brochure , locandine e aggiornamenti sulle manifestazioni della zona Casa Marzia e' una bella casa di campagna con moltissime piante e cespugli fioriti, una zona per pranzare all'esterno, un Ping pong e soprattutto un enorme piazzale privato che può accogliere le auto o le moto degli ospiti ! È' separata dalla strada da grandi cancelli , reti e siepi , adatta perciò anche a famiglie con bambini che possono giocare in tranquillità . Per facilitare l'accesso alla strada (un po' trafficata essendo una delle strade che portano al lago ) abbiamo installato uno specchio parabolico , aumentandone la sicurezza.. La zona considerata residenziale è molto verde Casa Marzia e' una bella casa di campagna dal fascino di una country house . Ricca di piante e cespugli fioriti, una zona per pranzare all'esterno, un Ping pong e soprattutto un enorme piazzale privato che può accogliere le auto o le moto degli ospiti ! È' separata dalla strada da grandi cancelli , reti e siepi , adatta perciò anche a famiglie con bambini che possono giocare in tranquillità . Per facilitare l'accesso alla strada (un po' trafficata essendo una delle strade che portano al lago ) abbiamo installato uno specchio parabolico , aumentandone la sicurezza.. La zona è' considerata residenziale , è' molto verde e ben servita .. Casa Marzia is a beautiful house by the charm of country House. Rich of many plants and flowering bushes, an area for dining outside, a ping pong table and above all a huge private yard that can accommodate cars and motorcycles of the guests! It is' separated from the street by large gates, networks and hedges, therefore also suitable for families with children who can play safely. To facilitate access to the road (a bit 'busy being one of the streets leading to the lake) we installed a parabolic mirror, increasing security .. The area is' considered residential, is' very green and well served .. Casa Marzia 'in Rivoltella, a fraction of Desenzano del Garda, exactly halfway between the latter and the beautiful Sirmione, both reachable on foot. A short distance 800 meters / 1 km you will easily reach the port of Rivoltella, completely renovated area with loungers, bars, restaurants, pizzerias. Very close to the house there is a small center with pastry (croissants dream) pizza take-away, optical and other useful shops, supermarkets, hypermarkets is a large shopping center Il Leone. All kinds of sports can be practiced thanks to the presence on the territory of a large communal pool, archery in front of the house, numerous golf exceptionally beautiful golf course, tennis courts, beach volleyball, surfing, boat rentals, bike rentals. It will still be our pleasure to equip the apartment brochure, posters and updates on local events
We had the most amazing time with Marzia and Stefano! The appartment is great, with a very comfortable bed, a nice balcony and a great kitchen with big windows that make you feel like your outside. However, the best part was definitely Marzia and Stefano! They were incredible hosts, helping us out with everything, making us coffee and inviting us to their family dinner. We really felt like we were part of the family, an amazing experience. We highly recommend this place :)
Larissa
2016-06-28T00:00:00Z
Marzia e Stefano are a charming and caring couple, who do their best to make you feel at home from the first moment. They offer a very clean apartment, with a really spacious bedroom and spotless snow white towels and blankets. We were happy to find good mattresses. We appreciated the freezer, Bialetti espresso maker, coffee powder, cooking oil and microwave in the kitchen, and had some nice breakfasts outside in the morning sun. All cooking pots and frying pans were brand new. We came by car, and our car was parked in the garden, near our apartment, at no charge, which made unloading comfortable. My dog was happy to go for a walk with the owners' dog regularly in the morning, a good occasion for me to practice my Italian, a free espresso near the lake was offered to me every walk again!! The garden has a fence everywhere, so dogs can sniff around safely. The central location of the house enabled us to visit Sirmione, Verona, Venice, Milan, Gardaland. The motorway is nearby.
Leen
2016-07-27T00:00:00Z
Marzia und Stefano sind sehr herzliche und nette Gastgeber, Auf jede Nachricht wurde sofort reagiert und die Schlüsselübergabe verlief reibungslos, wir wurden sofort auf einen gemütlichen Kaffee und ein Willkommens Bier eingeladen. Die Wohnung ist sehr schön und geschmackvoll eingerichtet so das man sich gleich wie zu Hause fühlte. Super gerne wieder! Marzia and Stefano are a very nice and heartily hosts for example a Welcoming-beer was waiting and we had nice talks together ;-) In case of questions they responed very quickly and were very flexible and welcoming. Their apartment was very nice and cozy it made me feel like home. Thank you again for making the short stay so great! :)
Till
2016-09-30T00:00:00Z
Marzia und Stefano sind wundervolle Gastgeber. Wir wurden herzlich empfangen und mit vielen hilfreichen Informationen versorgt. Beide waren hatten immer Zeit für einen Plausch bei Cola oder Bier und stehen auch mit Rat und Tat zur Seite. Stefano war auch mit den Jungs beim Angeln. Die Unterkunft ist gemütlich und ausreichend eingerichtet. Der Garten ist toll und man kann herlich draußen frühstücken. Nur die Straße stört etwas, da die Autos nicht immer in angemessener Geschwindigkeit vorbei fahren. Das macht auch das Überqueren sportlich, da der Gehweg nur auf der gegenüber liegenden Seite vorhanden ist. Toll ist die Lage... das Zentrum, ein Supermarkt und der Gardasee sind fußläufig in kurzer Zeit erreichbar. Schön war auch der Besuch von Nutella... dem Hund von Marzias Sohn. Der kleine Wirbelwind war lustig. Danke Marzia und Stefano für den tollen Urlaub.
Tani
2016-08-14T00:00:00Z
Una casa deliziosa e accogliente; il nostro cane Otto ha gradito molto il giardino. in pochi minuti si arriva in centro paese e sulla locale spiaggia del lago. la cosa migliore dei giorni trascorsi qui è stata la gentilezza e la disponibilità di Marzia e Stefano. Grazie anche per i consigli sui posti da visitare. Speriamo di tornare presto per qualche giorno di relax sul lago....
Francesco e Livia
2016-08-26T00:00:00Z
Marzia and her Husband were very kind hosts. They helped our arrival on Many ways they can. The apartment is tidy, comfortable and good located. The lake side is near, and there is also a lot of possibilties to have a good launch or dinner. No one should miss Gardaland what is around 15kms from Desenzano. All in all we highly remommend this accomodation.
Petra
2016-07-30T00:00:00Z
Tipe Kamar
Seluruh rumah/apartemen
---
Tipe Properti
Rumah
---
Mengakomodasi
3
---
Kamar tidur
Desenzano del Garda, Lombardia, Italia
Luminoso appartamento a due piani, ideale per chi ama un ambiente essenziale e contemporaneo. Al piano terra, soggiorno open space con ampio divano letto e cucina, al piano di sopra una camera matrimoniale. 2 bagni Immerso nel verde, contesto tranquillo e silenzioso.
Upstairs, a master bedroom with a bathroom (shower box with radio and light inside. Double Sink). Bright room with large windows and a balcony that overlooks the garden where smoking is allowed Ground floor openspace living area with comfortable sofa that becomes a double bed, kitchen, utility room and the second small bathroom. The kitchen is complete with everything you need, including oven and microwave, fridge freezer, dishwasher, alarm- moka coffee maker, griddle / grill. Outside, a huge private park, with a gazebo for outdoor dining.
Tipe Kamar
Seluruh rumah/apartemen
---
Tipe Properti
Rumah
---
Mengakomodasi
4
---
Kamar tidur
Desenzano del Garda, Lombardia, Italia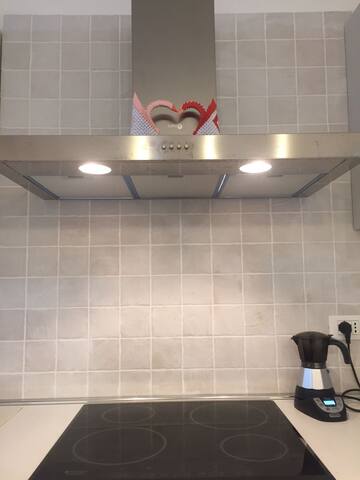 My delightful Garda Cottage is waiting for you! It offers three airy bedrooms, two spacious bathrooms with showers, a fully-equipped kitchen with a comfortable dining table, a private garden in front of the house and a lovely terrace well equipped.
My delightful Garda Cottage is waiting for you! It offers three airy bedrooms, two spacious bathrooms with showers, a fully-equipped kitchen with a comfortable dining table, a private garden in front of the house and a lovely terrace well equipped.
Distance from: - Desenzano: 10min by foot; - Sirmione: 10min by car; - Salò: 45min by car;
Nous avons eu un séjour très sympa. La maison est très belle, bien située et très propre. Stefano nous a très bien accueillis et nous a donné des informations très utiles pour notre séjour.
Nathalie
2016-08-15T00:00:00Z
lovely holiday home, a lot of space on the ground floor. the kitchen has everything you need. beautiful garden. no problems with parking, 5 min walk shop. Stefano always in touch and helped us with any questions !!! happy to stop at Stefano again !!
Denis
2016-05-16T00:00:00Z
The property was as shown in the photos it has everything it says it has, Stefano is an excellent host if we needed any information he provided it. I would definitely recommend to friends and family. It was our first trip to Italy and staying in such a well presented and clean property made our holiday very enjoyable, we were able to visit all the places we wanted knowing we had somewhere comfortable and relaxing to come back to. It was truly a wonderful experience.
SUE
2016-07-28T00:00:00Z
Stefano is a really nice guy, who tried to arrange everything for us to have a perfect stay. He was accessible all the time, when we had a question or needed advice. His house is just great. Very clean, comfortable beds, and the whole furnishing is selected very well. Moreover the well kept garden and the terrace is perfect to hang around and relax. The highlight of course is the big rooftop, where you can roast in the sun ;). The lake is around the corner and the nice city Desenzano is reached in 15 minutes by foot. This house exceeded all our expectations and we had a great stay. Big thanks to Stefano!
Korbinian
2015-07-27T00:00:00Z
Die Absprachen beim Erhalten und bei der Abgabe des Hausschlüssels waren absolut unkompliziert. Stefano war dabei zeitlich sehr flexibel. Die Unterkunft entsprach genau unseren Erwartungen. Wir konnten uns auf die Bilder und die Bewertungen unserer Vormieter ganz verlassen. In der Summe ein sehr schönes Haus, das wir ohne Bedenken weiter empfehlen können.
Andrea
2015-09-14T00:00:00Z
Accoglienza molto amichevole e disponibile, la casa si trova in un quartiere residenziale molto tranquillo dotazioni e descrizione dell'immobile corrispondenti alla descrizione
Walter
2016-01-02T00:00:00Z
Fantastic, nice, clean and comfortable house. It's almost new and has everything you can possibly need for a family with kids. There's a free parking right next to the house. The nearest supermarket is only 300-500m away. Unfortunately July 2015 was too hot and we had to spend all the time inside the house with aircons on, so we couldn't really enjoy the wonderful roof terrace and the front and back gardens. But our daughter was absolutely thrilled with the little pond with fish in the back garden. Stefano is very helpful: whenever we needed anything he was there within just 5 minutes. I highly recommend this house to all who's looking for a place to stay in Desenzano Del Garda. We spent a wonderful weekend in Garada and our children were really excited to visit Gardaland.
Inna
2015-08-11T00:00:00Z
Stefano is a perfect host with a beautiful house. The house is very cosy and clean with comfortable beds and even air conditioning. I highly recommend to spend anyone to spend their holiday here and hope to come back here in the future!
Leonid
2015-07-14T00:00:00Z
Tipe Kamar
Seluruh rumah/apartemen
---
Tipe Properti
Rumah
---
Mengakomodasi
6
---
Kamar tidur
Desenzano del Garda, Lombardia, Italia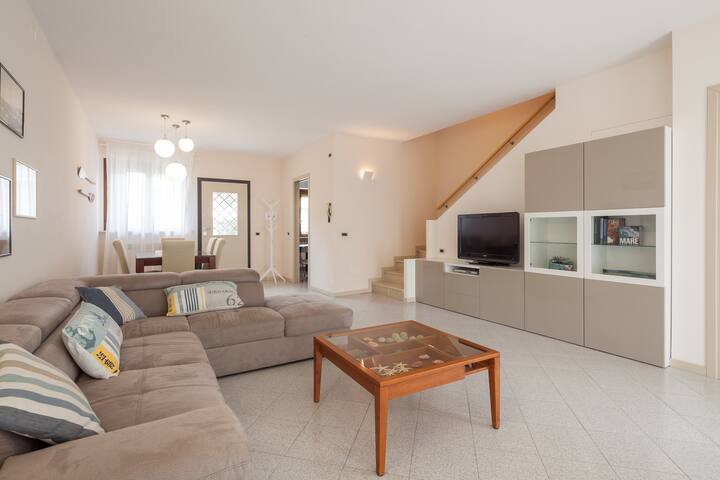 You will feel at home in our house of 110 smt, full of light, wood everywhere. 350 from the lake. Very quiet house in an old halley, can accomodate till 5 people, in the historical center. Covered parking in price. Bikes. Easy to reach every place.
You can have quiet time in our house, in the morning only church's bells can wake you up. You can drink a coffee on the little balcony facing on the lake. You will see Sirmione and all roofs of the old center in front of you. Peaceful atmosphere in the old town.
Center is full of life, you can have most shops, bars, restaurants everywhere. And history is everywhere, old roofs, old streets. Take a photo!
Wir waren zu zweit drei Tage bei Monica zu Gast. Das Haus ist wunscherschön, die Lage einmalig, mitten in der Altstadt. Sowohl die Beschreibung der Zimmer, wie auch die Bilder entsprechen 100% der Realität. Monica selbst war sehr nett, hilfsbereit und großzügig. Wir konnten unser Auto auf ihrem Stellplatz parken und Fahrräder benutzen. Insgesamt waren wir sehr zufrieden, haben uns die ganze Zeit sehr wohl gefühlt und empfehlen die Unterkunft uneingeschränkt weiter. We spent three days with Monica. She is a lovely person, her house is a little germ in the middle of Desenzano. Everything was perfect, we can highly recommend this house and host.
Daniel
2016-04-17T00:00:00Z
Genial !!!! Fantastico !!!! Totalmente recomendable !!!!!
Sandra
2016-09-08T00:00:00Z
We had a great holiday at Desenzano thanks to the very nice place. Monica was a very kind host. She was very flexible regarding check-in and check-out times and had great tips where to find a nice restaurant or a good aperitivo place in town. She always offered her help in case we needed anything. The house is perfectly located close to the old castle, only 5 minutes by foot to the lake. It is very spacious and has a beautiful view on the lake and the distant Sirmione peninsula. The house has a nice interior and everything was clean and tidy. Thanks again Monica for making our holiday such a great time.
Thomas
2015-09-19T00:00:00Z
Monica è stata un host accogliente, puntuale, precisa e premurosa. L'appartamento , ordinato e pulito, si trova in una posizione ideale, vicino al centro e con un comodo parcheggio (fondamentale per le nostre esigenze di famiglia con tre bambini piccoli ), ottimo punto di partenza per visitare le località in riva al lago. Non potevamo trovare di meglio. Grazie, Giacomo, Maria Elena, Tommaso, Bianca, Eleonora
giacomo
2016-04-26T00:00:00Z
Fabulous host, fabulous location, fabulous accommodation. Exactly as described, perfect for our family holiday.
Lucy
2016-08-04T00:00:00Z
Everything was so good! Monica really made our holiday adorable. We really appreaciated all details what Monica prepared for us! She was always ready to help and advice us about everything. Monica gracias again ;) The house is beatiful and we felt like at home there. The location is perfect 5 min to the lake and is in the town center so you have everything around. Highly recommended!!!
Barbora
2015-09-02T00:00:00Z
A perfect, quirky town house at the heart of this lovely Garda town. Monica was there to welcome us and show us around her house. It was immaculately clean and had all the amenities and supplies we needed for our stay. Lots of clean bedding and plenty of towels..... everything! Monica was always available for advice. Thoroughly recommended!
Damian
2016-08-21T00:00:00Z
It was a lovely place to be and Monica was very helpful and gave us great contacts and ideas for desenzano the flat was very clean and stylish on best place in the old city great recommondation
robin
2015-08-23T00:00:00Z
Tipe Kamar
Seluruh rumah/apartemen
---
Tipe Properti
Rumah
---
Mengakomodasi
3
---
Kamar tidur
Desenzano del Garda, Lombardia, Italia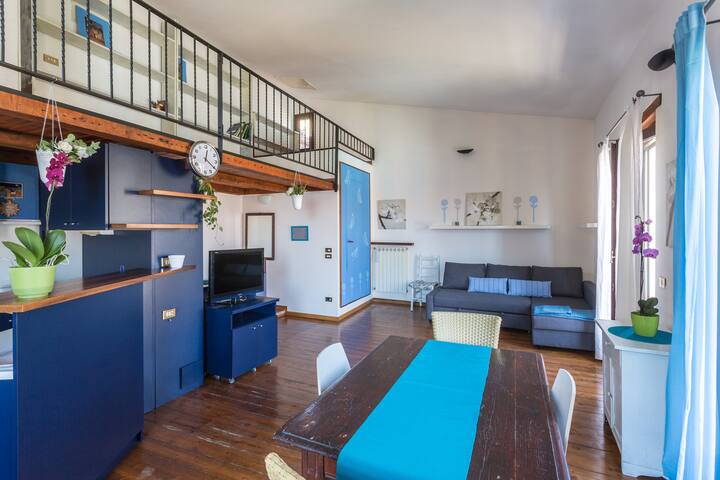 Room rent for one person, shared bathroom, private parking. Possibility to transform into a double bed but in this case space will be very limited. Solution for short periods of stay. The use of the kitchen is not included, unless previous agreement. The beach is about 1 km from the house (15-20 minutes), for the city center of Desenzano is the same. Nearby there are shopping center "Le Vele", bars, grocery stores and bank.
Tv, Wi Fi, phone and small toiletries including towels. 2 bikes available for free use.
It's near the railway station and mall "Le Vele", 50 meters from the bank, bar (for breakfast cappuccino and croissant only € 2.50), small grocery, bus stop, 20 minutes walk from the beach and the historic city center. Quiet residential area, the passage of the train is heard from the house. 1 km from the the main square. About 3 km from the highway exit Desenzano, right after the mall "Le Vele"
Great place to stay and close to train station. Nice family and comfortable bed.
sara
2017-04-02T00:00:00Z
Это был лучший опыт моего использования airbnb. Дом действительно находится очень близко к ж/д станции и добраться очень легко пешком. Гарда прекрасна и находиться в такой семье было приятно. Владимиро и Дебора всегда были на связи и были готовы помочь мне по всем вопросам. Все условия соответствуют заявленным. Комната небольшая, но удобная, можно закрывать на ключ. Ванна красивая и современная. Можно взять велосипед покататьсяй. Прекрасно когда ты приезжаешь в короткий отпуск и можешь найти таких отзывчивых друзей. Одна заметка для моих соотечественников :) :в Италии очень редко носят тапочки или что-то подобное,поэтому лучше возьмите их с собой или купите на месте что-то в чем ходить дома. Очень надеюсь что вернусь скоро в прекрасные края озера Гарда к семье Персико =))
Ann
2017-03-07T00:00:00Z
Vladimiro and his wife are two very friendly people who you love to meet. They live in a very nice house in a good neighbourhood. Your room looks exactly like on the pictures. Even though there's not much space when the bed is expanded we had a pleasant night. Best part of stay were two bikes Vladimiro lend us to go to the lake. Highly recommended if you arrive by car.
Xaver
2016-08-23T00:00:00Z
Vladimiro und seine Frau waren wunderbare Gastgeber. Wir wurden sehr herzlich begrüßt, sie haben uns alle unsere Fragen beantwortet und uns Tipps gegeben. Sie waren sehr bemüht mit uns zu kommunizieren, obwohl wir kein Wort Italienisch sprechen. Außerdem sind sie uns sehr entgegengekommen, was unseren Checkout angeht. Wir wollten nach unserem checkout nochmal an den Gardasee und durften unser Gepäck noch bei Vladimiro lagern, haben den Schlüssel noch behalten dürfen und hätten nach dem See sogar noch duschen gehen können. Zum Abschied hat uns Vladimiro noch eine Käse und Weinempfehlung mitgegeben und uns eine Flasche Wein geschenkt. Wir wären gerne noch länger hier geblieben, hatten aber noch andere Reisepläne. Es war wirklich eine super Unterkunft und ist sehr zu empfehlen. Wir kommen gerne wieder. Vielen Dank Vladimiro.
Tamika
2016-08-15T00:00:00Z
Vladimiro and his wife are very friendly and offered us a warm welcome, they offered us some drinks in the evening and even with a little language barrier we had some good fun. The room is clean but very small and can get quite hot. The teady bears around won't make you forget that you stay in a childrens room ;)
Florian
2016-08-02T00:00:00Z
Владимиро и Дебора были очень гостеприимны, приветливы, добродушны! Встретили очень тепло, как родственники! Комната уютная, описание соответствует действительности, расположена недалеко от железнодорожной станции Дезенцано дель Гарда. Владимиро и Дебора, спасибо вам большое!!!
Marina
2016-09-26T00:00:00Z
Wir wurden herzlich aufgenommen. Alles war sehr familiär. Gleich den ersten Abend haben wir getrunken und gelacht... Sie haben uns hilfreiche Tipps gegeben, standen mit Rat und Tat zur Seite. Sehr sehr hilfsbereit!!! Wir waren den letzten Abend zusammen tanzen... Wir würden immer wieder gerne bei der Familie Urlaub machen!
Marcellos
2016-08-28T00:00:00Z
I really enjoyed my stay at this family.They were helpful and provided me with important info about the surroundings .They even picked me up at the station and early in the morning brought me back.The location is near the station and there are busses going to Sirmione. Vladimiro and his wife were friendly and we had a late night beer and talked about 2 hours.Recommend!
Christina
2016-07-23T00:00:00Z
Tipe Kamar
Kamar pribadi
---
Tipe Properti
Rumah
---
Mengakomodasi
2
---
Kamar tidur
Desenzano del Garda, Lombardia, Italia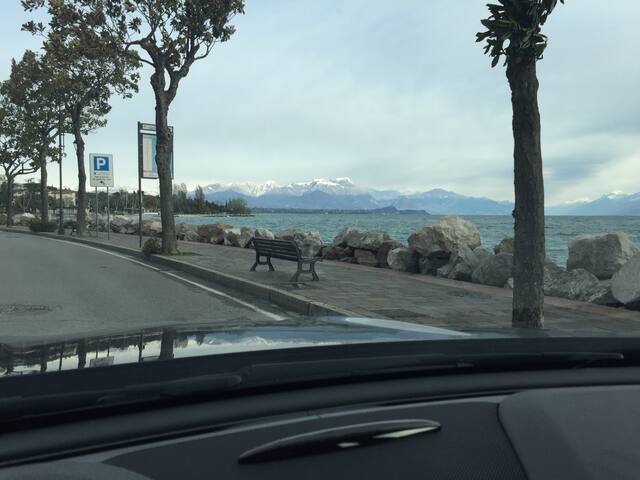 Fabulous apartment near the center of Desenzano has a large terrace and a beautiful pool a garage for 3 cars
You will enjoy a great peace of mind The apartment is on the ground terrra with a porch, also for your dogs. A large terrace to be able to eat A large garage where you can put up to 3 cars, with the tranquility of having cameras Only 4 units
A  very quiet neighborhood and within walking distance from the center of Desenzano Distinguishing trait by greenery and this hilly area where you can breathe a magical atmosphere
Accoglienza ottima. L'Host ci ha aspettato e si è reso disponibile alle nostre esigenze. Le foto dell'appartamento corrispondono alla realtà. Casa pulita e in ottime condizioni. La posizione è fantastica per il relax e per la distanza dal centro (1 km c.a.). Consigliato
Francesco
2016-07-31T00:00:00Z
Wir waren mit unserer 1 jährigen Tochter dort. Die Wohnung ist kinderfreundlich und sehr gut und modern ausgestattet. Die Rundumterasse bietet den ganzen Tag Sonne. Das Apartment liegt in einer ruhigen Gegend und das Zentrum kann man auch problemlos zu Fuß in ca. 15 min erreichen. Da Ferdinand nicht besonders gut englisch spricht hat uns seine Freundin noch angerufen und gefragt ob alles in Ordnung sei. Wir haben den Aufenthalt genossen.
Florian
2015-05-27T00:00:00Z
The reservation was canceled 35 days before arrival. This is an automated posting.
Aaron
2014-08-12T00:00:00Z
Nice appartment, only wifi was not working.
Annet
2015-08-29T00:00:00Z
Bon contact et exactitude, dommage que Ferdinand ne parle ni anglais ni francais. Mais sympathique. Quartier trés calme et bien situé sur les hauteurs de Desenzano
Renou
2014-05-25T00:00:00Z
Bel endroit, mais wi-fi qui laisse à désirer...
Philippe
2016-08-21T00:00:00Z
Unterkunft ist sehr gepflegt und schön. Bodenheizung,Klima etc. Vermieter ist immer und stets erreichbar und sehr bemüht. Leider ging das WLAN nicht. Ca 15 min zu Fuß vom Stadtzentrum entfernt.
sebastian
2016-06-03T00:00:00Z
Die Wohnung war sehr schön und wir haben uns super wohl gefühlt, außerdem war unser Gastgeber sehr nett. Die Lage der Wohnung ist perfekt für einen Bummel durch die Stadt oder an den See. Immer gerne wieder!
Luisa
2015-04-12T00:00:00Z
Tipe Kamar
Seluruh rumah/apartemen
---
Tipe Properti
Rumah
---
Mengakomodasi
5
---
Kamar tidur
Desenzano del Garda, Lombardy, Italia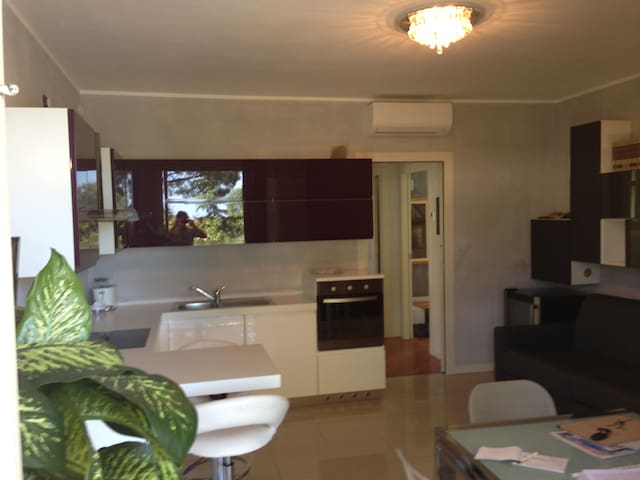 GRANDE APPARTAMENTO DI 80 MQ POSTO A PIANO TERRA DI PICCOLO CONDOMINIO DI 6 APPARTAMENTI A DESENZANO DEL GARDA. L'APPARTAMENTO E' APPENA STATO COMPLETAMENTE RISTRUTTURATO ED E' COMPOSTO DA GRANDE SOGGIORNO CON DIVANO LETTO MATRIMONIALE, CUCINA SEPARATA, BAGNO CON BOX DOCCIA, 2 CAMERE MATRIMONIALI, 2 BALCONI E UN TERRAZZO PRIVATO. APPARTAMENTO IDEALE PER GRANDI FAMIGLIE. 6 POSTI LETTO. GRANDE GIARDINO CONDOMINIALE. FREE WI-FI.
Bellissimo appartamento e Stefano si è rivelato una persona molto gentile e disponibile, consigliatissimo
Mattia
2017-01-08T00:00:00Z
Muito bom, espaçoso, limpo, supermercado perto, ficamos em seis pessoas, altamante recomendável!!!
ALTHAYR
2017-01-17T00:00:00Z
Definitely cozy for a family travel highly recommended
Tselmen
2017-04-09T00:00:00Z
Appartamento spazioso, molto ben curato. Posizionato in luogo tranquillo. Ottima comunicazione con il gestore. Consigliato
Federico
2017-03-12T00:00:00Z
Tipe Kamar
Seluruh rumah/apartemen
---
Tipe Properti
Rumah
---
Mengakomodasi
6
---
Kamar tidur
Desenzano del Garda, Lombardia, Italia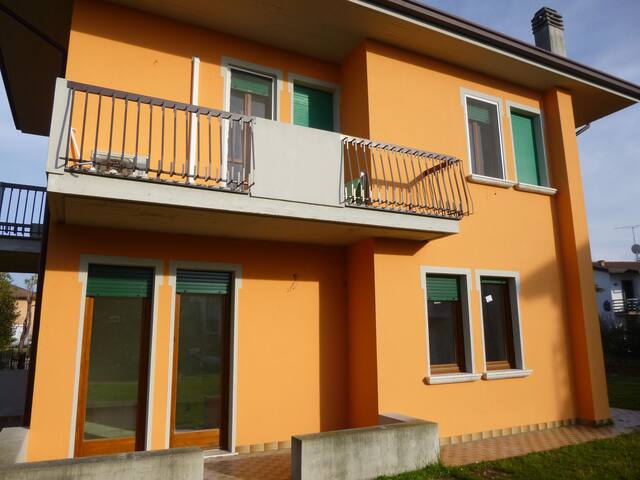 "La Casetta", ampio spazio abitativo inserito in uno splendido contesto naturalistico privato. Immersi nella magia del Parco Morenico del Garda, ma vicini a tutti i privilegi della zona turistica. indimenticabili giornate tra i sentieri e le ciclabili, tra i vigneti e gli ulivi, relax in spiaggia o in piscina, succosi gourmet tra deliziose trattorie o la veranda in glicine del "La Casetta", che vi coccolerà con i profumi del giardino e i colori del tramonto.
Comodo e spazioso, gustosamente arredato, splendida veranda fronte cucina/pranzo. Rivolto in un rigoglioso giardino, vicino ad un originalissimo laghetto di ninfee, dista pochissimi metri da piscina e solarium. Parking all interno della proprietà, lato casa. Nelle vicinanze possibilità di: escursioni, bike, running, equitazione, golf e tennis.
"La Casetta" dista circa 2km dal centro di Desenzano, 2/3 minuti in macchina, 10 minuti in bici, 25/30 minuti a piedi. È situata in un ampia vallata, in un contesto di antica cascina rurale con proprietari residenti in loco.
Tipe Kamar
Seluruh rumah/apartemen
---
Tipe Properti
Rumah
---
Mengakomodasi
6
---
Kamar tidur
Desenzano del Garda, Lombardy, Italia