We are a TRUE Bed and Breakfast! The $30 GCNP entrance pass, separate purchase at gate, is good for the whole week so, consider staying more than a night. The park pass is also good for the North Rim too. Note: The "SkyWalk" it NOT part of the South Rim~which is where we are. Use your favorite search engine for further info on SkyWalk. Now, that being said, here we go..! ________________ HAPPY HAPPY JOY JOY is a European styled B&B and the CLOSEST B&B to the GRAND CANYONS SOUTH RIM! We're only 20 minutes away from the GCNP entrance gates! Stays over $159 include breakfast. (See below for specifics.) We have 20 acres of peace, quiet and serenity with super-easy and DIRECT ACCESS on/off AZ HWY 64 (to Grand Canyon) with free parking right out in front! A water feature out back draws elk, deer, pronghorn sheep (aka antelope), various raptors, songbirds, hummingbirds, bunnies, coyotes and native wildlife too various to mention. We are a Certified Wildlife Habitat with the National Wildlife Federation. Also, you can actually see stars and the Milky Way horizon-to-horizon, especially on new moon nights! However, full-moon nights are something to experience too. These are just a few special qualities you'll experience here, oh-so-close, to the Grand Canyon. NOTE: Rooms accommodate TWO persons ONLY. Offered is The HUMMINGBIRD ROOM. After a big day at the Grand Canyon, there is a queen super-pillowtop bed for your comfy-cozy visit to dreamy-dreamland. There is a SHARED full-bath w/the Pilot Room. If calendar shows booked, and you'd really like to stay with us, drop me an line/inquiry and I may be able to help. ****BREAKFAST SPECIFICS**** -A one-night stay includes our SOUTH RIM BREAKFAST PICNIC (packed "to~go"). -Two nights includes our South Rim Breakfast Picnic and our leisurely, sit-down YUMMY-FOR-YOUR-TUMMY southwestern style breakfast. Or if you're really on the move and don't have time for a leisurely breakfast (served between 8:30a-9a) the Picnic is available both mornings. -A three nights retreat includes two picnics and a sit-down. Or three picnics if you'd like. -Four+ nights...let's talk! OFF-SEASON RATES LESS THAN $159 INCLUDES COFFEE/TEA or JUICE AND HOMEMADE BANANA BREAD. If your rate is less than standard and would like full-breakfasts let me know as there are ways to handle this.. We are flexible up here Grand Canyon way. So, please, if you have further questions or special requests send them on over and let's see what can be done. Look forward to talking w/you soon. Let it be known pets on property. So, if you have allergies bring along proper medication, if needed, or an aversion to pet hair, please do not stay with us. Cookie-Monster, our large medium-sized lab mix is a work in progress (a rescue w/diminishing trust issues thanks to the kindness of previous guests). She has two cats. LoverBoy and Razzle-Dazzle. LB was born under the house. RD is our latest addition. He loves people, will head-butt you and purr loudly. Don't be surprised if he comes visit you in your room so, keep door shut if you don't want a kitty visit. Cats may or may not be here as they live in Prescott now and come up to visit often. ________________ Rates are subject to change until you are a confirmed guest.
20 acres of wide open-space in sparse juniper~pinion pine countryside.
Great hosts, felt like we could do whatever we wanted and be ourselves. Great breakfast too!
Lucas And Layla
2012-04-05T00:00:00Z
Sally was a very great and friendly host. :) talking to her is really fun and enjoyable. Her home was lovely and the bedroom was very comfortable. The space around her property is definitely very relaxing and something that most of the other places near e Grand Canyon cannot offer. The location was good too, and definitely nearer to drive to the Grand Canyon than from Flagstaff or Williams.
Melissa
2013-12-19T00:00:00Z
Sally was an incredible host! She knows how to treat her guests with very thoughtful touches including but not limited to bottled water and chocolate in your room when you return for the evening. The bed and room was VERY comfortable and I slept so well! We had a wonderful stay and the departing breakfast so we could make the arranged helicopter ride was Very good including homemade banana nut bread. (URL HIDDEN) included so many items that anyone would appreciate any one or several items in a beautiful breakfast bag! She arranged our helicopter ride through the Canyon for us and gave us the BEST tips on things to do while in the area. Amazing how lovely Sally made our trip! Don't miss this wonderful opportunity while visiting the Grand Canyon!
Janet
2014-03-27T00:00:00Z
Sally was a great host and the place was cute and homey! I had a great time hanging out with Sally, we even watched a movie together after my day at the canyon! You can also see the most beautiful stars from her place. I would definitely recommend staying here.
Alana
2014-04-04T00:00:00Z
Sally was extremely helpful in all of her recommendations of activities and tactics for surviving the Grand Canyon. She helped to make our trip memorable and one of kind.
Morgan
2016-10-16T00:00:00Z
Vi var rigtig glade for at bo hos Sally. Vi var hos hende 2 dage, og hun fortalte meget om Grand Canyon, så vi havde et godt udgangspunkt for at opleve området. Huset ligger smukt og der er gjort meget ud af at indrette det så der er en god stemning. Hun lavede nogle dejlige picnic kurve, så vi kunne nyde maden med udsigt over Grand Canyon.
Jens
2015-09-19T00:00:00Z
The stay at Sally's place was very nice. Location was perfect distance to get out of the crowded areas and still be within a short distance to drive to the Park. The bed was very comfortable, and the bathroom was very clean. Sally was exceptionally hospitable and helpful with directions and planning. Comfortable experience. Would recommend staying there.
Thuy-Van Tina
2015-03-23T00:00:00Z
Sally was the loveliest host, she got in touch with us to make sure we wouldn't get lost and didn't mind our late arrival. She also prepared a lovely take-away breakfast for us in the morning and we received the cutest greetings from Cookie Monster! The house is conveniently close to the Grand Canyon and you can have a decent diner at Tusuyan nearby. Great experience!
Carole
2016-06-23T00:00:00Z
Tipe Kamar
Kamar pribadi
---
Tipe Properti
Rumah
---
Mengakomodasi
2
---
Kamar tidur
Grand Canyon, Arizona, Amerika Serikat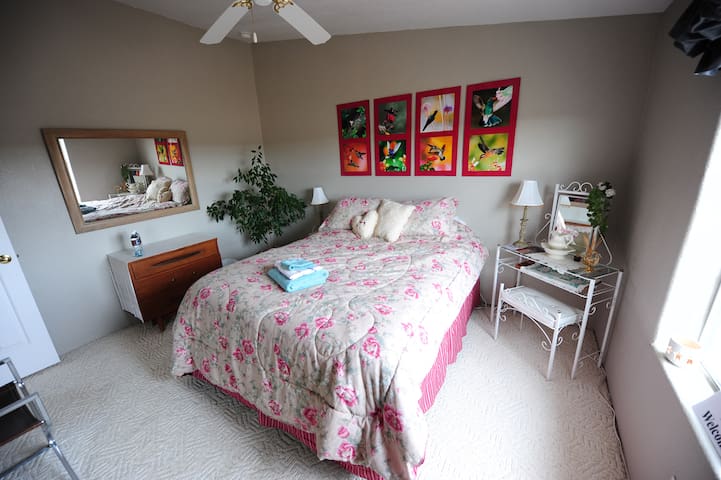 Conveniently located 30 minutes from the Grand Canyon South Rim Entrance and 30 minutes from Williams, AZ. We have twin porches to enjoy your morning and evenings; perfect for sunrise and stargazing. Look for Grand Canyon Escape II in Sedona.
This space is located in a rural area and not in Williams, AZ. It is located on 3 acres and has both a front and back porch for relaxing before or after going to the park. Internet and TV services are via satellite as it is off the grid except for electricity. You will see wildlife. (Hosts also offer accommodations in Sedona, AZ - Smaller space but multiple booking discount applies - contact the hosts.
This is remote. All homes are on 1-2 acre lots and it is very private. Neighborhood is very friendly but you probably will not see anyone.
A welcome basket w/snacks and water--very nicely done. A very interesting locale--a little hard to locate for an out of towner but not insurmountable.
John
2016-10-28T00:00:00Z
Excellent location! Pictures describe well the house. Tamara made our staying smooth and comfortable. The minimum days allow to stay was 2 days on the rules, she arranged to host us only one night ( the amount of days we needed it just to sleep and continue our journey through the canyons visit). Greatly appreciated.
neil
2016-09-07T00:00:00Z
We had a great stay, the house is really comfortable and warm and was so nice to come home to after big hiking days. If you're with a group of friends I would definetly recommend this house!
Tom
2015-12-12T00:00:00Z
The house is clean and comfortable. The most important thing is it is so homey. We totally enjoyed the Christmas holiday in this lovely house. The host was very supportive and friendly. Thank you!
Dongming
2015-12-27T00:00:00Z
The home was beautiful and in a great location for visiting the Grand Canyon. The online description was complete. A lovely welcome basket including wine was there for our enjoyment. Everything was clean and welcoming. It was perfect for two families to vacation together. There were plenty of bedrooms and 2 bathrooms.
Rose
2016-07-15T00:00:00Z
House was wonderful! Hostess left a very sweet welcoming basket. Super clean and no trouble whatsoever. Very close to the Grand Canyon. Just make sure you bring groceries from Williams, AZ as there are no nearby stores or restaurants.
Celeste
2016-03-02T00:00:00Z
We rented the cabin for some quiet time on a long road trip (from Houston, Tx, to LA, CA): after all those noisy hotel rooms, the cabin was fantastic - it is SO quiet and peaceful. Very well maintained and good taken care off, spacious and generous. A detail we loved was the clothesline along the porch to dry the laundry, if you don't want to use the dryer. The cabin is close enough to the park (we came here driving through the park and didn't even go back but (EMAIL HIDDEN)munication with Tamara was easy and very efficient. Thanks, this has been exactly what we needed and envisioned.
matthias
2016-04-06T00:00:00Z
Welcome basket was a pleasant touch.
Jean
2016-04-15T00:00:00Z
Tipe Kamar
Seluruh rumah/apartemen
---
Tipe Properti
Rumah
---
Mengakomodasi
8
---
Kamar tidur
Williams, Arizona, Amerika Serikat
Masukkan tanggal untuk melihat harga lengkap. Biaya tambahan berlaku. Mungkin dikenakan pajak.