Sweet one bedroom cabin located in Colbert Heights just a few miles from Tuscumbia, Al which is a darling little historic southern town, birthplace of Helen Keller, five miles to music hall of fame and Muscle Shoals. Rural community w/ feel of woods.
This cabin is adorable and located near the birthplace of Helen Keller and the cute historic town of Tuscumbia. Muscle Shoals and the Music Hall of fame nearby. Easy drive to Florence where you will find University of North Alabama and the Robert Trent golf resort. Great fishing and water skiing on the Tennessee River. Full kitchen with microwave and cable tv in the living room. (Please note: half fridge, not a full size refrigerator) King bed in the bedroom. Sleeper sofa in the living room. Cabin fit's 2 people comfortably. NO INTERNET AT CABIN - I use my iPhone but the service is slow and spotty.
This is a GREAT place. Lovely, spotless and in a great location. Our employee really enjoyed his stay at Kimberly's cabin and definitely wants to stay there again when he is in the area. Shout out to Roxanne and Doris who were very warm and welcoming. The communication with Kimberly was perfect. Very timely, detailed and thorough. Highly recommended!
Olivier
2014-10-03T00:00:00Z
We had a great time at the cabin. Perfect size and comfortable accommodations. Pleasantly surprised by both Tuscumbia and Florence with neat downtowns and great food. Odette in Florence has incredible food. Excellent stay!
Brett
2016-02-15T00:00:00Z
You have to see this to believe it - a true log cabin with all the modern amenities inside. This was such a great place to stay - and have your morning tea swinging on the porch swing looking out through the forest of trees surrounding the place. Kimberley's mother lives right across the street and delivered fresh-ground coffee and a local newspaper with tips for live music - which we used. She came back with another suggestion from another daughter of a second music studio we should visit, complete with directions and tour times - again, which we used! Huge living room and big TV for when you roll back in from sightseeing, and a roomy kitchen. We only wish we had booked another night. This is a most unusual place to stay; you feel you're not only off the beaten track (but only by a few minutes!) but also back in time from the outside. Such a great holiday feel. And fabulous hosts.
Louise
2014-05-07T00:00:00Z
Kimberly, communicated with me promptly with excellent directions and so very polite. It was our pleasure to meet Ms. Doris. She was so much fun to visit with and made us feel like family. The cabin is just how it is pictured. Beautiful, cozy and with those little touches that made us feel special. We had everything we needed. The peace we felt there was so needed. Sitting on the front porch with some home-brewed Starbucks coffee, listening to the wind blowing through the trees was balm to our souls. I slept the best I have in months in the comfortable bed. Cannot wait to return. Thank you, thank you for the wonderful experience!!! Blessings to you Kimberly and your family. The Hammons family.
Pamela
2016-07-10T00:00:00Z
The cabin is so cute and in a great location to all nearby attractions!
Jessica
2015-01-30T00:00:00Z
The cabin was in a very nice, quiet neighborhood- perfect for the relaxation that we sought. Our host had anticipated our every need, from a toaster in the cupboard to a guitar resting in the corner to empty space in the closet. It was so nice to have a kitchen to use. We enjoyed visiting the area. Helen Keller's birthplace was very interesting, and we were able to spend 2 days at the Shiloh battlefield. We are recommending airbandb to everyone we meet!
John
2015-07-08T00:00:00Z
We thoroughly enjoyed our stay. This cabin is a lovely place. Appreciative of the hospitality and welcome of the host's family too. Wouldn't hesitate to stay here again in the future! Thank you!
Eric
2016-05-15T00:00:00Z
We enjoyed our short, overnight stay in Kimberly's cabin the woods. Kimberly was very prompt in her correspondence and eager to assist my husband and I with troubleshooting AirBNB difficulties. The cabin was quaint and matched the description in the listing accurately. It had everything one would need for an overnight or several night stay. We enjoyed strolling through downtown Tuscombia and over to Florence for dinner. The front porch swing was wonderful for a morning cup of coffee!
Meri Whitney and Barrett
2015-10-07T00:00:00Z
Tipe Kamar
Seluruh rumah/apartemen
---
Tipe Properti
---
Mengakomodasi
2
---
Kamar tidur
Tuscumbia, Alabama 35674, Amerika Serikat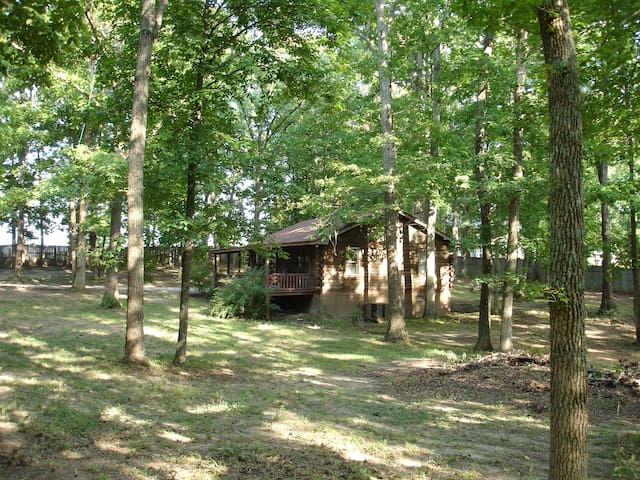 Рядом с моим жильем общественный транспорт, аэропорт, центр города, парки и искусство и культура. Мое жилье подходит для этого: пары, соло-путешественники, деловые путешественники, семьи (с детьми), большие группы и мохнатые друзья (животные).
Tipe Kamar
Seluruh rumah/apartemen
---
Tipe Properti
---
Mengakomodasi
8
---
Kamar tidur
, Georgia, Amerika Serikat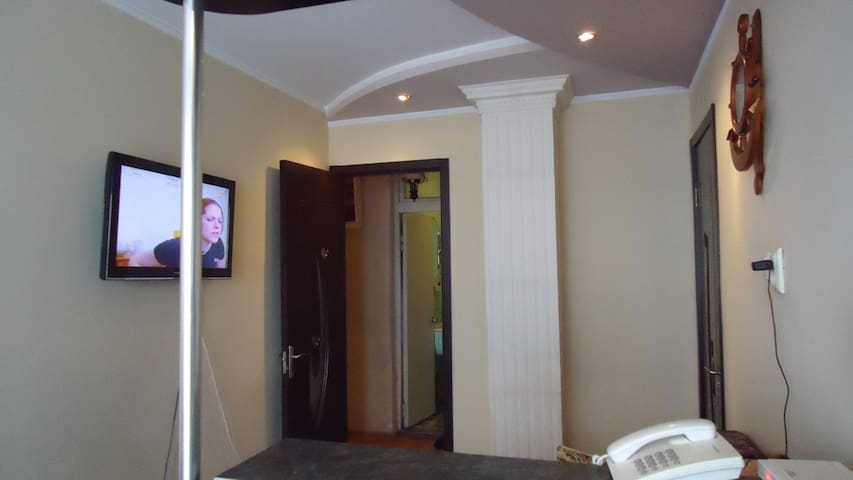 The Bear Creek Saloon Guesthouse is situated on 3 peaceful acres conveniently located 1/4 mile off of the Natchez Trace Parkway in Tishomingo, MS. Guest suites include queen/twin beds, kitchen, full bath, and laundry area.
The guesthouse is situated on 3 acres and offers privacy and a view of nature. The fire pit area enables guests to experience outdoor grilling or a cozy campfire.
The guesthouse is bordered by a forest of pine trees and other varieties. Although it is a private setting, surrounding towns are nearby.
Comfortable, relaxing space. Great location near Tishomingo State Park and the Natchez Trace!
Mindy
2016-05-31T00:00:00Z
I had a nice relaxing stay in Tishomingo. Christi provided information about the area's history and attractions, and was very responsive. I was very happy to stay out in the country on a peaceful acreage rather than in a chain motel next to a chain restaurant. I'd love to return and spend more time exploring the area. With a full kitchen, laundry, and a fire pit in the huge yard, I didn't want to leave.
Eric
2016-12-22T00:00:00Z
We enjoyed our stay at Bear Creek Saloon. Christi responded quickly to our email questions prior to arrival. She provided an excellent booklet detailing the history of the Guesthouse and providing lots of information about the area. The unit was nicely furnished and we appreciated the library. She provided an additional mattress and bedding at no extra charge to accommodate a 4th person.
Janet
2016-11-09T00:00:00Z
We had to cancel at the last minute but Christi was great, very helpful while making the reservations and after I had to cancel. I will definitely book with her again if we are ever in the area again.
Amy
2014-09-20T00:00:00Z
This is a great guesthouse! It's clean and everything was provided! Martyville has good food and they will deliver!
Dennis
2016-11-26T00:00:00Z
Bear Creek Saloon Guesthouse was amazing. The area around the house is peaceful and beautiful. So much better than staying in a hotel. I would definitely stay here again!
Keleigh
2015-11-18T00:00:00Z
Apartment was very cute and had everything we needed. Lots of info about local attractions. So close to Natchez Trace, very convenient.
Harriet
2016-04-10T00:00:00Z
Our stay at the guesthouse was very comfortable. The suite was clean and comfortable, and had everything we needed. The acreage is beautiful, and is conveniently located close to Tishomingo State Park. We enjoyed our stay and would recommend the guesthouse to others!
William
2016-11-06T00:00:00Z
Tipe Kamar
Kamar pribadi
---
Tipe Properti
---
Mengakomodasi
3
---
Kamar tidur
Tishomingo, Mississippi 38873, Amerika Serikat
Mostly remodeled 1960s ranch style home, 3 BR, two bath directly on lakefront about 5 miles west of Tuscumbia on Pickwick Lake in rural area. Home sleeps 8 (5 traditional beds, 2 sofa sleepers, a swinging bed). Features include a spacious screened in porch with lake view and multilevel deck directly on main river. Small pier for swimming, or it may be used for securing boat. Closest boat launch site is Pride Landing, about 5 miles west of house. Double driveway offers plenty of parking space.
This home has now seen four generations of our family and we would love to share it with you. The water is beautiful all times of year and the country location makes it perfect for a get away. Feel free to bring paddle boards, jet skis, boats and other water toys. The home is located just west of Tuscumbia, about an hour west of Madison on one of the most peaceful sections of the Tennessee River.
Local attractions include the famous Rattlesnake Saloon (recently featured on Food Network), Ivy Green ( birthplace of Helen Keller) and Cane Creek Canyon Nature Preserve (featuring the "Most Spectacular View in Alabama," according to Backpacker Magazine), the University of North Alabama, Robert Trent Jones Golf Course, Wilson Dam, among many others. Please don't hesitate to contact us if you have questions or need more information before you decide where to spend your vacation.
Judy was an amazing host! She was in contact with me several days before our trip to make sure we had all we needed. I asked for suggestions on what to do while we were there and she went above and beyond with options on places to see, each and explore. Any questions we had she immediately responded. Saturday night we wanted to make a big dinner and didn't have a big enough pot so she kindly loaned one to us. Sunday (Valentines' Day) she brought muffins down for me and my friends! She made our trip relaxing and enjoyable!!
Cayla
2016-02-19T00:00:00Z
We loved the place, nice and private, spacious and very comfortable. The owner thought of everything you need. For us it was like being in our own home.
Rebecca
2016-11-28T00:00:00Z
Beautiful home in a beautiful environment! Great place to decompress and enjoy a quiet getaway. I would recommend this place to anyone seeking a little relaxation.
Brenden
2015-09-03T00:00:00Z
Too bad I cannot give more than 5 stars. Judy is a great communicator, would check in with us before our arrival and wanted to make sure we arrived safely. When we arrived, we saw the nice personal note from Judy and some tasty pumpkin chocolate chip muffins. The house was exactly what was described. It was very clean and well stocked. Beds were very comfortable, plenty of room to spread out. Great screened in porch. Spectacular sunsets and sunrises over the lake. When we told Judy we could not get a NBA playoff game she researched nearby places where we could watch the game. She then offered to get a higher level of cable service. We told her it was not necessary, but she insisted. We offered to pay the additional cost but Judy refused. One of the best AirBnB experiences I have had. Wish there were more people like Judy out there. Would definitely go back.
Ricardo
2016-04-29T00:00:00Z
What a hidden treasure! This property was a great place for our family to relax for the weekend and Judy clearly has a vision for developing a perfect and welcoming experience for her guests. We have two young children and having the kitchen and comfortable living room made this place convenient for us and our family. The screened in porch was also an added bonus that allowed us to be outside and enjoy family time together, as the porch included lots of seating. We loved: The dock and upstairs deck which provided space for fishing, hanging out outside The lake house décor The house layout The location is also convenient, although due to the serenity of the property we never left We would book this house again!
Ashley
2016-05-23T00:00:00Z
The host canceled this reservation 43 days before arrival. This is an automated posting.
Mandy
The previous reviews capture exactly what we experienced. Judy and her place are wonderful. Judy went out of her way to accommodate our early arrival. She enthusiastically showed us around the house and gave us tips on where to go and what to do, tuning in to our love of the out of doors. Her muffins are very yummy! We loved everything about the place and hope to be back!
Mary
2016-05-09T00:00:00Z
Judy could not have been more accommodating and helpful, from the day before we arrive until the day we departed she was always available and quick to respond. She had excellent instructions on how to use everything in the house from door locks to operating the coffee maker, that was very helpful when you are not familiar with a house and it's appliances. She had lots of information about the surrounding area and things to do. The house is well appointed with bedding, blankets, towels and necessities . The two beds we used were comfortable and slept well. The large screened in back porch is the very best part of the house, we loved it! Lot's of seating space, a swing and a swinging bed (we couldn't keep most of the family out of it after a big lunch!) privacy curtains on the sides so you are not looking at the neighbors and a beautiful view of the water. We had great weather for our Christmas holiday and spent the majority of our time on the porch. The deck overlooking the water was nice as well with lots of seating and a beautiful view. We would highly recommend a visit to this Pickwick Lake Front home.
Suzanne
2016-12-28T00:00:00Z
Tipe Kamar
Seluruh rumah/apartemen
---
Tipe Properti
---
Mengakomodasi
8
---
Kamar tidur
Tuscumbia, Alabama 35674, Amerika Serikat
Beautiful, historic, remodeled home blocks away from downtown Tuscumbia! Close to Spring Park, Helen Keller's Birthplace, the Alabama Music Hall of Fame, and the famous FAME Recording Studios.
Beautiful home just a short walk away from downtown. **Your stay will include a complimentary shuttle ride, when available, in our street legal, low speed vehicle upon request to Downtown Tuscumbia or Sheffield!!** Hot tub is also available upon request. The owner lives in a separate, adjacent house. Guests will have their own private access to entire main dwelling.
Our stay at Savannah's was perfect! We arrived very late and there was still someone to meet us. They stocked our kitchen with milk, OJ, coffee and fixings, cinnamon rolls and cookies! The house was wonderful and clean. We were able to walk to the bookstore/coffee shop and Spring Park each day in just a few minutes. Savannah was also flexible and let us add two extra people for a night, which made our stay even better. We would absolutely recommend this house and expect to stay again the next time we come to visit family!!! Thanks!!
Rachel
2017-02-27T00:00:00Z
Tipe Kamar
Seluruh rumah/apartemen
---
Tipe Properti
---
Mengakomodasi
10
---
Kamar tidur
Tuscumbia, Alabama 35674, Amerika Serikat
Masukkan tanggal untuk melihat harga lengkap. Biaya tambahan berlaku. Mungkin dikenakan pajak.