Lille hyggeligt værelse til baghaven ud (rolig og afslappet) i den populære Student-distriktet i den nordlige by. her alt er central, bybus, metro, universitetet og mange butikker og high-speed Internet og WiFi. Innnenstadtlage !!!
Morgenmad kan for 9,50 € per dag bookes (mod betaling). nærheden er der også en stor bageri, hvor man allerede i 6.90 € er at få stor morgenbuffet.
Royal Gardens, parker, Leibniz University, Downtown, mange supermarkeder, mange restauranter, mange caféer, mange banker, ... Den særlige attraktion i umiddelbar Kvarter: de klatring bjergbestigning øvelser (stor erfaring)
Apartment located in a very nice area. Lots of nice architecture and older buildings. Manizh was very accommodating and hospitable. Apartment is extremely clean.
Max
2016-08-23T00:00:00Z
Ich habe mich sehr willkommen gefühlt und alles war sehr angenehm.
Dominic
2016-02-05T00:00:00Z
Der Aufenthalt hat mir sehr gut gefallen. Bequemes Bett. Alles vorhanden was ich brauchte und viele Infos über Lokalitäten. Gute Erreichbarkeit. Die Gegend ist sehr ansprechend zum draußen sitzen und lecker Essen. Wir haben nette Gespräche geführt. Voll zu empfehlen- beim nächsten Besuch in Hannover gerne wieder!
antje
2016-09-17T00:00:00Z
Super nette Gastgeberin und gemütliches Zimmer in sehr sauberer Wohnung. Danke nochmal :)
Martin
2016-03-10T00:00:00Z
Manizh ist eine sehr freundliche und schöne Gastgeberin.Die Wohnung ist sauber und das Zimmer ist nett und behaglich.Und die Wohnung legt neben der Uni,und es gibt auch schöne Restaurant und Café in der Nähe.Auch kann man einfach zu HBF zu Fuß gehen.
Ziyi
2015-02-27T00:00:00Z
Das Zimmer war sehr schön und sauber und das Bett super bequem. Manizh war mehr als hilfsbereit und sehr lieb, sie hat sich um alle Gäste wie eine Mutter gekümmert!
Ricarda
2015-10-15T00:00:00Z
Manizh ist wunderbar, sehr nett und hilfsbereit. Sie macht sich fuhlen in der Wohnung richtig wie zu Hause. Die Wohnung ist schon und sauber. Ich habe eine gute Nacht in das Bett gehabt.
Lia
2015-06-18T00:00:00Z
Super saubere Wohnung mit Teppich Boden und angenehmer Hinterhaus Lage ~> sehr still . Zu dem gibt es Kaffe und Tee
Tobias
2015-03-29T00:00:00Z
Tipe Kamar
Kamar pribadi
---
Tipe Properti
Apartemen
---
Mengakomodasi
1
---
Kamar tidur
Hanover, Lower Saxony, Jerman
Dopp.Zimmer in a cozy apartment unit on the 1st floor of an apartment building in the center of Hanover. 3 room apartment with 2.Schlafzimmern, living room LED TV, wifi / wireless internet) with small conservatory .. Bathroom with shower \ bath \ WC \ towels Kitchen with stove, oven, refrigerator, microwave, kettle, coffee maker. completely furnished. The bus stop is 1 minute, and 5 stops to the Central Station 0.5 km.
GERMAN ENGLISH Dear guests, A quiet, double room 1 floor in a residential building in Hannover / Südstadt.1 living room, kitchen and bathroom. This room is for 1 or 2 people and with LED TV, wifi, equipped. I The complete kitchen is also available to you. Bath with shower / WC with (daylight) washing machine. 0.5km to the city center (HBH). The bus stop is 1 minute, subway in 10 minutes walking Taxi`s - Tel.(PHONE NUMBER HIDDEN) Fairgrounds can be reached around 6.5 km from the (South City). Shopping poss. 2 min. away is the, Lidl, Rewe, Aldi, Edeka, hardware store, bakery, coffee, newsstand. (Hairdresser) Kind regards Linus I offer a room in a apartment 1 floor, in the southern city. The room is for 1 person o.2 'and have LED TV, Wifi Telephone and Internet connection are also available (W-Lan). A kitchen is available too. The bathroom has a shower and a bathtub equipped with light (daylight) window. A washing machine is so cable for use. For the location of the apartment, it is only 0.5 km away from the town center and the bus stop is 1 minute away. There are so underground in 10 minutes walking distance. Taxi`s under the Tel.(PHONE NUMBER HIDDEN) To the exhibition center and 6.5km to reach from here (southern part). Shopping opportunities are all in 2 min. Lidl, Rewe, Aldi, Eekka, hardware store, Bäckerrei, cafes, kiosk. With kind regards Linus Guests can use the living room cable TV with the kitchen (refrigerator, stove,) (dish (shower -Bathtub-WC). But Wi-fi is available. (website hidden). Telefon.Komplett the whole apartment. ..I help gerneum your to gestallten stay nice. I always Accessible Very quiet and nice Families. It's great, I like the southern part, the Maschsee. The invites you to relax. Maybe a visit to the museum, Fridays from 14h Free admission. (10 minutes walk to the Maschsee) For each there is something ..... 1 minute to the bus, taxi, the streets station 10 min. Between 13 h u. 15 h is a siesta in the house. ..................... .... Help where I can to gestallten residence and am always reachable.
To overview , the Apatment located in the southern part ,, ,, in the 1st floor. Residents are mostly on the work during the day and evening, it's really still. All are very Kind, also helpful. In the southern city many families, civil servants, teachers, students live. In near the Rewe, Lidl, usw.Einkaufszentrum is. 2 minutes on foot. also the baker, pizza, bank, hairdresser, bar, everything .. reached in the other direction in 1 minute. (Central)
Ein sehr schönes Zimmer mit gutem Bett und schöner Bettwäsche, Aquarium und Fernseher, die übrige Wohnung zur Mitbenutzung. Linus ist ein sehr freundlicher Vermieter. Insgesamt sehr empfehlenswert. Anreise per Bus von Hauptbahnhof in gut 10 Minuten.
Michael
2016-05-26T00:00:00Z
Linus ist ein sehr aufmerksamer Gastgeber! Die zeitliche Absprache der Schlüsselübergabe hat von seiner Seite genauestens geklappt - nur ich war leider durch lästige Parkplatzsuche zu spät. Alles war sauber und sehr ordentlich; wie im Hotel - incl. Handtücher. DIe Wohnung liegt ruhig, und es war alles bestens. Morgens gab es einen Tee, weil ich zum Frühstück schon woanders verabredet war, sonst hätte es sicher noch ein Frühstück gegeben. Ich kann Linus Zimmer nur empfehlen und danke ihm nochmal für die Gastfreundschaft!
Carola
2016-05-17T00:00:00Z
Jörgs Wohnung ist wirklich sehr zentral gelegen und von Bahnhof sehr gut erreichbar. Die Wohngegend ist auch wirklich toll, ruhig und sicher. Jörg war ein sehr angenehmer Gastgeber, der sich sehr aufmerksam um seine Gäste kümmert.
Daniela
2015-09-30T00:00:00Z
ziemlich besonders Zimmer.Dabei ist Linus auch nett und freundlich.
宇晨
2016-04-07T00:00:00Z
We arrived later than arranged but Linus was very good and waited for us - even though he had to go to work. We are just sorry we didn't have more time to talk to Linus. The apartment was as described and was in a good location with two supermarkets close by and easy public transport into Hanover. Thank you Linus
jackie
2016-06-30T00:00:00Z
Der Checkinn war völlig flexibel. Linus war sehr rücksichtsvoll.
Janin
2016-11-27T00:00:00Z
Wunderbares Zimmer bzw. Wohnung. Alles war wie gewünscht und beschrieben, wenn nicht noch besser. Jörg war wirklich nett und er stand uns jederzeit zur Verfügung. Er gab uns Hinweise und Vorschläge für Aktivitäten zur Umgebung, und bot uns auch oft seine Hilfe an. Die Wohnung lag zentral und hatte alles, was man brauchte in der Nähe. Insgesamt war alles ideal, die Wohnungsübergabe einfach und praktisch gemacht und wirklich zu empfehlen, wenn man in Hannover einen Ort zum bleiben sucht. Und man muss wirklich nochmal anmerken, dass Jörg wirklich sehr freundlich war und einfach ein toller Gastgeber ist.
Leon
2015-11-23T00:00:00Z
Jorg is a very nice and easygoing person. I hugely appreciate his kind hospitality. His apartment is superb and super close to the city centre, which makes travelling very convenient! You definitely wont regret staying at his place!!!
Li
2015-07-08T00:00:00Z
Tipe Kamar
Kamar pribadi
---
Tipe Properti
Apartemen
---
Mengakomodasi
2
---
Kamar tidur
Hanover, Lower Saxony, Jerman
Cozy apartment unit on the 3rd floor of an apartment building in the center of Hanover. 2 room apartment mi a Schlafzimm, living room (small TV) with balcony. Bathroom with shower and toilet, kitchen for 2 persons with hob, oven, refrigerator. 500m to the center
This stunning property is located right in the center of Hannover. The Maschsee, the old town and Linden are within walking distance from this apartment and makes them so unique. Museums and government offices are easily reachable on foot, from the station the apartment by tram in a few minutes can be reached.
In the Calenberger Neustadt they can also eat wonderfully .... Highly recommended is Piu an Italian restaurant a few house numbers on ....
Die Wohnung ist super!! Sehr sauber, schön und bequem eingerichtet. Einfach perfekt für einen kurzen Tripp nach Hannover. Ein einziger minus - es ist zu laut, da die Straßenbahn direkt vor dem Haus fährt.
Alexandra
2015-11-06T00:00:00Z
Julia fue muy amable. Su apartamento es cómodo y está muy iluminado. tiene lindas vistas y se está muy cómodo. El barrio es cómodo. En mi estadía estaban arreglando la calle de enfrente, lo cual fue incómodo, pero avanzaban rápido y pronto terminarían las reparaciones.
Miguel
2016-07-02T00:00:00Z
Schöne und gepflegte Wohnung, in der wir uns sehr wohlgefühlt haben. Auch für kleine Extras wie Mineralwasser, Kaffee und Süßigkeiten war gesorgt. Der Kontakt im Vorfeld war angenehm und unkompliziert, am Anreisetag wurden wir sehr nett in der Wohung empfangen. Wir würden wiederkommen!
Anna
2015-05-12T00:00:00Z
Julia ist eine tolle Gastgeberin und die Wohnung ist fantastisch! Sehr sauber und geschmackvoll eingerichtet. Leider ist das Haus und die Wohnung ziemlich hellhörig, aber wir sind auch etwas empfindlich, was das angeht! :-) Man kann die Wohnung wirklich weiterempfehlen.
Penelope
2016-09-26T00:00:00Z
Wir wurden sehr freundlich willkommen geheißen, Getränke, Süßigkeiten und Kaffee standen für uns bereit. Wir haben uns in der Wohnung sehr wohl gefühlt! Die Fußläufigkeit zur Innenstadt und ins Grüne ist prima. Wermutstropfen waren: WLAN funktioniert nicht und die Wohnung ist des nachts laut (für empfindsame Ohren), auch ist das Haus hellhörig.
Christa
2015-03-08T00:00:00Z
Wir fühlten uns sehr willkommen. Die Lage ist zentral zur Innenstadt, die Verkehrsanbindung durch Straßenbahn und Bus liegt in unmittelbarer Nähe.
Karin
2016-08-13T00:00:00Z
Bei der unkomplizierten Schlüsselübergabe wurden wir herzlich empfangen und haben eine nette Wohnungsführung bekommen. Es gab dann noch ein paar Tipps und Restaurantempfehlungen. Die Wohnung liegt im 3. Stock eines sehr schönen Altbauhauses mitten im Zentrum von Hannover. Direkt vor der Haustüre ist eine Straßenbahnstation und auch kostenlose Parkplätze gibt es direkt vor dem Haus. Zu Fuß ist man innerhalb weniger Minuten mitten in der Fußgängerzone. In der Wohnung standen uns Süßigkeiten, Tee, Kaffee und Wein vom Gastgeber zur Verfügung. Für uns war alles bestens. Das einzige Manko könnte evtl. der Lärm sein. Die Wohnung ist zwar nicht direkt hellhörig, aber manche Nachbarn sind etwas rücksichtslos und die Haustüre ist so gebaut, dass sie bis in den dritten Stock hoch hallt, wenn sie zufällt. Aber wir würden jederzeit wieder kommen, unser Aufenthalt in Julias Wohnung war sehr schön.
Mark
2015-11-21T00:00:00Z
It was great staying at Julia's place. We were welcomed by her husband who gave us a nice introduction to the house and who we had a lovely chat with. I can definitely recommend this place.
Lars
2016-08-08T00:00:00Z
Tipe Kamar
Seluruh rumah/apartemen
---
Tipe Properti
Apartemen
---
Mengakomodasi
2
---
Kamar tidur
Hanover, Lower Saxony, Jerman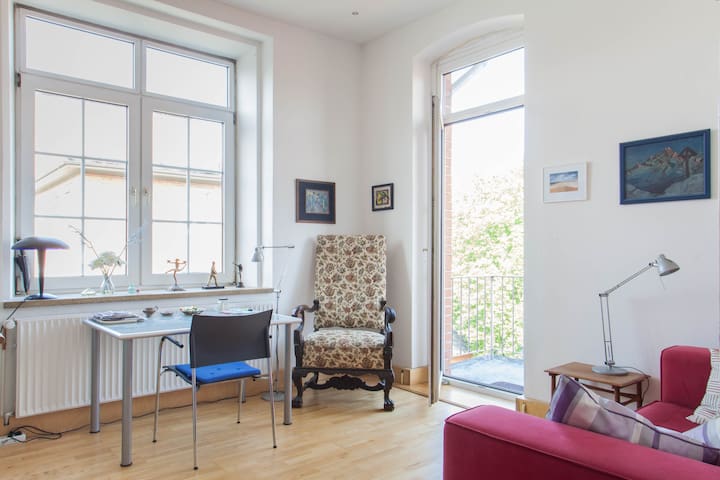 Rumah saya dekat pusat kota (berjalan ke / dari 9min stasiun utama, Steintor 4min, 8 menit Kröpcke, Leibniz Universitas Hanover 7 menit). Jika Anda ingin, Anda dapat pergi ke arah perjalanan dengan Aegi stasiun utama dengan jalur trem 10 atau jalur 17 Selama kurang lebih 25km Bandara Untuk pameran dengan kereta bawah tanah membutuhkan waktu 20 menit kurang. Anda akan menyukai akomodasi saya untuk situasi, lingkungan dan properti Leute.Meine baik untuk pasangan, petualang solo, wisatawan bisnis dan keluarga (dengan anak-anak).
Dekatnya juga banyak restoran. Atau 5 menit untuk berjalan ke pusat kota, ada juga banyak cara untuk makan. Sebelum depan pintu ada kios dan supermarket Turki. Rewe Kota dan Penny berjalan sekitar 5 menit sejauh ini.
The host canceled this reservation 153 days before arrival. This is an automated posting.
Marta
2016-11-22T00:00:00Z
Keyi ist ein aufmerksamer Gastgeber, der uns bei unserer Ankunft mit Obst und Schokolade überrascht hat. Die Wohnung ist wie auf den Bildern dargestellt attraktiv eingerichtet und sehr sauber, ein Ort zum Wohlfühlen. Das Geschäft im Erdgeschoss des Hauses bietet leckere frisch gebackene arabische Spezialitäten an. Das Stadtzentrum ist in wenigen Minuten zu Fuß zu erreichen. Ein perfekter Ausgangspunkt für Städtereisende. Wir haben es sehr genossen, bei Keyi Gast gewesen zu sein.
Stefanie
2016-09-05T00:00:00Z
Keyi bietet eine sehr schöne, absolut empfehlenswerte Wohnung an. Sie liegt zentral und unmittelbar an einer S-Bahn-Station. Keyi selbst ist sehr freundlich und bemüht und versucht dir den Aufenthalt so angenehm wie möglich zu gestalten. Ich komme gerne wieder!
Frederike
2016-11-04T00:00:00Z
Wir wurden sehr freundlich empfangen! In der Wohnung war frisches Obst bereitgestellt und alles war sauber modern und sehr ordentlich - Die Wohnung ist noch ansprechender als auf den Fotos! Die Umgebung ist genau das richtige für Stadtmenschen, wie uns - die Wohnung liegt sehr zentral und man ist auch zu Fuss schnell überall. Unser Gastgeber war super freundlich!!!
Komma
2016-08-08T00:00:00Z
It was fantastic interior house and host. room is very clean. And thank you welcome fruit
진호
2016-08-28T00:00:00Z
Sehr sauber. Gute Kommunikation. Einfach ein super Appartement mitten in Hannover.
Lennard
2016-11-17T00:00:00Z
Alles tip top Jederzeit wieder
Jessica
2016-11-20T00:00:00Z
Keyi was a great host and was easy to contact before arriving. The apartment was a great place to relax during the day. Thank you!
Emily
2016-10-31T00:00:00Z
Tipe Kamar
Seluruh rumah/apartemen
---
Tipe Properti
Apartemen
---
Mengakomodasi
4
---
Kamar tidur
Hanover, Lower Saxony, Jerman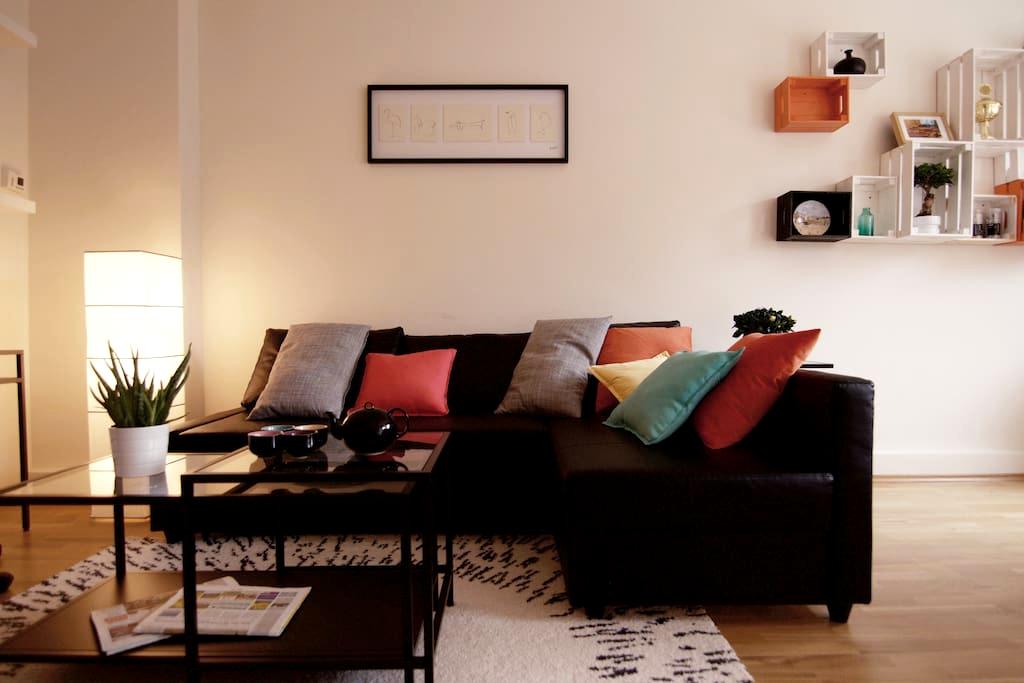 Welcome to our posh apartment in the center! The apartment has two very tasteful, ge-mütliche and quiet sleeping / living rooms. For each of these equipped with wooden floors and decorated in cheerful colors, rooms have a balcony with seating and views in Green. The two comfortable double beds (200cm x 200cm and 180cm x 200cm) ensure restful sleep. Upon request we provide for children under 2 years free cots (cot) available. For older children and 3rd person and 5th person we charge 15 euros extra per day (cot: 160cm x 70cm). Besides closet and dresser is also a dining or a job in the area. The modern and fully equipped kitchen is equipped what you need for cooking and for self catering with fridge, stove, oven, dishwasher, Senseo, kettle, toaster and all. Each of the two rooms has a private bathroom with shower facilities. Wireless, TV, music system with connections for MP3 players and USB flash drive, hair dryer, iron and ironing board and a parking space for your bikes are self-evident available. Bed linen and towels are included in the price. Caution: With an occupancy of only 2 people only a bedroom / living room and a bathroom are available! When renting both bedrooms the same price as for 3 guests. Location: Your chic guest apartment located in a small side street just off Aegidientorplatz with the same name subway station. It is centrally located wonderfully quiet in the best location, but still. Parking is amazingly simple for Hannoversche conditions in the Lemförder road, probably because this is a one-way street with no through traffic. The car can here the way to stop, because the prime location you can (almost) everywhere within walking distance. In only a few minutes walk of museums such as Sprengel Museum, Landesmuseum or Kestner Museum, City Hall and Maschpark, Maschsee, Georg and pedestrian area, Theater am Aegi, Opera, Old Town, parliament and more. The railway station is only two stops on the subway. Similarly, there are direct connections to the fair (journey time 14 minutes), the Herrenhausen Gardens and the Medical University. Cafe / bakery with breakfast option, restaurants and shops are located in the immediate vicinity. Hospitality is very important to us! We want you to enjoy your stay in our bright and modern Non smoking apartment and look forward to your visit! Rates quoted are only outside the major trade fairs! Fair prices on request. We warmly welcome you to our beautiful, recently renovated apartment. The apartment has got two very tasteful and cozy bedrooms / living rooms, each one with its own balcony, decorated in warmcolors and with wooden floors. The comfortable double beds (200cm x 200cm and 180cm x 200cm) Ensure restful sleep. In addition to seating, wardrobe and dresser there is therefore a dining area / workplace in synthesis rooms. The modern and fully equipped kitchen offers everything you need for cooking and self catering Including refrigerator, cooker, oven / microwave, dishwasher, Senseo coffee machine, kettle, toaster and so on. Each room has got its own bathroom. WIFI, TV, music system with connections for MP3 players and USB flash drive in each bedroom are at your disposal as well as iron and ironing board. Bed linen and towels are therefore included. For two persons there is only one bedroom available! In case of renting the whole flat (with Both bedrooms) for two persons we charge 25, - € extra per day (for three persons rate). Location: Your beautiful guest apartment is situated in a small side street next to Aegidientorplatz with its eponymous subway station. Although it is very centrally located it's wonderful quiet. In just a few minutes walk you will reach Several museums: such as Sprengel Museum, Regional or Kestner Museum as well as the City Hall and Maschpark, Maschsee, George Street and pedestrian zone, Theater am Aegi, opera, Old Town, parliament and many more. The central station is therefore within walking distance. There is thus a direct connection from the Aegidientorplatz to the fair (14 minutes), the mansions gardens or the Medical School. Cafe / bakery, restaurants and shops are located nearby. Hospitality is very important to us! We want you to enjoy your stay in our bright and modern non smoking apartment and look forward to your visit.
Wir waren zu dritt bei Dorothee und wir haben uns sehr wohl gefhlt. Tolle geräumige Wohnung, die Betten sind top und sehr bequem. Es ist alles da und wir würden gerne immer wieder kommen, Sehr empfehlenswert!
Robert
2017-01-08T00:00:00Z
Einer perfekte Wohnung für einen Kurzaufenthalt in Hannover - sowohl für Familien als auch für Geschäftsreisende. Die Lage ist zentral und doch ruhig. Zum Sprengelmuseum oder zum Maschsee sind es nur ein paar Schritte. Auch in der Altstadt oder am Bahnhof ist man in wenigen Minuten. Auch Ausstattung und Sauberkeit der Wohnung ist absolut tadellos. Die Einrichtung ist angenehm schnörkellos und funktional. In Küche und Bad findet sich alles, was man für ein paar Tage benötigt, sogar Kaffeepads und Tabs für die Geschirrspülmaschine liegen bereit. Besonders angenehm war die unkomplizierte, freundliche Kommunikation mit Dorothee. Kurzum: 5 von 5 Sternen. Gerne jederzeit wieder!
Wolfgang
2016-12-05T00:00:00Z
Die Unterkunft war genau wie beschrieben: sehr sauber, hell und freundlich eingerichtet in sehr ruhiger Straße und trotzdem zentral.
Claudia
2015-10-08T00:00:00Z
Unkomplizierter Kontakt, sehr gut gelegene und prima ausgestattete Ferienwohnung.
Gunnar
2013-12-23T00:00:00Z
Für unser Mädelswochenende in Hannover war die Wohnung perfekt. Sie ist genau so wie auf den Fotos abgebildet, super sauber und geschmackvoll eingerichtet, gut ausgestattet, mit bequemen Betten und die Lage ist optimal für einen Städtetrip. Dorothee war eine perfekte Gastgeberin. Auch wenn wir uns nicht persönlich kennenlernen konnten, weil sie an dem Wochenende nicht in Hannover war, waren An- und Abreise absolut flexibel und sie hat uns im Vorfeld schon mit Tipps versorgt. Wir würden jederzeit gerne wiederkommen.
Christiane
2015-02-01T00:00:00Z
L'appartamento è situato in una sona molto centrale, benservita dai mezzi di trasporto, anche se ci si può spostare facilmente anche a piedi.l'appartamento è comodo, elegante, dotato di tutto quello che ci serviva, dalla biancheria alla cucina. Spero di tornarci!
Irene
2013-12-20T00:00:00Z
Lovely, clean, luxury apartment. Located in a fantastic position with lots of lovely restaurants and bars about. Dorothee is an absolute pleasure to deal with and has gone out of her way to make our stay nothing but 5 star. Thank you Dorothee we will definitely be back to stay.
Vicky
2016-09-29T00:00:00Z
Mein Aufenthalt in der schönen Wohnung von Dorothee war sehr zufriedenstellend. Schon die Kommunikation mit Dorothee im Vorfeld war sehr freundlich und nett, und sie hat sich aus der Ferne, da sie zu dieser Zeit nicht in Hannover war, lieb um mich gekümmert und nachgefragt, ob alles in Ordnung ist, und da es eine Kleinigkeit zur Beanstandung gab (die Kaffeemaschine wollte nicht, wie sie sollte, was ja mal passieren kann) auch sofort dafür gesorgt, dass meinem nächsten Morgenkaffee nichts mehr im Wege stand. Danke, Dorothee! Die Wohnung hat alles, was man braucht, die Küche ist überkomplett eingerichtet, alles ist sehr sauber, das Bett ist überaus bequem, das Internet hat gute Dienste geleistet, und die Gegend, in der die Wohnung liegt, ist wunderbar. Außerdem ist die Wohnung ruhig, man hört keine Nachbarn, der Balkon geht nach hinten raus, und lädt zu beschaulicher Betrachtung der Bäume mit all den Vögeln dort ein. Alles in allem sehr beglückend!
Gabriela
2015-10-22T00:00:00Z
Tipe Kamar
Seluruh rumah/apartemen
---
Tipe Properti
Apartemen
---
Mengakomodasi
4
---
Kamar tidur
Hanover, Lower Saxony, Jerman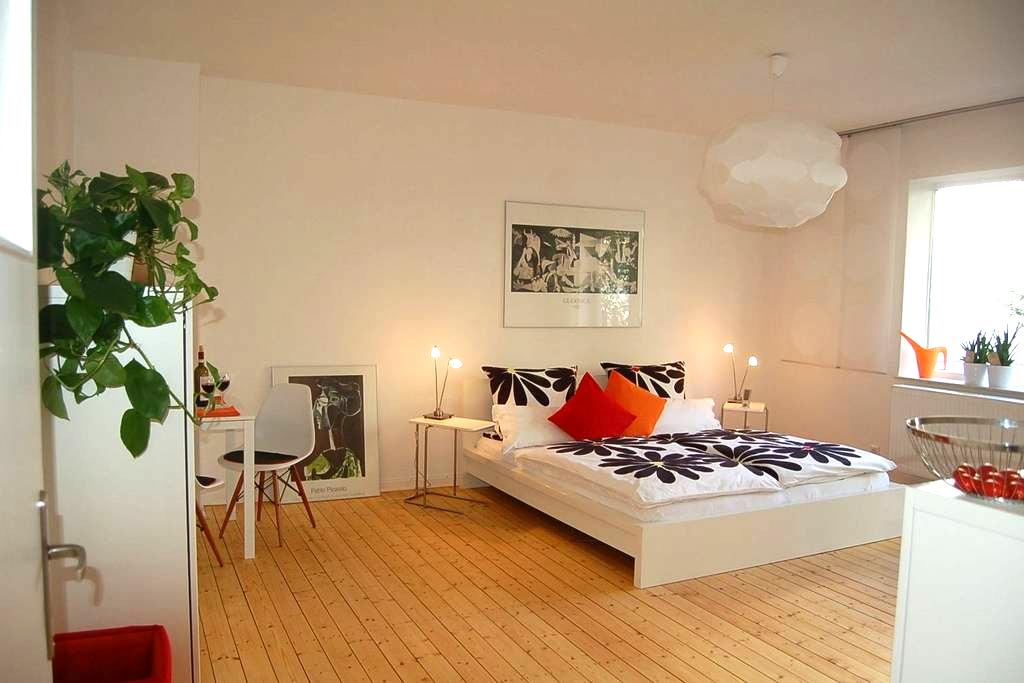 Innenstadtnah Einkaufsmöglichkeiten (Rewe, DM, Rossmann.. ) fußläufig zu erreichen. Öffentliche Verkehrsmittel direkt vor der Tür
Tipe Kamar
Seluruh rumah/apartemen
---
Tipe Properti
Apartemen
---
Mengakomodasi
3
---
Kamar tidur
Hanover, Lower Saxony, Jerman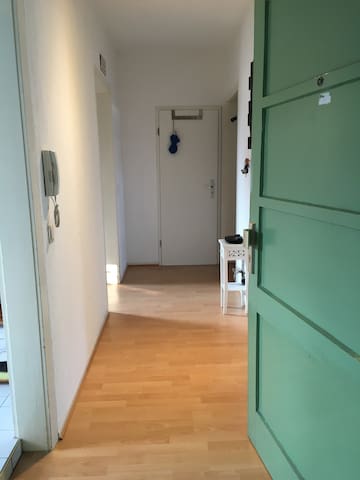 The beautiful charming and modern old apartment (77 square meters) is located with south balcony and sweeping views over the district and towards the center on the outskirts of the fashionable neighborhood of Hannover, the zoo area on the 3rd floor. 1km from the center and 5 minutes from the beautiful "Eilenriede" (city forest).
The private room has a very cozy sleeping area on a platform bed (1.40 x 2.0) in a living room with wooden floor. Besides wardrobe and shelf Wall is located in the room and a chair with side table un a workplace, including TV, DVD, CD / radio player and WiFi connection. The windows are located directly on the balcony where smoking is allowed. We want you to enjoy your stay with us and look forward to your visit.
Within walking distance (14min) you reach the main station. From there you can reach several popular attractions. 1 km away is the most beautiful zoo in Europe. Popular restaurants and shops are located in the immediate vicinity. In modern Hauptbahnhof you can / Fastfood visit seven days a week, drugstore and supermarket cafes, to 22/24 o'clock. Similarly, there is near a good run to the Messe (journey time 18 -30 minutes) to the Herrenhausen gardens, or Medical School.
Claudia was wonderful host. you literally fell like you're in a hotel. Perfectly designed big room. Everything was perfect and clean. And the breakfast was a super bonus.. thanks for all.
Mert
2015-01-20T00:00:00Z
Claudia is a sympathetic host, the flat is totally beautiful, clean and tidy. Claudia makes a very good Coffee ;) I felt very well and looked after. I would recommend Claudia to anyone who wants to stay with a warm-hearted person. Thank you!
Isabelle
2016-03-20T00:00:00Z
It was great stay in Claudia's place. Warm, cozy, clean, and with style decor. The location is great as well. Only 15 mins by walk to Hannover Hauptbahnhof and 10 mins to fine restaurants and shopping area Kropcke. We had great time there and Claudia showed us where to eat and how to take trains while picking us up walking to her place. The outside apartment view is nice too. Though there's train track nearby but not much noise inside. I'd greatly recommend for this place!!! She also provides breakfasts. The stay was so enjoyable!
Peggy
2014-03-16T00:00:00Z
The room was exactly as depicted in the pictures, extremely clean and comfortable. Claudia was most understanding and gracious to receive me at almost 3am as I took a late train from Frankfurt to Hannover. The apartment is about a 12-15 minutes walk from the HBF which is pretty good value considering the rental rates. Especially when there is a trade show going on at the Messe and all hotels were charging exorbitant prices. Had a wonderful time in Hannover, made even better by staying with a great host.
Sao Hao
2016-10-27T00:00:00Z
Claudia is a very friendly and caring hostess. She was very kind by providing fresh breakfast, sparkling water and fruit.The apartment is well-located in a quiet area which is only 15min walk to the main station. The room is comfortable, cozy and spacious. It gives the feeling of home sweet home. Thank you Claudia, I hope to see you soon!
Ivory
2015-04-19T00:00:00Z
Very nice and friendly host, clean and well designed room, great location! Everything was good.
Suin
2017-03-25T00:00:00Z
Claudia made me feel welcome, as usual, and explained things I needed to know to get around Hannover. Great host.
Terrence
2016-11-11T00:00:00Z
Claudia was an amazing and friendly host. The apartment is in a great location, close to the U-bahn but is also walkable in good weather. The entire apartment was spotless and the room was light, comfortable and relaxing. We had a lovely stay here, and Claudia makes wonderful coffee! Thank you. We would definitely stay again.
Alexandra
2016-10-22T00:00:00Z
Tipe Kamar
Kamar pribadi
---
Tipe Properti
Apartemen
---
Mengakomodasi
2
---
Kamar tidur
Hanover, Lower Saxony, Jerman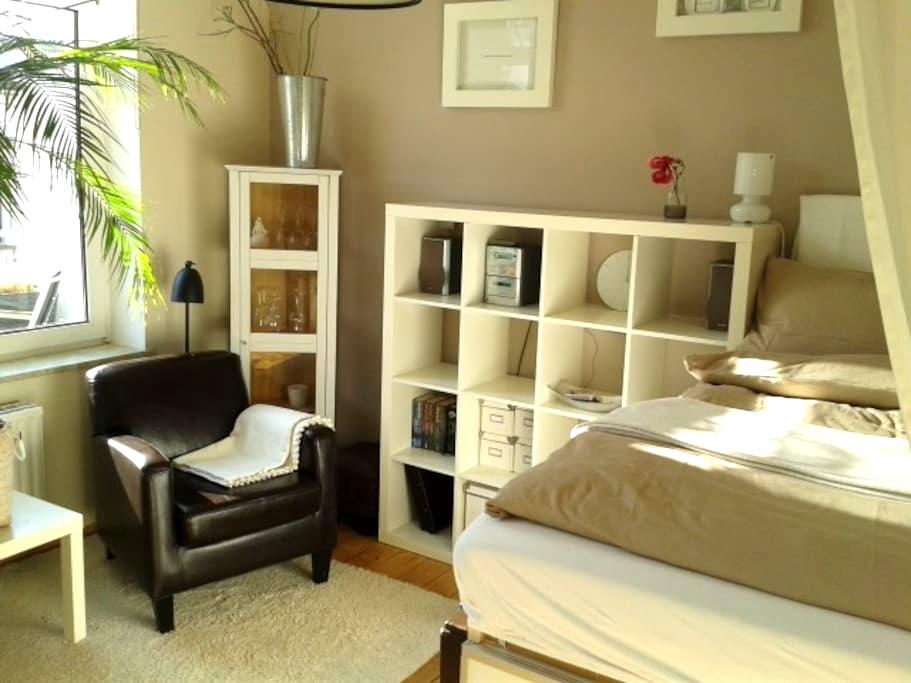 Top Lokasi! apartemen kota ini adalah lokasi dan dekat dengan semua transportasi umum (metro, bus, taksi) adalah akomodasi yang ideal bagi pengunjung ke kota Hannover. Metro Staion dirket terletak di depan pintu (10 meter). Dari sana Anda akan mencapai dada pusat kota di 2 berhenti atau akan mencapai Anda dengan cepat ke pusat pameran dan bandara. Anda akan menemukan tempat taksi di seberang jalan dan halte bus adalah pemandangan. Meskipun Anda dapat mengambil keuntungan dari kota, Anda tidak diperas ke keberpihakan jalan sempit. Rumah berdekatan dengan besar, berdaun halaman Gereja Kristus, pada siapa Anda memiliki pandangan yang indah keluar jendela dan tidak harus terus-menerus melihat dinding rumah. Di apartemen Anda tentu saja TV, akses Internet (DSL), microwave, pembuat kopi, ketel dan semua yang Anda butuhkan untuk memasak, tersedia. Handuk dan linen disediakan. Di dekat Anda akan menemukan berbagai restoran, bistro, bar, kafe dan toko-toko. Sebuah kedai kopi terletak di rumah dan bahkan toko roti terdekat Anda dapat menemukan di jalan. Jika Anda masih memiliki pertanyaan untuk saya, hanya bertanya. Saya akan dengan senang hati membantu Anda dan memberikan informasi tentang apa dan rekomendasi.
The reservation was canceled 26 days before arrival. This is an automated posting.
Jerome
2015-02-17T00:00:00Z
The flat is as nice as in the pictures, cozy, very clean, with everything you may need. The location is super convenient: just in front of the metro station, nice neighborhood, 10 minutes walk to the city center. Detlev is very kind and everythink worked perfectly!
Giorgia
2015-04-28T00:00:00Z
Great!!
Thiagarajan
2016-06-08T00:00:00Z
If you are visiting Hanover, look no further! This is the ONLY place you should stay! Clean, cosy and incredible location for any traveller, I cannot recommend this place enough. Steven and Eugen make the perfect hosts, they were kind and patient with all my queries. I cannot recommend this place more highly!
Anna
2017-01-02T00:00:00Z
Detlev is a great host! Check-in and out process was super easy and hassle-free; he provided us with all the essentials and was easy to get in contact with if we ever needed to ask a question. The apartment was clean and comfortable, in a very nice neighbourhood, near a train station and central Hannover. It is very easy and cost efficient to use transit, as Hannover is a very green, environmentally friendly city (almost everyone rides a bicycle to get around!). We were comfortable walking everywhere. Good room, good people, good city; I would definitely stay at Detlev's again.
Jennifer
2013-11-23T00:00:00Z
Detlev was very nice and helpful. The flat was very central and charming, just like on the photos. Absolutely recommended to anyone! Would definitely come back!!
philippe
2014-04-04T00:00:00Z
Lovely place, and really helpful hosts Steven and Eugen were in contact with me long before my arrival, and even called to check when my train arrives. The flat is tidy and bright, right by the church and the metró station, easy to find in a nice neighbourhood.
Kata
2016-06-30T00:00:00Z
My parents spend a few days on Steven and Eugen Apartment and it was perfect. Small but with everything you need for a confortable staying. Exactly as the photos and very clean. We will come back and stay there to see my brother living in Hannover. Good job and see you soon!
Iris
2016-04-05T00:00:00Z
Tipe Kamar
Seluruh rumah/apartemen
---
Tipe Properti
Apartemen
---
Mengakomodasi
2
---
Kamar tidur
Hanover, Lower Saxony, Jerman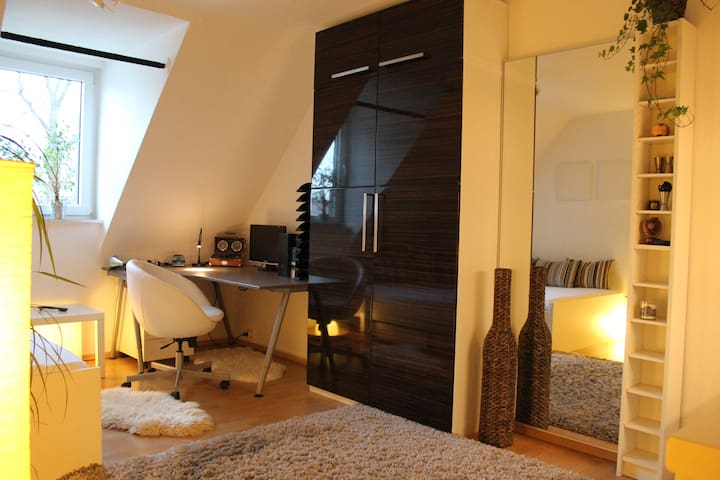 Central appartement unique chambre dans le centre de hannover ville. Il y a des supermarchés, ainsi que plusieurs bars et restaurants dans le quartier. 10 minutes walkt pour se rendre à la belle "Maschsee". Après 5 minutes à pied de la station de métro (Geibelstrasse) vous atteindrez soit le centre-ville ou le parc des expositions à moins de 10 minutes.
L'appartement est joliment décoré. Il en a combiné couchage et salle de séjour avec un lit double et un canapé-lit confortable. La cuisine est entièrement équipée et vous pouvez également trouver une machine à laver. Wifi gratuit.
Bars, restaurants, supermarchés et Maschsee - Südstadt est l'une des plus belles régions de Hanovre les!
Clean and cozy, I would certainly recommended for future trips. It is also close to the subway and getting to the Hanover exhibition hall by subway is very easy.
Yinan
2017-03-24T00:00:00Z
Tipe Kamar
Seluruh rumah/apartemen
---
Tipe Properti
Apartemen
---
Mengakomodasi
3
---
Kamar tidur
Hannover, Niedersachsen, Jerman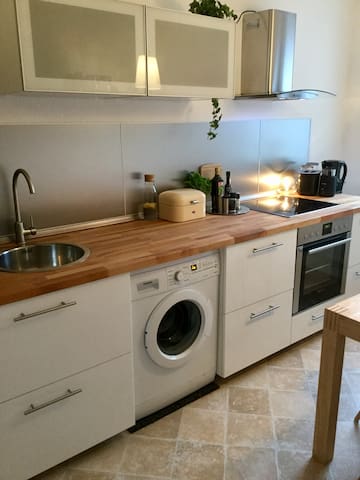 trem adalah 2 menit berjalan kaki. Setelah dua berhenti Anda berada di 3 menit di pusat Hannover. Dari sana itu adalah 15 menit dengan adil. Parkir gratis tepat di luar pintu. Dengan mobil itu adalah 15 menit dengan adil. Cepat wifi gratis :-)
3 kamar tidur (6 tempat tidur), 1 kamar mandi, 1 dapur, 70 m2 Tidur seperti raja - per malam ... Nyaman apartemen ... Di jantung kota Hannover ... Dekat Maschsee / Rumah Sakit Siloam ... Kota dari University City-Utara ... Untuk mekanik, keluarga, kelompok olahraga dan pasangan. APARTMENT Anda tinggal di sebuah apartemen yang nyaman dengan 2 kamar dan tidur di asli bahasa Inggris tempat tidur hotel. Apartemen ini dilengkapi dengan hotel furniture dari Inggris. Windows memiliki untuk menggelapkan tirai Hotel terutama bahasa Inggris. Tempat duduk yang nyaman, meja termasuk dalam kamar. pencahayaan viefältig. Internet / W-Lan diberikan. DAN GRATIS. Apartemen memiliki dapur yang nyaman, di mana semua fasilitas yang tersedia untuk memasak. Pembersihan dilakukan secara teratur. Untuk Hannover: 36 pusat atraksi yang terhubung dengan Red Thread. Ini 4,2 km panjang, dicat di jalur merah trotoar mengarah dalam bentuk tur putaran informasi wisata melalui pusat kota dan kembali ke stasiun utama. Di pinggiran kota di tepi Hannover Gewerbepark Expo Park Hannover adalah. Di dalamnya, antara lain, Planet M, Paviliun Jerman, Expowal dan menerima EXPO Plaza besar yang tersisa dari hari-hari 2000 Expo Tentang jembatan monumental Exponale Anda mencapai Hanover Exhibition Centre. Bahkan dari kejauhan Anda dapat melihat di tengah situs, atap kayu terbesar yang tidak didukung dunia (EXPO kanopi), yang Mannesmann Tower dan 88,8 meter yang menara tinggi Hermes, membawa pada ketinggian 65 meter dek observasi. Dalam besar-Buchholz adalah Telemax menara radio tertinggi di Lower Saxony, yang juga merupakan bangunan tertinggi di negara bagian. Menara TV lama di stasiun utama yang sekarang disebut VW-Tower dan hanya melayani tujuan pemasaran.
Ideal for larger groups traveling on a budget. Located in quiet neighborhood not far from the lake and its surrounding parks. Free and plentiful parking on street below.
Keith
2013-10-14T00:00:00Z
House live very warm from Metro mouth very close to Hanover Pavilion very convenient, Metro, 66 line directly to the terminus, kitchen can use, we seven people live together, hot water also compare foot, we recommend into.
Kun
2016-11-18T00:00:00Z
Great service, in apartment was daily cleaning and also all was same like my expections.
Viktor
2017-03-24T00:00:00Z
Nice appartment, nice neighborhood, recommend for big group!
Vladimir
2016-06-01T00:00:00Z
Tipe Kamar
Seluruh rumah/apartemen
---
Tipe Properti
Apartemen
---
Mengakomodasi
8
---
Kamar tidur
Hanover, Lower Saxony, Jerman
Limpio, cómodo, y moderno - el centro de la ciudad está a un paseo. El casco antiguo, todos los lugares de interés turístico, bares y restaurantes están a sólo un paseo ... El apartamento ha sido renovado en 2010/2011.
Totalmente amueblado: -Cocina -Sala -Cuarto -Baño -y un balcón (en este caso está permitido fumar) Cuarto: La cama (160x200 cm) está cómodamente equipado con sábanas de algodón de limpieza profesional y una selección de almohadas. Sala: Si reservas de mineral para dos más, el salón se complementa con una tercera cama (140 * 200) cómodamente equipada con sábanas de algodón de limpieza profesional y una selección de almohadas. Comodidades: -el metro está a la vuelta de la esquina -30 minutos al recinto ferial -shampoo, gel de ducha, zapatillas nuevas, -Toallas -secador de pelo -Lavadora máquina y secadora -hierro sábanas de algodón -profesional limpiados / ropa de cama -El Desayuno / nevera llena de acuerdo a sus deseos café maker y hervidor de agua de té, con un surtido de té y café - WiFi / Internet inalámbrica rápida Tenga en cuenta: No fumar en el apartamento, no hay excepciones. Pero que son bienvenidos a fumar en el balcón.
Cozy and well maintained flat. Quite close to the city center 10 min train ride or 30 min walking. Jewgenia, took the trouble to ask us if we have request for breakfast goods. We highly recommendץ.
Rafael
2013-04-13T00:00:00Z
Jewgenia encantadora. Piso perfecto para quién visita Hannover por trabajo.
Angela
2016-04-29T00:00:00Z
I loved this apartment, everything is well-organised and tidy. Location is very good, especially for a Turkish man like me, because there are full of Restaurants and cafes. It was very easy to go Messe also. Tram station s very close to home.
uygar
2013-11-18T00:00:00Z
Jewgenia's place was extremely clean and well stocked. We had ample space to work and rest while we were in town for the CeBIT conferece.
Trevor
2016-03-18T00:00:00Z
The host canceled this reservation 9 days before arrival. This is an automated posting.
Angelica
2016-12-03T00:00:00Z
L'appartement est très bien placé près du centre ville, et en même temps très calme avec possibilité de se garer au pied de l"immeuble. L'appartement est très bien et nous avons été très bien reçus. Nous recommandons cet appartement.
Bertrand
2017-04-09T00:00:00Z
Jewgenia ist eine tolle Gastgeberin! Die Kommunikation vorab war total unkompliziert und nett. Check-in hat auch super funktioniert. Das Apartment ist genau wie auf den Fotos gezeigt, alles sehr sauber gepflegt mit guter öffentlicher Anbindung. Meine Kollegen haben sich sehr wohl gefühlt. Absolut empfehlenswert :)
Katharina
2017-03-24T00:00:00Z
I am a pretty picky person when it comes to cleanliness and I can tell you that this apartment was absolutely spotless. The apartment has been completely re-done and therefore, you feel very comfortable in each area of the house. The owners of the apartment are genuinely happy to help and this makes one feel at home even though in a foreign country. The location of the apartment is ideal in that it is next to a very efficient outdoor metro line that can take you easily anywhere you want to go. I was there for work so I did not visit many sites, but I did walk to where many tourists were and it took me about 10-15 minutes by walking to get there. Furthermore, the owners set up many hangers and 2 racks to hang our clothes, so it was very convenient to unpack. Bathroom had plenty of new, clean towels and shower was great. By the way, the washroom fan has a 10 minute delay before it shuts off, so don't think that there is a problem with the shut-off switch : ) Jewgenia was also very considerate in buying a full fridge of breakfast items/cheese/drinks/etc. including a very delicious smoked salmon. The coffee she had was also absolutely great! There is a great trattoria about 3 minutes away called Trattoria Piu, food is great there, Italian food made the authentic way by Italian owners. All in all, a great place to stay and I would definitely go back.
Luigi
2014-11-14T00:00:00Z
Tipe Kamar
Seluruh rumah/apartemen
---
Tipe Properti
Apartemen
---
Mengakomodasi
4
---
Kamar tidur
Hanover, Lower Saxony, Jerman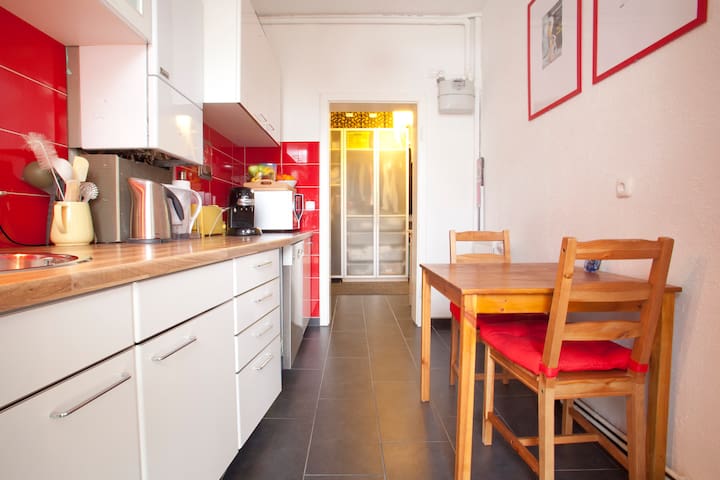 Outside seating area (courtyard), fully equipped kitchen (oven, microwave, 2 ring ceramic hob, espresso machine, coffee maker, toaster) with dining table, bathroom with large shower (and washing machine, iron, etc.) and of course TV, Hi-Fi and Wi-Fi.
Super quiet apartment (etc. espresso and coffee machine, oven, microwave, 2 burner stove) and dining area, bathroom (with seating in the courtyard garden, well-equipped kitchen with large shower and amongst others washing machine, living room with two single beds, wardrobe, 2 wicker chairs, TV satellite) and Hi-Fi. Bed linen incl., As well as enough towels.
Very lively neighborhood (near the university) with many trendy bars and shops
Heidrun ist die perfekte Gastgeberin. Als Messegast war ich in der Unterkunft bestens untergebracht. Alles war sauber und sehr effizient eingerichtet. Das Bad ist absolut top. Lediglich zur U-Bahn war mir persönlich etwas zu weit. Zur Messe Nord muss man einmal umsteigen und benötigt ca. 30. Minuten. Ich kann die Unterkunft besten Gewissens weiter empfehlen - auch für ein Paar.
Koll
2017-03-22T00:00:00Z
Sehr nette und absolut saubere kleine Wohnung, perfekt ausgestattet. Wichtig für uns auch die ruhige Lage im Innenhof. Die Kommunikation mit der sehr freundlichen und hilfsbereiten Gastgeberin hat problemlos funktioniert. Wir kommen gerne wieder. Pet(PHONE NUMBER HIDDEN)
Peter
2016-12-28T00:00:00Z
Our stay at Heidrun's flat was perfect! I booked the apartment for a weekend stay to see a concert, but wasn't sure what to do in Hannover aside from that-- luckily the apartment is very centrally located, which made exploring the town on a whim very easy! We also appreciated the box of maps and tourism material to help us out, among all of the other great amenities listed. It was very clean, warm, and comfortable, and very affordable for the location and everything there was to offer. If I come back to Hannover, I will definitely look into staying here again! In addition, Heidrun was wonderful to communicate with. She is so friendly and patient, and responds to emails very quickly. I can definitely recommend a stay here!
Keely
2016-10-23T00:00:00Z
Super sauber! Super Vorbereitung der Unterkunft und super Betreuung. Ausstattung großartig. Sehr netter Kontakt!
Adrian
2016-10-26T00:00:00Z
Heidrun ist eine ideale Gastgeberin: hilfreich, zuverlässig und charmant. Die Wohnung war zentral gelegen, aber doch sehr ruhig, sauber und mit einem schönen Blick auf den Garten in dem Innenhof. Meine Zeit dort habe ich sehr genossen, und ich würde die Unterkunft von Herzen empfehlen. Heidrun is an ideal host: helpful, reliable and charming. The apartment was centrally located, yet very peaceful; it was clean, and had a lovely view of the courtyard garden. I enjoyed my time there, and would recommend this accommodation heartily.
Ambika
2014-10-13T00:00:00Z
Great host - very helpful and friendly. Very nice place,great locations,very clean. Is so quietly. I recommend to everyone.
Vladan
2014-11-14T00:00:00Z
Liebe Heidrun, ich habe mich in Eurer Wohnung super wohl gefühlt. So liebevolle Details, so sauber, so gut organisiert - einfach toll! Dazu deine nette Einführung und Hilfsbereitschaft - besser geht's wirklich kaum. Vielen Dank dafür. Es hat viel zum Gelingen meines Aufenthaltes beigetragen, und ich komme gerne wieder.
Antje
2016-07-29T00:00:00Z
Alles tiptop, jederzeit wieder. Die Unterkunft entspricht der Beschreibung resp. übertrifft diese sogar. Lage ist sehr ruhig. Kommunikation und Schlüsselübergabe lief super.
Ute
2016-08-23T00:00:00Z
Tipe Kamar
Seluruh rumah/apartemen
---
Tipe Properti
Apartemen
---
Mengakomodasi
2
---
Kamar tidur
Hanover, Lower Saxony, Jerman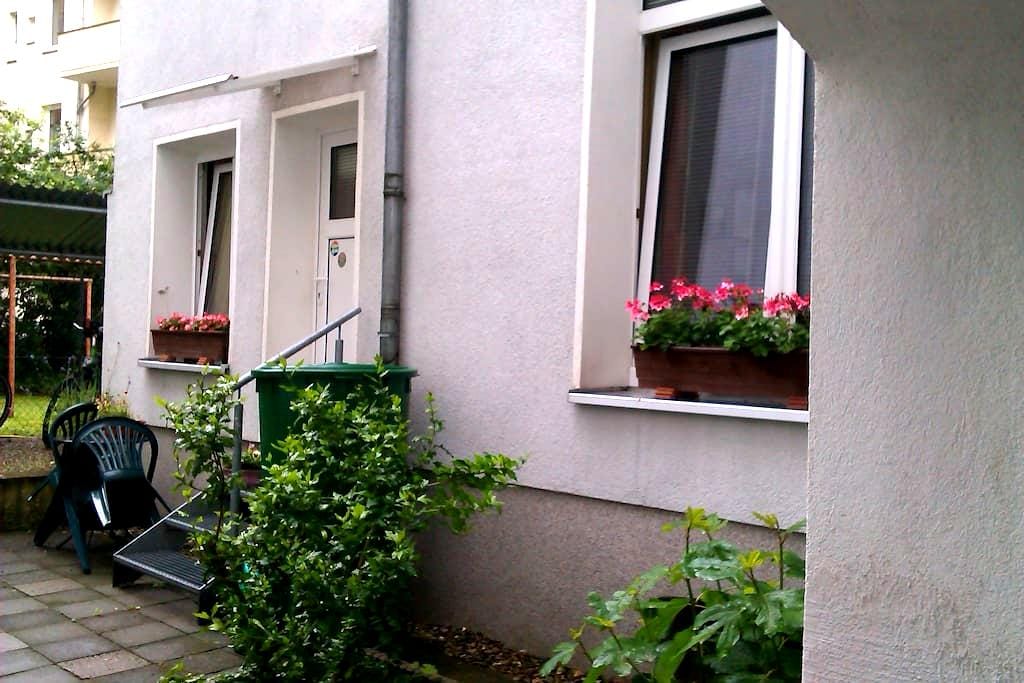 Individual & stylisch home away from home :-) An own house to stay in Hannover. - Schlafzimmer mit Doppelbett - neues tolles Bad mit Regendusche - ab sofort: MIT Küchenzeile, 2. Schlafzimmer und 2. WC (dann 50qm!!!) - freies Wlan - sonnige Terrasse - sehr ruhiger Anbau im Innenhof - zentrale Lage/ U-Bahn in 1 Min zu erreichen
Für Individualisten und alle, die etwas BESONDERES suchen: 50qm Wohnfläche plus eigene Terrasse laden zum Verweilen und Wohnen im Herzen der Südstadt von Hannover ein! Dieses komplett renovierte und neu eingerichtete Ferienhaus befindet sich in einem sehr ruhigen Innenhof. Es verfügt über einen eigenen, seperaten Eingang, mit zusätzlicher Sonnenterrasse von 20qm. Parken können Sie direkt vor der Haustür! Es steht Ihnen bei Bedarf ein Parkplatz für Ihren Aufenthalt zur Verfügung. Alles so eben nagelneu: saniert, frisch renoviert, neu eingerichtet, neues Bad, neuer Boden, neue Wandgestaltung, etc. Modernes Ambiente für unsere Gäste. Wir legen viel Wert auf Style aber auch Behaglichkeit. Ausstattung: Es finden hier 1-4 Personen Platz. Im Obergeschoss: Doppelbett: 1,80 Meter breit, zusätzlich kleine Sitzecke mit Sessel, Tisch und Stühle, geräumiger Kleiderschrank, Kommode, Flatscreen TV, Internetradio, Bücher, usw. Das Badezimmer im Obergeschoss ist in warmen Farbtönen gehalten; weiße Sanitärobjekte, mediterrane Fliesen, mit großer Glas-Regendusche, eingebautem Radio, Spiegel, Fön und mehr. Im Erdgeschoss wurde eine neue, helle Küche installiert. Diese verfügt über Kühlschrank, Ceranfeld, Mikrowelle, Herd, Spülmaschine, Toaster, Kaffemaschine, Wasserkocher und eine Vollausstattung Töpfe/ Besteck/ Teller/ Tassen/ Geschirr, usw. Ebenfalls im Erdgeschoss zu finden sind: neues Federkern Schlafsofa (1,50 x 2,00), ein weiterer TV, Bartisch plus 4 Stühle, Garderobe und ein 2. WC inkl. Waschbecken. Vor dem Ferienhaus ist Ihre eigene Holz-Terrasse von ca. 20 qm inkl. grauen Lounge-Möbel angelegt (Fotos folgen) Freies Wlan ist natürlich selbstverständlich! Supermarkt, Bäcker, Bank, Drogerie und Restaurants in direkter Nachbarschaft. Man kann alles bequem zu Fuß erreichen! NDR Funkhaus und Sprengel Museum sind in 5-7 Minuten erreichbar, oder joggen Sie von hier aus um den Maschsee ... Für alles ist gesorgt. Wir freuen uns gerne auf Deine Buchungsanfrage. Langzeitmieter sind ebenfalls gerne willkommen :-)
Die Süstadt ist ... modern zentral stylisch gemühtlich angesagt
Wonderful location of the flat, beautiful design and hospitable owner. Using the stairs you feel younger.
Наталія
2015-01-07T00:00:00Z
Our host greeted us at the adress and showed us their nice appartment. It felt like staying at an hotell, with good information regarding the neigghorhood. We have been well taken care of.
Michael
2015-04-16T00:00:00Z
Our first time to Hannover was made brilliant by staying in Katrin's flat. It is lovely and airy and close to everything. Katrin was very helpful with information and recommendation of restaurants. Will highly recommend this flat .
alan
2015-09-21T00:00:00Z
Wir haben uns wie Hotel gefehlt. Es fehlte uns an nichts.
Johanna
2016-10-09T00:00:00Z
Das Zimmer mit Bad ist perfekt für einen Kurzaufenthalt, die Absprachen mit Katrin liefen schnell und unkompliziert.
Susanne
2014-11-22T00:00:00Z
Katrin ist eine ganz wunderbare Gastgeberin und es hat uns nichts gefehlt während unseres Aufenthalts. Die Wohnung ist genauso hübsch eingerichtet wie auf den Fotos zu sehen ist und die neue Terrasse ist ein echtes Highlight, wir kommen gerne wieder.
Carolin
2015-05-24T00:00:00Z
Tipe Kamar
Seluruh rumah/apartemen
---
Tipe Properti
Rumah
---
Mengakomodasi
4
---
Kamar tidur
Hanover, Lower Saxony, Jerman
Gemütliches, ruhiges Zimmer mit offener Küchenzeile in einer Dachgeschoßwohnung mit Badezimmer zur alleinigen Nutzung. Zu Fuß ist man in 5 Minuten an der U-Bahnhaltestelle Schlägerstr. Die U-Bahn/Stadtbahn benötigt 5 Min zum Hbf oder 13 Min zur Messe. Einkaufsmöglichkeiten und Restaurants erreicht man zu Fuß in 5 Min.
Gemütliches, ruhiges Zimmer mit offener Küchenzeile in einer Dachgeschoßwohnung mit Badezimmer zur alleinigen Nutzung. Die moderne und voll eingerichtete neue Küchezeile ist mit Kühlschrank, Herd, Backofen, Geschirrspüler, Kaffeepadmaschine, Wasserkocher, Toaster und allem was man zum Kochen und für die Selbstverpflegung benötigt ausgestattet. Außerdem hat sie einen Dunstabzug. Das 2. Zimmer in dieser Wohnung (nicht für den Gast) nutzt meine Freundin gelegentlich als Lese- und Arbeitszimmer. Der Gast schläft also allein in dieser Wohnung. Die Wohnung wurde 2016 renoviert und neu eingerichtet. Auch Bett, Matratze und Kopfkissen sind neu. Lage: Die Wohnung liegt in einer kleinen Seitenstraße zwischen Aegidientorplatz und Maschsee. Man wohnt zentral in allerbester Lage, aber dennoch herrlich ruhig. In 5 Fußminuten ist man an der U-Bahn und am Maschsee und in 15 Minuten in der City. In 13 Min mit der U-/Stadtbahn an der Messe und in 5 Minuten am Hauptbahnhof. Einkaufsmöglichkeiten und Restaurants erreicht man zu Fuß in 5 Min. Museen wie z.B. Sprengelmuseum, Landesmuseum oder Kestner Museum, Rathaus und Maschpark, Maschsee, Georgstraße und Fußgängerzone, Theater am Aegi, Oper, Altstadt, Landtag und vieles mehr erreicht man zu Fuß in 5-15.
Im Umkreis von 1 km findet man u.a.: Neues Rathaus, Niedersächsisches Landesmuseum, Sprengelmuseum, HDI-Arena, Markthalle, Bürgeramt Mitte, Bürgerbüro der Region, Aegidientorplatz, Servicezentrum Landentwicklung und Agrarförderung.
Gaby and Joachim rented the room out to me during November 2016. The room is cozy and nicely decorated. There is good wifi, a television and a perfectly equipped kitchen. Also the bathroom was always clean an had everything one would wish for. Once every 7-10 days i was supplied with fresh bed-linnen and towels. Aside from that, Gaby and Joachim are very friendly people who really take care in giving you a comfortable stay. The communication was easy, clear and always friendly. I would happily rent the room again if I visit Hannover.
Max
2016-11-30T00:00:00Z
It's a modern room with all amenities. Joachim and Gaby are one of the best people I have ever met in my life. I salute you both for being the great host. Amazing stay it was at your place and it would always remain close to my heart.
Sooraj
2016-10-22T00:00:00Z
Super netter Kontakt und perfekt für alle, die die Nähe zum Maschbergsee oder dem Stadion suchen. Vom Bahnhof fußläufig in 15-20 Minuten zu erreichen und nur 5 Minuten zum See. Jeder Zeit gerne wieder!
Jörg
2016-10-12T00:00:00Z
Joachim is a very good person. He helped me to arrive to the flat and I found him when I arrived (in the evening). The flat is clean, well furnished, with wifi for me very important. More, the flat is well connected to the underground and it is possible to arrive to the Main station in few minuts.
Ferdinando
2016-10-27T00:00:00Z
Amazing stay! Great communication, great room very comfortable and close to the city centre. Highly recommended!!!
Filippo
2017-03-19T00:00:00Z
Absolutely top class in terms of location, cleanliness of property and quality of hospitality. Perfectly suited for solo travellers and highly recommended!
Eugene
2017-03-18T00:00:00Z
Federico
2017-04-01T00:00:00Z
Der Aufenthalt bei Joachim war rundum schön. Die Kommunikation war sehr gut. Die Unterkunft war sehr zentral und schön gelegen. Der Maschsee,sowie die Innenstadt waren fußläufig zu erreichen. Die Wohnung war sehr modern eingerichtet und frisch renoviert. Bei unserer Ankunft war sogar der Kühlschrank für uns gefüllt. Sowohl Handtücher, als auch Bettwäsche waren vorhanden. Wir fühlten uns wie zu Hause! Jederzeit würden wir wieder bei Joachim buchen! :-)
Angelika
2016-10-11T00:00:00Z
Tipe Kamar
Kamar pribadi
---
Tipe Properti
Kondominium
---
Mengakomodasi
1
---
Kamar tidur
Hanover, Lower Saxony, Jerman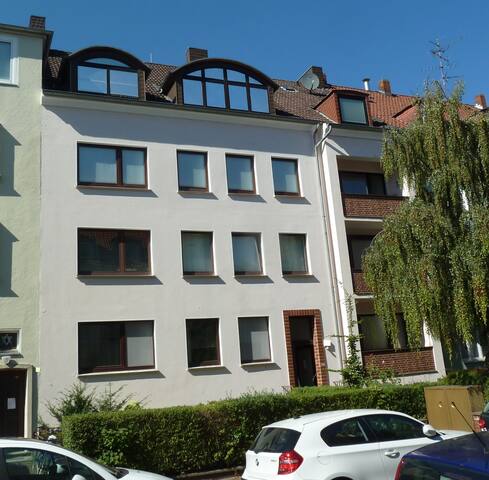 -next to the 'Herrenhäuser Gärten' - perfect for fair visitors - next to the university -balcony and bathtub
Tipe Kamar
Kamar pribadi
---
Tipe Properti
Apartemen
---
Mengakomodasi
2
---
Kamar tidur
Hanover, Lower Saxony, Jerman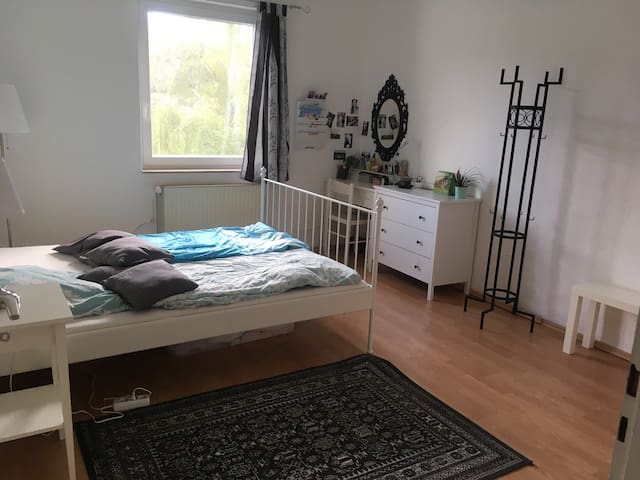 Absolut bedste beliggenhed! I hjertet af Hannover, på rolig baggård beliggende Ikke-ryger lejlighed, 2 minutters gang til Kröpcke (i midten), 5 minutters gang til Central Station, lyse, rummelige værelser. Store, komfortable senge. Direkte forbindelse til messen.
Absolut bedste beliggenhed! Direkte i Hannover centrum, på en baggård i et roligt sted, denne velholdte Ikke-ryger lejlighed. Indtil Kroepcke (centrum og knudepunkt for offentligheden. Transport) er der to minutter. Hovedbanegården fem. Direkte forbindelse til messecenter og lufthavnen. Inden for et par minutter kan du nå også flere museer, teater, Operaen, Maschsee, rådhuset, markedet hall, Eilenriede, den gamle bydel og meget mere. Direkte forbindelse til Royal Gardens (rejsetid 12 minutter) og Hannover Zoo (rejsetid 10 minutter) Lejligheden har to smagfuldt indrettede værelser, hver med en 1,40 x 2,00 meter seng. I det største af de to soveværelser, er der også en komfortabel sovesofa. Den rummelige stue med komfortabel sofa og to lænestole, er også lyse og venlige. Ved siden af tv og dvd-afspiller, der er et skrivebord og et komplet hi-fi-system i stuen. Det moderne køkken er udstyret med køleskab, komfur, Senseo kaffemaskine, el-kedel, mikroovn og brødrister, så alt, hvad de har brug for til madlavning og selvforplejning Eget bad. Separat toilet. Fås også: Telefon, trådløs internetforbindelse, Uden for: En gratis parkering i gården. Hausregeln
Lejligheden er ret i byen Hannover på en baggård. Der er ingen direkte kvarter.
Very satisfied with our stay at Achim's place. Great location, right in heart of Hannover on a small corner road. Public transport, restaurants and shops all were just around the corner. The apartment was clean and tidy, and actually larger than imagined. Thank you Achim for the nice stay!
Gunars
2017-01-16T00:00:00Z
alles super! Danke!
Santina
2017-01-06T00:00:00Z
Great apartment at a perfect location. Nice big rooms in the center of the city. We will be back again
Wilco
2015-08-09T00:00:00Z
Große, funktionale Unterkunft mitten im Zentrum mit Parkmöglichkeit. Achim war sehr nett und entgegenkommend bezogen auf die (frühmorgendliche :)) SchüsselÜbergabe und die Anzahl der gewünschten Schlüssel.
Sonja
2015-05-24T00:00:00Z
very comfortable rooms in the centre of the city. nice interieur and big comfortable beds. The best variant for two pairs! i would like to return again to this flat!
Maksim
2016-03-15T00:00:00Z
Great Location in the City Center, sights and shops on your door step (walking distances). The apartment is very spacious. clean and comfortable. Has everything anybody needs.
Magnus
2015-07-25T00:00:00Z
Amazing place and host is very friendly and helpful.
Magnus
2016-07-31T00:00:00Z
This very spacious, bright and clean apartment is perfect for two couples or groups traveling together, or for a longer term stay. My husband and I shared the flat with my sister and her 18 year old son; we each had our own rooms to sleep in. In addition to the large two double bedrooms (with closets and dressers/chests of drawers, and plenty of bedding), it has a large living room (where one person can also sleep), a separate kitchen (with all you need), a separate toilet room, and a separate shower room (with towels). It is centrally located, so you can walk to the old town, the Rathaus, the Marschsee, and easily catch U-Bahns everywhere! Achim is a very nice and super relaxed host. He is fluent in English and manages a sound studio on the ground floor of the building (his office is above the flat). There is music during the day and into the early evening from the courtyard, but if there are any problems, you can tell Achim. He helped us with flexible check-in/-out times, got us oriented and provided maps, gave us three sets of keys, let us borrow a clothes air-dryer (we hand-washed some things), and printed out our boarding passes. A highly recommended flat! Note: it is best to communicate with Achim via the Airbnb webpage.
Karen
2014-08-12T00:00:00Z
Tipe Kamar
Seluruh rumah/apartemen
---
Tipe Properti
Apartemen
---
Mengakomodasi
5
---
Kamar tidur
Hanover, Lower Saxony, Jerman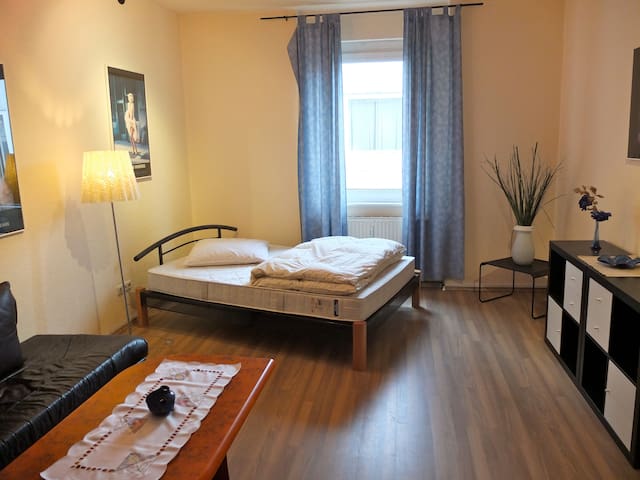 Die Wohnung befindet sich in absolut zentraler Lage, dennoch ist es in Ruhe. Der Hauptbahnhof ist in nur 4 Minuten Arbeitsabstand. Aprox. 60qm, muss die Wohnung über ein Wohnzimmer, ein Schlafzimmer, eine Küche und ein Bad. Es ist ideal für zwei bis vier Personen.
Die Wohnung befindet sich in absolut zentraler Lage, dennoch ist es in Ruhe. Es hat ca.. 60qm, ist in der dritten Etage und verfügt über ein Wohnzimmer, ein Schlafzimmer, eine Küche und ein Bad. Es ist ideal für zwei Personen, doch auch vier Person könnte leicht bleiben in meiner Wohnung (kann bequem zum Schlafen der Coach im Wohnzimmer verwendet werden).
Die Wohnung befindet sich direkt am Anfang der Lister Meile (Weißekreuzplatz). Das Herz von Hannover, der Altstadt, der "Kröpke", alles kann leicht durch Lebensmittel zu erreichen. In Schlagdistanz werden Sie eine Menge von Pubs, Restaurants, Diskotheken, Geschäfte, etc. finden
Peter was really friendly to pick us up from the train station himself. Walk us to his place. And showed us on the way some great places to eat and gave us advice what we could do in Hannover. He even had some city maps ready for us :-D And the best: He left us some nice beers to drink. So awesome! Thanks for staying at your place! Whenever I need a place to stay in Hannover I will first contact Peter ;-)
Jeroen
2015-02-01T00:00:00Z
Es waren kalte Getränke bereitgestellt, auch den Kaffeeautomaten durften wir benutzen. Die Wohnung entsprach genau der Beschreibung, gemütlich, interessant, sauber und ordentlich. Ausreichend frische Handtücher und auch Bettwäsche waren vorhanden. Die Lage ist ideal / zentral . Die Kommunikation und die Schlüsselübergabe war super unkompliziert. Auf jeden Fall sehr empfehlenswert.
Gunda
2015-08-16T00:00:00Z
Wow what should I say! Everything went super smooth and the apartment was just TIPTOP. Since the booking to arriving at Peter's apartment was really a piece of cake. Peter made it sure he is always available on his (SENSITIVE CONTENTS HIDDEN), mail and also via Airbnb app. The apartment was right next to Hannover hbf and plenty of restaurant near by. Old city is right about 10-15 min walk away. Shopping street is about 5 minutes walk away. You really get more than what u've paid for. Peter is such a sweet host. I was there for my badminton tournament. He even left some energy drinks and candies on the table which I found super sweet and his attentiveness. I would highly recommend this apartment who ever wants to stay at Peter's apartment.
Hussain
2016-06-14T00:00:00Z
Thanks to Peter and his lovely appartment we've had a great stay in Hannover. Communication in advance has been superb. Making an appointment for the key handover was straightforward. Due to illness of one of my friends we changed the reservation and this was no problem for Peter. The appartment itself was as described and Peter left the wifi password on a note so we could make use of the W-lan. I would recommend staying at Peter's to anyone!
David
2015-05-31T00:00:00Z
Alles prima, uneingeschränkt weiter zu empfehlen! :-)
Martin
2017-03-01T00:00:00Z
The host canceled this reservation 5 days before arrival. This is an automated posting.
Robert
2016-01-03T00:00:00Z
Tipe Kamar
Seluruh rumah/apartemen
---
Tipe Properti
Apartemen
---
Mengakomodasi
2
---
Kamar tidur
Hanover, Lower Saxony, Jerman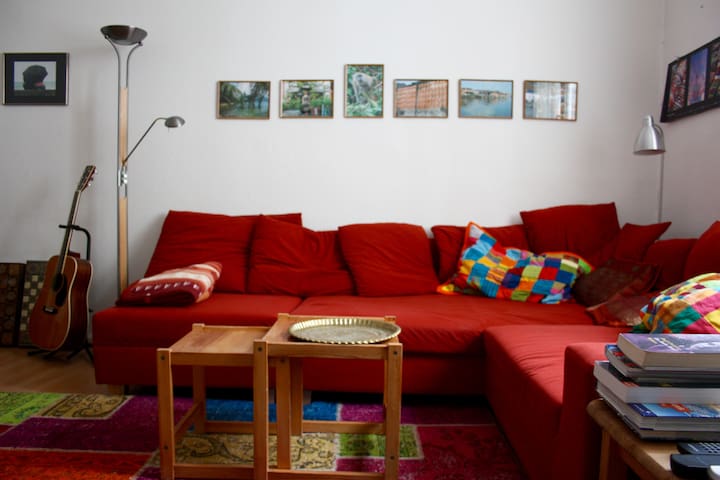 مركزي ويقع في مكان هادئ على من قديم بارك توفر لدينا واسعة 180 متر مربع - Altbauwohnung نقطة انطلاق مثالية لزيارة المعارض وغيرها من الأحداث في هانوفر.
نحن الإيجار لدينا جميلة، كبيرة شقة 5 غرف نوم في حي العصرية Hannover- ليندن. وهو موجود في شقة قديمة ويقع في بارك، في حين أنه لم يتم بعد 3 دقائق فقط سيرا على الأقدام من ساحة السوق مع المحلات التجارية والمطاعم اللامع والحانات. هنا في مترو الأنفاق والحافلات والقطارات. في gesammtenWohnung هو الأرضيات البلوط، والذي يعود إلى حد كبير من البناء في 1892 والحفاظ عليها بشكل جيد جدا. ارتفاع السقف هو 4.20m وفخم ورسمت جزئيا و / أو مزينة بالجص / الخشب. غرفة المعيشة لديه موقد كبير. الحمام مع 12 مترا مربعا واسعة جدا ومجهزة مع حوض استحمام لمدة 2، والمشي في دش واثنين من بالباطل. وبالإضافة إلى ذلك هناك حمام للضيوف. المطبخ مع حوالي 40sqm لديه الجزيرة الطهي (غاز السيراميك و) ومنطقة جلوس الساحرة تحت الثريا. غرف النوم لهما جو حقيقي الشعور بالسعادة. ويوفر الفندق الثالثة برول أريكة في غرفة المعيشة، وهو ممتاز للسرير الفندق. يتم تقريب الرعاية من قبل شرفة جميلة، وهو أمام غرفة المعيشة وSitzpatz في حديقة صغيرة أمام المطبخ. إلى الشقة ينتمي لStellpatz على الممتلكات. المحطة الرئيسية على بعد دقائق فقط بالقطار. طريقة سريعة، حتى إلى المعرض، المتاخمة للمنطقة.
Michael and Susanne were exceptionally friendly, warmly greeting us and making us feel at home instantly. Their home is very spacious with interesting and artistic decor and furnishings. Linden is an attractive area, with many period houses, an excellent Saturday food market and various independent shops all within walking distance. I would highly recommend Michael and Susanne as hosts.
Christopher
2014-12-08T00:00:00Z
Wirklich grossartige Wohnung im Szeneviertel Linden fast direkt am Lindener Markt. Hatten alle 4 eine gute Zeit.
Gerrit
2016-06-06T00:00:00Z
Everything was excellent as per usual. Ever warm and friendly, Michael and Susanne are ideal hosts.
Christopher
2016-09-05T00:00:00Z
kein Kritikpunkt Wohnung, Lage, Service top
Mark
2016-10-28T00:00:00Z
Michael and Susanne's home is spacious, very well presented and comfortable. The area is quiet yet there are excellent local amenities a short walk away. Michael and Susanne are very welcoming and friendly hosts.
Christopher
2016-01-26T00:00:00Z
Casa grande y bonita muy bien decorada, agradable y acogedora. Situada en un barrio tranquilo ,cerca del centro, con un bonito jardín. Los anfitriones dejan su propia casa lo que se percibe en el ambiente.
Marta
2016-01-18T00:00:00Z
The house was fabulous and made our working week in Hannover a real pleasure. Great location for bars, restaurants and shops. The dedicated parking space was a real bonus for our van. Michael made us feel very welcome, especially with some beers in the fridge a nice touch. If you want somewhere spacious, classy, historic and full of interesting artefacts then this is the place in Hannover. We would definitely recommend it.
Bryan
2016-11-20T00:00:00Z
Es war einfach nur tolllllll. Sehr sauber und ordentlich. Eine tolle Wohnung mit einer super offenen Küche und Sitzgelegenheit um abends in Ruhe zu entspannen. Ich würde sofort wieder kommen. Die Lage ist zentral und man kann zu Fuß abends auch gemütlich essen gehen. Die Gastgeber sind super nett und zuvorkommend. -> Perfekt, hier fühlt man sich wie zu Hause :-)
Valentina
2016-09-27T00:00:00Z
Tipe Kamar
Seluruh rumah/apartemen
---
Tipe Properti
Apartemen
---
Mengakomodasi
5
---
Kamar tidur
Hanover, Lower Saxony, Jerman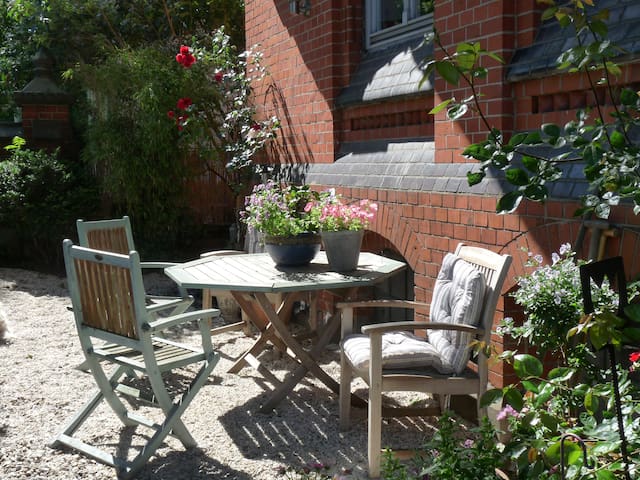 1

–

18

dari

300+ Sewa Tempat
Masukkan tanggal untuk melihat harga lengkap. Biaya tambahan berlaku. Mungkin dikenakan pajak.