Cosy attic apartment on the 3rd floor very close to the S train and Busses. S train to Copenhagen takes only 20 minutes and your are in the centre of Copenhagen. Large bedroom, bathroom with shower, dining kitchen and large cozy livingroom. Bus to the shopping town of Lyngby 6 minutes. 5 minutes walk from Bagsvaerd Lake and the beautiful nature.
Large bedroom, bathroom with shower, dining kitchen and large cozy livingroom. Just leave the apartment clean and tidy in the condition in which you received it.
Neighbors of the property is nice and helpful. There are butcher and cheese shop in the property. Several small restaurants or cafes nearby.
We had a perfect stay in Matthias' apartment. His apartment was so cozy, comfortable, clean and warm that we truly felt like home. He even wrote a welcome not for us, left some food in the fridge and provided us with lots of information about what to visit in Copenhagen. We couldn't ask for more! If I ever come back to Copenhagen, I'd definitely stay in this apartment :) 100% recommended! Thank you Matthias for everything! you're a really good host. All the best, Natalia
Natalia
2016-11-06T00:00:00Z
Very nice apartment, 25 min ride away from Central Copenhagen by local train. Local train station very close to flat (yet the flat is not noisy), shops, ATM 5 min away on foot. Everything as in the description, communication with the owner very good. Thank you Matthias!
Robert
2016-08-05T00:00:00Z
Eine sehr schöne Wohnung im einfachen Stil. Die Entfernung zur Stadtmitte ist absolut in Ordnung. Mit der Bahn (1min von der Wohnung entfernt) ist man innerhalb 20min mitten in der City. In Fußnähe zur Wohnung gibt es auch einen See, der zum Spazierengehen einlädt. Der Gastgeber war stets hilfreich und professionell. Absolute Empfehlung
Joshua
2016-11-15T00:00:00Z
Matthias was away during my stay but had been visiting my home county in England the previous month so we met and he entrusted me with the keys to his apartment. I mentioned that I have eczema and he went to the trouble of washing the bedding in Ecover, though I had not asked him to do so, which was very kind. When I arrived I found a friendly, welcoming letter as well as plenty of advice and information leaflets. The listing was totally accurate; the apartment was as described, if not better. The neighbourhood consists of flats, shops and cafes with a beautiful lake nearby; the bus stop and the station for local trains are a few minutes away.
Ros
2016-08-02T00:00:00Z
We absolutely loved Matthias' apartment - it was warm, cosy and the perfect stay for us. Matthias was incredibly welcoming too, very helpful and genuinely friendly. His apartment was beautifully set out and equipped with everything that we needed to enjoy our stay. It had excellent transport links into Copenhagen, and we never found ourselves waiting for a train. There were supermarkets and shops only a few minutes away so we enjoyed home made cooking every night by candle light (Matthias kindly allowed us to use his candles). We really loved his apartment and if we come back to Copenhagen we know where we will be staying! :)
Serena
2015-09-22T00:00:00Z
The apartment was nice and clean, and we enjoyed our stay a lot!
David
2016-09-26T00:00:00Z
La casa es muy bonita y acogedora, durante mi estancia el anfitrión no estuvo, pero lo dejo todo organizado, dejó bastante información sobre la ciudad y algo de comida en el frigorífico. ..verdaderamente estuve muy a gusto. Las conexiones con el centro son muy buenas y la estación está al lado de la casa . volvería sin duda alguna
francisco
2016-05-10T00:00:00Z
As my husband and I had family coming over for Christmas and needed a place to stay for them, we were really happy finding the flat of Matthias. He wasn't there when my mother and my sister arrived, but the two of us arranged the key-swapp some days before, which was easy and great (Thank you). Matthias wrote a welcome note and had every thing else prepared for an easy, great and lovely stay. There were information on the apartment as well as on the surrounding area and Copenhagen. My mother and my sister felt very comfortable and being-at-home in Matthias home. We will definitly have guests there again and/or stay there ourselves. I think there is no better place to stay in Bagsvaerd than the apartment of Matthias :)
Wiebke
2015-12-28T00:00:00Z
Tipe Kamar
Seluruh rumah/apartemen
---
Tipe Properti
Apartemen
---
Mengakomodasi
2
---
Kamar tidur
Bagsværd, Denmark
Værelse udlejes til rolig lejer. Der er adgang til te-køkken med cafe bord. Indeholder køleskab, fryser, vaskemaskine, tøretumbler. Værelset ligger med umiddelbar adgang til gaden på egen etage. Vores hus ligger ved Bagsværd sø, som er et dejligt grønt område til en gå eller løbetur. Offentlig trafik til København City
Boligen er i to plan - hvor lejer har adgang til stueplan. Bad, køkken og værelse er således i eget plan.
Søen, gode indkøbsmuligheder. Tæt på København.
Tipe Kamar
Kamar pribadi
---
Tipe Properti
Rumah
---
Mengakomodasi
1
---
Kamar tidur
Bagsværd, Danmark, Denmark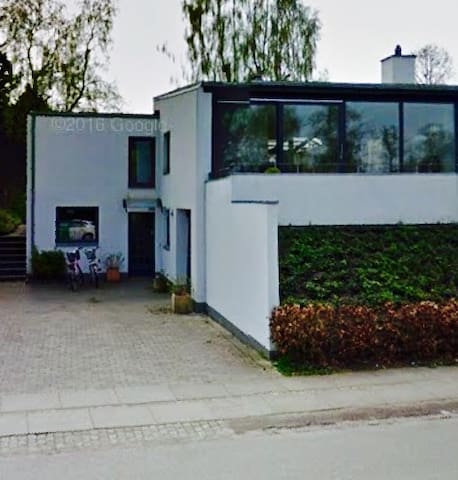 Welcome to our house near Copenhagen. The house (165m2) has a nice, open kitchen with all necessary equipment, incl. dish washer and Nespresso machine. The living room and dining room are cozy with a large sofa and a big dining room table.
Cozy, 3 story town house with room for 8 guests. There is a garden with afternoon sun with a large terrace with garden furniture and big trampoline. Grill is available as well.
The house is located on a closed street where it's safe for kids to play. Bathing location is available 10 minutes away by car (Furesoe lake)
Susanne is a welcoming and friendly host, who had arranged everything well before our arrival. As a mum travelling alone with my two young boys the house and 'package' was great. Everything was taken care of, every amenity available and cleaning organized with a cleaning company. In addition, Susanne's kids had made their indoor and outdoor toys, books and vehicles available, which made us feel like home. Thanks to the whole family for a great stay and an excellent experience in Bagsværd!
Katrine
2016-07-05T00:00:00Z
The Host wasn't around but she was contactable on phone EVERYTIME. The house is so beautiful and much more than described. We loved our stay sooo much. Thank you alot Susanne for giving us your place to stay. Its a very BIG house. I will highly recommend this place and its a great place for children aswell with nice garden. Beautiful apartment, lovely host and very nice neighbourhood.
Adedeji
2015-10-16T00:00:00Z
Maison typique à proximité de Copenhague idéale pour découvrir en famille la ville et ses environs. La maison est moderne, bien équipée et très fonctionnelle. Elle mériterait cependant d'être mieux rangée et nettoyée en profondeur. Il manquerait aussi un four micro-ondes
Saracco
2016-07-18T00:00:00Z
Tipe Kamar
Seluruh rumah/apartemen
---
Tipe Properti
Townhouse
---
Mengakomodasi
8
---
Kamar tidur
Bagsværd, Denmark
Welcome to our house near Copenhagen, Lyngby and beautiful lakes, where we have a canoe, that you can use, and you can swim in the summer.
Vores hus har et stort spisekøkken med alt nødvendigt udstyr, inkl. opvaskemaskine. Vi har en stor stue med en kæmpe sofa med plads til den helt store familie. Vi har desuden en stor have med gasgrill, havemøbler, trampolin, træhus med rutsjebane, svævebane (max 50 kg) og mange andre ting. Om sommeren forvandles skuret delvist til drivhus med tomater og agurker og andet (det har selvvandingskasser), og der er jordbær, hindbær, æbletræer og andet, som man er velkommen til at tage lidt fra. Der er ca. 5-6 cykler i huset, som man kan låne. Man kan leje flere cykler ved den lokale cykelhandler, hvis man er interesseret. De skal have det at vide i god tid, så kontakt os, hvis i er interesserede i det, eller hvis i vil vide mere. Der er fem værelser og to badeværelser med bruser. Et værelse er et lille forældresoveværelse med en kæmpe seng, som fylder hele værelset. Derudover er der to børneværelser med senge i voksenstørrelse og to gæsteværelser med sovesofaer, hvor der er plads til to på hver. Et af gæsteværelserne er i kælderplan sammen med det ene badeværelse. Hvis man er mere end 9 personer, har vi luftmadrasser, som man kan bruge, eller man kan sove på sofaen i stuen. I kælderen er der desuden et rum med vaskemaskine og tørretumbler. Der er egen indgang til kælderen.
The house is situated close to Copenhagen, Lyngby and a nice lake, Bagsværd sø, where we have a private canoe, that you can use. You can also rent more canoes nearby. At the lake right next to it, which you can sail to, Furesø, it is possible to swim and it has two beaches. Just across the street (50 m.) there is a small park with a playground.
Katja's home was absolutely terrific, it had a lovely warm atmosphere that makes you feel at home in an instant. Everything was as expected and her family took care to make sure everything is ready for our arrival. All in all, it was a perfect getaway place for the winter holidays and I would recommend it to anyone, as well as Katja as a host. If my friends and I were to return, we'd definitely stay here again! P.S. We especially loved the fireplace ;)
Luka
2016-01-03T00:00:00Z
.
Tamas
2017-04-10T00:00:00Z
We had a fantastic time in Copenhagen and the house had everything possible including peace and quite. Thank you so much for the wonderful house!
Jr
2015-12-26T00:00:00Z
Vi är verkligen nöjda och våra värdar var oerhört generösa
Gunilla
2016-10-02T00:00:00Z
Katja et sa famille ont tout fait pour que nous nous sentions vraiment chez nous dans leur maison, pendant notre séjour à Copenhague. Nous avons été particulièrement touchés par cette expérience de confiance mutuelle.
Philippe
2016-07-20T00:00:00Z
Meillä oli iso porukka, johon kuului aikuisia ja lapsia ja halusimme majapaikan, johon mahtui kymmenen henkeä. Emme tavanneet Katjaa, mutta hänen antamillaan ohjeilla pääsimme sisälle ja iloksemme talo vastasi odotuksiamme.
Ruusa
2016-05-10T00:00:00Z
La maison de Katja est grande et lumineuse. On a aussi apprécié la proximité des transports en commun. Peter nous a accueilli et nous a fourni toutes les infos nécessaires et un guide de la maison.
Frederic
2016-09-12T00:00:00Z
Recensione 2.0 : The house was lovely and very well maintained, especially the kitchen area which was fully equipped with cooking supplies. The rooms such as the living and dining room were spacious and nicely decorated. The only slightly negative side is the distance from the house to the city centre, as it is about 25-30 minutes by train from the nearest station which is around 5 minutes by bike. There were few bikes to accommodate all seven of us though, so that created a bit of an issue, also not enough locks for all the bikes and the keys were difficult to tell apart from the other keys. Other than that it was an overall pleasant stay and we enjoyed the house very much.
Asia
2017-01-02T00:00:00Z
Tipe Kamar
Seluruh rumah/apartemen
---
Tipe Properti
Rumah
---
Mengakomodasi
10
---
Kamar tidur
Bagsværd, Denmark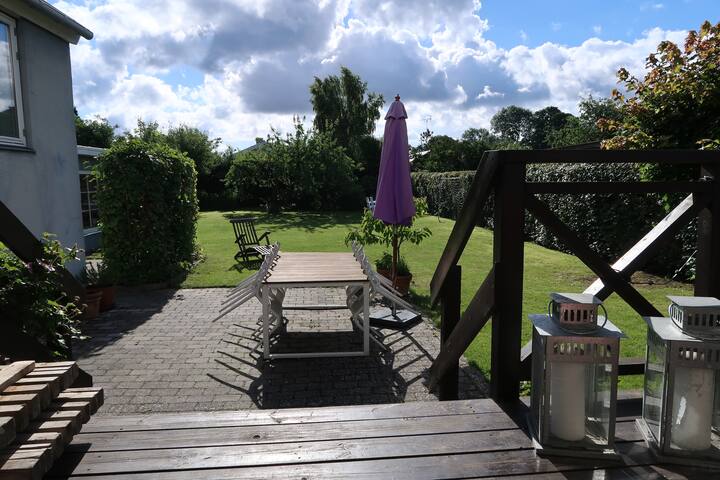 We have a family apartment with lost of toys for kids, close to the S train, Centre Centre is 20 minutes buy train, and seaside is 30 minutes by bike ( for me ;-)) of my husband is 15;-)). The Bagsværd lake is just 5 minutes away. Grocery in building
Nous étions accueillis par sa voisine et elle est très sympa. L'appartement correspond à la description. Le quartier était calme.
paulette
2015-08-20T00:00:00Z
Tipe Kamar
Seluruh rumah/apartemen
---
Tipe Properti
Apartemen
---
Mengakomodasi
4
---
Kamar tidur
Bagsværd, Denmark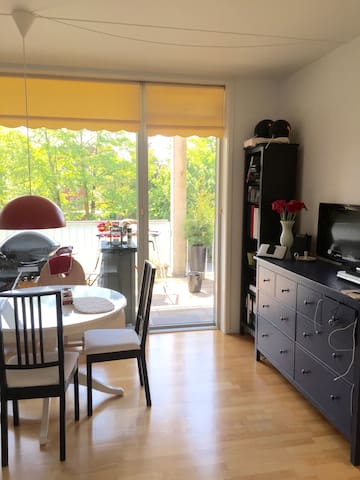 Big room with window in the basemen. Peaceful place 5-minute walk from Bagsvaerd lake. 15 minutes drive from central Copenhagen and close to Lyngby with many shopping opportunities. 10-minute from train station to Copenhagen.
There are a bed, a sofabed, two bed lamp,tv, access to tee kitchen, dining table for 4, workplace, cabinet, free WiFi, own fridge, bed linen, towels, parking.
The room is perfect from two to for people. The bed and the sofa are very comfortable. Tha bathroom is fine, the corner kitchen is small but fine. Everything work fine.
Paolo
2016-08-28T00:00:00Z
Michael is a very kind host. The room is spacious and comfortable. The kitchen and bathroom are small and to be shared with an other room but they are enough for students, tourists and young people. The room wasn't the top but expectable from the low price.
Silvio
2016-08-18T00:00:00Z
Host accogliente e disponibile, quartiere tranquillo, bagno ai limiti , lavandino così piccolo da essere inutilizzabile
maria rita
2016-07-12T00:00:00Z
Very good place to stay, the room is big and the neighborhood is very peaceful, it is near from the lake bagsvaerd, a good place to relax or practice sports.
Rennyo
2016-09-13T00:00:00Z
Tipe Kamar
Kamar pribadi
---
Tipe Properti
Rumah
---
Mengakomodasi
4
---
Kamar tidur
Bagsværd, Denmark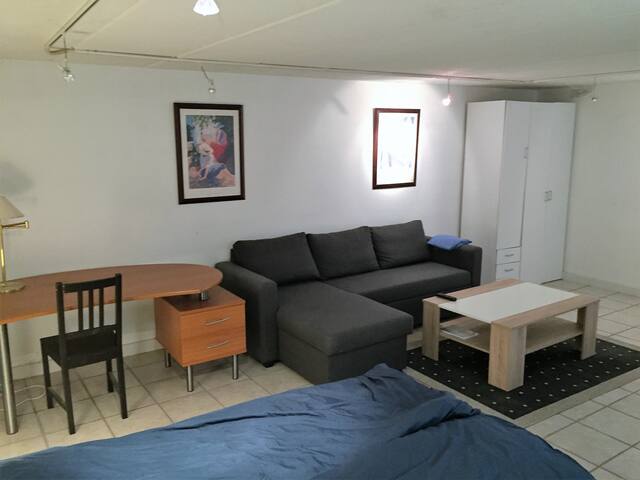 The room is with one bed 140 x 200 + free wifi. It takes 30 min. to get to Copenhagen City by train... The bath and toilet is next to the room. You can also use the kitchen if you need to make food or boiled some water.
Det er et rart og trygt sted med flotte omgivelser.
Der bor mange børnefamilier og en del ældre mennesker mennesker i området, det er derfor et meget trygt og roligt kvarter..
Camilia was nice, warn and friendly. I felt like at home. She was also very helpfull and generous. I enjoyed the discussions we had. The room is exactly like in the pictures and all the rest of the house is also cosy.
Adrien
2016-01-28T00:00:00Z
Camilla was very friendly and helped us navigate around Copenhagen. The neighborhood was quiet and a quick walk to the train stop, and our room was clean. I would definitely recommend this location to others staying in the area!
Amber
2016-02-07T00:00:00Z
Camilla is a really nice host. Her place is cozy and the whole house is beautiful and quiet . Perfect place to stay and explore Copenhaguen just 20 mins by train from city center.
jordi
2016-11-13T00:00:00Z
Camilla is very nice and easy-going. Her house is very clean. I feel like staying at my own house and thanks very much for her nice suggestions.
Phoebe
2016-01-03T00:00:00Z
Great comfortable bed at an amazingly low price. Everything you need - we have visited during a really cold weekend but we're looking forward to coming back home to a warm bedroom. The bedroom isn't in the first 4 zones which means you need an all zone ticket to get to the city however that didn't affect our stay negatively.
Karolina
2017-01-08T00:00:00Z
Very friendly host. A bit far out from the centre, but very easy to get in by train that goes very often and late at night. Small and simple room.
Simon
2016-06-17T00:00:00Z
Everything was just perfect. I got a quick response to my request. Camilla was waiting for me as I arrived. She was very friendly and nice and she showed me around her house. The room itself was not big but clean and cozy. Parking can be a little bit of issue. But I found place easily just in front of Camilla's house. Neighborhood is quite enough. Absolutely recommend.
Roman
2016-02-25T00:00:00Z
Camilla er en meget imødekommende vært. Svarer hurtigt på beskeder og sørger i det hele taget for, at alt forud for - og under - opholdet er optimalt. Meget fleksibel i forhold til sent ankomsttidspunkt og tidligt afrejsetidspunkt. Hos Camilla føler man sig velkommen. Værelset er fint - som beskrevet og vist på billedet.
Jesper
2016-03-11T00:00:00Z
Tipe Kamar
Kamar pribadi
---
Tipe Properti
Rumah
---
Mengakomodasi
2
---
Kamar tidur
Bagsværd, Denmark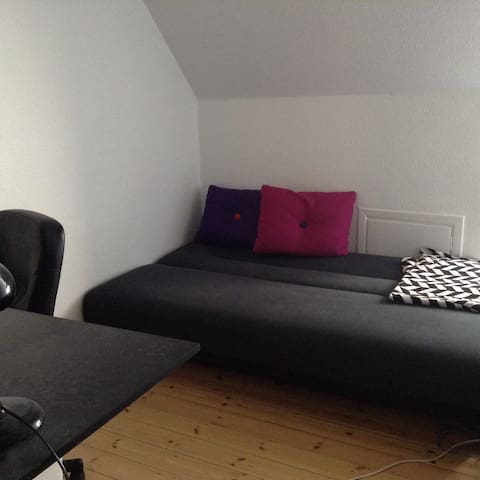 Charming and cozy house close to the center of Copenhagen and yet right by Hareskoven Forrest and the beautiful Bagsværd Lake. Ideal for couples and families for a relaxing summer holiday. Perfect for mountainbiking - long trail in Hareskoven, which begins 100 m. from the house.
Renting our house requires looking after of our hens from witch you can collect fresh eggs every day. Our hens are very friendly and easy to look after. We have a lush garden with berries and herbs in where it is possible to let the hens wander freely.
Quiet and relaxed closed street with nice neighbours.
Tipe Kamar
Seluruh rumah/apartemen
---
Tipe Properti
Rumah
---
Mengakomodasi
5
---
Kamar tidur
Bagsværd, Denmark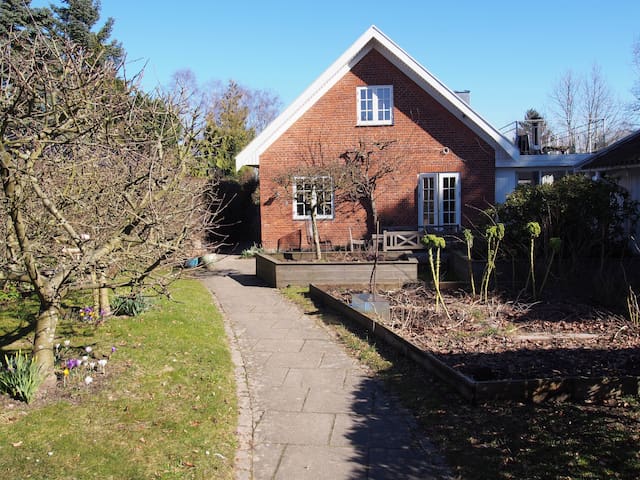 Our light and spacious home is the perfect place for your family holiday! There is room out- and inside and only 7 min walk to the 20 min-train to the center of Copenhagen. You live close to beautiful Bagsværd Lake and to local shopping options.
This house is very light and open with large windows which allows lots of light into the house and gives a sense of peace and space which extends almost to the sky. The house is lightly renovated and carries a beautiful sense of atmosphere and charm and a real sense of "home". We have four young kids ourselves and the house is well fit for families with kids and has great space outside.
In Bagsværd you get it all! Easy access to the train that brings you to Copenhagen Central Station in 20 minutes. At the same time you live close to the forest Hareskoven and the lake Bagsværd Sø. The area is quiet, but is easy accessible from the highway. The town, Lyngby, is only a bike ride (or a bus ride) away and has the huge mall, Lyngby Storcenter, and lots of shopping opportunities.
Alt var fint og rent, meget tæt på alt det vi havde brug for. indenfor 500 meter er der både s-tog og indkøbsmulighede. Vi nød den skønne have, med både legekrog og trampolin, som var et kæmpe hit. Vi bor der gerne igen.
Susanne
2016-07-23T00:00:00Z
Traumhaftes Haus und schöner Garten in ruhiger Lage mit sehr guter Anbindung an öffentliche Verkehrsmittel und Einkaufsmöglichkeiten. Bei allen Absprachen und Vereinbarungen hat alles super funktioniert. Das Haus ist ideal für einen Familienurlaub mit Kindern. Gerne wieder!
Stephan
2016-08-07T00:00:00Z
Wir waren zum Abschluss unserer Abiturprüfungen zu sechst für eine Woche in Kopenhagen und haben gemeinsam in Marias Haus gewohnt. Es hat uns wirklich sehr gut gefallen. Es war zwar etwas eng, da wir beispielsweise zu viert im Schlafzimmer übernachten mussten und nur ein Badezimmer hatten, aber es hat uns allen trotzdem viel Spaß gemacht. Das Haus ist nah an der Bahn gelegen und man kommt gut in die Stadt hinein. In Kopenhagen selbst kann man viel sehen und erleben, wir wären deshalb gerne noch länger geblieben. Die Organisation hat auch super geklappt und Maria stand uns bei allen Fragen oder Problemen vor und während des Aufenthalts per Mail zur Verfügung. Alles in allem war es ein sehr gelungener Urlaub, den wir gerne wiederholen möchten. Also danke Maria, für dein Vertrauen und die tolle Organisation!
Merle
2014-05-23T00:00:00Z
Hyggeligt og velfungerende hus, meget børnevenligt, imødekommende og venlige værter og hjælpsomme naboer. Kort afstand til København og gode muligheder for indkøb i området. Vi har haft en dejlig ferie hos Maria, og kommer gerne igen.
Rikke
2015-07-04T00:00:00Z
Nous nous sommes vraiment senti accueilli par Maria. Elle nous a beaucoup aidé à préparer notre séjour chez elle, notamment en laissant un trampoline et des jeux pour notre fils de trois qui était ravi ! Leur logement est ravissant, clame, agencé avec un goût et une simplicité séduisante et reposante. Il se trouve très prêt de Copenhague, tout en étant isolé du bruit et des mouvements de la ville. Bref, le lieu idéal pour passer un bon moment dans la capitale ! Nous remercions vivement encore vivement Maria et sa famille pour leur simplicité et leur accueil.
Stéphane
2014-07-22T00:00:00Z
Great time in Maria`s house. We had everything between 4 and 6 people staying in the house during the week. Cousy, private and just recommendable.
Jan
2014-06-27T00:00:00Z
Marias hus var stort og komfortabelt. Indretningen var som beskrevet og det lå fint i forhold til mit behov. Ankomst og afrejsetider passede helt perfekt efter mit behov.
Rune
2016-11-04T00:00:00Z
Maria's home is amazing! We loved stay in her house and our little baby too, because there were a lot of toys. The house is very big, comfortable and very good furnished. We had our car, so we moved very well. The railway is close but this is not a problem because it not disturbs. Maria has been very helpful.
Vale
2016-11-17T00:00:00Z
Tipe Kamar
Seluruh rumah/apartemen
---
Tipe Properti
Rumah
---
Mengakomodasi
6
---
Kamar tidur
Bagsværd, Capital Region of Denmark, Denmark
This great house in 3 storages gives you the opportunity to combine city vaccation (15 km/20 min. from center of Cph) with relaxation in the garden and the possibility of wonderful local nature experiences.
This is our home. We are a family of five (2 adults and 3 children - boys). The house is characterized hereby. It's light, spacious and family friendly with a wonderful garden. The 3 rooms on the first floor contains 1 masterbed, a childrens crib, a child bed and a mattress. The downstairs bedroom is furnished with a double bed.
Supermarkets, a few restaurants, bakery, butcher is just nearby (500 meters). Bagsværd Lake witch is connected with Furesø and Lyngby Lake is just 500 meters from the house. The area is great for mountain biking, hiking, canoeing and fishing.
Had a fantastic stay in this lovely, lovely house. Perfect in every way and so comfortable. Would def come back to stay if possible - thank you!
Rebecca
2015-05-22T00:00:00Z
My family and I had a wonderful stay at Louise's home. As Louise was on holidays, we were meet by her very friendly neighbours, who made us feel extremely welcome and gave a great tour of the house. ACCOMMODATION: the accommodation was great - it contained everything we needed. Our children really enjoyed their stay - toys, trampoline, swing and a safe garden. LOCATION: the location of Louise's home is great - shops, supermarkets, train station, cafes, restaurants are all within 1 km. The transport system serving the area is timely and consistent. OVERALL: I would definitely recommend Louise's home for anybody looking to stay close to CPH centre or for those looking to explore the countryside a little further. Lovely hosts/house made our stay pleasant, relaxing, fun and easy.
Des
2015-05-05T00:00:00Z
Our stay at Louise's lovely home was absolutely gorgeous - from every point of view. Communication was easy and Louise provided lots of material and recommendations for things to do in the area. The house definitely exceled our expectations. It is even nicer than the pictures can tell. Especially the new wooden terrace on the back of the house is great for the very last ray of sun. Wonderful!! We are a young family with two little boys and the house was perfectly equipped for us. So many nice books and toys, child seats, baby bed and changing table. We could even use the bikes with carrier for two kids. And last but not least the very nice and comfortable Scandinavian furniture. So nice! The huge (child-safe) garden is wonderful for soccer games and even has swings, a trampoline and a sandbox and: sun all day. We even were allowed to harvest the self-grown tomatoes and cucumbers (there were soon many!) in the winter garden and there were also more vegetables and fruits in the backyard. Paradise! We also met Louise's very nice German neighbors who handed over the key and were not only available for every question we had but also were so kind to spend time with us for BBQ :-) The place is just perfect for families! There are so many things to do! The urban railway that goes to Copenhagen downtown in 20 min is just a few minutes walking distance. The same goes for supermarkets. Also in walking distance are nice lakes for walking or biking. The nearest beach (Bellevue) as well as the Dyrehavn, a huge park, are also only 8km away. You can also do horseback-riding at the south end of the park. Louise - thank you so much for your outstanding hospitality and the nice home we were allowed to spend our summer vacation in. We would definitely love to come back if we can!
Corinna
2016-07-26T00:00:00Z
Eine sehr schöne Unterkunft. Gepflegte Anlage und sauberes Haus. Wir haben uns sehr willkommen gefühlt. Die Kommunikation verlief unkompliziert. Ich kann diese Unterkunft und Ihre Gastgeber nur weiterempfehlen. Herzlichen Dank!
Mona
2015-05-25T00:00:00Z
Tipe Kamar
Seluruh rumah/apartemen
---
Tipe Properti
Rumah
---
Mengakomodasi
6
---
Kamar tidur
Bagsværd, ..., Denmark
Very nice one floor house with 3 bedrooms and room for 6-8 people. There is in connection to the house A small annex with room for 2 sleeping guest. The house is just outside Copenhagen (10km). It takes 20 min by car. The trainstation is 1,5 km away.
There is chickens and A rabbit. Close to highway. Close to Bagsværd Lake, 2 km where international rowing competition is taking place. Noise from highway must be expected.
Close to A small park and the geeen area Smørmosen. Also close to the forrest and Bagsværd Lake (2 km), where international rowing competition is taken place.
Miejsce zgodne z opisem, choć na początku sam dom sprawia wrażenie malutkiego. Największy plus to ogród, dzieci mogły się bawić na trampolinie- poza tym niezwykłe zaskoczenie 4 kury codziennie znoszące jajka :). Jedyny minus to lekki bałagan gdy przyjechaliśmy- jednak byliśmy 1,5h wcześniej więc może gospodarze nie posprzatali po poprzednich gościach. Poza tym bardzo szybki i dogodny dojazd do centrum Kopenhagi 10 min. samochodem. Ogólnie bardzo polecam.
Joanna
2016-08-24T00:00:00Z
Fint, rent og pænt hjem. Anne var god og hurtig til at svare på spørgsmål omkring opholdet.
Thomas
2016-11-06T00:00:00Z
En perle. I vakkert område, med mulighet til å gå turer i parken, spille fotball, slappe av i hagen. Vi var alle enige om at det var et vakkert og deilig sted. Vi fikk både slappet av og besøkt Københavns severdigheter et fint utgangs punkt om du vil besøke København. Anbefales til dere som skal besøke København.
Tormod
2016-07-24T00:00:00Z
Anne's home was lovely. We commuted from the airport to the house via train and it took around 1 hour and the commute from the house via bus and train took around 30 minutes. The house is located in a beautiful calm area, very quiet. The house had enough space to host me and my 8 friends and had games. Plenty of housing artifacts that made the stay very pleasant. Would recommend staying here
Maria
2017-03-26T00:00:00Z
Vi havde nogle dajlige dage i Anne's skønne hus. Alt fungerede perfekt, og haven er virkelig dejlig. Anne svarer hurtigt og præcist på spørgsmål, og alt var gjort klar da vi kom. Vi anbefaler!
Knud
2016-05-30T00:00:00Z
Incredibly good host! We came to an idyllic, clean house all set up. We got to utilize the full range of conveniences, even got to eat fresh eggs from the chickens for breakfast! Highly recommended host, 5/5!
Johannes
2016-05-09T00:00:00Z
Very nice and cozy home. We felt very comfortable. Although we were all adult men I would highly recommend this house for families with children.
Christian
2016-09-13T00:00:00Z
Anne fik os til at føle os hjemme helt fra starten. Vi fik en grundig rundvisning og herudover lå der udførlig information om huset. Huset er hyggeligt og børnevenligt med spændende legetøj og en dejlig have og vi nød opholdet. Anne var hurtig til at svare på spørgsmål før og efter opholdet, og hele familien vil gerne bo i hujset en anden gang. Dejligt med dyr og at Anne tog imod os da vi kom.
Anette
2016-04-24T00:00:00Z
Tipe Kamar
Seluruh rumah/apartemen
---
Tipe Properti
Rumah
---
Mengakomodasi
8
---
Kamar tidur
Bagsværd, Gladsaxe, Denmark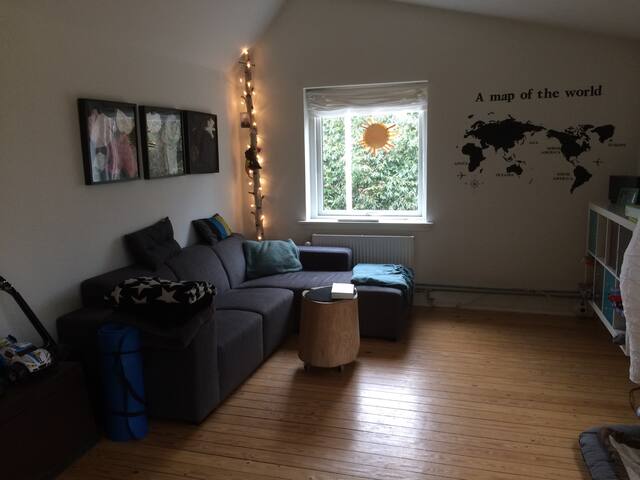 Min bolig lægger tæt på offentlig transport. Du vil elske min bolig på grund af nabolaget, lyset, menneskerne, omgivelserne og det udendørs område. Min bolig er god til par, familier (med børn) og store grupper.
Tipe Kamar
Seluruh rumah/apartemen
---
Tipe Properti
Rumah
---
Mengakomodasi
7
---
Kamar tidur
Bagsværd, Denmark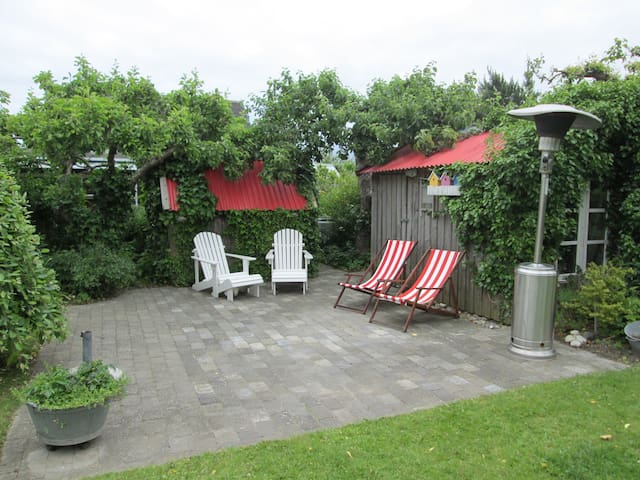 We would love to welcome you to our 7 bedroom fantastic villa in Copenhagen. Close to Tivoli, forrest with mountainbike tracks and lake. The house contains dining room with 16+ dinner seats, 12 beds and we can easily put in more mattresses.
We would love to welcome you to our 7 bedroom 360 m2 romantic country house in Copenhagen. Close to Tivoli (20 minutes) and the sights of Copenhagen, forrest with Denmarks best mountainbike tracks (5 minutes), the lake (5 minutes) where you have the opportunity for rowing and kayaking. Table tennis, dart, trampolin and football in the garden, fireplace in the garden as well as outdoor Weber grills. The train and bus connections are a 5 minute walk away. There are 12 beds in the house, but we have additional matresses. The dining room has 14 permanent seats, but if the table is extended, there is room for 20 people.
The neighbourhood is safe, quiet and beautifull. Good shopping possibilities as 4 supermarkets, the butcher, pharmacy and other grocery stores are within a 5 minute walk from the house. The Bagsværd train station is close to the house (5 minutes walk) and here is also the bus connections to Lyngby where you find all different kinds of stores and malls. This is where we go for our christmas shopping every year. If you enjoy mountainbiking, then we have 28 km of single tracks in the nearby forest (5 minutes). You can also go for a walk around the beautiful lake. The lake is 5 minutes away from the house, and the walk around the lake is 7,5 km. If you like to go swimming, we recommend 'Bagsværd Svømmehal', an indoor swimming facility which is 1,5 km from the house. If you want to go to the beach, we recommended the Bellevue beach in Klampenborg, 35 minutes by train, and this is also where you find the Dyrehaven, a big park/forrest with wildlife, as well as the 'Bakken', an entertainment park the same size as Tivoli (free entrance).
Jeg har aldri opplevd bedre service av en husvert. Lisbet og Kristian har vært veldig behjelpelige og var alltid tilgjengelig i forkant og underveis i oppholdet. De har svart på alle spørsmål vi har hatt og gjort mye for å tilrettelegge hjemmet for oss. Vi var 6 småbarnsfamiler tilstede. Huset har mange rom og fungerer utmerket til mange personer. 2 av soverommene hang sammen uten dør, noe vi ikke hadde lagt merke til før vi ankom stedet. Dette løste vi ved å bruke den ene TV-stuen som soverom. Kjøkkenet i første etasje er stort og fremstår moderne. Flere kan tilberede mat samtidig. Kjøkkenet i andre etasje var ikke i bruk. Det var også mulighet for grilling utendørs. Vi ble også positivt overrasket over den store hagen bak huset. Den var skjermet, trygg og perfekt for små barn som løper rundt og leker. Trampoline hadde de også. Utover selve huset var det veldig greit å bruke toget til og fra København og flyplassen. Det var også fine turområder i nærheten. Jeg vil anbefale Lisbet og Kristian på det sterkeste og jeg/vi kommer gjerne igjen til dette flotte huset!
Rune
2015-07-15T00:00:00Z
TOP-VILLA! Die Größe des Hauses war optimal für unseren Aufenthalt mit jeweils 9-20 Personen während 13 Tagen. Gute, kompetente und schnelle Kommunikation vom Eigentümer des Hauses. Schönes, großes Haus mit einem großen Garten. Viele und grosszügige Zimmer mit guten Betten und Bettdecken, große moderne Küche, großer Esstisch. 2 Grills und schönem Garten. Nahe öffentlichen Verkehrsmitteln. Einfach nach Kopenhagen Zentrum und Flughafen zu kommen. Wir waren zw. 15-20 Personen in den ersten Tagen und hatten genügend Platz. Die restliche Zeit waren wir 9 Personen (5 Erwachsene und 4 Kinder). Wir können dieses Haus für alle, die viel Platz möchten, im Grünen wohnen wollen und in der Nähe von Kopenhagen sein auf jeden Fall nur weiterempfehlen. Wir kommen gerne wieder! Størrelsen på huset var optimal for vores ophold med henholdvis 9-20 personer fordelt på 13 dage. God, kompetent og hurtig kommunikation fra husets ejere. Dejligt, stort hus med kæmpe have. Mange gode værelser med gode senge og dyner, stort moderne køkken, kæmpe spisebord med plads til alle. 2 Grills og dejlige havemøbler. Tæt på offentlig transport. Nemt at komme til København City og lufthavn. Vi var ml. 15-20 personer de første dage og havde fin plads. De følgende dage var vi 9 personer (5 voksne og 4 børn). Vi kan absolut anbefale dette hus til alle som vil bo i skønne grønne omgivelser i nærheden af København med god plads og frihed. Vi kommer gerne igen!
Malene
2015-08-13T00:00:00Z
Beautiful house with lovely garden in an area convenient for Copenhagen - perfect for large groups. We were a group of 18, from 2 years old to 70 years old. The house easily accommodated our various needs, with toys for the younger ones and quiet spaces for the oldies to hide away. Our hosts were fantastic, providing quick and clear feedback and went far beyond our expectations to make us feel welcome and provide assistance (Lisbet managed to source a baby buggy for us from a neighbour at very short notice). The information provided on arrival was excellent and allowed us to quickly plan our various trips to Copenhagen and surrounds. Would recommend highly.
Roger
2016-07-24T00:00:00Z
The listing had set our expectations high and we were not dissappointed. The house were made for entertaining and relaxation. We were competing at a world rowing event and needed easy access to Lake Bagsværd. We were offered bikes but in fact it was only an easy 13 minjte walk. We needed sleep, and our hosts bought an extra bed to accomodate the many single guests to avoid sharing doubles. We needed rest, well, this house has so much space you could have solitude as necessary. We needed food, and my goodness does this house provide space and ambiance for good dining. The kitchen is lacking in nothing, bar a butler. We had 23 seated for a dinner party on our last night with space for another 10. Sadly next year the event moves to Bled, Slovenia, but was it repeated in Bagsværd, we would pay the full rental price now to secure this property again. Fabulous house fabulous hosts . Well done, Lisbet and Kristian.
Birgith
2016-09-13T00:00:00Z
Perfect house with perfect host !! La maison était magnifique, encore mieux que sur les photos. Très grande pour les grands groupes. Le jardin est très grand, parfait. La maison est extrêmement bien équipé pour passer de bonne vacances. La maison est juste à coté d'un petit centre ville, avec le train (3 min à pied), dans un endroit très charmant, et pas loin (15 min en voiture) du centre de Copenhague. Nous avons passé un très bon weekend dans cette maison à 15, tout était de grande qualité. Et Lisbet et Kristian sont des hôtes parfaits. Toujours arrangeants, ils nous ont très bien renseigné, sont venus nous chercher à l'aéroport, toujours souriants.
Yohann
2016-05-30T00:00:00Z
This is such a beautiful and wonderful villa. It's bright open spaces, many bedrooms, several sitting rooms and gorgeous garden were perfect for our family of 12. It has a marvellous dining room with a large table and we were able to seat 20 people for dinner when we caught up with Danish family. Lisbet and Kristian were amazing hosts and made us feel so welcome. They were great communicators with all questions promptly and cheerfully responded to, and gave us many suggestions for the variety of things to do in the neighbourhood and in Copenhagen. The backyard was a children's paradise. I cannot recommend these wonderful hosts highly enough and thank them for sharing their beautiful home with us.
Jenny
2016-07-06T00:00:00Z
Tipe Kamar
Seluruh rumah/apartemen
---
Tipe Properti
Vila
---
Mengakomodasi
16
---
Kamar tidur
Bagsværd, Denmark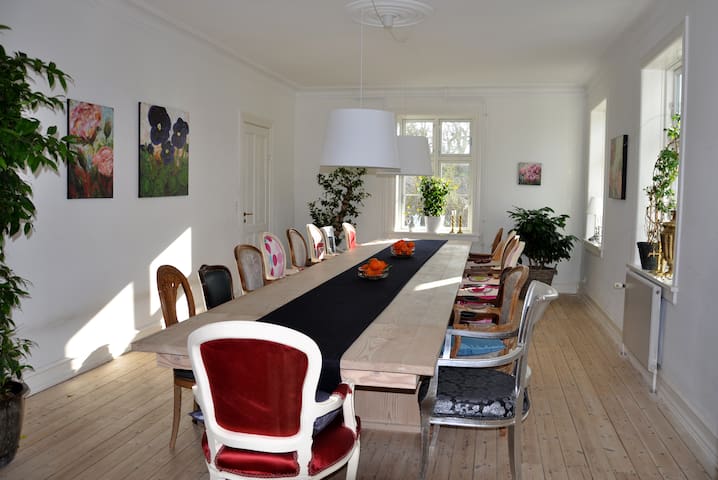 Perfectly situated right next to beautyful forrest, lakes, public transportation and highway, this house is a great starting point for a family adventure. When it is time to relax, enjoy the two great terraces of the house and the big garden with swings, playhouse etc.
Tipe Kamar
Seluruh rumah/apartemen
---
Tipe Properti
Rumah
---
Mengakomodasi
5
---
Kamar tidur
Bagsværd, Bagsværd, Denmark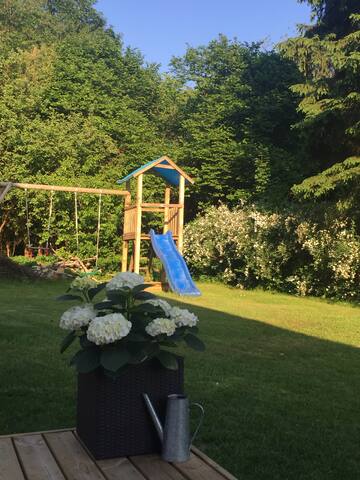 My villa close to Bagsværd Lake, and rowing stadium. you will love because of Location and space. Good for couples, families and groups. Relaxed and easy living.
Thanks Mads for a great stay! The house was perfect. In a great location for the train station and the rowing Regatta! Cheers Mel
Jake
2016-09-12T00:00:00Z
A perfect experience and pleasurable stay wonderful place with nice overview and area
Sara
2016-08-28T00:00:00Z
We spent a few days in Copenhagen and stayed at Mads place. We loved the Wonderful Villa. Big spacious house in the quiet neighborhood, easy to find and reach either by car or public transportation. Clean and comfortable exactly as described. Mads was very welcoming host. Would definitely recommend.
Georgiy
2016-08-14T00:00:00Z
Tipe Kamar
Seluruh rumah/apartemen
---
Tipe Properti
Apartemen
---
Mengakomodasi
8
---
Kamar tidur
Bagsværd, Denmark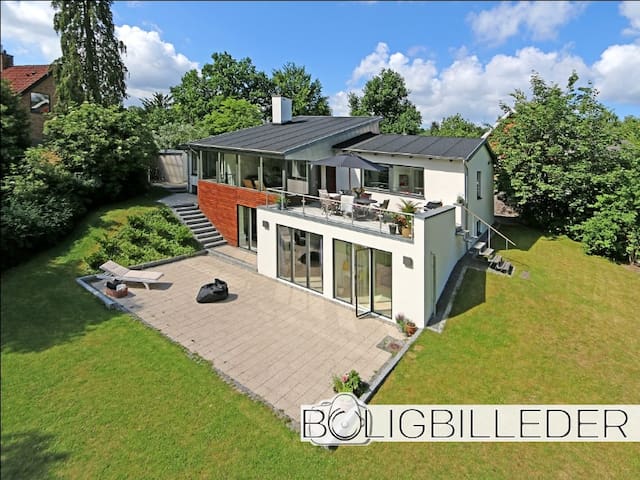 Mitt ställe ligger nära S-tog, mataffärer, bibliotek, biograf, restauranger, caféer, sjö, naturområden. Det är 5 minuters promenad till s-tog, med s-tog tar det ca 25 min till centrum. Bra motorväg in till centrum inom kort köravstånd. Parkering finns som tillhör bostadsrättsföreningen, allra oftast finns lediga platser avgiftsfritt. Har aldrig varit med om att det varit fullt. Mitt boende passar par, affärsresenärer, familjer, stora grupper och hundar välkomna.
70 square meters. One Queen size bed, 140 cm in bedroom. 90 cm blir up mattas, one of thoose big ones. And a big couch that 1 person can sleep comfortably on. It should be fine if you are not taller than 175-180 cm. 12 square meter private terass with doggy door.
Very close to supermarkets, cafe, restaurants.
Tipe Kamar
Seluruh rumah/apartemen
---
Tipe Properti
Apartemen
---
Mengakomodasi
4
---
Kamar tidur
Bagsværd, Denmark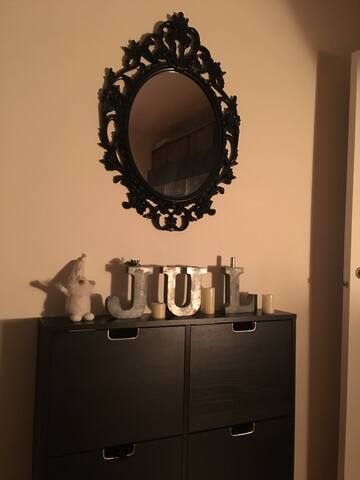 Min bolig lægger tæt på offentlig transport, lufthavnen, parker, centrum og natteliv. Du vil elske min bolig på grund af omgivelserne og placeringen. Min bolig er god til par, forretningsrejsende, familier (med børn) og store grupper.
Tipe Kamar
Seluruh rumah/apartemen
---
Tipe Properti
Rumah
---
Mengakomodasi
10
---
Kamar tidur
Bagsværd, Denmark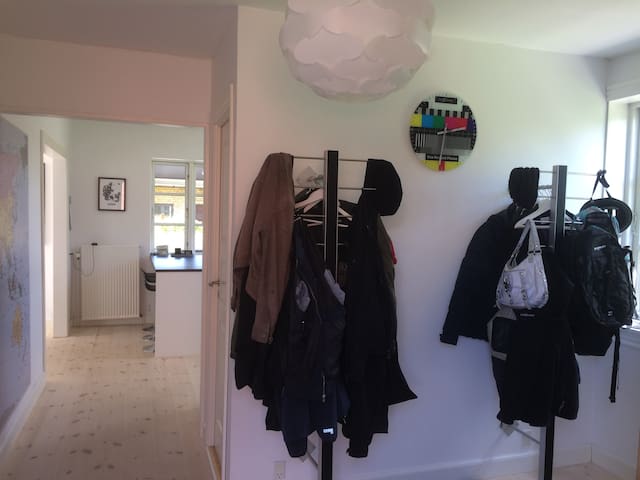 Welcome to our house with a big and sunny garden. The house is near public transport, shopping and about 10 minutes drive from Copenhagen.
The house has a big living room and dining room facing the garden. There is a scullery with washing mashine and tumble dryer and a fully equiped kitchen. From the kitchen there is an exit to the roofed veranda with an outdoor fireplace. In the big garden there is a swing set. There are two bedrooms with to queen size beds, and a guest bed and possiblity for sleeping on the couch as well. The house has one bathroom and an office as well. Linnen, beddings and towels for six people are of course provided.
In Bagsværd city (1 km away) there are grocery stores, library, a cinema and specialty stores. Near by is also Bagsværd lake, with possibilities for sailing, canoing and take a nice walk.
Tipe Kamar
Seluruh rumah/apartemen
---
Tipe Properti
Rumah
---
Mengakomodasi
5
---
Kamar tidur
Bagsværd, Denmark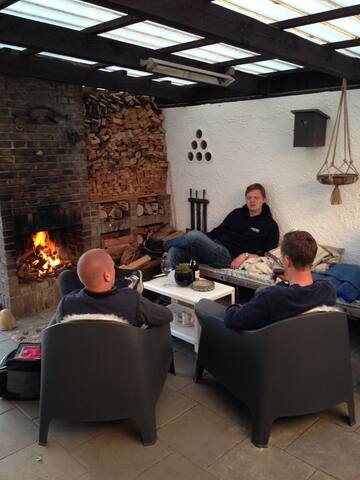 1

–

18

dari

300+ Sewa Tempat
Masukkan tanggal untuk melihat harga lengkap. Biaya tambahan berlaku. Mungkin dikenakan pajak.