The appartment is 100sqm with 3.5 rooms on the 1st floor of a new and high standing building with a big balcony. 20 Km from Zurich 30 from Luzern 10 km from the Lake, 30 min from first ski resort CHF 130 charged if apartment left not cleaned
Newly built, fully equiped Kitchen, bathroom with both bathtop and shower, wonderful and big balcony with fantastic view, easy access to motorway and public transport, short distance to main cities, countryside flavour
Country side flavour with view over the Alps in the background
Very bad experience with a very rude host. It started from the time I just booked his place, when he contacted me to ask if he can stay in the apartment while we are there. I gently refused, and from then on, he didn't stop bothering me and my friends. He kept texting me of his visiting to the apartment, and than again with the excuse he "forgot" some personal stuff there. And than again and again. Before we left we organised everything and the apartment was in a great condition, when he expected us to vacuum it and clean the floor with water! This guy is mentally not alright. Be careful.
Hadar
2016-10-31T00:00:00Z
The apartment was super clean, well furnished and spacious. Frederic was very nice and accomodative, however he slept in the apartment while we had rented it all (a discount was provided).
Alex
2016-08-31T00:00:00Z
Sehr freundlich und nett, hat an nichts gefehlt der wohnung.
Faruk
2017-01-29T00:00:00Z
Wir waren gemeinsam mit unseren kleinen Hund in Frederics Zuhause und hatten dort eine sehr schöne Zeit. Frederics Wohnung ist modern, sauber und super groß. Perfekte Lage um mit dem Auto in nur 20 Minuten in Zürich oder Luzern zu sein und die gesamte Umgebung auszukundschaften. Wir kommen gerne wieder :)
Tabea
2016-10-12T00:00:00Z
Very clean place, brand new. Organized, all positive, except the wifi stability, o guess there was some instability in those couple of days. Hope it gets better
Tarek
2016-10-02T00:00:00Z
Posizione molto favorevole per visitare Zurigo, Lucerna e Zugo. L'appartamento è molto bello, grande, nuovo e pulito. La comunicazione con Frederic è stata ottima. Lo consiglio. L'unica cosa che mi ha lasciato perplesso è che mi ha chiesto di poter dormire due notti durante il periodo di soggiorno, al rifiuto ovviamente non ci sono stati problemi, però probabilmente dovrebbe essere una cosa da evitare.
Igor
2016-12-11T00:00:00Z
Frederic sent us all check-in information before arrival and was very clear on house rules beforehand. Because we were driving, I can't comment on access to public transportation, but a close drive to Zurich, around 10-15 minutes. The apartment is located in a very quiet neighbourhood. Great that there was parking included, things to keep in mind are that for a five-people stay, there are 2 single beds and one twin in the bedroom, and then a double bed mattress in the living room, where the kitchen is, and to remember to bring a hair dryer as it's not available in the apartment.
Peony
2017-02-18T00:00:00Z
Hose is very modern and clean. Frederic is very nice guy and helping us to look for information. We stayed 2 nights, he still live at the house finally. We were very stock that the first day he was wearing underwear when we open the main door. I ask he will come or not at second night, he didn't answer me. We locked the door, he ring the bell at 7am to woke me up to open the door. I recommend frederic to change setting as share room instead of rent a apartment. That price is not worth to rent a share room.
ET
2016-12-03T00:00:00Z
Tipe Kamar
Seluruh rumah/apartemen
---
Tipe Properti
Apartemen
---
Mengakomodasi
9
---
Kamar tidur
Obfelden, ZH, Swiss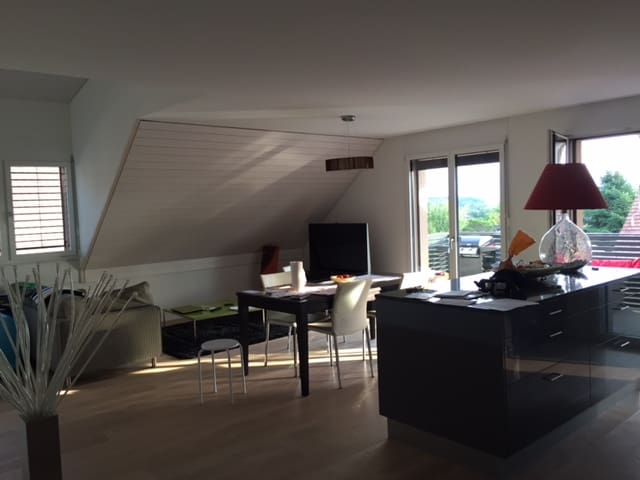 Mitten in Hauptort Affoltern am Albis, liebevoll eingerichtetes, 100 jähriges Haus. Bei Bedarf steht das komplette Haus zu deiner Verfügung mit all seinen Geräten. Coole Küche mit all erdenklichen Induktionsgeräten wie Wok, Kochfeld, Steamer etc. Der Innenausbau ist Original, mit modernen Elementen ergänzt. Ein mediterraner Balkon mit Aussicht lädt zum Essgelage mit Speisen vom Elektrogrill ein. Einkaufsmöglichkeiten sowie Zugverbindungen sind in weniger als 2 Minuten erreichbar.
1 grosses Schlafzimmer, 2mal Doppelbett 1 mal Einerbett max.5 Pers. 1 Schlafzimmer, 1 Doppelbett max.2 Pers. 1 Wohnzimmersofa komfort 1A / 1 Pers. Wohnküche und Esstisch Platz bis 8 Pers. Da es nur ein Bad mit Dusche gibt ist ab 4 Pers. in Spitzenzeiten mit Stau zu rechnen. Versprochen, weitersagen... Wir bieten Gastfreundschaft, die Athmosphäe wird dich begeistern.
Der Name Zürich sagt schon alles. Eine Mega City. Luzern am Vierwalstädtersee. Dampfschiffe . Zug am Zugersee Hedingen 15min. Badeweiher 1 Std. in beste Skigebiete Im Domizilort Affoltern a.A: Seen, Flüsse, Wandern, Freibad, Autobahnanschluss
Our stay with Arnold was perfect!!! His apartment was a very short walk from the train station. We were greeted by Arnold who showed us into his enchanting home. Whilst retaining all the character of an historic building Arnold has outfitted the kitchen with state of the art equipment ( instructions in German). The apartment had a lovely cosiness but was also spacious and airy. A small balcony let us watch the world go by while drinking delicious coffee from Arnold's built in coffee machine. While the town itself has little to offer in terms of entertainment, it is very easy to take the train to Zurich - which takes about 40 mins and runs regularly. Arnold was a wonderful and generous host. We would highly recommend staying at his home.
Dan
2016-07-07T00:00:00Z
Sehr herzliche Begrüssung durch Arnold und Barbara! Wir hatten eine wunderbare Zeit in dieser coolen Wohnung und haben uns sehr wohl gefühlt. Wir empfehlen diese Wohnung uneingeschränkt und freuen uns bald mal wieder vorbei zu kommen. Beim auschecken haben wir noch gemeinsam zu Mittag gegessen auf dem lauschigen Balkon. Vielen Dank das wir in eurer tollen Wohnung wohnen durften!
Daniel und Sonja
2016-07-30T00:00:00Z
Unsere Familie hat sich in Arnolds und Barbaras Haus super wohl gefuehlt! Wir empfehlen es auf jeden Fall und wuerden jeder Zeit wieder dorthin gehen. Es gab alles, was wir brauchten, die Lage ist einmalig, nahe am Bahnhof, Geschaeften und der Autobahn. Die Wohnung ist mit sehr viel Geschmack eingerichtet und man kann fuehlen, dass Arnold dort auch selbst wohnt. Wir hatten eine ganz tolle Zeit in Zuerich und bereuen eigentlich nur, dass das Wetter zu schlecht war, um den tollen Balkon auch noch auszuprobieren!
Stefanie
2016-06-28T00:00:00Z
Amazing place, amazing host! Arnold was very welcoming and waited quite a while till we reached because of some unavoidable delays!! It's an amazing place and it's very near to the rail station!! Just a two minute walk and there are stores very nearby!! Lovely spaced and very mindfully furnished home!!! Loved it to the bits!! And the host, Arnold was very very helpful and friendly!! He is very thoughtful as well! As he had to wait for us to come, he had prepared lunch for us! Loved the food and his thoughtfulness!! Amazing trip on the whole!! Would love to go back sometime!! :)
nithya
2016-06-14T00:00:00Z
Arnold was a great host, I would stay there again when returning to Switzerland. Also a great location that is close to shopping, train station and the highway!
Michael
2016-08-23T00:00:00Z
Tipe Kamar
Seluruh rumah/apartemen
---
Tipe Properti
Apartemen
---
Mengakomodasi
7
---
Kamar tidur
Affoltern am Albis, Zürich, Swiss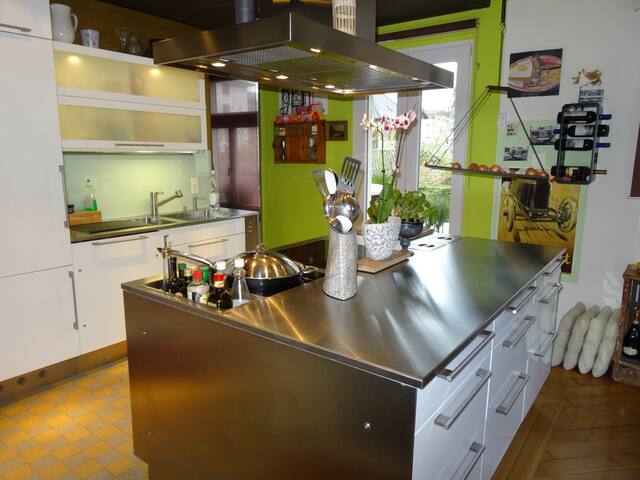 In meiner schönen 7 1/2 Zimmerwohnung vermiete ich eine ruhiges Doppelzimmer zur Doppel- oder Einzelbenutzung. Ich wohne zusammen mit meinen 2 Kinder in und freuen uns auf offene und unkomplizierte Gäste.
Diverse Einkaufsmöglichkeiten erreichen Sie in ca. 5-10 Gehminuten. Restaurants und Bars sind ebenfalls in wenigen Gehminuten erreichbar.
Helen hat mich herzlich empfangen und sie ist sehr nett & großzügig. Die Wohnung ist sehr schön und sehr groß, wie auch die riesige Sitz-/ Liegelandschaft (Sofa kann man sowas wohl nicht mehr nennen) :-D auf der ich den Tag wunderbar & entspannt ausklingen lassen konnte. Herzlichen Dank <3
Agni
2017-03-06T00:00:00Z
Tipe Kamar
Seluruh rumah/apartemen
---
Tipe Properti
Apartemen
---
Mengakomodasi
2
---
Kamar tidur
Affoltern am Albis, ZH, Swiss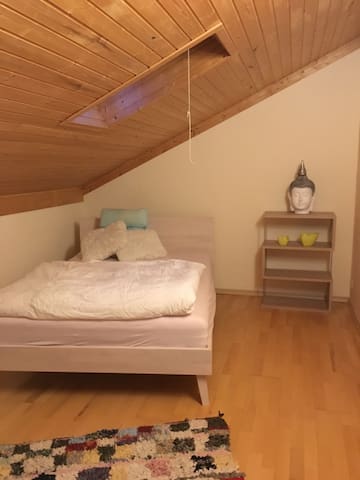 Nice and quiet apartment with living room, bedroom, bathroom, kitchen and balcony. Good public transportation to Zurich, Lucerne and Zug. Shopping possibilities nearby. Cats lovers are very welcome!
Tipe Kamar
Seluruh rumah/apartemen
---
Tipe Properti
Apartemen
---
Mengakomodasi
2
---
Kamar tidur
Affoltern am Albis, Zürich, Swiss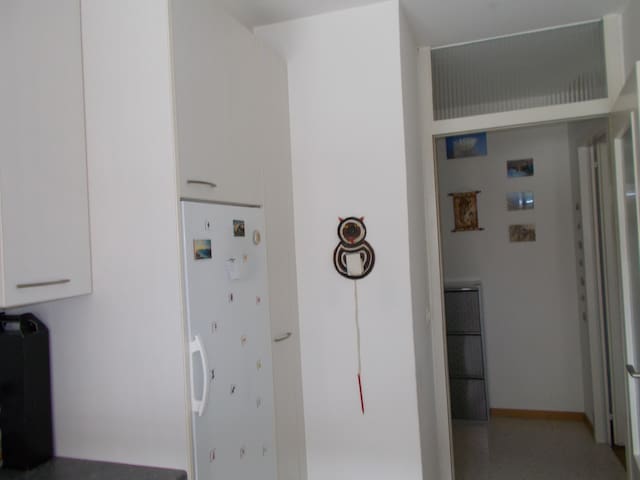 Grosszügige Räume, sehr ruhige Umgebung im grünen doch nur drei Minuten vom Bahnhof. Alle 15 min. fährt ein Zug nach Zürich
Tipe Kamar
Kamar pribadi
---
Tipe Properti
Apartemen
---
Mengakomodasi
2
---
Kamar tidur
Hedingen, Zürich, Swiss
Mon logement est à seulement 300 mètres des limites de la ville de Zurich. Bus et trains sont facilement accessibles à pied. Ainsi, la ligne de bus ZVV 70 points en 10 minutes à Zurich. Néanmoins, il est calme et a des champs, des forêts et de prairies sur le seuil. Vous avez votre vie privée puisque vous avez votre propre accès et une salle de bains privée avec WC et lavabo. Vous avez la possibilité pour une douche dans notre appartement au 3ème étage sur demande.
La habitación es adecuado para los viajeros de negocios, empleados a tiempo parcial, parejas, viajeros y aventureros de la ciudad. La muy buena conexión con el transporte público hace que sea posible alcanzar el centro de Zúrich rápidamente. Incluso los próximos estaciones de esquí como Flumserberge, Titlis o Hochybrig se puede llegar en transporte público en aproximadamente 1 hora.
El barrio son principalmente viviendas familiares y edificios de apartamentos. No muy lejos (700 metros) es un pequeño centro comercial y una piscina cubierta.
It is a really nice place like clean, comfortable and warm. The host Peter and his wife are super nice and easy going. I am happy to go back there again!
Tomomi
2017-01-16T00:00:00Z
This is a great little place, private, quiet, and has everything you need. Bus transit to the city is quick and a few steps away. (Be sure to have enough change for the automat!) Our hosts were easy to communicate with and we were able to check in and out easily.
Patricia
2017-02-18T00:00:00Z
It was perfect
jae ouk
2017-01-20T00:00:00Z
Peter and Birgit are very nice and helpful hosts. They offer a cosy and clean room, which is one of the most comfortable I have ever lived on a trip. The traffic is convenient and the view around the house is great.
Serena
2016-12-28T00:00:00Z
Peter went above and beyond to make sure our stay was great. Even though I was not able to join my friend on this trip, Peter and his wife made her stay an amazing experience. They took care of her not only by providing this lovely space to rest, but also they showed her around and made her feel safe. Extremely grateful with them. Hope to meet you anytime soon Peter.
Mateo
2016-12-20T00:00:00Z
Das Zimmer war sehr sauber und ist mit Handtüchern, einer Kaffeemaschine und einem eigenen Computer mit Internetzugang ausgestattet. Die Kommunikation war unkompliziert und wir haben uns sehr willkommen gefühlt. Dank Birgits Erklärung haben wir auch den günstigsten Weg in die Zürcher Innenstadt nutzen können. Durch die Möglichkeit zur Sofortbuchung haben wir hier auch kurzfristig eine tolle Schlafgelegenheit gefunden. Es gibt nichts an unserem Aufenthalt auszusetzen. Herzlichen Dank!
Christina
2017-03-19T00:00:00Z
Our stay at Peter and Birgit's was great! We stayed 4 nights and really enjoyed it. The small room is as described very clean, private with Wifi and even a spare PC and coffee machine. We really liked the flexibility for check in/out. Communication was also great. Room is located 15' from Zurich HB main station - our commute to visit the city was very quick and convenient. Room has its private toilet and shower is available as requested. Overall a good place for couple travellers or business people- definitely recommend it!
Yari&Dan
2017-01-01T00:00:00Z
Tipe Kamar
Kamar pribadi
---
Tipe Properti
Apartemen
---
Mengakomodasi
2
---
Kamar tidur
Adliswil, Zürich, Swiss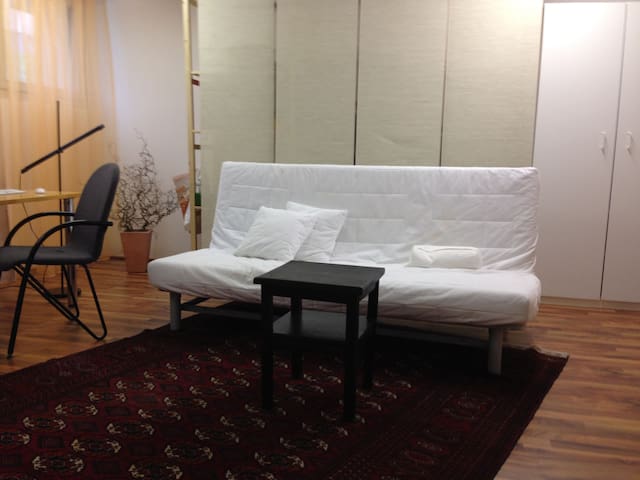 Our newly built, quiet and spacious luxury home is located in the country side only 15 car minutes or 25 train minutes away from downtown Zurich City. A perfect place to recharge and relax. To use: kids toys, bikes, garden, laundry..everything.
Over 150m2 of living space and 140m2 garden space lightly furnished.
Amazing for outdoor activity right in front of the house, nature, kids playgrounds and farms surround the area.
Clean house. Pleasant stay
E
2015-08-11T00:00:00Z
C´etait mon première expérience Airbnb et cela a été très satisfaisant. La maison est très belle, ample, propre et très confortable. Stefanie et Elias ont étés a tout moment soucis pour que tout soit comme prévu.
alfonso
2015-03-22T00:00:00Z
Really enjoyed our stay here. Beautiful flat with lots of space and was extremely clean. We felt welcomed from the moment we parked our car. Great location with an easy drive from downtown Zurich. Overall loved everything and have zero complaints!
George
2015-08-07T00:00:00Z
Very nice, spacious, modern, relaxing family apartment which is fully equipped. We enjoyed the terrace for meals on sunny days. Our 2.5yr old son loved playing in the garden and with the numerous toys of the host's son. Good location for day trips to Zurich and Lake Lucerne. Parking right outside. Handover was smooth and Stefanie was helpful and easygoing.
Daniel
2016-08-16T00:00:00Z
Tipe Kamar
Seluruh rumah/apartemen
---
Tipe Properti
Apartemen
---
Mengakomodasi
5
---
Kamar tidur
Zwillikon, ZH, Swiss
Our Charming Garden Appartment provides you with all you might need for your stay. Easy access to public transport and speedways take you from the village style location to the Zurich city centre within 10-25 minutes. Enjoy your stay @ our luxury interior appartment with a great garden surrounding.
Tipe Kamar
Seluruh rumah/apartemen
---
Tipe Properti
Apartemen
---
Mengakomodasi
3
---
Kamar tidur
Aesch, ZH, Swiss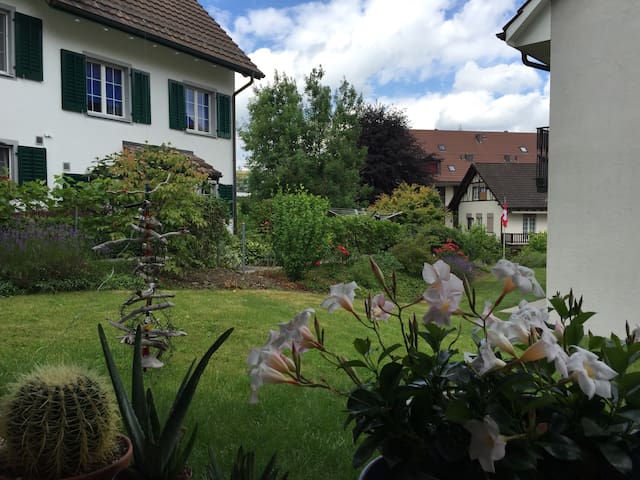 W, 57, multilingual, Live-man, working and trustworthy. Offering 15 min. From HB a möbiliertes private rooms (20 m2) in private homes for rent in. The room is bright and has a double bed. Kitchen, WiFi, TV, bath / WC. Looking forward
Lee is a super person! The communication was very easy and she was there when I arrived, very kind, she prepared everything. The room and the bed is big, you have a lot of space free. Outside, there is a garden you can seat and use internet. Everything was perfect... I just have to say thank you for Lee!
Jefferson
2016-09-26T00:00:00Z
Lee was a great host. Very nice, great place.
Layla
2017-02-26T00:00:00Z
Nach Rücksprache in anderer Wohnung untergekommen. Geeinigt auf Leistungsausgleich. Lee ist freundlich und hilfsbereit.
Oliver
2016-07-15T00:00:00Z
Es una buena opción de hospedaje mas económico y cómodo. Tienes acceso cercano al transporte y en la casa las personas son muy amables. Recomendado!
Consuelo
2017-01-27T00:00:00Z
Lee es muy natural, y acogedora, te hace sentir como en casa.
cristina
2016-10-03T00:00:00Z
Lee was amazing and really nice, we stood litterally for the night from 10 PM to 7 AM. Great Host , quiet place and great bed
Amy
2017-03-26T00:00:00Z
A Lee é hospitaleira, alegre, comunicativa e faz com que nos sintamos à vontade.
Rita
2016-08-15T00:00:00Z
Accueil très chaleureux, sympathique et arrangeant le soir, dans un appartement baroque aux couleurs mexicaines. Spacieux et proches des transports publics. Lee possède une belle terrasse, à découvrir à la belle saison. Quartier résidentiel calme, à 15-20 min en train du centre de Zurich.
yuval
2016-11-18T00:00:00Z
Tipe Kamar
Kamar pribadi
---
Tipe Properti
Apartemen
---
Mengakomodasi
2
---
Kamar tidur
Adliswil, Zürich, Swiss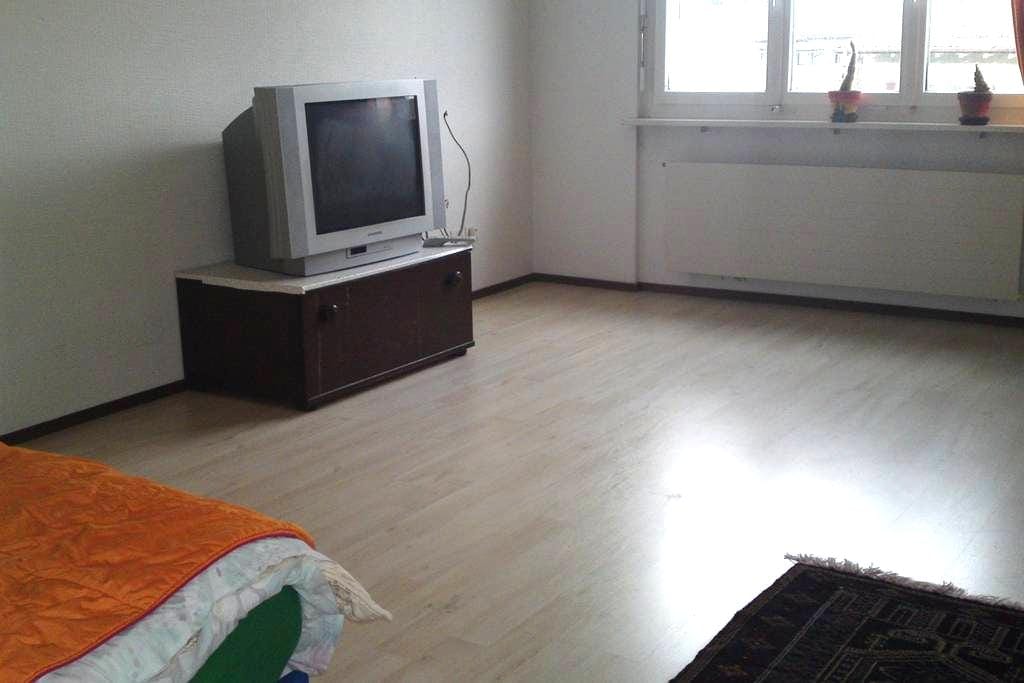 cómoda habitación bajo el techo con ducha / WC en el mismo piso. WIFI. Cocina y comedor de la planta baja se comparten con nosotros. Se sirve un desayuno sencillo. entorno rural, a 30 minutos del centro de Zúrich en transporte público.
Usted está alquilando un buen ambiente en el techo, se utiliza occasionly para dos niños. Hay una ducha / WC en el mismo piso para su uso exclusivo. Estás en un piso de su propia, solamente una habitación utilizada como sala de juegos para los niños pequeños es allí también. Hay una cama doble en la sala. Uso compartido de: cocina, comedor, lavadora, secadora, bañera bajo petición. Le serviremos desayuno con tostadas, mermelada, zumo y café o té. También tenemos generalmente muesli, yogur, fruta fresca y huevos disponibles bajo petición. Podemos servirle la cena por 15 CHF por persona (Podemos cocinar una fondue de queso, si quieres comer algo realmente suizo). Por supuesto también se puede cocinar su propia comida en la cocina. Por favor, háganoslo saber con antelación si va a comer con nosotros, especialmente si usted tiene necesidades especiales (es decir, vegetariano). estacionamiento disponible. A 100 yardas de una pequeña tienda de comestibles y la parada de autobús. Zurich es de fácil acceso en transporte público en 30 minutos, la pequeña ciudad de Bremgarten pitoresque en el río Reuss está más cerca. El entorno es rural. Vamos a ayudarle a disfrutar de su estancia en Suiza!
Nuestro barrio es tranquilo y seguro, muy adecuado para un paseo relajante. También hay una zona de juegos para niños grandes no muy lejos, un pequeño supermercado y un restaurante cerca. Aparte de eso, realmente no hay mucho que hacer aquí. Estamos en el campo, no en la ciudad.
It was a very pleasant stay with Tilman. It was cosy and lovely room in an accessible location. Place was nice and clean. Really appreciated the personal toilet. Excellent experience overall. Tilman and his family were extremely friendly and welcoming.
Crystal
2015-07-22T00:00:00Z
I stayed Til's house for 2 days. I recommend this place because it is very comfortable and Til is very kind man. His children are angels and made us happy. His cook(cheese fondu) was very nice. Also he took us to main station by car. Til thank you for everything. We had a lot of fun:)
Yuma
2015-03-17T00:00:00Z
Simply Great! We had a few days stay but the great experience of our stay will remain unforgettable. Mr Tilman provided all the necessary information in order to fully enjoy in an expensive city such as Zurich. Though his house is a bit away from city center but there are two buses that run every hour (even up-till 12 Night) and city is reached in just 20 minutes. The house is at a beautiful location and is quite nice and well maintained. We were shared the kitchen as well as their toys and felt like home. I will definitely love to come again to the beautiful city of Zurich and stay at Tilman's house. Best regards
Rehan
2015-03-31T00:00:00Z
We had a fantastic stay here and would thouroughly reccomend the property. Tilman and his family were very welcoming but generally left us to do our own thing which suited us perfectly. The room and private bathroom were both very clean and comfortable, breakfast was laid out for us each morning and we were able to do a load of washing too (washer & dryer). We found public transport very easy to navigate so we were glad we chose the quiet country stay which still allowed us to easy access the cities.
Janelle
2012-08-14T00:00:00Z
Found Tilman's place and he greeted me at the door. Fantastic guy. Very helpful. The room was very clean. The bathroom was also very clean. You basically have the entire upstairs to yourself, so there's a good amount of privacy. Tilman also puts together a very good breakfast. The breakfast consists of toast and various spreads, along with fruit, yogurt, and coffee. Wifi access is also speedy. Thanks, Tilman!
AJ
2012-10-08T00:00:00Z
Very calm area away from the city. He was very nice and let us stay during the day because we had an overnight train to Amsterdam the day of check out.
Laura
2015-08-12T00:00:00Z
Tilman is quite a great and a welcoming host. House is approximately 30 mins from the Zurich airport and 20 minutes from the main train station. The area is quite and beautiful. His two wonderful kids made our stay even more homely. :)
Aakash
2016-04-03T00:00:00Z
취리히 시내에서 30분 정도 거리에 있습니다. s반에서 버스 갈아타야하는데 버스시간이 드문드문있어 시간을 잘 맞춰야합니다. 방은 깨끗하고 욕실도 따로 쓸 수있어 좋습니다. 다만 아이들을 싫어하시는 분이면 아직 이집 아기들이 어려 꺼려허실 수도 있습니다
Zean
2015-01-07T00:00:00Z
Tipe Kamar
Kamar pribadi
---
Tipe Properti
Apartemen
---
Mengakomodasi
2
---
Kamar tidur
Oberwil-Lieli, Aargau, Swiss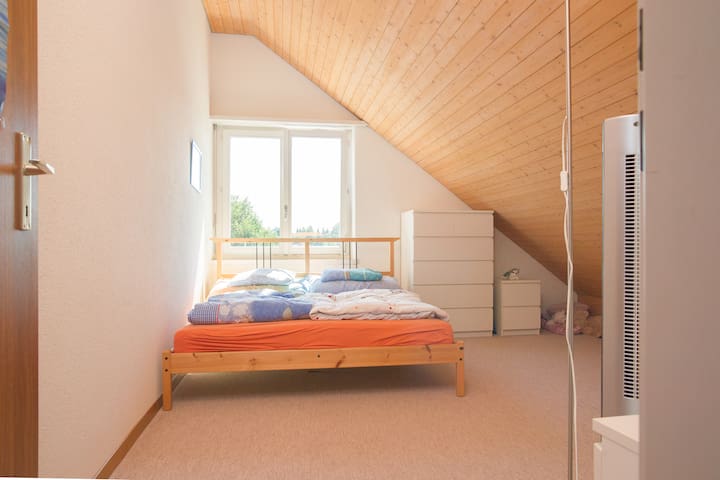 Ruhige, private 1-Zimmer-Wohnung in Adliswil (nur außerhalb Zürich). 10 min zu Fuß zum Bahnhof Adliswil (15 Minuten Zugfahrt nach Zürich Hauptbahnhof); 5 min zu Fuß zur Felsenegg-Seilbahn. Das Hotel liegt in der Nähe der Wald mit vielen Wanderwegen in der Nähe.
1-Schlafzimmer, 1-Bad-Wohnung mit einem offenen Wohn-Ess-Küchenbereich. Großes Doppelbett (180x200 cm) im Schlafzimmer und im Wohnzimmer Couch klappt auch zu einem Doppelbett aus (140x200 cm).
Adliswil ist eine Stadt außerhalb von Zürich, so erhalten Sie die Ruhe und Grün der Vorstädte, während nur ein weg vom Zentrum von Zürich Zugfahrt in 15 Minuten zu sein. Die Wohnung ist nur 5 min zu Fuß von der Felsenegg Seilbahn, die Sie für tolle Aussicht auf den See und eine schöne Gratwanderung nehmen können; der Weg zwischen Felsenegg und Uetliberg ist einer der Top-Tageswanderungen rund um Zürich. Der Wald befindet sich direkt hinter der Wohnung, Wanderwege viele schöne Wander anbietet. Die Sihl ist einen 10-minütigen Spaziergang den Hügel hinunter, und hat eine große Walking / Laufen / Radweg in beiden Richtungen für viele Kilometer. Beachten Sie, dass die meisten Geschäfte an Sonntagen in der Schweiz geschlossen. Am Sonntag können Sie die Grundversorgung an Tankstellen oder finden offene Geschäfte in den großen Bahnhöfen (Zürich HB, Zürich Enge, etc.) oder am Flughafen.
Great stay! Apartment is lovely and has everything you need! We stayed with our young son and it was perfect! Great location close to nature but very easy to get to town! Lovely and quiet too! Thanks for a fabulous stay!
Gemma
2016-02-05T00:00:00Z
Grace was a wonderful host. The communication was very good with Grace and we didn't had any issues in reaching the place. The place is serene and a quiet neighborhood. The apartment was neat and Grace had provided all the information about the apartment beforehand. We loved the stay. A very nice apartment and a nice host.
Shobha
2016-02-08T00:00:00Z
Tipe Kamar
Seluruh rumah/apartemen
---
Tipe Properti
Apartemen
---
Mengakomodasi
4
---
Kamar tidur
Adliswil, Zürich, Swiss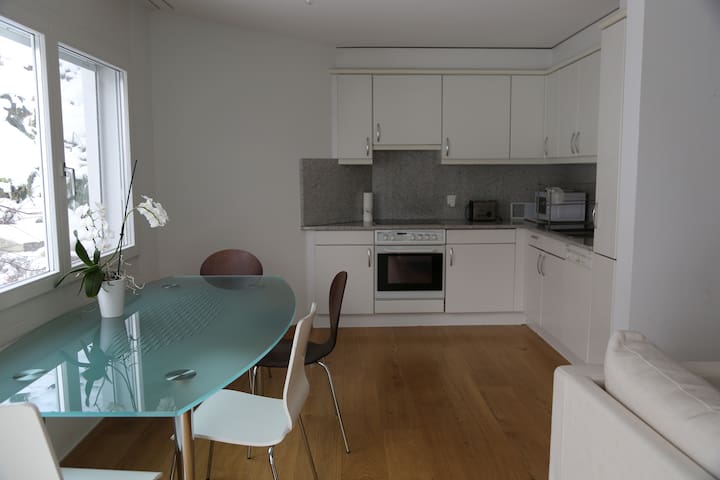 Hy dear, and welcome in Zürich, Leimbach. I am Botond and I would be really happy if you come, and you stay for a few days in my nice flat. Your room is the living room. It is 16m2 with tv, wifi, xbox360, soundsystem. Your room is separated from the kitchen with a sliding door. If you want to open it at daytime you get yourself a full nice apartment. Also you have your own teracce with couch and table for two to have a top dinner outside. The area is really quiet. 3 min walk to a supermarket.
Your room has a tv, xbox360, music center, wifi, and some nice lamp, so at the evenings you can havea relaxing sweet place. The sun comes up on your side so watch out with the curtains :)
Leimbach, this area what you are visiting is in Zürich city south, quiet place on hillside. You can take a nice walk next to the Sihl river...
We spent only 2 nights in Botond's place and had a great time there. The apartment is just 7mins walk or 2 mins by bus from the train station. Botond is a very kind host who are willing to give you all the information that you need to know about his place and Zurich city centre. We feel grateful to him and his friend when they tried to help us to make the print-out of our travel pass at midnight! We truly recommend his place to everyone. Thanks again Botond
Tram
2016-09-14T00:00:00Z
We enjoyed our stay at Botond's place very much, everything was just outstanding! We've felt very welcomed; Botond is a very good host, and also an interesting person, who lived in different places all over the world. He helped us in every possible way during the stay. Also, the place itself is clean, nice and beautiful. At first, we thought that it could take some long time to get to/from the city center, but it turned out that actually one can get from the center to the place very quickly: something like 10 minutes by S-Bahn from the main station, plus 2 stops by bus, which comes immediately after the train. Personally we preferred just to walk instead of bus, which took something like 5-7 minutes. All in all, I would recommend staying at Botond's place and would definitely return myself in the future.
Peter
2016-08-11T00:00:00Z
Botond was very friendly. He even drove me to the shopping centre. The bed was comfy and I had access to the TV and Xbox! It's so easy to get to the city centre via the tram.
David
2016-09-07T00:00:00Z
Botond is a really superhost! Thank you for being so nice and helpful for us in providing information about interesting places in Zurich! This apartment is located in 10 min by feet to the railway station or 5 min by bus, and 10 min (6 stops) to HB. Migros supermarket is in 3 min. Very cozy and pleasant place!
Oksana
2016-12-19T00:00:00Z
He is friendly and accommodating.
mac anthony
2016-07-25T00:00:00Z
Botond is a very friendly and helpful host. He gave us some good tips about the city and the neighbourhood. The place is very nicely connected with the city center and the view is awesome from that side of the city! The room was spacious enough for two people, balcony was a great place to sit and enjoy the meals. The morning sun is on that side of the building! I highly recommend Botond and his place:)
Katriin
2016-08-25T00:00:00Z
Botond was very accommodative and helpful whenever we need help. His apartment location is very convenient for us as its 6 railway stations from the Zurich HB. Moreover, his apartment is clean and very neat. Nevertheless, we are satisfied with our stay.
Sofiah
2016-09-23T00:00:00Z
Foi perfeito. Um lugar extremamente fácil de encontrar. A recepção do Botond foi ótima. Uma pessoa muito gente boa, atencioso, prestativo, carismático, um grande anfitrião. Apresentou a Suíça, os melhores lugares para visitarmos e como chegar em cada lugar. A casa é linda, uma limpeza impecável, aconchegante e supri todas as necessidades. Torna se uma extensão do nosso lar. Ah! E não posso deixar de falar que da sacada é possível vislumbrar de uma linda vista. Me surpreendeu e recomendo a todos que forem à Suiça que fique na casa do Botond.
Alessandro
2016-12-09T00:00:00Z
Tipe Kamar
Kamar pribadi
---
Tipe Properti
Apartemen
---
Mengakomodasi
2
---
Kamar tidur
Zürich, Zürich, Swiss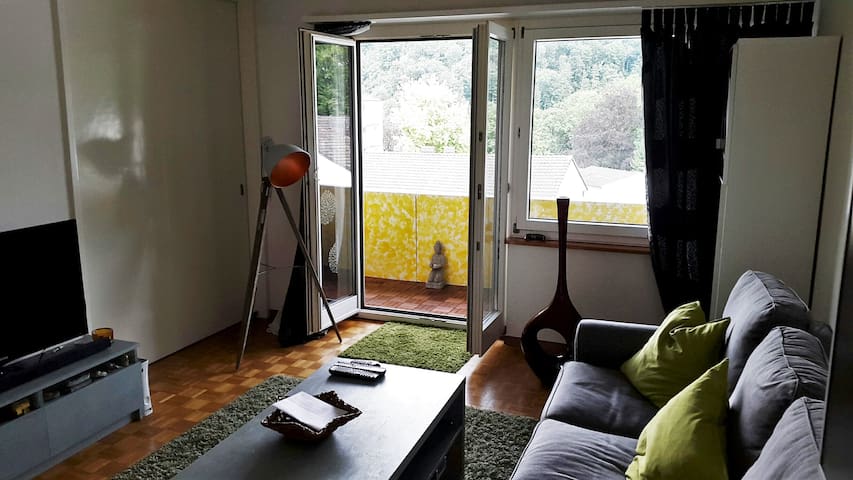 debajo de la cabina de un solo cable del Cantón de Zurich situado directamente con vistas y 2 min. a poca distancia de Felseneggbahn. Bus a la estación de tren y 16 min. En tren a Zurich. Por favor verificado solamente invitados a la seguridad pública. Gracias!
En 2 minutos a pie desde el único teleférico en el cantón de Zurich. Un lugar tranquilo, patio.
transporte por cable aéreo Adliswil Felsenegg. Felsenegg restaurante con una maravillosa vista de los Alpes enteras Lake Zurich y Glarus. Varios restaurantes, bares, teatros a nivel local.
Bei Beatrice war habe ich eine sehr schöne, ruhige, gepflegte Unterkunft ( eigenes Zimmer) gefunden. Adliswil ist ein sehr angenehmer Kontrast zur hektischen Grosstadt Zürich. Das Leuten der Kirchenglocken um die Ecke verstärkt die Romantische Stimmung. Beatrice ist eine sehr hilfsbereite und zuvorkommende Gastgeberin. Ich glaube ich komme bald wieder.
Wolfgang
2016-10-23T00:00:00Z
Great location in calm neighborhood. Close to train station to Zürich main train station. The terrasse is great. And Beatrice is very friendly and helpful. I can only recommend.
Dušan
2016-09-03T00:00:00Z
B was very understanding of my arriving so late. Friendly disposition
Edwin
2016-04-14T00:00:00Z
Perfect
tim
2015-09-18T00:00:00Z
Lovely hostess n lovely place!
Ravi
2017-01-14T00:00:00Z
Beatrice ist unglaublich freundlich. Sie ist sogar, nachdem ich mich auf dem Weg vom Bahnhof zu ihr verlaufen hatte, obwohl es wirklich leicht zu finden ist, losgezogen, um mich zu suchen. Man hat sein eigenes Zimmer, es ist angenehm ruhig und wenn man nette Gesellschaft will, ist man bei Beatrice genau richtig. Ich würde jederzeit wieder kommen ;-) Danke, Beatrice!!!
Anja
2016-04-05T00:00:00Z
Tout exactement comme décrit, accueil chaleureux. Ameublement confortable même si les matériaux ne sont pas tellement de mon goût.
Daniel
2017-01-29T00:00:00Z
Everything was as described, very comfortable bad. Many thanks for the hospitality, Beatrice!
James
2016-08-13T00:00:00Z
Tipe Kamar
Kamar pribadi
---
Tipe Properti
Apartemen
---
Mengakomodasi
1
---
Kamar tidur
Adliswil, Zürich, Swiss
Muy relajante aparte. Habitación con vistas a la uetliberg. parada de autobús está a menos de 1 minuto del apartamento y 4 minutos en autobús hasta la estación de tren. Su también cerca del centro de la ciudad de Zurich. El apartamento tiene una plaza de aparcamiento para los huéspedes de. U también puede disfrutar del bonito balcón y la parrilla de la barbacoa.
Sandra's apartment is very chic! I loved staying here. This was my last day in Switzerland and I had a terrible headache so I spent most of my time here sleeping, but it was super cozy! Sandra was very welcoming- I would stay here again!
Agata
2016-10-30T00:00:00Z
Quiet Place to rest after driving all day. Nice to stay as a couple.
Angela Rosane
2016-10-27T00:00:00Z
Sandra was kind enough to give me the keys at Lucerne and the place is everything as described. However the house is very far away from the city center and even on a good estimate would take 35 mins and late in the evening could be more than an hour. If you are a tourist in the city for 1-2 days would not recommend this place as I faced a lot of inconvenience in reaching there in the evening. Also I had checked with Sandra regsrding the proximity and she said that this was only 17 mins away which is clearly not the case. It is located in one corner and I had to chug my luggage around for quite a bit
Priyanka
2016-05-19T00:00:00Z
Muy buena experiencia apartamento lindo prolijo y limpio! Sandra muy buen anfitrión
Armando
2016-11-08T00:00:00Z
Alles ist sehr gut gewesen schöne und saubere Unterkunft und zu Empfehlen, Sandra ist sehr freundlich und hilfsbereit
Gerold
2016-12-02T00:00:00Z
This listing was absolutely amazing. Quiet, wonderful area near nature. Sandra in a perfect host that is always willing to be very helpful to your needs.
Vladimír
2016-09-28T00:00:00Z
Thanks Again
Sebastian
2016-11-03T00:00:00Z
Sandra is a very nice, polite woman and discret. All is very tidy and the apartment is well decoreted. I was very busy and I couldn't speak a lot with her but I can recommand it. thanks a lot!
pier
2016-11-16T00:00:00Z
Tipe Kamar
Kamar pribadi
---
Tipe Properti
Apartemen
---
Mengakomodasi
2
---
Kamar tidur
Birmensdorf, Zürich, Swiss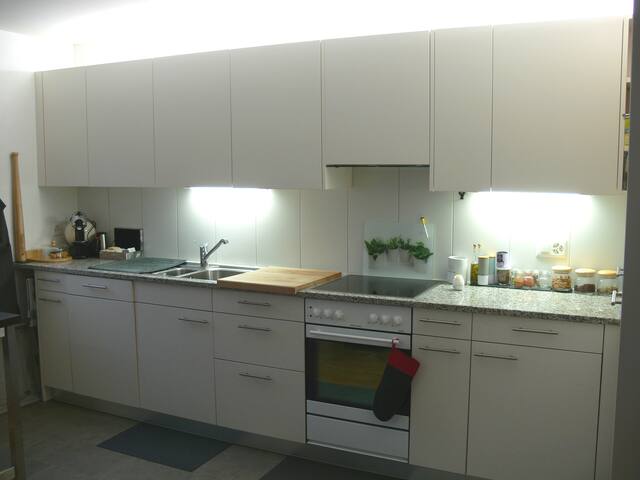 Geräumige privaten Raum in der Wohnung am Fuße der Hügel Albis entfernt. Privates Badezimmer mit Dusche. Großer Balkon mit Grillmöglichkeiten. Wandern, Laufen, Radfahren direkt vor der Tür. Restaurants, Sportbecken, Schlägersportzentrum, See innerhalb von 5-15 Minuten zu Fuß / Auto / öffentlichen Verkehrsmitteln. Skipisten / Langlauf 45 bis 50 Minuten mit dem Auto / öffentlichen Verkehrsmitteln. Perfekte Platz für Gäste für einen aktiven Urlaub oder Sportler, an Sportveranstaltungen teilnehmen. Sichere Parkplätze und einsperren Fahrradkeller vor Ort.
The host canceled this reservation 4 days before arrival. This is an automated posting.
Anjani
2017-01-30T00:00:00Z
Han's place was amazing! The location was beautiful with access to a ton of hiking trails and just an easy train ride away from the city. Han was the most INCREDIBLE host we ever could've asked for!! Her hospitality truly made us feel at home.
Anjali
2017-03-27T00:00:00Z
Tipe Kamar
Kamar pribadi
---
Tipe Properti
Apartemen
---
Mengakomodasi
2
---
Kamar tidur
Adliswil, Zürich, Swiss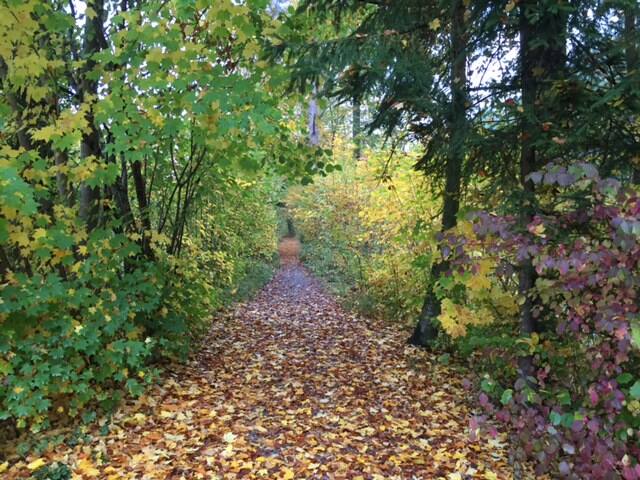 Weekly rent. In the heart Adliswils, 3 min. From the train, bus and shops, 15 min. To the main station Zurich, well furnished apartment. Kitchen, living room, double bedroom, single bedroom, bathroom with tub. Behind the house the Sihl along which a foot / bike path into town leads or in the Sihlwald. For two people 110.-, another person 25.- end cleaning 100.- Sheets and towels are inclusive.
Wir haben in Marens Wohnung eine Woche mit unserem Sohn gewohnt da unsere Wohnung renoviert wurde. Gesehen haben wir Sie nie, aber es hat alles wunderbar geklappt. Für unseren Sohn gab es auch ein Kinderbett, einen Kinderstuhl und Kinderbesteck. Die Wohnung ist sehr nett möbliert, sauber und man findet alles, was man braucht. Wir haben uns in Adliswil in dieser Wohnung sehr wohl gefühlt
Erika
2016-05-15T00:00:00Z
Maren was very helpful with my enquiries. The apartment was very clean when we arrived and collecting the keys was easy. The apartment is spacious and comfortable with everything you need during your stay. Location is excellent, very close to the lake and zurich. There is also a supermarket right across the road. I would thoroughly recommend this apartment.
Alex
2014-07-29T00:00:00Z
we had a wood time, nice flat, nice place, and nice woman
victor
2013-07-30T00:00:00Z
Very good money value, clean and comfortable place. I recommend it!
Ulrich und Zoé
2017-01-21T00:00:00Z
This was our home in the summer of 2016. We stayed here for a week and had a great time. This is an ideal apartment for a small family. Maren ensured that all our needs were addressed. Clean apartment, Towels, all essential utencils in the kitchen, opposite to Megros store, bus and train stops across the road and a river flowing right behind the apartment. These are some of the numerous good things about this apartment. We would love to go back there again. Thanks
Swapnil
2016-06-14T00:00:00Z
Schöne Wohnung und sehr gut gelegen:)
Julia
2014-08-18T00:00:00Z
Maren A really lovely apartment very well decorate and convenient to everything in the town. Lovely walks by the river. The kitchen was very well equipped. Everything was left on hand for our 10 month old which was good when we arrived. We will certainly stay again and will recommend it to our friends and relations Sylvia
Sylvia
2016-05-31T00:00:00Z
Maren was an excellent host. She set up a crib, high chair, and bath toys in order to make our small children comfortable. The check in and out process were very easy. Maren was responsive to all my questions. The apartment was great, it was spacious, well stocked, comfortable. The location is across from a large grocery store and the train station. It is an easy connection to Zurich every 30 min. The only negatives are the staircase leading up to the apartment and the washing machine. The staircase is narrow and steep. It was difficult to carry large bags and there was not a good space to leave a stroller. The washing machine is a shared machine in the basement.
Alison
2016-07-01T00:00:00Z
Tipe Kamar
Seluruh rumah/apartemen
---
Tipe Properti
Apartemen
---
Mengakomodasi
3
---
Kamar tidur
Adliswil, Canton of Zurich, Swiss
In einem Haus in der Metropolregion Zürich (6km in der Nähe von Stadtzentrum, 12 min mit dem Auto, 25 Minuten mit den öffentlichen Verkehrsmitteln) wir eine Wohnung mit eigenem Eingang mieten. Die Wohnung verfügt über eine neue Küche, Essbereich, Bürotisch und Bad. Das Bett (110 cm) und ein Schlafsofa (120cm) einen Aufenthalt für zwei Personen ermöglichen. Der Garten mit Grill, Liegestühlen und Esstisch können gemeinsam genutzt werden. Ein kleiner Fernseher und gratis W-Lan-Anschluss ist ebenfalls in der Wohnung und im Preis verfügbar! Parkplatz (1 Auto) zur Verfügung vor dem Haus. Wäsche kann (einschließlich Trockner) verwendet werden. Aufpreis je nach Verweildauer. Die Gastgeber geben Ihnen Tipps oder beantworten Fragen über die öffentlichen Verkehrsmittel, usw. Dokumente zu diesem Thema finden auf dem Tisch bereits gefunden werden. Wir sprechen: Deutsch, Französisch, Spanisch und Englisch! WIR FREUEN UNS AUF JEDEN BESUCH!
The reservation was canceled 129 days before arrival. This is an automated posting.
Colin
2014-04-25T00:00:00Z
Everything was absolutely perfect. Very nice apartment, very nice hosts. I stayed here for nearly 4 months and could easily make this my home or that time.
Philip
2013-01-01T00:00:00Z
We werden zeer warm ontvangen en kregen zeer veel informatie om ons verblijf er zo aangenaam mogelijk te maken. Bovendien werden we persoonlijk rondgeleid in het dorp zodat we er snel onze weg zouden vinden. De verhuurders staan ook op elk moment van de dag klaar om je te helpen! Toplocatie, top appartement en bovendien TOP hosts!!
Niels
2014-08-20T00:00:00Z
We absolutely loved this apartment and the wonderful hosts, Ines and Renato! We felt welcomed the moment we arrived, they are gracious, helpful, and it was a real pleasure to get to know them during extended conversations over wine or tea. The apartment is exactly as described and shown in the photos. The kitchen is well equipped and even includes a fondue pot and raclette grill. The location is quiet, a five minute walk to a fabulous bakery. A great view of the Uetliberg and the regular sounds of church bells added to our great experience. We recommend this Airbnb enthusiastically, and plan to request a stay there the next time we return to Switzerland.
Michael
2016-09-14T00:00:00Z
Wir wurden sehr warmherzig empfangen und es hat uns alles gleich sehr gut gefallen. Die Wohnung ist gemütlich eingerichtet, alles was man braucht ist vorhanden, alles sauber und ordentlich. Der Garten ist mit viel Liebe gestaltet und war für unsere Bedürfnisse optimal gelegen, weil auch ausreichend Raum zur Nachbarschaft da ist. Wir würden immer wieder gern dort buchen.
Achim
2016-05-29T00:00:00Z
My parents stayed a week in Diego's appartment and they really loved it. Diego and his parents (who live upstairs) are very friendly and welcoming. His mother even brought some cake and food. The appartment is cozy and clean and has enough storage space. The garden with terrace is really beautiful too. The location is close to the centre of the town and parking is free. Thank you Diego for your hospitality.
Johan
2013-08-10T00:00:00Z
The apartment was clean, quiet and included a very well equipped kitchen. The location is only 5-10 minute's walk to central Adliswil where there are a range of shops, supermarkets and other amenities, including great transport links to Zurich and the surrounding area. The hosts were very friendly and made every effort to ensure our stay was comfortable. We would highly recommend this apartment.
Andrew
2016-04-02T00:00:00Z
J'ai eu un très agréable séjour. Renato et Ines sont toujours disponibles et m'ont fait sentir à la maison. L'appartement correspond exactement aux photos.
Alba
2015-08-23T00:00:00Z
Tipe Kamar
Seluruh rumah/apartemen
---
Tipe Properti
Apartemen
---
Mengakomodasi
2
---
Kamar tidur
Kanton Zürich, Adliswil, Swiss