Very friendly and welcoming hosts. The cottage is small but perfect for a couple on a short break. The village is quiet and a pub serves great food 5 minutes drive away. It was easy to drive to Cromer, Blakeney, Holt, Wells and Sandringham, all covered in 3 days! The cottage is beautifully decorated and kept to a very clean standard. Towels and bedding were included. The cottage came with tv, DVDs, a few board games, all kitchen supplies, and a cup of tea and homemade biscuits on arrival! I would definitely stay here again. Good value and great location. Thank you Jan and Dave!
Tom
2016-08-29T00:00:00Z
The cottage has a lovely decor, having the kitchen and sitting made the experience more homely. It is in a great location - half way between Norwich & the local beaches. Although there aren't shops in the village - Jan left tea, coffee and milk on arrival. A couple of miles away is a pub and village store. Jan & Dave are really welcoming - happy to tell you about the area and provide a pack with local places to eat & explore.
Tess
2016-02-01T00:00:00Z
If you are looking for a cosy and out-of-the-ordinary place to stay for exploring North Norfolk, then Janet's accommodation is ideal. Located in a peaceful village it's perfect for a relaxing break and Janet & Dave are great hosts.
Roy
2017-04-03T00:00:00Z
Tipe Kamar
Seluruh rumah/apartemen
---
Tipe Properti
Rumah
---
Mengakomodasi
2
---
Kamar tidur
North Norfolk District, England, Inggris
Dalam suasana desa yang damai, The Box Signal adalah satu pengalaman percutian yang unik. penginapan tingkat atas mempunyai tingkap pada 3 sisi, memberi ruang pemandangan landskap sekitarnya, taman-taman dan kolam. The Box Signal duduk di pekarangan rumah pemilik 'dengan lain-lain bangunan ladang yang menarik berdekatan. Betul-betul bersebelahan laluan pejalan kaki awam dan dengan anjing diterima, ia memberi akses yang besar kepada desa tempatan untuk berundur luar bandar sebenar.
Tingkat atas: Pelan Duduk Terbuka / Ruang Makan dengan Dalaman Hotel Dihias selesa dengan tempat duduk yang selesa termasuk katil sofa untuk pengaturan tidur fleksibel, TV Pintar dengan Freesat dan terbina dalam radio, Wi-Fi, lipatan meja makan dan kerusi, mudah alih dapur api sebenar. Kawasan dapur dengan ketuhar elektrik dan dapur memasak, peti sejuk dengan peti es, ketuhar gelombang mikro, sejuk wain. Turunkan Tingkat Bawah: Bilik Tidur 1 dengan katil double dan En-Suite Bilik mandi dengan pancuran mandian, sinki dan tandas Pemanasan: radiator elektrik, gas calor api sebenar dapur. Haiwan peliharaan: Dua Haiwan berkelakuan baik dialu-alukan. Juga disediakan: Tuala, Peralatan tempat tidur. Pengering rambut. simpanan basikal yang selamat disediakan.
Jika anda ingin berehat dan berundur dari perlumbaan tikus untuk seketika, maka ini sebahagian daripada Norfolk tidak dapat memperbaiki. lorong desa yang sunyi, untuk berjalan kaki, berbasikal dan aktiviti memerhati burung, pub desa yang selesa dan makanan yang besar semua boleh didapati secara tempatan di kampung-kampung sekitar dan kawasan desa.
Beautiful, unusual place in a secluded part of Norfolk. Perfectly located for beach walks, great seafood and enjoying the wonderful countryside.
Piers
2017-03-05T00:00:00Z
The host canceled this reservation 29 days before arrival. This is an automated posting.
Paul
2016-12-01T00:00:00Z
The Signal Box is perfect for a country getaway, with beautiful villages surrounding it, and the beach within half an hour drive along great country homes. The accommodation was immaculately clean and perfect for two people to get away from it all
Dylan
2016-12-19T00:00:00Z
We had the luck of finding and the pleasure of staying for my boyfriends birthday at Chris' wonderfully restored and beautifully located 'Signal Box'. After following clear and concise directions through the norfolk countryside we arrived at the beautiful farm estate the Signal Box is within. Parked in our designated space and made ourselves quickly at home! We were provided with arrival instructions and left to make ourselves at home initially which was perfect. Chris was incredibly accommodating and let us know if we needed anything he'd be happy to help. We were given and had at our disposal lots of information of both the Signal Box itself and the local area. Overall a lovely birthday weekend had at a simply stunning location to which we will most certainly be returning!
Isobel
2017-02-12T00:00:00Z
Tipe Kamar
Seluruh rumah/apartemen
---
Tipe Properti
Lainnya
---
Mengakomodasi
2
---
Kamar tidur
Norfolk, England, Inggris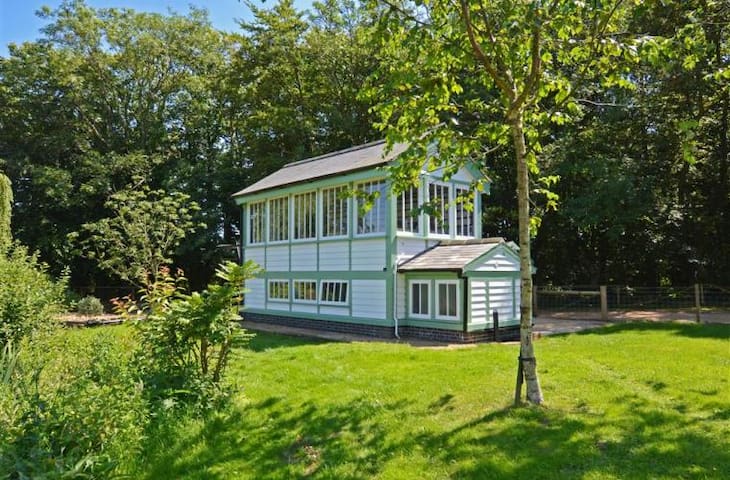 Tipe Kamar
Seluruh rumah/apartemen
---
Tipe Properti
Rumah
---
Mengakomodasi
6
---
Kamar tidur
Norfolk, England, Inggris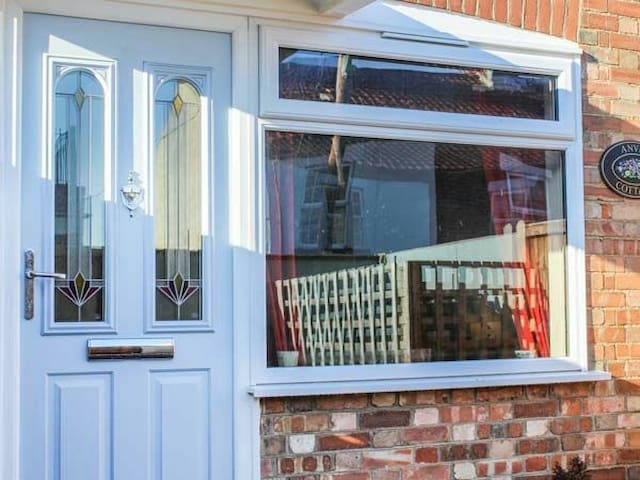 Cottage was excellent, very cosy and comfortable. Kim is a great host and Communicated very with with us prior and during the trip, she also offered us some great tips for the area. Thanks very much.
Sam
2016-11-19T00:00:00Z
This is a brilliant cottage, very comfortable and extremely clean. Had everything we could have wanted, in a lovely area. We have had a great weekend in this area and loved the beach at Wells. Kim has communicated with us very well prior to the stay and we were aware that she was on hand if necessary. Highly recommend, thank you.
Katy
2016-11-13T00:00:00Z
This is a very well appointed cottage, into which a lot of thought and love has gone. Spotlessly clean. All exactly as described.
Jacob
2016-09-11T00:00:00Z
A great little cottage, close to lots of North Norfolk's attractions. Really clean, well maintained and comfortable accommodation. Kim was on hand if needed, however we had no issues getting in or finding our way round. We enjoyed a trip to Pensthorpe, just up the road, as well as Blakeney and Wells. A lovely part of the world, we will be back!
Emma
2016-10-25T00:00:00Z
Lovely place to stay and Kim was really helpful throughout the process. She even got me eggs to prepare for my triathlon! Absolute cracking find, would stay again.
Matt
2016-09-05T00:00:00Z
The host canceled this reservation 6 days before arrival. This is an automated posting.
Emma
2016-09-05T00:00:00Z
Just as Kim says, a peaceful cottage ideal for a Norfolk getaway. Clean and with everything we needed. We had a warm welcome and fresh eggs from the farm. Just what we wanted for our break and would recommend.
Sue
2016-07-21T00:00:00Z
Very accurate description of the property, extremely clean, attractively decorated,great communication before arrival. Brilliant cottage for exploring north Norfolk. Highly recommended!
lisa
2016-10-30T00:00:00Z
Tipe Kamar
Seluruh rumah/apartemen
---
Tipe Properti
Rumah
---
Mengakomodasi
4
---
Kamar tidur
Norfolk, Inggris
The host canceled this reservation 16 days before arrival. This is an automated posting.
Maggie
2016-06-14T00:00:00Z
The host canceled this reservation 40 days before arrival. This is an automated posting.
Mark
2017-01-07T00:00:00Z
This was just what we wanted. A beautifully quiet location, really tucked away, but within easy reach of the coast.
Judy
2016-07-12T00:00:00Z
This holiday let was lovely, clean & nice area.
Heather
2016-07-24T00:00:00Z
Tipe Kamar
Seluruh rumah/apartemen
---
Tipe Properti
Rumah
---
Mengakomodasi
6
---
Kamar tidur
Norfolk, Inggris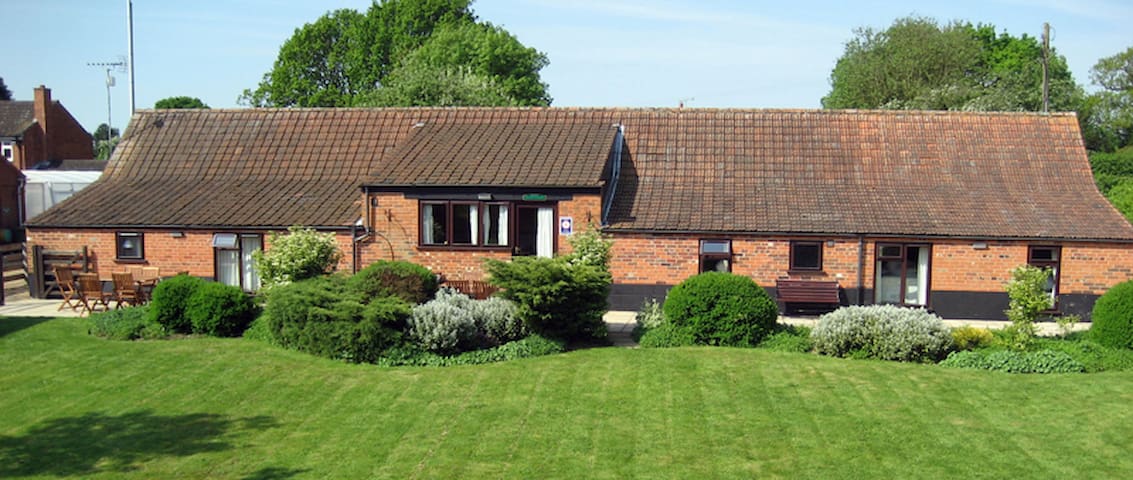 The cottage is a joined annexe to our main house which is entirely self contained. We are located in a small, peaceful village with lovely views in all directions. Perfect for couples, business travellers and families.
Guestwick is a very small quiet village with only a handful of other houses. The nearest shop and pub is 3 miles away.
The cottage was perfect, we loved how peaceful the area was, the cottage had everything we needed and the woodburner in the lounge was the icing on the cake. There was everything we needed and more. Jon and Kate were wonderful hosts and made us feel very welcome. We have already recommended the cottage to our friends and we will definitely be booing again for a longer stay.
Wendy
2016-11-05T00:00:00Z
Super place for those looking for a bit of peace and quiet. The house itself has everything you could need for your stay, and is cosy and stylish throughout. Beds are very comfortable and, if you've travelled from a bit city, its nice to be woken by birdsong in the morning..
Bill
2017-02-13T00:00:00Z
Lovely cosy house in Norfolk - not too far from the north coast which is perfect. We went for one night as a girly getaway and Jon provided a high chair and cot for my friends 6 month old. A well equipped cosy Norfolk hideaway!
Maddy
2017-02-17T00:00:00Z
A lovely little place with great hosts.
Kaye
2017-03-12T00:00:00Z
We had a lovely 4 nights at a great cottage. Jon and Kate were on hand next door if we needed them (we didn't) and made us feel very welcome. Easy walks local walks for our dog Grace who also enjoyed the super underfloor heating! Close to the coast for exceptionally beautiful walks at Wells and Holkham ba. Thoroughly recommended.
John
2017-03-26T00:00:00Z
Really nice, well equipped house in the countryside
Matt
2017-01-08T00:00:00Z
We had a very relaxing couple of nights in the Whitehouse, a comfortable base to explore North Norfolk.
Simon
2017-03-15T00:00:00Z
This cottage was lovely. It was decorated beautifully, feeling cosy and homely. We had everything we needed throughout our stay. Great communication between us and Jon. As there were no visitors before or after us, he allowed us to arrive and leave whenever we wanted to which was really kind. Would definitely stay here again and recommend to anyone looking for a countryside get away.
Holly
2017-01-22T00:00:00Z
Tipe Kamar
Seluruh rumah/apartemen
---
Tipe Properti
Rumah
---
Mengakomodasi
3
---
Kamar tidur
Guestwick, England, Inggris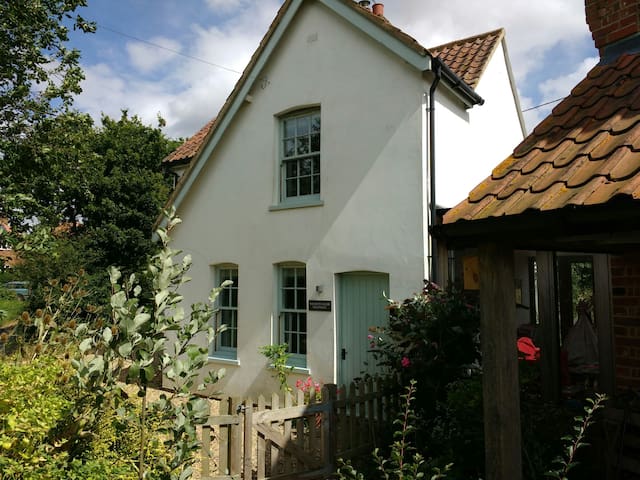 What a fantastic property! We were in Norfolk to visit family and the property is so close to the coast and places like Holt that it made everything really easy. Thank you for having us!
John
2016-11-30T00:00:00Z
It is absolutely perfect, the snug was such a lovely way to spend the evening. Thank you for a lovely stay, would definitely come back again!
Rebecca
2016-11-27T00:00:00Z
We had the most lovely time at Marys property, there was a birthday message & welcome basket waiting for us when we arrived which was a very thoughtful gesture and Mary was a fantastic host. The house was lovely & cosy-the log burner is perfect for a snuggly eve & the house has everything you could need-the shower & underfloor heating was incredible! The village was v cute & is perfectly situated for loss of exploring & country dog walks. All in all it was a wonderful break & we cannot recommend this place enough - thank you Mary! :)
Stuart
2016-10-07T00:00:00Z
The property was exactly as described and was beautifully and fully equipped with high quality furnishings and appliances. Everything was spotlessly clean and Mary, her husband and son were welcoming and keen to make sure everything was to our satisfaction. The location was peaceful yet within easy distance of all the local attractions and Briston itself has all the facilities that you would need. We would certainly use the property again and have already recommended it to a couple of our friends
Iain
2016-08-11T00:00:00Z
Cute, clean, and cosy. We were really happy at Mary's place. Great accommodation with easy access to all of North Norfolk.
Matthew
2017-02-17T00:00:00Z
We had a very comfortable stay at Mary's place. The bed was really comfy and the shower powerful and luxurious! Basic toiletries were provided but don't forget your shampoo and conditioner like I did :) The kitchen was very well equipped for us to be able to make meals and feel at home - Mary even provided a pint of milk, bottle of wine, an Easter egg and some dog biscuits for our pup which was a welcome sight! The location is great for trips to the seaside and nearby towns, and the village has a couple of well stocked shops. We didn't try the local pub/restaurant but it looked popular in the evening and lunchtimes.
Victoria
2017-04-10T00:00:00Z
Mary's cottage is a beautiful little place to get a nice relaxing break. The cottage is lovely and cozy and Mary herself is so kind and very welcoming! The location was great and not far away from places to visit. We went to Wells next the sea, which if anyone has a dog it's a great day out as the beach is dog friendly and absolutely breathtaking! We would definitely recommend Mary's cottage and only wish we were still there burning logs on the wood burner!
Laura
2017-02-19T00:00:00Z
Has everything you need
Gemma
2017-03-05T00:00:00Z
Tipe Kamar
Seluruh rumah/apartemen
---
Tipe Properti
Lainnya
---
Mengakomodasi
2
---
Kamar tidur
Briston, Inggris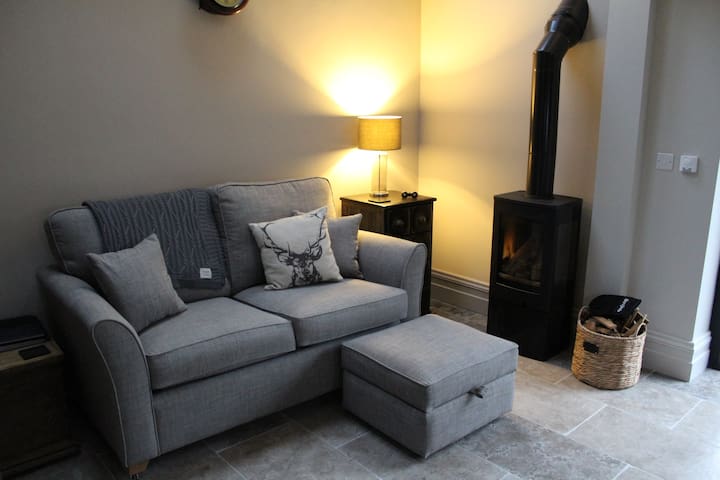 Estamos ofreciendo el uso de nuestra habitación doble en nuestra casa familiar, situada en un pueblo tranquilo del norte de Norfolk. Tenemos 4 gatos y un perro aquí como parte de nuestra casa, todo bien educados y muy tranquilo. El desayuno y la cena son un costo adicional y se deben solicitar antes de su estancia. Esperamos darle la bienvenida.
La habitación cuenta con una cama doble con almohadas de plumas y edredón de plumas y ropa de cama de algodón. Hay una televisión, mesillas de noche, lámparas, despertador, mueble con cajones y armarios. También proporcionamos el agua, y la habitación tiene un set de té / café / chocolate caliente. También se proporcionan toallas. También hay una carpeta guía local en la sala de ofrecer información sobre lugares para comer y para visitar. El baño tiene un baño de esmalte y la ducha eran estupendos. Tenga en cuenta que el baño está a la espera de algunos pequeños retoques, pero todo está limpio y completamente funcional, y la imagen que se muestra es, ya que es en este momento.
Hay hermoso país y paseos por el bosque a un paso de aquí, y estamos a 20 minutos de la costa norte de Norfolk. El pueblo se encuentra a 15 minutos en coche de Holt, a 20 minutos a Sheringham y Wells-next-to-Sea y 25 minutos a Cromer y Holkham. Norwich se encuentra a 40 minutos en coche hacia el interior. Estamos perfectamente situados para la Thursford Collection / Espectáculo de Navidad en particular, ya que está a 10 minutos en coche de nuestra casa.
It was great to find a place to stay only 4 mins from the wedding we went to. Rachel's welcome to us was so friendly we were put to ease from the moment the front door opened. A good nights sleep followed by a good fry up , in fact we did not need to eat for the rest of the day. When we left it was like leaving a friend behind.
David
2016-04-06T00:00:00Z
We really enjoyed our stay at Rachel and Henry's. They are very welcoming and helped us find their house and a place to park the car. Excellent value for money and the breakfast was delicious! We'd recommend it!
Laura
2016-10-02T00:00:00Z
Great place to stay
Kim
2016-10-30T00:00:00Z
This place was just what my friend and I needed on our cycling tour of Norfolk. Super good value, with nice room, nice welcome, nice breakfast, a place for our bikes, nice door handles and five cats to choose from. Excellent, thanks.
Hal
2016-08-30T00:00:00Z
Rachel was very attentive and welcoming. Lovely tranquil setting. The room was nice and it was very quiet. She cooked us a fabulous veggie breakfast and gave us some helpful tips on where to spend the day. A great place to stay and a very friendly couple.
Gavin
2016-05-09T00:00:00Z
We were made to feel very welcome. Our room was bright and clean and we slept in a very comfortable bed with fresh, cotton bed linen. As it was very hot they provided a crisp, cotton sheet instead of a duvet (at my request.) Rachel cooked a really great breakfast using good quality products from the local butcher and fresh vine tomatoes and fresh mushrooms etc.
John
2016-09-14T00:00:00Z
Very quiet, comfortable and affordable room. Hosts are genuine, friendly and helpful. Great stop if staying in north Norfolk and would like a relaxed and homily place to stay.
Dan
2017-03-26T00:00:00Z
I really enjoyed staying here. Rachel was really welcoming, the place was very comfortable and I slept very well. I would highly recommend it.
Tom
2016-08-27T00:00:00Z
Tipe Kamar
Kamar pribadi
---
Tipe Properti
Rumah
---
Mengakomodasi
2
---
Kamar tidur
Swanton Novers, Norfolk, Inggris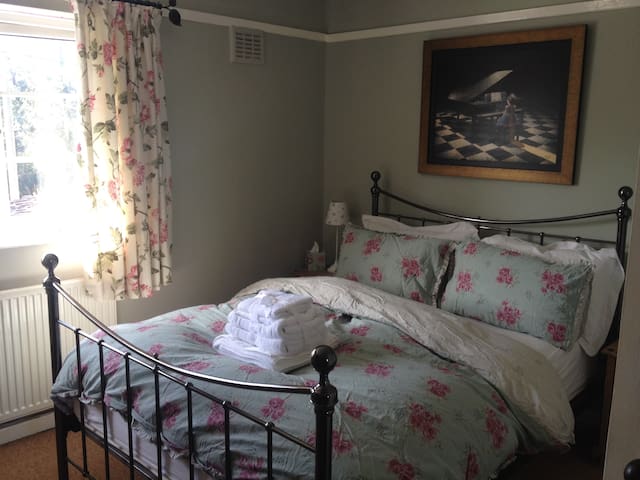 La antigua capilla en Swanton Novers se encuentra en una zona tranquila al final de St Giles Road, una carretera sin salida, a la izquierda. La vista desde la casa es a través de campos hacia antiguos bosques de roble. El Gran Swanton madera se menciona en el Libro del Juicio Final. Si bien de propiedad privada, parte del bosque es administrado por la naturaleza Inglés como Reserva Natural Nacional Swanton Novers para proteger las campanillas y está abierto al público. El sendero público está justo al lado de la Antigua Capilla. Swanton Novers es un lugar ideal para todos los visitantes del campo y la costa cercana, y especialmente a los excursionistas y observadores de aves - hay un punto de rapaces en las inmediaciones de la carretera Fulmodeston justo al lado de la B1110. Este es un pueblo tranquilo país con ninguna tienda o pub pero tiene una sala de fiestas moderna, con actividades que se ofrecen, incluyendo clases de yoga y pilates. También hay un parque y espacio para jugar al fútbol infantil de calidad. Tanto sala de fiestas y juegos infantiles están en St Giles Road - a pocos minutos a pie de la capilla vieja. La tienda más cercana está en Melton Constable, a 5 minutos en coche, con tienda Co-op, oficina de correos, consultorio médico, una gasolinera y buen carnicero. El pueblo de Briston es de otros 5 minutos en coche con una tienda más grande Co-op, oficina de correos, tiendas Mace, panadería, carnicería familiar y 2 bares, Las tres herraduras y Bar Exploradores. A partir de ahí hacia Holt en el pueblo de Hunworth es el popular pub Hunny Bell. Swanton Novers está bien situado para las visitas a la hermosa costa norte de Norfolk cerca. Se encuentra a 20 minutos en coche de Morston Blakeney y que son ideales para los caminantes (Norfolk Coast Path) y los visitantes pueden realizar excursiones en barco a las focas en Blakeney. A lo largo de la carretera de la costa a unas pocas millas al este es Cley Marismas de Norfolk Wildlife Trust, un paraíso para los observadores de aves, que tiene un centro de visitantes y el café, y el nuevo Simon Centro de Educación Aspinall que fue abierto por Sir David Attenborough en junio de 2015. Más adelante se encuentra el pueblo de Salthouse con la excelente pub la Vaca Parda y el este son continuas las ciudades costeras populares Sheringham y Cromer. Al oeste hay Wells-next-the-Sea con su gran barcaza de puerto y residente de vela El albatros que hace tortitas de especialidad, playa Holkham, Los Burnhams y Hunstanton (Centro de Vida Marina). Más cerca de casa es la ciudad georgiana de Holt (5 millas) y la zona del mercado de Fakenham (7 millas), con un mercado todos los jueves. Hay un montón de lugares para visitar: máquinas de vapor y Thursford famosa Christmas Spectacular Viajes Morston y Seal Blakeney NWT Cley Marismas centro de visitantes y cafetería Pensthorpe Santuario de la Naturaleza Holkham playa y senderos de la costa Pensthorpe Santuario de la Naturaleza santuario Walsingham muelle Cromer Blickling Hall (National Trust) Cathedral ciudad de Norwich Lynn de King Hunstanton centro de fauna marina Norfolk Broads Felbrigg Hall (National Trust)
What a perfect time we had at The Old Chapel. Gorgeous setting, beautiful space and wonderfully equipped. Super helpful and friendly host. Could not have been better.
Sian
2016-09-06T00:00:00Z
We greatly enjoyed our four nights stay with Sharon at the Old Chapel. Sharon is a very friendly host, she warmly welcomed us and showed us around, before leaving us to enjoy the tranquility of the place. The chapel was presented very tidy, the place offers all the mod cons a city dweller could need, combined with the rustic beauty and charm of country side living. A perfect and peaceful retreat from a busy city life! The place easily sleeps 4 people, but could host up to 6 people. We can only highly recommend a stay in this charming place and would love to visit again one day!
Tjark
2016-04-01T00:00:00Z
Sharon was very welcoming , helpful and friendly. The house even nicer than the description. It is situated in a quiet, peaceful village with immediate access to footpaths and the countryside.
Julia
2016-07-21T00:00:00Z
Great quirky accommodation that suited our family. Our dog especially enjoyed exploring the woods next door. Sharon met us on arrival and was very helpful setting up bed in our room rather than in the separate snug.
David
2016-08-01T00:00:00Z
A beautiful spot, perfect base for exploring the area from. The chapel is very cosy and has everything you need, it was an ideal place to come back from after a day out and about in the countryside and along the coast. Sharon was really helpful, and very kind with her advice and tips for local area. Can't recommend it enough!
Joe
2016-10-16T00:00:00Z
We really enjoyed staying at the Old Chapel. We have two young children, and the place was just the right size for the four of us. It felt really cosy with heating from the range in the kitchen and underfloor heating in the bathroom made it feel very luxurious. Sharon was very welcoming and relaxed, though we hardly saw her during our stay we knew we could reach her next door if we needed anything. Situated at the end of the lane we had a beautiful view of the ancient woods which we could walk into, and cycle through. It was very quiet, except for the wonderful chorus of birds. The village itself doesn't have a shop but there was one about five minutes drive away. We just wish we could have stayed longer. Hope to see you again!
Emma
2016-06-01T00:00:00Z
We had a lovely, relaxing stay at the Old Chapel. It's a very quiet and rural location, which was perfect for us, and the Chapel is a quirky place to stay, with a very comfy bed and super bathroom. Our 6 month old puppy had a super time exploring the woods too! Thank you Sharon
Clare
2016-11-27T00:00:00Z
Sharon was an excellent friendly host, made to feel welcome even though we arrived a bit later than we said we would. Place was lovely, as described, very cute, lovely colours ... a place with great character. Village didn't have that much about it, but still in an excellent location to explore North Norfolk, an area we know and love. Overall, nice place, great host :-)
Linda
2016-08-09T00:00:00Z
Tipe Kamar
Seluruh rumah/apartemen
---
Tipe Properti
Rumah
---
Mengakomodasi
4
---
Kamar tidur
Swanton Novers, England, Inggris
An immaculate barn with stunning gardens. Very peaceful and relaxing, we will definitely go again.
Jackie
2017-04-06T00:00:00Z
What a fantastic rural retreat for a family get together. Perfectly located for the broads and the coastline. Nethergate is well equipped, clean and comfortable and we LOVED Winston's CD! The use of the golf course is great. Many thanks for a wonderful weekend.
Catherine
2016-07-18T00:00:00Z
Williams Barn is a fantastic barn conversion with a beautiful garden and views over the countryside. It is quiet and peaceful and a perfect location for exploring North Norfolk. We found it to be very clean, well equipped and the beds were comfortable. The only issues we had were the second double bedroom was very small and phone signal was virtually non existent! Otherwise it was perfect for the four of us and we enjoyed our stay very much, thank you. We would definitely recommend.
Sarah
2016-09-11T00:00:00Z
Jayne's place is a spacious and well equipped modern barn conversion in a truly secluded part of rural Norfolk - well off the beaten track. It is warm and cozy even with snow and sleet falling outside. It is so quiet, there is a definite risk of sleeping in and losing good walking time in the day! Lovely close-ups of green woodpecker too - in the trees around the pond. Jayne was easy to contact before and during the stay. Great break from a busy life.
Edwina
2017-01-15T00:00:00Z
Fantastic, secluded, beautifully renovated barn conversion with all the modern amenities you could want on an easy weekend away. It is a home away from home with a large living area and fireplace. There are virtually no other buildings in sight save for the main house on the other side of the road, barely any mobile and internet reception - which is fantastic for a trip away from the city, but good to be aware of. Would strongly advise picking up groceries on the way, but if you do get stuck, there is a lovely pub a few minutes away down the road. Winston kindly made a booking for us. The availability of golf clubs and a mini golf course across the road is an additional perk.
Amanda
2017-01-29T00:00:00Z
lovely, quiet, pretty place - perfect to get away for a few days..
michelle
2016-10-29T00:00:00Z
The listing was extremely accurate. Very spacious house. Perfect for us.
Sue
2016-11-13T00:00:00Z
The barn on arrival was beautiful. It's in a lovely peaceful setting and was exactly what we'd hoped for. Every room was spotless! I even tried to find the tiniest of smudges on the mirrors or windows or a cobweb because I couldn't believe how clean it was! (I didnt find any!) We were kindly loaned some golf clubs for the little golf course and the bbq was a great feature - we used it both nights! The location was great. It was remote yet only around a 15 minute drive to Holt and other lovely places.We loved our stay and wouldn't hesitate to go back. Thank you!
Joanna
2016-08-02T00:00:00Z
Tipe Kamar
Seluruh rumah/apartemen
---
Tipe Properti
Rumah
---
Mengakomodasi
5
---
Kamar tidur
Nethergate, Inggris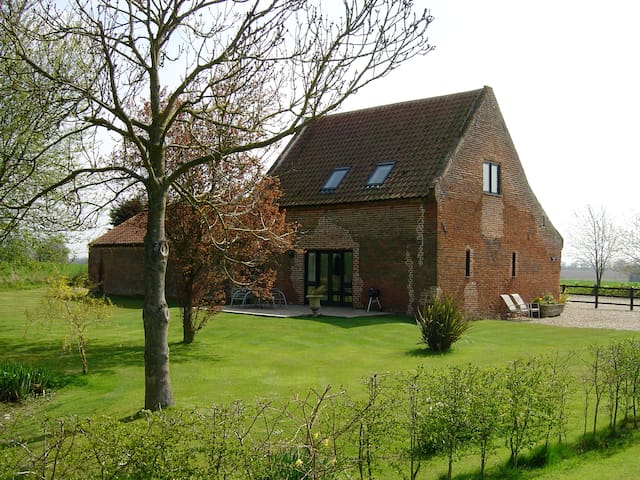 Our place is good for singletons, couples and any combination of up to three people. The area is ideal for cyclists and walkers as we are surrounded by quiet country lanes. We have a secure cart-shed in which to store bikes. Nature lovers will also love north Norfolk for Pensthorpe Natural Park, NWT Cley Marshes, Sculthorpe Moor Nature Reserve and RSPB Titchwell to mention just a few of the many special places here. Don't take our word for it though. Come and see for yourselves.
Meadow Cottage is set in a hectare of land, a part of which is left for our two sheep to graze and the rest is made up of a large pond, a spinney and a couple of small wildflower meadows. The whole is surrounded by agricultural land. The nearest village with shops is Briston, which is just over two miles away, and further afield we have the lovely Georgian town of Holt with the heritage steam railway "Poppy Line" connecting Holt to the coastal village of Sheringham. Thursford with its Christmas Spectacular is eight miles away. We are well served in north Norfolk with the National Trust properties of Blickling Hall, Oxburgh Hall, Felbrigg Hall and Sheringham Park.
My partner and I had a wonderful stay at Meadow Cottage. It is clean, light and well kept with a lovely new kitchen and modern bathroom. The wood burner makes the living area beautiful and toasty. It has everything you could need and is very comfortable for a couple or a small family. The local area is beautiful and quiet with lovely wild walks. We thoroughly enjoyed watching all the birds in the garden and rambling about in the local fields. Absolutely would recommend Meadow Cottage for an isolated getaway and we hope to visit again sometime in the future.
Mahalia
2017-01-03T00:00:00Z
What a fantastic place! Meadow Cottage is perfectly located for seeing the best of Norfolk, and is a lovely quiet place to unwind. It is beautifully presented & immaculately turned out - a credit to Anne & Les. They were lovely - friendly & welcoming & helped make our stay even more enjoyable. The cottage was perfect for my wife, 2 year old and I. Comfy bed, a second bedroom for the cot, a spacious and well equipped kitchen & living room, and a lovely garden for children to play in. Add in some fantastic bird watching (including a shy barn owl), and you have a really lovely place to spend time in. I thoroughly recommend staying at Meadow Cottage & would love to stay there again on our next trip to Norfolk.
Nick
2016-07-16T00:00:00Z
Meadow Cottage was so peaceful and quiet, remote and relaxing. If you want to be walking distance to anything, this isn't the place for you. But we loved it. We would have been lost without SatNav - which seemed to take us a different route back every time we went out. There is no traffic on the roads, apart from pheasants. Have never seen so many pheasants. We felt totally spoilt by everything in the cottage and around it. The beds were extremely comfortable and all the facilities were of the highest standard. The kitchen was very well equipped with all mod-cons. We visited Norwich Castle, Wells-Next-to-Sea (make sure you have an ice cream in the fancy parlour), the wildlife trust site at Cley, cinema in Norwich and Foxley Wood. We ate out at Byfords in Holt (very nice and quite reasonable) and Upstairs at No1, Cromer (best fish and chips and homemade tartare sauce ever!). We also had scones in the Cafe in Burnham Deepdale - they were so freshly baked we needed to let them cool down! They were, however, delicious. On quiet family nights in, we watched several of the very up-to-date DVDs provided on the Blu-Ray player, there was also access to Netflix. For the most part, we spent the time indoors with our faces pressed to the windows watching the birds, with the binoculars provided. We loved chatting to Les - who always seemed to have a job to do! Ann & Les could not have been more welcoming on arrival and Ann makes a wicked Scottie dog shortbread - yummy! There was also a starter of tea, coffee, sugar and milk. Listening to the birds and hearing the owls hooting at night in Halloween week was brilliant. However, the highlight was seeing a weasel running around the garden one morning. We loved Meadow Cottage - it was one of the nicest places we have ever stayed - it renewed our faith that there is peace and quiet out there somewhere - just not near our current house! We will definitely return and would recommend to anyone.
Allison
2016-10-29T00:00:00Z
Tipe Kamar
Seluruh rumah/apartemen
---
Tipe Properti
Rumah
---
Mengakomodasi
3
---
Kamar tidur
Guestwick, Inggris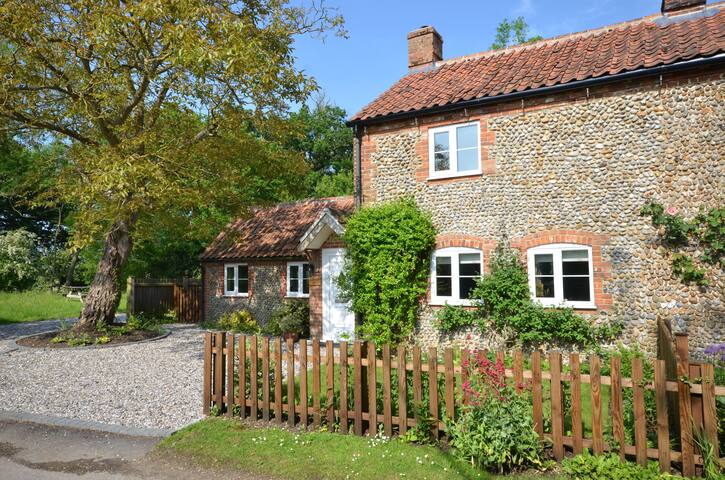 Pretty North Norfolk village. peaceful 2 acre garden setting 3 miles from Pensthorpe bird sanctuary and 9 miles from North Norfolk coastline. Would suit bird watchers/cyclists/artists/writers. No children. Good food pubs locally.
There is wifi but it is poor in the guest room. If you need to work a hot desk can be made available with wifi in the main house.
9 miles from spectacular north Norfolk coast
An amazing stay at Annie's wonderful guest suite. We were there for only one night and so wished we could have stayed longer. it is beautiful, peaceful and a true haven. Annie and Ray are the most wonderful hosts and couldn't have done anything more for us - even giving us rhubarb from her garden to take home. You also have the immense pleasure of staying, surrounded by her amazing sculptures. This is a must if you are in the area or surrounding areas. Thank you so much Annie and Ray - we WILL be back.
Sandra
2016-07-03T00:00:00Z
Annie was very flexible with our arrival time. On the day we were due to arrive we asked for a much earlier check in time than had been originally requested and Annie was very accommodating and happy to help. The setting is beautiful, stunning even. Very peaceful and an ideal 'get away from it all' retreat. My husband and I would return in a heartbeat. The accommodation provided everything you could need for a secret escape. Would highly recommend this quirky idyll as a perfect North Norfolk stay.
Joanne
2016-09-25T00:00:00Z
Great welcome. Having stayed before Annie and Ray made us feel like we were friends coming to stay rather than guests.
Paul
2016-08-22T00:00:00Z
A truly delightful stay in Annie's lovely guest suite. Set within a beautiful and interesting garden. Look out for her amazing sculptures - ( including some trees and shrubs!) You have your own private outside area in which to relax and enjoy the peace and tranquility. We ate our breakfast outside every morning. Annie supplied us with scrumptious homemade jam and soups. Fresh flowers for the table. And even sent us home with homegrown cucumbers and tomatoes. Annie and Ray are warm, friendly and attentive hosts. Even our dog received special treats!! A good location to stay at as you are near Burnham Market, and about 15/20 mins from Holt. Nearest beaches are Holkam and Wells. Our favourite eateries are: Burnham Market - The Hoste. Holt : Byfords and The Folly. Wiveton: Wiveton Bell. And our favourite place with stunning views, is The White Horse at Brancaster Staithe. Also worth a visit is Sculthorpe Mill near Fakenham, which is surrounded by water. We loved staying at Annie's place and we would definitely return. Chris and Karen
Karen
2016-08-30T00:00:00Z
Lovely stay in Annie's annex, really enjoyed the hospitality and accommodation which is set in a quite village overlooking fields and a beautifully kept garden! Annie and Ray are a gem and we will certainly return.
Philip
2016-08-15T00:00:00Z
Excellent place to base yourself for a day or two whilst taking in Norfolk. Wonderful accommodation with lovely hosts Annie and Ray most welcoming. Would defintely stay again.
Mark
2017-03-26T00:00:00Z
The pictures on this site do not do the room justice. We had the warmest welcome and were given a tour of both where we were staying but also other parts of the property we were welcome to use. The house was like a little oasis and after going out for a meal we couldn't get back fast enough to spend the evening there. Annie's amazing art work is scattered around the property and is a genuine joy. The room was warm, clean and very comfortable and we even had fresh strawberries left out for us for breakfast!! Desperately trying to find a reason/date to go back. I couldn't recommend enough.
Paul
2016-06-27T00:00:00Z
Tipe Kamar
Kamar pribadi
---
Tipe Properti
Rumah
---
Mengakomodasi
2
---
Kamar tidur
Stibbard, Inggris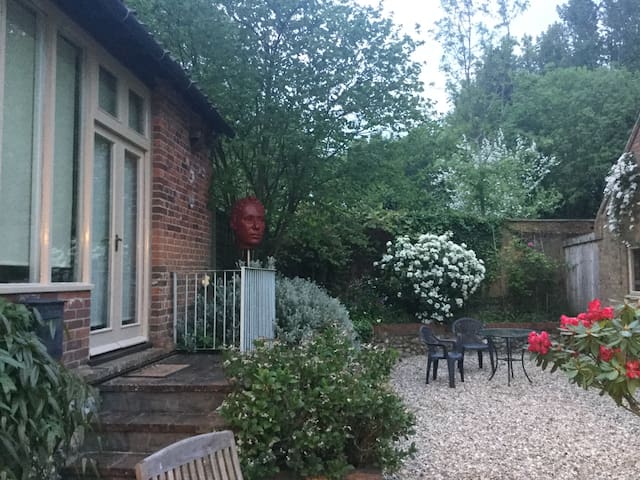 London House is close to Fakenham and Holt and is 9 miles from the Coast, great views, restaurants and dining, the beach, art and culture, family-friendly activities. You'll love London House because of The great breakfasts, the comfy bed, the cosiness, the high ceilings, the views. My place is good for couples, solo adventurers, business travellers, and families (with kids). The smaller room is £70.00 per night and the larger room (with extra bed) is £85.00 per night including breakfast.
London House is a Victorian house which was the Village shop and post office. The shop is now used as a music room for Anna for teaching and rehearsals.
Barney is a very quiet village and London House looks out on fields both front and back.
Tipe Kamar
Kamar pribadi
---
Tipe Properti
Bed & Breakfast
---
Mengakomodasi
3
---
Kamar tidur
Barney, England, Inggris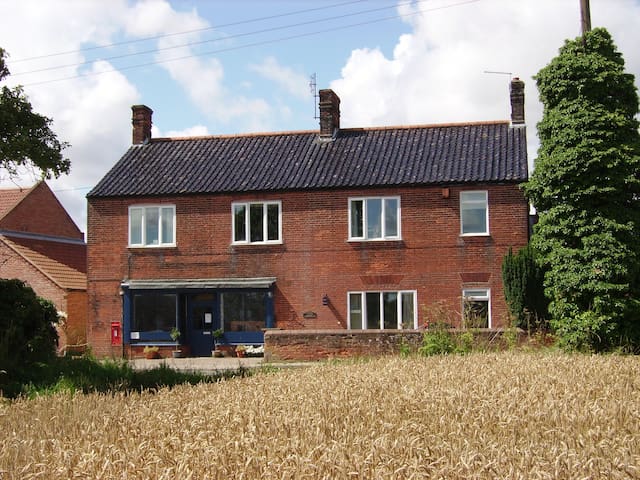 Peaceful rural retreat. Cottage is tastefully renovated with quality mod cons whilst retaining many original features. A remote haven of tranquility. 30 mins from North Norfolk Coast and 20 mins from the fashionable market town of Holt.
The cottage has been completely renovated and is very comfortable. We have tried to preserve the original features of the house, keeping wooden floorboards through most of the property, hand made shutters throughout and quarry tiles on the ground floor. The 2 ensuite bathrooms are part of the bedrooms with no dividing wall (although there is a screen in the twin room if you want to use it). There is an additional downstairs loo in the utility room where you can also find a washing machine and dryer. House downstairs has sitting room with TV, dining room to seat 6-8, utility room with washer and dryer, loo and washbasin, and kitchen. Upstairs are 2 bedrooms, both with bathrooms in the room - the twin room has a shower, master bedroom has a bath. The third bedroom is in an outhouse in the garden and pretty rustic! So not for the faint hearted but by friends who have stayed there find it very romantic. There is a small heater, comfortable bed and power points but is NOT attached to the main house and has no plumbing. The downstairs loo is a short hop across the back courtyard. We have an art studio in the garden which you are welcome to use but please replace any materials you use and tidy up when you leave! Leave us a painting if you'd like to. There is a wood store in the garden. Feel free to use the logs for the wood burning stove but do replace the logs that you use, please. Oil fired central heating works well and heats the house very quickly.
The nearest shopping in Reepham 10 mins away and the market town of Holt 20 mins. This is a remote cottage. Although Sainsbury online do deliver! The North Norfolk coast with all it has to offer is a short drive away - ranging from 20 mins to 45 mins depending on where you want to go. There is an indoor swimming pool and outdoor tennis court a couple of doors down which is available to rent by the hour. I think it's £15 an hour for swimming and £5 for tennis. The card with booking details is in the cottage. We love the coast. Walking in Blakeney, Cley, or Holkham with a pub lunch is a perfect day out. A list of our favourite pubs is in the house along with an OS map to give you an overview of the area.
A stunning cottage and location! The house is beautifully decorated and it really adds to the experience. We stayed for a long weekend in April and had a great time. The cottage also have a lovely garden that the kids spent hours in. A real rural retreat. Alex was very friendly, helpful and quickly answered any queries. I highly recommend a stay!
Anna Nwankwo
2016-04-05T00:00:00Z
The cottage was as advertised, beautifully decorated with a great range of DVD's to watch. It had everything we needed and was perfect for bringing in the New Year,. The surrounding countryside is beautiful and it's super quiet. We thoroughly enjoyed our visit.
(EMAIL HIDDEN)
2016-01-02T00:00:00Z
Box of chocolates & bottle of wine provided a nice welcome after longish drive up. Overall, a charming & exquisitely designed house. Can't be faulted really.
James
2016-10-30T00:00:00Z
Beautiful cottage in very quiet location. Alex was very quick to respond to my msgs and provided useful information regarding the local area. The quiet country lanes are perfect for cycling and the coast is a short drive away. We visited Blickling Hall, Holkham Hall, Wells, Cley and Holt. There was so much to do we couldn't fit everything in to our short break. Alex has a large collection of dvds which we enjoyed watching in the evening. Would definitely stay here again.
Judith
2016-09-05T00:00:00Z
Rustic retreat. A fantastic get-away from the daily grind. Cromer, Sheringham and Wells accessible with a short car ride.
Hugh
2016-07-31T00:00:00Z
Great stay at the cottage, impressed with the whole experience. Lovely and quiet especially staying in the outside bedroom. House well equipped with everything we might have needed. We had sunny weather so spent some hours in the garden with a cat, the kids loved that. Would book again.
Mark
2017-04-09T00:00:00Z
Fantastic stay. Loved the house and garden.
Bruce
2016-07-06T00:00:00Z
Alex was a great host – she checked in on us regularly, provided wine and chocolates on arrival, and recommended local places for us to try. The listing was accurate and we were very happy with the cottage.
Naomi
2016-08-08T00:00:00Z
Tipe Kamar
Seluruh rumah/apartemen
---
Tipe Properti
Rumah
---
Mengakomodasi
6
---
Kamar tidur
Wood Dalling, England, Inggris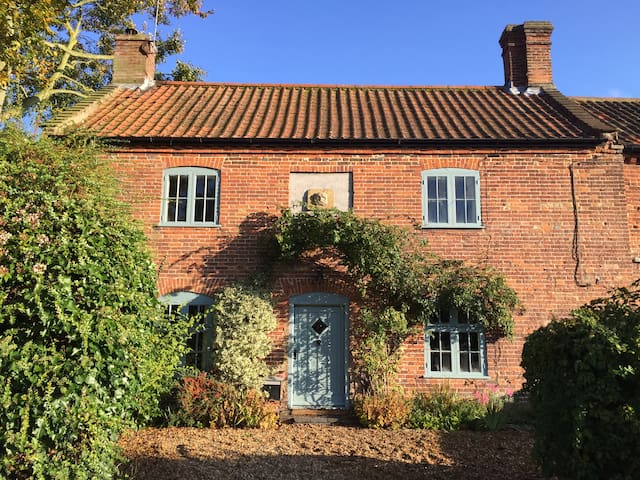 Ritchie was very quick at replying and answering my questions before we arrived in Norfolk. Also gave us alternative sat nav directions which were very useful. The house was lovey, well located and Ritchie gave us maps and tips for good stuff to do locally. We got along well and his breakfasts were amazing. Would recommend to anyone wanting to try alternative veggie meals. We felt like Ritchie went out of his way to make our stay the best it could be
Kirsty
2016-05-03T00:00:00Z
Tipe Kamar
Seluruh rumah/apartemen
---
Tipe Properti
Bungalo
---
Mengakomodasi
4
---
Kamar tidur
Swanton Novers, Norfolk, Inggris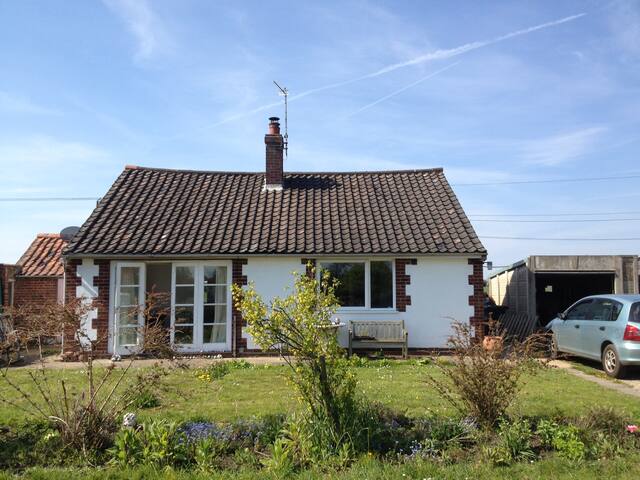 The host canceled this reservation 143 days before arrival. This is an automated posting.
Helen
2017-03-28T00:00:00Z
An absolutely amazing home in the middle of enchanting woodland. We feel incredibly lucky to have found such a unique and characterful place in a stunning part of Norfolk. Freddie had created a real gem, a faultless renovation that combines traditional country character with modern style. Everything is perfect, from the sumptuous memory foamed topped beds to the extensively stocked kitchen, everything is brand new so of course in fabulous condition. From the moment we arrived the peace, calm and feel of relaxation lasted until we left 4 days later. A very extensive welcome pack guided us around the delights of Norfolk with dog and child friendly recommendations. We walked in the woodland, the children played on the tree swing and ran around the tracks finding sticks and exploring, the dog was able to roam around. We all got lots of great fresh air. I can not recommend this place highly enough. We were sad to leave this truly unique little oasis, but will definitely be back very soon.
Natalie
2016-10-30T00:00:00Z
Tipe Kamar
Seluruh rumah/apartemen
---
Tipe Properti
Rumah
---
Mengakomodasi
8
---
Kamar tidur
Wood Norton, England, Inggris
Beautiful house, lovely part of the world.
Anna
2017-02-21T00:00:00Z
We all had a wonderful stay in this fabulous house which has a great location in terms of proximity to seaside and the many attractions of the North Norfolk countryside and coast. The house is stunning, heaps of character and very homely. The conservatory holds a real "wow" factor particularly in the evenings with a lighted well and the underfloor heating makes it a very attractive space to be in even in the winter months. Sarah does a great job in preparing for her guests arrival with many lovely touches including home baked bread, homemade jam, fresh cut flowers and a lit woodburning stove on arrival. We couldn't have asked for more. All of the party agreed ... We will most definitely be returning!
Lavinia
2016-11-27T00:00:00Z
We had a lovely family weekend at this property in celebration of my dads 70th birthday and found everything that we could have asked for available to us. Sarah was very accommodating and answered all of my, many, questions quickly. I wouldn't hesitate to recommend and look forward to finding an excuse to stay again sometime in the future!
Lorna
2016-11-20T00:00:00Z
Beautiful, comfortable and serene, Sarah's house is simply perfect. The kitchen is better kitted out than the average kitchen, so, if you enjoy cooking, you will definitely be inclined to eat-in most of the time, as it'd be difficult to find a restaurant that can offer a better ambiance than Sarah's conservatory/dining room. This house would offer a great base for those wishing to explore the wonders of Cley, Wells and Burnham Market; or for those simply looking to escape a manic lifestyle. I can't wait to book my next stay!
Fernanda
2016-10-28T00:00:00Z
This is a fantastic property. 8 of us (4 adults and 4 kids) stayed at Sarah's house in Edgefield. The house was a home from home - well equipped, stylish, spacious and comfortable - and there was nothing more that we could have asked for. The property is ideally located for exploring the north Norfolk coast as well as market towns like Holt and several National Trust properties. I didn't meet Sarah in person but she was a great host who communicated well, provided detailed instructions and left us bread, eggs and homemade jam on arrival. We hope to return!
Simon
2016-10-26T00:00:00Z
Ramsgate house was everything we wished for and more for our Christmas holiday with family. The layout of the house is brilliant, both the children and adults had plenty of space in the kitchen, dining room or living room. Our Christmas meal for 10 people in the conservatory/dining area was wonderful and something we couldn't have done at home! The entire house is tastefully decorated and Sarah had put up lovely festive decorations throughout the house and outside. It's in an ideal location for visiting the seaside. We especially recommend Cley-next-the-sea. We're hoping the next visit will be summer time!
Rui
2016-12-28T00:00:00Z
We stayed at Ramsgate House for New year and also to celebrate my 60th Birthday. There were 9 of us in total, which included 3 children. The first thing that struck me was how beautifully the house was decorated - from the grandfather clock in the living room to the grand piano in the Kitchen - it was just a lovely place to be! Everything was so beautifully set out and everything we needed to be self-sustained was accounted for. The location is equally beautiful, situated in a isolated quiet village not too far from Holt and the seafront. Would absolutely recommend this lovely home to anyone - from couples to families
Sue
2017-01-01T00:00:00Z
Tipe Kamar
Seluruh rumah/apartemen
---
Tipe Properti
Rumah
---
Mengakomodasi
10
---
Kamar tidur
Edgefield, Norfolk, Inggris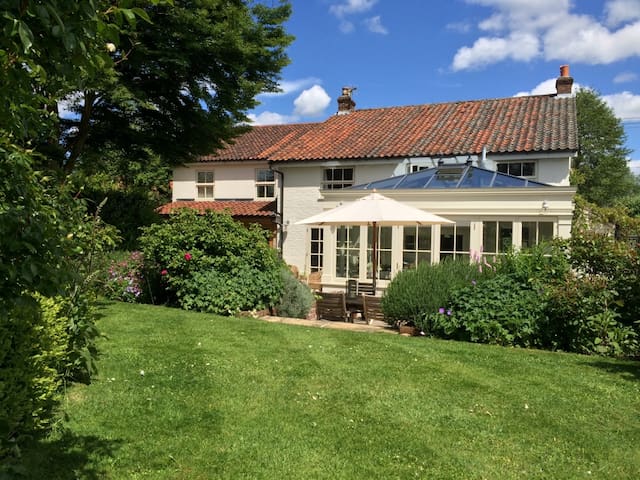 James and Mary are truly exceptional hosts. Their graceful well appointed country retreat provides an idyllic escape. The number of beds and charming bedrooms allows bigger groups to enjoy holidays together without compromising comfort or luxury. The playground opposite one kitchen window is difficult to beat for young families who enjoy occasionally watching children or groups of cousins bonding together without parental crowding. A generous well maintained football pitch within a very short stroll proved a huge hit for the energetic boys in our party. Well chosen games and two cosy fireplaces provided a memorable day when persistent rain kept us indoors. The kitchen is ideal for the preparation of generous feasts. The efficient utility room is a great bonus when messy expeditions generate laundry. The garden is superbly maintained, pretty and inviting. All necessary information from croquet to central heating is clearly and sensibly presented in a series of folders that suggest a great deal of consideration for visitors. I could not imagine a better location for a happy, restful gathering.
Mary-Anne
2015-08-20T00:00:00Z
We had a wonderful stay at Well Cottage. The house is absolutely beautiful and in such a lovely situation. Our stay completely exceeded our expectations - Mary and James showed such generous attention to detail in making our stay as comfortable as possible from the delicious welcome pack to the luxurious and plentiful toiletries. Thanks very much - we'd love to come back again!
Polly
2015-08-02T00:00:00Z
James and Mary were entirely lovely! It was incredibly well prepared, the cabin is well stocked and beautiful. We enjoyed the well prepared information about the house and area and when we had a small change of plans they were incredibly flexible and helpful. Would love to come visit again!
Margaret
2014-08-26T00:00:00Z
We arrived at Well Cottage to find everything as promised, a beautiful cottage and garden which our children enjoyed playing in, plus the added bonus of the recreational park opposite was a huge hit. The welcome pack was more than generous and the cottage was very clean and with a good supply of kitchen utensils. Unfortunately the weather wasn't great so we made full use of the lovely wood burners in the evenings. The childrens bedroom/playroom in the loft was fantastic with lots of toys and board games, kept the little ones amused for hours. We had a wonderful family break and hope to come back again one day. Thank you for sharing your home with us.
Claire
2016-06-03T00:00:00Z
Me and a group of friends spend our new year's eve holidays at this property and we absolutely loved the experience. The photos in the listing don't do enough justice to how pretty the house is. It was extremely well equipped with everything we needed to cook and to enjoy our stay including games, books, wifi and a lot more. The cottage is located in a small village so there is not much going on there but it is surrounded by beautiful countryside with public paths (which also provide a nice long walk to the nearest pub in another village). We couldn't have been more satisfied with the hosts as they replied to all our queries promptly every time and were extremely friendly over the messages we exchanged.
Ana
2015-01-04T00:00:00Z
A really beautiful, charming spacious house. We were a group of 11 which included several children and we were all very well catered for. A fully equipped kitchen, two living rooms which included books and DVD library. All of the bedrooms were extremely comfortable and the bathrooms and en suites were well thought out. The large wrap around garden was great for the kids so too was the convenient playground opposite the house. We had a very peaceful, luxurious break and we would highly recommend this property and hosts.
Julia
2014-08-18T00:00:00Z
It's a great cottage - really well thought through in terms of layout and rooms. Very comfortable. It had absolutely everything a family would want for the weekend and as a result we had a really lovely stay. This was much more than a rental cottage - it was clearly a family retreat.
Siobhan
2015-08-25T00:00:00Z
What a great cottage and a great welcome - a beautiful basket of delights was waiting for us in the kitchen and after a long journey this made for a lovely start to our stay. A query with the ovens was quickly sorted by the housekeeper and the house was spotless. With mixed weather we were able to enjoy a tea party in the garden and also cosy evenings around the wood burning stoves. The bedrooms are all lovely and the children really enjoyed having their own top floor. Enough bathrooms gave all the adults some privacy. Only problem was bumped heads on low beams - but that's character cottages for you! The playground was a bonus as the children could use it without supervision since it was in sight from the house. The area is lovely and has much to offer in the way of beaches and historic houses. Cycling is much calmer in here too with many quiet lanes to explore. The nearest shop is about 10 minutes away but that didn't bother us as we were out and about most of the time. Overall, an excellent house and an excellent holiday.
Helen
2015-05-31T00:00:00Z
Tipe Kamar
Seluruh rumah/apartemen
---
Tipe Properti
Rumah
---
Mengakomodasi
12
---
Kamar tidur
Hindolveston, Inggris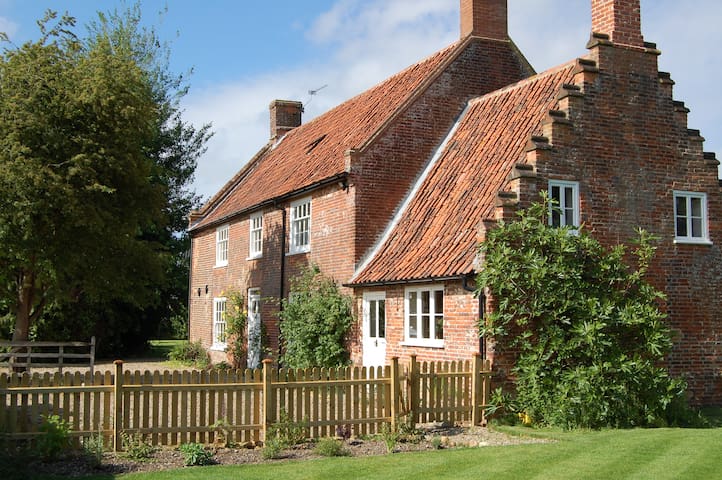 Masukkan tanggal untuk melihat harga lengkap. Biaya tambahan berlaku. Mungkin dikenakan pajak.