Lys første sals lejlighed med tv og køkken. Mulighed for at lave mad, kaffe og the. Kogeplader, ovn, emhætte, køleskab, opvaskemaskine, mikro ovn , toaster og brødrister, strygejern og strygebræt findes i lejligheden. Adgang til solterrasse fra lejligheden. Stille vej 9 km fra København Centrum. 5 km. til havn og strand.
Jeg mener, der skal være plads til alle uanset nationalitet, hudfarve og ikke ryger hysteri. Jeg er tidligere ryger, men jeg har valgt at det skal være tilladt at ryge i mit hus. Typer der vil ikke ønsker at opholde sig i sådanne omgivelser, skal finde et andet sted at overnatte. Det fremgår af beskrivelsen af min lejlighed at rygning er tilladt, så de personer der skal lege rygepoliti er ikke velkommen.
Nous avons été très bien accueillis et le logement est chaleureux, décoré avec goût et de façon atypique. Il ne manque rien, il est très bien équipé et parfait pour un court ou long séjour. Il est très calme et parfait pour se reposer. Nous avons passé un séjour agréable.
Carl
2017-03-27T00:00:00Z
Det er en helt igennem fantastisk lejlighed, hvor der intet mangler! Edel har sørger for os på bedste vis og vi har følt os hjemme her. Kan kun varmt anbefale denne lejlighed til alle :)
Mia
2017-03-22T00:00:00Z
The host canceled this reservation 13 days before arrival. This is an automated posting.
Vijayarangan
2017-04-02T00:00:00Z
Tipe Kamar
Kamar pribadi
---
Tipe Properti
Rumah
---
Mengakomodasi
2
---
Kamar tidur
Hvidovre, Denmark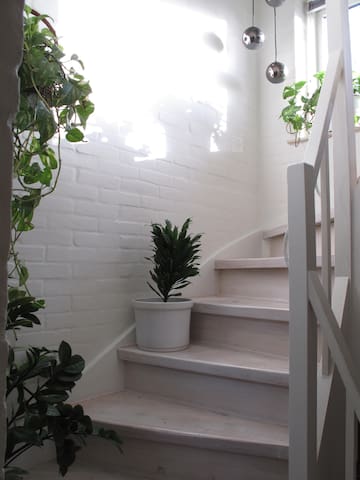 Family friendly one level house in suburb close to Copenhagen. 2 min walk to public transportation and local super marked. Perfect for a base while visiting Copenhagen. Giving you the you the option to enjoy the garden in family friendly settings.
Our old family home is located Hvidovre (suburb 7 km from CPH). The neighbourhood is quiet and enjoyable with a local park just down the road. There are 300 m to public buses that will connect you to trains or take you straight to Copenhagen Central Station. You can easily leave your car in the carport. 400 m walk will take you to the local supermarket. The house's central room is a big living room with dining table, grand piano and an open kitchen. There are an additional living room with TV. 2 double bedrooms - 1 with a baby cod. Connected to kitchen/living room is a covered terrace with seating. Great for dinners in good weather or to have a coffee to the sound of rain. The garden have a wooden terrace to enjoy the evening sun. According to the season the garden offers produce; Apples, salads, spices and berries - true fun for kids. We very much hope you will feel just as home as we do.
Anne made our stay very easy and comfortable. The house was easy to find in a very good neighbourhood. public transport was very close by and easy to use. General shopping handy. A great place to stay.
Vicki
2016-09-06T00:00:00Z
Nous avons été très bien reçus par Marie, la fille de Anne. Explications claires, petit guide à notre disposition et communication précise.
Véronique
2016-08-31T00:00:00Z
Nous avons passé un formidable séjour à Copenhague avec notre fille dans la maison d'Anne où il est très agréable de loger : beaucoup d'espace et de lumière dans la maison, jardin luxuriant, décoration très réussie, quartier très calme. Pour les visites : Bus direct pour le centre ville et supermarché à 2 minutes à pied de la maison. Parking dans le jardin très appréciable. Accueil sympathique de Marie la fille de Anne. Bref nous recommandons cette adresse. Attention, pour les français comme nous qui avons l'habitude de dormir dans le noir, prévoyez des masques de sommeil car les danois n'ont pas de volets et comme les maisons sont très lumineuses cela peut être perturbant!
Anne-Lise
2016-07-20T00:00:00Z
Fabulous house full of memories & jazz. Full of fruits garden will give you relax after an exhausting day. Friendly hosts really take care about comfort which let you feel like at your own home. Quite and pleasant surroundings. Good communication with the city centre.
Marzena
2016-08-24T00:00:00Z
Anne was a very good host. Communication with Anne was simple at all the times. We arranged everything very easily regarding check-in and check-out time. The apartment was clean, nice and comfortable. I recommend Anne and her apartment if you are looking for a short stay in Copenhagen.
George
2016-09-16T00:00:00Z
Tipe Kamar
Seluruh rumah/apartemen
---
Tipe Properti
Rumah
---
Mengakomodasi
4
---
Kamar tidur
Hvidovre, Denmark
Charming small house with kid-friendly garden with sandpit and large trampoline. Free parking 5-10 min on foot; - public transportation, 15 min. to Nørreport/City center, runs every 10 min. - mall with foodstores, farmacie, clothing stores - playgronds and soccerfields - family-friendly beach at natural surroundings with bikepaths - Kystagerparken and Kalveboderne - small harbour with cafeteria 15 min from the airport in car.
Hyggeligt en-families hus med plads til 2 voksne og 2-3 børn. 1 børneværelse med tremmeseng, 1 børneværelse med højsang. Legetøj til 1-8 år. Soveværelse med dobbeltseng. Der er køkken med komfur, ovn, nespressomaskine, elkedel mm. Bad med toilet og badekar. Bryggers med pusleplads. Stue med fjernsyn, Wii med bl.a. Wii sports og Skylanders, bøger, tegne-ting, brætspil mm. Udestue med udgang til hyggelig lukket have med borde/bænke, sandkasse, fodboldmål mm. Mulighed for grill.
Det meget populære standmarkskvarter med grønne områder, havn, strand og samtidig tæt på indkøb (Føtex, Kiwi, Matas, Bog&Ide mm), take away; pizzaria (Apex), sushi mm. Flere legepladser i området.
Tipe Kamar
Seluruh rumah/apartemen
---
Tipe Properti
Rumah
---
Mengakomodasi
4
---
Kamar tidur
Hvidovre, Capital Region of Denmark, Denmark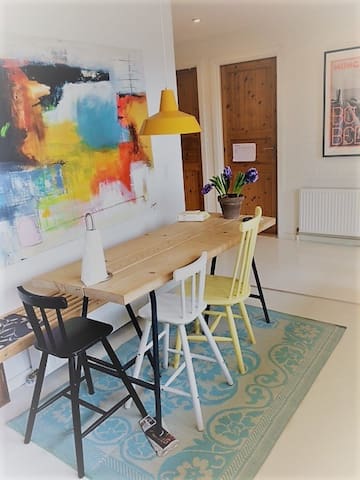 Beautiful typical town house home in suburban Copenhagen - only 10 km from the city center. We mainly rent out to families with kids. There are 3 bedrooms allowing up to 6 adults/kids to sleep as well as a spacious living room. There is a parking spot in front of the house for your car but there is only an 8-minute walk to the nearest S-train station (Avedoere st or Friheden St) and from there is takes 15 minutes to reach Copenhagen central station. Enjoy your stay
Brautiful town house
quiet suburb with playgrounds (nearest one is right down the street 2 min walk away)
Tipe Kamar
Seluruh rumah/apartemen
---
Tipe Properti
Rumah
---
Mengakomodasi
6
---
Kamar tidur
Hvidovre, Danmark, Denmark
Welcome to our child friendly house in Hvidovre, Copenhagen. More than anything the house is well suited for families with small or bigger kids. The rooms are all in one floor, and there are both cozy corners and spaces with plenty of light. The garden has swings and sandbox as well as flowers and lounge area. The house is located with easy access to supermarkets and just a 5 minutes walk from the S-train, that will take you to the central station, Tivoli or Nørreport Station in 10-12 minutes.
The house has an open kitchen and dining room that is also connected to the living room, which makes it easy for all guest to relax together, chat and cook while watching the kids at the same time without being crammed in a tiny room - something that we absolutely love about the place. The large windows in the living room gives you a sense of being in the garden even though you're actually staying warm and cosy on the couch inside in the winter months, and it also makes the room bright and open. In the summer time the garden is a lovely place to eat you're dinner and relax after sightseeing. It has a roofed terrace, tons of flowers, a shady place under the cherry tree, a wooden terrace in the back and plenty of spaces for the kids to play (swings, a sandbox etc). Acces to the city is easy and quick. Busses and the S-train station is only a short walk away and will take you to almost anywhere in the city, and takeaway restaurants and a couple of supermarkets are around 1 km. from the house. If you have any questions, don't hesitate to ask!
Thank you very much sarah, your home was perfect and we had a great time, we felt like home !!! And thank you for the welcome paper that was very helpful with all the information needed for our stay!
Sébastien
2017-02-19T00:00:00Z
Tipe Kamar
Seluruh rumah/apartemen
---
Tipe Properti
Rumah
---
Mengakomodasi
7
---
Kamar tidur
Hvidovre, Denmark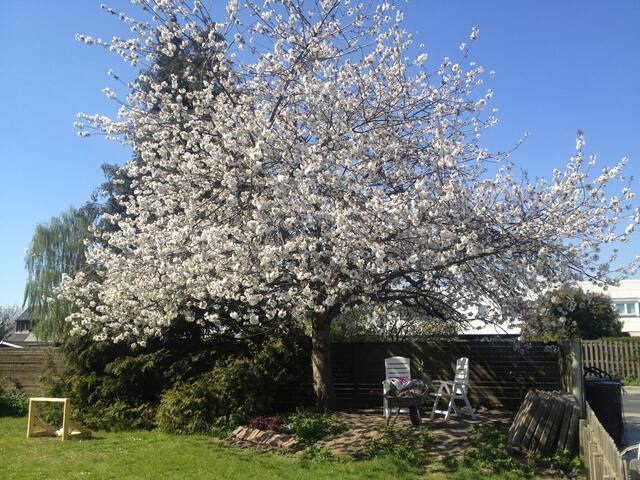 Large house in quiet area with easy access to central Copenhagen. 2 bathrooms, well-equipped kitchen and large living/dining room easily fits 6 persons.
Lovely light house with 2 bathrooms, garden with trampolin and a really nice patio. 1 doublebed, 2 single beds and 2 sleeping couches.
Near Valbyparken, natureplayground, S-tog (subway / Åmarken station) and the beach. Really friendly neighbours.
The reservation was canceled 43 days before arrival. This is an automated posting.
Armando
2014-04-09T00:00:00Z
We had a wonderful three days in Copenhagen in june 2014 and we are grateful for that Jan and his family. We are 4 friends and the house was very comfortable for us. Comfortable rooms, a large kitchen with all necessary items (even tea and coffee for the first time were very timely!), beautiful garden with many flowers, special pots of herbs for food and a large comfortable patio. Jan was very concerned and have prepared a very handy reference for guests with detailed instructions, maps and schedules. It is obvious that Jan family is very friendly and the house has a very good energy and spirit - many beautiful objects, paintings and photographs - so you feel yourself at home with close friends! Metro station is close and the way to the station is pleasant and passes through a very beautiful residential area. The sea coast is also close and there's a lovely Park. This house is very comfortable and safe place to rest. Jan was in the journey, but he was always with us by telephone and was ready to answer any of our questions very fast. Jan clearly speaks English and it was also very convenient for us. We wish Jan and his family well-being!
Guzel
2014-06-18T00:00:00Z
Nice, comfortable house close to the city of Copenhagen.
Katinka
2013-07-27T00:00:00Z
Wonderful house, very spacious and modern. We had a great stay! Communication was perfect and everything was as described/ expected. The cats are adorable! Thanks, Jan, for your hospitality!
maria
2016-10-10T00:00:00Z
Wow. What an amazing experience. Jan was more then helpful and went out of his way to make sure we had an amazing stay. The house is fantastic and not far from the train line.
stephen
2016-05-17T00:00:00Z
Very nice, clean and cosy house close to the city. Wonderful garden! Jan told us in detail everything we need - so we had no problem. Good equipped kitchen, Wi-Fi worked perfect, there is washer and dryer that was very useful, because with us was little child. I would recommend Jan's house for everyone, this is a very good place for 4-6 people with children.
Iurii
2014-05-12T00:00:00Z
After a very pleasant and informativ correspondence with Jan, my friends and I arrived at the perfect house in Hvidovre. Everything was as shown on photos and the fact that there was loads of room, in and outside the house, as well as two bathrooms - was really handy on busy mornings, where 10 people had to be ready, to leave on time. (we went to a sports competition in Copenhagen) Getting back in late afternoon, to a "real" home just can't beat anything else! At once we just relaxed in the garden, in our rooms or in the large sofa in front of the television. It was easy to get in contact with Jan, if questions arose as well as all my questions beforehand were answered very quick and satisfactorily. If possible we/I will definately be back at some point. P.s. even felt more like home with the lovely kitten :-)
B Rask
2015-05-31T00:00:00Z
Jan was accessible and very nice. The house was fine, although it did not suit middle-age to couples. It was enough for our purposes because we only slept and showered there. It would be a fine accommodation for young families because there is a large yard and two rooms for children. However, the door to the basement stairs had been removed and they are very narrow and very steep. This could pose a danger to children unfamiliar with the layout
Anne
2016-09-29T00:00:00Z
Tipe Kamar
Seluruh rumah/apartemen
---
Tipe Properti
Rumah
---
Mengakomodasi
7
---
Kamar tidur
Hvidovre, Capital Region of Denmark, Denmark
Kort afstand til centrum København. 10 minutters gang til Åmarken station + busstop. 10 minutters kørsel med tog eller bus. Stille og roligt kvarter. Short distance to centre Copenhagen. 10 minutes walk to Åmarken station or busstop. 10 minutes by train or bus - and you should be in the heart op Copenhagen. Quiet neighbourhood. All new renovated rooms and bathroom / nice outdoor terrazzo Free parking. Rooms good for couples, business travellers and students.
Great accommodation for a short weekend break, warm and comfortable.
Simon
2017-03-05T00:00:00Z
Lieu en sous-sol conforme aux visuels de présentation. Espace très bien chauffé pour les frileux. Les lits sont très confortables. Une bouilloire est à disposition sur place pour le dépannage. Douche italienne et non baignoire comme je l'avais compris avec "bath"... Accès facile au centre de Copenhague avec les transports et moins de 10min de marche. Bon séjour.
Laurence
2017-02-21T00:00:00Z
super vært.
Rene
2017-01-13T00:00:00Z
Michael was an excellent host..check in was easy, house was quite close to a Metro station, with a quick journey to the city centre. He was even nice enough to pick us up from the station one night. Thank you Michael!
Amber
2017-01-29T00:00:00Z
Wir hatten eine superschöne Reise nach Kopenhagen! Die Bilder enstprachen der Realtität, die Lage von Michaels Haus ist genau richtig und er (und sein kleiner Sohn) waren sehr herzlich. Können die Unterkunft auf jeden Fall weiterempfehlen und würden sie sicher ein zweites Mal buchen :)
Anna
2017-03-09T00:00:00Z
Michael's place was awesome, well equipped, clean, and cozy. The area is the best place to rest after a long walk in the city. You can access parks and the seaside. The area is easy to access with train from the central station. Michael helped us in everything we needed. Highly recommended to stay.
Peter
2017-02-26T00:00:00Z
The place is amazing, comfortable, friendly and so nice environment. We only missed some microwave. Besides of that we really recommend . Enjoy your trip
Leonardo
2017-03-26T00:00:00Z
Super god service. Dejlig værelser. Lækker badeværelse m/ masser af varm vand Vi kommer igen
Lise
2017-01-15T00:00:00Z
Tipe Kamar
Kamar pribadi
---
Tipe Properti
Rumah
---
Mengakomodasi
3
---
Kamar tidur
Hvidovre, Denmark
Studio 54 is a little bit of paradise just 15minutes on the train outside of Copenhagen. We lived in the city for years and now, we love having a huge garden, access to to the beach and a big bright home with a fireplace. We live (literally) right beside the train station so it takes less than a minute to hop on the train and in 15 minutes, you're in the absolute centre of Copenhagen city. We have a bright and spacious guest room with a bathroom for you & we look forward to meeting you!
The Copenhagen Blue Room is your room for your stay. It features a 140cm bed with lots of clothing storage in the wardrobe, and a set of soft towels for your use. There's a big window with a black-out blind so you get lots of sun during the day and darkness at night and in the wee hours of the morning. The bathroom is downstairs and has a shower and washer and dryer so you can clean your clothes if needed. We've just created a lovely sitting room / library with a view of the garden and you're welcome to use that, our kitchen and our main living room during your stay.
Quiet and happy neighbourhood, nice (old) neighbours and a lot of places to wander and enjoy the outdoors. There are some beautiful nature walks and bike rides through the forest nearby and a longer walk (25 minutes) to the beach.
We got to know Vanessa as a very kind host with a nice house full of details. We loved the "library" with couch and books to spend some time to read and the quiet surrounding for a good sleep after a long day of sightseeing. Everything was so perfectly organised and prepared, including a warm welcome. Thank you very much!
Elisa
2016-11-12T00:00:00Z
Vanessa is the best host! She was very nice and helpful. The room is clean, and the house is in a great location, right next to the train station. Thank you, Vanessa!
Genevieve
2016-08-06T00:00:00Z
A superb place in Denmark, excellent public transport literally in a minute from the house, 15 minutes to Central Copenhagen. Vanessa and Diezel are excellent hosts, very friendly, very helpful, everything was very well provided for (you know you're at the right place when two packs of Exploding Kittens are on the shelf for your entertainment :) ). For runners it is a great place, the beach is about 2 kms from the house, with excellent running paths. It gives an excellent combination of spending your time in a busy capital and after that being able to have a quiet place to relax.
Hajdú
2016-08-22T00:00:00Z
L'alloggio ha un'ottima ubicazione, facilmente raggiungibile in 15 minuti dalla stazione centrale con la metro. Vanessa si è dimostrata molto gentile e ospitale, fornendoci tutto il necessario per il soggiorno. La casa è molto carina e confortevole, a due passi dalla fermata della metro. Da tenere presente per una futura visita della città.
Silvia
2016-12-13T00:00:00Z
Wonderful setting and a nice room. The host is nice to communicate with and a great person.
Lasse
2016-12-05T00:00:00Z
Jeg blev budt velkommen af Vanessa og følte mig straks godt tilpas. Jeg fik en hurtig intro i brug af faciliteterne og besked om bare at sige til, hvis der var noget jeg fik brug for :-) Der var i huset en dejlig ro og sengen var go´
Zennia
2016-05-31T00:00:00Z
Super Airbnb in CPH with Vanessa! Friendly, flexible, take care of her hosts, we had a great time. Very good communications, good tips to visit the city, gave us a lift until the beach... she is really nice! The room and accomodations were like in the description. I would go again to her place if I come back to CPH. and thanks again for the pancakes it was delicious !! Take care. Issam
Issam
2016-05-17T00:00:00Z
We really enjoyed our staying at Vanessa's house. Vanessa and Diezel were very friendly. The room was clean, cosy and there was everything that might be needed. The public transport into the city is excellect and the station is next to the house. I would definitely recommend everyone looking for a stay in Copenhagen.
Ju Youn
2016-10-18T00:00:00Z
Tipe Kamar
Kamar pribadi
---
Tipe Properti
Rumah
---
Mengakomodasi
2
---
Kamar tidur
Hvidovre, Denmark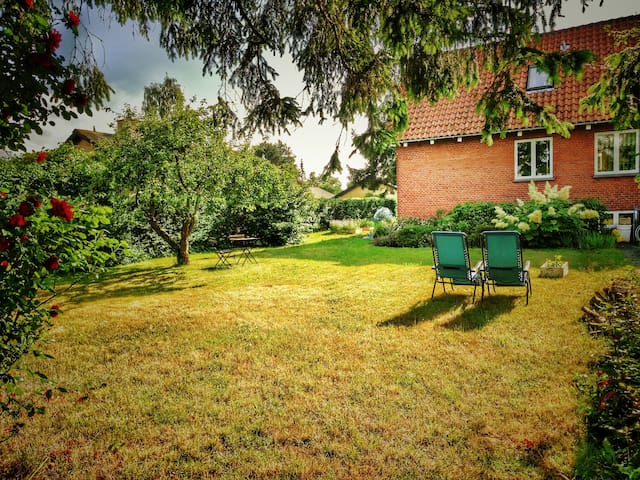 Cozy and spacious home, one Way in area, near CPH City We have a large kitchen and dining area,livingroom with fireplace Upper floor has 2 bedrooms with doublebeds and a bathroom. 3 terraces one is closed with roof perfekt for barbecuing. CPH is only 10 away by train.
Stedet Spacious and cozy home in quiet surroundings, with central Copenhagen only a 15 min drive away, or only 10 min by train. Our house has a large open kitchen & dining area, living room witth closed fireplace and 2 bedrooms on the upper floor, 2 bathrooms and a private garden. Perfect for families or small groups wishing to have easy access to the city centre, and still have the benefits of a spacious and cozy home. In Hvidovre you are close to iceskating, swimming and several other sportactivities. We have a playground in the area, grocery stores and a bit of shopping is just around the corner. The garden has apple- cherry- and plumres and 3 terraces one is closed and with roof, one has a outdoor kitchen and is perfect for barbecuing in the evenings. All you need for a good holiday. The house has is 2 double beds, 1 single (for kids), and possibility of an extra double bed (air mattress). We have two bikes We are looking forward to hosting you.
Free parking. Supermaket and bank just around the corner Playground for kids Free Wood for the fireplaces
We loved the open plan living. The house is very spacious. We really enjoyed our time in Denmark; it is a truly beautiful country. Gitte and Steen were very accomdating and made sure we felt very welcome. The beds were very comfy and the house was very clean. If you think the house looks beautiful in the pictures wait till you see it in the flesh. It is very easy to get to the city centre from the house. It is also very easy to get from the airport to the house. Transport it very regular.
Aman
2016-06-04T00:00:00Z
We spent fantastic time in very cozy house. The hosts were helpful and friendly . We had complete privacy and comfort. The house is settled in very nice , quiet area but it's better to have a car if you don't like walk to much to train. Generally we liked it very much and we'll recomend it to others. Dorota , Julia and familly
Dorota
2016-01-28T00:00:00Z
Vi var 5 personer som bodde i Gittes hus. Det var väldigt trevligt och fint. Alla rum var fint inredda och rymliga, speciellt kök och badrum. Jag rekommenderar verkligen andra att hyra Gittes radhus. Det tog en stund att gå till tåget men sedan var man på centralen på 10 minuter. Bilen parkerade vi på gatan utanför huset.
Carina
2016-08-29T00:00:00Z
The host canceled this reservation 10 days before arrival. This is an automated posting.
MCarmen
2016-01-19T00:00:00Z
I forbindelse med en konfirmation havde vi 6 gæster fra Spanien som var ovenud tilfredse, alt var perfekt.
Poul
2016-05-03T00:00:00Z
This was only my second experience of AirBnB and the first on which my family were also staying so I was concerned there might have been issues - but the whole trip couldn't have gone smoother, Gitte was very quick to respond to my questions before the trip and the house itself is very clean and well equipped. Gitte had left a comprehensive book of information for sightseeing and other info about the house, bikes etc. The area is a nice quiet neighbourhood about 10 to 15 mins walk to a station, I cycled in one day and it took around 20 to 25 minutes to reach the centre, I felt very safe as bikes have their own lane. We didn't cook any meals at the house but the kitchen was very well equipped if you fancied staying in. Bedrooms and storage were ample for the 3 of us and the outside area for very relaxing after a day walking or cycling around the sights, two bathrooms was a very nice extra as my wife and daughter seem to spend a long time putting on make up! I would definitely recommend Gitte as a host.
Mark
2016-09-14T00:00:00Z
This house is very nice,spacious,clean,comfortable.we spent 2 nights there .If next time we come to this place again , we will for sure to stay in this house again.
SU
2016-08-11T00:00:00Z
Dejlig, nemt, og mødt med et smil. Kan helt sikkert anbefaldes :-) Høgni Kjeld
Høgni
2016-04-07T00:00:00Z
Tipe Kamar
Seluruh rumah/apartemen
---
Tipe Properti
Rumah
---
Mengakomodasi
6
---
Kamar tidur
Hvidovre, Denmark, Denmark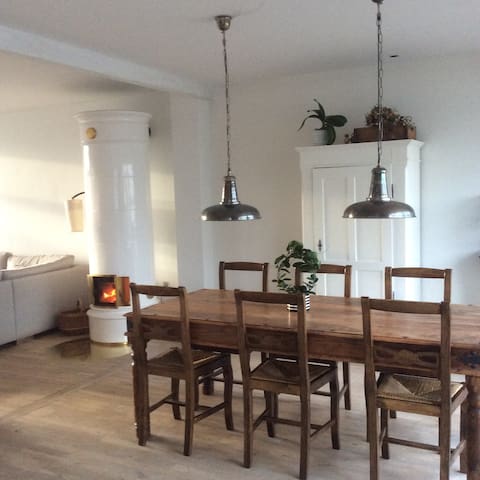 Charming and family friendly townhouse with lovely sunny garden with BBQ and trampoline. Close to commuter train that in 15 minutes takes you to Copenhagen City. 1 km from the heated public family-friendly outdoor swimming pool. Close to shopping and lovely playgrounds.
Great House. Nice facilities!
Gitte
2016-09-12T00:00:00Z
The house was really warm and cozy, perfect for a group of friends. It was well equiped and Jens had given us everything we need. The neighbourhood was good an quiet and it had a train station nearby which was only few stops from the city center. Me and my friends definately recommend this place :)
Zoi
2016-10-22T00:00:00Z
Jens was a fantastic host, it was very easy to communicate and arrange to let us in even when we checked in very late and checked out very early in the morning. The house was very clean and welcoming, we were offered any other help needed to feel comfortable during our stay. I highly recommend to stay at Jens house!
Brigita
2016-08-22T00:00:00Z
Min familie og jeg følte os velkommen i Jens' hjem. Der var rent og hyggeligt og plads til os alle. Det ligge dejlig tæt på god offentlig transport. Jens' hjem er helt klart anbefalelsesværdigt.
Pernille
2016-10-30T00:00:00Z
La casa que nos ha ofrecido creemos que es su vivienda habitual, por lo que sentíamos que estábamos en casa, con casi las mismas comodidades que podemos tener en nuestra casa, por lo que ha sido fácil conocer cómo viven allí las familias, y nos ha parecido mejor que estar en un hotel. La casa es tal y como aparece en las fotos, y el barrio es tranquilo y a 5 estaciones del Centro de Copenhagen.
GLORIA
2016-07-27T00:00:00Z
Tipe Kamar
Seluruh rumah/apartemen
---
Tipe Properti
Rumah
---
Mengakomodasi
6
---
Kamar tidur
Hvidovre, Denmark
Rækkehus beliggende tæt på byen og offentlig transport. Huset er rummeligt og har 6sovepladser. Stuen er stor og åben mod køkkenet. Der er en hyggelig have, hvorfra solen kan nydes. Der er gode muligheder for daglige indkøb. Egen parkering. Man står selv for rengøring ved afrejse, men der kan laves aftaler med udlejer om slutrengøring.
Huset er dejligt lyst og indrettet til at rumme mange mennesker.
Huset ligger i et roligt kvarter tæt på sø og skov.
Sandra was an excellent host. She has emailed me all information some days prior to the departure. She was there to welcome us, despite our 2 hours delay... The house is great, spacey to host 5 persons with all the commodities and very cosy. It is located in a quiet residential area. We went to the city center by train (quite expensive) and on the way back you can go also to the store for grocery. It is really great value and would recommend!
David
2016-11-04T00:00:00Z
Det var 1. gang vi skulle prøve, at leje os ind i et privat hjem. Det var en meget positiv oplevelse, vi følte os alle hjemme i huset. Huset levede fuldt ud op til beskrivelsen, god beliggenhed. Folder med husregler manglede ved ankomst. Vi havde kontakt med Sandra, via telefon/SMS. Altid hurtige svar :-). Dejligt hus - vi kommer gerne igen... Lone og Arne Hjørring
Arne
2016-03-29T00:00:00Z
The house was amazing, clean and close to train station about 10 min. We have been very pleased. We would like to thank you for the warm welcoming, card, and sweets. I deeply recommended Sandra's house, it been absolutely fabulous.
Rodica
2017-02-14T00:00:00Z
Hyggeligt hus i roligt område. Alt var som beskrevet og god kommunikation inden ankomst.
jesper
2015-07-24T00:00:00Z
Şehir dışında, sakin bir semtte,özel otoparkı,geniş bir bahçe ve terası olan olan triplex bir villa .Temiz ve her türlü olanağı var.Tek olumsuzluk evi temiz bıraktığımız halde evsahibinin 400 kr temizlik ücreti için (URL HIDDEN) talep iletmesiydi.Tabii ki ödemedik.
Süleyman Bülent
2016-07-29T00:00:00Z
Vi havde et godt ophold - alle forventninger blev indfriet.. Hyggeligt hus - sød vært - god geografisk placering..
Benny
2015-10-20T00:00:00Z
Dejligt hus med en god vært
Patricia
2017-02-19T00:00:00Z
Tipe Kamar
Seluruh rumah/apartemen
---
Tipe Properti
Rumah
---
Mengakomodasi
6
---
Kamar tidur
Hvidovre, Denmark
-Nice rooms with a lot of space. -Free parking -Free wifi -quiet area, no traffic noise -No smoking inside the house. -It only takes 14 min from Copenhagen Central station to Avedøre station by public transport. Lækkert værelse med masser af plads. Ingen rygning tilladt i boligen. Fri wifi internet Fri parkering Ingen trafikstøj, roligt villaområde
Verry very nice accomodation, I recommend to everyone.
Vojta
2016-11-27T00:00:00Z
We haven't actually met Sajjad, because we where traveling around the city whole day, and it is a shame, because only from chatting you can understand that the host is really concerned and kind person. His wife was accepting us and she is super friendly, you can feel like at home. This place is really nice and clean and the neighborhood is calm and quite, reaching the city center is easy. Would definitely come back and definitely recommend this place!
Robertas
2016-12-07T00:00:00Z
Very good!
Julia
2016-12-31T00:00:00Z
Place is good to stay. We were not aware kitchen is outside which was bit uncomfortable. Saying that the place was oki to stay if ur bachelor or as a couple or friends sharing. For family not really a great deal. Kitchen outside can be adjusted, however, the feeling house warmth was somehow missed. Sajjad as a person is very nice descriptive of things in house show around etc and very friendly. Internet is a big issue. Very slow we couldn't wait to go back to.hotels for this part we loved net which will work fast and reliable his place net is a disaster. We got lyca mobile they have good deal we ended up using this for our daughter to surf.
Razeenah
2016-12-18T00:00:00Z
Sajjad and Salma were really welcoming and sympathical persons. The room is really spacious with a really good bed and we spent a really good journey in Copenhague. We recomand the accommodation of Sajjad
Pauline
2016-12-12T00:00:00Z
Dejlig og hyggelig lejlighed. Søde værter og rigtig go kommunikation.
Britta
2017-04-01T00:00:00Z
The room has separate entrance, private kitchen and bathroom. Very nice and convenient!
Tetyana
2016-08-27T00:00:00Z
Sajjad was a great host; he explained everything upon check-in and answered all of our queries. His apartment is big and spacious, feels very homely. Totally recommend his apartment! :)
Nurul
2016-12-25T00:00:00Z
Tipe Kamar
Kamar pribadi
---
Tipe Properti
Rumah
---
Mengakomodasi
5
---
Kamar tidur
Hvidovre, Denmark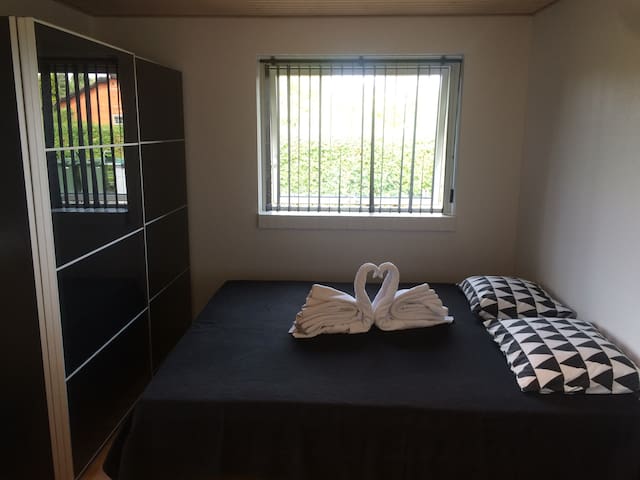 Nice bright house. 5 km. from the beach(Brøndby strand) 1 km. from the woods (Brøndby skoven). 10 km. from the center square i Copenhagen. 3 bedrooms and a large kitchen/livingroom. Fits up to 4 adults and 2 kids. Free parking. We have a courtyard with a gas barbecue awaillable. We have a nice garden with apple trees, a trampoline and a henhouse with friendly chickens, that are used to children. If you want, you can eat the eggs and take care of them, otherwise we will arrange care.
Tipe Kamar
Seluruh rumah/apartemen
---
Tipe Properti
Rumah
---
Mengakomodasi
5
---
Kamar tidur
Hvidovre, DK, Denmark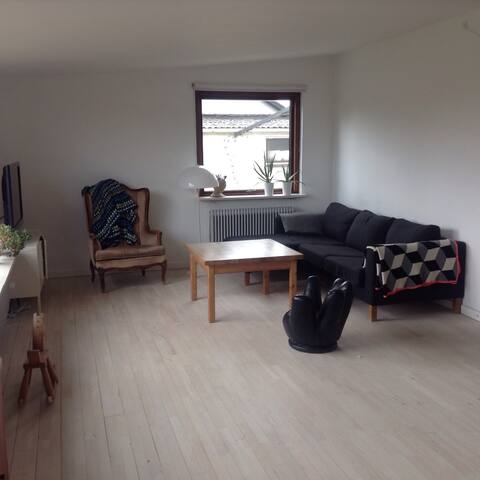 Huset ligger i hyggeligt villakvarter tæt på Hvidovre Station. Vi tilbyder kælderafdeling med eget badeværelse og indgang. Tre sengepladser med mulighed for ekstra opredning. Stor have med trampolin. Mulighed for at benytte køkken efter aftale.
Near Copenhagen, yet far from the noise of the city in pleasant surroundings you will find this family house where you have access to the entire basement department. The house is located close to public transport. The train journey to down town Copenhagen takes 15 minutes.
Hyggeligt villakvarter, hvor alle kender alle. Der er butikker og restauranter i nærheden.
Dejligt ophold og skoen modtagelse!
Signe
2017-02-12T00:00:00Z
非常舒适的房子 只是没有火 做不了饭
婷
2016-12-18T00:00:00Z
Great place to stay we are a couple with a daughter and it was perfect for us. Easy to reach from airport with the rented car. Car can be parked for free in front of the house. We were in transit to other location but there are good nearby public transport and it is not far from city centre. Local shops and take away are handy as well if you want to go around all day with kids and stay at home in the evening. Great bathroom, spacious, clean and with all you need.
Adelina
2016-12-29T00:00:00Z
Very pleasant stay, friendly host and the place was excellent. Recommend it!
Kristin
2017-03-19T00:00:00Z
Irena was a great host and we really enjoyed our stay. The accommodation was nice and clean, located in quiet neighborhood. Highly recommended.
Šarlota
2016-12-16T00:00:00Z
Specious, privacy and feel like home.
Parbati
2017-02-19T00:00:00Z
irene hosted me and jacqueline for one night. the rooms are fantastic, like a five star hotel. we have used airbnb for the whole trip in norway and denmark. this one provides the best experience so far, super clean, spacious, and well equipped with a lot of privacy. i left the next early morning to catch the flight back to China, jacqueline left in the afternoon, she said irene even drove her to the nearest train station. she is very grateful about it. big thanks. we love Copenhagen for everything. culture night, wonderful museum and concerts. wants to return as soon as possible
dai
2016-10-15T00:00:00Z
房子比照片漂亮很多,很大,各种设施齐全,房东提供了食物和饮料,非常棒。
wenxu
2016-12-11T00:00:00Z
Tipe Kamar
Kamar pribadi
---
Tipe Properti
Rumah
---
Mengakomodasi
3
---
Kamar tidur
Hvidovre, Denmark
For the big family who wants to be close to Copenhagen but also want privacy, space and a quiet neighbourhood.
Spacious modern architect designed house built in 2009 with a nice garden and a big terrace perfect for barbecues.
The house is situated in a quiet child friendly area, very close to a park with a new playground and a 10 minutes bike ride from the beach. A short walk to a few grocery stores and a popular cafe. Copenhagen city centre is only 12 minutes away by train.
The house was very cosy and clean. There were really enough space for our family. We had a great time there and Line was a very helpful and friendly host. She really made us feel at home even the chistmastreelights were on. I can really recommend it!!!
Kathrin
2015-12-31T00:00:00Z
Line's home is beautiful, we only have great things to say about. We were a family of 6 including two children (9 years old and 6 years old) and two grand parents and we all loved it. It was stylish, spacious and bright. It was lovely and warm and it was also very clean. Fluffy, the family pet rabbit, was a big hit with our kids. We didn't have a car for most of our time there as we only wanted one for a day trip out on the last day. It was easy to walk to the train station and buying tickets was straightforward. There was a shop nearby, to which we cycled. To keep the cost down, we made picnic sandwiches each day for our trips out and we enjoyed our evening meal at Line's house. We saw the Little Mermaid and the free exhibition of old manuscripts in the Black Dismond. We also had coffee and cake in the Playhouse cafe which was beautiful and has a wonderful view of the river. We went to the Round Tower which has a super view and the Military museum. Additionally, we had a day trip out to Louisiana, the modern art gallery. In Hvidovre we went to the local pool which was great and has a slide which the kids loved. Thank you Line for a special and memorable holiday.
Sandra
2017-02-17T00:00:00Z
A wonderful home with room for the entire family. House is new built, tidy and clean, and Line is a wonderful host. Everything was organized from start to finish which made everything easy and practical. I highly recommend this home for a family who do not have to stay at the very center of Copenhagen but are willing to trade about 25 minutes of transport to the center with an excellent, modern and spacious home.
Carsten
2016-02-19T00:00:00Z
En anbefalingsværdig vært. Et dejligt stort hus, med masser af plads og komfort. God og nem husmanual, og god kontakt med værten. Vil helt klart vende tilbage til anden gang.
Vivi
2015-07-28T00:00:00Z
We stayed for 12 days at Line's house and our two kids asked us to stay "forever" after a few days, which is probably the reason why it took us a 4 days to even go to the city because everybody felt good to stay at the house and its surroundings. It was the most perfect location for the four of us. The back yard is very spacious, our kids were allowed to use the trampoline, Line's daughter's toys and even trusted us to take care of their bunny Pjuske. The weather during our stay was awesome (up to 26°C), so we went to the nearby beach and Copenhagen city by bike. Everything else is exactly as described, Line made a very detailed house manual with tips for the surroundings, grocery stores, take-away places etc so that we felt very much at home immediately. We communicated mostly by text since there were no emergencies, she responded very quickly and was a pleasure to deal with. We will definitely come back if we can.
Philip
2016-07-29T00:00:00Z
Согласна с предыдущими комментариями: замечательный дом, потрясающая кухня, зеленая травка, батут и кролик. Наши дети были счастливы! Описание и фотографии полностью соответствуют действительности. Line - отличная хозяйка. Дом чистый, ухоженный, даже удивительно, что в такие дома пускают гостей :) Может быть не так близко к центру города, но добираться вполне удобно, минут 30 примерно. Спасибо!
Victoria
2016-05-05T00:00:00Z
We had a great experience with Line and this location. Everything was well organized as far as the arraignments, getting to downtown Copenhagen was a breeze and the immediate area was full of places to eat and things to do. Highly Recommend.
Brian
2016-10-21T00:00:00Z
Beautiful house with everything a family could wish for. Garden was especially child friendly and Pjuske the rabbit was a big hit, too.
Anders
2016-07-14T00:00:00Z
Tipe Kamar
Seluruh rumah/apartemen
---
Tipe Properti
Rumah
---
Mengakomodasi
6
---
Kamar tidur
Hvidovre, Denmark
I vores rummelige og lyse villa lejlighed er der god plads til dig og din familie når i skal besøge storbyen. Vi har to etager der gør det komfortabelt at putte børnene og selv have en hyggelig aften med god mad, ro og fred og måske en god film. Vi bor tæt på byen og nyder selv gåturen ind til det skønne Vesterbro som kun ligger en dejlig gåtur gennem det nye og gamle Carlsberg væk. Her er masser af lys og fuglesang - et ideelt sted for familien der kommer til byen!
Tipe Kamar
Seluruh rumah/apartemen
---
Tipe Properti
Rumah
---
Mengakomodasi
6
---
Kamar tidur
Copenhagen, Capital Region of Denmark, Denmark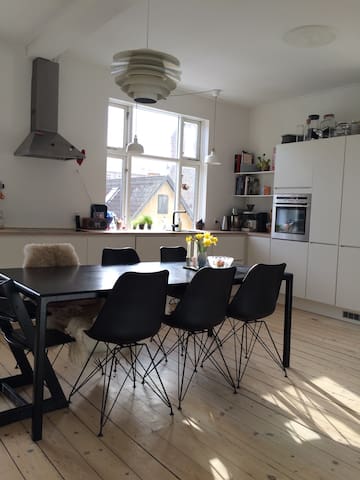 Two rooms with private entrance in a cozy residential neighborhood, just 9 km from the city, and with access to the garden. One bedroom and a room to stay, with fridge, microwave and kettle. Kitchen can be used by appointment. It takes about 15 minutes to walk to Hvidovre S-train Station and About 6 minutes by bike. We have two bikes that our guest can use for free. You can even take the bikes with you in the S-train for free. It takes 12 minutes from Hvidovre Station to the Central Station.
Rooms are located at one end of the house, with separate entrance and separate from the rest of housing, with a door in the middle of the hallway. The bathroom is shared with us and the kitchen can be used by appointment.
Kun 10 minutters gåtur og du er ved Rebæk sø eller en tur i Brøndby skoven.
Tipe Kamar
Kamar pribadi
---
Tipe Properti
Rumah
---
Mengakomodasi
2
---
Kamar tidur
Hvidovre, Denmark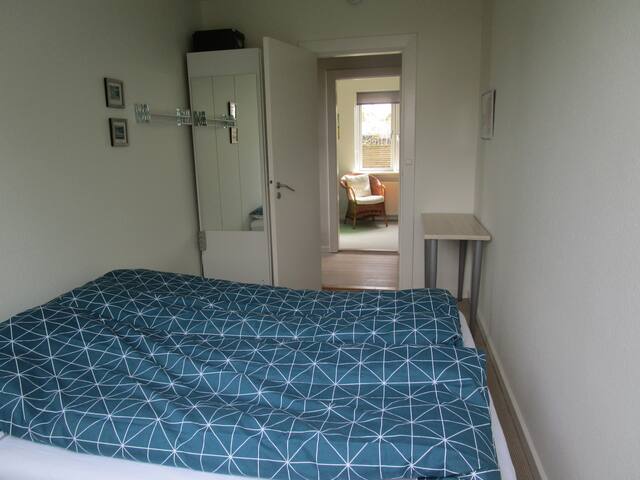 Nice little townhouse i Valby - Copenhagen. Only 5 minutes bikeride from trendy Vesterbro and 10 minutes from Copenhagen Center. The house has a nice garden with outdoor Grill and wood
The house has a big new bathroom. A chef´s kitchen and outdoor barbecue an wooden-fired pizza-oven. A cozy garden with a greenhouse full of fresh tomatoes ect. when in season. Big living room/kitchen.
Valby is a part of Copenhagen with lots of cultural life and lots of young families. All grocery shopping amenties and an amazing large park leading down to the water are just around the corner. It is super close to Vesterbro and Frederiksberg, which means, for example, there is only minutes to the Zoo, the Royal Garden of the Frederiksberg Castle or the cool Meat Packing district with lots of hip restaurants and bars.
Tipe Kamar
Seluruh rumah/apartemen
---
Tipe Properti
Rumah
---
Mengakomodasi
6
---
Kamar tidur
Copenhagen, Denmark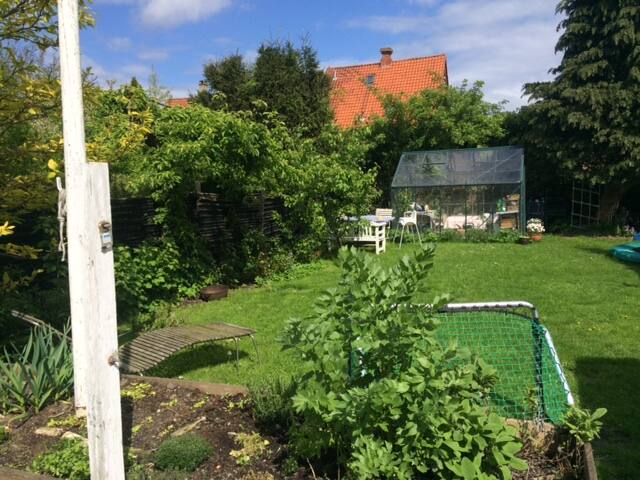 Hvidovre - Airbnb
:
Rata-rata

4.63

dari

5

bintang dari semua

178

ulasan tamu
1

–

18

dari

300+ Sewa Rumah
Masukkan tanggal untuk melihat harga lengkap. Biaya tambahan berlaku. Mungkin dikenakan pajak.