This is epic adventure we call life and a chance to stay in reused school bus named ( Kinder) I have allowed the space to evolve naturally and will try to make ur stay here as coZy and accommodating as possible. Peace to all
''This converted 1976 International short bus aka "schoolie" comes fully loaded with a queen bed, couch, tiny kitchen sink, pantry with essential dishes and cookware, small fridge, gas two burner camping Coleman grill,microwave. , A/C, quartz space heater for chilly nites,storage, tons of natural LIGHT with panoramic views of Green Goddess bamboo, dog friendly of course as long as yours is :), host's 400 sqft tiny house and fire pit. Oh yea! Tankless heated Outdoor shower and composting toliet are located right outside the bus door at the back end of the deck area. Don't spend $$ to stay in overpriced downtown hotel or a boring room in someone's house . Johns island is surrounded by beautiful farms, creeks ,rivers, ocean. Be free live peacefully
This neighborhood is electric mix of ol and new. No hoa and most have over 1/3 to half acre lots. Very cool neighbors and lots of like minded folks. Kinder is tucked in the back of property behind my mini mansion I built.
What an excellent adventure! The bus is super cozy and comfortable. It took me a minute to acclimate to the outdoor bathroom, but I was expecting it, so it wasn't a difficult adjustment. Johnny was friendly, accommodating and communicative, and Johns Island is a nice break from the bustle of downtown. Perfect weekend getaway. I would definitely stay again.
Lauren
2016-10-16T00:00:00Z
It was so much fun, so unique! Thank you Johnny!
Hannah
2016-06-10T00:00:00Z
Johnny was a superb host and the bus "Kinder" was amazing! I loved the tranquil setting and eclectic style of the bus. I really enjoyed being so close to the Angel Oak Tree. It was quite an experience to sit beneath the massive canopy of such an interesting ancient tree. Johnny left water, tea and granola bars for me, which was very thoughtful! I will hope to return to Johns Island soon and stay in Kinder. Thanks Johnny! Best wishes.
DeAnna
2016-05-10T00:00:00Z
Our stay in the bus was very pleasant. We were only there for one day, but Johnny made sure we were comfortable and was very kind. He built a fire for us and let us know where to go around town for good eats. There were good books, teas, a garden and a sweet pup named Raisin. I would recommend it to anyone and we will be back.
Alexis
2016-04-18T00:00:00Z
This is an awesome place. So unique. Will remember it always. I want to make a bus like this!
Charlie
2016-11-12T00:00:00Z
Johnny was a great host! Very accomodating and easy to communicate with. The bus is cool and comfy in a private setting. Property is an awesome example of repurposing- inspiring! Raisin the dog was a sweetie and our pup was happy to have a playpal too!
Melisa
2016-09-05T00:00:00Z
We had a fun stay on Johnny's property. The bus was charming and provided everything we needed. We found the bathroom accommodations slightly intimidating...but chalked it up to inexperience with the composting toilet combined with just the general unknown of being in a new place. The overall property is wild and wonderful - with an exotic mix of plant life and an inspiring array of diy/reclaimed structures. You can tell Johnny has put a lot of work into his property and has an admiration for incorporating natural elements into his surroundings. We enjoyed talking about his lifestyle, the 'mimi mansion', and our quest for simplifying and downsizing. He brought many things into perspective for us and are grateful to have had this enlightening experience.
Erin
2016-09-30T00:00:00Z
Really cool experience! Johnny is a really great guy that loves life and meeting new people. If anyone is in this area looking for a place to stay, I would highly recommend this home!
Anthony
2016-08-06T00:00:00Z
Tipe Kamar
Seluruh rumah/apartemen
---
Tipe Properti
Lainnya
---
Mengakomodasi
3
---
Kamar tidur
Johns Island, South Carolina, Amerika Serikat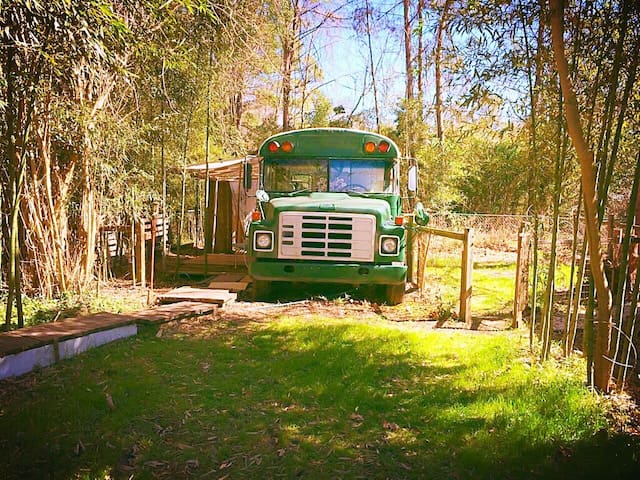 Come stay with me and take in the quiet charm of Johns Island. Centrally located, you choose how you want to spend your time. In the city or at the beach? Fishing? Boating? On horseback, wakeboard or paddleboard? Once you book with me you'll have access to the club grade gym, 3 boat ramps, resort-style saltwater pool/clubhouse, grills, fire pit and much more! There's no need to compromise. You CAN stay in Charleston and enjoy convenient, affordable, island living. See y'all soon!
Whether you're gracing us with your presence for one night or a long weekend this is the place for you! Since the complex is barely over a year old it offers everything updated from appliances to faucets, light fixtures, flooring and space. The apartment is on the 2nd floor in the back which provides a view of woods, a horse pasture and ultimately the utmost privacy. The spacious master bedroom and bath are located to the rear of the apartment doubling the privacy factor and giving guests closer access to the kitchen and laundry room. **Please know I do have two somewhat antisocial cats that may or may not make an appearance.** I am in and out (way more out than in), but please make yourself at home no matter what! Cook, hang on the porch, watch TV in the living room, grill out poolside. Walking/Biking distance to the Wild Olive, Tattooed Moose and Fat Hen (awesome brunch btw) just to name a few and a short ride over the Stono River to a Charleston staple, The Pourhouse, for some live music on the deck and plenty more fabulous restaurants.
The Apartments at Shade Tree are just over a year old. Our little luxury retreat is a great and safe little community of all ages. The parking lot is well lit and my building is directly across from the pool and clubhouse so there are always additional lighting :) There are 3 boat landings within 8 miles. There are great restaurants in walking distance as well as The Low Tide Brewery and a few other fun bars. The Angel Oak is magnificent and right up the road!
Tipe Kamar
Kamar pribadi
---
Tipe Properti
Apartemen
---
Mengakomodasi
2
---
Kamar tidur
Johns Island, South Carolina, Amerika Serikat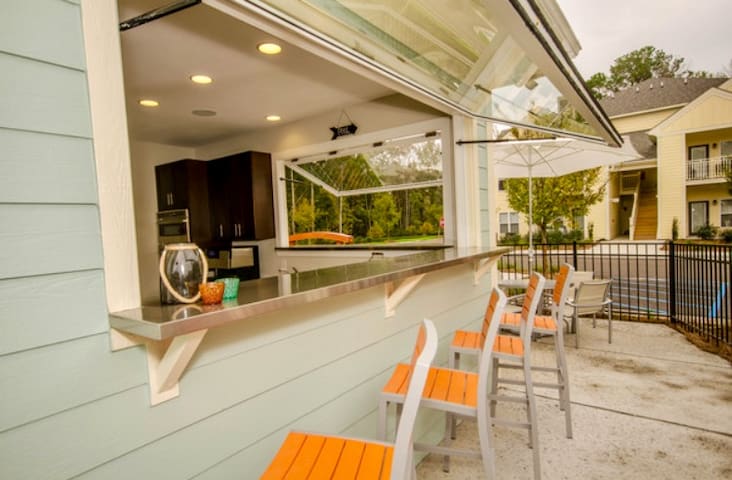 The upstairs portion of my home is available with 2 bedrooms/1 bathroom. I have a small home gym, private back yard with seating and fire pit, and paddleboard available for use on the neighborhood lake. Breakfast will be avail on weekends on request
Lindsay is an amazing host. She is warm and instantly makes you feel at home. She is well versed in the area and provided excellent dining choices. My only regret is I could not stay longer.
Vesper
2016-08-20T00:00:00Z
Lindsay is an awesome host! , very personable. Discription is accurate and the neighborhood is quit and in a great location. I will definitely stay there again at my new friends Charleston getaway . Thank you Lindsay!
John
2016-03-28T00:00:00Z
Lindsay and Kimo (her pup) definitely make you feel at home. Everything was great. Lindsay and I had great conversation when I arrived. Didn't hear a peep from Kimo during my stay. Everything is very clean. Beautiful area. I would highly recommend Lindsay's place if staying in the Charleston area!
Ashley
2016-09-01T00:00:00Z
We had a very positive experience! Lindsay made us feel very welcome and the accommodations were very comfortable and private for us as her guests..... AND for her in her beautiful home. We were gone quite a bit but when we were there we felt most comfortable. The location was perfect and we loved that we had our own bathroom and area upstairs from the main part of the house. Her poodle Kimo is the sweetest ever and we fell in love with him. We hardly knew he was there and he was so well behaved. We would most definitely recommend Lindsays place and if we ever return to Charleston we would for sure be repeat guests if available!
Linda
2016-04-12T00:00:00Z
Any woman who hugs a dog like that (or holds a paw lovingly) in public must surely be a great host.
Robert
2017-03-23T00:00:00Z
Lindsay & Kimo are super sweet & chill.. They made us feel very welcomed in their lovely home...
Jon
2017-04-12T00:00:00Z
Linday's place was perfect for our small family. It's a short drive to local attractions. We highly recommend staying at Linday's place. Clean and well equipped with everything you'll need.
Kim
2017-03-16T00:00:00Z
Staying at Lindsay's house provided the most perfect whole experience. The house is absolutely lovely, complete with all types of little extras in the bathrooms. Lindsay made our entire stay unbelievably easy and we just had the best time seeing Charleston. Gorgeous neighbourhood and in the most beautiful area. Would definitely love to return and get to see Lindsay's gorgeous dog too! All in all a perfect stay and perfect host !
Michael
2016-04-19T00:00:00Z
Tipe Kamar
Kamar pribadi
---
Tipe Properti
Rumah
---
Mengakomodasi
4
---
Kamar tidur
Johns Island, South Carolina, Amerika Serikat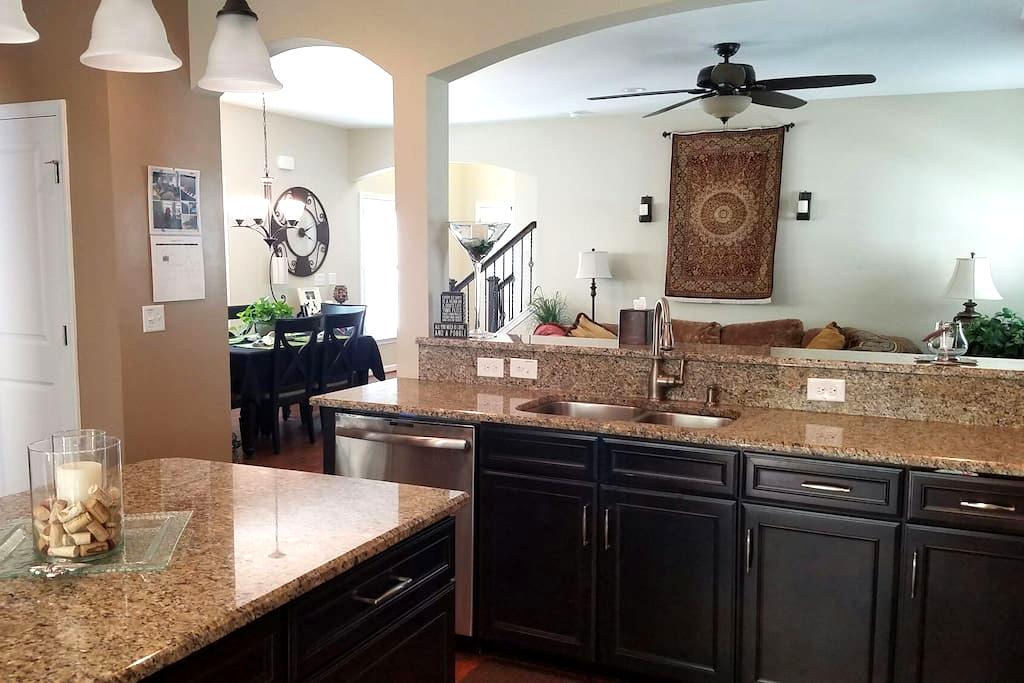 Gorgeous equestrian property on Johns Island. Spend your Charleston stay in a quiet, beautiful setting amongst ancient oak trees and star-filled skies. 20 minutes to Charleston, Kiawah, and Seabrook. Comfortably accommodates 2 adults.
Historic cottage on equestrian property
A true Southern stay. Enjoy oak tree canopies along Johns Island roads. Relax in the hammock between the majestic oak trees on this 13 acre active horse property.
Even though our stay was short, we loved this cottage. It was such a beautiful drive in with the canopy of trees draping the road. There was no need to see our hosts as they provided a very detailed presentation of everything we needed to know. We did get caught in the tornado warning, severe thunderstorms!!!! But the next morning it was so peaceful, waking up to igrets in the yard, and horses in the pasture. If you enjoy falling asleep to sounds of nature then you will enjoy the sound of frogs right outside the bedroom! But I think that was because of the severe thunderstorms/tornado. Colleen was quick to call and make sure that we were ok after the storm, very accommodating and welcome hosts.
Nicole
2015-09-26T00:00:00Z
We felt welcomed and very happily greeted upon our arrival. Everything was perfect and just as it was described. We highly recommend this sweet place, and we would absolutely stay again.
Julie
2016-08-25T00:00:00Z
Our experience was great! Very relaxing getaway. Thank you
Jennifer
2016-01-12T00:00:00Z
We felt right at home when we arrived. We enjoyed the cottage and the setting. It was a very relaxing weekend. Met our hosts on Saturday and they were very friendly and had great suggestions of things to do and places to eat. I would recommend this place to anyone wanted a quiet, pleasant place to stay.
Valta
2016-10-17T00:00:00Z
My stay was very pleasant. It was quiet and very peaceful. The stars were bright and the cottage was clean and comfortable. The oak trees out front topped it all off. Beautiful!!!
Aaron
2016-01-20T00:00:00Z
Cozy cottage off the beaten path! Very lovely, clean and rustic. It was amazing to wake up and see horses grazing out the window. Very quiet and historic property. John and Colleen were very friendly and easy to communicate with - let us check in early! 10/10 would stay at 3 Oaks again if I find myself back in Charleston.
Mary
2017-03-26T00:00:00Z
Such a beautiful and unique place to stay! The cabin is much more of a house than cabin, with a full kitchen, living room, bathroom and bedroom. There's even a washer and dryer! The area is very private and only a couple mile away from area attractions. Definitely recommend a visit to the Charleston Tea Plantation and Angel Oak tree.
Lee
2016-07-28T00:00:00Z
The cottage was perfect! Truly perfect! We spent several nights there and everything was taken care of for us. It's much more private and secluded than we thought. We enjoyed the WiFi and Blu-ray player! It's an older cottage, so watch out for a few insects! Also, it's a little bit of a drive to downtown Charleston, but not too bad! We would definitely recommend this cottage to anyone who wants the privacy and the beauty of South Carolina!
Henry
2016-06-07T00:00:00Z
Tipe Kamar
Seluruh rumah/apartemen
---
Tipe Properti
Kabin
---
Mengakomodasi
2
---
Kamar tidur
Johns Island, South Carolina, Amerika Serikat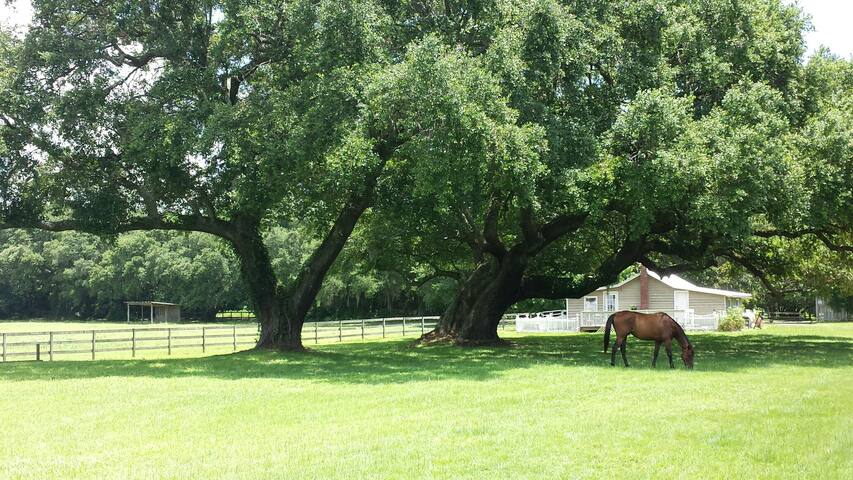 Come enjoy some peace and quiet in this simple yet private, comfortable apartment located under the Oak trees of Johns Island. 20 minutes from Downtown Charleston, Folly Beach, and Kiawah. Enjoy a fire in the fire pit, heat up the grill for some fresh seafood or take a hot shower under the stars!
The Sleepy Shack is simple, comfortable, bright and clean! The studio apartment is ideal for two tenants. Three can easily fit in this 500 square foot cabin if one person doesn't mind the couch or a blow-up mattress (provided).
The Sleepy Shack is within walking distance to Low Tide Brewery and very close to various dining options. Catch a movie at the Terrace Theater or enjoys some live music at The Pour House (within 5 miles). Come explore Johns Island - The Vineyard, Sweet Water Distillery, the Tea Plantation, Angel Oak, the Johns Island Farmers Market. The wide, quiet beaches of Kiawah are 20 minutes away. Or hop over to neighboring James Island to enjoy the many offerings of Folly Beach. Check out the fishing and surfing at the pier, or relax in the tidal pools, or shop and dine on the main drag. Grab some fresh Seafood from Crosby's or Huff's and bring it back to cook on the grill! James Island County park is about 7 minutes from the apartment and offers scenic bike / walking trails and a great opportunities for fun with the kids! 20 minutes from the heart of Downtown Charleston!
We were extremely happy and satisfied with our comfy no-frills stay. It was a perfect blend of private escape and easy access to downtown Charleston historical sites and activities. We had wine and cozy grilled dinners outside by the fire pit. We had plantation tours and great restaurant meals too. Our hosts were both accessible as well as out of touch, affording us the luxury of both worlds. The shack was equipped enough for us to eat, drink and be sleepy, (rustic bathroom with a cool shower was great too,) which included a TV and DVD player if we wanted more. That is all we needed and therefore our stay was sublime.
Susan and Tom
2016-05-18T00:00:00Z
I cannot say enough good things about our experience at the sleepy shack. Cava and billy were delightful hosts. They made good recommendations and were so hospitable! The place was clean and felt like we were really in a new and different place - lots of charm and character. The space was super private, spacious, and had all the things we needed. I would definitely recommend this place to anyone traveling.
JB
2015-07-08T00:00:00Z
Everything was perfect! Cava and her husband were very welcoming, the Sleepy Shack was exactly as described (actually, better!) and our stay was absolutely perfect! We will definitely be returning to this cozy little spot. The house was perfect, we had everything that we needed and more! It was exactly the experience that we expected. Thank you so much for everything!
Jennifer
2015-01-03T00:00:00Z
The Sleepy Shack was a great place to stay for our weekend in Charleston for a wedding. The location is not too far from downtown and Folly Beach, but in a pleasant and relaxing area. Cava was very helpful and made us feel right at home. The Shack has everything you'd need!
Laura
2015-09-14T00:00:00Z
The Sleepy Shack was the perfect location for our Charleston visit. Cava was open and welcoming, and the shack was beautiful. The set up is cozy, comfortable and incredibly home-y. It was the perfect distance from Charleston's many sites and we truly enjoyed our stay.
Maya
2014-12-30T00:00:00Z
The Sleepy Shack is a lovely place to rest and rejuvenate! The studio is quiet and clean. I highly recommend it!
Helen
2015-08-11T00:00:00Z
We had a wonderful stay with Cava at the sleepy shack! The place was cozy and clean and well furnished on a great property. Cava and Billy were gracious hosts and very kind. Would definitely stay again!
Bison
2016-01-19T00:00:00Z
This was our second time back to The Sleepy Shack, and we were thrilled to revisit such a warm, unique oasis. Many thanks to Cava and crew for their sweet hospitality, and assurance our return was appreciated. Here's to visit #3!
Valerie
2015-07-11T00:00:00Z
Tipe Kamar
Seluruh rumah/apartemen
---
Tipe Properti
Apartemen
---
Mengakomodasi
3
---
Kamar tidur
Johns Island, South Carolina, Amerika Serikat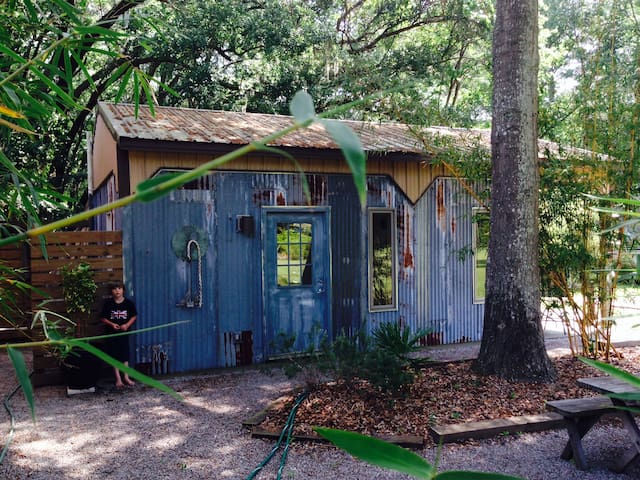 New house with access to swimming pool. It comfortably hosts four and is centrally located on lovely Johns Island, just 10 minute drive from downtown Charleston. Enjoy a gourmet kitchen, garden and BBQ with easy access to Folly Beach.
New house with access to neighborhood swimming pool. It comfortably hosts four and is centrally located on lovely John's Island, just 10 minutes drive from downtown Charleston. Enjoy a gourmet kitchen, garden and BBQ with easy access to Folly Beach and downtown Charleston. It takes about 10-15 minutes to drive downtown and about 20 to the local beaches, Sullivan's Island, Isle of Palms and Folly Beach. There are hardwood floors throughout this pet-free home. Both the bedrooms have queen size beds with free high speed secured wireless internet. There are sizable closets and two full baths. The kitchen is new and well stocked with plenty of cookware, glasses, plates and utensils. I am frequently in Europe visiting my family and then you have the house to yourselves. However, when I am here in Charleston, I will stay on the premises in a private suite and, therefore, I will offer you the discounted rate of $88/night and also I follow the airbnb price tips in the off-season, so sometimes the price is even lower! The calendar is regularly updated and we can email with any questions that you may have. You will have your own private rooms and private bathrooms and you will have the rest of the whole house. This arrangement has worked very well for other guests and I hope that it works for you, too! I only accept children over the age of 5- sorry for any inconvenience. Swimming pool open sun up to sun down during the regular season. Off street parking and spaces in driveway.
The neighborhood is calm and friendly with community pool. The Ladson Fairgrounds is home to a weekly flea market & the fair in late October, early November. You may enjoy historical home tours, carriage rides, harbor boat tours, ghost walks & golf courses. The Wadmalaw Tea Farm (only tea made in America) & the Firefly Vodka tasting tours. Wonderful tours at Boone Hall Plantation & Magnolia Gardens. Shop famous King St stores & boutiques. Beaches offer para-sailing, stand up paddle board, surfing, deep sea fishing, sea shell collecting & more. Wonderful restaurants & bars in every part of town & surrounding areas. Depending on the month you attend its not uncommon to find some sort of oyster roast or festival. Charleston is home to the famous Spoleto Festival & the Southeastern Wildlife Expo. Spring Charleston's Festival of Houses and Gardens While Paris in springtime may be memorialized in song, the beauty of Charleston this time of the year speaks for itself. As the magnolia trees and flowers bloom, the city's stately historic homes open their doors each year from mid-March to mid-April for the annual Festival of Houses and Gardens. The event is a celebration for all the senses, with the scent of gardens and also the aromas of oyster roasts. There's music to be heard from gospel and bluegrass concerts to the sounds of the city's harbor on history boat cruises. The Market Pavilion hotel provides an ideal base for anyone attending the festival. Charleston City Market is across the street if you are shopping for a sweetgrass basket, the harbor is only a few blocks away, and the stately historic architecture of Charleston is everywhere you turn. Head to the hotel's celebrated rooftop bar for a nightcap and stunning views of the Holy City before you retire for the night. To experience The Market Pavilion Hotel, visit (URL HIDDEN) by The Leading Hotels of the World Sponsor
This is without a doubt one of the best airbnb's I've ever stayed in. The room was nice and comfy with a window that great light throughout the day and the best was so comfortable that it was impossible at times for my fiancee and I to get our day started! But the highlight undoubtedly was Kasim. He was such a gracious host who was beyond accommodating and friendly. We got in late Thursday and he stayed up for us to greet us warmly and welcome us to Charleston. I can't recommend this airbnb highly enough. We had a great time!
Thomas
2016-04-25T00:00:00Z
I don't think we could have asked for a better experience! Kasim was so very hospitable and welcoming. The home was clean and ready for our arrival. He showed us around the place and let us know how welcome we were to use whatever. We often saw him in the morning before we left for our day and would chit chat over coffee. Then in the evening when we came home he too had just arrived and was watching the news in the living room. It was a real pleasure to just hang out for a few minutes in the living room catching up on our days, his and ours. He gave us great restaurant recommendations! He was friendly and talkative, but never intrusive or awkward. We both commented how we couldn't have had this experience in a hotel. when we return to Charleston in the future, we will gladly stay with Kasim!
Betsy
2015-06-10T00:00:00Z
Kasim was the ideal host. He was readily available when we needed him and all around was just an upbeat, laid back nice guy. It was great chatting with him when we would come and go, and he gave us our privacy as well. As far as the place, it was spectacular. Clean, cool temp. and spacious- the upstairs room was private and comfortable. One of the most comfy beds I've slept in. The location was perfect(15 mins to beach/20 to downtown Charleston)throw in the pool access across the street and idk how it could be better. Looking forward to staying here in the future. Highly recommended!
James
2015-07-26T00:00:00Z
Kasim is a very generous and welcoming host. Everything was great, quiet and as described. It was nice to stay and relax there. The house is within minutes of everything we wanted to do in the area, thank you so much. Scott
Scott
2014-07-22T00:00:00Z
The reservation was canceled 43 days before arrival. This is an automated posting.
Jacqualine
2014-10-01T00:00:00Z
Great looking house, very clean, lots of space, charming host. Close to downtown if you have a car. Grocery store close enough of the house to get everything you might need. Would go again no doubt !
Charles
2016-09-23T00:00:00Z
Kasim was a wonderful host - although we met him for the first time on this trip, he felt like an old friend. The house is beautiful and extremely clean - it's very convenient to get to any of the major sites in Charleston and the surrounding vicinity. Highly recommended!
Michael
2015-10-11T00:00:00Z
Our week stay at Kasim's was nothing short of absolutely wonderful! He is a truly incredible host that went out of his way to make our visit to his home and the area an incredible experience! His kindness towards our family was felt by everyone, especially our nine year old son that was so sad to leave him we had to pull over at the gas station to comfort his broken heart before heading home. Talk about making a great impression! Kasim's home is in the perfect location - we were on Folly Beach or standing in downtown in about 15 mins. It's also a gorgeous home. Pictures are generally used to make a space appear more inviting than it actually is, but in this case the pictures truly do not do his home justice. It was beautiful, tastefully decorated and incredibly clean. The linens and towels were luxurious, the beds were comfortable, and the furniture was newer and well taken care of. The upstairs suite was much larger than we anticipated and the downstairs bedroom, while not a suite, came with a private bathroom. We knew ahead of time that Kasim would be staying in a first floor suite off the living room during our time and you could tell he could perfectly sense if we were in the mood for company or needed privacy. I suffer from RA and it takes me a while to get started in the mornings, and he always kept the coffee hot for me despite the time and waited until he knew we were up and moving around before making any noise at all. If I needed to rest, we noticed the tv volume go down or that he'd slip off to visit a friend. Later in the evening, he would hang out with our son in the living room, sometimes talking, sometimes just watching tv, but a time our son came to cherish! We must visit his home Croatia next! We had a mini-fridge in our room that was already stocked with distilled water, OJ and cups upon our arrival. We were also greeted each morning with hot coffee and scones, croissants or cookies. In between our dashing in and out, Kasim offered us drinks, shared his tomatoes, ate watermelon with us and told us so many stories that we easily became fast friends. He has a network of friends around his community that were also very welcoming to us, included us in a birthday celebration at a local restaurant and made sure we found some of the best food around! Beautiful women! We cannot say enough good things about our time with Kasim on John's Island, and it's probably a good thing Airbnb limits how much we can write. He is a super host for a reason. We left feeling like we had a week with a long lost family member instead of being tourists in a new city. We cannot wait to return to see our new friend! Much love.
Mary Catherine
2016-07-16T00:00:00Z
Tipe Kamar
Seluruh rumah/apartemen
---
Tipe Properti
Rumah
---
Mengakomodasi
4
---
Kamar tidur
Johns Island, South Carolina, Amerika Serikat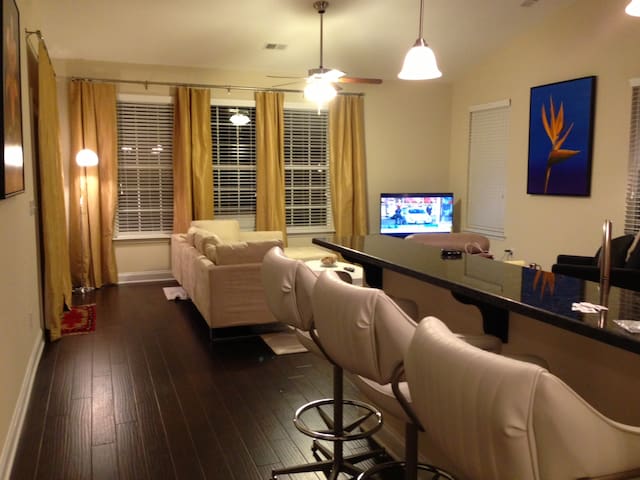 Welcome to the Grand Oak Hideaway! Relax on the back patio, go for a swim in the community pool, or enjoy some peace and quiet in your own private bedroom and bathroom. Just 15 minutes to downtown and area beaches, my home is the perfect spot to spend a few days exploring all that Charleston has to offer. I am available as much or as little as you need. I take great pride in my home and community and look forward to sharing a piece of Charleston with you!
Built in 2013, my townhome is clean, modern and new. You will have your own private bedroom and bathroom, which are furnished with a mini fridge, microwave, and coffee maker. I have a very sweet kitty named Zeus. He mostly keeps to himself but may ask you for a belly rub and a treat. Linens, shampoo, conditioner, soap, towels, etc. are all provided! Please let me know if there is anything else you need during your stay.
On one side of the neighborhood lies the historic Fenwick Plantation, built in the early 1700s. On the other side is the Stono River and surrounding marsh. The neighborhood is made up mostly of retirees and young families and as such, is extremely quiet. I am in close proximity to grocery stores, restaurants, a brewery, and the majestic Angel Oak Tree (the oldest living thing east of the Mississippi!).
My stay at Grand Oak Hideaway was great! The house is super clean, welcoming and contemporary. The bedroom and private bath were exactly as described and had everything I needed to feel at home. It's also located just outside of downtown Charleston so I was able to get in lots of great meals and see a lot of the city during my stay. Anne was a great host and super easy to communicate with. I highly recommend staying here if you get the chance!
Toni
2017-02-16T00:00:00Z
Anne's place was clean, neat, quiet and lovely. Also, the bed was incredibly comfortable!
Shannon
2017-02-26T00:00:00Z
The place was great. Clean. The bed was amazing after the run. Ubered to downtown for 13.00 which was fabulous! Nonnegative experience at all! Would definitely come back
Mallory
2017-04-02T00:00:00Z
It was such a great and comfortable stay at Anne's. She was such a great host and her place was so clean and well organized. Highly highly recommend and such a great price for the night. She was great with communication and was easily accessible. Also she provided all the amenities you can think of! Thank you Anne!
Kyu
2017-03-12T00:00:00Z
Anne was accommodating with a very clean home. Would stay again!
Marisa
2017-03-05T00:00:00Z
Everything was just fine, as advertised. Nice host in a quiet area.
Gary
2017-04-09T00:00:00Z
Wonderful stay! Very simple process, and exactly what we were looking for. Anne was highly communicative and the place was as described. It's a drive from downtown, but very easy to access. Didn't meet Anne but communication was very friendly. Highly recommend!
Matthew
2017-03-11T00:00:00Z
Anne was very nice. The room is small but comfortable.We slept well. There was a coffee maker in the room and Anne had made us some delicious and healthy breakfast bars. The location was great for our trip. We would stay again.
Scott
2017-03-06T00:00:00Z
Tipe Kamar
Kamar pribadi
---
Tipe Properti
Townhouse
---
Mengakomodasi
2
---
Kamar tidur
Johns Island, South Carolina, Amerika Serikat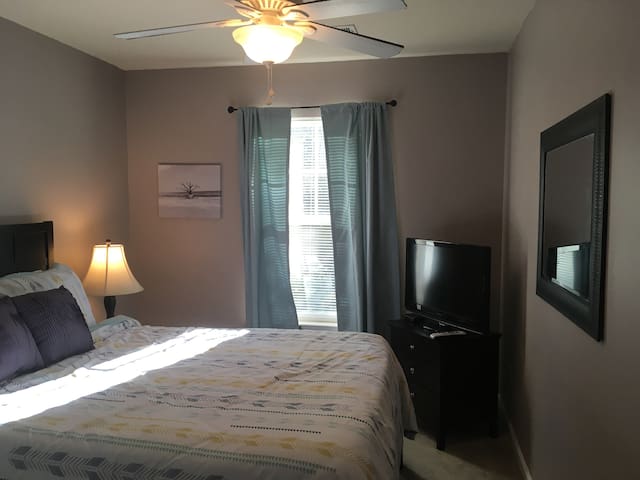 My place is within close proximity to Downtown Charleston, Kiawah Island, and Folly Beach. You'll love my house because it feels like a luxury hotel room with the added comforts of a gracious southern home. I welcome couples, solo adventurers, and business travelers.
A large bedroom in a spacious home built in 2009. My home is centrally located in a quiet community with access to a 23 acre lake with amazing sunset views. The spaces features: * KING BED with 4" memory foam mattress topper. * Private veranda with outdoor table and seating. * Hallway (shared) bathroom with double sink. Shampoo, conditioner and soap provided. *In room refrigerator/ freezer *Closet with two plush bathrobes, ironing board and luggage rack. * Antique Dutch pine armoire with a 46" Samsung flatscreen, sound bar with Bluetooth connectivity, DVD Player and DirecTV cable. * Hot beverage station with an assortment of Starbucks K-Cups.
My home is centrally located in a quiet community with access to a 23 acre lake with amazing sunset views. The neighborhood is mostly filled with young professionals. Just minutes away are fine dining restaurants such as Wild Olive and The Fat Hen, casual dining at The Tattooed Moose, and a beer tastings at Low Tide Brewery. Nearby Trophy Lakes offers water skiing, wake boarding and Frisbee golf and is just a short walk away.
As this was my first Airbnb experience I was a little apprehensive. We were made to feel very welcome and comfortable immediately. Both John and his wife went over and above in making us feel at home. Both had a lot of great recommendations for restaurants and sights in the area.
Jamie
2016-09-06T00:00:00Z
Awesome stay!
Baylee
2017-03-15T00:00:00Z
The space is great and just as the photos show. The bed was very comfy and room was spacious for two people. John set up wifi for us as well as ensured we were clear on using Bluetooth with the sound bar. The mini fridge, bottled water and coffee were really nice touches to make us feel at home. Both Brandy and John are very friendly and welcoming. They were very accommodating and really went above and beyond to help us get settled and ready for our stay. I would definitely recommend this locations if you are ever in the area.
Megan
2016-12-10T00:00:00Z
My wife and I booked John's place over the holidays as part of our exploration of Charleston and had a great stay! The house was located on the northeastern tip of John's Island, making it close to several great local restaurants and shops. It was about a 20 minute drive to downtown Charleston. There are plenty of cool things to do on John's Island itself - I would highly recommend seeing the Angel Oak! John had great suggestions on where to eat and what to do. The house was beautiful and well kept. Our room was on the second floor and had a comfy king bed and two plush robes for us to use. The bathroom was clean and tidy. John stocked our room with water and coffee for the Kuerig. I would definitely recommend staying here if I was in the area.
Matthew
2016-12-30T00:00:00Z
John and Brandi were very friendly and accommodating. The room was excellent with a great location. We will definitely stay there again on future visits.
Patsy & Greg
2016-10-15T00:00:00Z
Great host and beautiful home!
Madison
2017-04-08T00:00:00Z
Such a great first air b&b experience! The room was perfect! Extremely clean and everything we could've possibly needed was provided for. So much better than any hotel. John and Brandy were very welcoming and responsive. Thank you for sending us to a great bar too
Ada
2016-10-23T00:00:00Z
John and Brandy were very easy to communicate with from the start. The room (and their home) is beautiful and the bed super comfy with lots of room to spread out. They have all the little comforts for a great stay: coffee/tea in your room, a fridge, fuzzy robes! Their home is a quick drive or ride to downtown Charlestown. There is a grocery store right near by if you are spending an extended time, but there are also so many amazing restaurants close by. They had so many suggestions for things to do around the islands, many of which I doubt we would have ever stumbled upon on our own. They frequently checked in to make sure we had exactly what we needed. Their kindness and hospitality made for such a wonderful experience. I cannot wait to plan another trip to Charleston. Thank you so much!
Maria
2016-09-03T00:00:00Z
Tipe Kamar
Kamar pribadi
---
Tipe Properti
Rumah
---
Mengakomodasi
2
---
Kamar tidur
Johns Island, South Carolina, Amerika Serikat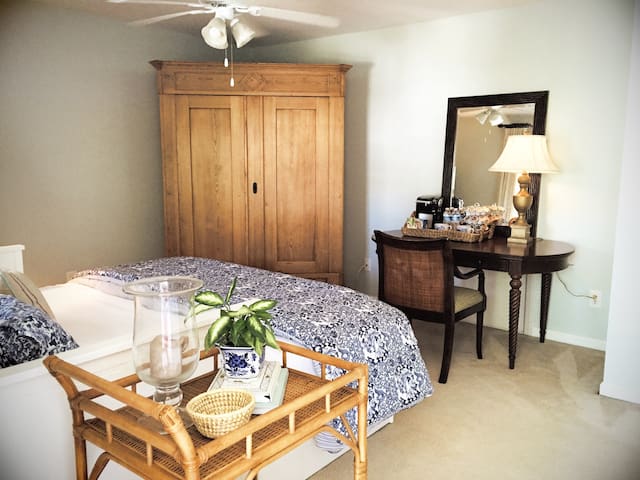 Headquarters Island is close to EVERYTHING CHARLESTON - Downtown 7 miles, 10 to Folly Beach & Mt Pleasant, 15 to Isle of Palms & Kiawah. The heart of Charleston in our own private island enclave. You'll love the spectacular views of the marsh and Stono river from the screened in porch & the upper deck off the master. Both bedrooms have private baths! Cook up a feast in the fully operational kitchen then relax in the salt water pool. Come vacation with us!
Great layout/floorplan. Private baths for each master bedroom. Incredible marsh and river views from living room and 1st master. Salt water pool isn't too bad either.
This condo is on Headquarters Island just before Johns Island so you exit the JI bridge well before the standard JI traffic jams :) We are close (within 2 miles) to all the GREAT restaurants like Wild Olive, Fat Hen, Zia Taqueria, Maybank Public House and of course the excellent music venue The Pour House. You are also 7 miles from downtown Charleston which is - well - downtown Charleston!
Everything about this listing was perfect. The location was great for access to downtown Charleston. The condo cleanliness was excellent, the kitchen had everything we needed, the beds were very comfortable, the host was totally accessible and accommodating. This was our first experience with airbnb and we couldn't be happier.
Steve
2016-11-10T00:00:00Z
Great place. Super clean. Host is wonderful. If you are considering booking this place, BOOK IT!!!
Linda
2017-04-09T00:00:00Z
The place was amazing! Pretty view, close to downtown Charleston
Cassie
2016-12-13T00:00:00Z
Russ is a great host and his condo was excellent. He sent us a detailed list of things to do and places to see in Charleston area before our arrival. The place was clean and comfy. Would definitely stay again.
Namik
2016-12-23T00:00:00Z
As advertised and more. Great location, easy drive downtown, yet quite and beautiful surroundings.
Mark
2017-01-15T00:00:00Z
couldn't have been a better trip! Russ and Susan's house was great! so comfortable and clean! His tips for things to do, places to eat were all spot on! thanks for a great experience as our first Airbnb rental! You will not be disappointed with this one!
Mary Jane
2017-03-08T00:00:00Z
Russ is an amazing host. He responded immediately whenever I had a question and went above expectations to make us happy and meet our needs. The space was clean, beds were very comfortable, great sheets and pillows. The kitchen was nicely equipped. It was a relaxing retreat, we enjoyed the view. We will definitely come back! Thank you Russ!
Teresa
2016-10-18T00:00:00Z
We enjoyed our stay at Russ's condo and appreciate the host's hospitality and flexibility.
Amy
2017-03-13T00:00:00Z
Tipe Kamar
Seluruh rumah/apartemen
---
Tipe Properti
Kondominium
---
Mengakomodasi
4
---
Kamar tidur
Johns Island, South Carolina, Amerika Serikat
Ocean View. Come Watch the Dolphins Swim by from Your Deck.
NEWLY RENOVATED BUILDING! This beautifully decorated 2 bedroom, 2 bathroom villa has all the comforts of home. The living room and both bedrooms have new flat screen TV`s. The ocean view off the 450 sq. ft. deck is amazing. The Seabrook Island Beach Club pools and restaurant are right across the street. Walk to the Seabrook Island Club`s two 18 hole courses.
Seabrook Island is a private gated community with expansive beaches, amenities, restaurants, and friendly residents and staff. There is a wide variety of housing options from 700` villas to 6000` homes.
Tipe Kamar
Seluruh rumah/apartemen
---
Tipe Properti
Kondominium
---
Mengakomodasi
6
---
Kamar tidur
Seabrook Island, South Carolina, Amerika Serikat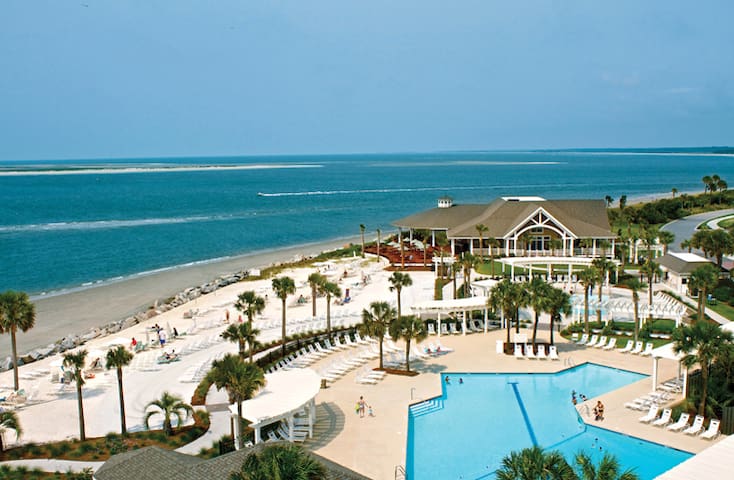 Romantic get away for nature lovers. Private 2nd floor studio apartment over garage (guest parking), nestled among large live oaks overlooking tidal creek & dock on wooded property. Less than 30 minutes from downtown Charleston, Folly Beach, Kiawah. Shrimp, fish, crab or just enjoy the hammock on the dock. Or go for a paddle in one of the kayaks provided for your enjoyment.
This cozy studio apartment, built over the garage with parking for guests, is situated among large oak trees overlooking lowcountry marsh/tidal creek from one window and a tropical garden from another. The 'big' house and guest apartment is on 16 wooded but manicured acres, with a working greenhouse nursery on the other end of the property. We are on the upper end of Johns Island far enough out to provide peace and quiet yet less than 30 minutes from downtown Charleston and the beaches of Kiawah and Folly. There is one full size bed and an optional twin size airbed which can be utilized for a third person.
Beautiful wooded, rural setting offering privacy along with peace and quiet.
Everything about our weekend at Nancy's was perfect. From the moment we drove onto the property we saw how well maintained it is. From the nursery, to the garden ponds, to the two handsome and welcoming pets, it is all very beautiful. Nancy met us right away and showed her hospitality. Then we went up into the above-garage apartment and loved what we saw! Just like the photos. She got all the details right. There was a speaker for us to play music, wine and coffee glasses, really any kitchen essentials we needed, and we started relaxing right away! We immediately realized we wanted to spend all our downtime here. From the dock we spotted dolphins, gazed at the stars, and enjoyed the sun. The bathroom is a comfortable size with a nice shower and fresh soft towels. The decor and the views from inside the apartment are much preferable to that of a regular hotel--so serene. Everything was so lovely that I got into true vacation mode, even though we only stayed for a quick weekend to attend a wedding. By the way, Nancy's property was a fairly easy drive to both Folly Beach and Downtown Charleston. But far enough that it was our own mini getaway. Thank you again. P.S. We miss TUX!
Megan
2015-07-20T00:00:00Z
My fiancé and I stayed at Nancy's beautiful above-garage apartment for a short, but wonderful, weekend getaway in Charleston. Nancy went above and beyond to meet our needs-- really. She was always available to help but also allowed us privacy during our weekend. Her entire home and lot is absolutely beautiful. I simply cannot put into words how perfect and stunning her grounds/home are. It was the perfect place to get away and forget about the real world for a while, and Nancy was the perfect host. We will definitely be back to visit. PS: DELICIOUS MUFFINS. I'll be raving about those for a while!
Chelsea
2015-03-09T00:00:00Z
If you like how this place is described, you should enjoy it - what you see is what you get! This is a lovely setting, tucked away by the water on Johns Island. It is plenty private and I imagine would be even more fun once it warms up a bit and you can get out on the water from the dock you have access to. Plenty of good food nearby and lots of options to explore from this as your base. Nancy is very nice but not at all intrusive and her dog is adorable.
Sharon
2016-04-18T00:00:00Z
Just back from three days at Nancy's property and already dreaming of going back! She was a fantastic host, working with us on a travel delay and providing everything we needed. The apartment is perfectly sized for a couple or solo traveler. The grounds are stunning, and are quintessential SC lowcountry. Our favorite part was the dock and swimming in the creek, only wish we had more time to kayak. If you're looking for a quiet, charming South Carolina retreat, this is your spot!
Elena
2016-07-10T00:00:00Z
I was looking for a quiet and peaceful getaway for a weekend. One away from the hustle and bustle of the everyday. Nancy's place could not have delivered more. The pier and dock alone were worth the price of admission. And Nancy was a very gracious host providing me with muffins when I arrived as well as some stock milk for my coffee. I can't recommend it highly enough!
Lee
2016-03-14T00:00:00Z
What a wonderful week spent in the flowers and the marsh grass. The setup was absolutely perfect and Nancy was very helpful accommodating our requests. The muffins are perfect!
Joshua
2016-07-01T00:00:00Z
My boyfriend and I live locally ... In the Charleston area. I researched this weekend away for a couple of weeks. Pondered traveling to the mountains ... Decided to Try out Nancy's place after finding it on Airbnb. It was honestly one of the most perfect weekend getaways I have ever experienced. We arrived after dark ... Work and logistics .. so we couldn't see the water or grounds, but the little bungalow was all ready for us ... clean and fresh with all promised accoutrements on the site. Those muffins are out of this world btw. The accommodations are cozy and comfy as can be. We got up early to adventure. The gardens, are unreal ... Feels like you are on a tropical island. Then the dock leading out to the water. The piece de résistance. What peace and beauty! Just breathtaking. The dock at the end has a ladder off it for easy in and out swimming. The water was cool and refreshing. We lazed in the hammock and time just stood still. It was truly one of the best vacations I've ever had; I did the Peace Corps so have traveled a whole lot. This place is incredible. Nancy graciously greeted us when we arrived and gave us the low down. She is as nice and attractive as can be. She was always available when and if we had questions and/or needed her. Otherwise she graciously shared her magical property with us to explore. She was awesome. Amazing host. This place is a must. If you like to get off the beaten path and unwind. We did not leave until we headed back to Charleston but Johns Island has some incredible restaurants if you are Looking to get out a bit. Best of both worlds. Thank you Nancy! You pushed the refresh button for both me and Ismael by allowing us this experience. ❤️ Schrader
Catharine
2014-08-18T00:00:00Z
Nancy greeted me upon my arrival and made sure I was aware of everything to do and see in the area. She was one of the most gracious and friendliest hosts I have met. The studio apt was a perfect escape from the hustle and bustle of city life, tucked away from other homes. The boat launch/pier provided an amazing spot to catch a morning sunrise with coffee, and hanging the hammock on a sunny afternoon allowed for a mid-day siesta.
Shawn
2016-07-31T00:00:00Z
Tipe Kamar
Seluruh rumah/apartemen
---
Tipe Properti
Apartemen
---
Mengakomodasi
2
---
Kamar tidur
Johns Island, South Carolina, Amerika Serikat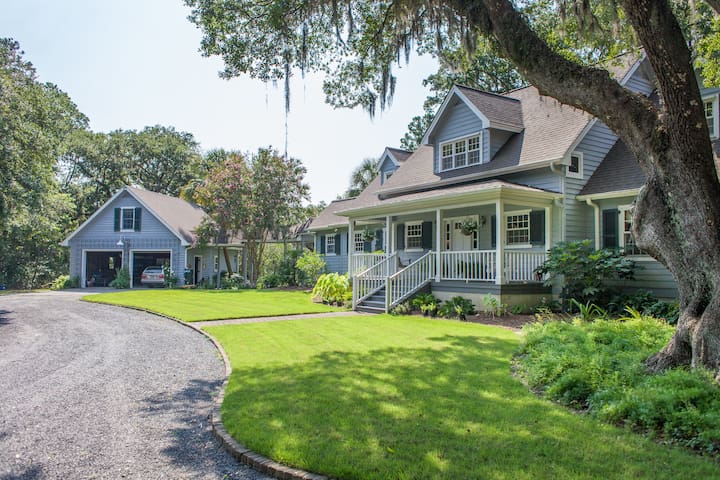 Very convenient location for upper King Street hot spots. Clean and well equipped home, with a host who communicated well! No complaints.
Bryce
2017-01-22T00:00:00Z
Perfect for large groups and still have your privacy. 5 baths were plenty for the 17 of us. Great coffee/pastry and sandwich shop all on same street. All the beds and sheets were very comfortable. Perfect spot.
Adrea
2017-04-09T00:00:00Z
Tipe Kamar
Seluruh rumah/apartemen
---
Tipe Properti
Rumah
---
Mengakomodasi
16
---
Kamar tidur
Charleston, South Carolina, Amerika Serikat
Incredible birds and wildlife surround this beautifully furnished retreat on Abbapoola Creek. Kayak to the ocean, fish, or walk past all the horse farms, before retiring to a fully equipped second floor apartment with great views.Enjoy a large well equipped kitchen, Wi-Fi & TVs, and wraparound private deck and gas grill. Easy 20 minute access to both downtown Charleston and the Kiawah Beachwalker Park.
Beautiful natural setting with access to the salt water tidal creek. The pond and creek provide great shorebird watching, and fishing is available. 20 minutes to downtown Charleston, yet just 15 minutes to Kiawah and Seabrook islands. Horse pastures surround this rural property, fantastic walking/running on quiet and pristine country roads. Guests have access to the one acre grounds and the water, and the vegetable and flower gardens in season. Happy to meet and greet the guests and introduce them to the private apartment, and am available to provide local information and resources from the peaceful ceramic studio downstairs as desired. This rural retreat is rich in wildlife and open spaces. We are surrounded by the water and beautiful horse farms. Great quiet roads to walk or run, but just a short trip to the beaches or the city. World class golf courses are available on nearby Kiawah Island, and the local Bohicket Marina offers boating and kayak rentals, sailing excursions, delicious local seafood and a variety of restaurants. Mullet Hall Equestrian Center, the Angel Oak and the Charleston Tea Plantation are also popular local attractions. It is just 14 miles to downtown Charleston, with its wealth of history, museums, great restaurants, wonderful nightlife and beautiful ambiance.
This rural retreat is rich in wildlife and open spaces. We are surrounded by the water and beautiful horse farms. Great quiet roads to walk or run, but just 10 minutes to the Beachwalker Park on Kiawah or 20 minutes to beautiful downtown Charleston.
We really enjoyed our stay at Celia's place. The location was a short drive to both downtown Charleston and the beach. It was a nice, comfortable house with a great yard for our pup to play in and a scenic view. Celia was able to quickly resolve a small hiccup at check-in, and was a generous and hospitable host. Overall, we had a great stay and would recommend Celia's place.
Travis
2017-03-26T00:00:00Z
We had a wonderful stay at Celia's. The space was spacious and clean and stocked with all you could need to have a relaxing vacation. The views from the porch overlooking the river were by far the best part, and we enjoyed sipping our coffee and watching the wildlife in the mornings. Celia was a wonderful host who was easily accessible and more than happy to help and offer suggestions. We were able to bring our 15lb doggie with us and Celia was so good with him as well. It's about a 30 minute drive to downtown Charleston and Foley Beach but the quiet peace of the area made the drive worth it. We would definitely recommend staying here.
Emily
2017-04-03T00:00:00Z
This was a dream stay! The location is about 20 minutes from downtown and the beach, but all of the pictures are exactly what it looks like! We arrived late, but we were met with chocolates on our pillows and food in the fridge! Celia was always available for recommendations and sent us great suggestions of interesting things to do around town. The space was so relaxing, especially for movie days that we had (we didn't luck out on the weather). There is access to benches that are right on the water which are amazing to hang out with a book. This truly was my best experience with AirBnb, and if I ever go back to Charleston I know where I am staying!!
Catherine
2017-03-16T00:00:00Z
We had such a wondeful stay in this well appointed home on the Abbapoola Creek. Celia is a wonderful hostess and will go out of her way to make sure you have a great stay. This is a beautiful place inside and out where you can rejuvenate your spirit. You can also spend a day or an evening in Charleston with a short drive into town. Wonderful way to experience the low country!
Denise
2017-03-08T00:00:00Z
Tipe Kamar
Seluruh rumah/apartemen
---
Tipe Properti
Apartemen
---
Mengakomodasi
4
---
Kamar tidur
Johns Island, South Carolina, Amerika Serikat
Escape to a yacht on the exclusive Sea Islands outside of Charleston. Close enough to visit historic downtown, far enough for all your worries to float away. Sip a glass of wine while you watch the sun slip below the horizon. A true experience.
What stay near the water when you can stay on it? Instead of the same boring hotel or vacation condo, stay on a 38' motor yacht docked on the exclusive Sea Islands, minutes from historic Charleston. Commonly seen in the marina: beautiful sunsets, peaceful moonrises, dolphins, birds, starry skies. Horizon Seeker accommodates up to 5 people with 2 staterooms and 2 heads (plus a pull-out couch). Walk to local bars and restaurants or cook for yourself inside in the galley. Outdoor space: -Aft deck (covered) with love seat, chairs and table -Forward deck (great for sunbathing) -Bridge with benches (full canvas) Indoor space: -2 Staterooms, aka Bedrooms (1 queen, 1 full) -2 Heads, aka Bathrooms (1 attached to master stateroom, both with separate stand-up showers) -Galley, aka Kitchen (fridge, microwave, blender, Keurig coffee maker, toaster oven) -Main Salon, aka Living Room with couch, chair, coffee table that doubles as a dining table -A/C and Heat throughout Bonuses: -Beautiful sunsets -All linens included -Beach towels -Beach chairs -Lending library of books -Games The boat does not leave the dock during your stay and you do not share her with other guests. If you are interested in getting underway, I can recommend sailing, fishing, and nature cruises. Plus, you can rent kayaks and paddle boards right at the marina. I also have arrangements with other providers, so anything that you need (from provisioning to catered meals to kayak excursions to sunset sailing) can be arranged for you. Horizon Seeker is perfect for couples, small families, and other getaways. If you have never been on a boat before, don't despair. It's easy and I will walk you through everything. Two things to keep in mind: 1. The walk from the parking lot to the boat is about 5 minutes. It's a dock with a ramp. We have dock carts to help you bring your items to the boat. There is a small staircase with 5 steps to get onto the boat. 2. Please note that sometimes boats smell funny since you are sitting in salt water and engines and other mechanics are all contained on the boat. Pets are allowed by special arrangement. Contact me directly for more information. Contact me for availability and special rates. There are three restaurants on-site, and between them you can eat and drink all day long. You can walk or bike to Freshfields Village. The beach is a short drive or bike ride away.
The view from the marina is incredible! Watching the sun set over the marsh never gets old. It's easy to get downtown and to/from all the major roads.
Loved our stay aboard the Horizon Seeker. Everything worked well (great shower and plenty of hot water!) and it was very comfortable. We'll be back!
Gay
2014-05-05T00:00:00Z
What a terrific experience! The accommodations were delightful, the setting marvelous, and our two days wonderfully magical. Sitting on the deck most of the time to read, watch, and enjoy wine was special indeed. Many thanks to our gracious host!
Spoma
2012-06-20T00:00:00Z
It is a great experience to stay on a boat near the aircraft carrier. The boat is a little bit small but is clean and tidy.
Hongzhang
2015-08-03T00:00:00Z
We had a fantastic time on the Horizon Seeker! Staying on a yacht instead of a hotel made for a very fun and relaxing way to visit the Charleston area. The yacht easily accommodates four people. I highly recommend the yacht and would book it again if we returned to Charleston.
Jesse
2013-03-11T00:00:00Z
Location is fantastic! Water taxi just 2 slips from Horizon Seeker, but only runs on Saturday in the off season. It was an adventurous weekend full of fun and great food!
Bill
2013-11-25T00:00:00Z
Wonderful! We loved our stay. Everything went perfectly smooth.
Michael
2014-11-29T00:00:00Z
We enjoyed the stay on the boat! Though the few days we were there was chilly, windy and rainy....the room we slept in was cozy. Bed very comfortable!
Lisa
2015-03-25T00:00:00Z
A unique experience! The harbor in which the Horizon Seeker is docked is very easy to get to and is a good location to many of Charleston's attractions. The weather was frigid when we went, but we're told it is very uncommon for the area. The boat, however, was nice and toasty. Little issue with the water when we first hopped on board, but Jennifer was quick to respond/resolve any issue/concern we had. Fave part of our stay is the amazing food and beautiful views of the harbor from a boat's perspective. Will definitely keep the Horizon Seeker in mind for our next trip to Charleston! :)
Jonathan
2015-01-09T00:00:00Z
Tipe Kamar
Seluruh rumah/apartemen
---
Tipe Properti
Kapal
---
Mengakomodasi
5
---
Kamar tidur
Johns Island, South Carolina, Amerika Serikat
Unique, Tiny House tucked away in a private corner of Eden Wind Farm. You can fish, paddle board, canoe, hike trails, have horse adventure, bird watch, or just have a quiet rest in our cozy cabin with a full kitchen and double bed. Pets welcome!
Enjoy picking your own fresh food from the farm....eggs, lettuce, tomatoes, peppers and okra are just some of the seasonal things we grow. You can even fish for your dinner in our 5 acre private lake if you wish. Enjoy herbs in your own window box garden. If you have pets then you can bring them. You can also sign up for Riding lessons, Horsemanship class and Trail Riding once you arrive. There is no charge for the self propelled water activity or fishing. Fishing gear is on site.
Get back to nature and recharge with the country quiet of our farm located on the second largest island on the East coast, beautiful Johns Island. We own 44 acres with hundreds of acres of adjoining land to explore on horseback or by foot. The cabin is small and rustic but your outdoors seem to come in with a large deck and screened in porch, and Corn Hole equipped fenced yard. The bathroom has an industrial style shower, treated wood floor, sink and boat type toilet. A/C equipped in both rooms, fully equipped kitchen, TV, stereo and extensive movie collection.
This cozy retreat was just what the doctor ordered. Woke up every morning to a beautiful sunrise over the barn and lake, the start of the day when they let the horses out to graze. Make sure you bring a few things for the fridge ( food and bevs ) as you will probably not want to leave! The screened in porch just off the kitchen made for a great coffee and conversation spot. Tanya was so nice to give me a guided tour of the property one afternoon......very peaceful. This farm is a gem, just far enough off the beaten path( dark and so quiet at night for star gazing) and close enough to Charleston if your feeling that urge. It was hard to depart and check back in to the real world....this lets me know I will be back!
Michael
2015-10-26T00:00:00Z
Fantastic getaway spot for peace and quiet in an amazing setting. Far from the noisy crowds, but a short drive to some of the best beach access in Charleston. Cabin is very very well provisioned, in fact we could have left much of what we packed at home. Grounds are perfect for animal lovers! A short walk down the path and your at the water - surrounded by lush woods and grazing horses. If you are concerned about the size of the cabin, don't be- plenty of room for 2 and a 100 pound German Shepherd. Denise even brought our pup some horse hoof shavings to snack on.
Beth
2016-07-31T00:00:00Z
My wife and I stayed for a 3 day weekend for our anniversary. We wanted something close to the beach that accepted dogs. We couldn't have found a better place to stay! The cabin is described as "rustic", which it is, but it also has everything you'd need and then some. We'd like to come again in the Fall to better enjoy the outdoor area - beautiful lights, outdoor speaker for the stereo, corn hole, chairs and an umbrella, grill! There was a bit of a heatwave while we were there and it was just too hot... but perfect for the beach! Tanya gave us a tour of the property on the golf cart and we stopped to feed carrots to the horses. If you're into horses, this is definitely the place to stay! Something that made our stay unique was that just before we arrived, a nest full of wrens hatched from the nest on the screen porch. We got to see the mom feed them and see them learn to fly. Every time we stepped onto the porch it was aflutter with chirping, fuzzy, awkward, cuteness. Can't wait to stay again!
Shawn
2015-06-22T00:00:00Z
The cabin at the farm was just lovely! Our kitty cat & cockapoo were in heaven, the porch & fenced in yard were where they wanted to be. The setting is relaxing & pretty. We had some fun around the fire pit a couple nights & sipped our coffee on the porch. We highly recommend the Southern General, Blackbird Market & the park right before entering Kiawah. Denise & Tanya were right there when we needed them & were awesome hosts.
Elizabeth
2015-11-29T00:00:00Z
The Rustic Cabin was exactly what we wanted for our trip. It was private and quiet. No hustle and bustle of a hotel or condo property with hundreds of people going to and fro. Denise was fantastic and made sure that we were comfortable and had everything we needed. When our grandchild visited she had a great time! She was given her own tour of the horse farm and she was allowed to feed the horses. And, for the very first time in her life, she caught her very own fish from the lake! We had a wonderful and peaceful week!
Joanne
2016-03-29T00:00:00Z
We had a relaxing stay in the cabin. Denise gave great recommendations for places to see and eat during our stay. It was fun seeing all of the horses out on the trails. It was like a world away from the hustle and bustle of the city, but close enough to have a nice dinner in Charleston.
Lauren
2016-11-21T00:00:00Z
Absolutely love this place! The cabin is the perfect place to relax after spending the day downtown. Our hosts were very welcoming and accommodating.
Brianna
2016-05-10T00:00:00Z
Had a very nice stay at Denise's cabin. It really is a more rustic place but has modern conveniences like kitchen, comfy bed, portable a/c and heating units, and is clean. The fenced-in area for our dog was perfect and we loved being able to walk around the farm, checking out the pond and horses. Did not have time for an official tour but Denise kind to offer one. If you're looking for a rustic place off the beaten path, then this place is for you. It's not a quick uber ride to downtown charleston if that's what you're looking for but is accessible enough. April is a beautiful time to visit. Thanks Denise!
Marica
2016-04-18T00:00:00Z
Tipe Kamar
Seluruh rumah/apartemen
---
Tipe Properti
Kabin
---
Mengakomodasi
2
---
Kamar tidur
Johns Island, South Carolina, Amerika Serikat
Classic Design, Fun experience! Sunsets on deck! Marina showers and bathrooms. Laundry and Ice available for a charge. Just a hop, skip and jump to downtown! Use Uber! 7.5 miles to downtown, 11 miles to Folly Beach. You will have the vessel to yourself!
Comfortably sleeps two. Hammock available for chilling on deck.
Devon was very responsive and helpful. She even bought us brand-new sheets when she was not able to wash the others! The sailboat was very nice, with everything very clearly marked. The bed was a little small for the three of us (two people and a small dog) but there were other spaces if needed and it was a neat experience!
Leslie
2015-07-04T00:00:00Z
I had to call Devon for directions because I arrived after dark. She was so helpful! Thanks so much for a wonderful stay!
Amber
2016-11-06T00:00:00Z
This place is truly unique. It was an amazing experience. I would love to stay here again.
Carter
2016-12-03T00:00:00Z
I had a fantastic time staying on Devon's sailboat! There was plenty of room for me and my best friend. (We're both pretty big guys.) No trouble whatsoever accessing the space, as Devon's instructions were perfectly clear. Wish I could have stayed longer!
Nick
2016-02-29T00:00:00Z
What a great experience. Great facilities. Comfortable and convenient to the best spots in Charleston. Quick and helpful communication from the owner Devon. Will be visiting again soon.
Aaron
2016-03-25T00:00:00Z
Everything was so nice!! The place was beautiful and The boat was so nice and cozy!! Devon provided us with all the necessities we needed: from wifi passcode, to towels and even coffee and snacks
Layla
2016-01-18T00:00:00Z
Thanks to Devon, our experience on her sailboat was fantastic. It was the perfect setting for a low-key yet romantic anniversary getaway. Devon clearly explained all of the details beforehand, and we felt comfortable and relaxed during our stay.
Sean
2016-09-18T00:00:00Z
Everything was as expected. The walk from the lot is not terribly bad. I wouldn't even worry about trying to fit large suitcases or anything in the cabin. We just carried on travel bags and our clothes for the day. If you are over 6' tall be prepared to do some shuffling. Devon was very responsive and helped with any issue that came up, the battery had died when we arrived, but she called and troubleshot to find the issue, and the breaker at the back of the boat tripped in the middle of the night, but because we had fixed the issue earlier, I just had to repeat and there were no other issues after that. It is a bit like camping, but with a few creature comforts. My wife did find some of the interesting ways of ducking around and shuffling about in the cabin. The bathrooms and showers are nice at the marina. Again, if height is an issue the shower on the boat is probably going to be cramped. We were only in Charleston for a couple of days so it was more or less a place to crash after going to Folly Beach, exploring downtown, and the other islands. Go to Bowens Island Resturant and treat yourself to some for real, no frills, fresh seafood. It really is delicious and a short drive. The Tattooed Moose has a Cuban sandwich that would be very hard to beat in Havana. Downtown is about a 20 minute drive from the marina. Overall a neat and interesting place to stay!
Dan
2016-08-13T00:00:00Z
Tipe Kamar
Seluruh rumah/apartemen
---
Tipe Properti
Kapal
---
Mengakomodasi
2
---
Kamar tidur
Johns Island, South Carolina, Amerika Serikat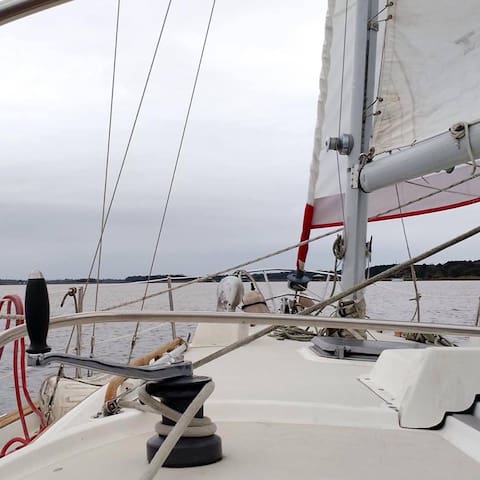 The entire upstairs is ALL yours: bedroom, bath, & sitting room w/single airbed. There's Wi-fi & TV. My standard poodles will greet you, but they aren't allowed upstairs. Just minutes from Charleston, close to restaurants, pharmacies, banks & groceries, free parking in my driveway--the location is ideal, a quiet retreat beside the marsh, just minutes from Charleston, Spoleto venues, Folly Beach, Kiawah and Seabrook Islands. We have GREAT places to eat just minutes away.
The entire upstairs of my condo is yours to enjoy. You have your own thermosat and there's a large bedroom with a comfy double bed, a ceiling fan, sitting area, cable TV and Wi-fi. Adjoining is a full bath (with your own coffee pot and hair dryer). Next to that is a sitting room overlooking the marsh and a single air bed, if needed (there is an extra charge of $25/night for a third party).
My development was once part of the historic Fenwick Hall Plantation which is now privately owned. It's close to The Island House, a popular wedding venue. My home is three years old. It's a quiet neighborhood about 15 -20 minutes from Charleston and all the Spoleto venues. There's free parking in my driveway & it's a very safe area. My back porch overlooks the marsh. It doesn't get any better than that! Nearby are great restaurants, Wild Olive, Fat Hen, or for sandwiches, The General, Krazy Owl, or The Tattooed Moose. A grocery store, two gas stations and a pharmacy are just around the corner.
Paul was our host while we stayed here and he was wonderful. The house was a great location, about the same distance from downtown as the beach. Overall, lovely home and lovely stay.
Nicole
2017-03-16T00:00:00Z
We had a wonderful 7-night stay at Floy's place! The space is really big (the whole upstairs, 2 rooms, private bath). The view out the back is FANTASTIC (marshy grasslands, moss-draped trees, birds, squirrels, etc). The kitchen is great and fully equipped if, like us, you want to cook all your meals. Java and Barkley (the doggies) are sweethearts. Floy and Paul (we were fortunate to get to meet both of them) are both great human beings as well as great hosts and were a joy to interact with. Our favorite spots close by were the Johns Island Farmers Market (on Saturdays), the Tomato Shed cafe (great farm to table food), and the beautiful Angel Oak Tree. Thanks so much Floy and Paul! We had a wonderful time in your space.
Dena
2017-03-27T00:00:00Z
Floy is a highly intuitive host. She's sophisticated, well traveled, effusive, and clearly has a big heart. My partner and I felt instantly welcomed in her home. The room (You actually have the whole top floor to yourself) is beautifully decorated, with an extra comfy bed. Her two standard poodles are delightful. The entire experience far exceeded our expectations. We won't be staying anywhere else when we go to Charleston!
Jon
2017-02-26T00:00:00Z
Nice, scenic, quiet, romantic, adventurous, hidden treasure, and more. Floy was awesome of a host and i recommend her home to all!
Justin
2016-12-10T00:00:00Z
Floy is great and so is the room or should I say rooms? I highly recommend staying here even though I was only there for one night. I really enjoyed how easily she is to communicate with and how accommodating she is to her guests. Thanks for the room and the great company.
Stephen
2016-10-30T00:00:00Z
Communication was great with Mrs Floy. Enjoyed my stay
Curt
2017-03-05T00:00:00Z
I cannot say enough nice things about our stay!!! It was like being at home and my husband and I slept like babies in her upstairs suite. We came down for a wedding and her place was a warm and cozy retreat from the flooding we experienced from the hurricane. The space had everything we needed and much more. Thank you again for a lovely stay in Charleston!!
Natasha
2016-10-16T00:00:00Z
Upon arrival, Floy greeted me at the door with her very friendly standard poodles, Java and Barkley. The home is beautiful and the accommodations are very clean, cozy and spacious. Floy is a tremendous host. We sat down for about an hour and had great conversation over a beer or two. Her dogs are very friendly and you'll definitely enjoy their company. Floy was even kind enough to drive me to a off-site location to meet friends. It was a tremendous weekend and I will certainly be back. Thanks again! -Joe
Joseph
2016-10-22T00:00:00Z
Tipe Kamar
Kamar pribadi
---
Tipe Properti
Rumah
---
Mengakomodasi
3
---
Kamar tidur
Johns Island, South Carolina, Amerika Serikat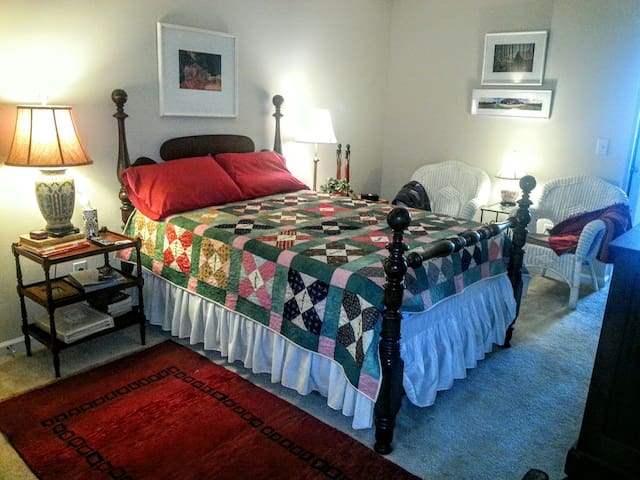 Rustic home with a panoramic view and slice of island paradise under a canopy of live oaks; located off scenic River Road and close to downtown Charleston, Kiawah and Seabrook Islands, and Folly Beach.
Very light, airy, and spacious. The kitchen has a gas range and vent hood, convection toaster oven, pots and pans, kitchenware, blender, coffee/espresso maker, dishwasher, and fridge/freezer. There is no microwave oven. We provide organic coffee, tea, coconut sugar, vegan treats, and organic fruit. The sunroom has a panoramic view of the wildlife sanctuary along with a Casio 61-key keyboard and acoustic guitar. There is plenty of parking under a large carport and please enjoy the screened in porch!
John's Island is situated in between Downtown Charleston and Kiawah Island Golf Resort. Enjoy restaurants and local pubs without leaving the Island. Peaceful Retreat is a great location for discovering Charleston! We're approximately: 5 minutes from Dog Tired Daycare, Boarding Dog Spa on John's Island 20 minutes from Downtown Charleston 20-25 minutes from Kiawah and Seabrook Islands and Folly Beach 23 minutes from Kiawah Beachwalker Park, a beautiful county-operated public beach 30-40 minutes from Mount Pleasant, Sullivan's Island, and Isle of Palms 10 minutes from James Island County Park 90 minutes from Beaufort, SC 120 minutes from Savannah, GA Nearby and awesome: Angel Oak Tree Charleston Tea Plantation Irvin Vineyard and Winery Charleston Pour House Music Venue and Bar John's Island Home Grown Farmers Market, Saturdays Sunday Brunch Farmers Market, James Island Charleston Farmers Market, Saturdays Nearby Restaurants: Wild Olive, Cucina Italian Fat Hen, French Cuisine Sweeney's Restaurant, local and regional fare The Loophole Pub, pizza and sushi Maria's Mexican Grill Tattooed Moose, bar food Seanachai Irish Pub John's Island Pizza Sunrise Bistro, Breakfast & Lunch James Island: The Lot Crust Woodfire Pizza Athens Greek Restaurant Zia Taqueria Downtown: CO Vietnamese-- vegan menu options Dellz Uptown Vegetarian and Vegan Restaurant Five Loaves Cafe Two Borroughs Larder Gathering Cafe Mellow Mushroom Health food stores: Earth Fare- West Ashley Whole Foods- Mt. Pleasant
Helen and Steve were both warm and welcoming to my family and I. the house was clean, comfortable and cozy. The vegan treats and continental breakfast was better than expected. Helen was easy to communicate with. We will definitely visit again.
Padma & Mike
2015-03-14T00:00:00Z
Convenient location for exploring Charleston area. Hosts were friendly and helpful. Comfortable house with lots of room. Keyboard and guitar were added fun. Lots of mosquitos but there is a screened porch.
Irene
2015-12-01T00:00:00Z
Lovely place! We felt so welcomed by these two and we were a little bummed with ourselves for not allowing more time in our schedule to enjoy our stay and relax at this place! It was rainy one day during our visit and the sunroom was sooo tranquil and peaceful when the rain came. We were in town to film a wedding in DT Charleston and arrived in a little bit of a rush when we got to meet these two to grab the key, but they were so sweet and kind! They just seem like the kind of people that you'd want to sit and talk with and hear all about who they are and what they do. I would highly recommend this place to anyone looking to visit the Charleston area :)
Kristine
2015-04-25T00:00:00Z
Helen and Tom were very friendly and very accommodating. We loved the vegan treats! House was nice and clean. We went to the Charleston Tea Plantation for a concert with the family. Beautiful venue and not too far from the house. Didn't make it to the beach this time, but went downtown and walked around (not too far). Convenient location and great hosts. We Will definitely come back.
April
2015-07-20T00:00:00Z
The reviews and description for "Peaceful Retreat" are very misleading. I find it hard to believe I stayed in the same home that was described in other reviews. I feel that reviews should be honest and accurate so that potential guests are not misled as I was. The home is an older mobile home that is in need of a thorough cleaning, painting, and newer furnishings. The furniture is a menagerie of styles and pieces that look like something you'd pick up at a yard sale or thrift store, many in poor condition. I hate saying this, but the area that the home is located is a bit run down. We were concerned about the safety of the location. The host was described as welcoming and friendly. We did not even have the chance to meet them. The keys to the home were left outside for us. The cost to stay here is very overpriced when compared with other homes that are available in the area. I would not expect to pay any more than $75 a night to stay in this home. Many of the windows have no blinds or curtains which made me very uncomfortable because of the lack of privacy. On the positive side, the home is in a very quiet location with beautiful oak trees. The bottom line is that I would not stay here again or recommend it to anyone(URL HIDDEN)
Merrie
2016-12-04T00:00:00Z
Thank you very much for making the place available at short notice. It is in a beautiful location and was big enough for 4 of us to have our own space. Sorry we didn't get to meet you. Thanks you very much again, and for the lovely organic coffee :)
Katherine
2016-08-04T00:00:00Z
This was our first Airbnb rental. We were delighted that our family could come together for our son's graduation from Navy Power School. This property was a hidden jewel that let all of us have time as a family and still be able to see the sights in Charleston. Our arrival was like Christmas morning unwrapping all sorts of eclectic treasures. We enjoyed the viewing the turkies and deer! The treats and breakfast were a special treat. We will be sure to stay here again if possible!
Lynn
2017-04-02T00:00:00Z
Helen was tremendously proactive in making sure we had a smooth arrival (despite a major hurricane!) and providing delicious treats and use of her kitchen. The space was large and definitely amenable to 5-6 people staying. We would highly recommend it!
Ravi
2016-09-04T00:00:00Z
Tipe Kamar
Seluruh rumah/apartemen
---
Tipe Properti
Rumah
---
Mengakomodasi
6
---
Kamar tidur
Johns Island, South Carolina, Amerika Serikat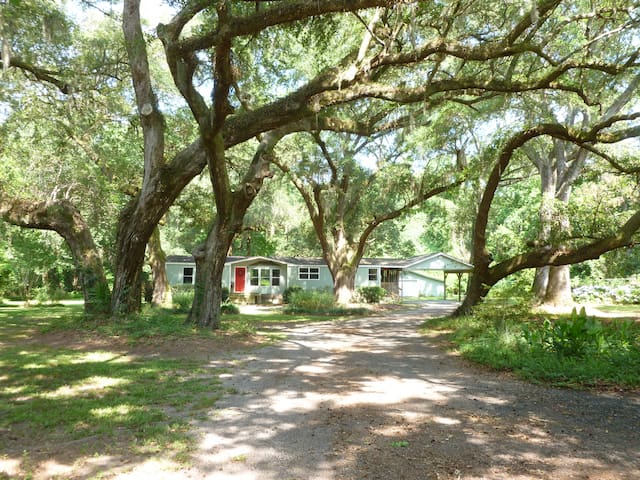 1

–

18

dari

300+ Sewa Tempat
Masukkan tanggal untuk melihat harga lengkap. Biaya tambahan berlaku. Mungkin dikenakan pajak.