You live in a small, private Baroque house , idyllically situated on the edge. The center of Lucerne is easily accessible on foot . The house is ideal for 1 or 2 persons, with in all you need for an indipendent and calm stay (15 m2). Try it!
Du wohnst in einem eigenen kleinen Barockhäuschen, idyllisch am Waldrand gelegen. Das Zentrum Luzerns ist gut zu Fuss erreichbar. Vom eigenen Gartensitzplatz hörst du Vögel zwitschern und den Gütschbach rauschen. Ideal um Luzern zu entdecken oder ungestört ein Buch zu schreiben, zu musizieren oder ... In diesem liebevoll und professionell eingerichteten Ein-Raum-Häuschen (15 m2 Fläche) ist alles Notwendige vorhanden: bequemes Bettsofa für 2 Personen (140 cm breit). Mittels Leiter erreichbares Matratzenlager (4 m2) für weitere 2 Personen. Kleine, gut ausgestattete Küche. Ausziehbarer Esstisch für 2/4 Personen. Dusche/WC. Vom Gastgeberhaus unabhängiges Gästehaus, Gartensitzplatz mit Brunnen Je nach Bedürfnis der Gäste: wir können beste Tips und Insider-Infos für den Stadtbummel geben. Bushaltestelle in 3 Min. Fussdistanz
Unser Quartier ist sehr ruhig, aber nahe am Stadtzentrum. Alle Sehenswürdigkeiten Luzerns sind bequem zu Fuss erreichbar.
Karin's home is absolutely charming! Although small, the guest house, where you stay, is so perfectly furnished and planned that you have more than enough space for two people to stay comfortably. There is also a little stream that flows next to the house, which provided the perfect background noise to fall asleep to every night. Karin was incredibly helpful in recommending activities for us to do in and around the city, and she even helped us pick out the perfect Swiss chocolate to take back home to our family! If you're in Lucerne, I would definitely recommend spending a couple of nights at Karin's!
Allison
2017-03-10T00:00:00Z
Thank you Karin for the wonderful stay! We stayed in Karin's house for 2 nights and Karin and Martin was friendly, sweet hosts that you would love them. Goodies - the house was well designed and you cannot tell their wisdom from the pictures - The house was very clean and tidy - they have a very well equipped kitchen and I enjoy cooking there - Karin provided a coffee machine with capsules and cream - she even prepared us wines and chocolate ! - even the bed was a sofa bed, it was very comfortable - Karin was very kind and flexible about our check-in and check-out, thanks a lot! what a pity that we could not stay one more nigh with then due to arrangement of another hotel - nice TV and good wifi connection - good location that the old town was within walking distance and the bus stop was around the corner if you don't want to walk You may want to consider: - The place was not very big and you may need to fold the sofa if you need more room for 2 people when you are not sleeping - the toilet and kitchen shared the same skin
Ivy
2014-10-04T00:00:00Z
The house is around 15min away from the old town and bahnhof but only 5min away from the main streets. It's well designed and has cool decorations. The host tries to make the most out of the small house and it's very well equipped. Karin has a super friendly dog. It's super great for dog lovers.
Jacey
2016-08-07T00:00:00Z
Upon arrival we were greeted promptly by Karin, her husband, and James (the boxer)! They we very eager to show us around and answer all questions to assist in a quick journey that night. We could immediately feel the passion they had for their home and their rental space. The design and use of space is brilliant and provide you with an excellent space to make your home during your stay! They shared the history of their home and we're honoured to stay here. The home is well situated out of the hustle and bustle, but a quick walk will take you into the heart of Lucerne.
Chelsie
2015-08-11T00:00:00Z
It is really an amazing room, good location and Karin is so nice and so welcome. It is the best experience ever in my life, the room is really well designed and very intelligent! Strongly recommened!
Ya Tian
2016-02-17T00:00:00Z
Nice place to stay good shower! and nice area nearby the old town of luzern
Robbert
2014-01-24T00:00:00Z
Karin's cottage was a wonderful place to stay during our trip to lucern; it is perfectly designed and perfectly located. We found our selves rushing home from dinner to spend more time in the cottage. Karin was a great host and made sure our stay was enjoyable. We hope to come back some time soon!
Philip
2014-09-05T00:00:00Z
Our three night stay in Lucerne was great. The apartment is small, but perfectly organized and outfitted for two. We utilised the one burner cooktop and provided pots/pans to easily make breakfasts and pasta. The location is a quick 15 minute walk from the train station and 5-10 minutes from city center. The last bit is up a steep hill, so when pulling suitcases be prepared for a mini workout (helps make up for all the delicious food and drink in Lucerne). Karin promptly greeted us on arrival and even had Christmas cookies set out in the apartment. Would definitely stay again!
Lisa
2014-12-27T00:00:00Z
Tipe Kamar
Seluruh rumah/apartemen
---
Tipe Properti
Rumah
---
Mengakomodasi
2
---
Kamar tidur
Lucerne, Lucerne, Swiss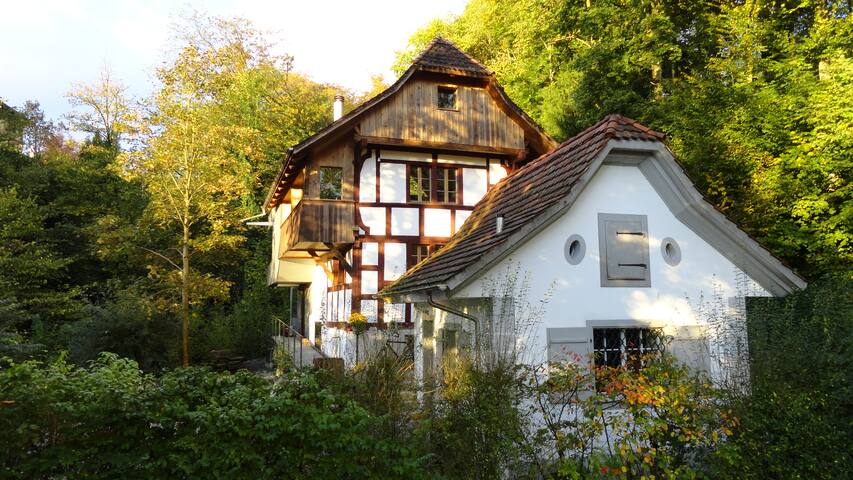 Room with separate entrance, TV, internet, refrigerator, coffee maker, kettle, no cooking facilities. Private access to the lake. (Vierwaldstättersee) Quiet location, yet close to town. As a starting point for excursions in central Switzerland the nozzle is 1 min to public transport connections, or 5-minute drive from the highway.
We loved Graziella's place! It was perfect for us. Clean, spacious, and close enough to Lucerne proper to be convenient, but far enough away to enjoy the quiet as well. We loved the walk around the lake into Lucerne every morning. Gorgeous!
Sarah
2016-08-03T00:00:00Z
Loved our stay at this airbnb! We got to meet all of Darja's family and everyone was so friendly and welcoming. We were traveling from south Switzerland and Roland was waiting for us at the bus station! The room is amazing with an updated bathroom. The private entrance to the lake is wonderful for when you want to relax and gives a great view of the lake and mountains. The bus station and stops is pretty easy to figure out, bus #21 to stutz station and buses run frequently (every 30 mins and every 15 mins during rush hours in morning and evening). Loved the quiet neighborhood feel of her home compared to the busy tourist feel of the old town and lake area. Great airbnb price for the amenities and location and awesome hosts! Would DEFINITELY stay here again.
Sarah
2014-07-18T00:00:00Z
Thank you, Graziella, for a wonderful stay! The apartment was just as listed - a studio with a bathroom and bedroom. The apartment had everything we needed :) Graziella welcomed us with some fruit and a bottle of wine and showed us around the property. She also left two croissants at our door for my husband and I the next morning! The bus stop is conveniently located at the end of the driveway, which will bring you into town within 10 minutes. We had an amazing time in Lucerne and loved exploring the city and Mt. Pilatus nearby!!
Shannon
2016-06-15T00:00:00Z
Stayed in several airbnbs throughout Europe and this has been our favourite by far!! The hosts are so hospitable and friendly we were even welcomed with wine and chocolate :) the studio is very spacious and homely with everything we needed for our stay, we wish we could have stayed for longer. It's nice and close to the lake which was just beautiful and very easy to get to the centre of town. We will definitely be staying here on our next trip to Switzerland!
Anna
2015-08-12T00:00:00Z
Excellent host and family,love everything here,very clean,comfortable,quiet,nice environment,they are helpful and drive us to the train station,quick response,hope to see you again: )
Alky
2016-10-14T00:00:00Z
That was the best home i ever met, very clean, and Griziella is very nice, she prepared some fruits, chocolate and a bottle of wine for us. We had a very nice trip in Suisse.
SHUAI
2016-07-23T00:00:00Z
Roli gave us a friendly welcome, provided a guided 'tour' of our room and showed us the stairway down to the lake. We appreciated the bottle of wine and the fruit, chocolates and water awaiting us on our arrival. The coffee machine, complete with coffee beans, was great, and the microwave oven was useful for warming our breakfast croissants. The room was quiet, clean, comfortably furnished and well-equipped. Although it was a little way out of town, access to town was easy, by way of either a 35-minute walk or the regular bus service. The bus stop was nearby, as was a small shopping centre with a couple of supermarkets. It was an ideal place to spend a few nights in Lucerne.
Lynn
2015-07-15T00:00:00Z
Graziella's place was so clean and comfortable! It fulfilled all our needs in having a great stay. She has thought of everything down to the smallest detail in making people feel relaxed and comfortable in the space!
Alice
2016-09-27T00:00:00Z
Tipe Kamar
Kamar pribadi
---
Tipe Properti
Rumah
---
Mengakomodasi
2
---
Kamar tidur
Lucerne, Canton of Lucerne, Swiss
In einem Mehrfamilienhaus im Herzen der Luzerner Altstadt befindet sich das lauschige und ruhige Gartenstudio mit moderner Küche und einem geräumigen Wohn-/Schlafzimmer mit privatem Badezimmer.
Das Gartenstudio steht ganz dem Gast zur Verfügung und hat einen eigenen Eingang. Die Unterkunft ist perfekt gelegen. In nur wenigen Minuten erreicht man Luzerner Sehenswürdigkeiten, wie zum Beispiel die historische Museggmauer welche sich hinter dem Haus befindet oder die berühmte Spreuerbrücke. Trotz der zentralen Lage ist das Studio sehr ruhig und man kann sich bestens erholen. Einkaufs-, Ess-, und Ausgangsmöglichkeiten sind ebenfalls nur wenige Gehminuten entfernt.
Wir haben vier Tage bei herrlichstem Frühlingswetter im Studio von Margrit und Gioia verbracht. Wir haben uns dort sehr wohl gefühlt. Das Studio ist sehr günstig und trotzdem sehr ruhig gelegen: man kann fast alle Sehenswürdigkeiten Luzerns gut zu Fuß erreichen. Das Studio ist sehr geschmackvoll und modern eingerichtet: ein heller Wohn/Schlafraum, eine moderne Küche, die mit allem Notwendigen ausgestattet ist, und ein schönes Bad. Ulrike und Alfons im April 2016
Ulrike
2016-04-24T00:00:00Z
The place is spotless and very cozy. Location is perfect. Margrit is very helpful and gave us information etc.
Ann
2015-09-30T00:00:00Z
We've been in Lucerna for two days, the house of Margrit and Gioia was perfectly furnished and very well located, I hope to come back there!!!
Giuseppina
2015-09-01T00:00:00Z
Wir verbrachten wunderschöne Tage in Luzern - das hübsche und gut ausgestattete Gartenstudio ist optimal gelegen und man ist in Windeseile im Stadtzentrum. Margrit und Gioia haben uns sehr herzlich empfangen und waren sehr nett! Wir können diese Unterkunft nur empfehlen.
Jeannine
2015-11-04T00:00:00Z
Wir haben uns sehr wohl gefühlt, die Wohnung ist sehr gemütlich eingerichtet. Margrit hat uns sehr nett empfangen. Die zentrale Lage ist ideal, die Altstadt zu Fuss in Kürze erreichbar. Wir können es nur weiterempfehlen. Das Wochenende war wunderbar und genau so, wie wir es uns vorgestellt hatten. Vielen Dank Margrit!
Bettina
2015-12-06T00:00:00Z
Margrit's house is very clean,warm,quiet and convenient.its very close to the city centre and the station.We had a great time in Luzern.
Liliya
2016-12-21T00:00:00Z
Margrit met us at the apartment and showed us around. She went on to offer us discounted tickets for the Mt Pilatus round trip available at the hotel reception desk. All the rooms including the bathroom are large and beautifully furnished. The lighting is excellent and there is a magnifying mirror for visually challenged persons like myself. There is also a Nespresso machine, complementary coffee capsules and milk. The apartment was clean and the bed and pillows very comfortable. It is located near the old town and in walking distance to the train station. We thoroughly enjoyed our stay and would certainly stay there again.
Kerstin
2016-10-15T00:00:00Z
We really enjoyed our stay here. The place is really good and has everything you might need, also very relaxing and comfortable! The kitchen is well equipped and big enough to make a nice meal in it. The location is great too, an easy 10min walk from train station and close to everything in the old town of Lucerne.
Kate
2016-10-22T00:00:00Z
Tipe Kamar
Seluruh rumah/apartemen
---
Tipe Properti
Rumah
---
Mengakomodasi
2
---
Kamar tidur
Luzern, Luzern, Swiss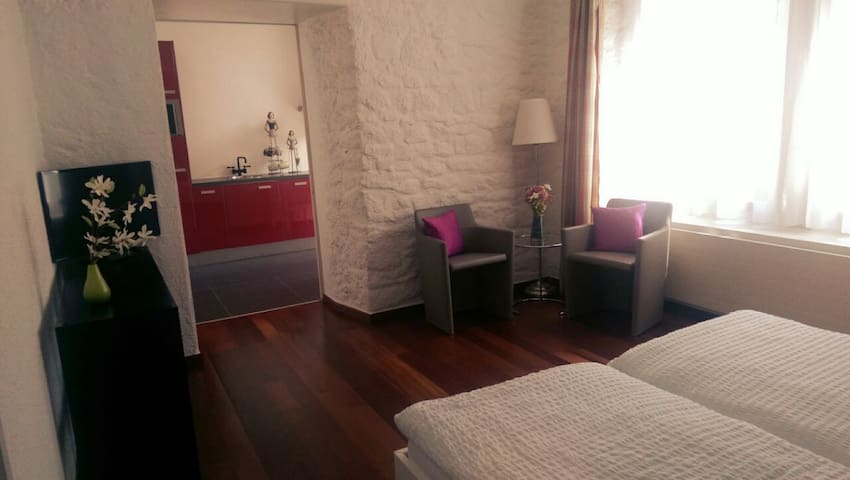 Bright room, space, countryside. Our room is situated in central Switzerland, between Zug and Lucerne, on a small farm in the beautiful countryside of Meierskappel. Easy to reach by bus (ca. 7 mins walking distance) or car. Suitable for Singles, adventurers, Businesstravelers
In your room you will find a single bed, a desk, a wardrobe (incl. clothes hangers), a kettle. We change your bedclothes and towels during your stay upon request. In your wet room you will find a fridge, a shower/toilet , towels, toilet paper and hairdryer at your disposal during your stay. Terrace with gardentable and chair. Private parking space in front of the house.
Very kind and nice family, and very comfortable room. I would love to be back again and can only recommend it
Luc
2017-03-31T00:00:00Z
Tipe Kamar
Kamar pribadi
---
Tipe Properti
Rumah
---
Mengakomodasi
1
---
Kamar tidur
Meierskappel, Luzern, Swiss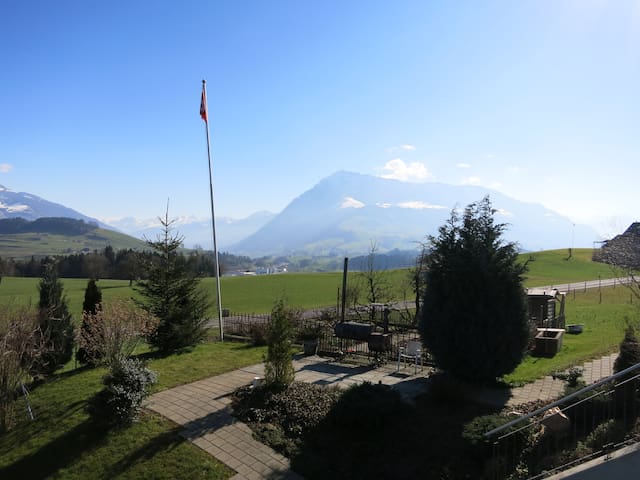 On groundfloor is your room and next door your own bathroom. Myself and my small dog are living in same house. In the kitchen there is a separatly cupboard for guests with dishes, Tee, Sugar, Marmelade etc for making small breakfast yourself. Supermarket closed. One (Coop) directly by our Busstop. Bus Nr. 12 going from trainstation to my place. Get out by busstop names "Michaelshof". Near by, we have nice places in forest for walking. At home you can use the tabletennis if you feel.
We are near by forest, and still in 10 min by bus, directly in the City. Walkdistance to the start City Luzern, 20 min. The busstop very close to my ome, 1 min. Supermarket directly by busstop . Other supermarkets 5 min away. It is quiet for sleeping.
In only 5 minutes you are at nices places in forest with small littlelakes. You can walk direkty to the Hotel Gütsch (30 min) and have a Sightseeing over Luzern. We also have near by a open swimmareal in middle of the forest. Supermarket is directly by the busstop. Other Supermarkets, Bank or Postoffices near by (5min).
Tipe Kamar
Kamar pribadi
---
Tipe Properti
Rumah
---
Mengakomodasi
2
---
Kamar tidur
Luzern, Luzern, Swiss
The top floor of my house, comprising 2 bedrooms with twin beds + an additional queen size bed, suitable for max 4 adults and 2 children up to 12y. the floor is featuring 1 private bathroom with jacuzzi. Kitchen, living, etc. are shared amenities. Please check my other listings for smaller or bigger parties.
Ze House is situated in a quiet, residential area in the Lucerne suburb of Adligenwil, a 10 minutes' car- or a 14 minutes' bus ride from the city center. Since on a slightly elevated sited, Ze House is suitable for guests traveling by car, coach or taxi. People traveling by public transportation will find more convenient accommodation at one of my other listings next to the bus stop in the center of the village.
Guests will appreciate the location of Ze House for its peace and tranquility, being set in a natural, green environment with great views of Mt. Pilatus and Mt. Rigi, yet having the city center nearby. Lots of amenities, such as a big supermarket, several restaurants, children's playgrounds, public transportation etc. are found within minutes walking only.
We had one of the most amazing experiences in Lucerne thanks mostly in part to Ralph! We wanted to go snow shoeing in the Alps and asked Ralph if he had an recommendations for trails. Not only did he help us out, he got us in contact with a local who was our personal guide on a snowshoe trail. One of the best experiences of our lives! The house was great and very clean and Ralph was a great host! Thanks again, Ralph!!
Ben
2016-01-24T00:00:00Z
Hallo, wir (Familie mit 3 Kindern von 6 bis 12 Jahren) haben 6 Nächte bei Ralph Wohnung in Adligenswil genossen. Uns gehörte der Dachstock mit 2 Doppelbetten und eigenem Sprudel-Bad/WC und für die Kinder einiges Spielzeug. Also fast unsere eigene Site. Die Aussicht von der grossen Terasse auf den Pilatus und die Alpen war wunderschön. Besonders die ruhige Umgebung aussehalb aber nahe Luzern war super. Auch der Coop Supermarkt im Dorf (5-7min. zu Fuss) war für uns als Familie einfach praktisch. Ralph war ein super Host, das Haus und die Zimmer waren sauber. Wir hatten auch viele interessante Gespräche und es war unterhaltsam. Ralph transportierte unser Reisegepäck von und zur Bushaltestelle - Danke! Trotz voll besetztem Haus konnten wir die Küche, Tische aber auch Geschirr jeweils dann benutzen wann es für uns passte ohne den andern Gästen gross ausweichen zu müssen. Trotzdem, denke ich ist es wichtig offen zu sein für Menschen anderer Kulturen, denn man begegnet sich im offenen Haus immer wieder. So konnten wir netten Familien aus Indien und Korea kennen lernen. Auch durfte ich scharfes indisches Reis-Frühstück probieren. Und vom für uns Schweizer eher ungewohnte asiatische-Duftnote blieb gelegentlich etrwas in der Küchenluft liegen. Für uns war es das erste Gasthaus dieser Art und wir sind positiv Überrascht. Wir wünschen Dir Ralph weiterhin viel Freude und nette Gäste zu denen wir auch gerne wieder einmal zählen würden.(URL HIDDEN)aus Helsinki
Ueli
2014-07-05T00:00:00Z
Ralph, danke für die angenehme Zeit in deinem Haus. Jederzeit gerne wieder. Best to you, Thomas
Thomas
2015-07-12T00:00:00Z
Ralph was there to welcome us. He helped us with free parking and other attractions around Lucerne. My younger one love the dog, Jiwa. He was very happy with her. I would definitely recommend this place, if someone is visiting Lucerne.
Rajan
2016-08-25T00:00:00Z
We had a really good time at Ralph's place. He was so considerate to come and pick us and drop us at the bus stand which is 10 min walk from the apartment. will highly recommend the place to all my friends.
Vishakha
2016-08-22T00:00:00Z
Great experience. Ralph was very friendly and helpful with everything we needed. Kids friendly. Great location and view. Would definitely go back.
Jenny
2015-12-20T00:00:00Z
We had a great time in Ze Top Rooms of Ze House. We are a family of 4 with 2 kids 5 and 7 years old. It is SO nice to be able to relax and have them play on their own, have enough space and enjoy the vacation, makes US the parents much more relaxed as well. Ralphs house is great- plenty of room inside and out. Ralph is a great host- we asked him for a dinner recommendation which he quickly gave but then he ended up cooking us a meal that I am sure was MUCH better then what we would have found on our own, and at a much better price. Definitely a great place to spend some time.
Anja
2014-05-02T00:00:00Z
Ralph was very detailed in his explanations of his place and all the use of the different facilities. He's very well Organised and everything was wonderful! He even went the extra mile to show some Swiss love with an authentic fire in his fireplace. Jiwa was also a sweetheart to have around :)
jessie
2015-12-12T00:00:00Z
Tipe Kamar
Kamar pribadi
---
Tipe Properti
Rumah
---
Mengakomodasi
6
---
Kamar tidur
Lucerne, Swiss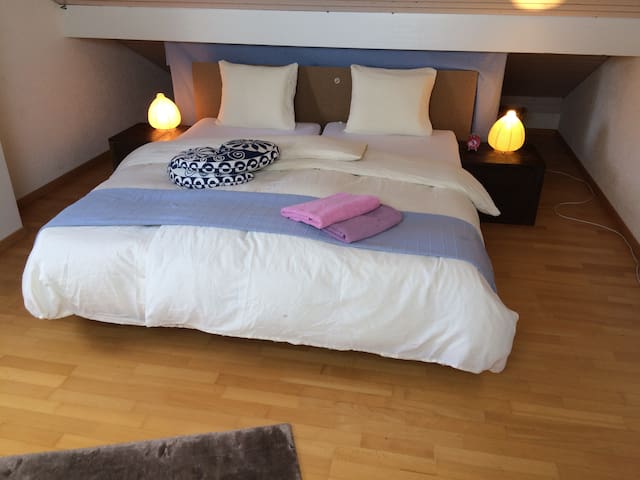 Modern, bright and comfortable guest rooms. Coffee bar and refrigerator. Nice terrace with great views.
New and modern double room (bed 160x200) with coffee bar and refrigerator. Bathroom with double vanity and large shower. Private garden terrace with great views of the mountains. Beware, the garden is not suitable for small children (pool, danger of falling). The room has a private access through the garden.
Our modern family home located in a quiet residential area with a slope and beautiful views and tanning.
Tipe Kamar
Seluruh rumah/apartemen
---
Tipe Properti
Rumah
---
Mengakomodasi
2
---
Kamar tidur
Adligenswil, Luzern, Swiss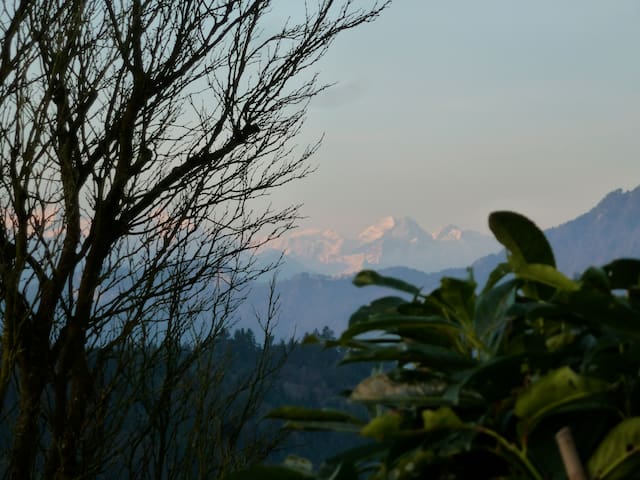 Die Unterkunft befindet sich oberhalb des Dorfes Vitznau an ruhiger und sonniger TRAUM-Lage. Sicht auf See und in die Berge! Von hier aus sind es ca. 5 Min. bis zum Dorfkern, wo sich die Geschäfte, Bushaltestelle, Rigibahn/Schiffsstation befinden.
Das Zimmer ist mit allem eingerichtet um sich wohl zu fühlen. Wasserkocher, Kaffeemaschine und Kühlschrank stehen bereit. Das Badezimmer samt Toilette befindet sich direkt neben dem Schlafzimmer und wird einzig von ihnen benutzt. Ein Willkommensgruss, ob in Form von Blumen, Süssem etc. ist selbstverständlich. Ein Ort der Ruhe, eine Oase der Meditation und der Erholung.
In 5Min. Gehdistanz zum Haus befindet sich die Bushaltestelle. Im Dorf, der Dorfladen der den Bedarf für ihr tägliches Nahrungsbedürfnis und vieles mehr abdeckt und weitere Einkaufsläden. Der Landesteg für die Kursschiffe , sowie der Bahnhof der Rigibahn sind leicht zu Fuss erreichbar. Restaurants und Hotels gibt es in diesem Feriendorf für jedes Budget . Teilweise unmittelbar am See gelegen und auf /am Berg .
Excellent accueil et très satisfait de notre séjour. C'était parfait. Merci encore à Judy et Pius.
Yves
2016-08-15T00:00:00Z
We have travelled through Airbnb extensively but stay at Vitznau with Pius and Judy was by far one of the best Airbnb experience. It's very well located for a trip to Rigi and Pilatus and also easily accessible from Lucerne. The house is extremely well kept and has a beautiful view of the lake. The house is also very close to both bus and boat station making access very easy. Judy is extremely helpful and kind and can give you good insights on planning your trip. All in all one of the best experiences and stay in CH and highly recommended.
Rohan
2016-09-27T00:00:00Z
We would highly recommend this place. First of all it was very clean. And we had, besides the main entrance to this bottom apartment an entrance to a sheltered patio where we could sit and eat, with a fantastic view of the Vierwäldstettersee and the sunsets on the lake. The bed was very comfortable. We had our own car and we were provided a sheltered parking place. Two mountain lifts and the Riggi bahn were a short walk away, as well as the lake. Judy and Pius provided us with all the info we needed to get oriented. We also received the Kanton Lucerne discount card.
Arthur
2016-08-04T00:00:00Z
Pius und Judy sind die wunderbarsten Gastgeber die man sich nur vorstellen kann. Gepaart mit der Rigi, dem Vierwaldstätter See und überhaupt mir der gesamten romantischen Örtlichkeit ein absoluter Traum. Ich komme sehr sehr gern wieder :-)))
Anne
2016-09-22T00:00:00Z
Wonderful place to stay with a waterfall in the background and view of the lake from the patio. Very friendly, helpful and lovely host. I would stay again.
AUBREY
2016-05-20T00:00:00Z
Nous avons passé 4 jours magnifique à Vitznau. Le temps était avec nous, l'appartement était comme décrit, propre et avec une superbe terrasse où nous avons pu manger chaque soir avec le couché du soleil. Le quartier ainsi que la maison sont très calme. Les restaurants à proximité sont abordables et on y mange bien. Judy et Pius ont été formidable. Ils sont très accueillant, ils nous ont expliqué tout se qu'il y avait à faire dans la région. Nous n'avons manqué de rien. Si la région du lac des 4 cantons vous attire, faite un tour chez Judy et Pius ! A refaire !
Delphine
2016-05-10T00:00:00Z
Unsere Tochter hat uns besucht und wir konnten die wunderbare Unterkunft von Judith und Pius für Sie reservieren. Die Gastgeber waren sehr zuvorkommend. Die Unterkunft ist sehr sauber und wie beschrieben. Ideal um sich vom Besuchsalltag zurückzuziehen. Danke!
Luis
2016-07-04T00:00:00Z
Judy and Pius greeted us on the road and guided us to their private parking. Judy introduced us to the many amenities they provided--information binder of activities in the area, a basket of fruit and chocolate, and all the logistics. They offered excellent recommendations within walking distance. The room was comfortable, had an attached bathroom, and lovely patio outside the double doors with a view of the lake. We would come here again and recommend to our best friends!
Suzanne
2016-05-29T00:00:00Z
Tipe Kamar
Kamar pribadi
---
Tipe Properti
Rumah
---
Mengakomodasi
2
---
Kamar tidur
Vitznau, Luzern, Swiss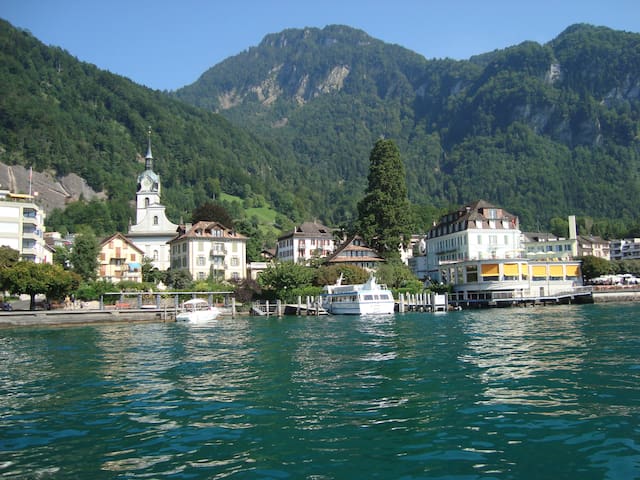 Ich bin mehr als nur ein 1 ***** b & b: speziell für unabhängige, offen und leicht geht Reisenden
Nur für jemanden, der versucht, ein Abenteuer und wirklich liebt die Natur und Tiere. Wenn Sie irgendeinen Geruch nicht mögen (Katzen, Hunde, Schweine / Pferd) - zum nächsten Angebote überspringen. Dies ist ein Bauernhof, kein Hotel. Ich säubere. Aber Reinigung ist nicht mein Hobby. Was Sie erwarten können .... 73 Jahre altes Bauernhaus vollständig aus Holz gefertigt Schweigen Frieden positive Energie Austausch von Gedanken und Überzeugungen umgeben von Feldern in der Nähe von See mit öffentlichen swiming Bereichen in der Nähe von Wald mit vielen Wander Trecks atemberaubende Aussichten Was sollten Sie akzeptieren .... nie wieder kein Luxus kein Komfort einfache Infrastruktur teilen Küche / Bad Was können Sie genießen .... großer wilder Garten mit matts hang viele schöne Wanderwege rund um Touren mit Fahrrädern Das Haus ist am Leben ..... 'Gespräche' 'Riecht' 'Atem' Was vielleicht geschieht .... eine Eule in der Nacht anrufen ein Fuchs und milan Aufruf von die Storchs sagen hallo Vögel singen Sie einen frühen Morgenlied Was sollten Sie lieben ..... Tiere - sie leben mit uns, nicht in einen Käfig oder außerhalb Was sollten Sie nichts dagegen .... Spinnen, Bienen, Mücken - denn das Haus ist nicht in einer artificiel Umwelt, sondern auf einem Bauernhof
Berge See Wald Felder
Das Ort Meggen ist unglaublich schön....von Susannas Haus ist eine wunderschöne Panorama....Susanna ist sehr offen und freundlich und hilfsbereit ...
Cristina Maria
2016-08-12T00:00:00Z
房子位置挺好的 外面景色很美 但是房东养了很多猫 味道很重 而且蚊子很多
Jone
2016-08-17T00:00:00Z
Susanna 告诉我们公交线路,并到车站迎接我们,很方便。我们到房子周边转了转,风景美极了,离瑞吉峰比较近。晚上带我们到琉森湖去游泳,非常棒的体验。
林
2016-07-31T00:00:00Z
The house is definitely located in a paradise, with all the spectacular views of the lake, the mountains and the forests. Nevertheless, it takes less than half an hour to get to the city center by a direct bus. And the house it self, made of wood and dwelled in by the warm family of cats, is just like what is told in fairy tales. The landlady is kind, friendly and humorous. We enjoyed our trip very well, and we really wished we could stay for more days in this place.
Haining
2016-08-22T00:00:00Z
Susanna is a very loving and caring person. We were met with great hospitality although we arrived late, and she made us feel welcome right away. What the place lacks in luxury it makes up double in charm. Susanna showed us a great hiking trail and gave us helpful advice on where to travel. She even took us bathing in the lake! We would definitely stay here at a later time should our paths cross!
Sondre
2016-08-19T00:00:00Z
cheap accommodation for simple people, a shame for swiss standards. host seems ok, simple too.
Eveline & Markus
2016-08-26T00:00:00Z
房东非常热情!如果你对住宿、厨房、洗漱环境的卫生条件要求不高,可以选择!如果你对猫腥味不是那么不可忍受,可以选择!如果你想体验瑞士的贫民生活,可以选择!
RUILIANG
2016-08-27T00:00:00Z
The host canceled this reservation 190 days before arrival. This is an automated posting.
维理
2016-12-03T00:00:00Z
Tipe Kamar
Kamar pribadi
---
Tipe Properti
Rumah
---
Mengakomodasi
2
---
Kamar tidur
Meggen, Luzern, Swiss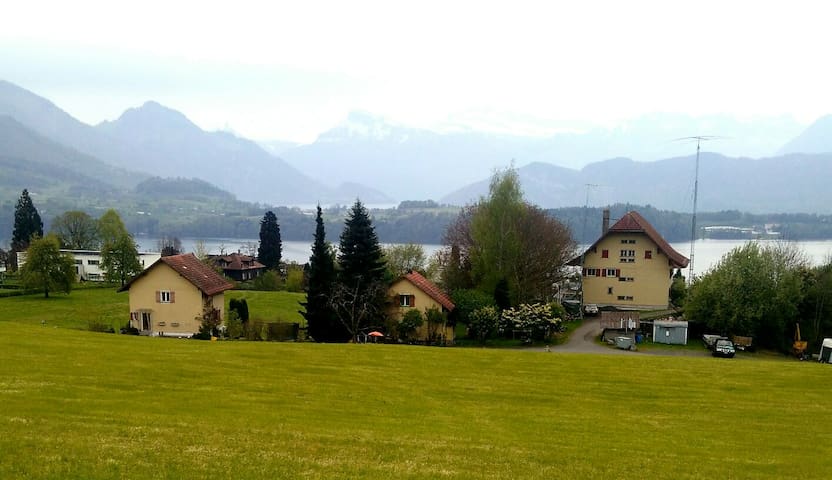 This beautiful and stylishly furnished villa in Lucerne city is a wonderful choice for families and groups alike. Spread out over two levels, everyone in your party will have plenty of space to relax.
There's a fully equipped kitchen, washer-dryer, free wireless Internet access etc. On the ground floor of Villa Celeste you will find a big entrance hall, a bathroom, the spacious kitchen and a capacious living room that invites you to relax, watch TV or dine. A queen size bedroom is also located on the ground floor. The first floor has three bedrooms (a queen-size bedroom, a queen-size bedroom with a single bed and the third bedroom with to single beds). Also on this floor there are two bathrooms with shower.
Villa Celeste is located in a uptown area of Lucerne city. Just footsteps away from the lakeside and all the touristic sights in Lucerne. You can reach the house arriving at the main train station of Lucerne either by taking a taxi (5-10 minutes) or by public transport (bus number 6, 8, to "Würzenbach/Verkehrshaus" in 8 minutes.
We stayed at Villa Celeste in Lucerne this March for four days and I can say without a doubt that it was our best holiday experience thus far!!! We were a group of 10 and were warmly greeted at the train station by Mr.Giuseppe and he kindly transported us in batches to the villa. The villa was just perfect! The location, the garden and impeccable interiors all added to what translated as One swell vacation!!! The lake is just 5 mins walk and bus stations in close proximity as well which makes it very accessible. We thank Mr. Guiseppe for this very memorable holiday for us and our family. Hopefully we will be back :)
priya
2014-03-30T00:00:00Z
Thank you Giuseppe! House was perfect - tons of space to live and sleep in for 9 people and our dog (shih-tzu). Great condition, perfect location. We highly recommend! the Froese Family
Angela
2014-04-25T00:00:00Z
Giuseppe was awesome, we were a little late getting to the villa and he waited for us. He was very helpful and knowledgeble about the area. The house is very well equipped with everything that you would need. House is very clean and very well maintained.
Sachin
2014-07-24T00:00:00Z
This is indeed a very nice place! Everything was perfectly clean and there was a welcoming bottle of champagne on our arrival. Thank you Giuseppe, we defenitely recommend to stay in this house while visiting Lucern.
Andrey
2015-01-05T00:00:00Z
We enjoyed our stay very much. The house is very spacious and well equipped. However we could not help but be influenced by the regular trains that passes right by the property and feel that mention should have been made in the description of the property. Also we feel sorry for Giuseppe but the noise from the adjacent building site during normal working hours was very intrusive and again no mention of this was made. Probably this was to an extent reflected in the price which seemed to us to be good value.
Peter
2016-09-13T00:00:00Z
很好很干净,超值,就在市区中心!真想多住几天
christy
2015-06-26T00:00:00Z
Very clear instruction and quick/good communication. Location is very good. Just 5 minutes walk to the lake. 1.4km from the city center. Very nice, large and specious place. Well-decorated and clean. Backyard garden was wonderful. Thank you Giuseppe for our good experience in Luzerne.
Punyawee
2016-09-27T00:00:00Z
The stay was amazing, Giuseppe was very helpful and even helped us bring our luggage from the station. He helped us thoroughly with planning our day trips and getting around the city. The house itself was very beautiful and comfortable and everything was extremely convenient. It is extremely easily accessible by public transport and even close by to the Main Street in Lucerne. It was perfect.
Ameya
2016-10-25T00:00:00Z
Tipe Kamar
Seluruh rumah/apartemen
---
Tipe Properti
Rumah
---
Mengakomodasi
8
---
Kamar tidur
Lucerne, Lucerne, Swiss
Gelegen in het prachtige schilderachtige stadje Cham, Zwitserland, onze plaats is goed voor koppels, zakenmensen (op zoek naar hun zakelijke reizen voor het plezier te verlengen) en solo avonturiers. De kamers zijn dicht bij het centrale busstation en trein platforms, stadscentrum, supermarkt en Villette Park (zie bijgevoegde foto's). * Geef aan of u een parkeerplaats nodig hebben bij het boeken! ** Zorg ervoor dat u lezen van de "Guest Access" en rubriek "Voorzieningen" om te zien wat is inbegrepen bij de kamers.
Sauber, komfortabel und praktisch
Werfen Sie einen Blick auf den beigefügten Fotos des Villette Park in Cham. Cham ist auch günstig in der Nähe der halben Weg zwischen Zürich und Luzern entfernt. Unser Platz ist nur 100 Meter von einem Lebensmittelgeschäft befindet sich das offen ist 7 Tage die Woche (dies ist sehr schwer in der Schweiz zu finden, da die meisten Geschäfte an Sonntagen geschlossen sind). Wir sind auch nur 100 Meter vom La Campana entfernt, die eine ausgezeichnete Küche hat (wir empfehlen die Pizza hoch). Im Sommer gibt es zwei Strände innerhalb von 1 km.
I was well received by Jon and he was very helpful to clarify all my doubts. The apartment is very well located and offers all the comfort you need for a great stay.
Domum
2017-01-12T00:00:00Z
All conveniences and surprising proximity of the station
Monique
2017-02-22T00:00:00Z
The B&B is located in the train station building, so the position is very central. The room is spacious and clean. Very good price. Jon is very friendly and helpful. I was lucky not to have to share the bathroom as the other room hadn't been booked.
Sarah
2017-03-05T00:00:00Z
This is a perfect place , well connected with Zurich Airport by public transport. Jon was very kind and flexible with a late check-in. We can highly reccomend his place to any future Airbnb host and we will definitely choose Jon's place when we will travelling in the same area the next time. Thank you Jon!
EWA & NICOLA
2017-02-24T00:00:00Z
Tipe Kamar
Kamar pribadi
---
Tipe Properti
Rumah
---
Mengakomodasi
2
---
Kamar tidur
Cham, Zug, Swiss
Wir vermieten eines oder beide Doppelzimmer mit Seesicht und stilvoller Einrichtung. We live in a beautiful house only a few steps away from the Lake (of Lucerne) and offer one or two double rooms with lakeview and classy interior for rent.
Our detached house is too big for the two of us. Therefore, we rent two beautifully appointed guest rooms with access to our living rooms. The bathroom we share. Our semidetached house is too big for the two of us. THEREFORE we rent two lovingly furnished guest rooms. The guests have access to our kitchen and our living room. The bathroom is shared so.
Beckenried is centrally located and a great starting point for activities in nature: Skiing, sledding and snowshoeing in the winter, or swimming, boat trips and hiking in summer. In the vicinity there are numerous attractions: The lake, our local mountain Klewenalp, sightseeing in the city of Lucerne, the mountains Stanserhorn, Rigi or Pilatus and many more. Beckenried is centrally located and a great starting point for outdoor activities: Skiing, sleight riding and snowshoe hiking in winter or swimming, boat riding and hiking in summer. There are many attractions close by: the Lake of lucerne, Mt. Klewenalp (our backyard mountain), sightseeing in the city of Lucerne, Mt. Stanserhorn, Mount Rigi or Mt Pilatus and many more.
House is very clean. Also It was a good experience.
eun bi
2016-07-19T00:00:00Z
Very nice and friendly and clean. pretty setting . Even had a continental breakfast out for us
Lisa
2016-09-22T00:00:00Z
A wonderful house in the middle of a peaceful and relaxing landscape, the lake and beautiful swiss mountains Just in front of the Window. Thank Manuela for Her great hospitality, She made us feel At home since we Arrived!
laura
2016-12-11T00:00:00Z
Great place!
Zoeb
2016-10-23T00:00:00Z
Very nice and beautiful house nearby the Beautiful lake. We are warmly welcomed and feel like home during our stay! It was raining last day, but host is so kind to bring us umbrella. Everything is so good for a holiday here!
彭
2016-10-03T00:00:00Z
Nice accommodation right opposite the lake. The house was neat and clean. I got delayed due to closed motorways and finally reached the place by 10pm but Manuela had no issues and greeted us in person. She even took time to show us house and hand out the details regarding the attractions near by eat out options. Good experience overall.
Mahendran
2016-05-22T00:00:00Z
Notre séjour 1 nuit s'est très bien passée. La maison se trouve toute proche du lac,le cadre est magnifique. L'emplacement a été idéal pour nous qui souhaitions une étape entre la Belgique et notre destination vacances en Toscane. La maison à tout ce qu'il faut concernant le confort, chambres très confortable et bien décorée. Merci à Patrick & Manuela.
Damien
2016-08-18T00:00:00Z
Manuela's house is beautiful! The view is stunning and the actual house is well kept, clean, and a pleasure to live in. The location is perfect since it is away from the city and gives you the change to enjoy Lake Lucerne in a peaceful manner away from other tourists and crowds. The house has every amenity that you could possibly need and the hosts are welcoming and accommodating. If anything, the pictures do not do justice to how lovely the house and location actually is. I would highly recommend living here and would love to go back some day!
Vidushi
2016-07-03T00:00:00Z
Tipe Kamar
Kamar pribadi
---
Tipe Properti
Rumah
---
Mengakomodasi
2
---
Kamar tidur
Beckenried, Nidwalden, Swiss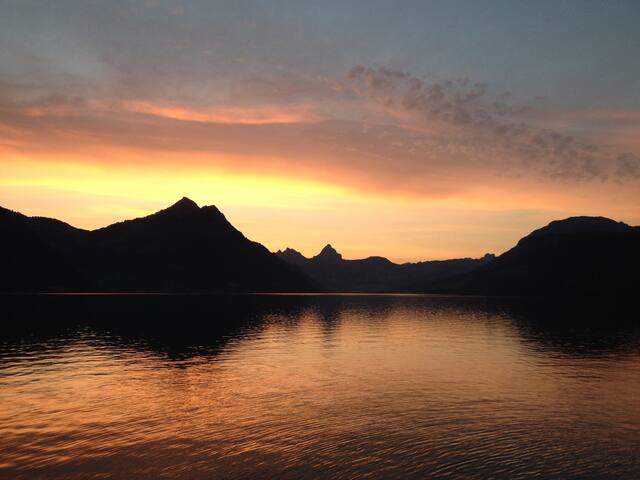 Non-Smoking room, modern, lovely furnished, TV, fridge, WiFi, telephone and sink with mirror in the room In the centre, a few steps away from the Lion Monument and Bourbaki Panorama, old town and railway station reachable in short walking-distance, public transport in zone 1 is free
The location is good!
殷
2017-03-29T00:00:00Z
Zentral gelegen, sehr netter Kontakt!
Nicole
2017-04-02T00:00:00Z
This place is in a great location!
Andrew
2017-04-04T00:00:00Z
Tipe Kamar
Kamar pribadi
---
Tipe Properti
Rumah
---
Mengakomodasi
1
---
Kamar tidur
Lucerne, Lucerne, Swiss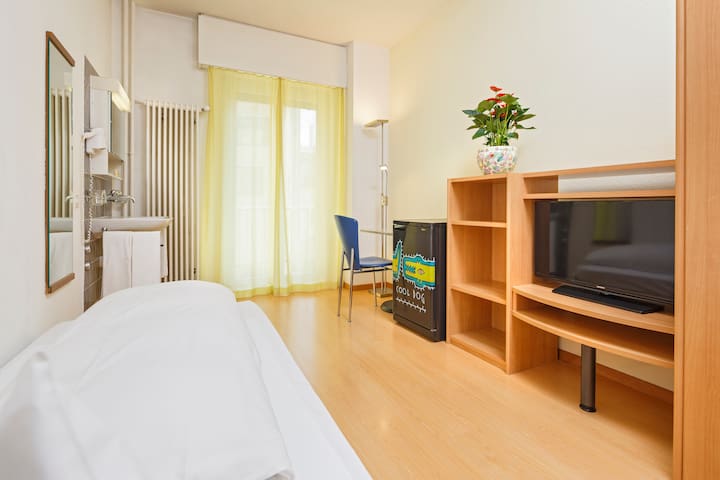 Our room has a queen size bed and a bunk bed,a cot and a ensuite bathroom with shower. In the same room you have a kitchenette for your use. The Patio with table and chairs is for your own use. You will love the view.
Gersau is 45 minutes from Lucerne by train and bus and by car 35 minutes. Our house is on the south side of the Rigi on lake Lucerne. The view of various mountains and the lake are very beautiful. In summer you can swim in the lake and hike in the mountains.You can borrow our tandem of your responsibility. In winter you can ski near our village. Near our village is a spa with an indoor sportcenter ( S(URL HIDDEN) ) In the village are restaurants where you eat very good and various foods.
Die Aussicht von unserm Haus aus ist wirklich sehr schön. Die Nähe zur Natur macht deine Zeit bei uns zur vollen Erholung.
This is a stunning place hosted by the two most lovely and accomodating people we have met on our trip around Europe. The room was huge and beautifully set out with stunning views of the lake and surrounding countryside. Pia hosted us for dinner one evening making us wonderful local specialty dishes and Willy (her husband) delighted us with some locally produced schnapps. I seriously considered cancelling the rest of the trip and just staying here. Do not hesitate it is a delight you will not regret.
Robyn
2012-09-22T00:00:00Z
Most amazing view, up high over the lake.
John
2015-06-07T00:00:00Z
We really enjoyed our stay in Pia and Willis' home! The space was perfect for four adults. The views are absolutely unbelievable! When we arrived Pia and her husband were waiting outside for us and helped us with our luggage. She immediately offered for us to our laundry since she knew two of the adults had been traveling throughout Europe for a month. She also had the fridge stocked with eggs, bacon, yogurt, juice and an amazing jam. Our only downside was not knowing that the main road from Lucerne to Gersau is partly closed and we also had an issue with mosquitos even though we kept the windows closed. Even with few negatives I would highly recommend this place! Pia is the sweetest person you could meet and she always checked in on us when we got back. Two thumbs up!
Bre
2016-09-28T00:00:00Z
We really enjoyed the lovely alpine scenery and crisp air. Pia was a very kind host and we much appreciated her hospitality.
Peter and Elizabeth
2014-05-16T00:00:00Z
This was really a great experience: a warm friendly host, an exceptional welcome (some Swiss chocolates and some goodies in the fridge for us), a splendid view and a great location Swiss mountain farms. Mount Rigi is simply small but great and can take all the effort you have in one day.
Gabriel
2014-08-31T00:00:00Z
We loved the view from our room. We got to see the rainbow, do some star-gazing, feed Pia's chicken all from the comfort of our room's doorstep. Pia is a lovely host who would offer a helping hand when we had some unsure moments.
Zara
2015-06-14T00:00:00Z
장점은 전망이쩔어요 ㅋㅋㅋ깨끗하고 쾌적하고 집주인할머니가 진짜 친절하세요 ㅋㅋ짱 !!단점은버스내려서 30분정도 오르막을 올라가는게함정 ㅋㅋㅋ
Sura
2016-05-22T00:00:00Z
Pia's place was in a georgous location and she and her husband made us feel very welcome at their home. They cooked the traditional Raclette for us, and shared lovely stories over a glass or two of wine. Our 4 month old son Elliott was also accomodated for, with a cot having been put into our room. The room has a lovely view over the lake and the neighbouring mountains, and has an en suite bathroom. We felt very much at home and highly recommend anyone wanting to stay here.
Angelika
2012-12-11T00:00:00Z
Tipe Kamar
Kamar pribadi
---
Tipe Properti
Rumah
---
Mengakomodasi
4
---
Kamar tidur
Gersau, Canton of Schwyz, Swiss
Grosszügies, sauberes und gemütliches Gästezimmer mit bequemen King Size Doppelbett, grosses Fenster mit Gartenblick. Esszimmer zur Mitbenutzung für einfaches Self Service Frühstück. (Cornflakes, Milch, Kaffee oder Tee von 8-10 Uhr). Parkplatz vorhanden. ÖV-Station zwei Gehminuten, 10 Minuten Busfahrt bis Luzern Hauptbahnhof. Garten mit herrlichem Blick auf Alpenkette. WLAN vorhanden, sowie diverse Bücher und Magazine. Bettwäsche und Duschtücher stellen wir gerne zur Verfügung.
Tipe Kamar
Kamar pribadi
---
Tipe Properti
Rumah
---
Mengakomodasi
2
---
Kamar tidur
Luzern, Luzern, Swiss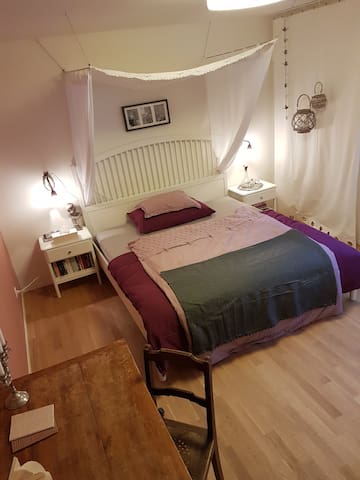 ..ideal auch für Familien mit Kinder. Wir vermieten in der Zeit zwischen dem 7. Juni - 27. Juli 2017 und in der Zeit zwischen 13.Dezemb(PHONE NUMBER HIDDEN).Januar 2018 unser Haus. Das ganze Haus ist Rauchfrei. Das Haus ist Rollstuhlgängig mit aussen und innen Lift, plus Dusche/Wc Rollstulgängig. !! keine Partys erlaubt!! Ruhezeiten im Quartier einhalten
Wir vermieten in der Zeit zwischen dem 7. Juni - 27. Juli 2017 unser Haus. und in der Zeit zwischen 13.Dezemb(PHONE NUMBER HIDDEN).Januar 2018. Unser Haus hat 3 Stockwerke, unten befindet sich der Keller, mit einer Waschküche (Waschmaschine, Trockner, Wäscheleine) die mit der separaten Untermieterwohnung geteilt wird. Vom Parkplatz zum Eingang befindet sich ein aussen Treppenlift. Im Eingang / Erdgeschoss befindet sich die Küche, Bad mit Dusche/WC (Rollstuhlgängig), Floor, Wohnzimmer, Esszimmer, Arbeitszimmer und Ausgang zur Terrasse. Im 1. Stock befinden sich 2 Schlafzimmer und ein Badezimmer mit Badewanne, WC und Lavabo. Bei der Treppe in den 1. Stock befindet sich ein Treppenlift. Während der dieser Zeit sind wir abwesend, die Schlüsselübergabe erfolgt durch unsere Mutter. Da 4 Katzen im Haushalt leben, die auch nach draussen gehen, ist es für uns wichtig, dass die Katzen 2 mal täglich gefüttert werden. Katzenfreunde willkommen! Das ganze Haus ist Rauchfrei. Wir sind ein junges Paar, eine Person im Rollstuhl, eine nicht. Wir sind in dieser Zeit auf Reisen, unsere Mutter ist für die Schlüsselübergabe zuständig und die Ansprechperson in dieser Zeit.
Stadtnah zu Luzern, 8 km.
Tipe Kamar
Seluruh rumah/apartemen
---
Tipe Properti
Rumah
---
Mengakomodasi
4
---
Kamar tidur
Ebikon, Luzern, Swiss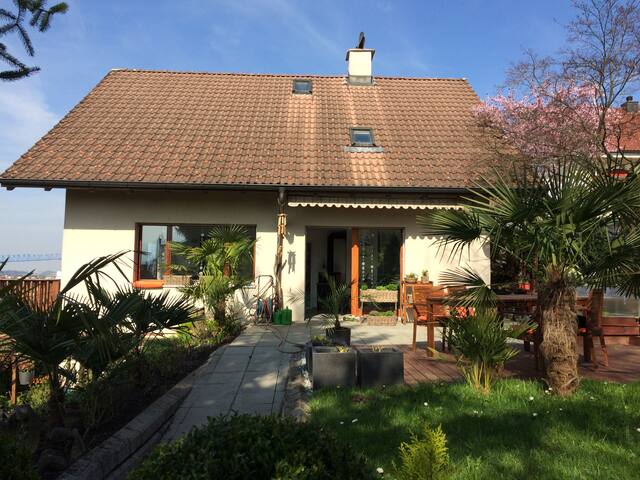 Meine Unterkunft ist in der Nähe von tolle Aussicht und Parks. Meine Unterkunft ist gut für paare, alleinreisende abenteurer und geschäftsreisende.
Lorenz and his family are very helpful and friendly. We had very good conversations. This is the perfect accommodation. Thanks Lorenz for having me there. Anytime again. Best Regards Sächu
Sacha
2017-04-07T00:00:00Z
I have used airbnb for a few trips now, and I can fairly say this is my favorite place I have ever stayed. First of all, the home is beautiful, really interesting architecturally, the view is astonishing, and the room itself is so cool, very cosy and neat, and unlike anything I've seen. But the real pleasure of this home was the people. Each member of the family was so incredibly generous with their time- and food! They spent so much time talking with me, and I absolutely loved the chance to get to know them. It was such a pleasure. I felt incredibly lucky to stay here, and I would recommend this place more highly than I'd recommend any other!
Rachel
2017-02-24T00:00:00Z
Lorenz and his family were amazing hosts and staying at their place in Lucerne was a very pleasant experience. The description is spot on, cosy and comfortable bedroom with everything you need and an incredible view on the surrounding mountains. Lorenz's place is very close to the lake, in a quiet location a little further from the busy city centre, but with bus stops, train and ship stations, shops and the Swiss Museum of Transport nearby. The communication was perfect as well as the warm welcome and all the tips on what to see and do in Lucerne and the area. Lorenz and his family made me feel very welcome and really like at home. Thanks to them the trip to Lucerne was a lovely experience. I would definitely recommend staying at their place as well as hosting Lorenz on his travels.
Eva
2016-11-27T00:00:00Z
Tipe Kamar
Kamar pribadi
---
Tipe Properti
Rumah
---
Mengakomodasi
2
---
Kamar tidur
Luzern, LU, Swiss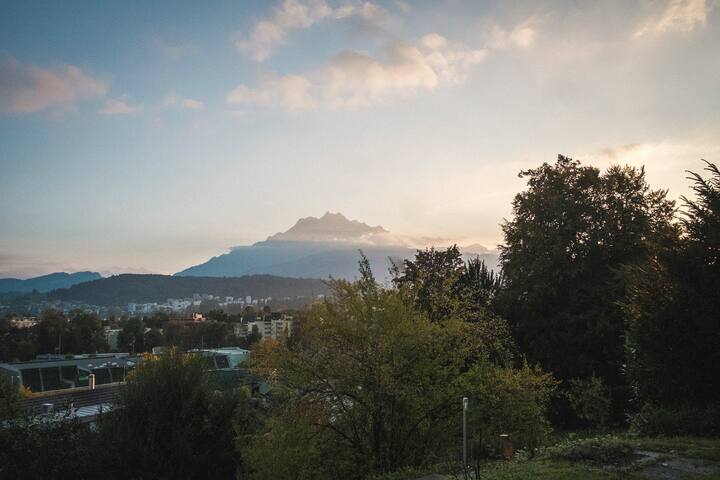 Onze accommodatie is een geweldig uitzicht op de bergen, een zeer leuke familie-vriendelijke tuin en een openbaar vervoer verbinding naar het centraal station van Luzern. U zult genieten van mijn eigendom, omdat de zon je morgends ontwaakt in de slaapkamer en afscheid barbecue in de tuin van uw avond. De hoge plafonds, de open haard, de directe toegang tot de tuin bieden een gezellige comfort. Onze accommodatie is goed voor gezinnen (Sandbox & speelgoed beschikbaar), paren en solo avonturiers geschikt.
In onze tuin kunt u genieten van veel privacy. U kunt kiezen uit drie verschillende terrassen om te zitten en te genieten van de zon de hele dag lang. In onze tuin kunt u verse groenten en fruit te plukken! Voor pianisten is er een piano in de woonkamer en een grote televisie voor de avond programma!
De opvallende afstand naar Luzern, een goed openbaar vervoer en een prachtig uitzicht op de bergen kenmerkt ons huis. Op dezelfde tijd die het kost je een paar minuten naar het bos en een speeltuin voor de kinderen leuke arriveren. Een populaire wandeling van Luzern naar kruis Kussnacht voor ons huis. En er is een klein zwembad in Meggen.
It is a great location, house is very nice with the open garden, house has all the amenities, rooms are very huge, going to Luceren is not a problem from there, bus runs every 20 min, perfect place for staying in central Switzerland.
Hemang
2016-09-26T00:00:00Z
시내에서 좀 떨어져 있는 조용하고 멋진 동네였어요.
Sera
2016-08-28T00:00:00Z
Thanks Marc for hosting us. Really a beautiful house and well equipped & does have every thing a family would need to stay for few weeks.
sandeep
2016-09-14T00:00:00Z
是个坐落在乡间的house,东西极其丰富,房主家有小baby,玩具很多,所以如果带孩子旅行这套房子非常合适。房东很好。我们开车去的,离琉森市中心十分钟车程,非常方便。
Han
2016-12-30T00:00:00Z
Staying at Marc's house is like a friend asking you to stay at his place. Don't expect any frills; just take it as it is. The house exudes a cottage like feel and is homely & comfortable. Whatever you need, you will probably be able to find, with a little effort. Marc is friendly and sincerely offers assistance and shares suggestions on how to make the most of your trip.
Richard
2016-09-19T00:00:00Z
Quartier calme . Tout parfait . Marc repond de suite aux attentes .
Edwige
2016-09-06T00:00:00Z
Tipe Kamar
Seluruh rumah/apartemen
---
Tipe Properti
Rumah
---
Mengakomodasi
4
---
Kamar tidur
Meggen, Luzern, Swiss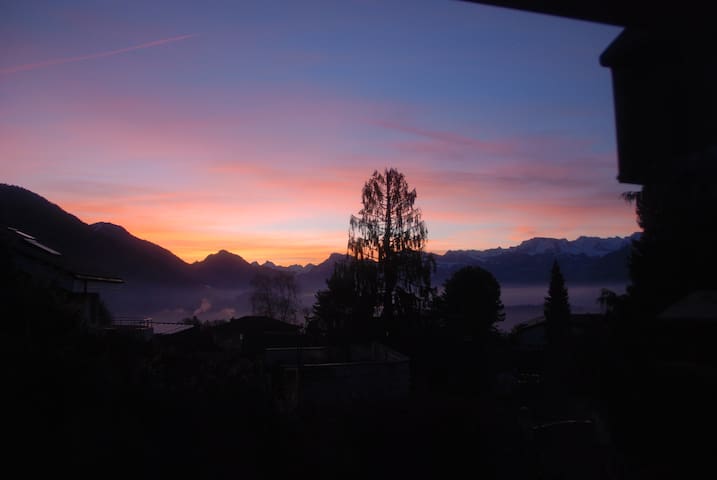 1

–

18

dari

100 Sewa Rumah
Masukkan tanggal untuk melihat harga lengkap. Biaya tambahan berlaku. Mungkin dikenakan pajak.