Mé místo je blízko k činnosti rodiny s dětmi, noční život, veřejné dopravy a letiště. Zamilujete si svoje místo, protože venku prostoru, pohodlné postele, kuchyně a okolí. Mé místo je vhodné pro páry, sólové dobrodruhy, a obchodní cestující.
Tipe Kamar
Seluruh rumah/apartemen
---
Tipe Properti
Apartemen
---
Mengakomodasi
2
---
Kamar tidur
Yavne, Distrik Tengah, Israel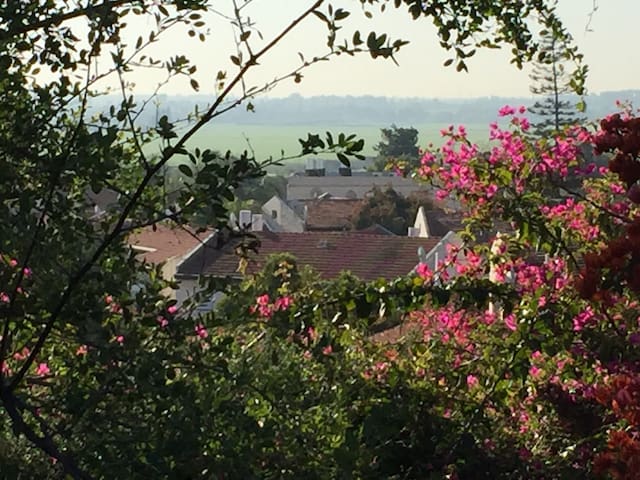 Geräumige, unabhängige Dachwohnung mit Balkon. Großartige Aussichten. großen Garten, in dem Gäste willkommen sind zum Bummeln und saisonale Bio-Produkte genießen. kostenlosen Parkplatz. Dörfliche Atmosphäre, noch in der Nähe Hallo-Tech-Zentren, Hebrew Universität und Weizman Institut. 25 min. zum Flughafen und Tel Aviv, 50 min. nach Jerusalem. Besitzer ist ein lizenzierter Fremdenführer, steht Ihnen gerne zur Verfügung.
Diese 130 sq. M. Wohnung verfügt über 3 Schlafzimmer. Eine voll ausgestattete Küche. ein separates Bad und WC. Ein Wohnzimmer mit TV. Wifi zugänglich ist. Ein Balkon mit einem großen Blick auf den Sonnenuntergang. Die Wohnung befindet sich oben auf mein Zuhause.
Die Nachbarschaft, einst ein jemenitischen Dorf, heute Teil von Ness Ziona, behält noch seinen ländlichen atmosphre. Es ist von Orangenbäumen und Tiefland Naturschutzgebiet mit seiner einzigartigen dunklen lila Iris umgeben. In nächster Nähe ist ein Aktivitätszentrum mit Eselreiten und Beduin Gastgeber- ideal für Familien. In der Nähe von einem Einkaufszentrum mit Supermarkt, Restaurant usw. Diese ruhige Atmosphäre ist einfach zu ändern, da es auf die Straßen nach Tel Aviv ganz in der Nähe ist, Rehovot, Rishon le Zion
Cozy country side housing, exactly as in the pictures. Nice surroundings and atmosphere. Lovely, helpful and friendly hosts.
Txx
2017-02-15T00:00:00Z
Great place!
Lika
2017-03-02T00:00:00Z
Tipe Kamar
Seluruh rumah/apartemen
---
Tipe Properti
Apartemen
---
Mengakomodasi
7
---
Kamar tidur
Ness Ziona, Distrik Tengah, Israel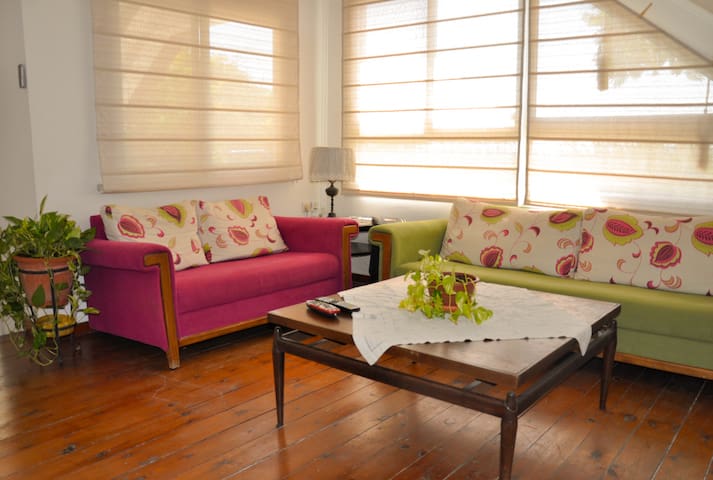 Mein Platz ist gut für Paare und Familien (mit (URL HIDDEN) verfügt über 1 Schlafzimmer und ein Wohnzimmer mit allen Einrichtungen, Ausrüstungs Küche. 1 duble Bett und bis zu 2 Kinder können im Wohnzimmer schlafen. 1,5 Bäder, 2 toalt. Es hat eine parcet Mehl.
Мы довольны!
Михаил
2016-11-11T00:00:00Z
Tipe Kamar
Seluruh rumah/apartemen
---
Tipe Properti
Apartemen
---
Mengakomodasi
2
---
Kamar tidur
Yavne, Distrik Tengah, Israel
Beit Hanan is a small and quiet moshav in the heart of Israel. Only 15 min from Tel-Aviv, 5 Min from Nes Ziona, Rishon Lezion, Rehovot, and only 10 min away from Palmachim beach. In the surrounding you can find the best restaurants, parks, shopping malls and other attractions. There is a grocery store in the entrance of the Moshav that is open daily from 7:00-19:00/ Beit-Hanan is famous of his big fields and walking pads trough the orchards. At night, there are a lot of places to go out to.
A beautiful quiet and relaxing place in our backyard in the heart of Israel ! Well maintained garden for those who want to be surrounded by green and hear only the singing of the birds. Private parking, Gas-station right at the entrance of the Moshav. 1 large room with 2 beds. Bed Linen and clean towels included. Cable TV, WiFi available. Kitchen with electric 2 pits stove, microwave, fridge, coffee machine. Bathroom equipped with amenities The studio is not suitable for families.
Why is Beit-Hanan the best place to choose for your visit in Israel ? Well, lets start with the fact that it is just so pretty around here. all those trees and paths make you forget that you are actually in the center of israel. The clean air, the smell of the blossom and the voices of the little birds makes a perfect combination for those who want to chill and relax. Only 15 minutes from Tel Aviv, 40 Minutes to Jerusalem, 50 minutes from Be'er Sheva, 1 1/2 hour from Mitzpe-Ramon, 1 hour from Zichron-Ya'akov, 1 hour to The Dead Sea and 2 hours to Haifa. And not to forget, only 20 minutes from Ben Gurion International Airport.
The house is nice and has everything you need. Thea was very friendly and we felt very welcome! She gave us good advice and was always available to help. We had a rental car so it was easy for us to get around. We enjoyed our stay very much with Thea, her family and her happy friendly dog Mika!
Anja
2017-01-07T00:00:00Z
Thea and Udi were fantastic hosts! The apartment was just as depicted online, and was thoughtfully furnished. Thea had thought of everything - from extra towels to matches, from straws to sunscreen, from fruit in the fridge to the wifi password. The apartment was ideally located and extremely comfortable; the pool outside was great! The atmosphere there is so relaxing, with mango and orange trees right outside the front door! We especially appreciated how accommodating Thea was. When the airline lost our luggage and we were without extra clothes, Thea was kind enough to lend us a few items to tide us over until our bags arrived. Thea and Udi went above and beyond, and made us feel so comfortable and welcome. Thank you for a truly enjoyable stay!
Yoni
2016-08-15T00:00:00Z
Absolutely lovely place, close to Palmahim beach (15 min), the swimming pool is just the icing in the cake. The hosts do mean it when they say: Make yourself at home. What you see is what you get, but what you don't see is even more important: wonderful kindness and hospitality. We'll sure look Thea up whenever we come to Tel-Aviv. Thank you from the bottom of our heart.
Katalin
2016-06-26T00:00:00Z
Great place as described, nice location, the host was very helpful during check-in and check-out. Recommended.
Doron
2016-07-19T00:00:00Z
As good as it gets. Quiet, private studio with magnificent private lap pool. If you rent a car you are close to many great day trips and quick access to Tel Aviv , Jerusalem and major highways to get to wherever you want to be. Thea and Udi are great hosts. Really respectful of your space but willing to help with any info you need. Including providing fresh ingredients for breakfast. Great place!
Marion
2016-07-16T00:00:00Z
I would say that you get what you see but truth be told you get far more than that. It really is a stunning property and Udi and Thea are simply wonderful. They are fun, welcoming and accommodating. They are there for when you need them for something but give lots of space and privacy. The apartment and pool are both very clean and surrounded by gorgeous fruit trees. The apartment was fully stocked with all the amenities needed, during our stay my wife said to me "wow...they really thought of everything". We really had really fantastic time with them. We would most definitely stay there again in the future.
Zolly & Penina
2016-09-02T00:00:00Z
Wonderful stay at the as place, very conveniently located just outside the the centre and perfectly connected (need your own car). Very clean, gorgeous pool and very helpful host, could not recommend it enough!
claudio
2016-11-20T00:00:00Z
All fantastic
Anthony
2016-10-31T00:00:00Z
Tipe Kamar
Seluruh rumah/apartemen
---
Tipe Properti
Apartemen
---
Mengakomodasi
2
---
Kamar tidur
Beit Hanan, Distrik Tengah, Israel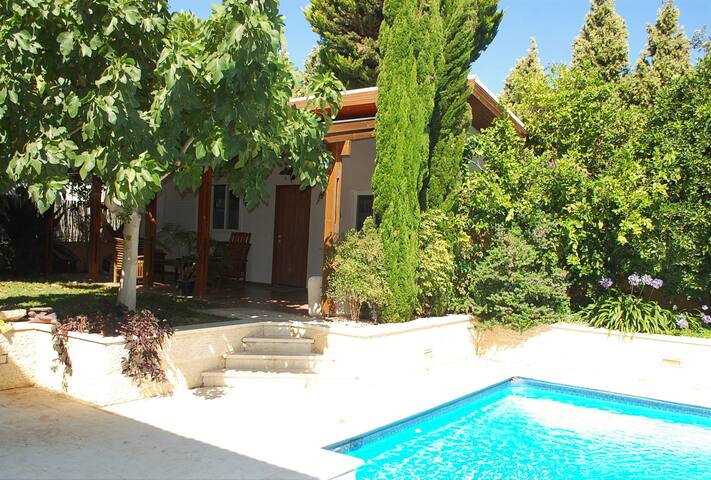 Appartement entièrement meublé avec 100 mètres carrés de jardin mètres avec barbecue et terrasse meublée. Situé dans un complexe de luxe avec 2 piscines, restaurant, salon de beauté, et mini-marché. À distance de marche des restaurants, des cafés, des pubs, et de la gare. Le prix indiqué est pour deux personnes. Jusqu'à 3 personnes supplémentaires peuvent être ajoutés pour des frais supplémentaires (voir la section «Les prix de).
Un confortable, spacieux appartement idéal pour les couples ou les familles. Entièrement climatisé / chauffé. Télévision par câble dans chaque chambre. Appareils de cuisine comprennent un réfrigérateur, four, cuisinière, micro-ondes, grille-pain, machine à expresso, bouilloire électrique. La bière et les vins fins disponibles moyennant un supplément.
Комфортабельная квартира, хорошая мебель, удобные матрасы, телевизоры в каждой комнате. Прекрасный большой двор. Очень приветливый хазяин. Бассейном не пользовались, так были зимой. The comfortable apartment, good furniture, convenient mattresses, TVs in each room. Beautiful big yard. Very friendly owner. Didn't use the pool, so were in the winter.
Olga
2017-01-18T00:00:00Z
The location is great, less than 10 min walk from the train and the MetroMall, 25 min walk from Weizmann. It's a gated community so it's pretty quiet. The outdoor space that comes with the apartment is great.
Gregory
2016-12-31T00:00:00Z
Tipe Kamar
Seluruh rumah/apartemen
---
Tipe Properti
Apartemen
---
Mengakomodasi
5
---
Kamar tidur
Rehovot, Distrik Tengah, Israel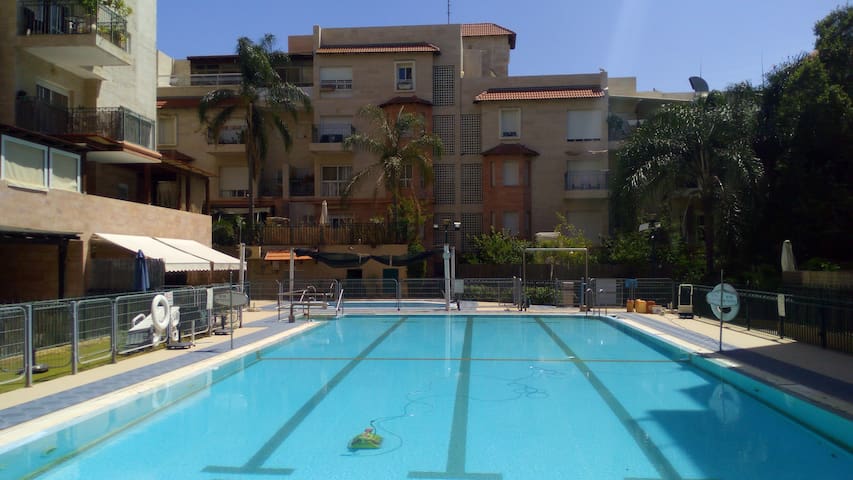 Mijn plaats ligt dicht bij het centrum van de stad en parken. U zult genieten van mijn plaats vanwege de locatie. Mijn plaats is goed voor koppels, zakenreizigers en gezinnen (met kinderen).
Ruim appartement met 2 slaapkamers + klein balkon in het centrum van Rehovot. Op loopafstand van het winkelcentrum en de markt, Weizman Institute en Herzl straat. Gemakkelijke toegang met de bus naar Rehovot Hi-tech Science Park.
Tipe Kamar
Seluruh rumah/apartemen
---
Tipe Properti
Apartemen
---
Mengakomodasi
4
---
Kamar tidur
Rehovot, Distrik Tengah, Israel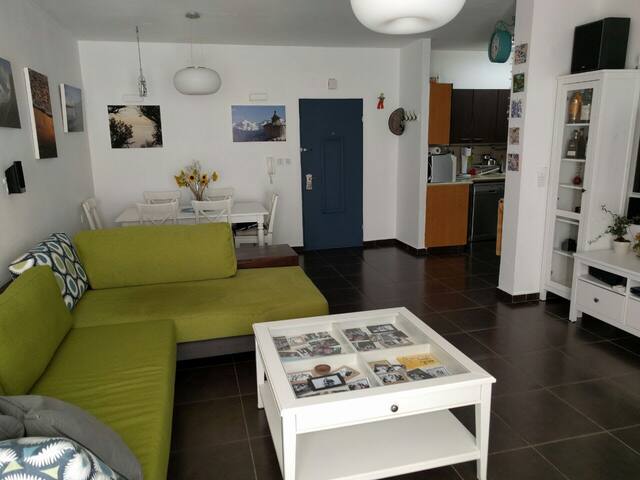 Każdy gość jest mile widziany bez względu na to, z jakiego kraju, kolor jego skóry i języka. Jesteśmy w stanie komunikować się z wami wszystkimi. Chcielibyśmy, aby otrzymać zapłatę za wszystkie pobytu po przyjeździe, kiedy daje klucz mieszkania .Love!
Bardzo dobra lokalizacja w sąsiedztwie Najważniejsze ośrodki naukowe: Weizmann Institute of Science, Wydział Rolnictwa i Badań Żywności i pieszo do Rabina Science Park.
Mieszkanie znajduje się na 5 piętrze i ostatniej, znajdujące się w bardzo szczególny kompleks 4 budynków.
הי סימון. תודה על הכל, היה נחמד מאוד מאוד. כל מה שצריך אורח יש בבית, נקי , מסודר ומזמין. תודה
Yuval
2016-03-30T00:00:00Z
Gracious, responsive hostess who made herself available to us at all times; lovely, tastefully decorated, clean/neat apartment with all amenities; location just slightly off the beaten path, but very close to Park HaMada, Herzl Street, Weizman Institute, etc. Apartment is in a charming enclosed complex, with swimming pools (adult and child) available for use. Overall, we were very pleased with the experience!
Sylvia
2016-09-26T00:00:00Z
Simone's place is light and spacious, sparkle clean, a great base if you're staying around Rehovot. Simone was very welcoming and accommodating, despite some hick-ups in our arrival plans. The welcoming bottle of wine and box of chocolates were a nice addition. Oh, and the balcony is a great place to have breakfast!
Otto X.
2016-11-03T00:00:00Z
Tipe Kamar
Seluruh rumah/apartemen
---
Tipe Properti
Apartemen
---
Mengakomodasi
3
---
Kamar tidur
Rehovot, Distrik Tengah, Israel
Tipe Kamar
Seluruh rumah/apartemen
---
Tipe Properti
Apartemen
---
Mengakomodasi
2
---
Kamar tidur
Rehovot, Distrik Tengah, Israel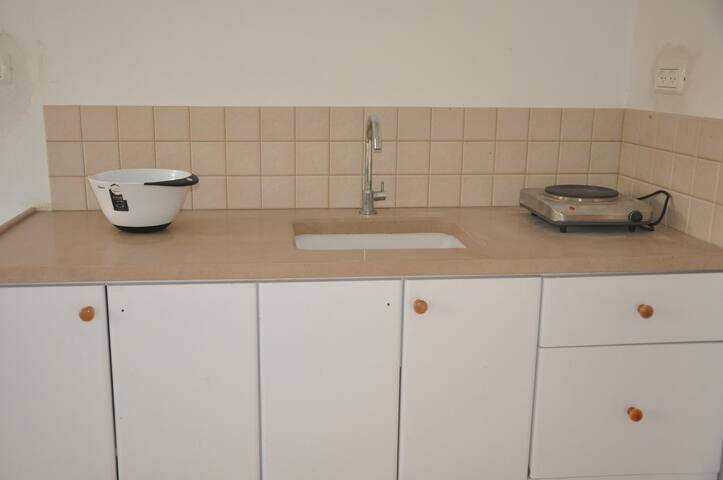 Güzel, modern balkon daire, ağaç kavunu ağaçları ile bahçe ile bir Villa. Sessiz ve huzurlu bir yer. Daire, buzdolabı, fırın, gaz ocak, mikrodalga, su ısıtıcısı, mutfak gereçleri, kablo TV ve Wifi içerir. yakın gıda mağazaları. Merkez loca
Tüm bahçe alanı
Eli and his wife were hosts in the real sense of the word, hospitable, welcoming and a great resource on travel in Israel. We were greeted with a smorgasbord of teas, fruits and desserts. I'd say that the apartment was more comfortable than pictured. It's located in a lovely, quiet and historical residential section of Rehovot. I can't recommend staying here enough.
Yury
2016-02-04T00:00:00Z
Eli was away on the day we arrived but gave us clear instructions on how to access the apartment. The apartment did not turn out to be the one in the pictures, but it was slightly bigger, and better! Eli and his wife had very thoughtfully left snacks that were gluten free for us, and some fruit, cucumbers and tomatoes, some wine, and an assortment of teas etc. there were even fresh roses. When Eli returned the next day he very thoughtfully gave us advice on places we could visit in the area. The balcony is beautiful to sit out on in the evening. Eli and his wife did everything they could to make our stay perfect. Thank you to you both.
Heather
2016-05-01T00:00:00Z
The apartment was beautiful, very modern, very clean. Eli was very gracious, he helped us get the luggage upstairs, showed us around. He had left some beautiful fruit from his garden. This was our first experience using airb&b and I am sure we will use it again. Thank you.
Denise
2016-03-30T00:00:00Z
My father stayed or a week. He was greeted with fruits, wine, fruits, Israeli snacks, and a smorgasbord of teas and coffee. The apartment was very conformable, clean and luminous. It is well-located, in a quite area of Rehovot, with a bus station and a mall nearby. Eli and his wife frequently checked if all was going well. Both are very pleasant people. Thanks!
Arriel
2016-05-18T00:00:00Z
The host canceled this reservation 43 days before arrival. This is an automated posting.
Nora
2016-06-01T00:00:00Z
Tipe Kamar
Kamar pribadi
---
Tipe Properti
Apartemen
---
Mengakomodasi
2
---
Kamar tidur
Rehovot, Distrik Tengah, Israel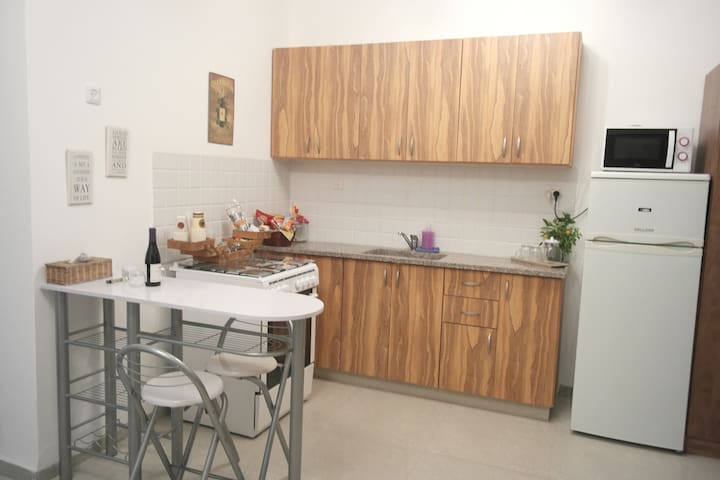 chambre Sweet, chaleureux et confortable pour célibataire ou couple, Il dispose d'une douche privée et toilete. La chambre est dans un grand appartement de 5 pièces en face de l'institut Weizmann. tv, wifi gratuit, et un endroit pour mettre vos vêtements. Nous ne proposons ramasser et déposer à l'aéroport Bgn ou Tlv dans le coût de 45 eur
Es gibt ein Wohnzimmer, Küche, Esszimmer und ein Verwöhn-Balkon mit einer tollen Aussicht. Die Wohnung befindet sich direkt ein Kreuz Weizman Institut. Es gibt einen privaten Parkplatz für Ihren Einsatz. Die Lage ist 3 Minuten zu Fuß vom Bahnhof entfernt. Es dauert 25 -30 Minuten mit dem Zug nach Tel Aviv zu bekommen, können Sie auch eine "sherut" Service-Taxi den ganzen Tag und die meisten der Nachtfahrt nach Tel Aviv und Rishon Le Zion gefunden.
Dies ist ein Ort, Pubs und Unterhaltung Orte zentriert Rechts ein Kreuz die Straße, es ist Weizman Institut (auch der Blick von den meisten Fenstern in der Wohnung. Alles ist in der Nähe Menschen kennt Englisch Von meinem Wissen alle werden mehr als glücklich sein, Orte für Sie zu unterstützen oder zu empfehlen. Sie werden brochours Websites in Tel Aviv und Israel in den Raum für Ihren Einsatz finden Die Lage ist 3 Minuten zu Fuß vom Bahnhof entfernt. Es dauert 25 -30 Minuten mit dem Zug nach Tel Aviv zu bekommen, können Sie auch eine "sherut" Service-Taxi den ganzen Tag und die meisten der Nachtfahrt nach Tel Aviv und Rishon Le Zion gefunden.
The location of your Air BnB is ideal for anyone having anything to do with the Weizmann Institute (Across the street). The place comes with underground parking (not advertised), which is an absolute life saver in parking-congested (read: "choked") Israel. Also not mentioned (but perhaps should) is the rich and diverse choice of restaurants right on the next block. These, by the way, comprise a wonderful "hidden asset." As far is "cost to value" is concerned, Katy's place is a profound winner. (another detail not mentioned, is 20 minutes to the heart Tel Aviv off-rush hour. Brilliant indeed and overall an excellent choice.
Oded
2017-04-05T00:00:00Z
I had a very pleasant stay at Katy's place. She is really nice person, easy to talk to. The room was nice and clean with private bathroom, and great wifi. Great location in central Israel, serves really well as a base, if one wants to explore the whole country.
Łukasz
2016-06-20T00:00:00Z
Good clean flat. No far from train ,central part of town.
Victor
2017-01-27T00:00:00Z
I had a fantastic stay with Katy. She is very warm and friendly and a great host. The room was very comfortable, with great light. Amazing location if you are doing anything at the Weizmann (1 minute from the entrance!) Would stay again!
Gabriela
2016-02-17T00:00:00Z
My room was very clean and quite adequate. I, actually, did not know what to expect as I had never used Airbnb before. Clean towels were furnished and the bathroom was sparkling clean. My only complaint was that there was no hot water twice when I showered in the am. There was no tv in the bedroom but I was not upset about that. It would have been nice to have. My host was very nice and hospitable. She made me feel welcome. One evening, she shared a meal and good conversation. There was a parking space for me and my host gave me keys to the building and the apartment door and a remote to open the gate to the parking lot. All in all, it was a delightful experience.
Philip
2016-07-15T00:00:00Z
Nice room that's very close to the Weizmann Institute, from the room you have a beautiful view on it. Room has all the essentials, WiFi is great. In the neighbourhood you'll find some shops, restaurants and a supermarket as well as a bank.
Hanna
2016-05-28T00:00:00Z
Great experience, warm atmosphere and peaceful view from the balcony , Katy was very friendly and cheerful! Calm and very interesting person !!Thank you !
Damir
2016-06-26T00:00:00Z
Room was perfect. Host was great.
Lucian
2016-07-18T00:00:00Z
Tipe Kamar
Kamar pribadi
---
Tipe Properti
Apartemen
---
Mengakomodasi
2
---
Kamar tidur
Rehovot, Distrik Tengah, Israel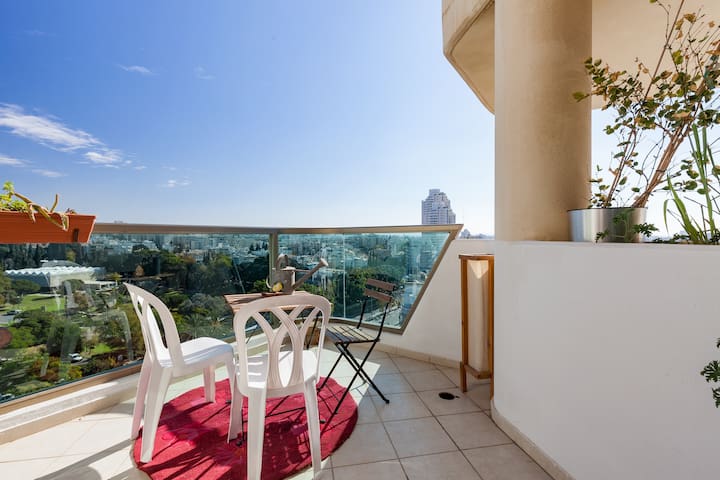 Tipe Kamar
Seluruh rumah/apartemen
---
Tipe Properti
Apartemen
---
Mengakomodasi
8
---
Kamar tidur
Ness Ziona, Distrik Tengah, Israel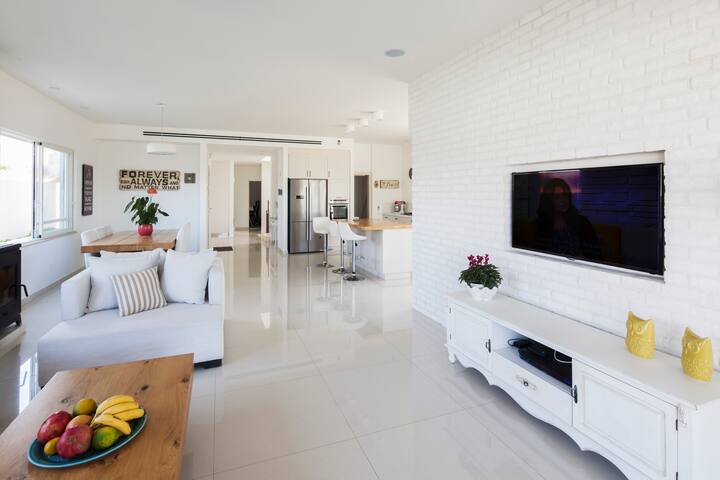 The host canceled this reservation 2 days before arrival. This is an automated posting.
ריאד
2015-11-10T00:00:00Z
Tipe Kamar
Seluruh rumah/apartemen
---
Tipe Properti
Apartemen
---
Mengakomodasi
6
---
Kamar tidur
Rehovot, Distrik Tengah, Israel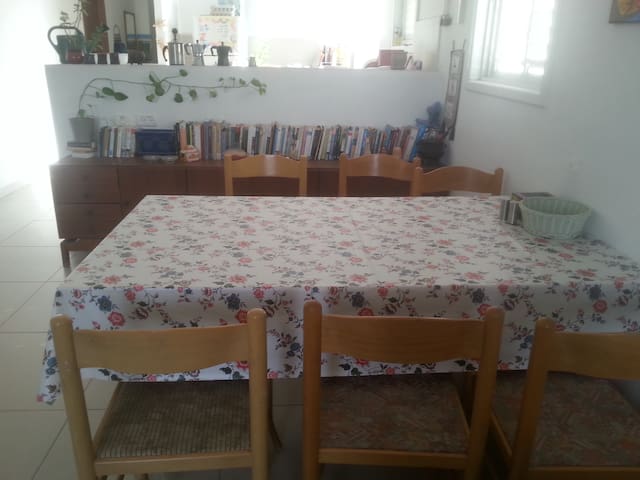 В нашем маленьком уголке мира, мы нашли хорошие, центральные и еще достаточно места; и мы приглашаем вас поделиться им с нами. Мы молодая пара полюса танцы инструктора и городского инструктор восхождения улицы стены. мы наслаждаемся, показывая людей вокруг нашей прекрасной области и поделиться нашим опытом с ними.
Уютный номер с 1,40 / 1,9 м кровать, большой шкаф для вещей, большое зеркало, небольшая библиотека и, конечно же, АВМ. В комнате ванна и туалет являются общими и близко к вашей комнате.
В спокойном и безопасном районе, с преимущественно молодыми и людьми среднего класса.
Tipe Kamar
Kamar pribadi
---
Tipe Properti
Apartemen
---
Mengakomodasi
2
---
Kamar tidur
Rehovot, Distrik Tengah, Israel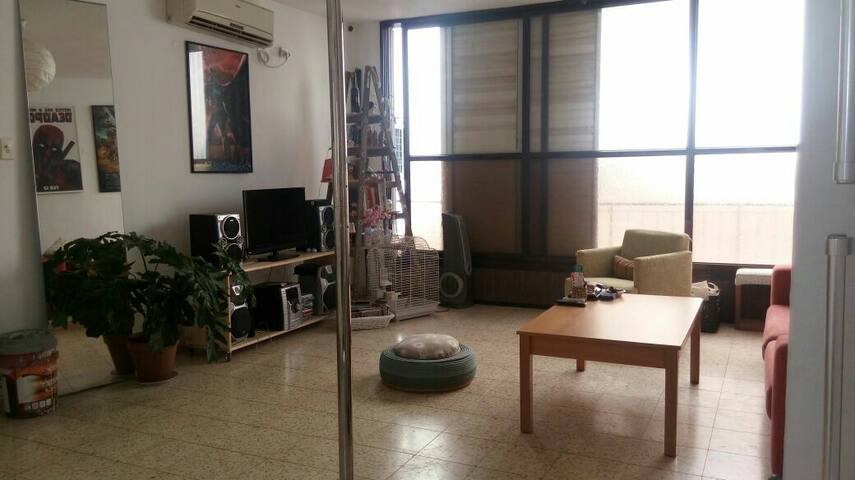 Simona is a great host. She let us check in early and a chocolate treat was waiting for us in her clean, nice and comfortable apartment. We even had new towels waiting for us on the comfortable beds. The location is perfect. Thank you very much for accommodating us. We would stay again for sure!
Lior
2016-10-20T00:00:00Z
Tipe Kamar
Seluruh rumah/apartemen
---
Tipe Properti
Apartemen
---
Mengakomodasi
5
---
Kamar tidur
Rehovot, Distrik Tengah, Israel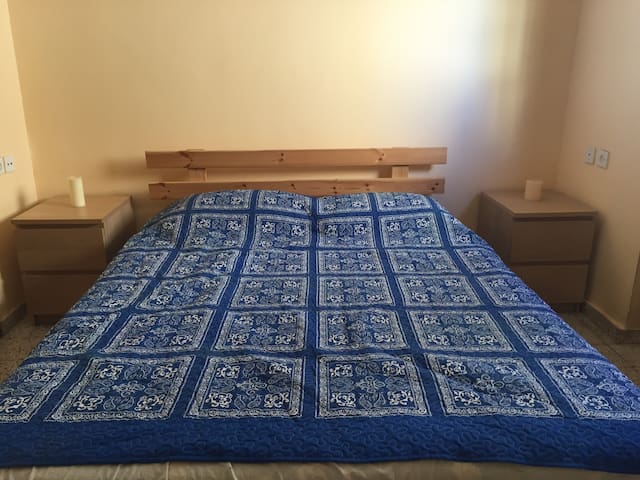 Mein Platz ist in der Nähe zu öffentlichen Verkehrsmitteln und dem Stadtzentrum. Mein Platz ist gut für Paare, Solo-Abenteurer und Geschäftsreisende.
The host canceled this reservation 127 days before arrival. This is an automated posting.
Priscilla
2017-03-25T00:00:00Z
Tipe Kamar
Kamar pribadi
---
Tipe Properti
Apartemen
---
Mengakomodasi
2
---
Kamar tidur
Petah Tikva, Distrik Tengah, Israel
Unsere schöne Wohnung befindet sich in Rehovot auf Herzel Straße. Diese Wohnung ist geeignet für 1-6 Personen Suche nach einem Ort in Rehovot zu bleiben. Die Wohnung befindet sich nur 1 Minuten zu Fuß vom Weizmann-Institut, nur 2 Minuten zu Fuß von der Fakultät für Agricultre Essen und Enviroment, 5 Minuten Fußweg vom Bahnhof und Rehovot neue Hallo Tech Park. ** Es liegt im Herzen der Stadt in der Nähe der besten Bars und Restaurants ** Die Wohnung verfügt über 3 große Schlafzimmer mit Queen-Size-Betten, ein großes Wohnzimmer mit einem großen LCD-TV, DVD und WIFI. Große Küche mit allem ausgestattet, was Sie brauchen, ein Fest und einen großen Esstisch, um zu kochen. 2 Badezimmer und 3 toillets. A 20 sqr Meter Balkon. Das Gebäude ist neu und verfügt über einen Parkplatz. fühlen Sie sich frei, mich zu kontaktieren und Fragen zu stellen.
We stayed at Dan's apartment for 13 days in June and were extremely satisfied with his apartment. It is large and well stocked with everything you need for a family. The rooms have full size beds, there are plenty of bathrooms, a washing machine, and a family-friendly kitchen. What surprised us most was how CLEAN this apartment was. The bedding, furniture, and the apartment in general were spotless. Everything smelled fresh and clean. The rooms are decorated very sweetly. We stayed in the middle of summer and were thrilled to have excellent air conditioning. The building is well sound-proofed and secure, with a parking spot. The location is great, near the main street of Rehovot, awesome coffee place, a train station, and a taxi station. We would stay here again without question.
Lior
2015-07-01T00:00:00Z
We found the apt to be very clean, convenient, near transportation and shopping. One small item: the clothes drying line is only accessible through a small window--one needs to be careful when hanging clothes that your items stay on the line and don't drop into an inaccessible area below !! As we are Shabbat observant, the apartment's location on the 1st floor was very convenient. In that same vein, Dan was able to arrange that Shabbat building access was in place for us, and in general was quick to address our concerns. Overall a very positive experience !!
Michael
2014-09-19T00:00:00Z
The apartment was beautiful and very clean! Our family of five was very comfortable, with lots of storage for our things and lots of bathrooms (2 1/2)--and without a lot of clutter. There are three bedrooms, a master with an ensuite bathroom (with shower stall), a bedroom with a queen bed, and another bedroom (that wasn't quite as nice as the others) with a double/full bed and an added twin mattress on the floor. The dining table expanded which was nice and could have fit 8-10 people easily when expanded. It was in a really nice location, close to lots of fun stores on Herzl Street (a gelato place we loved, Aroma coffee bar, clothing stores, Escape Zone, and just down the block from a big supermarket, etc. Also, not far from the mall). A very short walk to the entrance of the Weizmann Institute. The only drawback was that there was no clothes dryer and the clothes line (which did have lots of hanging space) was in a place that didn't smell (URL HIDDEN) the clean clothes smelled, too. Overall, though, this was a great stay and we'd love to come back!
Meredith
2016-06-27T00:00:00Z
We had a great stay, the flat is well-equipped, it was clean and prepared for us when we came. Dan took prompt care of all possible issues.
Sasha
2016-12-20T00:00:00Z
L'appartement était super et correspondait très bien à ce que l'on recherchait. Tres propre. Hôte disponible. Nous recommanderons l appartement!
judith
2016-07-07T00:00:00Z
Dan was a great host. He was very attentive and responsive in handling any questions or concerns we had during our stay.
Danielle
2015-04-17T00:00:00Z
Beautiful spacious apartment in great location. Beds super comfortable and host very responsive. We would love to stay here again
Sue
2014-12-19T00:00:00Z
Our stay at Dan's apartment was a very positive experience. It was a very nice open and spacious apartment and could accommodate both small and large groups very comfortably. The neighbours were very friendly. The apartment was clean and conveniently located near public transportation and shopping. Dan was always contactable by phone and addressed all of our additional needs. We would definitely love to stay there again on our next trip to Israel.
Sara
2014-12-02T00:00:00Z
Tipe Kamar
Seluruh rumah/apartemen
---
Tipe Properti
Apartemen
---
Mengakomodasi
8
---
Kamar tidur
Rehovot, Israel
We has a great time at Erez's place. The apartment was clean, convenient, well air conditioned and very comfortable. The location was also great, a short walking distance from everywhere we needed to go and everything we wanted to buy. We had a great time.
Gil
2015-05-30T00:00:00Z
I loved Rehovot and the apartment was very convenient to walk to stores and restaurants. We expecially liked that Aroma coffee was around the corner. I was there while there were missile attacks from Gaza, so running down the stairs to the basement for shelter was difficult but no reflection on the apartment or the host. The apartment was clean and there was plenty of towels and dishes for the two of us. It was nice having internet. The apartment and building is older and a little run down and there was no TV. However, the neighborhood was safe and there were lots of kids around. I liked seeing Israel not as a tourist but as someone living there, even if it was only for a week. I was warned that it was a walk up, so I was prepared. The price was right for this space. Thank you for letting me stay there.
Sherry
2014-07-12T00:00:00Z
Location was perfect couldn't be better. Constant and fast transportation to anywhere you need in minutes. Apartment as described spacious and equipped with anything you can think of. Starting from toilet paper, laundry detergent , shampoo , dish detergent, sandwich bags foil paper and more. Sheets were clean and beautiful. Clear instructions in a very neat book. Though when I came to the apartment the bathroom seemed really dirty and the floor was not clean full of food stains and dusty, and even kitchen felt sticky and needed sanitation. I hired a local cleaning lady that did the job. And there after I just enjoyed the apartment tremendously. The strong AC in every room was such a treat. (Can't take it for granted in israel) Even the stairs going all the way to the 4th floor were excellent exercise for me. In general I enjoyed every minute of my stay. Owners was responsive and available with any question we had.
Yael
2016-07-12T00:00:00Z
This apartment is in a quiet location, yet is still conveniently located near the main street (Herzl) as well as to transportation (bus stop around the corner, and train station a few blocks away). As written in the description, the apartment is a fourth floor walk-up (64 steps), so guests might want to take that into consideration. We found the master bed to be very comfortable, with the second bed a bit too firm for our taste. There were two issues that came up during the stay. One was resolved promptly. The other (leaky sink) was not fixed during our stay, despite efforts made by the owner. The owner was friendly, readily available to answer questions, and was accommodating of changes to the reservation (in terms of numbers of guests).
Michael
2014-09-15T00:00:00Z
We enjoyed our stay in the apartment and Rehovot. The apartment is clean, enough space, all things you need for having a good time. A perfect great bed in the master bedroom. Good quality. We knew before there is no elevator, only a pity while the suitcases our heavy. It's 65 good steps. Rehovot is a nice city. Near by supermarkets open every day. Nice shops, good coffee. All together a lovely stay in a good apartment. Compliments for the owners!
Conny
2016-01-08T00:00:00Z
A good value for a comfortable apartment. Important to keep in mind that the apartment is on the 4th floor, and there is no elevator for heavy bags (this was accurately advertised - just something to keep in mind).
Clark
2016-08-18T00:00:00Z
We are local residents who rented this apartment for family visiting from the US. 1. Apartment is well located - shops, restaurants and public transport a short walk away 2. Apartment was furnished and equipped as described 3. As described, there is no elevator access, so this accommodation is not really suitable for this who might find stairs a problem 4. Street parking is free, but sometimes a little difficult to find. One thing that went wrong is that the hot-water system was not working properly; the solar heater was far from sufficient for the needs of the 5 people staying there and the electrical supplementary system not working at all. It took the guests 2 days to work out that they had not misunderstood the instructions for the system and another 2 days to convince the host that the system was really broken - altogether 4 days with little hot water. Our feeling was that the host's handling of this problem was rather amateurish. Eventually, the hosts kindly organised access to the adjacent studio apartment (owned by the same hosts) so the guests finally enjoyed unlimited hot water. When we asked for a partial refund, the host responded by offering a moderate sum that we consider insufficiently generous considering the inconvenience suffered. Because of the deadline, this review is being written before the compensation issue is resolved. Our guests had this to say: Excellent location, extremely clean and comfortable for 5 people and reasonably priced. Stairs and parking not ideal, but manageable. Problem with electric water heater was inconvenient. If all facilities are working we would rate it 4 stars.
Naomi
2015-03-24T00:00:00Z
the place was easy and parking was easy Either Erez or his sis was always able to answer any question too bad that I had to leave day earlier
Bryan
2014-08-17T00:00:00Z
Tipe Kamar
Seluruh rumah/apartemen
---
Tipe Properti
Apartemen
---
Mengakomodasi
6
---
Kamar tidur
Rehovot, Israel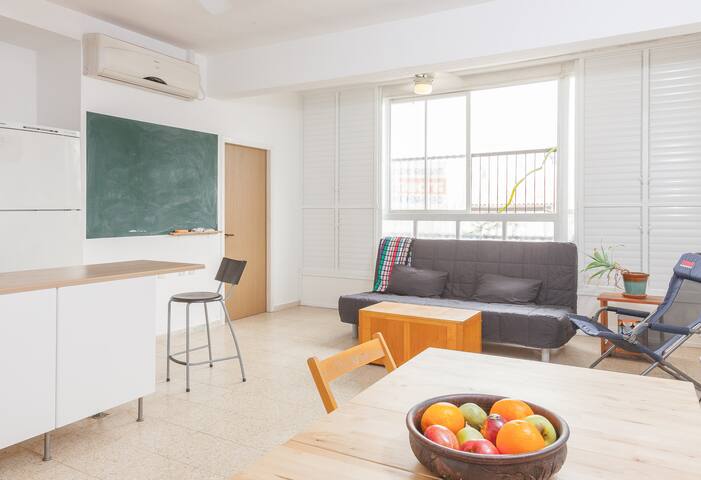 Gesamte Wohnung in einer ruhigen Gegend direkt neben dem Weizmann-Institut. Tolle Lage, in der Stadtmitte der Nähe von vielen Geschäften, Restaurants und Pubs, 10 Minuten zu Fuß vom Bahnhof entfernt und in der Nähe von Bushaltestellen. Die Wohnung ist komfortabel, ruhig und gut ausgestattet. Es gibt ein gemütliches Schlafzimmer und schönes Wohnzimmer und Küche mit allem, was Sie zum Kochen benötigen.
Everything was just abs perfect as it could be! Thank you Maya!
German
2017-02-22T00:00:00Z
What a wonderful apartment! Maya's place was the perfect place for us to stay on our trip to Rehovot. It was easy to get to the Institute, and we found everything we needed on nearby Herzl Street. The apartment itself is clean and comfortable, and Maya was responsive to our few needs while we were there.
Alison
2016-07-14T00:00:00Z
Все было хорошо - квартира, хозяйка, расположение. Очень рекомендую!
Aleksey
2017-03-09T00:00:00Z
Maya, thanks so much for a great visit to Rechovot! Great apartment, amazing location, and most important the perfect host. Thanks for shlepping my heavy bags and for being so flexible with the dates. A win win
Miriam
2016-09-19T00:00:00Z
Tipe Kamar
Seluruh rumah/apartemen
---
Tipe Properti
Apartemen
---
Mengakomodasi
2
---
Kamar tidur
Rehovot, Distrik Tengah, Israel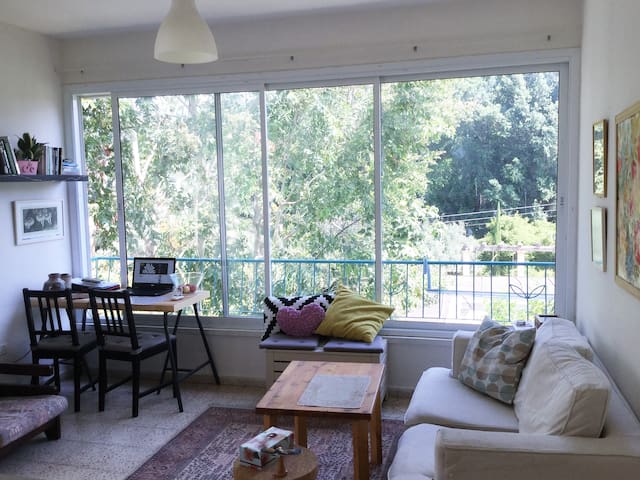 Kfar HaNagid - Airbnb
:
Rata-rata

4.53

dari

5

bintang dari semua

91

ulasan tamu
1

–

18

dari

72 Sewa Apartemen
Masukkan tanggal untuk melihat harga lengkap. Biaya tambahan berlaku. Mungkin dikenakan pajak.