Rose Cottage is a 17th Century Grade II listed thatched cottage in the quiet, tranquil village of King's Nympton in the beautiful unspoilt countryside of North Devon, close to cycling on the Tarka Trail and walking on Exmoor and Dartmoor.
Rose Cottage is a 17th Century Grade II listed thatched cottage in the village of King's Nympton in the beautiful unspoilt countryside of North Devon. Sleeping four, there are two bedrooms: one double, one twin, lounge/diner with inglenook fireplace and wood burning stove, fitted kitchen with all appliances including fridge with small freezer compartment; electric hob and oven; dishwasher, (washing machine in under stairs cupboard); bathroom with power shower over bath and under floor heating, enclosed front courtyard garden. Close to Village pub serving excellent food using local produce and real ales. Close to cycling on Tarka Trail and walking on Exmoor/Dartmoor and North Devon beaches. There is horse riding, fly fishing and golf nearby.
The cottage is in the middle of the village, however, it is very much a place to unwind and get away from it all and take life at a slower pace. Our favourite eating places include the Grove Inn in King's Nympton where Sunday lunches are the best in the area. Our favourite cream tea destination is The Corn Dolly in South Molton which has changed hands several times and expanded but the high quality has never changed.
Had the best time in Nella's beautiful cottage! The location is just perfect and the cottage is beautifully decorated. Nella's driving instructions to the cottage were invaluable and the welcome basket was a lovely touch! We also would like to thank the lovely Heidi for helping us out at literally a moment's notice! Would definitely stay again!
Molly
2016-09-11T00:00:00Z
Lovely rustic cottage in a very friendly village; great pub. Cottage was tucked away so make sure you read the 'how to get to' instructions. Facilities great especially the welcome pack. Wonderful views from the village over the rolling countryside
Beverley
2016-08-20T00:00:00Z
Loved everything about rose cottage! We were so comfortable, cuddled up on the sofa with the log burner blazing, everything was so clean and we felt at home from the moment we turned the key in the door. Kings Nympton is an excellent location, the local pub is a real gem and there are plenty of little walks nearby. Underfloor heating in the bathroom, plenty of cooking utensils and a proper comfy bed set rose cottage apart from every other place we have stayed in Devon. Thank you for a wonderful stay!
Claire
2016-09-22T00:00:00Z
One very amazing find in the heart of North Devon. We loved staying here in the (URL HIDDEN) is everything you could ask for a country escape, providing modern amenities including an upgrade kitchen and bathroom. Everything is in the cottage that you need for an enjoyable stay, including a great welcome pack with a few essentials. A very nice touch. Just along the road is the Grove Inn, an excellent pub and restaurants.... great food, some of the best I had while in the UK along with a huge selection of local and regional beers. I can see why they have won several awards, defiantly worth a visit. The village is a short drive from South Molton and Chulmleigh, both great Devon style towns providing everything you need. Will defiantly consider booking the cottage again when next in Devon. Highly recommended
Simon
2016-07-15T00:00:00Z
Lovely cottage in a very pretty thatched village. Warm, comfortable and quiet. Beware the smoke alarms - they are super sensitive and VERY loud. Opening the door of the log burner set them off. As did grilling some sausages for breakfast. Good to know we'd wake up if there was a fire though!! Nella was a pleasure to deal with, quick with communication and sorting out a set of towels for us very promptly. The pub served great food and the cottage was close to family we were visiting. Great stay thank you.
Verity
2016-10-02T00:00:00Z
Really relaxing and enjoyable. Lovely walks and so quiet!
Kate
2016-04-02T00:00:00Z
It is a very cute cottage and it has a fantastic new bathroom. The cottage is located in a very picturesque village and we loved the local pub. The church is also interesting to see. We were visiting family in the area, and unfortunately didn't have a lot of time to enjoy the cottage.
Regina
2016-08-07T00:00:00Z
Tipe Kamar
Seluruh rumah/apartemen
---
Tipe Properti
Rumah
---
Mengakomodasi
4
---
Kamar tidur
Kings Nympton, Inggris
Hillside is an Edwardian Hunting Lodge, set in the rolling Devonshire hills, with a view that falls away across the valley below. The 6 bedroom house was built in 1910 & is situated 3/4 mile away from the charming village of Chulmleigh, with its two pubs, collection of independent shops and it's even got its own 18 hole golf course. Hillside is ideally situated for enjoying North Devon beaches, Dartmoor & Exmoor, fishing in local rivers & lakes, or exploring the surrounding countryside.
Tipe Kamar
Seluruh rumah/apartemen
---
Tipe Properti
Rumah
---
Mengakomodasi
14
---
Kamar tidur
Devon, England, Inggris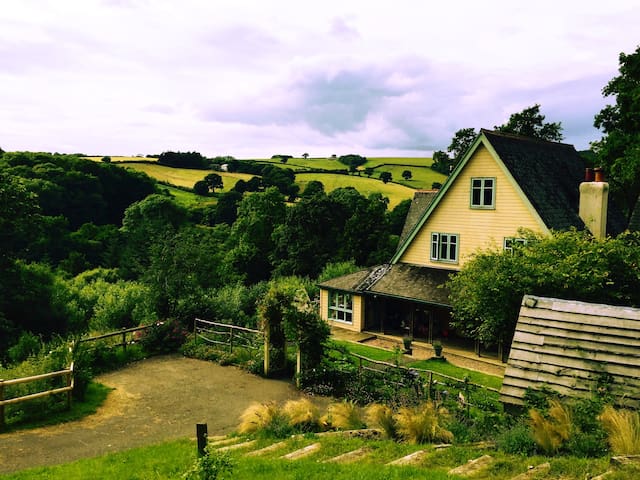 Converted to a high standard in its own grounds surrounded by open countryside. The accommodation is on two floors and has three bedrooms (one with en suite), one bathroom and open plan living area. There is outside space and ample parking available.
The accommodation is on two floors. Downstairs is open plan with a modern granite topped kitchen, breakfast bar, Nordic log burner, and comfortable seating area with satellite television. Underfloor heating and oak flooring, Ipod dock and broadband. 3 bedrooms upstairs, all of which have double beds with hypo allergenic mattresses, pillows and duvets. One bedroom is en suite. The others have direct access to the bathroom with free standing bath. The bedding is Egyptian cotton. Skylight windows provide views of the surrounding countryside. To the side of the house there is ample parking. To the front there is a south facing secluded gravelled area with wooden seating. There is an outbuilding with laundry available with washer and dryer. Please do enquire about short breaks.
Situated on the edge of North Devon between Dartmoor, Exmoor and the coast this property allows holidaymakers access to all that Devon and Cornwall has to offer. The local area is very rural and beautiful but there are attractions such as the Eden project one and a half hours drive away or the medieval / Roman city of Exeter within three quarters of an hour. The world famous surfing beaches of the North Devon coast are under an hour away. Whether you are looking for peace and tranquillity or an action packed holiday, this location caters for both.
My husband and I stayed with our two young daughters (6 & 4). The host and her family were lovely and always there if we needed anything. The barn is absolutely beautiful, it is new, well fitted out and very spacious. We had family come for dinner one night and there was plenty of room for everyone and they were very impressed by the space. The barn was a great place to rest after a busy day of touring, I highly recommend it! My girls loved their time here and loved exploring outside and watching the geese. We were all sad to leave!
Skye
2016-08-25T00:00:00Z
We had a lovely stay at Ford Barn. Katherine made us feel most welcome and let us know they were nearby should we need anything, but gave us the space to enjoy our stay without feeling watched. The barn itself was spotless clean, and beautifully furnished. The welcome pack went down very well, (bacon and eggs on local bread for New Years breakfast!) would happily stay again.
Penelope
2016-01-03T00:00:00Z
Ford Barn is a great place to stay. We had a family weekend there as one of our sons was getting married nearby. All the family loved the space. It was so warm and cosy with the wood burner. The bedrooms are comfortable and the bathrooms high-end and efficient. The living area and kitchen are very spacious and there was plenty of room for everyone. Katherine is very welcoming and provided us with great local produce for a lovely breakfast. The location is really deepest darkest Devon with lots of narrow lanes to drive, but this added to the adventure. There are geese and ducks roaming around the barn which are very entertaining.
Deborah
2017-02-15T00:00:00Z
We were greeted with home made scones, jam and cream - very welcome after a nine hour drive. The host was not at all intrusive but always available to answer questions or provide advice. The location was excellently positioned for exploring the many sites and attractions in North Devon. An added bonus was that we visited during the Chumleigh Old Fair which was an excellent experience. Ford Barn has been well converted, is clean and modern, and an ideal size for our party of six (plus two dogs which were made to feel very welcome). Kitchen is well equipped, and the open plan design of the downstairs makes for a very social environment. very peaceful setting, with ducks, geese and horses strolling around to make it a truly authentic countryside experience. would fully recommend Ford Barn to other Air BnB users.
jeremy
2016-07-30T00:00:00Z
Katherine was the consummate host, very quick to respond and incredibly welcoming and helpful whilst we were at her Barn. The Barn itself is fantastic, a really well done conversion with plenty of space and afforded some good solitude yet also close enough to the sights of mid Devon. Highly recommended.
Paul
2015-12-29T00:00:00Z
Tipe Kamar
Seluruh rumah/apartemen
---
Tipe Properti
Rumah
---
Mengakomodasi
6
---
Kamar tidur
Chulmleigh, England, Inggris
A spacious, comfortable, quiet and totally private converted barn that makes you feel completely rested and away from it all. We are making good progress in the restoration. South Molton is a two minute walk where a range of wonderful shops and pubs servicing your everyday needs can be found.
Natasha, Dara Lillie and Aoife. Stayed 18th to 24th august 2016
Natasha
2016-08-24T00:00:00Z
Had a lovely midweek stay with great clean facilities and places to explore in the local area. Nice rustic feel to the barn and cute outdoors area. Loved our stay
Imogen
2016-07-08T00:00:00Z
Carol was very friendly and helpful when answering a couple of questions that I had before we arrived. This is a very unusual place to stay.. It's brilliant.. So relaxing ! Many years ago it was part of the Hare & Hounds pub & brewery according to George, an elderly guy that we met in the pub. He had pics to prove it as well, fascinating ! Anyway, just a great place to stay ! Wife and I loved it and didn't want to leave.
Rob
2016-09-08T00:00:00Z
Many thanks for our stay here. Place was beautiful and spacious and location was central. Plenty of nice pubs within walking distance!
Suzy
2016-09-03T00:00:00Z
We really enjoyed our stay - the property is in a great location to access lots of areas of Devon and Cornwall. The upstairs in the property is great and will be even better once all the renovations are completed.
Katrina
2016-07-30T00:00:00Z
We had a really wonderful three nights in Carol's place this week and didn't want to leave. We loved that it was so spacious yet warm and cosy at the same time. The bed was really comfortable and both the bathrooms were lovely and there was plenty of hot water. It's full of interesting things to look at and the garden leading out from the huge sitting room is full of interest too, I'd love to see it in the summer. We will definitely be visiting again, thank you Carol!
Anna
2016-12-15T00:00:00Z
Lovely stay at carols place, yes it's a little rough around the edges but very cosy upstairs!
Becky
2017-02-25T00:00:00Z
I had a wonderful 4 night stay at Carol's quirky, delightful home, filled with original art. The sitting room is wonderful. The bedroom is quiet and leads through to the bathroom which has a great corner bath and fast/hot shower. The dining room is beautiful. The kitchen is disappointing as it is very small and minimally equipped but I love to cook so this may be personal preference only. The entire house was heated perfectly. It was a shame I didn't need to light the wonderful pot-bellied stove. I had asked Carol if it was suitable for a toddler. Although I was told that would be fine, the amount of steps and stairs and level changes between every room made it a bit too much for a toddler. Also there is an unguarded pond. Description of how to find the house would be useful as it is not easy to find. Parking is an issue as the available parking is on-street and fills easily.
Fiona
2017-03-13T00:00:00Z
Tipe Kamar
Seluruh rumah/apartemen
---
Tipe Properti
Rumah
---
Mengakomodasi
4
---
Kamar tidur
South Molton, Devon, Inggris
A room in a small town house located in the town centre with a very pretty garden. Characterful, clean and welcoming. Owner sleeps in a self-contained annexe downstairs with no pets. Space to store bicycles. Speaks some French and German and a very little Italian
Built about 1815,so fairly small and steepish stairs.
Busy, friendly small town. All amenities within close walking-distance including a twice-weekly indoor market.
Karin was a warm host who made me feel welcome from the moment I walked into the door. The room was clean and as described. Would use again.
Andrew
2016-07-13T00:00:00Z
Lovely welcome from Karin and good nights sleep in comfortable bed. Delicious breakfast and enjoyable conversation with Karin who was the perfect host.
Liz
2016-08-28T00:00:00Z
Very lovely host and garden makes this a superb Airbnb find. Loved the hospitality and fantastically interesting books dotted all across the house. A real jem.
Ant
2016-08-28T00:00:00Z
What a lovely couple of nights! I was in town to photograph a wedding nearby and needed somewhere quiet and peaceful. Karin was a wonderful host and did her very best to look after me. Thank you!
Richard
2015-08-09T00:00:00Z
It was nice meeting Karin. I was made welcome with a smile and a cup of tea. The room I stayed in was a a single room but being a larger fella with a bad leg I had trouble getting in and out the bed as it was quite low to the floor as it wasn't a divan style bed.it would be ok for smaller per some I'm sure. But other than that it was an enjoyable quick stop over. I was made welcome by Karin who was a nice host and her secret garden was lovely.
Jimmy
2015-08-23T00:00:00Z
The host was very welcoming. Karin has a lovely home, which is clean and tremendously unique as a standing testament to her years of travels. Nice clean room, with a good breakfast in the morning.
Gurman
2015-09-03T00:00:00Z
Karin is a very generous host . She made me very welcome at her interesting and artistic house. I had a great night's sleep , after a very long days travel , on a very comfortable bed. This morning I was given a breakfast to last the day !
clare
2016-07-08T00:00:00Z
I stayed with Karin for 1 night and felt at home immediately. She showed wonderful kindness to me throughout my stay. Karin drove me to a party and collected me (no taxi's available) over and above the call of being a host. Her home is very comfortable and the breakfast was delicious. I feel I made a friend. Highly recommend Karin as a host if you have the good fortune to find yourself in South Molton.
Susan
2015-06-22T00:00:00Z
Tipe Kamar
Kamar pribadi
---
Tipe Properti
Rumah
---
Mengakomodasi
1
---
Kamar tidur
South Molton, North Devon, Inggris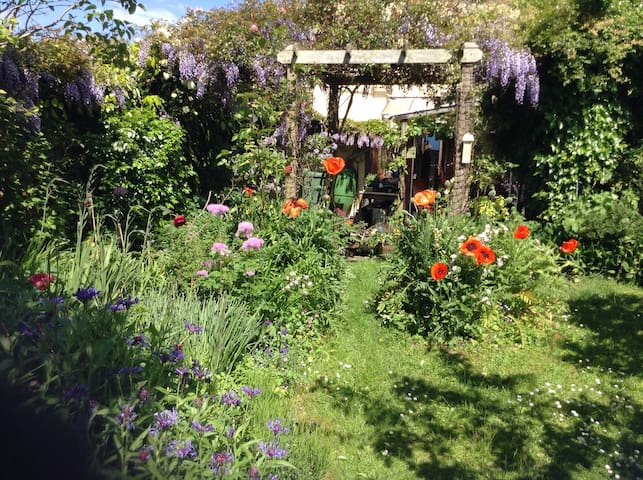 Luxury BRAND NEW barn conversion (sleeps 5) with option of additional accommodation in adjacent Garden Suite, (sleeps 1-3), which automatically books at 5+ persons. Perfect location to explore all Devon has to offer or to relax and enjoy the peace and quiet of the stunning countryside. Great day trips locally: spectacular beaches, Exmoor & Dartmoor National Parks, RHS Rosemoor, local towns of Exeter & Barnstaple. Great for families, friends or couples. Dogs welcome and good wifi! NEW LISTING
Newly converted 'upside down' house with spacious living area, underfloor heating throughout, dining area (seats up to 8), great views, gorgeous enclosed garden with terrace and BBQ. Well equipped kitchen which overlooks garden and terrace. Downstairs sleeping area: 1 spacious king-size, 1 twin (can be made as double), 1 single (with a child's pullout bed) Additional space in our Garden room suite, (super kingsize + extra single bed if required), books automatically when booking 5+. Household basics included: tea, coffee, sugar, basic spices and seasoning, loo rolls, washing powder, detergent and bin liners. Fantastic countryside setting with private garden and patio/decking and BBQ. Beautiful views and very peaceful. Dog friendly too!
Stunning countryside, great views, lots to see and do and lots of great places to eat/drink locally. Close to market town village of South Molton and approx 30mins from Barnstaple or Exeter. (Train line to both 5 mins from property). Within an hour's drive from a huge choice of spectacular North Devon beaches and Exmoor and Dartmoor National Parks. Tarka Trail Cycle Trail a short distance away, with miles and miles of traffic free cycling or walking. Market town of South Molton nearby with lovely local fresh produce market.
Highly recommended
andrew
2017-03-24T00:00:00Z
Alison was a wonderful host, nothing was too much trouble for her. The house is beautiful and we all thoroughly enjoyed ourselves
Sue
2016-10-30T00:00:00Z
Tipe Kamar
Seluruh rumah/apartemen
---
Tipe Properti
Rumah
---
Mengakomodasi
9
---
Kamar tidur
Devon, England, Inggris
My place is close to great views, the beach, family-friendly activities, and restaurants and dining. My place is good for couples, solo adventurers, business travellers, and families (with kids).
Lovely double room with modern oak double bed and cotton sheets, neutral decoration-relaxing environment own freeview TV with Multiple Channels
South Molton is a beautiful quaint Market farming town 10 mins away from Exmoor national Park and under 30 mins from all the coastal resorts from surfy Saunton/Croyde, the hustle and bustle of Famous Woolacombe or just a quiet stroll on Instow Seafront. Great places to eat are all around-tea rooms, fish restaurants, country pubs and coastal views to die for !
Julia made me feel very welcome in her lovely home. Couldn't fault my stay at all. Would definitely try to use again (if available) Continental breakfast laid on too.
Paul
2016-10-31T00:00:00Z
We had a lovely stay at Julia's - very comfortable and a quiet location. We received a rather loud welcome from the dog but he soon became familiar with us. The breakfasts were perfect for our needs before days out exploring the surrounding area. Julia's place is well located for getting out to Exmoor or heading to the coast, and the small town with a number of pubs and cafes is a short walk away. Would definitely recommend staying with Julia.
Lisa
2017-03-14T00:00:00Z
Lovely place to stay. Julia and Luke made me feel welcome and put on a lovely breakfast. The shower was AMAZING!
George
2016-11-10T00:00:00Z
We didn't get to meet but Julia's communication was really good. We hope to meet her if we're ever in South Molton again.
Beren and Julie
2016-10-29T00:00:00Z
The host canceled this reservation 4 days before arrival. This is an automated posting.
Andrew
2016-11-26T00:00:00Z
Tipe Kamar
Kamar pribadi
---
Tipe Properti
Rumah
---
Mengakomodasi
2
---
Kamar tidur
South Molton, England, Inggris
Enjoy peace and breathtaking views across Devon countryside from a perfect stone cottage. The place to rest and recuperate. A short drive to beaches, and nearby towns and villages or take a walk through the kind of quiet only remote countryside can offer. Sleep in darkness lit only by the moon and the stars. Wake refreshed to birdsong and sheep with their lambs and enjoy pub lunches or eat in your own little private garden. Dogs and children welcome but mind the peacocks.
The cottages were originally stone farm outbuildings. They are surrounded by fields sometimes with grazing sheep with their lambs. A bridleway runs through the farm with occasional walkers passing.
The peace and the views are wonderful. The cottage is surrounded by farmland. The area is criss-crossed by footpaths and bridleways. At the foot of the hill lies the river Taw. The local pub is a one mile walk from the cottage.
Tipe Kamar
Seluruh rumah/apartemen
---
Tipe Properti
Rumah
---
Mengakomodasi
5
---
Kamar tidur
Burrington, England, Inggris
Prospect Cottage is a two bedroom cottage in the lovely village of Chittlehampton situated a few miles south of Barnstaple in easy reach of the North Devon coast and Exmoor. The cottage is several hundred years old and has recently been renovated and offers excellent accommodation for up to four people. Situated on the corner of the square in the heart of the village, next to the large parish church and local school and 50 paces from the award winning Bell Inn .
The accommodation is arranged on two floors. The front door opens to a small entrance lobby and then into the well decorated open plan ground floor with oak flooring comprising:- Kitchen Well equipped with dishwasher, gas hob, electric oven, under counter fridge/freezer, microwave oven, toaster, kettle and more than enough cutlery and crockery for 4 people. Before you arrive we will leave you bread, butter, fresh milk, coffee and tea to get you started. Dining The dining area has an oak table and chairs to seat four people. There are books, games and DVDs on the shelves to amuse you should you wish to stay indoors. Seating You can relax in the settee and two chairs which has a TV ( connected to satellite and terrestrial ) , recorder, DVD and CD player. It is also wired so that you can easily connect your laptop or tablet through an HDMI cable The cottage has an outlook over the village square with ample free parking. Although not reserved it is likely that car parking spaces immediately outside the cottage will be available. To view the square take a virtual tour. The cottage has good internet links with wi-fi offering up to 7 mbps. The master bedroom has traditional white walls and is subtly decorated, it has a King size double bed, large chest of drawers, hanging space, vanity mirror and stool. The room overlooks the square with a view of church and green fields beyond. There is an en-suite shower room with shower closet, toilet, heated towel rail and basin , beware the water pressure is very high in the village. We provide duvets, sheets and towels and an emergency supply if needed The second bedroom is decorated with white walls and pictures, it has a window to the side of the cottage which looks out onto the village school and a quiet lane leading to a few other properties. The room has twin beds a Wellington chest of drawers with vanity mirror and bedside table Storage Cupboard This sizeable cupboard contains the washing machine, storage, ironing board, iron and hanging space . Boiler Cupboard This cupboard contains the gas boiler with a clothes airer and is always warm so can be used to dry or air wet clothes. Bathroom Tastefully decorated the bathroom has a bath with a shower (over bath), toilet, basin and heated towel rail
Visit the award winning Bell public house which is about 50 metres away
Although nobody was there to meet us in person we felt immediately welcome. A pint of milk, fresh bread, coffee, tea and cereals meant that we didn't have to worry about bringing anything with us as we arrived in the dark and cold after a long drive. The cottage itself is spotlessly clean, warm, comfortable and tastefully furnished and is ideally situated in the beautiful village square a few paces from a warm and lively village pub which serves good beer and hearty meals (be sure to book). There is a small shop down the road which sells all the essentials and there are footpaths leading away so you can explore the countryside. The cottage is well equipped and the parking is outside the front door on the village square.
Phil
2016-11-27T00:00:00Z
Tipe Kamar
Seluruh rumah/apartemen
---
Tipe Properti
Rumah
---
Mengakomodasi
4
---
Kamar tidur
Chittlehampton, England, Inggris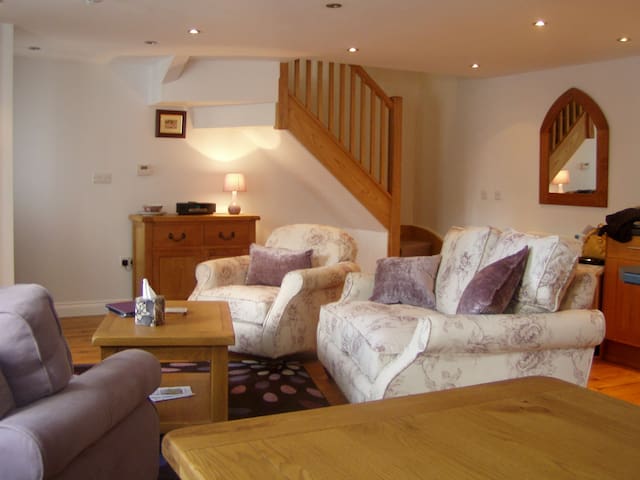 Rose Cottage is a truly romantic retreat. This 18th century thatched cottage hideaway is an intoxicating mix of the old and new where 21st century luxuries are artfully combined with original features to create a stunning place to stay. Step through the heavy wooden doorway into a sumptuous interior stuffed full of character with ancient wooden beams, log wood burner, slate floors and thick walls. Enjoy discovering the many fabulous additions such as the beautiful copper bath big enough for two, the large comfy beds, the designer kitchen, the 3D LCD TV with 4K and state of the art Bose surround sound system with Sonos and Spotify throughout the cottage, the luxurious beachcomber hot tub in the yard and so much more…
Rose Cottage oozes character and charm as well as the uttermost luxury for a romantic break or honeymoon. Style : Sumptuous boutique chic holiday cottage - perfect for honeymoons and romantic breaks Good : For lovebirds, romantics, young families or just because Bedrooms : Two (1 super king & 1 double) Changeover days : Mondays and Fridays Stay : Three, four or seven nights (or more!) Highlights : Private hot tub, log wood burner, copper bath for two (Made by William Holland), hi-tech gadgets including an LED 3D TV, peaceful village location Optional extras : Champagne and chocolates on arrival, breakfast hampers Children : Children welcome and cot and high chair available Rose Cottage offers a large master bedroom with super king French bed, French mirrored furniture and a feature wall. Just outside the bedroom you will find a bathing hall with a large copper bath, sideboard and chair on the original floor boards. Downstairs is a large lounge with corner leather sofa offering seating for 4 in front of the log wood burning stove and a Samsung 40 inch 3D 4K LCD TV, (with 4 pairs of glasses and a selection of 3D movies) Rose Cottage also boasts high speed Internet and guests have use of our Netflix account from streaming movies and TV Shows. The open plan lounge area also includes a large dining area offering an oak table with seating for 4 and an honesty bar (with wine tasting menu). The whole area is spacious but cosy with the log burning stove for warm winter romantic breaks (the cottage also has gas central heating). MORE INFO The luxurious kitchen is fully equipped for those that wish to cook in, with an farm house sink, electric ceramic cooker, hob, dishwasher, dualit branded toaster and kettle, microwave and coffee maker. Finished off beautifully with black brick tiles and a white blizzard granite worktop. The crockery in the cottage is Emma Bridgewater' Black Toast and the the cutlery is from Villeroy and Boch, echoing the quality throughout. The downstairs bathroom offers a large bathroom including bath with shower over, WC and sink. The second bedroom is beautifully decorated and offers an ultra comfy double bed with Laura Ashley head board. It is located on the ground floor, making it perfect for less abled guests (please note the copper bath is on the first floor) Outside the rear of the cottage you will find a private luxury Beachcomber hot tub! The perfect hot tub cottage break!
High Bickington is a quite friendly village offering 2 pubs, a community shop and post office. North Devon offers beautiful scenery and Rose Cottage is only a 25 minute drive to the North Devon Coast and beaches.
Tipe Kamar
Seluruh rumah/apartemen
---
Tipe Properti
Rumah
---
Mengakomodasi
4
---
Kamar tidur
High Bickington, Devon, Inggris
Spindleberry is a pretty fifteenth and sixteenth century thatched cottage in the ancient hilltown of Chulmleigh midway between Dartmoor and Exmoor. Sitting-room and dining-room each with inglenook fireplaces, one fourposter bedroom and one twin room.
"My Dream Home" and "Home away from Home" are just two of hundreds of happy guests' comments received over the last decade. It's a very special space that will stay with you long after your visit, the perfect Devon thatched cottage.
All our guests remark on how friendly the natives are. We have a good choice of pubs and restaurants, a butcher, baker, convenience store, post office and hairdresser. There are some splendid walks locally and further afield on the Tarka Trail. Both Dartmoor and Exmoor are half an hour away by car, as are some of the beautiful North Devon beaches.
Tipe Kamar
Seluruh rumah/apartemen
---
Tipe Properti
Rumah
---
Mengakomodasi
4
---
Kamar tidur
Chulmleigh, Devon, Inggris
One of two cottages in a converted 17th century stone barn on a small holding, just outside of the pretty village of Chittlehampton - which has a great pub. Great location with our nearest town being South Molton - which has a farmers market twice a week. We are close to Exmoor and the beautiful beaches of North Devon. Award winning family friendly farm holiday with daily animal feeding, pony rides, heated pool, farm shop and various play areas.
The Cider Barn comprises of one double bedroom with room for a cot or single zbed , a bathroom which has a bath with shower over, and a separate toilet downstairs. A half landing leads through the original cider press to the fully equipped kitchen/diner with stairs leading to the first floor sitting room and access to the outside area. There is a bed settee in the sitting room which makes the cottage suitable for 4 guests including babies.
We are close to the pretty village of Chittlehampton which has a church, village shop and a great pub. South Molton is our nearest town with a weekly market , pool , museum and shops. We are a ten minute drive from the North Devon link road - which is perfect for exploring North Devon and all it has to offer Exmoor , our lovely beaches and great days out !
Tipe Kamar
Seluruh rumah/apartemen
---
Tipe Properti
Rumah
---
Mengakomodasi
4
---
Kamar tidur
Chittlehampton, England, Inggris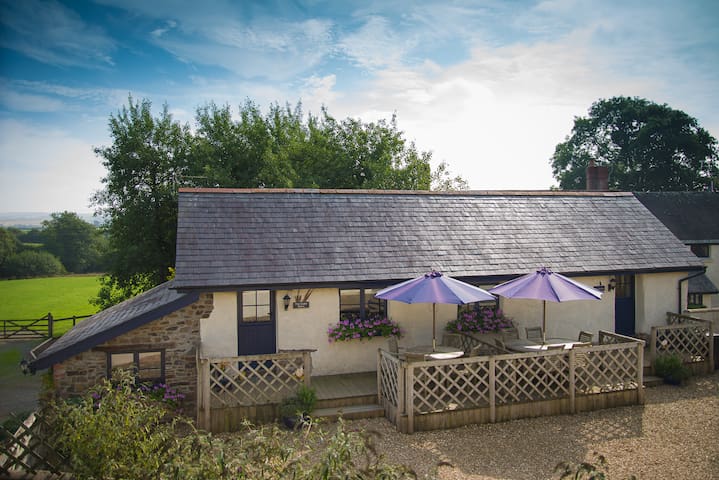 Cider Barn is a cosy & romantic cottage nestled in the Little Dart River valley. The stunning tranquil grounds boast a stocked Coarse lake and two rivers for Fly fishing. This well equipped cottage has a wood burner, roll top bath, wood & slate floors and contemporary styling making this the perfect retreat. Chulmleigh is a pretty small Saxon hilltop town with pubs and shops just one mile away.
Tipe Kamar
Seluruh rumah/apartemen
---
Tipe Properti
Rumah
---
Mengakomodasi
2
---
Kamar tidur
Chulmleigh, Devon, Inggris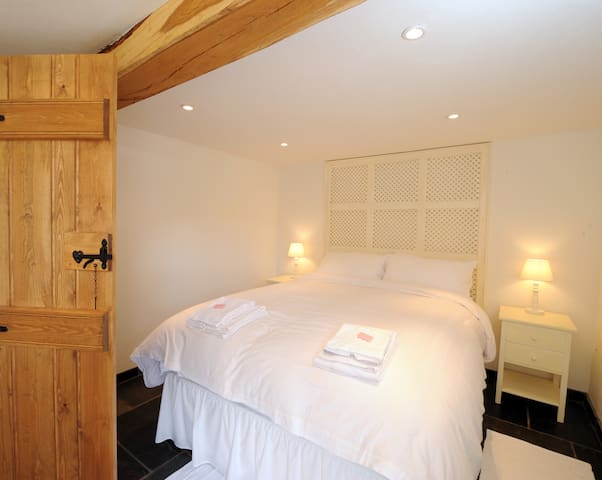 COOMBE FARM LODGE OVERVIEW COOMBE FARM LODGE is perfect for the '3 generation' get-away, this ultimate holiday let is a wonderful solution for the family get-together. as well as for a large group, wedding weekends, or retreat workshops. Coombe Farm Lodge has a great country atmosphere, with character and includes a stunning lsquo;roundhouse' master bedroom above a futuristic contemporary shower room. The Lodge is available to rent for holidays, weddings and events throughout the year. Surrounded by glorious Devon countryside, Coombe Lodge is just 10 minutes drive from the charming small town of South Molton. COOMBE FARM LODGE, is a large, comfortable family farmhouse surrounded by farmland with no near neighbours, set in the Devonshire countryside and Exmoor 10 miles to the East. The farmhouse is a few miles from the coastal golden beaches and within easy reach of the market town of Barnstaple. COOMBE FARM LODGE is extremely well equipped and boasts stunning panoramic countryside views. This charming property is ideal for families. The beaches of Westward Ho!, Instow, Saunton, Putsborough, Woolacombe Croyde Bay are all close by. Explore the beautiful Exmoor National Park. Combe Martin Wildlife and Dinosaur Park, The Milky Way and The Big Sheep, Arlington Court, Braunton Unesco Biosphere and Victorian-styled Ilfracombe. LIVING AREAS Enter into entrance with stairs into double aspect open plan Games Room, Lounge and Dining Room with 16 seat dining table. The room has an elevated position providing panoramic views over private farmland. Access to the garden is down steps. The dining room leads to a comfortable country kitchen. The lounge is a double aspect room with wooden floor and comfy sofas. There is a standard size TV, book case, pictures, wall lighting, all adding to the charm of this property. There is a large pool table and a games cupboard full of other games. There is plenty of storage for bicycles, surfboards and various sporting equipment. KITCHEN The country kitchen is pleasant and homely. It has country-style units, cooker and dishwasher as well as all the cooking utensils that you would require. BEDROOMS There are 8 bedrooms, all with en-suite shower rooms and 2 have the additional luxury of a bath as well. Bedroom 1 is unique in that it is built inside a converted Silo Tower with the bedroom upstairs, TV (Freeview). This stunning bedroom ,with king-sized double bed, has dual aspect windows providing endless private country views to the east and west. A spiral staircase leads down to the unique and very large en-suite shower room. Bedroom 2 is on ground floor level. It has a double (or twin beds) with en-suite shower room with WC and hand basin. This bedroom can be accessed from an outside entrance door or through the second lounge via an inter leading short passage and access to an outside door leading to the courtyard. Bedroom 3, downstairs, has a double bed (or twin beds), plus en-suite shower room with extremely large,double shower Bedroom 4 is again a double or twin bedroom plus en suite shower room with extremely large, double shower Bedroom 5 is a large double/twin bedroom with en-suite bathroom with bath and shower, WC Bedroom 6 is a pleasant double with en-suite shower room with WC and hand basin. Bedroom 7 is a stunning private bedroom with double bed , TV (Freeview), accessed from just outside the front door and is ideal for those seeking a little peace and quiet. Bedroom 8 is a large double room with en-suite full family bathroom BATHROOMS 8 in total, all en-suite, all boasting showers, WC's and hand basin, of which 2 have the added luxury of a bath. OUTDOORS Surrounded by true Devonian countryside, enjoy the grandiose vistas of COOMBE FARM LODGE, surrounded by acres of fields, woodland and streams (please note that there are ponds and that parents with children would be advised to supervise). Some farm animals may be present at COOMBE FARM LODGE, including horses, cows and dogs. The large garden provides open space for ball games. A swingset and picnic tables are provided for endless hours of great outdoor entertainment. Undercover parking is provided for up to 6 cars. AT A GLANCE Location: Nr ; Pets: No; Bedrooms: 8; Sleeps: 16; Post Code: EX37 9RD; Ideal for Families, children, toddlers, 50+; Changeover Day: Friday/Saturday; Children's climbing frame;TV and DVD; Parking for 6+ cars; Central heating; Cooker; Dishwasher; Washing machine; Fridge; Freezer; Duvets, pillows and linen provided; Bath and Hand Towels Included; Wi-fi inclusive (limited connectivity) ADD TO BASKET (OPTIONAL ITEMS) Bath Towels: GBP 0.00 per booking High Chair Usage: GBP 0.00 (2 available) Internet Usage: GBP 0.00 per booking Travel Cot Usage: GBP 0.00 (2 available) EOE
Short Breaks available 8 Bedrooms | All en-suite | Private Country Lodge | Acres of countryside | Large open plan games room, lounge, dining room Review: We had high expectations for this holiday home and it exceeded our expectations. Ideal for a party of children adults of various ages and bedrooms are a very high standard. We always had something to entertain us all.
Chittlehampton is a small rural village situated between South Molton and Barnstaple, in North Devon. The village boasts an attractive village square with picturesque thatched cottages, prominent church, 19th century traditional pub serving real ales and an historic well. Surrounded by beautiful countryside, Chittlehampton is the ideal place to unwind and take part in the many country pursuits on offer, including cycle rides on a network of tracks that take you across Exmoor and North Devon. A half hour drive from Chittlehampton leads to the spectacular North Devon coast where there are many sandy beaches, including Saunton Sands. The market town of South Molton offers farm shops, deli shops, a honey farm where you can watch bees working behind glass, and a chocolate factory with award-winning museum. Chittlehampton is an ideal retreat near rolling countryside and magnificent coastlines.
The host canceled this reservation 123 days before arrival. This is an automated posting.
Lloyd
2017-01-23T00:00:00Z
Tipe Kamar
Seluruh rumah/apartemen
---
Tipe Properti
Rumah
---
Mengakomodasi
16
---
Kamar tidur
Chittlehampton, Chittlehampton and Surrounding Area, Inggris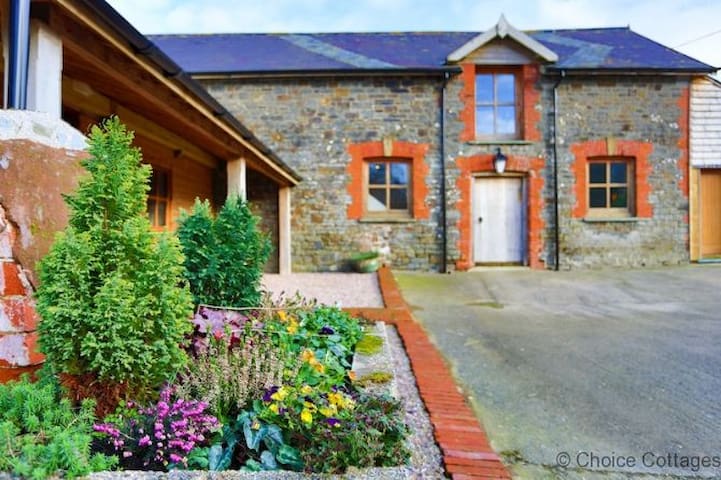 Woodland Cottage is a beautiful and spacious cottage on two floors, set in an exceptionally peaceful and private location along a country lane near the charming market town of South Molton in North Devon. From the generous grounds, take in the wonderful views across the rolling countryside, which offers numerous walks straight from the front door. Enjoy the abundance of wildlife - you may be lucky enough to spot the local red deer, otters and a wide variety of birds. You even get your own private lake with ornamental fish! The perfect spot to take in the scenery and wildlife with a relaxing glass of wine. This holiday cottage at a glance Sleeps two guests. Two bedrooms. One bathroom. Outside area with garden furniture for alfresco dining. Lovely grounds to explore including a private lake and stream. WiFi. On-site parking. Sorry, no pets. Sorry, no children or babies due to steep slopes and the proximity of the lake. Minimum of a two night stay. Additional features Ideal for a Romantic Retreat. Enjoy complete privacy. Just 45 minutes from Ilfracombe and Saunton Sands. Beautifully rural, spacious and tranquil. The stream and lake can be discovered within the grounds, seating provided by the lake. Underfloor heating to ground floor. Electric cooker with five-hob burner, microwave, dishwasher, fridge/freezer, washer/dryer. Attractions and nearby amenities In the neighbouring village of Kings Nympton, pop into The Grove Inn, just four miles away or a short drive away you will find the town of South Molton with a wealth of shops, eateries and pubs. Within the surrounding area is a large selection of pubs and restaurants including the well known Michelin stared, The Masons Arms, which is only a brief drive from the cottage. The lovely towns of Great Torrington, set on an inland cliff top with steep drops down to the River Torridge below and bustling Barnstaple, are within a 30 minute drive with an abundance of shops and eateries. Visit Exmoor with its spectacular scenery and enjoy peaceful walks over the moors where you may catch sight of the wild Exmoor ponies. A must is also the Tarr Steps or try some of the 51 miles of the Coleridge Way. For the sporting enthusiasts there are ample activities to try such as kayaking, fishing, riding or rock pooling, to name but a few. Slightly further afield you can stroll along the beach at Ilfracombe (45 minutes away) or take a coastal cruise from the harbour and look out for seals, porpoises and dolphins. Another recommended beach can be found at Saunton Sands, 45 minutes away.
Tipe Kamar
Seluruh rumah/apartemen
---
Tipe Properti
Rumah
---
Mengakomodasi
2
---
Kamar tidur
Romansleigh, South Molton , Devon, Inggris
Sleeps 11 in a 5 bedroom cottage found in the heart of rural Devon. A Grade II listed thatch cottage rambles over 3 floors with its own private garden, is still full of its original historical features offering a cosy, light yet spacious feel.
Rambler cottage is a delightful rambling cottage in the heart of a village with two local pubs that both serve food in easy walking distance. In the middle of North Devon, Exmoor, Dartmoor and the famous Devon surfing beaches are just half an hour away. We have golf, cycling routes, river valleys, ancient woodland, market towns and many historical sites in the immediate area. We feel this part of Devon is a hidden secret that is slowly being revealed.
We love the friendly atmosphere of High Bickington with its active community, community woodland and thriving family farms. We relish the diversity of the landscape that is all within easy reach either on foot from the door or further a field by car.
The host canceled this reservation 60 days before arrival. This is an automated posting.
Sally
2016-10-23T00:00:00Z
There was a cream tea set out to make us feel welcome on arrival (thank you Pamela) The cottage was as described and perfect for our needs, with everything neat and tidy- plenty of bedding, towels, kitchenware etc. and more. We made use of buckets and nets for the beach that our younger members were very happy with. The whole lay-out is great, as its very communal and no one felt isolated even though they could find a quiet corner in which to read. The dining area was brilliant and we loved the high ceiling and fairy lights. It made meal times really special, to be able to all eat together. I really think Sarah could brag more about how ideal rambler cottage is. Sarah communicated well with us and we felt immediately at home at Rambler Cottage .
Ian
2015-08-22T00:00:00Z
Tipe Kamar
Seluruh rumah/apartemen
---
Tipe Properti
Rumah
---
Mengakomodasi
11
---
Kamar tidur
Umberleigh, Devon, Inggris
Built in the 1600's, a thatched farmhouse, sleeps 8. Great for family holidays & catching up with friends. Set in beautiful gardens incl kitchen garden & ponds. 4 bedrooms (3 Spacious doubles + 1 room adult sized bunks). 2 Bathrooms, 1 en-suite, 1 luxurious Jack & Jill bathroom with wetroom shower & antique bath. Downstairs cloak with toilet. Parlour with large Inglenook fireplace. Well equipped Kitchen with Aga & range gas cooker, Dishwasher, US style fridge. Garden room overlooking ponds.
An ancient farmhouse brought sympathetically into the 21st century
Set in deeply rural North Devon between Dartmoor and Exmoor, 20 miles from beaches, 10 miles from Exmoor National Park. 18 miles from J27 M5. 3 hours from London.
Fantastic place and a great host. Stunning area of natural beauty my family and I had an amazing week. Thank you Oliver.
Ian
2016-08-27T00:00:00Z
We had booked Blacklands for the last bank holiday weekend in August, me and my partner Mike and two other couples plus our dog Tommy. We had the best time! The cottage was amazing and had everything we needed, the antique bath was my favourite part!. The grounds were immense, we couldn't really believe we had it all to ourselves!. It was so lovely in the evenings having barbecues and we all especially loved the fire pit and looking at the stars at night :-). Our dog Tommy had the best holiday ever! He loved playing with Oliver's dogs who were really friendly, and was free to roam the grounds which he loved. Oliver was very welcoming, and extremely helpful. He advised us on the best places to go in the area and we tried the tarr steps pub for a meal which didn't disappoint. He had left us fresh veg from the kitchen garden and coffee/juice etc which was a lovely touch. Overall me and my friends had the most amazing relaxed time here and will definatly be returning! Thanks a lot! Candice
Candice
2016-08-31T00:00:00Z
We stayed at this remote and lovely farm house for a week, and we're sad to leave. Oliver was a friendly and helpful. He had prepared some bread, scones and smoked salmon for us on the day we arrive. The farm house has nice west facing room, which we hang out most of the time. This room look out to the garden and lake. We did not use the lounge or the dining room during our week stay. The garden and vege patch were great, though vege patch needs a bit of TLC. We had some produce from the garden which was a novelty for a KL city folks like me. Oliver also delivered us fresh eggs from his chickens everyday. In the evening, the garden was dark enough to watch the night sky, as long as it is not cloudy. The place it rather remote, hence having a car is a must to get out. The place is also nice and big enough to stay in if the weather is bad. It's an ideal location for a bit of peace and quiet and to recharge batteries. Lovely place and we definitely consider to come again if we are planning a holiday in Devon.
Ruh
2015-08-13T00:00:00Z
We had a wonderful week on Blacklands farm. The house and Oliver the host exceeded all our expectations. Oliver was a fantastic host - available and more than helpful when needed and elusive when not. We enjoyed fresh eggs, vegetables and herbs from the garden! And fresh produce locally sourced that Oliver kindly provided us. We couldn't have felt more welcome or at home for the week. True 5 star self catering.
emily
2016-07-31T00:00:00Z
We had the most wonderful 10 days at Oliver's farm. Blacklands has a really special feel and our 4 children was enchanted from the moment we drove down the long drive! The house was actually more luxurious than described and the setting even more striking. The house is very remote but that was a huge positive for us. Our children collected the eggs from the chickens each morning and also fed and walked the baby goats! The house itself is beautifully furnishes and decorated, with some really lovely art pieces. The kitchen is a stunning space (where we spent most of our time) and the view across the large pond is just a great moment to wake up to. The bedrooms are all large, the bathrooms great, and fire in the main sitting room make for a real home from home.
Sean
2015-08-29T00:00:00Z
This place is a hidden gem. We stayed here with a group of friends for New Year and could not have asked for a better place! The house is gorgeous... spacious yet cosy and beautifully restored/decorated, the beds were so comfortable, and the kitchen was huge and very well equipped with fantastic views over the gardens and hills beyond. Steve and Oliver were wonderful hosts, with good recommendations of things to do locally and they even supplied us with fresh eggs from their hens every morning!
Hester
2017-01-02T00:00:00Z
I booked Oliver & Steve's home as a surprise present for my girlfriend's 30th birthday. The house didn't disappoint. It was perfect for all 8 of us. We really loved arriving to a warm fire, incredible kitchen and the most beautiful master bedroom we've ever stayed in. I'm not even sure which was our favourite part it was all so good! This house is perfect if you want to get away from the hustle and bustle and be surrounded by stunning views of the countryside. The breakfast room looks out onto the small lake with the geese, Percy and Portia having a little roam around. The house had everything we needed and we were so comfortable. Oliver & Steve are fantastic hosts who made sure we were happy and snug. We even got to hold the 3 week old lambs! We can't recommend Oliver & Steve's place enough, it's a magical find. We'll be back!
Gerrard
2017-04-02T00:00:00Z
We had a really lovely break at Oliver's place. As there were 7 of us we were amazed at how much space we had especially as the weather was not great so spent a fair amount of time relaxing indoors enjoying the beautiful views. The kitchen was so well equipped so we made full use and had some lovely meals using veg and salad courtesy of the garden produce. Our two youngest were shown all around daily so learnt lots about the chickens ,pigs and vegetable garden. It really was a perfect break away,very clean and comfortable with excellent hosts. Shops are a short drive away so as peaceful as it is you can still get what you need easily. Many thanks Oliver and Steve.
Sue
2016-08-06T00:00:00Z
Tipe Kamar
Seluruh rumah/apartemen
---
Tipe Properti
Rumah
---
Mengakomodasi
8
---
Kamar tidur
South Molton, England, Inggris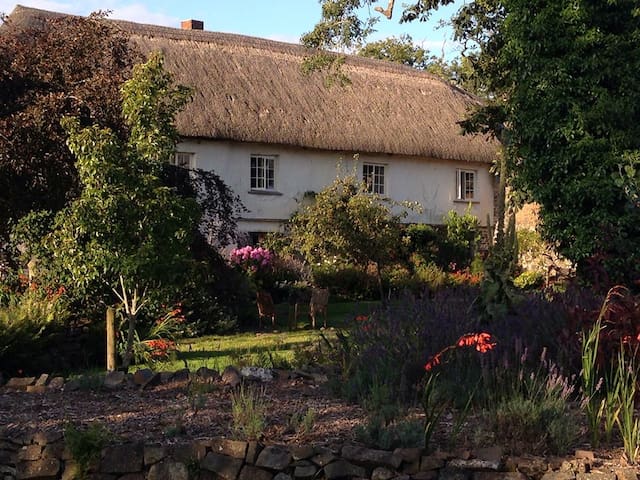 The Hide is a tranquil getaway, tucked into the corner of Lemons Farm, our 15th Century thatched farmhouse. Originally a piggery, the cob and stone building has been converted into a little cottage with a living area, kitchenette, bathroom and mezzanine sleeping area. Fall asleep under the stars and wake to the sound of birdsong. Lemons Farm is located in Atherington, a lovely village with a church, shop and playground. Some great pubs are nearby as are the gorgeous North Devon beaches.
We are just 25 minutes from North Devon's spectacular Atlantic coastline. Westward Ho!, Saunton Sands, Woolacombe and Croyde Bay are our closest beaches and we try to get there as soon as the sun comes out. We also love walking and cycling on the Tarka Trail which goes along the river estuary. We are 15 minutes' drive from the market town of South Molton, well worth a visit for its pannier market and a Devonshire cream tea. From nearby Bideford or Ilfracombe you can take the ferry to Lundy Island's spectacular nature reserve. Family attractions include The Big Sheep, The Milky Way, Dartington Crystal, RHS Rosemoor Gardens and the lovely seaside towns of Clovelly and Lynmouth, which are all under an hour's drive. If you love walking, we are not far from Exmoor, but there are some very picturesque spots to explore even closer to home, like Northam Burrows and the Taw River. The South West coast path is also on our doorstep.
Katherine and Tino were perfect hosts. They were accommodating when we had to arrive 4 hours after we said we would (traffic!) and had their au pair meet us. The Hide itself is a beautiful space, very modern, decorated warmly with all the amenities you could want, for example a hairdryer! Greeted with fresh bread and eggs, we had a hearty home made breakfast. Great advice about the Tarka trail and nearby beaches. We would definitely stay again with this lovely young family.
Natasha
2016-09-11T00:00:00Z
The Hide was the perfect base for us to explore North Devon. The one bedroom self contained house is attached to the host's beautiful house but completely private, peaceful and surrounded by lovely gardens. The hosts were welcoming and charming and gave us some great tips on some nearby places to eat. We have absolutely no hesitation in recommending this accommodation to the Airbnb community and are looking forward to going back ourselves.
Mark
2016-06-27T00:00:00Z
We really enjoyed our stay at The Hide. Katherine and Tino made us feel very welcome and communication prior to arrival and throughout our stay was great. The Hide is compact but very clean and modern with beautiful gardens around it. A perfect base for exploring both the North Devon and North Cornwall coast. We'd happily stay here again!
Nina
2016-07-21T00:00:00Z
A very lovely accomodation, both comfortable and modern! The sourrounding is beautiful with a nice garden, hens and a friendly dog - quiet and rural. Katherine and Tino were the perfect hosts.
Timo
2016-07-17T00:00:00Z
Communication was great before and during our stay. We were welcomed with some lovely free range eggs and fresh bread. Katherine and Tino were fantastic hosts and couldn't do more for us, we even spent a lovely evening in their home as our children played together. Compact but lovely accommodation in peaceful surroundings.
laura
2016-08-07T00:00:00Z
We had a wonderful stay at The Hide, Lemons Farm, and Katherine and Tino were the perfect hosts. We arrived to some freshly baked bread and freshly laid eggs from their two chickens, and were greeted warmly by their gorgeous dog Inca who allowed us to sit with her new litter of puppies for a bit. The accommodation is an annexe to the main farm house, however we felt like it was just us there, and were able to spend time reading and sunbathing in the garden when the sun came out. The Hide is compact, yet has everything we wanted and needed throughout our stay. This was a lovey 4-day break for us, and we will remember it fondly. We definitely recommend The Hide for anyone looking for a quiet and peaceful break in rural Devon.
Peter
2016-07-08T00:00:00Z
Katherine made me feel very welcome and both her and Tino were great at emailing me beforehand about the Hide. We had everything we needed and their information sheet on local guidance gave us the tips we were looking for. I travelled with my 6 month old pup and two children and all enjoyed it immensly. Especially the puppy who enjoyed playing with the hosts puppy! Thanks so much for making our short stay enjoyable. We'll be back.
Sabrina
2016-10-28T00:00:00Z
Our stay at 'The Hide' on Lemons Farm was a delightful experience for our young family. We arrived to a clean, well equipped place to stay with a fresh loaf of bread & eggs from the owners chickens. The couple couldn't have been more accommodating during our stay. It felt like staying with friends rather than paying to stay somewhere whilst away on holiday in North Devon. The couple asked us daily if we needed anything & helped us out immensing with washing when our 3 year old son was poorly & vomited everywhere! I would highly recommend this place to stay. 'The Hide' is lovely & the hosts are very accommodating. I would love to come back. Thank you very much for adding to our successful holiday in North Devon.
Pedr
2016-08-27T00:00:00Z
Tipe Kamar
Seluruh rumah/apartemen
---
Tipe Properti
Rumah
---
Mengakomodasi
4
---
Kamar tidur
Atherington, Devon, Inggris
1

–

18

dari

65 Sewa Rumah
Masukkan tanggal untuk melihat harga lengkap. Biaya tambahan berlaku. Mungkin dikenakan pajak.