Unser Haus ist für seine vorzügliche Küche aus. Ihr Zauber steckt in der Kombination von modernen und traditionellen karstic Verdauungsgewohnheiten versteckt. Auf unserer Speisekarte ist nämlich die Fähigkeit, Gerichte zu finden, die von dem alten karstic recepies kommen, und zugleich sind wir Kokettieren mit den modernen kulinarischen. It`s über die menschliche health`s freundliche Güter, die sind, wie sie sein sollten, begleitet mit der obersten Ebene krastic guten Wein. Wir bieten Auswahl der besten Weine aus unseren und anderen nächsten Regionen.
Tipe Kamar
Kamar pribadi
---
Tipe Properti
Bed & Breakfast
---
Mengakomodasi
2
---
Kamar tidur
Komen, Slovenia
A place where time stands still. To pamper body and soul, including walking and cycling tours, tasting local food and wine, in the company between talk and music evenings. Or just to stay to hear the silence, in peace.
Our house is about 200 years old and we are still restructuring it with our hands, trying to preserve its soul. We have several variations for sleeping. A loft with two beds overlooking the sky and the ability to add other mattresses - for sports. Also two rooms for two people each. We have two bathrooms, one outside, the courtyard, and one at home.
Volčji Grad, also known for a well-preserved Iron Age fort, is an old Karst village in Slovenia, about 10 km from the former border with Italy, near the town of Komen. It 'a great place for long walks in nature, biking, meditation exercises, for all those who want a relaxing holiday, away from city noise. It 'also a good starting point for trips to interesting tourist sites. In half an hour by car you are already on the banks of the Soca River, or in the Postojna cave - the most spectacular caves in the world, or even in the magical Trieste. In an hour you can reach Ljubljana, capital of Slovenia, a jewel among the Central European cities.
Martina and David were wonderful hosts! They were so warm and friendly and made me feel right at home. Their place is quite charming and comfortable and surrounded by beautiful countryside and endless trails for walking and biking. I thoroughly enjoyed my time with them and would love to return one day. Staying with Martina and David was certainly a highlight of my trip!
Amy
2015-09-11T00:00:00Z
If your soul desires peace, calmness and silence, if you like home-made organic food and wine, if you are intersted in the taste of the home-made Grappa or you want to have a glass of wine at candle lights with intelligent and lovely people, moreover if you want to do all this in the yard of a 200 years old house, than you should definately spend a few days at Martina and David. They are helpful in organizing your trips, they know very well the history and geography all Slovenia and Triest. The house and the village brings back the ancient times, and the animals are really lovely. I truly recommend these wonderful people and their place!
Mira
2014-06-11T00:00:00Z
Oh. I'm so grateful to Martina and David for those three days and a half that I lived with them. They have a lovely lovely house. With a completely unique and wonderful surroundings. But most importantly, Martin and David were absolutely amazing people. Interisting and open-minded. Highly recommend!
Lena
2015-08-22T00:00:00Z
Thank you for good accomodation and time.
Jelena
2014-07-31T00:00:00Z
martina und david haben auf uns am abend gewartet und mit frischem brot, wasser und grappa uns herzlich willkommen geheissen. das zimmer für die kinder war gross und luftig, das schlafzimmer mit dem ausziehbett war nicht so bequem... das frühstück war gut. alles in allem ein guter, günstiger platz für zwei tage bei netten gastgebern.
Wolfgang
2014-07-15T00:00:00Z
It was very nice to spend time in this old and tipical house from the karst and to share this house with Martina and David. They are gentle hosts and it's interesting to have time with them and discuss.
Henri
2015-08-18T00:00:00Z
Our stay in the old farm of David and Martina was by far the most beautiful and best place of our holiday in Slovenia. It was not very easy to find at first, but that was mainly our own fault. And if that is not the case,then that's probably for the best, because wow what a fantastic place! If you are looking for tranquility, a place where time has stood still and sincere hospitality then you need to visit Una magica casa! Amanda, David, thank you so much for a memorable evening and great stay!
Oscar
2014-09-01T00:00:00Z
Esperienza favolosa!! Martina e David sono gentilissimi e molto disponibili!!! La camera era bellissima, in legno, con una libreria enorme piena di libri di ogni tipo e in ogni lingua... il paesino molto tranquillo immerso completamente nella natura. Assolutamente consigliato ;)
Italo
2014-08-20T00:00:00Z
Tipe Kamar
Kamar pribadi
---
Tipe Properti
Rumah
---
Mengakomodasi
2
---
Kamar tidur
Komen, Sežana, Slovenia
Originalmente una casa Karst de 150 años de antigüedad, completamente reconstruido y reformado en 2015, se encuentra en el corazón de uno de los pueblos más interesantes de Eslovenia Karst, viñedos viejos y cerca del mar Adriático. La villa dispone de 4 dormitorios y 3 baños, casi 300 metros cuadrados de espacio habitable, más 1 grandes terrazas cubiertas con espectaculares vistas al campo. Villa también incluye una sauna finlandesa, piscina de masaje y sellador de vino de 200 años. 4 bicicletas de forma gratuita en el sitio.
La planta baja está dedicada a los espacios de vida de una gran cocina y comedor abierta, salón grande sala de estar con TV vía satélite, reproductor de DVD, equipo de música, conexión Wi-Fi, lavadero (en uno de los cuartos de baño), área de juegos para niños , aseo y una chimenea. La cocina tiene todo y es espaciosa, con un Owen, también horno de microondas, lavavajillas, la villa también ofrece el uso gratuito de bicicletas de 4 y 1 moto pequeña niño. También encontrará una gran y amplia cocina exterior, incluyendo una barbacoa de piedra construida, mesa y sillas de exterior, tumbonas, ropa de casa, etc., están incluidos también.
1. It was a pleasure to meet such a hospitality people. Prompt reply, quick reactions to the needs, explanations, recommendations etc. were great. 2. Apartment: newly renovated house, clean and cozy, everything inside, 3 bedrooms on the ground and first floor, the 4th is on the rooftop and were not as convenient for us as expected. All the essentials were inside, washing machine, dishwasher, toaster, different kind of pots, glasses, plates. There were no kettle and no microwave, but for us it wasn't necessary. Jacuzzi in the yard saved us from sunny hot days. 3. Surroundings. Beautiful village with lots of vinery choice. We spent unbelievable days. Thanks.
Marina
2016-06-27T00:00:00Z
Tipe Kamar
Seluruh rumah/apartemen
---
Tipe Properti
Rumah
---
Mengakomodasi
9
---
Kamar tidur
Komen, Sežana, Slovenia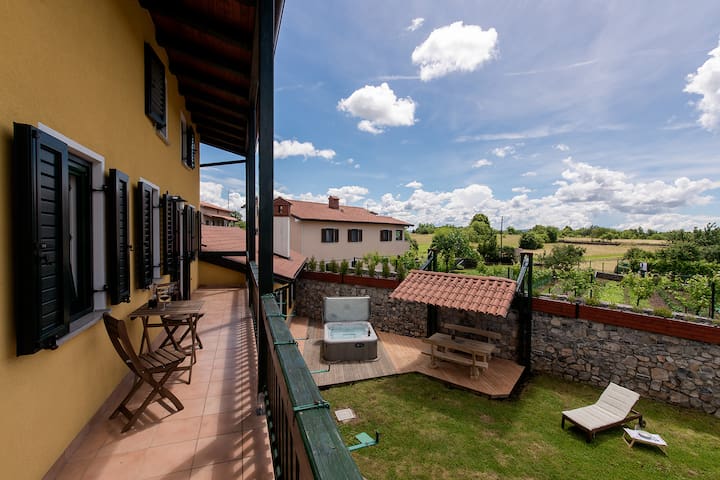 'Hisa ovcicevih pri', si trova nel villaggio tipico del Carso, tra Komen e Štanjel. Recentemente rinnovato, questa casa offre in piedi moderna in una tipica casa carsica. La casa dispone di 3 camere da letto bouble, e una camera da letto soppalco. 2 bagni, cucina spaziosa e un soggiorno con TV e pianoforte, attraverso il giardino si dispone di una cucina estiva con barbecue per il periodo estivo. Come una tipica casa carsica vi è una grotta, dove gli ospiti sono invitati a degustare alcuni vini locali durante il soggiorno. 3 camere da letto bouble 1 debrooms con 5 posti letto (+1) 2 bagni Un soggiorno cucina completamente attrezzata cucina estiva cantina Prezzo 4 persone: 700 € / settimana - 120 € / giorno 6 persone: 850 € / settimana - 150 € / giorno 7 persone e +: 1200 € / settimana - 250 € / giorno
Con più di 200m2, la casa offre un soggiorno molto confortevole. La casa è adatto per i bambini, le culle sono disponibili, offriamo anche una sala giochi con i giocattoli. Il giardino è dotato anche di giochi per bambini.
Gabrovica è un tipico villaggio carsico, situato sulla cima della collina, con la sua chiesa e un parco giochi per i bambini. Il villaggio è molto tranquillo e offre la possibilità di risorse e gode della tranquillità del luogo. Si trova anche vicino a tutti i luoghi turistici di rete in Slovenia e anche l'Italia. Il quartiere offre molte attività come bicicletta, a piedi, speleologia e la pesca o semplicemente visitare. Per speleologia, si ha la possibilità di scoprire grotte come Postumia o strega Skocjan sono posto più turistica, ma anche grotte come Medvedljak, Vilenica, e altri più di 10 se si pratica la speleologia più professionale. Per passeggiate a piedi e in bicicletta, una strada segnata passare attraverso Gabrovica, questo non è difficile ed è adatto per i bambini. Intorno si dispone di altri contrassegnato strade, come Pliskina Pot, Kamniška Pot ... che faranno scoprire la natura carsica con i suoi rifugi dei pastori, fontane naturali e piante. Per la pesca, si può godere a Planica o Vogrsko, in cui siamo in grado di fornirvi tutte le informazioni riguardanti il permesso. Per la visita: Bled, nel nord della Slovenia è di gran lunga 1h15 dalla casa, alla stessa distanza si hanno anche Venezia in Italia. 1h di distanza si ha la penisola di Pirano in Slovenia costo o la sua paludi Salan. Anche vicino o poco meno di mezz'ora lontano dalla casa si può visitare la scuderia di Lipica, dove è possibile scoprire la corsa di cavalli lipizzani, i bambini possono cavalcare pony, giocare a mini golf, adulto può godere di casinò o giocare a golf o tennis. Molto vicino si hanno anche Grotte di San Canziano o Grotte Gigante in Italia, il borgo medievale di San Daniele del Carso con la sua casa locale a base di prodotti del mercato e visita del castello, carsico casa e Museo Spacal, ogni domenica guidata.
Tipe Kamar
Seluruh rumah/apartemen
---
Tipe Properti
Vila
---
Mengakomodasi
10
---
Kamar tidur
Komen, Slovenia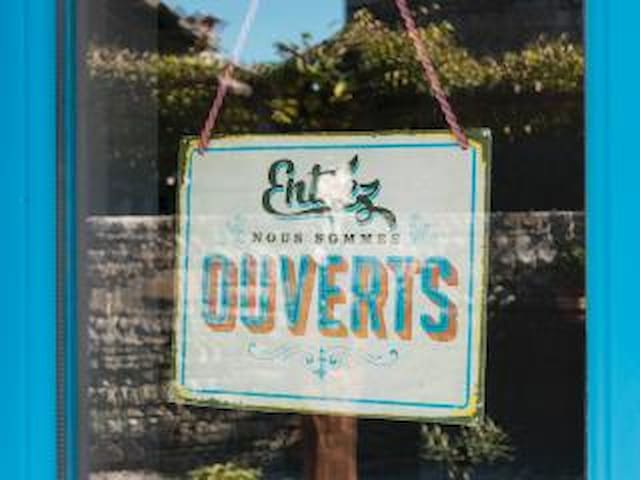 I only spent one night in Matejka, but it had been very pleasant. The house is difficult to find at night, and the villagers not very open ... N.B : the last road on the left before leaving the village! The room is very large and Matejka manages the breakfast great. I even enjoy a dinner and a discovery of local red wine, despite a late arrival, failing to find home (21:15)
Stéphane
2012-08-23T00:00:00Z
Amazing place! Awesome food, quiet location. Will return again!
Sean
2015-10-13T00:00:00Z
Undoubtedly Matejka is a very special personality and so is her's house. It was a special experience to stay at her unique and impressive old house and to see her works in stone in the Galeria she had. The garden, the front yard, the special trees and plants, the vine, the view all of them inspire you. Coffee, tea, omelet with herbs from her garden, just complete the scene. I stayed only one night, but I'm sure I will be back. Warmly recommended!!!
Shmulik
2014-10-16T00:00:00Z
Tipe Kamar
Kamar pribadi
---
Tipe Properti
Rumah
---
Mengakomodasi
2
---
Kamar tidur
Sežana, Slovenia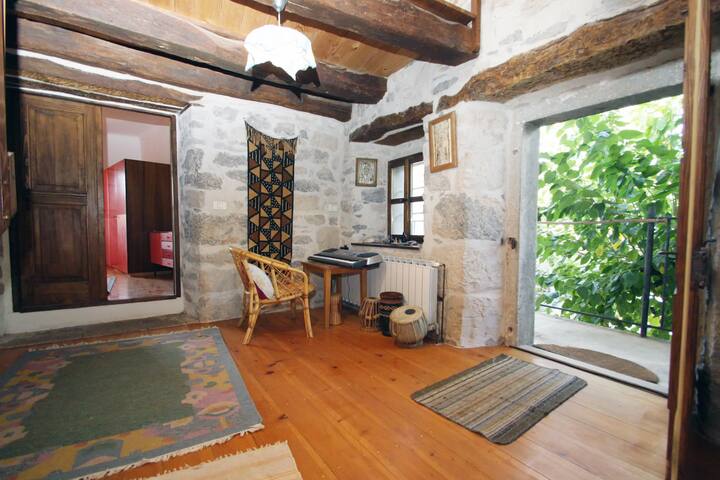 L'alloggio è separato dalla casa in cui abito ed è autonomo. Potete cenare a lume di candela davanti al caminetto acceso o se preferite nella fresca cantina di fine 800 gustando del vino ... per godere in totale relax la vostra permanenza. In caso di late check in chiamatemi sul telefono mobile o mandate un messaggio.
L' alloggio è ideale per una coppia con due bambini; climatizzato, ha la stufa a pellet, tv lcd, wifi; un letto matrimoniale ed uno in mansarda per bambini o ragazzi (non adatto a due adulti) ; la cucina in muratura ed un ampio bagno con doccia. La struttura è nuova così come l'arredamento. Facilities are: A/C, pellet stove, LCD TV and WI-FI.
La posizione è immersa nel verde e nella natura; il silenzio e la quiete lo caratterizzano. L'aria è sempre pulita. La posizione è soleggiata e non si conosce l'umidità. A 1 minuto a piedi si trova il panificio e il supermercato, la farmacia ed il distributore di benzina. The property is surrounded by a green garden. Best features are relaxing sunny lazy days followed by silent quiet nights with fresh and clean air with no moisture at all. In a few minute by walk the guests can find a bakery, a supermarket, a pharmacy and a gas station. There is n. 44 bus stop just in front of the house with direction to Trieste downtown (14km/30min.)
Siamo stati ospiti di Giulio per 4 notti in Dicembre. Il tempo non permetteva di usufruire del camino esterna, però la cantina, con un bellissimo cammino grande, si è dimostrato perfetto e accogliente per un grigliata in famiglia. Giulio e sua mamma sono molto ospitali e disponibili, e Cuti il loro cagnolino era un perfetto compagno di giochi per i nostri due Cocker Spaniel. Si sta bene "alla cantina".
Alessandro
2016-01-03T00:00:00Z
Giulio and his mother (and Cooti the dog and Nicolo their best friend could not have been MORE welcoming - Everyone was wonderful and we felt immediately at home. A big treat was a home cooked meal on the open hearth (fogolar) on the terrace and over the week Giulio offered us lots of information on places to go and things to see that we would not have found otherwise. He is well traveled, especially in his area and we ventured to a beautiful lake in Slovenia. Also an authentic meal at an omiza in the hills. Then on his suggestion a 1.5 hour one way drive to through Italy and Slovenia to Croatia to have seafood lunch with a view over the Adriatic. The studio apartment is cozy and if it had been a bit earlier in the season we could have made even better use of the outdoor covered terrace. The cellar cantina is very atmospheric too. The location is very central and easy to get to and there is a very good grocery shop a short walk from the house. Very good butcher and friendly and knowledgable staff (with good English! - as does Guilo and his mom). Would love to go back in spring or summer. Grazie mille Tanse!
Llyn
2016-10-10T00:00:00Z
Nous avons été très bien accueilli par Giulio. Il etait disponible et nous a été de bons conseils .
jean
2016-10-29T00:00:00Z
Bellissimo posto... Appartamento veramente confortabile, polito, carino i di aggrado... Vicino a tutto che bisogna per essere no Carso da bella e piccola Aurisina!!! Giulio tanti grazie per essere coccolo i tanto bravo con noi.. Baci Carol e Well Giulio grazie mille per fare parte da nostra viaggio...
Carolina
2016-02-26T00:00:00Z
wir waren vom ersten Moment zu hause, Giulio ist wirklich hilfsbereit und hat uns so viele wertvolle Tipps gegeben, sehr gastfreundlich und wir konnten uns in seinem Garten frei bewegen , den Grill benutzen.Wir sind froh, daß wir Ihn und seine Mutter kennen. Es ist eine sehr sichere Region und das Grundstück abgeschlossen. Wir hatten dir Berge und das Meer um uns. Wir kommen wieder
Theresia
2016-08-27T00:00:00Z
Io e Angela abbiamo alloggiato per tre notti. Giulio è stato cordiale, affabile e ospitale. Tutto è risultato come descritto. Raggiungere Trieste è stato agevole ed è stato semplice visitare il meraviglioso castello di Duino e il famoso castello di Miramare. L' alloggio consiste in un ambiente unico, a parte ovviamente il bagno, ed è adatto per una coppia. Insomma, un' esperienza positiva. Giampaolo
Angela
2015-09-05T00:00:00Z
Giulio è stato simpatico e accogliente, pronti a venire incontro alle nostre richieste e ci anche saputo dare qualche ottimo consiglio. La casa è confortevole anche se piccola, ideale come "base" per esplorare il magnifico carso.
Giorgio
2015-11-17T00:00:00Z
We spent a very nice time in Alla Cantina. Giulio and his mother are extremly nice and polite persons. The listing description was accurate, moreover they offered to us even more. The neighborhood is very quiete and beautifull. All the best.
Peter
2015-12-08T00:00:00Z
Tipe Kamar
Seluruh rumah/apartemen
---
Tipe Properti
Loteng Studio
---
Mengakomodasi
4
---
Kamar tidur
Aurisina, Friuli-Venezia Giulia, Italia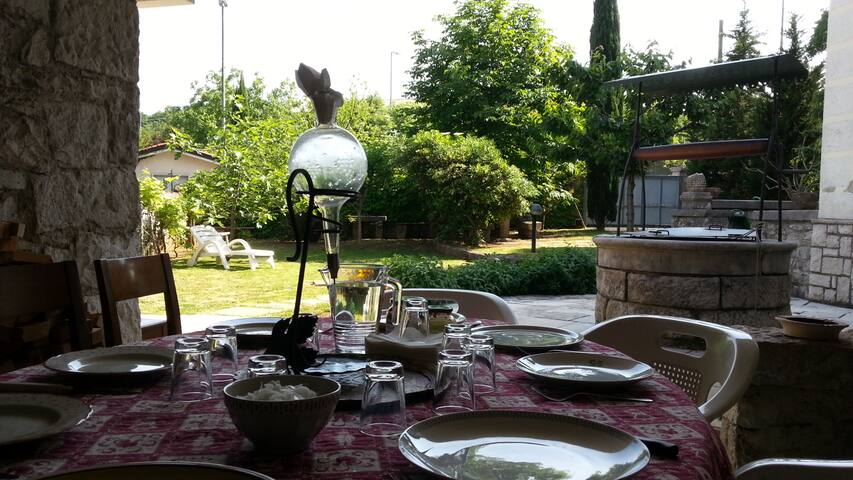 Ve středu Kras (krasu nebo Carso, chcete-li) leží obec Pliskovica. Barevné zahrady, divoké pohledy, klidné rybníky a zvířata ... je budete setkat s naším přivítání (v lednici): víno obec a naše sůl s Erbs
- Meine Heimat und das Dorf steht im Mittelpunkt der Veranstaltung und Kurse organisiert von Verein Joseph: ein Haufen Liebhaber der Erde und guter Gesellschaft (es kann vorkommen, dass eine Gruppe von Menschen erscheint im Garten, aber keine Sorge: sie nur möchten sie einen Blick auf den Platz geben, und sie werden in einem zweiten verschwinden!) - Es gibt eine Küche, die zugleich, Ess- und Wohnzimmer ist mit einem 100 Jahren alten Ofen (ideal für Brot und Pizza Kochen) - Gästezimmer geteilt wird (ein Doppelzimmer + 1 Einzelbett + 1 ausziehbares Bett); dann, in der Küche / Wohnzimmer, können Sie ein zusätzliches Bett verwandeln das Sofa in ein Bett haben - Es gibt ein kleines Bad mit Dusche, Bidet, Waschbecken, Waschmaschine, Boiler, die im ganzen Haus Warmwasser verteilt - Vom Balkon aus, werden Sie einen herrlichen sonnigen Blick auf den Berg Volnik (Lanaro in italienischer Sprache) erhalten, die, nebenbei bemerkt, die Grenze zwischen Slowenien und Italien zieht. - Sie können den Hof benutzen, die von romantischen alten Mauern, einen alten Walnussbaum, den Blick in Richtung Süden, auf das Tal und Berg Volnik ummauert - Das Haus ist Sitz unseres kleinen Zentrums für Bildung und Förderung der Kultur der Karst; wir Praktika organisieren in den Bereichen des Dorfes in Gartenarbeit, Landzuteilungen für die Menschen, und Führungen zu den besten Farmen von Karst, sowohl in Slowenien und in Italien organisieren
Tam je spousta zemědělců v obci, jeden včelaře, dva řemeslníci, krásný zrekonstruovaný hostel pečující o své 200 let staré místní architektury
Enrico è un padrone di casa veramente premuroso, ci ha accolti fornendoci parecchie info sulle possibili escursioni in loco e sul versante italiano e durante il soggiorno non si è risparmiato nel contattarci per sapere se eravamo a posto di tutto. Egli ci ha fatto dono anche di alcuni prodotti locali, che abbiamo apprezzato moltissimo. La casa di Enrico è piccola ma molto accogliente e confortevole nelle sua semplicità, ci ha donato momenti di grande pace e tranquillità a stretto contatto con la natura, grazie soprattutto all'ambiente in cui è inserita. Una esperienza sicuramente positiva da consigliare a tutti.
Massimo
2014-08-24T00:00:00Z
Non ho avuto il piacere di conoscere Enrico personalmente ma i miei amici, che sono arrivati a Casa Jeričevi prima di me, me ne hanno parlato come di una persona molto gentile e disponibile, che oltretutto li ha accolti con dell'ottimo vino e del sale aromatizzato alle erbe! La casa è molto intima e confortevole, c'è tutto il necessario per trascorrere una piacevole vacanza (compresa l'utilissima stufa a pellet). Il paesino è suggestivo e si trova in un'ottima posizione: in poco tempo si possono raggiungere le principali località del Carso e della costa.
miriana
2015-05-03T00:00:00Z
Enrico welcomed us very nice - he was a great host, very kind and caring. He gave us great tipps for our stay and was always available, when we needed him. We had a wonderful stay in his house. The place is very cosy, especially the kitchen and living area - where the sun comes through the little kitchen window in the morning and the oven heats up the place. We had breakfast in the lovely garden and were relaxing and forgetting the world outside. Thank you for a really nice time - we would like to come back!
Susanne
2015-04-10T00:00:00Z
Enrico´s house is located in very nice part of Kras/Karst full of vineyards and small picturesque villages. It is very private place with its own garden. It has been reconstructed in a very clever way as it has still the feel of original building but renovated to a nice standard. We enjoyed our stay and would recommend to others. Btw Enrico provided us with maps and information about the area an gave a nice gift. Thank you!
Jakub
2015-06-17T00:00:00Z
What a wonderful place! We spent four great days here in this beautiful, old house in the countryside. The house itself is worth visiting, it reminded me of an old farmhouse, but it's newly refurbished with a modern oven and everything. It was a perfect starting point for our day trips in Kras: - to the caves (There a tons of caves in this area, we visited Skocjanse Jame and loved it, but Postojna is also not far and there are many others to explore.) - hiking (For example from Nanos you can see both Triglav and the sea if it's a clear day. Untouched nature, outstanding flora - we saw many wild orchids) - visit the coast (Either Slovenian or Italian coast - even Croatia is not very far) - just enjoy the beautiful nature! Enrico is a perfect host. He knows so much about the area, and he will happily share his knowledge. Also, he knows a lot of people in the village - for us, he arranged a visit at a wine cellar with dinner at a touristic farm. It really was a special experience, we learnt a lot about the regional culture. While we were there, Enrico was always available for our questions. He is a really nice and helpful guy.
Anne
2014-05-30T00:00:00Z
La descripción del apartamento es correcta. La ubicación es un pueblo tranquilo, en plena naturaleza, y bien situado para realizar diferentes salidas. La recepción del anfitrión es excepcional, aportando mucha información sobre diferentes actividades de la zona.
Àngels
2014-08-28T00:00:00Z
Enrico è stato molto gentile e disponibile fin da subito, ci ha assistito molto bene e ci ha preparato anche un omaggio di benvenuto. L'alloggio è molto carino e ha tutto: cucina, forno elettrico, forno a legna, stufa a pellet, è veramente molto funzionale. La cucina/salotto è molto carina con i mobili di legno e fuori c'è anche un ampio parcheggio e giardino. Il posto è interessante, immerso nel verde e tranquillo. Purtroppo noi ci siamo fermati solo una notte ma ci sono un mucchio di escursioni interessanti da fare. Il giudizio è decisamente positivo
Lucio
2014-06-24T00:00:00Z
Enrico was wonderful host, he took care of everything we asked. The house is more than beautiful. We only stayed for one night but we really felt like part of a village. I really recommend to stay in Enricos house, we will be coming back for sure.
Djorcevski
2015-01-01T00:00:00Z
Tipe Kamar
Seluruh rumah/apartemen
---
Tipe Properti
Rumah
---
Mengakomodasi
3
---
Kamar tidur
Dutovlje, Slovenia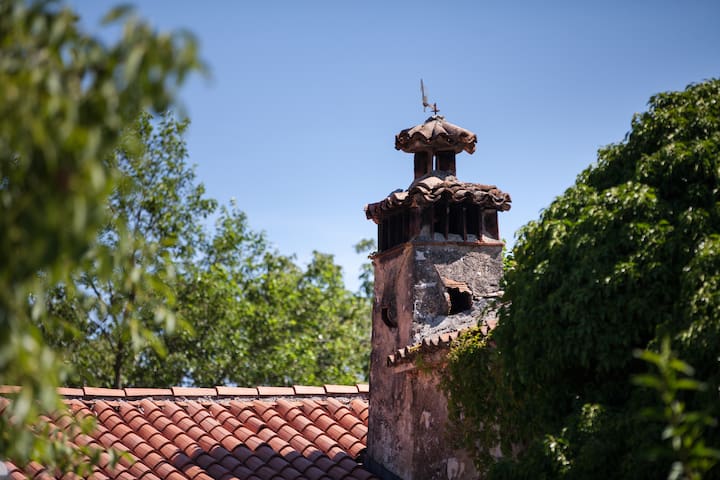 3 Bedrooms, 2 Bathrooms, Natural Setting Close To Beach Il Roseto is a beautiful, modern villa in the most attractive area of Trieste, sitting in the woods, yet a mere 800 metre walk from the fully served village of Aurisina.
Il Roseto is a beautiful, modern house in the most attractive area of Trieste, sitting in the woods, yet a mere 800 metre walking distance from the fully served village of Aurisina, home to multi award winning 'Bunker' Pub, a great pizzeria, great butcher, a scrumptious bakery, several cafes and wine producers selling their wine 'sfuso' - just take your empty bottle with you. Il Roseto offers a very spacious, 180 square meter house, with a huge, fully fitted kitchen, a double, a twin and a single bedroom, two lounges (one with a double sofa bed), a large dining room, a full bathroom with bathtub and shower and another full one with shower enclosure. Off the kitchen opens the most beautiful rose garden with a gate taking you straight into the woods. You can in fact start your treks right from the house garden. The garden offers a pergola, table and chairs, a BBQ, sun umbrella. The house was built in 1999 and re-decorated fully in 2011. Il Roseto is one of several semi detached villas sharing a gated entrance, everything else is private - no shared areas. We have covered private parking for 2 cars. Carso is a limestone plateau sitting behind and above the city and its beautiful, unspoiled coast, running along the Slovenian border. Carso is dotted with small, picturesque stone villages, each with its piazza, its baker, wine producers, small restaurants and the famous Osmiza. Osmiza are the most traditional seasonal venues, actually simple country homes opening up their patios to the public where the owners serve their own wine and charcuteries. Locals spend here many sunny afternoons before or after a long walk in the Carso woods. The area is well know to all nature and sports lovers. People come here to climb, windsurf, cycle, mtb and trek. People also come here for the beautiful sea. Day trips to Slovenia, Croatia and Austria are possible, as well as day trips to Venice or to the nearby dolomite mountains. Every season offers magnificent views and activities that can be enjoyed by travellers of all ages.
Aurisina offers a very well stocked family run supermarket, a chemist, bank, hairdresser, 3 bars, a pizzeria, a pub, newsagent, baker, butcher (with excellent meat). Nearby is a great fishmonger selling top quality local fish. 2 km away you can buy organic cow cheese and 3 km away you have an organic grocery store. Aurisina is the most spectacular part of Trieste and certainly of Friuli Venezia Giulia. Sitting in wild and beautiful countryside yet a mere 10 minutes drive for the city centre, Aurisina offers beautiful landscape, a relaxed atmosphere of gentle people and deeply fascinating countryside in every season.
Great Appartement and even greater host! The room is clean and big enough for two. We tried Ericas suggestions for going out and I just can say: EAT at pampam's and drink at the bunker. Great places in a little town. We've actually been there for climbing and the best spots arround Triest are so close to Ericas House. It was amazing! 5 ️
Philipp
2016-10-22T00:00:00Z
Tipe Kamar
Kamar pribadi
---
Tipe Properti
Rumah
---
Mengakomodasi
2
---
Kamar tidur
Aurisina, Friuli-Venezia Giulia, Italia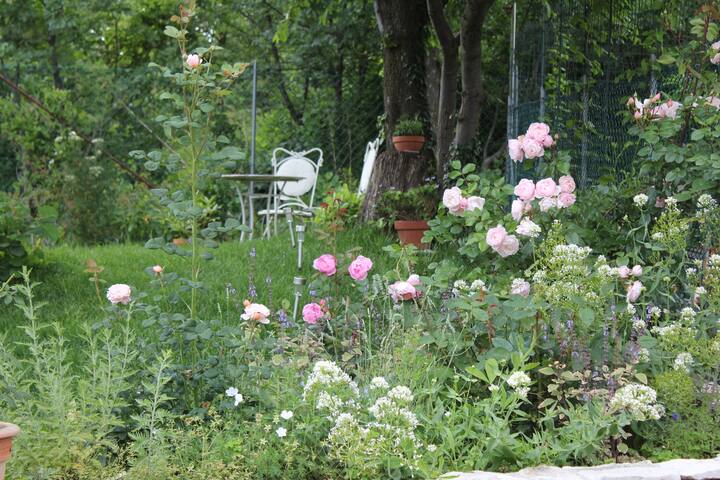 Verschachtelte in einem kleinen, ruhigen Karst Dorf Kopriva (übersetzt "Brennnessel"), das jahrhundertealte Gebäude, ausgestattet mit modernen Annehmlichkeiten, aber zugleich mit traditionellem Charme verpackt, eine wirklich gesunde Urlaubserlebnis bietet.
Ob Sie wollen einfach nur entspannen und mit einem Glas Wein, leckeres Essen und Spaziergänge in der Natur entspannen, Energie Ihren Körper und Geist in die umliegenden Hügel mit dem Fahrrad, entdecken berühmte lokale Küche oder einen Teil der Welt besuchen renommierten natürlichen, historischen oder kulturellen Schmuckstücke der Region (Venedig, Postojna Höhle, Bleder See und Ljubljana sind nur einen Tagesausflug entfernt), unser Haus ist eine perfekte Wahl für Sie. Aufwachen am Morgen die frische Luft und Vogelgesang auf. Genießen Sie Ihren Kaffee mit Blick auf die Wälder und Wiesen erstreckt sich bis zum Horizont. Ruhe und cool bleiben (oder warm, je nach Jahreszeit) im Schutz der dicken Steinmauern ... oder einen Ausflug zu einem der vielen umliegenden Erbe Sehenswürdigkeiten planen. Und wenn das Wetter stimmt, grillen und genießen Sie Ihr Mittag- oder Abendessen hinter einem Steintisch im schönen privaten Garten. Mit zwei Doppelzimmer im zweiten Stock und zusätzliche Möglichkeiten für im Erdgeschoss Wohnzimmer schlafen, ist unser Haus bequem Platz eine Familie oder eine Gruppe von bis zu sechs Freunden. Bad und Küche sind einfach, aber mit allem ausgestattet was Sie für einen angenehmen Aufenthalt benötigen. Allerdings ist der größte Schmuckstein des Hauses der geschlossenen Garten Sie viel Platz und Privatsphäre für das Speisen anbietet, Sonnenbaden, spielen mit Ihrem Haustier oder einfach im Schatten des üppigen Weinrebe entspannen.
Karst Region für seine malerischen Straßen, historische Dörfer, hochwertige Weingüter und unberührter Natur so welche Richtung auch immer Sie nehmen aus dem Dorf bekannt ist, werden Sie nicht enttäuscht sein. Hier sind einige unserer Lieblings-Dinge in einem Radius von 30 km, um zu sehen: Historische Dorf Štanjel (5 km), Pliskovica mit einem schönen Wander- oder Radweg Pliskina Topf (6 km), Voglje mit eigenem ham-Trocknungsanlage (9 km) , Sežana botanischen Gärten (12 km), Gestüt Lipica und der klassischen Reitschule (17 km), Lokev mit Schinken-Trocknungsanlage und drei private Museen: Fabiani Museum Shop, Militärmuseum Tabor Turm und privater Ausstellung 'Radio durch die Zeit "(20 km), Triest (21 km) mit einem schönen Miramare und Duino Schlösser, von einem Panorama-Wanderweg und Škocjan Höhlen und Naturpark (26 km) verbunden.
Ottima accoglienza, gentilezza, disponibilita' e precisione. Vivamente raccomandata per passare un periodo di tranquillita' e relax. Necessaria l'autovettura.
federico
2016-09-25T00:00:00Z
We loved our stay at the beautiful authentic stone house! Sitting in the enchanting walled in garden listening to the sounds of birds at breakfast and staring at stars in the pitch black night was relaxing and very nice. There is tons to do in the area, hiking in the Slovenian karst region, caves, wine, seaside in Italy - all a stone throw away. Blaz made our super short notice stay possible in a second. Communication was very friendly, quick and uncomplicated and he organised everything we needed immediately. we will be back!
Rebecca
2016-07-26T00:00:00Z
Das authentische Landhaus in der Karst-Region ist sehr ruhig gelegen und ein guter Ausgangspunkt für Ausflüge in die Umgebung wie z.B. nach Triest. Besonders schön ist der idyllische Innenhof mit schattigen Plätzen unter der Weinlaube. Infrastruktur (Lebensmittelgeschäft, Bar, Restaurant) findet man im wenigen Kilometer entfernten Ort Stanjel. Die Kommunikation mit Blaz war sehr angenehm und unkompliziert. Blaz Mutter hat uns im Haus empfangen und mit hilfreichen Tipps und sogar mit einer Kostprobe des köstlichen lokalen Rotweins versorgt. Vielen Dank!
Helene
2016-08-30T00:00:00Z
A special home for lovers of peace and quiet. Under a charming and traditional rural appearance, the house hides a full kit for any eventuality guests may have. We do not miss anything and both Blaz and his mother maintained a constant communication with us if we needed help. Near Kopriva, there are shops where you can stock up on everything and good restaurants (Gostilna) where you can enjoy local food. Undoubtedly, both highly recommended place for a relaxing holiday or use as a starting point to explore some of the most emblematic slovenian sites.
Juan Antonio
2016-08-21T00:00:00Z
Die Kommunikation mit Blaz war einfach und sehr freundlich. Auch seine Mutter, die uns die Wohnung übergeben hat, war sehr unkompliziert und für spontane Lösungen zu haben. Das Haus ist rustikal, aber sehr gemütlich eingerichtet. Ein Wehmutstropfen bei einem so alten Haus ist, dass es leider Spinnen gab, aber das stört wohl nur, wenn man besonders empfindlich ist. Der Garten ist großartig, man kann herrlich an dem kleinen Tisch unter den Trauben im Schatten sitzen oder in der Sonne liegen. Kopriva ist ein kleines Dorf, in dem es allerdings einen eigenen Winzer gibt. Auch in den umliegendenden Dörfern der Karst-Region kann guter Wein probiert und gekauft werden. Alles in allem war es ein sehr schöner Ort, um entspannt die ländlichen Seiten Sloweniens zu entdecken!
Katharina
2016-09-04T00:00:00Z
My, my girfriend and her parents were guests of Blaz. He and his mother showed us everything, answered every question we had and even bought us a bottle of wine and beer to welcome us. Blaz speaks perfect english and his mother speaks german and some english. They are the most friendly, kind and nice people we have met in Slovenia. Contact with Blaz is perfect. You can call, you can text him, he's always there to help you. You can feel that he cares for his guests and wants the best for them. The house is really beautiful outside and inside. It's very clean and cozy. It's well equipped in the kitchen, bathroom. The localisation is also great with a beautiful view of the mountains. Nearest shop is located 5km from the house and they have delicous prosciutto in there :) You can also buy really good homemade wine from the neighbours who are also friendly. Overall, the house is great to active recreation and just to spend the time in the green garden, chill and drink wine. We were very happy to be first guests. We had a wonderful time in there and if someone ever would go to that part of Slovenia, we will recommend Blaz's house without a doubt!
Przemek
2015-08-22T00:00:00Z
Jolie maison ancienne et authentique, agréable et confortable, dans un village calme. Accueil très sympathique et attentif de la mère du propriétaire. Blasz est très disponible pour donner des informations. Jardin agréable avec une tonnelle pour déjeuner dehors. Bref un endroit charmant à recommander !
Laurent
2016-07-31T00:00:00Z
My friend Esther and I stayed at Blaz' place for 3 nights. His sister-in-law met us the day we arrived and showed us around the very comfy and cozy house. There was even a bottle of wine from the region to welcome us. The garden area was absolutely lovely to sit in, the rooms were nice, the kitchen was well-equipped as we made our own meals some nights and it was a great stay! We didn't get to explore the immediate town/area much which is something that I regret, but staying in Kopriva was a great, relaxing place to come back to after our daily adventures around Slovenia!
Chelsea
2016-06-28T00:00:00Z
Tipe Kamar
Seluruh rumah/apartemen
---
Tipe Properti
Rumah
---
Mengakomodasi
4
---
Kamar tidur
Kopriva, Sežana, Slovenia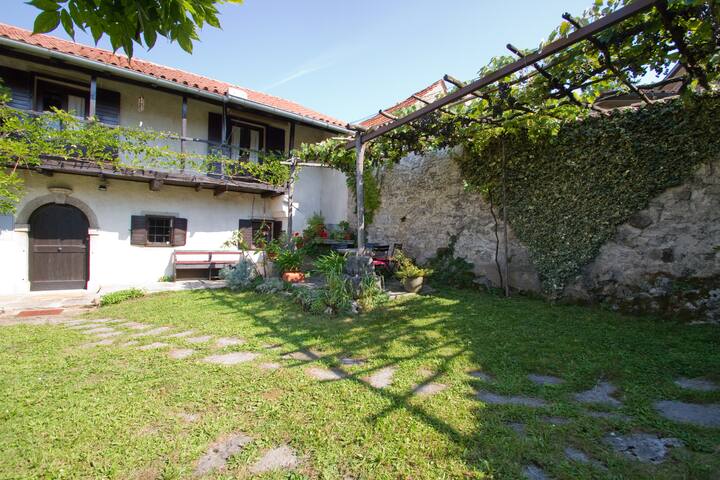 We live in Karst area in a small village with only 100 inhabitants. House is more than 100 years old and will delight anybody who enjoys history and nature. Village (and area in general) is famous by Teran wine and Prosciutto. Italian seashore is only 20 minutes away by car. Great paragliding spot is close by . Also, other famous sites are between 30 - 60 minutes drive.
Our house is 100 years old and with retro furniture. We offer a huge room with one king size bed (2 x 2 m). You can use fully equipped kitchen and bathroom, but the facilities are not new. We suggest enjoying evenings at the large terrace with homemade Teran wine. If you want to try some gardening, we can help you with that too :)
We live in NATURA 2000 area, rich with birds and other wild animals. Trstelj hill is the highest in this area and is right above the house. You can reach the top in 30 minutes. There are also other not demanding hills for hiking. The area is rich in vineyards usually situated at old stone terraces. If you like sea, you need around 20 minutes (by car) to nice Italian sea shore.
A magic parenthese to cloture our holidays in Slovenia. Unlikewise said in another commentary, do not take the forest path as did indicate our GPS or you might end up with a flat tire like us ;p For sure they leave in a quite and lovely place. We wished we could have stayed another day. And for sure we will come back! Thanks for your warm welcoming Anže and Todora.
Stéphanie
2015-08-16T00:00:00Z
*recomended* Anze is such a nice guy, with great friends and a great farm house to stay in. Food was cooked for myself and my friend which was delicious! I hope to go back next year - hopefully the aggressive rooster is gone by then ;)
Ollie
2015-08-17T00:00:00Z
Very welcoming and friendly hosts in a small village. Don't be afraid if your Navi will suddenly choose the forest road, you will safely drive through beautiful landscapes. Accommodation has everything a tourist need and can expect in a rural area. It's also only 25 minutes away from the italian coast with crystal clear water. We were happy to meet Anže and Todora. Highly recommended.
Arseny
2015-08-08T00:00:00Z
Une première nuit en Slovénie dont nous nous souviendrons. Un accueuil chaleureux et convivial que je recommande sans hésiter à ceux qui veulent passer de bons moments avec les locaux et profiter de l'air de la campagne.
pauline
2015-07-19T00:00:00Z
Our stay at Anže's place was a fabulous start to our trip in Slovenia. Location as described, in a small village, away from the hustle and bustle. Had a good time knowing the country by spending time with our hosts who were very friendly and welcoming. Accommodation was basic but the hospitality of the hosts make up for everything!
jonathan
2015-07-24T00:00:00Z
Tipe Kamar
Kamar pribadi
---
Tipe Properti
Rumah
---
Mengakomodasi
2
---
Kamar tidur
Lipa, Nova Gorica, Slovenia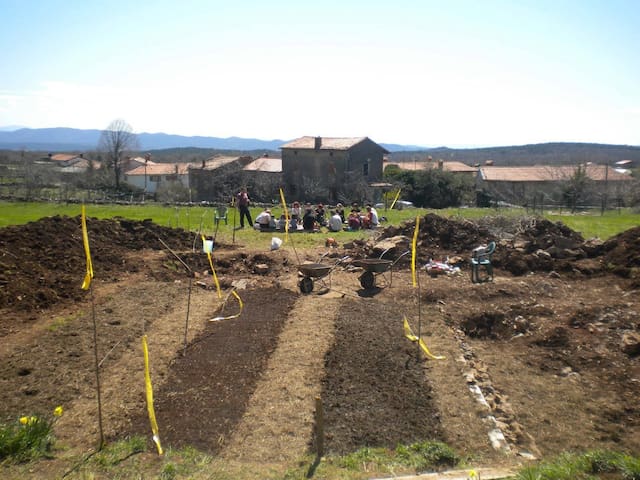 Apartments Štanjelski razgledi were built by reconstructing the ruins of the defense tower, which was build in 16th century for protection against Turkish raids. In apartments are left original parts of the defense tower, like firing and sighting lines which are between 400 and 500 years old. building is located in city centre on the top of the hill, where you can enjoy amazing views on even more beautiful landscape. In the immediate vicinity there are cycling trails and path ways.
When in Štanjel, you can also visit some of the slovenian landmarks (20 km away) like: The Škocjan caves, Postojna cave, Stud farm Lipica, castles Prestranek,Miramare and Devino, Rilke path, Sistiana, Trieste and many more. This location also provides interesting culinary experiences. For all those who like sea, on Saturdays and Sundays there is organised transfer with bus to city Sistiana where you can enjoy gratis beach.
the city is among the safest in EU
We had a lovely stay here, Adrian was very welcoming and even cooked for us! It was one of the best Airbnb experiences we've had. It was great talking to Adrian and he gave us very useful recommendations. The apartment was very clean and comfortable. We would definitely recommend this Airbnb!
Cassie
2016-11-07T00:00:00Z
A pleasant stay in an amazingly beautiful, yet quiet and unspoiled medieval town.
Simon
2016-09-18T00:00:00Z
We had great time at this place, nice clean room with great view, from this oldstoned house. Friendly owner with a lot of tips, advices and recommendations. We would definitely come again.
Kateřina
2016-10-11T00:00:00Z
We had a great stay in Stanjel, thank you to Adrian for looking after us and making amazing breakfasts. The apartment was very clean and has amazing views across the valley. The location is perfect, in the old town of Stanjel right near the beautiful Ferrari Gardens. Our host organised for us to hire his bicycles and gave us great advice on the local area. I would recommend the accommodation to everyone.
James
2016-09-12T00:00:00Z
Tipe Kamar
Seluruh rumah/apartemen
---
Tipe Properti
Apartemen
---
Mengakomodasi
4
---
Kamar tidur
Štanjel, Sežana, Slovenia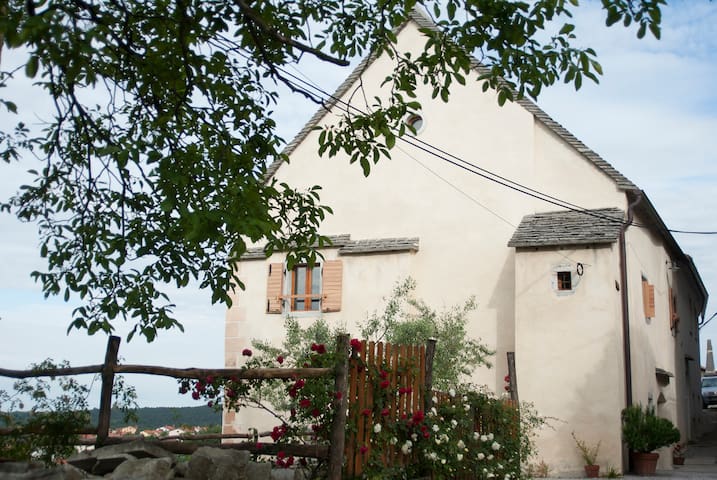 Dutovlje je krásná malá obec v údolí vína nebo slovinského krasu. Téměř každý soused má svou vlastní Cantina a je rád, že má návštěvníky na ochutnávky vín. Dům se nachází v centru obce. Pronajímáme podlahovou pokojový přízemní s manželskou postelí. Přístup je independend od zbytku domu. Vzhledem k tomu, koupelna pro tento pokoj pro hosty je ještě neskončila, sdílíme koupelny, kuchyně a jiné místo, pokud si přál stejně. Součástí společenské místnosti je TV a krbem.
Tipe Kamar
Kamar pribadi
---
Tipe Properti
Rumah
---
Mengakomodasi
2
---
Kamar tidur
Dutovlje, Sežana, Slovenia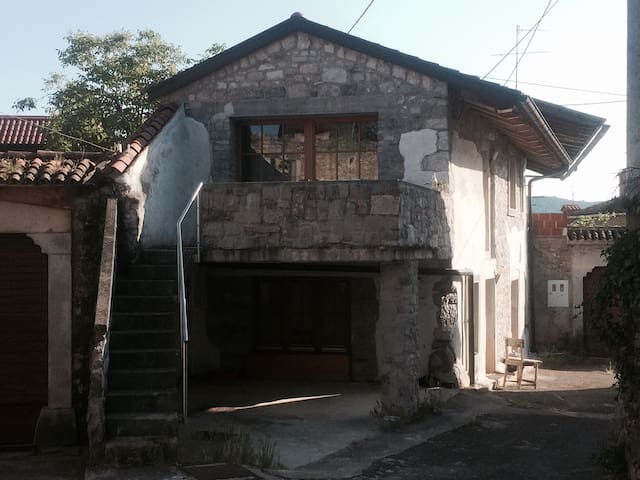 Mé místo je vhodné pro rodiny s dětmi (s dětmi) a chlupatými kamarády (zvířata). Doporučeno 1 týden pobyt! Pláž je vzdálena 18 min. pryč. Parkovací místo pro 2 vozidla. Wifi zdarma. Letiště Terst - Ronchi Legionari 30 min. Výborné jídlo a víno v okolí.
Mír, mír, mír. Můžete zavřít bránu a cítit se jako jediný člověk na světě. Skvělým výchozím bodem pro poznávání.
Golfové hřiště a jízda na farmě v Lipca - 20 'pryč. Great jeskyně Škocjanske Jame! Procházka cestu kolem. Beach Resort 20 'od domu.
La maison est vraiment belle et chaleureuse. Spacieuse aussi avec ses trois belles chambres. Elle est située dans une région magnifique. Nous avons pu visiter la Slovénie (Lubljana vaut vraiment la peine à 1 h par l'autoroute) et nous avons vu Trieste et profiter de la mer italienne. La maison est située dans un havre de paix et très bien équipée. Nous ne sommes restés que 5 jours, mais nous aurions voulu rester plus longtemps. Branko a tout fait pour bien nous accueillir. Merci.
Véronique
2016-07-24T00:00:00Z
The historic renovated house of Branko has a lovely decoration, offers enough space and has everything you need, noteworthy are the dishwasher and the fast internet access. It also has a nice garden with deck chairs, barbecue facility and a fishpond. It is very quiet, located in a small Karst village on a vine road (Vinska Cesta), and is a good compromise to reach places both in Slovenia (e.g. Škocjanske jame, Piran) and in Italy (e.g. Triest, Gorizia). We fully recommend this accommodation.
Christoph
2016-08-21T00:00:00Z
Tipe Kamar
Seluruh rumah/apartemen
---
Tipe Properti
Rumah
---
Mengakomodasi
6
---
Kamar tidur
Pliskovica, Sežana, Slovenia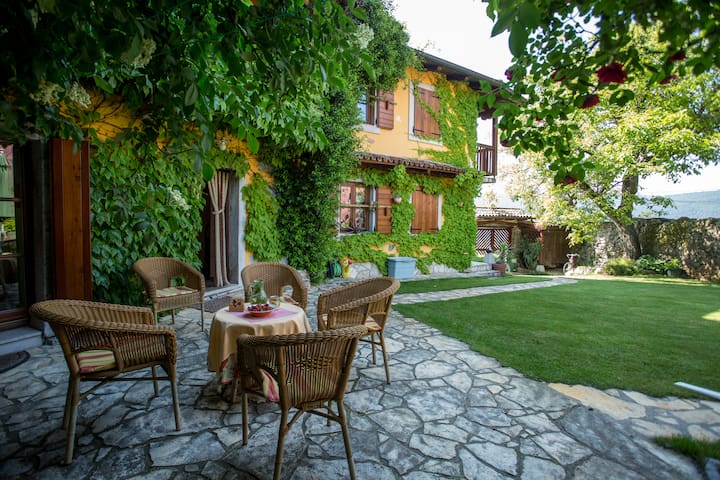 Dům nesrovnatelný s výhledem na moře v Prepotto, jedné z nejcharakterističtějších vesnicích Carso. V přízemí: plně vybavenou kuchyní a jídelnou V prvním patře: tři dvoulůžkové ložnice (dvě s terasou s výhledem na moře) a koupelnu
Pokud jste hledali klidu malé obce, krásnou zahradou a nádherným výhledem na moře v kombinaci s komfortem pěkném domě, jste na správném místě !!!!
Prepotto (Praprot ve slovinštině) je jedním z nejmenších a nejchytřejších okouzlující vesnice obce Duino, jen pár kilometrů od moře a pár od slovinských hranic. Zvláštností je, že přesto, že je víc než vesnice, je mezinárodně známý díky jídla a vína vysoké kvality produkce: 4 výrobci kvalitních vín a oceněnou 4 charakteristiky osmizze (druh pop-up vinárny) a mlékárna, která vyrábí vynikající sýry, včetně slavného sýra jeskyně (Jamar). Během svého pobytu tam budou nějaké jídlo a víno!
Buonasera, ci tenevo a ringraziare Pietro per la sua gentilezza e per la sua accoglienza è una persona davvero graziosa; in merito alla casa tutto perfetto una casa spaziosa pulita accogliente e completa di accessori!! Siamo stati bene e se ci sarà occasione ritorneremo senz altro a trovare lui è tutto il vicinato!:)
Roberta
2016-04-26T00:00:00Z
First and foremost, Pietro is the friendliest and most hospitable host I have ever had. He works at a butcher shop/winery two corners - the place is a must visit (and you have too book!). The view from the house is astonishing, the sunsets are like on the pictures (or paintings). We spent every evening and night in the garden (chairs are provided) and enjoyed the quiet. The house is spacious, the rooms are comfortable and the kitchen is well equipped if the guests are tired to go for dinner. The beach is a 20 minutes drive, and like most Italian coasts, are full of cars. So you need luck and certain knowledge to find a space, but there is a large garage in a nearby city that always have some spots (of course our host helped us discover this). This place is very suitable to collect a few families together.
Gábor
2016-08-16T00:00:00Z
Wonderful place, the garden was our favorite to spend time together as a family! Definitely check out Lupinc agrotourism restaurant next door as well. Our hosts were lovely and welcoming!
Liz
2016-08-22T00:00:00Z
Accoglienza precisa e calorosa Tutto come descritto , abbiamo passato una settimana molto,piacevole che sicuramente ripeteremo in primavera o estate .
Mario
2016-01-01T00:00:00Z
Tipe Kamar
Seluruh rumah/apartemen
---
Tipe Properti
Rumah
---
Mengakomodasi
6
---
Kamar tidur
Prepotto, trieste, Italia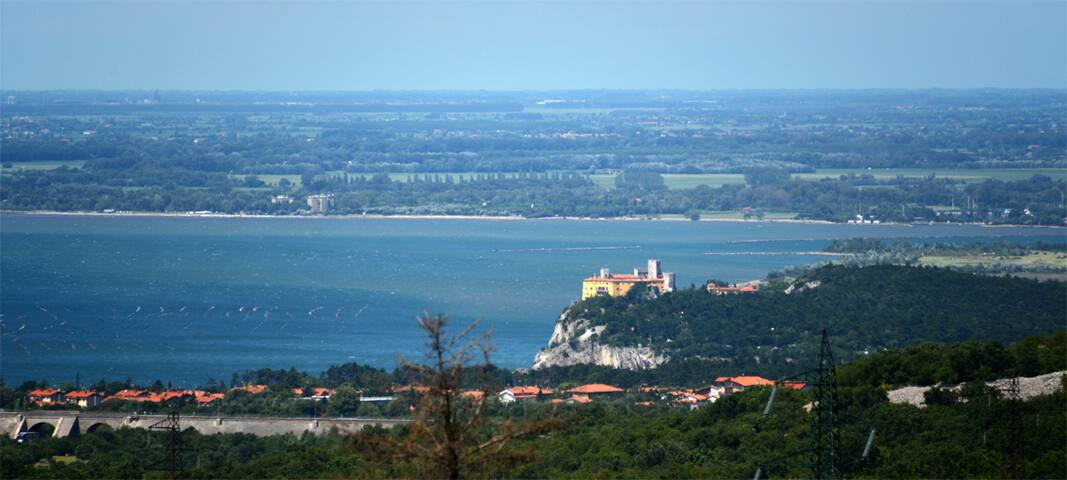 Being secluded from busy roads and motorways, staying at our house renders an opportunity for long walks and enjoying a very interesting countryside
Thank you Alenka and family for everything!!! The stay at your place was magnificent! We felt very comfortable and welcome and enjoyed very much our stay!!! You are a great host and a great cook!!! Congratulations for your place and for your lovely family!!! We are always happy to come back!!!
Lena
2015-08-01T00:00:00Z
Iba a escribir en ingles, pero te dejo el mensaje en castellano para que practiques. jajajajajaj Gracias por esta estancia maravillosa en vuestra casa. Ademas de ser una gente acogedora y educada, sois un encanto. Siempre con una sonrisa, con unos niños preciosos, y todo Pedrovo, preocupado por nosotros. Una experiencia que nos gustaría repetir. Un lugar increible y un pais precioso. Os recomiendo a todos esta experiencia. Gracias por aceptarnos en vuestra casa
Luis
2014-09-29T00:00:00Z
This apartment is a lovely. nicely decorated apartment in the country side. It's in a small village (t have much time to explore, but there seemed to be many hiking paths. Alenka also prepares meals. We had dinner and breakfast. They were very large and delicious. They are available for an additional fee. Alenka does not take credit cards, so be sure to bring cash.
Dara
2015-06-12T00:00:00Z
Tipe Kamar
Seluruh rumah/apartemen
---
Tipe Properti
Rumah
---
Mengakomodasi
4
---
Kamar tidur
Pedrovo, Slovenia
-
Conveniently located for visiting southwest Slovenia and into eastern Italy, Apartment (58m2) take its place in typical Karst village in the unspoiled nature of Karst, only 10 min. walk from the old town of Stanjel. Apartment is arranged over two levels: the ground floor has kitchen, living room and dining space and a bathroom; the first floor has two bedrooms (double bed and two single beds). Along with two main bedrooms that can sleep four, there is a sofa bed that can sleep two. The surroundings offers unique cycling and hiking tours. It is a good starting point to reach Skocjan and Postojna caves, romantic Duino and MIramare castle, Adriatic beach and Sistiana mare, well known stud Lipica, Soca - Isonzo valley or just simply enjoy the Karst countryside. We love pets and easily accomodate them by prior arragement.
Natasa is a great host: she welcomed us with a refreshing tea, she provided us all necessary information about what is worth seeing. What is more she served us with some fresh vegetable and fruit several times during our stay. We could even taste their home made schnaps and wine. Natasa is really flexible and sympathetic: we could only start one day later as booked, since our son was in hospital, but we could extend our stay accordingly. The apartment is neat, fully equipped exept for the oven. It lies directly by the narrow village road so if you have to leave the window open it can be noisy, but there is not much traffic. There is WIFI in the house although it is only available in certain parts of the apartment. All in all we really enjoyed our stay in that beautiful surrounding.
Nora
2015-07-11T00:00:00Z
We had a lovely time in Natasa's house and it was so special to stay in a traditional Karst home in a small village. The house is spacious and well equipped and we had everything we needed. There is wifi available, but difficult to pick up the signal inside.
Carin
2015-10-06T00:00:00Z
Natasa's apartment is lovely; spotlessly clean and very quiet. Natasa met us when we arrived and gave us lots of information, maps and leaflets and made us feel very welcome. Kobdilj is a great place for visiting Stanjel, Nova Gorica, Lipica and there are plenty of walks and cycle tracks nearby. We have no hesitation in recommending the apartment.
Roger
2015-09-21T00:00:00Z
La casa es exactamente como se describe en el anuncio. Natasa nos ayudo siempre que lo necesitamos. La casa tiene todo lo necesario para pasar la estancia. El sitio es muy agradable y espacioso. La cobertura de Internet no era buena pues tenías que salir de la casa para poder conectarte. En general muy recomenbale.
Marcos
2015-08-25T00:00:00Z
We were very well welcomed by Natasa even if we arrived ealier than planned. We appreciated this very beautiful and peaceful place, Natasa's touristic advises and the tomatoes coming from the garden ! Thanks !
raphael
2016-08-12T00:00:00Z
Nous sommes restés une semaine dans ce logement. Il est composé de deux chambres à l'étage, dont une seule donne sur un balcon. Au rez-de-chaussée, une salle de bains avec WC, un espace commun avec petite cuisine, une table, une télévision ainsi qu'un canapé et deux fauteuils. Les espaces extérieurs sont communs à l'ensemble des logements. Nous avons apprécié l'accueil de Natasa, ses nombreuses informations sur la région ainsi que les produits du potager. Quelques points à améliorer: la connexion wifi, trop faible à certains endroits du logement, des équipements de base (fer et table à repasser, étendoir à linge). Ce logement est idéal pour visiter et parcourir les environs et bien plus avec voiture. Moreno, Marie-France et Luana.
moreno
2016-08-05T00:00:00Z
Excellent séjour à Stanjel. Très bon accueil de Natasa : nombreux conseils et légumes du jardin offert. + schnaps dans la cave... L'appartement est très bien agencé - idéal pour une famille avec 2 enfants - nous avons pris tous nos petits déjeuners et nos repas du soir dans le jardin ensoleillé. L'appartement est situé dans un petit village typique - on peut rejoindre Stanjel à pied par un petit sentier - Stanjel est un charmant et tranquille village - De là, on peut sillonner toute la vallée de la Vipava, aller à Trieste via le tramway spectaculaire Via Villa Opicina et visiter les grottes de Sckojan ou les haras de Lipica.
yves
2015-08-03T00:00:00Z
Natasa is very very friendly, I feel like at home.
Michael Lee
2016-09-18T00:00:00Z
Tipe Kamar
Seluruh rumah/apartemen
---
Tipe Properti
Rumah
---
Mengakomodasi
4
---
Kamar tidur
Štanjel, Sežana, Slovenia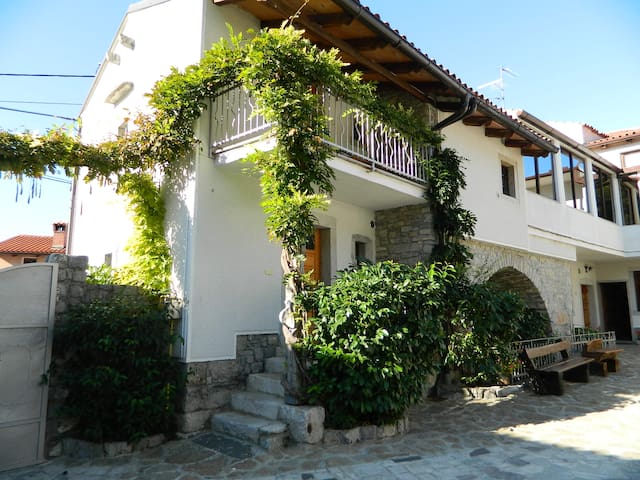 Essendo spesso via metto a disposizione la mia bellissima e comodissima spaziosa casa.Ottima per famiglie disposte a rilassarsi per qualche settimana o per una coppia che voglia passare un bel weekend di relax. a 10 minuti da Trieste e 3 dal mare.
A unique home , built in Aurisina village on a tipical Provencal style to relax and enjoy the tranquility and calm out of city chaos .The house is just 10 minutes far from Trieste and 3 minutes from the sea of Sistiana . The best thing to do in the morning , is going through a wonderful path in the forest consists of 250 steps to reach the sea .
Aurisina e un paesino carsico (website hidden) appena 100mt sul livello del mare.perfetto per godervi un weekend di relax o una settimana di sport,giri scoperte,e tanto altro.
Alberto was very friendly and helpful from the beginning. You may need his help to find the House the first time because the numbers of the streets are a little confusing but its location is nice, near Triest and slovenian carso. Several typical restaurants in max 10-15 min drive
Matthias
2016-10-31T00:00:00Z
La dépendance è molto spaziosa, arredata con gusto ed esattamente conforme alle attese. Il patio è perfetto per mangiare all'aperto godendosi l'ampio giardino, l'assoluta tranquillità e le feste della cagnolona di Alberto, host friendly e sempre disponibile per ogni esigenza. Le spiagge ghiaiose di Sistiana (sia libere che attrezzate) sono a pochi minuti di macchina (evitate soltanto le ore di punta per recarvici, a meno che non vogliate godervi un'esperienza simile ad una coda al casello). La casa costituisce la base ideale per la scoperta della Venezia Giulia, di Trieste e per gite in Slovenia (il centro della piccola Capodistria è un gioiellino che testimonia il glorioso passato della Serenissima). Lieto di aver fatto questa esperienza.
Alessandro
2015-08-04T00:00:00Z
Огромное спасибо за потрясающий отпуск! Все условия соответствовали описанным, Альберто очень гостеприимный и внимательный хозяин. Любые просьбы были удовлетворены, много полезной информации нам было рассказано. Территория огромная, собака Ануби очень нежная и внимательная к нашим детям. Пляж недалеко, кругом много зелени. Отличное место для отдыха с детьми! Спасибо!
Arina
2015-07-27T00:00:00Z
Appartamento perfetto, spazioso e con ampio giardino. Alberto è molto cordiale e ci ha fornito tutte le informazioni.
Antonio
2016-10-09T00:00:00Z
Alberto hat uns sehr freundlich empfangen, obwohl wir ein bisschen später kamen. Wir sind von ihm mehr als ausführlich mit Tipps über Highlights der Region versorgt worden und haben viele davon genutzt. Die Unterkunft liegt sehr schön am Ende einer ruhigen Seitenstraße und das Grundstück ist riesig. Man kann den Garten und die Terrasse nutzen, ohne das Gefühl zu haben, man stört die Eigentümer. Allerdings muss man sich im Klaren sein, dass man auf das Auto angewiesen ist, denn Aurisina ist ein kleiner Ort. Zu einem schönen Strand, an dem auch Kinder spielen können und an dem man nett Essen kann, ist man schon ca. 15 Minuten unterwegs (Sistiana Porto Piccolo). Aurisina selber hat auch einen Strandzugang, der ist allerdings nur fussläufig über viele Stufen zu erreichen.
Peter
2016-07-07T00:00:00Z
La casa è bella e corrisponde a quanto proposto da Alberto; Alberto e suo padre sono stati molto attenti e disponibili, risolvendo cortesia i problemi di una famiglia di 5 persone. La casa è a 10 - 15 minuti dal centro di Trieste, con un delizioso approdo al mare (anche con poca gente, malgrado si fosse nella settimana di ferragosto), ed è un'eccellente base per delle escursioni in città e nei dintorni. Infine, malgrado si fosse nella "grande estate calda del 2015", con un po' di ventilazione abbaimo dormito bene, a dimostrazione di un buon isolamento (anche per le stagioni più rigide).
emilio
2015-08-13T00:00:00Z
Ospitali e disponibili; ci hanno anche fatto fare un giro di Trieste. Ci hanno dato molti consigli utili per il prosieguo del viaggio in (URL HIDDEN) casa è molto bella e fornita del necessario.
Alessandro Maria
2016-07-23T00:00:00Z
The house is very nice with many marble or stone decorations and even with some of Alberto's art creations. This is very understandable given the business Alberto and his brother Carlo are in as well as Alberto's artistic soul. The house was cousy, could have been more practical for families with kids though. The only disappointment was access to the beach - it is quite far from the house, the beach was rocky and very crowded. If you choose to walk there, it is good 20 min and you have to cross motorway and even rail tracks. Not a thing you would want to do with small children.
Vit
2016-07-13T00:00:00Z
Tipe Kamar
Seluruh rumah/apartemen
---
Tipe Properti
Rumah
---
Mengakomodasi
5
---
Kamar tidur
TRIESTE, Friuli-Venezia Giulia, Italia