Cómodo y tranquilo apartamento de dos dormitorios situado en el pequeño y armonioso pueblo de Creixell. Está decorado con amor, moderno y con todas las necesidades. Cuenta con aparcamiento gratuito y dos piscinas en la zona común. Se encuentra a 15 minutos a pie de la playa y 5 minutos del campo. Ofrezco ayudar a buscar alquiler de coches baratos y existe la posibilidad de yo recogeros l aeropuerto.
Apartamento muy limpio, tranquilo, moderno, práctico y luminoso con todo lo que necesitas. Situado en una zona tranquila y 15 minutos a pie de la playa, a 5 minutos del campo, a 2 minutos del mercado los domingos, a 5 minutos de supermercados (abiertos 7 dias a la semana), restaurantes, parques infantiles.
Los vecinos son agradables y respetuosos. La comunidad es muy tranquila. Por la mañana, al abrir la ventana se escuchan los pajaros. Supermercados, restaurantes y bares están a 5 minutos a pie del apartamento. Muchas zonas verdes. Zonas de paseo por elcampo a 2 minutos del apartamento. Playas con arena fina y totalmente seguras para los niños. Viñedos cerca del pueblo. Museos: Pau Casals en El Vendrell, Museo de Arte Moderno en Tarragona y muchos otros en Barcelona. Karting El Vendrell. Port Aventura (parque de atracciones) Restaurantes y bares en el pueblo. Chiringuitos en la playa. Aquopolis (parque acuatico). AquaLeon (parque acuatico y zoológico)
A estado todo perfecto
Jose
2017-03-29T00:00:00Z
Merci Oscar, pour l'accueil très chaleureuse, Oscar à été très sympathique, il ma montré, le village, plage, commerces etc... son appartement est très agréable, très calme parfait pour se reposer et facile d'accès avec un grand garage. Les commerces dans le village et a proximité sont nombreux. Merci
Juliano
2017-01-02T00:00:00Z
Really comfortable well-equipped place in a small town. The apartment matches the description,it was clean and we truly enjoyed the place and a view from the balcony. Many thanks to Oscar for meeting us at the airport. We would definitely recommend this place to our friends.
Pavel
2015-10-14T00:00:00Z
The host canceled this reservation 55 days before arrival. This is an automated posting.
Ruben
2016-06-27T00:00:00Z
Bien que nous n'avons pas rencontrés Oscar il a été très chaleureux au téléphone, les clés nous ont été remis par son voisin très sympathique qui nous a bien guider. L'appartement est conforme à la description, très propre et équipé de tous même avec beaucoup de jouets pour enfants. La piscine magnifique sans oublier parking sous terrain. L'appartement est a coté de la place du village avec des cafés et restaurants. La plage de creixell est superbe. Nous avons aimé l'endroit très calme loin du grand tourisme de masse
Tahar
2014-08-24T00:00:00Z
It was really a nice stay!!!! And thank's for all your help and the transport from the station to the appartment!
Paul
2015-09-29T00:00:00Z
Oscar ist ein toller Gastgeber. Er hat auf uns trotz Verspätung geduldig gewartet. Sein entzückendes Apartment liegt rund 70 km von Barcelona in einem ruhigen Ort und nur 5 Minuten mit dem Auto bzw. 15 Minuten zu Fuß vom Strand entfernt. Das Apartment bietet alles für einen perfekten Urlaub. Es ist groß, gemütlich, sauber und gut ausgestattet. Swimmingpool und Privatparkplatz sind große Vorteile. Gracias :-)
sebastian
2017-04-02T00:00:00Z
Logement très agréable dans un environnement résidentiel tranquille. On a adoré prendre notre petit déjeuner en face d'une propriété pleine d'écureuils et d'espèces d'oiseaux que nous ne connaissions pas! La famille était ravie. La kitchenette est fonctionnelle, comme le reste de l'appartement. Le petit plus, un parking privé sous la résidence. Oscar est un hôte prévenant et très accessible. L'appartement nous a servi de base pour visiter les environs, très bien placé. Très agréable séjour et excellent rapport qualité/prix. Merci Oscar!!!
Patricia
2017-03-03T00:00:00Z
Tipe Kamar
Seluruh rumah/apartemen
---
Tipe Properti
Apartemen
---
Mengakomodasi
4
---
Kamar tidur
Creixell, Catalonia, Spanyol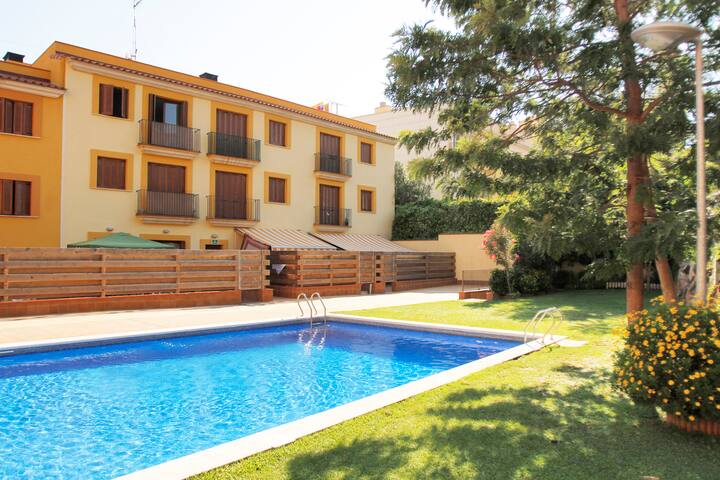 Nuestro apartamento está a unos 400m. de la playa de Creixell, y cerca de Torredembarra, Altafulla y Roda de Bará, con sus increíbles playas y zonas de ocio. Tiene 2 habitaciones y 4 plazas (cama doble y literas). Parking gratis en finca.
¿Buscas unos días de relax cerca de la playa? Tanto en Creixell, como en Torredembarra, Altafulla y Comarruga se pueden encontrar playas preciosas. ¿Quieres aprovechar para montar a caballo, hacer snorkel, o alquilar una embarcación? En Torredembarra hay hípica y puerto deportivo con zona de ocio, bares musicales, etc. Todo muy cerca de nuestro apartamento
El apartamento se encuentra a unos 20 minutos en coche de Port Aventura. Se puede coger el tren en Torredembarra, que lleva directo a Port Aventura.
Quiet and peaceful place. The apartment is bright and clean. Near the apartment there is everything necessary for living: a grocery store, a household shop, shop of prepared dishes, cafe, bar. I think, this apartment you will like too.
Aleksey
2014-07-24T00:00:00Z
Appartement suffisamment grand pour une famille de 4 personnes, confortable et pratique. A 20 min à pied de la plage, à 15 min de Tarragone et 20 min de Portaventura. Raquel a été très agréable, tout comme ses parents qui nous ont accueilli.
Murielle
2016-08-14T00:00:00Z
Appartement calme et propre les propriétaire accueillant ,parking privé quartier résidentiel très calme pour passer de bonnes vacances seulement la plage est a 25mn a pied
abderahmane
2015-08-01T00:00:00Z
Tipe Kamar
Seluruh rumah/apartemen
---
Tipe Properti
Apartemen
---
Mengakomodasi
4
---
Kamar tidur
Creixell, Catalonia, Spanyol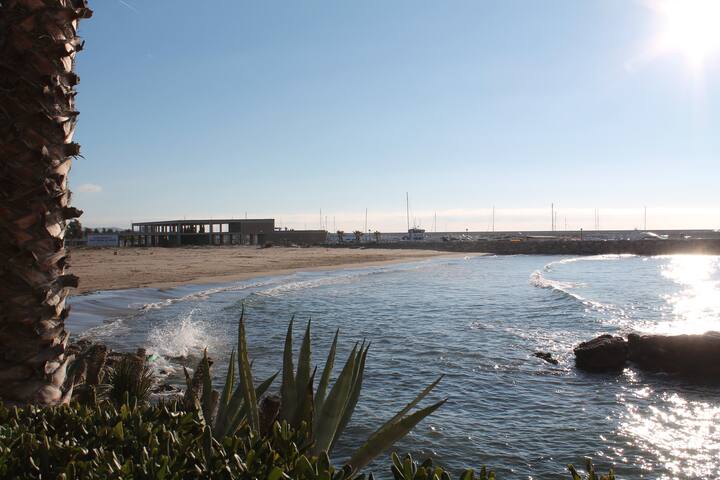 Apartment 90m2 fully equipped, open kitchen. Balcony and large terrace of 90m2. Quiet village by the sea, 5 min drive from the beach, Port Aventura 20min, 45min and 20min from Barcelona Salou. Shops nearby. Baby equipment available (cot, booster seat and recliner). Pool out July / August.
friendly accommodation in quiet and close to shops and caterers. Near the beach and many other activities for young and old (Port Aventura, Salou, Barcelona, Aqualeon, Aquapolis ..). Many walks possible because Creixell is a small village surrounded by towns like Roda de Bara, Torredembarra or Tarragona or lovely places to discover.
Nous avons été agréablement surpris de l attention que notre hote nous a porté appartement très bien situé au calme et très bien équipé Je le recommande vivement Merci myriam
Cedric
2016-07-23T00:00:00Z
nous avons ete tres bien recu a notre arrivée et le logement est identique a la description
Arnaud
2016-08-14T00:00:00Z
Nous avons passé un court mais agréable séjour. L'appartement à l'étage est suffisamment grand pour une famille avec possibilité de prendre l'apéro sur le balcon ou sur une grande terrasse mais en rez de chaussée et avec l'inconvénient d'une distance conséquente avec la cuisine. Il est possible d'aller à la plage de Creixell à pied (10 mns) ou en voiture avec stationnement sans problème. Les visites dans les localités de Tarragone et Salou sont possibles en une demi-heure de voiture et je vous conseille le Parc Aventura plutôt en fin d'après midi jusqu'à minuit car avant 18h00, la chaleur et l'attente aux manèges peuvent vous donner un "coup de chaud". A peu près une heure de route pour aller à Barcelone ou le nombre de visites et découvertes est infini. Pour ne pas avoir de problème de stationnement, il est possible de prendre le train qui vous déposera en centre ville (au Passeig de la Gracia) pour environ 12.00 euros/adulte pour un aller/retour. Bref, je vous conseille cette possibilité de location bien située dans une région ou il y a beaucoup de choses à voir. Pour ceux qui veulent uniquement visiter Barcelona, bien évidemment, il vaut mieux prendre une location plus proche ou en ville carrément.
MICHEL
2016-08-27T00:00:00Z
Tipe Kamar
Seluruh rumah/apartemen
---
Tipe Properti
Apartemen
---
Mengakomodasi
6
---
Kamar tidur
Creixell, Catalunya, Spanyol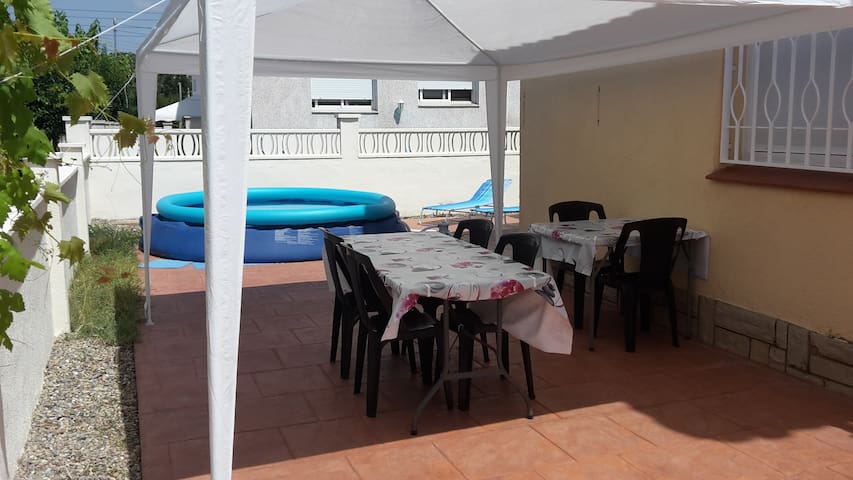 2 bedroom apartment frontline sea. No promenade in front, leading directly to the beach. Private parking area and common area with barbecue. Minimum stay 1 week. Very quiet, refrain seeketh lot of partying.
Härligt läge! Vi tillbringade två veckor med våra två barn (6 och 8) i Jordis lägenhet. Lugnt och skönt. Första morgonen vaknade jag av vågorna som slog mot stranden. När vi kom fanns förfriskningar, dricka och frukt, i kylskåpet, mycket välkommet efter bilresan. Jordis föräldrar bor i lägenheten intill och tog emot oss när vi kom. De svarade på alla frågor och visade helt snabbt runt. De fanns hela tiden i närheten och tillgängliga, men utan att vara påträngande eller övervakande. De bistod oss med hjälp när vi behövde, lånade ut parasoll och så vidare. Vi kände oss omhändertagna men vi skötte oss ändå alltid själva. Stranden ligger verkligen precis utanför tomten. Gillar du inte att ha sand precis överallt hela tiden ska du kanske åka någon annanstans. Stranden är allmän och inga solstolsuthyrare finns här. På dagarna fylls den av en skara brokiga parasoll. Stället är genuint, spartanskt utan att sakna något och charmigt. Finns ett litet enkelt kök (syns inte på bilderna, inte när vi hyrde iaf) med två spisplattor, micro, tvättmaskin och diskho, fullt tillräckligt för vår familj. Kylskåp med frys i allrummet utanför. Här finns inte många restauranger på gångavstånd, men den som finns ligger 20 steg från huset och är fantastisk, god mat mitt på stranden. (Bordsbokning både till lunch och middag). På dagarna finns flera strandbarer på stranden på gångavstånd. Bil är bra att ha. Creixell by ligger på andra sidan motorvägen och på väg till den finns supermarket och i byn/staden finns några restauranger i små trånga gränder. Ingen kan engelska och kan man inte spanska är det omöjligt att veta vad man beställer in. Bara 10 minuter med bil söderut ligger en lite större ort med fler butiker och stranddelen är en turistort med restauranger vägg i vägg utmed strandpromenaden. Vi tyckte det var fantastiskt skönt att komma tillbaka till "vår" lugna strand när vi varit där en kväll. Rekommenderar verkligen det här stället, speciellt om man gillar lite genuinitet.
Elina
2016-08-13T00:00:00Z
Tipe Kamar
Seluruh rumah/apartemen
---
Tipe Properti
Apartemen
---
Mengakomodasi
4
---
Kamar tidur
Creixell, Catalonia, Spanyol
Apartamento de playa totalmente exterior, con una terraza perfecta para las comidas y cenas de verano. Se encuentra sólo a 5 minutos en coche de la playa y cerca del nucleo antiguo de Creixell en una zona muy tranquila. --- Beach apartment totally outdoors, with a perfect terrace for having lunch and dinner while enjoying the summer weather. It's only five minutes car from the beach and close to the antique center of Creixell in a very nice and quite zone.
Tiene dos habitaciones, una de matrimonio y otra que dispone de una litera y una cama plegable opcional. También dispone de una pequeña estancia donde guardar el equipaje,... --- It has 2 bedrooms, one with a double bed and another with a bunk bed and an optional folding bed. It also have like a little room to put away all the lugagge,...
A medio minuto andando hay un establecimiento de platos preparados que también funciona como pequeño colmado (agua, pan, leche, helados,...). --- In a half minute walking distance there's also a take away restaurant which also works as a little grocery (you can buy bread, water, milk, icecreams,...)
Tipe Kamar
Seluruh rumah/apartemen
---
Tipe Properti
Apartemen
---
Mengakomodasi
5
---
Kamar tidur
Creixell, Catalunya, Spanyol
The apartment is located less than a mile from the beach, where you can easily walk in less than 10 minutes. You can also drive and park next door. For what concerns the building has a large pool and garden, ideal for children. It is a third floor with elevator, with beautiful views des terrace. It has parking space in the same building. Sheets and towels are not included.
Excelente relación calidad-precio. El apartamento se corresponde totalmente con el anuncio. Marti y Silvia fueron unos anfitriones muy atentos, que hicieron que nuestra estancia fuese muy agradable.
Elisa
2016-07-11T00:00:00Z
Hem passat uns dies a l'apartament del Martí. Ha sigut una zona molt (URL HIDDEN) L'apartament reunia totes les condicions per estar agust. Disposa d'assecador, planxa i altres estris a vegades necessàris i que no cal portar de casa . La decoració conjuntada en colors en els objectes , textil i fins i tot vaixella ens ha fet sentir "com a casa". La part comunitaria de la piscina i jardi esta molt ben cuidada . La ubicació es bona ja que es pot gaudir de la tranquil.ltat i a la vegada en menys de 5 minuts ets al poble, supermercats i platges (en cotxe). Per acabar , l'atenció i disposició del Martí ha sigut de 10 !!!!. Gràcies . Hem marxat amb ganes de repetir. Núria
nuria
2016-09-03T00:00:00Z
Le logement et en parfait état, il est au calme et excentré du centre de Torredembarra. Nous avons passé un très agréable séjour Chez Marti. Nous y reviendrons avec plaisir.
Jean - Luc
2016-08-21T00:00:00Z
Nuestra estancia fue genial, la casa es muy acogedora. Es un lugar muy tranquilo, se puede llegar a una parte de la playa caminando unos 10 minutos. Hay playas muy bonitas alrededor del pueblo, a las que se puede llegar en 15-20 min en coche. Es un lugar perfecto si quieres visitar la costa dorada. Ya que a menos de 30 mins tienes todo lo que quieras visitar de la zona. Hemos estado muy agusto, recomendable totalmente.
Ioanna
2016-08-27T00:00:00Z
Tipe Kamar
Seluruh rumah/apartemen
---
Tipe Properti
Apartemen
---
Mengakomodasi
4
---
Kamar tidur
Torredembarra, Catalunya, Spanyol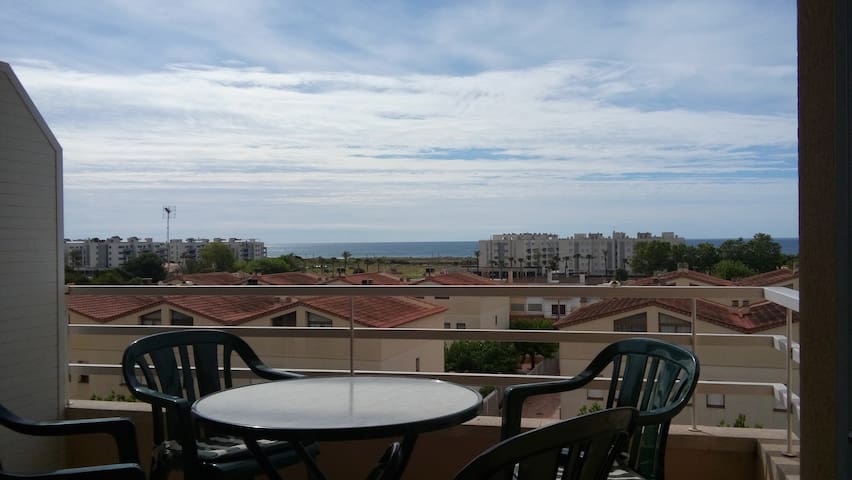 Te encantará mi espacio por la luz y la intimidad. Es perfecto para pasar unas vacaciones en pareja y familia. El apartamento tiene conexion Wi-Fi. Cerca de la playa, plaza de parking, ascensor, aire acondicionado, jardín privado, 2 piscinas comunitarias. Espacio con juegos infantiles. La playa está a 200 mts. Muy tranquila, ideal. El mar es cálido y sus playas no son profundas por lo que es ideal y seguro para niños.
El apartamento es acogedor, muy funcional, en una zona muy tranquila. Tiene todo lo necesario en la cocina, muchísimo menaje, las habitaciones son cómodas. El salón y los dormitorios tienen aire acondicionado para enfriar en los días calurosos de verano. El baño grande y la terraza tiene unas bonitas vistas, tanto al mar como a todo el pueblo. El apartamento tiene una plaza de parking. Está totalmente equipado y es recomendable para hasta 6 personas, aunque pueden caber hasta 8 personas. Las sábanas, nórdicos y toallas están incluidas
El apartamento está en una urbanización a 200 mts de la playa con todos los servicios deseados. Hay parada de autobús en la misma puerta, un Carrefour justo enfrente, diferentes restaurantes para todos los gustos, (McDonals, bar de tapas, pizzeria, arrocería, comida típica catalana...) farmacia a 200 mts. En el pueblo hay servicio médico, bancos, cajeros automáticos, iglesia, etc... Tarragona está a 17 km, y Réus, Sitges, Barcelona son ciudades muy recomendables para visitar. Así mismo, está a 25 km. del parque temático PORT AVENTURA, al que se puede ir por autopista gratuita y a AQUOPOLIS un parque acuático en Salou
Nice apartment, nicely situated and worth the money. Everything you need is there. Recommended.
Remy
2017-02-23T00:00:00Z
We had a very enjoyable stay in Eva's apartment. The flat was as it appeared in the photographs & contained everything we needed for our time there. The apartment was nice & quiet & is only a few minutes walk from a great beach & close to supermarkets etc. It was only around 10 minutes walk to the local train station with trains to Barcelona, Reus, Tarragona etc Eva & her husband are lovely people who made sure we enjoyed our time there. Recommended!
Lee
2016-10-24T00:00:00Z
Tipe Kamar
Seluruh rumah/apartemen
---
Tipe Properti
Apartemen
---
Mengakomodasi
6
---
Kamar tidur
Torredembarra, Catalunya, Spanyol
Centrally located, air conditioning, WI-FI, washing machine, refrigerator, fully equipped, 2 minutes from the train station, 10 min walk to the beach, near Tarragona, Port Aventura, Sitges, Barcelona, ideal for couples.
central and quiet 10 minutes from the beach, fully equipped kitchen, towels, hair dryer, free WI-FI, double bed, air conditioning, hair dryer street.
Appartement propre, bon séjour , proche de la plage et des commerces. À refaire !!
Laure
2016-09-15T00:00:00Z
Buen lugar para pasar un fin de semana y conocer la zona de la costa daurada. Muy cerca de Tarragona y Port Aventura. En la calle del alojamiento tienes todo tipo de comercios y servicios.
Jose Miguel
2016-10-30T00:00:00Z
Ja het was prima verzorgd.
Frans
2016-07-26T00:00:00Z
En alojamiento es muy cómodo y practico. Esta en una calle llena de tiendas y gente pero por la noche es muy tranquilo. La playa esta muy cerca y ademas el sitio es precioso. Repetiria sin duda
Daniel
2016-09-02T00:00:00Z
Bon logement à part le lit qui est bruyant et pas stable quand on s assoit au bord Cartier très calme Agréable séjour
Marie liza
2016-09-22T00:00:00Z
Toñi es muy complaciente, el alojamiento es bien situado, muy limpio y cerca de las necesidades. Es facil de encontrar y aparcar. Repetiremos ;)
Clemence
2016-11-04T00:00:00Z
Appartement super fonctionnel et propre climatisé, quartier avec des commodités . Nous avons passer un super séjour chez Toni, elle était disponible si nous avions besoin!
Marion
2016-07-30T00:00:00Z
Todo genial, amable, atenta, comunicativa. El apartamento muy bien, limpísimo. Incluso compramos un secador que pagó ella.
Cesar
2016-09-18T00:00:00Z
Tipe Kamar
Seluruh rumah/apartemen
---
Tipe Properti
Apartemen
---
Mengakomodasi
2
---
Kamar tidur
Torredembarra, CT, Spanyol
Apartment with large terrace to the beach. very quiet and family area. Dining room, kitchen, bathroom and two bedrooms. Second floor of a house with ground floor and two floors. pedestrian district. Free public parking a 3 minute walk.
The apartment is on the Paseo Maritimo. The protected area Muntanyans 5 minutes walk.
Tipe Kamar
Seluruh rumah/apartemen
---
Tipe Properti
Apartemen
---
Mengakomodasi
6
---
Kamar tidur
Torredembarra, Catalunya, Spanyol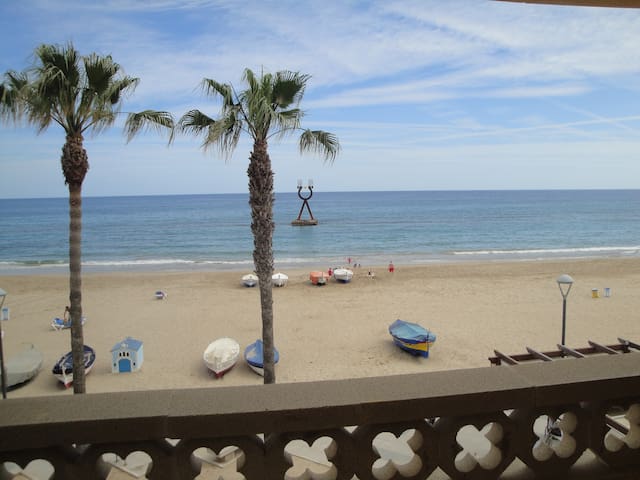 Apartamento con jardín privado con terraza para comidas. Acceso privado directo a la playa. Zona muy tranquila y segura. Turismo familiar o parejas. Super equipado. Sofá cama doble y habitación con cama doble + cama individual. Baño en suite.
Apartamento con jardín privado y acceso directo a la playa. Zona muy tranquila y segura. Muy buena también para turismo familiar. Larga playa de aguas cristalinas. Apartamento súper equipado. Decoración mediterránea. Muy espacioso. Ideal para compaginar turismo de sol y playa con visitas a Barcelona o Tarragona.Amplio salón con sofa cama, cocina americana con maquina lavaplatos, una habitación con cama doble más cama individual arriba, cuarto de baño con acceso desde la habitación.Bares y restaurantes en la playa.Jardín privado con terraza con mesas y sillas, y con acceso directo a la playa.Ideal para alguien que busque tranquilidad y disfrutar de una de las únicas playas no masificadas de Cataluña.
Es turismo familiar español.
Acogedor apartamento, excelente situación para pasar unos días tranquilos cerca de la playa. Con una terraza con mucha sombra. Joan ha sido un propietario muy cercano y amable. Es realmente lo que describe el anuncio.
Albert
2015-07-05T00:00:00Z
Nous avons été très bien accueillis par le fils du propriétaire, avec qui nous avons pu communiquer en anglais. Il nous a présenté l'appartement le jardin, l'accès à la mer et nous a laissé ses coordonnées dans le cas où nous aurions besoin de le joindre. L'appartement est idéalement situé, depuis le jardin, un couloir mène à une porte qui donne directement sur la plage. La plage est agréable, et presque déserte en semaine. Nous recommandons totalement cet appartement pour des vacances familiales au calme.
abdelkrim
2016-05-29T00:00:00Z
Juan et sa femme nous ont aimablement accueilli le jour de notre arrivé et nous ont donné toutes les explications nécessaires à notre séjour. Un emplacement garage pour notre remorque et Vespa nous a été confié à titre gracieux. Merci pour leur amabilité et bonne continuation à eux. Le logement est vraiment à côté de la plage et ça c'est absolument formidable. Une plage calme et fréquentée juste ce qu'il faut.
Hubert
2015-08-02T00:00:00Z
Tipe Kamar
Seluruh rumah/apartemen
---
Tipe Properti
Apartemen
---
Mengakomodasi
5
---
Kamar tidur
Creixell, Catalunya, Spanyol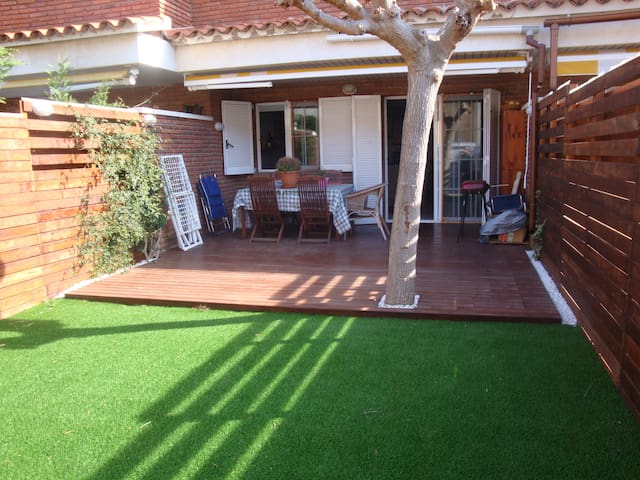 Un acogedor apartamento en Torredembarra, un pueblo con todos los servicios costero de Costa Daurada. Situado a un paso de la milenaria Tarragona, la ruta Gaudí de Reus o diversión de Port Aventura y Salou. Apartamento a 5 minutos de Renfe.
Se trata de un piso sencillo con las comodidades básicas para disfrutar de unos días fuera de playa. La cocina dispone de placa eléctrica, màquina de café Nescafé Dolce Gusto para la cual podéis comprar los cartuchos en cualquier supermercado y agua filtrada de Osmosis. Por favor tened en cuenta que no dispone de horno convencional. La terraza es lo mejor zona de la casa, donde querréis estar durante el día pues es súper soleada. El dormitorio consta de una cama de matrimonio. En el salón hay un sofà cama tipo tatami. No hay televisión y espero que tampoco la echéis en falta, yo jamás tuve televisión en casa :) Hay tocadiscos y reproductor de Cds-Usb y radio, os invito a escuchar alguno de mis vinilos :)
Zona muy tranquila y segura a pocos minutos de la playa y del centro del pueblo. También hay supermercados a pocos pasos y es muy fácil encontrar aparcamiento.
location ideale proche de tous commodites ,plage et gare a 5mn a pieds,sans oublié les villes a cotes a visites,tarragona,altafulla et les autres et surtout le café glacier LA JIJONENCA en bas de l immeuble accueil du personnel et du patron fantastique sans oublier les meilleures glaces de Torremdebarra a bientot dans cette belle région
DULAU
2016-08-23T00:00:00Z
relación calidad precio correcta
Puy
2016-08-16T00:00:00Z
Аккуратная небольшая квартира на двоих. Район недалеко от моря, продуктовых магазинов, кафе. Проигрыватель и коллекция музыки замечательные!
Hanna
2016-08-09T00:00:00Z
Eva was an amazing host. She was so accommodating towards our stay as we (my sister, myself and a friend) changed our arrival time several times. She also stayed in communication with us to make sure we were having a good time and incase we needed anything. Her apartment was just as the pictures show. Very spacious and easily accessible to the beach, train station and food market. It is a great get a way trip if you are looking to relax. There are several fun/lively restaurants around the area making it nice too. It was definitely the right place for us to relax at the end of our trip!
Erin
2016-05-27T00:00:00Z
Eva is a charming young lady who to the time to come get us at the train station. She speaks an excellent English and is very accessible. We where Eva first clients so some things may have change since. The studio is very clean but very basic : no tel, no internet, no tv. but is well situated. The kitchen is very, very small and allows minimal cooking.
Guy
2016-03-01T00:00:00Z
Nous avons passé un très bon séjour grâce à l'appartement d'Eva. Celui-ci est propre, bien agencé et conforme aux photographies présentées sur le site. L'appartement est idéalement situé (supermarchés à quelques minutes à pied, plage à moins de 10 minutes à pied, gare ferroviaire à 5 minutes à pied). Il permet donc à la fois de profiter de la plage mais aussi de visiter la Catalogne (Tarragone, Barcelone, Port Aventura et arrière pays). Eva est très réactive au téléphone (SMS ou appels). Nous recommandons sans soucis et gardons en mémoire.
Jean-Louis
2016-08-02T00:00:00Z
хорошая квартира. удачное расположение.
pilip
2016-07-10T00:00:00Z
Eva est une personne pleine de bonne humeur et d'énergie. Elle nous a accueillies chaleureusement, en nous expliquant tout ce qu'il fallait savoir pour nos diverses excursions. Nous avons été satisfaites de l'appartement, agréable à vivre pour quelques jours. La terrasse est ensoleillée le matin, nos petit-déjeuners étaient fabuleux! L'appartement était situé dans un quartier résidentiel très, très calme, à quelques pas de la plage, des commerces, de la gare et du centre-ville. Encore merci de vous être déplacée pour nous! :-)
Claire
2016-06-06T00:00:00Z
Tipe Kamar
Seluruh rumah/apartemen
---
Tipe Properti
Apartemen
---
Mengakomodasi
4
---
Kamar tidur
Torredembarra, Catalunya, Spanyol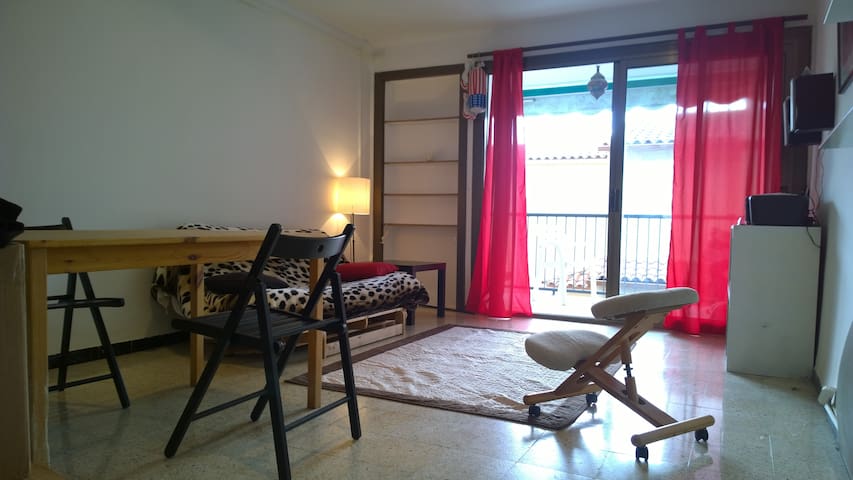 Objek Wisata Tarragona 10 menit. mobil Port Aventura 20 menit .. Anda akan menyukai tempat saya karena dari lokasi, sebelah pantai Supermarket 3 menit. berjalan. Akomodasi saya baik untuk pasangan, petualang, pelancong bisnis dan keluarga (dengan anak-anak).
Rumah memiliki segalanya, hob, kulkas, TV. Hal ini sangat nyaman, memiliki pemandangan laut. Segala sesuatu baru, dengan kamar mandi yang sangat bagus, dapur yang memiliki semua peralatan dan ruang tamu yang luas dan nyaman. 2 kamar tidur: kamar tidur utama memiliki dua tempat tidur masing-masing 90 cm. Ruang lain memiliki dua tempat tidur dengan kasur 80 cm. Mereka bisa tidur windows sangat nyaman dan sangat segar dan aluminium dengan kamera glazur ganda sehingga tidak ada kebisingan luar tapi sudah tempat itu sendiri terpencil dari daerah berisik dan aglomerasi wisatawan. Ada daerah dengan kolam renang komunitas di mana Anda dapat menikmati beberapa sinar matahari dan kamar mandi keluarga yang fantastis. Mereka tidak akan harus membayar ekstra lebih, tidak ada pembersihan, tidak ada ikatan, memahami bahwa mereka bertanggung jawab dan hati-hati. muka perlu atau ketika Anda tiba membuat saya menyerah dan pergi. Setiap jenis dukungan informasi atau lainnya yang Anda butuhkan selama Anda tinggal di sini, saya akan membantu mereka dalam apa pun yang mereka butuhkan. Ada juga parkir kolektif pribadi dan akan memiliki perintah untuk menempatkan mobil di dalam. Saya juga mengatakan itu memiliki ruang penyimpanan untuk sepeda, pantai hal, dll
Ini adalah sebuah desa, yang berdiri tenang.
The host canceled this reservation 3 days before arrival. This is an automated posting.
Tereza
2016-11-09T00:00:00Z
It is a wonderful place to stay, complete peaceful 3 minutes from the sandy beach and you can enjoy miles and miles of tranquil sea. The apartment is very clean and comfortable and Paco is a fantastic host and very helpful. Recommendation: to move around between towns (Craxiel, Saleu, Tarragona etc. hire a car there is a parking space at the property, there is very good connections by train and bus. The pool is en very good plus and it is very clean . I will be back.
Joseph
2016-09-21T00:00:00Z
Todo bien. Apartamento moderno y bien equipado. Paco muy atento. Lo utilizamos para ir a Port Aventura, se llega en 20 min, la AP7 desde Torredembarra a Salou es gratis y llegas directo
Rafa
2016-09-06T00:00:00Z
Nous avons été très bien accueillis par Paco, l'appartement est excentré du centre ville mais très proche des plages et des commerces. Il est conforme à la description et confortable pour une famille avec 2 enfants. C'est un bon point de départ pour sillonner la région ( Barcelone, Sitges, Tarragone... ). Encore merci à Paco.
jean-marc
2016-10-31T00:00:00Z
C'était super, le logement était très propre, l'hôte était vraiment sympa et accueillant, l'emplacement est pratique, un carrefour à deux minutes, un Mcdo à une minute et le parc de Port Aventura à 20 minutes avec un péage au milieu mais gratuit. L'immeuble est en bon état et dans un coin calme. Tout était parfait !
Coline
2016-10-23T00:00:00Z
Paco s a very nice host and his flat has everything one needs.
olivera
2017-03-06T00:00:00Z
TODO PERFECTO
Jordi
2016-09-05T00:00:00Z
Muchas gracias! Nos ha gustado mucho el apartamento. Tambien gracias a Paco por la assistencia! Muy simpatico. Hasta la proxima.
Patricia
2016-09-03T00:00:00Z
Tipe Kamar
Seluruh rumah/apartemen
---
Tipe Properti
Apartemen
---
Mengakomodasi
6
---
Kamar tidur
Torredembarra, Catalunya, Spanyol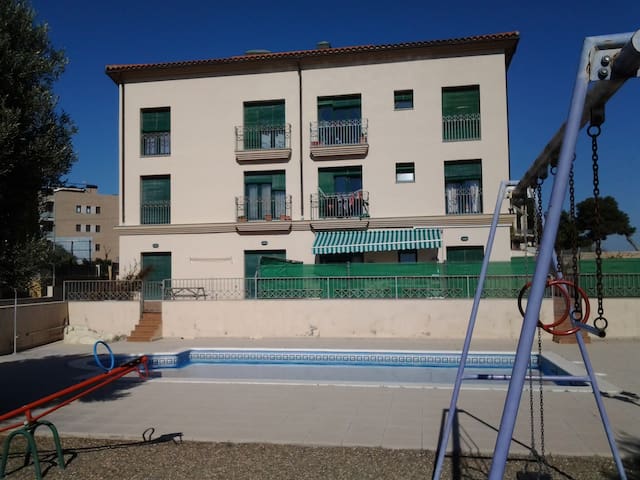 The apartment has open and clear rooms and has everything needed to make guests feel at home.
But the main attraction of the area is quiet and proximity to the beach, accessible on foot from the apartamento.Justo next door is a small family campsite with a small supermarket where you can buy all kinds of necessities, track tennis, bike rental service, excursions by catamaran from Torredembarra, horseback riding, Port Aventura, Roman Tarraco, xató route ...) It also has a café-restaurant with terrace on the beach and garden area with palm trees, where you feel like you're in the Caribbean.
As can be seen in photographs, where it is located is privileged, beachfront and quiet area to rest and spend a few days of total relaxation.
Tipe Kamar
Seluruh rumah/apartemen
---
Tipe Properti
Apartemen
---
Mengakomodasi
4
---
Kamar tidur
Creixell, Catalunya, Spanyol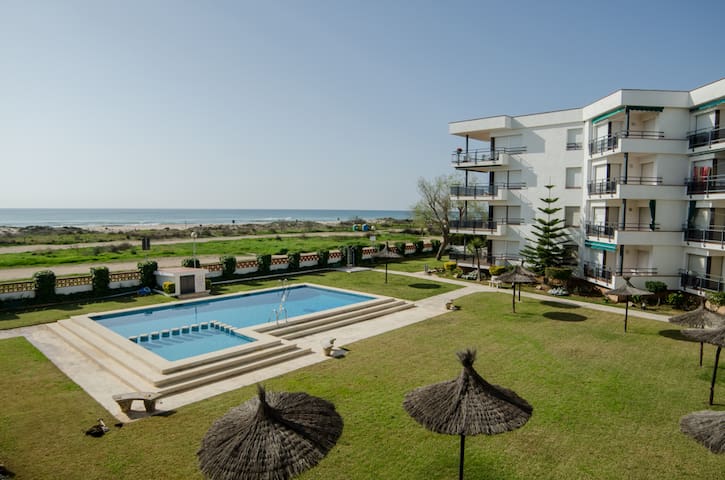 AT105 - Apartamento para 4 personas con piscina comunitaria a tan sólo 500 metros de la playa.
Apartamento acogedor en la zona de 'Clarà' de Torredembarra. Está amueblado y equipado. Dispone de cocina separada, comedor con salida a una pequeña terraza con muebles de jardín, de dos dormitorios dobles (uno con cama de matrimonio y el otro, con dos camas individuales) y de un baño completo con bañera. En la azotea del edificio hay una piscina comunitaria con unas vistas fantásticas de los alrededores. En la misma zona donde se encuentra el apartamento hay un parque con césped, pista de básquet, columpios, restaurantes y una panadería. La playa està a unos 15 minutos caminando y pasando al lado de un hipermercado. El precio de alquiler también incluye una plaza de párquing cubierta.
Tipe Kamar
Seluruh rumah/apartemen
---
Tipe Properti
Apartemen
---
Mengakomodasi
4
---
Kamar tidur
Torredembarra, Catalunya, Spanyol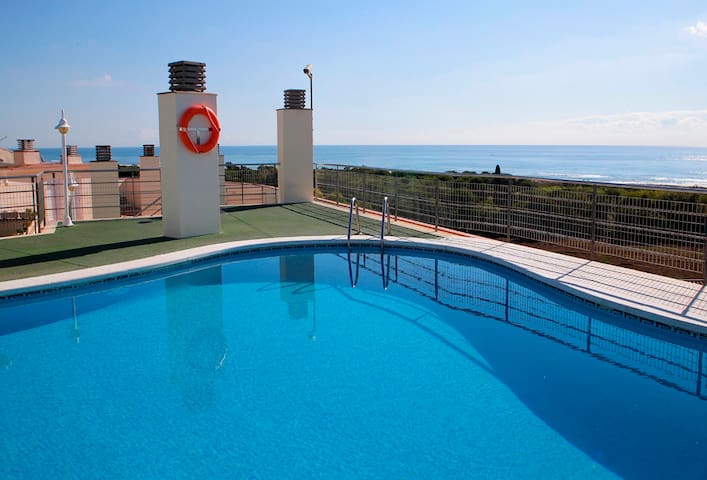 Duplex con 2 terrazas y vistas al mar. Son 4 habitaciones para una capacidad de 8 personas. Hay un balcon más con vistas al mar también en el primer piso. El piso está renovado totalmente. Hay una piscina comunitaria y el mar está a 10 minutos.
Duplex con 2 terrazas y vistas al mar. Hay una terraza de 60m2 con vistas al mar y una barbacoa de uso privado. Son 4 habitaciones para una capacidad de 8 personas. Hay un balcon más con vistas al mar también en el primer piso. El piso está renovado totalmente. El mar está a 10 minutos andando.
Hay un parque justo al lado, donde se puede hasta jugar al fútbol, con un terreno de basket también. Hay restaurantes y un tienda para comprar cosas básicas muy cerca. El centro histórico de Creixell está a 5 minutos andando.
Roberto was a very good host! Every question he quickly chipped and all information. We have spent 5 nights in his apartment, It was a very comfortable for 5 people. The house was very clean and it had everything you need. The pool can be useful, and also very close to the beach. Really nice area, nice view from the terrace, sandy beach. We are sure we will come again! I strongly recommend to everyone!
Tamas
2015-08-22T00:00:00Z
Nous avons passé une semaine très agréable dans cette belle région. La plage est très belle et il y a beaucoup de belles choses à découvrir, notamment la cuisine espagnole qui est excellente. L'accueil de Roberto à été convivial et son appartement est très confortable. Ce duplex avec une très grande terrasse à été une belle surprise, nous y avons séjourné à 6 personnes et les lieux sont suffisamment spacieux pour accueillir tout le monde. La piscine très grande est très propre et très calme, c'est un excellent endroit où se retrouver après la plage. Nous conseillons vivement cet appartement.
Stanislas
2016-07-10T00:00:00Z
Très beau duplex, appartement exactement comme sur les photos, logement assez spacieux pour 5-6 personnes. La maison est bien aérée. La terrasse offre une vue magnifique sur la ville et la mer. La plage est à 10minutes à pied, la piscine est très propre. Le quartier est très calme. Des commerces comme Lidl et Carrefour sont à 5 minutes en voiture ce qui est très pratique. Nous avons passé un super séjour chez Roberto qui est un hôte très accueillant et sympas.
Pierre
2016-08-04T00:00:00Z
Pasamos unos días fenómenales en este dúplex. Completamente recomendable, nos sentimos como en casa. Limpieza un diez y añoramos esa terraza llenas de risas y barbacoas.
ana
2015-07-27T00:00:00Z
L'appartement est bien placé la piscine est super et accessible sur une grande amplitude horaire et le plus de l'appartement est sa magnifique terrasse avec une vue sur mer bien (URL HIDDEN) plage est magnifique enfin super vacances dans un super appartement .
valat
2016-08-28T00:00:00Z
La zona es tranquila y de turismo local, la terraza un sitio para disfrutar en compañía y hacer una buena barbacoa, aunque no hemos ido en la mejor fecha ya que soplaba viento y hacía un poco de frío. La casa, tal y como se ve en las fotos, aunque un baño sólo para 8 personas me parece poco :)
amaia
2016-03-30T00:00:00Z
Tipe Kamar
Seluruh rumah/apartemen
---
Tipe Properti
Apartemen
---
Mengakomodasi
7
---
Kamar tidur
Creixell, Catalunya, Spanyol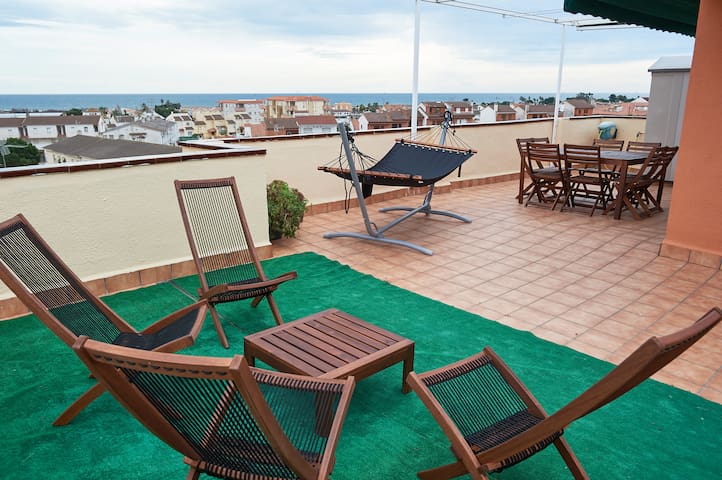 The apartment is cozy and charming, quiet and has only 500 meters from the beach, available with air conditioning, and parking facilities.The village square is very warm and welcoming, there is a MacDonalds at 300 meters and a Carrefour next door. near Paseo de torredembarra and 12km from Tarragona, where is the famous park Port Aventura, also 30 km we have the water park Aqualeon, in the town of Albinyana in salou also have Aquopolis, with fun water slides
Tipe Kamar
Seluruh rumah/apartemen
---
Tipe Properti
Apartemen
---
Mengakomodasi
4
---
Kamar tidur
Torredembarra, Catalunya, Spanyol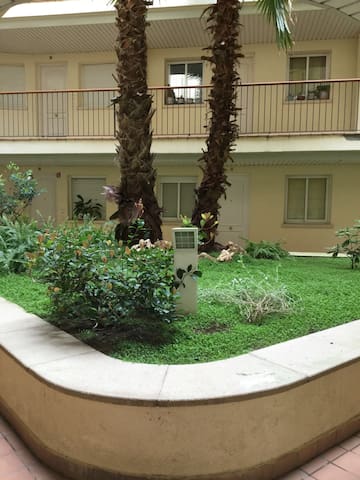 Apartment of 2 double bedrooms, 1 reformed bathroom, washing machine, american kitchen with cookware, small TV, a 30 seconds from de beach with the best restaurants. Second beach line. Towels and linens included in the price.
This beach area with the best restaurants and lots of movement but is very quiet.
Barbara is an excellent host! She is always ready to answer to your questions and will not hesitate to help you if you need during your staying. Also, she was very helpful when we arrived and during our departure, giving us indications how and where to go. Basically, you will find your self in holidays right after arrival.
Mauro
2016-08-23T00:00:00Z
Bárbara fue muy atenta y simpática! nos vino a recoger a la parada del tren y nos llevó hasta su casa. La casa está literalmente a 15 metros de la arena, más cerca imposible. Todo lo que necesitas para unos dias de playa.
joaquin
2016-08-27T00:00:00Z
Very close to the beach, we lived a very confortable beach life during that week we have been in the little centric appartment which was also equipped with the little things you need, like salt, liquid for the dishwashes, chairs for the beach etc. Barbara is a very friendly host that did all to make us a pleasant stay.
Oliver
2016-09-03T00:00:00Z
Accueil chaleureux, Barbara nous a aidé afin que nous puissions faire quelques courses et nous garer gratuitement. L'appartement est propre, spacieux et confortable... Une très belle plage et des restaurants sont à quelques mètres de l'immeuble. Excellent sur tous les points. Merci Barbara.
Teddy
2016-08-25T00:00:00Z
Barbara fue un anfitrión increíble , muy acogedor y servicial . El apartamento era perfecto y muy cerca de la playa . Mi familia y yo tuvimos un tiempo maravilloso .
Carrlean
2016-08-12T00:00:00Z
Tipe Kamar
Seluruh rumah/apartemen
---
Tipe Properti
Apartemen
---
Mengakomodasi
5
---
Kamar tidur
Torredembarra, CT, Spanyol
Small, but very cute, with all amenities for long or short stay. At 800 meters from the center and 3.5km from the beach. Cozy small but very comfortable flat fully furnished for short or long stay. 800 meters from city center and 3.5 km beach
All year rental is available for 7,200 € year. Annual rent 7,200 € all expenses included.
Very quiet area.
La casa es tal como se muestra en las fotos, muy acogedora y tiene todas las comodidades necesarias para hacer turismo de playa. Es un barrio tranquilo, perfecto para unas vacaciones en pareja o familiares. La playa es también muy tranquila y muy íntima. Respecto a Marc, el anfitrión, no nos pudo tratar mejor, es super atento y entregado con sus viajeros, te ofrece todas las facilidades para conocer la zona y acceder a las cosas que más te interesen, además está disponible en todo momento y da mucha confianza y tranquilidad, ¡no hemos podido tener más suerte! Gracias Marc
Lourdes
2016-08-29T00:00:00Z
Nuestra estancia fue estupenda. El apartamento está completamente equipado, no le falta de nada y es muy práctico y cómodo. La descripción y las fotos lo definen muy bien. El dueño muy amable y atento. La ubicación es adecuada si vas con coche y quieres visitar la zona, la playa está a 5 minutos en coche y es muy tranquila.
Victor
2016-08-24T00:00:00Z
Marc is a good host, very friendly, kind and helpful. He provides lots of information on the sites worth visiting in the area, some you would not find if you did not have local knowledge. Also provided information on restaurants in the town, just down the hill. Marc provides a very well equipped kitchen if you wish to make your own meals. The cozy apartment is comfortable and warm with good internet and easy parking.
David
2016-10-22T00:00:00Z
very good welcome and very good breakfast , smiling and very communicative superb very comfortable apartment a magical, wonderful holidays thanks to our host who knows how to welcome and make that vacation happen great we highly recommend :)
Flo
2016-07-15T00:00:00Z
logement très bien décrit, propre et très bien équipé. idéal pour 2 personnes.
jose
2016-10-27T00:00:00Z
That was an awesome week in spain. Marc take car of us so much. He let for us everything we need and give us à lot of spot to eat and visit. The appartement is so cozy and quiet. There is all the comfort you need in(air conditioner,mosquito repellent etc...) If you go to spain ,it can be a great place to be.
Clotaire et Mélanie
2016-09-08T00:00:00Z
Marc's place is absolutely recommended for people who are looking to relax and enjoy real Spanish local life. We came before all the tourists season arrived so we had the whole beach to ourselves:-) plenty of huge shells to collect and relax . Town centre is near by foot from the flat. Nice quiet neighborhood and great parking facility. Flat is clean perfect for weekend or even a week long stay. Trains are walking distance to Barcelona. Takes 1h20min and cost about 13 eur. Overall : great place ,will use it again and recommend it to everyone. Thanks Marc .
Eva
2017-04-04T00:00:00Z
Marc a été un excellent hôte, il est venu nous chercher à 10 mm du logement, son logement est très bien équipé, tout est conforme au descriptif. Il m'a fourni des explications sur les sites à découvrir, a pris des nouvelles concernant notre séjour...bref un hôte adorable...
Chantal
2016-09-24T00:00:00Z
Tipe Kamar
Seluruh rumah/apartemen
---
Tipe Properti
Apartemen
---
Mengakomodasi
2
---
Kamar tidur
Roda de Berà, Catalunya, Spanyol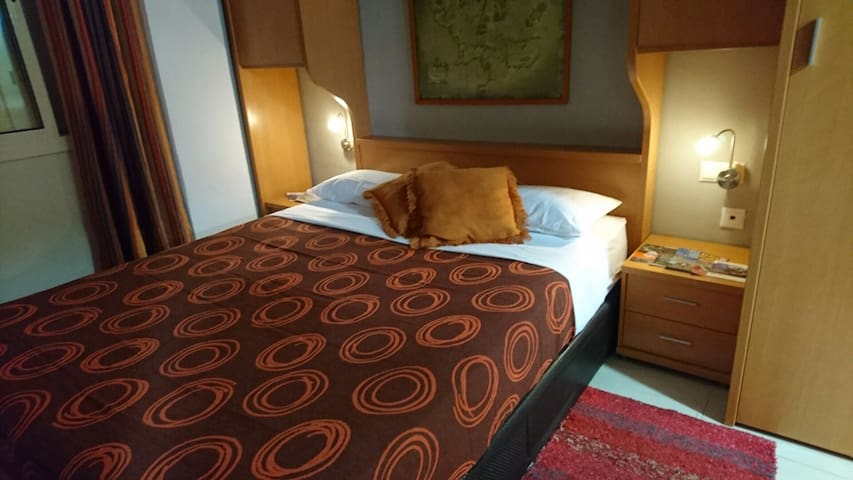 1

–

18

dari

285 Sewa Apartemen
Masukkan tanggal untuk melihat harga lengkap. Biaya tambahan berlaku. Mungkin dikenakan pajak.