My accommodation is good for couples, adventurers and business travelers.
Even though it was a less than ideal weekend to visit the shore (severe coastal storm & beaches were closed), we felt very comfortable at Claudia's home. The bedroom had everything we needed and we had a great night's rest (in a king size bed!) Claudia was a fabulous host and even had a breakfast prepared for us in the morning. I would definitely stay at her house again if in the area. Thanks for everything, Claudia!
Carla
2016-09-04T00:00:00Z
A great experience as always would recommend to anyone who needs a place to stay in the area
Andy
2016-08-26T00:00:00Z
Charlie and Claudia were great hosts! They had no trouble accommodating our late arrival & early departure and even had some breakfast choices laid out for us in the kitchen when we awoke before 6 AM! House is very clean, and bed is super comfortable. We will definitely stay here again if we are in the area!
Keith
2016-12-30T00:00:00Z
A wonderful stay! Claudia was so accommodating from our check-in right up to our departure. We had a few traveling delays, and Claudia was easy to get a hold of and worked with our schedule without hesitation. The house was beautiful and clean, the bed was so comfortable, and we really felt right at home! Claudia and her husband were great to talk to, and we even got breakfast in the morning! All the small details were just perfect- you can tell she cares a lot about her guests. Thank you for a truly wonderful stay!
Tara
2016-09-18T00:00:00Z
Claudia was very understanding when we had a late arrival. The room was nice, as advertised, and the bathroom was clean. We just stayed one night, in between going to Atlantic city and seaside hight. Staying with Claudia was very convenient for us and she was a good host, very friendly. I definitely recommend her place! !
Antonieta`
2016-08-29T00:00:00Z
Claudia is a great host who makes you feel right at home I have stayed here 3 weeks and everything was wonderful
Andy
2016-09-03T00:00:00Z
A wonderful place and gracious hosts. A truly beautiful home. Good breakfast provided. It was nice talking to Claudia and her husband. House was central to the Naval base Lakehurst and the shore. We had a truly wonderful stay. Thank you Claudia. You will see us again. Steve and Sue
Susan
2016-10-02T00:00:00Z
Her follow up was excellent after the booking. However, I personally found the sharing of the bathroom for four people, including the host to be a little strange. I thought there would be more privacy in that area. The room was quite stuffy the first night we moved in, and we couldnt figure out how to open the window, but it was better the second night with the window open. Hostess was very accommodating and welcoming.
Jeffrey
2016-11-13T00:00:00Z
Tipe Kamar
Kamar pribadi
---
Tipe Properti
Rumah
---
Mengakomodasi
2
---
Kamar tidur
Toms River, New Jersey, Amerika Serikat
Ruhige Nachbarschaft. Viele Tag (Hof) Verkäufe in der Umgebung. Große Farmers Market und nur wenige Minuten von Seaside Heights. Alle Arten von Festivals - Frühling, Sommer und Herbst. Nur eine Non-Stop-Fahrt mit dem Bus von NYC.
Carol was excellent host. She was very kind and caring. I arrived 2 hours before the arranged time and she still was kind enough to welcome us in her beautiful house. Really close to seaside hights. Great place to visit and hangout Jersey shore style.
Bryan
2016-07-10T00:00:00Z
Thanks Carol You were welcoming and upbeat. The room was as described. Thanks again!
Beth
2016-07-28T00:00:00Z
Carol was so sweet and accommodating. She greeted us right away and had great stories. She was super friendly and was so understanding about our pet and our changing check in and check out times. She was such a great host!!!
Kay
2016-10-04T00:00:00Z
Friendly host! Room was as described. Short drive to beaches and Boardwalk.
Matthew
2016-08-14T00:00:00Z
Carol was a sweet and lovely host. She accommodated our late night arrival and had a clean, simple room ready for us. The bed was comfy and she was considerate enough to provide eye sleeping masks in case the sun woke us early. In the morning she had also offered a small breakfast to us which we couldn't take as we had to run out to meet friends. Overall, it was a very pleasant stay!
Danielle
2016-06-20T00:00:00Z
Importation things first: easy communication, clean room, silence night, very warm welcome "Tote Hose" (admitted from an other German guy)? Of course. No surprise because this village is a 55+ area. But if you go into closer contact with Carol, you can feel as a family member. You can learn a lot about the region and the American way of life. I appreciated my one day stay at her home.
Roland
2016-10-06T00:00:00Z
Great stay--Carol is friendly and accommodating. The room was as described: clean and tidy with comfortable bed.
Niko
2016-07-24T00:00:00Z
Carol was an incredible host. I enjoyed my stay at her home. The instant you walk in, everyone makes you feel welcomed and I loved that! The room is very warm and cozy and Carol gave good dinner recommendations as well. She also provided breakfast which was unexpected and thoughtful. Whenever I find myself in this area, I will definitely come back!
Ashley
2016-11-13T00:00:00Z
Tipe Kamar
Kamar pribadi
---
Tipe Properti
Rumah
---
Mengakomodasi
2
---
Kamar tidur
Toms River, New Jersey, Amerika Serikat
Tipe Kamar
Kamar pribadi
---
Tipe Properti
Rumah
---
Mengakomodasi
2
---
Kamar tidur
Toms River, New Jersey, Amerika Serikat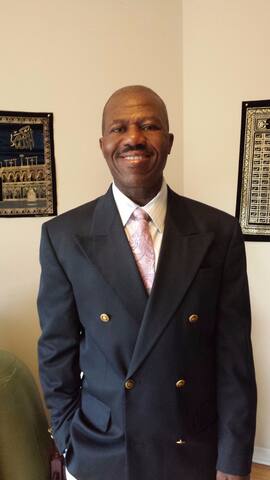 Tipe Kamar
Kamar pribadi
---
Tipe Properti
Rumah
---
Mengakomodasi
2
---
Kamar tidur
Toms River, New Jersey, Amerika Serikat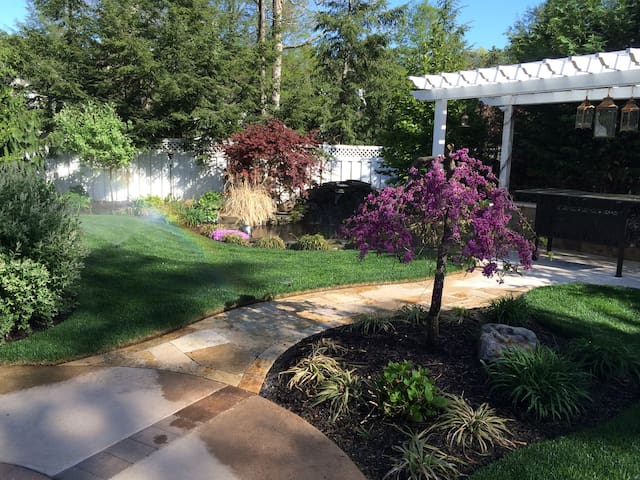 Tipe Kamar
Kamar bersama
---
Tipe Properti
Rumah
---
Mengakomodasi
2
---
Kamar tidur
Toms River, New Jersey, Amerika Serikat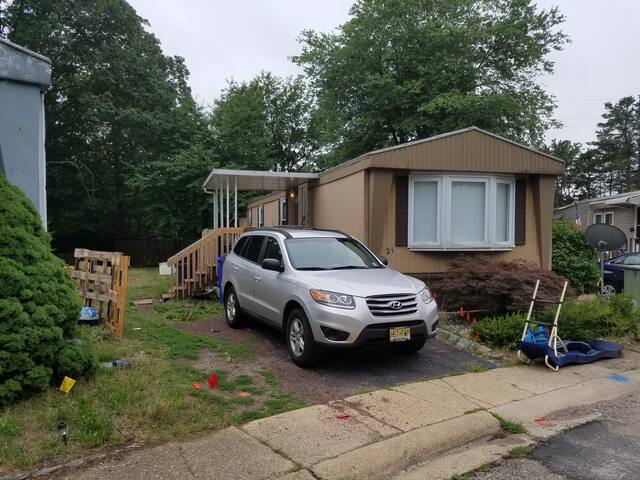 Nuestro barrio es un apacible lugar tranquilo, y limpio para vivir. Es 15-20 minutos a Mar Hts, Island Beach State Park, la playa y Pt. Pleasant Beach, Lavalette y otras ciudades costeras están a poca distancia. Atlantic City, Gran Aventura están a punto 40-45min. lejos. Grandes restaurantes, centro comercial, tiendas de 5-15 minutos en coche. GSP está a pocos minutos de la casa.
Marie was very welcoming and accommodating. She truly shared her house with us. She provided wonderful breakfast choices, a comfortable private room, and friendly conversation. Marie also gave us excellent restaurant recommendations and directions. She was courteous, respectful, and was always very quick to respond to all of our questions. We highly recommend staying with Marie!
MaryBeth
2015-06-08T00:00:00Z
Marie is amazing, not good. The room was decorative, the breakfast exceeded expectations, and everything was picture perfect, like a dream come true. She is an incredible host, a terrific story teller, and has a personality that shines. One cannot ask for more. The Airbnb representative told her she outdid herself and staying here, the actions matched her words. I highly recommend and you won't be disappointed.
Michael
2015-06-17T00:00:00Z
Marie one of the nicest people you will ever meet. All she wants is to make sure you are happy in her home. This is my first airbnb and I'm so happy I stay with Marie. If you need a place to stay in the Toms River area here is the place to stay!
John
2016-07-31T00:00:00Z
Marie is a wonderful host and keeps a lovely, clean home. She is friendly and welcoming, and will do whatever she can to make your experience in her home a pleasant, peaceful one. I loved staying at Marie's place so much that I booked a second weekend immediately. Both times were an awesome experience. Thank you so much, Marie! You will be seeing me again
Maria Campagna
2016-07-11T00:00:00Z
Marie was very welcoming and accommodating. We enjoyed talking to her and meeting her dogs. The room was very small but we only slept there so it was perfect for us.
Beatrice
2016-10-09T00:00:00Z
I was very pleased to spend a few quiet and comfortable nights in Marie's cozy seashore-style home. Everything was exactly as described, and Marie could not have been more welcoming or accommodating.
Gregory
2016-05-25T00:00:00Z
Marie is a great hostess and her home feels just like such. She is beyond friendly & has a beautiful home. I will definitely look Marie up in the future.
andrew
2015-09-03T00:00:00Z
I had some great conversations with Marie, Slept in and went to the beach both days I was there. Great Experience!!!
JEFF
2015-07-13T00:00:00Z
Tipe Kamar
Kamar pribadi
---
Tipe Properti
Rumah
---
Mengakomodasi
2
---
Kamar tidur
Toms River, New Jersey, Amerika Serikat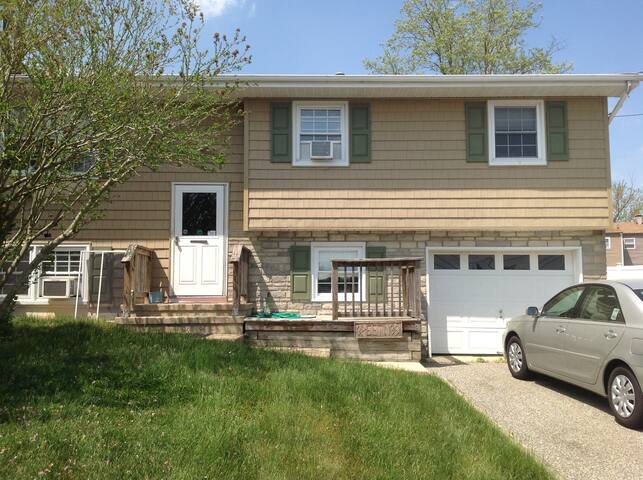 Location convenient to the shore, 65 miles to Atlantic City, Philadelphia, New York.
Robert made me feel very welcome to his home. He had the room warmed up, and showed me my private bathroom. He let me know I was welcomed to watch TV in the living room and was very kind and friendly.
Guernica
2016-12-26T00:00:00Z
Robert met me upon arrival. Was a great and engaging coversationalist and offered snacks to munch on during my stay as well as my drive home.
Joshua
2016-10-03T00:00:00Z
This was my first experience with airbnb... Me and my daughter(7 years old) needed a place to stay for the night after being at the beach all day I didnt want to drive 2 and ahalf hours back home as we wanted to spend more time in the city so I contacted Robert and he accommodated us kindly... very welcoming, we spent a silent night after a long day, he bought my daughter muffins for breakfast... trustworthy gentleman, I would definitely go back again. Thank You Robert!
Carolina
2016-09-11T00:00:00Z
Robert was very sweet and welcoming. He made sure I was comfortable and safe. And even offered to drive me to the bus station. I stayed to be near Belmar but though short, he even gave a little gift to leave. Thank you!
Evadne
2016-07-03T00:00:00Z
Clean and neat home. Rob was a good host.
Derek
2017-03-24T00:00:00Z
Very nice place, I would stay again if I was around the area.
Johnathan
2016-02-29T00:00:00Z
Tipe Kamar
Kamar pribadi
---
Tipe Properti
Rumah
---
Mengakomodasi
1
---
Kamar tidur
Lakewood Township, New Jersey, Amerika Serikat
在汤姆斯河私人家庭清洁,舒适,私人bedrm,安静的街区。到海边HTS(7.4英里)岛海滩St.Park(9.1mi),PtPleasant海滩(12MI),浮桥,GSP(2.9mi)45 mi.to大西洋城。克。进阶(17mi)大床舒适适合两项。 一个5磅的Yorkie的处所
我讲英语和西班牙语。 Hablo英格尔ÿ西班牙语。 "卡莎ES苏住处"。 "我家就是你家"。我会去我的方式,以确保你有一个愉快的时光。
Notre quartier est un quartier calme mais proche de tout ce qu'il faut. Mall, terrain de golf, plage, promenade, ville atlantique, grande aventure, restaurants, Garden State Parkway, Rt. 37, Rt. 9, Rt. 70 sont tous à quelques minutes et je vais vous fournir des brochures pour de nombreux lieux d'intérêt.
I visit Toms River fairly frequently to see my mom and from time to time, I need a break from surfing her sofa. After a long ride on the Garden State, Marie's home was a treat. Marie was very welcoming and at the same understanding of my long travel time and my need to rest. Decorated in a beach theme with soft colors and comfy linens, the bedroom was a relaxing and quiet haven. The queen bed was very comfortable. If you need to do a little work, there is a small desk, and there's a drawerful of books if you like to read before sleeping. In her kitchen, Marie's guests are invited to enjoy a "serve yourself" continental breakfast. A special treat for me - before I went to bed the first night, Marie told me that she had baked a chocolate cake. Would I like some? Yes, Marie, why yes I would. Thank you very much. It was delicious! Marie has a little Yorkie puppy, Rico. He's very cute and a quiet little thing. The house is a split level on a quiet street conveniently located about a mile or two from Route 37, the Garden State, and a supermarket and other stores. It's maybe 15 minutes from the beach and boardwalk. Marie is accommodating and easy to communicate with. She likes making her guests comfortable. She is a great host and the room is really comfy. Tops!
julia
2015-07-31T00:00:00Z
I enjoyed my stay here. It was close to the beach and the room itself was very well-kept. Marie was out of time during my stay, but her daughter was there to greet us and she was extremely friendly!
Emily
2016-08-07T00:00:00Z
Marie was an excellent host. She offered a warm welcome including a cup of tea and good conversation. Very nice continental breakfast, the bedroom was cozy, and the mattress was very comfortable. The bathroom was well equipped. Quiet neighborhood, good parking in the driveway for our rental vehicle. I would say my stay was very comparable to staying at a bed-and-breakfast. The listing was very accurate as described. My boyfriend and I came to stay in the area to work on a stressful project, and she truly helped us feel very rested at her home, which made our trip much less stressful. I would highly recommend staying with Marie! She's a very kind person and offers a very comfortable stay.
Sandi
2016-03-13T00:00:00Z
Marie is a fantastic host . She puts a lot of thought and care into the Airb&b business in her home and decorates it very well. we were very comfortable, we highly recommend other guests to stay at her house. We like that the house is in a quiet area.
Thao
2016-10-12T00:00:00Z
The House is located in a beautiful quiet neighborhood and nicely decorated reminiscent of the Jersey shore. .. A very peaceful place to come home to at night. It is a warm spacious light bedroom with a wonderful bed. The kitchen was ample and well stocked with breakfast foods. The bathroom was large with a tub and separate shower and a washer and dryer. The living room was nice with a large TV, a very comfortable place to be in. Marie was a warm, friendly gracious hostess who was open to talking or allowing space. I had a Few wonderful Conversations with her if I lived closer I would consider that she be a Friend. Wonderful value for the price.
Delia
2016-09-29T00:00:00Z
I am glad to say that Marie is now a dear friend of mine. From the moment I arrived she made me feel welcome and I slept like a dead person ion that wonderful queen bed. Whenever Im in NJ I will be staying with Marie.
Neil
2015-08-12T00:00:00Z
Marie and her lovely home exceeded all expectations and are consistent with her numerous excellent reviews. Thank you Marie for an excellent stay.
dwmorris10
2016-05-28T00:00:00Z
What to say about our experience with Marie? It was so comfortable it was like walking into my own home! Upon arrival Marie gave us a tour and explained that her house was now our house (a beautiful welcome if you ask me). She also baked a cake for our arrival and even provided breakfast and coffee in the mornings! About the location, it is perfect if you want the "Jersey Shore" experience with the ability to come "home" and get a good night sleep. Right near the Garden State Parkway, you can hop right on and be at one of many beaches within 10 minutes. Marie also had a calendar of events and a bunch of restaurants suggestions and things to do. Overall, an affordable, unique, and worthwhile visit. At the end of our stay we made a friend. We would stay at Marie's again in a heartbeat!
Melissa
2015-06-07T00:00:00Z
Tipe Kamar
Kamar pribadi
---
Tipe Properti
Rumah
---
Mengakomodasi
2
---
Kamar tidur
Toms River, New Jersey, Amerika Serikat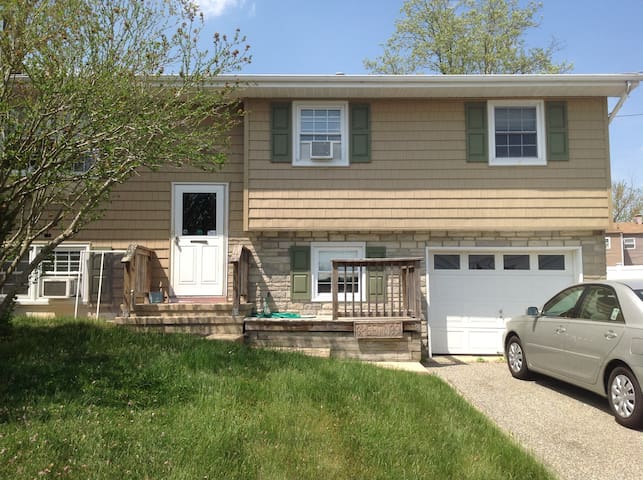 The house was BEAUTIFUL! Tsila was so welcoming and so helpful with local knowledge. Can't say enough how gorgeous the property and house were. So quiet and peaceful and yet so close to everything you need.
Kai
2016-07-18T00:00:00Z
The house was super clean and felt very homely. Our host allowed us to treat the home as if we lived there. Happy with our stay. Host was very friendly.
Richard
2016-09-04T00:00:00Z
Tipe Kamar
Seluruh rumah/apartemen
---
Tipe Properti
Rumah
---
Mengakomodasi
10
---
Kamar tidur
Toms River, New Jersey, Amerika Serikat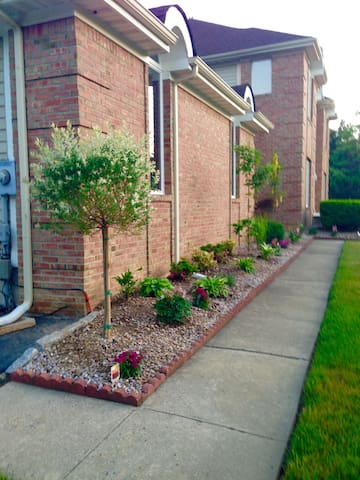 Stay in our comfy home with your own, wide-open private room. The room is 25ft x 25ft and has a plush queen size bed, custom-upholstered couch set, fireplace, entertainment center and TONs of natural light. We're located at the end of our street, meaning you'll have the peace and quiet you desire while staying at our home away from home. Interact as little or as much as you'd like with us during your stay. We look forward to making you feel at home in our home! Note: We have cats!
Located at the end of our street, we have a spacious yard, ample parking and tons of space. Your private room will be located up a set of stairs directly after the front door. We have full bathroom with a Whirlpool tub available to you, as well as a full kitchen.
Quaint area of Jackson, NJ. 1 min drive to multiple convenience stores, pizzerias and Chinese restaurants. 5 min drive to several super markets and restaurants/shops. 25 min drive to many beaches and shore areas!
Tipe Kamar
Kamar pribadi
---
Tipe Properti
Rumah
---
Mengakomodasi
2
---
Kamar tidur
Jackson, New Jersey, Amerika Serikat
This home is absolutely gorgeous and very spacious. We rented the house for our whole family (11 people -- 9 adults and 2 kids) and we had an amazing time. Tsila is a very friendly and extremely gracious hostess. She was quick to respond to any queries we had. She has everything available for your use. Beds and pillows are very comfortable, there are plenty of towels and there's a washer/dryer for your use to clean your beach towels. There's cable TV and wifi too. The back deck is a great space and we spent several hours outside in the morning drinking our coffee and tea before heading out for the day. It's a quiet neighborhood and very peaceful area. The beaches are about 25-30 mins away, but it's an easy drive. We spent the day at Ortley Beach and in the evenings we went to Seaside Heights to enjoy the Boardwalk. Beaches are clean and nice. Grocery stores are nearby if you want to pick up supplies. Standard fast food joints nearby. We wound up eating at different places on the boardwalk for dinner so didn't really check out any of the local restaurants.
Jini
2016-07-25T00:00:00Z
Tsila made us feel very comfortable upon our arrival at the house and gave us a tour to show us where everything was. Our family of 8 really enjoyed our stay in this spacious and modern house and the large garden was fun for the kids to play in and the jacuzzi bathtub was the highlight.
Chana
2016-08-05T00:00:00Z
Simply put magical! The residence IS exactly what the listing presentation states. Although the beauty and elegance of the home cannot be felt without a stay. The decor phenomenal, the neighborhood exquisite and the serenity undeniable. Unfortunately our host was unavailable but no matter for another booking in the future will compliment that. Overall a wonderful and pleasant experience. This was my first use of AirBnB and the host made everything simple and at ease. I would recommend this home to anyone, anywhere, anytime!!!
Emil
2015-12-07T00:00:00Z
Immaculate, beautiful home! Everything you need. I would definitely stay here again!!!
Stephanie
2016-09-05T00:00:00Z
Die Beschreibung entsprach exakt der Realität. Das Haus war sehr gepflegt und der Empfang sehr herzlich. Die Eigentümerin hatte sich allerdings vertan: sie dachte, sie hätte nur ein Zimmer vermietet, wir hatten aber das ganze Haus gebucht. Tsila hat das schnell eingesehen und war eine sehr gute Gastgeberin. Sie hatte Pizza und Wein zur Verfügung gestellt und sogar angeboten, uns am Flughafen abzuholen. Wir kommen gerne wieder, das Haus ist sehr schon gestaltet und hat exklusiven Charakter!
Oliver
2016-05-16T00:00:00Z
We had a wonderful stay at her home. When we had a few questions I gave her a call and she offered to swing by and help us in person which was awesome. The home was very clean and we loved everything about it. I will definitely book again based on the home and the hostess you can not go wrong!
Cam
2017-03-12T00:00:00Z
The house is absolutely beautiful, and as described in the booking. Checking in was seamless and communication with the host is extremely transparent. Tsila, is awesome and extremely accommodating. We booked the place for 8 for New Years Eve; and Tsila prepped her home so that we were are comfortable as possible. I would recommend this listing for anyone looking for a classy, spacious, and luxurious stay and I would love come book again!
David
2017-01-01T00:00:00Z
One word. AMAZING. As a business owner, I wanted to take my employees for a little end of year weekend retreat to celebrate the holidays and do some business strategizing for 2016. They knew I had rented a house for the weekend, but definitely did not expect what they walked into. They loved every second of it! The house was extremely clean and had everything we needed. Tsila was there to greet us upon arrival with a happy demeanor (even though we were an hour late passed the time I told her I would be there). She welcomed us with open arms, showed us around and left right away for us to enjoy our night. We cooked a lot and used many dishes/pots. We had a formal sit down dinner, made amazing cocktails, played games, watched movies, danced the night away in the living room, and relaxed in the hot tub.It was a home away from home and I would definitely go back again. It was especially comfortable since everyone had their own room and bed to be in. A super special thank you to Tsila for being so gracious and accommodating. You were an amazing host - and I look forward to now starting a friendship!
Elizabeth
2015-12-14T00:00:00Z
Tipe Kamar
Seluruh rumah/apartemen
---
Tipe Properti
Rumah
---
Mengakomodasi
10
---
Kamar tidur
Toms River, New Jersey, Amerika Serikat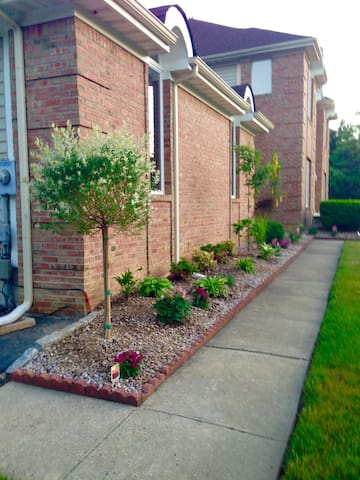 Tipe Kamar
Kamar pribadi
---
Tipe Properti
Rumah
---
Mengakomodasi
2
---
Kamar tidur
Toms River, New Jersey, Amerika Serikat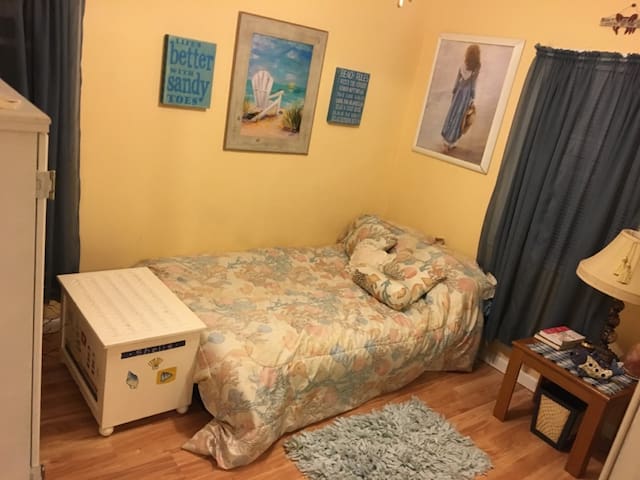 We had a conference in Lakewood and found Gary's place to be a comfortable distance away. Happy we booked this location. Though we were literally 4 minutes from lots of restaurants and shopping areas, the house itself if very private and secluded, which gave it a cottage feel. We loved it! Photos are accurate and there is a river right across from the house, which is really nice with benches, etc. Would definitely recommend Gary's place.
Gym Hoodie
2017-03-19T00:00:00Z
Tipe Kamar
Seluruh rumah/apartemen
---
Tipe Properti
Rumah
---
Mengakomodasi
4
---
Kamar tidur
Toms River, New Jersey, Amerika Serikat
Ein Block von einem Park, der Baseball-Felder, einen Tennisplatz, Basketballplatz, Volleyballnetz, Picknickplatz, Spielplatz hat. Auf der anderen Seite des Parks ist der Toms River / Barnegat Bay, das Boot gleitet, Bootsanleger, Strand und Fischen und Krabben umfasst. Das Hotel liegt an der Jersey Shore, das Haus ist nur 10 Minuten von der Küste, Island Beach State Park, 30 Minuten von Six Flags Great Adventure, 45 Minuten von Atlantic City und etwa eine Stunde von Princeton, New Brunswick, Philadelphia und New York.
Charming Cape Cod mit vier Schlafzimmern. Die beiden Schlafzimmer im Obergeschoss sind für die Gäste und ein Queen-Size-Luftmatratze und Nachtschränkchen enthalten. HINWEIS: Der Raum wurde nur gemalt und enthält auch einen faux Holz elektrische Heizung Ofen.
Das Hotel liegt im ursprünglichen Teil von Beachwood, die 1917 gegründet wurde, ist es eine ruhige Gegend, die zum Wandern und Radfahren ist groß. Zusätzlich wird ein Block von Mayo Park zu sein, sind Sie nur ein paar Blocks von einer 24-Stunden-Laden / Tankstelle, Imbiss, Pizzeria, Apotheke, Nagelstudio und mit einfachem Zugang zu den Garden State Parkway
Robert was a wonderful host and his dog Jake was so friendly!!!
Andrew
2016-12-02T00:00:00Z
Great spot and incredible value! Robert was a communicative and welcoming host. Bedroom was comfortable and cozy.
Katie
2017-02-25T00:00:00Z
Robert is a very nice host. would go back any time!
Lydia
2016-12-11T00:00:00Z
Rob is a wonderful host. He's very friendly and really puts forth effort to help you explore the community.
Tiffany
2016-12-20T00:00:00Z
Great bang for your buck!
Mar'shell
2017-02-12T00:00:00Z
Cool place
Allen
2017-03-14T00:00:00Z
I enjoyed my stay with Robert a great deal and think his arrangement is really what AirBnB is all about. I had a large, quiet, clean room on the second floor with a comfortable sleeping arrangement and a table to do my work on. This home is a block away from the park and water so if you want to walk the area along the water front it is ideal. The neighborhood is quiet and safe and close to everything in that area. Really a great find. Robert is a very thoughtful and accommodating host and I recommend it to anyone passing thru or staying in town.
michael
2016-12-15T00:00:00Z
My second stay here with Robert. An ideal location, quiet neighborhood and home and has all the basics one needs.
michael
2017-01-11T00:00:00Z
Tipe Kamar
Kamar pribadi
---
Tipe Properti
Rumah
---
Mengakomodasi
2
---
Kamar tidur
Beachwood, New Jersey, Amerika Serikat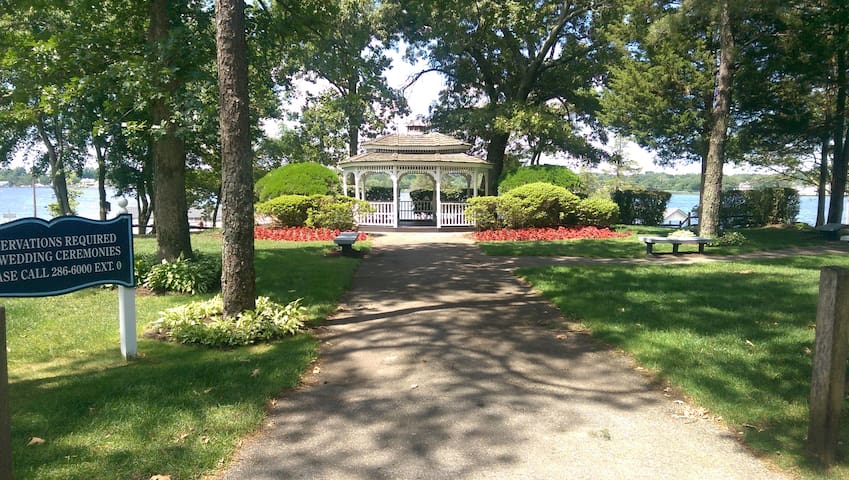 Noelle and Dominick were awesome hosts, right from the start. Noelle was in touch to set the details about arrival, and met us promptly upon our arrival. She showed us around their lovely, well-appointed home, making sure we knew where everything was, how things worked, and answered any questions we had. The room was even better than described. The room is spacious and tastefully decorated with a beachy feel. The room's patio and outside area is just as nice as the inside, with lots of room to sit back and take in the cute as a button yard. Their attention to detail is what sets N & D apart from the rest. There's a basket with Advil, water, and sunglasses! The neighborhood is super cute. All the houses on their block are well maintained and it's a quiet space. Even though you are sharing the house with N & D, you don't see them, and the space feels completely private. You have the whole bottom floor to yourself! The only regret we have is that our stay wasn't longer!
Marietta
2014-09-14T00:00:00Z
We had a wonderful time staying with Noelle! She was welcoming and friendly, and their house has an ideal set-up for guests. Big comfortable bed, hot shower, beautiful back yard. Anything we could have needed was made available. She and her family went above and beyond!
Lyla
2016-05-15T00:00:00Z
We loved our stay here and we're already planning on revisiting! The private level was beautiful and it's just a short drive to the beach! Noelle is the sweetest. Thanks for having us!
Amanda
2016-06-27T00:00:00Z
The gracious hosts made our first Airbnb experience so smooth and enjoyable! Such a warm and comforting space with lots of privacy and quiet. Thank you Noelle for a wonderful stay and fantastic brunch recommendation! Can't wait to visit again!
JULIE
2015-07-05T00:00:00Z
Noelle was very accommodating and thoughtful for my stay. She provided us with literally everything that you could possible want or need for a trip. She was always incredibly nice when you talked to her and responded to everything promptly. Her home was beautiful and impeccable and in a very nice neighborhood, making you feel safe and right at home. I honestly could not think of anything that Noelle could have done better to improve my stay!
John
2015-08-02T00:00:00Z
Noelle's home was simply lovely and it was the perfect place to unwind after a long day. It was in a quiet neighborhood and we relished the peace and tranquility it offered. The space was exquisitely decorated and the attention to even the smallest detail and to provide us with a small fridge and coffee was appreciated. The patios off the bedroom and living room overlooked the gorgeous yard and offered a great place for morning coffee or quiet evening reflection. Thank you Noelle and family for sharing your special home.
cathy
2016-08-29T00:00:00Z
We had a wonderful stay at Noelle's house. Her place is neat, spacious and great for kids. My children loved playing outside on grass and plat structure. Noelle communicated well before and during our stay. We'll be back.
marc
2015-04-02T00:00:00Z
As a first timer using Airbnb, my weekend stay was very special for my fiancé and I, and Noelle & Dominick made it nothing less of perfect for us by being great hosts. They are so friendly and made me feel very welcomed. We had all the privacy that we needed during our stay. The lower level where we stayed (including the room) is very beautiful and spotlessly clean – I slept like a baby on that bed. Three things that impressed me the most beside how awesome the place is are: the night lights on the path that leads to our private entrance, the hosts provided every single details from all the toiletries to sunglasses and a Frisbee – a Frisbee? how awesome is that, and lastly the unexpected visitor – Noelle's cat - that made my fiancé smiled a lot. We will definitely be back
Lam
2015-06-21T00:00:00Z
Tipe Kamar
Kamar pribadi
---
Tipe Properti
Rumah
---
Mengakomodasi
2
---
Kamar tidur
Toms River, New Jersey, Amerika Serikat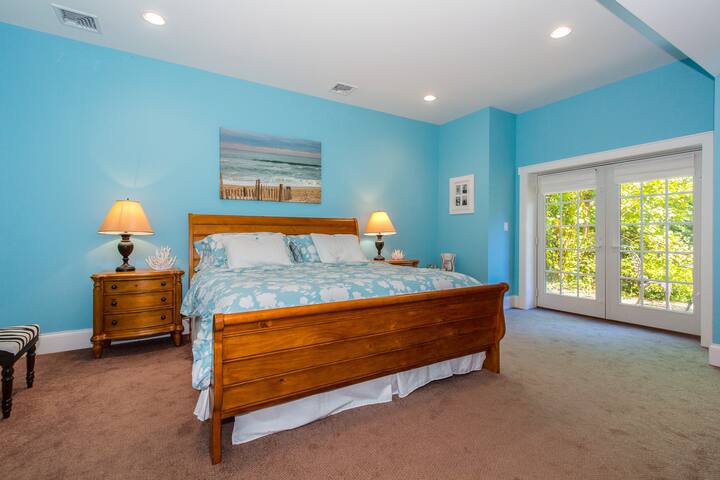 My place is close to restaurants and dining, great views, the beach, and family-friendly activities. You'll love my place because of the neighborhood and the light.
Tipe Kamar
Kamar pribadi
---
Tipe Properti
Rumah
---
Mengakomodasi
2
---
Kamar tidur
Jackson, New Jersey, Amerika Serikat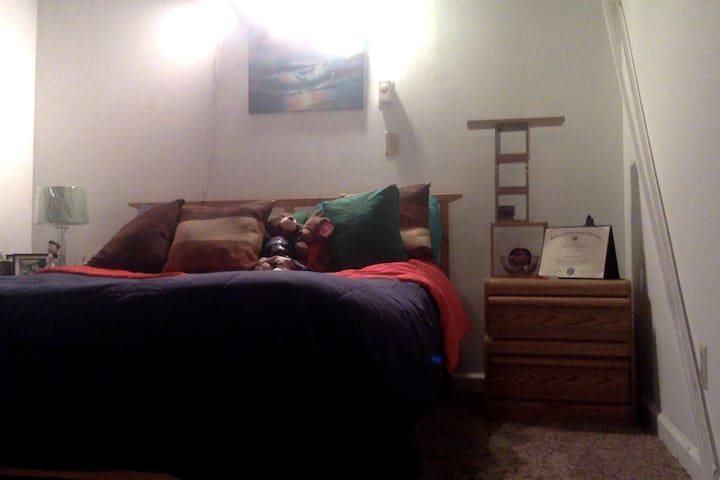 Acogedor bungalow de verano cerca de muchas actividades de playa. Muy cerca de la playa en Toms River, pesca en Barneget Bay, a 15 minutos de alturas de la playa, a 45 minutos a Atlantic City, excelentes restaurantes, locales nocturnos y aledaños.
barrio tranquilo, cerca de las zonas de playa, cerca de buenos restaurantes y actividades de verano. No es lujoso, pero limpio y cómodo.
Heidi's bungalow was a great fit to our vacation. She had the place ready from clean linens to towels. I recommend her place and plan on booking her place on our next trip
Kirk
2016-07-16T00:00:00Z
Rented this for a family reunion I was attending in a bordering town. Shared with family in from Mid West with 2 young children. The house was the typical Jersey Shore Bungalow I and my family remembered from our childhood. Home was clean, comfortable and well-stocked with beddings and towels for all six of us. Heidi has an amazing collection of videos that kept my young nieces and us entertained before bed at night and again in Morning. House is close to everything. Heidi was a attentive host and delivered as promised. I'll recommend this rental to anyone.
Donald
2016-08-08T00:00:00Z
Heidi was very accessible and friendly. The accommodation was very much in line with the price we paid. I loved having the history of the place to read as well as all of the cute, historic knick knacks around the bungalow. Having beach chairs accessible was an added plus.
Kathleen
2016-08-16T00:00:00Z
I had a wonderful time and Heidi was a great host!
Jessica
2016-07-31T00:00:00Z
Tipe Kamar
Seluruh rumah/apartemen
---
Tipe Properti
Rumah
---
Mengakomodasi
6
---
Kamar tidur
Beachwood, New Jersey, Amerika Serikat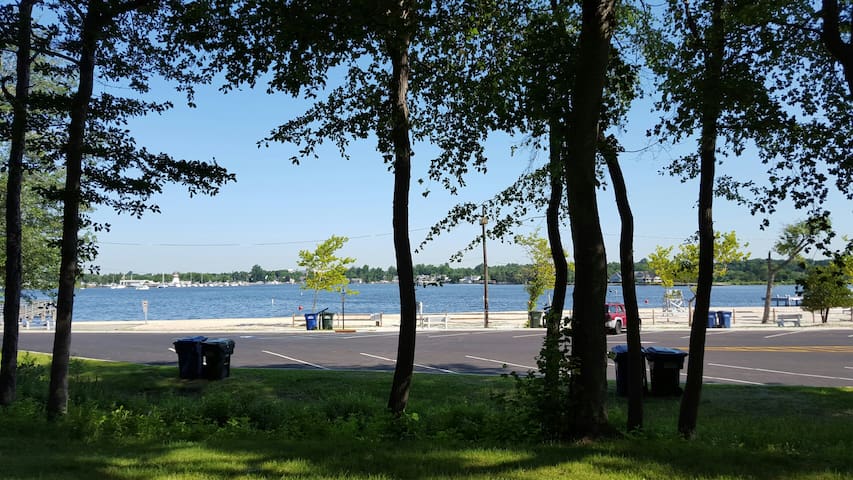 Kommen Sie und genießen Sie das neu renovierte 3 Br 2 Badehaus Mit 2 dens alles, was Sie in der Küche New Grill zu kochen. Riesige Deck viel Platz im Hof Fisch entspannen oder einfach nur bräunen. Parken abseits der Straße Diese Preise ist für ein Bett-Zimmer und Hausanteil
Ruhige Lagune Ranch mit Blick auf die Bucht
Ruhig, mit Blick auf die Bucht auf die Lagune Diese Preise sind für maximal 2 Personen pro Schlafzimmer und ist ein Haus teilen, wenn Sie das ganze Haus kontaktieren Sie mich mieten wollen, aber merke ich dort leben und den Preis für mich angepasst werden zu lassen entsprechend für volles Haus mieten
The location is great right next to the water
Robin
2016-08-21T00:00:00Z
Joe greeted me at the front door. He quickly made me feel welcome. Almost like I was a family member. Showed me how the whole home works.
Anthony
2016-07-12T00:00:00Z
Thank you for hosting us on such last minute notice Joe.
Sam
2016-12-28T00:00:00Z
We had a good visit. It was as described, a friendly house-share, with good sized and clean bedroom and shared kitchen and bath. A highlight was sitting on the edge of the water drinking coffee in the morning and a glass of wine at night while the fish nibbled at the surface. Very relaxing. Island Beach State Park and kayaking are about a half hour away. Joe is affable and accommodating.
susan
2016-07-26T00:00:00Z
Joey was very accommodating with my check in time. He is a great host, the discription is accurate. The neighborhood is nice. If I come back to the area I will definitely be looking him up again
Eric
2016-09-20T00:00:00Z
This is our 2nd time at Joe's place. Perfect spot for us after long days of bike riding, swimming, and sun at Island Beach State Park. Thank you, Joe!
susan
2016-08-29T00:00:00Z
My mom and I had a great experience staying at Joe's house. The rooms and house were accurate to the description and the photos in his listings. Joe was flexible with the check in/out times and very easy to get in contact with. Joe was a great host, very welcoming and made us feel right at home! Joe's house is situated right on the bay with a beautiful view and a gentle, relaxing breeze. Would definitely check back in with him if planning another stay in NJ!
Rachel
2016-06-08T00:00:00Z
Our stay was great. Joe even let us bring our two dogs. House was immaculate and exactly as described in listing. Very happy with our stay.
Chris
2016-06-21T00:00:00Z
Tipe Kamar
Kamar pribadi
---
Tipe Properti
Rumah
---
Mengakomodasi
2
---
Kamar tidur
Toms River, New Jersey, Amerika Serikat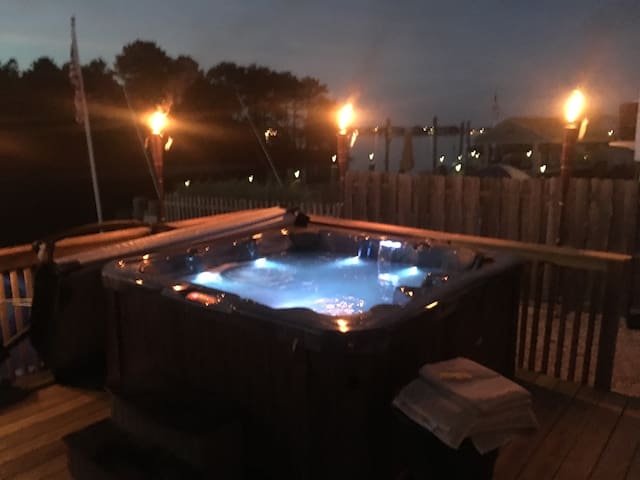 1

–

18

dari

29 Sewa Rumah
Masukkan tanggal untuk melihat harga lengkap. Biaya tambahan berlaku. Mungkin dikenakan pajak.