Masukkan tanggal check in Anda dalam format hh-bb-tttt
Masukkan tanggal check out Anda dalam format hh-bb-tttt
Tempat yang bisa Anda pesan tanpa perlu menanti persetujuan dari tuan rumah.
Masukkan tanggal untuk melihat harga lengkap. Biaya tambahan berlaku. Mungkin dikenakan pajak.
Juli dan Agustus ini, Anda dapat mencoba menginap di salah satu dari 100 rumah berperingkat tertinggi, pada semua rentang harga, dan nikmatilah sudut pandang warga lokal di Sonoma. Fitur check-in 24 jam, Pemesanan Instan, serta anggur dan camilan lokal membuat Anda dapat bersantai dan menikmati perjalanan.
This 100 year old home is a short walk to everything. The house features 2 bed rooms, kitchen, living room, dining room, and full bathroom. The first story will be all yours with access to the laundry in the basement.
This cozy old home fits 2-6 adults comfortably. Child's bed available in the master. The master bed is a queen memory foam mattress, the guest bed is a full padded spring, and the third bed is a convertible couch about the size of a full mattress. The kitchen comes stocked with appliances from refrigerator to coffee maker (with complimentary coffee provided). Truly a home away from home. If the listing settings don't work for you (eg. More guests, several pets, price) just talk to me about it. I will try to work with you. Access to the internet, appliances, laundry, large free parking area, tipi (seasonal), and yard. The upstairs is completely off limits.
The house is spacious and has a rustic charm to it. It is conveniently located, closer to downtown. Sally was very helpful with check-in inspite of us reaching late in the evening. The house is old with quirky touches, so expect a little wear & tear but nothing is inconvenient. We stayed as a group of 5 adults and had a comfortable stay.
Suruchi
September 2016
Sally had great communication with my husband and I. This was our fist time to Lakeview. We were at a wedding. She was Very quick to respond back to any of my questions. This house is in a great location. Yes it is in town however with the trees and yard it gives you a more private feel. It's much bigger then we expected. Full kitchen dining room and living space. The bedrooms are very spacious with one queen and one full bed. We slept on the queen and it was exstremly comfortable. The shower has great water pressure. The house is old and rustic with quirks. But that's all part of the experience. It was very clean. We would definetly stay again.
Julianna
August 2016
This place was very nice. Big house, lots of room, Sally was very nice.
Bruno
July 2016
Sally was outstanding!! We had a couple of questions for her and she was super quick to help and with a very friendly attitude and willingness to help :) The house was what we expected and as described...the location couldn't be better! In town so it's super convenient, but at the same time away enough from the main roads so it's very quiet and relaxing.
Ruth
August 2016
Sally had great communication with us prior to our arrival and during our stay there. Everything was just like the description. We always love staying in the slow paced town of Lakeview, OR. If we need a place to stay in Lakeview in the future, I know where to go first. Looks like she is also working on updating the home.
Heather
November 2016
Sally - thanks for your hospitality! House was quaint and bed was super comfy! I felt like we were staying at a relative's house!
TIM
September 2016
We had a very pleasant stay and enjoyed the convenience of the home.
Brook
September 2016
Sally was a great host, the description of the place was on point with the amenities and the location. I will definitely stay here again.
Tony
September 2016
Tipe kamar
Seluruh rumah/apartemen
---
Tipe properti
---
Mengakomodasi
6
---
Kamar tidur
2
Lakeview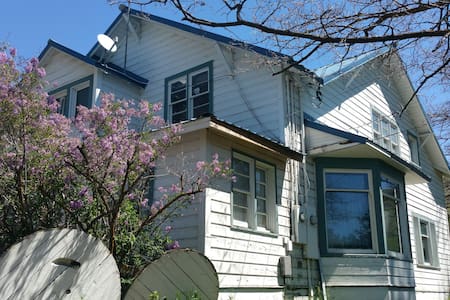 White Tail is a fully furnished, soulful cabin with 2 bedrooms, hot water, 1 bath, fully equipped kitchen, and living room, redwood deck, built in the 1940's and updated in the 60's w/ 220V power. Sleeps 4 adults or 2 adults and 3 children.
Private, soulful 1940s era cabin/deck. Sleeps 4 adults or 2 adults and 3 children Bedroom 1: Full-size bed Bedroom 2: Two twin beds Living room: Full size fold-out couch Amenities: Linens provided Wood fireplace with heat-a-lator Oil and electric heaters Bathroom: Toilet and shower, built-in heater Kitchen: Fully equipped, with large refrigerator, 4-burner electric stove w/oven, microwave, toaster, blender, coffee grinder, coffee maker, French press, teas, and condiments Other: CD player 60s short wave radio. Tuned to 91.1 FM-OPB radio and NPR. Smoke and CO detectors Outdoors: Pure artesian well water (inside, and outdoor pump) Redwood deck with picnic table and built-in benches Large hammock Weber charcoal BBQ Fire ring with log seats Outhouse behind the cabin for winter/emergency use. Price: $125-$150 per night depending on season and length of stay Charge per person in addition to first 4 adults, or 2 adults and 3 children: $25/night Access to the Warner Mts., Fremont National Forest, Hart Mt., our surrounding 10 acres. We are present on the property but out of site above the aspen grove. I am happy to help with suggestions for places to explore and directions. There is lots of adventure from here, and we're the only year round residents off of Camas Prairie. If you want to hire some live solo guitar music or even an American folksong singalong around your fire, I'm your man, and I'm game!
Back of Beyond Recreation & Retreat is located in the scenic Warner Mountains, 15 miles northeast of Lakeview, Oregon, at 5,700 feet above sea level. The cabins are nestled in Ponderosa pines next to an aspen grove on 20 fenced acres. White Fir, willows, sagebrush, a few junipers, and seasonal wildflowers add to the mix. A seasonal creek runs through the property through Spring. The property backs onto the Fremont National Forest. There are over 50 miles of trails, and lakes, creeks, mountains, and desert to explore with few people to compete with for solitude. This is an experience and base camp for nature lovers, artists, scientists, families, and those looking for real peace and quiet in a remote location. 4 wheel drive vehicles give visitors the most options for exploration, but they aren't necessary. 2 night minimum. Discounts for weekly stays. We love dogs and have two of our own. However, owners must keep control of their animals and pay a deposit for potential property destruction.
this is another repeat visit to cam and christine's. i have stayed in all the cabins now. they are perfect and beautiful in their own way. each time i visit i wish i could stay a week and just slow everything down, get centered and relaxed. even two nights are great but more would be even better. thank you cam and christine!!!
Robin
October 2016
Everything about Cam and Christine was welcoming. Quite honestly, this stay was just an overnight, on our way to another place. Which is why we feel so fortunate to have gotten the opportunity to stay there AND to meet them both. What a pleasant, peaceful, calming place to wake up in the morning. Cam was quick to offer supportive recommendations for literally everything. (had the radio already perfectly set to NPR and is clearly good at building a fire) And it was truly a pleasure to meet them both. After being there, we were a bit melancholy about leaving. We would have loved to have stayed longer! The place was stocked with everything we could have needed, from general supplies to morning coffee. Well done! I highly suggest popping in on of Cam's CD's. The music is perfect for the surroundings! Thanks for sharing, Cam!
Nicole
October 2015
My husband and I stayed at Cam and Christine's cabin, "Whitetail" for 2 nights enroute from Crater Lake to French Glen. As soon as we arrived in late afternoon, they came to welcome us and orient us to the snug little cabin on their property. The cabin dates back to post WWll and was unpretentious but clean, comfortable and charming. The two bedrooms were small but cozy and the kitchen was well-equipped and stocked with coffee, oil, salt and pepper, and condiments (perhaps leftover from previous guests). Cam is a talented musician (guitarist and singer-song writer) and we enjoyed listening to his CDs while sitting by the fire. He also loves this part of Oregon, and gave us some good suggestions on where to drive and hike in the area near Lakeview. Since we planned to hike and it was opening day of deer hunting season, he loaned us some brightly colored clothes to wear so we were visible. We loved exploring the nearby Warner Mts. and thought the vistas of deep green Ponderosas, bright orange and yellow aspens, and light green and yellow sagebrush were quite beautiful. We were glad we took Cam's advice and drove up Drake Peak to get a panoramic view of the area, including Hart Mt. Our first night, we enjoyed a spectacular star show a few steps from the cabin. The second night, we kept warm by the fire while a snowstorm blanketed the ground. In sum, we had a thoroughly enjoyable and relaxing visit to "Whitetail". We recommend it to anyone traveling through this neck of the woods.
Virginia
October 2016
An oasis during our extremely long (1000 mile!) bike race. Clean, quaint, rustic with no shortage of thoughtful amenities. Detailed directions were unbelievably helpful to tired riders. I'd definitely go back.
Maria
July 2016
We loved this cabin! Our hosts were very friendly and accommodating. Cabin and amenities were as described on the listing. The cabin was clean and roomy. The kitchen was stocked with everything we needed to make dinner, and even included condiments and coffee for the morning. The cabin is a little out of town in the gorgeous countryside. We enjoyed sitting out on the deck and walking down to the meadow to enjoy an amazing sunset. I consider this a hidden gem that we hope to frequent in the years to come.
Laura
September 2014
I have nothing but good things to say about our experience at the Whitetail cabin. Hosts Cam and Christine were incredibly hospitable. The cabin is both remote and easily accessible from the highway. It is a beautiful place with a great view. I would recommend this stay in the future.
Austin
May 2015
Tipe kamar
Seluruh rumah/apartemen
---
Tipe properti
---
Mengakomodasi
4
---
Kamar tidur
2
Lakeview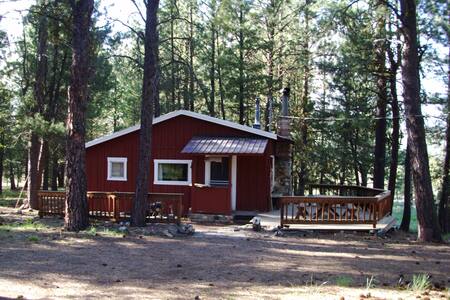 Squirrelville is furnished, built in the 1920s with one bedroom, open plan living and kitchen area, and 110 V power. Sleeps 2 adults + one small child. Bedroom: Queen size bed/dresser. Kitchen area, sink, appliances, water, outhouse, outdoor shower.
Squirrelville is a fully furnished, cozy rustic cabin built by a Lake county judge in the 1920s with one bedroom and open plan living and kitchen area, and 110 V power. Sleeps 2 adults, or 2 adults and one child. Bedroom: Queen size bed Living room: Couch can sleep 1 child. Amenities: Linens provided Wood stove (wood supplied) Oil heater Stereo sound system Kitchen: Fully equipped, with vintage refrigerator (very small freezer), "Home Comfort" wood cookstove with a 2 burner electric cooktop sitting on it for cooking, coffee maker, French press, microwave, toaster oven, blender. We provide a selection of coffee, tea, hot chocolate, a variety of condiments, cooking oil, and creamers for your use. Large country kitchen sink with a 6 gallon container with spigot that is kept filled for use. 5 gallon glass beverage container filled with pure artesian well water Outdoors: Picnic table Weber Charcoal BBQ (charcoal provided) Large hammock Tree fort with side rails just outside. Outhouse with great view! Outside light can be turned on from the bedroom for night time use. Outdoor shower w/heater behind cabin Price: $100.00 1 night/$90.00 2+ nights Minimum stay: 2 nights (preferred) Lower acres of our fenced woodland with a bench at the corner of the property for private sunsets and view across Camas Prairie. The property next to us (owned by Collins Pine), can be accessed through a couple of gates for hiking/walking. We set you up, and Cam will be happy to make recommendations for all kinds of adventures in the area. We live on the top of our 20 acres and will absolutely respect your privacy, and expect the same.
Wilderness. Adventure everywhere! We're between Lakeview and Hart Mt. Antelope refuge in the Warner Mts. Over 50 miles of hiking trails, mountain biking, photography, bird watching, wildlife viewing, roller skating/skateboarding (on a nearby abandoned paved road!) We are the only full time residents of this area around the border of the vast Camas Prairie. There are some nice restaurants in town (Lakeview) and we're happy to make recommendations. You're on your own! 4-wheel or all-wheel drive will get you to the more remote spots, but is not necessary for most places. This is wilderness and there are bears, cougars, and coyotes in the area (though all are very shy and avoid contact). We've never actually seen bear or cougars in the area. We have seen their tracks, but not real close to our place.
Cam and Christine were perfect hosts! We drove up to Squirrelville and were made to feel at home with cozy features in the cabin. We were given time to settle in before Cam and Christine came down to show us around, which was nice to be able to stretch our legs and check out the cabin a bit. Our dog does not do well with other dogs, so this place was perfect for her to roam around and chase chipmunks and squirrels. We were given information about the area, which was nice. We went sunstone hunting one day and went to California and the county fair the next day. Our favorite things about the cabin: games, tree fort, wood-burning stove, and lovely present waiting for the birthday boy who turned 6 while we were there!! I cannot say enough about how welcome and accommodating Cam and Christine were, as we had a family of four, plus our pup. Thank you Cam and Christine for a lovely stay. We hope to come back and stay even longer next time!! Thanks, Briana, Shaun, Diane, Finn, and Barley
Briana
September 2015
we stayed at squirrelville for two nights and absolutely loved it. Cam and his wife are generally wonderful people, they are a very interesting couple with excellent knowledge of the area. We went prospecting for sunstones near plush Oregon and had a great time. no doubt we`ll be back again.
Gary
September 2016
We had so much fun staying at Squirrelville. It is a great place to get away and relax for a few days. The cabin is super cute and Cam and Christine were more than welcoming and friendly.
Paris
January 2017
What a wonderful experience staying at the Squirrelville cabin! My girlfriend and I had traveled all the way from Portland to arrive to find a fire-warmed cabin with home made cookies and coffee out for us. Suffice it to say, Cam and Christine were lovely hosts, incredibly friendly, accommodating and made sure we had everything we needed for a pleasant stay. They cabin itself is stunningly beautiful and rustic, with an early 1900's stove in its 100 year old kitchen. There were games, music, art supplies and books there for us to preoccupy our time with after visiting Lakeview and skiing nearby. Despite not having running water, they had more than enough jugs of well water for us, which was some of the cleanest and tastiest water I've had in a long time. The outhouse was clean, had a lit pathway with a motion-sensing light inside, and was only a few short steps from the cabin. The bed was incredibly comfortable. In the morning, we took a walk through the fields surrounding the cabins and marveled at the beauty and solitude of the property and neighboring valley. Overall, this was one of our best AirBnB experiences to date! I would recommend staying here to anyone wanting a rustic getaway in a small cabin tucked away in the woods. We can't wait to come back!
Kevin
December 2016
You will find total silence, beautiful scenery, endless space to reconnect with yourself in nature at Squrillville. Rustic simplicity at it's finest, provided by the warmest hosts I have ever met.
erin
December 2016
Cam and Christine's Squirrelville is a perfect place to base yourself when visiting Hart Mountain - as my son and I did recently. It is ideally located a 20 minute drive from Lakeview and quietly situated on their property. Communication was easy and everything was provided as listed. The cabin is clean, comfortable and has a great sense of history about it. We enjoyed Cam's new outdoor shower set up and the option to have a fire. Highly recommend this stay and get in quick before it gets booked up.
Ewen
June 2016
We had a wonderful relaxing weekend staying at Squirrelville. Cam and Michelle have done a great job of making the cabin feel warm and inviting. They were there to greet us on arrival and answer any questions we had about the area and the cabin - they were fantastic hosts. The cabin was very comfortable, the wood fireplace a bonus and the kitchen came with all amenities, tea, coffee, milk, condiments and more. The property is beautiful and secluded, we enjoyed watching the sunsets each afternoon. I could not recommend this property enough for a relaxing weekend away. We will definitely be back!
Philippa
May 2015
Great spot! The host has a passion for exploring Oregon's outback and is a great resource for information for planning your trip. The space was clean, comfortable and rustic.
Warren
July 2015
Tipe kamar
Seluruh rumah/apartemen
---
Tipe properti
---
Mengakomodasi
2
---
Kamar tidur
1
Lakeview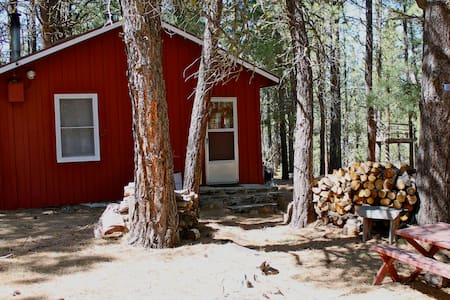 My place is close to The Oregon Outback, great views, family-friendly activities.. You'll love my place because of Whether it's the County Fair or one of the high mountain lakes, there's a lot to see and do.. My place is good for couples, solo adventurers, business travelers, families (with kids), and furry friends (pets).
Tipe kamar
Kamar pribadi
---
Tipe properti
---
Mengakomodasi
2
---
Kamar tidur
1
Lakeview
My little sheep farm has a cute old farmhouse, beautiful lawn and garden on 8 acres, 3 miles west of town. Across from a golf course and not far to miles of hiking, biking, riding and exploring petroglyphs. 2 bedroom, 1 bath. Barn with 4 stalls and paddocks. Dog kennel for your pal, however property is not pet-fenced and is located on highway so leash is highly recommended when outside. This all yours as I will not be there during your stay.
Tipe kamar
Seluruh rumah/apartemen
---
Tipe properti
---
Mengakomodasi
3
---
Kamar tidur
2
Lakeview
My place is close to Hiking, skiing, snowmobiling, ATV trails. You'll love my place because of the outdoors space, the comfy bed, and the kitchen. My place is good for couples, solo adventurers, families (with kids), big groups, and furry friends (pets). You might not be able to drive in during the winter months, we will provide transportation. Horses allowed in barn, land fenced. Town 12 miles away, be prepared. House off grid
Log house on 40 acres on it's own private lake, surrounded by forest service land. Can ride your ATV's or snowmobiles all day without seeing another person. Able to bring your horses, barn with four stalls available. Kitchen is state of the art with double ovens and gas stove top. Abundant wildlife. Lake has trout and bass, catch and release only. Paddle boats and boards available in the summer. Large deck with fire pit. Guests have full use of the house. We can be available if guests request us to be there.
No neighbors. Abundant parking. This property is very remote, so a sense of adventure is necessary. The house is at 6000 foot elevation, so snow is not uncommon. You might not be able to drive in during the winter. We have transportation available, but you will need to leave your vehicle at the snow park, so you will need a snow park permit. You will want to make sure and have enough food to last your entire stay.
Tipe kamar
Seluruh rumah/apartemen
---
Tipe properti
---
Mengakomodasi
2
---
Kamar tidur
1
Lakeview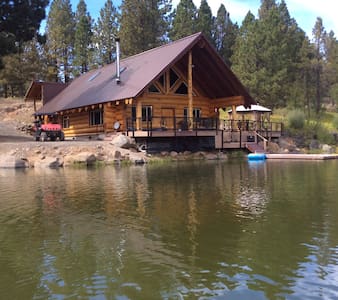 We have two rooms avaliable, one has a TV and one does not.
Beautiful custom home. 3 acres built in 2013. 2 people 10$ pp after 2. Private Upstairs living room with TV, hot tub,bathroom. Private road for hiking or walks. Some, little or none you choose
Beautiful view of the valley and close to 140E. Private road. Nice area to walk or ride bikes. Private area. Lots of wildlife.
Cliff and Rebecca are very kind hearted and welcoming hosts. They both went above and beyond ensuring that my travel/lodging needs were met. The home is off the main streets in a quiet, beautiful neighborhood. I was greeted by Rebecca whom immediately offered to carry my bags to the gorgeous yellow room. I was given a tour of the home and made to feel very welcomed. Guest areas are spacious with very beautiful, comfortable furnishings. I found these two hosts are willing to make sure your every need is met during your stay. This is definetely home away from home. I am a nurse who travels for work and I would definetely stay here again. I will reccomend to all of my cohorts and to travel nurse companies. Thank you Cliff and Rebecca
Leona
September 2016
Tipe kamar
Kamar pribadi
---
Tipe properti
---
Mengakomodasi
2
---
Kamar tidur
1
Lakeview
This RV is in a campground on a 5,000 acre working cattle ranch. It is close to family-friendly outdoor-oriented activities like wildlife viewing, rock hounding, birding, hang gliding, fishing, hiking, mountain biking. You'll love this place because of the views, the location, quietness, and so many amenities.
Tipe kamar
Seluruh rumah/apartemen
---
Tipe properti
---
Mengakomodasi
4
---
Kamar tidur
1
Lakeview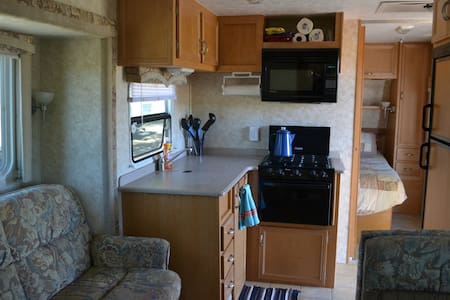 Retreat, relax, rejuvenate amongst beautiful Ponderosa Pines at Freedom Ridge Retreat! You'll enjoy abundant wildlife, wild flowers, fresh mountain air, gorgeous sunsets and amazing star filled night skies. Surrounded by over 300 thousand acres of Fremont Forest land, lakes, streams, and trails to explore by ATV/4x4, horseback, or hike.
Rustic cedar and River rock with see thru wood stove, open floor plan, 10'high ceilings through out adds breathing space to 1100sqft. 2bdrm cabin. Spread out on 2 large decks, perfect for entertaining with fire pit, large family picnic table, Treager Bbq/Smoker, and a HotTub for 8 with a million dollar view. Don't forget to look up! ...The night time skies are breathtaking with endless stars! During your stay, enjoy the Bald Eagles, Mule Deer, Elk on occasion, abundance of birds and geese, with wild turkeys year 'round. This retreat is the perfect place to slow down, put away the electronic distractions and breath in the beauty that surrounds you. Be still... listen, smell and see. Entire cabin and 5 acres, bring your horses, ATV'S, snowmobile's, and hiking shoes. Fishing rod, boat and skies! So much to do in the great outdoors! Over 300 thousand acres of it to explore. Enjoy! As much as needed or wanted, call ahead, let's talk about your plans. I can assist you in planning your adventure's, cook meals, clean daily or weekly...depends on length of stay.
Tipe kamar
Seluruh rumah/apartemen
---
Tipe properti
---
Mengakomodasi
4
---
Kamar tidur
0
Lakeview
Come and be Surprised on your Tranquil Creek Hideaway stay. Nestled on the slopes of the Warner Mountains in Surprise Valley, our home infuses one with the tranquility of nature. Soak in the hot spa, listen to the creek...relax and smile.
Pablo Neruda, Zane Grey, Ernest Hemmingway, Annie Diller, Robinson Jeffers would feel at home here, as we hope you will. Residing in the far northeast corner of California- -in the land called Surprise Valley--is a home when you stay, you may not want to leave. Tranquil Creek Hideaway is peaceful, unique,and far from the maddening crowd. We are only a few miles from the Oregon and Nevada borders, and truly "Where the Pavement Ends and the West Begins". Tranquil Creek Hideaway is a private home on the edge of the tiny town of Ft. Bidwell, the last settlement in this remote corner of the state. East of us is the vast Great Basin of NW Nevada. To the west the Warner Mts rise 9,000 ft to separate Surprise Valley from the rest of California. To the north, Mt. Bidwell majestically soars thousands of feet above the valley below. A creek sings year round on the property,,,,birds,butterflies and dragonflies abound in the warm months, wild geese and sandhill cranes wing overhead in the spring and fall. All seasons of the property weave their Surprise magic, especially summer and autumn, when the creek, cottonwoods, aspens and red osher dogwoods sing with color and snow begins to lace the high country Our home is private, with splendid views of mountains, meadows and creek meanders, yet within a short,quiet walk to the historic Main St of Ft. Bidwell (population 200). Enjoy solitary wanderings or adventuresome excursions in a land seldom seen and traveled...one of the last wild, unexplored areas in the American West. Luxuriate in the private hot tub on the deck, with exquisite views of Mt Bidwell and the Warner Mountains. Fish in the nearby lakes and mountain creeks. Sit on the deck above the creek, sipping coffee or a cool drink, and listen to the bird calls. Hike and ride on Forest Service and BLM lands beginning just down the road, or explore the vast Great Basin of Nevada to the east, where no towns, no electricity, no amenities exist. Be sure to be prepared if you travel east, cell phones will not work east of Surprise Valley. This property alone though is absolute,,,for you can kick back, relax, read, meditate, rejuvenate, and wile away the hours. Although Tranquil Creek Hideaway is our home, we are travelers and make our property available to those who cherish beauty and the less traveled way. This home is a place to finish a book, to begin another, to paint, to write, to relax ,,,,or adventure to your heart's content...and then ease those aching muscles in the hot tub. Tranquil Creek Hideaway has a warm and comfortable ambience. Large picture windows frame the mountains and pastures to the north, and the creek right outside the front door. It is ideal for a couple, or a solo sojourn. The large bedroom has a king size bed which will accommodate two adult guests . Plus, on a warm night, one can pitch a tent by the creek or sleep on the deck, under the stars, in perfect privacy. There is a television for DVD or VCR viewing, but no cable access (but when here who needs TV anyway!) . DSL is available for internet access . Local landline phone service is available. You will share the property with three cozy cats. We ask you to feed the kitties and allow them in the house occasionally. Cedarville, 25 miles south on the county road, and the gathering spot in Surprise Valley, has a well-stocked market, unique bookstore, restaurant, an Italian style coffee cafe/bistro, video and ceramic store, library, hospital, 2 gas stations, convenience store, and arts/craft consignment stores. Be sure to pick up food and supplies in Cedarville, as there are no services in Ft. Bidwell. The only traffic jams you'll encounter on the way may be Mule deer, Elk, or occasional cattle drives along the county road. Our home is ideal for a quiet retreat or adventuresome travels. Wildlifers and Birders will find wonderful locations for viewing mountain and basin species, Fisher folks have lakes and creeks nearby for rod and flyfishing. Mountain bikers, hikers and equestrians can travel trails or cross country into high mountain reaches and rangeland vastness. Memorial Day brings the always popular and well attended Ft. Bidwell BBQ to open Surprise Valley's Summer Social Events. Super Bull Rodeo follows in late June, Fandango Days July 4th in Alturas, and the Modoc County Fair in late August. Check out www.surprisevalley.org and the Surprise Valley Chamber of Commerce websites for more fun events in this valley of surprises! Surprise Valley is named such for a reason....it is a beautifully secret and surprising piece of California and the American West. People refer to the Great Basin, east of Surprise Valley, as the Serengeti of the West, for one can view antelope, wild horses, deer and elk, eagles and hawks, geese and Sandhill cranes and so much more. At Tranquil Creek Hideaway you can take a deep breath and truly feel like you have come home ....you may not want to leave. Outdoor Jacuzzi Creek access Bicycles/F...
My daughter and I stayed at Tranquil Creek for 5 nights and loved every minute of it! Even if it was hot in the afternoon, the beautiful yard and house were an oasis of coolness, along with the creek burbling nearby. The comfortable house had everything we needed. And then there was the hot tub — while soaking in the evening we saw shooting stars. The host, Lynette, had bikes available, so we took several enjoyable bike rides. Between the wonderful house, garden, creek, horses and sweet donkey nearby, cats, and fantastic area of Surprise Valley, we had a wonderful restful country experience and look forward to visiting again!
Margaret
August 2015
If you are looking for some quite quality time to refresh your soul, this is the place! My girlfriend and I spent a week there and everything was perfect. We tried to find one bad thing about this place and after a long though we couldn't. Lynette is the very nice and will give you more information than you ever dreamed about the place and area. The house is fully furnished, the cats and horses are awesome, the stove is a delight, the house is clean and warm, the deck and garden is a hook, in a word: the DREAM. A nice peace of paradise for a great week , we HIGLY recommend this place! TIP: take NV HWY 447 if you can, it's probably going to stay our favorite road trip for a LONG time :)
edouard
March 2013
Three of us enjoyed the Tranquil Hideway in Fort Bidwell: it was equally wonderful for me, my husband, and our four year old son. The creek on the property is lovely and good for hours of small (and large) person play. The spot is beautiful, restful, and Lynnette was incredibly thoughtful and communicative. It really is a magical place to be, full of friendly kitties and birds, highly recommended to all!
Rachel
July 2014
There are not enough good things I can say about this place. First of all, Lynette is a fantastic woman. Her positive energy and love fill the home and it shows in every detail. We spent 3 days at her Tranquil Creek and had the most enjoyable time. Day 1 we simply lounged. There are 3 main areas to hang out: the deck, under the tree in the back yard, or down by the creek. oh and a bonus spot, the hot tub. Day 2 we took our truck up to Lily lake to swim (only do this if you have the vehicle for it as it's about 7 miles of dirt road that is not well maintained, highly recommended though) . Day 3 we borrowed her bikes and explored the town. Ft. Bidwell is rich in history and the people of the town are so friendly, everyone who drove by gave us a friendly wave. From the geologic features to the cultural history, it was very interesting and beautiful. We would absolutely come back and stay again. Thank you so much Lynette for being so generous with your home.
Ryan
July 2015
We loved our stay at Lynette's beautiful home! Everything was just as described - the house itself was cozy, clean and fully stocked with everything we needed for our two night stay, and the yard was peaceful with many different areas for relaxation. We enjoyed hanging out by the creek, using the fire pit, and lounging in the hot tub. The cats were a pleasure to get to know as well, very sweet and well-behaved. Ft. Bidwell and the surrounding areas were a joy to explore, we drove to a few interesting spots and enjoyed several hikes as well. Highly recommended!
Alina
March 2016
The Tranquil Creek Hideaway provided the perfect getaway for me, along with my wife and 2 Pomeranians. As animal lovers, it was great getting to know the kitties, and visiting the horses and mini donkey out in the pasture. The house was very quaint, but it fit the general ambience well and was furnished with everything we needed. Our favorite part was that the creek ran right by the deck, and clearly audible inside the house at all times. However, we also enjoyed the hot tub, multiple outdoor sitting areas and the overall privacy of the property. The host (Lynette) was an excellent communicator and made it clear that she was available if we were to need anything from her, but all went well and we were able to make it through the holiday weekend without having to cry out for help. We will definitely consider staying at the Tranquil Creek Hideaway again when looking to escape from the city!
Michael
May 2015
our second stay in Ft. Bidwell at Lynette's house was another amazing experience for my boyfriend and I. The kitties, horses, and donkey were very welcoming and fun and we did a lot of exploring in the area. The house is very cozy in the winter and a great escape from our normal hustle. thanks Lynette!
natasha adorlee
January 2015
Yes, Lynette was a wonderful host. Warm and welcoming. The description of Tranquil Creek Hideaway was exactly as she said it would be.
Carol
May 2015
Tipe kamar
Seluruh rumah/apartemen
---
Tipe properti
---
Mengakomodasi
2
---
Kamar tidur
1
Fort Bidwell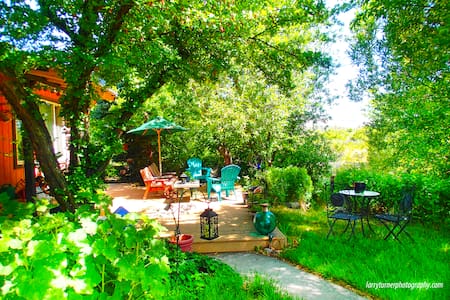 Small guesthouse in beautiful & historic town of Ft Bidwell, Modoc County, California. Situated in Surprise Valley between Warner Mountains to the West, and Alkaline Lakes to the East. A great place for birders, artists, hikers & nature explorers.
The guesthouse is fully furnished. You just need to bring your food. Good location for birding and seeing other wildlife. It's also an inspirational haven for artists to work. If you are a writer, Wren's Way is the perfect place to get work done. Visual artist can rent a small shared studio in the back of the property for an extra fee. Wren's Way offers special access for visual artists to a shared studio space which is available for an additional fee. Studio space has electricity, water and heat. There is also an outside space for working. Artists would need to bring ALL their own art supplies with them and leave the space the way they found it. We are available to help you get settled & learn your way around a bit. But basically you are on your own. We respect your privacy. A great place to meet the locals is at the small hotel on Main Street that provides breakfast for town folks on the weekends. Otherwise you need to bring your own food. The nearest grocery store is in Cedarville, about 25 miles away.
1. Paiute Indian Reservation is in walking distance offering some interesting cultural events for the community. 2. If you like "old cars"---there are a couple annual events where Ft Bidwell hosts a BBQs for old car clubs. 3. If you are a history buff, Fort Bidwell has a fascinating history to explore. 4. We are 24 miles from the nearest town (Cedarville) with a grocery stores and gas station (no drugstore). Be sure to plan ahead and bring any medications, all food, etc. We use bottled water, but many of the locals drink the well water here...it's up to you. Wren's Way has a car port for off street parking. You need to have a good working vehicle to come here. You are 24 miles from the nearest town (Cedarville) with a grocery stores and gas station (no drugstore). So again, you need to plan ahead and bring any medications, food, etc. 1. Sandhill Cranes nest in this area! Rare wrens appear to the patient birder...worth the wait just to hear the wren's song. 2. Plus, their are many birds and wildlife that just takes your breath away. 3. Delightful, picturesque lamas, goats, horses, ducks and geese on green fielded farmland at the edge of the high desert.
Russ was there to meet us and the place is a bird watchers dream. The house is very large and the bed was the best we have ever slept in. Fort Bidwell is really a place in California that time has been kind to. You really feel you are in different decade.
webster
June 2016
Tipe kamar
Seluruh rumah/apartemen
---
Tipe properti
---
Mengakomodasi
4
---
Kamar tidur
2
Fort Bidwell
Our custom 3000 sf 2 story home. One or two bedrooms. Shared bathroom upstairs. Private living room upstairs and TV. Hot tub, AC, wood fire in the winter. One queen bed in each room. One room has a TV. Max guests is 4 but can fit kids anywhere.
Upstairs bedroom 2 rooms available Shared kitchen We live here full time. Can give great restaurant and adventure ideas.
Great view of the valley. Located on a private road just off of US 395 near the 140E junction. We have a fire pit for smores. We are 2 miles North of Lakeview. Private area to hike or ride bikes. Pro America and LEO, if that's not you move on plz.
Cliff and Rebecca were terrific hosts. We found their home for our weekend trip to the Lakeview area so that we had a home base for our Sunstone adventure. They were very helpful about the area, kind and thoughtful. We had a great time and enjoyed their home and hospitality very much.
Nancy
October 2016
My son and I stayed in Cliff's beautiful home during our cross-country trip. Cliff is a kind, considerate and helpful host. The house and the street are so new that (SENSITIVE CONTENTS HIDDEN) maps still doesn't recognize the location, but Cliff sent us detailed directions to the house. He also made sure we were comfortable in our rooms and in his family's home which he shared with us so graciously. The house was immaculately clean and tastefully decorated. The bedrooms and beds were very comfortable. We had a very pleasant and relaxing stay and would definitely recommend it.
Ausra
September 2016
Tipe kamar
Kamar pribadi
---
Tipe properti
---
Mengakomodasi
2
---
Kamar tidur
1
Lakeview, Oregon, US
The Cottage was built in the 1860's by the first pioneer/settler. Miller Creek is named after him. It has been lovingly restored to meet modern requirements without losing any of its charm. We are your only neighbours for miles around.
Fully furnished, air conditioned, private bathroom, private deck and garden. Parking. Organic garden, in season. Generous breakfast ingredients include homemade bread and jam made from our own fruit. The Cottage is a fully furnished and equipped (cook's kitchen!) open plan living space with vaulted antique board ceilings and filled with light. It accommodates a couple luxuriously and a small family comfortably. The barnyard is enormous and offers many secluded, shady corners in which to while away a lazy afternoon. Accommodation is completely private, including deck, bathroom, garden and parking. Winje's Farm is on Upper Lake, Surprise Valley and guests have easy access to the lake's edge. Our Wetlands Restoration Project is also on that side of the farm and offers unique opportunities for birders, photographers, and nature lovers generally. Nearest towns, Cedarville, CA and Lakeview OR. Full service towns, both. Cedarville is 17 miles from the farm and Lakeview, approximately forty, over the magnificent Fandango Pass. This particular corner of California is unique and beautiful with a full range of experience for explorers, from the wide and wonderful deserts of Nevada in the East to exquisite hiking trails and wilderness areas of the Warner Mountains to the West. We do not have traffic jams, busy highways, shopping malls, crowds and noise. Just perfect peace in a perfect place, to hike, fish, walk, read, write, or do absolutely nothing. Due to limited availablity of bandwidth, we are unable to provide wi-fi. The entire farm is at guests' disposal, at their own risk. As much, or as little as our guests require. We are available. The Cottage is self standing and private.
Surprise Valley is almost Heaven. From the vastness and majesty of Nevada in the East, to the astonishing natural wonders of Southern Oregon and the very edge of California. National Forests, hiking trails, wild flowers, game, birds, clean air, silence, prehistory and history in the landscape and towns all around. There is no public transportation in our area, a vehicle is required. Parking is included. We regret we cannot accommodate Instant Book. Our nearest good grocery store is forty miles away and homemade bread needs a little time!
Our stay at Jan and Russ' cottage was the perfect way to ring in the New Year! Jan was able to accommodate our last minute request and there is no doubt she put quality time and effort into every detail. We were welcome with smiling faces and many fresh fruits and vegetables, plus her homemade plum jam (which was worth the trip alone!). The cottage is rich with pioneer history and is located on a very open stretch of land near Upper Lake, which provided beautiful views of the landscape and neighborhood wildlife. We've heard great things about this location in the Summer and will no doubt plan to return! Thank you both for everything!
Emily
January 2017
Nice clean studio-style cottage. Peaceful yard that you can sit in, if desired, or just enjoy the country breeze. Kitchen stocked w/staples, as well as fresh bread and jam (butter, too!), also snacks, veggies, some beverages.. you won't starve.. Nice, non-intrusive hosts. I was a little worried as the main house is quite close to the cottage, but it was fine. I felt welcome and comfortable, and still able to enjoy privacy.
Julie
September 2015
Jan was there to meet us as we arrived, and she and Russ were happy to help us throughout our stay. They were both very friendly, full of helpful tips about the area, and they provided plenty of produce, fresh bread, and homemade jam! But they were also very respectful of our privacy. The cottage and location are just as described--a cozy cabin in an extremely remote area. The view of the playa from the driveway is spectacular! There's plenty to see just walking around the yard, and many options for exploring the area a bit further afield.
Katie
September 2014
Wow! This was our first experience together and we could not have had a better host and cottage! We enjoyed an amazing night of stargazing before getting an amazing peaceful nights rest. The cottage was beautiful plus charming and had was well stocked. Only wish we could have stayed for at least two more nights. Jen and Russ were wonderful hosts and we had a great time chatting and touring the property the next morning . We will be back !
Rick and Betsy
July 2014
Amazing place! We rang the doorbell at the nearby home of Jan and Russ. They showed us around the cabin and nearby buildings and vintage vehicles (at our request). They operate a great shop which sells baskets, clothing and other items from Africa and local artisans. House was great. Jan made a loaf of wonderful bread and homemade apricot jam. Refer was stocked with yogurt, milk, eggs, etc. Kitchen was well stocked; cooked dinner and breakfast there. And there is the area around it: across the road is wetlands restoration project stretching to the dry lake. Amazing moon and sunrises. Would stay again if my travels take me to the area again.
Ricardo
July 2015
We enjoyed staying at Winje's cottage! Jan and Russ were excellent hosts who went above and beyond to make us feel welcome. Both are very friendly, kind, and were always willing to provide us with suggestions and maps. The cottage itself was very clean, well decorated, full of tourist information, and unique as Russ refurbished the cottage that was built in the last century. The cottage had a rustic loft feel to it which we loved. If traveling to Modoc County, I highly recommend staying here and couldn't imagine staying anywhere else! The cottage is in a great location to explore the wilderness of California, Nevada, and Oregon.
Lindsay
July 2015
I've stayed at the lovely Winje's Farm cottage twice now, and both experiences have been fantastic. Jan is a warm and welcoming hostess who also gives her guests plenty of space. The fresh-baked bread and homemade jam are delicious. And the Valley is lovely. Thanks, Jan and Russ!
Winter
April 2015
Everything was great. The place, the people, all awesome.
Sid
September 2016
Tipe kamar
Seluruh rumah/apartemen
---
Tipe properti
---
Mengakomodasi
2
---
Kamar tidur
1
Lake City
My place is good for couples, solo adventurers, and families (with kids).
We really enjoyed our stay at Becky's. Never met her, but her kids were awesome. The house was immaculate and spacious! Glad to have the stay! Thank you!
Jesse
November 2016
The stay was awesome!! We checked in way earlier than planned & young Jack came in and greeted us with great hospitality. He made sure we had everything to settle down smoothly. Becky was very communicative. She suggested many must visit places in and around paisley. She offered extra jerkins when we told we are planning to visit crater lake that day :) Cottage was well maintained and stuffed with kitchen utilities, groceries and toiletries. They were really useful since we went with the kids. We spotted deers, rabbits and horses around the neighborhood!! Would definitely recommend for others to have a nice relaxed stay.
Singaram
September 2016
Becky was very communicative throughout. We checked in around midnight and Jack and his brother were kind enough to stay up till then and show us around in the house. The house has a very old world charm to it with a lovely field in the backyard. However, the air circulation in the house could have been better, especially since we were traveling with an infant. Overall, it was a positive experience and I would recommend their house.
Megha
July 2016
Great place! The house is wonderful just like the owners! We used it for home base for a bighorn sheep hunt. Best idea we've ever had. Jack checked us in and is a awesome young man just like the rest of his family. So friendly and sweet. We loved our stay and the town.
Matt
August 2016
My friends and I are very pleased with our stay at Beck's place. Becky's two young gentlemen welcomed us at late night and made sure we had everything. The house is very clean, quite and organized, making you wish to stay in central Oregon forever. I highly recommend this place.
Zexi
July 2016
Tipe kamar
Seluruh rumah/apartemen
---
Tipe properti
---
Mengakomodasi
7
---
Kamar tidur
3
Paisley