This is an upstairs small private one bedroom, full size memory foam bed, access to the kitchen, washer dryer's, bathroom, this is one of the two rooms in the house on Airbnb,
Matty's place was great. And Matty himself was so hospitable, offering food, drinks, beer. I completely felt at home and would def stay here again.
John
2017-03-08T00:00:00Z
I enjoyed my stay at Matty's place a lot. The house is indeed very cosy and clean and all the amenities are in great shape. There is a cat and two very friendly dogs that mostly stay outside of the house. The only problem that I encountered was noise from the nearby road which sometimes can be very busy, but it was easily solved by a couple of earplugs. Overall it's a great value.
Dmitry
2017-03-17T00:00:00Z
Great stay, highly recommend.
Kim
2016-12-31T00:00:00Z
I stayed here on my way to Sequoia NP an the room at Matty's was perfect! It was just as described. He even had travel size toiletries to take if I had forgotten anything, he had fresh fruit and pastries to share, and everything went smoothly. Traffic noise from the road was a little loud, but still a great and relaxing stay.
Natalie
2017-03-06T00:00:00Z
The room is great! Very clean and Matty was very hospitable. He really went out of his way to make sure we were taken care of. We will be back!
Chris
2016-12-30T00:00:00Z
This is one of the best house I ve never been with airbnb. Everything is perfect and in the right place.
Matteo
2016-12-08T00:00:00Z
Fantastic.
Jenni
2017-01-04T00:00:00Z
Our stay at Matty's place was great eventhough we didn't meet him ;-). The house is very complete, a fully utilized kitchen, and bathroom and the bed was nice and comfortable. The communication before check-in was good, Matty almost replied immediately. I'd highly recommend his place if you want to enjoy the Sequoia National Park and/or Kings Canyon.
Alex
2017-04-03T00:00:00Z
Tipe Kamar
Kamar pribadi
---
Tipe Properti
Rumah
---
Mengakomodasi
2
---
Kamar tidur
Lindsay, California, Amerika Serikat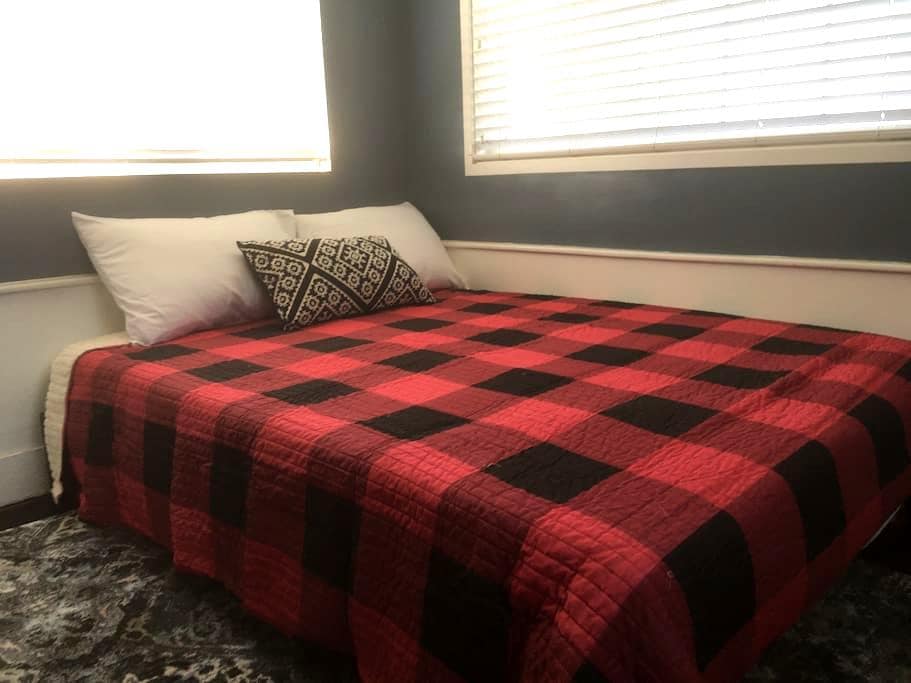 Simple, small private one bedroom. Enjoy a small house in the heart of Central California farmland where you can crash out, rest up, hangout, and relax! This is one of the two rooms in the house on Airbnb,
Quiet area, 2 minutes to a small town, 20 minutes to Kaweah Lake, 40 minutes to Sequoia National Park
Our stay couldn't have been any better. Matty is a host extraordinaire!! Really felt like staying with a good friend and we could not have been more comfortable or relaxed. Just perfect!!
Davidandmary
2016-10-03T00:00:00Z
Matty's home is accesible to the highway, and it is extremely cozy, comfortable & quiet. We enjoyed our stay very much! Matty is one of the best hosts ever! He provided all the essentials and food! Thanks Matty!
Nomundari
2017-03-10T00:00:00Z
Thanks Matty for having us in your house,thanks for your trust,your place Is very nice and the room is as in the picture perfect for us.it is very close to Sequoia NP. We felt home I recommend Matty's place.hakima&Fatima
HAKIMA
2016-10-07T00:00:00Z
It felt very "home" like , the house was easely accesseble and inviting. Matty was caring and kind. Very much recommended !
Yohai
2016-09-10T00:00:00Z
We really enjoyed staying with Matty. He is a super friendly host and made sure we had everything we needed to feel welcomed.
Laura
2017-03-06T00:00:00Z
I loved the ever changing mountain view outside of Matty's house. Matty is a generous guy with a big heart and a great house. It was a fantastic stay and I will definitely stay at Matty's place again when back in the area! Thanks Matty!
Jenni
2017-02-01T00:00:00Z
Matty was great at communicating arrangements. All guests were very pleased with the accommodations and felt like queens. Quotes from guests: "Thanks so much, the space was cozy and quiet, perfect to lax after a long day's worth of hard work" "Everything was so rad, that house rules"
erik
2017-03-18T00:00:00Z
It was great staying with Matty. He was very warm and welcoming, and has a beautiful home. We will likely be heading there again soon :)
esha
2016-10-02T00:00:00Z
Tipe Kamar
Kamar pribadi
---
Tipe Properti
Rumah
---
Mengakomodasi
2
---
Kamar tidur
Lindsay, California, Amerika Serikat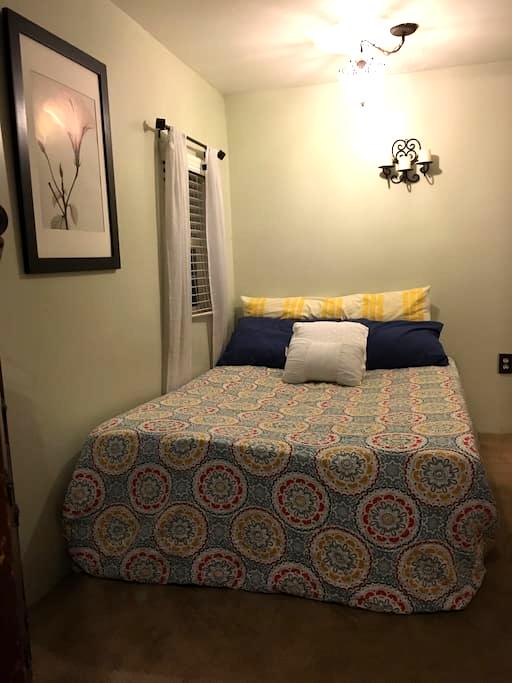 The apartment is a one bedroom, living room, bathroom, full kitchen and dining area apartment located in the back of my house. The apartment opens to the green area, the courtyard, of the house and to the pool, which guests are welcome to use. The apartment has its own private entrance and parking space.
This is a great space with a Latin America flavor. The apartment includes a queen bed in the bedroom and a futon in the living room, which converts to a full bed if needed. In addition, you have a full kitchen at your disposal.
Lindsay is a unique city because it is known for the cultivation and packing of oranges of many kinds. In March and April, the entire area smells of orange blossom, as the orange trees are blooming. This is an agricultural area, and beside the cultivation of oranges, you will find almond, olive, pistachio, and many other types of trees. From March to the first two weeks of November, Lindsay offers a market place every Friday starting at 5 pm. Here, people can find different types of food to eat, fresh vegetables and fruits, and live music to dance.
This place is amazing! Very peaceful and quiet. We stayed here two nights, visiting the Sequoia Park, and Magdalena was a very kind and welcoming host. She provided also fresh fruits, bread, cereals, yogurt, milk and orange juice. We were free to use the swimming pool and she allowed us to check out at the time we wanted! If you want to relax come to stay here :D
Irina
2016-06-20T00:00:00Z
I had a great night. I had business that made me arrive late. But I jumped right into her awesome pool to swim away the stress of the day. The courtyard is very pretty and the apartment is nice. I would recommend staying here.
Roger
2016-08-25T00:00:00Z
My partner and I stayed in this quiet and peaceful guest home and enjoyed every minute of it! From the start Magdalena(the owner) greeted us and was very kind and accommodating. She showed us the grounds and provided us with everything we may need during our stay. The guest house was perfect and clean. We had access to a gorgeous pool, patio table and relaxing hammocks all complimented by a soothing pond. This stay proved well and above our expectations and we very much look for to staying here again.
Richard
2016-06-16T00:00:00Z
Magdalena was great and her apartment was beautiful and cozy. Perfect place to spend the night. That said, the listing might be a tad overpriced given the blurry TV and lack of reliable wifi.
Mickey
2016-02-16T00:00:00Z
We had a lovely stay! The apartment was cute and clean. Magdalena was very welcoming, she had fresh watermelon and plenty to nibble on in the fridge for our stay. She recommended a great street fair for dinner and it's not too far from Sequoia National Park where we were headed. I would definitely stay with her again.
Aeron
2016-07-11T00:00:00Z
We had a wonderful stay at Magdalena's house. She was very welcoming and helpful, we had everything we needed even including a large bowl of fresh fruit for our breakfast. We took some time to relax in the swimming pool and the hammock and we really enjoyed it. The garden is really beautiful and the perfect place to have a drink after a long day exploring Sequoia National Park.
Emily
2016-05-30T00:00:00Z
We are a great stay at Magdalena's. She was welcoming and made us feel at ease right away. The apartment was very clean and the AC work wonderfully well. We can't wait to stay there again next year. Thank you!
Lucie
2016-08-13T00:00:00Z
Magdalena's place was great. The apartment is private and the shared courtyard is beautiful and very relaxing. I'm a travel nurse and it was perfect for me for my three month contract. The internet can be a little sketchy at times, but that is an area wide problem. I really enjoyed staying here and Magdalena was such a great host!
Chris
2016-12-29T00:00:00Z
Tipe Kamar
Seluruh rumah/apartemen
---
Tipe Properti
Rumah
---
Mengakomodasi
3
---
Kamar tidur
Lindsay, California, Amerika Serikat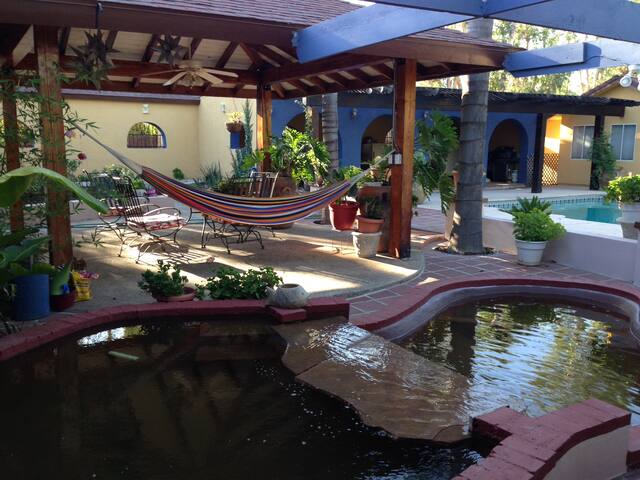 This country style room comes complete with a private bathroom, a large closet, complementary coffee, and a view of the beautiful California countryside. Country living, yet only minutes from the quaint city of Lindsay. A perfect stop on your way to the entrance of the Sequoias.
We are close to the beautiful sequoia park about 45 minutes to park entrance We have 2 twin beds and 2 twin mattress all the bedding you need plus a portable crib for your little one
Very nice your are surrounded by farmland
We were going to arrive pretty late in the night at Henry's place, but he made sure to leave the key for us outside the house and the place was very clean and perfect for our needs. We would stay at Henry's place again if we visit Sequoia National Park in the future.
Aditya
2016-09-06T00:00:00Z
One night at Lindsey, before heading to Sequoia National Park. Nice and clean bedroom in an aged but beautiful house. Love the furnitures, especially the two super old and classic pianos, they look like they have a long story behind from long time ago. Henry was very responsive too. (location: it's right besides highway, easily found. And about 45 mins driving to Sequoia National Park)
Fiona
2016-09-06T00:00:00Z
Sehr freundlich und sehr schönes zuhause. nicht weit entfernt vom saquoia national park.
Georg
2016-08-15T00:00:00Z
Henry was very responsive to our needs as guests. We enjoyed staying over. The skies outside are quite clear at night and you can see the stars as well. Nice overall!
Wesley
2016-12-27T00:00:00Z
Thank you!
Pavel
2017-01-17T00:00:00Z
Amazing place. Henry is a great host who makes sure to provide a great experience. During the 2-weeks travel across the US, it was the best place to stay. Great location and neighborhood. Fully equipped, no wi-fi inside the house, but there is access from Starbucks in 5mins. drive. Highly recommended if you plan to visit a park or other places nearby.
Elisei
2017-03-05T00:00:00Z
We had a very cozy stay here on our way to Sequoia. The house is right on the main road, so although it was a bit noisy from traffic, it was easy to find. Henry was very accommodating to us and his roommates were lovely and polite. There is no wi fi or breakfast provided, but we were able to use the kitchen and do a load of laundry - a luxury on a road trip! Thanks for a great stay.
Jen & Matt
2016-08-08T00:00:00Z
The people living in the house were really welcoming and did everything they could for us to feel home. Very confortable room.
Adrian
2016-07-24T00:00:00Z
Tipe Kamar
Kamar pribadi
---
Tipe Properti
Rumah
---
Mengakomodasi
4
---
Kamar tidur
Lindsay, California, Amerika Serikat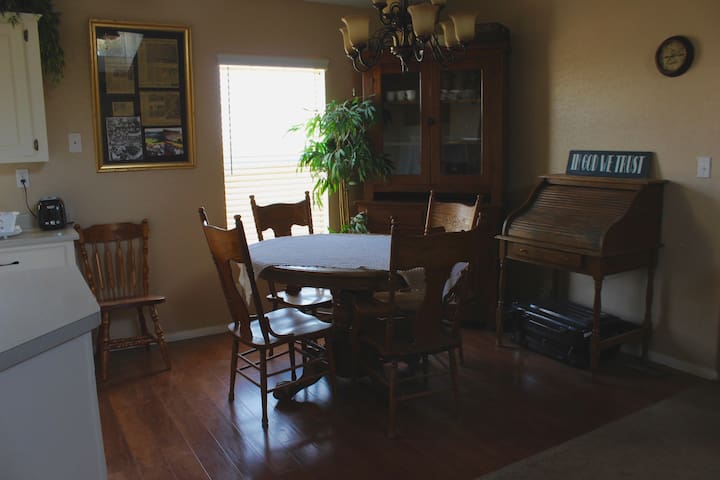 Cozy 2 bedroom suite, 2 rooms for a max of 4 guest, main room has a full size bed, other room has a twin trundle bed, 2 swivel rockets and a TV with Satellite. It has a full bath with a shower only and a small refrigerator for your use.
If your traveling to the Kings Canyon National Park, we are just 45 miles from the entrance, up Highway 198, Or approximately 50 min to Springville and the Sequoia National Forrest up highway 190.
Country setting, quiet, peaceful, friendly.
Greg was very responsive to texts and also accommodating about our late arrival. He and Sarah were very friendly and welcoming once we arrived and we hung out together. The dogs were very sweet and friendly. Greg left information about the area in our room, which was very helpful in deciding what we wanted to see. Overall, we had a great time staying with them.
Trish & Rick
2016-08-15T00:00:00Z
Greg and Sarah were wonderful hosts and we loved staying with them on their ranch. They were warm and welcoming and Greg even let us in early so we could have lunch sitting by the swimming pool! Our accommodations were very comfortable and we enjoyed an evening of shared wine and conversation. They helped us with restaurants and where to stay going forward and were all over great hosts.
Kathy
2016-05-15T00:00:00Z
The place was great.
Guillermo
2016-12-20T00:00:00Z
Place was great very clean. Comfy bed. Just as shown in pictures. Must like dogs. Greg has 4 very sweet doggies.
Reta
2016-08-11T00:00:00Z
All was good. A great location for visiting Sequoia National Park.
Thomas
2016-08-03T00:00:00Z
Beautiful home about 30 minutes from Sequoia National Park. The swimming pool was very nice break and refreshing. The host has lived in area for many years and had great local area knowledge
David
2016-07-01T00:00:00Z
Greg nous accueille dans son ranch, dans une ville très paisible. Différents restaurants, magasins .. se trouvent à proximité en voiture du logement ce qui est appréciable. Greg a bien décrit son logement et notre nuit s'est bien déroulée. Merci à lui !
Delphine
2016-08-17T00:00:00Z
Greg nous a bien reçu dans son ranch à Exeter, petite ville sympathique bien située pour visiter les parcs de Séquoias. Chambre et salle de bain correctes, conformes à la description.
Pierre
2016-10-24T00:00:00Z
Tipe Kamar
Kamar pribadi
---
Tipe Properti
Rumah
---
Mengakomodasi
4
---
Kamar tidur
Lindsay, California, Amerika Serikat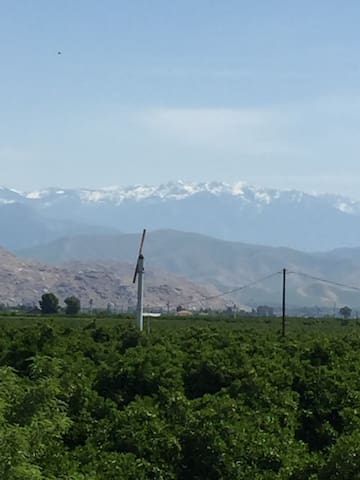 On the south entrance to Exeter, this historical home offers views of surrounding citrus, foothills and Sierras! There are four rooms. Come see our petting zoo! 2 miles to downtown Exeter, a town filled with murals, restaurants (our own Monet's), apparel and antique shops. Only one hour to Sequoia!
Our guests can enjoy the entire home. We provide breakfast often and mingle with our guests.....over glass of wine, around a campfire or at Monet's, our French restaurant! The property also includes a massage room (you may schedule), full basement with fireplace and pool table and a petting zoo! All to be enjoyed by you!
Great historical house. It is huge!!! Can't wait to go back with friends.
Yaovi
2017-02-22T00:00:00Z
This house is completely unique - a historic house with an incredible living space. We enjoyed listening to jazz records by the fire! However, I think this property would be best suited to a large group renting the whole space. Events also take place so it can be very busy in the morning.
Charlotte
2017-03-25T00:00:00Z
Very very nice house,Jennifer is a such nice lady !
Susan
2017-02-26T00:00:00Z
Jennifer's house was one of the best experiences in our long trip around national parks and canyons of the West. Beautifully appointed Plantation-style home was an enormously charming place to stay. Old times charm and serene scenery with orange-tree fields and mountains in view permeated the air. The house was big for 8 people in our party, and we enjoyed every minute being in it. On top of that, Jennifer was such a nice host that we still don't have proper words to describe it. She not only welcomed us in person despite arriving almost at midnight, sent a bottle of wine and oranges, but also arranged tire chains for free. We also enormously enjoyed the evening with wine tasting and live music in her restaurant Monet. We can only envy ourselves for having had the opportunity to experience such a beauty and goodness. Thank you, Dear Jennifer!!
Nida
2017-03-14T00:00:00Z
Lovely home
Allan
2017-03-12T00:00:00Z
My brother and I did a road trip and we stayed one night. We had a lot of fun with a bonfire, some drinks at the local Bar/Club with live music and some late night burritos with the hosts. This has been the most fun Airbnb stay of our road trip! We will come again!
Robert
2016-10-23T00:00:00Z
On ne quitte pas la Bella Casa comme on y est entré. C'est tout d'abord la rencontre avec les personnes exceptionnelles qui y résident : attentionnées, amicales, soucieuses de votre bien être… de belles personnes. Si vous le pouvez, prenez le temps de partager des moments avec eux, vous ne le regretterez pas. Ce sont de ces rencontres qui marquent, qui se gravent dans la mémoire et qu'on n'oublie pas. Quant à la maison, elle est à l'image de ceux qui l'habite : belle, pleine de charme, reposante, accueillante, et avec une histoire personnelle riche. Les chambres sont grandes, confortables, bien décorées, habitées par le charme de cette ancienne demeure. On a plaisir à entrer dans la cuisine le matin, envahie par la lumière matinale du soleil californien, et de sentir l'odeur du café fraichement passé. On traine un peu le soir dans le patio, pour profiter de la fraicheur nocturne, en écoutant les grillons dans le jardin. Si vous aviez prévu de ne passer qu'une seule nuit sur place, réfléchissez à allonger votre séjour, vous ne serez pas déçus! Pour ma part, sûrement la plus belle expérience Airbnb que j'ai eu, et j'ai hate de pouvoir y retourner.
JS
2016-09-23T00:00:00Z
I loved this house! It had so much character and the hosts made it very special. They have cozy sitting areas, a really cool petting zoo and downtown Exeter is darling! It's a great spot for heading up to the mountains or just for a quick escape.
Angela
2016-10-31T00:00:00Z
Tipe Kamar
Seluruh rumah/apartemen
---
Tipe Properti
Rumah
---
Mengakomodasi
9
---
Kamar tidur
Exeter, California, Amerika Serikat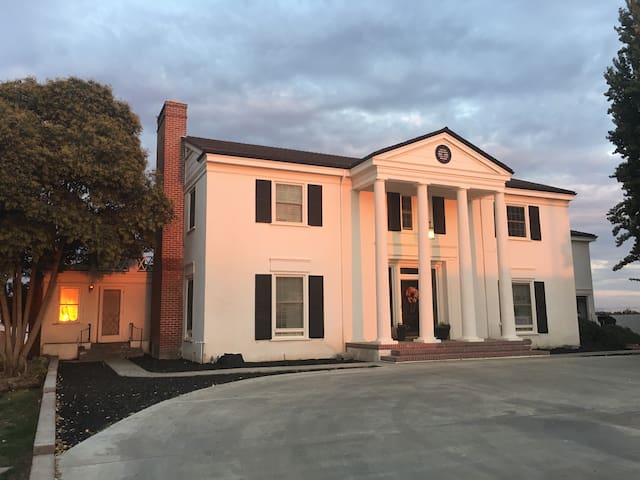 Masukkan tanggal untuk melihat harga lengkap. Biaya tambahan berlaku. Mungkin dikenakan pajak.