Beautiful 4 bed bungalow situated in stunning countryside. Guests love to relax by the pool or talk walks in the surrounding area. There are two great village pubs that offer evening meals. If your looking for a quite space, then look no further! We are home most of the time but tend to keep ourselves out of the way when we have guests.
Beautiful 4 bed house in Studham, Bedfordshire, only 15 mins from a mainline train station which links directly to London in only 35 mins. House benefits from large open plan living, indoor heated swimming pool, 4 large double bedrooms, home theatre system and a very large garden which is home to a bunch of chickens and roosters, 2 cats, a pond full of fish and 2 Alpacas! The property is located in a traditional English village, located near Whipsnade Zoo and about 10 mins by car to Luton Airport. What to see and do : Gliding club Whipsnade park Golf Club Plenty of walk(URL HIDDEN) Ivinghoe Beacon Dunstable Downs - great for kite flying and pic-nics! Village pubs Cycle rides Indoor Ski Slope Breakfast consisting of cereals, toast, tea and coffee will be provided. Full office facilities are available including free wifi! Rooms for rent have own digital TV, direct access to the swimming pool, spa and gym. The rooms are very large. Also able to provide portable beds if you wanted additional beds in any of the rooms for the children. You will also have access to shared kitchen, living space and very large garden. Please note, all the bedrooms have two doors - one normal door leading into the bedroom from the main hall way in the house and a set of patio doors leading out onto the pool. These patio doors can be locked and the key removed if you are worried about the children wondering into the pool area without supervision! You will have your own private bathroom although this is not en -suite. However I will only let out to one party at a time so you will never be sharing a bathroom with strangers! If you are a large party don't worry we have 3 bathrooms plus 2 additional WC rooms so you will never be short of a shower or loo! PLEASE NOTE: THE POOL IS ONLY HEATED BETWEEN MAY AND SEPTEMBER, outside these months I will make sure that the spa pool is nice and hot for you if you request it! When the pool is heated the hot tub is not available for use. Smoking is allowed Pets are NOT allowed I have a travel cot available for babies. Please note - I do have two cats so if you are allergic then I don't think this will be the best place for you. Although the cats are generally not allowed into the bedrooms.
Lovely traditional English village with 2 great pubs, surrounded by beautiful countryside with easy access to London.
This was one of our best ever B&B experiences. The house was absolutely wonderful and Liesa went out of her way to make us feel at home from the moment we arrived. We had the most fantastic breakfasts and Liesa was such a joy to talk with -- what an interesting, accomplished and remarkable woman. She's a dynamo and just never slows down! But despite being incredibly busy -- including running her own event management business -- Liesa was always available to answer questions and provide anything we wanted ... top quality service. The alpacas, chickens and cats were just a bonus! We will definitely be back and unreservedly recommend this place to others.
Frank and Maria
2013-04-22T00:00:00Z
I celebrated my thirtieth birthday at Liesa's lovely home with my best friends. Despite us being a group of rowdy boys who can be a bit daft at times, Liesa was generous, patient, welcoming and kind. The house is great, all of my friends are beaming about the weekend we had. I recommend Liesa's place for any people looking to enjoy themselves. Thanks so much for everything :-)
Simon
2016-05-02T00:00:00Z
Liesa was genuinely a sweetheart of a host! We loved our stay with Rupert the cat, Danny the alpaca, Charlie the chicken, Marmite, and the others. The house has been renovated by Liesa and is beautifully modern. The rooms were very clean and spacious. The pool was deep and lovely. The garden out back was so nice and her breakfast was spectacular sitting in the kitchen with the whole wall of sliding doors open to the back. It is a great place to just relax if you want to while watching a movie and swimming at the same time. I loved the pool area and the two rooms are just off the pool. Liesa went out of her way to ensure all of our needs were met. We had a lovely stay and wouldn't hesitate to stay again!
Kris
2014-06-14T00:00:00Z
A great Airbnb experience. Liesa and Paul are very relaxed and welcoming hosts. Wonderful huge house and gardens and great animals. My little boy loved it there, and we felt very (EMAIL HIDDEN)fortable and clean and chilled out. Very child friendly.
Alix
2012-10-26T00:00:00Z
Excellent, we really enjoyed the weekend. The animals really added to the experience.
Caroline
2016-09-25T00:00:00Z
what a fantastic house and a fantastic host..i would definitely recommend liesa's place to stay if you are looking for accommodation in the area..liesa is so welcoming and friendly and her hospitality is second to none.. what a home and what a host.. thumbs up all round.
mark
2016-02-06T00:00:00Z
We had an absolutely lovely stay with Liesa. She and her partner Mark were extremely accommodating and allowed us to host a surprise baby shower for our friends, which meant we took up most of the living space as well as outside. The house and garden are amazing. We loved having he opportunity o feed the alpacas in the morning. We didn't have a chance to try the local pubs but they looked really nice and we are hoping to be able to stay again. Can't thank Leisa enough for the hospitality. Xx
Charlie
2015-04-20T00:00:00Z
We loved our stay X such a beautiful place X yu never wanna leave .. Leisa is fab like family xx Kids were sad to leave !! We will be back next summer xxx
Rachel
2016-07-29T00:00:00Z
Tipe Kamar
Kamar pribadi
---
Tipe Properti
Bungalo
---
Mengakomodasi
10
---
Kamar tidur
Studham, Inggris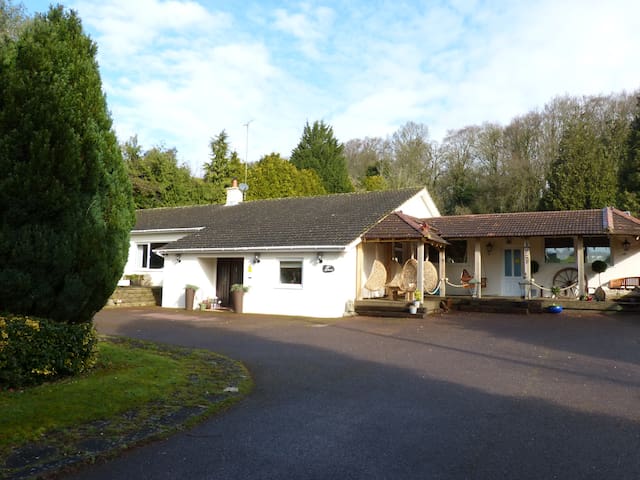 Cosy luxurious self contained oak frame cabin in private and peaceful environment, backing onto the woods. Ideal for couples. Comfortable, spacious living area with double bed. Beautiful countryside - Ashridge woods - popular Berkhamsted town centre.
This self contained handcrafted green oak framed cabin is the perfect get away and peaceful retreat which allows you to switch off to the sounds of nature. It is clearly separated from the main house to offer complete privacy to our guests. It directly backs on to the woods and you can literally walk out of the back gate into the beautiful Ashridge woods to explore its wildlife. The cabin is only 1.8 miles away from the popular and trendy town centre of Berkhamsted, featuring a range of lively pubs and restaurants. This cabin features all you need for a comfortable stay- a small bathroom with shower facility, a spacious open plan living room, open plan kitchen with hob and a comfortable double bed on the Mezzanine level, accessed by a ladder. It is furnished with cosy lighting, two comfortable sofas and a dining table.
Our cosy little wood cabin is backing straight onto the woods, located in a quiet setting of the sleepy village Potten End, just minutes away from popular old market town Berkhamsted. You can literally walk out of the back gate into the woods and explore the nature. Here a view tips and activities in the area: Ashridge Estate - a 5,000 acres area of the Chiltern Hills with beech and oak woodlands, commons and chalk downlands. These very different landscapes each support a rich variety of wildlife, including carpets of bluebells in spring, rare butterflies in summer and the fallow deer that rut in autumn. You can walk out of the back gate of the property into the woods and explore Miles of footpaths and bridleways. Frithsden Vineyard – Literally a 30 minute walk through the woods, and you will get to this beautiful boutique English vineyard and winery set in the foothills of the Chilterns. Besides a range of regular seasonal events you can also pass by and enjoy some of their home produced wines. Berkhamsted Town centre and Castle – have a stroll through Berkhamsted highstreet and explore Berkhamsted Castle's remains. The town has a special place in our history: following the Saxon defeat at the Battle of Hastings, it was at Berkhamsted that the bishops and noblemen formally offered William the Conqueror the crown. The Rex – "possibly Britain's most beautiful cinema" (BBC), the Rex has one huge screen set in a glorious 1938 art-deco proscenium arch, with "the sharpest film projection and clearest non-booming sound anywhere in the world". The whole experience is delightfully civilized: sink into large, comfortable seats then sit back with cheese and wine to enjoy the film. Berkhamsted Waterways Walk – Go for a walk along the River Bulbourne andGrand Union Canal which run through the town and enjoy a cold drink in the popular Boat pub. Tring Natural History Museum – 5 miles from Berkhamsted. The wonderful galleries of this beautiful Victorian museum present a fascinating range of animals, from tiny dressed fleas to a smiling polar bear and domestic dogs. The Snow Centre – 5 miles from Berkhamsted. Britain's newest snow centre at Hemel Hempstead is currently the coolest place to go to enjoy skiing, snowboarding and other snow sports on indoor slopes of real snow. The main slope is 160m long and 30m wide, serviced by two POMA button lifts. The trainer slope is 100m long, with two rope tows. There are lessons for everyone new to snow, and clothing and equipment is on hand to hire. Whipsnade Zoo – 9 miles from Berkhamsted. Set on the slopes of the Chiltern Hills, the UK's biggest zoo is home to more than 2,500 animals, many of which are endangered in the wild. Whipsnade is noted for creating interactive and inspiring exhibits and popular daily events including keeper talks, animal feeds and demonstrations. You can drive through the 'Passage through Asia' area or take the free Safari bus which stops at all the main exhibits in the 600 acre site. Harry Potter, Warner Bros. Studio Tour – the Making of Harry Potter – 9.7 miles from Berkhamsted. A visit to the Harry Potter World offers you an insight behind the scenes to showcases a huge array of beautiful sets, costumes and props and to reveal the secrets of the special effects and animatronics that made these films hugely popular all over the world.
Amazing place. So relaxing and quiet. Perfect getaway weekend. Beautifully done up, warm and cosy. A total escape from the wider world! Thanks for a terrific stay.
Tim
2015-12-06T00:00:00Z
Dan and Lilli were lovely hosts and made us feel very welcome. The cabin was really nice, very well looked after and was set up to look beautiful when we arrived.
Nick
2016-03-20T00:00:00Z
We had an amazing time in the breathtaking cabin. Dan has lovingly built this place and it was a pleasure staying here! We were both lost for words when we arrived, I don't think I actually spoke for a good ten minutes (I'm not even exaggerating). A lot of effort has obviously been put into this place! Absolute gem! Lilli and Dan are great hosts with lots of info on things to do in the area. We knew they were around if we needed anything but far away enough that we felt we were away from the world! Which is exactly what we wanted. Dan suggested we check out the Rex cinema in Berkhamstead, which was a pretty cool experience! Thank you again for letting us stay at your magical oak cabin! Omar and Zarrin
Omar
2015-09-22T00:00:00Z
Had a fantastic stay in the oak cabin. The cabin is so cosy and secluded that we felt so relaxed and didn't even want to venture outside! Would highly recommend it to anybody who is looking for a break in a tranquil setting.
Amy
2016-12-23T00:00:00Z
What a joy this little Oak cabin is for a weekend retreat, the building is absolutely beautiful with the finishing touches making the cabin the perfect place to relax & unwind. The hosts were very welcoming & it worked perfectly as our weekend base for a wedding in the local village. There is also a forest at the back of the cabin, with very easy access through the garden gate, where you can take in the woodland delights. Perfect for clearing the cobwebs after the celebrations! We thoroughly enjoyed our stay here & hope to come back in the future! Thank you for having us.
Julie
2016-06-06T00:00:00Z
This place is absolutely lovely. The hosts made it clear that they were there if we needed them but gave us total privacy.The cabin is so cosy we didn't want to leave. We'd highly recommend for a lovely getaway ! Thanks for having us!
Emma
2015-08-29T00:00:00Z
We were warmly welcomed by the host, Dan and their beautiful daughter, when we arrived at the log cabin. We booked the cabin for a night's getaway from our young family. The cabin had everything we needed and we had such a relaxing time. The cabin itself was warm and cozy with so much character and was built with love. We had dinner at Zaza, we would highly recommend it. Overall, a relaxed break, which we both needed.
Chloé
2016-10-02T00:00:00Z
The perfect escape to relax, eat, drink and laugh. We loved our stay so much we have recommended to all our friends and will be back in the summer. Loved it.
Jordan
2016-02-22T00:00:00Z
Tipe Kamar
Seluruh rumah/apartemen
---
Tipe Properti
Kabin
---
Mengakomodasi
2
---
Kamar tidur
Potten End, Inggris
Super comfortable self-contained Cottage Suite with private entrance. En-suite shower room, HD TV, WIFI. A short walk to trendy High Street, Historic Berkhamsted Castle. Off street parking. Train Station 10 minutes walk. 30 minutes to London.
Bridgewater Cottage...Great location, Great space, Super friendly owners. Berko is Hertfordshire's coolest town... and only half an hour from London. Sleeps 1 or 2 only
Great Bars/Restauraunts (Brasserie Blanc, Carluccios) within walking distance. The Alford Arms gastro pub (Hertfordshire Dining Pub of the year 2014 Good Pub Guide, Top 20 British GastroPubs, The Times) a five minute drive away (the Owners are friends of ours). The Rex Cinema (The Guardian, Best UK Cinema 2014 award winner) within walking distance. Not to mention the fabulous country walks and the Historic Berkhamsted Castle all at the end of our road.
Will made us feel welcome, and provided useful guidance to nearby attractions and dining options. The accommodation was comfortable and met our needs with amenity accurately described. It was an attractive walk across the canal into the High St shopping and dining. Very pleasant location.
Gavin
2016-07-09T00:00:00Z
Will is very friendly and welcoming and helpful. Helped with the luggage at arrival and took his time in explaining how things work. The neighbourhood is great. Parking off street was extremely convenient for us.
Yolande (Mrs)
2016-06-23T00:00:00Z
Great value for money
Michael
2016-12-09T00:00:00Z
Nice place
Mark
2017-03-30T00:00:00Z
Excellent simple facilities. Self contained small building in a garden. Will is a very attentive host.
Alan
2017-02-14T00:00:00Z
Will's place is a great stop for somebody working in the area during the week. Clean and friendly with a stiff but enjoyable walk into the town centre. It was perfect for me.
Steven
2017-02-10T00:00:00Z
Quiet, clean, cosy space - stayed here for a week between house moves & was very comfortable for the duration. Will was very responsive and made the room available for us at short notice - great host. Would recommend.
Christopher
2017-02-03T00:00:00Z
Fabulous place and a great host.
Cham
2015-03-02T00:00:00Z
Tipe Kamar
Seluruh rumah/apartemen
---
Tipe Properti
Bungalo
---
Mengakomodasi
2
---
Kamar tidur
Berkhamsted, Hertfordshire, Inggris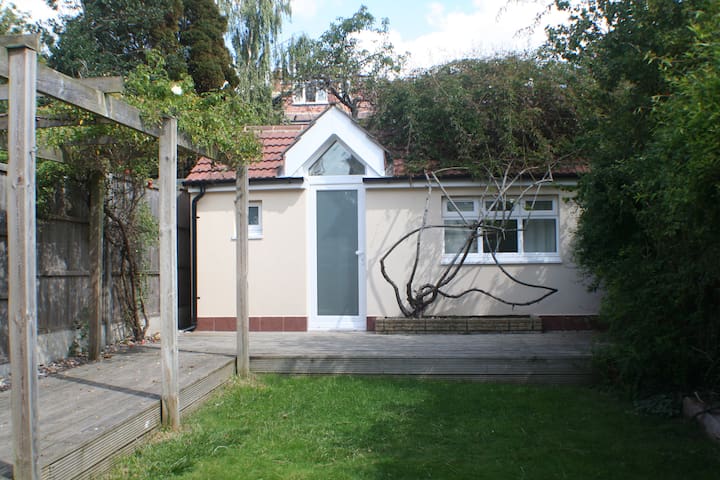 This modern, executive, newly decorated annexe is situated in the stunning village of Studham, close to Whipsnade Zoo, Luton Hoe, Hemel Hempstead, St Albans, Milton Keynes, Warner Studios, Woburn, Dunstable Downs and Luton /Heathrow Airports. A great location, self contained with own entrance, M1, M25 both a short car ride away. Many stations into London nearby.
The annexe occupies an area of approximately 278 square feet and is suitable for holiday or business stopovers. It is a triple aspect room, making it very light and airy. It is clean and well equipt with a comfortable king sized bed, luxury, quality bedding, duck and down filled duvet ( which can be changed to microfibre for those with allergies), and quality fluffy towels. There are floor to ceiling wardrobes with hangers, shelves and drawers, so that you can arrange your clothing easily. We do not allow open flamed candles but do provide remote controled candles. There's a large dining table and comfy chairs, kitchenette, lounge chair, desktop working place, fridge, microwave, iron, ironing board, hairdryer, shampoo, free wifi, Flat screen wall mounted Smart. TV with free view. A breakfast hamper is provided, with chilled milk and juices in the in room fridge. An evening menu is available at an additional cost. The en suite, has a modern double soft water rain shower, counter top sink with cupboards under and a low level toilet. Studham is set in the Chiltern Hills and is an area of outstanding Beauty. If the weather is good, why not sit in our beautiful garden with a drink and listen to the sounds of the zoo train, elephants and lions,( you really can hear them in the garden)
The property is located in a very quiet residential area, in the Chiltern Hills. However, if you need easy access to the M1 / M 25 they can be reached within approximately 10 minutes. It is an area of outstanding beauty and there are many walks along the Chiltern Way and stunning views across Dunstable Downs and if you are prone to kite flying, that's the place to go. Although there is not a shop in the village, there are convenient stores within a 5 minute drive. Two pubs which serve food both at lunchtime and in the evening are a short walk away or just hop into your car and drive. So if on a business stopover, this is ideal or on a short break, there's ample to do in the area. There are also many cycle routes around Studham, so this is an amazing base for the cyclist. We are able to store cycles safely in our locked garage.
That was my third stay and I have booked again!! Lovely, lovely people and the accommodation is amazing - love it here.
Debbie
2016-09-16T00:00:00Z
What a pleasure! We received such a warm welcome from Eve & her husband. What a gem! The annex surpassed comfortable & was immaculate, with wonderful added extras from remote control candles to cupcakes in the fridge. The bed & bedding meant we had a wonderful nights sleep. The shower was the prefect pressure coupled with super soft cosy towels. I can honestly say Eve & her husband have thought of everything & then gone that little bit further to ensure their guest have the prefect stay. We visited a local pub / restaurant "The Bell" delicious food & the atmosphere was fabulous. We took part in a pub quiz & the locals made us very welcome. We will be visiting the annex again & we recommend it to all X
julie
2016-09-23T00:00:00Z
Eve met us on our arrival in a most welcoming manner. She showed us around the roomy and spotless accommodation, and we were delighted to find all that we expected was more than met. Large, light and airy bedroom, a very comfortable bed, and a terrific shower in the roomy bathroom. Our hostess provided tea, ( three kinds), coffee, fresh milk, chilled water and fresh orange, plus cereals and delicious muffins. We've stayed in lots of hotels around the world, and our stay in Eves annex more than matches any of them. Terrific!
Paul
2016-09-04T00:00:00Z
Eve is an incredible host, every detail has been well thought out to ensure her guests truly feel at home. The stay was better than I could have hoped for, the annex is private and really is luxurious. I had a wonderful nights sleep and enjoyed a coffee in the garden the next morning. It's the little touches that make the stay so fantastic, from the hand carved animals on the window sill in recognition of the zoo close by to the personal welcome note, Eve's warm and charming personality really shine through. I can't wait to stay again and can wholeheartedly recommend Eve's and her superb annex for the best in Airbnb experiences
Karl
2016-09-09T00:00:00Z
Super welcome lovely couple high standard of accommodation and some very special personal touches
Shelley
2016-10-14T00:00:00Z
Eve was a FANTASTIC host! She communicated well before we arrived and her room is absolutely immaculate! We were able to use the garden (which is stunning) and the location was ideal for my daughter and I to go to Whipsnade Zoo. Fantastic Airbnb experience! Thank you for your hospitality Eve.....
Maureen
2016-08-05T00:00:00Z
Eve gave a fantastic pre arrival briefing, and the place was exactly as described and she provided some extras in the form of food and breakfast and extra heating. The location is country village and just lovely. The house is just all refurbished so everything is brand new. A relaxing great place.
Des
2016-10-03T00:00:00Z
Gorgeous location, scenic dunstable walk close by, good pub and american diner near by with great food. Comfy bed and lovely bathroom with big shower, and breakfast cereals, bars, juice, fruit, and cup cakes left for us, and the place was spotless.
Lianne
2017-02-27T00:00:00Z
Tipe Kamar
Seluruh rumah/apartemen
---
Tipe Properti
Lainnya
---
Mengakomodasi
2
---
Kamar tidur
Studham, England, Inggris
A quiet retreat in a beautiful village not too far from London in Little Gaddesden near Berkhamsted you will find this 4 bedroom Coach House. It is on the outskirts of Ashridge - which was King Henry the 8th's hunting lodge. The house has private access to the unspoilt and often unknown 5000 acres deer park known as Ashridge. It is perfect for walkers and cyclists.
Fabulous location for walkers and cyclists.
Little Gaddesden From Wikipedia, the free encyclopedia St. Peter and St. Paul Church at Little Gaddesden, where many Egerton family members are buried in the Bridgewater Chapel Little Gaddesden is a village and civil parish in the English county of Hertfordshire three miles north of Berkhamsted. As well as Little Gaddesden village (population 694), the parish contains the settlements of Ashridge (population 53), Hudnall (population 139), and part of Ringshall (population 81).[1] The total population at the 2011 Census was 1,125.[2] Part of the parish was formerly in Buckinghamshire. This includes Witchcraft Bottom, notable as the alleged location where the last witch in Buckinghamshire was tried and hanged. The village of Little Gaddesden borders both Buckinghamshire and Bedfordshire, whilst being situated in the county of Hertfordshire. Little Gaddesden and the surrounding area of the Ashridge Estate is owned and managed by the National Trust. This area has been used in many films, notably: First Knight, Stardust, the Harry Potter series, Son of Rambow and more recently Robin Hood starring Russell Crowe. TV programmes filmed here include Marchlands, Midsomer Murders Lewis, Cranford, and a Jamie Oliver[3] advertisement for Sainsburys. Little Gaddesden has many period properties, of note: Ashridge House, (designed by Sir James Wyattville along with gardens and grounds designed by Sir Humphrey Repton and Capability Brown - Golden Valley) The Manor House situated on the Green along with John O'Gaddesden House and Marian House, Little Gaddesden House along Nettleden Road heading towards the hamlet of Nettleden and the Old Rectory past the village shop heading to Ringshall. Lamsey Farm - (URL HIDDEN) - 193359 The Ashridge Estate that surrounds the village is a 5,000-acre (20 km2) area of open countryside and woodland on the edge of the Chiltern Hills, with a rich variety of wildlife including fallow dear, muntjac and the renowned red kite. There are large areas of mature woodlands with carpets of spring bluebells and fine autumnal displays, along with the panorama from the Bridgewater Monument. In the early 17th century, Thomas Egerton, 1st Viscount Brackley, had purchased Ashridge House, one of the largest country houses in England, from Queen Elizabeth I, who had inherited it from her father who had appropriated it after the Dissolution of the Monasteries in 1539. Ashridge House served the Egerton family as a residence until the 19th century. The Egertons later had a family chapel (the Bridgewater Chapel) with burial vault in Little Gaddesden Church,[4] where many monuments commemorate the Dukes and Earls of Bridgewater and their families.[5] Among those buried here is the 3rd Duke of Bridgewater,[6] famous as the originator of British inland navigation and the Bridgewater Canal. Little Gaddesden is an Area of Outstanding Natural Beauty (AONB) and a Conservation Area protected by the National Trust. There is a vigorous community life with 30 different clubs and societies. The oldest of these is probably the Women's Institute (founded in 1919) and the Royal British Legion. Local amenities include the famous Ashridge Golf Course, Alford Arms public house, Bridgewater Arms public house, Little Gaddesden village shop and post office, Munn's Farm Shop, Grove Farm, Little Gaddesden Primary School, Little Gaddesden Cricket Club, Ivinghoe Beacon, Pitstone Windmill, Frithsden Vineyard, Gaddesden Place, the Gaddesden Estate, Walter Swinburn racing stables, Stocks House, Ashridge Business School also known as Ashridge House, London Gliding Club, Dunstable Downs and Whipsnade Zoo. Nearby villages and Hamlets: Aldbury, Great Gaddesden, Gaddesden Row, Frithsden, Nettleden, Potten End, Ivinghoe, Northchurch, Ringshall, Studham, Dudswell, Wigginton, Dagnall, Flamstead. Local residents are kept updated on events in Little Gaddesden through the Gaddesden Diary, published seasonally. The Parish News also provides a further summary. Famous residents who live in the village, include: football commentator John Motson, Formula One driver Mark Webber,[7] ex-footballers Luther Blissett and Tim Sherwood, actor Adrian Scarborough, news correspondent Fiona Bruce and radio presenter Roger Bolton. Singer Sarah Brightman was brought up in the village. Entrepreneur and founder of Barenaturals Darcey Croft, was born and raised in the village, Ronnie Wood, a member of the Rolling Stones, owns a house in the village.
Tipe Kamar
Seluruh rumah/apartemen
---
Tipe Properti
Rumah
---
Mengakomodasi
10
---
Kamar tidur
Little Gaddesden, England, Inggris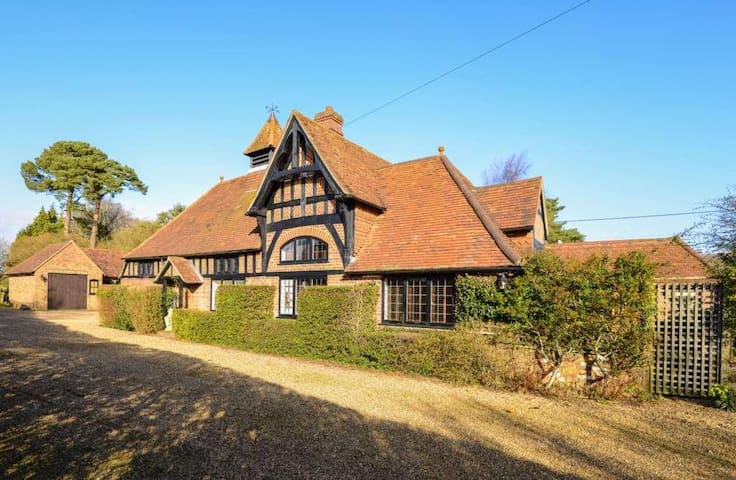 Our place is within Ashridge Forest and close to the magnificent Tudor Management College. Great views over the Chiltern Hills from Ivinghoe Beacon , lots of natural wildlife and many pleasant woodland walks all within 15 minutes drive of the A41 & M25 and 30 minutes train journey to central London. Peaceful woodland position .Small 'all purpose' shop nearby and an attractive restaurant /pub . Berkhamsted Station shopping about 6 km . Good for solo adventurers and business travellers.
Great place! Extremelly quiet envirnonment, high quality accomodation, 15min easy walk from Ashridge school. Hosts very nice, provided me even with a lamp, umbrella, some advices etc... Highly recommended top-quality place to stay! Would be happy to come back.
pedja
2016-11-14T00:00:00Z
Tipe Kamar
Kamar pribadi
---
Tipe Properti
Apartemen
---
Mengakomodasi
1
---
Kamar tidur
Little Gaddesden, England, Inggris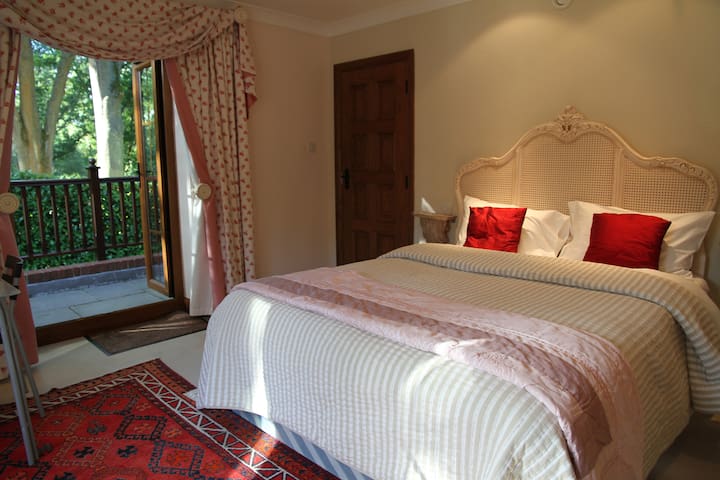 Friendly, easy-going host. My lovely picturesque grade II listed Victorian manor house is situated close to Berkhamsted in an area of outstanding natural beauty in the heart of the Chilterns Hills. Close to Ashridge forest and common. With fast access to London by train and close to Heathrow and Luton airports, the house is rich in history and is currently being restored. Couples and solos welcome. Full english/continental breakfast available on request.
Double room with access to shared bathroom in beautiful country manor house.
We are a 5/10 minute walk to Ashridge national park and forest as well as The Grand Union Canal. By walking or cycling along the canal in either direction you will come to Tring or Berkhamsted, both historic market towns with friendly locals and great restaurants/coffee houses. Nearby we have The Cowroast Inn, a friendly country pub which serves local beers and food, alternatively you can take a 30 minute hike through Ashridge estate to Aldbury where you can find the Valiant Trooper and The Greyhound, both of which also serve food.
A grand old house in a fabulous scenic location. The house is being renovated ..... but a wonderful opportunity to stay in an historic old home. Your bedroom and the bathroom have been tastefully renovated and are spacious and comfortable. Seriously one of the most comfortable beds I have ever slept in ! ... Wifi, desk lovely room .... working here in winter with the fire on would be pure bliss !!!
Alison
2017-03-23T00:00:00Z
Perfect for me the house has got history and iis being restored thats why the price is good .The bedroom was very comfy and warm . Juls was instantly on hand when I got slightly lost. So what more can I say other than I loved it and Id highly recommend you give it a go.
Tina
2017-02-10T00:00:00Z
Great AirBnB experience in a lovely location! The price reflects the fact that it is being renovated but it's a great stay which I would definitely recommend. From caring checking to make sure I wasn't lost, to letting me cuddle the dogs... and the lactofree milk in the room... Jules was very kind and attentive AirBnB host. Had the loveliest bath (the bath itself was freestanding on legs in a renovated bathroom) with piping hot water. The house was heated brilliantly and very generously!... I will be letting friends know about it and will be staying again myself next time am visiting colleagues in Champneys Tring and the general area.
Caroline
2017-01-28T00:00:00Z
Highly recommend staying here. Lovely comfortable room and jules was really friendly and nothing was too much trouble. Will definately stay again.
Colin
2017-01-25T00:00:00Z
Brilliant property in a lovely part of the country.
Will
2017-02-26T00:00:00Z
Jules was a lovely host in this beautiful manor house which he is currently renovating. Nothing was too much trouble and the grounds and surrounding walks are stunning. The room was clean and tidy, as was the shared bathroom. Thankyou Jules, we will be staying again.
Lee
2017-01-19T00:00:00Z
This is one of the more interesting places I have stayed in of late. Firstly, Jules is a perfectly charming host, mostly responsive and very accommodating. The room is very good value for £40 odd per night, mattress is firm, bedding clean and good quality. Its also full of character and lots of space. Jules provided tea and coffee making facilities. The bathroom is across the hall, you might not want to risk a naked run as a couple of doors down. Bath, shower. Hot water, actually boiling hot water. Shower controls required safe cracking skills but overall all grand. The house itself is not particularly well marked when you are driving there but the postcode in the sat nav took us straight there. You are staying in a large manor house, which is in the process of being renovated. You have to go through the grand entrance to get to your room and it all rather reminded me of Mrs Haversham as there is quite a bit of sorting out to be done. However you can see that when it is completed it will be incredible, go see it now while its cheap! There also seems to be quite a few people staying there so its not just Jules there on his own (or with family). Rather reminded me of shared student accommodation with random people appearing every now and then. None of this should put you off though, it just adds to the magi. The main draw is the price, which for a comfortable bed and hot shower is an absolute bargain. Part of me wanted to go and wander round the house, at midnight with a candle, but that of course would be very rude! I would love to see how it looks when finished, although Jules, you may have to put your rates up to pay for it all.
Anne
2017-02-16T00:00:00Z
Nice place, nice people, great location and great value
Steve
2017-02-21T00:00:00Z
Tipe Kamar
Kamar pribadi
---
Tipe Properti
Rumah
---
Mengakomodasi
2
---
Kamar tidur
Hertfordshire, England, Inggris
'The Studio' is a spacious self contained ground floor single room apartment ( 10.5 m x 6.5 m ) in a large detached house all surrounded by peacefully woodland .Good for couples, solo adventurers, and business travellers.
Tipe Kamar
Kamar pribadi
---
Tipe Properti
Apartemen
---
Mengakomodasi
2
---
Kamar tidur
Hertfordshire, England, Inggris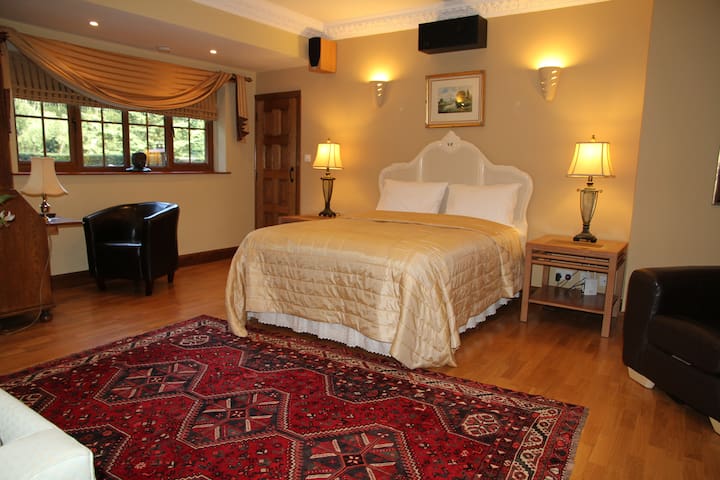 Welcome to one of the most historic parts of Berkhamsted - the hilltop site of Old Berkhamsted Place, and the original Grade 2* listed barn which remains, reputedly, the largest medieval barn in the counties of Beds, Bucks & Herts. The Stables is a chic, spotless cottage for 2 with large gardens & parking, offering luxury linen & towels, wi-fi & TV. Ideal town/country position - 10mins walk to town centre with cafes, restos, boutiques and antique stores, and train to London is only 35mins!
'The Stables' is an idyllic bolt hole for a couple. Spacious bedroom with Kingsize bed prepared with crisp white linen and luxurious bath towels. Bathroom with shower over bath and fully equipped kitchen with washing machine, dishwasher, microwave and Illy coffee machine. Open plan light and airy lounge-dining room with TV, Wi-Fi and radio iPod/iPhone charger.
Berkhamsted is a buzzing traditional market town with trendy cafes, restaurants, supermarkets, boutique shopping and plenty of fab antique shops. Berkhamsted Castle ruins are worthy of a picnic stop and the restored art-deco Rex cinema is an absolute MUST visit for anyone coming to Berkhamsted. London Euston is just half an hour away on the train and it's perfect to be able to escape the city at the end of a busy day sight-seeing by coming back to the peace and quiet of the countryside.
Sarah was very welcoming and answered all my queries before getting to the Stables. The accommodation was very comfortable and we really enjoyed our stay.
Tamara
2015-08-30T00:00:00Z
Simply terrific place and hosts.
Terry
2016-06-25T00:00:00Z
Beautiful place to stay, Sarah was a very friendly and welcoming host. She kindly left bread, milk, juice and a very well equipped kitchen. Short walk to pubs and shops in Berkhamsted, perfect for a weekend get away.
Safia
2015-03-29T00:00:00Z
Beautiful and cosy cottage, with views into the fields. Enjoyed the bath (& bubble bath!), well stocked kitchen & comfortable bed. Breakfast was also provided! Really nicely done inside, perfect for relaxing. Great location in easy walking distance of the town, and also for day trips in the car. Sarah was very friendly and was there if we needed her, but left us to ourselves. Thanks for our relaxing stay!
Katharine
2016-03-20T00:00:00Z
The stables is a beautiful space, immaculately presented and surprisingly spacious! The kitchen was fully equipped with everything we could possibly need. Sarah was very friendly and accommodating with times. The finishing touches of fresh flowers and a kitchen stocked for breakfast made staying here extra cozy. Berkamstead is a lovely town with many shops and restaurants, we found the Elementary Skin and Body spa to be excellent value for money and very friendly! Would definitely recommend staying here and wished we could have stayed longer.
Jennifer
2015-02-08T00:00:00Z
A wonderful place, with a wonderful host! The Stables is superbly decorated, well stocked with bread, coffee, tea, cereal etc and offers a perfect place to stop and breathe. We ate in a nearby restaurant recommended by Sarah our host which was, in a word, AMAZING. Sarah's husband pointed us in the direction of some cross country running trails straight out of the front door of the Stables and we found ourselves in beautiful open countryside from the start, which for us felt like a small slice of heaven. If you're looking for country charm and modern facilities (I have to have my Wi-Fi and morning espresso) plus open countryside with very accessible (10 mins walk) restaurants and bars – then look no further. Thank you to Sarah and family for making our stay perfect.
Spencer
2015-09-13T00:00:00Z
My host Sarah, was very welcoming and the place lived up to even my most hopeful expectations. It was a converted barn simply but very elegantly decorated in an artisan style that was restful and interesting. There was a strong feeling that Sarah and her husband had genuinely cared to make it as comfortable and pleasant as possible. It was a generous delight that there was enough in the fridge for me to make myself breakfast in the morning(URL HIDDEN)had a slightly stressful event ahead of me and the Stables gave me a wonderfully quiet and peaceful place to work the night before and in the morning. I was able to get wi-fi and good reception on my phone. The neighbourhood is very peaceful on the edge of Berkhamsted beyond the dramatic remains of the ancient Castle. The Stables is a short walk from the station and at the end of a tree and grass lined road with some interestingly designed modern houses. I loved my stay.
Nicholas
2016-09-25T00:00:00Z
Really nice property, and Sarah was a very nice and welcoming host! It's likely we'll be returning!
James
2016-11-27T00:00:00Z
Tipe Kamar
Seluruh rumah/apartemen
---
Tipe Properti
Rumah
---
Mengakomodasi
2
---
Kamar tidur
Berkhamsted, Inggris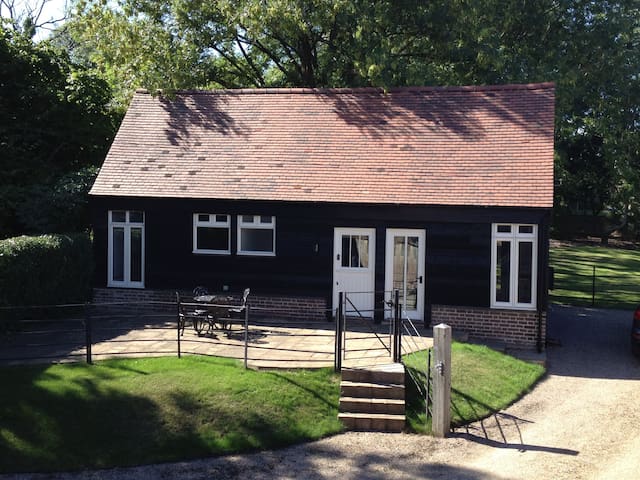 Light and airy contemporary self contained apartment with all the facilities you would expect including parking. Located in a quiet area of Berkhamsted within walking distance of the town centre, golf course and railway station (35 minutes to Euston). Beautiful Bathroom/wet room with robes and toiletries supplied. Bread, cereals, preserves, milk, tea and coffee are supplied for breakfast. If you need quiet time in the evenings to study, unwind or just chill out you will find it here.
Built two years ago to a very high standard, warm in winter, cool in summer with gas fired central heating. Please note the kitchen area is limited to a combi oven, that is a microwave, small oven and grill, a sink and mixer tap,refrigerator, kettle and toaster.
Berkhamsted is an historic market town with its own castle ruins where William the Conqueror was offered the Crown of England. Boasting many restaurants, country walks, golf course and the famous Rex Cinema
Tipe Kamar
Seluruh rumah/apartemen
---
Tipe Properti
Apartemen
---
Mengakomodasi
2
---
Kamar tidur
Berkhamsted, England, Inggris
My place has easy access to London by train or car. Berkhamsted is a vibrant, unspoilt market town set on the Grand Union Canal. The centre of Berkhamsted with its restaurants, pubs, shopping and the renowned art deco Rex cinema is a 10 minute stroll from the apartment. There are pleasant countryside and canal walks on the doorstep and The Harry Potter Studios are nearby. You'll love my place because of the location. My place is good for couples, families and business travellers.
We really appreciated the extra lengths Marilyn went to in order to ensure we had a fab stay. Christmas decorations as well as all sorts of goodies including a wrapped present and bottle of wine awaited our arrival. The kitchen was stocked with all the basics - milk, eggs, bread plus so much more - fruit, nibbles, fruit juice to list just a few! Thank you ever so much Marylin for making us feel so welcome and for all the extra touches - we had a wonderful stay and we will definitely visit again.
Laura
2016-12-23T00:00:00Z
Marylin was extremely welcoming and the place is beautiful!.. loved it! Definitely coming back!..
Gintare
2016-10-08T00:00:00Z
Fantastic stay in Berkhampstead! Marilyn and John were great hosts and made our stay very comfortable and enjoyable! The accommodation had everything we needed. So much to do and explore around the area as well as a good transport link to London. Look forward to staying again!
Cameron
2016-08-29T00:00:00Z
What a fantastic host Marilyn was. From the moment we booked, communication was clear, friendly and couldn't do enough for you. The apartment is perfect. Great location, incredibly well presented and very spacious. If we are in the region again, we will definitely be coming back.
Duncan
2016-10-16T00:00:00Z
We were made to feel very welcome. Great communication and introduction to the flat. Very generous welcome pack of food and drink. Apartment itself has everything you could need, very well thought through - best airbnb we've stayed in for attention to detail. Berkhamsted centre is about a mile away with good shopping (Waitrose, M&S Food, would recommend Epicure for coffee), park and castle. Leisure centre with excellent gym and pool is 200m away. Highly recommended.
Phillip
2017-01-01T00:00:00Z
We were warmly welcomed by Marilyn and John on arrival and we were immediately impressed by the spacious, comfortable and tastefully furnished apartment that was to be our home for Christmas. John went thorough all the settings on the state-of-the-art TV which appeared to be able to show any programme or movie that you could possibly imagine! Marilyn had left the well equipped kitchen fully stocked with all the basics, including all the ingredients we might need for our breakfast, plus a bottle of wine (for later!). We found the apartment to be very conveniently located on the edge of town, with a lovely walk along the canal towpath into town for shopping in M&S or for a meal or coffee in one of the many restaurants and coffee shops - we love HERE!. All in all Marilyn's apartment exceeded our expectations - it was not only warm and comfortable but really quite luxurious, and we would have no hesitation in recommending it to others.
Kate
2016-12-27T00:00:00Z
Brilliantly looked after from start to finish, have stayed here before and would do so again
david
2017-04-07T00:00:00Z
Great apartment - very comfortable and spacious with very responsive and helpful hosts. Can't recommend more highly.
Tim
2017-02-03T00:00:00Z
Tipe Kamar
Seluruh rumah/apartemen
---
Tipe Properti
Apartemen
---
Mengakomodasi
4
---
Kamar tidur
Berkhamsted, England, Inggris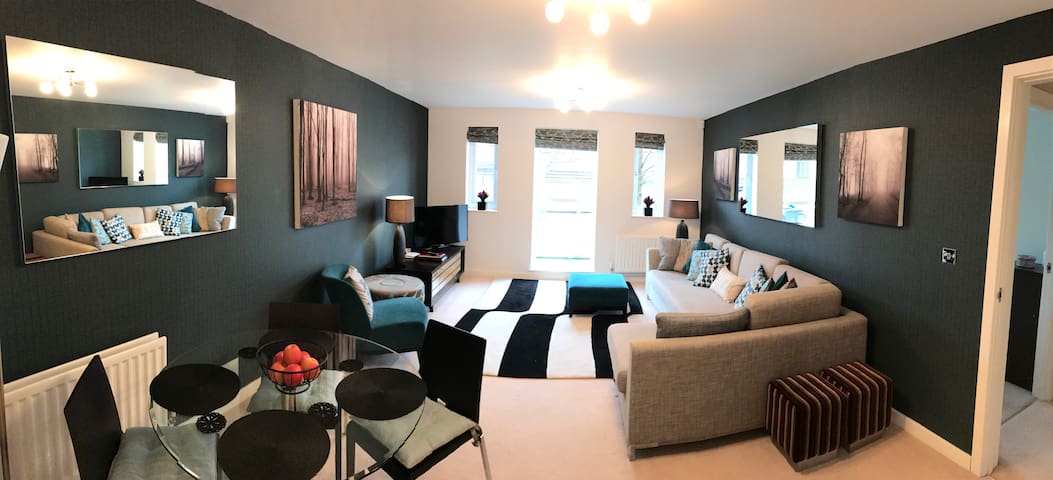 A warm welcome awaits you at our quiet, spacious home in one of the premier roads of Berkhamsted. Ashridge College and the Amaravati Buddhist Monastery are a few minutes by car, while the wonderful Rex Cinema, Berkhamsted School, great pubs, restaurants and plenty of shops are within easy reach. The bedroom has a comfortable single bed, easy chair and ample wardrobe space. There is a shared bathroom and full length mirror on the landing.
Whether you are here for work or pleasure, I will do my best to make you feel welcome. Please feel free to help yourself to tea and coffee, watch TV or use the kitchen to prepare your meals.
Berkhamsted is one of the most delightful towns in the Chilterns. It has a historic centre with fine buildings; an old castle from William the Conqueror's times; a lovely canal with pubs where you can sit outside on a fine evening and wonderful countryside with beech woods offering good walks. Bring your walking boots!
Wonderful! Penny is the perfect host, lovely house, great location, wouldn't hesitate to stay again!
Steve
2017-01-13T00:00:00Z
A lovely clean and quiet house. Would recommend.
Phil
2017-02-05T00:00:00Z
Penny is the perfect host, and all the positive comments and 5 star ratings that go before my visit really do say it all. She could not have made my visit and easier, or been any more accommodating. The epitome of perfect hospitality - thanks Penny!
Joe
2017-03-29T00:00:00Z
Very pleasant and comfortable staying in Penny's. Perfect location to reach town centre and train station. Highly recommend it for single traveler!
Chihiro
2017-01-31T00:00:00Z
I couldn't recommend staying with Penny enough. Her hospitality was second to none. Lovely relaxing bedroom to come back to after a working day. Was sorry to not be able to explore the local area which was very picturesque. Would definitely like to return in the future if my work brings me to the area again..
Laura
2016-12-09T00:00:00Z
Excellent - pleasant family home. easy atmosphere. Helpful guidance for restaurant. I felt welcome and would return.
Paul
2016-09-15T00:00:00Z
The house is located within walking distance from the train station, Penny was helpful in providing clear instruction to locate the house. The room was warm, clean and comfy. Penny was a great host, she was very helpful and friendly. I very much appreciate her help in giving me a lift into town on few occasions. Would recommend anyone visiting Berkhamsted to stay over. Thanks!
Faiz
2017-03-19T00:00:00Z
A very warm welcome from Penny when I arrived.....Penny was a perfect hostess: really helpful, warm & friendly. She recommended places to eat, including a lovely place for one of the nicest breakfasts I've had in a long while! Fabulous! Slept really well in a nice comfortable bed, lovely and quiet. Penny's house is beautifully presented, and nice & clean too. Very informative about local places which were of interest to me. A great, comfortable stay which I can definitely highly recommend.
Amelia
2016-10-02T00:00:00Z
Tipe Kamar
Kamar pribadi
---
Tipe Properti
Rumah
---
Mengakomodasi
1
---
Kamar tidur
Berkhamsted, England, Inggris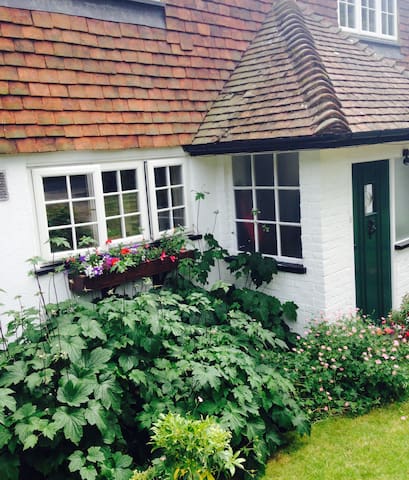 Self contained chalet right on the busy High St of Northchurch, 2 minutes away from the Grand Union canal, half a mile from Berkhamsted, Tring & train stations. Shops across the road and lovely bakery/café next door. Parking: plenty across the road.
The cottage is bijoux and perfect for a couple & a pet. Due to the spiral staircase leading to the sleeping loft being steep, I would say its not suitable for toddlers or very young children. There is a kettle but only a microwave oven in the kitchenette, so no major cooking possible.
Fish & Chip shop, Tesco Metro directly accross the road. Bon Soiree cafe just next door where you'll get a home cooked breakfast, lunch, pastries & good coffee: closed on Sundays. There are many other dining out options in Berkhamsted just down the road and lots of take aways too.
I had a lovely two night stay at the chalet and instantly felt at home. It's a cosy bijoux flat and not far from Berkhamstead high st and the pretty canal. Nicole was very warm and welcoming and I would definitely recommend it as a peaceful place to stay where you can have some privacy at the end of the day. I'm looking forward to staying again!
andrea
2016-05-06T00:00:00Z
We had a lovely stay in the most beautiful little cottage very near Berkhampstead! Thank you !
Jem and Dom
2015-11-16T00:00:00Z
My friend and I really enjoyed our night's stay in The Chalet. Nicole was a great host - very accommodating and welcoming. The Chalet had everything we needed - including a piano! - and was very comfortable. We would happily have stayed for longer! Highly recommended.
Nicky
2015-05-25T00:00:00Z
We have been looking for somewhere to stay near our family in Berkhamsted and could not have been more delighted with what we found at the chalet by Rosemary Cottage. The building inside and out is charming and well thought out. We arrived at a slightly difficult busy time for the family but they could not have been more helpful and welcoming. We will certainly be back. Thank you.
Christiane
2015-06-30T00:00:00Z
Nicole's listing description is very accurate and her chalet is charming. If you're looking for the English country experience then we highly recommend staying at Nicole's place.
Gary
2016-07-15T00:00:00Z
We stayed in the Chalet overnight and it was exactly as described, convenient location, clean, comfortable and had everything we needed. Thank you
Oliver
2016-08-06T00:00:00Z
Great place - you get a large residence with 2 comfy beds, small kitchenette, shower and toilet, along with sofa and TV and all very private (seperate from the main house). Didn't see the host (except over the phone) but polite, courteous and helpful. Loads of (free!) parking nearby on road opposite. I have no critism of this place at all really - it is near the main road, sure, but you don't overly hear it. Shops nearby, a lovely thriving town just 20 minutes walk away and canal walks on the doorstep. Only info to take into consideration is the spiral staircase - could be difficult with mobility issues but I personally love a spiral staircase. Stay here, it's great.
Gary
2016-07-09T00:00:00Z
Great. Lovely cosy chalet. Thoughtful host.
Gilly
2015-11-09T00:00:00Z
Tipe Kamar
Seluruh rumah/apartemen
---
Tipe Properti
Kabin
---
Mengakomodasi
2
---
Kamar tidur
Northchurch, Inggris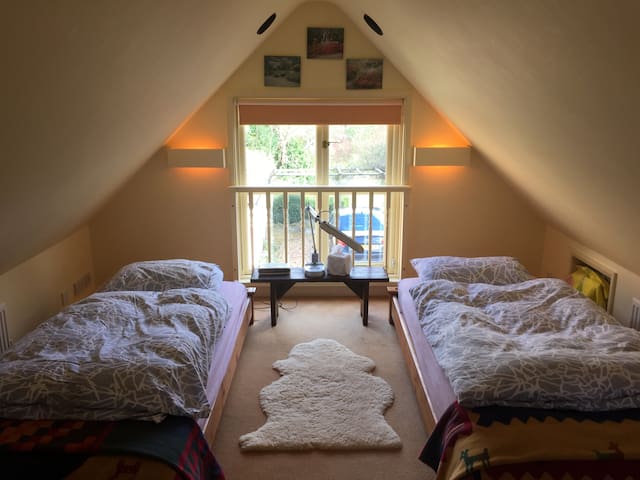 This Luxury Studio Apartment is bright and airy perfect loft style living in the Historic Market town of Berkhamsted. The Studio is equidistant between town and country, Berkhamsted Golf Club is just over 5 mins walk away, whilst the the High St with an abundance of stylish coffee shops, boutiques & restaurants a 12 min walk. The Grand Union canal is a 10 min stroll down the hill with many canal side pubs to while away a few hours. Berkhamsted Station a 12 min walk, be in London in 30 mins!
The apartment is accessed by a staircase. There is a downstairs cloakroom in the entrance lobby and hanging space for coats and boots. Wonderfully comfy kingsize bed with beautiful crisp linen. Well appointed kitchen with Nespresso coffee machine. TV with DVD Player and Wi-Fi access.
The Studio is well placed for walking into town or countryside . The Golf course is just over 5 mins walk away with access to Berkhamsted Common and Ashridge Forest , perfect for walkers and cyclists. A short walk down the hill is Berkhamsted High St with many coffee shops, restaurants, pubs and boutiques. The Rex Cinema - an original Art Deco delight is 12 mins walk , enjoy a glass of wine and a comfy armchair whilst watching a film!
Tipe Kamar
Seluruh rumah/apartemen
---
Tipe Properti
Apartemen
---
Mengakomodasi
2
---
Kamar tidur
Berkhamsted, England, Inggris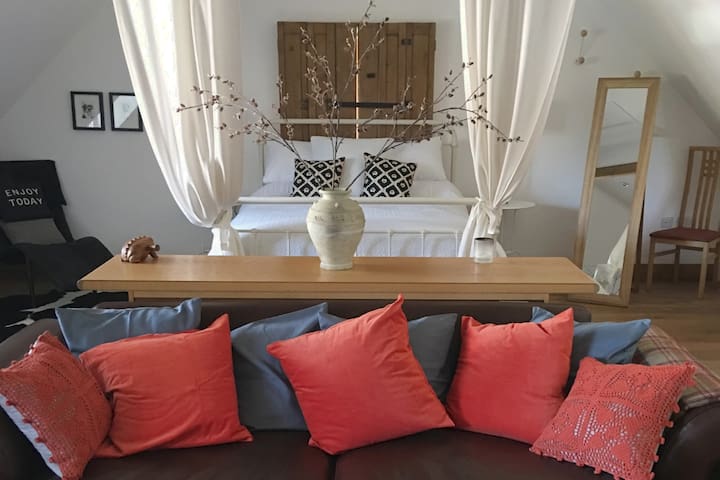 This double room is cosy & welcoming in our large family home, a Edwardian terraced house in central Berkhamsted. The room has a king size double bed, desk & chair plus plenty of storage space with kettle for tea/coffee making etc; the bathroom is just across the hallway and has a fabulous power shower over a big bath. Wifi throughout the house, two mins walk to the High Street, 10 mins to the train station. We are used to guests in the house and currently have a full time lodger.
Berkhamsted is a lovely historic town with a great high street for shopping. Restaurants - my favourites are Here (local organic produce) and The Olive Tree (a family run Greek restaurant). London Euston is an easy 30 minute train ride away. Ashridge, a beautiful National Trust estate is a 10 minute drive away.
Elaine has a wonderful house located in an extremely convenient location in Berkhamsted. The room is exactly as described. A great stay.
Stephen
2016-08-19T00:00:00Z
Especially nice welcome from Elaine on arrival. We had been in contact previously regarding my arrival. Despite being June it was a chilly evening and to my great delight the heating was ON. Thanks Elaine for that. I was a little bit dubious of the fact that it was not an ensuite room, but as it happened it didn't matter in the slightest, the bathroom was literally only across the hall. All in all a very pleasant stay
Mags
2016-06-04T00:00:00Z
Very comfortable, clean and spacious room, in a fine townhouse in a quiet, narrow road off Berkhamsted High Street. Elaine was very helpful and cheery - just like staying at a friend's house.
Allan
2016-06-09T00:00:00Z
Elaine has a beautiful house just a very short walk from the high street and perfectly located for pubs, restaurants etc. We would stay there again.
Simon
2016-07-25T00:00:00Z
Excellent host and great communications from Elaine, comfy bed, fabulous wi fi and great location for walking out for a meal!
Barry
2016-06-23T00:00:00Z
Elaine was a great host and it was a pleasure to stay at hers...
Nathan
2016-10-09T00:00:00Z
Excellent place, Elaine is super helpful and made my stay very enjoyable. Perfect host. The house is in a central area near lots of nice restaurants and pubs, supermarkets so everything is on your doorstep. The bed was really comfortable and the shower was amazing as was all the amenities in the house. If I was staying in the area again I would be sure to book up. :)
Stephen
2017-01-13T00:00:00Z
Great host, highly recommended!
Olga
2016-09-04T00:00:00Z
Tipe Kamar
Kamar pribadi
---
Tipe Properti
Rumah
---
Mengakomodasi
2
---
Kamar tidur
Berkhamsted, Inggris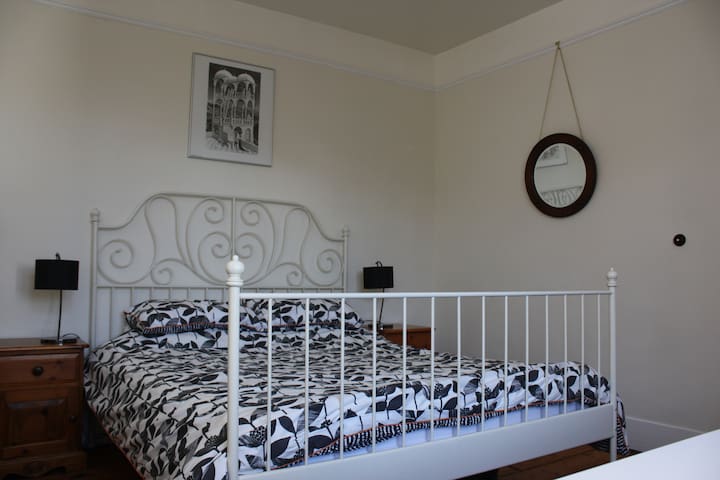 My place is close to Berkhamsted High St with all the lovely eateries - only a 3 minute walk away. The railway station is even closer, with fast trains to London every 15 minutes. Perfect for commuting into London - Euston is 25 minutes. Ashridge Management college is on the doorstep as is the Ashridge estate for walks in the woods and to the beautiful village of Aldbury. The famous Harry Potter Warner Bros studios are a 20 minute car journey or train/bus away.
The double room has a generous and comfortable single bed, hanging space, drawers as well as a desk workspace. You are welcome to make tea and coffee in the kitchen. Next door to your bedroom is your own private shower room.
Berkhamsted is a vibrant and beautiful small town. It has the ancient castle ruins to stroll around, shops and boutiques aplenty, an award winning art deco cinema (a must to visit) and over 80 places to eat - almost all within easy walking distance.
Really nice stay, there were loads of little extras I wasn't expecting that made it special. Having sole use of a bathroom was really good, the bed was comfy and warm, and while the train station is nearby and you can hear the trains, it's not loud and they don't run at night - I slept very well! Lesley was very pleasant and nice to chat to. Highly recommended.
Samantha
2017-04-07T00:00:00Z
Tipe Kamar
Kamar pribadi
---
Tipe Properti
Apartemen
---
Mengakomodasi
1
---
Kamar tidur
Berkhamsted, England, Inggris
Victorian House in Historic Market Town. 10 minute walk to station, 30 minutes from London. Canal runs through Berkhamsted and we are a short drive from Ashridge Forest owned by the National Trust. The town has many amenities including the Rex Cinemas and many restaurants and pubs.
1 double bedroom, wardrobe with drawer and bedside tables. Room is at back of the house, so very quiet, and overlooks garden. The room will be cleaned weekly and will have fresh linen and towels. The room comes with the use of a private bathroom. We are in the town and a 10 minute walk to the station. Berkhamsted has many eateries and a market on Wednesdays and Saturdays. The Rex cinema is a 10 minute walk away. Tea and coffee are provided and we are happy to provide meals if requested. Breakfast and dinner at an extra cost to the room hire. We have extremely good wifi throughout the house and have office facilities if needed. There is a lounge for the guests private use.
Berkhamsted is a beautiful friendly town with the Grand Union Canal running through it. From the house you can walk everywhere, the shops, restaurants, cinema and station.
Tipe Kamar
Kamar pribadi
---
Tipe Properti
Rumah
---
Mengakomodasi
2
---
Kamar tidur
Berkhamsted, England, Inggris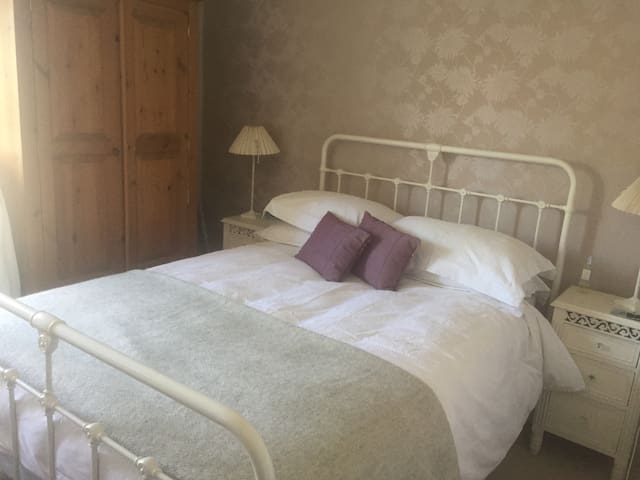 My place is close to Town centre Restaurants & pubs Ashridge Management College & Estate (National Trust) Local supermarkets Weekend markets Grand Junction Canal Walks & views Train station (35 mins direct to London Euston) Great road links (M25, M1, M40) The Rex (Art Deco cinema) Historic heritage sites. You'll love my place because of Quiet green spaces Clean and airy Plenty of light Newly fitted kitchen Extremely safe My place is good for couples, solo adventurers, and business travellers.
First time I have ever used Airbnb and I was't sure what to expect, but this place was really nice, good location (only ten minutes away from Warner Bros Studio). It's just like it looks in the pictures, light and airy. It was clean and overall a great stay. Close to local pubs and shops and only a ten minute walk to the train station. The only down sides of the apartment were that the spare bed isn't very comfy, but it does the job, and the fridge was unusually noisy. The Host was really helpful and gave us a list of places to eat/drink. I would definitely recommend this place to anyone and would stay here again.
nathan
2016-09-19T00:00:00Z
Matt gave me a warm welcome upon my arrival and showed me where things were and how to switch on the skybox etc. The flat was very comfortable and perfect location in Berkhamsted for my visit.
Lynn
2016-12-14T00:00:00Z
My third stay was just as enjoyable as ever. The flat is in an easy walking strike to town and also to my son's home which is ideal for my visits to Berkhamsted. I would recommend to any holiday goer to the area looking for a quiet rest and convenience to the town.
Lynn
2017-02-05T00:00:00Z
Highly recommend for restful stay in Berkhamsted close to town.
Lynn
2017-01-29T00:00:00Z
Tipe Kamar
Seluruh rumah/apartemen
---
Tipe Properti
Apartemen
---
Mengakomodasi
4
---
Kamar tidur
Berkhamsted, England, Inggris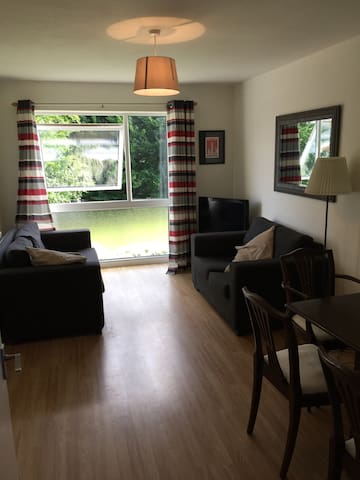 Masukkan tanggal untuk melihat harga lengkap. Biaya tambahan berlaku. Mungkin dikenakan pajak.