My place is close to all of the local restaurants. Just a 10 minute drive will place you in the heart of Downtown Monroeville and all of the city's rich history. You'll feel right at home in this Alabama abode. With brand new appliances and furniture, all that is missing are some happy travelers. My place is good for couples, solo adventurers, business travelers, and families (with or without kids).
Tipe Kamar
Seluruh rumah/apartemen
---
Tipe Properti
---
Mengakomodasi
4
---
Kamar tidur
Monroeville, Alabama 36460, Amerika Serikat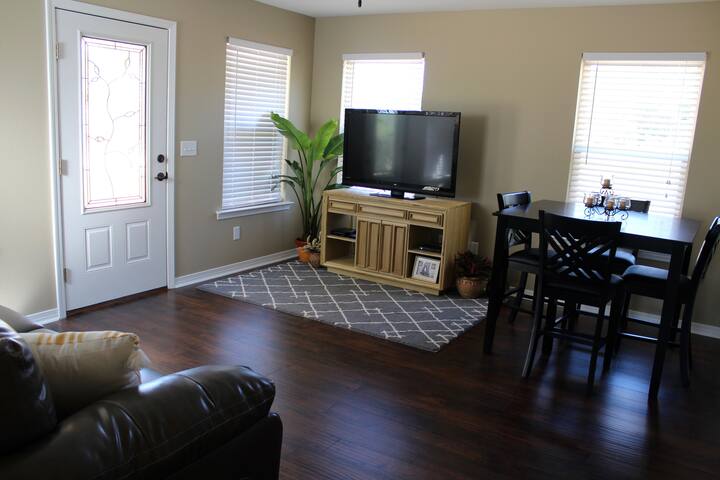 Apartment in my home in the country surrounded by farm land and timber land. This is South Monroe County. It is about 17 miles N. of the Creek Indian Casino. Towns around are Atmore and Monroeville. Close to Claude Kelly State Park. under 12 free. There is one queen size bed in a private room. The couch is not full size but would be good for a small person. One twin air mattress. PLEASE READ...this is an apartment and not bed and breakfast. Bring your eats Walmart and other stores 17 mi. away.
It is my home located in a farming area.
Ron was a very hospitable and helpful host. The accommodation was better than described - excellent pool and hot tub, spacious ans spotlessly clean accommodation with everything you need for a self-catering retreat in rural Alabama. The location is very rural and quiet, we had a lovely evening sitting in the hot tub and staring at the amazing night sky.
Rick
2016-03-11T00:00:00Z
We had an absolutely amazing stay at this wonderfull place!! The landscape is so beautifull, peacefull & quiet!! So if you're looking for the perfect gateway on the countryside, that's definitely the place to be!! The apartment is so lovely too!! Offers everything one needs!! So lovely furnitured with love for the detail, unfortunately you can't see that on the pictures!!! Because it's much more beautifull than pictured!! & the best thing, the pool and the whirlpool that we could use any time we liked! & Ronald is a perfect & charming host! So we definitely would have stayed longer & come back again!! Highly recommanded!!Thx!
Tanja
2015-07-19T00:00:00Z
Loved my sray. Host was very accommodating. Look forward to staying agaun in the near future.
Jamie
2015-04-07T00:00:00Z
Perfect experience from beginning to end. Great fast communication with Ronald. We stayed several days and enjoyed cooking out on the grill, relaxing in the hot tub and even swimming in the pool. This place is out in the country and let me just say the stars at night were big and bright! We were traveling lightly so it was nice to have the washer/dryer available. Full kitchen with most everything you would need to prepare meals. Highly recommend this charming place in the country. :-)
Michael
2016-04-18T00:00:00Z
The host was very polite and hospitable. The private apartment has a kitchen, full bathroom, bedroom and living room: all were very clean. A pool and hot tub are just outside. The country setting was peaceful, quiet, and comfortable. Sunsets and sunrises were unforgettable! Several towns are a short drive away. Pensacola, FL is a little over an hour away. Absolutely great!
Bradley
2015-09-03T00:00:00Z
Ronald's place is absolutely adorable! It was the perfect weekend getaway. If you like peaceful mornings and resort quality stay please book with Ron. He is very hospitable, I'm already making plans to visit again. The jacuzzi is to die for!! We bbq'd and everything! ! I can't wait to visit again! The decor was very cute, a lot of thought and planning went into the simple country home.
Catherine
2016-03-14T00:00:00Z
This is our second time that we stayed at Ronald's in Frisco City area and once again our stay was great. We had a hot water issue when we arrived Friday evening, but I sent Tonald a text and he responded immediately and within ten minutes we had hot water. No other problems the rest of our stay
Bob
2015-11-03T00:00:00Z
I am a frequent visitor because of work. I am love the place and Ron is the perfect Host. I would highly recommend this hidden gem!
Tamara
2017-03-08T00:00:00Z
Tipe Kamar
Seluruh rumah/apartemen
---
Tipe Properti
---
Mengakomodasi
4
---
Kamar tidur
Atmore, Alabama 36502, Amerika Serikat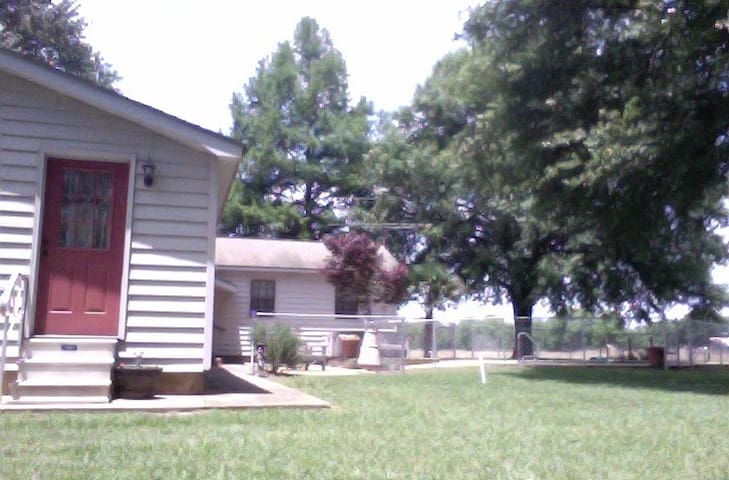 One bedroom with an small kitchen and dining. You have your own private bath area. It is the same location as the other apartment with the same outdoor photo's. Close to the Creek Indian Casino, 2 parks, Monroeville's To Kill a Mocking Bird, kids under 12 years old are free. There is one queen air bed.
The apartment was remodeled in the last months of 2015. There are a lot of new things including the the bathroom. One large room and one small bathroom. PLEASE READ...this is an studio apartment and not bed and breakfast. Bring your eats Walmart and other stores are 17 miles away.
This is a farming area. Please see my other listing. I do not wish to copy and paste here.
Cannot say enough good things about this place and Ronald. The pictures do not do it justice at all. First of all, the drive out there is amazing. So much space and beauty. Then, when you get there it's just as beautiful, if not more! Ronald was there to greet me when I arrived and showed me where everything was. He is so, so sweet. It rained most of the time I was there, which made the already-cozy little haven even cozier. It's very spacious and has everything you need. A great electric fireplace, stove, microwave, toaster, pots and pans, washer/dryer, tv/DVD player, etc. I could go on. I went for a getaway by myself to get ready for the new year, and everything about this place exceeded every expectation I had. I will DEFINITELY be going back!
Natalie
2017-01-01T00:00:00Z
Great spot. Good resting spot between destinations, even though it added about 35 mins or more to my drive. Ronald was available and friendly and helpful. I would have liked to know where the thermostat was, i searched for a long time (too late at night to bother host). Forced air was loud, too cold and too hot at times. Too bad on a night with perfect weather. That probably wouldn't bother most people, but it caused me not to sleep very well. I should have asked him earlier didn't think of it. Was nice to have washer dryer, tv, fridge etc. The place is cute and very well equipped, good design for comfort and plenty of space around for recreation.
Carol & Michael
2017-02-26T00:00:00Z
Everything was great. I just needed a place to stay for the night. Half the price of a hotel and a much nicer place to stay.
Jim
2016-11-19T00:00:00Z
The Studio Apartment in the Country was exactly what I needed. I went for quiet and solitude, and it was perfect. I had everything I needed, the studio was exceptionally clean, and as a host, Ronald maintained a nice balance between friendly conversation and assistance with the outdoor amenities (hot tub and fire pit) and respect for the solitude I came for. If you're looking to get away from the hustle and bustle, this is the perfect place.
Jessica
2016-12-02T00:00:00Z
One of those Gems on Air Bnb. Ron was incredibly welcoming, he gave us a bottle of wine and told us all about the area. The pool and Jacuzzi were perfect after a day of driving. The photos don't do the place justice - it's huge! and the bed is super comfy. Highly reccomended
Philip
2016-06-16T00:00:00Z
Ron was very accommodating. The apartment is in a beautiful setting and feels very relaxing. Out of the way of busy traffic and towns, you can really unwind. Highly recommend to go off the beaten track to stay here. Excellent.
Alex
2016-04-23T00:00:00Z
Great cottage in the country!
Eric
2016-12-25T00:00:00Z
Ron's place is perfect for a quiet getaway. I can't wait to go back!!
Gregory W
2017-03-04T00:00:00Z
Tipe Kamar
Seluruh rumah/apartemen
---
Tipe Properti
---
Mengakomodasi
2
---
Kamar tidur
Atmore, Alabama 36502, Amerika Serikat
Masukkan tanggal untuk melihat harga lengkap. Biaya tambahan berlaku. Mungkin dikenakan pajak.