Masukkan tanggal check in Anda dalam format hh-bb-tttt
Masukkan tanggal check out Anda dalam format hh-bb-tttt
Tempat yang bisa Anda pesan tanpa perlu menanti persetujuan dari tuan rumah.
Masukkan tanggal untuk melihat harga lengkap. Biaya tambahan berlaku. Mungkin dikenakan pajak.
Juli dan Agustus ini, Anda dapat mencoba menginap di salah satu dari 100 rumah berperingkat tertinggi, pada semua rentang harga, dan nikmatilah sudut pandang warga lokal di Sonoma. Fitur check-in 24 jam, Pemesanan Instan, serta anggur dan camilan lokal membuat Anda dapat bersantai dan menikmati perjalanan.
5 bedrooms ( 3 twin rooms and 2 singles) Close to North Wales attractions Theatre Clwyd nearby Cheshire Oaks nearby Contact for long term mon-thur rooms available (contractors) £21 per person or £31 per room if sharing Continental breakfast Wifi Parking Kitchenette TV in single rooms Communal area with TV
Shared washroom (shared between 4 rooms but house rarely in full use) 1 Single room has an en suite Internet Parking Communal area Most often to greet guests On hand if needed and contactable by phone or email
Train station - nearest is Shotton station Bus stations - app 300 yards away with lots of bus links to Chester and surrounding areas
The host made me n friends of mine comfortable i had a great experience
Shravan
August 2016
I stayed at Marie's house with 3 of my friends and it was fantastic. I really love the house and everything is so clean.. It's not that hard to find the house and it's also easy to park our car since the house has enough parking space.. too bad i couldn't meet Marie in person but she is so kind to provide me with every information I need.. there was a problem when I tried to get the key from safety box because the wrong code but everything was solved really fast. overall I love my experience there and will definitely recommend this place to anyone who has plan to visit Chester or Snowdonia :)
Kartika
October 2016
It is an interesting conversion of an old house. Given those constraints, en suite (which seems to be the norm these days) cannot be expected. This is reflected in the charge and so it is excellent value for money. Marie is very friendly and hospitable and has organised the accommodation so that everything runs smoothly. It's about 3/4 of a mile to a train station and only 100 yards from buses.
David
November 2016
Nice and Quiet house. I would definitely recommend it
Prasanth
August 2016
Great and cozy place. Marie tried her best to make us feel like at home.
Ivan
November 2016
You could not ask for a better hostess or room. Marie made us tea when we arrived, and sat and chatted for a while. She was very kind and gracious. Everything was spectacularly clean. The room was spacious and the beds were very comfortable. There was plenty of storage space available. The toilet and shower are shared, but are in separate rooms, and we did not have any problem with availability. There is a refrigerator if you need it, and yogurt and cereal and tea/coffee for breakfast. They even had parking available! We would recommend this place to anyone!
Deborah
September 2016
Marie was a great and friendly host. Her place is clean, great value, lovely and quiet and well located for a trip to Theatre Clwyd.
Joe
October 2016
Het is een zeer aangename plek om te verblijven. Marie en haar man zijn ook zeer vriendelijk!
Mats
October 2016
Tipe kamar
Kamar pribadi
---
Tipe properti
---
Mengakomodasi
4
---
Kamar tidur
1
Connah's Quay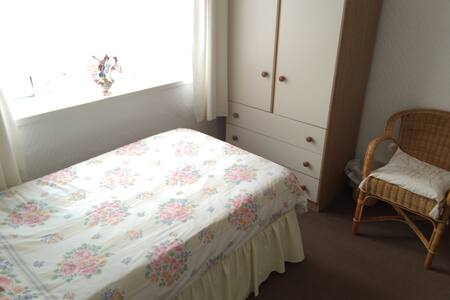 Private room in family home Access to Gym and Pool table Any questions please ask
Own private room, downstairs away from rest of occupants Any space at all Anything you need I will be there to assist
Very quiet neighbourhood Bus to Chester is a few minutes walk away, Shotton Train Station is 20 minutes walk away
Tipe kamar
Kamar pribadi
---
Tipe properti
---
Mengakomodasi
1
---
Kamar tidur
1
Connah's Quay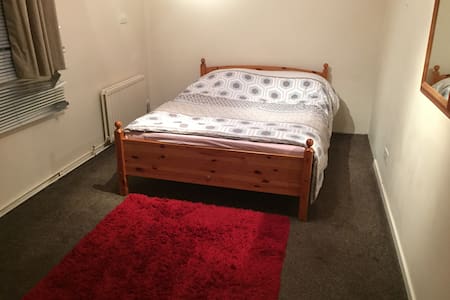 Two very comfortable private rooms, one with En-Suite and one with separate private bathroom in large 4 bedroom detached house in quiet residential area. Ideally located for easy access to Chester, Liverpool and North Wales. Also ideal for beautiful areas for walking.
Two Large double rooms one with private en-suite and one with separate bathroom. Each room is tastefully decorated with comfortable double bed. Kitchen, garden, utility room and garage. Help and advice available during stay.
Quiet residential estate close to pubs and shops. Village location. Regular Bus service between Chester and Mold available.
The hosts were a fantastic couple and the place was magnificent, it was like staying in a 5 star hotel. Excellent communication skill and customer service. It was a great experience.
natacha
July 2016
Josephine was the perfect host very friendly but not to intrusive you have full use of all immunity's. The house was spotless. you are not far from Chester and only 90 min. from Manchester by car, it is a very good base for both. Next time we stay in Chester we would have no problem staying with Josephine.
Phillip
October 2016
Nunca pude imaginar que podría haber gente tan amable. Nos sentimos como en un hotel de 5 estrellas, pero con unos anfitriones del 12. El 10 queda corto para describir la amabilidad y esfuerzo dedicado a nosotros. A pesar de mi mal nivel de inglés, ellos intentaron comunicarse y ayudarnos, más de lo que podais imaginar. Recomendable 100 x 100. No sé que mas decir, inolvidable experencia hemos hecho unos nuevos amigos,si podemos repetiremos .
Estrella
August 2016
Perfect. Lovely house; like staying in a showroom with a really friendly host! Top marks! Thanks Josephine.
Rob
August 2016
Jo and Dave are a very welcoming couple who go out of their way with thoughtful touches for guests. Their home is immaculate! They gave us directions to a local pub for dinner, Dave even volunteered to drive us there, however, after a day's driving we enjoyed the walk and the food was good! Our room was very comfortable with beautiful bed linen and towels and we had a great night's sleep. Breakfast was left out for us, plenty of choice for cereals etc. We really enjoyed the peaceful situation of the house and hope to return when visiting the area again!
Veronica
July 2016
Jo and Chris were excellent hosts, we could not have been made to feel more welcome! There were four of us staying so we made use of both the en suite double room and the second double room which has a private bathroom just next to it. The house was spotlessly clean, the rooms comfortable and our hosts provided faultless hospitality. We have family not far from here and would definitely love to come and stay again, if they have availability!
Sarah
July 2016
My husband and I stayed at Jo and Dave's for one night whilst we were traveling to visit family. The house and room were immaculate - the pictures really don't do it justice. It felt no different to staying in a great hotel, with plush bedding and towels, a TV in the room, and a lovely warm shower. The area is very quiet and we had a blissful night's sleep! We stayed in the en-suite room, and it felt very private. Dave and Jo were very accommodating - not intrusive at all, but available if we needed advice on the area/travel etc. There is a bus stop down the road that goes into Chester city centre, and a train station in the village. Dave advised us on the best pubs in the area, and suggested some local attractions, such as Ewloe Castle. Breakfast options were left out in the morning, and we had access to tea and coffee and the kitchen if we needed it. I would highly recommend staying with Jo and Dave if you are in the area. Thanks Jo and Dave - hopefully see you again soon!
M
June 2016
Jo and Dave were terrific hosts, gently checking to see that we had everything we needed without being at all intrusive. The house is immaculate and very well equipped. It is on a very pleasant road in a quiet village but with good road connections to Chester, Liverpool and the North Wales Coast. A brilliant place to stay for a few days.
Ian
September 2016
Tipe kamar
Kamar pribadi
---
Tipe properti
---
Mengakomodasi
2
---
Kamar tidur
1
Hawarden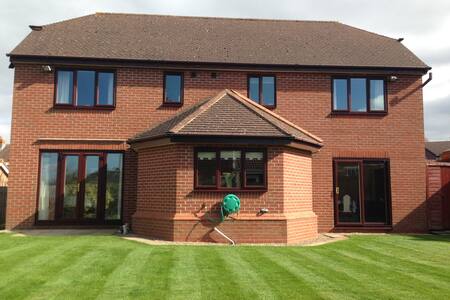 We have 5 lovely bedrooms in a newly refurbished property in Flintshire, North Wales. The property provides excellent access to Liverpool and Manchester on the M53 and M56 Motorway networks and Chester is also only a 10 minute drive away! The property itself has recently been renovated to a very high standard and its interior is second to none ! Feel free to get in touch, it will not disappoint !
A large spacious property with modern decor. 5 bedrooms 2 bathrooms Communal lounge Kitchen with modern appliances The property is available for 5 persons. We are available to support guests during the day and have an out of hours emergency response line for the night.
Shotton is a town in Flintshire, North Wales, lying within the Deeside conurbation along the River Dee, adjoining Connah's Quay, near the border with England. It is located 5 miles west of Chester and can be reached by road from the A548. A bus stop and train station are within walking distance of the property.
Tipe kamar
Seluruh rumah/apartemen
---
Tipe properti
---
Mengakomodasi
5
---
Kamar tidur
5
Shotton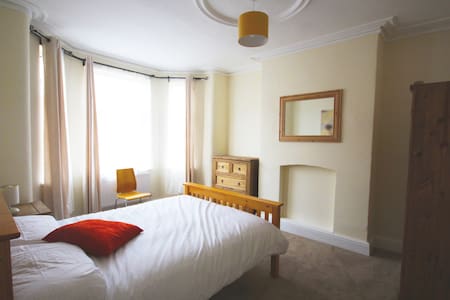 See our other pages for North Wales Room
Brilliant communication. Warm welcome. Will definitely use again
Luke
November 2016
Marie and her family were super welcoming. Provided me all the information I needed for my trip and their house is a really nice place to stay, especially if you are going for the World Rally Championship in November (perfect location). I enjoyed my stay with them a lot
Diego
October 2016
Tipe kamar
Kamar pribadi
---
Tipe properti
---
Mengakomodasi
2
---
Kamar tidur
1
Connah's Quay
The room is comfortable. In the summer time a guest can also enjoy the private garden. The accommodation is located just 10 mins from the centre of the Roman City of Chester. Its a single bed so will only serve a single person.
Tipe kamar
Kamar pribadi
---
Tipe properti
---
Mengakomodasi
1
---
Kamar tidur
1
Shotton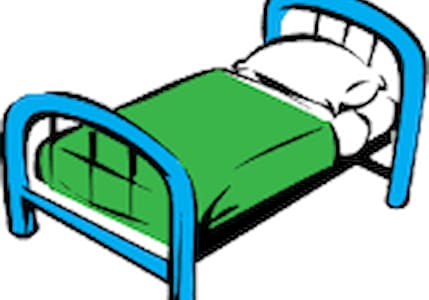 Lovely 1BR Apartment near Chester
This lovely 1 bedroom apartment offers accommodation in Shotton, which is a 10-minute drive from Garden City. Just 800 metres from the picturesque Flint Castle guests will be able to enjoy a little sightseeing at a little out of the way spot. With free private parking is provided this is also a fantastic place for the professional traveller. Free WiFi is offered throughout the property along with a kitchen full of all the essentials you might need for a few days away. Come for a visit. We would love to have you!
Tipe kamar
Seluruh rumah/apartemen
---
Tipe properti
---
Mengakomodasi
4
---
Kamar tidur
1
Shotton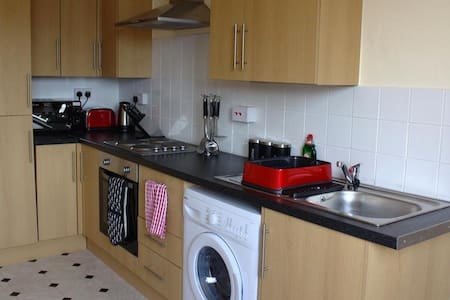 A modern and comfortable flat within 15 minutes of Chester city centre. Well located next to the A55 motorway. We have a spare room with double sofa bed and you would have your own bathroom. We are clean and tidy, and expect guests to be the same.
Tipe kamar
Kamar pribadi
---
Tipe properti
---
Mengakomodasi
2
---
Kamar tidur
1
Ewloe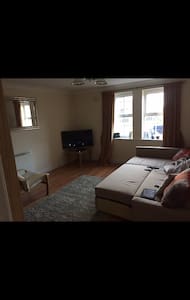 Beautiful modern townhouse in the historic village of Hawarden, the home of Gladstone Estate. This three bedroom home is 15 minutes from Chester & 'Cheshire Oaks' outlet store. Two double rooms & one single. Two bathrooms. All modern amenities.
Great accommodation. Met at the door and on arrival they had already purchased fresh bread and milk. Lots of basics supplied in the kitchen (coffee, tea, butter, oil etc. . .). House was spotless and lovely bedding and towels supplied. Very good location close to the A55, supermarket virtually next door (Co-op) and pub within short walking distance.
Rich
June 2016
Where do I start? Met by Andre who left us eggs, milk, bread and bottled water! He gave us loads of local info ( The Running Hare pub is 10 minutes walk away and the carvery is gorgeous)! The house was perfectly located for Chester and the zoo where we spent Saturday. The house itself is fabulous, well equipped and excellent value. We will be back!!!
Sue Ian
August 2016
Fantastic, modern house close to good transport links. Supermarket 2 minutes walk away. Excellent communication from Ann and everything we needed supplied on arrival (bread, milk, butter).
David
August 2016
We were made to feel very welcome, everything in the property was laid out so nicely. Bread and milk in the fridge / tea bags etc for us on arrival. We felt instantly at home. Loved the place and will definitely return.
Julie
January 2016
Immaculate, modern house 20minutes drive from Chester city centre. It was really easy to arrange collection of the keys & the house was perfect for a relaxing weekend away with friends. Highly recommended.
Jenna
December 2015
Nice and confortable place to stay! Beds are really confortable and the house is well equiped! Ann is really friendly and answer to my questions as soon as she gets those. We will be delighted to come back next year!
Céline
November 2016
Clean and welcoming home. Just what we needed.
Nickie
August 2016
dont know where to start. absolutely amazing from start to finish. brilliant communication spotlessly clean house with everything you could want or need even bread milk etc. we thoroughly enjoyed our stay and will definitely be back xxx
Claire
October 2016
Tipe kamar
Seluruh rumah/apartemen
---
Tipe properti
---
Mengakomodasi
5
---
Kamar tidur
3
Ewloe
Our farmhouse dates back to 1450 but with modern aminaties provides a quiet haven in a lovely country setting. Ensuite shower room and refreshment tray provided. Tv and free wi fi. Ideal base for Chester, North, Wales. TB 4 star. Food hygiene 5 star.
Tipe kamar
Kamar pribadi
---
Tipe properti
---
Mengakomodasi
2
---
Kamar tidur
1
Flint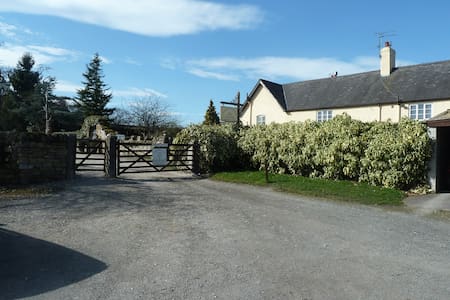 The room is comfortable. In the summer time guest(s) can also enjoy the private garden. The accommodation is located just 10 mins from the centre of the Roman City of Chester. Its a double bed so will only serve a single person or a mutual couple.
My listing is unique insofar as it places the Guest(s) in an area very close to the City of Chester and is situated in what is known as the gateway to Wales. It provides any guest the opportunity to enjoy peace outside the City, and provides easy access to all points of interest in the area. *** Guests who are travelling as a couple and who may have a child (less than three years old) can ask in advance to include their little one as an extra! I can provide a cot to be placed in the room at no extra charge - I wont even charge for the extra breakfast!) *** If however you have more than one child (and 1 or more is over the age of 2 (no more than two in number and you wish them to be with you please book the extra room advertised "Room for upto 2 children") at the same time or consult with me via email giving me information of your requirements and if I can accommodate your request I will inform you. Guest(s) not only have access to the room advertised, but in addition to this, access is granted to the main living room (which will be identified to you upon arrival), the bathroom, restroom, and the garden at the rear of the property, which in the warmer months provides a relaxing area to enjoy. Every visitor is different and has different needs. I as the host will provide the interaction needed for every one who stays. If for instance the visitor is familiar with the area and only wishes for a bed and breakfast, that is all the visitor will receive, and will be left alone to enjoy the privacy required. If on the other hand the visitor requires information, additional services such as transport to and from specific locations, information on places of interest in the area, or any other requirement, then this will be provided. All visitors will be given a mobile/Cell phone number which should be used for any eventuality which might arise during their stay. If I am not at the house I will never be too far away, and so any eventuality that might arise during the guests stay will be catered for. I am a very organised person so any visitor can be assured that there will be no situation which cannot be overcome. The safety, comfort, and enjoyment of any person staying at my home will be my priority at all times (of course any event that might occur which might lie outside normal boundries of reasonable thinking ie; earthquakes, comets, tsunami's, will obviously require further thinking).
My home is situated in a neighbourhood which can only be described as both colourful and diverse. It has its characters and events which might at times shock or surprise, however, in the 40+ years I lived here I have never had any cause to consider leaving due to the general demeanour of the area and its people. In general it is a nice quiet area. Public transport is very good. My home is situated only a few mins walk from a train station which gives access to every point of the UK, it is also situated right outside a bus stop which provides a service every half hour to the centre of Chester City. If you have come in your own transport, I have adequate parking facilities at the rear of my home which is secure insofar as the parking space has 24hr lighting and is overseen by many neighbours who want of a better description are keen observers. I am situated in an area which boarders on the Motorway network, so access to any part of the country is easily established. Airports close to my location, include, Manchester International and Liverpool. All the above said, if a visitor is interested in walking around then I am situated in a perfect place to enjoy the beautiful Welsh countryside, as only a few mins walk one can be surrounded by it. I advertise my space as a comfortable room for up to 2 guests, which will include a traditional English Breakfast. However, I will (if given prior indication) provide for a nominal fee the following services: 1 extra person (child 2 years old or under) a cot provided free and breakfast provided free also. For any children aged 3 and over (up to a maximum of three individuals) please either advise me direct or book the childrens room listed under my name. ******************************************************* NOTE FOR GUESTS WITH CHILDREN I AM CRB CHECKED AND SUCH DOCUMENTATION IS AVAILABLE UPON REQUEST - WHILE THERE IS NO LEGAL OBLIGATION TO PROVIDE THIS - IT IS DONE SO PURELY FOR YOUR PEACE OF MIND AS A CARING PARENT ******************************************************* For a nominal fee (which can be negotiated prior to acceptance of any service provided below), I am able to provide the following on a mutual agreement; Transport to and from local airports Transport to and from points of interest in the local area. Daily assistance (as the driver) to, during, and return from local points of interest. Will also provide (no fee applied) as much information as requested by guest(s) within my knowledge about points of interest, transport issues, local customs etc.
The host canceled this reservation 20 days before arrival. This is an automated posting.
meyrick
Tipe kamar
Kamar pribadi
---
Tipe properti
---
Mengakomodasi
2
---
Kamar tidur
1
Shotton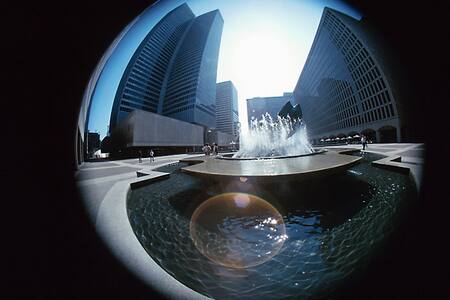 Very quiet and spacious room in centre of bungalow, with TV. The bungalow is situated on a very quiet road opposite a large common. Views to the garden via patio doors make it a light room. Use of family bathroom across the hallway.
A good sized bedroom with a king size sleigh bed , tucked away in the corner of a quietly situated 4-bed family home of a full time worker with one child at home. Perfect as a second bedroom if booking for a family (please see other double room with en suite) or for a budget room if working/holidaying in the area as a base for travel in North Wales and the North West, being easily accessible to the A55.Also ideal for someone looking to move to the area and needs somewhere to stay while you househunt. Adjacent to Middle Common within the small Welsh town of Buckley, easily accessible from A55 which extends across North Wales. The market town of Mold is 10 minutes drive and the beautiful Moel Famau area, part of the Clwydian range is only approx 15 minutes to the Bwlch Penbarras Car Park- ideal for hiking, running and mountain bike enthusiasts. We are close to the 'Hope and Anchor' a delightful pub offering real ale, other nearby pubs, the Red Lion, Liverpool Road Buckley and the Running Hare, Ewloe offer delicious food. We are approx 20 mins drive from the historic city of Chester with all that has to offer and within an hour of Liverpool and Manchester in one direction and Llandudno and Betws Y Coed into Wales. Hosts are keen walkers and have good local knowledge of the nearby hills. Parking is available for several vehicles. High speed Infinity WiFi capability. Large TV in room. Use of garden at rear.. Tea and coffee making facilities in room, and use of shared kitchen for storing and cooking food. We have quiet neighbors and 3 friendly cats. Purrfect! There is use of the house bathroom with a shower which is across the hallway. Our lifestyle means we are in and out all the time, but happy to offer advice on places to go and where to eat.
Très belle chambre avec sa salle de bain privée. MERCI
Olivier
August 2016
Again perfect quiet clean room and bathroom. Good place to stay anytime.
Mark
September 2014
Once again staying with John is like coming home. I'm always made to feel welcome and feel very comfortable staying here.
Kathryn
January 2015
John is a friendly energetic guy whose home is oriented towards an open common - nice and quiet and feels like it's in the countryside. John was helpful, funny and keen to settle you in. I was even upgraded to the royal suite which was nice.
DALE
May 2015
I' ve had the chance to spent my night in a clean and quiet room next to a spacious contemporary bathroom. It's perfect. John is great host and made me feel very welcome in his beautyful home. When using coordinates it's easy to find...don't mind the bumpy road at all. Nice cat as well by the way.
Mark
September 2014
The room was great, very clean and it more than met my expectations. I felt very comfortable. John is a great host, very open and helpful in explaining were to go for food etc. Thanks for the great stay!
Sandra
August 2014
John was incredibly helpful and his home is an excellent destination. Very clean and comfy. John understands the needs of travellers and provides for them with exceptional excellence
Leanne
March 2015
It was a beautiful home. I felt very welcomed and the whole atmosphere was brilliant
Caroline
November 2016
Tipe kamar
Kamar pribadi
---
Tipe properti
---
Mengakomodasi
2
---
Kamar tidur
1
Buckley
A beautiful late Victorian house, built in 1906 with comfortable luxury double bed room and a separate single bedroom. With all the comforts you would expect. You wont need a car as there are buses, trains & a taxi rank within walking distance.
There are two bedrooms, one containing a King size bed, the other containing a single. The bathroom has a beautiful Victorian role topped bath that has the facility for rinsing hair but no shower. There is also the use of a sitting room with TV and a kitchen/dinner. Note, we do have our own young Labrador who lives in the house. The only areas 'out of bounds' to guests are owner's bedroom and the front parlour. (Unless by prior agreement). A key will be provided to allow entry to the property at the guests convenience. At the beginning of your stay you will be greeted, shown the accommodation and given the door key. If you require any information this would be the opportune moment to ask as my work may well entail my being away from the property, however if I am around, I am more than willing to answer any queries you may have.
The local supermarket is only across the road; there are restaurants, 'takeaways' and pubs located along the High Street. For example, there is a Weatherspoons only 10 minutes walk away, ( turn left as you leave the property. Public transport in the way of buses, trains and taxis are all within easy reach of the property. Liverpool is 20 minutes and Manchester is only 45 minutes away by train. Buses to Chester leave from outside the property and take approximately 20 minutes. Local taxi firms is across the road, are competitively priced and efficient. I do not provide breakfast as this helps to keep your costs down; however; you are more than welcome to help yourself to tea, coffee and sugar, milk is in the fridge, cups are left out on the work top for your use. If you wish to bring your own food please feel free to use my facilities. (After use can you please leave the kitchen as you find it).
I stayed at Roslyn's place with my boyfriend and his 72yr old mom for a weekend away in Chester and Chester Zoo. The drive to Chester was only 20 miles away from her house. We were welcomed by Roslyn's partner Steve, who was very attentive, kind and friendly. Roslyn is a nurse who works late shifts so she couldn't stay around too much but Steve was just the greatest. They also had a lovely labrador puppy named Max. I fell in love with him immediately. The house was very clean and tidy. It had a complete Edwardian/ Victorian feel, with gold and pastel colours, flower patterns and angel decorations. Roslyn has done a very good job at keeping the history of the house alive with a modern touch for today's needs. We immediately felt very comfortable and at home at Roslyn's place. Our bedrooms were enormous and my boyfriend's mom got to have her own room. Our bed was one of the most comfortable beds I've ever slept on away from home with beautiful white linens like the ones in expensive hotels. She also had a really nice Victorian bath we used at night to relax after long walks in Chester and the Chester zoo. And we could use the sitting room with a little electrical fire place and a nice big TV sipping on tea or take away from one of the many restaurant opposite the house. I would recommend Roslyn's and Steve's place to anyone. We got a great value for the little money she charged.
Patty
March 2016
Tipe kamar
Kamar pribadi
---
Tipe properti
---
Mengakomodasi
3
---
Kamar tidur
1
Connah's Quay
My Home is in a fantastic location, minutes from the A55 which can take you into Chester in 15 minutes, or the beautiful Snowdonia mountain range in 45. Well Maintained will all amenities including full cable television.
Tipe kamar
Seluruh rumah/apartemen
---
Tipe properti
---
Mengakomodasi
4
---
Kamar tidur
2
Flintshire