A wonderful place for a short getaway and to relax - ideal for walkers or those who just enjoy the tea houses and pubs that this village in the South Downs National Park has to offer. Well behaved dogs welcome. The house has lots of character, an open log fire, two double bedrooms, modern bathroom and a well-equipped kitchen, plus a pretty cottage garden. Located close to the Village Square and local amenities. A minute from the South Downs Way & lots of beautiful walks. Free wifi. Welcome!
This bright and airy house is ideal for a relaxing break. The area has everything you need for a great walking or cycling holiday or just mooching about. You can just stroll around and enjoy all the lovely pubs and tea houses in the village. Alfriston has one of the best independent bookshops in the country - Much Ado Books, and Badgers Tea House is just across the road - a wonderful place to relax (a 10% discount is offered to my guests). Well behaved dogs welcome (not on the furniture or upstairs please) and welcomed in most places around the village. In the winter there is a log fire (initial logs supplied). My house has many times been described as light and "cosy", and is filled with art and interesting things - this is where I live in between bookings so is very much a HOME and not a holiday let.
This beautiful medieval village nestles in the heart of the South Downs National Park, benefits from rolling hills, Friston Forest and the stunning Cuckmere Haven very close by, as well as the world famous Seven Sisters. Plenty of good pubs and tea rooms, lots of places to visit, and for dipping your toes into the bright lights, we have the city of Brighton only half an hour away. Happily we have some very good shops in the village, from an independent bookshop voted "Best Independent Bookshop", to art galleries and curiosity shops, as well as a wonderful village store. There are lots of pubs in the village, each with a different vibe, plenty of locally brewed beers, log fires and pub food. You can combine walking with pub visits, further details are provided in the info book at the house. There are great tea rooms for the more cake orientated (Badgers is my favourite) and plenty of places to eat - country pubs to walk to, or great pubs in the village (the Smugglers is my favourite) and a restaurant at the end of the village for that special treat or occasion.
We spent a lovely weekend at Jilly's. The cottage is really homely and well provisioned, has comfortable beds, a great shower and a lovely open fire. It is ideal for a romantic get away. Jilly is helpful with great comms and directions, and left us a wonderful banana loaf. Alfriston is charming and gives a great sense of getting away from it all and less than 2 hours from London. You can walk down the beautiful Cuckmere river valley to the sea in about 2 hours from the house to the amazing seven sister cliffs viewpoint. And though we didn't eat out had great local cider and ale sitting in the inglenook in Ye Olde Smugglers then back to Jilly's to eat a supper of lovely local cheeses and hams from the shop in the square in front of an open fire. We definitely recommend it and will he glad to visit again in the future.
Sean
2015-02-08T00:00:00Z
We loved the house, which had a cosy and arty feel to it, and was strategically located opposite a delicious tea room where we had our breakfast. The house is bang into the centre of town, very convenient. It had everything one needs to be comfortable. Jilly, the host was also very kind and left us some provisions; she also made sure we had all the information we needed to enjoy the wonderful surroundings. Thank you Jilly!
Carolina
2015-08-31T00:00:00Z
We had a very pleasant few days in Jilly's house in the pretty village of Alfriston. Everything was as we expected, the house was comfortable and we enjoyed sitting by a good log fire in the evening. It was helpful to have lots of information about the locality especially as we enjoy walking, and this was one of reasons we chose to stay in this area. We also appreciated good directions, somewhere to park and a welcome pack on our arrival!
Jane
2016-01-02T00:00:00Z
Just back from 3 nights in Jilly's cosy cottage in Alfriston. We had a fantastic time. Jilly had left out lots of useful information on local walks, recommended local shops, pubs and restaurants of which we eagerly road tested a fair number. Luckily you have ample opportunity to walk off the excess with some fabulous walks straight from the front door. Back at Jilly's she had left essential provisions (including an amazing banana cake) and a fire just ready to be lit so we were made to feel right at home. Good internet connection in the house - very little mobile signal in the village. Many thanks for everything. We are already planning a return visit.
Julia
2015-04-04T00:00:00Z
Myself and my husbands family stayed at Jilly's cottage over the christmas period. Jilly was particularly understanding when we arrived a couple of days later than planned and left a very welcome bottle of prosecco for the humans and some biscuits for the dog! The cottage is perfectly located for the village conveniences and beautiful walks along the river. The kitchen is small but the living space makes up for it and we managed to produce some impressive festive meals for six on a number of occasions. Sadly we didn't get to meet Jilly in person but her communication was faultless throughout. I would highly recommend her cottage for those wanting to stay in Alfriston.
Susie
2014-12-29T00:00:00Z
Listing was very accurate and the house was warm, cosy and beautifully presented. It was very welcoming with the all the essentials, milk eggs, bread etc left for us from Jilly. The Christmas tree with lights and decorations was a bonus. The kitchen is well equipped and the beds comfortable as is the sitting room. The village is delightful with great pubs and tea shops and wonderful for walkers with immediate access to the South Down Way literally on the doorstep. We had a really lovely time and would stay here again given the chance.
Jane
2015-12-28T00:00:00Z
All wonderful. Just as expected from the photos. Sweet little house in the centre of a delightfully picturesque village. Very comfortable house. And Jilly friendly and welcoming.
lis
2015-06-04T00:00:00Z
I wasn't able to go in the end, but Jilly was very kind in accommodating a late change of plans. Here is the review from the person that did end up going. "Wonderful place to stay! We were attending a wedding at the English Wine Centre and the location could not have been better. The house was bigger than the photos suggested and was extremely comfortable! The host was a great help! Extremely organised with directions to the house and the parking. There was lots of information on local attractions and the like left waiting for us at the house also. Jilly also personally came to the rescue when I urgently needed an iron, bringing one over immediately and really saved the day. Great little town and I can highly recommend the breakfast at the Singing Kettle Tea House!"
Brijesh
2016-08-22T00:00:00Z
Tipe Kamar
Seluruh rumah/apartemen
---
Tipe Properti
Rumah
---
Mengakomodasi
4
---
Kamar tidur
Alfriston, East Sussex, Inggris
Myles Cottage aka 'Rockstars' offers guests a rural retreat with a difference. It is situated in the centre of the historic village of Alfriston, East Sussex in a former stationing post for soldiers during the Napoleonic Wars dating from 1812. The theme of 'Rockstars' is a retro one, as an affordable vintage and alternative escape, very much an exclusive Airbnb experience in a special village location, in the heart of the Southdown's National Park! Welcome Regards, Mark Atkins
So guests are aware, there is no direct internet access or TV at my property but on my doorstep if WI-FI is required, guests are able to access it at the local Smugglers Inn pub opposite my house plus it is within a BT wi-fi hot spot zone, so no panic on this front. For entertainment there are many films on DVD's to enjoy, catering for most tastes and there are over 500 l.p. records from my private collection for guests to enjoy listening to during their stay. There is even a 1970's working Goblin teas made in the master bedroom upstairs.
The Smugglers Pub is the nearest watering hole opposite the front of my property and the village of Alfriston has lots of interesting shops to see. The nationally acclaimed and award winning book shop Much ado about Books is directly opposite my property.
This is a charming and funky retreat in a very tony corner of Sussex. Delightful stay, wonderful facility and orientation. Do it!
Betsy
2017-04-01T00:00:00Z
Mark's place was wonderfull to stay at. We were on a mountainbike vacation and had several great trails in the neighbourhood. Great vacation.
Kobe
2017-01-06T00:00:00Z
Mark was very welcoming. The cottage is in a great location in centre of Alfriston which is a very special village on South Downs. Cottage is areal home from home, especially if you're into rock! Nearest free car park is for 3 hours only, but we managed that ok by going out and about.
Diana
2016-05-08T00:00:00Z
Mark told where to find the key and details of the property. He was sorry that he was there to meet us but said he looked forward to meeting on Thursday.
Karl
2016-06-25T00:00:00Z
Great house in a great location. Full of personality. So good to also have a washing machine to use. Bit tricky to find as actually faces West St not the square.
Alison
2016-05-10T00:00:00Z
I think every single one of the other reviews on Mark's property is accurate. The place is a gem if you're into music - Mark is clearly a music buff and there's every type of LP going. The drumkit is fun and Alfriston is a gorgeous tiny village to while away a few hours. The Singing Kettle is particularly good for brunch! Unfortunately Mark's place really isn't very clean - the second bedroom's carpet was covered in hair which made us feel uncomfortable.
Katie
2017-03-05T00:00:00Z
Mark was the perfect host. We had good contact before our arrival and he was on site to welcome us and show us around, and there were plenty of little 'goodies' provided to enable us to feel instantly at home. 'Rockstars' was a brilliant venue. The lovely old cottage has been given a wonderfully personal retro-style makeover, with lots of intriguing artefacts - just as it says in the publicity! In fact, everything was just right. The little village of Alfriston is also wonderfully retro. It feels a bit like walking onto a film set from years back! And, amongst other places we enjoyed exploring the old chapel, the bookshop, the 'Smugglers', and St Andrews Church, as well as taking walks along the river and up onto the Downs.
Stuart
2016-09-18T00:00:00Z
Thanks Mark for having us stay. The cottage is in a nice, quiet village. A good place to stay whilst away with business
robyn
2016-09-23T00:00:00Z
Tipe Kamar
Seluruh rumah/apartemen
---
Tipe Properti
Rumah
---
Mengakomodasi
3
---
Kamar tidur
Alfriston, East Sussex, Inggris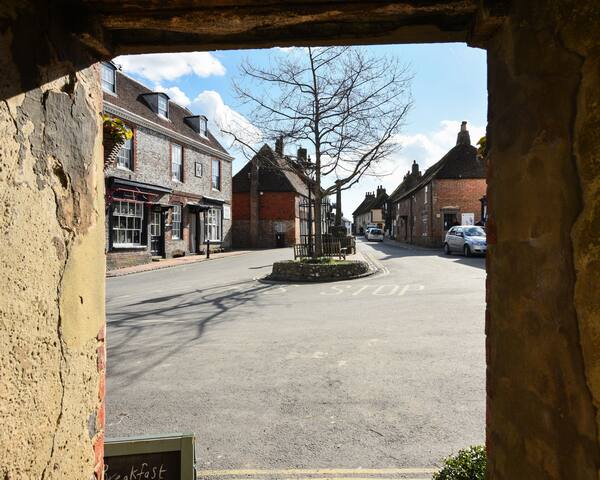 This is a country artists home set in the heart of the South Downs. The house is homely and colourful. The available room is of a good size with a double bed and views of the countryside. Jevington is a small village with an excellent local pub.
Our house is unique in that much of it is painted. I was inspired by the Bloomsbury Group and Charleston Farmhouse when I moved here almost 30 years ago! It has a cottagy feel, cosy and homely with an open fire on cold nights.
Jevington is a very small, unspoilt village in the South Downs National Park. A working farm which was once the Jevington Stud Farm is at the centre of the village and although there is only one racing yard here now, horses are still very important here. You will almost certainly see or here them trotting down the road at somepoint during your stay! The Eight Bells pub in the village serves good dinners and lunches and hosts local ales. Beautiful Birling Gap beach, beneath the white cliffs of the Seven Sisters is only a short drive away as is Eastbourne which has a range of pubs and restaurants, the famous pier and more beaches. Newhaven ferry port to Dieppe in northern France is approximately a 30 minute drive away. This is a perfect location for walking and mountain biking as there are many public paths including the Southdowns Way which runs through the village. Although it is generally very quiet here, there is a village hall next door and there may occasionally be noise outside as people come and go. There are a few streetlamps in Jevington but in parts the village is dark and it might be worth bringing a torch if you are arriving in winter or in the dark. There is no parking immediately outside the house and the road can be busy at certain times but it is possible to drop off bags etc before going to park.
We had a really lovely stay in Jennifer's house - it is beautiful, quirky and peaceful. Comfortable bed, delicious homemade jam for breakfast and a delightful host! We had supper in the pub just up the road, which was very good and visited Lewes and Charleston the next day - both lovely. The countryside around looked beautiful - I just wish we had had more time to explore... Thanks Jennifer!
Jenny
2015-10-28T00:00:00Z
Jennifer is a delightful, very friendly person, full of enthusiasm for life…. we had some wonderful conversations. It was a great pleasure to meet her and stay at her very artistic house…. the breakfast she provided was excellent. We of course recommend the Eight Bells for supper; on the weekend they have four different roasts (the beef and yorkshire pudding was perfect) and the strawberry cointreau cheesecake was decidedly more-ish. Jennifer was most helpful with advice, information, maps and telephone numbers, ….staying with her is a unique experience….thanks for the memorable few days :o)
Jennifer
2015-11-17T00:00:00Z
Amazing coloured house. Jennifer inspires the peace. The room is really warm, bed comfortable and we feel really good inside. The village is lovely and quiet in the nature. The restaurant just beside cook really good food and the atmosphere is very friendly.
Jean-Baptiste
2016-02-14T00:00:00Z
It's a beautiful place near Eastbourne, Jennifer is very nice. The breakfast is perfect and his jam is delicious. Thank you for the moment.
Caroline
2016-07-21T00:00:00Z
My stay with Jen was utterly delightful - I was made to feel welcome and comfortable the moment I stepped through the door, and once over the threshold I was instantly in love with the place. Jen's home is so beautiful and unique, the walls are covered in art pieces (mostly by the hand of the artist herself!) and the whole cottage quivers with creativity and a sense of restfulness. Jen was so helpful during the whole stay; providing lovely breakfasts, lending me her map, and giving me plenty of help and ideas on what I should see whilst I was there. All in all, a great little holiday made perfect with having met Jen (and Roxy the adorable lurcher!)
Genevieve
2015-11-04T00:00:00Z
Jennifer's cottage is very quirky and beautiful. We didn't meet Jennifer but she left a lovely breakfast for us and all the instructions were clear. Set in stunning countryside and with easy access to some great walks through the downs and woodland. Thoroughly recommend staying here!
Lauren
2016-12-03T00:00:00Z
Jennie gave us a perfect welcome!! The house was so cosy and original. We loved it! We had a Great breakfast in the morning. And Jenny gave us some Great advices for a place to eat, and to walk. We loved the whole experience. Thank You Jenny.
jessica
2015-10-27T00:00:00Z
Jennifer was a very welcoming host to my 10 year old, Jacob and myself at her comfortable and beautiful home - situated in one of Sussex's loveliest villages. Jacob was very taken with all the painted surfaces. Our only regret is that we could not spend a longer period at the cottage. Highly recommended.
Chris
2015-12-29T00:00:00Z
Tipe Kamar
Kamar pribadi
---
Tipe Properti
Rumah
---
Mengakomodasi
2
---
Kamar tidur
Jevington, Inggris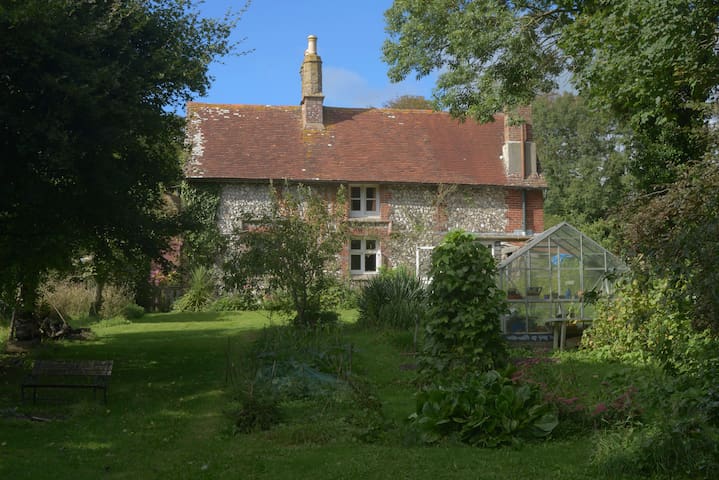 My place is in the South Downs National Park. The South Downs way runs in front of the cottage. The walking from here is stunning. Breath-taking views, rolling countryside covered with wildflowers, ancient barrows, friston forest and the Long Man of Wilmington. It is a 5 minute drive to some fabulous beaches; Cuckmere Haven, Birling Gap and Beachy Head. The cottage is cosy and characterful with a good size garden. My place is good for couples, solo adventurers, and furry friends.
The cottage is 300 years old and full of character. Downstairs is a good size kitchen and living room with wood burning stove. The bathroom is also downstairs. Bathroom facilities are shared. The water pressure here is incredible as it runs from a reservoir at the top of the hill. So you will experience a power shower with a difference. There is also a comfortable bath. The single room is only really a single as it has a single bed in it, its a good size. It over looks the garden. The double is full of character, spacious and comfortable. The accommodation is friendly and welcoming. It is clean and cosy. It is also rustic. The sheets and mattresses are good quality but I don't own an iron and I won't be ironing sheets. The house is old and I have a dog. If you are looking for immaculate whiteness this won't be the place for you.... There is a lovely garden, packed full of wildlife friendly plants. A pond, over which the dragonflies dance and the swallows swoop....
Jevington is a beautiful Downland village. It is full of character. Old flint cottages, beautiful ancient church and a damn fine pub... There is a tea room opposite the cottage. The walking and countryside surrounding it is stunning. Its wildlife tastic!
Jo was the perfect host. The whole experience was easy and hassle free. Jo is a lovely person: warm, kind and welcoming. Her cottage was also lovely: clean and tidy with lots of character. The village is small and quiet and has a great little pub with good food and a decent selection of ales. I would definitely recommend this place.
Tom
2016-08-22T00:00:00Z
Had an absolutely lovely stay at Jo and Peg's place! A beautiful cottage in quiet Jevington - a great base for exploring the South Downs. Jo is super friendly and gave us some great advice on local walks and eating spots. It really did feel like a home away from home. Eight Bells pub a five minute walk away is nice for dinner and Thai Terre and the Tiger Inn in nearby East Dean also very nice. Her beautiful dog Peg made the trip for us - we've never met such a gorgeous, friendly dog! Will definitely go back at some point!
Emma
2017-03-27T00:00:00Z
The cottage was absolutely delightful and we were made most welcome. It was the perfect base for walking on the South Downs.
Richard
2016-08-29T00:00:00Z
Fantastic stay at Jo and Peg's place. Really lovely cottage and super comfy bed.
Bella
2016-12-03T00:00:00Z
We really enjoyed our stay with Jo. She was friendly and welcoming, offering us local tips and advice for our trip. The house was charming and comfortable. The garden was the perfect spot for star gazing at night and for enjoying the sun the next day. Jo herself is a very fun and interesting person who we enjoyed spending some time with. She even gave us some vegetables picked freshly from the garden! R+C
Christos
2016-08-15T00:00:00Z
Jo opened her frig to me and offered me any of its contents when i arrived too tired to think about getting food for the evening. the garden of the cottage is a joy and the setting of the cottage is beautiful
Pauline
2016-10-19T00:00:00Z
Lovely place with a comfortable bed and good views. Host was nice and friendly. Dog is also nice! Good place for hikers and local pub was really good aswell.
Hitesh
2016-12-18T00:00:00Z
One of our best Airbnb experience. Jo's place matches her personality. Jo and Peg were naturally welcoming and we were having a very interesting conversation only minutes after meeting, while petting Peg. I want to come back asap and take Peg on a long walk! The house was heartwarming and the glass of wine we had next to the fireplace after a long winter walk to the cliffs was worth the trip! I recommend this place if you're looking for a home away from home. Thank you so much for having us and see you again soon!
Sylvain
2017-02-05T00:00:00Z
Tipe Kamar
Kamar pribadi
---
Tipe Properti
Rumah
---
Mengakomodasi
2
---
Kamar tidur
Jevington, England, Inggris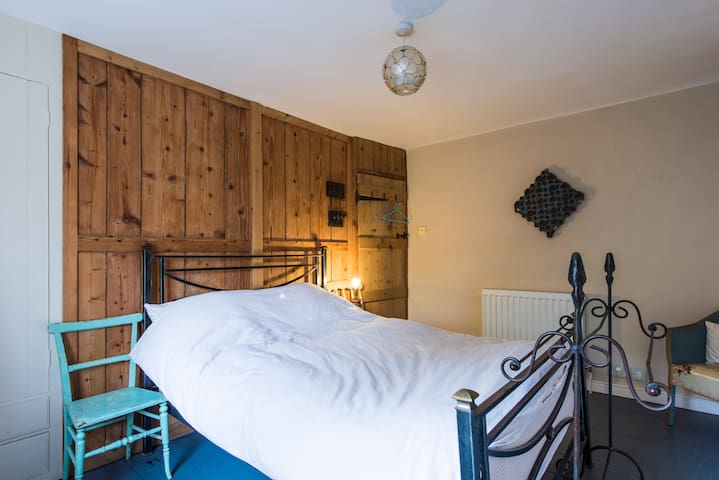 A private double room that is situated in the center of the historic village of Alfriston; that nestle's within the boundaries of the Southdown's National Park in East Sussex. It is close to all nearby tourist destinations, such as the famous Long Man of Wilmington and the Seven Sister's Country Park, the Birling Gap area and nearby Brighton. It is a very special and tranquil part of the UK to experience and visit.
The theme to my cottage is obviously a musical one, from my life long obsession with collecting vinyl and my career as a film editor and drummer. With over 500 l.p. records to access embracing all musical genres from Abba, to Frank Zappa and most Soul music, with pop classics in between from the 1980's there is something for everyone. There is wealth of more obscure artists in my collection also for guests to impress the most knowledgeable of music vinyl afficiados. I also have my drum kit on display for guests to enjoy playing or just to try out for fun !
My property is situated in the old historic Napoleonic Barracks of Waterloo Square and is ideally located being close to all local restaurants, pubs and local shops.
The host canceled this reservation 96 days before arrival. This is an automated posting.
Jean-Pierre
2016-05-29T00:00:00Z
Alfriston is a picture perfect village with some lovely pubs and cafes! Marks house is right in the centre of this beautiful little place- perfect to get out for walks and to stumble home from the pub! thoroughly recommend!
Talya
2017-01-22T00:00:00Z
It's was a very comfortable and interesting stay, with everything that you should need. also a really kind and jovial guy!
Lotte
2016-01-27T00:00:00Z
Mark was a great host - lots of fun to chat with and a great record collection! The town was adorable. Definitely take the chance to dine at one of the TWO pubs from the 1300's. Great proximity to the Seven Sisters and coastline. Also check out the nearby town of Litlington, which looks like nothing has changed in 900 years.
Jesse
2016-02-07T00:00:00Z
Mark's cottage is very cosy and is in the perfect spot for Alfriston's main centre. I was made to feel very welcome during my stay and mark is a very personable host.
Lyndsey
2016-03-06T00:00:00Z
This was our first Airbnb experience and did not know what to expect. Mark was a welcoming and friendly host. He was very generous in allowing us to go through and listen to his extensive vinyl collection whilst he popped across the road to play a little drums at the pub - any music fans will have endless fun at Marks place. We visited his cottage following a trip to the Seven sisters and Beachy head. His cottage is in an idyllic location within a stones throw from two pubs and lovely scenic walks. Mark was a great guy who loves his music and film and made us feel very comfortable and the type of person you could just sit and listen to over a pint or three. Thank you Mark for making us feel very welcome. Lee & Shyama
Lee
2016-03-27T00:00:00Z
Lovely cottage, nice room, very friendly host - we really enjoyed our stay. Thank you Mark.
Katy
2016-03-27T00:00:00Z
Tipe Kamar
Kamar pribadi
---
Tipe Properti
Rumah
---
Mengakomodasi
2
---
Kamar tidur
Alfriston, Inggris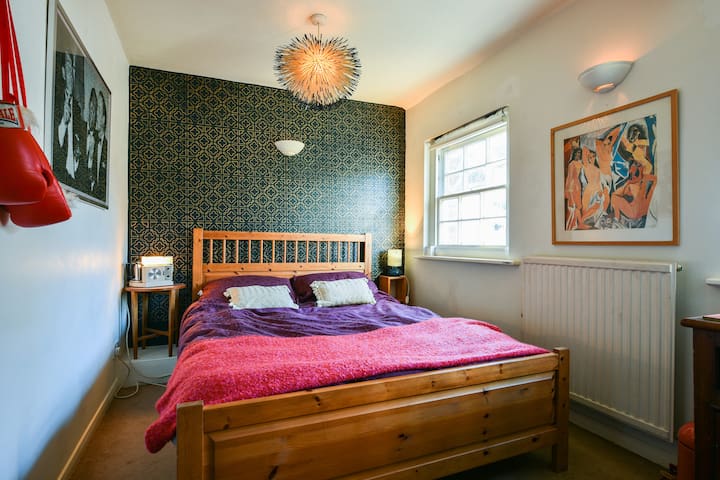 Notre chalet est niché dans le magnifique parc national de South Downs. Idéalement situé pour les randonneurs et les cyclistes. A quelques mètres le long de la route de campagne est une voie verte qui donne accès à South Downs. Nous avons poulets et des canards et aussi les chats domestiques.
Votre chambre est une bonne taille double avec salle de bains comprenant douche, lavabo et toilettes. Votre chambre dispose d'une vue sur le jardin.
Est un petit chiper hameau entre Wannock et Jevington. Le petit village de Jevington se trouve à quelques menuets en voiture le long de la route de campagne, il a un beau vieux pub appelé les huit cloches où ils servent une sélection de bières, ils offrent un bon déjeuner et un menu du soir, les dernières commandes pour la nourriture à 20h30. Continuez le long de la route et vous pouvez accéder au hameau de Crowlink avec vue imprenable sur les Sept Sœurs du village de East Dean se trouve à quelques minutes de marche de Crowlink il a une belle pub sur la place du village. écart Birling est un court trajet en voiture ou une belle promenade ou à vélo, où vous pourrez prendre des vues à couper le souffle, y compris Birling Gap avec vue sur la mer et magnifiques couchers de soleil. Eastbourne est une courte distance en voiture, il dispose d'une gamme de magasins, pubs et restaurants, la célèbre jetée et plus de plages. port de Newhaven à Dieppe dans le nord de la France est à environ 30 minutes en voiture.
Idyllic Location. Wonderful night's sleep. Mandy's good company too.
jim
2017-04-09T00:00:00Z
I felt very happy staying with Mandy and her human and animal friends and sad when I left. A very warm and friendly place to stay, so please do !!
Andrew
2017-03-17T00:00:00Z
Tipe Kamar
Kamar pribadi
---
Tipe Properti
Rumah
---
Mengakomodasi
2
---
Kamar tidur
East Sussex, England, Inggris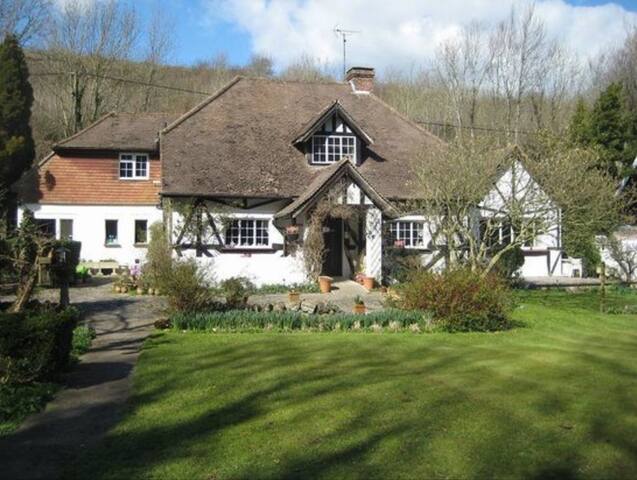 Tipe Kamar
Seluruh rumah/apartemen
---
Tipe Properti
Rumah
---
Mengakomodasi
6
---
Kamar tidur
East Sussex, England, Inggris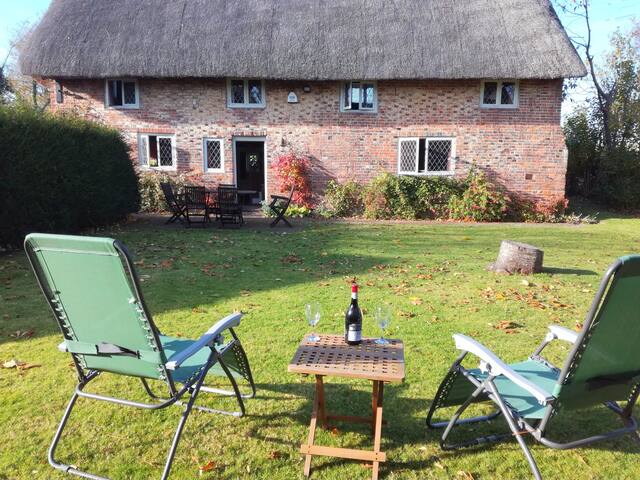 The Dene is perfect to escape with family or friends to beautiful Alfriston in the South Downs National Park, 2 miles from East Sussex coast. Private walled garden, lovely conservatory, wood burner with logs supplied, 6'6" beds, comfort and peace!
The Times described The Dene as a "comfortable Grade II listed house that sleeps 12" and the Daily Telegraph as "the ultimate festive house party". There are 7 bedrooms (5 doubles and 2 singles), 3 bathrooms, a lovely open plan kitchen and dining room, perfect for families and friends cooking and eating together. There's a beautiful walled garden and conservatory to relax in good weather.
Alfriston is a historic village, set in the lovely South Downs, granted a Royal Charter as a market town in 1406. It has interesting, independent shops (Much Ado Books, Steamer Trading cookshop), a lovely church ("the Cathedral of the South Downs"), The Clergy House (the first house bought by the National Trust, for £10!), two hotels, two pubs, a restaurant and several tea shops, so you are never short of eating opportunities! The Village Stores are open every day with excellent deli and basic provisions. Nearby are Drusilla's Zoo, Glyndebourne Opera House, Charleston Farmhouse, and of course the glorious walks in the South Downs and the fantastic chalk cliffs of the Sussex coast. Walk from the house to see the murals in Berwick Church (45 mins), the "smallest church" in Lullington (20 mins), the Long Man of Wilmington (45 mins), or just to one the many pubs in walking distance.
What an amazing house! Beautifully kept with everything we needed for our stay. The rooms are great sizes and the living space is gorgeous. Michael was a wonderful host responding to queries quickly. I'd love to stay again should we be returning to Alfriston.
Becca & Jeremy
2016-03-26T00:00:00Z
What a beautiful home. Michael made us all feel so welcome and was so helpful. We all had a wonderful time, wish we could of stayed for longer!
Tina
2016-02-16T00:00:00Z
Immaculate house and private pretty garden. It met all our requirements and we all have great memories of our stay. The welcome cake was very much appreciated.
June
2016-06-07T00:00:00Z
Michael was an absolutely fantastic host. He did not give us the pressure of unpacking with him there, but he gave us an hour or so before he came and knocked, and welcomed us. He gave us a good explanation of the area, and pointed us towards some great little places in the village to visit. The home itself was phenomenal - luxurious is the word to describe it. With classic decor, exposed wooden beams, traditional furnishings and an incredibly well equipped kitchen, we wanted for nothing. The bedrooms are an excellent size, with the emperor beds being the real selling point in this regard. The garden is beautifully well kept, and the conservatory/sun lounge was fantastic. This was where we hung out most, even though it was a cloudy day. Parking is ample, and there is another road on which you can park for free if needed. 15 mins drive from Seven Sisters coastline, there is no reason not to visit this and take in the stunning white cliffs. Excellent property and would definitely stay again.
Vithuran
2015-09-08T00:00:00Z
Lovely place and made to feel very welcome - even down to a lovely cake left for our arrival. Beautifully appointed house in a gorgeous village. I would recommend it to anyone.
Peter
2014-12-01T00:00:00Z
We were a group of 8 friends and 4 children who had the most perfect weekend staying at The Dene. From enjoying the weak late winter sun in the conservatory, to gathering around the cosy fire in the evenings, to sitting us all in comfort around a table set for a banquet the house offered a space for all occassions. Michael kept us informed at all times with email, text and useful documents, and the house was spotless on arrival. There were lots of little touches that showed real thought, from freshly cut flowers to a delicious cake left for our arrival. Really couldn't recommend more highly. Thanks Michael!
Mungo
2015-03-24T00:00:00Z
This was the perfect Airbnb experience. A stunning house that was very thoughtfully and meticulously prepared by a responsive, professionally organized, and accommodating host. All in the heart of a gem of a village! 5 stars
Chrysanthi
2017-01-06T00:00:00Z
Beautiful house, ideal for groups. Charming house. Done up to a high spec. Cute village on your doorstep, with amenities if needed. Would highly recommend
Ben
2017-01-15T00:00:00Z
Tipe Kamar
Seluruh rumah/apartemen
---
Tipe Properti
Rumah
---
Mengakomodasi
12
---
Kamar tidur
Alfriston, East Sussex, Inggris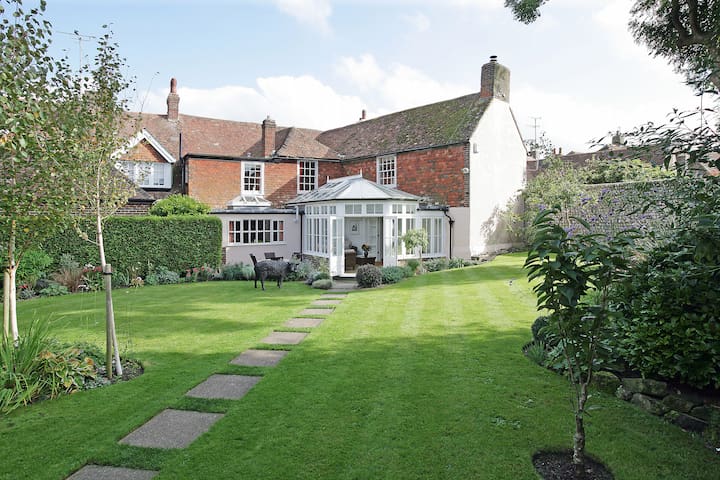 (URL HIDDEN) Quinticetally Engels, dit prachtige huisje ligt in het hart van het kleine dorp van Wilmington. Een tuimelen van balken en gezellige hoekjes, het beschikt over twee Inglenook open haarden met houtkachels en een Aga in de keuken. 3 minuten wandelen naar het dorp pub - of een wandeling van 15 minuten over de velden aan de andere kant, kunt u een bezoek het mooie dorp Milton St of Alfriston - met zijn fijne reeks van tearooms, dorpswinkels - en heerlijke lokale hotels,
Is het hele huisje.
Mooi rustig dorp met weinig verkeer. Gastvrije pub 3 minuten lopen van het hotel serveert lekker eten
The host canceled this reservation 388 days before arrival. This is an automated posting.
Stacey
2016-08-30T00:00:00Z
Cosy cottage that is great if you have children (2 years upwards) and a dog, as there is plenty of space to spread out and the garden is enclosed. Lovely aga oven too.
laira
2017-02-14T00:00:00Z
This is a very old, magical house. It is furnished like a real home, rather than a holiday home, which contributed to the enjoyment of our stay. Because it is so special, I have ticked the box for "high end" but that doesn't mean that the white goods, for example, are high end. They are normal, some would say slightly old fashioned. But the house is unique. We had great fun trying to find all the bedrooms and bathrooms, which was not straightforward! We spent 4 days as a 3 generation family, ages 2 to mid 60s and were all comfortable and felt very at home. Tall people will have to learn to duck or have painful experiences, but that is normal in this age of house. Communication with the owner was excellent, replies always within 5 minutes. Our deposit was returned within a couple of hours of leaving the house. It's a part of the world some of us knew well. Very beautiful, a huge range of walks (and pubs at the end of walks!) We would go back again like a shot.
Vanessa
2017-02-21T00:00:00Z
Tipe Kamar
Seluruh rumah/apartemen
---
Tipe Properti
Rumah
---
Mengakomodasi
8
---
Kamar tidur
Wilmington, Inggris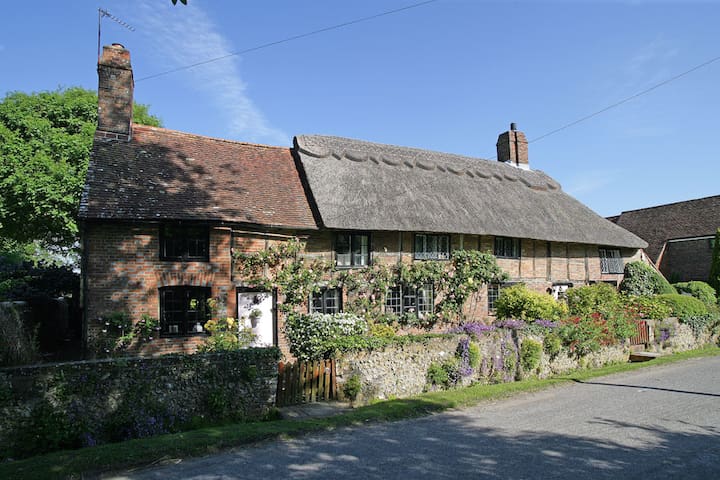 Schöne frei stehende einem Schlafzimmer Sussex Flint Scheune der Nähe von South Downs-Nationalpark und der beeindruckenden Long Man of Wilmington, ideal für Glyndebourne (18 Minuten). Wir sind in einer ruhigen Seitenstraße innerhalb von 20 Minuten zu Fuß von 3 Pubs & 2 Teestuben. Ein Schlafsofa ist in der Lounge 4 Gast zu ermöglichen, bis zu bleiben. Criss-gekreuzt mit Wander- und Radwegen zu Arlington Reservoir, Abbots Wood, South Downs Way, Alfriston und vieles mehr! Innen Fotos folgen Sanierung! Zusätzliche privaten Nebenraum zur Verfügung.
Tipe Kamar
Seluruh rumah/apartemen
---
Tipe Properti
Rumah
---
Mengakomodasi
4
---
Kamar tidur
Wilmington, England, Inggris
Malerisch, Flint Häuschen in der South Downs Nationalpark. Schöner Garten, mit wild lebenden Tieren im Auge gepflanzt. Die umliegende Landschaft ist atemberaubend, Friston Wald, der lange Mann von Wilmington, Beachy Kopf, Cuckmere Haven und Birling Lücke sind alle zu Fuß erreichbar.
Ivy Cottage ist sofort einladend. Es ist gemütlich und komfortabel und alt, so voll von skurrilen Charakter. Die Küche ist eine gute Größe, mit Aga, die das ganze Haus wärmt. Das Wohnzimmer verfügt über einen Holzofen und alten Ziegelboden. Das Badezimmer im Erdgeschoss hat eine gute Größe Bad. Der Wasserdruck sorgt für eine ziemlich kräftige Dusche. Im Obergeschoss befinden sich zwei geräumige Schlafzimmer, geräumig und komfortabel. Qualität Bettwäsche. Draußen ist der Garten mit Wildtieren im Auge gepflanzt. Es gibt etablierte Blumenbeeten, Gemüsebeet und Teich. Die Libellen tanzen und die Schwalben lehren ihre Kinder zu trinken. Die Fledermäuse kommen in der Dämmerung und die Insekten über dem Wasser schweben zu fangen ...
Jevington ist in einer unglaublichen Lage. Es wird von der schönsten Landschaft. Die Aussicht von oben ist atemberaubend. Die South Downs Weg läuft vor der Hütte. In wenigen Gehminuten ist da; Friston Wald, alte Schubkarren, Der lange Mann von Wilmington, Beachy Head, Burling Lücke, Cuckmere Haven. Die malerischen hinunter Land Dörfer Alfriston, Milton Straße und Litlington sind nur eine Stunde zu Fuß entfernt. Es gibt einige fantastische Pubs und schöne Teestuben. Jevington ist ein typisches altes Feuerstein-tastic hinunter Land Dorf. Es hat einen Pub, acht Glocken und Teestuben .... Es Drop-in an der Dorfhalle am Montag und Donnerstag Abend Yoga, 6,30-8.
It was absolutely wonderful staying in Jo's cottage! She was super friendly and took her time to explain everything...and the cottage itself was exactly as expected! The views are fantastic and there are a lot of great places to visit very close by. If you have a dog they will have a fantastic time too! We would be very happy to stay again.
Manuel
2016-11-06T00:00:00Z
We just loved Jo's place. It's a splendid jem in a wonderful location. Everything was just perfect. We have used the fireplace and that made our evening special. She also left breakfast for us. What a treat! Definitely coming back!
Elisa
2017-03-05T00:00:00Z
Jo's cottage is beautiful and comfortable. We had a lovely weekend there, and were able to walk to Beachy Head via the South Downs Way that is close by the cottage. Jo is very friendly and welcoming, and we enjoyed our weekend here.
Haley
2017-03-12T00:00:00Z
Jo was the perfect host making sure she was there for our arrival to talk us through the quirky bits. Fantastic cottage with plenty of character and great views. Would thoroughly recommend and will definitely be staying again. Thank you Jo!! All the best Tom, Emily, Sue and the hounds
Tom
2016-12-26T00:00:00Z
Didn't get chance to meet Jo but she took every care to make sure we were all sorted by message. Lovely cottage with great surroundings for walks and exploring. Great place to stay the weekend.
Ed
2017-02-27T00:00:00Z
A really gorgeous cottage surrounded by stunning countryside and close to the coast. It was great to get away from the daily grind in the cosy sitting room and sun drenched garden. Great facilities and would definitely recommend.
Julie
2017-04-09T00:00:00Z
We stayed at Jo's place for one night, Saturday to Sunday, but left feeling so relaxed as though we had been on a week-long retreat. The house is cozy, comfortable, and quiet, with a sunny garden facing a field where horses graze in the distance. The old country charm of the building is carefully and lovingly preserved... keeping the balance between old and the new. There are lovely walks that begin not more than 200meters from the house. A public bridleway takes you towards the Lullington Heath Nature Reserve. From there, you can explore the forest or stroll along fields. We took a 1hr walk down to the Chalk Cliffs - twice! The coast has stunning scenery, and the walk there was enjoyable even for my mom, who is 75 years old. The Eight Bells Tavern was a perfect dinner spot for us, serving food until late in the evening. Most importantly, Jo was welcoming, flexible with our departure time, understanding when things did not go exactly according to plan, warm and easy in communication, and a terrific host all around.
D
2017-04-02T00:00:00Z
yes
rosemary
2016-10-30T00:00:00Z
Tipe Kamar
Seluruh rumah/apartemen
---
Tipe Properti
Rumah
---
Mengakomodasi
4
---
Kamar tidur
Polegate, England, Inggris
Este es un lugar fabuloso para cualquiera que desee escapar por un tiempo. ... hermosa sinfín de campo .... caminantes, ciclistas y jinetes cielo! tiendas de productos agrícolas locales, pubs y jardines de té para súper alimento. Muchas atracciones turísticas maravillosas e interesantes si desean mantener ocupado ...
Se sentó a los pies del Parque Nacional de South Downs es Littlefield conjunto dentro de cuatro acres de prado salvaje. La tranquilidad es la esencia de esta zona, un lugar de gran belleza natural. Esta residencia de gran encanto rústico simplemente encaja armoniosamente en la localidad rural de Arlington. Hay dos bares locales a poca distancia y una estación de la línea principal 10 minutos en coche. Las ciudades costeras de Eastbourne (20 minutos en coche y 30 minutos en tren) y Brighton (25 minutos en coche y 30 minutos en tren) están muy cerca. Londres es un viaje en tren 1,5 horas de distancia. Lugares de interés se encuentran en abundancia; el Parque Nacional de South Downs, Michelham Priorato, abades de madera, El Hombre Largo de Wilmington, Arlington embalse y Beachy Head, por nombrar sólo unos pocos. Charleston Granja, que alberga el conjunto de Bloomsbury, está a 5 minutos en coche, monjes House, el hogar de Virginia Woolf, a 20 minutos. Si usted disfruta de campo pie y en bicicleta, esta ubicación sería su medida ya que la casa tiene acceso directo a una herradura y una diversidad de senderos. Littlefield ofrece tanto un buen acceso a los servicios locales todavía puede sentir maravillosamente remota y pacífica. A un costo adicional, estaremos encantados de proporcionar el desayuno y el té de la tarde por favor pregunte para más detalles. El dormitorio tiene una cama doble y está situada al lado del cuarto de baño que tiene el uso exclusivo de. set de té disponibles en la habitación.
Rural, apacible pero a poca distancia de los servicios ... pubs locales, pueblos y lugares de interés.
Suzanne welcomed us warmly in her lovely house. The bedroom and bathroom were very nice and clean. One small critic to the house would be the poor sounds insulation of the bedroom and bathroom.
Eugenie & Dipesh
2013-12-02T00:00:00Z
Lovely house, friendly people & we felt very welcome.
Gemma
2016-08-22T00:00:00Z
We had a lovely stay at Suzanne's place - beautiful house and surroundings and we felt very at home straight away! Suzanne was even kind enough to drive us to the wedding! I would thoroughly recommend staying here.
Netta
2016-07-11T00:00:00Z
My only complaint is that the photos and description can't fully illustrate what a welcoming and warm host Suzanne is, and the loveliness of her home! We had such a lovely time with her, chatting and also enjoying her must-try breakfast. Even Lobo (the family dog - hope I spelt it right) was extremely friendly, like his family! It would have been perfect if we had driven - but we enjoyed the walks around.
Xian
2013-10-28T00:00:00Z
Suzanne was a great host. Her home was beautiful, peaceful and a great place to spend a quiet few days in the countryside.
Mishari
2016-08-16T00:00:00Z
Our stay with Suzanne was fantastic. She was very flexible as we ended up checking in later than planned due to travelling issues and even dropped us to our event locally when a taxi was unavailable. The room and bathroom was beautifully decorated and very clean. Suzanne and her husband along with their wonderful dogs were incredibly welcoming and a delight to spend time with. The breakfast we were given on Sunday morning was outstanding all served on the deck of their beautiful land. I would highly recommend a stay with Suzanne and we will definitely be considering coming back again soon!
Kelly
2016-06-27T00:00:00Z
Suzanne and Robin's house is so lovely! Beautifully designed by themselves and filled with hand painted furniture. The breakfast was delicious and we thoroughly recommend it! The three courses are more than enough to set you up for a long day of walking. We were even given a hand drawn map to help us on our way around the South Downs. Would love to revisit this great house in such a beautiful area. Rich and Nikki
Richard
2016-08-07T00:00:00Z
Suzanne was a great host and made us feel very welcome. The location, room and experience was as described and expected, very enjoyable
Jackie
2015-08-30T00:00:00Z
Tipe Kamar
Kamar pribadi
---
Tipe Properti
Rumah
---
Mengakomodasi
2
---
Kamar tidur
Arlington, East Sussex, Inggris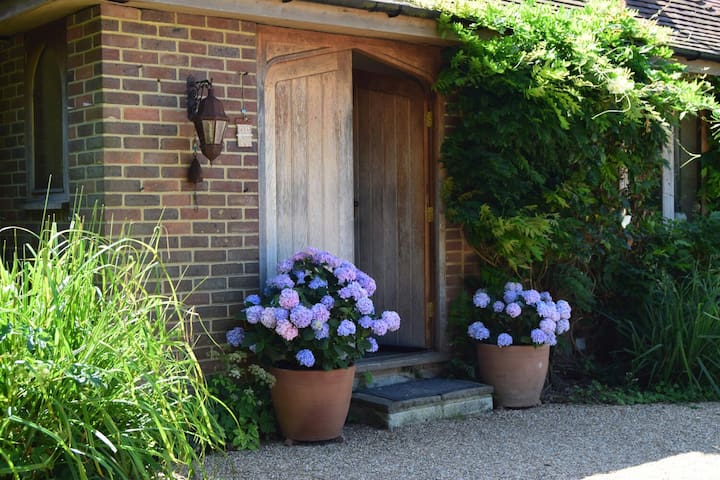 Backing on to the South Downs near to the famous Seven Sisters National Park. 2 rooms. 1 with double bed and 1 with 2 singles. Rooms next to each other and stair gate at top of stairs. Sole use of large family bathroom. There is zero light pollution too. We are 20 mins from Falmer station for access to the Amex stadium.
Room with Double bed. Views over South Downs from window. Other room has 2 single beds. The rooms are next to each other and there is a stair gate at the top of the stairs. There is a log cabin in the garden to use for socialising.
Near the sea, Seven Sisters National Park and historic village of Alfriston.
Darren and Jane made us very welcome, we were treated like friends from the moment we arrived. They have good local knowledge and helped us with our walking route planning. We were sent text messages pre-arrival advising us of the time we could arrive and recommending nearby restaurants. The house is lovely; very comfortable, clean and inviting. Breakfast was freshly cooked for us. We would have no hesitation in recommending the accomodation.
Andrew
2016-09-05T00:00:00Z
super accueil , a pris soin de nous, nous étions à vélo, sur la veloroute paris londres, merci à vous 2, reviendrons avec plaisir
jean marc
2016-06-01T00:00:00Z
It was a pleasure staying at Darren and Jane's, the house was spotless and they are such a lovely couple. The view from the bedroom is stunning, specially when the sun is setting. Perfect for a relaxing evening after walking the seven sisters.
Blaise & Melodie
2016-07-15T00:00:00Z
Darren and Jane were wonderful hosts. We got lost when we arrived and Darren came immediatly. The house was very nice, clean and the bedrooms very comfy. We enjoyed the garden and the neighborhood was really quiet, we had a great night sleep. Darren showed us where we could eat and they were both in general very welcoming. The location being very close to the Seven Sisters made the end of our journey perfect ! Would totally recommend !
Myriem
2016-08-14T00:00:00Z
Darren and Jane were so kind and helpful. Everything about our experience was incredible! Darren gave us so many wonderful suggestions about where to go and what to do, and even drove us to many of the places. I could not have imagined a better experience and I am so grateful to have stayed here and met these wonderful people.
Clara
2016-07-18T00:00:00Z
I feel welcome because Darren tried to contact us several times. The neighborhood where quit . Jane served a nice breakfast.
Merle
2016-07-20T00:00:00Z
We had a wonderful stay here in Seaford. Our hosts are genuinely bubbly and welcoming, and really made all four of us feel at home. The property listing is accurate, everything is new/refurbished and the living rooms are very spacious. I definitely recommend staying here!
Eoin
2016-08-30T00:00:00Z
After a long walk on the South Downs Way from Eastbourne we were welcomed extremely warm into this beautiful, cosy and super clean house. The owners are genuinely nice and very helpful. On the day of our arrival Darren offered to meet us and guide to their home, but we found the way by ourselves. In the evening Jane dropped us to local pub "Seven Sisters". The rooms are very nice - newly decorated and clean. Plus massive bathroom just for guests with shower cabin and bath. The night was very quiet, so I slept very well. Breakfast was super - fresh toast and scrambled eggs, cereal with milk, fresh ground coffee and juice. Altogether - very good place to stay. Do recommend this place to everyone! Thank you, Darren and Jane!
Rita
2016-05-13T00:00:00Z
Tipe Kamar
Kamar pribadi
---
Tipe Properti
Rumah
---
Mengakomodasi
4
---
Kamar tidur
Seaford, East Sussex, Inggris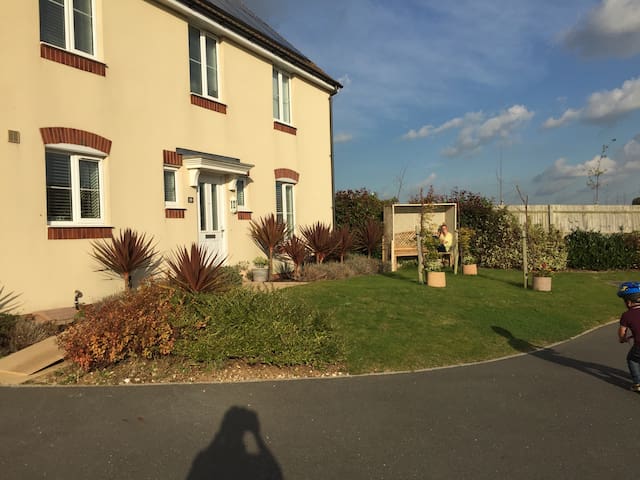 我们的小屋美丽的南方丘陵国家公园坐落。地理位置为步行者和骑自行车。沿着乡间小路有几米远,一个绿色通道从而到达南部丘陵。 我们有鸡鸭还家猫。
Tipe Kamar
Kamar pribadi
---
Tipe Properti
Rumah
---
Mengakomodasi
1
---
Kamar tidur
East Sussex, England, Inggris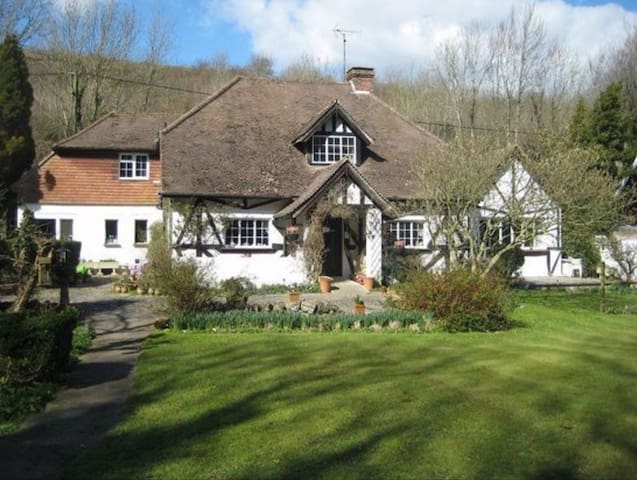 A large twin bedded room plus large ensuite bathroom(shared with other room) with views over the Downs. Room has tea/coffee making facilities plus TV and WiFi. Two comfortable single beds in a quiet location for a perfect nights sleep.
What can I say. It's a beautiful area suitable for a weekend break from cities or a longer holiday with more time to explore the countryside, the sea, the history, the culture! The walking is varied from seafront, cliffs, downland trails and forest.
The peace and quiet and the fact that you can walk or cycle for miles and only meet a few people. Also if you crave the theatre, pubs, restaurants or shopping there is plenty of that as well. In fact there is so much to do in this area I can't list it all.
La urbanización es muy bonita y tranquila, buen nivel social
anne
2015-08-08T00:00:00Z
Staying at David's was great! Clean room, confortable mattress and an awesome breakfast! The garden is breathtaking ! We would come back
Elena
2016-05-30T00:00:00Z
David was very welcoming and helpful. Good location on the edge of town and country. Very clean and high spec accommodation. Great breakfast.
Dave
2016-04-18T00:00:00Z
David is such a lovely host; he has offered to pick us up from the station, drove us to town, offered advise of the local area and how to best go about the coastal walk to Eastbourne and made us simply amazing breakfast in the morning!!! The room was spacious, clean and cozy; the house was warm and very quiet. We would definitely come back! Thank you David!!!
Anja
2016-09-04T00:00:00Z
We had a wonderful stay. David was very welcoming and even gave us directions to the local pub (where we had a delicious meal by the river). The whole set up was spotless. The bathroom was modern, clean and had a beautiful big shower. Breakfast was bountiful and David even catered for me as a fussy vegetarian. Beds were comfy and all in all a lovely place to be. Thank you David.
Alex
2015-06-09T00:00:00Z
David was the perfect host! He is a very friendly Gentleman in a beautiful, lovely home. He is cooler than Robert De Niro, wiser than Yoda, and he cooks nearly as good as my mom. :) Jokes aside: I recommend to everyone. Thank you very much David!
Kósa
2016-02-15T00:00:00Z
너무 좋았습니다. 그리고 숙소 주인이신 David씨도 상당히 친절하셨고 가는 동안에 풍경들이 눈을 뗄 수 없을정도로 환상적이었습니다.
동빈
2015-08-03T00:00:00Z
We booked out both of David's rooms and had a truly great stay. David is a fantastic host - very welcoming. The rooms were spotlessly clean, spacious and comfortable. Breakfast was generously portioned and the whole experience was top-notch. If you are in the area, absolutely make this where you stay!
Zoe
2015-06-29T00:00:00Z
Tipe Kamar
Kamar pribadi
---
Tipe Properti
Rumah
---
Mengakomodasi
2
---
Kamar tidur
Seaford, Inggris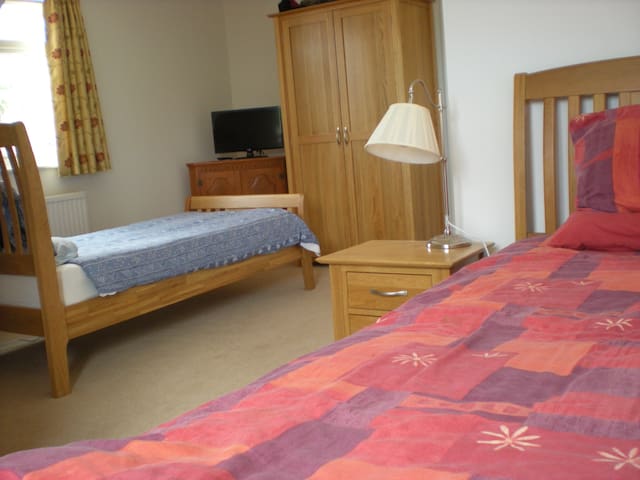 それサウスダウンズ国立公園の遠大な景色とリラックスし、ホームステイのための完璧な場所作り、ちょうど町の外Laburnums B&Bへようこそ。ウィは歩行者、自転車、ビジネス旅行者のための、またはイーストボーンの近くの町で伝統的な海辺の休日のための理想的な場所です。有名な灯台とビーチーヘッドを訪れ、素晴らしいセブンシスターズ白亜の崖を歩きます。周囲の美しい村や観光スポットを訪れたり、ブライトンへのコースターバスに飛び乗っ。
私たちは、理想的には、イーストボーンの美しいビクトリア朝の海辺の町から3.4マイル(5.4キロ)に位置しています。見事な海岸を楽しみ、田園地帯にのみ0.5マイル(0.8キロ)の距離にあり、徒歩でLaburnumsから簡単にアクセスでき、新しいサウスダウンズ国立公園を歩きます。 ウィリンドン村の3パブがあります。これらの最寄りのは、ちょうどトライアングルで角を曲がったところである英国の女王です。トライアングルのその他の施設には小さなスーパーマーケット、郵便局、カフェや化学者が含まれます。 より広い面積は、行うにはたくさんのことでいっぱい1066城、博物館や美術館を発見し、賑やかなソブリン・ハーバーの雰囲気に浸るか、ビーチーヘッドやイーストボーンの賞を受賞した公園や庭園で景色をリラックスしてenoyされます。 お楽しみのすべてについてはイーストボーンの2劇場があると周りの4マイル(6.4キロ)離れたソブリン・ハーバーでのマルチプレックス映画館がある必要があります。 イーストボーンはまた、毎年多くのイベントにホストを果たしているが、最も人気のある6月、Airbourneにおけるエイゴン国際テニストーナメント、フリーエアショー毎年8月、10月のイーストボーンのビール祭りです。 その他の見どころには、次のとおりです。 Alfristonの中Drusillas動物園パーク(5マイル/ 8キロ) ルイス近くブルームズベリー・グループ/チャールストンファームハウス。 (8マイル/ 12キロ) 多くのナショナル・トラストのプロパティは、より広いエリアでもあります。
Thanks again Susan. really handy for last minute booking. and we love the location for our project we are working on. over all a good few weeks in and out of Susan's home. all my colleagues enjoyed the experience :)
emma
2016-08-11T00:00:00Z
Susan and Trevor were very welcoming and the room was clean and very comfortable. The bathroom was spotlessly clean with a basket of toiletries provided - and a lovely shower/bath. They had thought of everything possible to make our stay as enjoyable as possible. The breakfast was delicious, with cereals, fruit, yoghurt and toast and the wonderful touch of hard boiled egg, ham and cheese. There was an impressive choice of speciality teas and very tasty fresh coffee. Susan and Trevor were lovely to chat to. In fact, we were very sorry to leave!
alison
2016-08-07T00:00:00Z
We stayed with Susan and Trevor for one night. They made us feel very welcome! The room was clean and comfortable with tea and coffee making facilities available and the bottles of water were a nice touch as it was so hot! The bathroom was spotless! Breakfast was delicious and served at a dining table which was a nice way to chat to the other guests and our hosts! Would have no hesitation in staying here again!
Karen
2016-08-29T00:00:00Z
Chaleureux accueil et hôtes aux petits soins, comme à la maison . Susan et Trevor sont adorables et prêts à donner tous les bons conseils pour visiter cette belle région. Thank you again
myriam
2016-07-20T00:00:00Z
It was a very well run and a beautifully laid out house and the hosts were perfect and made us feel welcome and at home. The breakfast was exactly what we needed with a nice spread of continental food stuffs. If I'm ever in the area again, I'll be calling up for another booking!
Nathan
2016-06-06T00:00:00Z
It was a wonderful travelling. Trevor and Susan are very very nice. The home was very clean and comfortable. The breakfast was awesome!! Everything was perfect! It is definitely a place worthy to stay. I strongly recommend it. Thanks for everything again!
Patrick
2016-05-02T00:00:00Z
The room was very clean - new carpets, new pillows, mattress and duvet. Everything was spotless. They even have a kettle, coffee, tea, biscuits inside the room and complimentary bottled water! Bathroom was also new and spotless! Susan and Trevor offers continental breakfast with the room price which made it a real gem! The little details inside the room (visitor booklets, tourist information, taxi calling cards, etc) were impressive. Would definitely stay with them again! Thank you very much for being such wonderful hosts!
Sam & Johanna
2017-04-09T00:00:00Z
Lovely hospitable and welcoming people, extremely clean room and facilities, breakfast was lovely. Very close to everything. Would recommend without a doubt and would stay again if the need arose.
Louise
2016-08-14T00:00:00Z
Tipe Kamar
Kamar pribadi
---
Tipe Properti
Rumah
---
Mengakomodasi
2
---
Kamar tidur
Eastbourne, East Sussex, Inggris
Situé dans un village image parfaite, cette ancienne grange est idéale si la recherche de la campagne britannique. Avec la forêt à votre porte, stationné entre Eastbourne et Brighton, du vélo dans les bars, vous aurez tout ce que vous devez vous entoure.
Grange convertie au coeur de la forêt Friston, situé dans le parc national de South Downs. S'il vous plaît ne jetez un oeil sur les liens dans notre guide, vous montrant les attractions populaires à la fois ville et de campagne, y compris les villages locaux et les attractions populaires de Glyndebourne, Lewes et Brighton. Les plages de Birling Gap, Seaford, Eastbourne et Brighton sont entre 10-45 minutes. Nouvellement décoré, nous avons ajouté quelques photos amateur et l'espoir de le montrer dans sa gloire appropriée avec de meilleurs bientôt! Cette spacieuse maison est parfaite pour sortir à la campagne ou si la recherche d'une courte pause loin de l'agitation de la vie quotidienne. Pour les actifs, il y a une abondance de sentiers de vélo de montagne dans la forêt, avec vélo installations de location seulement 7 minute à pied; beaucoup de grands sentiers de randonnée sur le chemin South Downs entourant la forêt avec une belle vue sur la mer, avec la mer juste un cycle de dix minutes à travers le parc national Seven Sisters. Randonnée à vélo, canoë-kayak et l'observation des oiseaux sont des activités très populaires ici, mais si vous souhaitez rester à proximité de la maison de la forêt met à la porte et il est chemin populaire est un jet de pierre de la propriété. Plusieurs pubs de campagne et tea-rooms sont dans les villages environnants, y compris Alfriston, Litlingon et East Dean. Si vous souhaitez équilibrer le pays vivant pour le week-end, à la fois Eastbourne et Brighton, plein de restaurants, pubs et bars, sont facilement accessibles par les transports publics, les détails dont nous avons préparé pour vous dans notre livre d'or sur la propriété pour inclure bus, trains et taxis. À L'INTÉRIEUR En bas: Hall d'entrée avec un espace pour des bottes et des vestes boueuses; Grande cuisine avec barre de petit déjeuner sociable et des sièges (y compris four, plaques électriques, micro-ondes, etc.); Les portes en verre mènent dans un grand salon salle à manger ouverte / avec un grand poêle à bois à côté de la table à manger; Un aspect triple salon avec grande cheminée, parquet en chêne, grand mur monté télévision à écran plat, à la fois avec un lecteur DVD et des disques. Les portes coulissantes en verre donnent sur une zone pavée à côté de jardin; Aussi pour l'utilisation est une buanderie avec machine à laver, l'espace pour sécher les vêtements, plus une toilette et un lavabo. En haut: Il y a une chambre à coucher principale sur deux niveaux avec salle de bains (douche, baignoire et wc) - s'il vous plaît noter que la mezzanine est un plafond bas tel que photographié, et est accessible par un escabeau sécurisé où les enfants DOIVENT utiliser avec la surveillance et les adultes avec soin - il est extrêmement sûr et sécuritaire. Il y a ensuite trois autres chambres doubles partageant une salle de bains familiale (douche, baignoire, wc); S'il vous plaît noter que l'utilisation du lit au sein de la mezzanine est comme sur la photo, un niveau supplémentaire dans la chambre principale, accessible par le blanc construit en marches en bois qui sont fixés. Que ce soit l'accès par des enfants ou des adultes, nous vous demandons de le faire avec soin. À L'EXTÉRIEUR Un grand jardin avec pelouse clôturée avec des pommiers fixés directement dans les environs de la forêt; Coffre-fort de stationnement hors rue pour facilement trois voitures, jusqu'à six, mais cela va bloquer l'entrée et donc besoin de se déplacer à votre guise; Garage verrouillable disponible sur demande.
Situé dans le pittoresque hameau au sein de la forêt Friston et les South Downs, c'est un endroit calme et paisible entouré par la forêt. Parfait pour les pays pacifique promenades et / ou explorer les sentiers locaux de vélo de montagne qui traversent la forêt; cycle de seulement 15 minutes de la mer.
The cottage is absolutely beautiful, and it a wonderful location. Sissi and her family were very accommodating and helpful throughout. Would love to come back again x
Faye
2016-02-14T00:00:00Z
If you need to escape the city this place is the one! There were 10 of us and we went to eat drink and do some country walking. I cannot recommend this place enough. There is an open fire and a large kitchen for the chefs out there. It's only and hour an a half from London but it feels you like you have been transported. The rural countryside engulfs you and we were so sad to leave. It's the kind of place you always want to stay just one more day! Will definitely try and return when I get a free moment!
Natalia
2016-12-29T00:00:00Z
This house is gorgeous inside out. It is charming, cosy and spacious. Situated in quiet village its a great escape from the city and perfect for a weekend getaway with enough space not to be on top of each other. There was a group of 10 of us a dog and a new born baby and it was a great size house for us all. We loved it. Sisii is a wonderful host and answered all our questions and was available all weekend if we needed any help. Would definitely recommend and we'd all like to go back!
Preet
2016-12-18T00:00:00Z
We had a great weekend here. The house is ideal for large groups especially those wishing to cater for a large number. We found everything we needed plus more - flowers on arrival, basic food items to get started, a kitchen full with all equipment. The house was clean, light, characterfully decorated and overall beautiful. Everything we could have desired! A perfect country retreat.
Holly
2016-10-11T00:00:00Z
The house was a brilliant location for a woodland walk and perfect for a country getaway. If you have a group of 10 people then this is perfect. All beds are double beds so if you don't mind sharing with your friends then it is perfect. Forest is pretty much at the end of the drive so easy access to there, there are also a few pubs nearby for a great sunday lunch. In the dark the house is quite difficult to find, as it is located up the hill above lower and upper barns. (being middle barn you would think it would be in the middle!) Overall a great weekend away, thank you!
Ellie
2016-10-23T00:00:00Z
This is a fabulous house, in a truly beautiful setting. Sisii and her aunt were really thoughtful with fresh flowers everywhere and fresh good and drink to welcome us. The house was clean and welcoming with everything that we needed. My only disappointment was that we did not stay long enough! We will definitely come back here. Can also recommend the pub in the next village. Fantastic stay. Thank you.
Sharon
2016-04-04T00:00:00Z
The house was wonderful. Very relaxing living area and have kitchen, and a beautiful location with walks on the doorstep. We had a very small wedding celebration there, with 9 of us staying for the weekend and a handful more coming for lunch and we had plenty of space. Just pefect!
Tammy
2016-09-19T00:00:00Z
We had another wonderful weekend at Sisii's house. The location is brilliant - an easy train ride or drive from London, and within walking distance from the beach. There's loads of space for a group or adults and sitting in the garden in the sun is pure bliss. The village is gorgeous too with lots of lovely walks nearby. We'll be back (again!)
Alice
2017-04-09T00:00:00Z
Tipe Kamar
Seluruh rumah/apartemen
---
Tipe Properti
Rumah
---
Mengakomodasi
10
---
Kamar tidur
Westdean, Inggris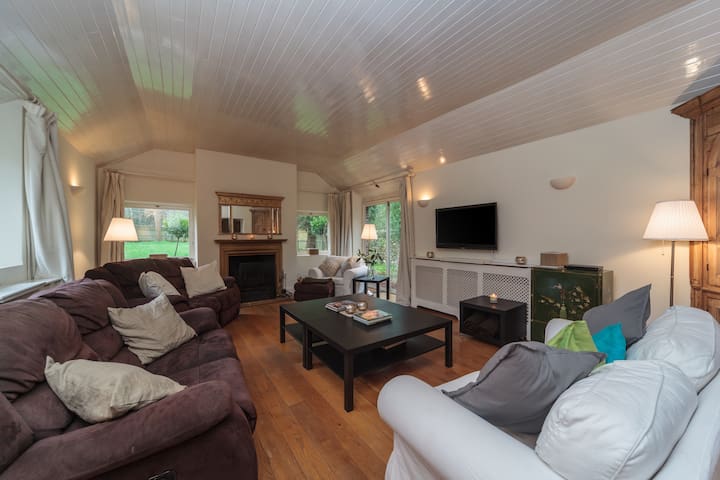 Tipe Kamar
Seluruh rumah/apartemen
---
Tipe Properti
Rumah
---
Mengakomodasi
4
---
Kamar tidur
Exceat, England, Inggris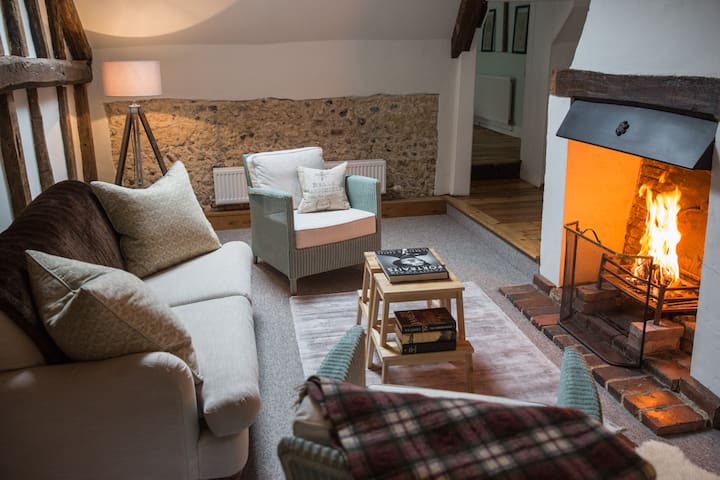 1

–

18

dari

62 Sewa Rumah
Masukkan tanggal untuk melihat harga lengkap. Biaya tambahan berlaku. Mungkin dikenakan pajak.