Masukkan tanggal check in Anda dalam format hh-bb-tttt
Masukkan tanggal check out Anda dalam format hh-bb-tttt
Tempat yang bisa Anda pesan tanpa perlu menanti persetujuan dari tuan rumah.
Masukkan tanggal untuk melihat harga lengkap. Biaya tambahan berlaku. Mungkin dikenakan pajak.
Juli dan Agustus ini, Anda dapat mencoba menginap di salah satu dari 100 rumah berperingkat tertinggi, pada semua rentang harga, dan nikmatilah sudut pandang warga lokal di Sonoma. Fitur check-in 24 jam, Pemesanan Instan, serta anggur dan camilan lokal membuat Anda dapat bersantai dan menikmati perjalanan.
If you are looking for a quiet place, far from everyday life where to "unplug" and enjoy nature between mountains and meadows, this is the perfect place for you.
The apartment consists of a large kitchen, a double bedroom, a room with two single beds and a bathroom with shower. Guests have access to the entire apartment independently, with surrounding garden and free parking spaces.
A wonderful quite place in gorgeous mountains. Very well equipped and enough space to unpack and unwind. Lots of maps and guides at hand. Andrea met us with a fantastic cake and coffee, really great. My only recommendation is clearer directions to the place. But once you find it the first time it is easy to find. Would highly recommend
Tony
September 2015
Abbiamo soggiornato in cinque nell'appartamento i primi di gennaio. Ottima accoglienza da parte del proprietario e disponibilità per gli orari: a noi ha fatto comodo con i bimbi poter arrivare e ripartire ad un orario comodo per noi. Consiglio l'esperienza a chiunque voglia fare una piccola fuga dalla città. Bel lago nei dintorni, ottimo per passeggiate.
Irene
January 2015
io e il mio fidanzato siamo stati qui lo scorso weekend. Eravamo alla ricerca di una casa che ci permettesse di immergerci nella natura e la casa di Andrea ha fatto proprio al caso nostro. Lui è sempre stato molto gentile e disponibile con noi. La casa era pulita e c'era tutto quel che può servire. Speriamo di ritornarci. Valentina e Daniele
Valentina
February 2016
Dejlig kælderlejlighed med alt i udstyr. Fantastisk område med den lille sø Lago di Cei og flot natur. Flotte vandremuligheder i området. Et dejligt sted uden mange andre turister. Meget fin info og anvisninger af Andrea. Ville gerne have kunnet tale italiensk, så vi også kunne kommunikere med resten af familien.
Jørgen Saaby
July 2015
Se volete svegliarvi col canto degli uccelli e il profumo di prati e boschi, nella quiete più assoluta, questo è il posto che fa per voi. Il paesaggio è suggestivo e rilassante; in pochi minuti si arriva al lago, ma anche la città di Trento è vicina. La casa è accogliente, la cucina ben attrezzata, il giardino di pertinenza ideale per prendere il sole, leggere in pace o mangiare all'ombra di una tettoia. Andrea e la sua famiglia sono persone squisite, rispettose della privacy e nello stesso tempo accoglienti e generose: ci hanno coccolati anche con le primizie dell'orto del sig. Gino. E' stata la vacanza più rilassante e siamo stati molto bene: ci torneremo!
marina
July 2016
L'accoglienza di Andrea è stata ottima, ci siamo accordati sull'orario in funzione delle nostre esigenze e ad attenderci c'era una gustosa torta fatta in casa accompagnata da un buon vino. L'appartamento è esattamente come descritto, c'è tutto quello che serve e un bellissimo giardino, unica piccola mancanza per essere in Italia: non c'è il bidet. La località è perfetta per chi vuole pace e isolamento, non ci sono pericoli per i bimbi e la natura è splendida, inoltre in meno di mezz'ora si possono raggiungere le città Trento e Rovereto.
Erika
June 2015
Nous avons été très bien reçus, Andrea est très accueillant.
Cécile
February 2015
Ringrazio Andrea per l´ottima accoglienza, con un buonissimo strudel fatto in casa, subito ci ha spiegato come raggiungere le mete che desideravamo visitare. L´appartamento é ampio,pulito, ben fornito per cucinare, con un bel giardino esterno, uno dei migliori in cui ho soggiornato. La zona é molto tranquilla e rilassante, abbiamo visitato Trento,Rovereto, il lago di Cei e anche il lago di Garda. A 5 minuti c´é un supermercato ben fornito. Permanenza molto positiva.Ritorneremo sicuramente!
Matteo
July 2014
Tipe kamar
Seluruh rumah/apartemen
---
Tipe properti
---
Mengakomodasi
4
---
Kamar tidur
2
Villa Lagarina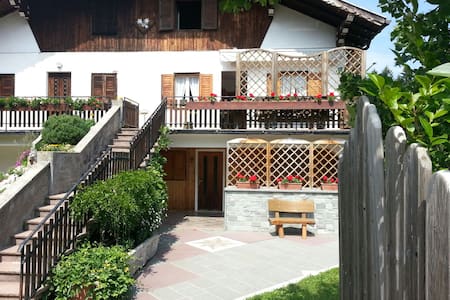 Beautiful and modern loft in a small village, ideal for mountain bikers and trekkers: half way between Trento and Riva del Garda, Lasino is an idyllic spot to explore the western part of Trentino!
A magnificent and recently renewed apartment, this loft, situated 20 minutes from Trento and 25 minutes from Riva del Garda, is an oasis of beauty and silence. Inundated with light it has a big kitchen and dining room, a bed room and a bathroom, also on the same level. A big and beutiful living area is situated in the attic. A little terrace is also part of the loft. A cellar is avaibale too if you need to store bycicles. Cars can be parked outside the house for free. Bedsheets, towels and a hairdryer are obviously at your disposal! I live in the same village, so i will be more than happy to assist you anytime.
A small and very atmosferic village, with little life but a typical and genuine alpine atmosphere. A supermarket and 2 bars are just 3 minutes from the loft. Castles, lakes, plenty of hikes, spas and obviously lake Garda, the Brenta Dolomites, museums, and much more! The loft can accomodate 2 to 4 people.
Alessandro's loft is an awesome place, and Alessandro is a top nice host - very aware how he could help us with tips and tricks. Even though he was not in the village when we came, he managed to be there the last day and even gave us a lift, because he knew that we had no car. All in all: a very nice Airbnb experience.
Louise
June 2015
Come al solito Alessandro è stato gentilissimo e prodigo di consigli su itinerari, luoghi e risorse per escursioni e serate. Se volete passare delle giornate rilassanti vi consiglio fortemente di fare un salto qui (da lui)!
Michele
July 2015
We spend a wonderful ten days in Alessandro's splendid apartment. Well equipped, beautifully decorated, comfortable and quite. We met Alessandro the night upon our arrival and found him to be a very friendly and enthusiastic host. He gave us a lot of tips for hiking in the environment and sites to visit. He also showed us the inside of a trunk (!) full of maps, folders, tourist guides etc. for us to use. Most of his suggestions we followed and found them worthwhile. So: thank you, Alessandro! An extra compliment for the great reading-lights next to the very comfortable chairs: it is our experience that these are very rare / absent in most houses we rented so far and that one has to do the reading at the kitchen- or dinner-table ... So thank you for that too, Alessandro!
Ed
October 2015
I had a fabulous time in the Alessandro's house. It's like a modern, artistic, and geometrical atmosphere as well as nice and calm. So that I could be relax and concentrate on doing Yoga and meditation session. That's fantastic. Besides, Alessandro is an excellent host. He has a special warm heart and a good sense of humor. He could help me evrytime I needed. My first inspiration was completely correct. I would like to visit Lasino and stay his house again. Ciao.
Yoko
September 2015
Wonderful loft with a lot of space and equipment. We like it very much. You can see the mountains from the windows. Nice kitchen and a supermarket steps away. Alessandro was nice, left us very tasty local wine
Neringa
October 2015
Es war einfach perfekt. Lage, Sauberkeit, Einrichtung und die unübertroffene italienische Gastfreundlichkeit von Alessandro. Wir würden jederzeit wieder kommen!
Verena
May 2015
Alessandro is the prototype of a kind and gentle AIRBNB Host. I rent apartments via AIRBNB quite often but Alessandro's home was the best place i've stayed at so far. The flat is very tasteful, you can see the love he put into every detail. Lasino is a place very near to Trento and Riva del Garda. We visited a lot of quiet and peaceful places due to the time of year. We had a revitalizing stay over the new year days. I can and do highly recommend this place to anyone looking for a good spot in the Trentino area of italy. We will most likely return to this place once more for the summer days. There is a little Coop store (supermarket) with parking spots right a few seconds from the apartment. You can find everything you need for an authentic italian dinner. Alessandro has a lot of directions and places in his welcome mails. You should go and check them if you find the time. If you think of a 5 star hotel in a private spot, this is it except you can prepare your breakfast yourself ;). I would give 5+ stars. This place is worth it...
Oliver
January 2016
After entering the flat you are feeling home!! It is, I would say, better than on the pictures.. It was really a great journey to Italy and its mountains. Thanks to Alessandro, he is perfectly available if you need informations or advices. We enjoyed our first airbnb experiences and will surely come back!
Marius
April 2016
Tipe kamar
Seluruh rumah/apartemen
---
Tipe properti
---
Mengakomodasi
2
---
Kamar tidur
1
Lasino
Il mio alloggio è adatto a coppie. Ideale per chi si vuole rilassare anche con passeggiate nei boschi che sono a pochi metri da casa. Vicino anche alle piste da sci per chi ha voglia di divertirsi in montagna, o a venti minuti dal lago di Garda dove si possono trovare parecchi borghi tipici per passeggiate.
Vicino c'è una fermata della corriera che porta sia a Trento città che al lago di Garda.
The host canceled this reservation 19 days before arrival. This is an automated posting.
Damiano
Tipe kamar
Seluruh rumah/apartemen
---
Tipe properti
---
Mengakomodasi
2
---
Kamar tidur
1
Stravino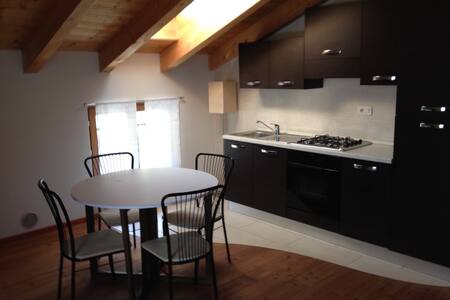 Within the B&B The Truffula Tree context, enjoy the peace and quite of this isolated house. Common areas include a large living room, play room, kitchen with dish washer, restroom. Enjoy the bio-garden, BBQ pit and the view over the Brenta Dolomites.
The bedroom has a nice big bed (180 cm large!) and a huge glass window with a view over the valley. The room is located in the first floor apartment (2 rooms available for rent) of a single villa sourronded by ¾ by the wood, and with an amazing view over the Brenta dolomites and the valley toward west (wonderful sunsets!) The rest of the apartment will be shared with the guests from the other room, whether present. There is the option also to rent the whole apartment. The apartment has a big kitchen with a dish washer feel free to use it to cook your meal. The big living room also is very luminous, ideal of relaxing moments. Available to the guests there are numerous books and booklets regarding the geography, culture and things to do nearby. The garden has many fruit trees and berries, everything is organic, and please feel free to help yourself to anything! I have a little swimming pool that can be put up if you are coming with kids, on request. Dogs are very welcome and are allowed inside as long they're house trained, but in this case I will ask you to rent the whole apartment for a little extra fee not to disturb other possible guests. In the garden there is a gazebo which is right in front of a BBQ pit, ideal for shade and sleeping out in nature. For those that care about the environment and their CO2 footprint, the house has an "Olle" (a traditional wooden fireplace) that warms up the entire apartment during winter. It also has a 14cm insulating coat, a new well insulated roof to keep it cool in summer and warm in winter. of course there's also a solar heating system for water, ! :-) You will have access to the whole garden, gazebo and the apartment on the first floor, including the balcony and the porch on the back. There are 3 small steps to access up to the front door. Within the garden there is parking directly in front of the house. I am working as a teacher, so I will be in and out the house depending on my teaching schedule. When I am present in the house (the flat above yours), I am very happy to interact with you and provide help. I have a German shepherd, a female, very sweet with anybody (loves kids). The entrance to the house is shared, then there are 2 doors that separate the 2 flats. In case I won´t be present in the house, my neighbours will take care of you. They are amazing caring people, they speak English and German. If you need help planning your stay, I will be very glad anyway to give you tips on things to do or see, especially tips on local climbing crags, hiking or restaurants. Just write or call me.
The town is also strategically located: in 25 minutes driving you can reach Trento, or lake Garda, or lake Lagolo. The neighbours are not too close, but in case of emergency, they are very giving and caring. Downtown there is a grocery store (COOP), a bank, a bar and even a hair dresser (although I never saw this last one open). There is a kindergarten too and a couple of areas for kids to play. As soon as you exit the house you can easily walk to the forest, and there are many hikes for all tastes! In winter I literally wear my skis on the front door and go ski touring from here! The town is also strategically located: in 25 minutes driving you can reach Trento, or lake Garda, or lake Lagolo.During summer the valley also organizes special free buses to reach the lake of Lagolo There are SO MANY things to do in the surroundings! Booklets with activities, local Food, history, geology etc are available in the house! At the moment, it is an ideal place if you are interested in Christmas markets, as it is located just in the middle between Trento and Arco. A great starting point for many hikes as well. The town is also strategically located: in 25 minutes driving you can reach Trento, or lake Garda, or lake Lagolo. There will be bed sheets and towels for the guests, we will discus their change. The breakfast is very simple (coffe, cereals, yogurt, milk, cake…) and I prefer leaving it in the kitchen/fridge, so that you can serve yourself whenever you wake you, take it in your pyjama if it pleases you. Personal preferences will be discussed before the booking, to make sure you will both be happy with the solution!
Tipe kamar
Kamar pribadi
---
Tipe properti
---
Mengakomodasi
3
---
Kamar tidur
1
Vigo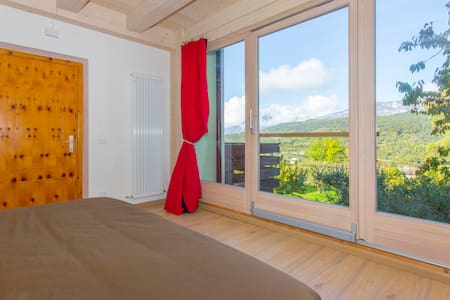 Within the B&B The Truffula Tree contest (2 rooms, this cozy room is ideal for those that want to sleep in. Guests will share the rest of the apartment, which includes living room with views over the Brenta Dolomites, kitchen, restroom and the garden
Tipe kamar
Seluruh rumah/apartemen
---
Tipe properti
---
Mengakomodasi
5
---
Kamar tidur
2
Vigo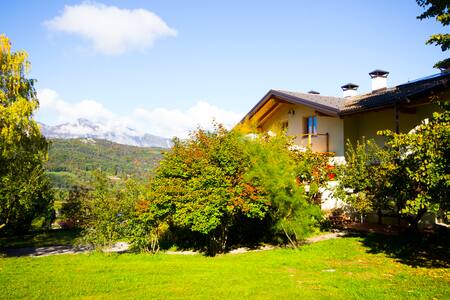 Vicino al mulino si trova un piccolo ma accogliente chalet, nido per due ma anche adatto a una piccola famiglia. Perfetto per una vacanza lontano dalla caotica vita quotidiana. Completamente arredato, immerso nella natura,e costruito con legno massiccio.
Tipe kamar
Seluruh rumah/apartemen
---
Tipe properti
---
Mengakomodasi
4
---
Kamar tidur
1
Province of Trento