Our Beatiful Home Placed In the Mountains of Corozal, Gives You a Perfect Ocean View. Yo will Be Able of Enyoing 10.9 acrees of Land in the Mountains For You with NO Neighbors arround!!! The Best Place To Have Peace and A Spiritual Retirment with the cleanest Fresh Air of the Mountains!!!
This Unique Space Will Give You the Best Private Experience ever!!! If You Come To Have A Peace Full Time of Retirment from the City, or If You Just want a Place Were You look To Have a Private Party With the Close People, JUST Count on It!!!
Neighbors are Not as Close as comonly We have Them But If their is any Need For Something they Will Be their For You!!!!
Tipe Kamar
Seluruh rumah/apartemen
---
Tipe Properti
Rumah
---
Mengakomodasi
4
---
Kamar tidur
Corozal, Corozal, Puerto Riko
Beautiful and spacious house, just steps from the beach, near restaurants, pharmacies, groceries stores, hospitals, and a lot of entertainment. Modernly decorated, comfortable to enjoy with family, friends or for honeymoon. Just 24 miles from San Juan, the Puerto Rico's capital. We speak english and spanish. Hablamos español e inglés.
You'll enjoy my place, that is a beautiful two story house with 3 bedrooms and 3 full bathrooms. Open floor plan. Completely furnished. Each room has air conditioner and a queen size bed. All of them are in the second floor. One of the bedrooms is a suite (has the bathroom inside). Excellent quality' bed clothes and towels, shampoo and soap. Laundry room with washer and dryer. Family room with a big screen TV (cable TV included), and a sofa bed. Big kitchen with granit counter top, stainless steel appliances, and kitchen's utensils. Big open terrace with a bar and furniture.
My neighborhood is a gated community with controlled access. Perfect for guests' privacy.
I can not express enough how wonderful Elayne and her parents were. The home is beautiful inside and out! The location is centralized which makes for a good travel location across the island if you have a rental car which is highly recommended. Elayne communicated before and throughout the entire vacation. Elayne's parents assisted us with finding the home and made us feel very welcome once we arrived! This was my first time booking Airbnb. It is going to be hard for anyone to top Elayne's place!
Tymia
2017-03-27T00:00:00Z
For us the location was very centric as we planned to visit the west side of the island as well as the east. The price for the amount of people this house could accomodate was a great price. Elayne has sweet parents that check you in, and recommend places nearby. The place is very secure, very quiet, and very close to a beautiful beach (cerro gordo). Thanks Elayne and familia!
dulce
2017-01-02T00:00:00Z
Although Elayne wasn't physically present, she had her parents there to greet us upon arrival. They were SO SWEET. The house was nice and comfortable, and the price was very affordable. I would love to stay here again.
Desiree
2016-07-04T00:00:00Z
Elayne was a great host. She had everything set up for our arrival. The house was even more beautiful in person. Elayne's parents are sweethearts. They will assist you with any need you have and if they can't they'll direct you. The house is about 35 minutes from San Juan, but the drive was worth it. 3bedrooms 3 full bathrooms and a great patio / terrace area with bar. Thank you for such a wonderful home.
Tennille
2016-08-21T00:00:00Z
My family and I had a great time in this property. Beds were very comfortable and the house was roomy. We were able to make great memories with the board games provided. Thanks again!
Sandra
2016-07-14T00:00:00Z
We had an amazing vacation. Elayne was wonderful and her father was so nice and showed us around the house and told us where the beaches were and local places to shop. The house was beautiful and clean and up to par. Easy to get to. We will defiantly want to stay again.
Diana
2017-02-19T00:00:00Z
Elayne's house was just as describe. Very spacious, clean, in a very quite neighborhood with a fully equipped kitchen and a great back yard. Very centralized area of PR, close enough to San Juan , and a short drive (maybe 5 minutes) to the beach. Elayne was very helpful and accommodating to a vey late check in and a vey early check out. Highly recommended!!!!
Omayra
2017-03-21T00:00:00Z
Great Place to stay had a amazing time with My close friends and lots of fun the area is amazing and very quiet and relaxing close to the beach & not too far from San Juan as well!
Jakeline
2017-04-03T00:00:00Z
Tipe Kamar
Seluruh rumah/apartemen
---
Tipe Properti
Rumah
---
Mengakomodasi
6
---
Kamar tidur
Vega Alta, PR, Puerto Riko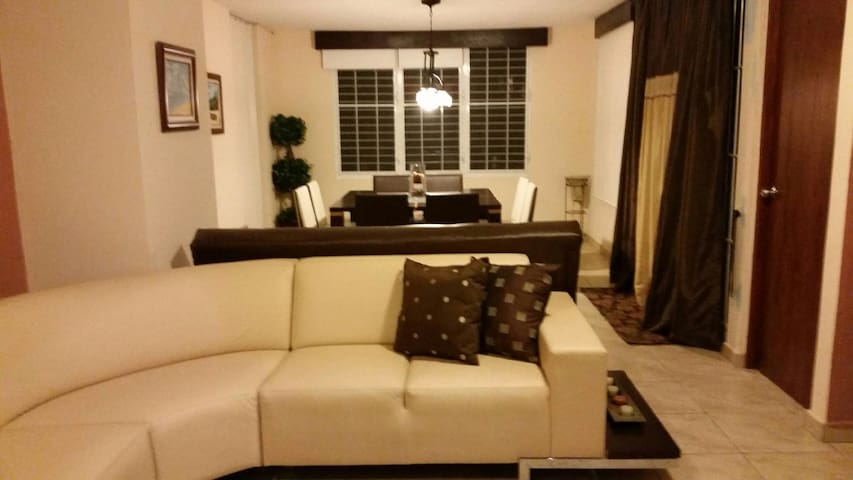 Entire house with 7 bedrooms with private bathrooms. Dining room with stove and refrigerator. Private pool, jacuzzi and kiddie pool. Sleeps 16 adults and bunk bed for kids. Sunday through Friday a must.
Pictures speak a thousand words.
Municipal conference center with stage and full kitchen for hosting business meetings, conferences and even private parties is located next to the house. The house sits on 3 acres with a private driveway and key card access. Restaurants nearby.
Tipe Kamar
Seluruh rumah/apartemen
---
Tipe Properti
Rumah
---
Mengakomodasi
16
---
Kamar tidur
Ciales, Puerto Rico, Puerto Riko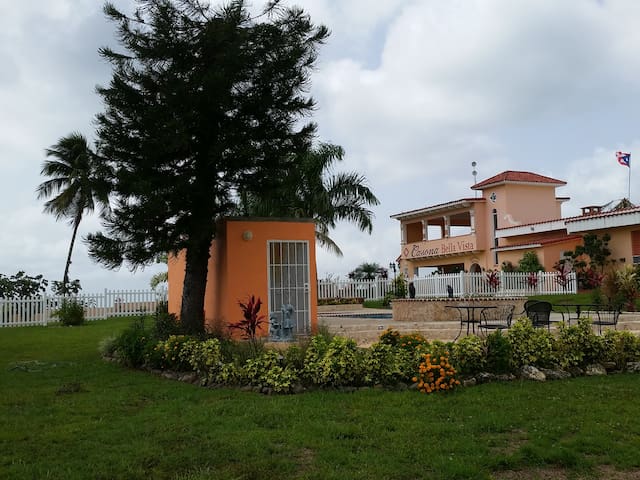 This cozy caribbean mediterranean style house is located in the beautiful town of Dorado, Puerto Rico. Close to pristine and even hidden beaches, golf courses, malls and minutes away from the metropolitan area. This house has 21 ft. atrium ceiling on the entrance and the living room, patio and garage for 4 cars and the gated community has 24/7 security surveillance.
***NEW ON THE MARKET*** Mediterranean house with up to 21 ft. ceiling height on the living area and the entrance, backyard patio and garage for 4 cars. The kitchen is equipped with refrigerator and stove. We are providing kitchen utensiles for your convenience. The living room is equipped with a 4K Smart TV with complimentary Netflix. Common areas and rooms are equipped with air conditioners.
Peaceful and family friendly community.
Tipe Kamar
Seluruh rumah/apartemen
---
Tipe Properti
Rumah
---
Mengakomodasi
6
---
Kamar tidur
Vega Alta, Dorado, Puerto Riko
Lugares de interés: playa dorado, hoteles y centros recrativos a menos de 10 minutos .. Te va a encantar mi lugar debido a las vistas, muy tranquilo, cómodo, la gente amable, y el ambiente agradable, cerca de 4 campos de golf.
Casa completa
cerca de campos de golf, playas hermosas y espectaculares
Frank Y Nancyswere very nice and friendly. They made our check in easier although we speak the different language. The place is definitely large enough for the family. They communicated with us frequently and response very quickly to make sure that everything is good for us. The location is great, is only about 20-30 minutes driving to San Juan. And it's a quite neighborhood but near Walgreens and CVS, and near some good restaurants.
Xing
2017-02-16T00:00:00Z
It was a good location, host was friendly and attentive, good.
Alex
2017-02-28T00:00:00Z
It was a true joy staying here.. I highly recommend this location and they're great hosts... had a wonderful time here..
Ray
2017-04-07T00:00:00Z
The host canceled this reservation the day before arrival. This is an automated posting.
Lifestyle
2017-01-22T00:00:00Z
Nancy was super nice and helped me to feel home
Giacomo
2017-02-21T00:00:00Z
Great people!
Robbie
2017-01-08T00:00:00Z
The host canceled this reservation 6 days before arrival. This is an automated posting.
fabiola
2016-10-28T00:00:00Z
The host was very kind and did her best to make us feel comfortable although we didn't speak any spanish. The location was good - close to the highway and many shops/restaurants. The place was very spacious and comfortable for 3 persons. Our only complaint - there was no hot water at all (the water heater kept turning off due to very weak electric power system in the house), so we had to take cold showers for 3 days.
Georgi
2017-03-18T00:00:00Z
Tipe Kamar
Seluruh rumah/apartemen
---
Tipe Properti
Rumah
---
Mengakomodasi
5
---
Kamar tidur
Vega Alta, Dorado, Puerto Riko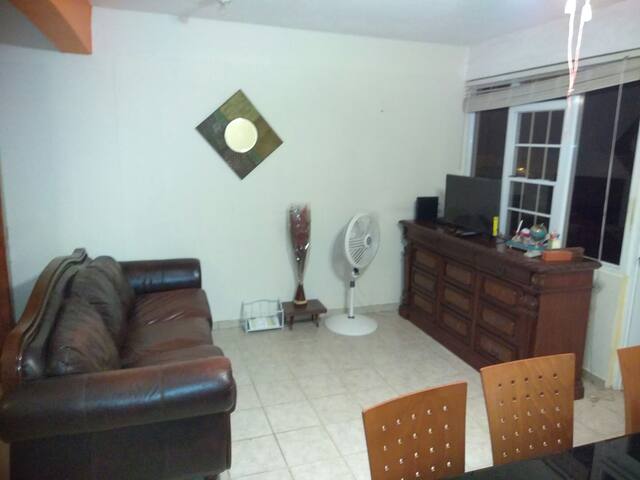 Located in the center of Puerto Rico (the island of enchantment) with a beautiful view of the coast of the Arecibo valley to San Juan, where you can observe the greenery of nature. Places of interest like: Aviles Museum, Restaurants: Toro Verde, Roka Dura, Vagoneando, among others.
Tipe Kamar
Seluruh rumah/apartemen
---
Tipe Properti
Rumah
---
Mengakomodasi
9
---
Kamar tidur
Orocovis, Puerto Riko
El desayuno y Paddle Board incluido en el precio !! Playas, surf, remo de embarque, pesca, restaurantes, todos a pocos pasos de distancia o hacia la derecha por la puerta! Te va a encantar mi lugar debido a la ubicación, la gente, el ambiente, la vista y el sonido del mar.
habitación privada con cama queen size, sábanas, edredón y almohadas. Un cuarto de baño con ducha en el primer piso también un baño adicional para el uso de arriba para evitar las situaciones de emergencia. El dúplex de color amarillo y melocotón, segunda puerta roja. El lugar no es muy lujoso, pero es un gran lugar y espero que os ofrezco un gran valor con todo lo que tenemos disponibles!
Playas, surf, remo de embarque, pesca, esquí acuático, lanzamiento del barco, restaurantes, todos a pocos pasos de distancia o hacia la derecha por la puerta !. Te va a encantar mi lugar debido a la ubicación, la gente, el ambiente, el espacio al aire libre, la vista y el sonido del mar. Hemos cerrado y aparcamiento en la calle disponible. Estamos en una calle privada con una estación de policía cercana en una zona segura gobernado por bellos caballos salvajes, también verá cangrejos, iguanas, lagartijas y otros animales salvajes mientras estás aquí. Tenemos acceso a la zona de playa privada si quieres bajo perfil, gran agua plana para el embarque de paddle, una gran zona de surf, y también una gran playa playa de Puerto Nuevo. Creemos que tenemos un lugar modesto en una ubicación millones de dólares, para decirlo mejor, debido a la posibilidad de acceder a todo tipo diiferent de agua para cualquier actividad que desee ese día !! Si no tiene equipo y está en un presupuesto que compartir y nuestra colección está creciendo. . Mi lugar es bueno para parejas y aventureros en solitario!
The place is like that of a hostel. The serene setting was perfect for me to arrive after 13 hours of travel. The beach is actually across the street, I did not even use the A/c because I could hear the waves pacifying sounds. I would definitely consider staying again. Michael is an excellent host, and always willing to help improve your stay.
Manuel
2016-11-21T00:00:00Z
Arrived late and did not get to walk around much before we left in AM
Liz
2016-12-15T00:00:00Z
Amazing location, right across from the sea, a walk away from a really nice beach. Mike was really hospitable, allowing us to use his paddle board, snorkels etc. Perfect location for exploring the coast. Highly recommend.
Carl
2016-11-14T00:00:00Z
Great stay. Host was very accommodating and friendly. Great host.
Xian & Joanna
2016-09-26T00:00:00Z
AWESOME!!! Beautiful beach just a short walk away! Wild horses walk past the house daily! Lots of wildlife! The hosts were great and took me to a local bar. Sit on the front porch and watch the waves roll in. l highly recommend this place. The hosts made me feel very welcome!!
Willy
2016-08-22T00:00:00Z
Michael was an excellent host. He made me feel right at home and took care of my every need.
Martin
2016-11-25T00:00:00Z
This was a fantastic location and a first trip to Puerto Rico for myself (jo) and my travel sista Leana! Steps from the ocean and walking distance to an amazing beach!! Michael was a fantastic host. From breakfast in the morning to introducing Leana and I to wonderful Puerto Rico attractions. Michael was great! We wanted to visit a decorated Vietnam Vetran Jorge Otero Barreto and Michael was able to help us find him! The view from the balcony was spectacular with beautiful horses literally walking around. The bed was comfortable and everything was clean. Michael offered to drive us to attractions and shopping even giving us a "tour" of Old San Juan. We stayed for a week, anything and everything that we asked michael was able to "make happen". Will definately stay here again when we return!!
brad
2017-02-21T00:00:00Z
It is a great location with a beautiful view, you see en hear the waves! Nearby is the wonderful Puente Nuevo, which I really like. The host was also very nice!
Mirella
2017-01-28T00:00:00Z
Tipe Kamar
Kamar pribadi
---
Tipe Properti
Rumah
---
Mengakomodasi
2
---
Kamar tidur
Vega Baja, Vega Baja, PR, pr, Puerto Riko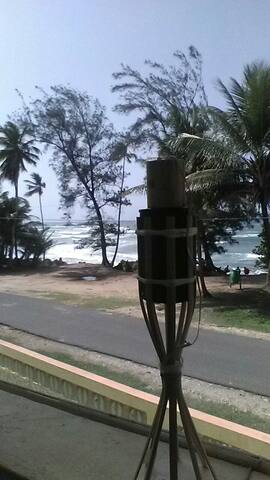 Our home is located in the peaceful center of the island with an amazing view to one of the island's biggest canyons. A very comfortable room with a king size bed and a full bathroom. Ideal for a restful retreat with nature.
We offer a nice and comfortable private room, with a king size bed, a private bathroom and access to our living room.
Our home is located on a very peaceful rural neighborhood. While most of the restaurants and locations are 10 to 15 minutes on car, we have convenience stores as close as 5 minutes away. Also, if hiking is something you enjoy, we can arrange a trip through the wilderness to a beautiful nearby waterfall! Our town is also known for our thematic restaurants including a renowned BBQ and a restaurant inside a "mountain lost" aircraft.
My husband, son, and I absolutley LOVED Arturo. He and his wife Magdalana were so kind and flexible. Their property has possibly the best view in the center of the island. It is absolute paradise. We enjoyed having wine with them on their back porch and star gazing as well as swinging downstairs in the forested backyard. We have already recommended them to friends who want to visit, soon. Lots to do nearby, and Arturo knows which cafes are best. They are lovely people who are warm, welcoming, and make you feel right at home. Also, their pets are fantastic! Cheers!
Rachel
2015-02-24T00:00:00Z
Amazing place to stay (the view is as good as it looks) with two wonderful hosts, who cooked us breakfast and made us delicious coffee. Thank you!
Sei
2016-09-11T00:00:00Z
We had an amazing time at Arturos house. The family is very friendly and helped us as much as possible to get around. The area is far off, so you need a car, but it's great! We would definitely come back!
David
2015-02-15T00:00:00Z
Since we didn't arrive til after dark and left fairly early the next morning, we didn't spend much time in the home, but it is a comfortable home with wonderful mountain view (just like in the photo). Our host was very welcoming and I'm sorry we didn't get to visit in the morning before we took off!
Carol
2016-02-04T00:00:00Z
Arturo's home was beautiful and relaxing. We enjoyed our stay in the mountains.
Selina
2016-06-23T00:00:00Z
I really enjoyed my brief stay at Arturo's in Barranquitas. He has been very helpful and responsive while communicating at a distance; he is a truly charming person. I had the chance to talk to him on a car trip to his place from Old San Juan. His family home is just as described, on an amazing location, with spectacular views over lush vegetation and inspiring coquis songs. I also took a ride on the swing located on the land below the house - spectacular! The room is very charming, with furniture hand-made by Arturo, with a huge bed and its own bathroom. I also met Arturo's youngest son - equally charming. I would recommend this place to anyone!
Giovanna
2015-06-01T00:00:00Z
The pillows were comfy, the bed was comfortable, Arturo and his family were very hospitable. They shared hiking tips and a relaxing place to stay. The home was cozy and clean. The views were beautiful and the drive to their home was scenic. Everything about this stay is where you should stay if you're visiting Barranquitas.
Carlos
2016-06-15T00:00:00Z
A second great night with Arturo! This is a wonderful place to stay that offers amazing views and great conversations! Please see previous review for more details.
Skylar
2014-12-14T00:00:00Z
Tipe Kamar
Kamar pribadi
---
Tipe Properti
Rumah
---
Mengakomodasi
2
---
Kamar tidur
Barranquitas, Puerto Riko
Quinta Montañar is a place to get away from it all, enjoy nature, breath taking views of Puerto Rico´s mountains, and feel as though you are on a retreat. 2 large bedrooms/ bathrooms, kitchen, living room & a balcony located on 144 acres of land.
Youtube video: (URL HIDDEN)
This is a truly unique place to stay, and we enjoyed it thoroughly. The view from Juan Carlos' home is breathtaking and we spent lots of time sitting on his very comfortable porch gazing out at the mountains and the changing sky. When we weren't sitting with coffee or a drink in hand, we were hiking the trails on the property, including to the beautiful Cialitos River and a waterfall. The porch is big enough to do yoga, which our daughter did a lot of there. And our son spent most of his time there in the comfortable hammock! Juan Carlos is very conscientious about being a host. He met us to make sure we could find the place, and made sure that we understood everything we needed to know about the house and the property. This was a great place for our family, including our two young adult children. Potential guests need to be prepared to walk a steep hill from your car to the house, about 100 yards. But it's worth it! And the lack of electricity added to the rustic and homey feel of the house. There was plenty of hot water for showering, and the stovetop and refrigerator worked fine. We are already fantasizing about a return trip!
Seth
2016-08-13T00:00:00Z
Incredible experience in the rainforest. The house had no electricity which i knew and was perfect. I recommend buying your food in town and cooking yourself. Great place to get away from it all. The view is exceptional. Juan Carlos is super nice and will make sure you are at home. Don't come here if you need tv/electricity or don't like hiking.
jeffrey
2016-04-21T00:00:00Z
We had the best weekend at Juan Carols's house in the mountains! The house was absolutely beautiful, with 360 degrees of beautiful views. Everything was exactly as described. You are definitely very secluded in this house! No electricity was not a problem as there were plenty of candles. We loved exploring the property, Juan Carlos gave us a great map of the trails and a machete (which was necessary to navigate some parts!) - we found the beautiful stream and waterfall. Although, we had some trouble finding some of the trails so didn't make it all the way. The front porch is the perfect place to relax with a book, bottle of wine, or the adorable chess set that is available for guests. It's a trek to get to the house itself, but we were prepared for this so not a problem. Definitely for the more "adventurous travelers"! :) We can't wait to return! The only confusion was where the house was actually located. The address listed on the website didn't match the house. But we gave Juan Carlos a call and he met us at a local restaurant (casa vieja - which was delicious!) and led us to the house, which was great.
Noah and Kelsey
2016-10-16T00:00:00Z
The house in Ciales was perfect. From the view from the windows to the hammock in the entrance, it was picture perfect. The trails leading out from the house were easily accessed. Our kids were very fascinated by the stars at night and the wildlife. We also got to impart on them an authentic family experience without the distraction of technology. The house was a perfect get away and I will definitely be coming back.
Jenny
2016-06-13T00:00:00Z
Carlos was very accommodating, he drove far to meet me and showed me to his house...the house is so peaceful and relaxing and spacious, perfect to get in tune with nature. Breathtaking views!
Jonathan
2016-05-03T00:00:00Z
Juan Carlos was a fabulous host and the property was incredible! Juan Carlos met us near to the house and drove us to the location. He also gave us a quick tour of the house and explained the hiking trails to us. The house was beautifully decorated and very nice! As the description states, it doesn't have electricity, but there are plenty of candles and battery operated lanterns. We really enjoyed our stay and hope to be back soon!
Sarah
2016-03-14T00:00:00Z
Juan Carlos's home in Ciales is heaven on earth. Not only is the home situated in a breathtaking locale, but Juan Carlos went the extra mile to make us feel at home. Needless to say, we really enjoyed our stay. The lack of electricity was not a problem whatsoever. Juan Carlos provided plenty of candles and lanterns for our stay. He also gave a detailed tour of the home and provided hiking directions (hiking to the pond was a highlight of our vacation.) Juan Carls is an excellent communicator and booking and making arrangements to the house was really straightforward. I recommend his home in the mountains highly. ;)
Anahi
2016-06-02T00:00:00Z
Juan Carlos's place is amazing!! Very secluded, some amazing trails to hike, and the home itself is breathtaking. Our only regret is not getting to spend more time here! Do yourself a favor and book this NOW!!
Liz
2016-04-09T00:00:00Z
Tipe Kamar
Seluruh rumah/apartemen
---
Tipe Properti
Rumah
---
Mengakomodasi
6
---
Kamar tidur
Ciales, Ciales, Puerto Riko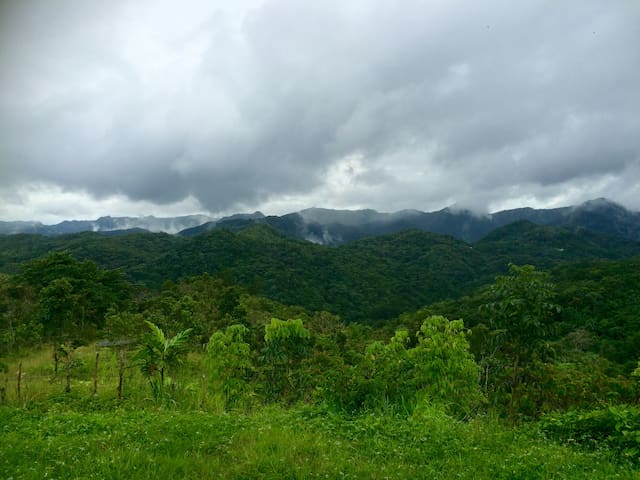 Maribel was a very welcoming and accommodating host in her cute home. It was a great launching point for outdoor adventures on the beach, rock climbing in Ciales, and in Vega Baja.
Katie
2017-01-03T00:00:00Z
Tipe Kamar
Kamar pribadi
---
Tipe Properti
Rumah
---
Mengakomodasi
2
---
Kamar tidur
Vega Baja, Puerto Riko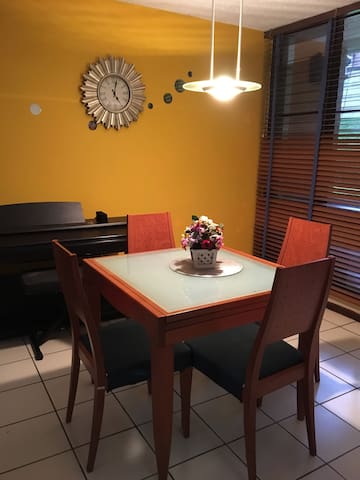 This private room is located nearby several beautiful beaches that are within walking distance. Beaches include La Poza de las Mujeres, Cueva las Golondrinas and la Esperanza Reserve. (URL HIDDEN)
Walking distance to the beaches.
Calm. Fresh.
Nice and clean place nice host in great area and peaceful place to stay and relax
Joel
2017-03-08T00:00:00Z
Excelente localizacion y precio....
Mareyda
2017-03-05T00:00:00Z
Good place to stay for the night. Right by an awesome beach to hike. Very nice lady. Does not speak English though.
jaclyn
2017-03-10T00:00:00Z
We had such a wonderful stay at Wanda's place. The home is absolutely beautiful with a lush, tropical garden and super clean, cute room. We met her whole family--mom, daughters, granddaughter, great granddaughter: her mom, who's lives on the property, cooked us some meals and was so welcoming and sweet even though we don't speak any Spanish and she doesn't speak any English. I was so touched by their kindness and thoughtfulness. Such a great location too, walking distance to some truly beautiful beaches. The only thing that keeps it from being a 5 star for me was finding the house. It was difficult to determine the correct address based on what is listed and the gps didn't quite get it right. It would be helpful to have clear written directions laid out before arrival. Thanks for everything!!!
Kiersten
2017-02-23T00:00:00Z
Wanda og and her family was very wlcoming. The room and the porch was nice and cozy. The breakfest served bye her kind mother was very tasty.
Nynne
2017-02-03T00:00:00Z
The most beautiful home in manatí! Wanda's mother is very welcoming and glad to help with any questions. The space was clean, quiet, and very green! I loved it and would definitely stay there again. I can't wait to go back.
Juliana
2017-03-04T00:00:00Z
This was such a beautiful home and we felt like we were apart of the family. I recommend everyone to stay. It is walking distance from the beach and the town is wonderful . Great places to eat including the food prepared by the beautiful mother of the host.
Todd
2017-01-24T00:00:00Z
Excellent place to rest, read... with a human touch
alex
2017-03-20T00:00:00Z
Tipe Kamar
Kamar pribadi
---
Tipe Properti
Rumah
---
Mengakomodasi
2
---
Kamar tidur
Manatí, Manatí, Puerto Riko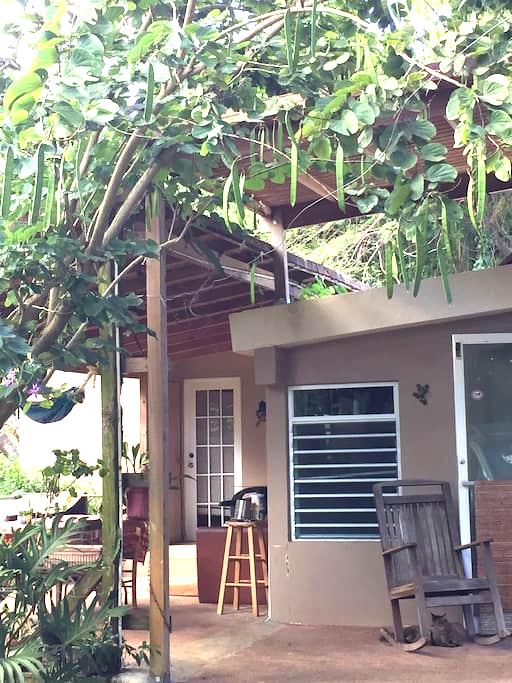 Minutes from Toro Verde Zip Park
Near Toro Verde Zip Park
Great location and price
Natalia
2016-10-19T00:00:00Z
You can tell that the owners of Hard Rok Village put a lot of time and effort into the resort. It was beautiful. The cabin was very clean and comfortable. The fans in the bedrooms were a nice plus. The pool was clean and refreshing. It was just minutes from Toro Verde and a restaurant. The restaurant was delicious as well. You will not be disappointed.
Stephanie
2016-05-25T00:00:00Z
Tipe Kamar
Seluruh rumah/apartemen
---
Tipe Properti
Rumah
---
Mengakomodasi
12
---
Kamar tidur
Orocovis, Orocovis, Puerto Riko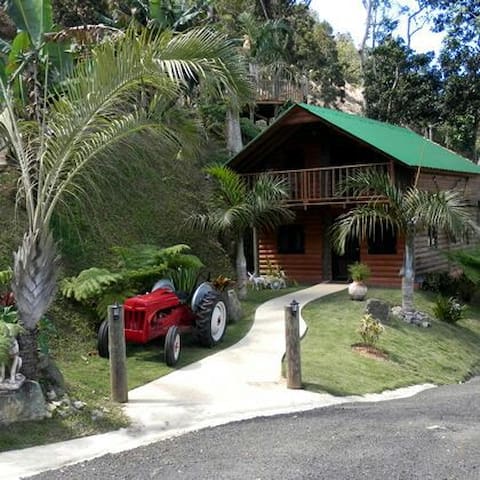 Diese 180-Grad-Blick auf das Meer Immobilie ist nur wenige Gehminuten vom Strand entfernt und mit einer ruhigen Umgebung und genießen Sie das Meer, während am Pool. Sie können Reiten genießen, Tauchen, Schnorcheln, etc. innerhalb der Umgebung.
Das Haus verfügt über 3 -Zimmer mit Klimaanlage und 2-Badezimmer, eines davon in der oberen Etage und eine andere auf der unteren Terrasse Ebene. Die Villa verfügt über einen dramatischen offenen Wohn-, Ess- und Küchenbereich mit großen Fenstern mit Blick aufs Meer und einen privaten Ozean vorderen Balkon, Terrassen und Pool. Ein perfekter Ort, um Sonnenuntergänge zu beobachten. Das Gerät ist in einem wunderschönen tropischen Stil mit karibischen Möbeln und Deckenventilatoren ausgestattet. Das Gerät ist komplett mit Bettwäsche, Handtücher, Geschirr, Besteck, Töpfe und Pfannen ausgestattet. Es gibt eine Waschmaschine und Trockner, und die Küche ist mit allen Geräten, einschließlich Mikrowelle und Eismaschine. Das Wohnzimmer und einem der Schlafzimmer verfügt über Kabel-TV. A 50 "High-Definition-Flachbildschirm-TV mit HD-Kabel-TV im Wohnzimmer und einem 32" High-Definition-Flachbildschirm-TV mit Kabelkanälen in einem Schlafzimmer. Am unteren Innen Terrasse gibt es einen Grill, Billardtisch, Domino Tisch und andere Tischspiele.
Die Orientierung Buch in der Unterkunft zu empfehlen unsere lokalen Favoriten Restaurants und Sehenswürdigkeiten.
Words cannot describe how beautiful Villa Illusion is. The pictures don't even do it justice. Fernando and his wife were at the house when we arrived and gave us a tour of the property. They provided key information about the area and told us we could use the coolers, towels, chairs, and anything we needed for the duration of the stay which was very useful. The beach at Mar Chiquita was the best one we found in the city of Manati. It was beautiful and most of the days had little huts with delicious food and drinks. It felt as though we got the real "locals" experience as opposed to staying near San Juan and that's exactly what we were all looking for. Everyone in the area was especially welcoming and friendly which was surprising considering they don't get a lot of tourists. All in all, this was the best vacation my friends and I have ever been on and we hope to be back. I definitely recommend staying at this beautiful property.
jennifer
2016-09-16T00:00:00Z
Our host was fantastic and the house was AMAZING. Upon arrival Fernando and Margarita greeted us and showed us around. They made us feel very welcome. The view from the house is amazing and the pool is a great size. The house had everything! Beach\pool toys, many kitchen items, more then enough beds, lots of space, games, parking for 4, rocking chairs for the fantastic view, etc The house is only a 5 min walk or 2 min car ride to Playa Mar Chiquita. Not too far from the home is a Walmart and many restaurants. The neighbors are great. No bad experiences here. Finding the location was a little tricky but Waze is the way to go. Avoid using (SENSITIVE CONTENTS HIDDEN) maps. Once we arrived it was easy to get to each and every time we went out. Fernando is very easy to access and very accommodating, if anything goes wrong, he addresses it immediately and makes it right. My family had a fantastic time and if we ever visit PR again, without a doubt I will be staying here. 5 stars!!
Bianca
2016-09-24T00:00:00Z
Everything about this beach home was wonderful! We loved our stay starting with the host Fernando & his wife who are super friendly & genuinely nice. The location is very central & easy to get to. The home is just like the pictures very beautiful & the view is beyond spectacular! You will not be disappointed & our family would definitely go back! The kids had a great time in the pool & playing pool. We barbecued on the large & clean grill. We visited both nearby beaches so beautiful & walking distance-we chose to drive since we have a little one. Grocery store 5 min drive, super Walmart 15 min drive. Costa Azul Restaurant 5 min drive & food was delicious! Thank you Fernando for sharing your beautiful home to our family.
Debbie
2016-07-31T00:00:00Z
A wonderful place for our two teenage girls, my husband and I to spend relaxing. Plenty of towels and toys to enjoy the beach and pool. Well equipped kitchen. There is a small grocery store right down the road and a Walmart and outlet shops not all that far from the house (10 minutes). Beautiful beaches are all along that area. Some are a little bit off the road and are a couple minute walk but many are right off the road. Our time there went by way too fast!
Toni
2017-03-18T00:00:00Z
Beautiful house with incredible view. The pool over-looking the ocean is gorgeous. The house is comfortable and has everything you need.
Cheryl
2017-02-19T00:00:00Z
Tipe Kamar
Seluruh rumah/apartemen
---
Tipe Properti
Rumah
---
Mengakomodasi
10
---
Kamar tidur
Tierras Nuevas Saliente, Manatí, Puerto Riko
Villa El Monte in the center of everything there is to see in Porta Atlantico.
Tipe Kamar
Seluruh rumah/apartemen
---
Tipe Properti
Rumah
---
Mengakomodasi
16
---
Kamar tidur
Vega Baja, Puerto Riko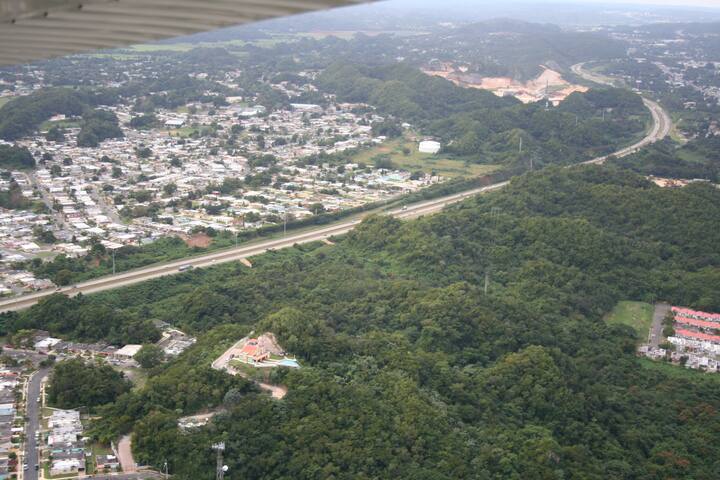 Stunning beachfront villa at Breñas Estates, Dorado. Breñas Estates is a small, gated and private beach community. Each house is a custom built home. Las Olas Villa is one of a kind beachfront home on one of the most pristine beaches in Puerto Rico. Two levels with amazing views! Nothing like it in Puerto Rico.
An exclusive beachfront, newly renovated (March - 2017) mansion located in a private, gated, quiet community called Breñas Estates next to the Dorado Beach Resort. This gorgeous villa not only has access to a private, pristine beach, but it also has it's own private swimming pool, perfect for a relaxing vacation under the sun! It's a 4,000 sq. feet custom built property with 4 bedrooms, 4.5 bathrooms. It has a modern fully equipped kitchen with top of the line stainless steel appliances and granite counter tops. An open space living area with stunning marble floors throughout the whole unit. This two story unit has breathtaking views to the ocean. The swimming pool is on a great outdoor space with a covered terrace. You will be able to enjoy every minute you spend in this beautiful house.
This is a private, gated community called Breñas Estates. Each house inside this community is a custom built home, nonetheless, they are beachfront properties that have access to a private, pristine beach. Property is great for couples, solo adventurers, business travelers, families (with kids), and big groups. By staying at this villa, you will experience the sound of the waves and the serenity of the beach.This is the perfect place to spend a relax vacation stay at the Caribbean.
Awesome experience. Beautiful home and views! They were very accommodating and understanding. Definitely looking forward to going back!
Judy
2017-03-27T00:00:00Z
Tipe Kamar
Seluruh rumah/apartemen
---
Tipe Properti
Rumah
---
Mengakomodasi
12
---
Kamar tidur
Dorado, Puerto Riko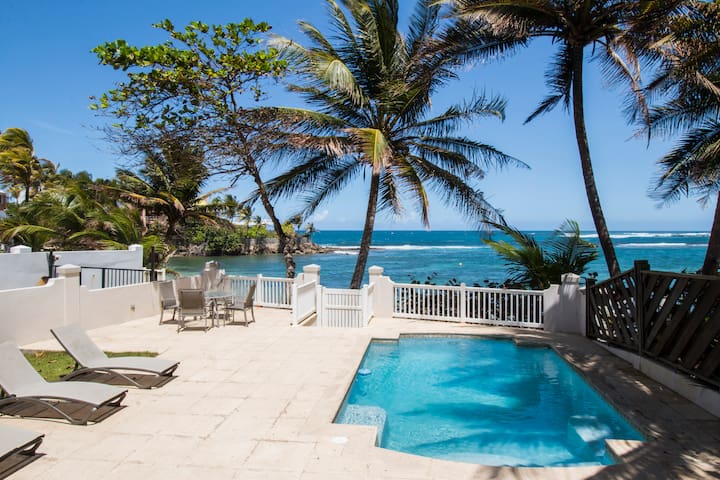 Vor dem Meer, stößt diese Eigenschaft den natürlichen Atlantik tropischen Riff mit Blick auf den Atlantik und Klänge durch die tropischen Mandel-, Seetrauben und Palmen. Der Strand ist Schritte vom warmen tropischen Atlantischen Ozean!
- Diese Eigenschaft hat ein Queen-Size-Bett, ein FULL (kleiner als die Königin), zwei Einzelbetten (ideal für Kinder) und ein Futon (auch für ein Kind). Die beste maximale Anzahl der Gäste, die bequem wahrscheinlich zwei Paare und zwei Kinder passen würde wäre. - Oceanside familienfreundliche Wohnung Gerät im 3. Stock mit offenem Dach, wo man die Berge im Norden und Ozean im Süden zu sehen. Das Hotel liegt am Nord-Zentral-Küste - eine ruhige Wohnkomplex weg vom Lärm und Party von San Juan. Perfekt für Familien oder diejenigen, die einen ruhigen Urlaub verbringen möchten. - 2 Balkone, die den Ozean Bäume und Pflanzen stellen. Sie können die Wellen den ganzen Tag hören. - 1 Meile von Los Tubos (Surfen / Schnorcheln), 1 Meile von der Vega Baja Strand, 5 Meilen von Laguna Tortuguero. - 35-40 Minuten westlich von San Juan auf Nord-Zentral-Küste. - Rauchfrei-Einheit - Das Rauchen ist auf dem Gelände nicht erlaubt. - Für vier Erwachsene und zwei Kinder bequem. - Schritte zu den Pools, Tennisplätze und Strand mit sicheren Tor den Zugang und natürliche Gezeiten-Pools. - Zwei Tennisplätze, zwei Basketballplätze und ein Beachvolleyballplatz, alle mit Nachtbeleuchtung. -Totally Ausgestattetes Fitness-Studio, Hanteln, Fernseher, Musikanlage und einen Außenbereich für Aerobic. - Verschiedene Kinderspielplätze im gesamten Komplex. * Schön angelegter, von Bäumen gesäumten und gut Grünflächen mit passiven Wandergebiete am Rande der Strand beleuchtet, ideal für Wanderungen geeignet, joggt, läuft oder für die Natur zu genießen. * 5 Minuten vom Surfen Lage, 5 Minuten vom offenen Ozean Schwimmbereich und eine geschützte Bucht - Hauptschlafzimmer Gesichter Strand Klänge und Ozean Bäume. - River Kayak (für Tortuga Naturschutzgebiet) - Zwei Parkplätze und so viele Parkplätze für Besucher - Eingerichtetes Wohnzimmer (einschließlich Kabel-TV, DVD und CD-Player / FM / AM Stereo) - A / C in allen Zimmern - bitte konservieren und in der Nacht nur verwenden. :) - Voll ausgestattete Küche mit Dienstprogramm (Kühl- / Gefrierschrank, Herd, Mikrowelle, Kaffeemaschine) - Waschmaschine und Trockner - Esszimmer - Master-Schlafzimmer mit Bad, Queen-Size-Bett, alarm- Radiowecker, A / C und Stauraum - 2 weitere Schlafzimmer, eines mit mit Königin und eines mit einem trundel Bett. - Voll ausgestattete Wäscheschrank: Handtücher und Bettwäsche-Sets - Fön - Ergänzende anfängliche Toilettenversorgung (Seife, Shampoo und Toilettenpapier) * Innerhalb einer bewachten Anlage mit kontrolliertem Zugang * 24-Stunden-Wachmann / Streifendienst * Coral und Gezeiten-Pool Zugang zum Strand. * SORRY, keine Haustiere - NICHTRAUCHER * Es gibt eine portable fach-up-Kajak auf dem Gelände, die 10 Minuten erhalten, um Tortuga Natur zu gehen verwendet werden kann - eine schöne Süßwassersee und den Fluss mit Hunderten von seltenen Pflanzen- und Tierarten. - 30 Minuten von Arecibo. 40 Minuten von den Höhlen von Camuy.
Wenn Sie sich für eine sichere, Wohnkomplex mit gesichertem Zugang gegen eine natürliche Riff, ein paar Meilen von einem Naturpark, Schnorcheln, Kajak fahren und laufen in der Mitte einer Stadt am Strand mitten in der lokalen Kultur suchen, ist diese Wohnung für Sie. Wenn Sie sich für den typischen Kreuzfahrtschiff touristische Klischee des Seins zu Fuß zum Einkaufen, Restaurants und andere alte Fort suchen, ist dies nicht für Sie. Mein Komplex liegt an einem natürlichen Riff bedeckten Strand, wo man Meeresschnecken, tropische Fische, Krebse und Seeigel, vor allem bei Ebbe zu sehen. Etwa eine Meile westlich ist Los Tubos, ein hervorragendes Surfspot und etwa 20 Meter westlich davon ist ein Bereich prime zum Schnorcheln und Tauchen, wo man Meeresschildkröten zu sehen, Stachelrochen, Barrakudas und tropischen Fischen. Eine Meile nach Osten ist ein riesiger Ursuppe geschützten Strand namens Puerto Nuevo, die von riesigen Kalksteinfelsen geschützt ist. Die Anlage selbst ist sehr schön und ruhig, außer für den Klang der Meereswellen. Die Wohnung liegt in einer kleinen Stadt am Strand mit einer Promenade, ein paar Restaurants und Einheimische Kokosnüsse und gefrorene Eis Getränke zu verkaufen. Sie MÜSSEN ein Auto mieten, aber einmal in bestimmten Bereichen können Sie sicher herumlaufen.
Our stay with At Jessie's place was one of our very best Airbnb experiences. Jessie responds helpfully and thoroughly to several texts we sent him; he was really most accommodating in all ways. His location west of San Juan was perfect for our type of vacation - away from the hassles of touris-jammed areas but easy to get to various locations of interest, some of which he recommended. The BioBay night snorkeling he suggested is not to be missed - an incredible experience! Check in and out could not be simpler and the condo itself is perfect - 3 great bedrooms, 3 baths, balconies everywhere and a wonderful rooftop patio. Stay here when you travel to Puerto Rico - you will be glad you did.
Richard and Nancy
2016-12-27T00:00:00Z
Jesse's Place is great. It is close to some good restaurants, a local beach, and a grocery store. However, If you want to experience the Island to its fullest, I recommend renting a car. We were able to go to Old San Juan, El Yunque rain forest, Arecibo, numerous beaches, and Vieques. I recommend hiking to the waterfalls and there is a river at the bottom with a secluded pool, which you can swim in, in El Yunque, bring water shoes, as it is rocky. Their is an awesome beach in Arecibo, which has a natural cove for swimming, and lessening the waves. And Vieques has a great beaches and the bio-luminescence bay which is pretty cool. If you are planning on going to the bio-luminescence bay make sure that there is no moon , it is cloudy or raining.
Ryan
2017-04-08T00:00:00Z
Jesse's place was just as described and we had a most wonderful stay. We flew to San Juan and rented a car. A very easy drive was what we encountered and a well managed & secure facility is what greeted us. We were able to easily navigate our way through security processing and found our way promptly to Jesse's unit. Keys were all in place and we settled in. After a great nights sleep we explored the beach & one of the two pools. Both wonderful assets to this property! My 12 year old daughter was thrilled to be collecting smooth sea glass in all colors in addition to shells of all kinds. I really got into the sea glass collecting myself. We did this for hours each day. The texture of the sand was tops. I bought coffee & used the drip coffee maker to have several cups of coffee each morning on a perfectly shaded balcony right off the living room. It was very private and provided soothing ocean sounds with peeks of the whitewater & waves through lush vegetation. A great way to start each day. The bonus of the beach is that there is ample shade if you want it thanks to the trees & vegetation. (no sunburn!) If you want full sun, simply move out of the shade. No need for beach umbrellas! The area outside of the complex has everything you need. Food, gas, snacks etc. You can (SENSITIVE CONTENTS HIDDEN) just about anything & find it. The drive will not be far or long at all for a CVS...Pizza...Smoothies...just about anything. Jesse was quick to respond to the very few questions we had since everything was so well described in Jesse's notes. He made us feel right at home as did the staff and others who we briefly interacted with. This is a mellow, low key place. Peace & quiet, a breathtaking beach and a warm crystal clear pool are the top things that come to my mind as I dream back on our stay. So glad we picked Jesse's place!
mark
2015-11-27T00:00:00Z
great place, well situated, with a very helpful owner, highly recommend, thanks ;-)
oliver
2014-03-04T00:00:00Z
Yes family and I stayed for 2 weeks the place was spotless very well Organized I loved it and anything I needed was a phone call away I would recommend this place it's great!!!!!!
Marilyn
2014-07-02T00:00:00Z
The listing was accurate and Jesse make his place easy to access.
Ryan
2016-01-19T00:00:00Z
This is a great place to stay if you want to experience all that "real" Puerto Rico has to offer away from tourists and resorts. The condo is located near fantastic beaches (for kids or more adventurous swimmers), and the complex has great pools, tennis, playgrounds, a running path, and a pretty, natural beach for walking and exploring. We bought food at the grocery store in town and prepared nearly all of our meals at the condo, which had a well-equipped kitchen. We went out dinner one night at Up, a local restaurant recommended by Jesse - it was kid friendly and food was good. The condo is simple but clean, spacious and comfortable, with two nice shaded decks for eating meals or sitting and listening to the birds and the surf. Jesse's place is a great find, and a great value, for an "off the beaten track" getaway.
Bonnie
2017-02-18T00:00:00Z
Excellent location at beach front so you can hear the waves but can't see the beach blocked by nature trees. Nice to walk on the private beach. Clean and safe community. Kitchen has good size but no dish washer.
qianqiu
2017-03-03T00:00:00Z
Tipe Kamar
Seluruh rumah/apartemen
---
Tipe Properti
Rumah
---
Mengakomodasi
5
---
Kamar tidur
Vega Baja, Vega Baja, Puerto Riko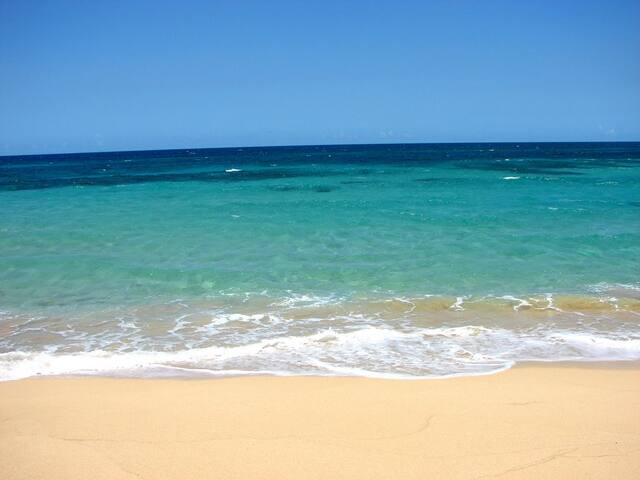 Casually, modern house located within the Dorado Beach Resort. The open floor plan of the house highlights a spacious kitchen, billiard room, and comfortable lounge areas. The rental also includes a 4 passenger golf cart and a 6 passenger golf cart to drive around the resort.
This is a 4,000 sq ft property with 3 Bedrooms and 3.5 Bathrooms. Each Bedroom has their own private bathroom, TV, and large closet. For your convenience, the living room TV is equipped with Apple TV allowing you to access Netflix, HBO Go, Pandora and more. There is also a relaxing interior patio that features a hammock chair near the kitchen area. The renovated kitchen is fully equipped including a multi-rack wine cooler, coffee maker, and formal dining set. There are high ceilings throughout the living area that features a billiard table and access to the patio. In the outdoor terrace, there is a full range gas barbecue, seating areas, and putting mat for golf. The house is conveniently located next to a neighborhood pool at Livingston Park (less than a 2 minute golf cart ride). Additionally, Guests can gain access to the Dorado Beach Resort & Club amenities by purchasing the weekly membership.
Enjoy a quiet, relaxing and unforgettable vacation in this comfortable villa with many amenities. Dorado Beach East forms part of the exclusive Dorado Beach Reserve Property that includes the Ritz Carlton Reserve and Plantation Golf Course amongst other areas. Specifically, this house is located near the north gate, close to the playground and pool area at Livingstone Park.
this is the best all time Air Bnb stay. Dream location, worth every dollar the house is bigger than what the picture shows. At this point if you are going to stay in this area you would make a mistake not staying on this property. If i could rate 10 stars i would.
Jose
2016-12-07T00:00:00Z
This was the best AirBnB experience I've ever had! I can't wait to come back!! It was the perfect Caribbean getaway! The house is beautiful, spacious, and inviting. And the neighborhood is absolutely stunning! The teenagers loved the pools and the beach, while the grownups relaxed and enjoyed this stress-free, tropical paradise... The host was amazing! She was there upon arrival and gave us a tour of the property. She was available by phone during our stay to help us decide what places to visit and where to eat. It truly felt like having a friend away from home! Bottom Line: I HIGHLY recommend Villa Stefania at Dorado Beach East! It was an amazing experience, and I can't wait to come back!
Christian
2016-10-09T00:00:00Z
Wonderful place and wonderful hosts. We spent 6 weeks in this house and loved every day of this trip.
Ilya
2017-02-17T00:00:00Z
Casa muy espaciosa y moderna. Excelente
Edgardo
2016-11-07T00:00:00Z
Very beautiful home. Amazing location. Responsive host. Big open floorplan. Dorado Beach location is first class.
Jason
2017-02-26T00:00:00Z
Beautiful house in an even more beautiful area and the best airbnb host ever!
Kristen
2017-04-02T00:00:00Z
Fantastic place! Very modern and spacey. My friends and I had a great stay. Great facilities as well. Estefania was also responsive and extremely helpful. The only down side is probably the location (a little far from Old San Juan), but besides that everything was great. Thank you so much Estefania and Marcia for making our trip a great one!
Nattanopthorn
2017-03-10T00:00:00Z
I would highly recommend this house for anyone staying in the Dorado area. It is situate in a beautiful neighborhood with access to drive around in a golf cart to beautiful areas including the ritz reserve which is a beautiful place to go to eat and play in front of a breathtaking view of ocean. The house is very modern , clean and overall super comfortable whether your a group of friends or family. Perfect location. Marcia is extremely attentive to all requests. You won't be disappointed with this cool pad in paradise .
Ronny
2016-11-19T00:00:00Z
Tipe Kamar
Seluruh rumah/apartemen
---
Tipe Properti
Rumah
---
Mengakomodasi
8
---
Kamar tidur
Dorado, Dorado, Puerto Riko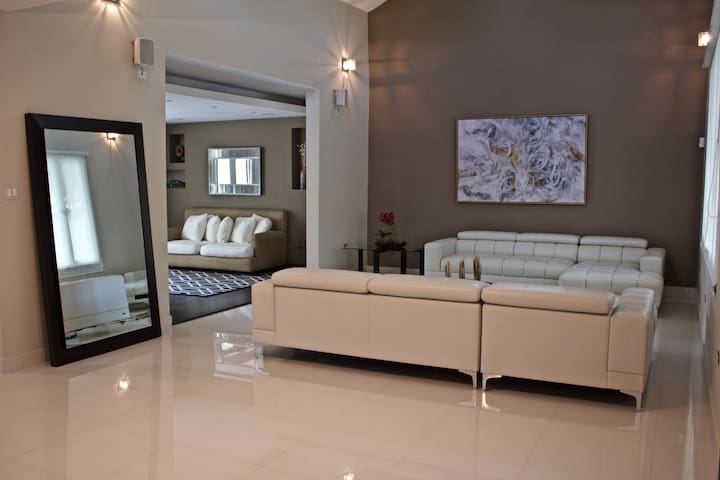 Located in Hacienda Margarita. This suite has a King Size bed, samsung 32" smart tv and free wifi. For food related issues a small refrigerator, microwave and coffee maker are available. For comfortability,the Suite has air conditioning and hot water shower. It also includes a open terrace patio overlooking east to the countryside valley. If theres any doubts about the room please send a message. For lengthy stay reservations, contact us for more info on long stay discounts! Thanks
Its located on a mountain top right next to our future restaurant and activity center.
Quiet rural neighborhood
We very much appreciated the hospitality, scenery and seclusion. Would recommend!
Corey
2017-01-24T00:00:00Z
Barranquitas surprised me I didn't expect so much beauty. Pure nature... Well now I can say it This will be a Priceless Hotel. i believe it. The Hacienda is secluded on the top of a wild hill. Breathtaking Panorama. Plenty of fields and plantations all around. Unique for natural lovers but even for who loves activities and sharing, there is a big pool, music, and not far from now there will be an whole Palace with panorama restaurant on top. Nevertheless you can still have your privacy. That is so important in my case. The host is completely involved in this project and he takes care personally  basically of everything. I felt that  Guests are not just a number they are welcomed and their necessity are respected and satisfied. Just ask if you need anything. prices are soo reasonable to be in the middle of Puerto Rico. But doesn't mean a lack of quality. Super comfortable bed, all the amenities you need, hot water, Wifi strong and more. I extended my stay I discovered the nature I like steps from here forests canyon and I enjoyed the sound of eagles flying so close. looking forward the rise of the Hacienda
Michela
2016-08-03T00:00:00Z
Good place close to the ruta panoramica. This place has a good view into the countryside with a nice sundeck.
Tobias
2017-02-09T00:00:00Z
Great location, nice, clean beach like unit in the center of down town. The city is empty at night. Really nice.
William
2017-04-02T00:00:00Z
Carmelo's place has a beautiful view on top of the mountain. It would be best to check in during the day, cause finding it gets very hairy with the lack of street names. But Carmelo has a great spot which is currently under development. We checked in a little bit after sunset 7/8 pm after driving all day it was hard to find but Carmelo was a good communicator on how to get there (look for Kia dealership) after a few abrupt u-turns to get there. It's far up in the mountains, your with the locals there are a few nice restaurants driving distance but again not too many tourists areas in the area. The room was as accurately described (king bed) with a beautiful deck view however... the tv didn't work, we couldn't even find a remote we tried to turn it on manually but it didn't work. Also there was no glasses or cups or ice in fact the fridge was not on at all which was kind of a bummer. We had been driving all day and just wanted to enjoy a drink and we asked Carmelo for cups and were given small styrofoam shot glasses which was a real let down. All in all decent stay (one eve) the view in the morning was beautiful on the sunny terrace. Tip: Your up in the mountains so just be aware of wildlife my bf went out to the car later in evening and thinks he may have seen a bob-cat (40 lb cat). Thank you for having us!
Valentina
2017-01-27T00:00:00Z
Excelent weather, superb sunrise, quiet place, nice terrace, clean pool and good neighborhood.
Christian
2017-01-20T00:00:00Z
Location is good if you want to get away from the "busy life". Did not stay here for too long but everything was clean and the view in the morning was nice! Friendly host
Zana
2017-03-10T00:00:00Z
The place itself was as described. Room was clean and spacious. The location was in the middle of the island, with breath taking views of the hills and country side. It was quiet and the staff was receptive to our requests (toilet paper, towels etc). It was quite a drive along winding hilly roads, but being equidistant to both sides of the island, it allowed us to explore mire of the island (which is what we wanted to do).
Florentino
2017-03-22T00:00:00Z
Tipe Kamar
Seluruh rumah/apartemen
---
Tipe Properti
Rumah
---
Mengakomodasi
3
---
Kamar tidur
Barranquitas, Barranquitas, Puerto Riko
1

–

18

dari

154 Sewa Rumah
Masukkan tanggal untuk melihat harga lengkap. Biaya tambahan berlaku. Mungkin dikenakan pajak.