Sebuah rumah dengan pemandangan danau, juga Mt.Batur dan Abang views.Perfect untuk tinggal selama satu atau dua malam sebelum treckking. Ini sesuai dengan beberapa, keluarga atau kelompok kecil.
Satu kamar tidur besar dengan satu tempat tidur dan dua single bed, bisa menerima empat orang dan jika Anda menambahkan satu tempat tidur tambahan Anda dapat cocok dengan lima orang. Satu kamar mandi dengan air panas. Open kitchen peralatan sepenuhnya dengan ruang makan yang nyaman. Untuk mendapatkan tempat dari bandara yang mengambil 2.5hrs mengemudi, tergantung dari lalu lintas, Anda dapat mengambil melalui by pass Ngurahrai atau arah ubud. Taksi dan transportasi pribadi adalah cara yang umum untuk sampai ke sini, tapi bagi wisatawan yang tiba dengan lisensi mengemudi Internasional, mereka dapat memiliki kendaraan sendiri.
Terletak di bagian bawah gunung Batur, Kintamani, Bangli. Memberikan Anda cuaca segar sepanjang waktu.
The place is beyond amazing, the staff is extremely helpful and friendly. The view from the house to the lake is amazing. I would recommend this house more than any other 5 star hotel in Kintanami
Omar
2017-01-08T00:00:00Z
This was our best stay in Bali by far. The house is really close to the hotsprings and the view on the lake is amazing. The staff there took great care of us. They took us to see the temples, the lava field, prepared dinner (super delicious fresh local fish) and breakfast for us and even helped us to do the sunrise trekking at mount batur. The house is super clean and very well-equiped and the whole place with all its unique furniture and art is just beautiful! Would definitely recommend staying here!
Hannah
2016-12-22T00:00:00Z
Dwi was super friendly without being too present or pushy. She made us a delicious breakfast both mornings.
Brian
2017-01-03T00:00:00Z
We stayed 2 nights at Dwi's place. The house itself is very cool. Great design and artwork and the view from the deck is great. Just an FYI, the area is very noisy at night so I was glad I bought ear plugs... call to prayers, loud music and motor bikes as well as roosters really keep you from sleeping. One night the prayers over the loud speakers went from9pm til 1am. A good place if you are doing a climb however not much else around.
Nicole
2017-01-10T00:00:00Z
The appartment is nice an spacious. A huge terrace with a beautiful view to the lake. One morning we could see the sunrise from our bed. They have also a great garden! The location is perfect to start the hike of mount batur and very close to the hot springs. The family who is looking after the house is very friendly and lovely. They cooked us a tasty dinner and offered fruit or more for the breakfast. Maybe the bathroom needs a brush-up. We had a great stay!! No wifi.
Tobias
2016-07-28T00:00:00Z
We loved this place, great views, nice house and so close to Mt Batur. there aren't many places to eat out but we went to arlenas and that was good and cheap. It would be good if it was easy to buy rice and veg to cook in the kitchen but don't know how you would buy it.
Oonagh
2016-07-15T00:00:00Z
Pro: Location is close to the hiking start point. House is large and well equipped. The girl waited for us to arrive late around 9pm. View from room was beautiful with lake and Mount Abang. Cons: Though in mountain, a bit hot without at least a fan to move air around, terrace tho not save, should be cleaner. Lots of ants coming on to the food on the table. Should have spent more time here to explore other activities but was time constraint.
Rozita
2015-12-02T00:00:00Z
Dwi was very helpful in getting me in touch with the local host – Sadu, who was extremely helpful and made all the arrangements to make our stay hassle free and enjoyable. Sadu took us up Mt Batur and to the Mother Temple, he is clearly very passionate and knowledgeable about the area. The listing is accurate – the lake is beautiful and local hot springs are worth a trip to relax. The area is remote – but peaceful and the local people so happy and welcoming. I would absolutely recommend staying here! If you can get Sadu to cook you a local fish – it is well worth it.
Eleanor
2016-11-06T00:00:00Z
Tipe Kamar
Kamar pribadi
---
Tipe Properti
Rumah
---
Mengakomodasi
4
---
Kamar tidur
Kintamani, Bali, Indonesia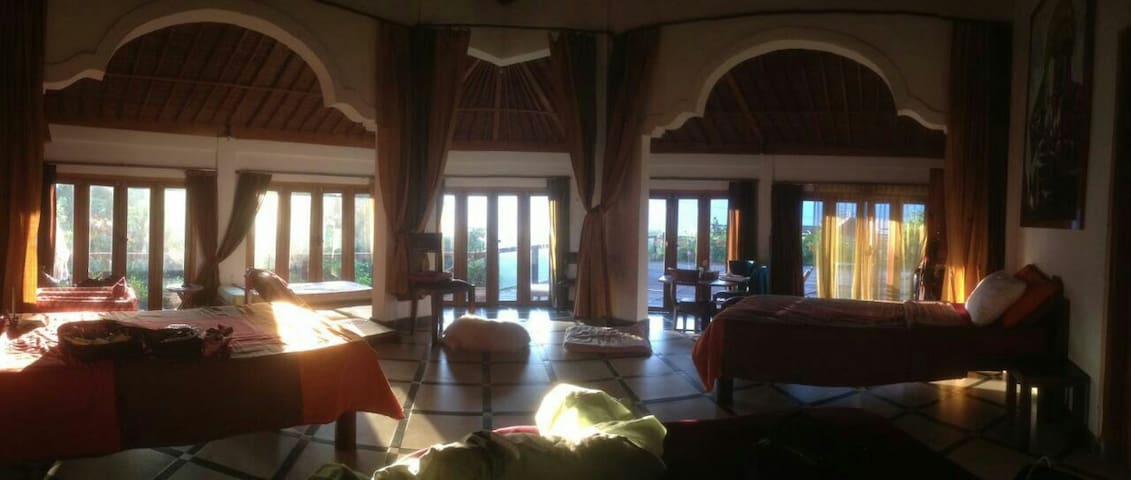 Rumah tempat berkumpul bersama keluarga atau teman-teman sambil menikmati dinginnya udara Gunung Batur serta melihat Matahari Terbenam. Dapat membuat perapian atau api unggun di halaman rumah sambil memanggang ketela pohon, ketela rambat, jagung atau pun marshmello pada saat malam hari. Pemesanan makanan lokal yang unik seperti ikan mujair a la Kintamani kami sangat rekomendasikan untuk menambah memori anda di Rumah Kintamani Sunset View
Terdapat 3 kamar tidur yang semuanya dapat melihat pemandangan langsung dari kamar. Ruang tidur bersama terdapat lantai kayu yang dialasi dengan karpet sehingga mirip seperti ruang Tatami Jepang.
Tipe Kamar
Seluruh rumah/apartemen
---
Tipe Properti
Rumah
---
Mengakomodasi
16
---
Kamar tidur
Bangli, Bali, Indonesia