Mi lugar es bueno para parejas.
Excelente lugar, súper equipado, muy cómodo, muy cerca de todo... Darby siempre al pendiente, muy accesible y atento... Cuando vuelva definitivamente ahí me quedo.
Qarlos
2017-02-06T00:00:00Z
Tipe Kamar
Seluruh rumah/apartemen
---
Tipe Properti
Rumah
---
Mengakomodasi
1
---
Kamar tidur
Mount Lemmon, Arizona, Amerika Serikat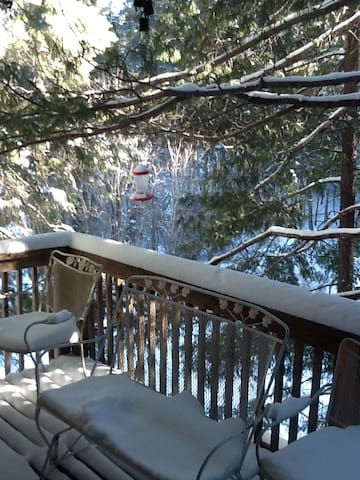 We enjoyed our stay on Mt. Lemmon and the house is beautiful. It was very clean and comfortable. Sarah was helpful when we needed help figuring out the fireplace. Thank you !
Ted
2015-11-02T00:00:00Z
Sarah is a great host. She was quick to respond to any questions we had with accurate timely responses. Her place is right in the town area but still has a remote feel to it. It is very clean and modern and we were very comfortable there. It's a good place for three. The kitchenette is very basic so be prepared for that.
James
2017-03-17T00:00:00Z
Our host was more than welcoming to us and the home was spectacular! We had everything we needed to enjoy our stay. We would love to return to this beautiful cabin.
Carter
2016-07-22T00:00:00Z
The lower level was more than enough space for the two of us and was exceptionally clean. Having a kitchen was a plus. It's conveniently located on the main road in Summerhaven, across from the general store and a short walk from the Sawmill restaurant. Sarah is a great host and really responsive. As described in the listing, there are stairs up to the front door and this might be an issue for people with knee problems. We had a little trouble with the wi-fi, which is a necessity on Mt. Lemmon due to poor cell service. We also happened to be there when the upper level was occupied with fairly loud people and the noise travels pretty easily through the ceiling. Other than that, we really enjoyed our stay!
Tim
2015-08-10T00:00:00Z
We felt very comfortable and welcome. The location is walking distance to hiking, restaurants, and the store.
Becky
2015-10-19T00:00:00Z
Great place to stay on Mt Lemmon. Right across from the General Store. Owner was wonderful.
Gloria
2016-09-09T00:00:00Z
The lower level was awesome! Plenty of space for a family of three. Right next to dining and the general store for groceries, as well as hiking and the ski lift. We will definitely be back!
Kyle
2015-07-06T00:00:00Z
My boyfriend and I were lucky to spend Valentine's Day weekend at Sarah's great cabin. It was wonderfully quiet and cozy. Sarah has really done a wonderful job furnishing and decorating the place. The location could not be better. The cabin is located right in the middle of all of the prime Mt. Lemmon spots for shopping and dining yet is still extremely private and quiet. Sarah was kind enough to let us know that the Upper Level of the cabin was not being used that weekend so we had access to the balcony and the beautiful dining table that she has up there. Although there are many beautiful cabins on Mt. Lemmon we will definitely be revisiting the Altitude House because of the location and the great value!
Emma
2016-02-15T00:00:00Z
Tipe Kamar
Seluruh rumah/apartemen
---
Tipe Properti
Rumah
---
Mengakomodasi
4
---
Kamar tidur
Mt Lemmon, Arizona, Amerika Serikat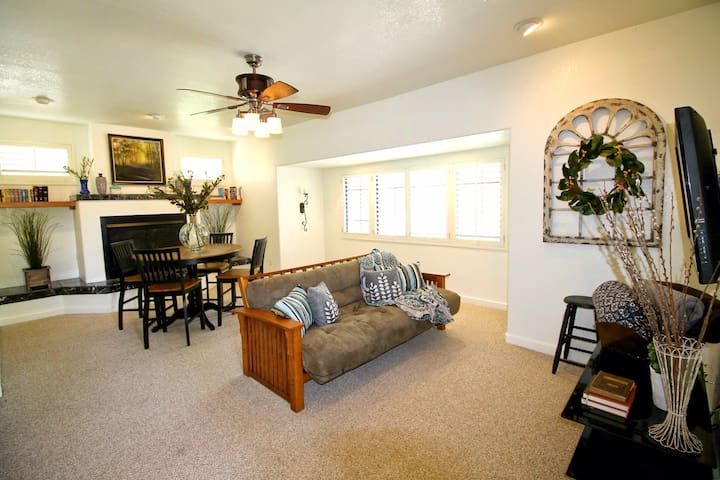 Being at Mt Lemmon Altitude House for the weekend was a great experience. Sarah was easy to communicate and very welcoming. She really did her best to make this trip a memorable. I recommend staying in this house if your going to Mt. Lemmon.
Joseph
2015-11-15T00:00:00Z
This place was amazing! Very spacious and great views! The balconies were awesome, the space was clean, and there were a lot of accommodations! Perfect for a family trip or for a weekend getaway with friends! We used the space for our wedding weekend and it was perfect for our bridal party to get ready at too!
Ashley
2017-03-12T00:00:00Z
We had a great time, would definitely stay there again!!
Esmeralda
2016-12-28T00:00:00Z
We had a small leadership retreat here and it was perfect! Lots of different spaces to meet, beautifully appointed rooms, great location. We had a very special weekend.
JoAnn
2016-06-12T00:00:00Z
Great place. Clean. Great location. Nice people. Only thing is if you want real peace and quiet it's on a main road so it's gets traffic in the day time. But very convenient to get to cookie cabin or general store! Otherwise will try and make it out again!
Amanda
2017-01-29T00:00:00Z
My large family and I stayed in this very large home with no complaints. It was very well kept, stocked with everything we needed, and Sarah was very communicative and easy to reach. The house was full of all modern perks for the kids (large TV, wifi, etc.) and the area was quaint and private which all of us adults loved. An amazing getaway location without having to cut yourself off!
Alexandra
2016-12-26T00:00:00Z
Tipe Kamar
Seluruh rumah/apartemen
---
Tipe Properti
Rumah
---
Mengakomodasi
12
---
Kamar tidur
Mt Lemmon, Arizona, Amerika Serikat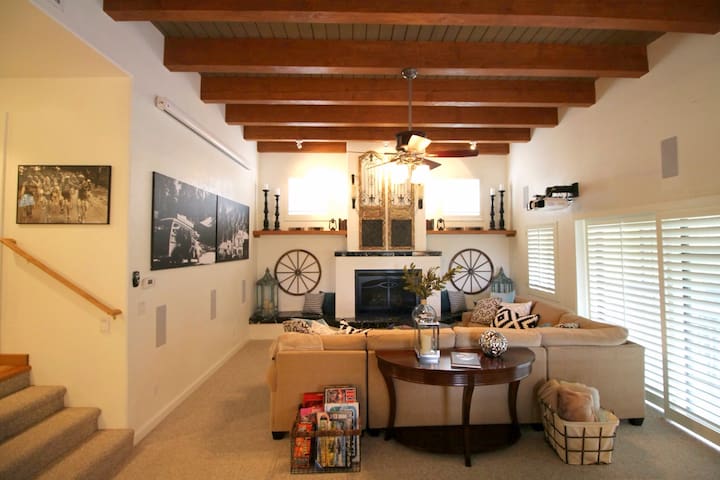 This home provided a wonderful weekend getaway for our group - 2 families of 4 - for a quick ski weekend. Sarah was super-nice and quick to reply to all our questions. The home is decorated beautifully and kitchen is fully stocked with everything you'll need for family travel. Our kids loved sleeping in the loft with bunkbeds and double bed and the adults rooms were great size and the beds were very comfortable! We have older kids, but there was even a baby booster seat available. The location couldn't be better ( you can walk to the cookie shack! And the patios would be really great for summer visitors wanting to dine or relax outdoors. Thank you!!
Lauren
2017-02-12T00:00:00Z
The site is very convenient to the mountains resources (restaurants, general store, community/information center), and all are easily walk-able. You are also close to many trails and vistas. We found the site a comfortable haven to return back to, after our days adventure. All the rooms are large and comfortable. The neighborhood is calmingly quiet in the evening/night and the balconies are inviting for a night of stargazing. This place definitely fit the bill for our r&r weekend. Two thumbs up!
ray
2016-05-23T00:00:00Z
I had a great stay at this lovely home on Mt. Lemmon. Great kitchen, comfortable beds, excellent privacy, and a solid entertainment area made this stay very well worth it. Sarah was very kind and responsive, and did an excellent job of making us feel at home. I would love to stay here again!
Nick
2016-09-26T00:00:00Z
Tipe Kamar
Seluruh rumah/apartemen
---
Tipe Properti
Rumah
---
Mengakomodasi
8
---
Kamar tidur
Mt Lemmon, Arizona, Amerika Serikat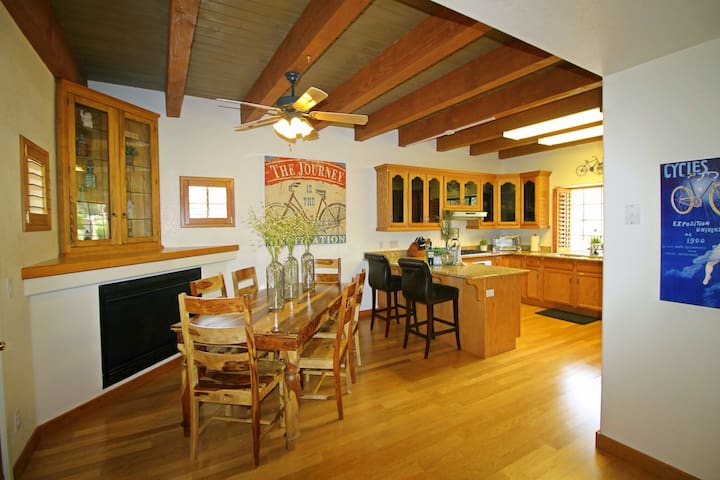 Masukkan tanggal untuk melihat harga lengkap. Biaya tambahan berlaku. Mungkin dikenakan pajak.