This cosy 2 bedroom apt is situated down a private country lane. What makes this apt so special and cosy is an air to water heating system is installed so there's free hot water and heating all day and night! It's the perfect base for sightseeing and visiting T he Connemara National Park 2 miles away.It is warm and compact and yet spacious.You will feel right at home once you open the door.
It's a little haven for guests to come and spend time in this beautiful stylish cosy apt that just stems class warmth and comfort!
I love the peace and nature of the surroundings. You can walk towards Cregg mountain just up road with hardly any passers by! From Cregg you'll witness some of the amazing views of all Connemara and the picturesque 12 bens.
The host canceled this reservation 72 days before arrival. This is an automated posting.
Julia
2017-02-04T00:00:00Z
Such a cosy apartment in a great location! Close to Letterfrack and right beside the entrance to the national park, this is perfectly located for a few days break. The apartment is well appointed, with a comfortable and spacious living and dining area. The bed was very comfortable and the room so snug. The shower downstairs was mega! And the convenience of having a toilet both up and downstairs was appreciated. Liz was a super host and easy to correspond with.
Aileen
2017-03-19T00:00:00Z
Tipe Kamar
Seluruh rumah/apartemen
---
Tipe Properti
Apartemen
---
Mengakomodasi
3
---
Kamar tidur
Galway, County Galway, Irlandia
Montbretia Cottage is located beside Connemara National Park and Letterfrack village and is a warmly inviting holiday apartment that features a large open-plan living room with both dining and kitchen areas.
The kitchen is well stocked with all the cooking and eating utensils necessary for a self-catering holiday, as well as a cooker, fridge & freezer, washing machine with tumble dryer, cd player and radio. Your sleeping accommodation includes 1 large double bedroom and 2 single bedrooms. The bathroom has an electric instant-heat shower. At Montbretia Cottage, you've got cosy modern convenience in the midst of the wild western reaches of enchanting Connemara.
Whether your group enjoys taking a hill-walking trek together in the mountains of the Connemara National Park, or meeting up in a Letterfrack pub after diverse pursuits—a few off scuba diving while the more contemplative explores Kylemore Abbey—this holiday home can accommodate.
Belle semaine dans le Connemara dans le cottage d'Anna. Tout le confort et une bonne base pour visiter les environs. Hôte très prévenant, nous avons apprécié de goûter aux délicieux scones fait maison quand nous sommes arrivés.
François
2015-07-25T00:00:00Z
Merci Anna pour votre accueil si chaleureux et votre disponibilité. Nous avons beaucoup apprécié vos petites attentions comme les délicieux scones et muffins laissés à notre arrivée, ainsi que tout le nécéssaire minimum pour nous installer confortablement. La maison est très agréable, au calme et très bien placée pour aller découvrir tous les sites incontournables du Connemara. Nous recommandons vivement votre jolie petite maison !! Encore merci pour votre gentillesse et peut être à une prochaine fois ! Eric, Laurence et Maxim.
Laurence
2015-08-01T00:00:00Z
My wife and I rented Montbretia for 2 weeks. We really enjoyed our stay. Anna is an exceptionally nice and hospitable host - we really enjoyed meeting her. She gave us lovely home-made scones on two occasions and was always available for advice. The rental was great - loads of space for 2 people as it has 3 bedrooms! The wifi was good and the washer/dryer were great to have as we spent our days cycling and walking and had plenty of laundry. The kitchen was well equipped and we were very happy with everything. Letterfrack is a great base for seeing Connemara. There's an excellent supermarket within walking distance from the rental plus very nice pubs and restaurants. Clifden is a short drive and has loads of nice pubs, cafes, several supermarkets and other interesting shops. We spent a day on Inisbofin with our bikes - absolutely great! Westport and the bicycle Greenway were excellent and we climbed Croagh Patrick which we strongly recommend for the amazing view. Definitely get Killary mussels from the roadside pop-up cafe overlooking the fijord. There's enough to do to keep us busy for 2 months so our 2 weeks were not enough! We definitely will be back and would love to stay in Montbretia again. Connemara is amazing!
Tom
2015-08-15T00:00:00Z
We had such a great time in Montbretia! The house is very comfortable, everything was made for us to feel well. Anna had even made some scones for us! So, Anna, thank you very much for your warm welcome and for all the advice you gave us. We look forward to going back there. Montbretia is really a good place to stay to discover the area.
Karen
2014-08-24T00:00:00Z
Tipe Kamar
Seluruh rumah/apartemen
---
Tipe Properti
Apartemen
---
Mengakomodasi
4
---
Kamar tidur
Letterfrack, Galway, Irlandia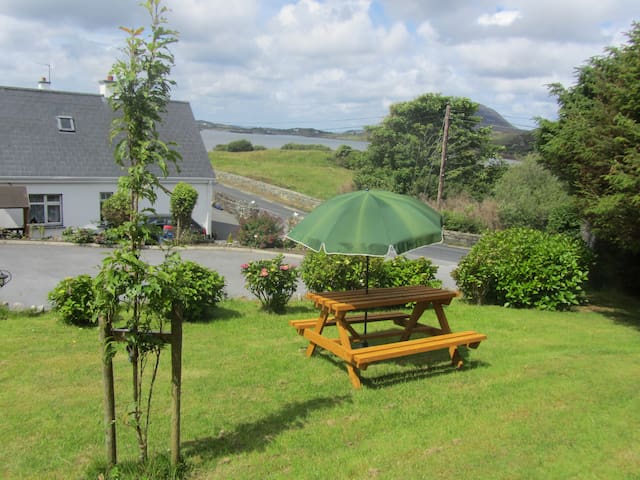 "Aras Ghuaire" Is a group of 8 self-catering apartments in Letterfrack village, the heart of Connemara. Very conveniently to the local pubs and restaurants, with onsite car parking. Connemara National park and playground area within walking distance from the complex. Ideal for walkers and families. Letterfrack can be a lively village with regular live music in the pubs. Also nearby is Killary Adventure Centre, Kylemore Abbey and Gardens, also trout, salmon and sea fishing.
Inside: Each apartment has 3 bedrooms, that sleeps 4 adults. Each apartment comprises a kitchen / sitting room, 2 single bedrooms and one double room and a bathroom. Larger option:There are 2 apartments that can cater for 5 persons. One apartment consist of 1 double, 1 twin and 1 single, the other apartment consists of 2 doubles and one single. Both apartments have a bedroom with an en-suite disabled shower room. Please note limited availability for larger apartments. Please check before booking. Facilities on site include: Restaurant, onsite caretaker, onsite parking, intercom, courtyard and landscaped gardens, cctv, gate coded entry system, cable TV, washing machine and dryer in each apartment, microwave. A selection of apartments are configured for disabled access.
Located right in Letterfrack village. Walking distance to Connemara National Park, local shop and Pub
Tipe Kamar
Seluruh rumah/apartemen
---
Tipe Properti
Apartemen
---
Mengakomodasi
4
---
Kamar tidur
Letterfrack, County Galway, Irlandia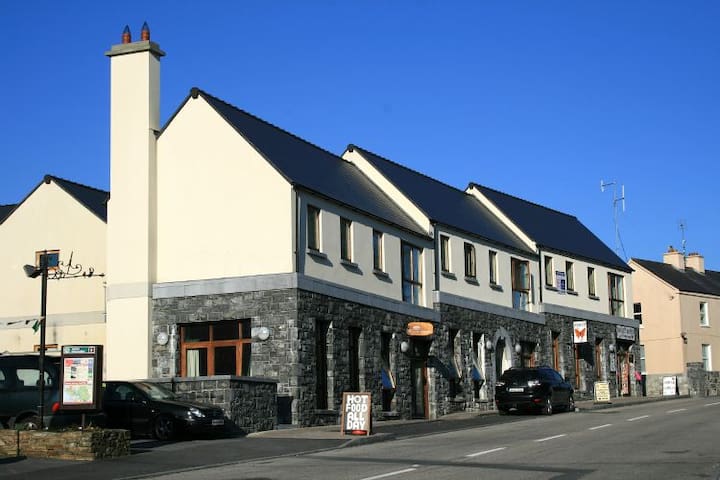 Your own front door leads in to a open plan area with real turf fire, comfy sofa & armchair, a dining area and brand new kitchen. The bathroom is adjacent. Upstairs in loft (low ceiling) there's a king size bed. Window looking out over the sea. We are 3 miles from Clifden town where there are pubs, shops, hotels and music. This house has a seaside location and is close to beautiful Omey Island. The national Park at Letterfrack. and many more beaches and views.
Enjoy the open peat fire. Peace and relaxation in the seaside garden Table and chairs outside .
This seaside property is three miles from Clifden town. The center of Connemara. Good food , local pubs, traditional music, shops. taxis available. Beautiful sandy beaches nearby.
Really lovely spot to stay. Perfectly situated with a great beach one way, Clifden the other and the road to other areas close by too. Nice accommodation. Gillian was a great host.
Maxine
2016-09-10T00:00:00Z
We had an amazing time at Gillian's place. Beautiful apartment with everything you could need and breathtaking views right on the doorstep. Was lovely to arrive to a peat fire and some tasty homemade bread. It's the perfect base to explore Connemara and an idyllic setting.
Rachel
2015-10-15T00:00:00Z
Gillian was a wonderful host, we arrived late on the first evening and she got us settled quickly always with a smile, everything we could need was provided in the listing, the bed is very comfortable and the kitchen is well equipped, turf fire is lovely setting is perfect,
Ivor
2016-03-22T00:00:00Z
Gillian was the perfect host - very helpful but also non-intrusive. The property is ideal for two people, beautifully decorated, cosy fire, fully equipped kitchen. Gillian also kindly left a bottle of wine and a loaf of soda bread and butter which was lovely to arrive in to. I am afraid of dogs and Gillian very kindly kept the dogs inside while we were at the property without my even asking. Watching the sunsets from Gillian's back garden on 3 beautiful sunny spring evenings was a definite highlight!
Emma
2016-03-18T00:00:00Z
Gillian's apartment is really fantastic, romantic, is perfect for a couple! Gillian is friendly ad also Oscar (the dog) is so cute. The apartment is located in a quiet street and have a magnificient view. I suggest this place, is perfect if you want to relax, see great landscapes from your window, and visit Connemara!
Barbara
2016-05-20T00:00:00Z
Gilian war sehr nett und das Cottage ist sehr gemütlich. Die Küche ist sehr gut ausgestattet. Klare Weiterempfehlung! :)
Marco
2015-10-26T00:00:00Z
Despite the bad weather we had a lovely time at Gillian's place.Cosy and comfortable with a nice view on the lake.Gillian made us some nice soda bread for our arrival and got us a bed four our 15 months old baby.I recommend the place without any hesitation.
Johanna
2016-07-23T00:00:00Z
We became welcomed well by Gillian (and her dog Oscar), she gave us homemade bread and wine when we arrived and the fire was lit. The house was in the perfect location in beautiful Connamara with driving distance to most things. Cozy waterfront terrace and the location was quiet and still. Everything we needed were there and the house was clean and pleasant. We enjoyed our week at Gillians and can really recommend it.
Maria
2016-07-19T00:00:00Z
Tipe Kamar
Seluruh rumah/apartemen
---
Tipe Properti
Apartemen
---
Mengakomodasi
2
---
Kamar tidur
Clifden, Galway, Irlandia
Fuchsia is located beside Connemara National Park and Letterfrack village and is a one bedroom apartment. The large double bedroom has a double and single bed, sleeping 3 people. The kitchen/diner/living area are combined. Bathroom has shower, no bath. Ceilings are low. Bookings are weekly Saturday to Saturday.
My week at Fuchsia was great. The house is warm and confortable, well equipped (even an electric adaptor and a reflecting vest are provided) and with wonderful views. Anna and Andy are the best hosts I ever met: as I did not have a car with me, they gave me lifts to the shop and other closer places. I really enjoyed staying at their place!
Carmen
2014-08-30T00:00:00Z
Le logement ets propre et confortable. De petites attentions nous attendaient pour nous souhaiter la bienvenue. Séjour agréable dans cet appartement bien équipé où rien ne manquait.
Marie
2015-08-29T00:00:00Z
We had a lovely stay in Letterfrac, in Fuchsia. The place is really nice, and very comfortable. You have all you need, and is located just 100 meter from Connemara National Park. And it has beautiful views.
MONICA
2014-06-29T00:00:00Z
Anna was the BEST hostess! Nothing was too much for her. She baked us fresh scones, came with the most up-to-date attractions information, and quickly assisted us when we ran out of gas on our stove. She even phoned in a favor in a nearby hotel for my musician husband to practice piano. As for the house, it was cozy, clean, well-equipped, and in walking distance to the wonderful Connemara National Park. The area was perfect. So beautiful. Amazing beaches nearby. Of all the counties we've been to, it seems to be the most alive in traditional music and Irish culture. We loved it. I highly recommend a stay in one of Anna's cottages. You'll be in good hands!
John
2014-07-13T00:00:00Z
What a wonderful place to stay :) We really enjoyed our time in this lovely cottage. We had all, we needed and when we arrived, we had a warm welcome with scones and jam. Sometimes it was a little damp in the house, but we had a lot of sun. So we didn't mind :) Letterfrack is a nice village and the shop is well-assorted.
Elli
2016-06-12T00:00:00Z
I had a wonderful week in Fushia. Anna is a very friendly and welcoming host and had provided homemade scones for my arrival. Fushia is a short walk from Letterfrack and Connemara National Park. The view from the sitting room is spectacular and the location is beautiful and peaceful. Fushia was everything that I had hoped it would be – I had all the space I needed and it was clean and well equipped. I recommend staying at Fushia!
Linda
2015-08-22T00:00:00Z
Tipe Kamar
Seluruh rumah/apartemen
---
Tipe Properti
Apartemen
---
Mengakomodasi
3
---
Kamar tidur
Letterfrack, Galway, Irlandia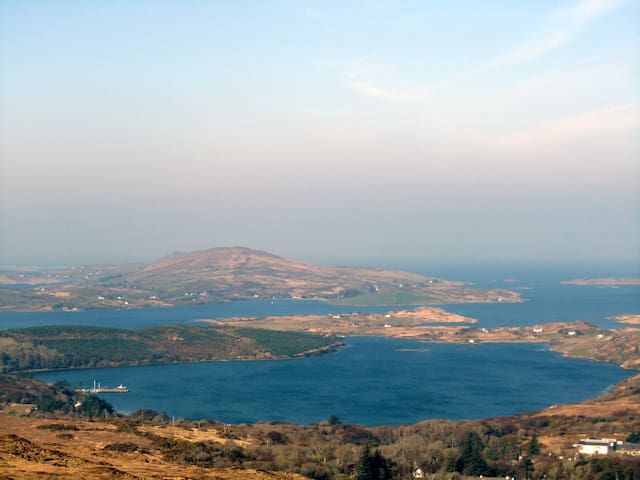 My place is good for couples, solo adventurers.
Un accueil chaleureux, une soirée au coin du feu, un logement charmant et à la propreté impeccable. Un véritable moment de bonheur qui restera un de nos meilleurs souvenirs. Courez y !!!!
michael
2016-08-08T00:00:00Z
Tully cross is definetely one of the nicest place we saw in Ireland! At Ann's place you will find a fully equipped house, very clean and comfortable. GPS coord are not pointing the right place, but Ann is so kind to come and pick you up in the town center very close to her house.
Giulia
2016-08-14T00:00:00Z
We had the most amazing time in Ann's place. We had the whole apartment for ourselves and Ann lives in an adjacent house, and was always there if we needed anything. The rooms are tidy, cosy and comfortable. We cooked great dinners in the super well equipped kitchen and enjoyed sitting on the couches in front of the fireplace. The views through the window are beautiful too, you can see meadows mountains and the ocean in the distance. The location is unbeatbale as it is close to the national park and to several scenic drives and hikes in the area. It is also close to the supermarket and not far from clifden. We would definitely come back!
Evelyne
2016-08-26T00:00:00Z
We lived for 3 nights in Ann's comfortable guest apartment and felt at home there. It has been a very pleasant stay and we had a very good equipped apartment to ourselves. Ann is a very endearing lady and gave us a lot of valuable informations about interesting locations in this region. We will definitely come again! Thank you Ann an stay healthy! Greetings Jörg & Julia
Jörg
2016-08-23T00:00:00Z
Anns daughter was very kind and helpfully. We had a whole accommodation for our own with kitchen,living room, sleeping room and bath. It was clean and had a lot of equipment.
Eric und Maite
2016-08-04T00:00:00Z
Tipe Kamar
Kamar pribadi
---
Tipe Properti
Apartemen
---
Mengakomodasi
2
---
Kamar tidur
Tully Cross, Galway, Irlandia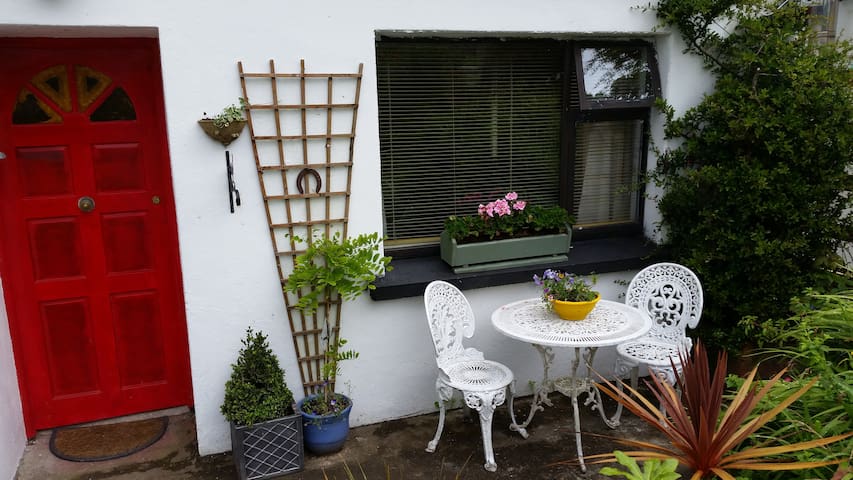 Our apartment is in the heart of Connemara on the Wild Atlantic Way. Open plan space with a well equipped kitchen, two bedrooms: one with double bed and one with twin beds. There is free Wi-Fi. The living room has TV. Safe garden with mountain views.
The apartment is in the village of Tullycross which, while small, has all the amenities you will need to make your stay comfortable and interesting. There are two lively pubs in the village, both serving food. There is also an hotel with a restaurant open to the public.
Perfectly equipped apartment just 200 mtrs from village of Tully Cross. Everything as per listing and more. Mary ensured that we were welcomed and shown round once we arrived; all done quietly and efficiently - no fuss. Tully Cross has the wonderful Coynes's Bar - which you'll want to visit if you are a seafood lover. Several beaches for swimming within a five - ten minute drive. Plenty of opportunity for walks in the area. If you're looking for a getaway this may well be it. Hopefully we'll be back some day.
Richard
2016-07-16T00:00:00Z
Mary and her husband made us feel most welcome and were extremely accommodating considering we were running a bit late on arrival! The apartment was precisely as the ad suggests and there were even some snacks and basic necessities provided which made us feel that little bit more welcomed. We loved our stay the apartment is gorgeous, has all the required amenities and a fantastic view! What an escape :)
Adrian
2015-09-05T00:00:00Z
We really enjoyed our stay at Mary's apartment. Mary & her husband were there to welcome us. They were very warm & friendly. We were travelling with our 1 year old daughter. She loved playing in the fenced in garden & chasing the neighbours dogs! The apartment was exactly what we needed. Loads of space,bright & airy with a lovely stove with plenty of turf provided. Great view of the mountains from the patio. Mary was great with info on the area and what to do. There were plenty of brochures in the apartment also. The apartment was a stones throw from Tullycross village, with good seafood restaurants and minutes from great beaches. Great location to explore Connemara from. We had a great holiday & we'd love to go back!
Catherina
2016-08-03T00:00:00Z
Le cadre environnant est agréable, le niveau d'équipement et d'aménagement est très satisfaisant. Le logement correspond parfaitement à nos attentes.
Pierre-yves
2017-03-10T00:00:00Z
Had a lovely stay here. Mary was very helpful. Place was lovely and very close to a nice pub that served good food. Really enjoyed our time here. Would recommend.
padraic
2017-03-26T00:00:00Z
Wir wurden sehr freundlich von Vincent und später auch von Mary empfangen. Die Wohnung ist schön groß und geräumig und mit einem herrlichen Blick in die Natur versehen. Sie liegt sehr günstig für Unternehmungen in die Berge und ans Meer. Der schöne Kamin macht auch kühlere Regentage zu einem gemütlichen Aufenthalt. Auch zwei Pubs und ein Restaurant sind in der Nähe. Wir empfehlen es gerne weiter! Christoph & Isabel
Christoph
2016-07-23T00:00:00Z
We had a wonderful stay in Mary's cosy apartment. Mary was a great host and the apartment was clean, extremely comfortable and within walking distance of the local village. The stove made it feel very homely and the view of Tully moutain is beautiful. I would highly recommend the apartment!
Ann
2015-07-03T00:00:00Z
Mary et Vince ont été très accueillant avec de quoi faire un feu de cheminée, une bouteille de vin et une de limonade artisanale de la région. Très chouette appartement, bien équipé et situé à quelques minutes en voiture du parc national du Conemarra. Catherine
Catherine
2015-07-08T00:00:00Z
Tipe Kamar
Seluruh rumah/apartemen
---
Tipe Properti
Apartemen
---
Mengakomodasi
4
---
Kamar tidur
Tully Cross, Galway, Irlandia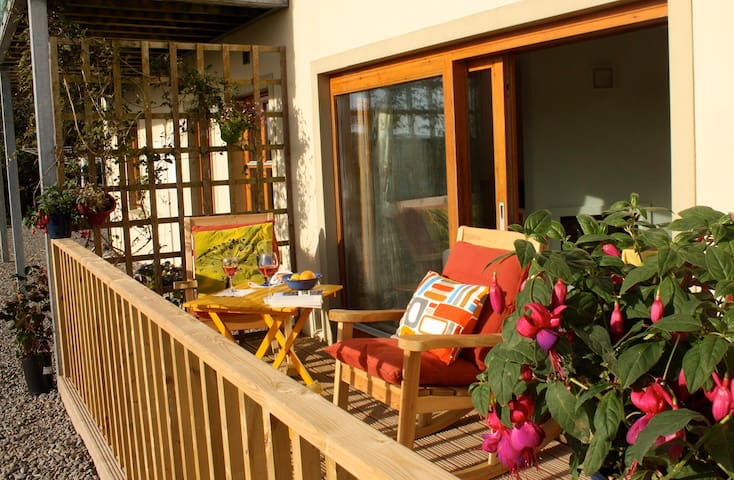 Top floor, bright south facing, spacious apartment, situated right in the heart of Connemara's capital. Stunning view of the Clifden bay. The balcony is overlooking the harbor and a flowing green hill populated by sheep and a couple of ponies. Perfectly located, just 2 minutes away from the bus station, surrounded by shops, bars and restaurants. The Furniture is designed and built up from scratch, reinvented, up-cycled and hand made.
A dreamy apartment situated in our gorgeous Connemara, right in the middle of Clifden. Open space living area with a beautiful and unique dinning table made from precious vintage wood. The corner sofa which opens into a queen size bed (can sleep very comfortable 2 adults or 3 children) is also hand made with care and attention to details. A hammock is hanging from the ceiling facing the bay; this could be the perfect relaxation spot, read a few pages or just watch the sky and the birds or the flow of the water during the tides. The bedroom has a double bed with a very comfortable mattress and an open way to store your clothes. Everything is self made, hand crafted or refurbished. The kitchen is fully equipped, with oven, hobs, extractor fan and all of that jazz just waiting for you to cook yummy dinners. The Bathroom has electric shower and fan.
SKY Boutique Apartment is located in the heart of the vibrant Clifden but facing the harbor and only 100 meters away from the square. Downstairs you will find the unique and newly open Macdaras Bar and Restaurant, Just a minute away there is a supermarket and many other places to eat and enjoy a few drinks. We are 20 minutes walk to Clifden beach and the boat club and just few minutes away from Sky Road if you fancy a magnificent walk. 15 minutes drive to the superb Coral Strand and 20 to Connemara National park and Diamond Hill.
Tipe Kamar
Seluruh rumah/apartemen
---
Tipe Properti
Apartemen
---
Mengakomodasi
4
---
Kamar tidur
Clifden, County Galway, Irlandia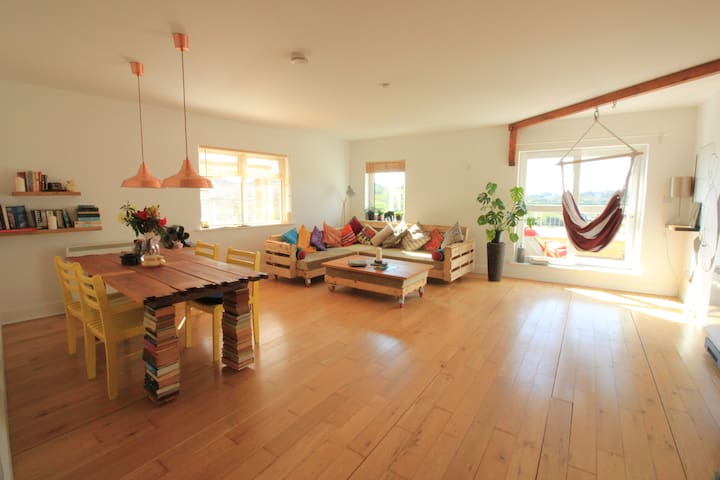 "The Guest Wing" is a comfortable one bed apartment a short walk along the pier to Clifden's centre. The Apartment is quiet and private.
We are situated on Clifden's Beach Road - between the town and the beach. The route is popular for walkers, runners and cyclists as it forms part of a 5km (3mile) loop with the famous Sky Road. The road is usually quiet with most passing traffic pedestrian or nautical.
Wonderful hosts and a gorgeous apartment. Best location you can hope to have for a holiday in Clifden. Walking distance from the town center, quiet and sheltered, breathtaking view. The apartment itself is by far the best one we've rented in Ireland. Nothing missing and everything in it of very good quality. Really comfy bed, hot water at all times, warm rooms with the option of throwing a log in the fireplace (yes, there is also a working fireplace!). We traveled with our 1 year old son, and we had a cot and highchair + some great books and toys waiting for him! Everything was better than we hoped for! Thank you Susan and Leo!
Adi
2017-01-29T00:00:00Z
Susan & Leo's apartment was perfect. Great location, close to town centre and an easy walk. Well-equipped flat with a wood-burning stove - great for winter weather. Homemade scones were provided for our arrival, which were delicious! If you're looking for a place to stay in Clifden, look no further.
Jez
2017-02-27T00:00:00Z
This is an excellent one bed apartment, in a great location. Clifden has a lot of amenities and is a delight town. The apartment is a short walk from town along the lovely harbor. We didn't need the car at night, and the host thoughtfully provides a flashlight for the first couple of hundred yards (at most) before you get to street lights. So we could have that extra pint without worrying about the Garda. Lots of great food choices, from upscale pub grub to Mitchells - one of the best restaurants in Ireland (book in advance if on a weekend if you want to eat before 9AM). The apartment itself has lovely views out to sea, is very private (we never saw our hosts, right next door) and has outdoor chairs for fine weather, and an easy to operate wood and peat burning stove for cooler climes. Great bed (always important), well appointed though tiny kitchen, lovely homemade scones. Clifden also makes a great base to access Connemara National Park, trips to the nearby islands. Lots of good hiking books in the apartment, and detailed maps to borrow. Highly recommend.
Clare
2017-03-27T00:00:00Z
Merci Susan et Leo nous avons passé un agréable sejour. Your appartement is like an house. It is charming and cosy. Thanks for all your attention at the arrival. We spent 5 delicious days. Sandrine and Xavier
Xavier
2016-03-03T00:00:00Z
Susan provides a wonderful welcome and all the necessary information for a great stay. This cozy guest wing was fantastic! Very easy to find and a perfect base for traveling around Galway. We would absolutely stay there again and hope to do so as Clifden is spectacular. Susan was very helpful with recommendations for dining. We plan to return on our next trip to Ireland - and next time for a longer stay!
Judith
2015-06-27T00:00:00Z
Super séjour chez Susan, l'appartement est vraiment top, très bien aménagé, dépaysement absolu et très bon accueil ! Nous le recommandons. Un grand merci. Florence et Didier Great stay at Susan , the apartment is really great , very well appointed, absolute change of scenery and very welcome ! We recommend it . A big thank-you. Florence and Didier
Didier
2016-04-15T00:00:00Z
We had a wonderful stay in this lovely apartment in Clifden. The location to start with is fantastic, with lovely walks into town or out towards the boat house. The apartment itself I could not fault in any way and can only say lovely things about this place. Susan and Leo have added so many wonderful touches to this place, they have thought of every little thing and have decorated this place beautifully. Scones on arrival were gorgeous with lovely filter coffee. I would happily recommend this apartment for a stay in Clifden and would like to thank Susan and Leo for their lovely hospitality. It was a great find!
Clare
2015-06-29T00:00:00Z
We loved this place! There were so many reasons but the main reason was the hosts hospitality which was exceptional. We were driving after work on a Friday so were tired on arrival but their directions were so easy to follow and the check in process equally convenient. Five minutes after arrival we were sitting in front of a glorious lit fire eating the dinner we brought with us, very relaxed! The place is fantastic, better even than it looks in the photos. You won't want for anything as it's so well equipped. Wide screen tv, DVD player and selection, wood burning stove with plenty of fuel (turf too - delightful!!), rain shower system and board games. There were fresh scones (chocolate and raspberry...delicious!), fresh ground coffee with coffee press, regular tea, mint tea, biscuits. Fantastic. We didn't meet Susan and Leo but they were always on hand if we had needed them. The place affords you plenty of privacy and the location is excellent, overlooking the sea but not far from the centre of Clifden. Cannot recommend it enough! Superhosts, super place.
Paul
2016-02-21T00:00:00Z
Tipe Kamar
Seluruh rumah/apartemen
---
Tipe Properti
Apartemen
---
Mengakomodasi
2
---
Kamar tidur
Clifden, Connemara, Galway, Irlandia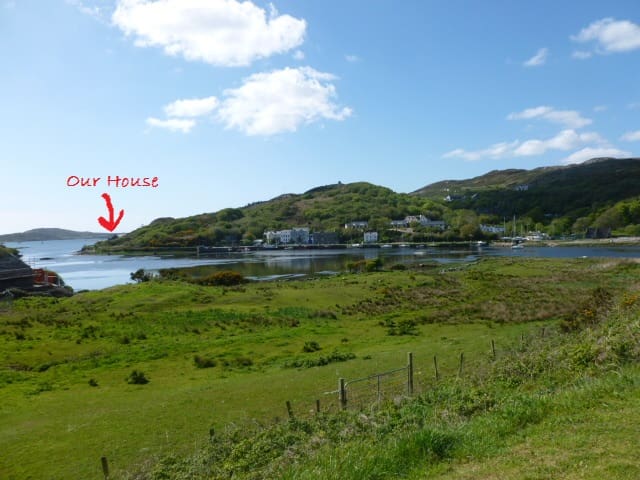 Spacious 1 bedroom apartment situated in the beautiful seaside village of Tully, deep in the West of Connemara. Perfect for 1 or 2 guests. Only 1km from the beach. Stunning views of Ireland's only fjord. Wifi and smart TV
The apartment is perfectly located in the middle of the quaint village of Tully. It's a large ensuite bedroom, kitchen/dining room/living room. Fully equipped with all mod-cons. Oil central heating Electric shower Wifi Smart TV Washer/dryer Air mattress
Grocery store, butcher, filling station, and post office all located in the village. Several bars and restaurants within walking distance. Beautiful beach within 1km walk from your door.
Beautiful area with lots of things to do, the apartment was clean and the welcome was warm. We would go back in a heart beat!
Tom
2017-02-19T00:00:00Z
Tout était parfait, un grand merci !
Solene
2017-03-24T00:00:00Z
Arron's village apartment is the perfect weekend getaway! With a gorgeous view of the sea and Mweelrea (Connaught's highest mountain!) you know you're in a magical place! To top it all, connemara national park is just 8mins away. We climbed the diamond mountain and we were stunned at the beauty of this area. We will definitely go back to explore some more, and Arron's apartment is the perfect place to do this from. The apartment was spacious for two, with all the things we needed for our stay. Arron was a super host, he made everything very easy, from check in to check out and offered great advice for seeing the area! I highly recommend staying here!
Ciara
2017-02-12T00:00:00Z
Tipe Kamar
Seluruh rumah/apartemen
---
Tipe Properti
Apartemen
---
Mengakomodasi
3
---
Kamar tidur
Tully, County Galway, Irlandia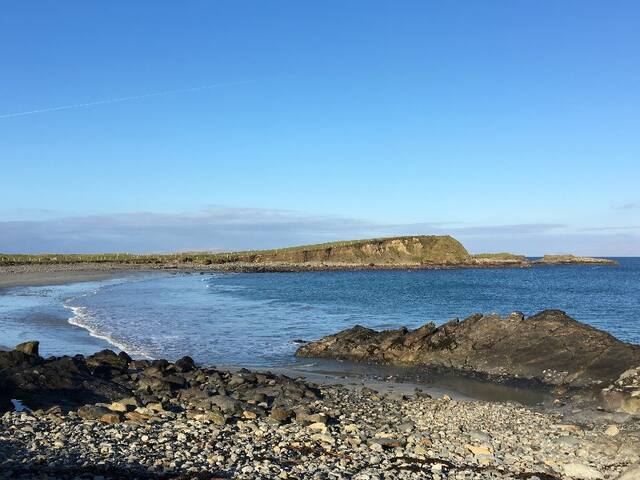 A luxurious 2 bedroom, 2 bathroom on Clifden harbour. 1100 sq ft of beautifully finished space. Private, but only 200 yards from the town square with supermarket, restaurants, shops and pubs. Fully equipped kitchen and high end linen and towels.
Only 2 minutes walk from the square in Clifden, but when you walk down a series of 43 steps you feel as if you're in a different place. Helen's Hideaway is very secluded and the everchanging harbour landscape (it's tidal) shall soothe your mind. Or, maybe not, if there's a huge Atlantic storm! Then you'll appreciate the warmth indoors.Turn on the electric fire, and watch it through the glass.
This more than lived up to our expectations, with the gorgeous views - even from both bedrooms - and spectacular locations. Two bathrooms was a particular luxury, when travelling four people! Helen was very good at handling communication and hand-over of keys and apartment! We give our warmest recommendations.
May
2015-05-10T00:00:00Z
Lovely apartment in a great location yet feels so private. Kids loved the trampoline and the big bath. So cozy too on chilly evenings. We didn't meet Helen but was always available if we needed anything. Had a lovely three nights. Would highly recommend.
Michael
2016-04-03T00:00:00Z
Great location in the quaint town of clifden. Helen was very gracious and communicated easily
Haylie
2017-02-14T00:00:00Z
Merci Helen, notre hôte très accueillante. Un très bon séjour dans votre appartement. Il correspond tout à fait à notre attente, confortable, chaud, une super vue.!! Idéal pour visiter le Connemara. Nous reviendrons....... Et le recommandons !.
anne jean-yves
2015-06-05T00:00:00Z
Lovely place well worth a visit
Richard
2017-02-05T00:00:00Z
Appartement conforme à la description. Très bien situé, proche du centre de Clifden. Vue sur la baie... Intérieur haut de gamme. Spacieux, très confortable. Helen est très serviable.
Pierre Marie
2017-04-05T00:00:00Z
Thank you Helen. Everything was perfect. The apartment is very quiet with à beautiful view and very close of the center. The location is perfect to visit the Connemara.
Michèle
2017-03-15T00:00:00Z
Perfect location, steps from clifden but really quiet. Apartment is cosy with huge comfy bed, underfloor heating and huge bath. Will stay again.
Sarah
2017-02-19T00:00:00Z
Tipe Kamar
Seluruh rumah/apartemen
---
Tipe Properti
Apartemen
---
Mengakomodasi
4
---
Kamar tidur
Clifden, Galway, Irlandia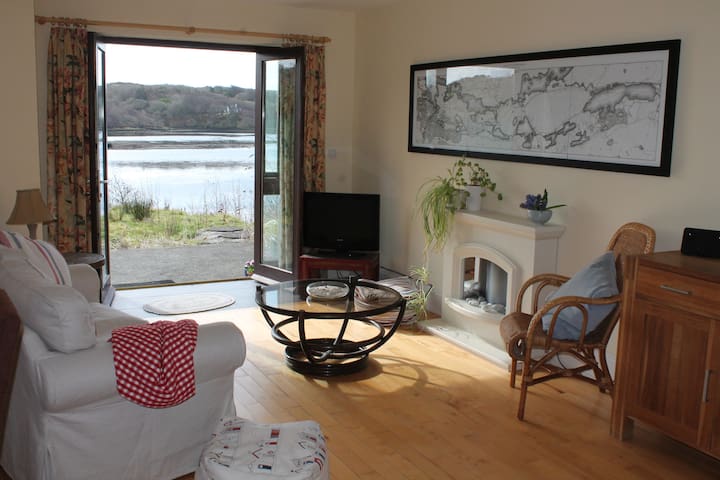 This property is ideal for short visits to the Renvyle area. It is walking distance to the pub and shops. The owners live beside the property and there are other properties nearby. Tullycross is a very social village and often has cultural events. There are superb beaches nearby and many great walks. This cottage is close to Renvyle House Hotel and is idealy suited to people who are attending weddings there. Also a great base for activity weekends. The price reflects its flexibility.
This property has 2 double bedrooms. There Is an open plan kitchen/sittingroom with a small but well equiped kitchen. There is a microwave, electric cooker, and plenty of cupboard space. There is a washing machine, but no dishwasher or dryer.The sitting room has a large couch, coffee table TV and DVD player. •Linen and towels included. •Electricity charged on usage by caretaker before departure. •Walking distance to Tullycross village. •Owners live next door
Walking distance of Tullycross Village
Tipe Kamar
Seluruh rumah/apartemen
---
Tipe Properti
Apartemen
---
Mengakomodasi
3
---
Kamar tidur
Tully, County Galway, Irlandia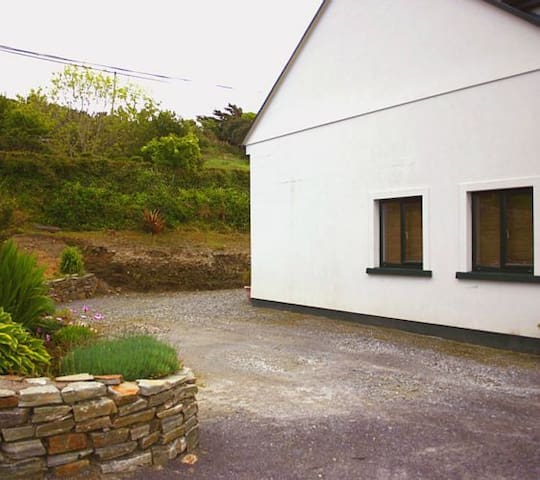 Creeve House B&B is located on Clifden's main street. Beside lively pups, great restaurants, bike hire and shops the rooms are surprisingly quiet and cosy. A three minute walk will bring you to the beautiful scenery and walks around Clifdens famous countryside. A B&B with four bedrooms, a full irish breakfast every morning is complimentary. Each of our cosy rooms have an ensuite with shower. There is on street parking right outside and a bus stop for Galway City and Letterfrack.
This bnb is so lovely and charming. I really enjoyed my very spontaneously booked night there. The weather was remarkably beautiful and Clifden is a great place for nice walks and scenic views. Thank u!
Regula
2017-03-12T00:00:00Z
Un posto facile da trovare. La stanza molto bella ( il bagno piccolino ma pulito e con la doccia). Gli arredi di ottimo gusto! Ottima la colazione!
Monica
2016-09-17T00:00:00Z
Very nice stay in this B&B ! Martha and Paula were very kind and available to answer our question. They take care about us and Help us to find food after 9pm.
Mélanie
2016-09-13T00:00:00Z
We had a wonderful time and the room was perfect for us! Such a wonderful place!
Molly
2016-12-31T00:00:00Z
Accueil très chaleureux et emplacement idéal. Cette chambre est tout à fait bien pour une petite personne mais pas pour un couple. Le lit est petit et la salle de bain aussi !
Marie Aude
2016-08-03T00:00:00Z
Everything was really nice at marthas b&b. I had a good room for myself with a shower and toilet in it. The breakfast was very good. I would stay there again.
Amedeo
2016-08-01T00:00:00Z
Everything was ok for the price and location
Camille
2016-09-12T00:00:00Z
Martha and Paula were both hospitable and helpful to us. The house is right on the main street and everything, even the laundry, is easily walkable. We were able to hear traditional music in this town, at a place Paula recommended. She also recommended a restaurant that was superb. This town, Clifden, is fun to poke around in, and we found some unusual gift shops. It is also close to several attractions on our A list, easy driving to Connemara National Park and Kylemore Abbey. We were able to visit a livestock fair, and also the Connemara Pony Market. Really a great place to stay. But I would try to avoid Room #2 unless you are traveling solo. Meredith
Meredith
2016-11-01T00:00:00Z
Tipe Kamar
Kamar pribadi
---
Tipe Properti
Apartemen
---
Mengakomodasi
2
---
Kamar tidur
Clifden, Galway, Irlandia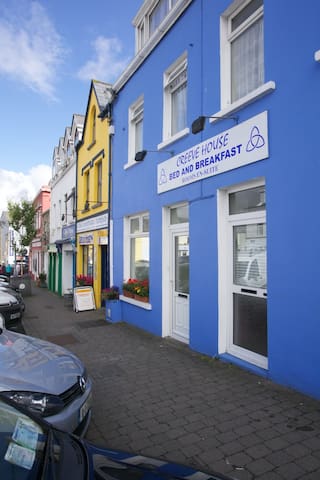 Located at the rear of Buttermilk Lodge Guesthouse this apartment is a first floor (upstairs) apartment with its own private entrance. The Double Bedroom, has a tv, hairdryer, lots of storage and bedlinen is provided. The bathroom has a bath & shower, towels and toiletries. The spacious kitchen/ diner/ living area has a large flatscreen tv, comfortable furniture & all appliances including a washer/dryer. Private car park. Sleeps 2 max. Complimentary Wifi.
Great location, just 5 minutes walk to Clifden centre, where there are numerous great restaurants, pubs, cafes , shops , galleries etc. Yet a quiet, private location.
A quiet location, just 5 minutes walk to town. Footpath with street lighting.
Great location, comfortable apartment, would highly recommend.
Laura
2016-04-11T00:00:00Z
Rooms and space as advertised. Quiet location, but close to Clifden center.
Andrew
2016-08-04T00:00:00Z
Tipe Kamar
Seluruh rumah/apartemen
---
Tipe Properti
Apartemen
---
Mengakomodasi
2
---
Kamar tidur
Clifden, Galway, Irlandia
The apartment is in a converted building dating back to 1800s. It has been recently refurbished and re-decorated. The accommodation comprises 1 large bedroom with ensuite shower and a separate combined living room/kitchen. This family run apartment is located in quiet part of Clifden town and is steps away from the town's shops pubs and award winning restaurants.
This is a Ground floor apartment in block of 2. Located in Clifden town with direct access on to Hulk Street. The apartment comprises 1 spacious double en-suite bedroom with 1 bed and has a separate Living room/ Kitchen. Light airy apartment with Wifi and Flatscreen TV.
The apartment is in Clifden which is small town on the Wild Atlantic Way with lots of interesting craft shops, restaurants, art galleries and pubs within a couple of minutes of the apartment. This is the ideal base from which to explore Connemara and the Wild Atlantic Way.
Nous avons passés un très bon séjour à clifden grâce à Suzann ! Son accueil (dans la continuité de l'accueil irlandais) était très chaleureux ! L'appartement est assez grand et parfait pour quelques nuits. À recommander !
Gaetan
2016-11-16T00:00:00Z
The apartment was grand. We had everything we needed.
Niamh Aine
2016-12-30T00:00:00Z
Clean and comfortable apartment. Beautiful views from the balcony and the bedroom window. Great location to explore the town centre. The host was very helpful and then left us to enjoy our stay.
Grace
2016-11-20T00:00:00Z
Accueil chaleureux, dans un logement très bien situé et fonctionnel. Nous recommandons ce logement.
Damien
2016-06-23T00:00:00Z
Great location in center of Clifden. Made for a good home base to enjoy the town and explore Connemara
Andy
2016-10-09T00:00:00Z
The description is accurate. The flat is in a good, quiet location. It is well equipped and the bed is comfortable. The hostess was welcoming and easily reached. We had a problem with hot water, which im sure will be resolved.
karen
2015-09-28T00:00:00Z
Super freundlicher Empfang. In der kleinen Wohnung waren eine Packung Kekse und frisches Obst für uns bereitgestellt. Unkomplizierte Verlängerung unseres Aufenthaltes über Air BnB war möglich. Tolle Lage, direkt im Kern des kleinen Örtchens Clifden. Super Wohnung mit eigener Küche für Frühstück und Abendessen. Alles sauber und ordentlich. Nur vielleicht etwas kalt in beiden Räumen. Es gab nur einen kleinen Heizkörper. Gute Einkaufsmöglichkeiten und nahe eines Fahrradverleihs gelegen. Ein guter Ausgangspunkt, um die Umgebung zu erkunden.
Michael
2015-09-24T00:00:00Z
Fantastic stay! Thank you for being so understanding when we went to the wrong B and B! We would love to stay again.
Lacey
2016-10-31T00:00:00Z
Tipe Kamar
Seluruh rumah/apartemen
---
Tipe Properti
Apartemen
---
Mengakomodasi
2
---
Kamar tidur
Clifden, Galway, Irlandia
This is a new property to our books which is detached and in a very popular location. The owner has rented with CC cottages for many years, and this property is in a similar location to his previous property 197. Set in surroundings that are ideal for children, the location is stunning and perfect for family holidays, couples or older people.The property is close to the nearest village which has pubs, a shop and a hotel where you can dine out.
You enter into open plan kitchen and sitting-room area. The fitted kitchen has microwave dishwasher leading of the kitchen is utility with washing machine and dryer there is also a shower with sink and toilet. Sitting room has flat screen TV and comfortable suite. An open wooden stairs leads to a twin and a double room. Owners live next door in separate house
Tipe Kamar
Seluruh rumah/apartemen
---
Tipe Properti
Apartemen
---
Mengakomodasi
4
---
Kamar tidur
Tully, County Galway, Irlandia
Newly developed 2 bedroom apartment in the beautifully quaint seaside village of Tully, deep in the west of Connemara. Perfect for 1-5 guests. 2 Double Beds & 1 Fold out bed Private apartment with; WiFi Electric Heating Electric Remote control fire Laundry Facilities (Washer & Dryer) Smart TV (Netflix etc.) Private Parking (With CCTV) Electric Shower
2 Double beds 2 seater couch (that folds out) & 2 arm chairs Dining table & chairs Washing machine Dryer Dishwasher Electric oven & hob Microwave, iron, etc.
Located in the beautiful seaside village of Tully, deep in the west of Connemara. Local amenities within 1 km of the apartment include; Grocery store Filling station 3 bars (serving food) Restaurant Horse Riding Centre Doctor Post Office (Western Union) Teach Ceoil (Traditional Irish music, dance & theatre) Other amenities within a short drive include; Adventure Centre Killary Fjord boat tours Scuba diving National park Sheep & Wool Museum Kylemore Abbey & Gardens Pitch & Putt 18 hole links course Beauty Salons Bike hire Fishing instructor Several more bars, restaurants, and cafes.
What a GORGEOUS area. Aaron went above and beyond- he was there to meet us, helped us get set up when we got there. A generous gift of food and wine ready. It was quiet, secluded, and just a few minutes away from Connemara National Park, which is just what we wanted. We couldn't have asked for a better location or nicer hosts! Really appreciated the washer, dryer, and hair dryer provided too! Lovely stay.
Carol
2017-03-24T00:00:00Z
Tipe Kamar
Seluruh rumah/apartemen
---
Tipe Properti
Apartemen
---
Mengakomodasi
5
---
Kamar tidur
Galway, County Galway, Irlandia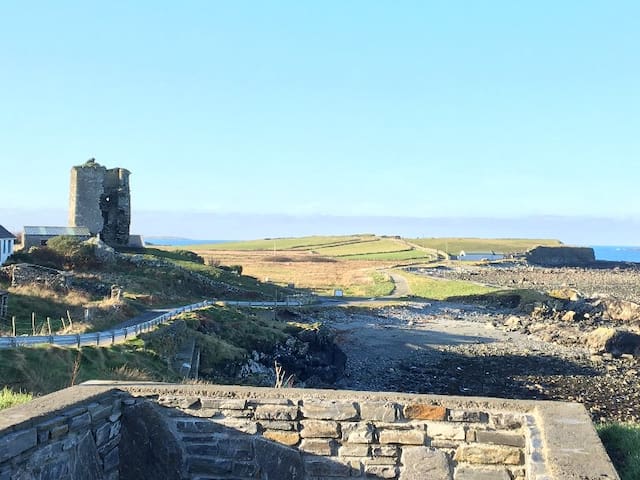 To avail of this offer all you need to do is request your dates and quote Feb/Mar Offer and we will respond with availability and your discount. (This offer also includes St. Patrick's Weekend. ) My place is close to art and culture, restaurants and dining, great views, and the beach. My place is good for couples, solo adventurers, and business travellers. Beautiful 1 Bedroom Apartment located right in the heart of Clifden Town.
This apartment is perfect for a Couples looking to get away from it all. Visit beautiful Connemara, partake in the wonderful activities, walks, cycles the area has to offer. Gourmet restaurants, lovely coffee shops, boutiques, art galleries, clothes shops, lively pubs with traditional and modern music all on your doorstep. Courthouse Square is a small development of 18 residential units. There is excellent security, coded system to enter the building. a video entrance phone in the apartment. The apartments are serviced by a lift. Entrance hall with cloak cupboard Open plan reception room with sofa bed / dining area / kitchen. Sofa has a pull out bed. Fully equipped kitchen with all mod cons. Bedrooms has a fitted wardrobe, dressing table and ensuite shower room. Door leading out on to patio area.
The host canceled this reservation 15 days before arrival. This is an automated posting.
Maryl
2016-06-17T00:00:00Z
Tipe Kamar
Seluruh rumah/apartemen
---
Tipe Properti
Apartemen
---
Mengakomodasi
4
---
Kamar tidur
Clifden, Galway, Irlandia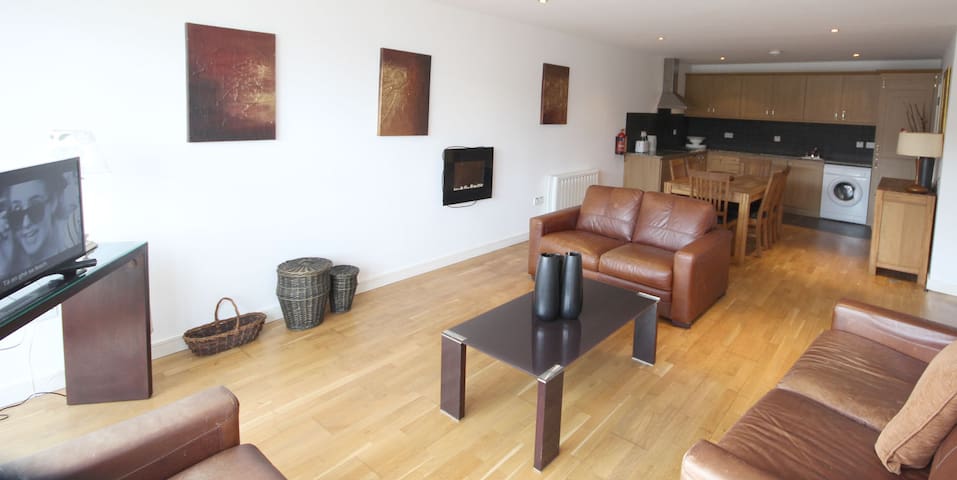 Moyard - Airbnb
:
Rata-rata

4.82

dari

5

bintang dari semua

285

ulasan tamu
1

–

18

dari

35 Sewa Apartemen
Masukkan tanggal untuk melihat harga lengkap. Biaya tambahan berlaku. Mungkin dikenakan pajak.