Magie Hideaway, 2-Bett, 4 Personen, Platz für 2 Autos. Angrenzend an einen botanischen Garten zentral gelegen, die über ein Schwimmbad Strand 15 Minuten Fahrt 5 min zu Fuß zum Mater & Shopping Air-con Split-Systeme, Eigenständiges Lehnen Sie sich zurück, entspannen, genießen Sie die Tropen
Townsville ist eine tropische Stadt mit mehr Sonnentage als jede andere Stadt an der Küste von Queensland. Unsere Wohnung befindet sich in einer sehr sicheren Lage direkt neben einem Park, der große Platz ist an den Pflanzen und Vögel zu gehen und zu sehen. Das Deck hat einen Blick auf den Park und ist genau der richtige Ort um sich zu entspannen und die Atmosphäre zu genießen. Sie müssen jede Nacht nicht essen, die Küche hat alles, was Sie ein gutes Essen zu machen brauchen. Die Wohnung befindet sich in einem Block von nur drei alten Stil auf dem Land fast wie drei kleine Häuser, aber miteinander verbunden sind. Daher gibt es ein Maß an Privatsphäre jenseits dessen, was würde man normalerweise erwarten. Die Wohnung verfügt über zwei Schlafzimmer, beide mit Queen-Size Betten. Sie sind die durch ein Bad mit Dusche, WC usw. Daher ist das Gerät geeignet und sehr komfortabel für bis zu vier Personen getrennt. Während wir verstehen, wie Menschen über ihre Haustiere fühlen und wir persönlich wie Haustiere erlauben wir nicht alle Tiere auf dem Gelände. Das Rauchen ist in den Gebäuden toleriert, aber die Gäste sind frei im Garten stehen, um ihre Zigarette zu genießen und die Natur. Sollten Sie weitere Raum GARDEN VIEW überprüfen, die an diesem Ort ist auch. Hinweis: Jede Einheit ist in sich abgeschlossen und Sie die gesamte Einheit mieten und es ist nicht mit anderen geteilt werden.
We were made to feel very welcome with clear explanations of where everything was located and how to access the park. Very friendly hosts. The hosts were pretty much always on hand if we had a at issues.
Alison
2016-07-07T00:00:00Z
Quiet peaceful area, host very welcoming & comfy home
Lynne
2015-08-31T00:00:00Z
Terry and Kaye's "Hideaway" unit was the perfect spot to spend a few relaxing days in Townsville. As other reviewers have alluded to, I do not have a bad word to say about Hideaway. The unit was very well equipped, with many small touches (ie. Water jug in the fridge, cotton swipes in the bathroom, a book shelf) making the unit feel like home. The unit also has a wonderful verandah which looks out over the pristine gardens - a great place to relax! The bed was comfortable, and all rooms had air conditioning (much needed for a Southerner like myself!) The location was wonderful, within 10 minutes of Townsville city, close distance to numerous supermarkets and a public garden literally just out the back! Also very close to some of Townsville's hospitals. Terry and Kaye were friendly and welcoming, and were very accommodating to my late night arrival. Terry went out of his way to ensure we were comfortable, and were always on hand if we needed any further assistance with the unit. Many thanks for a wonderful stay, and I look forward to a return stay (if you'll have us!) on my next visit to this beautiful part of the world - and to share that promised beer in the back garden!
Jessica
2016-01-02T00:00:00Z
We found Hideaway a beautiful tropical retreat for our short stay. The unit had everything you needed all logically laid out. I no sooner thought "I wonder if they have a...." and I looked down and there it was! Bed was very comfortable, aircon throughout if you needed it (bedrooms separate aircons to please everyone) beautiful clean louvres to look out to the gardens. The hosts were friendly and helpful if you needed them and were happy to give you privacy as well. If you stay here you will no doubt be pleasantly surprised by all the little thoughtful extras and quality appliances. Would stay again for sure.
Rochelle
2016-06-28T00:00:00Z
Terry and Kay, made us feel very welcome..taking the time to show us the 'where , what and how' of our lovely spotlessly clean apartment , was much appreciated, and made our settling in smooth. I loved the treed, garden setting, and easy access to the most gorgeous Anderson Gardens, for walking. Surrounded by the huge ' Rain Trees' and visited by colourful butterflies , a great place to stay in Townsville. A short walk to the IGA, and a short drive to everything else!
Lisa
2016-06-06T00:00:00Z
Terry and Kaye are wonderful hosts. They were very diligent in showing us around and demonstrating the features of their lovely cottage. How do you keep those snow-white sheets so fluffy? The gardens were marvellous, it's like living in your own rain forest with neat lawns among the trees. The Sun Hotel is nearby where we had a lovely meal, several takeaway shops are available as is Coles supermarket. We loved it. Thanks
Chris
2015-03-23T00:00:00Z
A comfortable home away from home within walking distance of beautiful Botanic gardens and local swimming pool and shops and takeaways. Terry and Kaye made us feel very welcome and went out of their way to make sure we felt at home. We will definitely be staying at Hideaway again.
Sara
2017-02-12T00:00:00Z
Thanks again Terry and Kaye for a great stay and excellent hospitality. The place was perfect, very chilled and all the gardens were amazing. Hideway was perfectly located and close to everything. Terry and Kaye were very helpful and hideaway was great hope to get back again
Pete
2015-09-08T00:00:00Z
Tipe Kamar
Seluruh rumah/apartemen
---
Tipe Properti
Apartemen
---
Mengakomodasi
4
---
Kamar tidur
Townsville, Queensland, Australia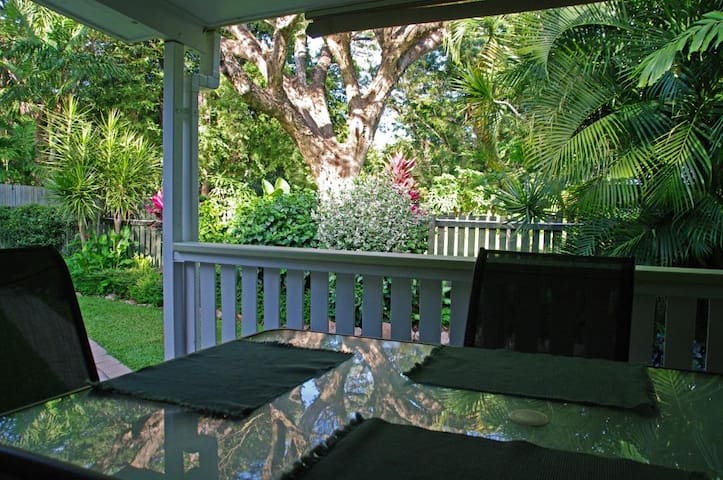 Mein Platz in der Nähe des Murray Sportkomplex, der Ross River, Annandale Einkaufszentrum, Restaurants und Restaurants, Fitness-Studios und eine kurze Fahrt vom Fluss Weg Kunstzentrum und Pool-Komplex. Mein Platz ist gut für Paare, Solo-Abenteurer, Geschäftsreisende, Familien (mit Kindern) und große Gruppen.
Man kann nie wissen, wer Sie treffen könnten. Ich habe 3 Zimmer in meinem Haus, das ich für die Gäste Bnb. Es kann manchmal ziemlich das multikulturell Ziel. Menschen, die Menschen lieben werden eine gute Zeit haben
Ich liebe, dass es nur einen kurzen Spaziergang hinunter zum Fluss Gehweg. Viele Tiere können zur richtigen Zeit des Jahres gesehen einschließlich Glühwürmchen werden
I stayed at Tina's place for two nights and it was awesome! Her house is quite big and I had everything I needed. Tina even gave me some breakfast. Would highly recommend that place if you stay in Townsville!
Fabian
2017-01-22T00:00:00Z
Excellant quiet place to stay, close to shops and the Bruce Highway for those passing through
Simon
2017-03-31T00:00:00Z
Second time I have stayed here, nice comfortable place to stay.
Simon
2017-03-27T00:00:00Z
We stay 1 night with Tina, she was very helpful and pleasant to stay with her. She helped us with everything we needed, great chat and nice wine :) !! The house is awesome, huge and comfortable bed. Thank you for everything Tina. Definitely will recommend Tina :)
Marianna
2016-12-16T00:00:00Z
We had a great time at Tinas place. The house is big and room so comfortable. Recommend!!
Hele
2016-08-27T00:00:00Z
Tina is truly a "Superhost". She went above and beyond our expectations and cared very well for us. We felt homy from first second on. Our room was like pictured: spacious, clean and just comfy. We enjoyed relaxing on the patio and really appreciated the provided breakfast. Thank you so much for hosting us.
Aaron
2016-10-16T00:00:00Z
Amazing place, clean and comfortable
Yi
2016-12-30T00:00:00Z
Affordable and has everything you need. Tina was very welcoming and we love her pets!
Nicole
2017-02-03T00:00:00Z
Tipe Kamar
Kamar pribadi
---
Tipe Properti
Bed & Breakfast
---
Mengakomodasi
2
---
Kamar tidur
Annandale, Queensland, Australia
Your own room is one of the coolest in the house, catching a lovely breeze. Share a large kitchen and living space in our '60s Queenslander. You'll have a friendly dog, and 6 chickens to share the large garden with. We are close to major shopping centre, the river for swimming and walking/cycling, and the main bus route into town is nearby. Hospital and university is an easy cycle away. Sample life in Townsville with the beautiful strand a short drive away, and a free pool also not too far away.
The house is a 60s built Queenslander, so unique in its style. Beautiful floor boards, open plan living area, 3 verandahs, as well as a large entertainment area out the back. A large garden with a beautiful Raintree overhanging for shade. Endless eggs with 6 chickens.
It's a quiet area, with friendly neighbours. The river down the road for swimming, kayaking, SUPIng and the path for running and cycling The beautiful Strand (beach) not far away for swimming, walking or just reading, having a coffee while people watching and staring at the view. Stockland shopping centre, the largest in Townsville, is just down the road.
Nadine was a fantastic host going above and beyond to help me out. The house was very clean and comfortable as well as being conveniently located.
CHARNCE
2017-01-19T00:00:00Z
Nadine and Bel are two lovely hosts who will make you feel comfortable. They have a cute dog Gilbert and 6 hardworking chooks. The house located in a quiet living areas but very convenient with public transport to the city or to other tourist attractions. It's also a walking distance to Stockland Mall with everything you need. We had enough time checking out Riverway lagoon (amazing), the strands and Reef HQ, following Nadine's suggestions. If it's raining or we're feeling lazy, we just chilled out at home, enough balconies to relax and read a book. Btw, the bed is so comfortable that we'd like to lay there for a whole day. It's one of the most valuable stays we had. Highly recommended!
Andy
2017-02-02T00:00:00Z
Another nice host and great experience. Highly recommended. Thanks
Vikram R
2017-01-21T00:00:00Z
Nadine's place is by far one of the best airbnb's I have stayed at so far. Such a cosy home in the heart of Townsville, will all amenities provided, and Gilbert (the house dog) also adds a lovely touch. I found it an easy drive to nearby shops, sights and landmarks.
Thilini
2017-02-09T00:00:00Z
Nadine and Belle's place is amazing! We felt like home and had some good chats all together! "Checking-in" felt like visiting a friend and they helped us out every time we needed a lift and provided us with good informations about the area! The room is clean and the bed super comfortable! We would stay there again when coming back to Townsville! Thanks guys!
Alexandra
2017-02-20T00:00:00Z
Tipe Kamar
Kamar pribadi
---
Tipe Properti
Rumah
---
Mengakomodasi
2
---
Kamar tidur
Aitkenvale, Queensland, Australia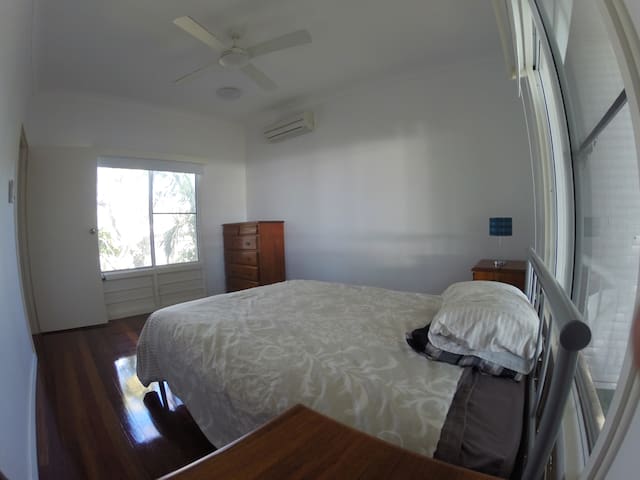 Beautifully presented, upstairs self-contained apartment. Janice and Kieran are wonderful hosts who have put a lot of thought into their accommodation, which shows great consideration for their guests. Janice especially has a great eye for detail which is displayed in an interesting and eclectic style. Everything we needed was readily available including local tourism information as well as recommendations for great places to eat. We highly recommend this new AirBnB listing when visiting Townsville or even as a stopover when passing through. N&J :)
Nicky & James
2017-04-08T00:00:00Z
Tipe Kamar
Seluruh rumah/apartemen
---
Tipe Properti
Apartemen
---
Mengakomodasi
2
---
Kamar tidur
Annandale, Queensland, Australia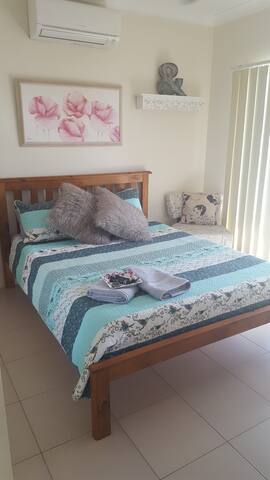 Mi lugar está cerca de la Universidad; Hospitales; tiendas, transporte público. Te encantará mi lugar debido a los altos techos, la ubicación y el ambiente. Mi lugar es bueno para parejas, aventureros en solitario, y viajeros de negocios.
Glenda is a perfect hostess..welcoming & friendly. Spacious home. Very clean and well maintained. The aircon and ceiling fans were a welcome relief in the summer heat and humidity of T'ville. Good value. I will stay again. facilities were
paul
2017-03-08T00:00:00Z
Can't be better ! Best air BnB host ever
Gaurav
2016-10-20T00:00:00Z
This is a great AirBnB. Glenda's two poodles, Pierre and Bridget Bardot love people and are friendly. The house is well ventilated and really comfortable. The bed is so comfy. Highly recommend staying with Glenda.
Simon
2017-03-26T00:00:00Z
The host canceled this reservation 76 days before arrival. This is an automated posting.
Dayae
2016-10-03T00:00:00Z
Such a fantastic host. Great room awesome value for money. Already booked to come back
Lisa
2017-03-19T00:00:00Z
Glenda is a friendly host and her place is great. It's quiet, relaxing, close to some beautiful walks and just a short drive into town. The house has everything you need and keeps you cool in the Townsville heat. It's amazing value for money and the host is very accommodating and helpful. Great place, great price!
Henry
2016-10-07T00:00:00Z
Glenda was an amazing hostess who was very thoughtful, taking many steps to ensure that my time in Townsville was as comfortable as possible. I really appreciated her hospitality and will certainly try to stay with her again next time I'm in the area.
Adnan
2017-04-02T00:00:00Z
Had a wonderful stay at Glenda's. She's a thoroughly decent person and went above and beyond to make sure I was well looked after. Annandale is a very calm and leafy suburb. Glenda's house is a 5 minute walk to a footbridge over the river to Mundingburra (and a long cycle path along the river with loads of beautiful parkland and playgrounds). There's also a close bus stop (going both directions into Town and James Cook University) - routes 208 and 209. This place would be ideal for University students.
Kapila
2016-12-04T00:00:00Z
Tipe Kamar
Kamar pribadi
---
Tipe Properti
Rumah
---
Mengakomodasi
1
---
Kamar tidur
Annandale, Queensland, Australia
3 Private rom i boligen. Eget bad / toalett. Queen seng i 2 rom, enkeltseng i tredje rommet. Alle soverom oppe. Nær elva, gå / sykkelstier / offentlig transport. Basseng. Må elsker hunder. Kajakker tilgjengelig. Frokost inkludert.
2 soverom med dobbeltseng i hver. 1 soverom med enkeltseng. Eget bad og toalett. Felles stue med eiere (og familiens hund). Stort uteområde og inground bassenget. Passer for single, par / s eller ung familie.
Gaten går langs Ross River og er en ideell beliggenhet for å utforske utendørs som elva tilbyr sykkel / gangstier og ligger i nærheten av Botanisk hage i Palmetum. Kun 5 minutters kjøring til sykehuset og universitetet og store kjøpesenter. Ca 15 minutters kjøring til sentrum. Enkel tilgang til hovedveien nordover, sør og vest fra Townsville.
We had an enjoyable time with Ros, Steve and Leo. They were very welcoming and made us feel at home. We would love to stay there again should we travel back to Townsville. Ps: Leo is a very friendly dog :)
Jasmine
2016-10-10T00:00:00Z
We just rest in Rose's house for one night,so we didnot have plenty of time to enjoy stay in their beautiful (URL HIDDEN) a pity!But Rose is so nice,she recommend us restaurant and scenic spots in Townsvill.We must miss that wonderful view on castal hill without her recommendation.Thank you,Rose! And the Thaifood you told us to go is delicious.:)
Arwen
2016-07-12T00:00:00Z
We had a very nice stay at Roslyn's home :-) She is a beautiful person and nice to deal with. We would come back :-)
Janine
2016-10-19T00:00:00Z
Very enjoy the time in Ros's house, big bed room, swimming pool, quiet backyard. Definitely will come back again! Also Ros's family is so kind, they give us a lot of information about tourist attraction, restaurant, cafe shop.... Help us have a great vacation in Townsville.
Allen
2016-04-22T00:00:00Z
Roslyn is so…oooo nice and the house is amazing! I'd love to visit them again if it's possible~ thanks so much
zihao
2016-04-29T00:00:00Z
Could not have asked for a better host! Everything was just great.
Maarja
2016-04-06T00:00:00Z
主人非常nice 就像在朋友家一樣,很自在,而且聊得很開心,狗狗也很可愛~ The owner is very nice. It is very comfortable,and the dog is cute. It will be a Good chose if you wanna make friend here.
佳音
2016-04-12T00:00:00Z
Ros, Stephen, and Leo made us feel very welcome. The house was clean and proved a comfy stay. Thanks for hosting us :)
Jonathan
2016-06-25T00:00:00Z
Tipe Kamar
Kamar pribadi
---
Tipe Properti
Rumah
---
Mengakomodasi
5
---
Kamar tidur
Annandale, Queensland, Australia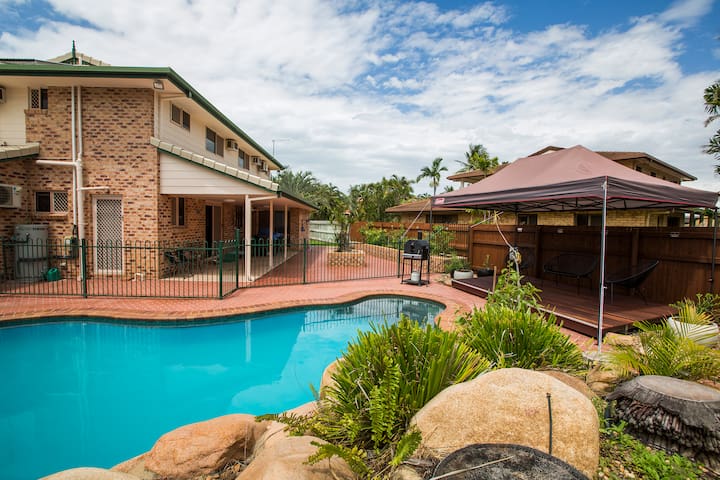 Very happy with the accommodation. Flexible and helpful host. A great nights sleep! Thanks
mel
2016-09-18T00:00:00Z
Central location, great hosts, felt very secure behind gates. No traffic noise. Everything you need for short or long stay. Will be coming back. Thank you!
Heidi
2016-12-16T00:00:00Z
Good value and pet friendly.
Trish
2017-01-14T00:00:00Z
This place is centrally located. The property is on a main road but none of those noises came into the house. There is ample space inside the house. Would gladly recommend for anyone to check out this cosy and modern place.
Varun
2016-12-28T00:00:00Z
A comfortable and well-equipped unit detached from the house, with an easy and spacious parking spot. AC in every room. Very kind and helpful hosts, if you happen to meet them.
Bartosz
2017-01-07T00:00:00Z
Great place. Really clean. Easy to find and great parking.
Marj
2017-01-11T00:00:00Z
Listing was brand new it seemed and perfect for a quick break on the road, extended one more night as the bed is to good to leave ! Owners very friendly and polite. Can not fault anything and will book again in future.
Stevie
2016-09-22T00:00:00Z
Rufino and Pauline were excellent hosts! The place was well located and super nice. Clean and well appointed. We really enjoyed our stay here!
MaryAnne
2016-10-18T00:00:00Z
Tipe Kamar
Seluruh rumah/apartemen
---
Tipe Properti
Rumah Tamu
---
Mengakomodasi
5
---
Kamar tidur
Mundingburra, Queensland, Australia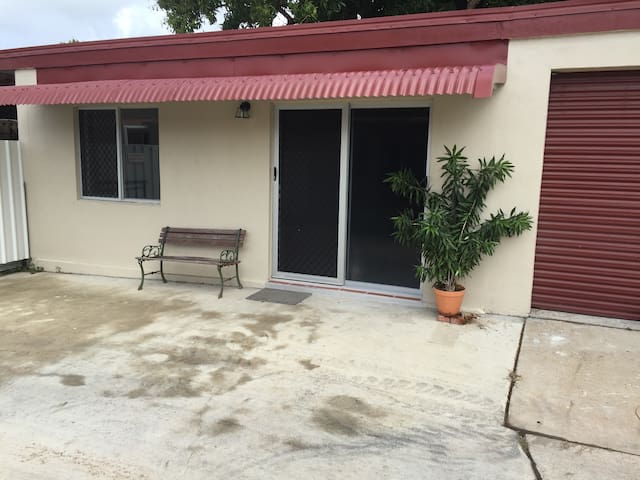 We enjoyed our stay. The house was very clean, comfortable and in a good location. Very good value for money! Thank you.
Noelyne & Edi
2016-08-27T00:00:00Z
Great house and location. Our stay was very comfortable.
Karen
2016-08-31T00:00:00Z
We stayed in Steve's cottage for 2 weeks and found it great. We were close to everything we needed. We had a slight problem with the washing machine but I contacted Steve and he sorted it out immediately and without delay The house was perfect for us we wish we could of stayed longer. We will definitely be back and be staying with Steve again! Thank you Steve I have recommended you and your homes to friends and family
Bernadette
2016-07-07T00:00:00Z
Did not met Steve but his accomodation is perfect espacially for this price! Just a bit far away from the Esplanade but we had our own car so it was alright
Oskar
2017-03-06T00:00:00Z
My 80 year old father in law stayed in Steves unit and raved about all the facilities that his unit had. Very nice place, great location and tons of facilities
Jodie
2016-07-19T00:00:00Z
Great place to stay in Townsville, as it is quite central to most things. Steve responds quickly and was happy to accomodate for things requested. It was a comfortable cottage for a 5 week stay.
Kim
2016-12-02T00:00:00Z
Traveling with kids isn't always easy but staying in Steve's cottage gave us a great home base. The location is great and pretty much 10 minutes or less from everything we went too (the strand, rockpools, riverway, sports fields). There was a fully fenced yard for the kids to play in and a cool and comfortable retreat indoors. Would recommend the cottage and would happily stay there again if ever back in Townsville
Jodie
2016-09-19T00:00:00Z
Steve's place is in a quiet area and the location is easy to get to everywhere if you have a car. Steve was quick with responses to questions and was clear in his instructions for keys on arrival. The place was tidy and comfortable
Georgia
2016-10-04T00:00:00Z
Tipe Kamar
Seluruh rumah/apartemen
---
Tipe Properti
Rumah
---
Mengakomodasi
4
---
Kamar tidur
Currajong, Queensland, Australia
My place is located on a quiet street in Aitkenvale, it's 3 min drive to the Stockland shopping center bus terminal and 8 mins drive to JCU/hospital. Great option for university students as I can provide transport. Long term tenancy available!
雙人床+衛浴分用 Double bed + shared shower Single bed option available but seriously just take the double bed it is comfier.
Quiet and great for long distance driver to have a break. Also great for university students as the house is less than 10 mins drive distance either on a bus or car.
We were very well received by Malcolm. He was very helpful with us and respect our privacy! We highly recommend it and hope to see it again someday.
manon
2017-02-27T00:00:00Z
Malcolm is a gem! He has been personable, helpful and goes above and beyond what you would expect from an Airbnb host. I couldn't have asked for a better host. The place has a great view and is well kept. So good that I have to stay here another few weeks and I wouldn't have dreamt of going anywhere else. Thanks mate!
Paul
2017-04-01T00:00:00Z
Stayed for one night. That was OK.
Jule
2017-01-08T00:00:00Z
Tipe Kamar
Kamar pribadi
---
Tipe Properti
Rumah
---
Mengakomodasi
2
---
Kamar tidur
Aitkenvale, Queensland, Australia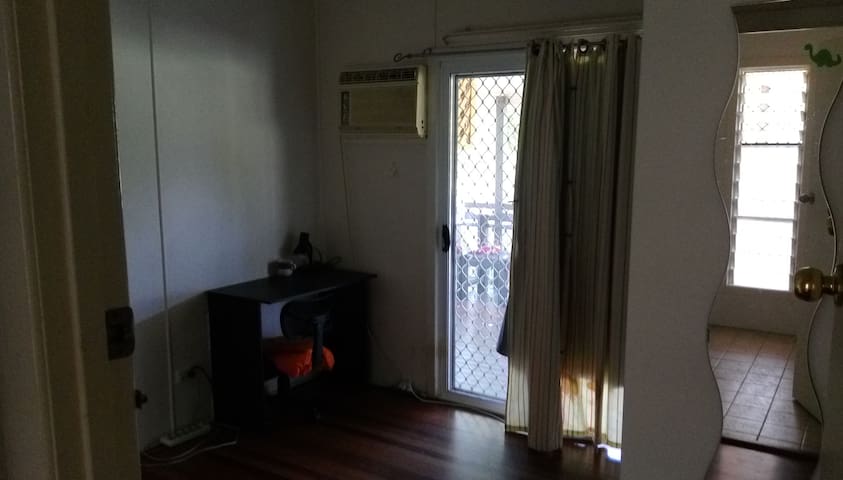 Mark and Karen were very warm, friendly and welcoming. I was in Townsville for a 2 week course at JCU and found the upstairs bedroom to be a really conducive environment for studying. It was great to be able to cool off in the pool too! The house is about a 7 minute walk to the closest bus stop. JCU is about 20 minutes on the 201 bus and it's about 25 minutes on the bus to The Strand. I would definitely recommend Mark and Karen's place to stay in Townsville.
Melinda
2016-03-18T00:00:00Z
Mark & Karen are superb hosts. They are the benchmark for what Air BnB are all about. Staying with real people, in a real home with a real bed. We felt comfortable upon first greet. Knew we were onto a winner. Thankyou for your open conversation, lovely breakfasts & great coffee! Private bathroom facilities were great. Fantastic walking proximity to where we needed to be in Townsville for business & socialising. Offers of airport pickup very generous & great communication all around. We will stay again next time. Go Cowboys! Cheers Amanda & Tim
Amanda
2015-06-09T00:00:00Z
Ich kann Mark und Karens Heim zu 100% weiterempfehlen. Zunächst sind beide sehr nette, höfliche und freundliche Menschen, die mir den Start in mein Auslandssemester in einem Land, in dem ich noch nie war, um Längen vereinfacht haben. Das Zimmer ist genau wie beschrieben - privat, mit einem großen komfortablen Bett und eigenem Bad und Toilette. Die Räume generell sind alle sehr sauber. Die Lage ist sehr praktisch. Zu den Bussen muss man nur ein paar Minuten laufen und weder zur Universität und zum Krankenhaus, noch zur Innenstadt und diversen Einkaufszentren ist es weit und auch gut mit den Bussen zu erreichen.
Yeliz
2015-07-19T00:00:00Z
Karen and Mark, we dont have enough words to be thankful for the hosting that you gave us. In this 13 days you two made us feel like our family. You are generous, warm and wonderful hosts, you did everything to make our stay really comfortable. About the room and bathroom are really clean and organized, nice pool, and the location is quite and close to the shops and not too far to the city. Definitily highly recommended. If you are planning to visit Townsville this is the perfect place. THANK YOU!!!! :)
Ivy
2016-01-15T00:00:00Z
Wonderful 2 night stay .Very accommodating relaxed hosts I booked last minute response time was fantastic my room was clean & comfy.Enjoyed the use of the swimming pool .Highly Recommend for the price & location & most enjoyable stay.
Beck
2016-05-03T00:00:00Z
Fantastic place to stay and hosts are very welcoming. Their home is immaculately clean and the comfortable bed made for a restful evening after work. I would recommend staying here to anyone looking to be close to JCU and the centre of Townsville.
Rachel
2015-05-06T00:00:00Z
Gorgeous and very welcoming airport... Even picked me up from the airport!!! Lovely house, good location for both town and Uni / hospital. Very much recommended
Mikhaila
2015-10-11T00:00:00Z
It was my first time to Australia and my English was not good. Thanks to Mark and Karen, they showed me around the city, helped me with shopping and so on. They are so kind and and helpful. They treated me as a friend, a family member. I really appreciated it. Besides, the bedroom and bathroom are spacious and clean. The kitchen is provided for cooking. The location is very convenient to get to shops and bus stops. In a word, it was a pleasant stay in Mark and Karen' s house.
YAJU
2016-09-16T00:00:00Z
Tipe Kamar
Kamar pribadi
---
Tipe Properti
Rumah
---
Mengakomodasi
2
---
Kamar tidur
Mundingburra, Queensland, Australia
Share the beauty of a staying in a renovated church. Private room, queen bed, en-suite, desk, wifi, TV, aircon. Share galley kitchen, open plan living, stunning pool and tropical garden. Close to James Cook University, local shopping centre, and city. It's a short drive to The Strand, is close to North Ward, Palmer Street with good access to public transport. Walking distance to V8 race track and close to the Civic Theatre. Why not make a booking for the V8's or Festival of Chamber Music?
Enjoy the tranquil tropical surroundings of our home. A beautiful tropical pool and garden, outside living area & BBQ and exotic butterflies. Relax in the open planned living area with soaring ceilings, polished timber floors. Our home is lovingly decorated, clean and tidy with a wonderful kitchen. This restored church is a a real Gem in Hermit Park.
Hermit Park is an eclectic quirky suburb, with some wonderful old Queenslanders, some renovated and some not. It is close to the city and the Strand and has good public transport to the City, the Strand, JCU and The Townsville Hospital. It is within walking distance to the V8 Super Cars track and a 5 minute ride to the Civic Theatre. There is a supermarket, bottle shop, newsagent and local restaurants within walking distance from our place.
Lovely home, great location and welcoming hosts. Would definitely stay again
Chantel
2016-07-10T00:00:00Z
Amelia was a great host! It was lovely coming back to the house and she was very accommodating! The space was great and the bed was very comfortable! Will come back to stay if I ever come back to Townsville!
Michelle
2016-07-22T00:00:00Z
I had a wonderfully relaxing stay with Amelia in her charming converted church. Amelia is a kind and gracious host who went out of her way to ensure I was comfortable and welcomed into her home. Amelia is an engaging and interesting host who also gave me my own space when needed. She is an avid bush walker and enjoys nature so was very knowledgable about Townsville and its surrounds for anyone who'd like to explore the area more. The room was spotless and comfortable and provided easy access to the lovely pool and tropical garden. It was like being in your own private resort. I'd recommend anyone to stay here and I'll definitely be back next time I'm in Townsville.
Ken
2016-02-17T00:00:00Z
Another wonderful relaxing stay. Thanks Amelia for your hosting and the accommodation is fantastic. Highly recommend to anyone.
Ken
2016-10-10T00:00:00Z
Stunning Home, Beautiful People and Wonderful Experience. I couldn't recommend Amelia and Andrew more for my travels home to Townsville. Location was central to everything I needed as a local and getting around was super easy with buses and even an occasional lift form the best ever hosts. Will look forward to bringing my partner back to especially see Amelia's unbelievable butterfly garden, a truly unique opportunity.
Brenda
2016-06-01T00:00:00Z
This has been my second stay at Amelia and Andrew's and it was just as good this time as the last. We swapped culinary efforts in the kitchen (Amelia and Andrew the first night & me the second) what a better way of relaxing at the end of the day. Thanks again you two, much appreciated Regards Roger
Roger
2016-09-21T00:00:00Z
Amelia and Andrew went above and beyond. I was in Townsville for a 2week study block so didn't have too much time to interact, although I was still welcomed for dinners, and felt comfortable in their beautiful home. Thank you for helping make two weeks of intensive study a really great experience.
Sigrid
2016-09-15T00:00:00Z
Thank you Amelia, we enjoyed our stay! Though it was a last minute booking, it was great to get a warm welcome and all the information on what to do in the area. The room was made perfectly for us. The house was beautiful, and we especially enjoyed the incredibly spacious living room and kitchen. We enjoyed learning the history of the house being converted from a church. The cat was lovely to have around and the place was very clean and well looked after.
Vitali
2016-05-06T00:00:00Z
Tipe Kamar
Kamar pribadi
---
Tipe Properti
Rumah
---
Mengakomodasi
2
---
Kamar tidur
Hermit Park, Queensland, Australia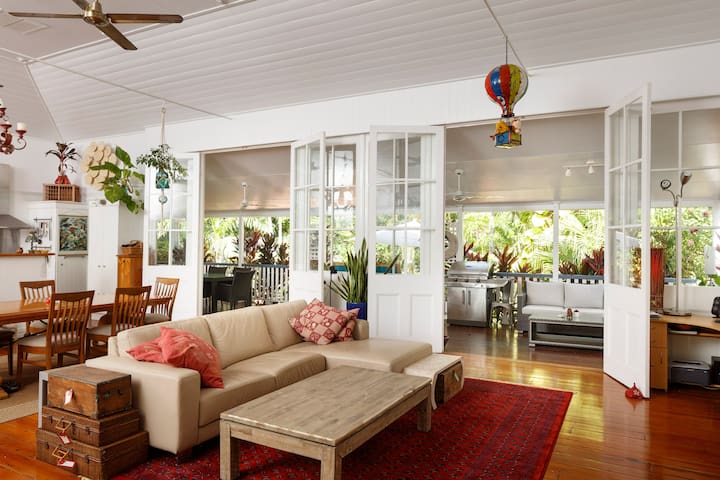 Queen-Bett in Ihrem eigenen Zimmer mit Klimaanlage, Deckenventilator, Breitband Unlimited Internet mit Wi-Fi und einen PC mit 42-Zoll-Bildschirm, Webcam für Video-Chat sowie ein TV, Film & Musik-Bibliothek. Mein Platz ist in der Nähe zu öffentlichen Verkehrsmitteln, Shopping, V8, Buses, Imbiss, Mercure Inn, finden Sie den Standort lieben, die Atmosphäre und den Preis. Ideal für Paare, Solo-Abenteurer, Wanderer & Geschäftsreisende. Geräumige Gemeinschaftsküche, Ess- und Wohnbereich mit Home-Theater, Grill-und Outdoor-Lounges zum Entspannen ein.
Privates Schlafzimmer mit Einbauschrank, Box Klimaanlage, Deckenventilator neben Gemeinschafts-WC und Bad und Küche. Nähe zu öffentlichen Verkehrsmitteln, das Haus ist 10 Minuten von der Innenstadt, Strand und mehrere Einkaufszentren. Castleeinkaufszentrum ist in 10 Minuten zu Fuß entfernt sowie mehrere Kaffee und Imbissbuden.
Ruhige Lage von Townsville, 10 Minuten zu Fuß nach Castletown Einkaufszentrum, nehmen aways und ca. 20 Minuten auf die V8-Spur.
Glenn is a great host. He is very knowledgeable about Townsville and can point you in the right direction for everything. He made me feel very welcome. The house is comfortable and extremely good value. The bus stop is nearby or if you are feeling energetic the city centre took me about 45 minutes to walk. I would stay at Glenn's place again without hesitation.
Kevin
2016-11-21T00:00:00Z
Glenn was the perfect host, he made sure that I had the best stay possible and I appreciated that so much. He gave me several lifts to places, gave me recommendations about the area and gave me access to his huge TV-Show and movie library. I really enjoyed talking to him when he came home from work! The room is great, the bed very comfy and the airconditioning around this time of the year a blessing. Glenn's house was very clean as well. I would definitely recommend staying here, I think Glenn's Airbnb has made it to my top three list of the best Airbnb's I've stayed in!
Jana
2016-11-16T00:00:00Z
The room was clean and very cozy with a big flatscreen, you can use (SENSITIVE CONTENTS HIDDEN) on or watch movies. Glenn was an awesome host, always there to help, Friendly, reliable and Kind, I highly recommend to stay at his place :)
Viktoria
2016-12-29T00:00:00Z
Glenn ist ein total lieber Mensch und hat sich sehr um uns gekümmert. Für einen kleinen Betrag hat er uns auch gerne vom Bahnhof und aus der Stadt abgeholt! Wenn man nur eine Unterkunft zum schlafen braucht, ist es wunderbar!
Franziska
2017-02-23T00:00:00Z
Comfortable, quiet and just as listed. Thank you Glenn
Wayne
2017-03-25T00:00:00Z
Glenn is a very kind and considerate host. This was my first trip to Townsville but with Glenn's assistance I knew my way around within a day. As a uni student I appreciated the unlimited free internet access.
Aki
2017-02-11T00:00:00Z
Glenn was very welcoming even though I arrived late in the evening. Very grateful of a/c in the comfy room
Andrew
2017-01-18T00:00:00Z
Glenn was superfriendly, helped us out with transport. The house is close to the airport. Room and bathroom were clean. The house is a bit old overall but comfortable. A big plus was the pc with huge screen and a great movie collection to choose from. Thx Glenn
Jan
2017-03-17T00:00:00Z
Tipe Kamar
Kamar pribadi
---
Tipe Properti
Rumah
---
Mengakomodasi
2
---
Kamar tidur
Currajong, Queensland, Australia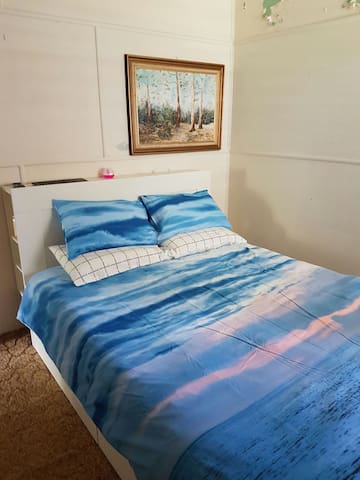 Aufgeräumt und komfortabel große Zimmer im klassischen alten Queenslander Haus liegt in einer ruhigen Nachbarschaft. Lage in der Nähe von Towns CBD und Strand, sind Sie in unmittelbarer Nähe zu Geschäften und Buslinien für einen einfachen Zugang zu Universität, Krankenhaus und der Stadt. Das Zimmer ist sehr gepflegt, verfügt über eine Klimaanlage, ein Fernseher und einen kleinen Kühlschrank. Gäste haben Zugang zu einer Gemeinschaftsküche und Bad, Waschmaschine, Wäschetrockner erforderlich ist, wird kostenlos Internet zur Verfügung gestellt. Kostenlose Parkplätze vor Ort.
Hallo, Zimmer ist einfach, keine Nervenkitzel, bietet eine große familienorientierte Art umgeben. Ein großer Platz, den Kopf nach unten für ein paar Tage zu setzen. Leicht zu begleichen in für einen längeren mehr dauerhaften Aufenthalt, falls gewünscht. Ideal für Uni Student oder Krankenhauspersonal oder Nationalspielern auf ein Arbeitsvisum
What a great find! Everything we needed for our stay in Townsville while we went out and explored magnetic island ! After a long walk Damien and and his very friendly other lodger were very welcoming and the room was just perfect fresh bedding fridge tv and air conditioning made it an extremely comfortable stay for both of us thanks again
James
2016-07-27T00:00:00Z
Damian is great! The house is nothing special but you can use the whole kitchen etc which is really great and clean! The room is amazing with a really comfortable bed!
Maren
2016-10-24T00:00:00Z
Damian is a great host, who definitely wants the best for his guests. He was very helpful and was there when we needed him. We had a great week in his house.
Camilla
2016-07-16T00:00:00Z
We enjoyed our stay at Damians house. Damian is a nice host. We recommend him to other travellers and would come back at anytime!
Alexander
2016-10-12T00:00:00Z
We had a great time at Damian's place! 2 mins walk to the next bus stop where busses run very frequently, even on sundays. And these take you straight into the city centre. There was really nothing to complain about the room. Aircon, own fridge, comfy and big bed, own tv and privacy. We could use his kitchen which was well equiped. Damian was really friendly and helpful. His dog is also cute. We can only recommend you to stay there!
Linda
2017-02-07T00:00:00Z
Good place for the travelers on the budget.
Irina
2017-02-11T00:00:00Z
Damian is a open minded as well as friendly host. The location of the house is near to cbd and you can get everything you need close by. The room has a fridge, a TV, WiFi,air-con & fan. The bed is really nice to sleep on. Kitchen offers everything for preparing a nice meal. Basically you will have a great stay with Damian for a fair price.
Steffen
2016-09-18T00:00:00Z
The host canceled this reservation 95 days before arrival. This is an automated posting.
Leo
2016-04-29T00:00:00Z
Tipe Kamar
Kamar pribadi
---
Tipe Properti
Rumah
---
Mengakomodasi
2
---
Kamar tidur
Hyde Park, Queensland, Australia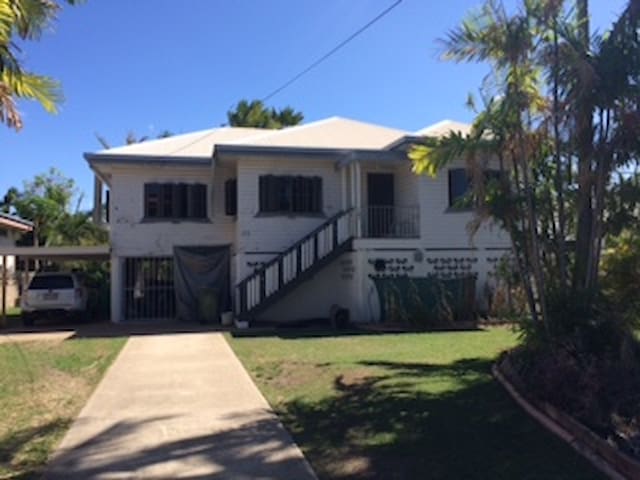 A very big place for a very small price. I was selling this property but as it is a premium 3 level Townhouse I wasn't able to get the right price. Will let it out to Airbnb and resell in 2018. It's INCREDIBLE value, just please be clean! Beautiful home at the back of the block so it's quiet. Up to 3 car accommodation. Restaurants, Coles, Fastfood, Tavern are 1 minute walk. Very short drive to Hospital. Good sleep on Queen bed (not a matress on the floor), single bed, or futon.
Unlike many homes, AIRBNB is allowed by the landlord! As you arrive, notice there is about 7 restaurants across the road, then you will see our driveway. We have 3 carparks at the far back. Furthest from the road. Quiet safe yet such a short walk for anything. Massive courtyard. Please feel free to water :-) the edible garden. Safe carparks. I've left car unlocked many times. This is just the ground level. Go through the wooden gate, then up the stairs to Level 2. Study area waiting for you with unlimited NBN, Futon/foldout bed in lounge room with flat screen TV. Dining table with 4 chairs for comfy dinner, kitchen (cooking gear, microwave, wok, etc provided), separate laundry, and.... a balcony. Then walk up the stairs up to Level 3. Level 3. Over size Kings rooms. Queen mattress always neatly and freshly made (it was once a mattress on the floor but it is not anymore). This King Room has a Long Balcony with nothing much but trees, roof tops and neighbourly views. A 2nd bedroom, smaller, with single bed, Double builtin cupboards. Still a decent room but made much better by it's own private balcony, with outside chairs and table. Extra blankets, pillows, towels in cupboard, (enough for 4 people supplied) + Baby bath. Fridge, Microwave, cooking equipment, TV all for you. Often a cold beer or bottle of wine in fridge for guests. There is a great collection of restaurants within 4 minutes walk. The Rising Sun Tavern. Coles, Subway, Italian, Massage, Haircuts, Cafe's, less than 3 minute walk. Yes. Unlimited NBN internet. My wife and I are more than happy to give you a pick up/drop off at Airport. We rarely meet guests so our references may not be as nice as some peoples. We find guests are so happy with the location that they don't want to have dinner with us. But still we would love to invite you to have dinner with us. We've travelled 80+ Countries and work online across the globe through (SENSITIVE CONTENTS HIDDEN)/(SENSITIVE CONTENTS HIDDEN)/phone. My 2yr old has been in 4 countries and over 25 planes. Look forward to making your stay most comfortable.
Supermarket and shops very close. Just (SENSITIVE CONTENTS HIDDEN) Rising Sun, Townsville. You can see this from one of our 3 balconies.
Andrew's communication was great leading up to the stay – he was even kind enough to leave a baby bath at the property for our little one. The unit itself was sparse which was good for us as there wasn't too much trouble our son could get into. The only issue we had was that the remote for the downstairs air-conditioner couldn't be found. Andrew stayed in good contact as we tried to work out where it had gone but unfortunately we didn't end up locating it (though we could still use the aircon by pressing the manual switch.) Hopefully it turns up when Andrew goes through the property afterwards.
Stephen
2016-09-26T00:00:00Z
The property was great!...just what we needed. Close to town and lots of shops nearby. Andrew was great to deal with and made the whole experience very easy!...
Daniel
2016-09-17T00:00:00Z
Andrew was a great host- thoughtful and made sure we had all the things we needed. The apartment is a short drive to town with great restaurants and supermarket within walking distance. Lovely and quiet.
Nancy
2016-09-12T00:00:00Z
Needing to be in Townsville for a week in a hotel room seemed not very appealing. Instead of two people in two hotel rooms the idea of a bigger shared space made sense. Choosing and booking the townhouse was simple and straightforward. Andrew was quick to respond and after a small amount of banter I was feeling secure in the decision stay there. Based on the description and photos we were prepared for a relatively spartan environment, but on arrival we were pleasantly surprised at the level of kitting out that was present in the unit. We understood going in that there was no wifi or tv and that suited us but apart from that we felt fully self contained and were able to do all we wanted to do whilst in town the whole time knowing we had a clean,secure private base to start the day from and to return to at any time.
Geoff
2016-08-23T00:00:00Z
Andrew was very easy to deal with and it was a great place to stay. Very good location with only a short drive to the city. Shops and restaurants in the surrounding suburb. Highly recommend!!
Damien
2016-10-21T00:00:00Z
Host was very welcome. Great price and all our services were looked after well. Definitely recommend to others
Lloyd
2016-08-15T00:00:00Z
The host canceled this reservation 4 days before arrival. This is an automated posting.
Oliver
2016-09-12T00:00:00Z
Andrews place is in a great location and so affordable. We stayed for a weekend and were very comfortable- it was spacious and quiet. Each floor has a balcony which we enjoyed relaxing on. At first we had some trouble finding the diningware- it is in a free standing cupboard in the dining room. The kitchen is equipped with most things you would need, though the knives are very blunt. The main bedroom has a mattress on the floor which isn't mentioned on the listing. Luckily we didn't mind. The cupboards are well stocked with linen for every season. Andrew is a great host who is very flexible with times and welcomes you with warmth and honesty.
Mary
2016-10-22T00:00:00Z
Tipe Kamar
Seluruh rumah/apartemen
---
Tipe Properti
Townhouse
---
Mengakomodasi
4
---
Kamar tidur
Hermit Park, Queensland, Australia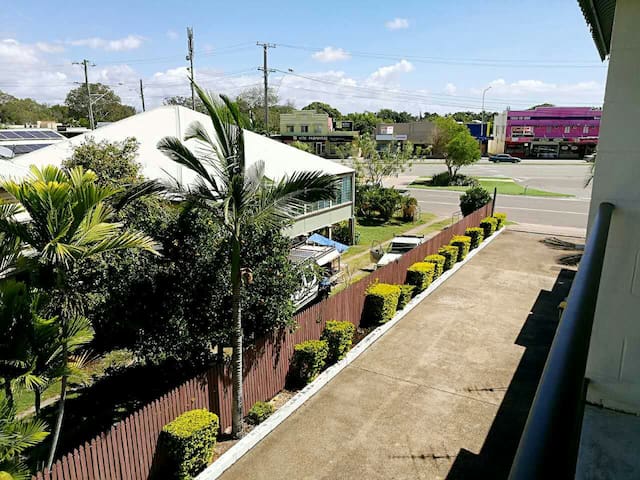 刚好位于道格拉斯的安静的郊区,靠近汤斯维尔医院和JCU高速公路。的衬套在郊区设置。
在一天结束,放松的庭院和他们去了解他们的日常工作由小袋鼠,擦洗火鸡,彩虹lorrikeets和各种娱乐雀。也许你更喜欢在电视机前放松一下。
理想的位置为那些访问医院或统一。 Woolworths的,BWS和快餐店(地铁和的Brodies)都在附近。健身房,干洗店和兽医都得心应手。
The host contacted us by phone as he was away and ensured we had easy access to the unit. His daughter was available should we have had any issues. The unit was as advertised.
Mary
2016-07-11T00:00:00Z
I stayed here for a month whilst undergoing treatment at the hospital, and Charlie's Place was the perfect accommodation - clean, tidy, and close to the hospital in a quiet neighbourhood. Had a few things come up during my stay, and Charlie made sure everything was taken care of right away. He was a great host.
Jacqueline
2016-05-05T00:00:00Z
We had a comfortable stay at Charlie's place when we visited for a friends wedding. The apartment was peaceful and cool (despite the super humid Townsville spring weather). Thanks especially to Charlie for buying a few groceries for our brekkie the next morning (as our flight wasn't arriving until very late in the evening). And special thanks for waiting up past 1:30am to greet us and show us around the apartment after our flight was delayed! Location wise we'd recommend hiring a car if you want to get around to the supermarket and see some sites. While quiet and out of the city there's really no way of getting around except for cabs (which gets pretty costly).
Dee
2016-10-04T00:00:00Z
Excellent and very convenient location for anyone visiting uni or the hospital (within 15 min walk) with a Woolworths close by. Quiet with a nice patio to breakfast with a view of the surrounding bush! Nicely and practically furnished. Very welcoming host who offered us tips for the area and was always ready to help. Would highly recommend!
Lyne
2016-04-05T00:00:00Z
In TSV for work at the hospital. Perfect location. Charlie was helpful. Did the job.
Kim
2016-06-20T00:00:00Z
Nice and convenient location! Charlie was very flexible about the check in and check out time.
Ken
2016-12-06T00:00:00Z
The unit is spacious and located close to jcu and townsville hospital. The unit has fans throughout and aircon in the bedroom. During my stay charlie was conducting open homes at the unit which was inconvienient for a shift worker or those who like there privacy. I choose the option of paying charlies weekly price rate which I thought was a great option untill charlie tryed to charge me for an extra night when I decided to stay the full week. There is a bus stop not far from the unit and there is a bike available but no helmet so you will need to bring one or buy one if you wish to use it. I choose to stay at the unit to be close to Jcu and the hospital.
Aroha
2016-03-06T00:00:00Z
Just what I needed for work at Townsville Hospital
Huu Kim
2016-07-09T00:00:00Z
Tipe Kamar
Seluruh rumah/apartemen
---
Tipe Properti
Apartemen
---
Mengakomodasi
2
---
Kamar tidur
Douglas, Queensland, Australia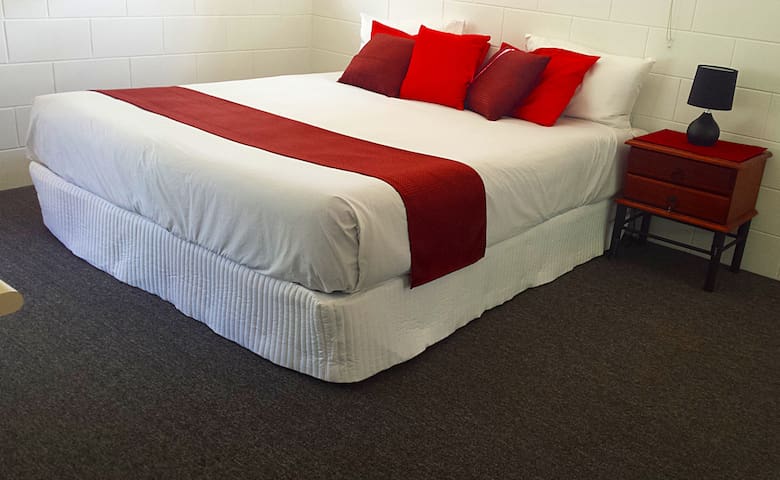 Ein ruhiges Zimmer in einem modernen Haus, in der Nähe von Geschäften, Ross River und die Murray Sport Reserve
Meine Haustiere sind in der Regel mich zum Lächeln zu bringen, und ich hoffe, dass Sie auch
Ich liebe, dass mein Haus nur einen kurzen Spaziergang vom Fluss Gehweg ist.
Very nice room with a big bed. Tina is really welcoming.
Olivier
2016-11-09T00:00:00Z
Great place! I I would definitely recommend! :) bed was really good
Petra
2016-11-04T00:00:00Z
I enjoyed staying Tina's house. I played with dogs and cats. All of them are lovely and friendly. The cost performance is great! If I have an opportunity, I'd like to stay there again! Thank you very much! Tinaのお家、素晴らしく良かったです!初めてAirbnbを体験したのですが、良すぎて病みつきになりそうです~!!
Motohiro
2016-12-20T00:00:00Z
Tina est tres accueillante. Très belle maison calme. C'était un plaisir d'y être pour notre court séjour. Je recommande à tous.
Axel A.
2016-10-27T00:00:00Z
Everything was good. Tina is very accommodating and even asked us about what we want for breakfast. Her place is close to the shops and restaurants. It was a good experience and I will certainly book again.
Jocelle
2016-09-27T00:00:00Z
Tina is a great and nice host she really made me feel great. the room was perfect and very clean. She gave me a great idea where to go for dinner. Next time I definitely stay longer. I truly recommend this place to the airbnb community. Hope to see you again. Dankeschön!
Roya
2016-10-13T00:00:00Z
We loved our stay at Tina's! She's incredibly accommodating and has a wonderful house. The bedroom has a very comfortable bed and bedding for a great nights sleep. Clean bathroom with a great shower. The breakfast was wonderful with a large selection of cereals and spreads for toast. If you need somewhere to stay in Townsville look no further! Wonderful hostess and AMAZING value for money! Thank you Tina!
Eleanor
2016-11-21T00:00:00Z
Tina is a great host ! We had great laughs and conversations ! As a local she was able to recommend us nice places such as Magnetic island ! A must do if you are in the area. It is our first experience with airbnb and thanks to her we will keep using this service. Her place is very confortable, we even extended our stay for a couple of days which was not planned ;). My wife and I strongly recommend Tina.
Edward
2016-12-15T00:00:00Z
Tipe Kamar
Kamar pribadi
---
Tipe Properti
Bed & Breakfast
---
Mengakomodasi
2
---
Kamar tidur
Annandale, Queensland, Australia
Großes Haus mit viel Platz für Aktivitäten. Umzäunten Hof für Tier ist alles, obwohl sie innerhalb sein kann, wenn nötig. Außenpool für den Einsatz, wenn wollte oder brauchte. Voll funktionsfähige Küchen / Wäsche / WiFi. Keine Bindung erforderlich und recht billig rundum leben. Fuve minütige Fahrt zur Universität und Geschäften oder 5 Minuten zu Fuß bekommen zu einer Bushaltestelle Sie zu nehmen, wo immer Sie gehen mußten. Plus erhalten Sie mit einigen fantastischen Menschen zu leben. So eine E-Mail oder mir Text und eine Zeit organisieren kommen einen Blick.
Bryce was helpful and his Shared House had a good variety of guests
Simon
2017-04-08T00:00:00Z
Tipe Kamar
Kamar pribadi
---
Tipe Properti
Rumah
---
Mengakomodasi
2
---
Kamar tidur
Douglas, Queensland, Australia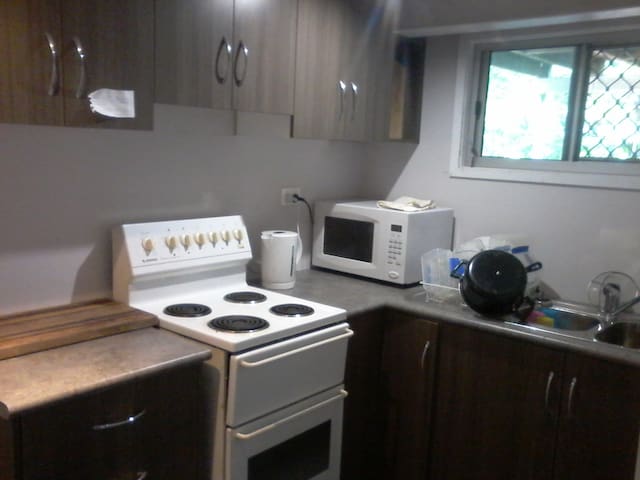 Eigenständiges offenes Studio entfernt vom Hauptwohnsitz für die Privatsphäre. Kürzlich für kurzfristige Aufenthalte für Familie und Freunde gebaut. Zentrale Lage ... etwas mehr als 3 km zu Stadt und noch näher an anderen Einkaufszentren.
Great location, very welcoming and friendly hosts that went over and above to make us feel comfortable!
Kevin
2017-02-18T00:00:00Z
Brad was very nice to welcome us when we arrived. Unfortunately we just stayed there to sleep. Maybe another time to see Donna!
Léna
2016-07-31T00:00:00Z
Nous avons passé un très bon moment chez donna et Brad. Leur appartement est juste incroyable : très bien équipé, très confortable, très cosy. Nous avons été très bien accueillies même malgré notre heure d arrivée tardive.
Julie
2016-07-27T00:00:00Z
Donna is a welcoming and happy person and has the utmost respect for your privacy, which made staying here great. The studio is immaculately presented, wonderful shower, bathroom and kitchen facilities top notch. Very quiet area too and backs onto a beautiful park. One thing to note if you like sleeping in a dark room, there is a green night light in the ceiling which is on all the time, it is very subtle, but if you might like to bring an eye mask.
Ilve
2016-09-08T00:00:00Z
Donna and Brad were friendly and welcoming, Donna by phone and Brad at the house. Their self contained cabin was modern, well appointed and clean, completely separate from their home. This is an excellent Airbnb if you want to stay in Townsville and they live near a botanical garden.
Norman
2016-10-03T00:00:00Z
This is the second time I have stayed here and its starting to feel like a home away from home. Donna and Brad are so welcoming but happy to give you the space you need. Now its nice and hot its lovely to have a swim in the pool! I also found out (from Brad) that there is a great running track just near by. Such a great location. Highly recommended.
Laura
2016-10-14T00:00:00Z
This was the best airbnb we have stayed in. The hosts were fantastic and provided excellent support. The granny flat was 5 star standard with everything a small family needs - cooking facilities, park next door, supermarket 2 mins walk, and central location. (Our 8 year old loved the gaming consoles). Would definitely stay here again, truly a home away from home!
Victoria
2016-08-19T00:00:00Z
I was truly impressed with our stay at Brad and Donna's. It was super comfortable, very affordable and a perfectly convenient location. We were made to feel very welcome by our hosts and nothing was a bother. Brad and Donna went out of their way to ensure we had all we needed. The flat was modern, fresh and clean. Will definitely be our first choice next time we visit! Thankyou.
Jaclyn
2016-09-04T00:00:00Z
Tipe Kamar
Kamar pribadi
---
Tipe Properti
Kabin
---
Mengakomodasi
4
---
Kamar tidur
Mysterton, Queensland, Australia
Masukkan tanggal untuk melihat harga lengkap. Biaya tambahan berlaku. Mungkin dikenakan pajak.