Newly built cozy guest studio cottage (w/Queen bed) with great natural Sonoma light. Perfect for a little get away in wine country. Everything you need for a comfortable and relaxing stay. The kitchen is equipped with a Keurig coffee maker, toaster, microwave and refrigerator.
New everything! Beautiful sky lights. Super clean and cozy.
We live across from a quiet neighborhood park in Boyes Hot Springs and we are close to Glen Ellen and Sonoma wineries. We are near the gourmet ghetto and some of the best restaurants in Sonoma!
Melanie made our stay incredibly comfortable and welcoming. She was very flexible with our arrival time since we weren't quite sure when we'd be getting into the area. Love the little guest cottage. Perfect stay.
Lesley
2016-04-18T00:00:00Z
What a delightful experience - Melanie had great communication leading up to my stay, and was there to greet me and show me around the place when I arrived. Her special touches (the fruit/nut basket, a birthday treat and card, etc.) really made this stay great. The cottage is set back off of the street and through a back gate, with a lit pathway adjacent to the house. Traveling alone, I felt safe and secure. The room is cozy and very clean, with so many amenities I enjoyed: the full bathroom, microwave, fridge, toaster, coffee pot, hair dryer, cable/Wifi, etc. Melanie even had a book of activities in the area, and lots of 2-4-1 wine tasting cards. I can't rate this experience highly enough. Thanks, Melanie, for a wonderful, affordable place to stay and for helping make my birthday weekend outstanding :)
Lisa
2016-02-29T00:00:00Z
Let me start by saying that Melanie could not have been a more lovely host. Not only were we received by a warm welcome, but the welcome basket located in the kitchen made our stay feel more like we were with a family friend than staying in a stranger's cottage. From this location you can do everything and it is close enough to take an uber in and out of the square in Sonoma. This cottage is perfect for a romantic getaway and we hope to make this trip/stay into a tradition!
Sarah
2016-07-28T00:00:00Z
My aunt and I stayed at Melanie's and it was absolutely wonderful!! She was so accommodating, welcoming and sweet! She was easy to communicate with during the whole process and filled with great advice! I would highly recommend staying there if you are looking to go to Sonoma. It is not far from the main square and a really quiet and calm neighborhood.
Naomi
2016-02-10T00:00:00Z
Staying with Melanie was an absolute pleasure. First of all, her level of communication before we arrived was excellent. We had some glitchy issues with the Airbnb reservation system but Melanie was helpful throughout. When we arrived, she greeted us as if we were long lost friends and my wife and I immediately felt at home. We came and went with ease, the room was perfect, and little details like a welcome basket, coffee and tea setups, instructions on using the TV, and plenty of towels were thought of ahead of time. I can't wait to get back to Sonoma but a big part of the reason why is because of Melanie and her amazing hospitality!
Michael
2016-08-01T00:00:00Z
Cutest little guesthouse! Perfect for a short weekend in Sonoma! Melanie left us cherries, champagne, and cookies. The room was so clean and lovely. Would definitely return!
Emily
2015-08-23T00:00:00Z
This was our first ever air bnb experience . Melanie greeted us like long lost friends and immediately made us feel very welcome and comfortable. The cottage/ studio is immaculate and perfect for a couple of days stop off. The fridge was well stocked, with a beer for my husband and Prosecco for me. ( how did she know that's my favourite) Max the dog was very charming and well behaved. Great bed, slept like a log and lovely thick towels to match the great ensuite. Should we ever visit Sonoma again we would definitely stop her. Really reluctant to leave as I feel we could have become friends. Thank you so much Melanie for sharing your home with us.
Simon & Angela
2015-09-03T00:00:00Z
Melanie was a fantastic host! She was very accommodating and goes out of her way to assist you. Her place is not your average airbnb, it was more than you could ever ask for. It felt like we were staying in a hotel! Welcome basket, drinks in the fridge, a Kuerig coffee maker, shampoo, soap and lotion etc. You name it, it was there! Her place is a very warm neighborhood. It's safe and accessible to the market and other attractions. Her place even has a lemon and Orange tree just in case you feel like picking a fruit! If you love dogs, she has a very sweet and gentle dog named Max. I would highly recommend staying at Melanie's if you happen to be in Sonoma. She made my first airbnb stay a pleasant experience!
Christina
2016-02-24T00:00:00Z
Tipe Kamar
Seluruh rumah/apartemen
---
Tipe Properti
Apartemen
---
Mengakomodasi
2
---
Kamar tidur
Sonoma, California, Amerika Serikat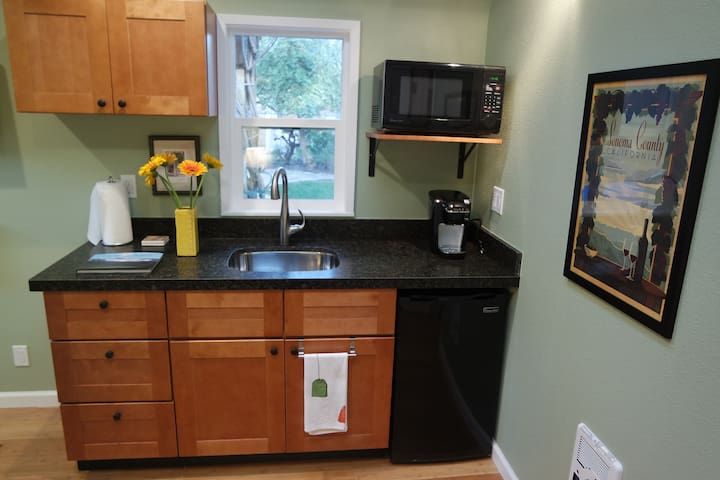 Great set up for a couple or two couples travelling together or two people needing separate rooms. One private bathroom across from the Arbor Room door for these two rooms, no other guest has access to it or be allowed to reserve the other room. If two people need separate rooms there is an additional $49/night for the second room.
If you are just one couple, please also check availability for "Main Street Farmhouse Master+Bath". To reserve space for 6 people, you can check availability here and at the Master+Bath site. "Cottage or Carriage House or Farmhouse Silver Cloud" (separate locations on Airbnb) are also on our beautiful half-acre. Charming renovated farmhouse built in 1880 on Main Street! Twenty minute walk to downtown restaurants and Oxbow market. Comfortable bedroom(s) featuring hotel quality beds with ultra comfy bedding. Continental Breakfast including Greek yogurt, homemade granola, English muffins, bagels, cream cheese, jelly and jam, coffee and tea is provided each day in the dining room. Two bedrooms available if you are travelling in a group. If you only need one room, the other one will not be rented so that the bathroom, located across from the Arbor Room, is yours privately. Should you need a third bedroom, please see availability for Farmhouse Master + Bath. Separate private front entrance to the second floor for BnB guests and we live on the first floor and use the back door so there is plenty of privacy in the home. The Arbor Room has TV/cable, sitting area, and all rooms have wifi. Super clean inside and out. Dining room is a common area with an antique piano. Enjoy a glass of wine on the front porch and the beautiful landscaping on this historic half acre on Main Street! Private driveway parking area. Main Street Farmhouse is licensed by the city of Napa and the price you see stated has the occupancy tax included already for your convenience. There is no deposit required as we trust the respect guests will have for the property and rooms. Guests may enjoy the dining room, front porch and back patio area. We interact as much as the guests would like. Exchanging ideas about restaurants and wineries is something we enjoy doing.
Napa neighborhoods/streets are very diverse regarding types of houses, parking, etc. The Farmhouse sits on beautiful part of Main Street with great parking. If you're not staying here, we recommend to street view the address you are considering prior to making a reservation somewhere else.
Tom & Judy's place was very charming and quaint! The location was perfect - close to downtown and other things. Tom gave us some lunch recommendations which was great and very helpful since we weren't familiar with the area. The only complaint would be that it got pretty hot in the upstairs bedroom. He did turn the A/C on for us, but it never got very cool, so it was a little tough to sleep in the heat. Aside from that - everything else was great!
Elisabeth
2016-09-08T00:00:00Z
Our experience at Tom and Judy's was so nice! Tom and Judy were very quick in their responses to our questions and were very accommodating to us since we had 5 people in our party but only two rooms available in their home for the night we were there (they included a roll-away bed for us in one of the rooms). From the moment we arrived we knew it was going to be a very nice stay and Judy was there to greet us and even provided a fan to us (we are hot sleepers) upon request. Overall, our experience was a very positive one and we will definitely look to stay there again when we return.
Richard
2015-07-31T00:00:00Z
We, 4 people stayed at the farmhouse. Rooms are very clean and really comfortable. Super convenient location to the downtown Napa. We stayed only 1 night and definitely want to come back and stay longer in our next Napa visit.
Aki
2015-08-28T00:00:00Z
This was by far one of the best AirBnB experiences we had so far. The hosts are great people. The accommodation was great. They even gave us a very warm welcome and my parents, my kids and me and my wife enjoyed every minute. We will most probably be back. This was a great stay. Thanks for everything.
Andreas
2016-02-25T00:00:00Z
Très cordial accueil de Tom et Judy, on se sent tout de suite chez nous. La maison est très cosy et le patio idéal pour déguster un chardonnay de la Napa VALLEY. L'emplacement est idéal pour visiter la région. Que du bonheur pour ce trop court séjour. Merci à Tom et Judy
Michel
2015-09-30T00:00:00Z
We loved this home! Super comfortable bed and terrific sheets! We had to get up very early to go Balloning in Yountville and we were not going to make it back in time to check out. Tom said "no problem" We got back from our ballon adventure, showered, grab our things and properly meet our very kind hosts. So friendly! Good vibes. Great options and lovely space. 10+
Lisa
2016-07-17T00:00:00Z
We were greeted by Judy upon arrival, and she walked us through everything. She also very kindly offered information about the area. The rooms and common area were as described. Everything felt very comfortable and clean, and we were very happy with our time here. Will definitely come back on future trips to Napa.
Earl
2016-04-11T00:00:00Z
We loved this bnb, Tom and Judy welcomed us early and made us feel right at home!
Alison
2016-10-30T00:00:00Z
Tipe Kamar
Kamar pribadi
---
Tipe Properti
Rumah
---
Mengakomodasi
6
---
Kamar tidur
Napa, California, Amerika Serikat
Your studio is more like a cottage, tucked away in the back yard under a giant redwood. Located walking distance to downtown Petaluma and a short drive to Lagunitas brewery. Perfect for a weekend of wine tasting, brewery tour or a trip to the coast.
Our little cottage has a great open and airy feel to it, which seems to be the perfect thing for a good nights rest. The simple whitewashed walls and exposed rafters make it a very relaxing and charming space that we love sharing with our visitors. In the studio you have a queen size bed, full bathroom, refrigerator, tv and dvd player, microwave, coffee/tea bar, and a chess set. Please note that we do not have cable with the tv, but wifi and our apple tv make it so there are plenty of options for things to watch.
We are in a residential area less than a mile from downtown Petaluma which has some great dining and local boutiques. If it's a Friday evening you might catch Petaluma Pete's street piano. Taps and Brewsters are both great places for craft beer. There's great italian, tapas and farm to table style restaurants close by which highlight the great food and drink that comes from this area.
Absolutely perfect. Set in the aesthetically pleasing old industrial mill town of Petaluma, Jan's studio cottage is an oasis sitting amidst cacti, rosemary bushes and yes, a redwood. He was accessible and helpful, and the studio itself was picture-perfect, the bed and amenities dreamy. Could not have been happier!
Erica
2014-12-22T00:00:00Z
Great studio. Easy access to the freeway and all the fun of the area.
Will
2015-11-08T00:00:00Z
Jan was extremely welcoming, greeting us with the keys. He also immediately gave us suggestions as to where to go in Petaluma, and his advice was spot on. The space was decorated so nicely, and had everything you could ask for, all the way down to a mason jar of fresh ground coffee.
John
2015-01-25T00:00:00Z
Quick and easy transaction with detailed instructions. Beautiful, clean, comfortable space.
Seanmichael
2016-01-21T00:00:00Z
Jan was not there when we arrived but when we finally ran into him before leaving for dinner, he was warm and welcoming, making sure we knew that if there was anything we needed, he was there to help. The cozy studio is exactly like the pictures. The location was perfect, right off the freeway but not on a loud street. We were only 40 minutes away from Healdsburg so decided to explore the town for the day, and then enjoyed downtown Petaluma for dinner! (HIGHLY SUGGEST: Central Market, which is only a 3 minutes drive from Jan's place). Overall: great experience, clean place, good location, laid back & welcoming hosts, and the cutest dog!
Erica
2015-07-09T00:00:00Z
Jan and Emily are such kind and welcoming hosts! Their place is so cool and environmentally friendly - with a grey water system and permaculture garden. Not to mention the chickens! Their dog Taz is a sweetheart too. Walking distance to the downtown area/Whole Foods is a plus and a short drive away from the hiking areas and Point Reyes. Great getaway from the city for a weekend! Thanks, Jan & Emily!!
Xochil
2016-10-23T00:00:00Z
We had a very short stay at Jan's (1night) so we didn't meet her but the place was exactly as described. Excellent communication and super easy to find. We would definitely stay here again! Very cozy and quaint, she has a beautiful backyard . Thanks again!
Akemi
2016-10-15T00:00:00Z
This place is amazing! It's in a cute little neighborhood in downtown Petaluma super close to the scenic downtown area. The whole place feels very safe, clean, stylish, and welcoming. From the minute we arrived, we were greeted with nothing but good vibes - and we were completely charmed by the artistic feel (and adorable doggy)! Jan, the host, is incredibly kind, flexible, welcoming and respectful. As far as the actual studio, I have nothing but positive things to say: the bed was super comfortable, everything smelled nice, everything was incredibly clean, and there were amenities galore! Perhaps what made this place so awesome was the details! Jan emailed me clear directions (including wifi password information) before I even arrived. Even though I don't drink, there was a few beers in the fridge, which seemed so nice. There was even shampoo, conditioner, and soap in the bathroom! Not just your average Irish Spring, either! This was a little piece of what seemed like artisan made soap that could have easily been from one of the fancy downtown shops. I loved this place so much, I can't wait for another weekend in Petaluma - I will be staying here without a doubt!
Stephanie
2015-12-07T00:00:00Z
Tipe Kamar
Seluruh rumah/apartemen
---
Tipe Properti
Rumah
---
Mengakomodasi
2
---
Kamar tidur
Petaluma, California, Amerika Serikat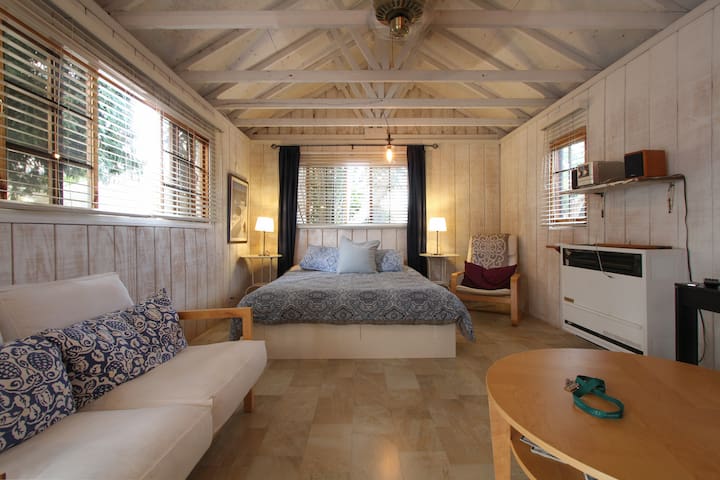 I 'm renting out my studio apt. In my 4 bedroom home, 3064 sq. Ft. Home with 460 sq. ft Studio in- law apartment in our home located in the Green Valley area in Fairfield, just 20 minutes outside Napa. Very convenient location,
The room itself is a studio apartment on the second floor Studio is connected to the main house. One California King bed. Spacious closet for hanging your clothes if needed. Bathroom shower with toilet. Hair dryer if needed . Your own full kitchen , stove,microwave,coffee maker,Dishwasher, pots and pans,dinnerware and silverware. WiFi - Password to log on.
This is a very serene neighborhood a perfect place for reflection , relaxation , peace and quite enjoyment of the property. Perfect for Bay Area gateway with out leaving San Francisco.
I would stay at this place over and over again. It was a decent drive from the Napa region, but there's not much in Napa to begin with regarding lodging. Our host was extremely helpful. The house was hotel clean! And the room was very spacious. Great place all around.
Alvin
2016-09-04T00:00:00Z
You MUST stay here if you are visiting the Napa/Sonoma area!!! This place is a STEAL. There is a reason it is always booked! My boyfriend and I loved staying here. Lerma is the sweetest. She made sure to be home when we arrived so she could greet us at the door and give us a quick tour of the place. The apartment is SPACIOUS, clean as can be, and has everything you could possibly need. It even has a keyless entry. The bed is huge, comfortable, and has the softest sheets and pillows. The kitchen is fully equipped and is perfect for a long stay. There is even a coffee maker for you early birds. Lerma had stocked the fridge and pantry with commonly used items for us. There is AC and a fan but we were comfortable just leaving the windows open for a fresh breeze. The bathroom is also very cute, clean, and Lerma even had high end shampoo/cond/etc from L'Occitane for us. You can tell Lerma put such loving energy and effort into this apartment. She even let us park in her driveway and meet her cute pup. I can't say enough positive things about this place. Thank you Lerma!!!
Jenny
2016-09-03T00:00:00Z
Lerma was a gracious and accommodating host. She left snacks, coffee and drinks during our stay. The studio was well equipped, clean and well decorated. Lerma invited my wife in for a chat while I was working, and she was delightful. Would highly recommend.
Gregg
2016-05-16T00:00:00Z
Lerma was an excellent host making us feel welcome from the minute we arrived. The apartment was spotless and the kitchen was well stocked with food which was unexpected. I would recommend renting from Lerma to anyone.
Michele
2016-08-29T00:00:00Z
Lerma was the sweetest! I had such a great first experience using Airbnb. Her place was exactly like how it was in the photo and she was so kind enough to leave refreshments and snacks. Her place was so cozy! It's a home away from home. Thanks so much!
Rebecca
2016-03-06T00:00:00Z
Lerma was so gracious in being flexible with our later arrival, and the space was beautiful and bright. This was the perfect room for a quick escape from the city and not too far from Napa. We enjoyed relaxing in the room, being able to get dinner in Napa, then make it back easily. Would strongly recommend this spot to friends and other travelers.
Loren
2016-02-07T00:00:00Z
My wife and I loved our stay at Lerma's place, located in a nice, quiet, and convenient neighborhood. Lerma was super nice and extremely responsive. The place is spacious, has great amenities, and is very clean and tidy. We highly recommend this place!
Stanley
2016-10-08T00:00:00Z
One of the best air bnb I've stayed in. She even had cereal and snacks to eat.
Jason
2016-06-25T00:00:00Z
Tipe Kamar
Seluruh rumah/apartemen
---
Tipe Properti
Rumah
---
Mengakomodasi
2
---
Kamar tidur
Fairfield, California, Amerika Serikat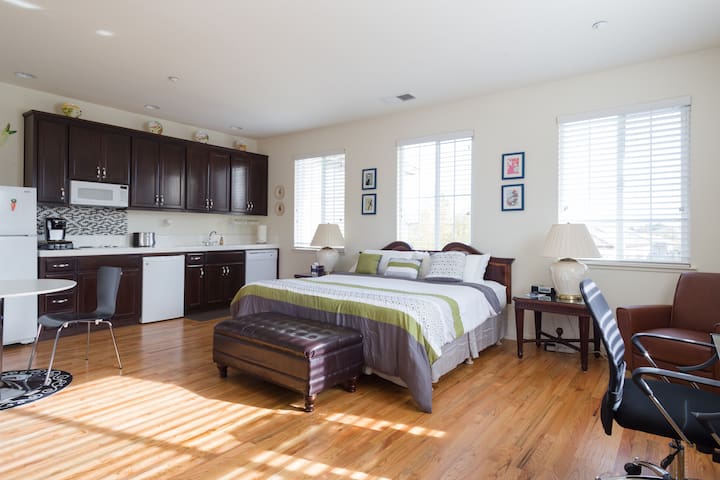 Experience wine country on a family owned vineyard located 2 miles north of St. Helena. Several wineries located within walking distance. Enjoy vineyard walks, wine, bocce and delicious olive oil.
Our guest apartment has a king size bed, microwave, mini-frig, plate service, TV and Wi-Fi. Enjoy vineyard walks, relax on a private deck, lounging by the pool and a glass of our old vine Zinfandel wine. Guest unit has a private entrance. Come, enjoy the lifestyle!
Our setting is rural.
We went to Napa for our 5 year anniversary. This place was recommended to us by a friend that stayed here. He said "stay here and thank me later". That basically sums it up. Beautiful views and perfect location. (Schramsberg vineyards was our favorite and right down the road!). Thanks to Jack and his wife for the great time!
Bruce
2016-05-28T00:00:00Z
Beautiful, clean and comfortable home in a great location. We were provided with everything we needed and more!
Jen
2015-10-17T00:00:00Z
Amazing stay at Korte Ranch with Jack and Kathy! My wife and I just returned from an anniversary trip here and we couldn't have loved it more. The guest house is the perfect, peaceful escape for a getaway. It was clean, comfortable and filled with added amenities like hiking guides, vineyard suggestions, and a bottle of delicious Zinfandel. We enjoyed coffee on the deck, pool time between wine tastings, the incredible Vineyard views, and the added bonus of happy hour with Jack, Kathy and a few friends to kick off our stay. We were a quick drive or uber ride to some of the best vineyards around and it was so nice being removed from the hustle of the downtown areas. Definitely visit Ehlers while you're here - it's a quick walk! We look forward to returning for another trip and would 100% stay here again. Thanks for the most enjoyable week Jack and Kathy!
Jordan
2016-09-02T00:00:00Z
We loved jack's house!! absolutely beautiful and serene. Close to town but removed enough.
Samantha
2016-03-26T00:00:00Z
We had the most incredible stay! Jack and Kathy's place is stunning and they are wonderful hosts. The pictures don't do the place justice, it is so beautiful. We really hope to be back! Big thanks!
Cary
2016-08-29T00:00:00Z
An incredible experience Jack and Kathy are great hosts and truly wonderful people.
Nick
2016-06-07T00:00:00Z
Jack and Kathy's guest apartment was spectacular! The photos on line are awesome, but the home was even more beautiful in person. We could go for a swim, walk around the beautiful gardens or sit on the deck with a glass of wine and look out at the vineyards and olive trees. It couldn't get any better. Jack was very helpful and he and Kathy made us feel very welcomed. I can't wait to go back again.
Heidi
2016-06-15T00:00:00Z
The house was lovely and clean. The views were beautiful. The location was perfect and VERY convenient. Would definitely recommend!
Joshua
2016-01-06T00:00:00Z
Tipe Kamar
Kamar pribadi
---
Tipe Properti
Apartemen
---
Mengakomodasi
2
---
Kamar tidur
Saint Helena, California, Amerika Serikat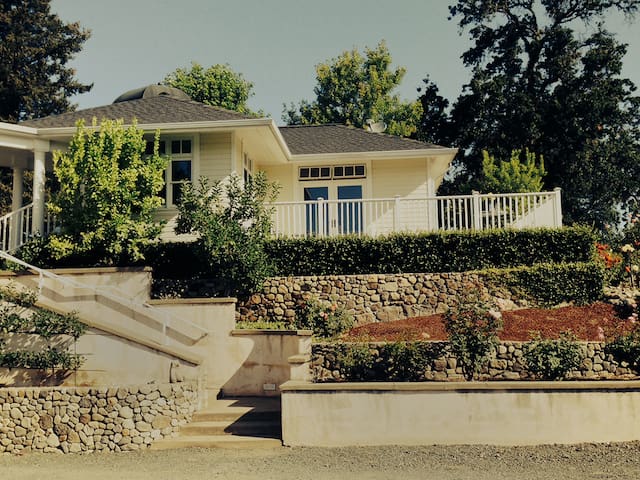 Crow Cottage is newly rebuilt and decorated in an eclectic whimsical style by the artist owners. It is light and airy with a private shade deck and sunny patio. The Cottage has a queen size bed. There is no air conditioning but is very well insulated so it doesn't get very warm in the summer. Set on a country lane just a 5 min walk to 3 great restaurants & gourmet market.
The cottage has character and color. It is further enhanced by the original art by John which is placed throughout. It is surrounded by private green areas. At times it is rather crittery around here ,watching the birds and squirrels from the shade deck is fun. Raccoons, skunks and possums cruise through now and then. The cats wander here and there in the yard. The location is exceptional. You are in a country setting yet just a stroll down the lane gets you to the excellent restaurants. The Glen Ellen Inn is cozy and excellent . Enjoy the free corkage at the Fig Cafe. The Glen Ellen Star is new, small and very lively(URL HIDDEN) Have all the wine you want, walk back down the lane No worries ! The kitchen has a microwave, toaster oven, electric kettle,full size sink and fridge, plus a dish washer(URL HIDDEN) A barbecue is also available.
Nearby is Jack London State park which is incredibly fascinating with more buildings open than ever before. Glen Ellen is right next to Kenwood which is also great to explore, aside from outstanding wineries there is the Sugarloaf Park observatory where you can be free of lights and look through their telescopes with the docent astronomers. A jeep tour company is based in Glen Ellen which is a lot of fun and reasonably priced. They will even take you out to the Pacific Ocean . Open Air Jeep Tours (URL HIDDEN)
Pictures don't do this cute little cottage justice. This is by far the most unique AirBnb we have stayed at in the best meaning possible. Della was outside upon our arrival attempting to retrieve their cat, who was super nice and loved to be pet the next morning. The cottage was clean and ready for our arrival, and there was even milk in the fridge for our coffee the next day. They own a gallery down the street, and some may think that it is tacky that their art inside of the cottage is for sale, but I absolutely loved that fact. It's great to see that their unique character is due to their own making and there's something about knowing the art around the backyard and in the house is made by them that makes it special. We arrived after dark and left early the next morning so we didn't get to experience the little town of Glen Ellen down the street, but it looked cute on our drive in and out. Should we visit Sonoma again this will be hands down the first spot we attempt to stay at again. Thank you!
Hannah
2016-09-17T00:00:00Z
Fantastic experience with no problems at all. The checkin process was a breeze, the cottage was charming and clean, and the area was beautiful. One nice touch that we appreciated was the coffee John and Della left in the cabinet to help start the mornings.
Derek
2014-09-05T00:00:00Z
Our second time with John & Della, this time in Crow Cottage. Just a beautiful, whimsical place. We loved the artwork inside and out. It may not be your style, but it's a crack-up and worth trying it on for fun. The hosts went beyond the call of duty in accommodating us, taking care of the little things, and helping out when we drove home and forgot something. Will we return for a third trip?... you bet!
Dave
2014-12-15T00:00:00Z
Such a lovely cottage and excellent location! I could make this small cottage my home. John and Della's efforts in creating a unique space for guests while showcasing their great art work is palpable within and outside the cottage area. Few steps away from the main street with well acclaimed restaurants. My husband and I found great "zen" in this place. Thanks John & Della! Wishing a peaceful holiday season!
Heena & Deepak
2015-12-14T00:00:00Z
My partner and I stayed in the cottage for one night in mid-May. It was a beautiful, peaceful retreat and we loved it. The cottage has everything you need to chill out, including a full kitchen and access to the beautiful back patio. It feels very secluded and private. The artwork all around is beautiful and interesting and adds a dimension to the experience that I think makes it worth more than any luxury hotel. Everything is clean and well-kept and the shower is GREAT. Della welcomed us, and then left us to our own devices. The little town of Glen Ellen has some great restaurants just around the corner from the house, and the Benzinger Winery gives a beautiful tour and is only about a 5 minute drive from the house. We slept like babies and woke up to the sunshine and birds chirping and really just felt restored and happy. Highly, highly recommend this spot.
Ruth
2014-05-19T00:00:00Z
Although I didn't get to meet John and Della in person, I had a fantastic stay at their cottage. Easy walking access to the cute little town of Glen Ellen, and easy drive to both Sonoma and Napa Valleys. The cottage was perfect for two, and I wish we could have stayed more than just one night. I loved the decor and artwork, and the bed was the most comfortable bed I slept on during my whole trip to Northern California. Just be sure nobody is allergic to cats before choosing this place, as they roam the property freely. Nonetheless, I would not hesitate to stay at Crow Cottage again!
Steph
2014-06-19T00:00:00Z
Cute little bungalow, even my two-year-old loves it, keep saying she wants to go to "kitty's home"...very convenient location in the small town, we had dinner reservation in Glenn Ellen Star which is in walking distance...also visited Jack London State Park and a few wineries close by...
Jerrie
2015-12-28T00:00:00Z
We loved our stay! It was cozy, homey, and super relaxing. We ate breakfast out on the patio every single morning, and cooked several meals. You're walking experience from the best wine and the best restaurant in town, not to mention the market is also less than a half mile away. We briefly met John and had a lovely stay. Definitely recommending it for future use.
Nathan
2015-09-24T00:00:00Z
Tipe Kamar
Seluruh rumah/apartemen
---
Tipe Properti
Lainnya
---
Mengakomodasi
2
---
Kamar tidur
Glen Ellen, California, Amerika Serikat
My place is good for solo adventurers and business travelers. Minutes to Valley of the Moon wineries, downtown Santa Rosa, and excellent hiking/biking in Annadel State Park, Hood Mountain and Sugarload Ridge parks.
I will definitely be visiting Jan again! She is very warm & friendly and her home is cozy & very clean!! She is located in a great neighborhood which is very quiet! I loved it and caught up on much needed rest!!
Janet
2016-10-23T00:00:00Z
Hostess has a pleasant disposition offering snacks and house ammenity instructions plus backyard access. Our last evening we shared tea and optimistic conversations making it a bit sad to say farewell to a new friend. Neighborhood was clean and beautifully landscaped.
Lori
2016-09-08T00:00:00Z
Jan's place was so clean and she thought of all the little things.
Tanya
2017-02-17T00:00:00Z
My stay at Jan's was very pleasant. Jan provided excellent details on how to get around, and made sure I was comfortable. The bed was just as described by other guests. Jan's house has a wonderful ambience, and is located in a very nice residential neighborhood.
Anthony
2016-11-15T00:00:00Z
My first time using AirBnB and Jan made me feel right at home. The room was perfect and clean along with the private bathroom. I would highly recommend Jan's place to anyone visiting the area. Along with the accommodations Jan is an incredible host, a truly wonderful person.
Daniel
2016-11-12T00:00:00Z
The listing was accurate, I came a bit early and she was there to welcome me in open arms. The house was clean, the host was extremely friendly, and the neighborhood was nice.
Brian
2016-09-12T00:00:00Z
This is a lovely quiet room for retreat and sleep. Nice private bath, and all the details you might need. Jan is very nice and helpful, too.
Katrina
2017-03-26T00:00:00Z
The neighborhood is very nice, close to highway 12 without being too close. It's also near everywhere I like to go including Oliver's, Montgomery Village, and a straight shot to the downtown area. Jan is very welcoming, friendly, and accommodating. She gave good tourist suggestions and I've been to the area over 50 times. There's a mini fridge in the room, coffee and tea, wifi, easy street parking, a nice clean bathroom (with a very high shower head suitable for tall people), and more. I would happily stay again.
Alice
2016-09-04T00:00:00Z
Tipe Kamar
Kamar pribadi
---
Tipe Properti
Rumah
---
Mengakomodasi
1
---
Kamar tidur
Santa Rosa, California, Amerika Serikat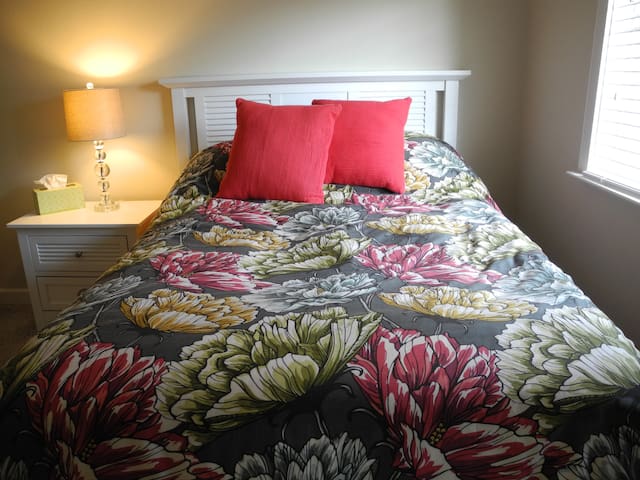 Our place is located in Angwin, in the hills above the famed Napa Valley Wine Country. We are close to Pacific Union College, St Helena Hospital and all the things one can see and do in "The Valley". Visit your kids at PUC, attend a meeting at St Helena Hospital or just wander the Valley. This is a good starting point. There are several great views of the entire Napa Valley as one proceeds down from Angwin. Complete kitchen & laundry facilities. Avoid high Napa Valley lodging charges.
The property is about a 15-20 min drive up the mountain from town. The room is small but it's nice to have the kitchen space available. The bathroom is very small and could use a bit more cleaning. Overall it was fine for one night.
Aden
2017-03-20T00:00:00Z
Great stay for visiting Napa !
Maryam
2017-02-15T00:00:00Z
Great place in Angwin. It's a little cozy and it was cold when we where there (granted it was 32F outside since it was January), but I'd definitely recommend it. I texted Elaine with a question and she responded within minutes. Very friendly and worked out great!
Steven
2017-01-16T00:00:00Z
A++++ Great little place and even better communication by The Host!! Look forward to staying again!
Christoher
2017-01-30T00:00:00Z
Adorable location. Very secluded, not very close to gas stations/markets. The nearby town closes early as well. Spotty cell service, also. Loved the cute little space as well as the courtyard and location!
Jessica
2016-12-17T00:00:00Z
Good base to visit the Napa valley
Vincent
2016-11-29T00:00:00Z
This place was a great base for our trip over New Years, we literally didn't see a single person the entire time anywhere in the area! Check in was very easy and Elaine was kind enough to leave the heat on for us so it was lovely and warm when we arrived. The place had everything we needed for our stay and I recommend hiking to Linda Falls nearby, it was beautiful! Thanks again for the great stay!
Sophie
2017-01-02T00:00:00Z
If you're looking for a base to explore Angwin, Pope Valley and the Napa valley this place should suit your needs. Small and off the beaten track but comfortable and serene.
John
2016-12-26T00:00:00Z
Tipe Kamar
Seluruh rumah/apartemen
---
Tipe Properti
Apartemen
---
Mengakomodasi
2
---
Kamar tidur
Angwin, California, Amerika Serikat
Sunny, artsy, private studio cottage in the heart of Napa Valley. Newly renovated, perfect for a couples getaway. Peaceful garden setting, easy stroll to downtown dining, galleries, wine tasting, gorgeous hiking & biking trails.
The bathroom is located just inside the back door of the main home, which is steps away from the studio. The studio has custom made seating which doubles as a comfortable queen bed with tempurpedic pillow topper. Cozy down comforter, bathrobes, and slippers will await you!
Our home is located in one of the most charming neighborhoods in town. We are walking distance from the town center, park, seasonal creek, dining , spa resorts, and shopping.
Tipe Kamar
Seluruh rumah/apartemen
---
Tipe Properti
Suite tamu
---
Mengakomodasi
2
---
Kamar tidur
Calistoga, California, Amerika Serikat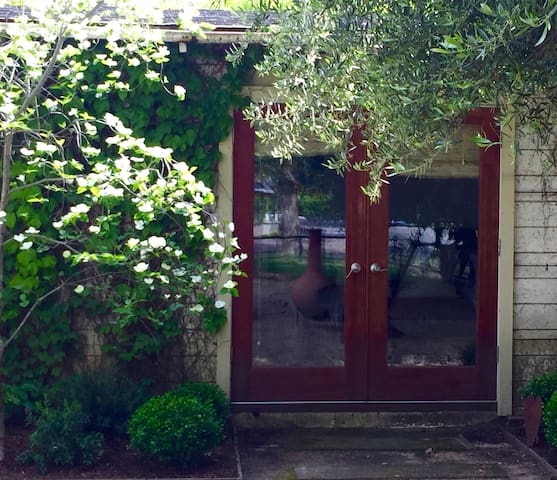 Beautiful inviting guest home in the Vista neighborhood. Equipped w/a relaxing hot tub that is only a year old, a large swimming pool, deck and pergola area for sitting or entertaining, and outdoor fireplace and outdoor cinema on the property. Napa is about 20 minutes away and Vallejo has a gorgeous ferry service that will get you to SF in less than an hour. Note:Pets allowed but fee is charged after booking to account for extra cleaning costs Ask about military & educator discounts
It's true the first picture is a little bigger than the cottage! The second picture is the cottage. With 800 sqft you will feel right at home, not liked a cramped hotel room. It has a full kitchen with reclaimed wood counter tops, the kitchen is fully appointed with utensils, plates, pots, pans, a coffee maker and anything else you may need. The master bedroom has a queen size bed, it is a real bed with 700 thread count sheets. The sitting area has a tv, couch, chairs and table. Both Netflix and cable can be enjoyed in the living room. The second room has a day bed that can be for one or two guests, it becomes a king bed by extending it. The best part is our lovely outdoor space. It is large and private with lounge chairs, outdoor couch and chairs, and tables bbq and heated seating area. We also have a pool which is open in the summer and a new hot tub which is open all year. We have an outdoor cinema we can set up upon requests. Plenty of street parking in the front of the main house and off street parking is available. Please let me know if you have any questions or requests!
This is a gorgeous neighborhood with lots of nice homes, quiet neighborhood. Both food stores and retail shopping are nearby. Also available: Short drive or bike ride to Napa, Downtown Vallejo waterfront and antiques center, short drive to Vacaville Outlets, Six Flags Discovery Kingdom Vallejo is the gateway to Napa and Sonoma
Great for a relaxing weekend and only 30 minutes to an hour away from Napa Valley.
Cynthia
2016-10-18T00:00:00Z
Really enjoyed the stay! The welcome basket was great, and the hot tub was a welcome relief. The house was located close to the freeway and was easy to get to. Would definitely recommend staying here if you're looking for easy access to the bay area or Napa/Sonoma.
Andrew
2016-09-24T00:00:00Z
We enjoyed our stay. Meghan promptly responded to any questions and the place was accurately represented.
Jim
2016-04-20T00:00:00Z
Luke was at the door when we pulled up for our stay. He showed us our accommodations and asked if there was anything he could do. He set a fire in the outdoor fireplace and also made recommendations for restaurants and made appointments for a couple of wine tastings. What a wonderful place. We used the hot tub and then sat by the fireplace . They even set out some warm and cozy towels to wrap ourselves in while enjoying the fire. I would rate this Airbnb a 10 in my book. Thank you to Luke and Meghan for a wonderful stay.
Claudette
2016-10-12T00:00:00Z
Great location, cute apartment, super friendly and responsive hosts. It was exerting we needed for a 2 week visit with my ailing mom.
Alison
2016-01-01T00:00:00Z
We really enjoyed our stay at Meghan and Luke's. They could not have been more helpful or responsive. We made use of their terrific amenities: grill, outdoor fireplace and hot tub! It was really easy to get to other major wine country places like Sonoma and Napa. Great for families as well. Wish we could've stayed longer!
Whitney
2017-03-25T00:00:00Z
It was a great place to stay. A nice and peaceful cozy little home. Meghan was a great host. Had a cute little welcome basket with goodies. And she tried to help me find a windshield repair shop for my vehicle (5 fwy construction). Overall marvelous place, great host, and just perfect to stay at if you need peace and quiet.
Irasema
2016-09-19T00:00:00Z
L'accueil était parfaitement organisé. Nous attendais une bouteille de vin, des sodas..,. Le jacousi ajoute au charme et à la detente de l'endroit. Le logement correspondait parfaitement à notre attente. Il est fonctionnel et convivial et l'accès direct à la piscine donne au lieu en très grand charme. L'emplacement est idéal pour visiter la région : San Francisco, Napa, Sacremento, parcs et lacs. Ce fut un très beau long séjour de 4 semaines où nous n'avons pas vu le temps passer. Meghan et Luke ont été très à l'écoute. Nos serviette de toilette, de plage et les draps ont été rugulierement changés . La météo est idéal bonne température et un peu de fraîcheur le matin.
Stéphane
2016-08-23T00:00:00Z
Tipe Kamar
Seluruh rumah/apartemen
---
Tipe Properti
Rumah
---
Mengakomodasi
4
---
Kamar tidur
Vallejo, California, Amerika Serikat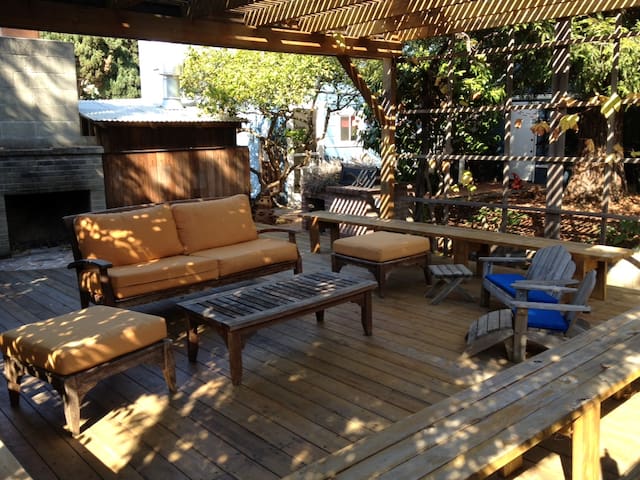 Sweet, cozy, and romantic 1 bedroom private cottage on 2 acre property with views of Sonoma Mountain, and Vineyard next door. Lavender fields and Olive grove on property, Gorgeous views from cottage porch and from 40ft in ground pool.
The cottage has everything you need or want in a weekend getaway place. 300 square feet, spacious porch, 1 bedroom with comfortable queen bed, 1 full bath with shower, kitchenette with refrigerator, coffee maker, microwave, toaster and all plates, silverware, cups and of course - wine glasses.
We are in the heart of Sonoma Valley in Kenwood on a very private and extremely quiet street. Our 2 acre property is dotted with numerous olive trees and boasts gorgeous lavender fields. You can easily walk to Annadel State Park or bike through the many back roads loved by cyclists.
The cottage he everything we needed. Hosts were very welcoming. Pool and outdoor area is beautiful.
Sara
2016-05-23T00:00:00Z
We had a great weekend stay at Brian's really lovely Sonoma cottage. The cottage is small but the perfect size for a couple and is very thoughtfully appointed with a comfortable bed, nice bedding and towels, a comfortable tv watching area, a small but very functional kitchen. The cottage is part of the home but is tucked back in a way that feels comfortable and private. The property is absolutely beautiful (a gorgeous natural setting as well as beautiful landscaping) and the view from the porch of the cottage especially is exceptional. (We were in town for a busy wedding weekend and would have loved to have more time to relax and enjoy the view from the porch!) We enjoyed the lovely pool as well and our dog loved the chance to sniff around and explore a real piece of land. The hosts even left us dog blankets and a dog treat-- very thoughtful! We thought the location was perfect-- off the beaten track but still conveniently located in Sonoma. Highly recommended. Thanks so much guys!
Sasha
2015-09-28T00:00:00Z
Brian was very friendly and very hospitable. The place is perfect for a getaway. The quiet location was perfect for our trip. This was my first time using Airbnb and Brian made everything so easy. I am just sad we didn't get to use the pool due to the weather. Great trip and they are great hosts.
James
2015-10-19T00:00:00Z
I did a lot of searching for the perfect place for my wife and I in the Sonoma area and after staying at Brian and Keith's cottage I am confident I made a great choice. We had a perfect weekend getaway with amazing views, wonderful hospitality and overall serenity! We spent our short weekend hiking, exploring, eating, drinking, and sunbathing...perfection! It is easy to see that Brian and Keith work hard to make your stay comfortable and relaxing. Someone else said it but the pictures really can't do this property justice.
Chris
2016-06-13T00:00:00Z
Brian and Keith have a lovely cottage set in a very picturesque part of Kenwood. Lazing around the pool offers a relaxing way to unwind
Jennifer
2016-09-07T00:00:00Z
Brian was a great host and very flexible with check in times. The location was great for a cozy & romantic get away.
Jorge
2016-10-05T00:00:00Z
Brian is warm, welcoming, and very pleasant to work with. The cottage is charming and has everything you need for a relaxing weekend away. I would highly recommend the cottage and we will likely be back in the not so distant future.
Seth
2016-09-05T00:00:00Z
We had a fabulous time at Kenwood. Brian stayed up late to accommodate us, and we were greeted with a bottle of wine. We loved the serenity and privacy of the guest house. I thoroughly enjoyed the pool. The home was immaculate and had everything we needed. We also took advantage of winery recommendations. Brian communicated great and we can't wait to go back!
Sarah
2016-05-31T00:00:00Z
Tipe Kamar
Seluruh rumah/apartemen
---
Tipe Properti
Bungalo
---
Mengakomodasi
2
---
Kamar tidur
Kenwood, California, Amerika Serikat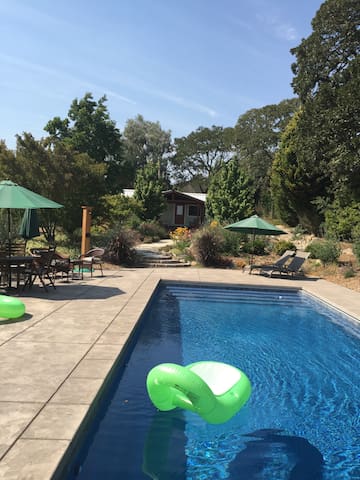 Welcome to Casa Di Amici! We have a beautiful, private guest haven awaiting your stay in beautiful Wine Country; a special place you'll want to come back to!
Casa Di Amici is a beautiful, private retreat on a spacious 5 acre property surrounded by a 1500 acre preserve. Your little casita overlooks an olive grove, hills, shady oak trees and an inviting swimming pool. Inside your spacious room is a queen bed, sofa, armoire filled with games, books, and plenty of information about local wineries and destinations, plush bathrobes and slippers for your use. There's a wet bar with a mini refrigerator, instant hot faucet for tea and a Kuerig coffee maker. Casa Di Amici is completely stocked with all the amenities you might need.
Green Valley is nestled in one of California's most treasured valleys. Surrounded by vineyards, wineries, farms and produce stands, Green Valley is a little gem in the Wine Country. Our unique property is across the road from a 633 acre regional park that is perfect for hiking or mountain biking. Casa Di Amici is only 15 miles from downtown Napa and 40 miles from San Francisco.
What an amazing place to stay. Couldn't ask for a nicer room/cottage! Couldn't have asked for nicer hosts! Great location, great views, great amenities. Stephanie and Lawrence host a gem! We will be coming back here sooner than later! We only planned a getaway wknd, coulda, stayed a week! Can't say enough good things about this place or the hosts!
Matthew
2016-08-22T00:00:00Z
Stephanie's place was our favorite stop on a vast tour of northern Cali - She thought of everything! This spot is a total gem and we are dying to come back...thankful for such a perfect spot, so close to Napa and Sonoma!
Devin
2016-07-03T00:00:00Z
For a young couple like my wife and I it was exactly what we were looking for! Stephanie was very prompt in confirming our stay and had all desired amenities available upon our arrival. We were there over Thanksgiving weekend, I can only imagine how nice it would be to stay there in the summer!
Brian
2015-11-30T00:00:00Z
Great place, perfect for our needs. Stephanie was an awesome host and made us feel welcome. Thank you!
Mark
2016-07-13T00:00:00Z
Enjoyed our stay here. It was a close get away from home. My husband and I enjoyed the beautiful weather pools side. Stephanie was hospitable and quickly available if we needed anything. We also enjoyed feeding the chickens and playing ball with Lucy! Thank you for making our anniversary weekend memorable Stephanie! Xo
Renee
2016-08-28T00:00:00Z
Stephanie and Laurence are amazing hosts! They are so welcoming and friendly, and provided us with everything we could possibly need. They also gave us some great suggestions for places to eat and visit nearby, which actually turned out to be some pretty good highlights for our trip. Their home itself is beautiful! It was an amazing spot to relax after the previous days worth of wineries, and gave us the chance to soak up some sun by the pool. They let us play with their dogs too, which was the perfect touch to a perfect Airbnb. I definitely recommend this location!
Andrew
2015-06-02T00:00:00Z
Stephanie was very friendly. Larry showed us around at check in and made sure that we had everything that we needed. The casita was perfectly prepared to anticipate our every need. It was so lovely drinking our morning coffee while listening to the birds and admiring the beautiful surrounding landscape. Stephanie gave us great recommendations for wine tasting; in particular Inglenook. Based on her suggestion, we had a great time at Napa's forth oldest winery. Thanks Stephanie and Larry!
Juan Carlos
2016-02-22T00:00:00Z
We had a great stay at Casa Di Amici! It was a great part of my birthday getaway weekend! I was really impressed by Stephanie's hospitality and all the attention to detail. The place had everything that we needed and came fully stocked with coffee, tea, and even Jelly Belly's! I really appreciated the hand written welcome/birthday note and homemade chocolate chip cookies. So much I could say but this is by far one the best AirBnB experiences I've had and highly recommend it to anyone looking for something different. Hotels get so boring - and I enjoy staying at places like Stephanie's!
Suzy
2014-11-16T00:00:00Z
Tipe Kamar
Seluruh rumah/apartemen
---
Tipe Properti
Apartemen
---
Mengakomodasi
2
---
Kamar tidur
Green Valley, California, Amerika Serikat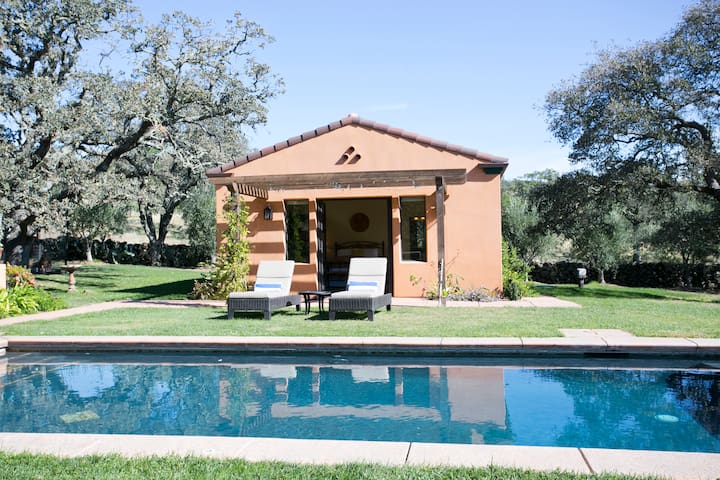 Hidden Grove Getaway, a quiet, private & charming studio-apartment with queen bed, dining table, cable TV, Wifi, well-appointed kitchenette, spacious bathroom, private deck & entrance, BBQ, outdoor seating area, off-street parking and hot tub. Located near Hidden Valley Lake and Clearlake in beautiful Lake County, 1/2 hour from Calistoga, 2 hours from San Francisco. Relax in style and comfort, enjoy outdoor adventures, wine tasting & more!
Hidden Grove Getaway is a private charming studio-apartment with a queen-sized bed, fully-appointed kitchenette, spacious bathroom and furnished covered deck and hot tub. This newly-remodeled living space, with its own private entrance, is located on the lower floor of a two-story home in a pleasantly tucked-away neighborhood in beautiful Lake County, California. Relax on your private covered deck, watching the hummingbirds and finches eating nearby. Enjoy your morning coffee or a glass of local wine at the end of your day. Take-in the changing colors of the sunset through the large oak tree in the backyard. Soak in the hot tub (just steps away from your door) as you gaze up at the millions of stars in the country sky, or maybe the moon shines upon your face. A couple of blocks way is our tucked away community lake. With your own private entrance, you can come and go on your own schedule. There is off-street parking in the driveway for ease of loading and unloading your car. The kitchenette is stocked with a small refrigerator, microwave, hot plate and counter-top toaster oven for light cooking. Dishes, cutlery, and glasses are available for your convenience. A table allows for dining, writing or surfing the web for local attractions on your free wi-fi. Outside is a BBQ, and bistro table for those who enjoy outside dining and grilling, along with patio couch and chair for comfortable conversation or quiet relaxation. Complimentary Peet's coffee (regular & decaf), an assortment of teas and Half & Half are provided for your enjoyment. The queen-sized bed is comfortable with a down comforter and lots of pillows. Extra pillows and blanket are located in the closet. Enjoy your special music stored on your iPhone with the ihome alarm clock radio. A 32" flat screen TV hangs on a wall for watching your favorite TV shows, movies (a selection of DVD's are provided) or to catch the game! Let me know if your stay is for a special occasion. I would love to help it be even more special with the addition of fresh flowers or balloons, available from our local florist. Amenities: * Queen-sized Bed with Organic Linens and Down Comforter * Central Air Conditioning & Heating * Private Bath with Large Walk-in Shower and "His & Her" Sinks * Kitchenette with Under-Counter Refrigerator & Microwave * Dining Table & Chairs for two * Lounge Chair & Ottoman * Outdoor Weber Gas BBQ and BBQ Utensils * Furnished Covered Deck with Patio Furniture * Private Entrance * Off-Street Parking * Free Wireless Internet * Non-Smoking * 32" LCD Cable TV and DVD/Blue Ray Player * Alarm Clock/iPod/Radio * Peet's Coffee and French Press * Assorted Teas * Breville Counter-top 'Smart Oven' * Induction Counter-top Cook Top with Cuisinart All-Clad Pots & Pans * Toaster * Cups, Glasses, Dishes, Cutlery & Linens * Hair Dryer * Ceiling Fan * Well-behaved pet welcomed with host approval - $20 pet fee per pet
Hidden Grove Getaway is conveniently located: * 2 hours north of the San Francisco Bay Area and Sacramento. * 20 minutes to Clear Lake ~ Enjoy fun in the sun at California's largest natural lake! * Close proximity to the world-class wineries of Napa Valley & Lake County. In my community, there is a beautiful award-winning golf course, community lake (great for swimming and relaxing), local shopping center with grocery store, coffee shops, yogurt shop, Anytime Fitness and a pizza shop. There are more restaurants and shops in nearby Middletown. Walking and hiking trails are a short distance away in Anderson Marsh State Historic Park and on Mt Konocti. Clearlake (California's largest natural lake) is a half-hour away, wonderful for kayaking, sailing and fishing. Local Attractions: * Community Lake & Beaches * Coffee Shops * Restaurants * Anytime Fitness Center * Hardester's Grocery Store * Three Golf Courses * Twin Pines Casino * Clearlake * Napa Valley attractions and wineries * Wilber Hot Springs * Anderson Marsh State Historic Park * Jet Skis, Boating or Kayaking on Clearlake * Balloon Rides * Wilber Hot Springs * White Water Rafting * Horse Back Riding * Robert Lewis Stevenson State Park * Fishing * Cache Creek Casino * Safari West African Adventures * Hiking and Biking
We had a WONDERFUL experience staying at Belinda's place! She welcomed us and showed us the place, which was very tastefully decorated! She put so much love and attention to detail in it! She had a spare sleeping pad for my child prepared. She even had a complimentary bottle of wine waiting for us! There was a binder with information about local attractions and she gave us recommendations on where to eat and what to see. The place had a WiFi as well. The kitchen was equipped not only with dishes but also with a variety of teas from Republic of Tea and Peets coffee!!:)) her house is located in a gated community and we felt very safe. It was lovely and relaxing to sit on the comfortable patio! The house is very close to a nice lake and is only 15 minutes away from Harbin Hot Springs. We had a great stay and will come back again!
natasha
2015-08-05T00:00:00Z
As a return guest our visit was wonderful as before. Can't wait to come again.
Jeanine
2014-07-13T00:00:00Z
Nice place!
Jianfeng
2015-05-19T00:00:00Z
It was a great experience being at Belinda's beautiful studio!! Thanks so much for welcoming us in such a nice way!
Cris
2015-07-27T00:00:00Z
First off! Lemme just mention the fact that I was feeling ill the day of arrival, and luckily was able to move it because Belinda had an opening to extend the trip to where we wouldn't lose a day. Very considerate, very helpful, and easy to get in touch with. Second! The little apartment is beyond well stocked and organized, not to mention the CLEANEST place I have stayed in so long (I'e traveled to four different places within the last 6 months). I can really appreciate cleanliness. Third! Belinda, you are so thoughtful. There was a complimentary bottle of wine and opener waiting for us. There was an extra toothbrush and organic shampoo. I enjoyed the two shower heads, and hot tub. There's a great deal of privacy and comfort established here. Four! My favorite spot was outside the room, on the porch, kickin it on the couch and looking at the trees and hummingbirds, drinking wine. You can just feel the love put into this little space, and it is just enough room for two! Happy birthday to me. Thank you, Belinda. Wish I could've told you all this and more in person! I'm also leaving out a lot of little details that were huge in my eyes. She has a great movie collection! ;)
Kylie
2016-07-20T00:00:00Z
This is an idyllic self contained space with stunning views over the countryside. Check in instructions were very clear and easy to follow. The apartment was very clean and Belinda had provided wine, water and milk for us. The apartment is beautifully decorated and has a spacious outdoor deck with BBQ which is very peaceful to sit in. We loved staying here and would've liked to stay longer!
Fionnuala
2015-07-14T00:00:00Z
Belinda is a wonderful host! She welcomed us with a bottle of wine and made sure we were comfortable during our stay.The guest apartment is beautiful with a big bedroom, his & hers showers and sinks and a serene deck surrounded by trees. The neighborhood is very safe, quiet and beautiful with easy access to local stores and a beautiful lake for a picnic, swimming, etc. My husband and I had a wonderful time and have no reservations about recommending Belinda and her apartment. We look forward to visiting CA in 2016 and will definitely book Belinda's apartment again.
Demi
2015-05-10T00:00:00Z
We had an amazing stay at Belinda's place! It had everything we needed and more (including a bottle of wine!) and Belinda was very flexible about check in and available for anything we needed, while also giving us privacy. Absolutely perfect place for a getaway - you can't beat relaxing in a private hot tub under the stars :)
Sarah
2016-07-17T00:00:00Z
Tipe Kamar
Seluruh rumah/apartemen
---
Tipe Properti
Apartemen
---
Mengakomodasi
2
---
Kamar tidur
Middletown, California, Amerika Serikat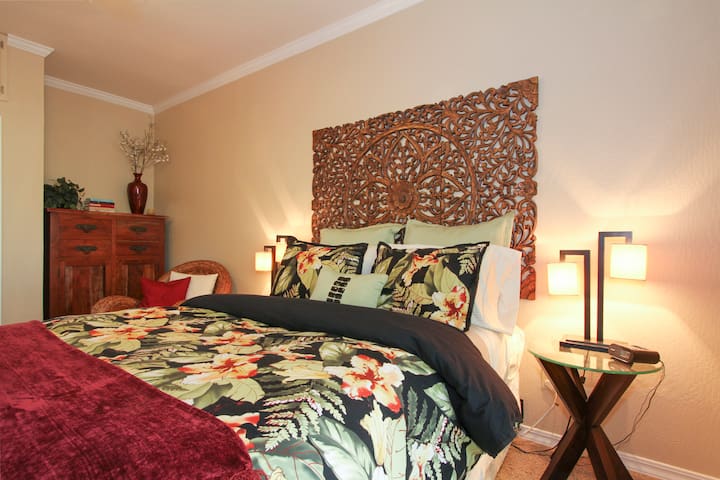 This extremely private property is a favorite destination for international guests on holiday looking for a relaxing escape as well as the Bay Area and others seeking a break from city living.
This extremely private property is a favorite destination for international guests on holiday looking for a relaxing escape as well as the Bay Area and others seeking a break from city living. As a working farm (vineyards and lavender fields) you will have the unique opportunity to observe the life of a boutique farm. PLEASE be aware that my property is, as advertised, a mountaintop getaway. To enjoy this private exclusive property, you will travel 4.7 miles on an improved and paved canyon road to my gravel access drive. View this drive as the preface for the unique feeling of being away from it all! If you are not comfortable with driving a canyon road, I would suggest you look for another property better suited with your interests. THIS PROPERTY IS NOT SUITABLE FOR PARTIES OR EVENTS. UNCONFIRMED GUESTS OR ACTIVITIES WILL RESULT IN TERMINATING YOUR RESERVATION. TOTAL SIX ADULTS (NO CHILDREN/INFANTS/PETS) MAXIMUM ALLOWED. Our welcoming home sits on 46 acres of natural beauty including a boutique vineyard and fields of lavender surrounded by thousands of acres of rolling mountains and panaramic views. The home is located at just under 3000 feet elevation in the San Francisco Bay Area bordering the beautiful Napa Valley with stunning, unobstructed views both day and night. This is the highest elevation property in Solano County growing Malbec and Zinfandel grapes...Grosso and Provence lavender. The 2000 sq.ft. home offers 4 bedrooms including a master with private bathroom, two doubles and single with a shared bathroom accommodates up to six adults (NO CHILDREN/PETS PERMITTED). Additionally, a great room, entertainment room and fully accessorized kitchen providing all the comforts of home are yours. Enjoy the outdoor patios, grilling area, the custom 20x40 in-ground salt pool (not heated) AND the recently added bocce ball court! Our secluded home offers you the privacy to relax, unwind, meditate, and stroll through the vineyards and lavender. It is a perfect setting for you and your family or friends looking for a quiet getaway, an inspired artist, writer, musician or someone simply seeking the space to reflect. There are a multitude of vistas on the property that are simply unique; some beautiful, some inspiring but all unforgettable. Enjoy the morning sunrise, breathing in the fresh air, and watch the rest of the world wake up around you. If interested, the vineyard and lavender fields give you the opportunity for a learning or working experience far different from the normal day to day you may be accustomed. At the end of the day, reward yourself with a cooling dip in the pool and enjoy an adult beverage. Conveniently located only 35 miles to Napa, 45 miles to Sonoma and 65 miles to San Francisco. Sacramento airport is 50 miles and SFO only 75 miles making it easy access to our home. We look forward to your visit!
Extremely private property for a relaxing escape with easy access to local Solano County wineries and other attractions as well as Napa and Sonoma.
Denise and Dan made our first Airbnb stay the best of our two week road trip. Their home, hospitality and the views are beyond outstanding. Attention to detail is everywhere. The kitchen has all the spices and herbs you could need along with myriad of speciality teas. Bathrooms are fully stocked with gorgeous towels. There are even flip flops to get you to the heavenly swimming pool area. Loved gazing upon the humming birds in the garden with the incredible views of Sacramento beyond. The peaceful twinkling lights of the city below at night were stunning. To get this view, a twisting drive up the narrow mountain road is required but we found it no problem driving it in a Yukon XL. Take it slow and let the passengers enjoy the ever impressive view. It really is worth the effort. The serenity of this home is hard to convey so my advice is go and prepare to be amazed
sarah
2016-07-09T00:00:00Z
Everything about Denise and Dan's home is fantastic. The house is large and more well stocked than my own home, the littles touches in each guest room are lovely. The decor is straight out of a home magazine! The view is breathtaking, and the pool is stunning and a great area to relax! The book they provide with info about vineyards in the area was great, and Denise and Dan were extremely helpful. It's a 20min drive up the mountian, but the views are beautiful. We had a wonderful time and are hoping to make this an annual girls trip!
Valarie
2016-08-28T00:00:00Z
What can say other then this was an amazing location and house! Denise and Dan are so friendly and helpful, could have not picked a better place for my first AirBnB experience. They have everything and anything you need. The view is spectacular and the pool, garden, Par 3, and vineyard just add to the whole experience. I want to bring out a group of friends soon! Girl on the Hill is for sure a great place to relax and enjoy the wine country :)
Whitney
2014-10-10T00:00:00Z
Denise and Dan were wonderful hosts, they made us feel welcome yet respected our privacy. Their home was warm and inviting; exactly as depicted in photos and the grounds and views simply spectacular!
Lorraine
2016-06-11T00:00:00Z
Denise and Dan were exceptionally friendly and accommodating when we first arrived at their Mountain Top Vineyard Getaway. Just as promised, the property had extraordinary views of the Sacramento Valley below. The property was also clean, quiet, and had everything we needed to easily unwind at the close of an otherwise stressful week. Friday evening was spent enjoying the impressive view over a bottle of wine while watching a lightning storm rage against the Western edge of the Sierra Nevada in the distance. Thank you for sharing your beautiful listing with us! It made for a truly unique and peaceful experience.
Sean
2016-05-02T00:00:00Z
How could we have been made to feel *more* welcome? Denise and Dan met us upon arrival to welcome us to their lovely house and walked us through all the particulars, answered our questions, and gave us some very valuable advice. The directions were precise and got us there with no trouble at all. The view alone was worth the trip. Just spectacular. It was like spending a weekend in a postcard. Thank you, Denise, for sharing your magical retreat!
Janet
2015-07-19T00:00:00Z
Denise was very welcoming and careful to make sure we found the place. It was perfect, the pictures didn't do the place justice. We didn't want to leave this amazing spot. It was quite a windy little drive up there but that made it even better in some special secluded way with the amazing views!
Nancy
2015-07-13T00:00:00Z
Girl on the Hill is, without a doubt, one of the most wonderful vacation spots I have ever had the privilege of visiting. The ride up the narrow mountain roads was a bit intimidating at first, but when you get to the top you forget all about it. The views are amazing, the home cozy and well equipped, the atmosphere calm and refreshing, and the hosts warm and inviting. I dearly hope to be able to return some day!
Lydia
2016-06-05T00:00:00Z
Tipe Kamar
Seluruh rumah/apartemen
---
Tipe Properti
Rumah
---
Mengakomodasi
6
---
Kamar tidur
Vacaville, California, Amerika Serikat
Welcome to Napa Valley. We are a 20/25 minute drive to major wineries in both Sonoma and Napa Valley including downtown Napa. 5 mins from Discovery Kingdom. We are walking distance from shopping areas that have Safeway, Starbucks, a Sports bar, Walmart, Dunkin Donuts, Taco Bell, and Subway. We are 5 minutes away from the Auto mall which has most major stores and a movie theater. Our place is good for couples, large groups, and/or solo adventurers looking to explore the Napa area.
Spacious home to enjoy while you stay in Napa Valley. Full kitchen to cook, or enjoy our spacious living room while watching some TV or listening to music. Parking available in the drive way and or street. Minutes away from major shops including Safeway, Walgreens, Starbucks, and more. We also provide snacks, beverages, and wine.
Tipe Kamar
Seluruh rumah/apartemen
---
Tipe Properti
Rumah
---
Mengakomodasi
6
---
Kamar tidur
American Canyon, California, Amerika Serikat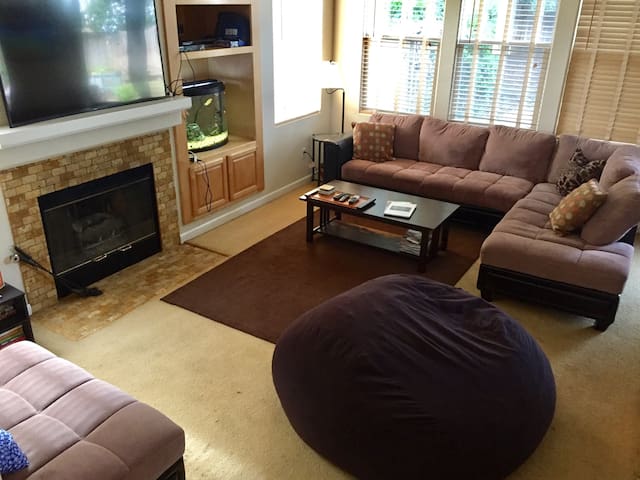 Luxurious country living! Located in Sonoma County w/ 100's of wineries nearby. Our 360 views are unparalleled on 50 acres! Enjoy Wine and Country! Near: Petaluma & Santa Rosa 30 mins: Bodega Bay, Healdsburg Napa Alexander & Russian River Valley
Your studio is set on 50 acres in the hills overlooking Sonoma County. The apartment is cozy and you can walk right outside to view sprawling vineyards and large oak trees. On cool mornings your will be greeted by a heater warming the room. Your private studio is located right near our main house and field of cows (we are both quiet neighbors. Your room will be furnished with high quality linens on a queen size bed. The grounds are open to weddings and events from 10-250 people, and we encourage you to tour the gardens and oak groves. Cocktail/Pizza Oven parties up to 50 people can also be offered in the main house with full use of the kitchen, bar and veranda and/or lawn areas. Any private events are subject to additional rental fees. Located near Sonoma State University, Green Music Center and Weil Hall & Schroeder Hall. Beer and Wine flow like water here! Visit Lagunitas, Petaluma Hills, 101North, HenHouse Brewing Co. to start.
This place is wonderful. We intended on staying one night but as soon as we arrived, we knew that wouldn't be enough. Lynn was very accommodating and helped us book an additional night. The property is beautiful, the animals are friendly, and the treats she left us were delicious. After a long day exploring Sonoma County we enjoyed having a kitchen to prepare some of the produce we picked up at the farm stands close by. We can't wait to come back!
Matthew
2016-07-03T00:00:00Z
We had a great time at The Milk Terrace in Sonoma! When we first arrived we opened the door and were quite shocked at how clean and inviting it seemed. Also, it was much larger than we anticipated. It really was the perfect place to stay if you are wine touring in Sonoma. I was worried about it being too far outside of town. But, most of the GOOD wineries are all over in Sonoma -- which means you will have to drive either way. This place was pretty central and in the middle of all the wineries we wanted to go to. It is on a beautiful farm and hill. At first, it is a bit difficult to find. But, once you've done it once you will be all set for the return trips! Lynn sends fantastic directions -- just make sure you know what a cattle guard is!! We are from NYC and didn't know what a cattle guard was, so that had us a bit confused for a couple of moments :) The drive UP to the Milk House is absolutely stunning. We had to stop multiple times to look at the stars. It was as if we were in a planetarium. There was wine and cheese waiting for us -- so thoughtful! Apparently there was also breakfast both Saturday and Sunday, but we hadn't been told this so Saturday we left before breakfast. This is a place for people who love animals (the cats WILL come up to you when you're outside on the patio, but they're very nice). Also, if morning light bothers you in the morning make sure to bring an eye mask...with all the windows it will get quite bright in the morning.
Olivia
2016-06-27T00:00:00Z
Sonoma Mountain Terrace-Milk House was a wonderful airbnb experience and the perfect place to decompress from city living. The view was spectacular, the room was cozy and comfortable with a lot of nice decorative touches. It was fantastic to be able to milk a cow and be around animals. My husband had a great time playing with the dogs. Both Lynn and John were friendly and put us at ease and Lynn left gourmet refreshments in the fridge that were delicious. I appreciated that there wasn't a 2-day rental limit since we only had the one night and it was exactly what we needed! Thanks!
Terry
2016-04-05T00:00:00Z
Simply the best. The room, the bed, the view and the property were amazing. My finance and I had the most wonderful stay at Lynn and Johns place. Under an hour drive to Napa valley where you get to see all the beautiful country side of Napa and Sonoma. My favourite part were the animals and the wine and cheese left for us when we arrived. If you want your trip to be complete stay with Lynn. Thanks again, we will be back :) Jaclyn
Jaclyn
2016-05-02T00:00:00Z
Loved the extra special wine and cheese left for us to enjoy. Each morning breakfast was provided which was a pleasant surprise. We even had a late checkout to accommodate our late travel schedule. I would definitely stay here again without question.
Madoree
2016-09-04T00:00:00Z
We found this property to be an excellent retreat from the city. An abundance of wildlife and scenic views made this feel like a peaceful getaway. Upon our arrival, we were immediately greeted by the ranch dogs and cats and later met the chickens, cows, donkeys, and turkeys. Lynn was a great hostess from her warm welcome and gift basket with wine to her perfect breakfast drop offs right outside our room. The room had some nice touches that made us feel right at home and the bed was super comfortable. We woke up each morning to the most incredible views. My husband was up early to take photos of the beautiful landscape each day. Highly recommend!
Elizabeth
2016-05-30T00:00:00Z
The most romantic get away for our wedding night. Fell in love with the senery so we had wedding pictures done there after the ceremony. Peaceful and quite. Woke up to an incredible view, hummingbirds, and roaming cows. Thank you Lynn for your hospitality. I did not want to come down from the mountain to reality. Hope to come back for our one year anniversary.
Gina
2016-03-23T00:00:00Z
A magical property and Lynn is truly a gracious host. Definitely want to stay there again, but hopefully for a longer time. Interaction with the animals is a special treat.
Kevin
2016-09-18T00:00:00Z
Tipe Kamar
Seluruh rumah/apartemen
---
Tipe Properti
Apartemen
---
Mengakomodasi
2
---
Kamar tidur
Penngrove, California, Amerika Serikat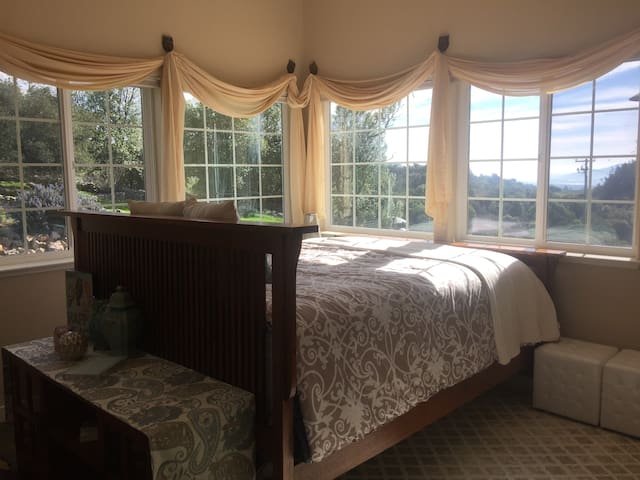 Available this weekend (4/28-4/30) due to last minute cancellation! This up valley secluded and private 'retreat cottage' is a light and airy hillside country home w/ 2bdrms (2queens) w/2 baths, lg kitchen, livingrm, sunroom, garden patio. Ideal for two couples or a family with kids. The kitchen is fully equipped to make dinners in, or use the gas BBQ on the patio and eat outside at any of the 4 tables on the deck or in the yard. This is a very quiet neighborhood and this house, surrounded by mature forest, is a non-smoking, no parties or pets (no dogs, cats, or any other animals) relaxing oasis in the heart of the Napa Valley. Sip wine off the deck or in the hammock and watch a colorful sunset after a fabulous day exploring the valley, it's famous wineries and spectacular scenery! The location is only 5 mins. to downtown St. Helena, many wineries, CIA, Tra Vigne, Farmstead and other fine dining, hiking, biking, art galleries, shopping and 10 minutes to Calistoga spas/mudbaths. Must enjoy watching local wildlife (deer/racoons) eat off of backyard!! Very quiet, private yard and secluded for 1- 2 couples, or a small family. (For groups of 5 or 6/ 3rd couple, there is a fold-out sofa bed in the sun room, if one couple doesn't mind not having a private room). The Napa Valley is enjoyable year round with it's sunny weather, beautiful foliage, wineries pouring their spectacular offerings, art galleries and museums. And you will LOVE the awesome warm mineral pools and spas of Calistoga (7 miles north from here!). So plan to kick back and relax with your family or friends after a fabulous Napa Valley touring day in the lush surrounds of my peacefully secluded garden. The big part of the charm here is the 'get away from it all' serenity and quiet .... so for people planning 'events', please read my 'noise policy' under Rules of the House before booking as this is probably not the venue for you. It's a great area and my neighbors appreciate you respecting their peace and quiet. There is something for everyone in the Napa (URL HIDDEN) don't miss the boat (or the 'wine gondola' !) If you're looking for a relaxing, wine country getaway .... come to the Wine Country Cottage as my guest! Rates for (PHONE NUMBER HIDDEN)/nt 2 night minimum. 3 night minimum for all holidays: Easter, Memorial Day , 4th of July, Labor Day , etc. (no exceptions, so please check your dates before inquiring). No pets allowed.
This is a very quiet, secluded, forested neighborhood with only 4 houses off an old stagecoach road just @ 3 miles outside of the downtown area of St. Helena. It is a wonderful walking, biking, strolling road but with no lights or sidewalks --- so be careful and watch for cars (deer and wild animals) coming and going from nearby wineries down the street.
We had great time at Karen place. She is very nice and the place is clean, confortable and incredibly quite and peacefull. We enjoed the patio, the garden in the late afternoon after tastings all days, picking fresh berries directly from the plant! The place is 10 mon driving from yountville and its restaurants. Definitely suggested.
Pierantonio
2012-08-23T00:00:00Z
Karen has a lovely home tucked up in the trees. It's close to town by car but feels very far away from the groups of people. The street is a peaceful walk to start your day and the backyard is a peaceful afternoon retreat. Karen is a wonderful hosts, who pointed us to fantastic wineries and resteruants.
Pamela
2012-11-07T00:00:00Z
Karen is very warm and welcoming. Her home is bright and cheery--and she encourages you to enjoy the lush yard with several tables that all have candles that she encourages you to use. We had a nice, relaxing time at this charming cottage.
Jackie
2012-09-26T00:00:00Z
Karen was a great host! She emailed me right back when I first made my inquiry and answered all my questions. She was extremely accommodating with our one year old daughter, and even went out of her way to get her a backyard sandbox and pool, which my daughter absolutely loved. The house is beautiful as can be seen in the pictures and everything is clean and neat. It's convenient to town and in a quiet neighborhood. We would definitely stay there again if we're in the area.
Paul
2012-05-19T00:00:00Z
We loved staying at Karen's home. It truly was an amazing experience. The house was beautiful and comfortable. I highly recommend staying here especially if you are looking to get away from craziness of the city.
Sam
2014-08-17T00:00:00Z
Karen's home was perfect. We were here during Bottlerock weekend for a wedding. Five people slept comfortably, and we really had everything we needed and more. Karen really goes the extra mile to make you feel welcome, and her communication throughout our stay was excellent. We didn't get to meet or see her. The outdoor area is really nice. I would definitely stay here again. Thanks Karen! 
Nick
2015-05-30T00:00:00Z
Fabulous home in a spectacular area of Napa. The host was very welcoming.
Kevin
2015-03-29T00:00:00Z
Karen's wine country cottage is adorable! My husband and I traveled with friends and our toddlers. Karen even left toys out for the kids! The rooms were big and very comfortable. We enjoyed our stay.
Vidya
2015-02-15T00:00:00Z
Tipe Kamar
Seluruh rumah/apartemen
---
Tipe Properti
Rumah
---
Mengakomodasi
5
---
Kamar tidur
St Helena, California, Amerika Serikat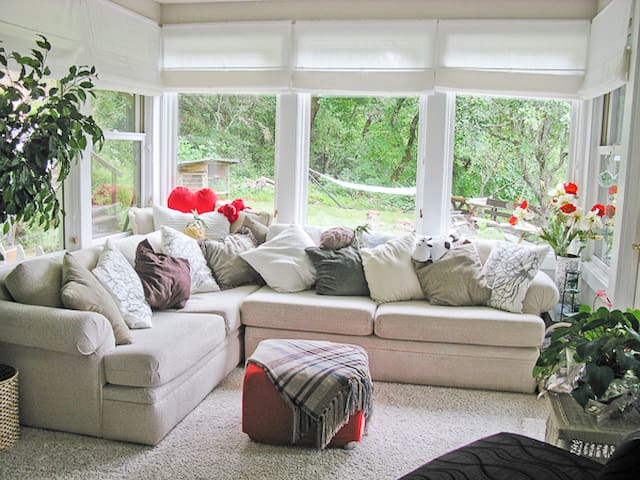 Come enjoy the serenity and beauty of our home. Two private rooms with a comfy queen bed in each room with a shared bathroom. Most of the time it is your private bathroom unless you have more than two people in your party. If you are a party of two and would like to reserve both rooms, the cost would be $89 for the first room and $50 for the second room. Located just minutes from Middletown. If you are interested in receiving a Watsu/Waterdance or a massage see details in description below.
Our home is in a very secluded part of our neighborhood. We are located on a cul-de-sac with only three other homes. The views are amazing. And there is plenty of parking. Your room is one of three located in the home. Each room can accommodate two people. You will have your own full bathroom and you will have access to the kitchen and amenities. Your bed is a comfy queen size bed, ALWAYS with fresh linens. You will LOVE it! We can also accommodate up to six people, two in the additional bedroom and two more if they are willing to sleep on a king size feather bed ("nest") in our living room. It is a semi-private space and VERY comfortable. There is an additional $50 fee for each person who uses an additional sleeping space, up to six people. FYI our living space is on the other end of the house. We do not rent out our whole house.
Our neighborhood is beautiful. We are just two blocks from an 18 hole championship golf course. We have a small lake very close by that you can swim in and/or enjoy a lake side picnic, when the weather cooperates. We have several really great restaurants near by including, Thai food, authentic Mexican and of course our own brewery in Middletown with great beer and pizza! We also have a fairly new casino near by, Twin Pines Casino, if that suits your fancy.
Veronica was a gracious host while a friend and I stayed at her home while in town for a half marathon this past weekend. The bed was super comfortable, we were given our privacy, and access to the kitchen and deck. We took Veronica up on her offer for a Swedish massage after the run and it was the perfect end to the weekend. Sicily Hidden Valley was a warm inviting restaurant. The pasta and wine hit the spot after the grueling trail run. Overall, a delightful experience. Thank you Val and Veronica!!!
Sharon
2015-10-26T00:00:00Z
Val and Veronica were perfect hosts who made our stay extremely comfortable. The room was very clean and neat with a comfortable bed, desk, and lots of closet space. Our room and bathroom were quite private and quiet. We had full use of the kitchen, living room and outdoor deck. Val and Veronica are massage therapists so we both had watsu massage with water dancing before we departed. The only drawback to the property was the road getting there. We approached from Napa and last 25 miles consisted of steep hairpin turns. Locals drive the road with ease but for us with little experience with steep mountain roads the trip was very challenging. We fully enjoyed our stay and would definitely stay again.
Cathy
2016-07-31T00:00:00Z
My boyfriend and our friends had a wonderful time at Val and Veronica's place in Hidden Valley Lake last weekend. They are gracious hosts with a positive energy; we were given almost total privacy during our stay but really enjoyed the conversations we shared with our hosts. We loved eating meals on the deck, playing board games, and visiting the nearby wineries. We will be back for a Watsu treatment soon! Thank you for sharing your space with us.
Anna
2016-07-04T00:00:00Z
Without a doubt, staying at the Watsu tree house hosted by Val & Veronica was was an AMAZING experience. The bedroom, bathroom, living room, kitchen and back deck were very comfortable and safe. Val & Veronica reminded me of "Lovebirds." They were very welcoming, considerate & warm & kind. Both offer professional body care services. Veronica providers a great massage and Val provides an amazing Watsu treatment (massage in a warm pool), that is nothing like anything I've ever experienced!!! Truly amazing. I'm looking forward to my next stay. Loved, loved, loved, my stay at Watsu tree house.
Sue
2016-10-21T00:00:00Z
Val and Veronica's home was very nice. Bed was extremely comfortable. Watsu bath was something to behold! Watsu bath treatment and water dance was very relaxing and would do again.
Ellie
2016-04-25T00:00:00Z
Val & Veronica are gracious hosts, the setting is lovely, the room is spectacular, couldn't ask for anything more! This was my first AirBnB experience. Val & Veronica made it wonderful and memorable. I will be going back.
WILLIAM
2015-12-05T00:00:00Z
Val and Veronica went above and beyond what I expected after I made a very last minute booking for a room in their beautiful home in Hidden Valley. They emailed me ahead of time with detailed instructions on how to find my way to their house and I was even welcomed with a personalized sign on the door to my room! The Rasmussens are wonderfully friendly and generous; upon my arrival, they gave me a thorough orientation to how to use the internet, how to make coffee and tea in the morning and where to ear nearby. My stay was so comfortable- the bed was cozy, the house is full of incredible artwork from around the world and I felt very at home. I only wish I could have stayed longer!
Rebecca
2014-11-21T00:00:00Z
This was a very clean and welcoming home. The beds were extremely comfortable and there were plenty of amenities such as outlets, mirrors, soft towels, and cold waters in the fridge. The hosts made sure we had everything we needed and even offered good restaurant recommendations.
Barbara
2016-07-17T00:00:00Z
Tipe Kamar
Kamar pribadi
---
Tipe Properti
Rumah
---
Mengakomodasi
6
---
Kamar tidur
Hidden Valley Lake, California, Amerika Serikat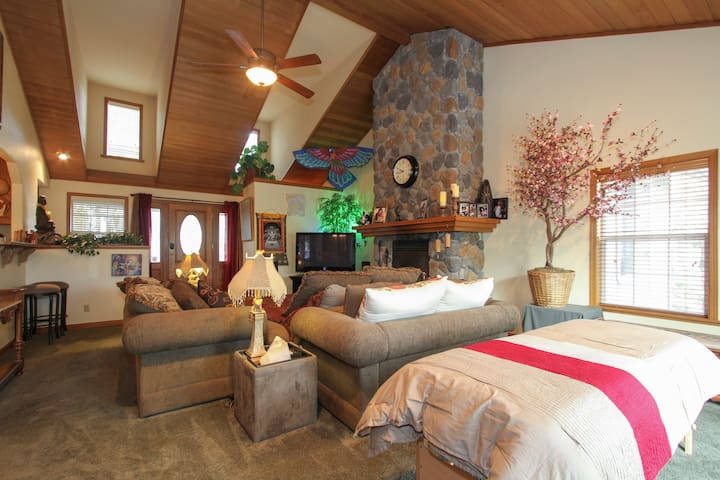 Napa County - Airbnb
:
Rata-rata

4.99

dari

5

bintang dari semua

2002

ulasan tamu
1

–

18

dari

300+ Sewa Tempat
Masukkan tanggal untuk melihat harga lengkap. Biaya tambahan berlaku. Mungkin dikenakan pajak.